Good afternoon lovely ones.  Really hoping you've had a chance to see this morning's wedding already, it's such a home-grown DIY beauty and bride Jen looks out of this world, (one for all you brides wondering whether to wear your glasses on your wedding day!).
This afternoon's wedding is the first proper winter wedding we've featured in a while, but you can see it as a sign of things to come, because after the first smattering of snow this week, it truly feels like beautiful autumn is already beginning to move from centre stage to make way for a new season.  Pam and Alex tied the knot on 2nd February, 2013 in Somerset*.  Their day was inspired by the decadence and elegance of 1920s and 30s house parties – I just love how photographer, David Jenkins, has captured the beautiful winter afternoon light.
"The day after we got engaged, Alex and I went out to dinner to celebrate and we realised our priorities for our wedding were pretty simple and clear. I told Alex that all I wanted was to be surrounded by great friends and family – and beautiful architecture. He told me that all he wanted was to be surrounded by great friends and family – and amazing food and wine!"
Photography Copyright (c) 2013, David Jenkins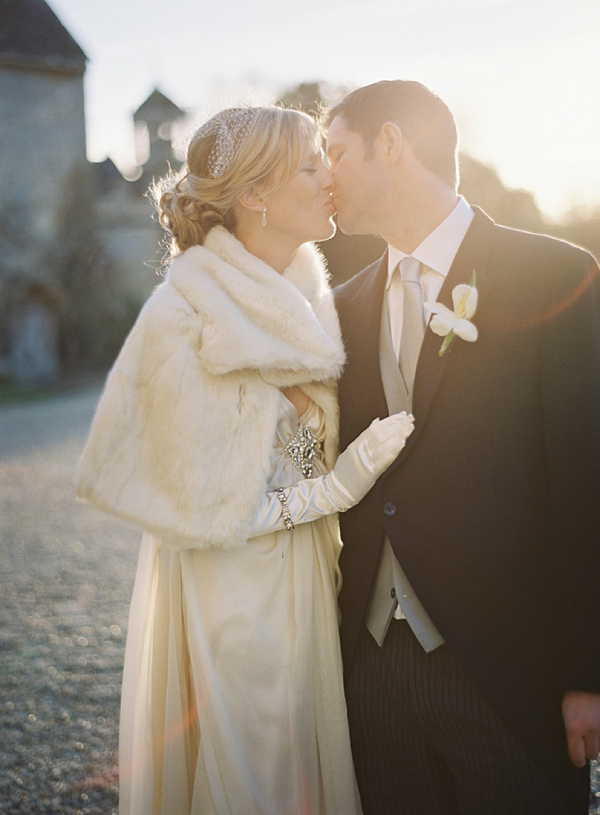 "Alex and I met through a party hosted by a friend.  I almost didn't go to the party as I didn't get away from work until late, but Alex had just finished a triathlon and was out drinking to celebrate. It was amazing that we were able to relate to each other so well given all of this but I think it was also a sign that this might be something great."
"We ended up talking about our races and realising we shared a huge interesting in both watching and playing all manner of sports. He texted the next day to wish me luck with my race (which I was very impressed with – both that he remembered and also that he didn't feel the need to wait several days to get in touch!)."
'He texted again after the race to ask how it had gone and to ask me out to dinner. Last July, just over three years after that first date, and the day after a friend's wedding, he asked if I wanted to go for a drive as it was the first lovely sunny day for several weeks.
He drove us to Cowley Manor, which is a very special place for us, and proposed in the beautiful listed gardens beside the historic fountain and lake (photo enclosed). It was wonderful."
'We chose our Somerset Venue as we wanted to find somewhere near Alex's home in Dorset. I grew up in Vancouver, but having lived in the UK on and off for nineteen years, I knew I wanted to get married here.  I am an architect and specialise in historic buildings, as I love them, so finding an historic venue was really important to me. We wanted a venue which would feel like we were at a 1920s country house party.'
"We decided to get married in the winter to make it easier for my friends and family who were still in Canada to fly out as the cost of flights is a lot more reasonable off season than in the summer. I also love winter parties filled with fires and candlelight and so it seemed the perfect plan."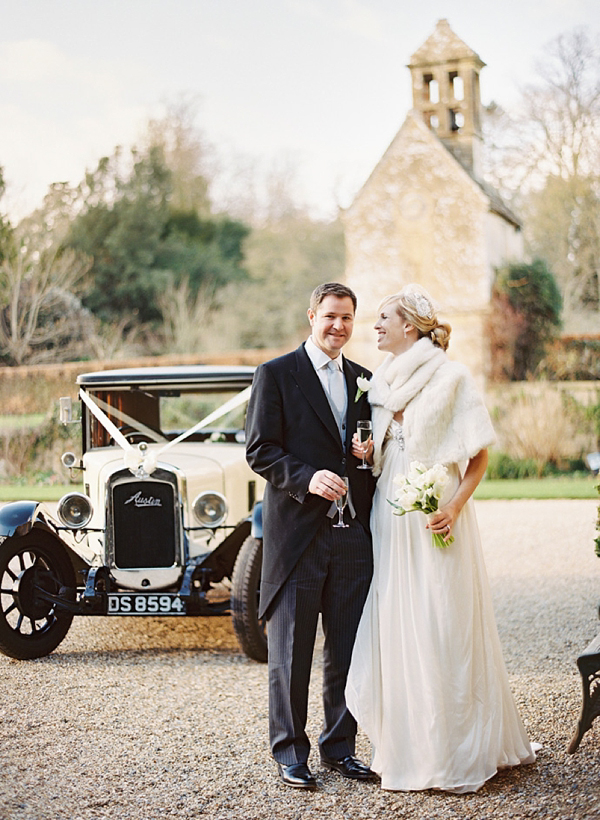 "I went to almost every bridal boutique in London, and the surrounding areas trying to find a dress. I wanted something a bit different and not very wedding dress-like, more of a 1930s party dress but unfortunately I couldn't find anything quite like this (at least not one which was long enough for me as I am 6 feet tall!).  And so I came to the conclusion that I would have to have one made.
I was trying to avoid this as I knew it would be extra work, but having exhausted all of the options I had to take the plunge. I nearly made my own dress, as I had done this previously for balls and parties, but friends talked me out of it. They knew I was very busy with work and they didn't want me to take on the extra effort and stress. That and our flat is too small to keep anything hidden from Alex"
"Ironically, after five months of chasing the seamstresses to properly finish my dress, they presented it to me just over 48 hours before I was due to leave for my wedding, in an entirely un-wearable condition, so I ended up having to sew most of my own dress anyway. I spent those two days with fabric spread out all over the floor of my flat, with my two oldest friends helping me to sew a dress to cover most of the one I had collected, and make it presentable in time for the wedding. It was chaotic but it also made me realise how amazing my best friends are. It was such an incredible team effort!
The original design of the dress I wanted was entirely inspired by 1930s style, which I love. That era inspires me in so many ways. The dress was to be a satin art deco evening dress. In the end it was much more conservative, having had to refashion it in chiffon at the last minute, but I feel very proud that we got there in the end given the last-minute disaster that surfaced on collecting the dress from the seamstresses!"
"My veil, which I loved, was my something borrowed. A wonderful friend offered to lend it to me, which meant so much as it was exactly the style I loved and her  wedding had been one of our favourites in so many ways, so it felt like a good luck charm for our day."
"Saying our vows was the most special part of the day. There was sun was streaming through the church windows, which we never expected in February. It made the church look magical. Saying the vows to each other was so emotional, even more than we thought it would be.
We hadn't been allowed to practice the full vows the afternoon before as our rehearsal was inside the allowed wedding hours so we would have been already married if we had said them all then! To say our full vows for the first time to each other while actually getting married was a very special moment."
"Our Florist was Bee Floral.  We opted for very simple floral decorations consisting of parrot tulips, amaryllis and calla lilies , all in white, along with twisted willow and tear drop crystals to reflect the candles lit throughout the venue.
We chose these flowers as they are all very simple and vertical. I love flowers that have plain structural stems with a simple unfussy flower on top. These were set in tall slim glass trumpet vases to allow our guests to see past them on the tables. They were surrounded by mirror plates and candles to create a vintage winter party atmosphere."
"Our photographer David Jenkins was absolutely brilliant. He was so laid back, friendly and polite and it was an absolute pleasure having him at our wedding. Several of our guests made the same comment. His photos caught my eye the first time I saw them (in your blog!) so I called him immediately. Photography is so important to me, and as a result having a great photographer was very high on our list of priorities.
He was the first person we booked for the wedding and we are so glad we did. We were blown away when he sent the photos. Not only were they stunning, but he sent them in a slideshow set to music (which we weren't expecting!). He had captured so many intricate details of the day, from start to finish, and so many candid moments involving all of our friends and family. Our home is now filled with so many of his photographs. You really couldn't do better than have David as your photographer for any occasion. We know we will use him again for other important events in our lives."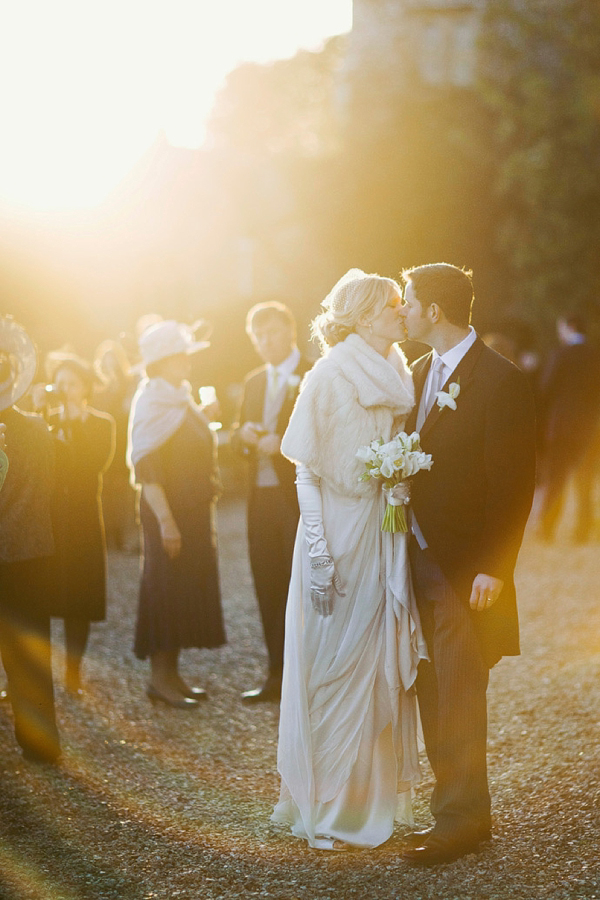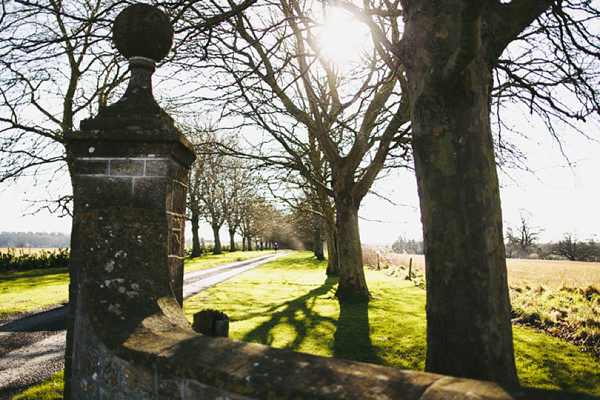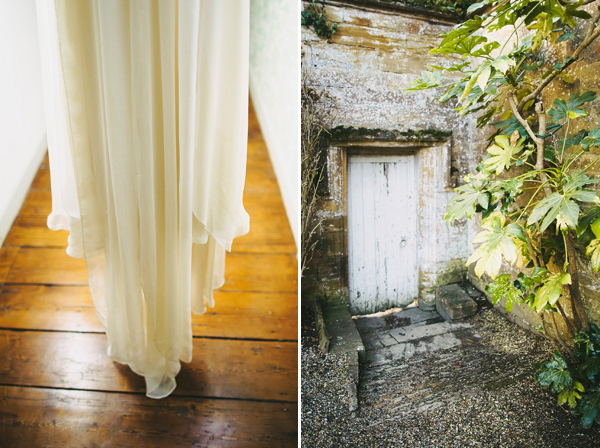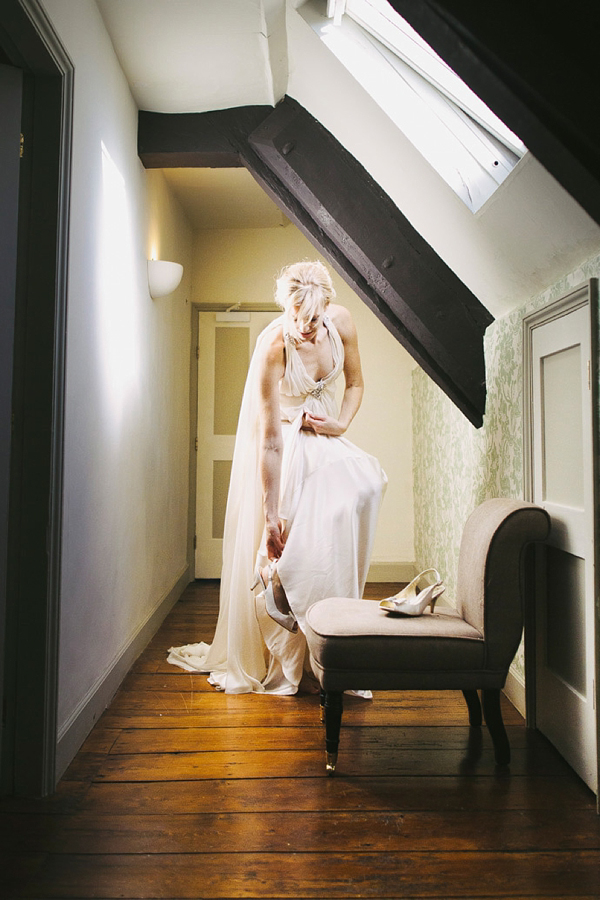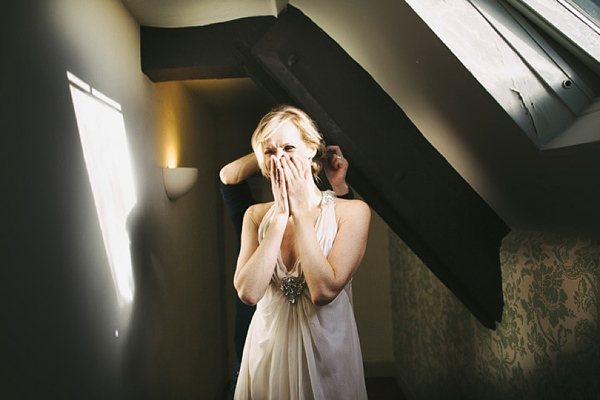 "My father Roy, who flew in specially from Gabriola Island on the west coast of Canada (near Vancouver) gave me away. As he lives so far away I don't get to see him very often and it meant the world to me to have him there, along with my Mother and oldest friends, who all flew in from Canada.
Did you 'walk down the aisle' to a particular track or song?    I walked down the aisle to Pachelbel's Canon. It was so moving arriving to this music"
"We left to Handel's Hallelujah Chorus, as after planning the wedding in five months which included Christmas, helping to coordinate the travel plans of numerous overseas guests and going to great lengths to overcome a few serious issues, we felt this was appropriate and it made us smile!"
"Our first reading was The Road not Taken, Robert Frost – the last three lines sum up how I have always lived my life and how Alex and I live our lives together, right down to the details of our wedding. It has always been an important poem to my Mother as well which is why we asked her read it at our wedding.  It meant so much to hear these words read by her as a part of our marriage service, it was one of the favourite moments of my day.
Our second reading was "Song of Solomon (2:10-13; 8:6-7).  We also had the following two quotes on the back of our order of service from this piece, as follows;  'We are all a little weird and  life is a little weird and when we find someone whose weirdness is compatible with ours, we join up with them and fall in mutual weirdness and call it love." (Dr Seuss, 1904 – 1991), and 'Love is worth the time it takes to find' (Muriel Powell, 1903 – 2000)."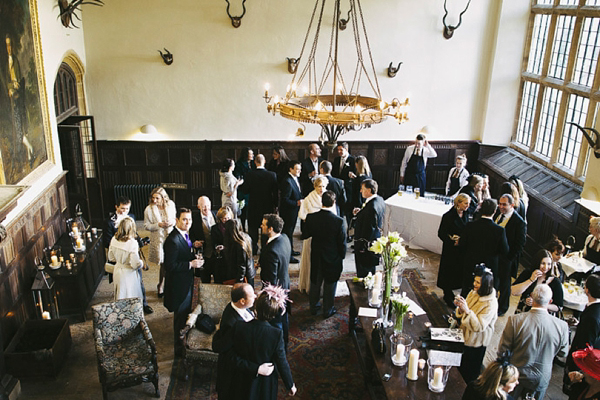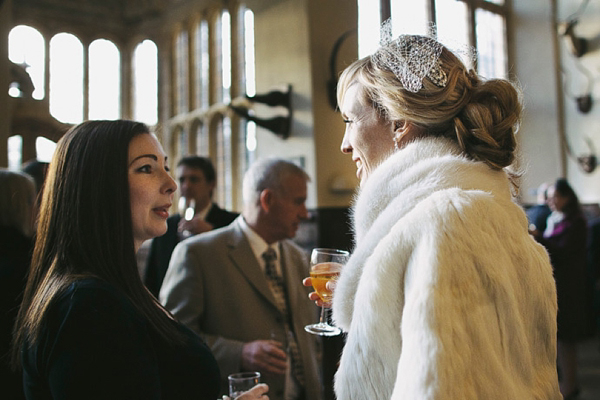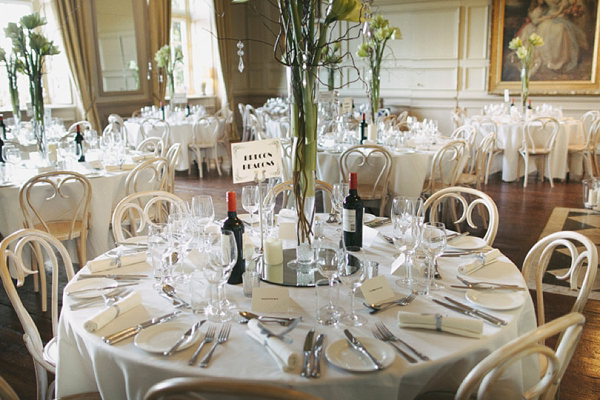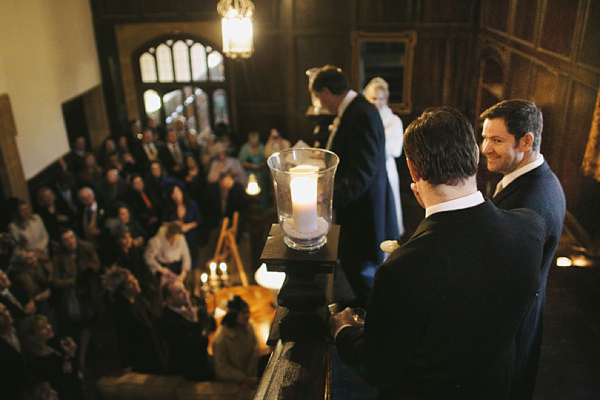 "We wanted the decorations to be very simple, almost entirely candles, with crystals, glass and mirrors to reflect the light, and just a few simple but striking vases of flowers. Both our beautiful church at Norton and the reception venue were decorated in this way. We bought 144 votive candles with glass holders to reflect the light, which we spread around the church. It was wonderful walking into a 16th century stone church lit almost entirely by candles on a beautiful winter's day. 
It was a wonderful coincidence discovering our wedding day was on Candlemas, it made it seem meant to be, and it means we can attend a candle filled service every year to celebrate our anniversary. We are planning to do that at our wedding church next year."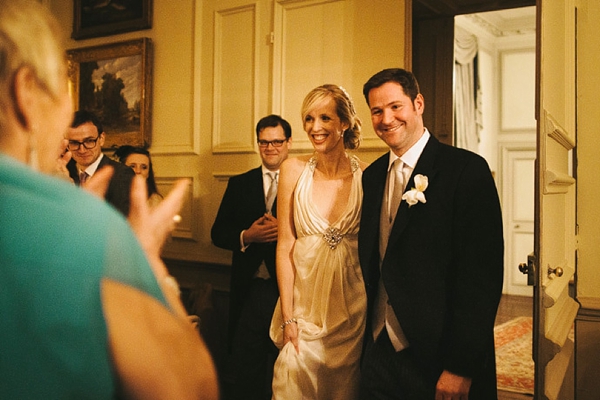 "Our caterers, Dine With Style, are brilliant caterers – extremely organised,  efficient and so friendly. Most importantly, the service was excellent, from the tasting to the wedding itself. All of our conversations with them were so concise and all of their food options which we tasted were delicious and beautifully presented. Even the serving of the canapés on slates and the style of the staff attire suited us down to a tee."
"We chose Emile Sande's, 'Read All About It' as our first dance. The London Olympics started just after we got engaged and it was such a special time for us, particularly because of our shared love (obsession even!) of sports. The song was played so often during the games and it always reminds us of so many great memories over those two weeks which we will never forget.
In December we got the chance to go to the BBC Sports Personality of the Year awards (what a year to go!), and Emily Sande sang this song live on stage. Having talked about so many songs which we might use for our first dance and having not been able to decide on one, at that moment we just looked at each other and said "that's the song." The words, the memories, all of it were just entirely us."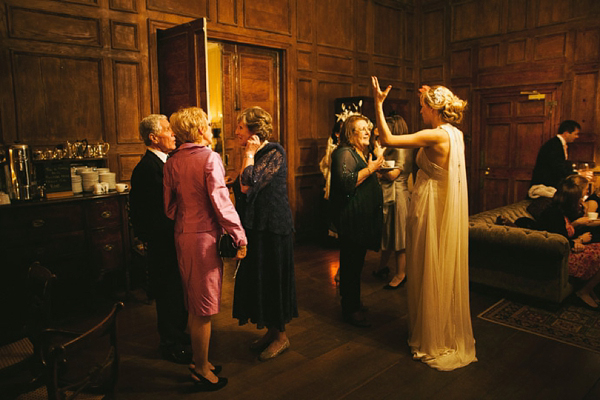 "We had talked for a long time about doing a proper dance at the wedding so after we got engaged we finally signed up for dance lessons and it was such good fun! Our instructor, Jack ,was fantastic. We would recommend him to anyone who wants to learn dances like the Waltz and Foxtrot as his classes are so much fun and filled with so much laughter! We hadn't taken classes for long enough to choreograph our own dance so we had another great dance teacher named Jess Brichto at Start the Dance to help us with this. She was brilliant – so nice, so patient, and so much fun. She even got her husband to cut down our song for us (as we knew 5 minutes would be too long!).
Martin at Ace Acoustics organised an amazing speaker system and all the required extras to make sure we could play music in the venue wherever we needed to.  He set up the speakers in our drinks reception room and ensured Alex had all the details of how to move the equipment and set it up later in the evening in the orangery for the dance and dancing. If you are planning a wedding in the area he is absolutely fantastic – so organised and proficient!
Words of Wedded Wisdom…
When you are planning such a big event with so many suppliers and parties involved, it is absolutely inevitable that something will go wrong. It might be something huge, it might be something small, but either way, the most important thing on the day, is to make a promise to yourself to entirely ignore any of these things and just enjoy every moment. This is all that really matters.
Love my Dress was the first blog and really the only wedding blog I read while planning our wedding. I love the whimsical style of it and the inspiration it provides!
"On reflection, we would have taken more time off before the wedding as it would have made a big difference in giving us more time to relax before the big day (which I would say is the most important thing to do before your wedding)".
"We tried to get everything done months in advance to save stress close to the day but so many of the suppliers would not do much until the last minute, which made for a lot of unnecessary last minute stress.  If I had one bit of advice to pass on it would be to tell everyone possible that your wedding is at least 6 weeks earlier than it actually is so you don't have to worry about disorganised suppliers!"
"I would also allow for random disasters as so many very unexpected things can really surprise you and catch you out unknowingly!  Sometime after setting off for the church in our beautiful wedding car the driver said to me "So where are we going?"….! I had my Maid of Honour and Father with me for support but as both had just flown in from Canada they could not help me with directions, the driver did not have any maps or GPS and I did not have my iphone hidden in my dress to find our location! I ended up, in very amusing  fashion, having to lean out of the window to ask some rather surprised people on horseback how to find the church"
What an elegant day.  Pam, I know you had some difficulties planning your wedding and last minute drama with the dress, but judging by these photographs, you really would never have known. You look quite simply amazing – so very happy – in a bubble of love! Thank you so much for allowing us to share your beautiful winter wedding with our readers.  We are grateful for your kind words too.
Thanks also to photographer David Jenkins for once again letting us share his beautiful, luminous photography – I just adore it.
If you are planning your own winter wedding, you might want to look through these pages for more inspiration.
With love,
Annabel
Photographer – David Jenkins
Wedding Dress – bespoke and adjusted by the bride
Brides Hair Accessories – Hair comb – Jenny Packham
Bridesmaids Shoes – Debenhams
Accessories – Jenny Packham earrings + vintage bracelet via Tantrums & Tiaras
Grooms Suit – Lipman & Sons + waistcoat, tie + shoes from TM Lewin
Bridesmaids Dresses – House of Fraser
Silk opera gloves – Sermoneta Gloves
Fur shrug – Gillion Million + fur stole via  Francetti Bond
Florist – Bee Floral
Cars/Transport – Age of Elegance Cars
Entertainment – Ace Acoustics
Catering – Dine With Style
Dance Instructor – Jess Brichto at Start the Dance
 
* The venue is not mentioned by request of the bride and groom
Follow Love My Dress on Google