You didn't think we'd enter the afternoon without sharing another wedding to help round off the working week, did you? Georgina, a Sales Manager for Constantinou Hotels, Cyprus, and Nick, Head of European Marketing at The House of Marley, got married on June 8 2013 at Elms Barn in Toft Monks Suffolk – and their fun and colour-pop day was quite beautifully photographed by the award winning and very lovely indeed photographer, Ross Harvey.
We shared this film with you last month, but it's too lovely not to share again here today – I adore the sound-track and production by the brilliant Studio 1208…
Film Production Copyright (c) 2013, Studio 1208
"We met in Paris. I lived in Sydney and Nick lived in Geneva. We worked for the same company and it was the first night of our work conference in europe and Nick came and sat next to me in a restaurant at dinner.  We knew there was something special between us and we did long distance, (with a few visits between Australia and the UK), for nine months until I decided to leave Australia to be with Nick. 
We had been dating for four years when he proposed back in my hometown of Norwich and we were engaged for one year before our big day." 
Photography Copyright (c) 2013, Ross Harvey
"I wanted a very classic look for my day, very Grace Kelly/Audrey Hepburn, and I wanted it to be English country/modern vintage. As we had lots of friends from OZ flying in I wanted them to experience a very English wedding. My big dream of my ideal day was to be laid back and fun."    
"I wore a Lusan Mandongu dress that I purchased from IIsabella Grace in Royal Tunbridge Wells.  I loved its classic look and the vintage style.  Being really tiny, at only just over 5 feet tall, I needed a dress that didn't drown me! The lace overlay was just beautiful with a subtle sparkle. The Back of the dress is so pretty.  I tried on about 20 different dresses and wasn't sure how to choose as each gown was so very pretty . 
I actually got goose bumps when I looked in the mirror and just knew it was my dress. Apparently on the day my dad had said to a group of my friends whilst I was having my photos, 'that is the dress I knew she would wear, it is everything I imagined' – which made me smile."
I love how the couple had a finger-print tree, so pretty and such a precious and special keepsake…
"The Table plan we made ourselves with a frame and a photo (embarrassing or funny). of each guest tied with a little brown label.  This took hours and hours but was worth it as guests loved it.
"Our florist was Teena – the resident florist at Elms Barn.  I wanted pink peonies and she did the most amazing archway to the barn."
A fabulous wedding poster by the inimitable RSVP Candy…
"I wore blue and sparkly Jimmy Choo heels for my something blue - the first thing I looked for after I was engaged, so I had my eye on them for a few months. When I went to actually purchase them they had sold out.  But Jimmy Choo were amazing and tracked down one last pair in my size in their Madrid boutique and posted them to me the next day!"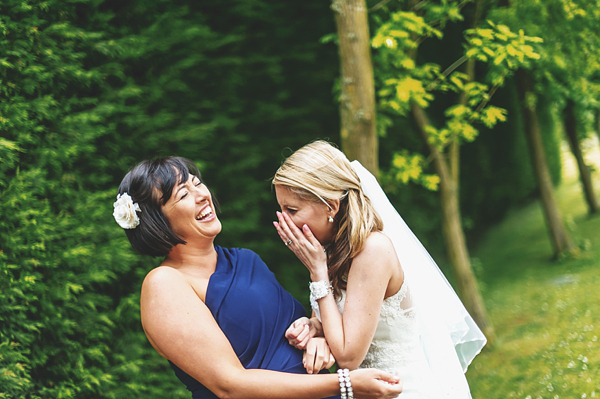 "Our photographer was the award winning Ross Harvey.  I knew I wanted a very natural style of photographer to capture special moments throughout our day.  As soon as I saw Ross' work I knew that his style was exactly what I loved.  Ross is not only talented but a goreous man who makes you feel so comfortable and is there with you from 8 am until midnight.  I have a lot of photo shy people in my wedding party and he captured them so perfectly, and made them feel at ease.
We weren't going to have a film made for our day but turns out that getting Studio 1208 onboard was the best decision that we ever made for our wedding.  I advise brides that are in two minds whether to or not to  definitely do it – sitting down when it is all over after your wedding and watching your film is one of the most moving things you can do.?
"My dad gave me away – luckily one of our great friends is a wedding  harpist so she played Canon in D as we walked down the aisle.  A lovely touch was our favourite song,  'Bittersweet symphony' by The Verve, Lorna actually learnt  for the harp and played it as we signed the register. We walked out to 'One Day Like This' by Elbow."
"We said the traditional vows, except when I came to my 'I Will' I said it far too early, I cut in before the registrar had finished and this made everyone laugh – I was a bit keen!"
"We had a pink ombre wedding cake by La Roche Royal, and it was ombre inside too.  The cake was actually very hard to choose as I had been looking at so many that I didn't feel were right for us, then I saw the detail and just how pretty this cake was and knew that this was the one.
It was definitely a work of art and almost too good to eat." 
"Instead of providing favours we had a candy stand and personalised little candy bags. Also brown bags with Flip flops for people with tired feet.
We also created a quiz for each table with 20 questions about certain wedding guests so they would all have to engage with different tables to find out the answers.  The winning team won a bottle of bubbly and we found this such a great way to get all of our guests interacting and moving around tables.  We also got some very funny answers back!"
"For our first dance, we had 'The First Time ever I saw Your Face', by Roberta Flack.  Both Nick and I felt that the words suited us as we knew from the moment we saw each other that it was going to be something special and funnily enough we visited my mother in law one day and she said that she knew which song we should have and pressed play on her cd player and it was the same song, but we had never discussed it with her!  Also I danced with my dad to 'She', by Elvis Costello.
My dad and I have a very special relationship and that was a moment I will cherish."
Words of Wedded Wisdom…
"Enjoy being a bride to be, it is like being in a lovely bubble and is a very special time in your life. Trust me I look back now and that feeling of planning the wedding was one of the most exciting feelings. It may seem stressful with all the appointments, shopping & organising  and sometimes it is overwhelming, but don't let that overcome you.  After returning from honeymoon I really missed that feeling. You are about to have the best day of your life and the build up should be treasured.
The best advice now looking back is get a wedding video!! Even if you are not sure that you want one, the feeling we had post wedding to sit down and watch the film was indescribable and so emotional.  We were quite sure we weren't going to have one but when I saw Studio 1208's work I changed my mind and I am so glad I did  To have that film of your day is something I cannot recommend enough.
Make sure your decisions are your own, friends, family & magazines etc are all amazing for giving you ideas but I think you have to go with what your heart tells you. Its not a show, it's a day for you and your husband to celebrate so make sure that it is how you imagine in your head."
"My husbands advice is to "do it in bite sized chunks" he didn't like to do too much and get bogged down!
 I made sure that for a few moments during the day I stepped back and looked around smiling, just appreciating what a special day it was. Everyone always tell you it goes too fast and I felt that I held onto every second I could."
Love My Dress is such a pretty very feminine blog which was my go to place every day for ideas – and I still look at it and wish I could do it again.  I also really like how other topics are discussed too, such as children, tips for marriage etc. I think it's great how it covers all types of weddings and budgets and there is something for every style of bride. My Australian friends who are brides to be are huge fans as they read your book when they were over here for my wedding."
A fabulous wedding for a Friday afternoon, don't you think? Congratulations to you both Georgina and Nick and of course huge thanks to photographer Ross Harvey – who only went and won ANOTHER regional award!
Do we have anymore Lusan Mandongus brides reading this today? Tell us which design you will be wearing on your wedding day.
And will you get having your wedding filmed like Georgina and Nick?
With much love,
Annabel
Photographer – Ross Harvey
Venue – Elms Barn in Toft Monks Suffolk
Brides Dress – Lusan Mandongus via Isabella Grace in Royal Tunbridge Wells
Veil/Headpiece – Isabella Grace
Brides' shoes – Jimmy Choo
Lace Cuff + Hair Accessory – The Modern Vintage Bride
Grooms Suit – Next + Ted Baker shoes
Bridesmaids – tailor made in Australia
Flowergirls – Monsoon
Flowers – Teena, Elms Barn resident florist
Cake – La Roche Royal Tunbridge Wells
Entertainment – Band – Agent Orange Norwich
Additional Styling –
Rings – Tiffany
Stationery – Paper and Inc (invitations + order of service)
Makeup Artist – Love Moi
Hair – Fusion Hair
Film Producer – Studio 1208
Wedding Poster – e RSVP Candy