It's always such a pleasure to receive emails from our readers – emails notifying us what a fantastic wedding they had and thanking us for the inspiration we provided in their wedding planning journey. For us it makes all the love and passion we pour in to Love My Dress so worth while, and it's a real treat to be rewarded with genuine thanks and appreciation. So do excuse us for just a moment whilst we share one such message we received last month:
"Hi Annabel, I just wanted to thank you for your amazing blog and book, which were a massive inspiration to my wedding. I read Love My Dress everyday (and still do!), and love how you feature such an array of the most gorgeous real weddings. A friend of mine introduced me to your blog and I used the florist she recommended, who were just amazing!
Reading Love My Dress helped to plan out the wedding so much (my favourite bit of each feature is the words of wedded wisdom!) and also was a massive influence on the style of photographer we chose.  So, thanks again for helping make my wedding day totally perfect! And here's a picture of me and my handsome new husband…"

Photography Copyright (c) 2013, Rachel Movitz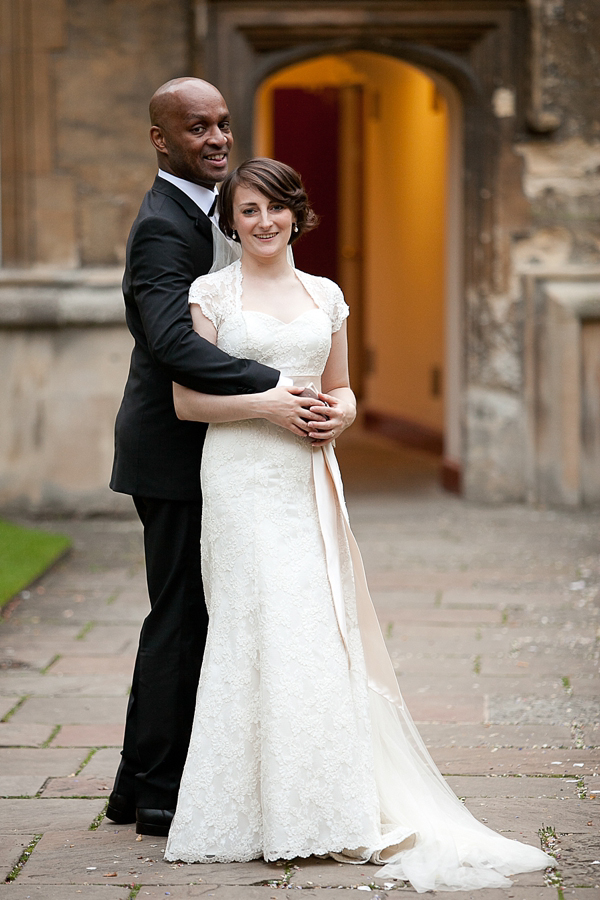 That thoughtful and incredibly kind message came from newlywed bride, Theo.  Theo, who works at University College Oxford or 'Univ' (one of Oxford University's self-governing colleges), married her fiance Nigel, a chef, on 14th September, 2013 at University College Chapel…
"I studied at Univ for my Master's degree, and it was such a beautiful venue. Oxford is a really important place to both of us, as it's where we fell in love and got engaged. It was also much easier for our guests to get to than the Isle of Wight, which is where I'm from.
We didn't hire a wedding planner, but we had lots of help from our family and friends to get everything there on the day.  The Best Man was also amazing at getting everyone where they needed to be, and, although I had just two bridesmaids, I asked some of my friends to be my 'Bridal Brigade'. They planned my hen do and were there to help me get ready on the day."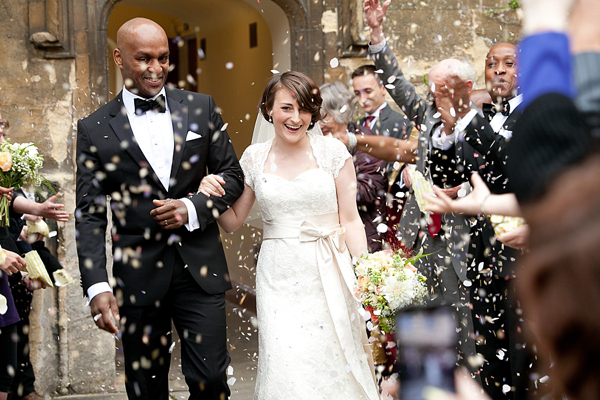 "Nigel and I met over two years ago, just a few weeks before I left London to start studying for a Master's in Oxford. We were both working at Lord's Cricket Ground, and I went into his kitchen to collect some food, and our eyes met across the hot plate (very romantic!). Fate intervened and gave us both a week off work, and we ended up going on a seven day date! We met up each day and ended up spending the whole day together.
Then, before I left for Oxford, he gave me a Tiffany bracelet so I wouldn't forget him.  He kept coming to visit me in Oxford, and we realised pretty quickly we were going to get married. We waited until the January to make it official, so we could meet each other's families first, and then were engaged for a year and 8 months before the wedding."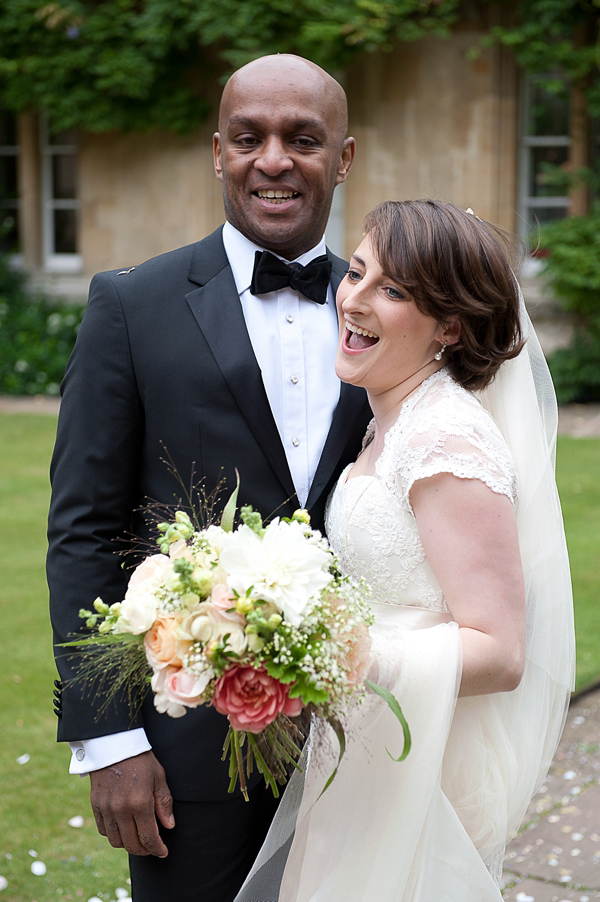 "We got the invitations from a letterpress company, Strawberry Sorbet. The invitations were absolutely beautiful, and Sarah was so good at answering all my questions, and sending samples.  We handmade our orders of service with Kraft card, cream paper and ribbon.
I designed and printed them, and it was fun spending an evening putting them together over a bottle of wine!"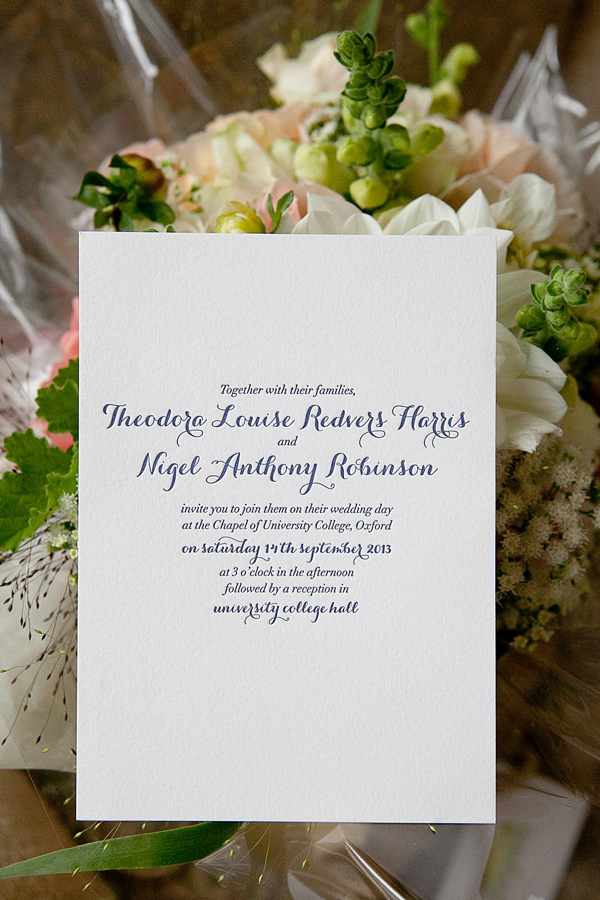 "We wanted to create a really magical afternoon and evening for us and our guests. The setting of the college was so romantic, and with all the gorgeous flowers and the candlelight I thought of it as a 'Midsummer Night's Dream' wedding.
The flowers were really important and we decided on a light, summery, palette of colours, with a dreamy, natural feel. It was good that it was all in one place, so our guests didn't need to go anywhere. We had the wedding service in the chapel, which was an intimate, candlelit ceremony, followed by dinner in the hall, and then drinks and dancing in the bar downstairs.
We chose the flowers from a flower farm, Green & Gorgeous, on a recommendation from my friend Hannah – whose wedding featured here on Love My Dress."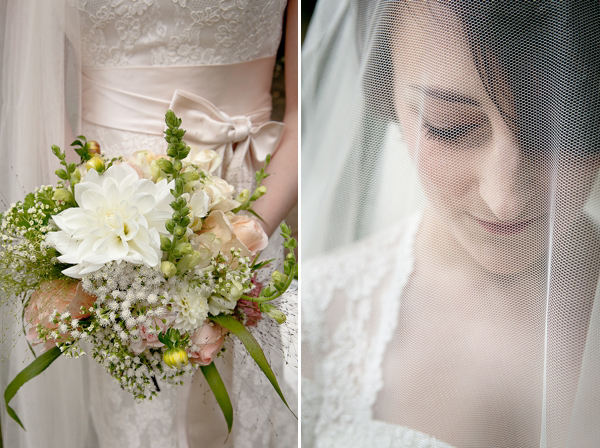 "I knew I wanted to pick seasonal flowers in a colour palette of blush pinks, cream, apricot, green, and pale yellow. I went with my mum and aunt to the farm a couple of weeks before the wedding, and we chose which flowers to put in the bouquets, on the tables, and the milk churn. I saw a wedding on Love My Dress with a milk churn full of flowers and was really taken with the idea. 
Just going to the farm was amazing – it was so beautiful to wander around seeing all the flowers growing, and Rachel Siegfried totally understood the organic, romantic look I wanted. She suggested the parfait jars for the centrepieces, which worked really well. All the flowers were stunning, and the bouquets were especially gorgeous, with scented roses and herbs."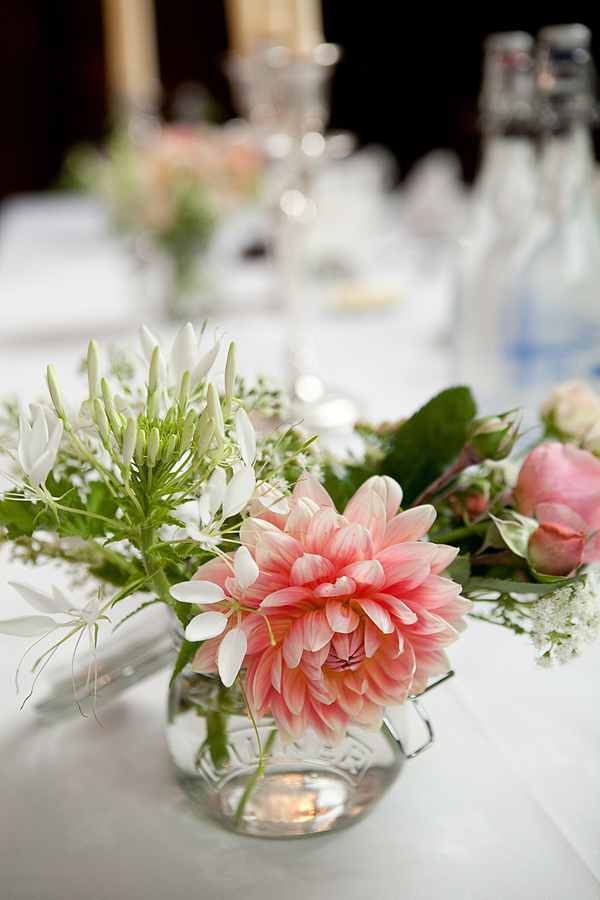 "I wanted to wear a veil and wavered between a chapel length veil and a birdcage veil. In the end, I loved the romance of a long veil, and there isn't really any other time you can wear one!  I initially bought a Juliet cap veil from Etsy, but it didn't work with the dress, unfortunately. It was a shame to lose the beautiful silk tulle though, so it was redesigned by Forget Me Not Designs into a veil with a blusher, and sewn to a beautiful art-deco style hair comb they stocked in their shop.
My shoes were Diane Hassall's 'Buttercup' shoes, from Ellie Sanderson. I'd had my eye on them for a while as they matched the lace of the dress perfectly, but they were quite expensive, so when they went in a sample sale, I bought them immediately (£200 to £70 – bargain!)."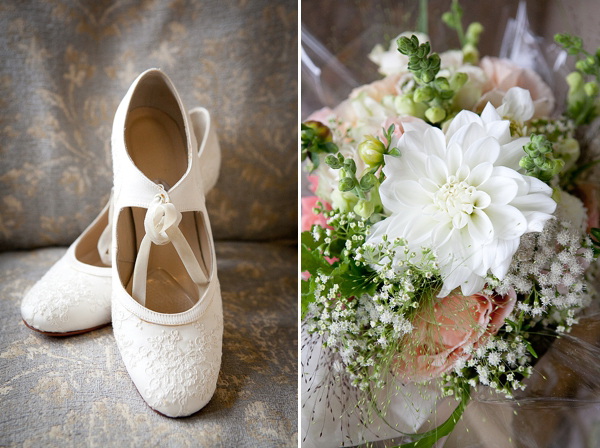 "I really loved the idea of mismatching bridesmaids and flower girls, so I gave the girls a colour palette of cream and blush pink, and told them they could pick whatever they liked. My sisters were my two bridesmaids, and they chose dresses in cream from ASOS and Coast.
I really wanted them to pick something that they liked, and hoped they would wear it again. They both looked fabulous, and the mismatched dresses came together really well on the day. We all live in different parts of the UK, so it was easier for them to buy the dresses where they lived."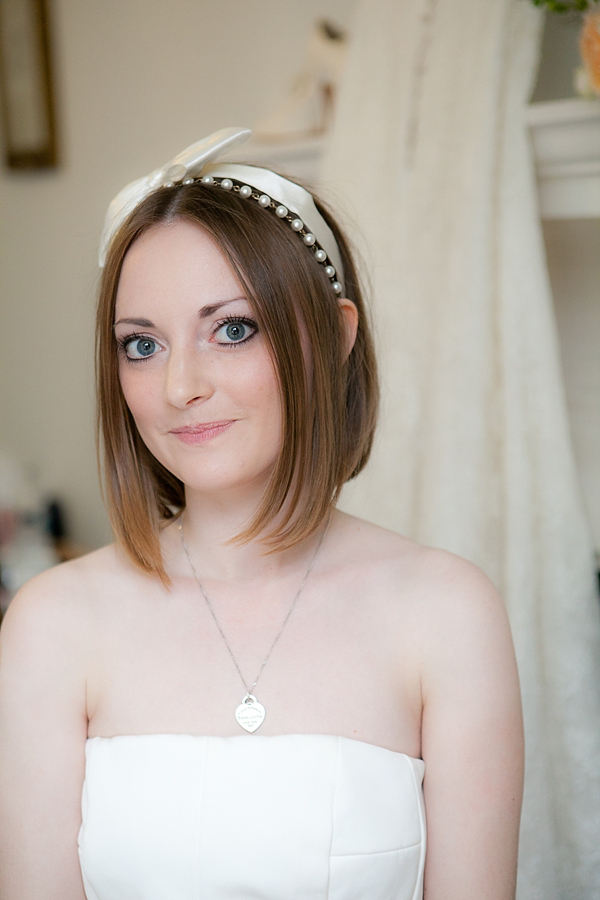 The bridesmaids chose their own shoes, in pink and nude, from Dorothy Perkins and New Look.  The bridesmaids picked their own accessories too – the bow headpiece was from Dorothy Perkins and the rose from Claire's Accessories."

"My dress came from Forget Me Not Designs on the Isle of Wight. I've often walked past the shop and thought they had gorgeous dresses in the window.  The dresses are designed and made in the shop, and I loved that I was supporting a local business – especially as Gerry and Katrina are two of the loveliest people!  As soon as I started trying on dresses in Forget Me Not, I knew I'd find one from there, if only because of the amazing fabrics they used.
Each dress was so beautiful, I felt like I could have worn almost any of them, but when I put on the 'Anguilla' dress, I cried – so I knew that was 'the one'! It was very elegant, and had a timeless feel to it, a bit like Grace Kelly's dress.  Everything about it was gorgeous, and I really loved the 'statement' lace back with all the buttons, and the champagne coloured sash."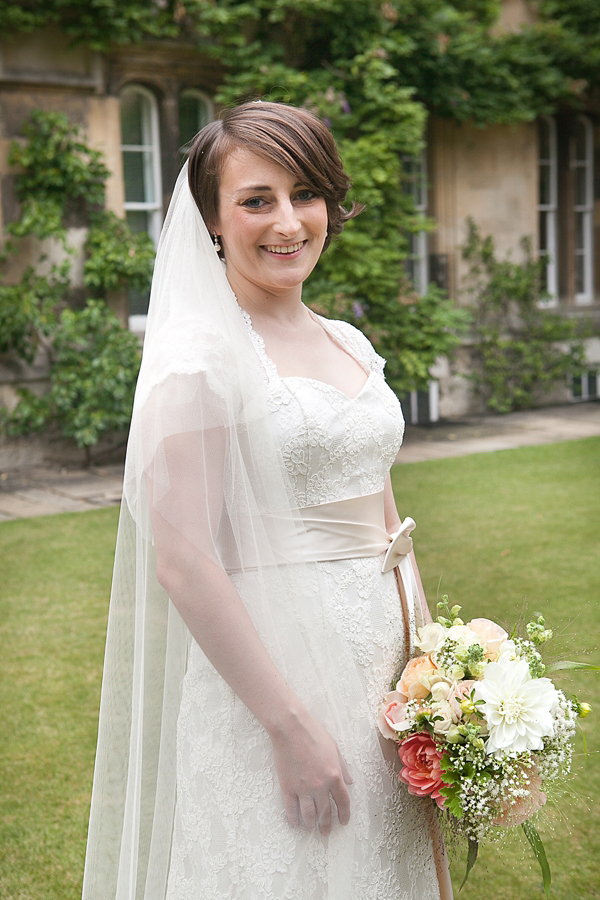 "The dress was then created to fit me from a toile, and it was so fun going to each fitting and seeing it become the full dress. Gerry and Katrina were so helpful – I would recommend them to anybody. They never made it feel about the 'sale', which some bridal shops do, and let me try on as many dresses as I wanted.
I loved my dress so much – I might need to do a cherish-the-dress shoot so I have an excuse to wear it again!"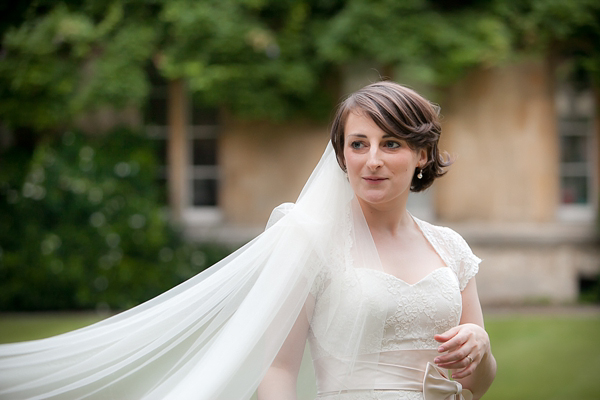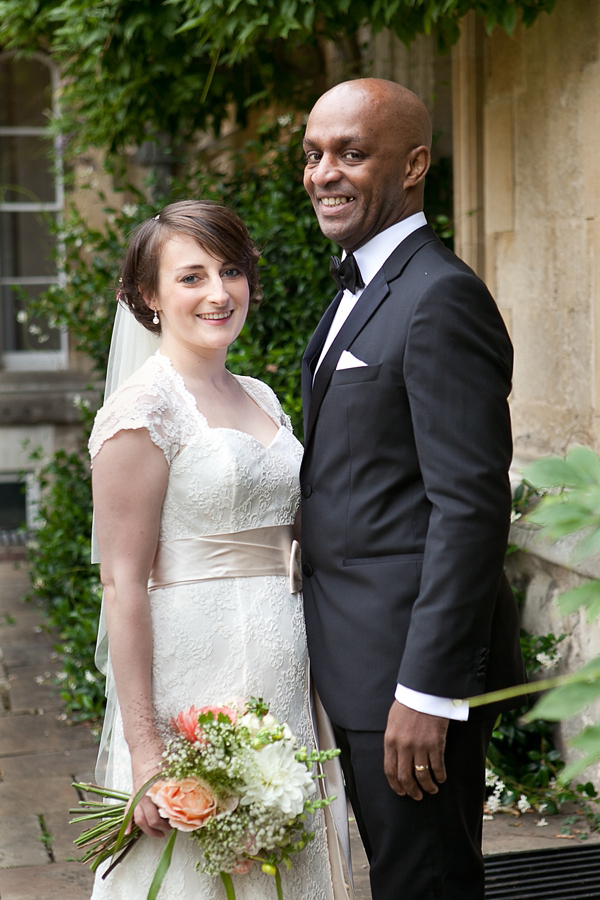 "The flowergirls were Nigel's nieces. They wore these gorgeous pale pink and cream dresses with little shrugs and sashes. Everyone thought they were adorable! The taffeta dresses and fluffy shrugs were from BHS and the champagne and pink sashes from Demigella."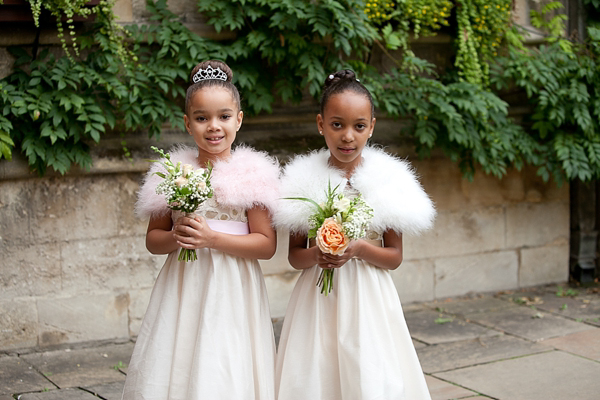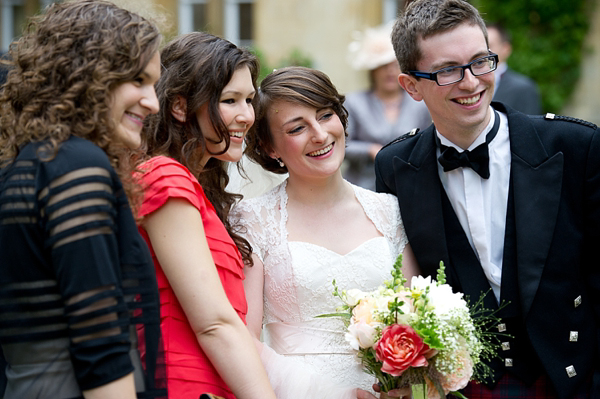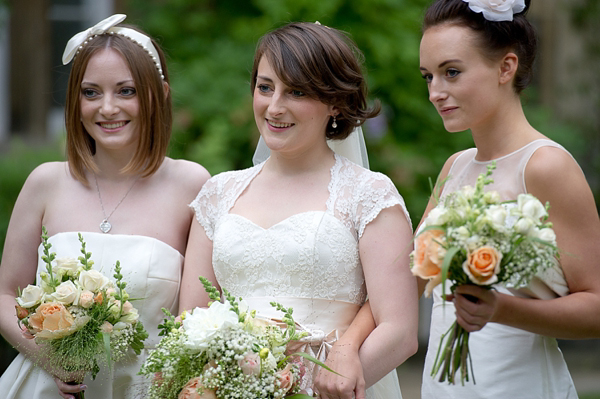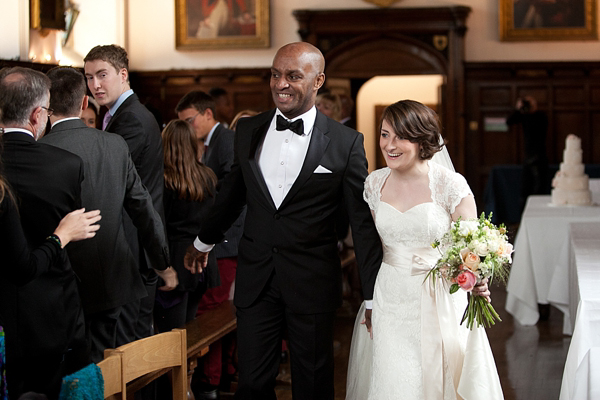 "The venue was so spectacular; it really didn't need much styling. The chapel was heavily decorated already, and was lit by candles. It didn't really need flowers, so we placed the milk churn at the chapel entrance. The tables in the hall were set up by the College, and had beautiful silver candelabras on them.  For the reception, the guests were sat along long tables on the old oak benches.
Our florist Green & Gorgeous put the flowers in natural-styled arrangements in low parfait jars, which let people talk to each other easily, and countered the formality of the setting. These were alternated with the candles, which gave the hall a beautiful atmosphere as the sun went down."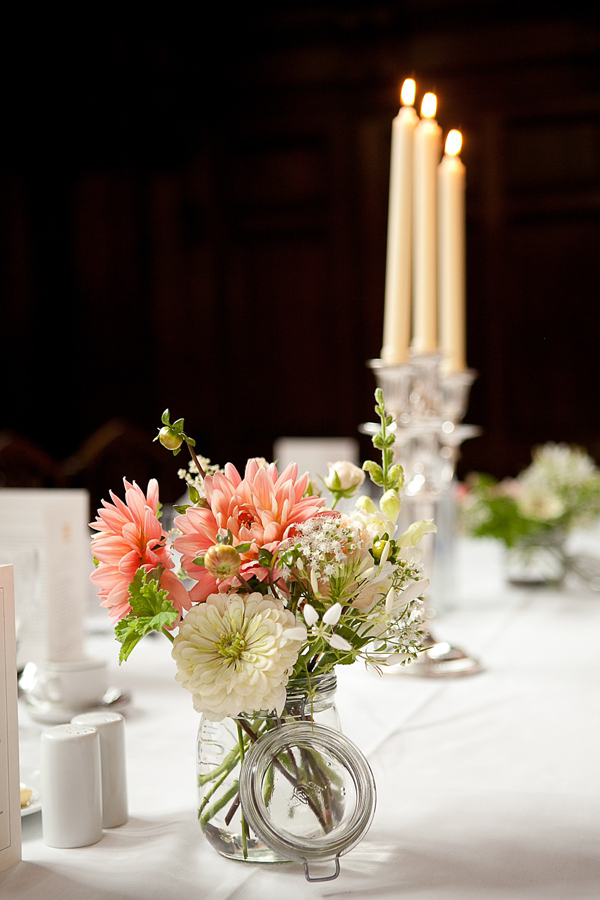 "Rachel Movitz, our photographer, was fantastic; I honestly can't praise her enough. When we were looking for a photographer, I really felt that you got a sense of people's personalities from their photos.  I just loved the way Rachel used a photojournalist style to capture little moments, and the gorgeous luminous quality to her photographs.  She was so lovely, too, even when I got a bit stressed just before the ceremony. 
We also did a pre-wedding shoot with her, which definitely helped on the day. Neither of us particularly enjoys having our photo taken, but she made us feel so comfortable, we almost forgot she was there. She and Ben, the second photographer, were also really discreet during the ceremony and the vows."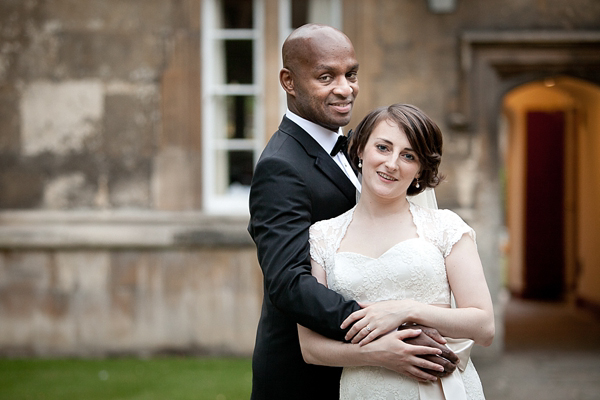 "We wanted to pick rings with a bit of meaning behind them. My ring was rose-and-yellow Welsh gold from Clogau. I used to live in Wales, so that was really important to me, and I loved the leaf design of the ring.  We spent ages looking for Nigel's ring – he didn't want to buy one from the high street. We eventually went to a little jewellers in Oxford, Payne & Son, who created a beautiful bevelled gold ring for him.
My engagement ring was from another jewellers in Oxford, Norah's Antiques (no website), and was a sapphire and diamond ring, based on an Edwardian design. I loved the delicate vintage design."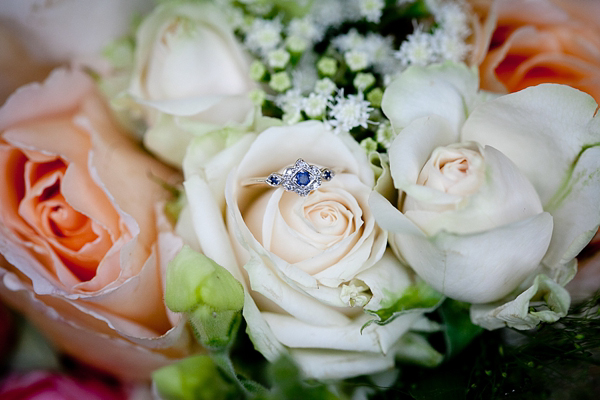 "My hairdresser, Ryan, was just five minutes from the College, so he curled my hair in the morning, along with my mum and one of my sisters, which was fun. I decided to do my own make-up, so I went to NARS in Selfridges, and they showed me how to do it properly.
My earrings were from Heavenly Necklaces, which my parents bought as a gift. They went perfectly with the dress and veil, and were understated and elegant. My grandmother also made me a lace hanky (she made the lace herself!) for my 'something blue', which is something I really treasure."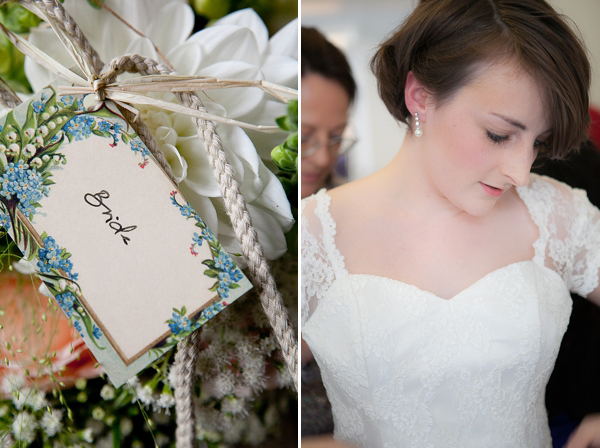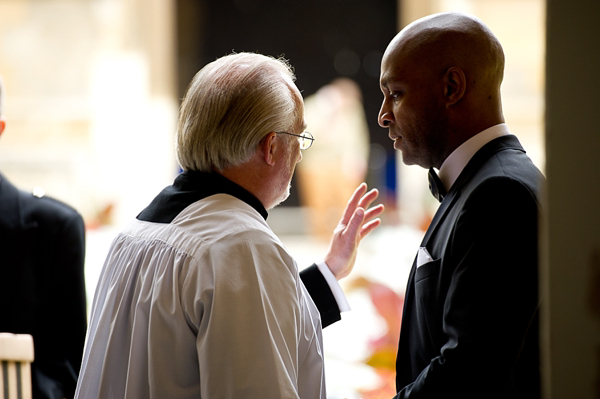 "We decided on black tie for the wedding. Nigel bought his tuxedo from Hugo Boss on Bond Street, who tailored it to fit him, along with a shirt from Thomas Pink and bow tie from Favourbrook in Piccadilly. I didn't see the tux until the wedding – he said if he couldn't see the dress, I couldn't see his suit!  He also wore antique mother-of-pearl cufflinks, which were a gift from my parents."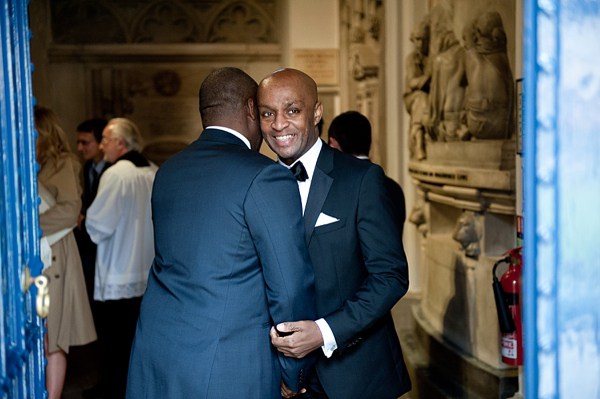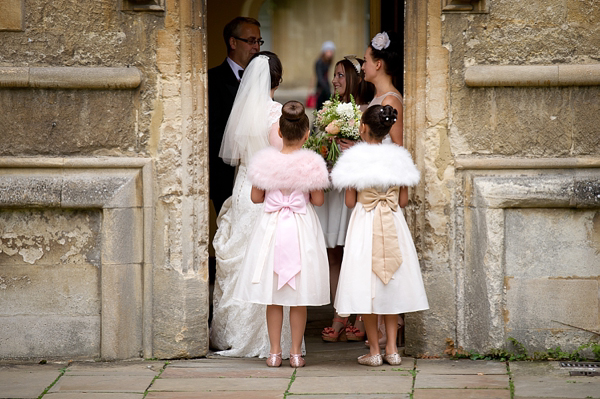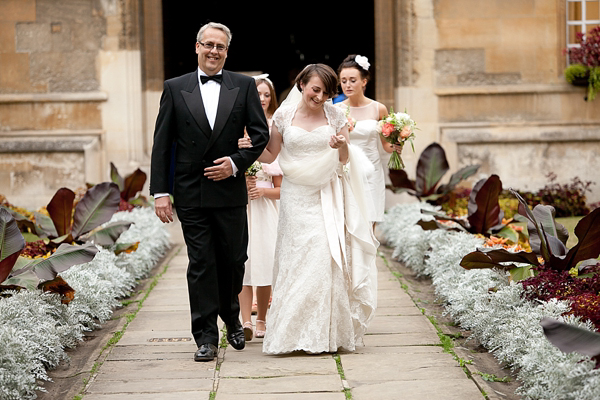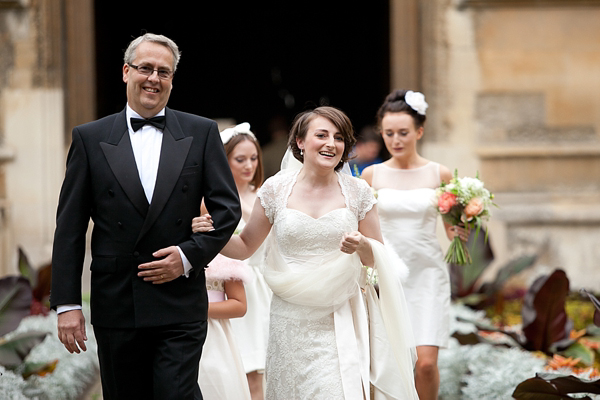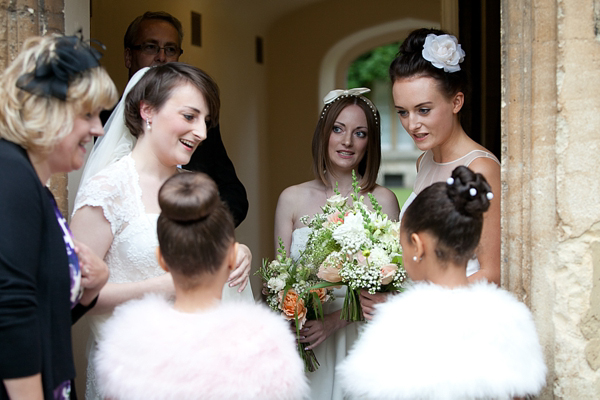 "My godfather walked me down the aisle and 'gave me away', in a very non-patriarchal or sexist way!  I chose my godfather to accompany me as my dad was taking the service.
A friend of mine offered to play the organ for our service. He suggested a piece by Handel, from Concerto Pour Orgue En Si Bémol Majeur, Op. 4 No. 2. It was a really beautiful piece, and perfect for the small chapel. We processed out to Mendelssohn's 'A Midsummer Night's Dream', Op.61, No. 9 – very apt!"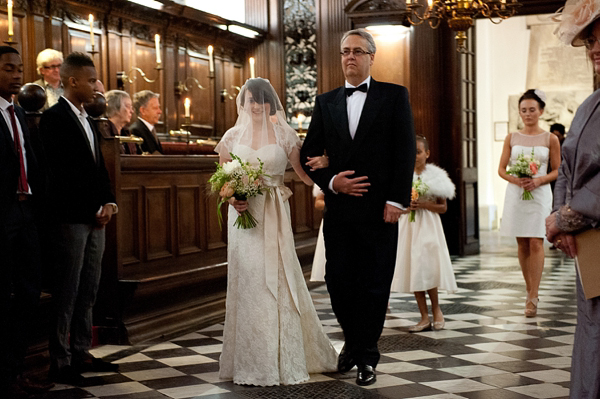 "The service was a traditional Catholic wedding service, which was really important to us.  It was unexpectedly powerful to say the vows in the traditional language, and to think of all the other people who've said the vows before us."
'I, Theodora, take thee, Nigel, to my wedded husband, to have and to hold from this day forward, for better, for worse: for richer, for poorer; in sickness and in health; to love and to cherish, till death us do part, according to God's holy law; and thereto I give thee my troth.'
'I, Nigel, take thee, Theodora, to my wedded wife, to have and to hold from this day forward, for better, for worse: for richer, for poorer; in sickness and in health; to love and to cherish, till death us do part, according to God's holy law; and thereto I plight thee my troth.'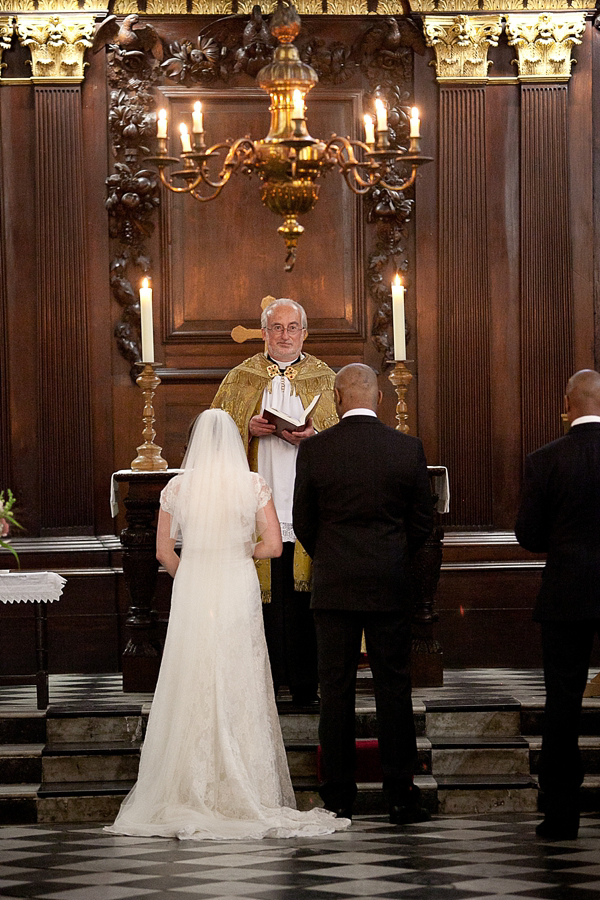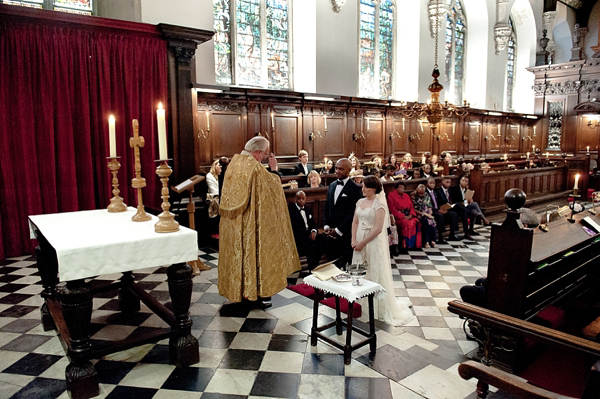 "As our wedding was Catholic there were several set readings we had to choose from.  Nigel and I picked the two readings we felt most resonated with us about the strength and power of love.  We chose the two readings together – the first one we particularly loved, it was Song of Solomon 8:6–7ab.  Our second reading was 1 Corinthians 12:31–13:8a."
'I will show you a still more excellent way. If I speak in the tongues of men and of angels, but have not love, I am a noisy gong or a clanging cymbal. And if I have prophetic powers, and understand all mysteries and all knowledge, and if I have all faith, so as to remove mountains, but have not love, I am nothing. If I give away all I have, and if I deliver my body to be burned, but have not love, I gain nothing.  Love is patient and kind; love is not jealous or boastful; it is not arrogant or rude. Love does not insist on its own way; it is not irritable or resentful; it does not rejoice at wrong, but rejoices in the right. Love bears all things, believes all things, hopes all things, endures all things. Love never ends.' (1 Corinthians 12:31–13:8a)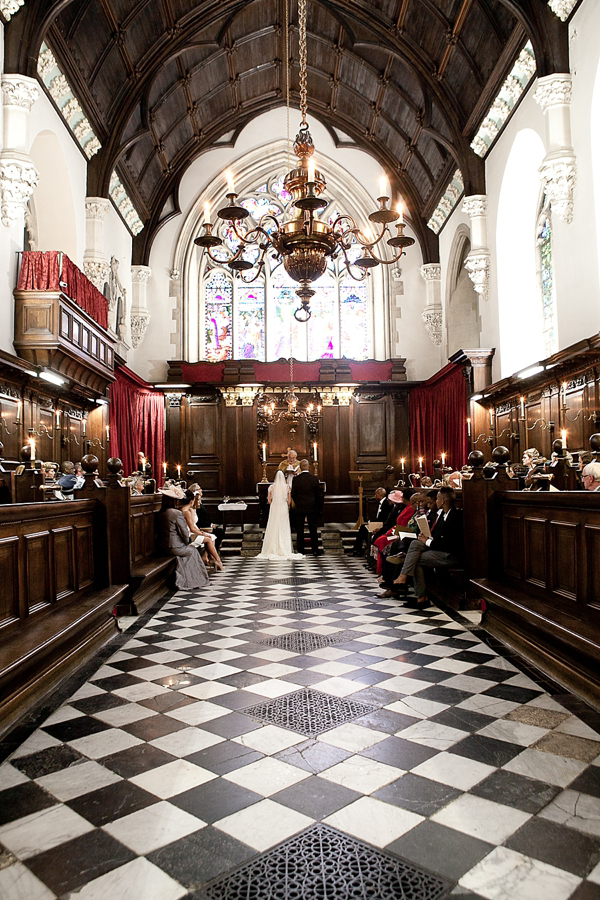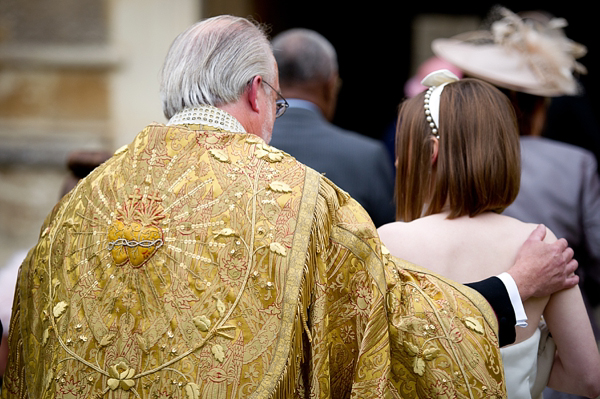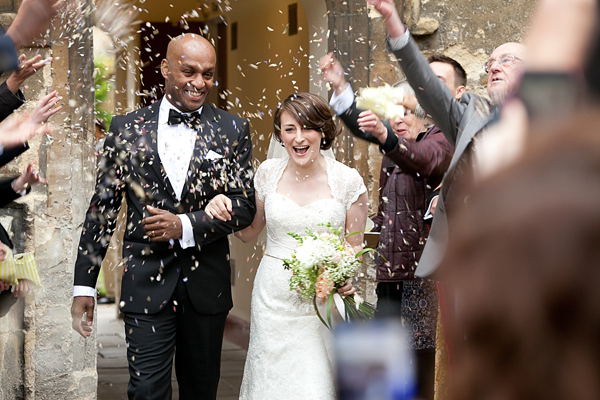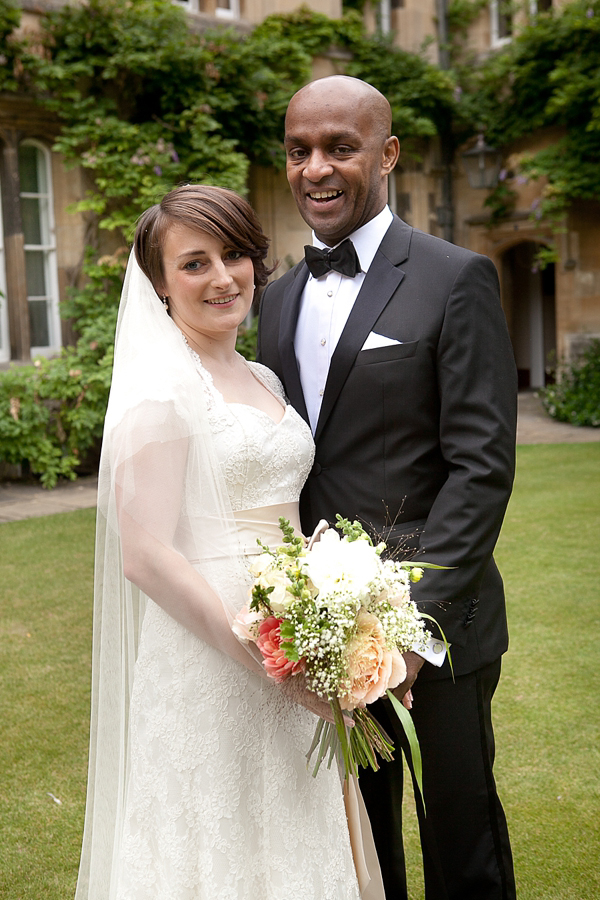 "We didn't have favours, but I made up bags of flower petal confetti for our guests, in yellow and white striped sweetie bags. I think it made the confetti shots amazing."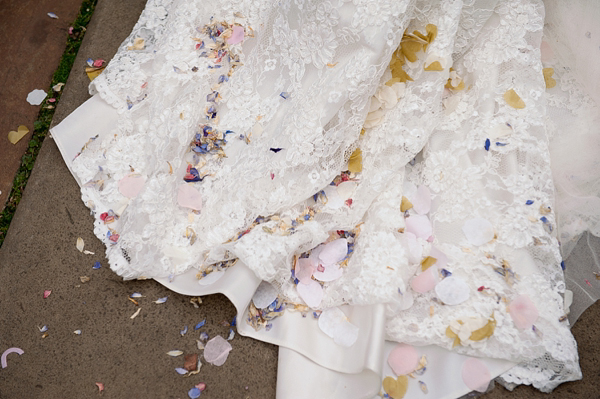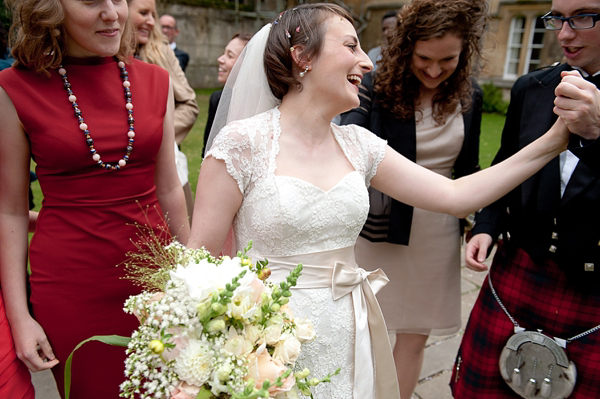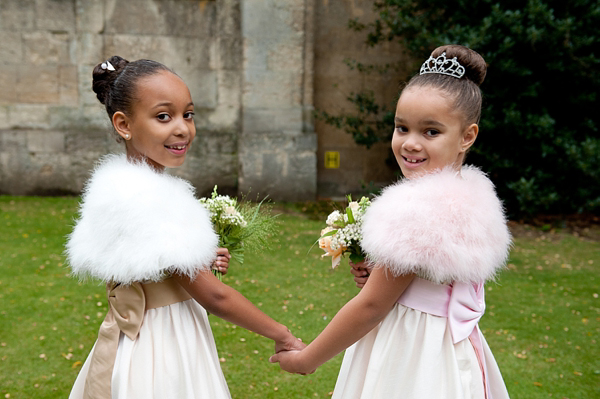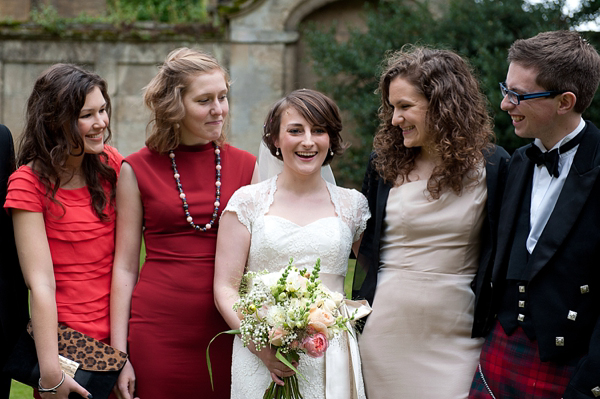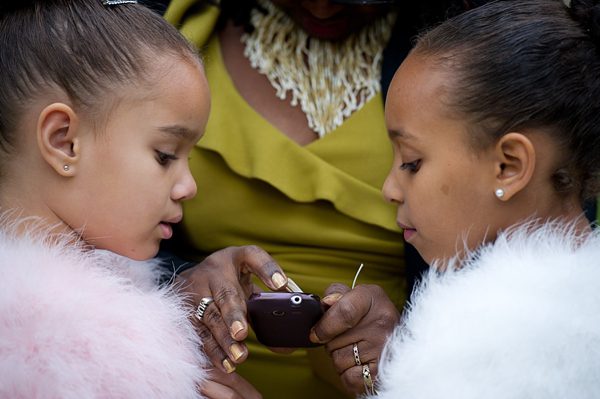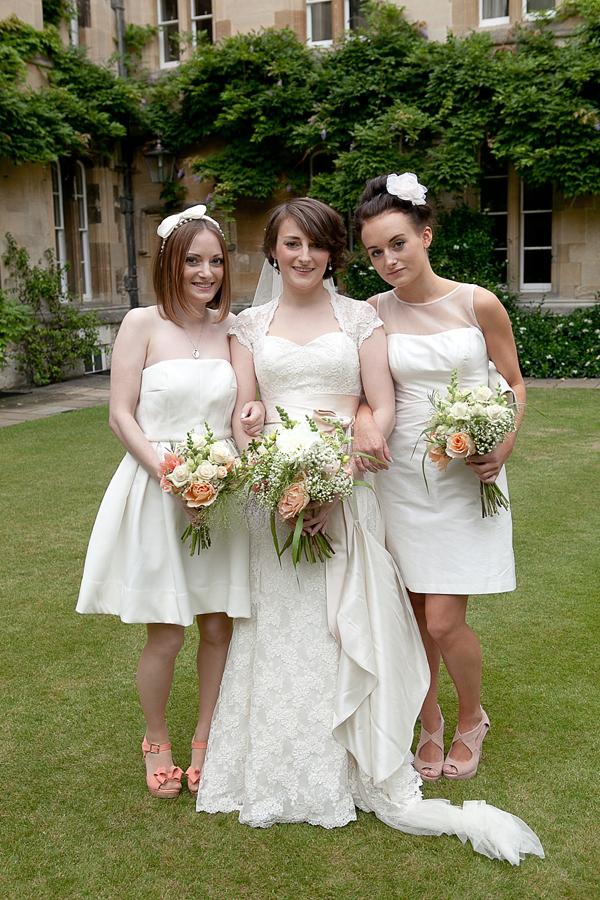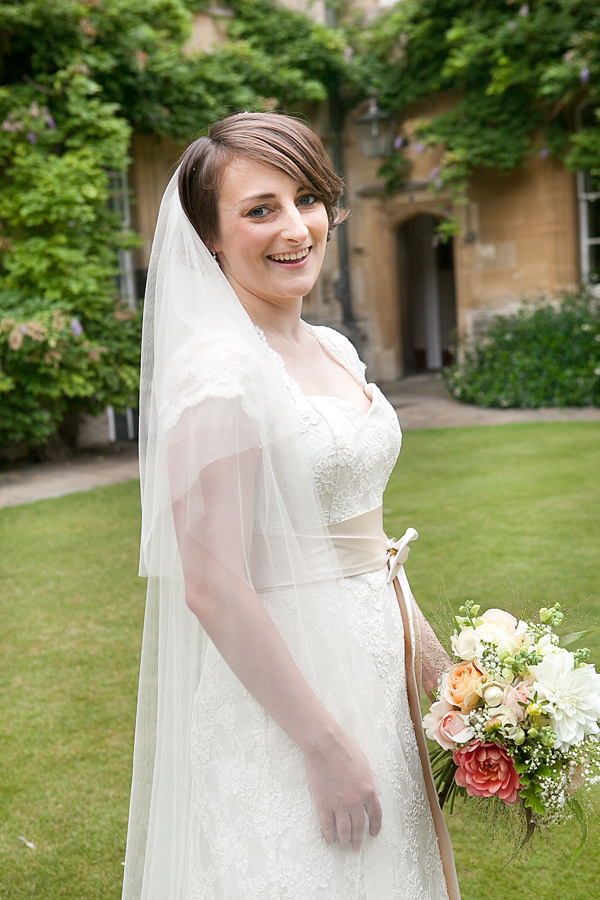 "My two brothers and three of Nigel's nephews acted as ushers – we asked them to wear whatever they wanted. My brothers ended up co-ordinating in red, but that wasn't by design!"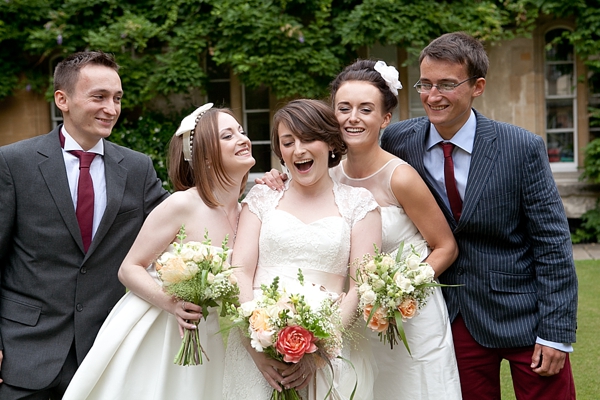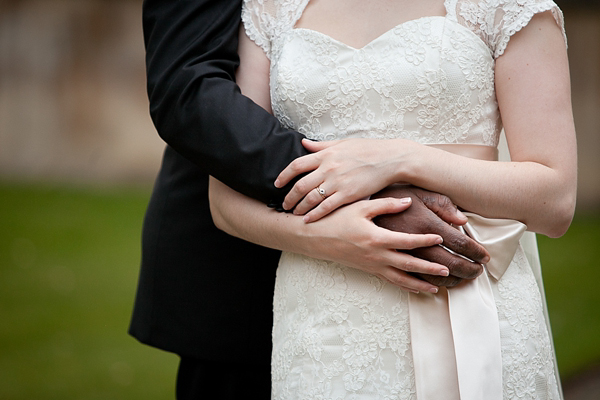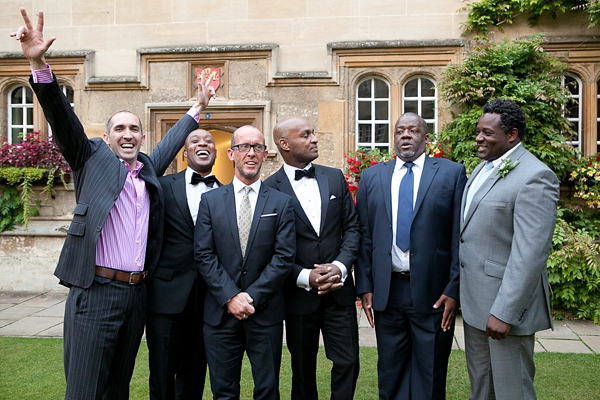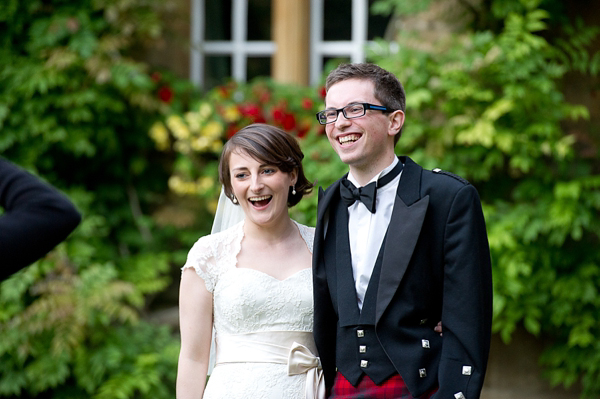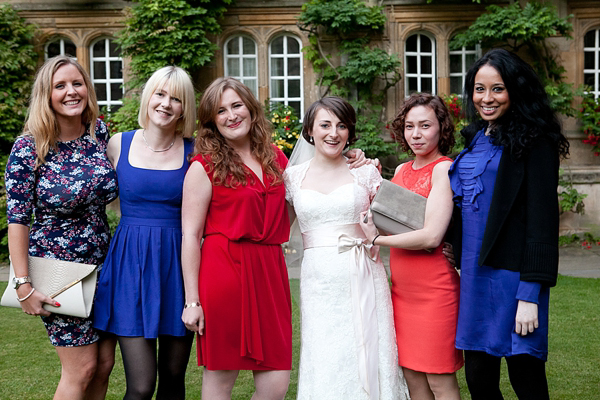 "I loved my mum's gorgeous silk 'mother of the bride' outfit from Elizabeth Pack (no website but you can find out about them here). She looked amazing!"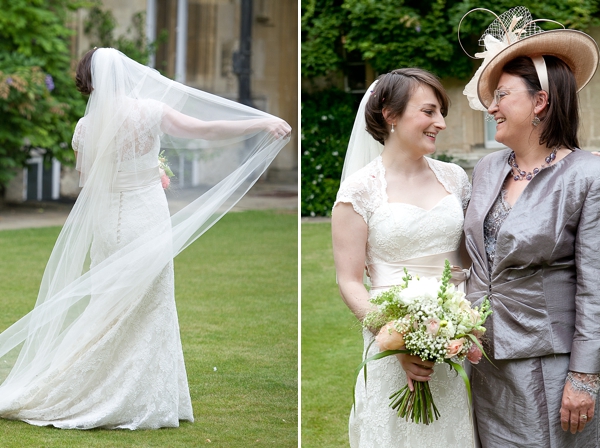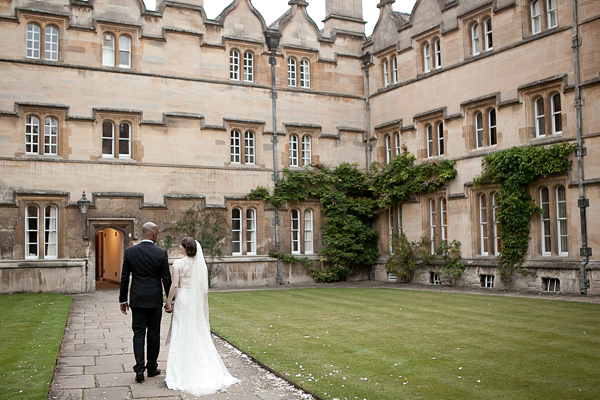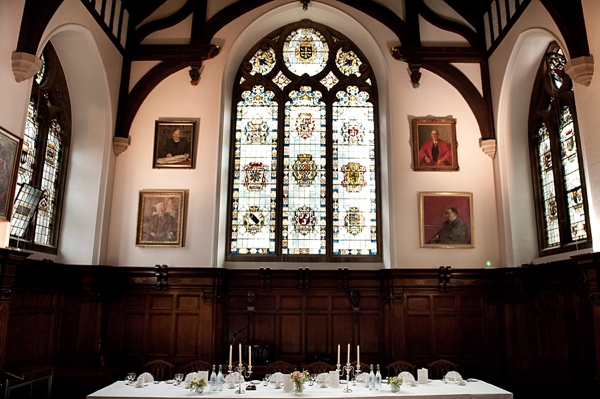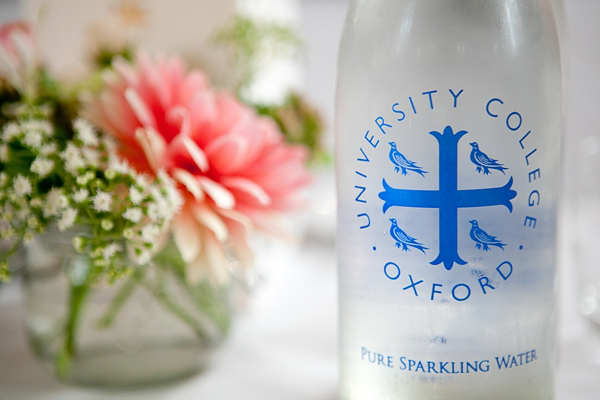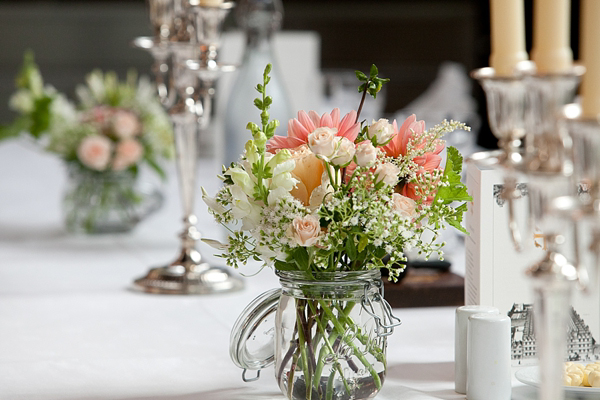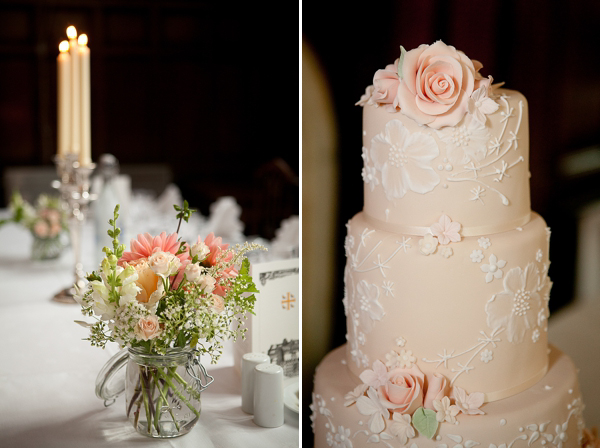 "The wedding cake was designed by us, together with Jordana Rickson from Petit Gateau, and it was served as dessert. We chose a pink champagne sponge, which was delicious, and created a romantic roses and lace design to go with my dress.
I was stunned when I saw the cake for the first time – Jordana is so talented. It was even better than we imagined, and tasted delicious! It made an amazing centrepiece at the reception – I would recommend her wholeheartedly."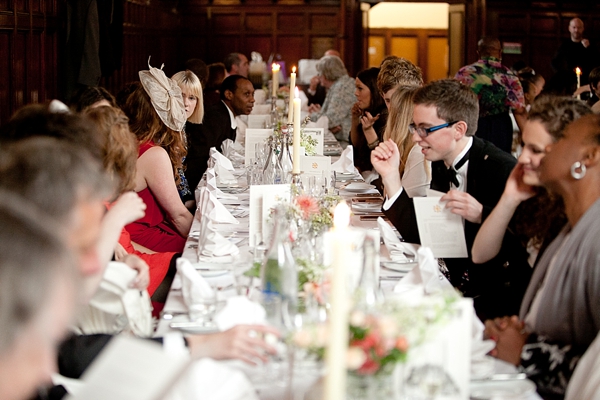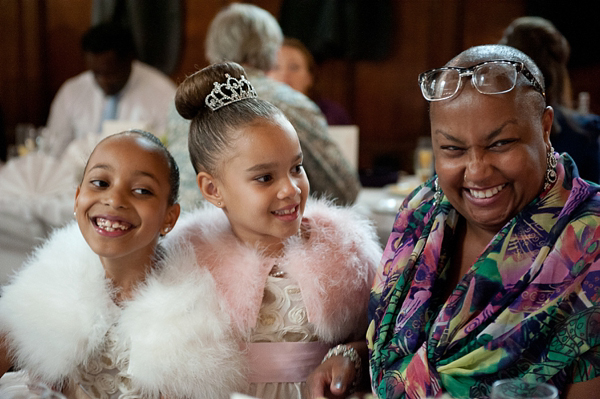 "As Nigel is a chef, he wanted to relax and not have anything to do with the food on the day – as long as it was delicious! We already knew how good the food was, so we discussed our choices with the chef, then just left it up to them.
Not worrying about the food was really important to both of us.  We got our wine from Majestic, who were incredibly helpful, and we had a lot of fun picking prosecco and wines for the meal!."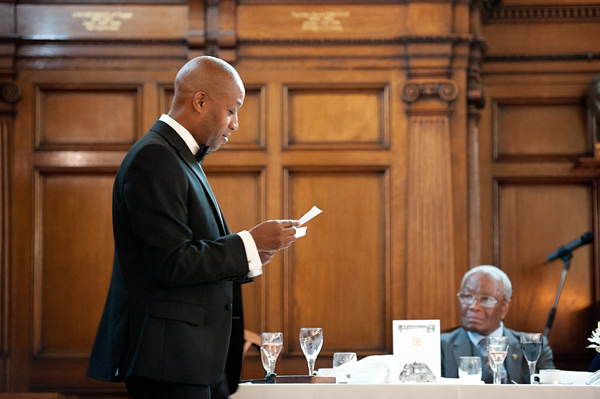 "We chose Florence and the Machine's version of 'You've got the Love' for our first dance, which was romantic but not too slow! We were both a bit unsure about doing a first dance initially, but were glad we decided to.  My dad also had a surprise father-daughter dance planned, which was quite emotional."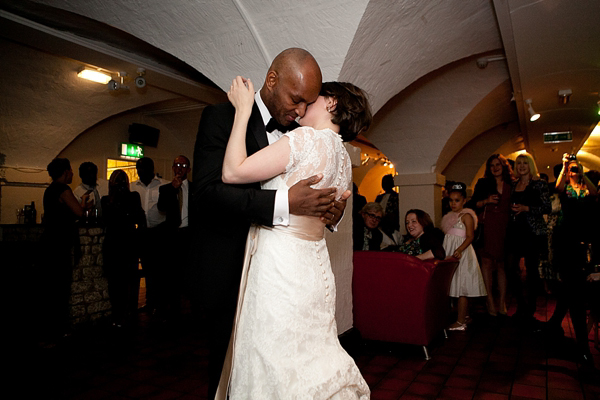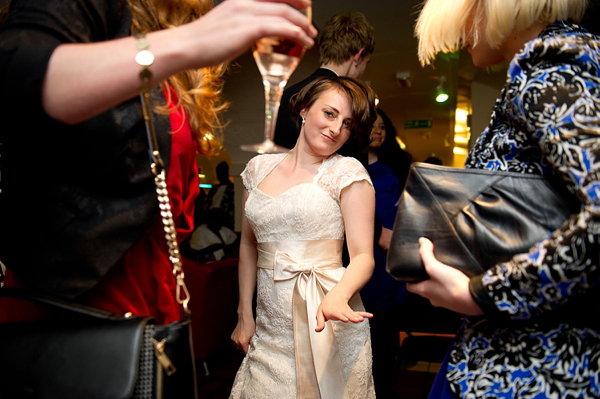 "I don't think I could pick any one favourite memory from the day, it was all so happy and special, but two definitely stand out. The first one was saying our vows, and the second was a moment during dinner, when the sun had just gone down, and there was a happy buzzing atmosphere, with all our family and friends chatting, bathed in candlelight. That was a lovely moment!
A friend of mine was our DJ in the bar afterwards, and we had a pool table and football table set up, which went down really well. My uncle got beaten by a 6 year old on the football table!"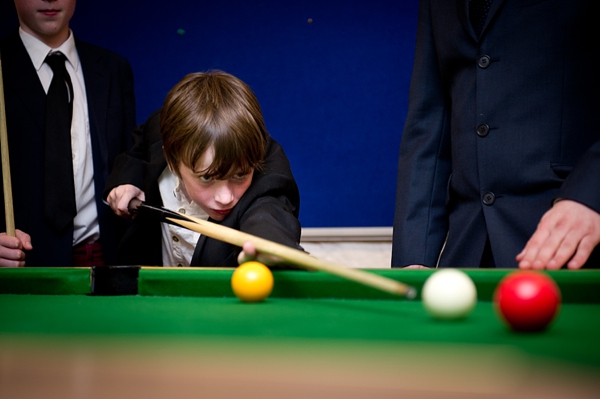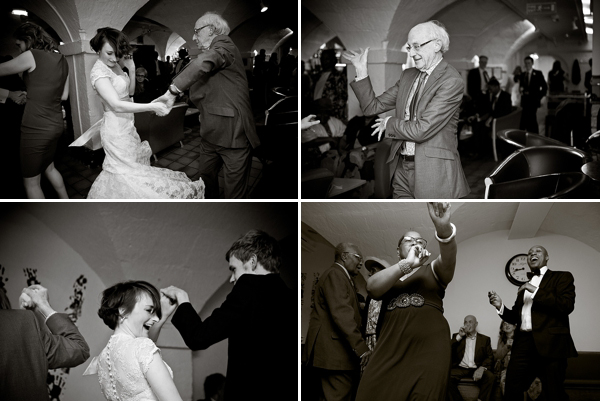 Words of Wedded Wisdom…
"Only do what you care about, and create a wedding that reflects who you are as a couple, and what you value, not what other people want. If it's not 'you' then you don't need to do it!  Take a few moments with your new husband to take in the day, and what you've just done together.
For our table plan, I used a nifty online tool called Top Table Planner, which made it really easy to track RSVPs, dietary requirements, and to change the table plan around. That was a super-useful find!
We chose suppliers we liked and felt we got on with – it made the day feel more personal somehow.
I really appreciated our honeymoon, even though it was just a few days!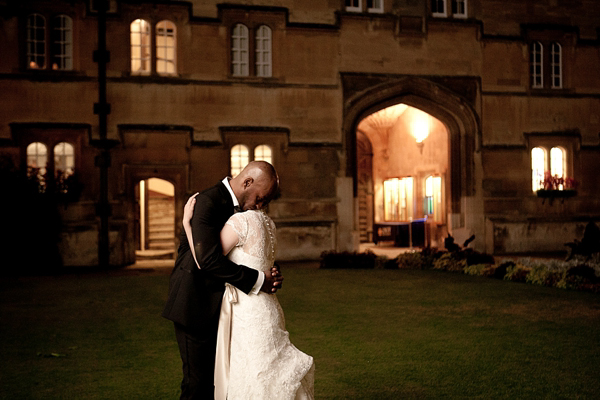 "I think one good piece of 'wedded wisdom' always stood out me, about how fast the day goes, so we took a couple of 'time outs' on the day. We took 10 minutes when everyone went up for drinks before the meal, and another 10 minutes after the meal, for just us and our photographer. It was so lovely just to take a few minutes to appreciate what was happening.  There isn't anything I'd change – except maybe buying a buttonhook for my dress, we'd have got it done up a lot faster!
Finally, I read Love My Dress, which was a massive source of inspiration, and Pinterest was really good for trying out different ideas and colour palettes.  The wedding features on Love My Dress are always really thoughtfully laid out and interesting to read; they never seem unattainable or airbrushed. They have a nice balance of text and photos, too. It's also budget friendly."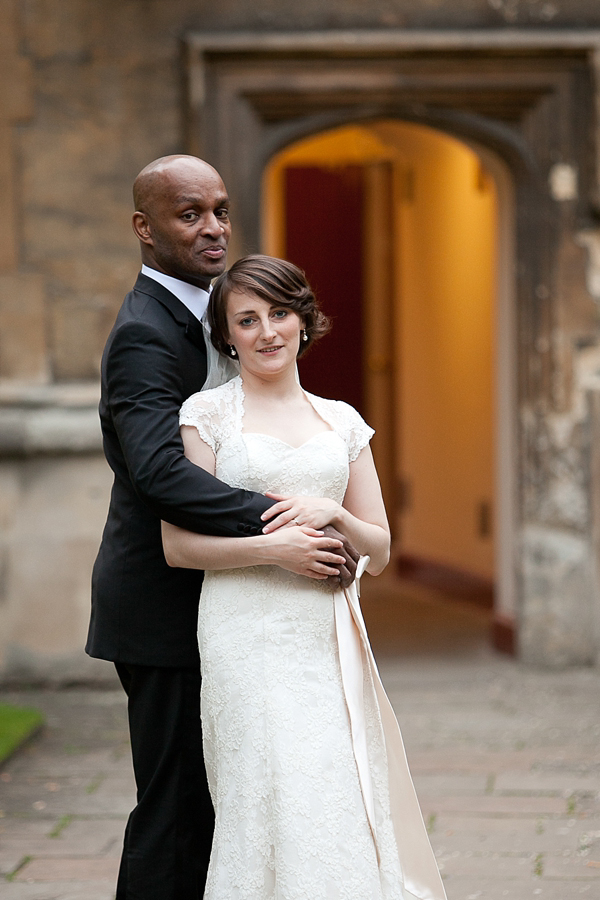 Oh what a beautiful wedding – a day that really touches at the heart of what's important  in what can so often become a crazy carnival of wedding planning.  Huge thanks to you ,Theo, for not only taking time to share your day but your wonderfully kind words about Love My Dress too.
Thanks also to photographer Rachel Movitz, for so kindly agreeing to share these beautiful wedding photographs today.
What do you love most about this wedding dear readers?  We hope you loved reading through this wedding story. If you'd love to read and be inspired by many more, then do step this way.
With much love,
Annabel

Photographer – Rachel Movitz
Venue + Catering - University College Oxford
Wedding Dress – Forget Me Not Designs, Isle of Wight
Veil/Headpiece - Forget Me Not Designs + the Hampstead vintage comb via Blossom
Brides' shoes – Diane Hassall's 'Buttercup' shoes, from Ellie Sanderson
Bride's accessories – earrings via Heavenly Necklaces
Groom's Attire – Hugo Boss suit + Thomas Pink shirt + bow tie via Favourbrook
Bridesmaids – ASOS and Coast with hair accessories from
Flowergirls – dresses + shrugs via BHS + champagne/pink sashes via Demigella
Flowers – Green & Gorgeous
Cake – Petit Gateau
Rings – Clogau + Payne & Son
Catering – Univ + wine from Majestic
Stationery – Strawberry Sorbet
Hair Stylist –  Ryan