Regular readers, and those of you who know anything at all about Love My Dress, will of course be familiar with my love of vintage bridal fashion.  It's a life long love affair of mine that started the moment I got engaged and began delving into the world of weddings.  It's the reason that led me to becoming a published author too. 
My fondness for beautiful vintage bridal wear has led me to meet many talented and interesting people in this industry – collectors of original and beautiful pre-loved gowns that are up to a hundred years old – purveyors of the most elegant, one of a kind pieces the likes of which you would have found gracing the mannequins in the shop window displays some 40, 50, 60 or more years ago.
One of the most fascinating people I've met on my wedding blog adventures is Elizabeth Avey, whose name some of you may recognise as her business is her namesake, and she has a boutique in North London selling original vintage bridal wear that has been purchased by more than a few stylish Love My Dress readers.
Eliabeth Avey, photographed by Naomi Kenton, May 2013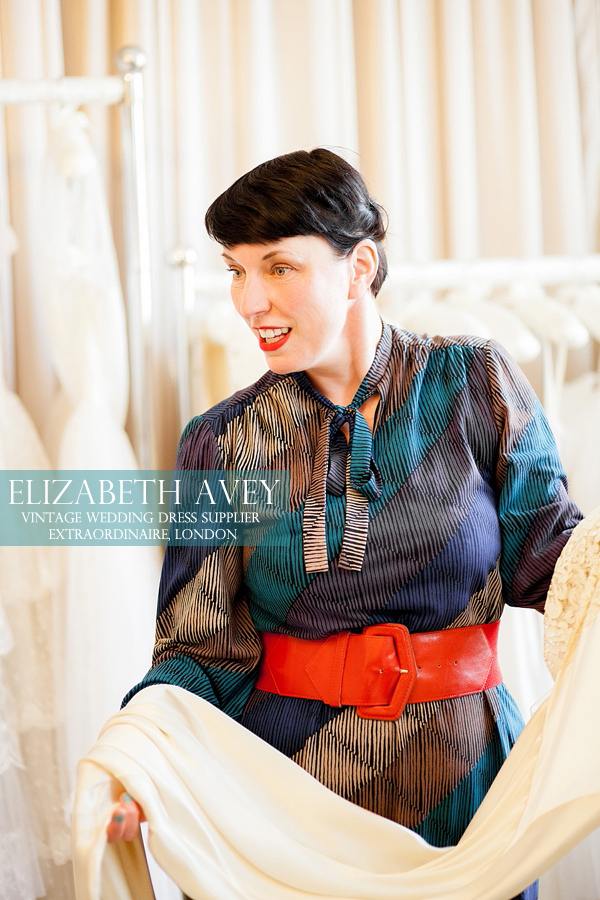 I love Elizabeth Avey. I needed to share that with you from the off to get the reason I'm writing this post out in the open, fair and square! This isn't a paid for feature, I've written it from my heart because Elizabeth is one of the truly loveliest people I've met and frankly I want to tell the world how lovely she is and how absolutely beautiful her vintage wedding dresses are.
Have you ever met someone new and been immediately drawn towards them in a 'I want to be your friend and hang out doing cool things' kind of way? Elizabeth has that effect; always has a warm smile to welcome you, always makes a big effort (staying in touch, coming to see you, putting on cakes and bubbles when you visit her, that kind of thing). And always so incredibly passionate about what she does and keen to share her enthusiasm – which is infectious, let me tell you – even her emails seem to radiate happiness from my way too warm and overworked Mac screen!
I'm always fascinated to find out more about people like Elizabeth – how they got where they are today?  What inspires them to do what they do? Where they developed their skill and expertise? What they were doing before and where, oh where, does she source those exquisite wedding dresses from?!?
Back in May I visited Elizabeth in her North London boutique with photographer Naomi Kenton. Tucked away in a beautiful old converted former school (with shoe designer Harriet Wilde as a neighbour in the same building), Elizabeth made us most wonderfully welcome. It was like stepping inside a celebrities boudoir – a secret vintage wardrobe hidden away for special visitors, a real treasure trove of the most gorgeous dresses, each carrying their own unique history, pre-loved by brides of the past, still looking as elegant and graceful now as they would have done back them. How does Elizabeth do it?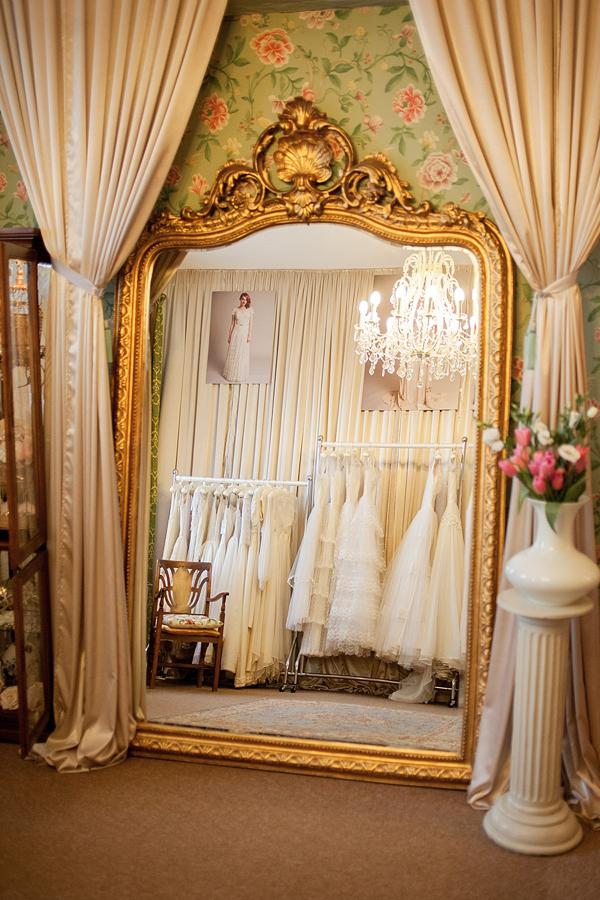 'I have always worn, sold and collected vintage, opening my first vintage fashion boutique in 1988 aged 18. Even back then I would have one or two wedding dresses in my shop. Wedding dresses fascinate and delight me, it's the idea of such a ceremonial dress chosen and worn for this one special occasion, it is like no other dress you will ever own.
I enjoy the sense of history the romantic atmosphere that surrounds these rare vintage wedding dress finds. Each new piece I bring to the boutique has grace and glamour. They are a thrill to find and a joy to watch them become part of another love story.
I think any image a bride desires for her dress can be found somewhere in the enchanted world of vintage. You could be inspired by a designers new season catwalk show and trace back the line of inspiration to find your very own one off!'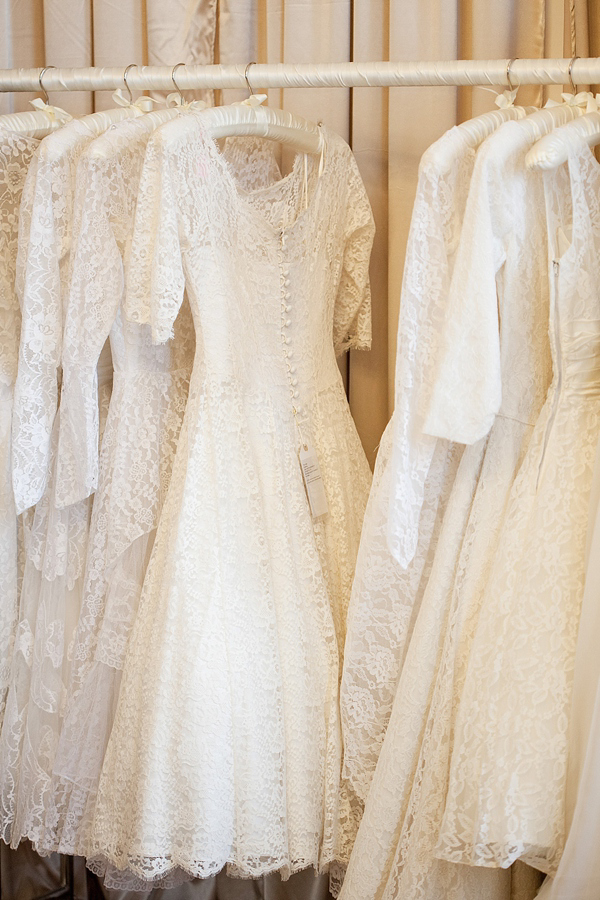 Having long been a fan of her collection of heavenly vintage wedding dresses, and having already had the pleasure of meeting her briefly on the photoshoot for my book, Style Me Vintage Weddings, I was keen to know what led Elizabeth to set up her own vintage wedding dress business...
'Finding my own vintage wedding dress was a big part of it. I remember how I felt so excited to have found something unique that really suited my personality. Then I just wanted to keep going to fill a beautiful room with dreamy dresses and introduce them to other brides, to show how incredibly beautiful vintage and antique dresses look in a modern context. I was driven by the idea of offering something a bit special, perhaps an alternative to the high-street experience.'
'To be honest, I have always been besotted with dresses and dressing up. My Grandparents ran clubs back in the 40's and 50's teaching the latest dances.  A brilliant seamstress outgoing and stylish, my Grandma made and hand beaded all her own dance dresses.  Consequently as a child, a visit to their home with a spare room stuffed full of these amazing gowns definitely sowed a fast growing seed!
Around 2007 I was mostly dealing in vintage evening wear when I would sometimes see a gorgeous wedding dress on my travels and just have to take it. After the first few got snapped up by friends word of mouth spread fast and I was soon spending all my time sourcing vintage wedding dresses for a list of clients.'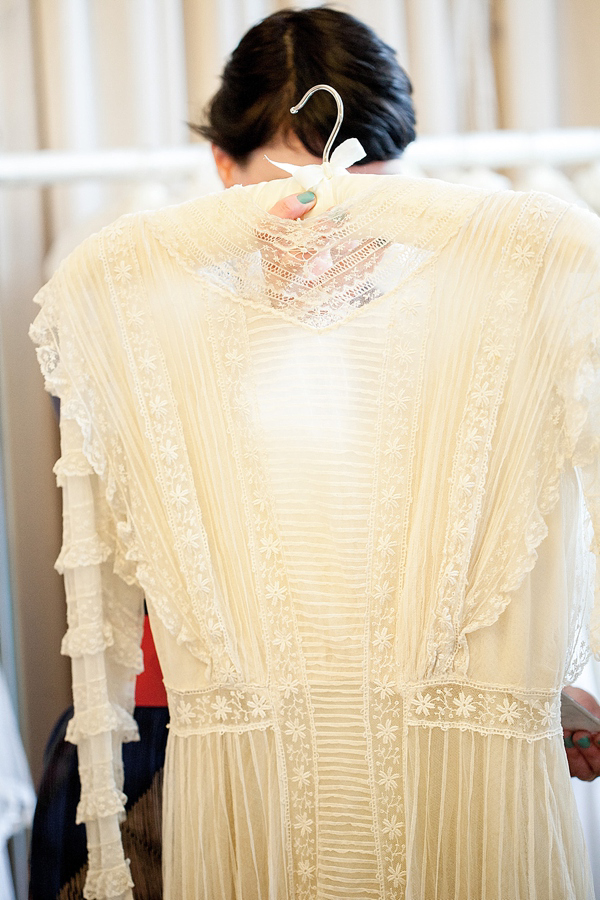 I knew fine well that Elizabeth wouldn't share her secret supply of gorgeous gowns with me, but I asked her anyway…
 
'Our dresses are found in such a variety of places you would be amazed the adventures we go on!  Sometimes they come directly from the family of the original wearer so we have lots of information about them. Sometimes they have been hidden in lofts still wrapped in tissue, or brought to auctions.
We have found them stashed in the wardrobes of grand houses or from fashion dealers and private collectors. Anywhere from New York to Paris, Edinburgh to Brighton. I have 25 years worth of contacts all over the world!'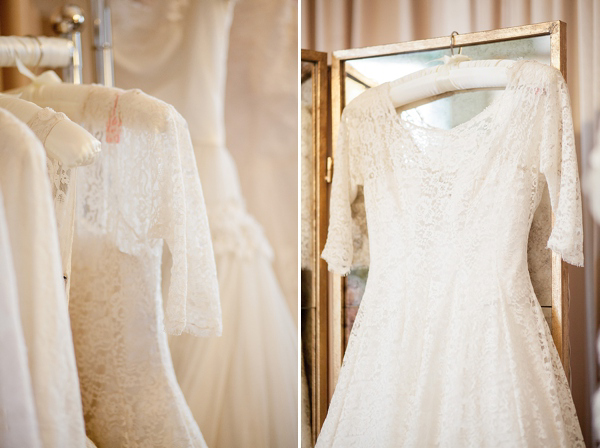 Brides often overlook vintage as they assume it will mean teeny tiny waist lines and simply not fit them – but Elizabeth has reassurances for those with this point of view…
'It is true that vintage can be petite however I spend a lot of time searching out the more wearable sizes and always try to have the best size range possible.  We can also recommend fantastically talented, professional London based alterations services that very often can cleverly make a dress considerably larger while it remains looking untouched.
We see this done successfully very often here.  We don't have an in-house alteration service but can recommend two fantastic places we have worked closely with for years. We can even arrange a consultation with a tailor to discuss ideas for a certain dress before it is purchased.'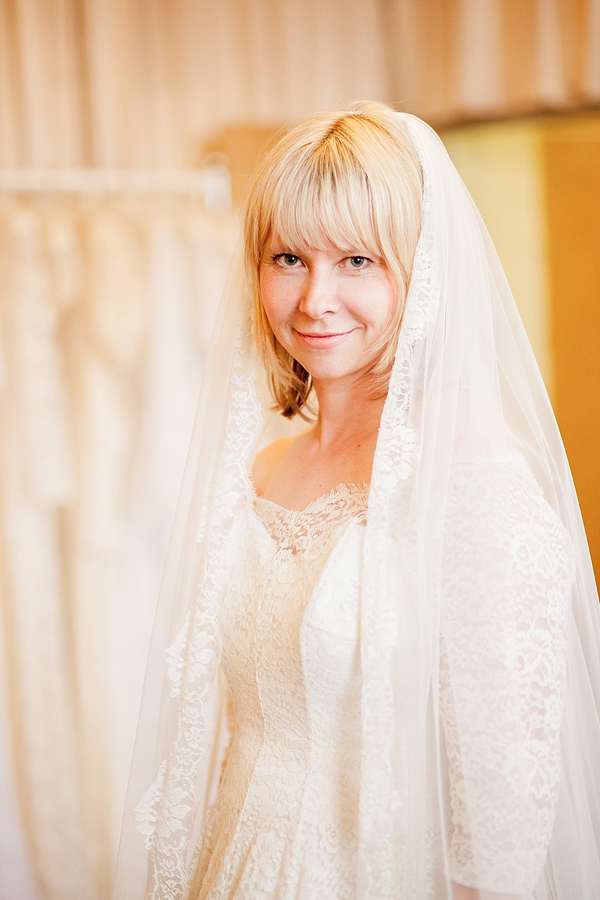 'It is incredible what can be done to a vintage dress from a little reshaping of the sleeve or neckline to dramatic remodelling and resizing. Little personal touches can be added too, a customer recently had some pearl beading which had been salvaged from her Grandmother's wedding dress sewn onto hers.'
That's shoe designer Harriet Wilde, (who has a studio in the same building) above and below, modelling one of Elizabeth's original vintage dresses.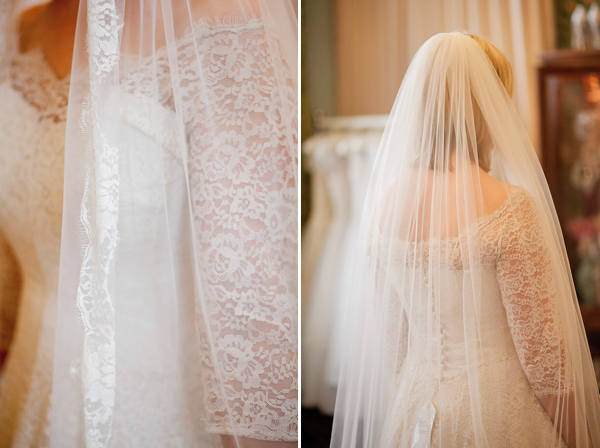 I know that my own favourite vintage era is the 1930s. I just adore the floor sweeping Hollywood glamour gown styles of the times, all that bias cut silk and those elegant art deco accents.  I was keen to know if Elizabeth has a favourite era of her own…
 
'I think it is great the way a dress from each era can romance you, helping to create a certain feel for your day.  Think of the lamp-lit workmanship of pre mass production seen in dresses from the turn of the century to the First World War. The quality and skill involved in producing the whimsical lace or intricate embroidery seen in even the most simple lawn dress.  Or the dance movement vitality of the 1920's, such daring and decadence, dresses made to shimmy and shine.'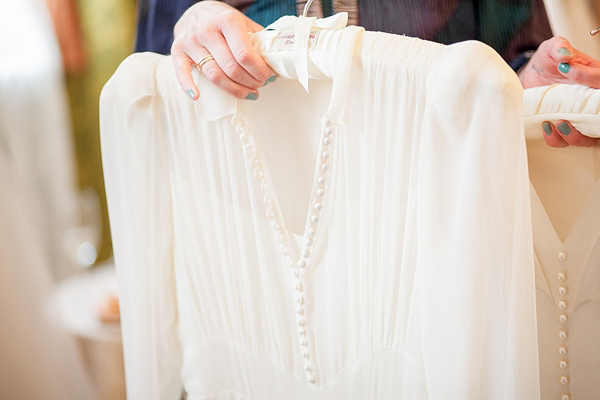 'Who couldn't swoon at the siren glamour of the 1930's, a star era for drape and exquisite cut, its self-assured timeless glamour making you walk tall and slow.  Then look at the regal brocade wedding gowns of the 1940's or witty crepe de chine dance dresses of the era. You cannot fail to have fun in a 1950's confection, bursting with optimism and femininity.  How about the modernist sophistication of the 1960's and chic easy glamour of a cool cocktail couture beaded maxi of the 1970's?
The fact that a relatively small number of these dresses have been loved and preserved enough to make it to us makes the treasure hunt all the more thrilling.  I am so fired up by beautiful dresses I really don't think I could pick one decade. I truly love it all!'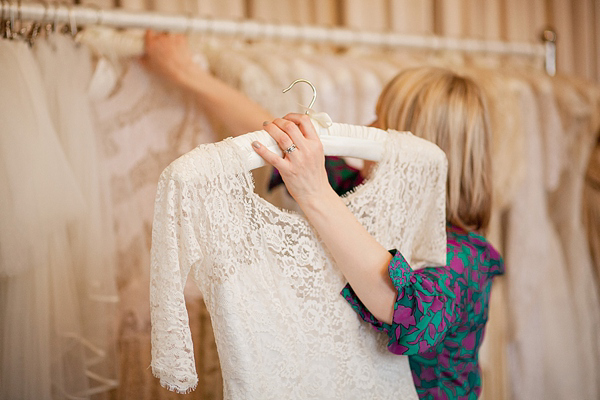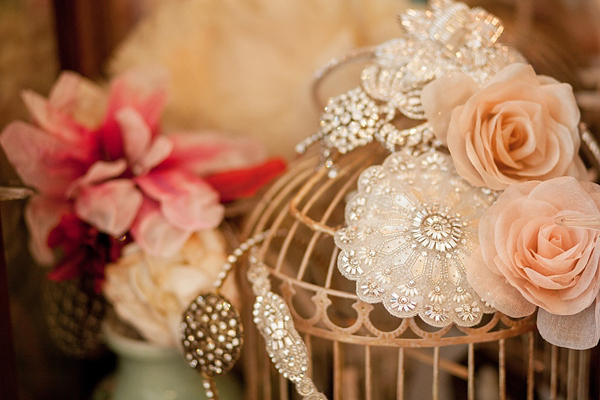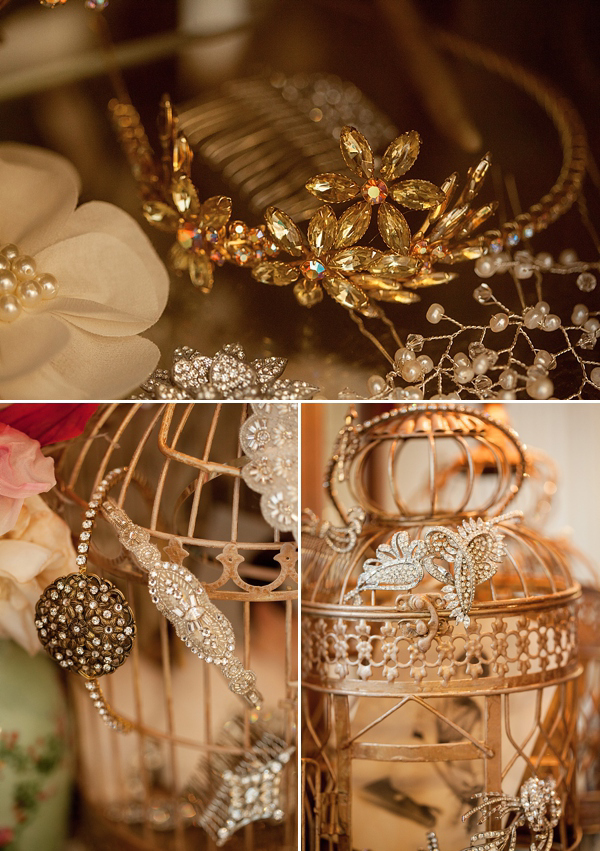 With regular styling commissions (Elizabeth styled this shoot for Agnes & Norman after yours truly connected the two designers together), a very recent Vogue magazine cover to her name, and an increasing number of brides discovering her magical treasure trove of a boutique (ssshhh, it's one of the industry's best kept secrets!), I wondered how Elizabeth stays inspired and motivated… 
'It was fantastic to be involved with Vogue; to make front cover was exhilarating.  It has long been a great source of inspiration to me, and certainly one of the things which drew me into fashion and fashion history. I love their unique brand of fashion escapism.
To help me relax and stay inspired though, I'm  sucker for the glamorous old Hollywood movies.  Anything from the 1930's to 1970's but I have to admit I am following the costume changes not the plot most of the time! A perfect Sunday afternoon for me would be a bottle of Prosecco and a line-up of Bette Davis in All about Eve, followed by Greta Garbo in one of my favourites, the costume-tastic 1931 film Mata Hari, then a little flapper magic to finish with Louise Brooks in Pandora's Box.'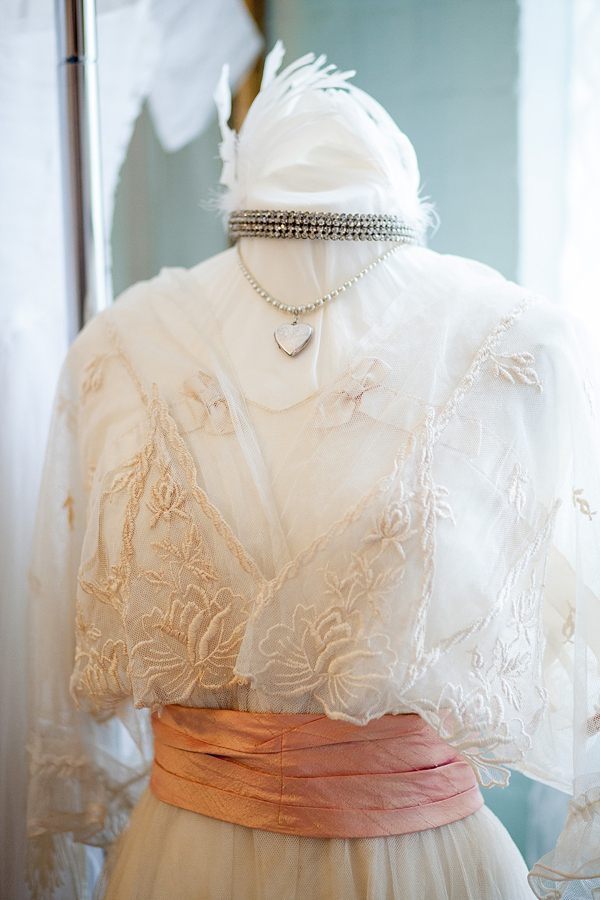 'I love music too and it is a very big part of my life – prior to establishing my business I was a rock star! Well, not quite, but I was the singer in a band signed to an American label and spent lots of time in studios and tour vans.  If I shared my musical collection with you we'd probably be here all day, but I have been listening to the likes of Siouxsie and the Banshees, Frank Sinatra, Cat Power, Nick Cave, Brenda Lee, Roots Manuva, Kate Bush, Janis Joplin, Nina Simone, PJ Harvey, Bonny prince Billy, Elvis and Abba this week!'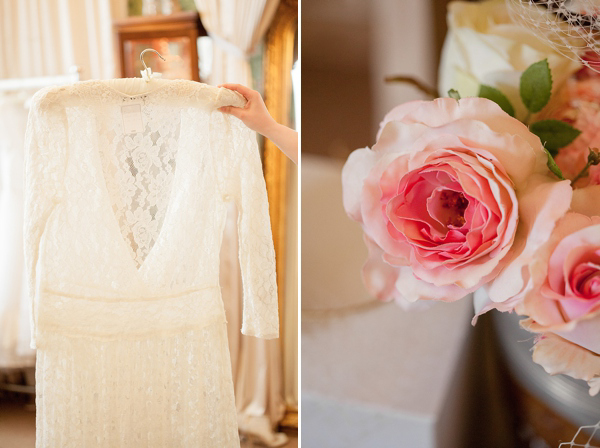 'I'm very into interior design too; I enjoy creating rooms so I think I would most likely be something like a scenic designer or interior stylist were I not so obsessed with vintage wedding dresses  – perhaps I'd be running around sourcing wonderful pieces for the home!
I also read a lot of fashion and art books – I just read 'Love Looks Not with the Eyes' a wonderful book following the work of Alexander McQueen by Anne Deniau.  I am great lover of poetry, and have old cabinets full of dog-eared poems. A few of my favourites are Sylvia Plath, Charles Bukowski, Billy Childish, Siegfried Sassoon and Edward Thomas.  I've collected 50's pulp fiction over the years too with titles such as 'Shame On The Run' – the covers are fabulous, haven't reached the end of any of them though as they are just so bad!'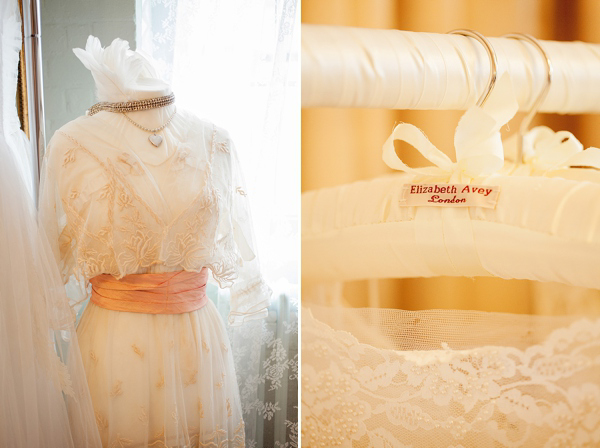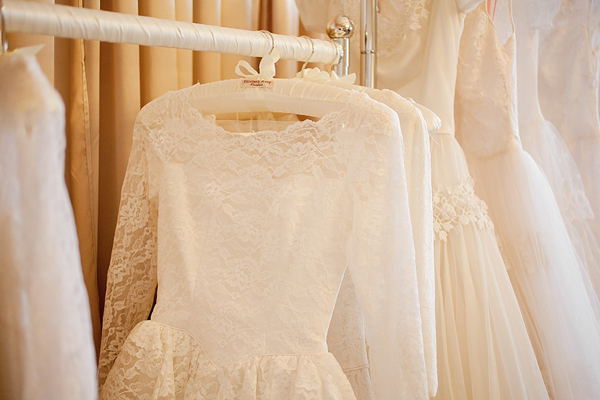 I spotted a rather fabulous book at Elizabeth's boutique – my own of course!  In all seriousness however, Elizabeth was one of the most genuinely lovely and supportive suppliers I worked with in creating Style Me Vintage: Weddings – she was also my go to specialist advisor – what she doesn't know about the provenance of any vintage wedding dress or which labels to look out for or what vintage dress silhouette might suit what body shape best – simply isn't worth knowing.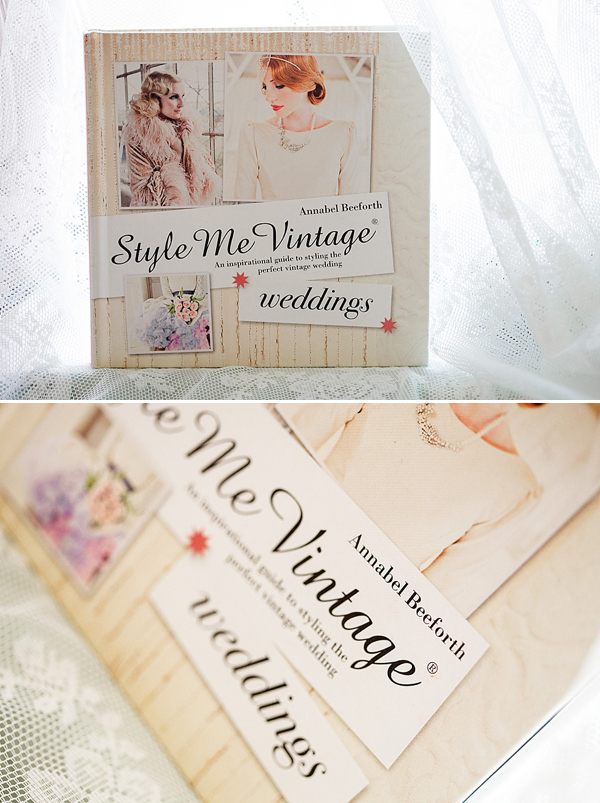 So what sets Elizabeth Avey dresses apart?
'I would say it is my curation, our customers often express a great sense of excitement before a visit wondering what beauties await!  I personally seek out each piece then take time to have it cleaned and restored which may be why we are well known for our wide selection and quality.
I also think my years of dressing experience mean that for me visualisation is second nature.  I can see which dresses will have that all important wow factor as soon as I find them and only stock the dresses I feel are Elizabeth Avey dresses.'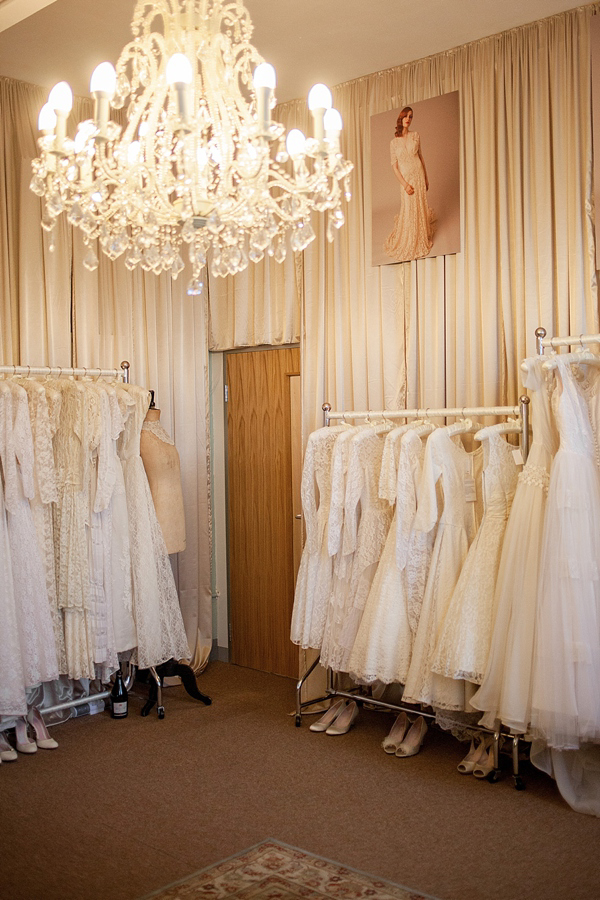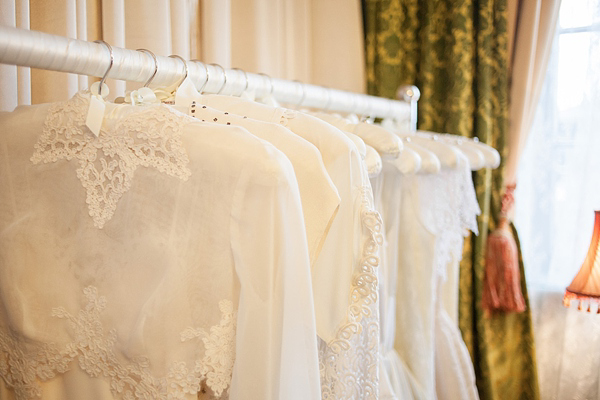 And Elizabeth's plans for the future?
'I have lots of exciting things brewing! I am almost ready to launch my first designer collection of wedding dresses. It is something I have taken plenty of time over narrowing down books and books of sketches, drawing inspiration from my own archive and all the stunning dresses I have been lucky enough to have had though my boutiques over the years.
We have finally found the perfect laces from an old family firm in Northern France who made the lace for Grace Kelly's wedding dress and some for Kate Middleton. The rich silks are all European and the nice thing is they will all be made here in London, but best of all they are to be made-to-measure so can be made in ANY SIZE!'
Ladies of the Love My Dress community – REJOICE!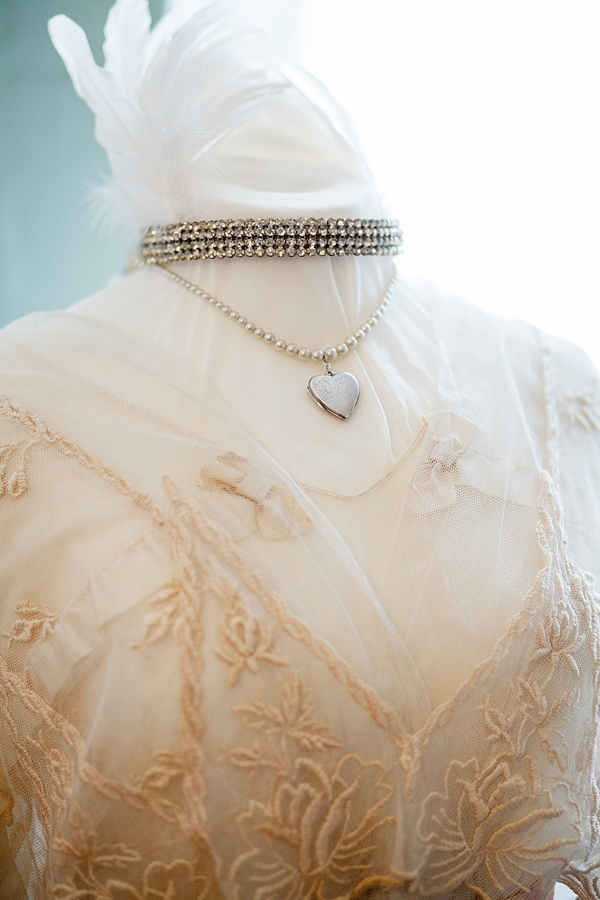 'We have also begun to remodel and rework some vintage dresses keeping their essence while creating a more contemporary silhouette.  Using her couture training, my assistant is able to create exceptional one off wedding dresses from the original fabric of anything between one and three vintage wedding dresses. They have proved incredibly popular so far!'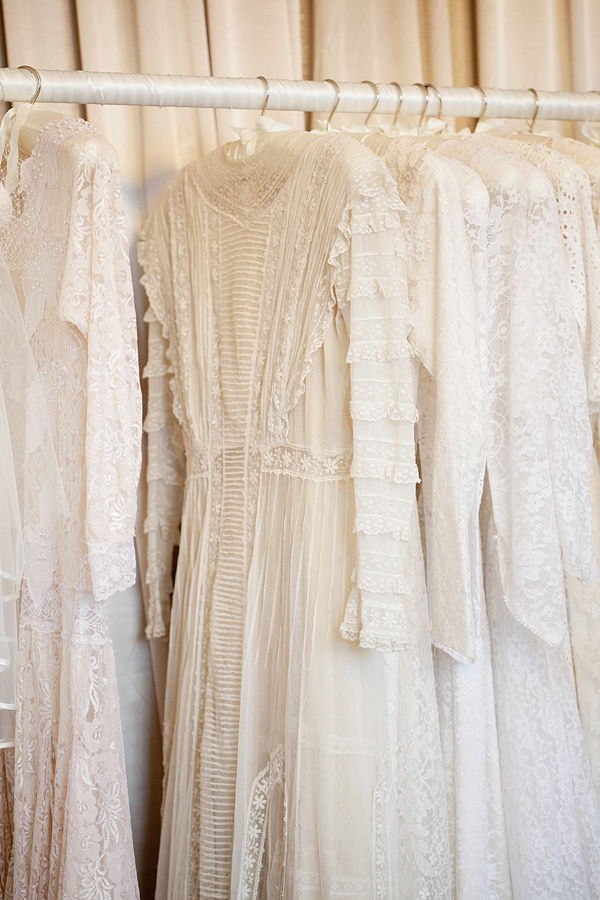 Have we convinced you yet that you simply must visit Elizabeth Avey if you are on the hunt for an original vintage wedding dress?
'We are in North London near Archway tube station. We have a wonderful spacious private studio tucked away from the rest of the world. We run by appointment and book Tuesday to Saturday with a late night on Wednesday.  Our Customers enjoy a relaxed one to one appointment in our glamorous room with either me or one of my friendly and knowledgeable assistants.  We love to hear about our visitor's dream wedding day and have fun trying lots of different dresses.
I believe planning a wedding it is a very special time in a woman's life and that all brides to be deserve to be lavished with attention and given the highest quality service.'
That, my friends, I can absolutely guarantee you will receive.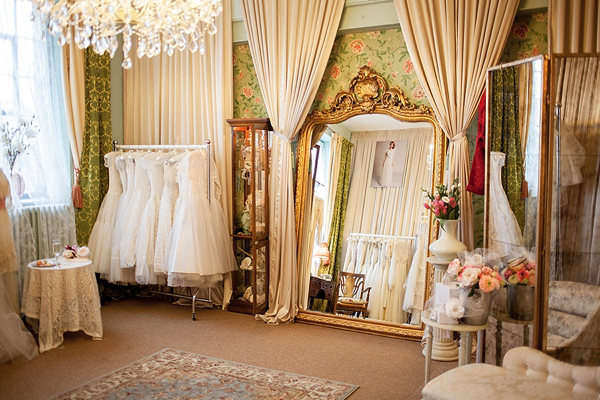 For further information, please contact Elizabeth on [email protected] or telephone 020 75611 339.  Elizabeth Avey vintage wedding dresses are accessibly priced around £650 to £1,200. 
Brides outside of London – it is well worth making a special trip to meet Elizabeth Avey – her expertise and knowledge of vintage wedding dresses is second to none – the investment in time and travel expense would not be wasted, I can guarantee.
Do we have any new vintage wedding dress converts perhaps after having read this? Might you be longing to plan your own visit to Elizabeth's boutique, or are you an Elizabeth Avey bride?
Annabel