Hey you! How was your weekend?  As usual I'm boosting the start of your working week with a most beautiful wedding – today, from photographer Rebecca Goddard, and involving something rather enchanting.
Shohreh, a designer for Top Shop, married Lewis, an Interior Designer, on 10th August this year at Scraptoft Hill Farm in Leicester.  The couple wanted a relaxed and informal day that reflected their personal sense of style and taste and more importantly, for all their friends and family to have a great time.  I just adore Shohreh's Katya Katya Shehurina dress – a design she had adjusted to create the backless effect.  In love! 
Katya Katya Shehurina is a designer I first discovered back in 2011 and who rapidly rose to join the ranks of my 'favourite designers ever' list.  I've profiled them here on Love My Dress, and you can also see some of their glorious designs photographed here after my visit to The White Gallery in 2012,  Katya Shehurina's designs also feature in my book.
Photography Copyright (c) 2013, Rebecca Goddard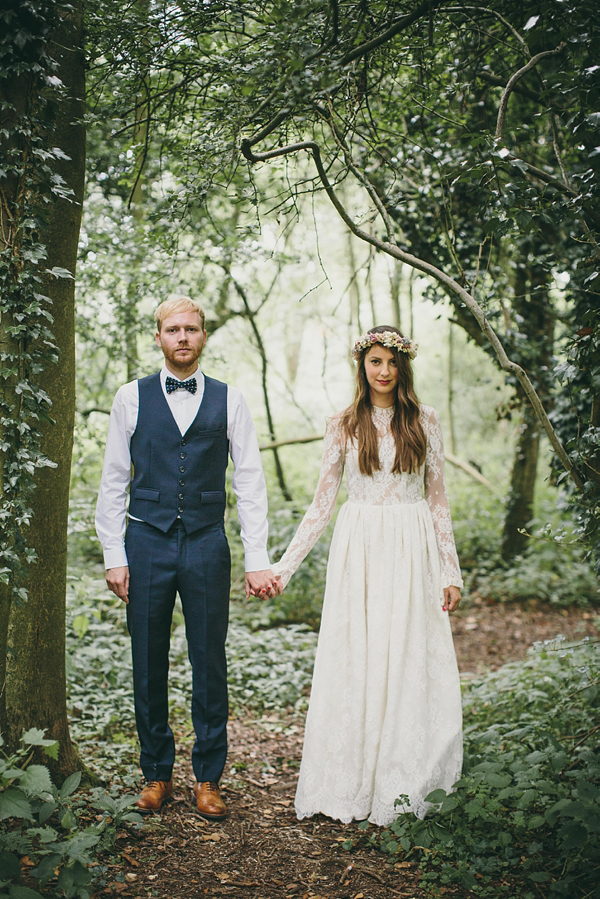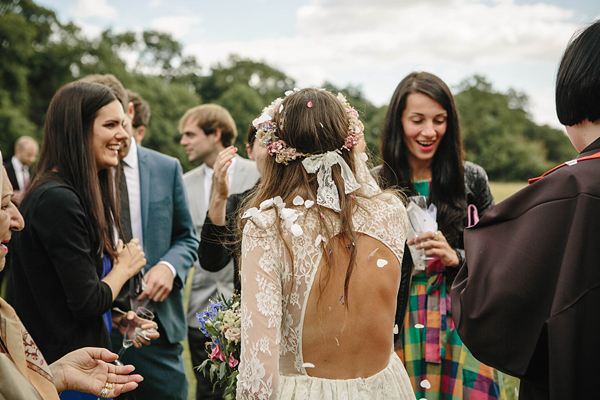 "Lewis and I met at University – at first a bit of fun and we had a lovely summer together. We both weren't ready for anything more serious so went our separate ways!  Three years on, and an accidental text later and we discovered we'd both moved to London and decided to meet. We picked up where we had left off, it was perfect.  Lewis proposed to me four years later, in Venice. It was beautiful!"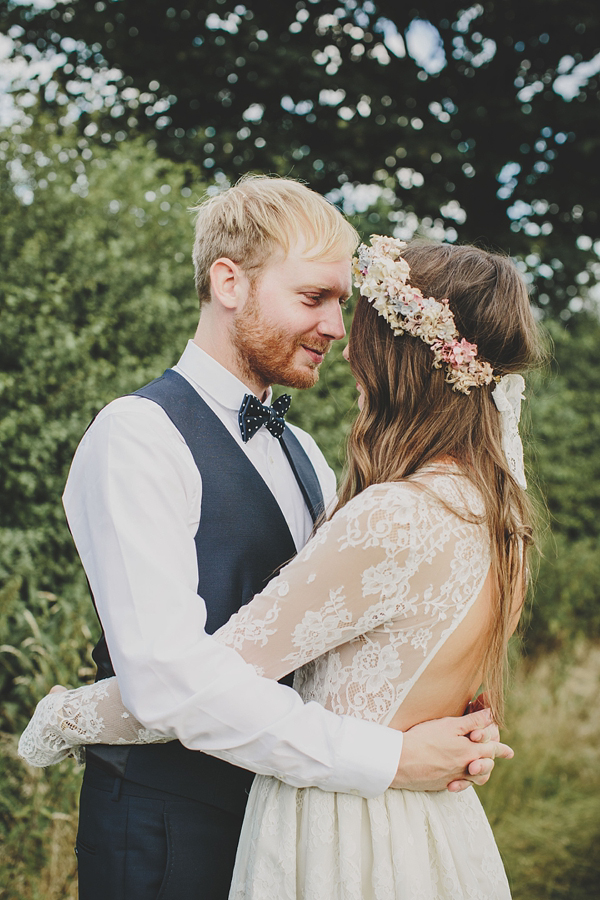 "We got engaged in November 2012 and enjoyed a month of being engaged and excited to get married! Then the wedding plans began! We didn't want a long engagement, so set the date for August 10th, only eight months later."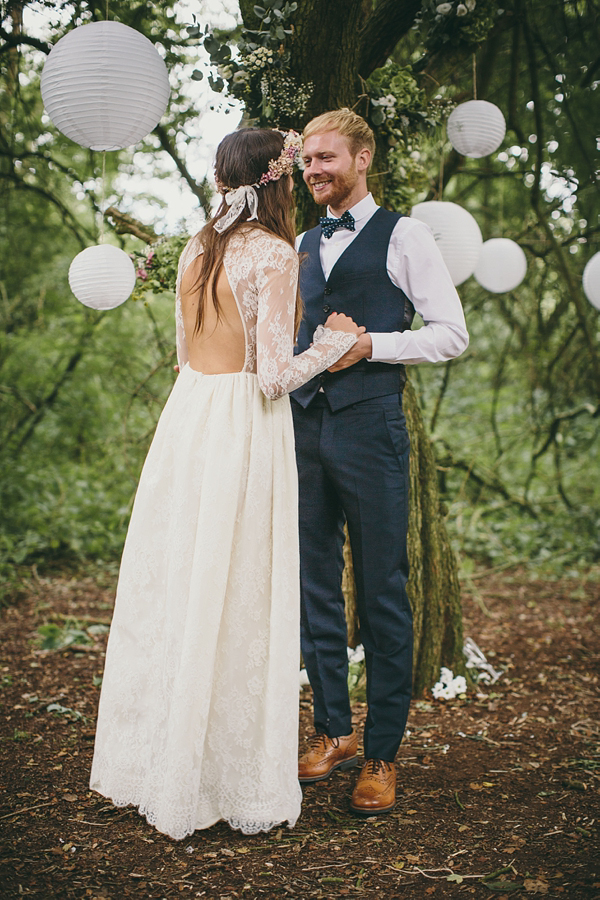 "The flowers were put together by our friends Ana and Amy from Studio Boo.  They did such a beautiful job, couldn't have asked for anymore. They were so perfect! We wanted the flowers to look unfussy like we'd picked them ourselves, and they did!  Everyone we knew collected jars for the last 8 months! I still can't bring myself to throw a good jar away!"
"My shoes were a gift from the very talented shoe designer at Topshop."
"My flower crown was made of vintage silk flowers and put together by my lovely friend Ana."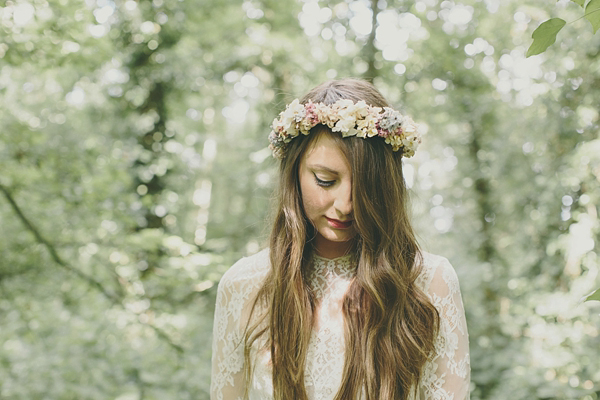 "My dress was by Katya Katya Shehurina. I bought the dress from their shop on Carnaby Street in London.  I originally thought I wanted a vintage slip dress, so when I was in Paris for work I tried a few on. They didn't feel special enough, so started the hunt for the perfect dress.
I searched the Internet, and after a few failed attempts I found it! I'm not the most decisive person and went back seven times just to be sure! I had promised Lewis a backless dress, so had it altered at work."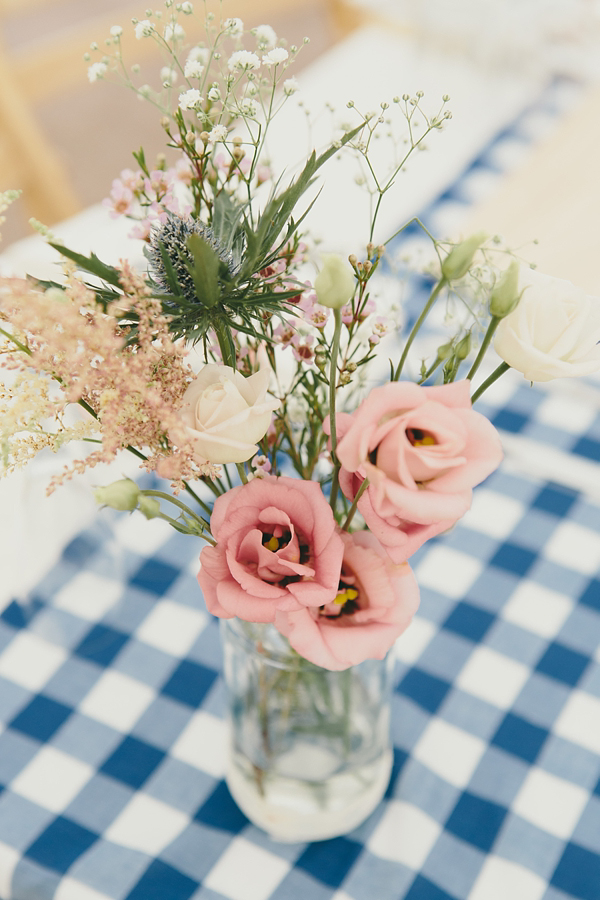 "We decorated the marquee and field with the help of lots of friends and family. A lot of time and thought had gone into it and we just had to hope that on the day it all came together. And it did!"
"We chose to get married at Scraptoft Hill Farm, because we are local to the area, I am from Leicester and Lewis is from nearby Nottingham. We wanted somewhere relaxed and informal, and not a 'wedding venue'. This was the first place we went to see, it was a cold wintery day in December. The field and surrounding areas were beautiful and the wood was exactly what we were looking for!
We met the farmer and his family and they were so welcoming and friendly and completely open to our ideas. We only saw one other venue, but our minds were already made up!"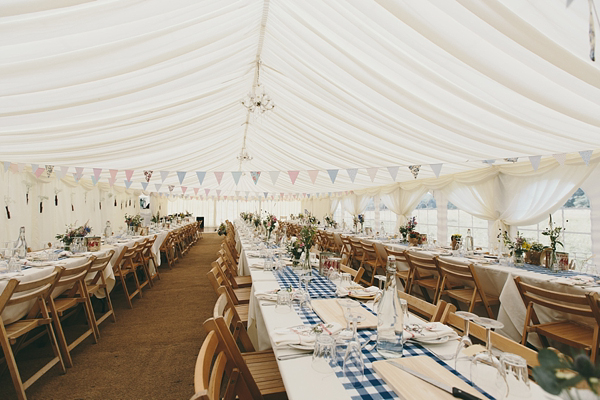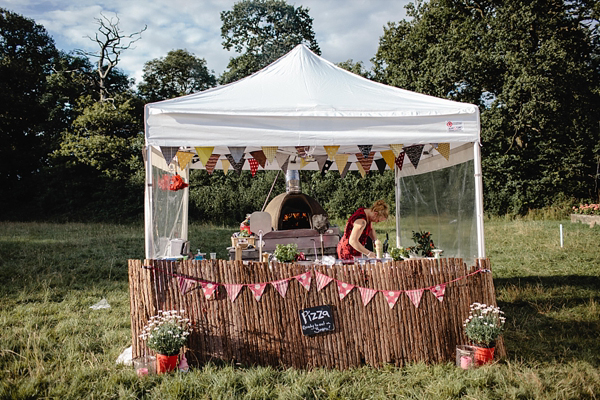 "Lewis' suit was a very kind gift from his boss, the late David Collins. It's Alexander McQueen and fits like a glove.  His shoes were Grensongold, shirt and bow tie Ben Sherman.
His best men ( there were three!) wore whatever they wanted!"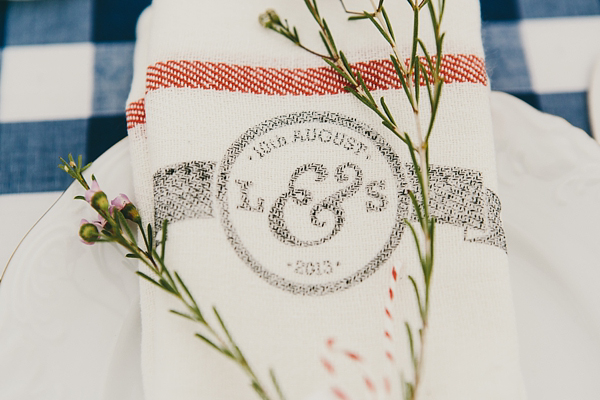 "Our photographer and videographer was the lovely Rebecca Goddard. She was brilliant! From initial emails to first meeting, for an impromptu engagement shoot in the snow, she just got it. She listened to what we wanted and gave her advice when we needed it.
On the day she just got on with it, no awkward posing for ages just natural beautiful shots, exactly what we wanted.  I cannot recommend Beccy highly enough!"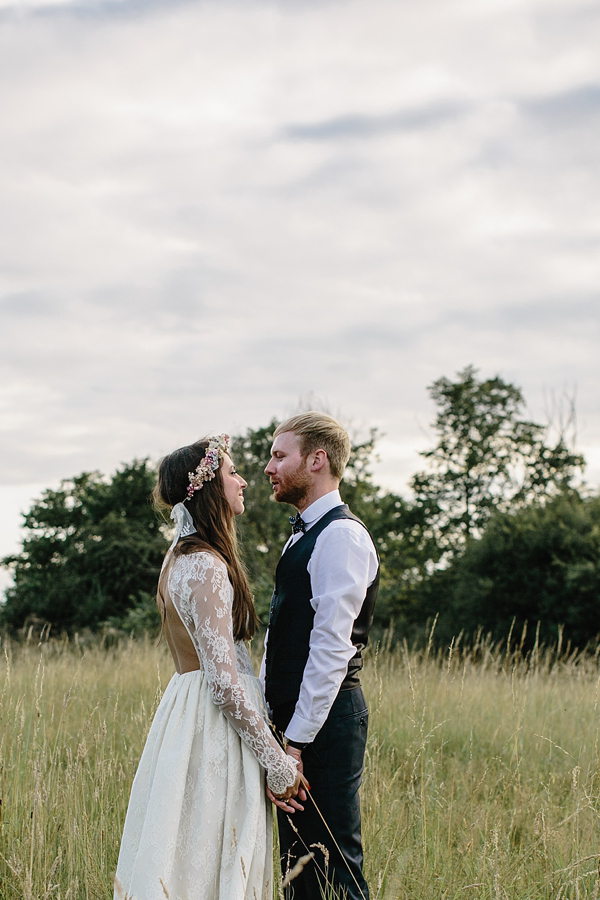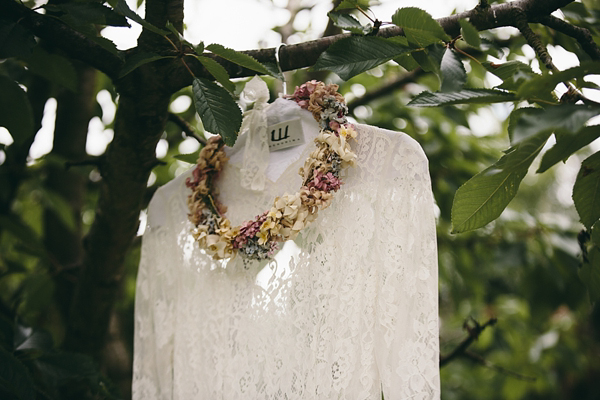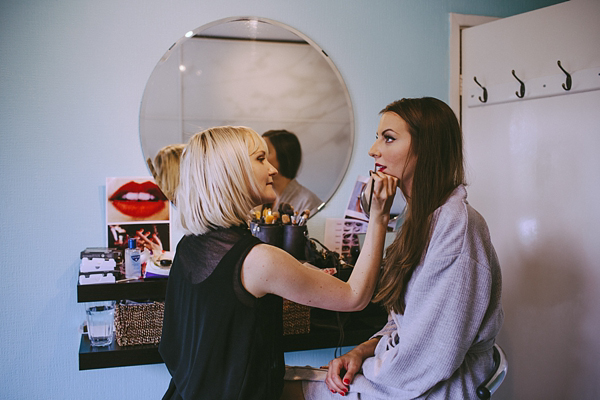 "My Make-up Artist was Rebecca Yeates – she was very sweet, did a great job on me, my mum and my bridesmaid.  One of my best friends, the talented hairdresser James Granger, did mine and my bridesmaid hair, it was so nice to have friends with me in the morning!"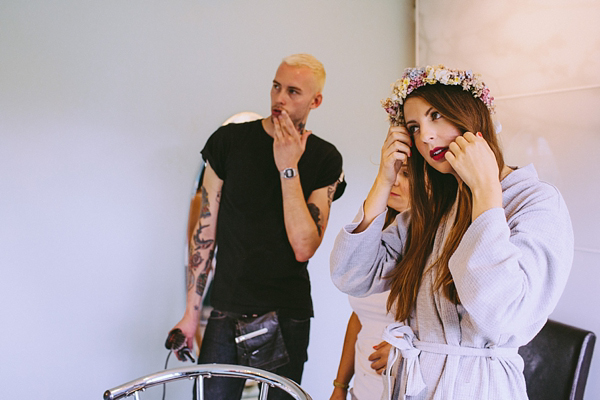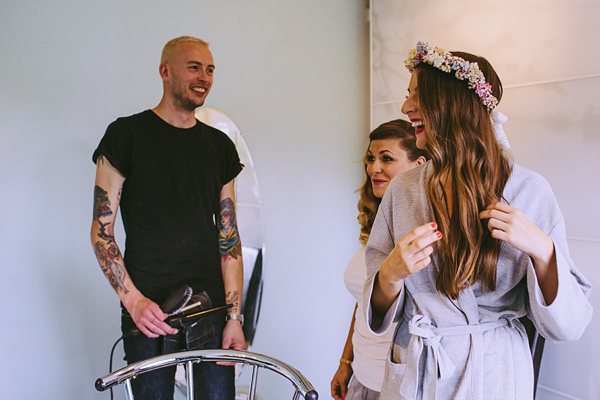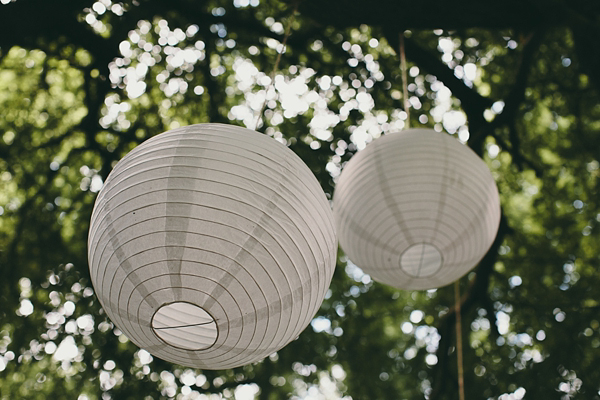 "My dad walked me down the aisle to Minnie Ripertons 'Loving You'. I felt so nervous before I got to the woods, but as soon as I saw everyone waiting I was just so so excited!"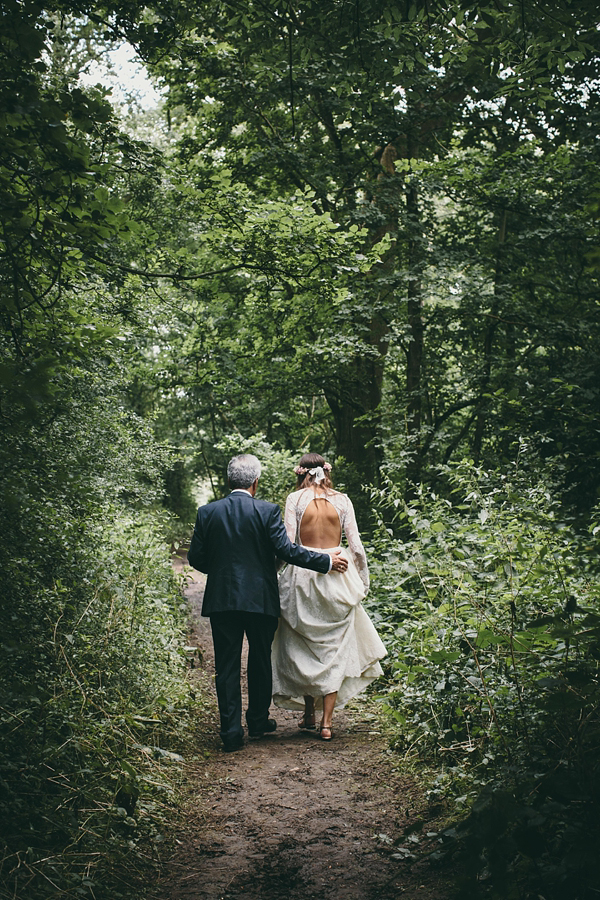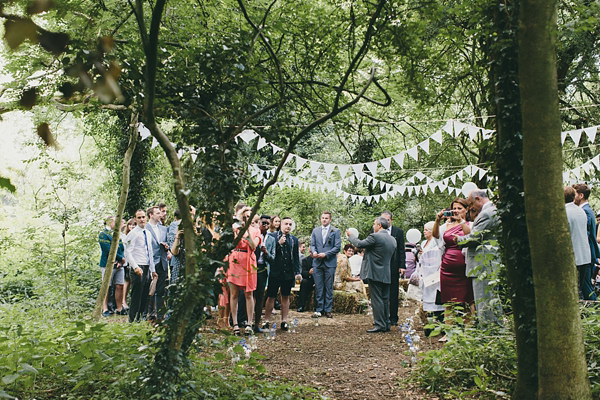 "We decided to write our own vows, not being religious or particularly spiritual we wanted them to mean something to us. They were informal, just us saying what we want for our future. Our friend Jake did a lovely ceremony, he was a natural!
We had an Iranian blessing too straight after the ceremony. We sat at a table full of trinkets and traditional pieces each symbolising something. We fed each other honey and sang a traditional Iranian wedding song, it was lovely."
"My engagement ring is by Tasaki, a Japanese brand stocked in Collette in Paris. I'd seen it four years ago and mentioned in passing to Lewis how lovely it was, little did I know he would propose to me with it! He did have some trouble getting the ring, and getting the right size (measuring my finger in my sleep) but all the hard work paid off!  Our wedding rings were from Liberty in London."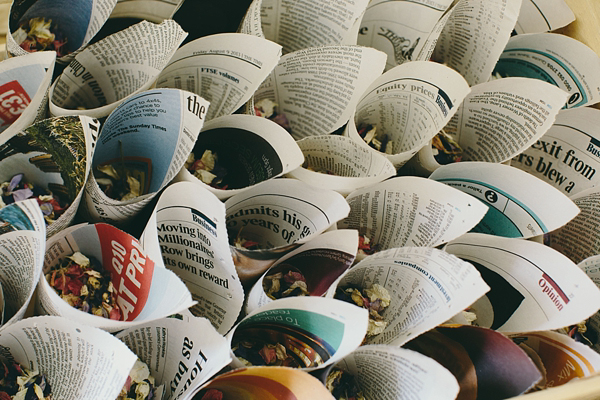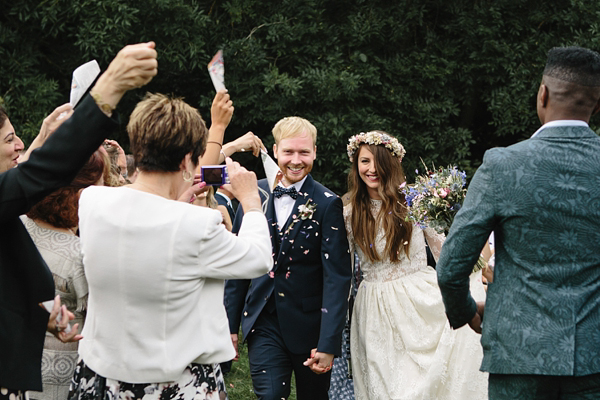 "My bridesmaid Sophie and I chose her dress in Selfridges, it is Ted Baker. I loved the colour and Sophie felt good in it so it was a winner.  Our flower girls, Maisie and Lily, had dresses from Monsoon.  Our page boys, Stanley and Ryder, were kitted out in shorts and shirts from Zara kids."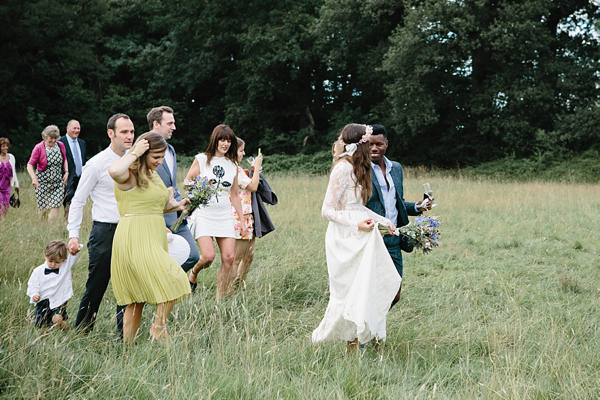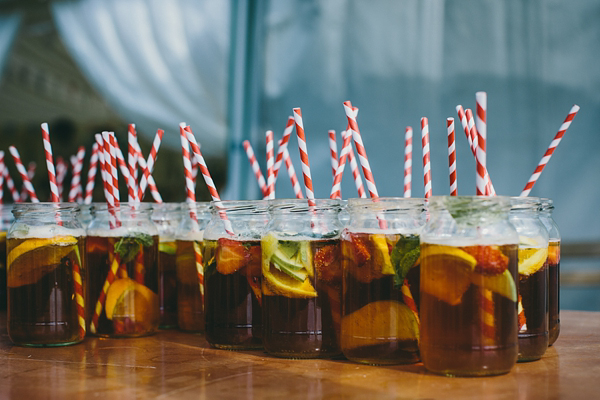 "We wanted picnics on the tables and everyone to help themselves! We went to a lovely deli in Leicester called Deli flavour. The food was delicious! We described what we wanted to Andy, and how we wanted to present it and between us came up with a menu and a plan for the day. We collected jars, cutlery and mismatched plates from ebay, carboot sales and charity shops.
Andy was a pleasure to work with, a real genuine nice guy! We had some Iranian food too made by some of our friends which went down very well!
Later in the evening we had pizza! Maxines mobile pizza oven turned up and made the most amazing pizzas."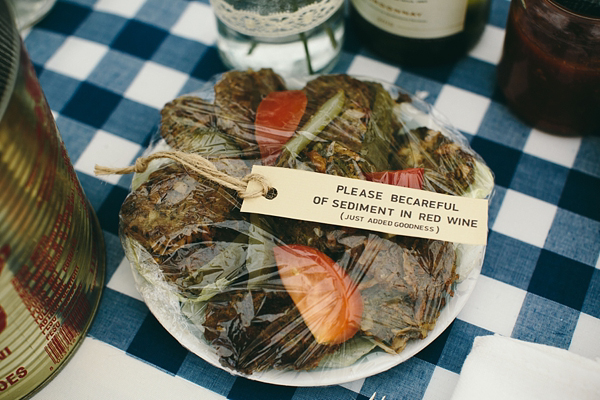 "We have lots of clever baker friends so we asked them to bring along a cake! It was like the great british bake off! All went down a treat! Lewis' nan also had her friend make us the feature cake, it was delish and looked very special!"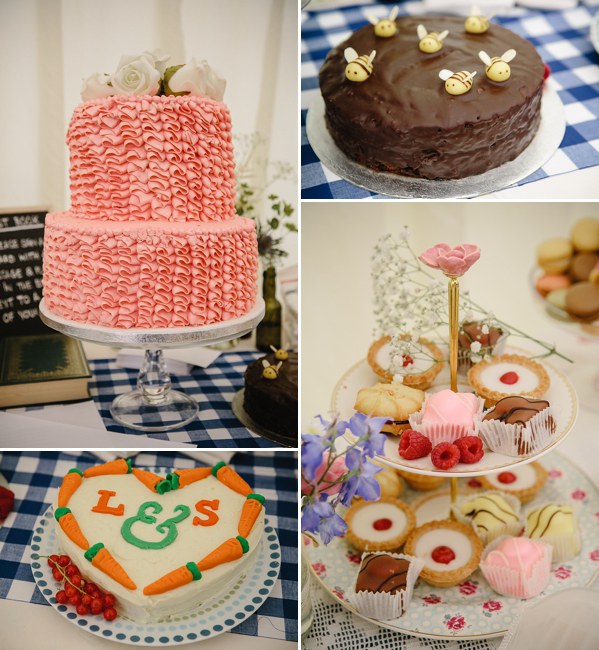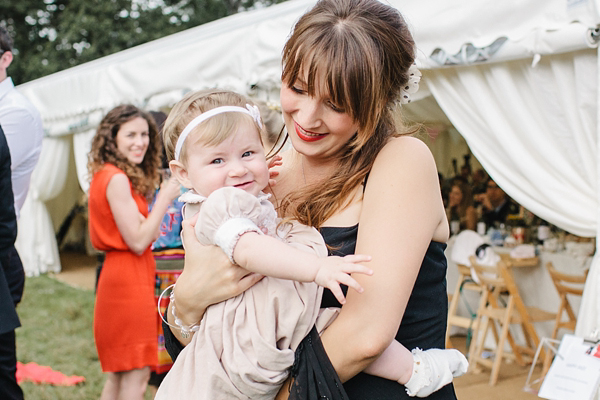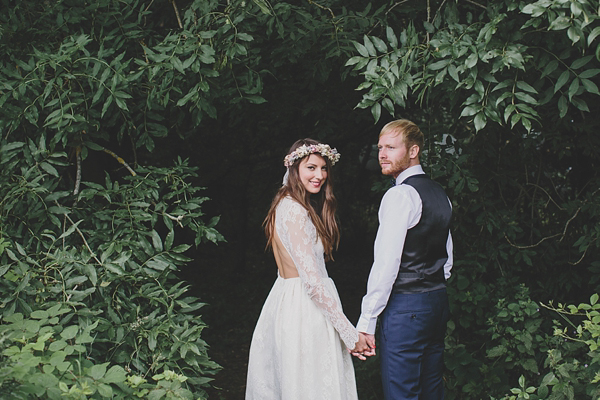 "We had a really lovely band, Happy Jazz – they played as we came out of the woods after the ceremony. The look on everyone's faces was priceless. They were all very sweet and got everybody up and dancing in the field."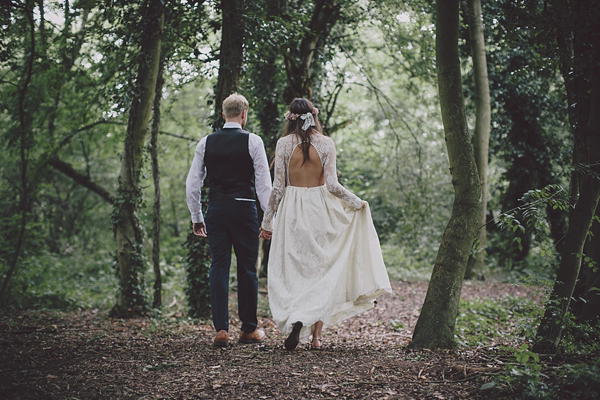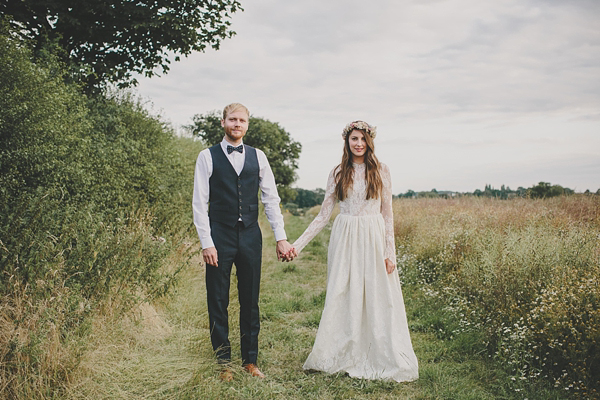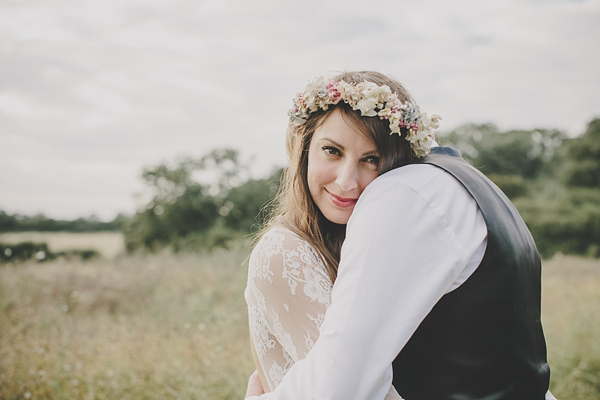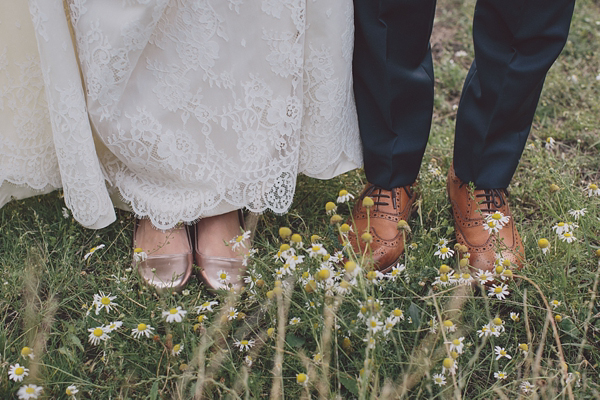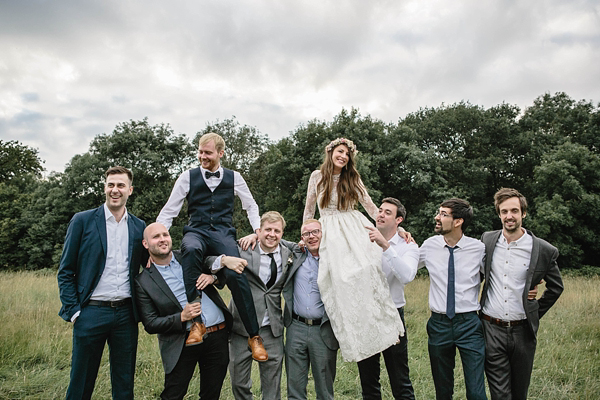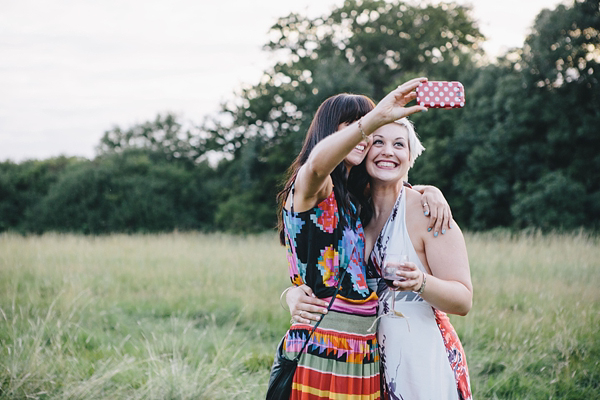 "Our first dance was to Bob Dylan's 'Lay Lady Lay'. We have always loved that song, and it just felt right."
"It's hard to say what my favourite part of the day was, the are so many. One that really stands out is when everyone hit the dance floor to dance to Iranian music. Everyone was so happy and having fun.
On reflection would I have done anything differently? No. Absolutely everything was as perfect as I wanted it to be, we had the best day of our lives. Our friends and family were all there to share it with us, and we couldn't have asked for anything more."
Words of Wedded Wisdom…
"If I could give any words of advice to soon to be brides out there, I would say just enjoy it! There were times when I was stressed in the lead up to the wedding, very stressed! But there's no need to be really, whatever happens you will have the best day of your lives. I stressed so much when planning the wedding that I didn't let myself enjoy it, I hated planning – I just wanted to get it over with – but as soon as it was over, I wanted to do it all over again!
Everything will work out in the end, your family will help if you let them. The more people you can get involved the better, everybody likes to feel part of a wedding and it certainly takes the pressure off!"
What an absolutely gorgeous day, I just love the whole completely relaxed and slightly magical essence of it all – wonderful stuff.
You can see more photography by Rebecca Goddard on Love My Dress here, as well as more outdoor, woodland and floral crown weddings.
Huge thanks to photographer Rebecca Goddard for sharing her work, and to newlyweds Shohreh and Lewis for so kindly allowing us an insight in to their simply beautiful wedding day.
Is there any aspect of this wedding you adore and have been inspired by?
Much love all,
Annabel
Photographer – Rebecca Goddard
Venue – Scraptoft Hill Farm, Leicester
Wedding Dress – Katya Katya Shehurina via the flagship store
Floral crown – created by a friend
Brides' shoes – gift from a friend
Groom's Attire – Alexander McQueen suit + Grenson shoes + bow tie via Ben Sherman
Bridesmaid – Ted Baker via Selfridges
Flowergirls – Monsoon
Page Boys – Zara kids
Flowers – Ana & Amy of Studio Boo
Entertainment – Happy Jazz
Additional Styling –
Rings – Tasaki (engagement) + Liberty
Catering – Deli flavour + Maxines mobile pizza
Cake – friends (bake-off style)
Hair Stylist – James Granger
Make-up Artist – Rebecca Yeates
Follow Love My Dress on Google+