Hello there! We've another little Saturday treat for you today, because it's the weekend – and who needs a better excuse than that?  Wedding Photographer Sam and husband Phil's wedding took place on 12th August, 2013 at Arlington Baptist Chapel in Bibury, followed by a reception at the Stone Barn near Upper Windrush – both venues located in the stunning Cotswolds.
"As a wedding photographer I have been to many, many weddings, and this definitely helped me realise more what I didn't want rather than what I did want my wedding day to be.
I also had a real yearning for a Juliet cap veil (ever since watching the film Ballet Shoes when the character played by Emilia Fox wore one).  I researched extensively to get the 'right' one. I had come across Rebekah at Visionary Veils, and, unbeknown to me, Emma at Love Bridal had found her too and got samples."
Photography Copyright (c) 2013, Emma B Photography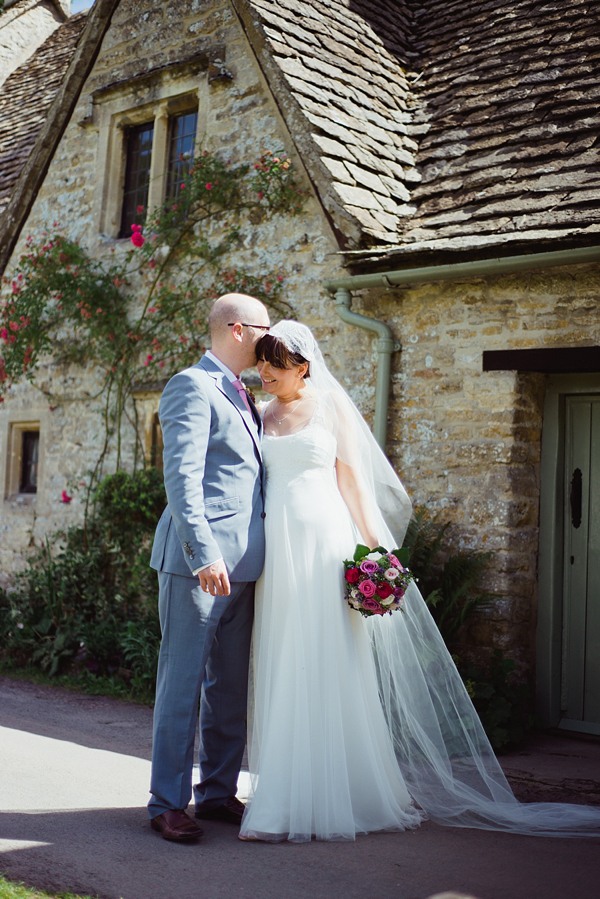 "Phil and I met on a Christian dating agency website. We got engaged at the end of April this year and married just over three months later.  We had been talking about getting married for a while, there wasn't an actual proposal – I had seen a ring I liked in a jewellers in York and Phil suggested I try it on. I knew he had ordered it, but he surprised me with it when I arrived at his house one weekend with flowers, champagne and down on one knee.
We didn't actually live together before we were married, I was in Lancashire and Phil in Yorkshire. Neither of us were particularly sentimental about where we were married as long as it was in church and as the church I belong to meets in a university lecture theatre we would have had to find a church to be married in anyway."
"I wore the Da vinci dress by Raimon Bundo which I purchased from the gorgeous Love Bridal boutique in Bowdon, Cheshire. My mum and I had an amazing experience – I cannot recommend this boutique enough!  I had gone to the boutique with quite an open mind and no particular style in mind (although I knew I didn't want a strapless dress). As a wedding photographer I love photographing detailing on the shoulders on dresses!
The dress was one that Emma, the boutique owner, had picked out for me, I loved the chantilly lace detailing straight away, and the floaty skirt. When I tried it on it fitted my body shape so well - in fact even made me look a size smaller – and who wouldn't want that?! But it was also so comfortable, beautiful and suited the whole feel of the wedding style we were going for.  Perfect."

"Phil's mum did all the flowers, quite a feat, but she is heavily involved in her local flower club and has done many a wedding. There wasn't really any thought that she wouldn't do the flowers, I think she had been living for that moment.
I wanted a very relaxed approach to the flowers, nothing too formal for the tables, a sense that we had gone into the cottage garden to pick the flowers and popped them in some glass jars. Obviously, to create the informal look doesn't 'just' happen and a few of my family members were roped in to creating these aarrangements at the chapel the day before the wedding, whilst Phil's mum made the bouquets. They were so pretty and perfect for a barn venue.
Phil's mum also roped in his cousin who turned up at the chapel, she is a florist in Denmark, and she made my bouquet. I wanted bouquets that had a lot of colour in and the underlying theme of lavender. The two little ones had delightful hand held posies and the buttonholes were just what I wanted, corn and lavender."
"I definitely wanted a coloured shoe, having always liked Rachel Simpson's art deco designs, and was thrilled when she bought out the peach mimosa style a couple of months before the wedding – gorgeous!"
"I have photographed a few weddings in the Cotswolds and both Phil and I love the area, and as our family and friends live all over the the UK we thought it would be a good base for them to travel too, as well as being a beautiful part of the country form them to visit.  I had also photographed weddings before at Cripps Barn and looking on their website found their sister venue Stone Barn.
It looked perfect for us.  I loved the Dutch cow barn where the wedding breakfast was held, it was full of light and the views were stunning. We also liked how you could go straight into the lovely old stone barn for the dancing after the meal, without any clearing of tables etc.. The staff were delightful, and head of house on the day Danny was a star!
Stone Barn was full of character an created the relaxed feel we were going for. it was a bit of a winner with our guests too, it's all they talk about!"
"I am blessed with five lovely nieces, and there was no way I could not have them all as my beautiful bridesmaids. But to choose dresses for girls aged 2, 6, 10, 14 and 17 years was always going to be a challenge. They were never going to wear the same dress and I wanted them to look amazing but also appropriate for their age.  I found Renz on Etsy who made the older girls gorgeous dresses, they were custom made and perfect, the girls loved them. I was able to have the younger bridesmaid dress redesigned to suit a girl of 10.
The older girls shoes were all from Debenhams and the two little ones were a Spanish design which I got from the Zulily website (I didn't want any bling on the shoes – I wanted the girls, especially the younger two to have an old fashioned feel about them – and it was very difficult to find flowergirl shoes which had no embellishment whatsoever!)."
"Choosing our photographer was always going to be a very important decision as I am a wedding photographer myself.  I know a lot of amazing photographers and class them as my friends, however, it turned out be an easy decision and I asked Emma from Emma B Photography to be our photographer.  Emma has a similar photography style to me, not just in the images, but also in the way that we work and our character.
After working together on a few weddings over the last year, I felt that Emma would be the perfect person to photograph ourwedding. Her relaxed, easy-going and lovely personality would fit in so well with my friends and family, and as we had become good friends it was lovely having her around on the day. All my guests commented on how lovely she was and how they didn't even realise photos were being taken. We have an amazing set of images from Emma which capture the day perfectly and will be our forever memories."

"Mcleod Bradley was my  makeup artist and Gemma Hallowell styled my hair.  Both ladies I know from my photography business and they came down from Manchester. It was important to me to have calm and talented professionals do our hair and make-up and these ladies were all that and more – they did an amazing job and were a pleasure to have around in the morning whilst we were getting ready."
"I wore a necklace from Monsoon – my bracelet was my Nan's pearl necklace which I twisted round my wrist to make a bracelet – I also wore my Nan's wedding ring which she had worn for over 60 years.  I put my Nan's cameo brooch on my bouquet and wore a pair of pearl earrings that were my 'something borrowed from my mum."
"My mum made the flower girl dresses – having a ginger bridesmaid was always going to prove a colour challenge so we decided to stick with one colour for the older bridesmaids and another colour for the little flower girls – it was a pale coffee colour and the dresses were designed by me and my mum."
s
"Both Phil and I are Christians and our faith is very important to us, the most important part of our wedding was the ceremony and we were priviledged to have my pastor, Buster, marry us in the chapel, which was full of our closest family and friends.  We didn't tailor our vows, but the ceremony was very personal and we had a number of our guests come and lay hands on us and pray for us which was a moving part of the ceremony.
My cousin read 2 passages from the Message version of the Bible that we chose and mean a lot to us."
"We asked Phil's godson to read and to choose a reading for us, he chose My Shy Hand by Wilfred Owen."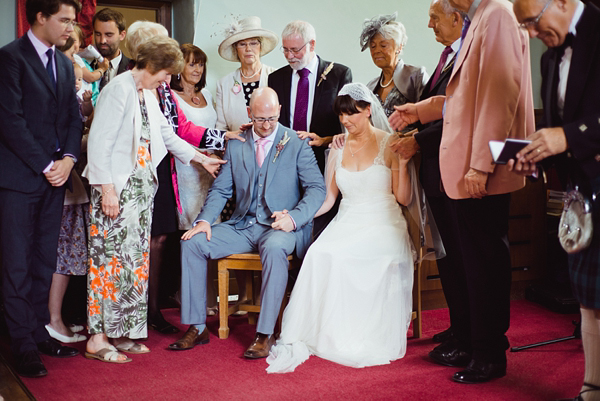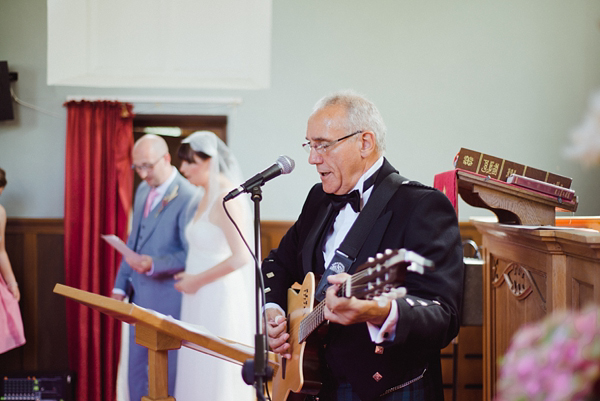 "In terms of decor, the barn itself is amazing and didn't need any extra decoration. I wanted to keep it simple. However, I used an old trug for guests to place their cards in and on that table I had a number of Clayton's (my maiden name) Stone Ginger beer bottles with flowers in."
"I wasn't too bothered about a cake and probably would have been happy without one, however, my mum makes a great victoria sponge so the plan was for her to make a three tiered victoria sponge cake.
As the day approached we realised the logistics of mum putting something like this together was impossible so I did a bit of research and found nearby Nom Nom Cupcakery who made a wonderful cake. I am so glad I decided to go for the cake now, as it made a lovely addition to the feel and look of the venue"
"Cripps kitchen, owners of Stone Barn, provided us with an amazing meal, which is still talked about today! They offer a wonderful relaxed meal, where guests can help themselves with little input from waiting staff, and this was perfect in helping create the atmosphere we wanted. The lamb was cooked on their amazing barbeque – known as the Godrilla -  and it was a sight to see! We chose a guest on each table to carve the lamb, which went down a treat. The creme brulee has gone down in history!"
"There were many great parts of the day, the morning getting ready with my nieces, the actual ceremony, having photos taken in the village of Bibury, not just by our photographer but by the many Japanese tourists!  The combine harvester, harvesting the field, catching the last bit of the sun in the cornfield for some amazing photos.
But there was one special moment when we were waiting to go sit down for our meal – we were on the balcony looking down at all our guests at the tables, watching everyone and seeing the fun and laughter – it is a lovely memory for us both."
"We chose 'You never can tell' by Chuck Berry for our first dance, it was made famous by Uma Thurman and John Travolta in Pulp Fiction.  And, yes, although we had only practiced it once, and not together, we did the 'dance' and I think we did ok! We never wanted to do a stand sway dance, and we had always loved this song.
My brother put together some amazing playlists and took it all very seriously. Apparently being a DJ was on his bucket list. The dance floor was rocking!"
Words of Wedded Wisdom…
"Don't feel pressured to have the 'traditional' wedding, let your wedding day be unique to you and don't get bogged down with trivialities.
We didn't 'cut' the cake or have a 'signing the register' picture, we didn't have favours, nobody mentions these things, but what our guests are saying is what an amazing day, it was so relaxed and we had a great time.
I cannot think of anything that we would have done differently, but I didn't have any expectations of the day, so just embraced it – after all, whatever will be will be."
Thank you so much Sam and Phil for sharing your lovely day with us all, and huge thanks to photographer Emma B too.
Readers, if you'd like to see more from designer Raimon Bundo, click here, we profiled his new collection recently and it's available at various stockists throughout the UK.  You can also see more barn and summer weddings and brides wearing beautiful Juliet cap veils here, to get your inspirational juices flowing.
Have a gorgeous Saturday lovers!
Annabel
Photographer -  Emma B Photography
Venue – Stone Barn
Wedding Dress – Da vinci dress by Raimon Bundo via Love Bridal boutique
Veil/Headpiece – Juliet cap veil from Visionary Veils + pearl beaded hair comb from Rachel Simpson
Brides' shoes - Rachel Simpson
Bride's accessories – necklace from Monsoon
Groom – The Pompeii W suit in airforce blue from Reiss + pink tie from Drakes
Bridesmaids – Renz on Etsy + flower hair pins from Lillani May
Flowers – the brides mum
Cake – the brides mum + Nom Nom Cupcakery
Transport – Peguasus Wedding Cars
Rings – Bradleys in York
Catering – Cripps Barn
Hair Stylist – Mcleod Bradley
Makeup Artist – Gemma Hallowell
Follow Love My Dress on Google+