Hey lovelies, have you had a minute to read through our discussion post of this morning? We had a reader contact us a little worried over something and we knew you'd be able to reassure her so we shared her dilemma via this post – pop along and leave your thoughts via the comments box if you have time.
This afternoon's real wedding was sent in by photographer Claire Penn and is full of lovely, uplifting,  happy, smiley photographs of newlyweds, Sarah and Gareth, on their wedding day – I just adore the romantic way Sarah writes about her wedding day experience and the love for her husband, and I like that this wedding has a theme running through without being too thematic, or gimmicky – and as for those floral chair covers – LOVE (this from someone with a passionate loathing for chair covers).  
The couple tied the knot on 16th August, 2013 at Tatton Park in Knutsford, Cheshire…
"We knew we wanted a vintage-styled, small and intimate wedding with just our very best friends and family. Gareth has always loved Alice in Wonderland, and I wanted a tea-party wedding, so we evolved the wedding theme into a 'mad hatter's tea party' rather than a formal wedding breakfast!"
Photography Copyright (c) 2013, Claire Penn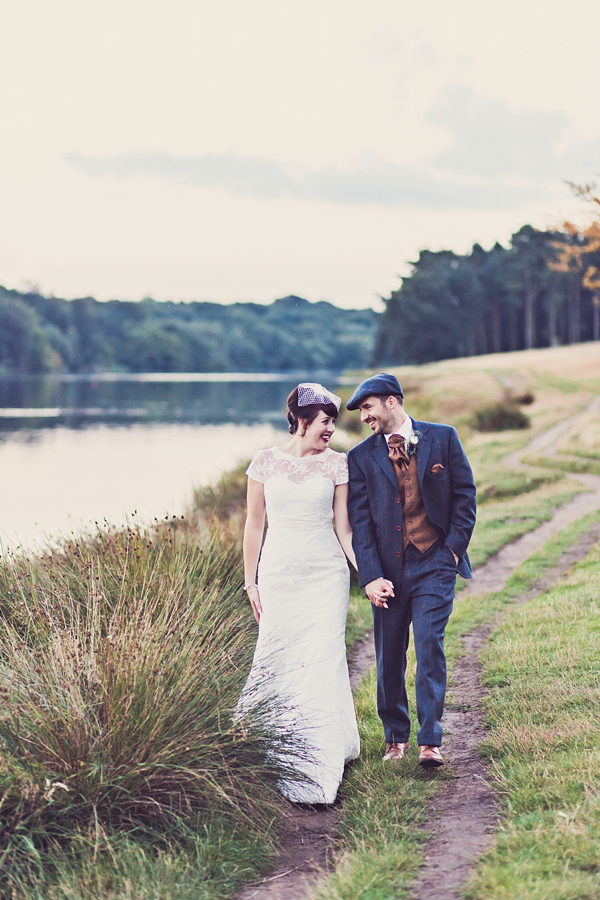 "Gareth and I first moved in together to a little old terraced house on the edge of Tatton Park in Knutsford, and lived there for a year before we bought our country cottage. We would walk through the acres of beautiful Tatton grounds almost every weekend, often battling the elements, sun, wind and snow!
It became one of those magical 'get away from the world' places that seemingly only Gareth and I knew about.  When Gareth asked me to marry him (on bended knee on the doorstep of our cottage the day we got the keys), Tatton was the first and only choice in our minds for our wedding day."
"For us, it all started with a French film and a green cupcake at the Art House Cinema, Cornerhouse in Manchester! As we got to know each other we realised that we should have met years before – he had lived in Castlefield, where I worked, and our paths must have crossed almost every morning!  In addition, one of Gareth's best friends from University had been in my art class at college and had grown up in the same area as I had – and Gareth used to go clubbing in the same place I did growing up! It felt like it was always meant to be. 
We fell for each other pretty quickly and became inseparable, but Gareth had enrolled on a PhD course at Cardiff University before we met and had to move from Manchester within two months of us meeting. I cried my eyes out the night he told me – that's when I realised it was definitely true love!"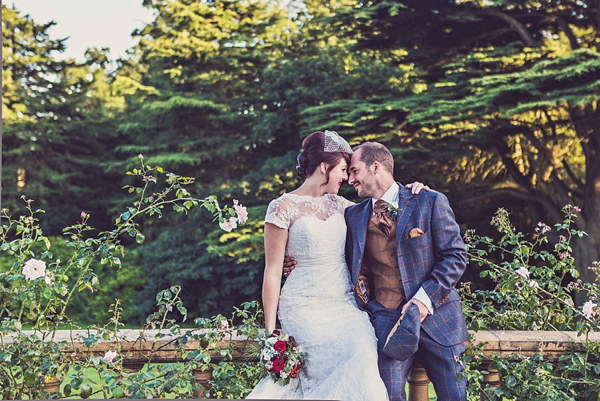 "We did the Cardiff-Manchester commute almost every weekend for a year and wrote longing letters and romantic poems to each other every week(!), before Gareth's PhD schedule allowed him to move in with me up North. We lived together for about six months before we both decided to sell our properties and officially move in together in our very own place. It was a chance outing to Tatton Park that resulted in us deciding on Knutsford.
The village is so quaint and pretty that we decided there and then that was where we should live! We rented a little place on the edge of Tatton Park for a year whilst we looked for our perfect country cottage."
The day we got the keys we had planned to get all dressed up and take a picnic to the cottage after work to celebrate. I arrived home to find Gareth looking gorgeous, with a packed picnic basket, including glasses and a bottle of our favourite red wine. When we walked up to the cottage door, Gareth routed in his pocket for the keys – we wanted to hold them together as we opened the door to our new home for the first time, but suddenly, he got down on one knee and proposed with the most stunningly beautiful and sparkly art deco diamond ring!  I think I said yes and burst into spontaneous tears immediately!
We were together three years in total before we got married and our wedding date was almost exactly one year to the date of our engagement."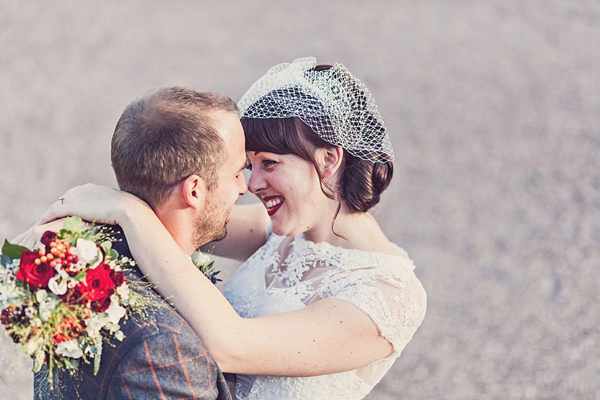 "My dress was by designer Kate Britton of Mariee Couture.  I knew exactly what I wanted for my wedding dress – vintage style elegant lace, an hourglass shape with a fishtail and scalloped edge, and lots of teeny tiny buttons down the back.
I had been to a lovely local wedding dress shop with my mum to try on lots of different dresses (which was fabulous – even your typical huge meringue style looked better than I'd expected!). I also loved a knee length, lace, 1950s full skirted style, but it's a style I wear in my everyday life and I wanted something that I would never have the chance to wear again – unless I won an Oscar! Although I came away with two favourites, neither were 'the one' and both were scarily expensive!
I have had quite a few 'Madmen' inspired dresses made for me and even a copy of a Marilyn Monroe blue suit from 'Some Like It Hot'. Gareth was getting his suit tailor made to his exact 'tweedy' specifications, so I decided to see whether I could find someone to make my wedding dress to the design I had in my head! Enter the wonderful Mariee Couture, found by chance through a Google search. Kate was nothing short of fabulous!"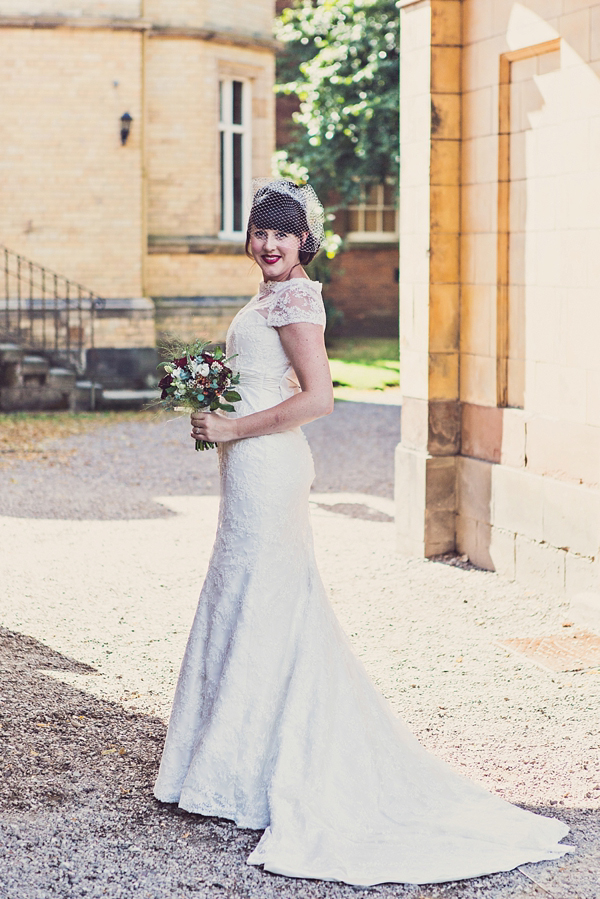 Kate has her own styles that you can try on and buy, but she can also make your dream dress from scratch. On our first meeting we discussed what was in my head and the shape and style I wanted.
I tried on several of Kate's own designs so she could understand what I did and didn't like, and also what suited my figure, and at the end of the meeting Kate was sketching out the dress! I then got to pick my material, beautiful ivory Chantilly lace and scalloped edge trimmings and all the little details fell into place!"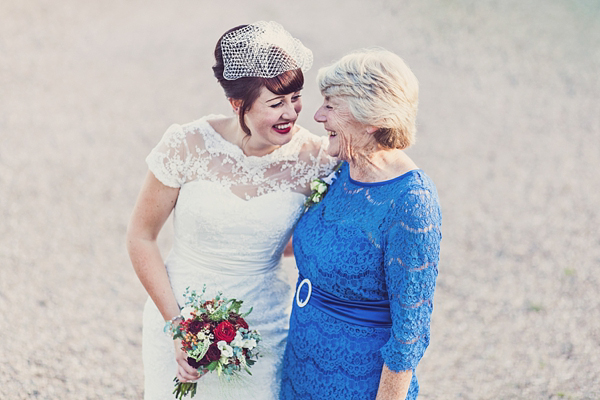 "Gareth insisted that his tweed suit would be kept a secret – just like my dress. He contacted several tailors before choosing Cheshire Tailoring. We had both agreed that we would make every effort to only choose British materials and craft-persons. We only wanted to commission people who understood what we wanted, who were local and had an artisanal/cottage-industry type approach (rather than being overly commercial) and who we genuinely liked. Gareth made his decision to commission Cheshire Tailoring after only one brief phone call with the company owner, David.
Gareth decided from the outset that he wanted a 3-piece closely fitted suit made in blue tweed, a matching flat cap and a different coloured waistcoat, (Gareth would always wear a tweed jacket and a flat cap when we used to go for weekend walks in Tatton, so there was a nice back-story to this choice).  After sorting through hundreds of fabrics, he found a blue tweed fabric with a burnt orange window pane pattern sourced from Bradford. The tailor sent some of the material to a specialist hat-maker based in Leeds who had the flat cap made."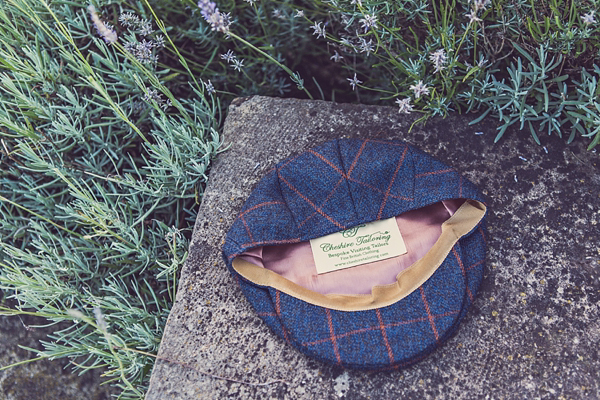 "Gareth found an inverted pattern (burnt orange with a blue window pane) produced in the same Bradford mill, which he chose for the waistcoat. The tailor visited many times discussing each and every detail. Gareth decided on a three button jacket with classic British fit and agreed the length, shape and width of every detail including the lapel, pockets, sleeves, trouser legs etc. He had a five button waistcoat with watch pocket and matching cloth back. The buttons on the jacket were selected to match the burnt orange in the window pane and waistcoat.
As this was all a secret to me at the time, I have since found out that Gareth became quite obsessive about the design and all the fine detailing – he wanted everything to work along a narrative set up in the suit. So, after looking at a range of other materials for lining, he found a burnt orange paisley pattern that matched his waistcoat.
The tailor sent a piece of the same paisley fabric to a cravat and tie specialist in Chester. Gareth used this paisley pattern to help him pick the material for his tailor-made shirt. It was only on the tailor's 3rd visit that Gareth found what he was looking for: a white material with a discreet white paisley pattern. Again, after discussing the design and details for the shirt, the tailor sent the fabric to a shirt maker in the south of England."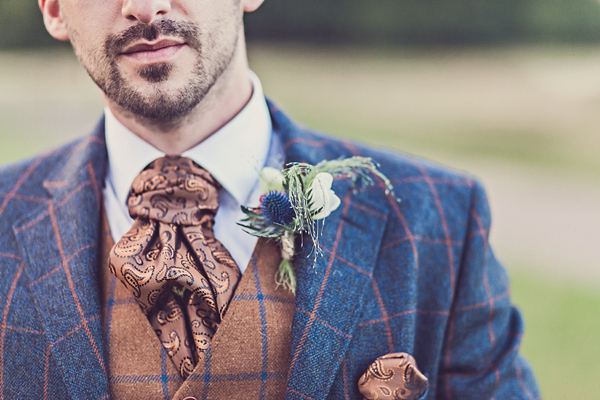 "Gareth also wore bespoke silver stag cufflinks and a matching cravat pin which I had made specially and gave to him as presents in advance from Alexis Southern Handmade Jewellery on Etsy.  He wore the tan Barker shoes (style 'Justin') that I bought him for his birthday 2 years earlier and which had since become his pride and joy – he keeps them in their original box with shoe trees and polishes them every time he wears them!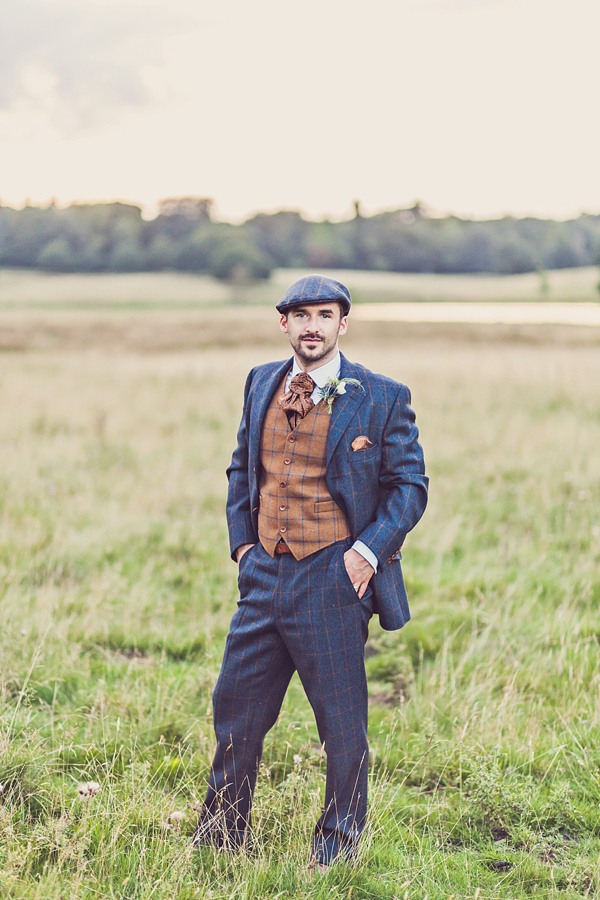 "I wore a beautiful classic vintage 1950s style birdcage veil from Lilly Bella which we fixed into my hair, slightly covering one eye."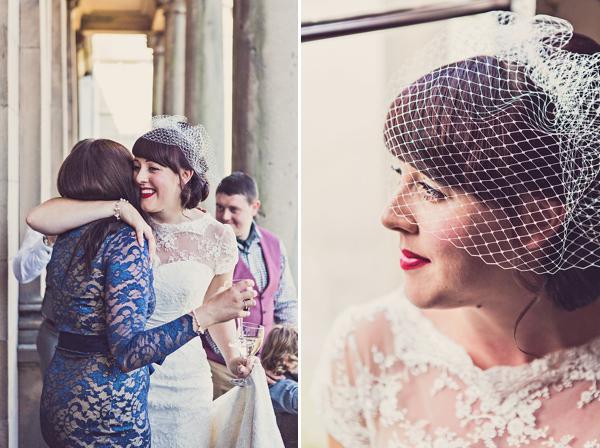 "I actually knew what my wedding shoes would be like before I had even designed my dress! I have always been in love with the Wizard of Oz. So much so, that my Grandad Pip would lay the Yellow Pages along the floor for me we walk across as the yellow brick road when I was little! So when it came to wedding shoes, the ruby slippers were my only choice!
I started researching and found a beautiful Gucci pair that Keira Knightley wore for an Annie Leibovitz Vogue shoot back in 2005 (but had no way to source them!). I also found a Vivienne Westwood red glitter pair, but they weren't quite Dorothy enough.  I then came across Shoes of Prey where you can design the heels of your dreams and my perfect Dorothy shoes took shape!
The customer service at Shoes of Prey was incredible – they sent a photograph once my shoes had been made and they arrived only 5-6 weeks later, wrapped beautifully in a black box with ribbon. Heel heaven!"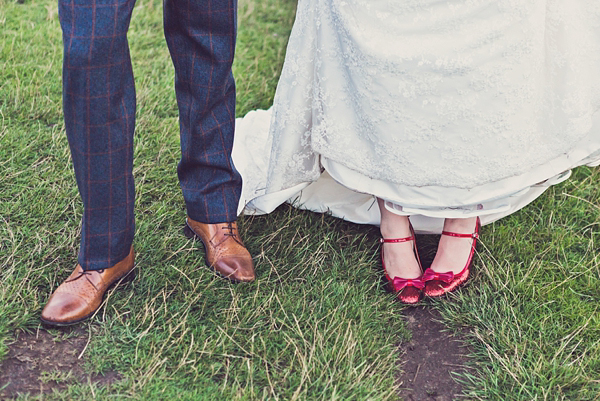 "The mad hatters tea party was a concept that subtly styled the whole day – from the save the date cards, to the 'follow the white rabbit' signage and the 'eat me' signs adorning the little cakes! We created a unique little afternoon without many of the elements of a traditional wedding. There were no formal speeches, no 'cutting of the cake', no best men, bridesmaids, evening do or first dance, but there was an abundance of classic elegance, vintage china, tea and cake, pie (Gareth IS from Wigan!), Tatton ale and, of course, champagne (complete with flowering hibiscus inside)!
All our guests were asked to wear floral or lace for the ladies, and tweed for the men – and everyone looked completely 'English country' fabulous! There were flat caps, tweed waistcoats and even a pair of wellies!"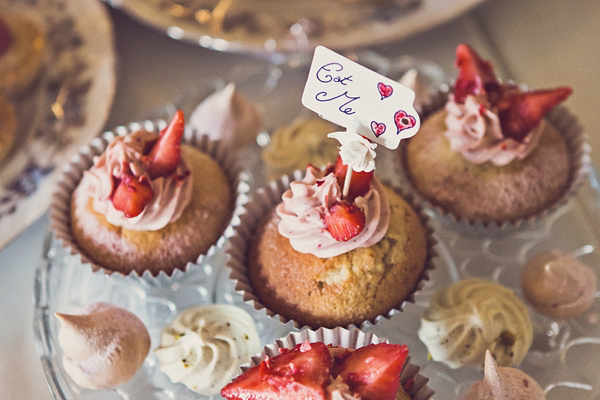 "In additional, we had floral chair covers – and here lies a story! I have always detested those poofy white chair covers you have to have at weddings and banquets with the bows on the back  – and I was insistent that I would not be having them at our wedding! It seemed like such a minor thing, but it was incredibly difficult to resolve!
After researching various options, and contacting many an event planner, someone gave me the most wonderful recommendation - Doris Loves!  Amanda from Doris Loves made floral chair covers from vintage fabrics for her own wedding, and now rather fabulously, hires them out! She was my perfect solution (and so lovely to work with)!"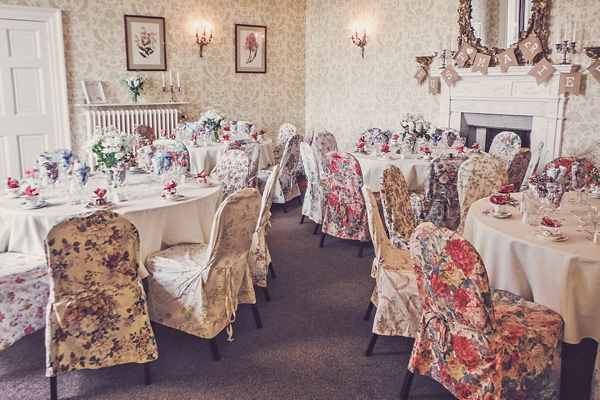 "My mum and I had been collecting vintage trios (cups, saucers, little plates and teapots) all year leading up to the wedding as I wanted that vintage mis-matched tea party feel. Mum also hand crafted everyone wonderful mis-matching floral napkins and special white ones for Gareth and I with our initials embroidered on in red!
I had collected an abundance of matching English vintage silver candelabras (hours of Ebay and reclamation hunting!) to adorn the tables at Tatton, and we scattered floral heart confetti, pearl strings and playing cards from an Alice in Wonderland pack across the tables."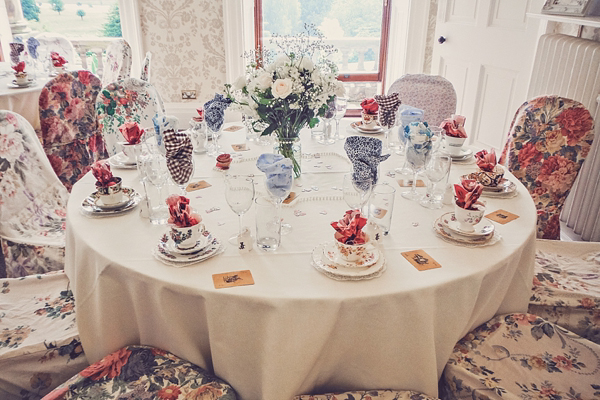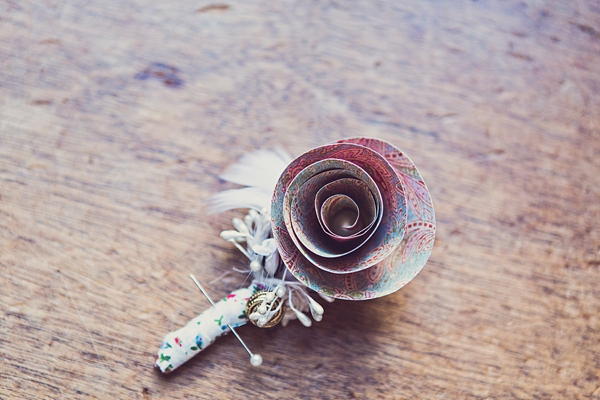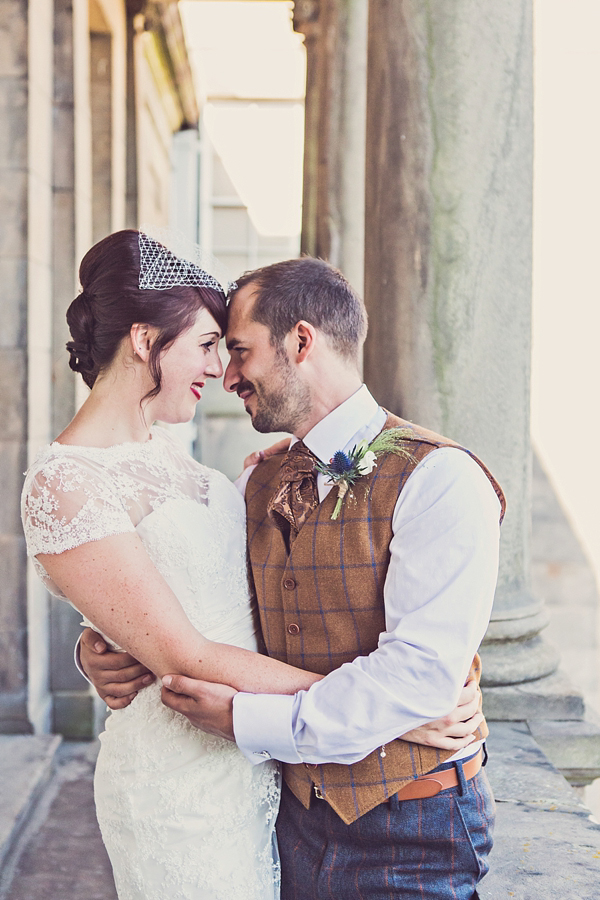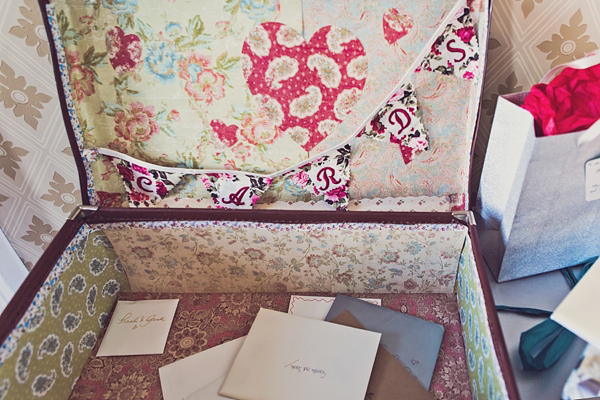 "Our florist was the fabulous Bridget from Knutsford Bloom. Bridget was so down to earth and completely understood our natural theme from our first conversation. She came up with brilliant floral ideas for my natural and unstructured hand-tied bouquet (with touches of red berries and ruby roses to match my ruby slippers!) and Gareth's thistle buttonhole.
She even encouraged us to do our own informal table arrangements with flowers from Morrisons because we wanted a natural and unstructured look – as if they had been scooped from the garden that morning! We did just that, and my fabulous mummy did all the flowers for Tatton in glass jars she had collected. They were a mixture of ivory roses, cream stocks, white spider carnations, gypsophilia and alstromeria which filled the room with the most amazing scent!"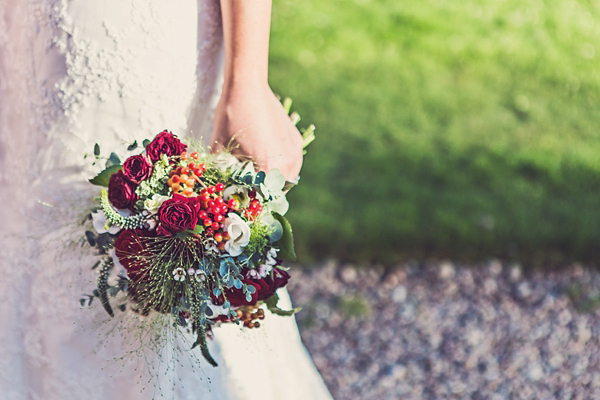 "When it came to my hair, I wanted a classic vintage inspired up-do so my locks remained perfect all day (which was just as well, as the afternoon turned out to be a real scorcher at one point and I would have baked with my long hair down!). But try as I might, I couldn't find anyone to do my hair at the cottage the morning of the wedding – everyone I contacted said the job wasn't big enough for them (because it was just me, and not a bride and 10 bridesmaids! Very disheartening!)
I had just about resigned myself to doing my own hair with my mum (stressful!), when my hairdresser suggested a friend of hers, Katie who came to the rescue. Katie created a gorgeous side swirly up-do with a slightly bouffant 60s-esque top, which worked perfectly with the vintage birdcage veil, and stayed in place all afternoon!"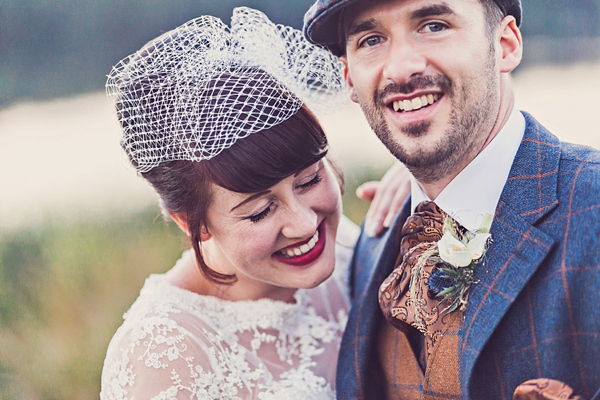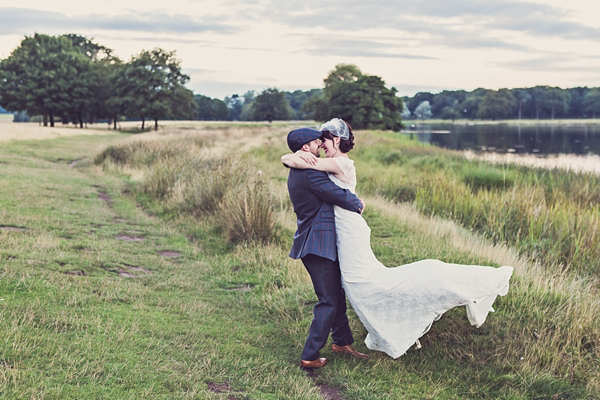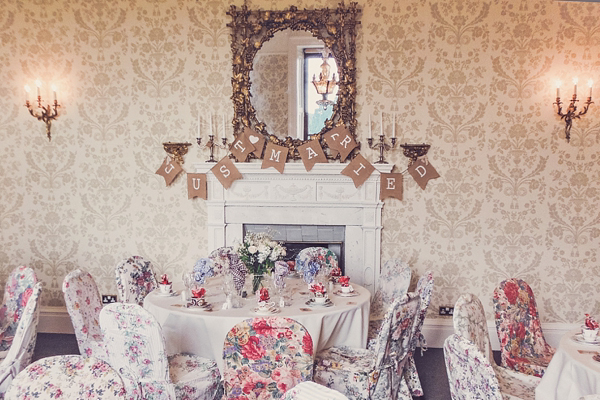 "Gillian Risley and Joanne Callaghan (a lovely mother & daughter team) did all the mouth-watering catering for our wedding afternoon tea. They were one of Tatton's recommended caterers, but suited our style of wedding perfectly, as we tried to source everything as locally as we could from small local providers.
Gill and I created the perfect English afternoon tea menu, including;  homemade Cheshire cheese sausages, devils on horseback, miniature Yorkshire puddings with Cumbrian fell bred beef and horseradish, mini pies and a superb selection of miniature scones, jam and cream, lavender angel cakes with strawberry cream and meringues with raspberries and pistachio all served on the vintage china that my mum and I had collected in the run up to the wedding! Yum! It all looked absolutely beautiful.  Gill & Jo had set everything out on my tiered cake stands – pretty as a picture and tasted divine too!."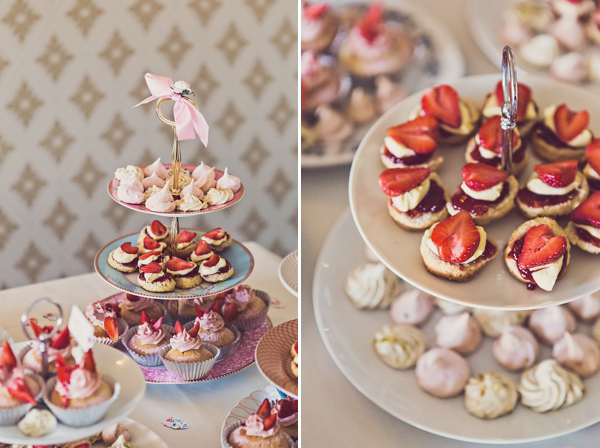 "Claire Penn was our wedding photographer. Claire specialises in amazing vintage reportage photography which captured our vintage inspired day perfectly. As you can see from the stunning photographs, Claire has such a unique eye…a really quirky way of capturing moments in reflections and through surfaces.
The time we spent with Claire in the rural grounds of Tatton after we had driven away in the vintage car, yielded the most amazing results – the images with the deer and walking by the lake are just magical (and totally worth a slightly grubby dress!)."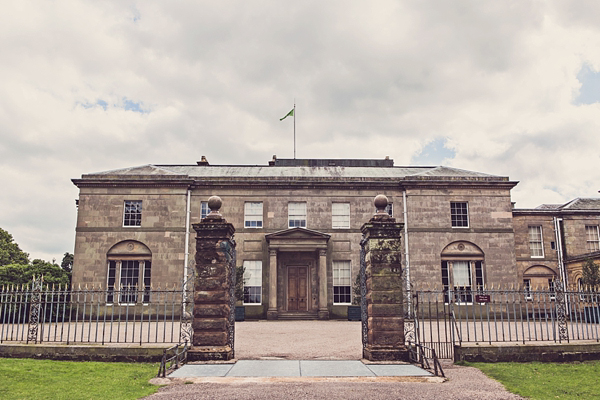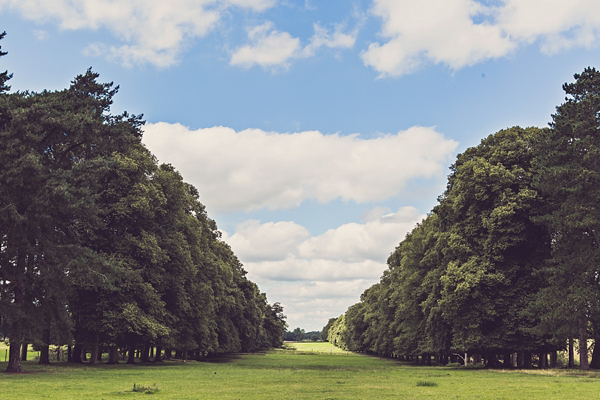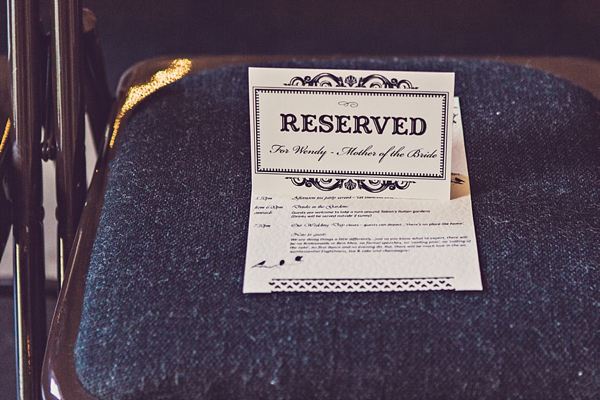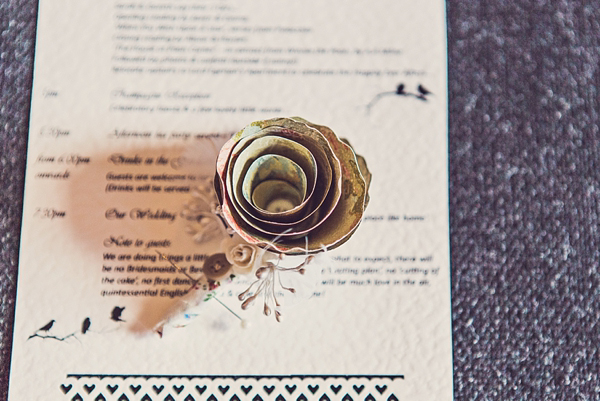 "Clive from Lancashire Classic Jaguar Hire provided the wonderful champagne coloured 'Douglas' the Daimler and our lovely driver, Mark. We had originally wanted a vintage self-drive car, as I liked the idea of my dad driving me there and Gareth driving us away, but after considering the logistics (and the inability for Gareth to have a glass of champagne!), we decided to have a driver.
From our very first enquiry to Clive at Lancashire Classic Jaguar Hire, he was so very helpful and flexible (and we did talk through a LOT of different options with him on email before we made a decision!). The contact and customer service throughout was truly fantastic. On the day of the wedding Mark arrived early in the gorgeous 'Douglas' and we managed a private chauffeur driven tour of Tatton's grounds before the ceremony, which my mum and dad absolutely loved! It made the whole build up to the wedding ceremony so very special! 
It may sound like a strange thing to comment on, but the gorgeous red leather interior was just lovely to smell! I have never been in a car that gave us such a wonderful experience as 'Douglas'. I also felt like royalty waving to the public on my way through Knutsford!"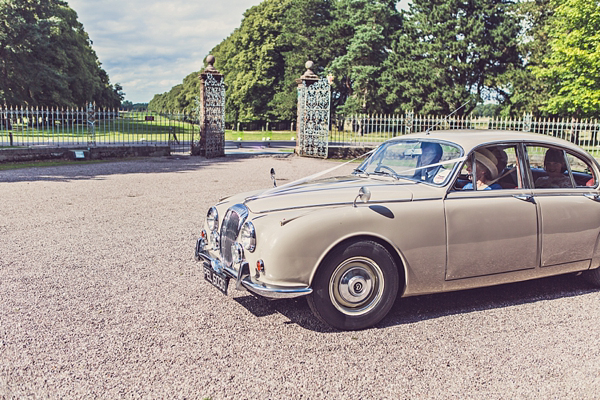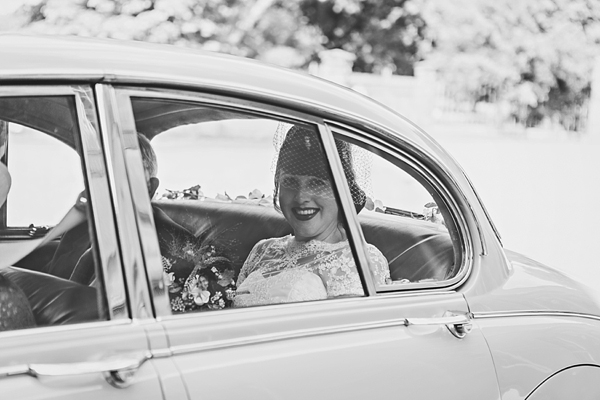 "Gareth had left me a little surprise in a drawer that I wasn't allowed to open until the morning of our wedding, (when he was safely out of the cottage and staying with our lovely neighbours in the cottage next door!). Upon unwrapping, the little box was inscribed 'Christopher Evans Goldsmiths' - the same goldsmiths who custom made our beautiful bespoke wedding rings! Opening the box, there was a beautiful Princess-cut real ruby earring sparkling up at me! A perfect match for the ruby slippers! I only have one ear pierced – half way up my right ear, and had been struggling with what to wear (I had a small pearl in mind), but this was just beautiful. The perfect final touch.
I also wore my stunning Emerald-cut diamond engagement ring with brilliant-cut diamonds set in tapered shoulders and a gorgeous real pearl bracelet given to me by my mum and dad the morning of the wedding. In addition, I wore the same ivory and pale blue garter that mum had worn on her wedding day for that 'something borrowed and something blue'."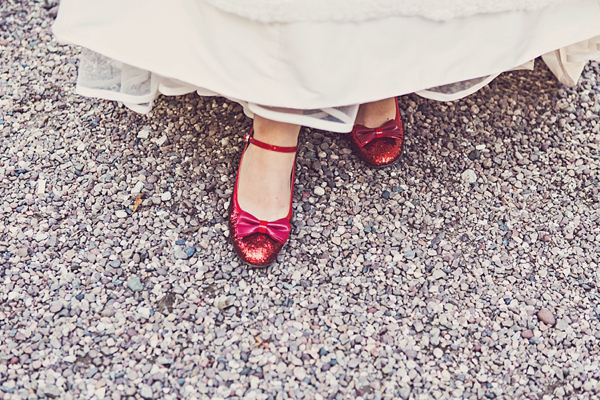 "I had decided to do my own makeup as I still wanted to feel 'like me'. So before the wedding, I went on a Selfridges 'posh makeup shopping spree' with one of my makeup-guru best friends, Emma. Although I wear makeup (and have a penchant for the Dita Von Teese red lipstick and black eyeliner combination), I have to admit that I don't normally spend a lot of money on designer brands, so used her expertise to select some wedding-day must-haves!
I used MACs Prep & Prime primer as a base and Dior Airflash spray-on foundation, which is just amazing ladies! It has no SPF, so you don't get any negative reflection in photographs (a really good wedding day tip). The coverage is super light, so it felt like I wasn't wearing anything, and yet my skin looked flawless! I also used Dior Rosy Glow blusher (which looks fluorescent in the beautiful silver case, but is actually gorgeous on), Lancome's Hypnose Drama mascara (faux lashes look here we come!) and Lancome's Rouge In Love lipstick and pencil to match my ruby red shoes and give my look that 1950s vintage edge."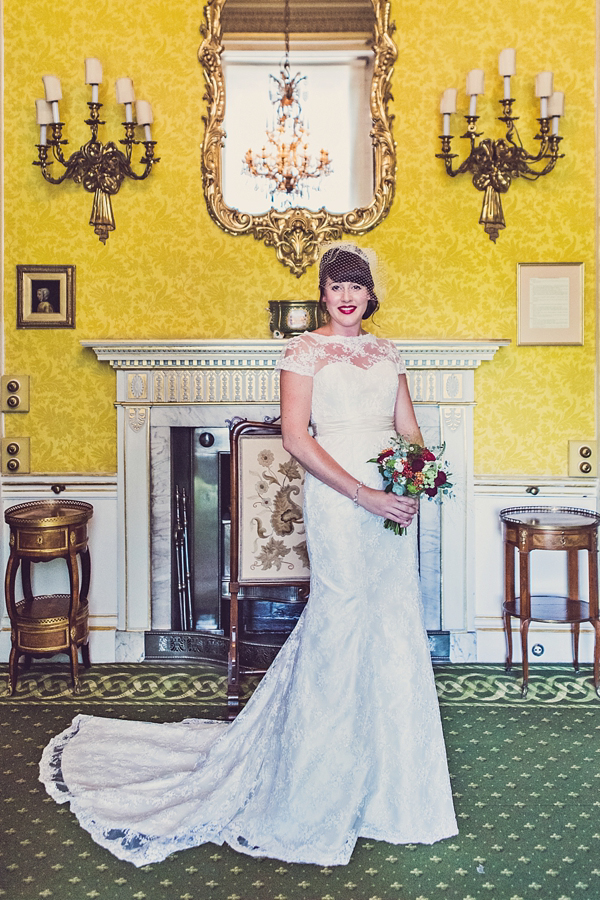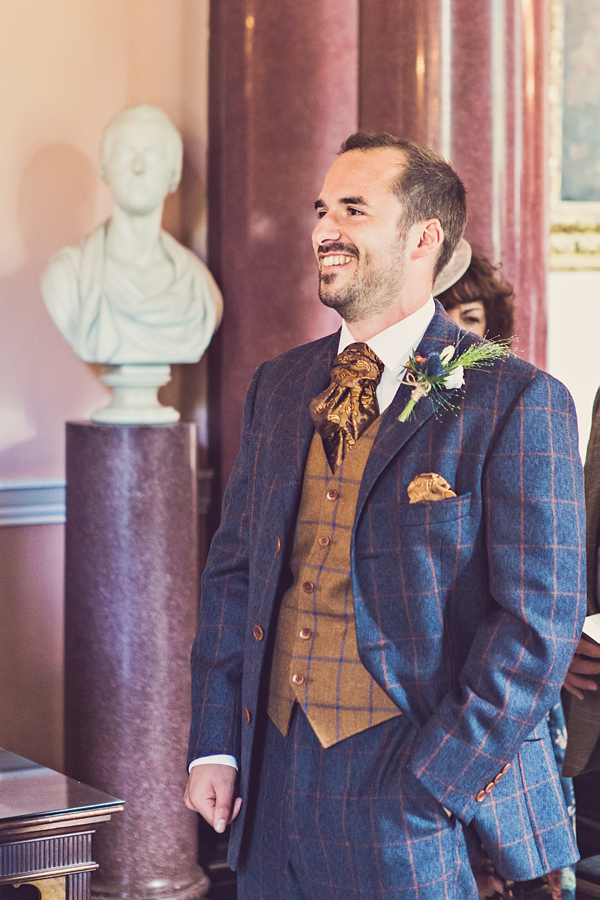 "My dad gave me away – it felt so special walking into the Grand Entrance Hall at Tatton on the arm of my dad. It was a truly emotional moment and although the walk though wasn't very long, time seemed to suspend – something I will never forget!
I walked in to the Wedding March by Mendelsohn (traditional and classic) and we exited to the Arrival of the Queen of Sheba by Handel (so uplifting and jovial!). We had spent hours listening to all our favourite classical  music and compiling a running order for Minerva…they even played 'Somewhere over the Rainbow' after I said a few words to everyone before our afternoon tea (a personal favourite, and a link back to my ruby slippers)."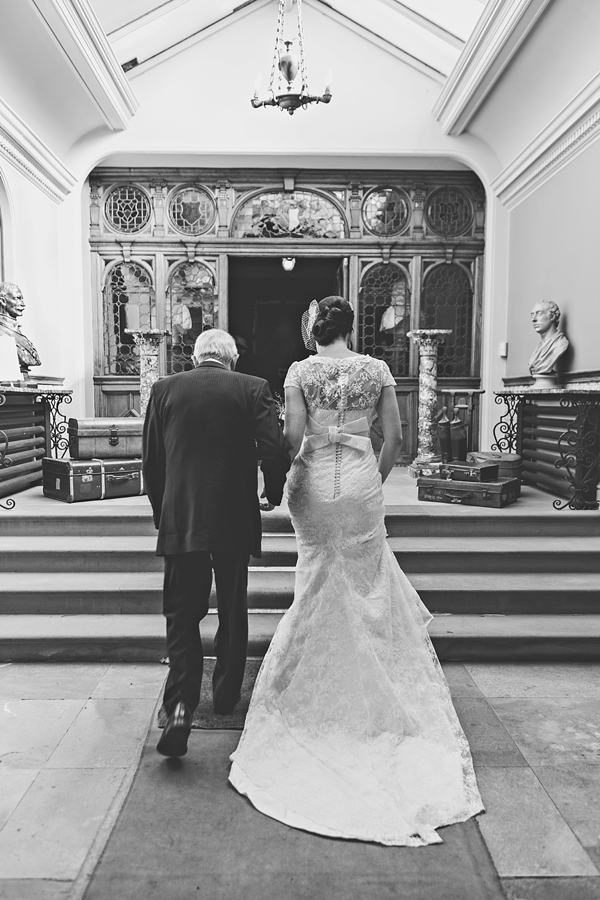 "We didn't actually tailor our vows, except for a few words here and there…because the words were already so traditional and lovely and fitting, but instead Gareth and I both wanted to 'say a few little words' (but not in the style of formal speeches). Here, we said some beautiful and thoughtful words to each other. Here's a little snippet from mine;  
'Once in a while, right in the middle of an ordinary life, the extraordinary happens…true love comes along and gives us a fairytale.  I believed it when I was little and now I know it's true – somewhere over the rainbow, skies are blue, and the dreams that you dare to dream, really do come true, so, please join me in raising a glass to all our happily ever afters'."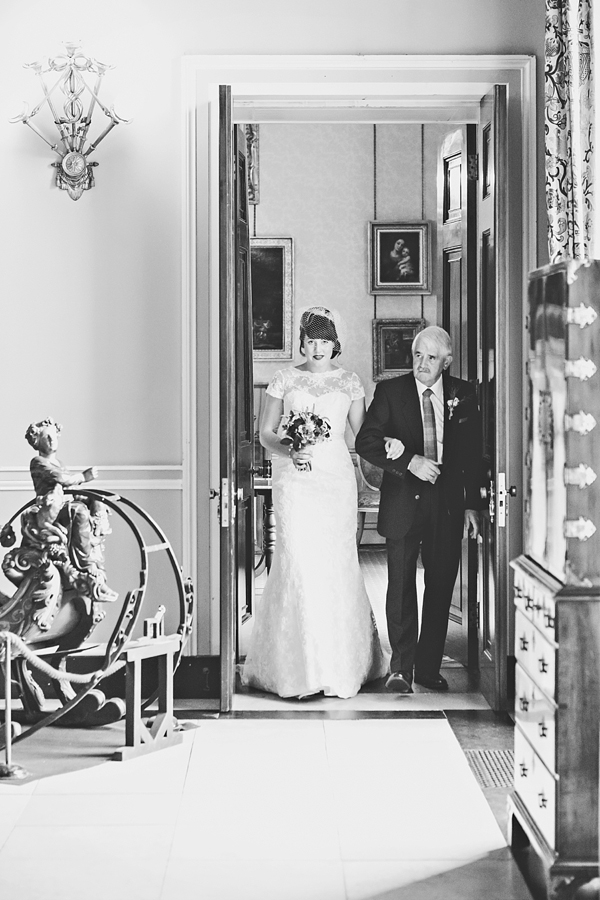 "The most beautiful and emotional part of the day was during the ceremony. Standing facing Gareth, my hand in his, in the most beautiful and elegant stately home, wearing a dress that made me feel like royalty, looking at a man who was my groom, and soon to be my incredibly dapper husband, with the eyes of all our very favouritest friends and family on us, whilst we stared deep into each others eyes and said the words that would bind us together forever.
That, I will truly never forget. Time literally stood still."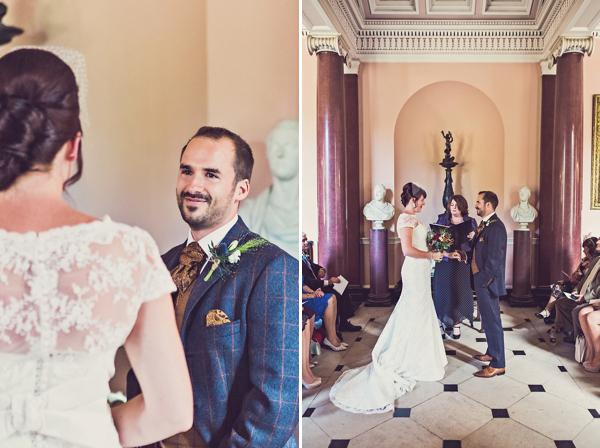 "I really wanted my best friends (all four of them!) to read a little something during our ceremony too, and I absolutely love the magic of the films, animation and stories we grew up with. So, we chose 'When you wish upon a star' from Pinnochio and 'The house at Pooh Corner' by A.A.Milne. Both were just so cute, and the girls did a wonderful job.
Having the readings made the ceremony so personal and bespoke."
"When we lived in Knutsford, we would always stop at Geralds of Knutsford jewellers whenever we passed by to stare at all the beautiful antique diamonds shining back at us from the window! For Gareth, having the engagement ring made by Gerald would fit perfectly into our 'story'.  I have since learnt that Gareth first visited Gerald's 6 months before he proposed and then pretty much every fortnight after, whilst I was at work! During that time he paid for a diamond specialist to visit the house when I wasn't in to explain the three C's and to learn how to use the loop to identify different levels of clarity and colours. This helped him examine the diamond rings that Gerald sourced for Gareth to consider.
During that time, Gareth looked at many antique rings and said he either liked the diamond, or he liked the setting but was unable to find 'the one'.  Eventually, he asked Gerald to source a particular loose diamond and to make a setting to his own specification.  Not long after he proposed, Gareth told me that everyone at Gerald's were keen to meet me. When I stepped into the shop, all the staff came over asking me questions and seemed to know everything about me: how we met, Gareth's plan to propose, the cottage etc. I couldn't believe he had been up to all this in secret!
We originally thought about going to Gerald's for the wedding rings, but it felt like that was part of the engagement story and we wanted to start a new part of the story for the wedding rings. We visited several jewellers before deciding on Christopher Evans Goldsmiths. From our very first contact they were so friendly, helpful and accommodating to our (very specific!) ideas that we clicked with Chris and Nicky immediately."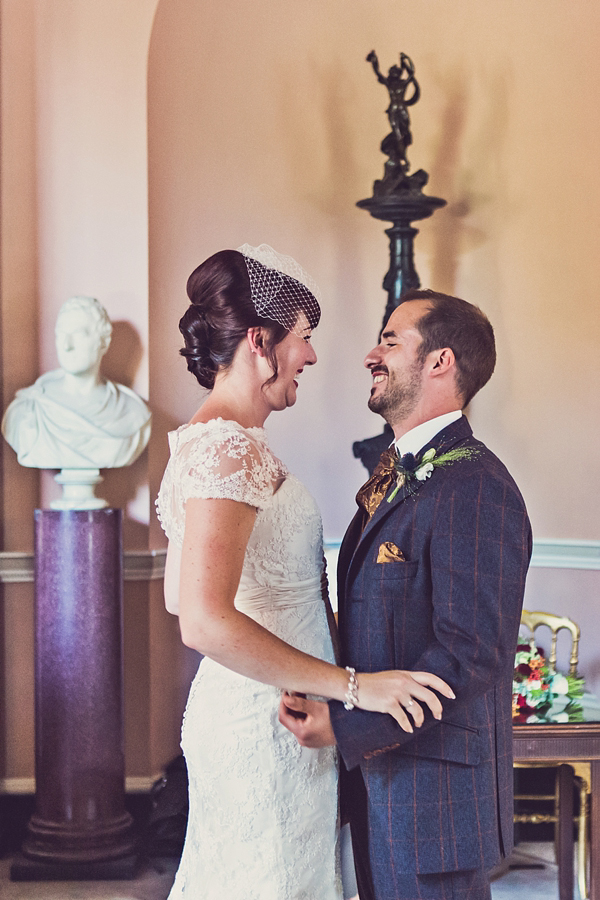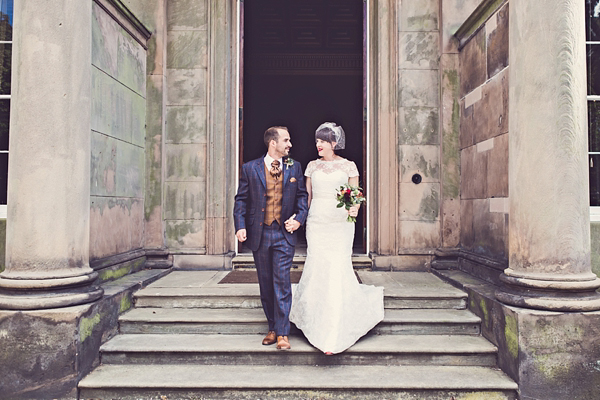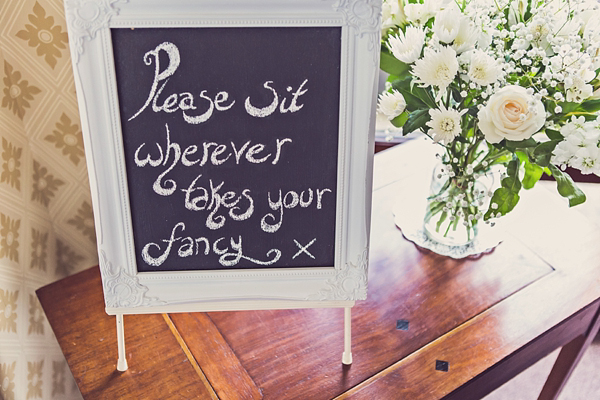 "Lisa of Cheshire Cake Design was an absolute dream to work with on the creation of our bespoke 'vintage birdcage' chocolate wedding cake! I had never wanted a traditional tiered wedding cake, nor a fruit cake, but something original, quirky and beautiful – and this completely hit the mark!
Lisa was just lovely to work with – from the very first email, to the setting up of the cake on the day (even sending me a picture of it in situ in advance of me arriving at our venue!). Even though Lisa had never made a cake in this shape before, she absolutely relished the concept and the cake looked and tasted amazing – all our guests commented on how gorgeous and unique it was!"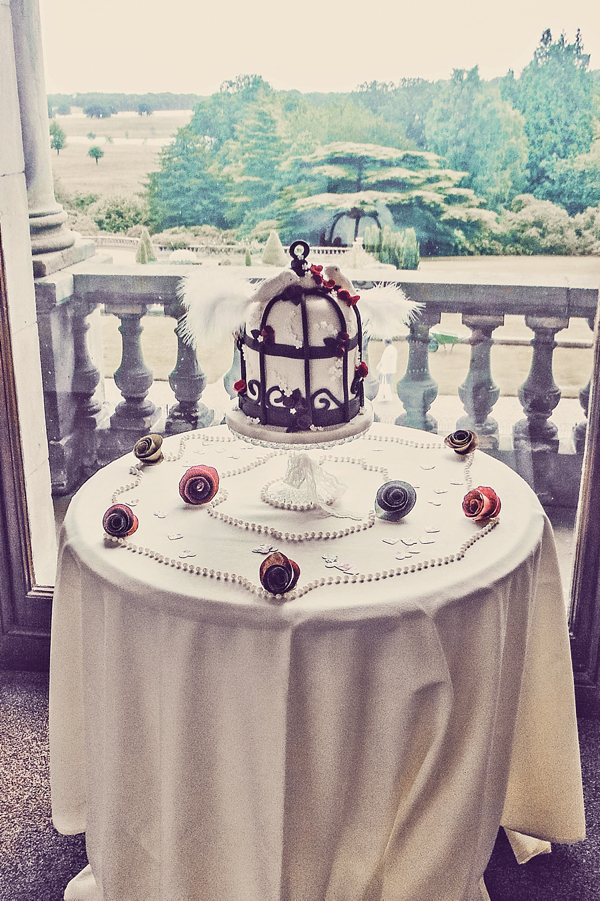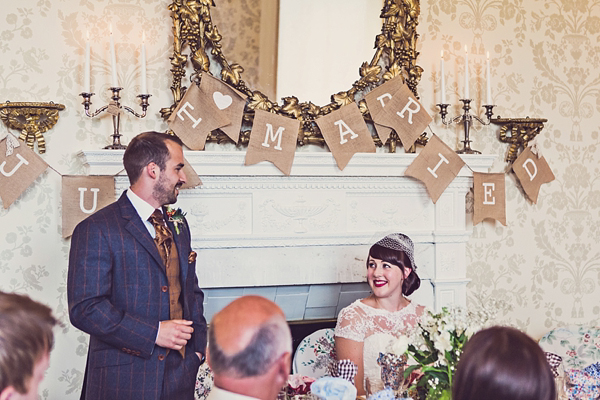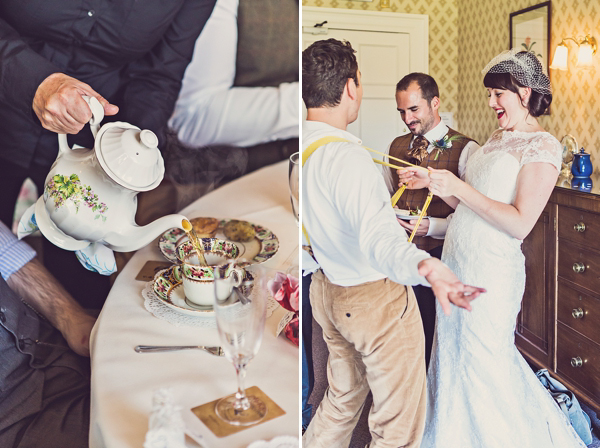 "As wedding favours, we had little bottles of bubbles (which everyone loved!) and heart shaped bird-seed cakes with little signs I made saying 'for the love birds in your garden' which we wrapped in floral napkins and ribbon. My lovely friend Lui from Tree of Temptations made the cakes and they seemed to fit in so well with our country theme."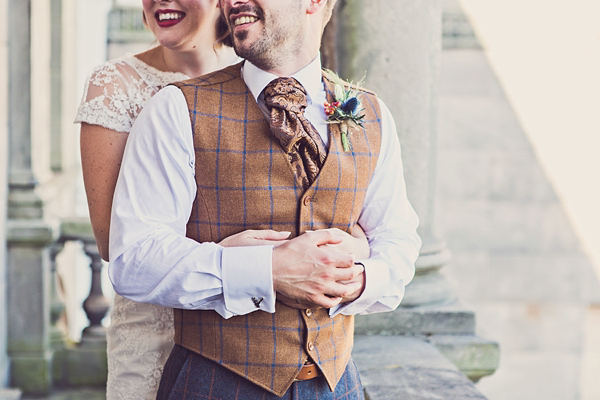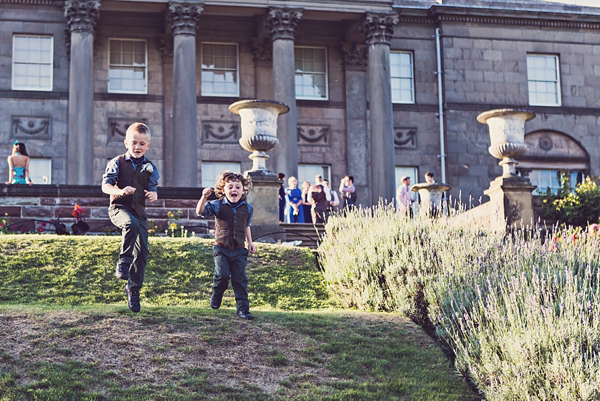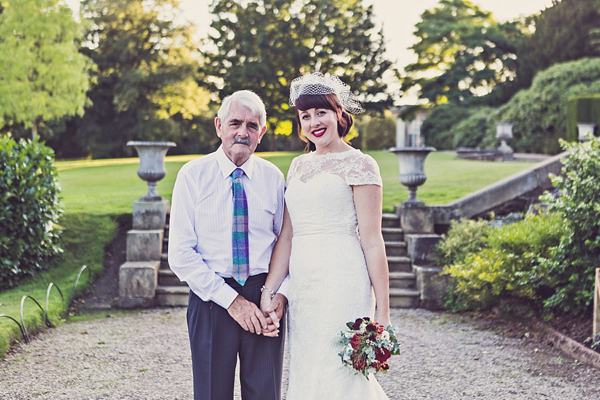 "Gareth and I created all our own stationary, including the invitations, the 'Order of the Day' cards, the menus in vintage frames and the vintage-inspired paper roses that I made all the guests as buttonholes. It was so lovely that everything looked and read 'like us'. It added such a personal and unique touch (although everything did take ages to prepare!)."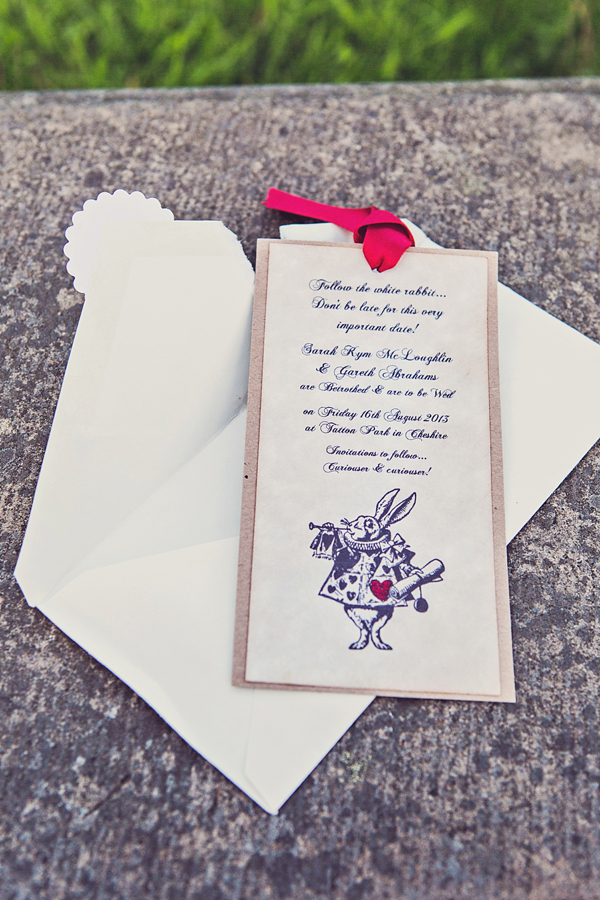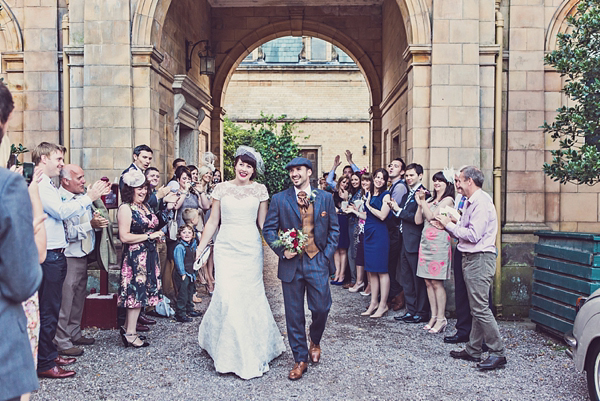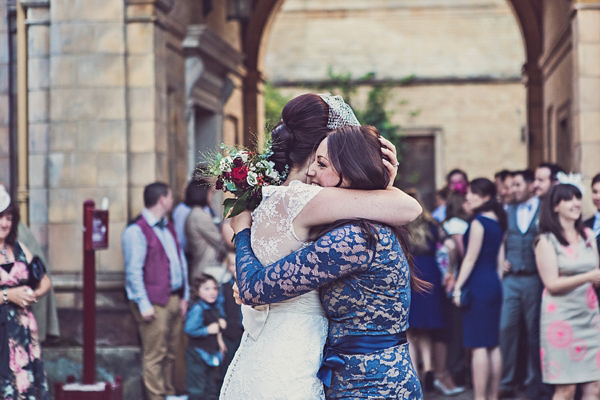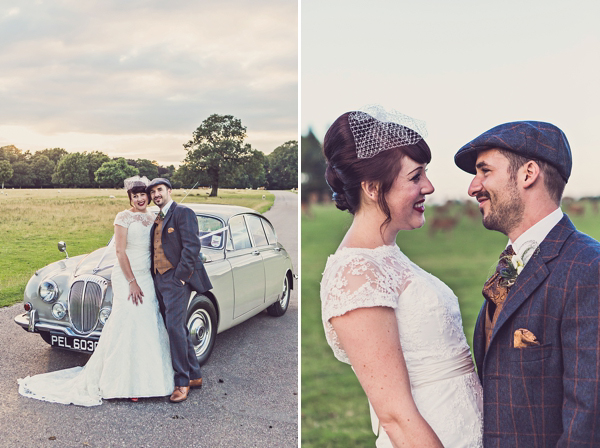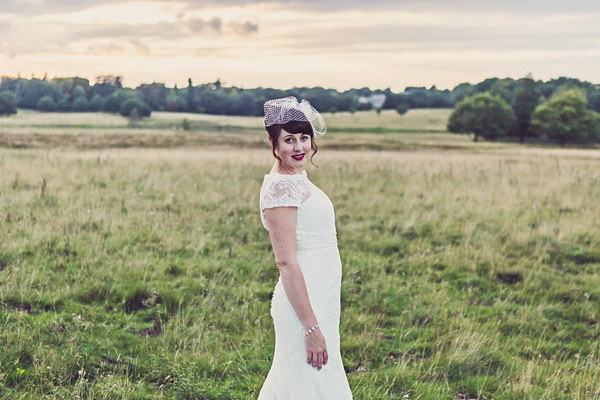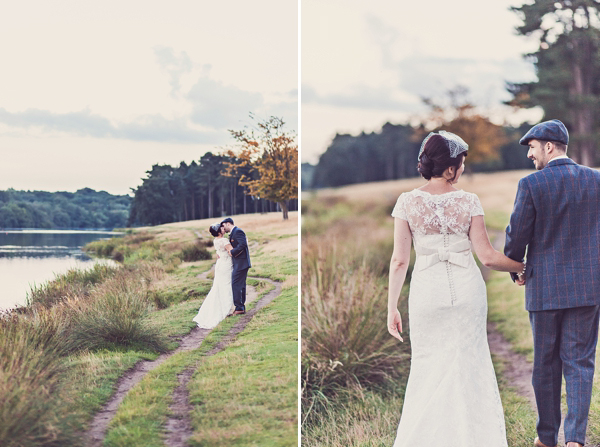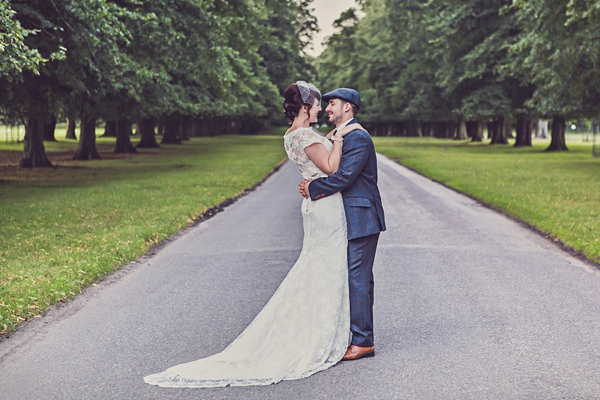 Words of Wedded Wisdom…
"Everyone told me that the day would go incredibly quickly and that I should try and savour every moment. This was the best snippet of advice I was given, as I really made sure that I absorbed every second of the afternoon – the emotion, the expressions on peoples faces, the atmosphere, the beauty of the surroundings, and of course Gareth.
My second 'words of wedded wisdom' are plan, plan, plan – but don't become a control freak!. I had thought about everything down to minute details and had wanted to set the room up the evening before. Due to another event happening at Tatton, this was not possible (which did cause me a minor freak-out!), but instead I made a detailed layout plan and list of instructions for Tatton, and the room was absolutely beautiful. Trust those around you – everyone is working with you to make your day perfect and for us it really was.
I refused to buy a wedding magazine (I wasn't one of those brides!) but I did become somewhat unexpectedly hooked on Love My Dress, and needed my daily fix. I really liked the style of Love My Dress – the amount of images and the ability to read every little detail of a story and feel like you knew it, and you knew them. It feels very personal and accessible. I also found the links so very helpful for inspiration and ideas."
Yet another beautiful and inspirational wedding on Love My Dress – huge thanks to photograper  Claire Penn for choosing to share her work with us all today. You might also want to take a look at these other related pages; mad hatters style tea party, Alice in Wonderland, Summer weddings, quirky and English country weddings.
We'd love to see some kind words left below for Sarah and Gareth – thank you so much.
Have a beautiful Friday everyone – thank you for visiting Love My Dress this week.
With much love,
Annabel & Franky

Photographer – Claire Penn
Venue – Tatton Park in Knutsford, Cheshire
Brides Dress – Kate Britton from Mariee
Veil/Headpiece – Lilly Bella
Brides' shoes – Shoes of Prey
Groom's Attire - Cheshire Tailoring
Flowers - Knutsford Bloom
Cake - Cheshire Cake Design + Tree of Temptations
Transport – Lancashire Classic Jaguar Hire
Entertainment - Minerva Ensemble
Additional Styling – Ebay
Stationery – made by the bride & groom
Hair Stylist – Hair by Reverie
Floral Chair Covers - Doris Loves
Rings - Geralds of Knutsford + Christopher Evans Goldsmiths
Follow Love My Dress on Google+