Morning all! Given we've got many beautiful weddings to share with you over the coming weeks, we've been working extra hard to schedule some Saturday posts in, after all, it's lovely to have something new to browse through over the weekend isn't it?  Some of you may recognise this couple from this film we featured sometime ago, produced by Mark W. Brown, (sharing again today because it's so lovely).  Couple Annabelle and Andrew tied the knot in my beautiful and much loved home town of Whitby, on 18th May this year, with a ceremony at St Cuthbert's Church in Kirkleatham, followed by a reception at Raithwaite Hall.  Today, I take pleasure in sharing this couple's full wedding with you, courtesy of photographer Lissa Alexandra.
"Andrew and I wanted a classically styled wedding so that it would stand the test of time, but not so traditional that it lacked elements of our personality. As a dedicated blog reader – and fan of Love My Dress, I took a lot of inspiration from real brides and found myself drawn to vintage style and home-made, DIY elements. I love natural papers, raffia, hessian and lace and tried to incorporate them wherever possible."
Love My Dress Wedding Blog – Film Production and Direction Copyright (c) 2012, Mark W. Brown

"Andrew and I met on a night out through mutual friends in 2008. I didn't have the confidence to speak to Andrew at first (despite his best efforts), but we both found we pestered our friends with more and more (lame) excuses to go on nights out just to spot each other and get talking.
Talking soon led to dating, and four happy years, a house and a dog later, Andrew proposed and we were married in May 2013."
Photography Copyright (c) 2013, Lissa Alexandra
"We chose to get married in Whitby because it's a place that has always been really important to us. When Andrew and I first started dating we used to visit all the time, walk up the 199 steps to the abbey and enjoy walks along the beach and the pier with our fish and chips. It's where we first realised we had a future together as a couple so it will always have a place in our hearts.
When we visited Raithwaite Hall, we knew it was the venue for us. It was a mix of traditional and contemporary which suited both our styles. The staff were outgoing and the grounds were breathtaking. Claire, our wedding co-ordinator, could not have been lovelier, or done more for us, she was fantastic. We felt very comfortable there – nothing was too much trouble."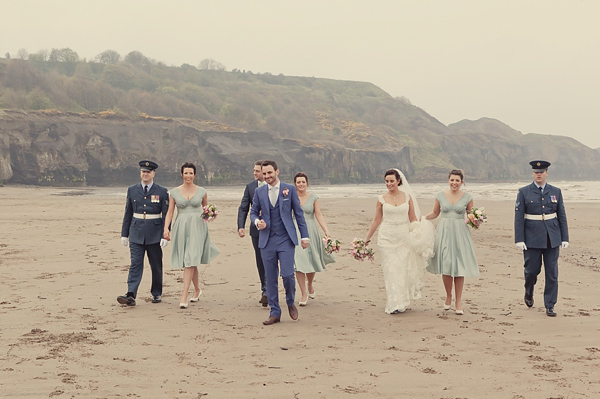 "Andrew has always wanted a tailor made three piece suit and we were recommended to Reiss tailoring service. They didn't disappoint; it was immaculate and the service was excellent.  His shoes were by Paolo Vandini."
"I saw our Florist, Adam Prest, at a wedding fair – he'd dressed the whole room with flowers and I loved how creative he was and I can honestly say I'd never seen arrangements like it before.  On our first meeting I gave him a fairly open brief as I wanted to give him the freedom to be creative.
I didn't have any set colours for the wedding except that I preferred a palette of pastille colours that toned in together rather than sticking to one colour throughout."
"Adam suggested a palette of soft apricot, pale pink a touch of lime green and the soft grey of a succulent or two to bring it all together.I was sceptical at first, but when he put the colours together in his workshop I was amazed at how well they went. On the wedding day he went one step further and added the strong pink of bleeding hearts to the arrangements, and this really made them sing.
Rather than have the flower girls carry flowers, I bought them grey Laura Ashley bunnies to which Adam attached ribbon and flowers round the neck; they looked so beautiful (and also helped to keep the girls occupied during the ceremony)."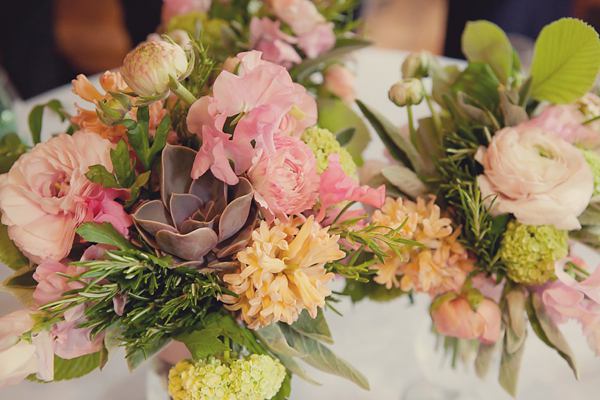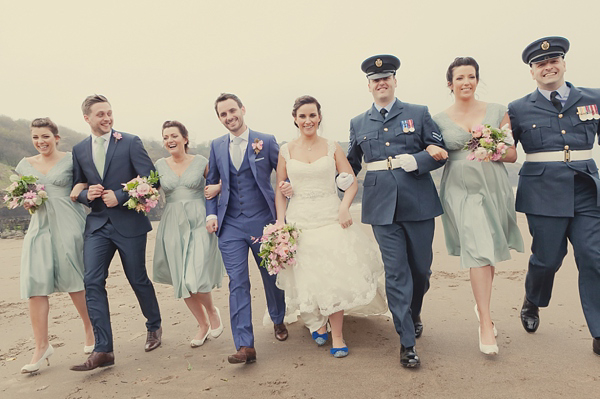 "I wore a Benjamin Roberts dress (design 2228). I searched high and low for the perfect dress and tried on so many beautiful dresses without experiencing the "that's the one!" moment, that I was beginning to think was a myth.  I began to feel flustered and sank further and further into despair.
I decided to try Truly Beautiful in Guisborough and owner Laura, (who is lovely), was on holiday the day of my appointment, but she left the shop in the charge of her mum, who sensed my anguish and settled me immediately. I was made to feel comfortable from the start, and like we had all the time in the world."
"As soon as I saw the dress on the rail I knew it was something special. I felt excited and got butterflies when I tried it on for the first time. I loved the fishtail style, the last thing I thought I'd go for, and got lost in the immaculate detail in the layers of lace. That was the one – it was an overwhelming, happy feeling and I couldn't contain the tears!  I surprised even myself.  I had the sleeves added, and two weeks before the wedding I swapped the grey belt that comes with the dress for a sparkly belt which had to be stitched on – much to the dismay of the seamstress!
But to her credit, she took it in her stride and turned it round in record time.  Some time later, we found out that the lady who fitted me the first time was Andrew's nursery nurse; and he only ever wanted to go to nursery if she was there to meet him at the door – so it felt like it was all meant to be."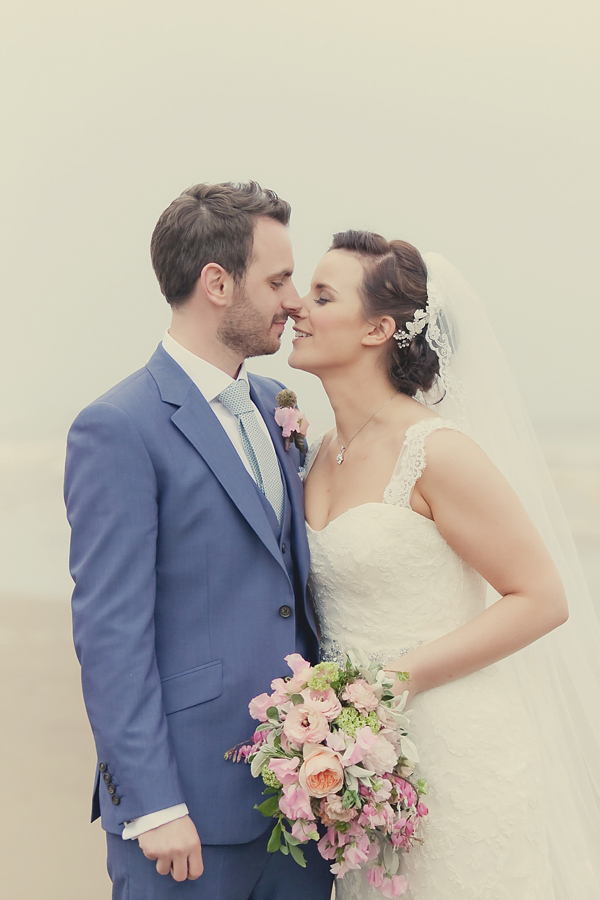 "Before we got engaged we always talked about what we'd like for our wedding when it eventually happened, and one of those things was a classic, self drive car.  Andrew chose an Austin Healey 3000 from North Lakes Classics.
Torrential rain the night before and the morning of the wedding almost meant Andrew couldn't use the car – because of flooded roads, but as luck would have it the rain stopped with minutes to spare  and we even managed to have the hood down after a stop at the beach for photography. We were incredibly lucky!"
"Adam Prest, our florist did such a good job of making every floral design individual.  I'm a big lover of candles so we filled every available space in the reception rooms and the bar with candles which we put in jam and coffee jars which my family had collected for nearly a year. With the help of friends we decorated them with hessian, lace, raffia and frosting spray.   For our guest book we decided to do things a little differently and ask our guests to write well wishes on pieces of Jenga which we thought would make a good keepsake.
They made some brilliant reading the next day!  In the months leading up to the wedding Andrew and I both lost family members quite suddenly, within a few weeks of each other. We decided to light a candle in memory of them. It was our way of having them there on the day with us."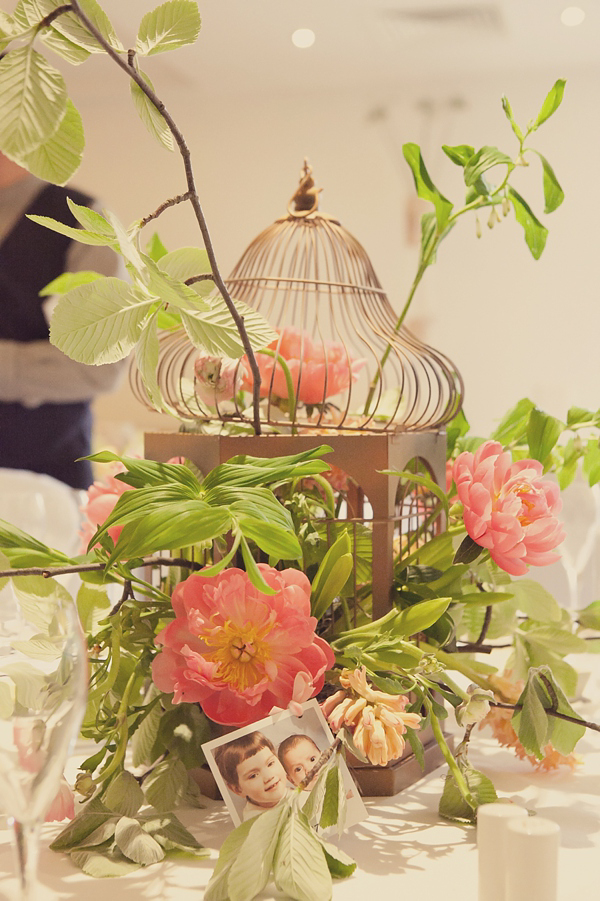 "Lissa Alexandra was our photographer.  Photography was very important to us; we love reportage shots, where the photographer captures the day as it happens, but who also has an eye for details and creative ideas. We first spotted Lissa's work when she photographed my cousin's wedding.
Among the beautiful reportage and relaxed couple shots there was an image of the bride and groom holding books in front of their faces (aptly called 'cover her face') which really tickled me.  As soon as I saw this creative little shot I knew that Lissa was the one for us and we haven't regretted it – she did an amazing job."
,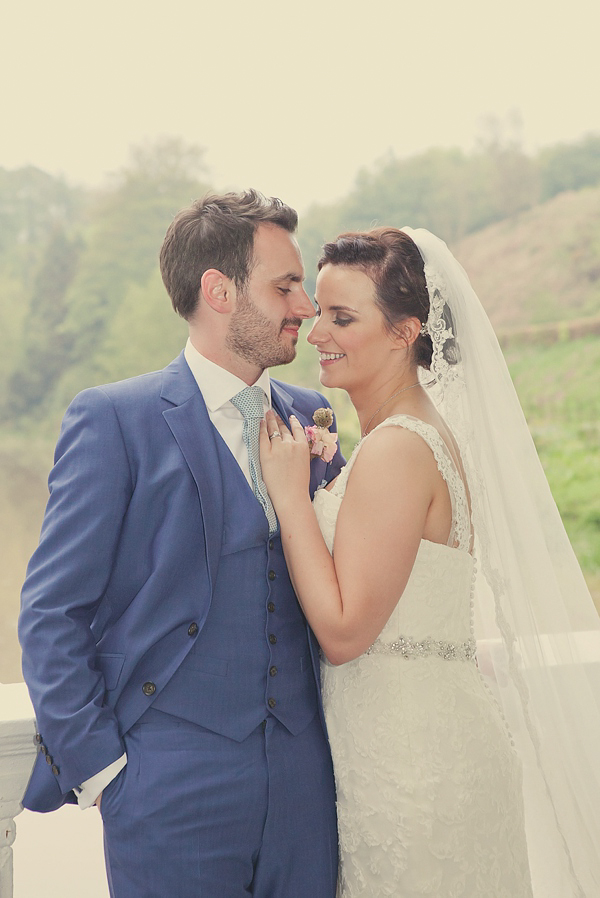 "The very talented ,Mark W. Brown, filmed our wedding.  As soon as I saw his films on Love My dress, I knew Mark was the one for us and he didn't disappoint. I have to say the film is absolutely outstanding; it made us laugh and cry (tears of joy of course) all at the same time! Mark captured moments I didn't even know happened and I'll honestly cherish it forever.
We can't stop watching it! We'd like to thank Mark so much for working so hard, and for all his ideas on the day, he really is awesome at what he does."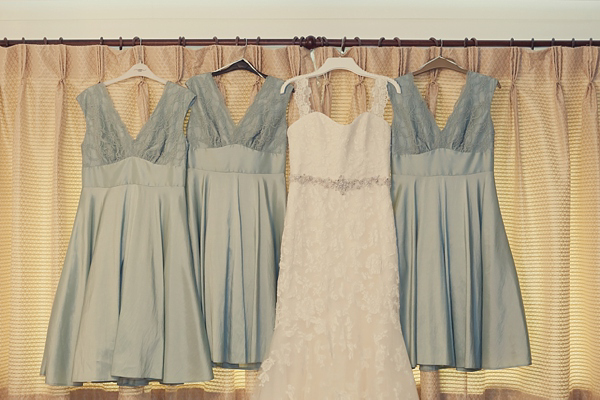 "I needed a very small heel as Andrew and I are similar in height. Seeing as I couldn't be adventurous with the heel, I figured I'd be adventurous with the colour. The pair I picked doubled up as my something blue – and they were so comfortable I danced all night pain free! They were by Irregular Choice."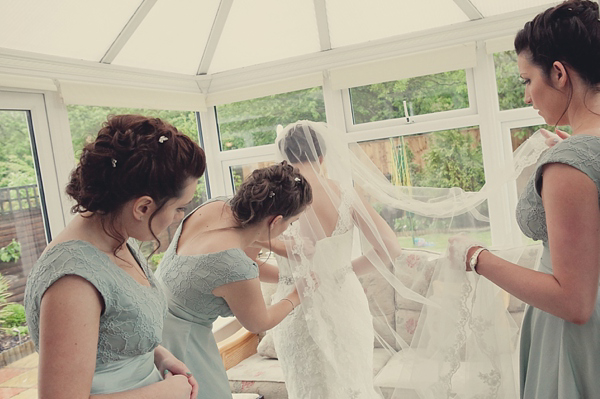 "My dad gave me away – he accompanied me down the aisle to Pachobel's Canon in D. I've known ever since I was a little girl that it would be the piece of music I'd walk down the aisle to.
We were quite traditional with our vows and chose the 1928 version of the book of common prayer (the same as the Duke and Duchess of Cambridge). I thought there was something romantic about using the old language and it fitted with the theme of the day.
For readings we chose Corinthians 1-13 which my brother read and Captain Corelli's Mandolin by Louis de Bernières read by Andrew's sister. We loved both readings as we felt they both ring true without being over the top."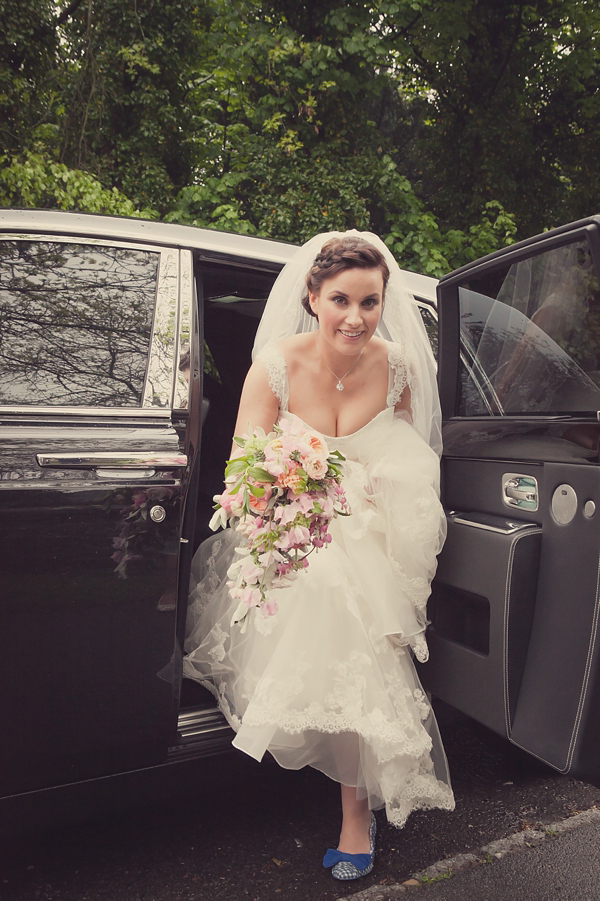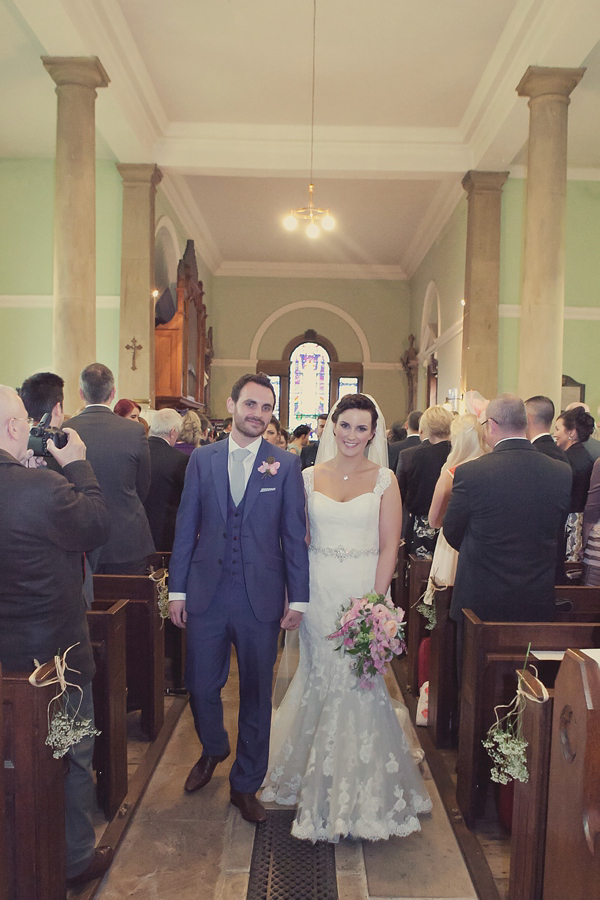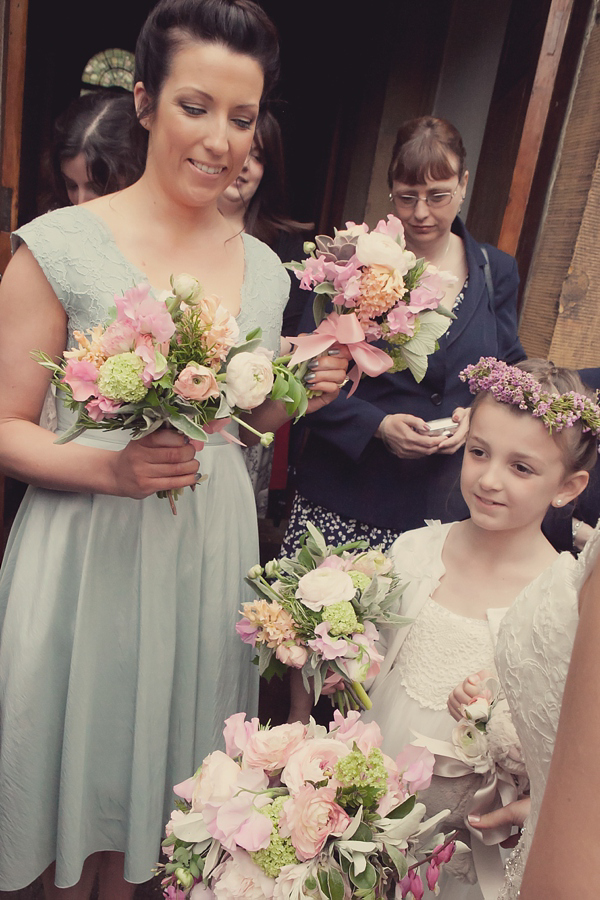 "We chose St Cuthbert's as a venue as not only is it a beautiful church, but my mum and dad have attended every Sunday there for years. I spent my childhood playing in the pews there, or singing along rather loudly as small children do. My sister was married there in 2000 and the ceremony was beautiful so we knew we didn't want to be married anywhere else."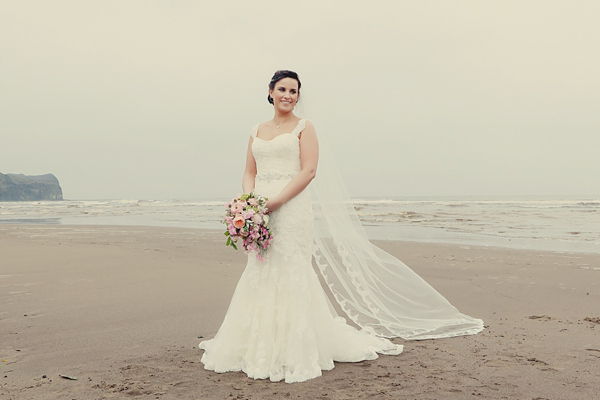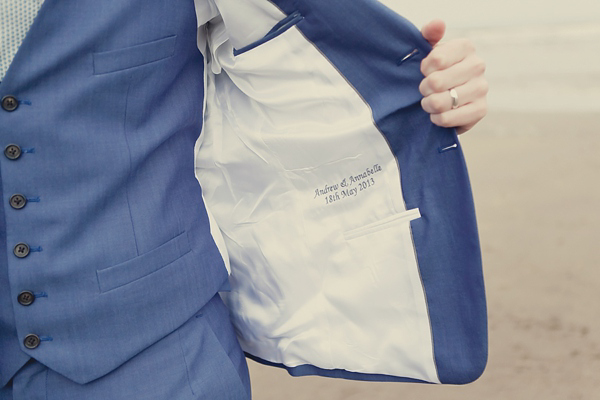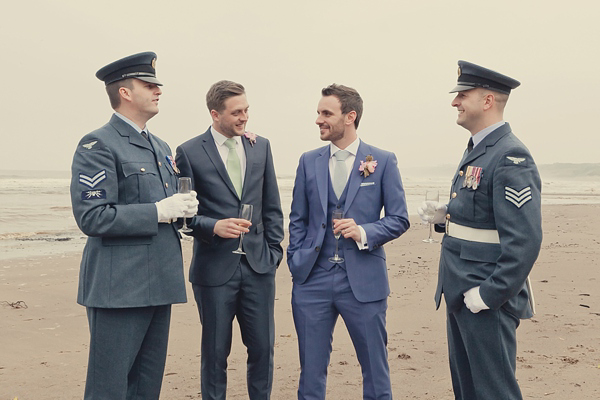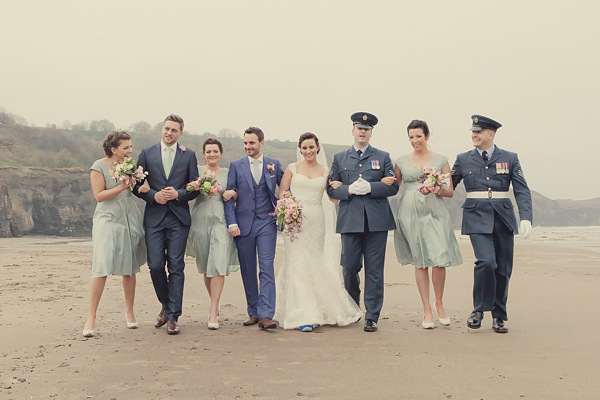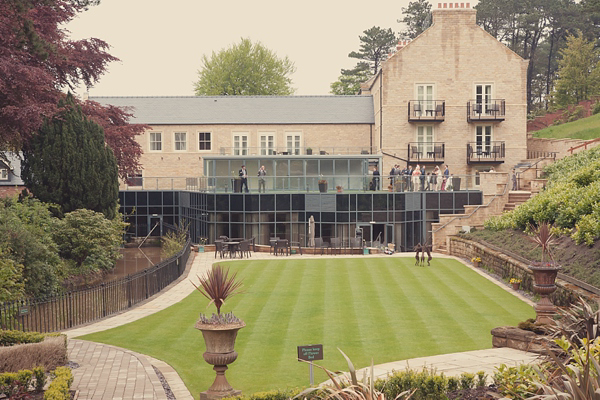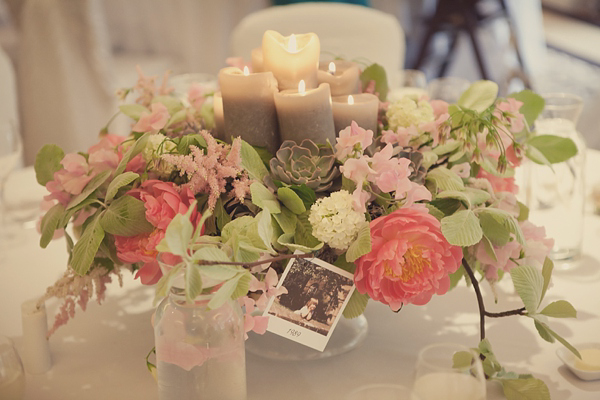 "We provided favours of our namesake. As the new Mr and Mrs Bean we gave little jars of jelly belly beans – or 'Beans from the Beans '. We did these ourselves by ordering small jars from eBay which we decorated ourselves with hessian and raffia. The beans we bought from Costco."
"Our cake was by Burnett4Cakes.  Chris and Vicky Burnett were on the recommended supplier list for Raithwaite Hall, and once I'd seen and sampled their cakes it wasn't difficult to see why.  We opted for a four tier cake – I couldn't decide on flavours (which is so typical of me) so we had a flavour per tier; chocolate orange, banana with chocolate ganache, ginger with buttercream, and then lemon on the top. The whole thing was wrapped in layered white chocolate with white chocolate ruffles and pastille sugar roses to finish, which looked beautiful on the day.
To add a touch of detail we decided to have our dog, Willow, and Andrew's mum's dog, Jodie, peeping out from the bottom of the cake which we decided to keep to ourselves. We provided Chris and Vicky with a picture of them both – and they did a fantastic job of recreating them. Keeping it a secret was definitely worthwhile as everyone had a giggle when they saw it for the first time."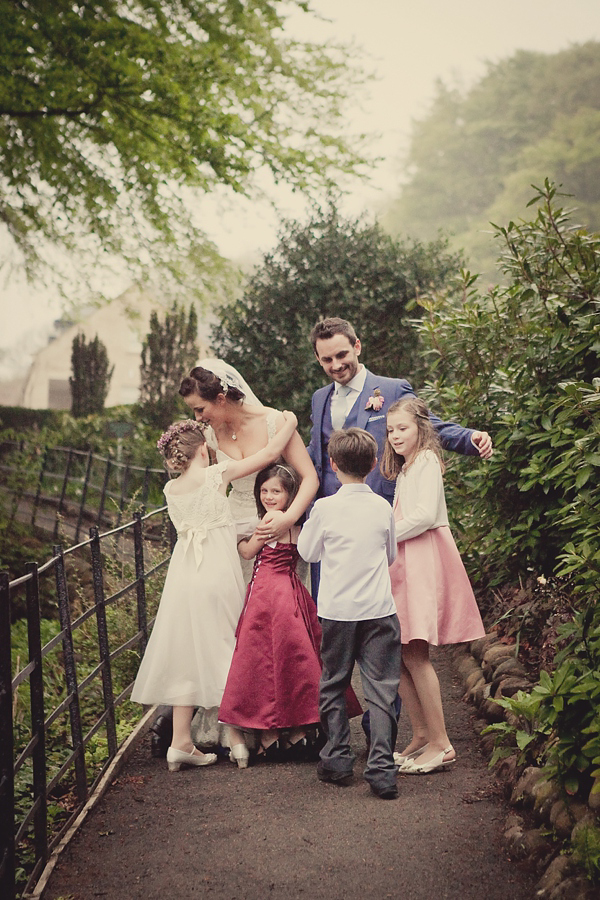 Words of Wedded Wisdom…
"Don't sweat the small stuff – the little things seem like big dramas in the lead up to the wedding. I stressed about finite details to the Nth degree – on the day itself, trust me; you will only have eyes for your groom!
I also loved reading Love My Dress, I visited every day for the beautiful photography and real weddings. There's very little I'd change – or I wouldn't have come back so often! I still dip in from time to time to see what's going on in the wedding world – I miss it so."
I can wholeheartedly recommend a trip to beautiful Whitby if you have never visited yet, it is such a charming litle town, so full of character and friendly locals, I just adore living here.
Thank you so much Annabelle and Andrew for sharing your lovely day with Love My Dress, and thank you Lissa Alexandra for sharing your work too.
Take a look at more seaside and Springtime weddings here all – you can also see more brides who chose to wear a Benjamin Roberts design here.
With much love,
Annabel
Photographer – Lissa Alexandra
Super8mm Film – Mark W. Brown
Venue – Raithwaite Hall
Brides Dress – Benjamin Roberts (design 2228), via Truly Beautiful in Guisborough
Brides Veil – Truly Beautiful (single tier and cathedral length edged in lace)
Brides Shoes – Irregular Choice
Brides Hair Accessories -  Comb from Destiny Bridal in Middlesbrough
Grooms Suit – Tailored made by Reiss
Bridesmaids – Ariella dresses via House of Fraser + hairpins from Accessorize
Flowergirl Dresses – Monsoon
Page Boy – Truly Beautiful
Flowers – Florist – Adam Prest
Cake – Burnett4Cakes
Transport – Austin Healey 3000 from North Lakes Classics
Additional Styling –
Rings – Beaverbrooks
Hair - Nancy Darcy
Make-up – Lisa Devanny