I love to end the working week with a fun wedding, so this set of nuptials is just perfect with its bright and colourful cheer, I love it!  Michael, a Chief Biomedical Scientist and Stacey, a trainee Biomedical Scientist, tied the knot with a colourful, bright and beautiful hand-fasting ceremony at Whirlow Hall Farm in Sheffield on 7th September this year.
"Our wedding was DIY through and through – my Mum is a florist at Finishing Touches Floristry and I am very crafty so we decided we would do as many things ourselves as we could. We also wanted to use local businesses and products where we could.
We chose the bright colours because I just love bright colours! My fashion taste is very of the 1940s and 1950s but the pale vintage dusky pinks and lavenders are really not what represents us. We just wanted the day to be laid back and fun, no stuffiness or sit down set meals etc. It was amazing, and I wouldn't change a thing about it – I just loved looking round and seeing all our friends and family loving sharing our day with us."
Photography Copyright (c) 2013, Sarah Folega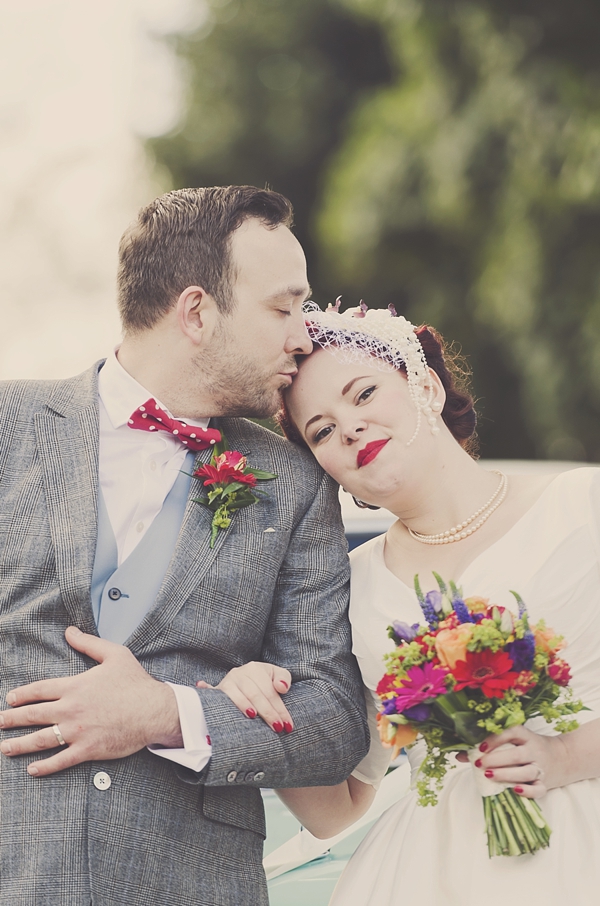 "We met at work, we work in different departments but in the same building. Michael used to chat to me and we became friends then got into a relationship. We were together two years when we got engaged. On our first anniversary we went to the Whitby Goth Festival, and the year after we went to Whitby and Michael proposed at the top of the steps near the Abbey. He had even been to ask my Dad for his permission beforehand. We wanted somewhere reasonably close to home, but where no one we knew had been married.
Our wedding took place at Whirlow Hall Farm in Sheffield – it's such a beautiful setting and a great blank canvas for the ideas we had in mind. It was the only venue we visited and we fell in love with it."
"My dress was by an American company called Dolly Couture, and was from Cutting Edge Brides in Bexley - I believe one of the only suppliers in the UK.  It was only the third dress I tried on and it fitted straight off the hanger! It was just meant to be, I loved it before I'd even seen myself in the mirror. Good job really after I'd dragged my Mum and best friend all the way down the country to try on dresses I'd seen on the internet!"
"Neither of us are religious, so we decided upon a humanist ceremony. We wanted the ceremony to be outside which is obviously not legal in England so we got the legal stuff out of the way the day before at our local registry office. We didn't consider this to be our wedding day though, we saved everything for the humanist ceremony – including exchanging the rings. I did some research into local humanist celebrants and we came across Matthew Simpson of the British Humanist Association.
We got along very well and he seemed to totally understand that we wanted the ceremony to reflect us as individuals as well as a couple. We also had a traditional hand-fasting ceremony which was lovely. It was very visual and really nice for our Mothers to tie the ribbons."
"My Dad walked me down the aisle to the sound of 'My Girl' by The Temptations, one of my favourite songs since I was a little girl.  We had 'Signed, Sealed, Delivered' by Stevie Wonder as we walked back up the aisle after the ceremony, we love Stevie Wonder and the lyrics are rather apt! 
The whole ceremony was designed by us and Matthew Simpson, it focused on us as individuals as well as how we want our relationship to progress after our marriage. It was really personal and had lots of people in tears!"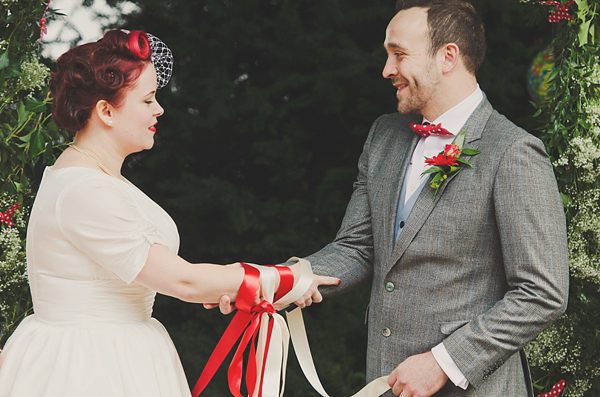 "My bridesmaids dresses were from Vivien of Holloway, apart from the gold one which was made by my Maid of Honours Mother, Val, who saved the day when we couldn't get a dress in the right size! Val also did all of our alterations.
The bridesmaids all wore their own white shoes."
"We collected stuff for months and also made lots of colourful pompoms, bunting and other decorations. The décor was also with the bright colour theme, with a bit of vintage and tea party thrown in. Michael made a photo wall with pictures of our nearest and dearest that guests could stand behind.
We hired a marquee, tables, chairs and white tablecloths and then totally dressed the marquee ourselves the day before, with lots of help from our closest friends and family. It took hours in the pouring rain but was totally worth it.  Our marquee was beautiful and from Premier Event Marquees, and the bar was hired from Bar Hire Yorkshire.  We cannot praise all of the suppliers enough, you hear horror stories of people not turning up or couples getting ripped off, but we can honestly say everyone we hired was fantastic.

"There are lots of trees in the garden so we had loads of stuff hung from them, teapots, milk jugs, strings of buttons, paper lanterns, solar lights. Underneath the trees we had lots of candles and birdcages, and the jars with butterflies in that we had made. I just wanted it to be magical, so there was something different everywhere you looked.  The hay bales we used for the guest seating during the ceremony were hired from Whirlow and covered with some cheap material we'd collected.
I made the table plan myself from an old suitcase, some polka dot doilies and buttons, and fastened them with pegs and twine. The table place cards were all a part of the favours. Each of the hampers had a menu which we typed and laminated ourselves."
"My Mum at Finishing Touches Floristry, did our flowers – she is amazing! My flowers were even better than I imagined. The colours were just incredible. Gerberas are my favourite flowers so I knew I wanted those and I decided on the gypsophilia with the green for the bridesmaids as they were in such bright colours already. I totally loved the traditional flower crowns the flower girls wore. 
The table centres were all mismatched old teapots we'd got from charity shops that Mum filled with flowers. She also made the arch, which we got married beneath, and all the button holes."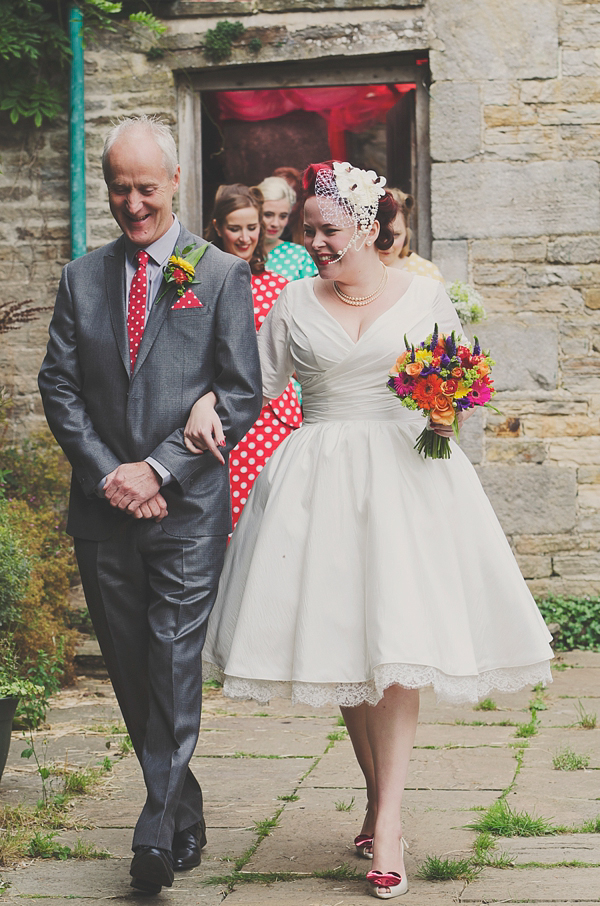 "Michael's suit was yet another bargain, it was from the York Outlet. Val, our Maid of Honours Mum, did the alterations for us.  His waistcoat was a Matalan special! My Mum made the ties and pocket squares for all the groomsmen as all of the ones I saw were too expensive or not the right shade of red. I made Michael's bowtie myself from the same material. His amazing shoes were from ebay as were his heart cufflinks."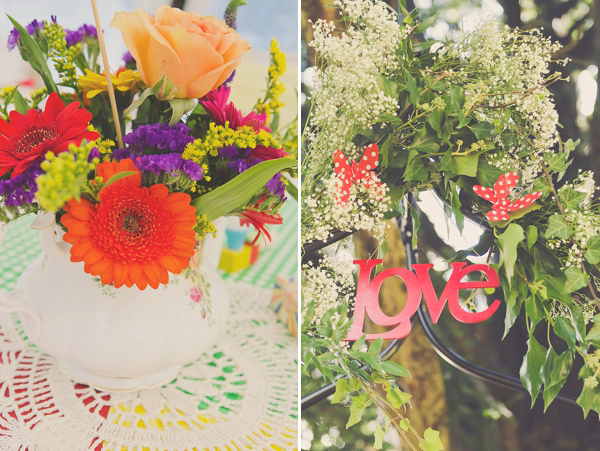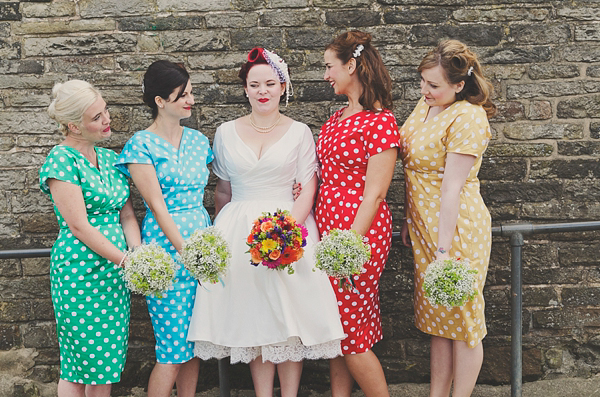 "My hairpiece was more of a fascinator, from Pearls and Swine, though I added the net myself. If you want something a bit different, Binky is so creative and takes commissions as well as selling through her website.
My pearl necklace was a gift from my Mum, it was from an antique shop, and my earrings were 50p from Matalan!"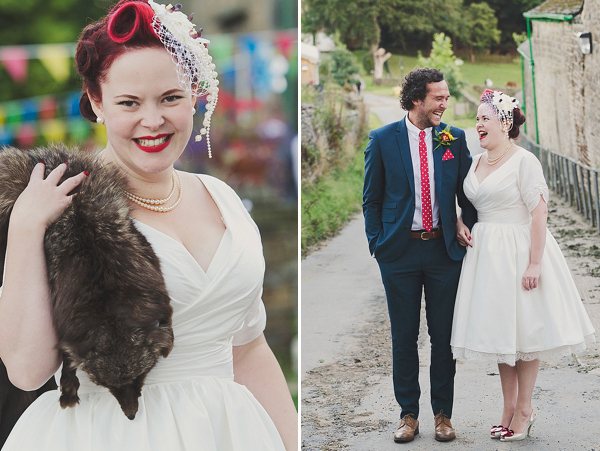 "My Mum met our photographer, Sarah Folega, at a wedding fair some time ago and told me about her, but the photographer was one of the last things we organised and I had totally forgotten Mum had told me about her. We were starting to think we wouldn't find any one suitable when Mum sent a text to Sarah and amazingly she was still available on our date. We arranged a meeting and really clicked.  Sarah and her assistant, Misty, worked so hard on the day, they were very unobtrusive and caught all the details. We are over the moon with the photographs."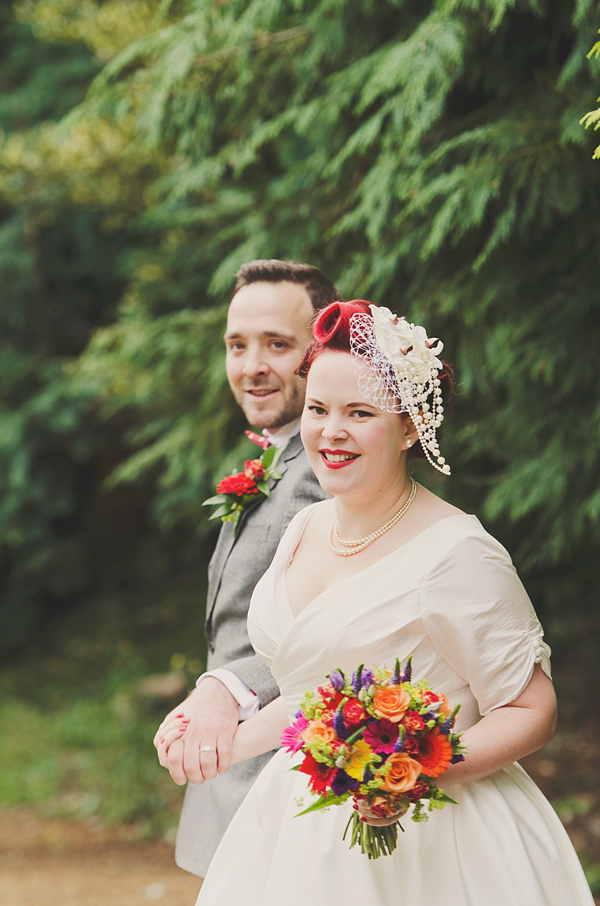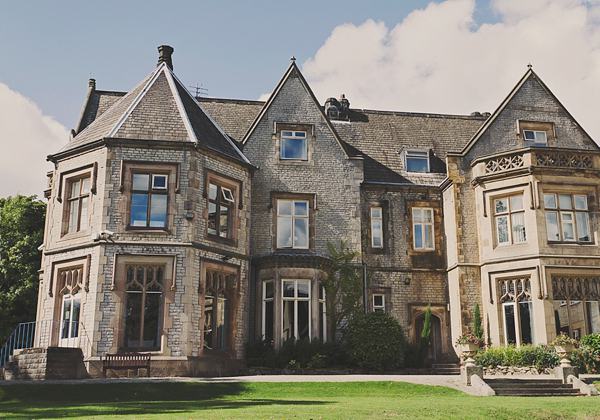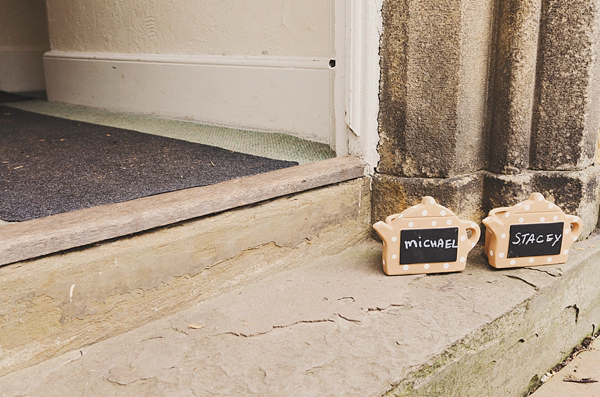 "I did my own make-up and my regular hairdresser styled my hair."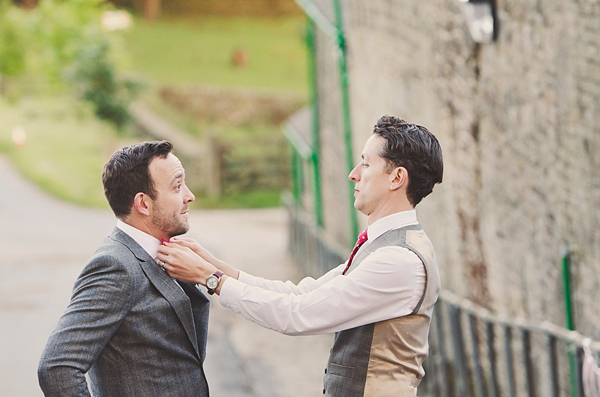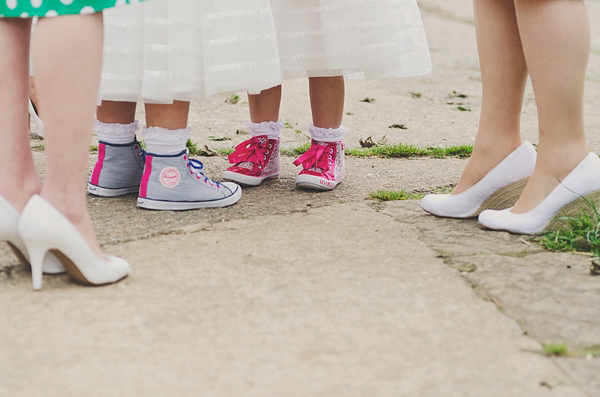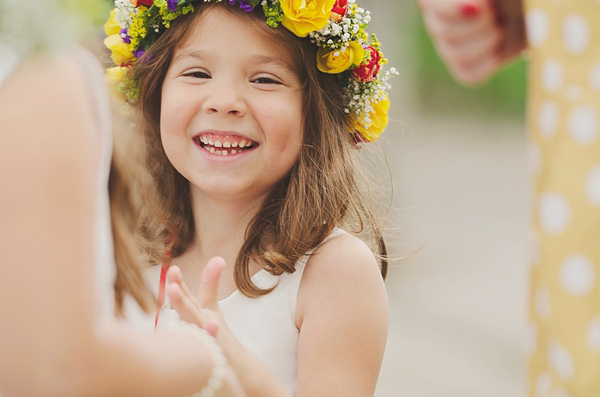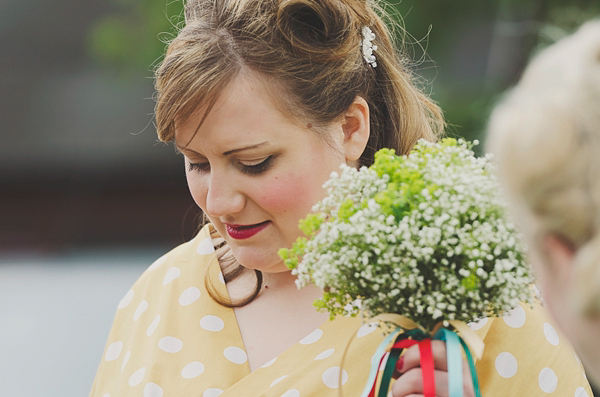 "My car was amazing! It was a 1956 Chevrolet Bel-Air. We had the same car to take the bridesmaids  then me and my Dad to the venue."
"The little flowergirl dresses were from Next.  The girls wore colourful hi-top pumps because they looked so cute! The flowergirls are Michael's daughters, Violet and Daisy. They scattered rose petals down the red carpet in front of my Dad and I."
"Our Maid of Honour, Helen, read 'For Now' by Tracey Emin. We chose this because it really focuses on not changing each other and loving each other the way you are.  Our second reading was by my brother, Stephen, 'Toothpaste Kisses' by The Maccabees. It was one of the songs we used to listen to a lot when we first got together and has really sweet lyrics.  We also had a 'sing-song', obviously this wasn't a hymn because we didn't want anything religious. We chose 'I Only Wanna Be With You' by Dusty Springfield and printed the lyrics in the order of service. Everyone loved it!"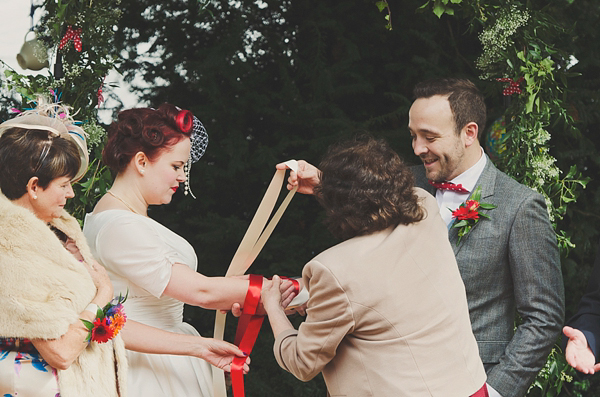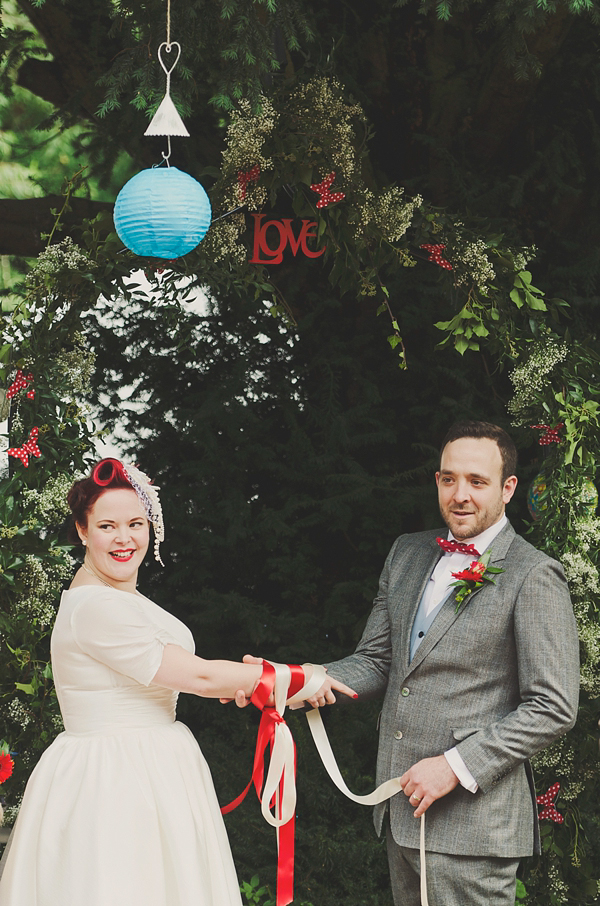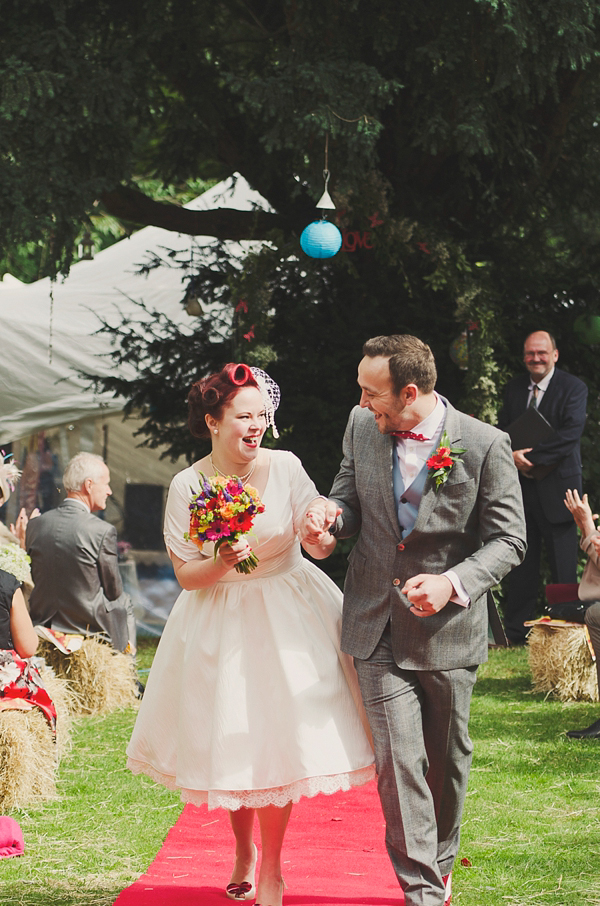 "During the day we had loads of games like a coconut shy and tin can alley that my Dad had made, and crazy golf. We had a playlist we made ourselves for different parts of the day. The arrival songs were all wedding related, including 'White Wedding', 'Today I met the boy I'm gonna marry' and 'Kiss the Bride'. Music is a huge part of our lives so we wanted it to play a big part in our special day."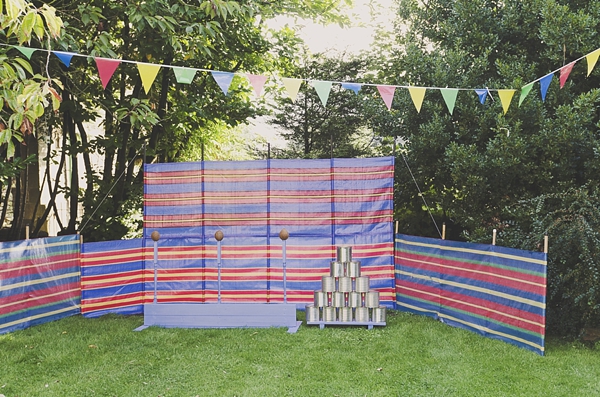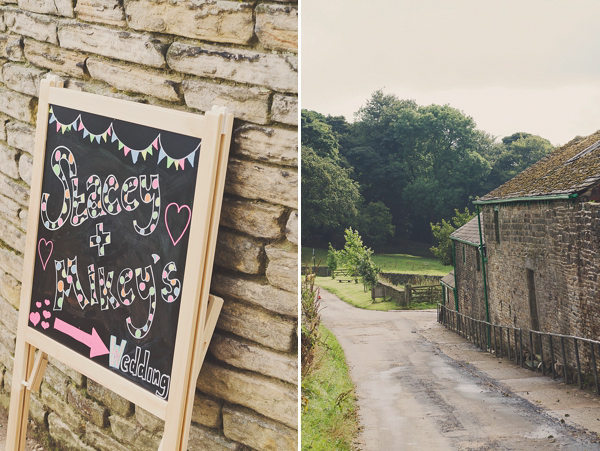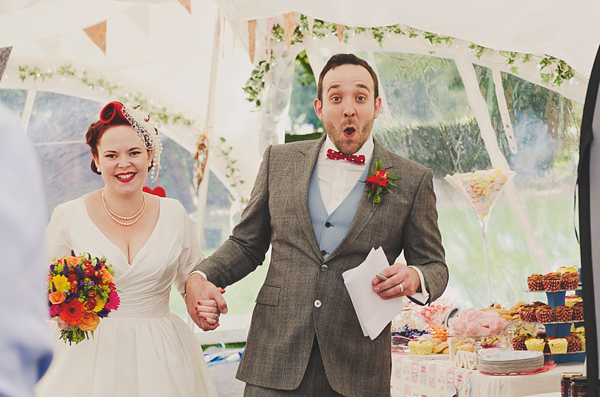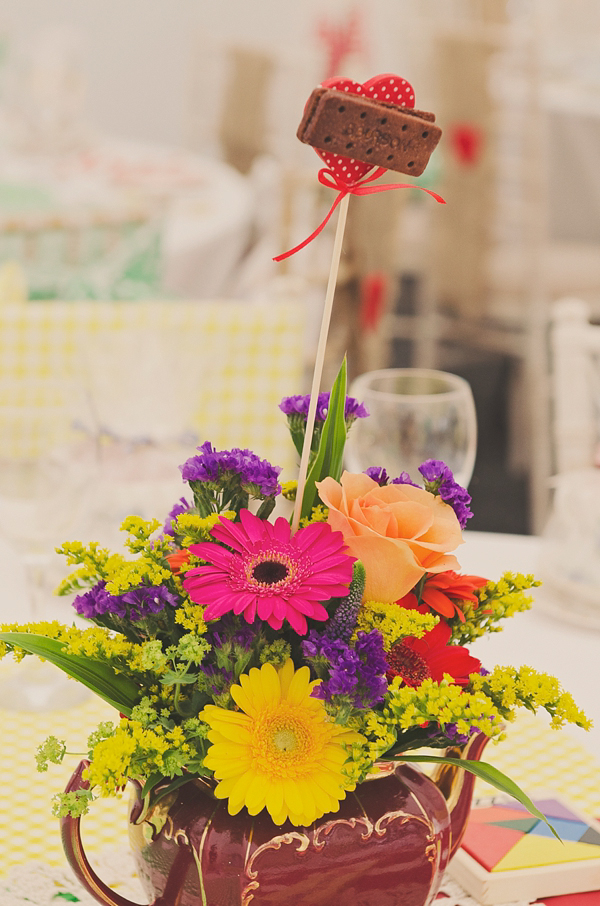 "We made hampers for each table as we wanted it to be laid back like a picnic. The meat, pork pies and quiche were from Toppings Pies on Doncaster market. The bread was also from Doncaster market, 'The Crusty Cob Shop' does the best rolls! Everything else we got from the supermarket. Everyone loved the picnic style, it was lovely to see people passing stuff around the tables and sharing stuff out. 
We had cupcakes made by a friend and loads of sweeties!  The hog roast on the evening was supplied by Whirlow Hall Farm and was amazing."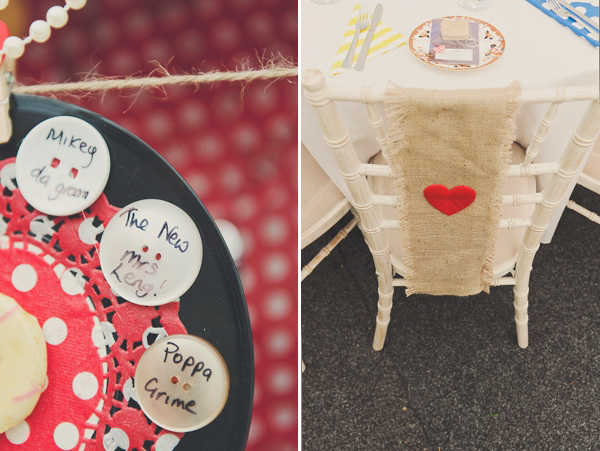 "We got the cheese from our favourite cheese stall on Doncaster Market, Neil's Cheeseboard. My Mum decorated the cheese with the flowers and fruit and my Bridesmaid Emma made the cute mice cake topper. We cut the cake early so everyone could get tucked in with their lunch, there was barely a scrap left the next day, 7kg of cheese had  vanished into our guests bellies!"
"I made teacup candles for all the ladies with personalised tags, which were also the table settings. The men got custard cream keyrings which Michael  made from a mould I'd been given as a gift last Christmas."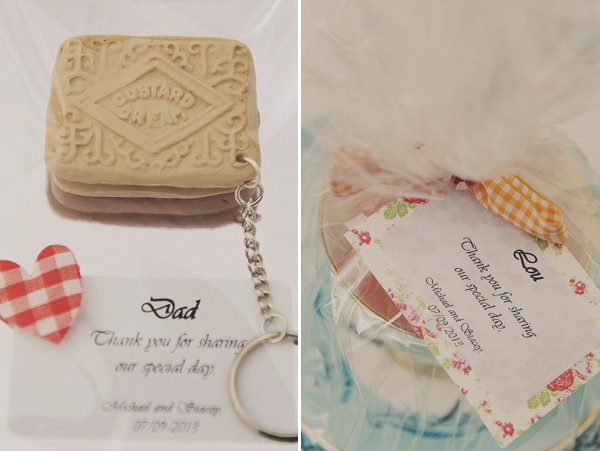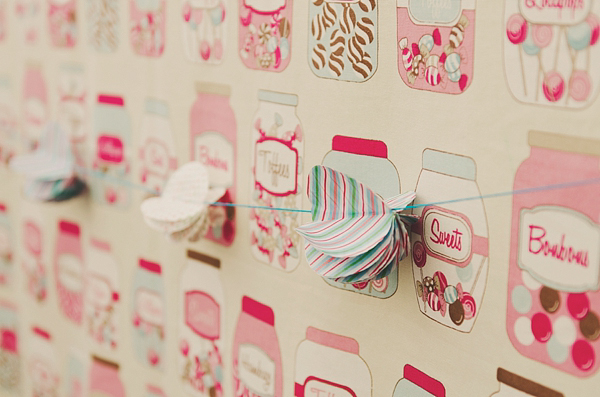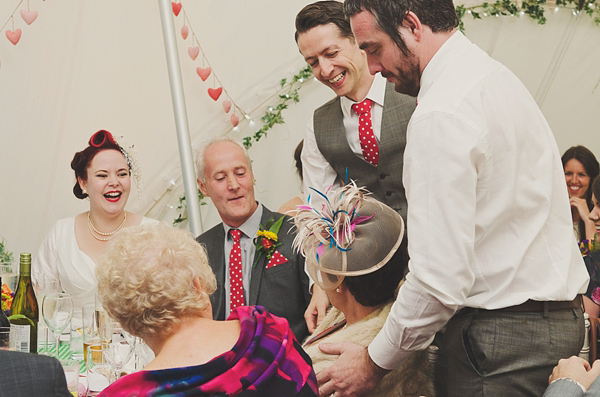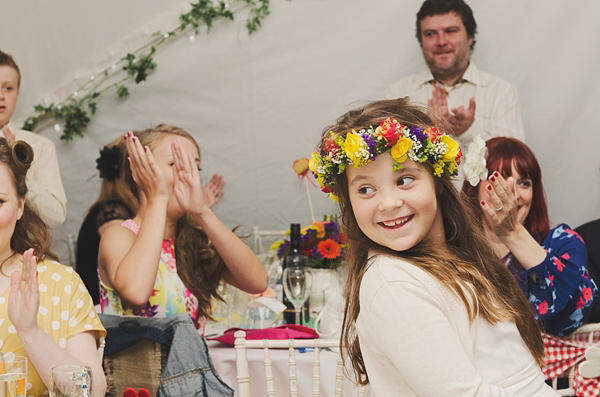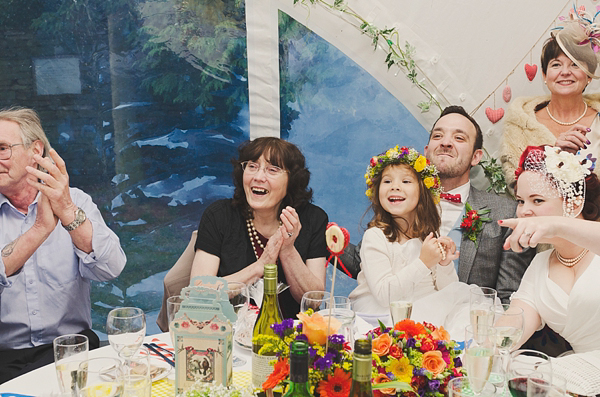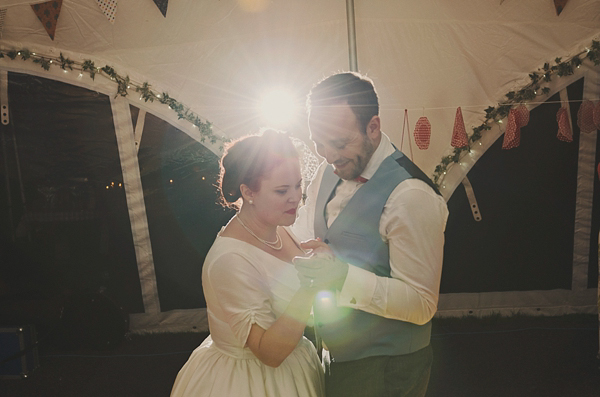 "Our favourite local band, 'Carmen Ghia and The Hotrods', played for us. They don't normally do weddings so it was a huge honour that they agreed to do it, they went down a storm. The second band was the Nick Rooke Band, Michael's cousins band, they play Irish folk music and drinking songs, which was great."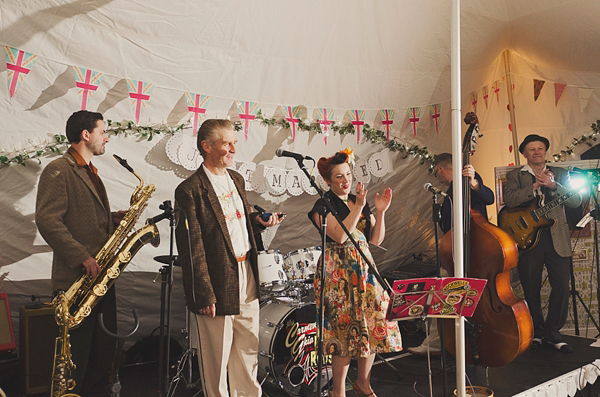 "We didn't actually decide until about an hour before what we were going to dance to, we had two choices, Otis Reading 'That's how strong my love is' or the complete other end of the spectrum, The Jive Aces version of 'Bring Me Sunshine'. We had talked about doing a choreographed jive-style dance, but we totally ran out of time so a couple of nights before we put a few moves together ourselves, but then had no other time to practise. In the end we just decided to wing-it and it turned out alright! Most people haven't heard that version of the song, it starts off slow then breaks into a more up tempo jive song, so our guests weren't expecting it."
Words of Wedded Wisdom…
"Go with your gut instinct, when I told people I didn't have a colour theme that I was just having all bright colours, or when I was saying the tables would be decorated with gingham, polka dots and stripes mixed together they looked at me gone out. But it looked amazing, and everyone commented on how striking the marquee was. Don't be afraid to ask people for help, our day would not have been possible without the help we got from our family and friends.  Enjoy every second and take as much in as you can, because it really does just fly by."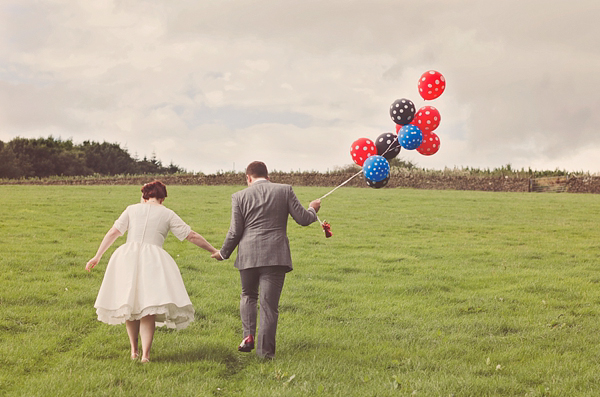 What a lovely fun, bright, super sweet wedding to end the week with – thank you so much Michael and Stacey for sharing your lovely wedding with us all – and congratulations to you both too!
Have a FAB Friday evening all – pop by tomorrow, when we will have more treats for you.
With much love,
Annabel
Photographer – Sarah Folega
Venue – Whirlow Hall Farm in Sheffield using Premier Event Marquees
Wedding Dress – Dolly Couture via Cutting Edge Brides
Veil/Headpiece – Pearls and Swine
Brides Shoes – Vivienne Westwood
Grooms Suit – York Outlet
Bridesmaids – Vivien of Holloway
Flowergirl Dresses – Next
Flowers – Finishing Touches Floristry
Cake – Neil's Cheeseboard via Doncaster Market
Transport – 1956 Chevrolet Bel-Air
Entertainment – Carmen Ghia and The Hotrods  + Nick Rooke Band