Good morning lovely readers, I hope you're feeling well slept and ready to tackle the day ahead.  I was really delighted when this particular wedding submission arrived because it is so full of pretty colour, the kind of colours that really inspire me.   Katie who works in TV, and Adam, a graphic designer, tied the knot on Friday
31st May 2013 at All Saints Church in Crondall, followed by a reception at Winchfield House in Hampshire.  I adore the couple's use of the prettiest pastel shades including seafoam green/eau de nil. Here's a fact – my first ever inspiration board for Love My Dress was dedicated to this beautiful colour (I made it back in December 2010 and it took me aaaaages!).  Katie shares more about how colour led her in styling her wedding day…

"I'm not a big fan of having themes for weddings and all my
ideas were a mishmash of inspiration from wedding blogs, Love My Dress in particular, but I was completely set on a colour palette. The
colours I became obsessed with were seafoam green/eau de nil, soft coral, cream and grey.  I loved these colours together, however I was keen not to go
overboard on the colours around the venue.
We knew we wanted a relaxed,
garden wedding and to ensure that all the little touches
represented something about us in some way or another.  There's no point
stressing over little or big details unless they have some meaning,
that's my thought on it anyway."
 
Photography Copyright (c) 2013, Tarah Coonan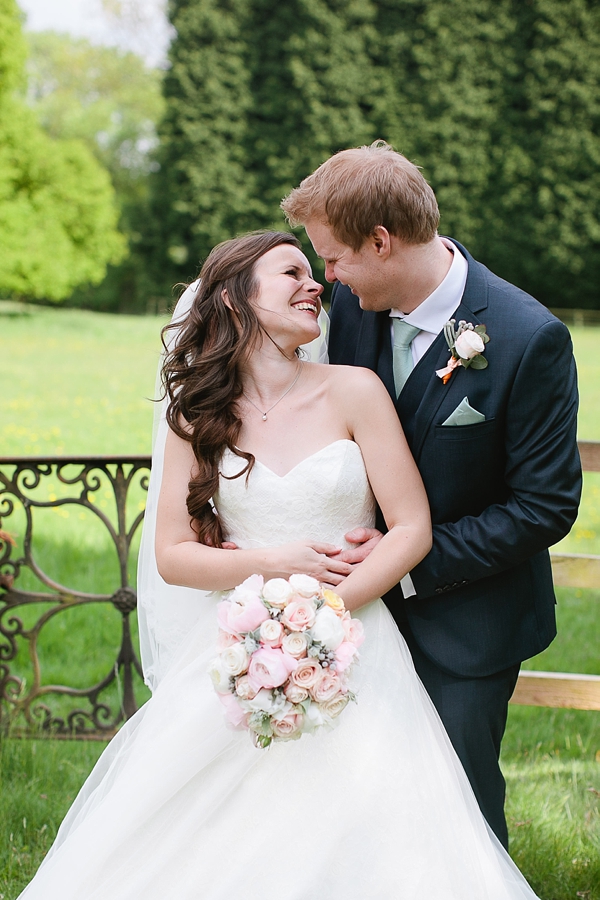 "It's really unromantic but we met in a pub through our best
friends (they would later be one of our bridesmaids and best man) over a
game of Jenga. After just over a year of being an official couple we
decided to move in together, and six and a half fantastic years later
Adam decided to pop the question. 
One Saturday (in April 2012), he told
me to pack a bag as we were going away for the night but I was told not
to get my hopes up as it was a last minute deal that was dirt cheap as
there was building work going on at the hotel. To my surprise Adam had
booked a room at The Crazy Bear hotel, truly an amazing place to stay!"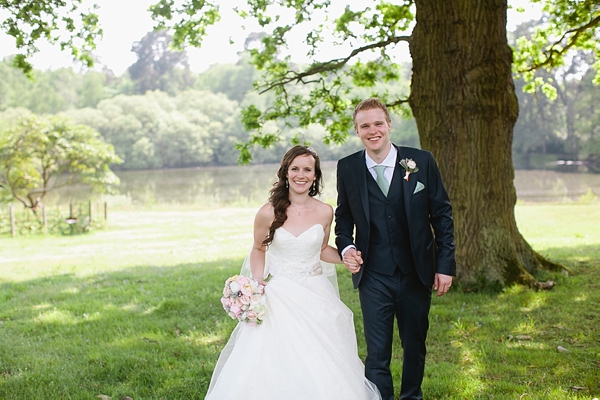 "As
I was busy babbling about the fact that the bathtub fills up from the
ceiling (I know!), Adam had pulled out a glass cube ring with blue
liquid in it. As a background note, I should add here that my sister and
myself are hard of hearing and had recently taken up sign classes. I
turned around from the impressive bathtub and found Adam down on one
knee signing to me 'Will you marry me?' I probably should have signed
back to him but tears and a blubbering 'YES' took over. 
It was
a genuine surprise to me, as I honestly didn't think Adam was even
thinking about marriage yet so it took me a while to take in what had
just happened.  We then won £40 on the Grand National, drank champagne
and had some yummy Thai food. It was the best day ever! (Until our
wedding day that is).
As soon as we got back home we began planning and
set a date for just over a year later in May 2013. I continued to wear
my Soho blue liquid ring for a few months whilst waiting for my
custom-made ring from jeweller David Marshall."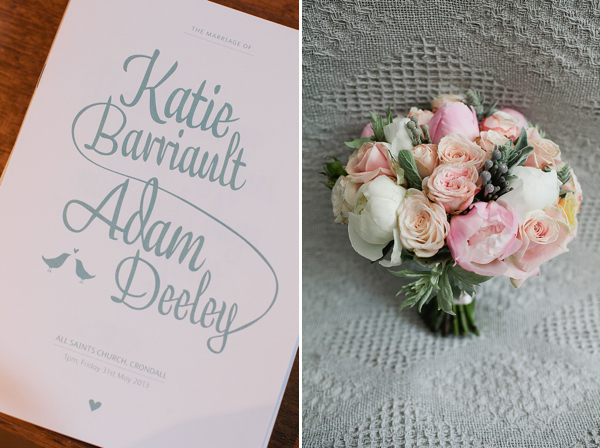 "We got married in All Saints Church in Crondall,
which is a small village on the border of Surrey and Hampshire. We chose
the church because it's close to where we live and many of our family
and friends have been married there. Adam's parents were blessed in the
church on the same day! The only reason we were able to marry here was because Adam's parents live in the village. It's such a
beautiful Norman building and was once regarded as the cathedral of
North Hampshire.
Our reception was held at Winchfield House
in Winchfield, Hampshire, a 17th century Georgian property. It's a
stunning white house owned by the delightful Henrietta and Andrew who
were an absolute pleasure to work with.
We were keen to do things our way and Winchfield House
allowed us to do that. We decided to hire the downstairs of the house
and its grounds and hired tents to be erected in the garden for the
party. Because of the free reign this does however mean that we had to
do pretty much everything ourselves. We definitely don't like to do
things the easy way!"
"The bridesmaids' dresses were by far one of the most stressful
things for me. I asked my sister, Adam's sister and my two best friends
to be my bridesmaids. They're all very different shapes and sizes and
what with my love for the colour seafoam green, finding affordable
dresses was not going to be an easy task. I originally decided to look
on the high street but quickly discovered that finding a summer colour
in the autumn season was difficult.
My £100 budget per
dress was proving to be quite limiting, especially when I had such fussy
taste. I then came across the US online store 'For Her and For Him' which stocks an array of styles and colours and at affordable prices too!
This was a far riskier buy than the wedding shoes but I measured the
girls and ordered the dresses in a slightly bigger size for each so we
could get them adjusted. Better to have more material than less! When
they arrived the colour was just right but they needed a little adjustment for the perfect fit, so I took them to the best seamstress in North Hampshire, Zuzana!"
"Zuzana
runs a small business from her workshop in Farnborough, Hampshire, and
is lovely to work with. She ensured the dresses fitted the girls
properly whilst adding a few style tweaks. She regularly works as a
seamstress at London Fashion Week so I trusted her completely. One of my
bridesmaids was heavily pregnant during the planning and gave birth
three weeks before the wedding! Luckily we had Zuzana on standby and she
got the dress adjusted just in time"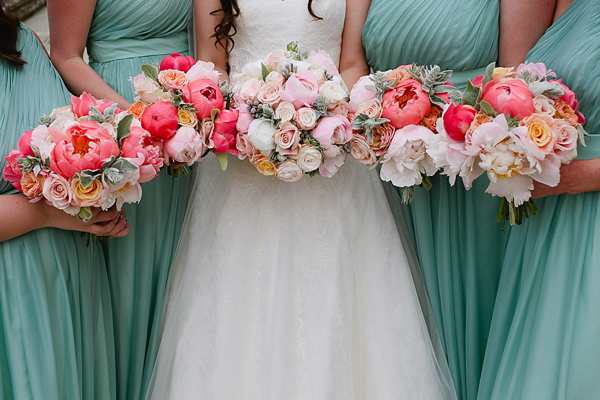 "My best friend was so keen to
fulfill her bridesmaid duties that just three weeks after giving
birth she was walking down the aisle with me, what a friend! For anyone
out there who has a pregnant bridesmaid, don't let it stress you out
it's not worth it. The most important thing is that the person is there
with you, whether they're involved in the day or there as a guest.
Pregnant or post-pregnant, it's not impossible, it can be done!
For the bridesmaids hair, I bought them all two cream hydrangea hair slides from a shop called 'Enchantedly Yours' on Etsy and drop earrings from Accessorize.  As a thank you gift, I bought all the bridemaids a silver locket on a long chain,
engraved with their initial with a photo of us both together. These were purchased from a shop called 'Sora Designs' on Etsy and the girls loved them, plus they looked lovely hanging over their dresses."
"I went Pinterest crazy with decor for the wedding, plus our florist  Emma Lappin
had plenty of ideas. There's a beautiful, grand old tree in the garden
of Winchfield House, which Emma suggested we decorate with different
coloured streams of ribbon.
I purchased the ribbon from Simply Ribbons,
who often send discount codes when you sign up. We also hired some
festoon lighting to hang up around the tree, creating what we nicknamed
the 'Tree Cave'. Another one of Emma's suggestions was to place streams
of ribbon on the top table; hessian, bright coral, grey and seafoam
green."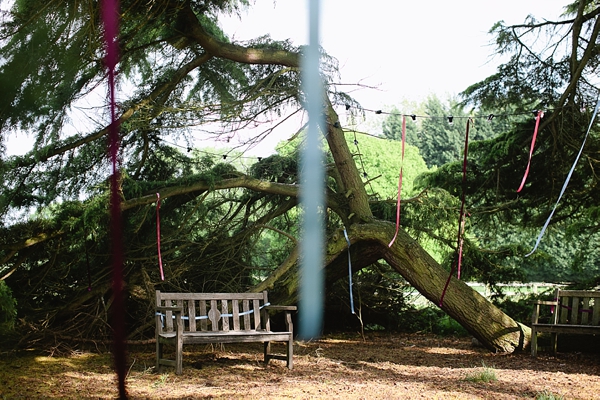 "For the table plan we knew we wanted to
incorporate our favourite films, not very original I know, but we fell in love
with some cool, graphic film posters that we found online. Adam tweaked
them slightly by placing our guests names on each film poster. We split
the films half and half – half of my favourites and half of his."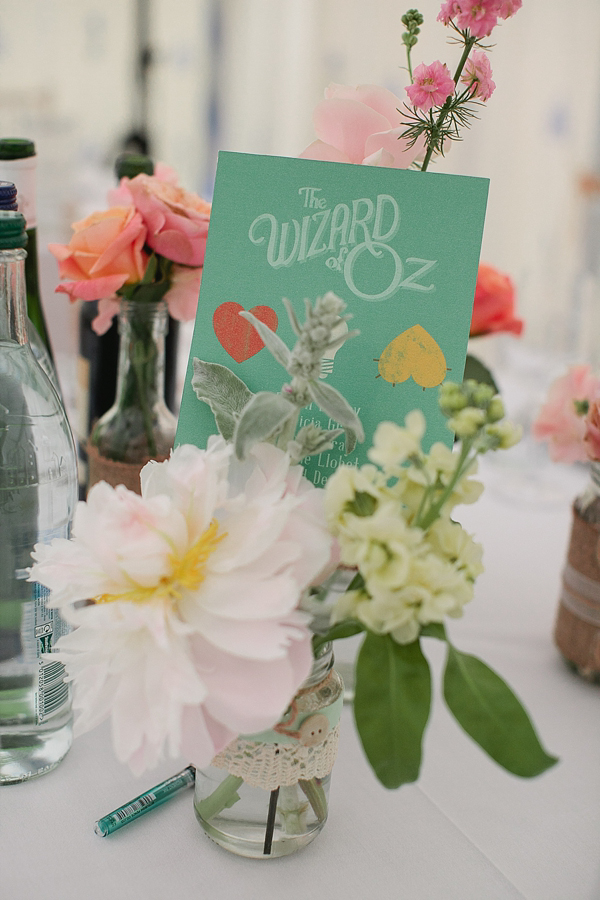 "The top
table was 'Up', a film we both have a soft spot for. For table place
names we bought some wooden stamps from eBay and stamped our guests
names on a Jenga block. Given that we met over a game of Jenga, this
idea seemed fitting for us."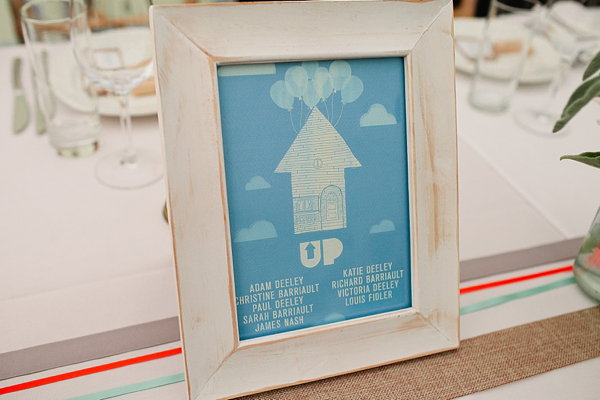 "I made hanging tea lights
with more jars and hung them on shepherds hooks leading from the tent to
the luxury portable toilets which we hired from Site Equip who were wonderfully helpful and jolly to work with. They even gave us upgraded portable toilets – luxury all the way!
For the church I purchased some natural flower confetti from Shropshire Petals.  Given
that confetti can be expensive I decided to go half confetti and half
bubbles. I couldn't find any bubbles I liked and so decided to make our
own. My mum took on the task of filling lots of cute glass tubes (from
eBay) with bubble mixture, placing a cork on the top, with a cleaning
pipe as the wand tied to the tube with some raffia.  All finished off with a
label designed by ,(of course!)."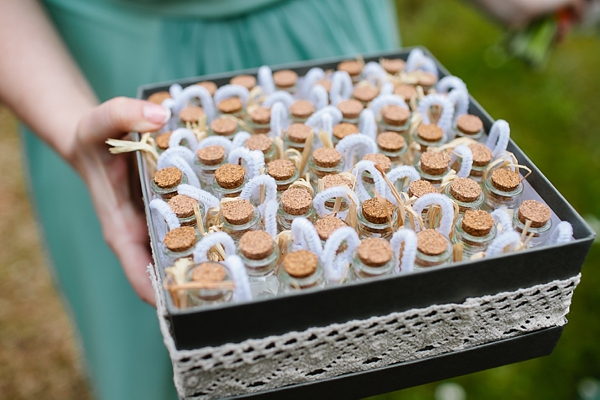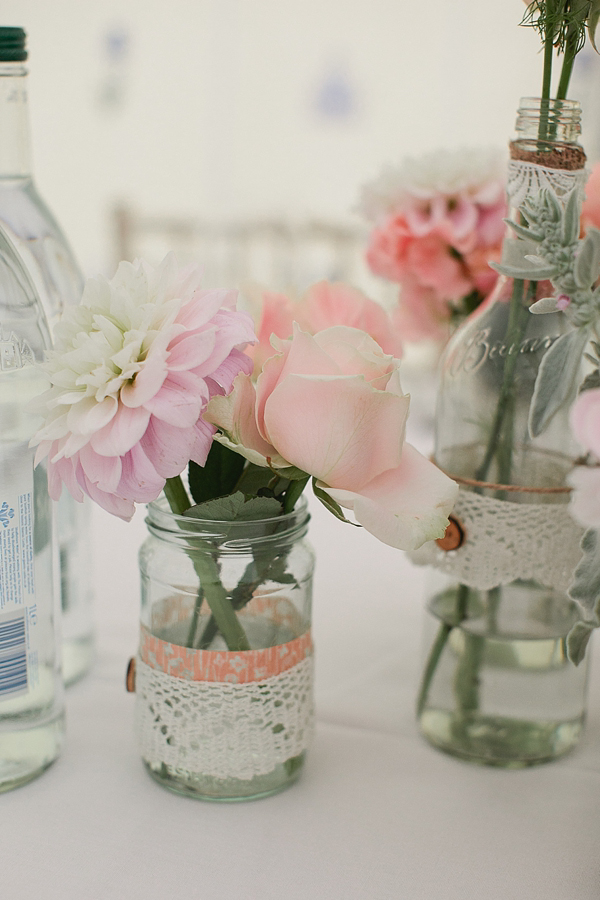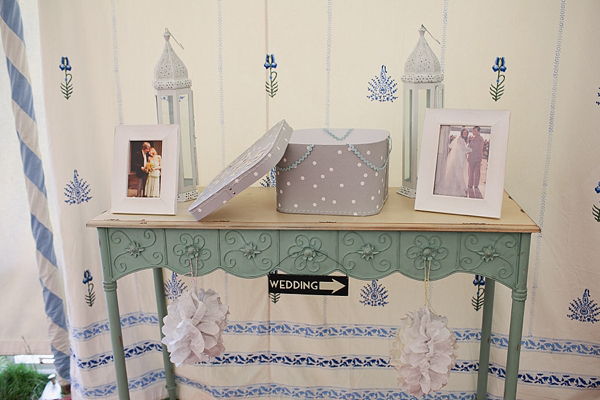 "My dress was called Clara by Kate Sherford, which I purchased from Tilly Mint
in Fleet, Hampshire. It was the first dress I tried on and was not the
original style I pictured in my head. My parents spend most of the year
in France so it was important that my mum be around for the dress
shopping. It was the first appointment we went to and both she and my
sister loved it. I, on the other hand, wasn't sure and wanted to do more research. After a few appointments elsewhere, I went back to Tilly
Mint to try on the dress again but this time without my mum as she had
gone back to France.  It felt great, fitted me perfectly and I
discovered that a sample version was available for an absolute bargain
price. After a quick excited call to my mum overseas, I made the snap
decision to go with it.
 To veil or not to veil was a real dilemma of mine. Originally I was against it, but after trying one on I decided to go with it as it does, after all (in my opinion), make a bride. I decided on a
mid-length Sassi Holford veil with embroidered lace edging which matched
the edging of the bottom of my dress perfectly."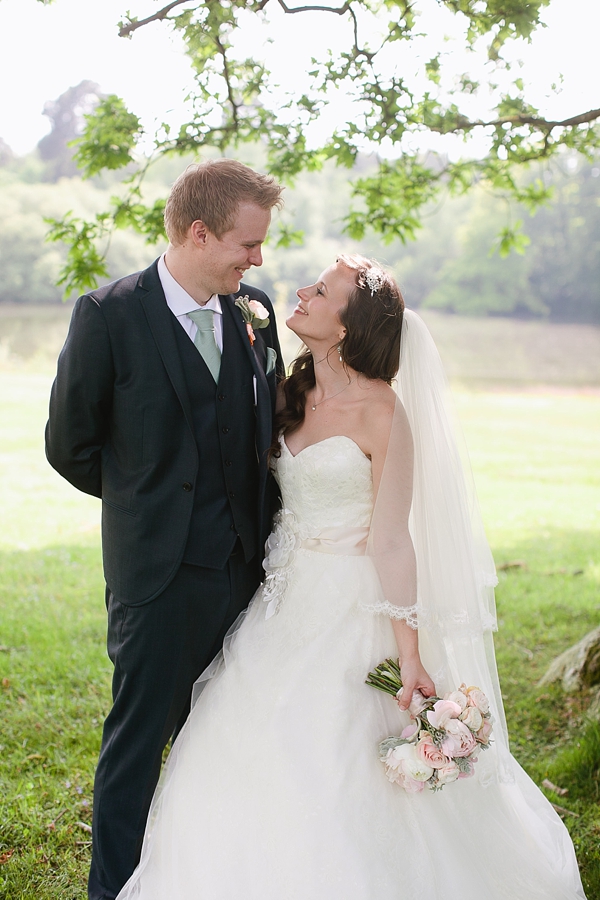 "I had originally budgeted more for my wedding dress, but saw a chance
to save some money. Plus I had the emotional attachment to it already
with it being the dress that my mum saw. I loved the sweetheart neckline
and ivory, lace detail and it made me feel amazing…what more can you
ask for in a dress! I didn't overly enjoy the whole dress shopping
experience, which was not an easy thing to admit given that it's
traditionally meant to be such a fun experience. I found it stressful
trying to decide which dress to fork out for, especially when trying to
keep within a budget.
Tilly Mint was still a fairly new business at the
time and so it made sense to support a local and exciting business. The
dress felt a little incomplete so the lovely staff at Tilly Mint
suggested dressing it up with a beautiful Sassi Holford sash which my
lovely little sister very generously offered to buy for me."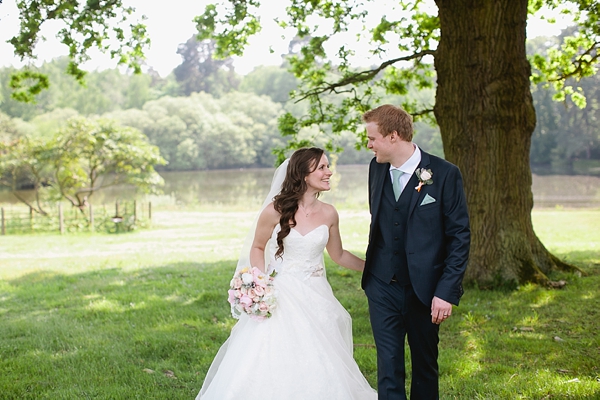 "Our florist, Emma Lappin was recommended to us by the lovely Tarah Coonan as they had worked together previously. And what a coup that was!
After seeing the flowers
that Emma had made for another wedding, I knew I had to speak with her.

She's an incredibly busy lady but luckily I managed to book her for our
day. She works from her beautiful home in Basingstoke and is the
loveliest person EVER! Our first meeting with Emma was so exciting as
she's so creative and had lots of interesting ideas. I had my colour
palette and I knew I wanted peonies, I know they're such a wedding
flower, but when is a girl ever realistically going to have them in her
life again! Apart from that I was open to ideas and Emma had lots of
them. I've always been against roses but little did I know how many
types of rose exist in the world, Emma opened me up to this. We hired
some wooden crates from her, which she placed outside the tents by the
entrance and filled with flowers and lanterns. She incorporated all of
my colours into the bouquets, with the bridesmaids taking on the coral
with big, lush peonies in that colour."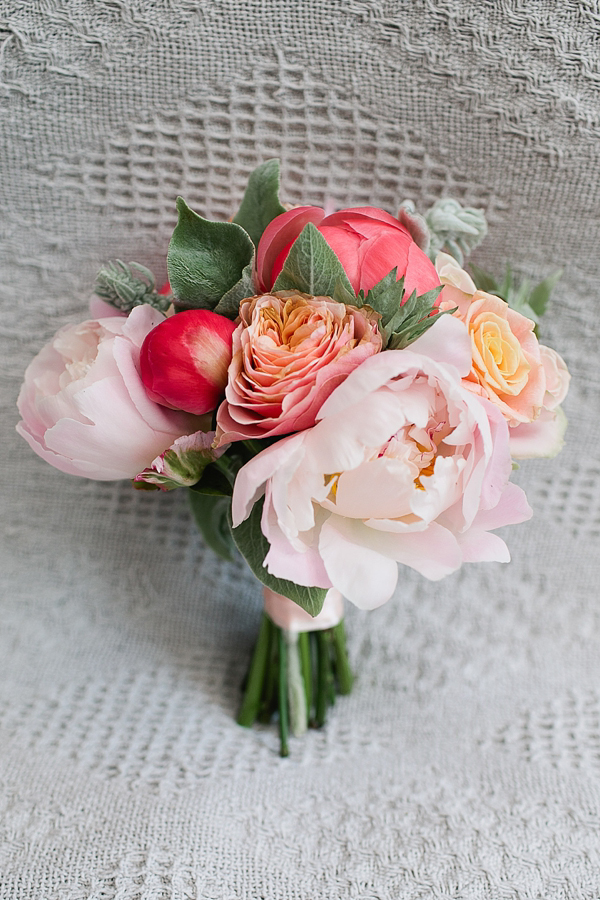 "The green was incorporated with
velvety dusty miller (aka 'lambs ears'), which were beautiful to touch.
The grey incorporated with some silver brunia. They also had some pink
and cream roses – they were so, so beautiful. They were tied with sage
green ribbon and pearls. My bouquet included the same elements but with
much softer colours so as not to distract from my ,and was tied
with ivory ribbon and pearls."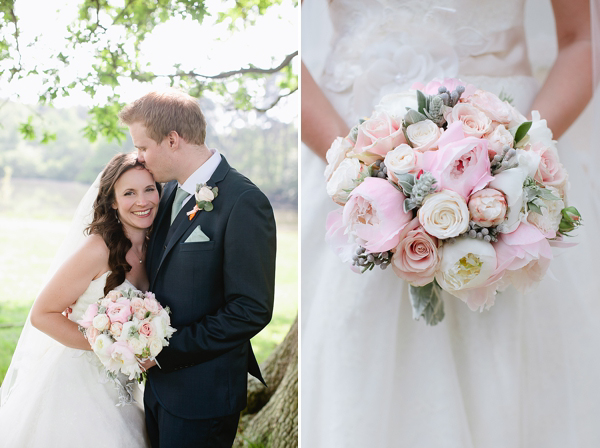 "When Emma delivered the bouquets on the
morning of the wedding, I cried at the sight of my bouquet. It was the
most beautiful bouquet I've ever, and probably will ever have in my life."
"The tents came with
various lamps, low-level seating, birdcages, lanterns, etc. My mum also
made some coloured tissue paper pom poms and paper flowers hung from
string, which we hung around the tents. We purchased some wooden hearts
on sticks, which we used to stick the table film posters onto and a big
tree bark heart, which we hung behind the top table. These were all
purchased from Long Barn Lavender Farm in Alresford.
I
had also recently become interested in origami thanks to one of my
cousins. I found an old wooden crate in Adams' parents garage, which had
an old label on it reading Deeley (Adam's surname). It was an old
grocery crate which belonged to Adam's Granddad. I asked his Dad if we
could incorporate the crate somehow and decided to make some paper
cranes and hang them in the crate with a pearl used as a stopper between
each one."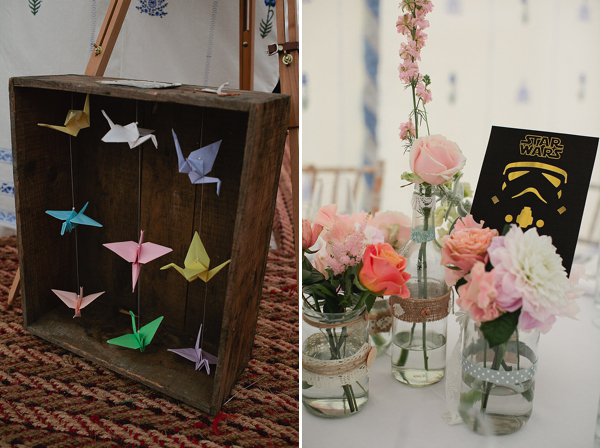 "We stuck a paper luggage tag to each block
with a sticker (designed by Adam of course), which encouraged our guests
to write some words of advice for us on their block. The tables were
kept simple with just the flowers in the jars and fabric hearts and
raffia tied to each chair."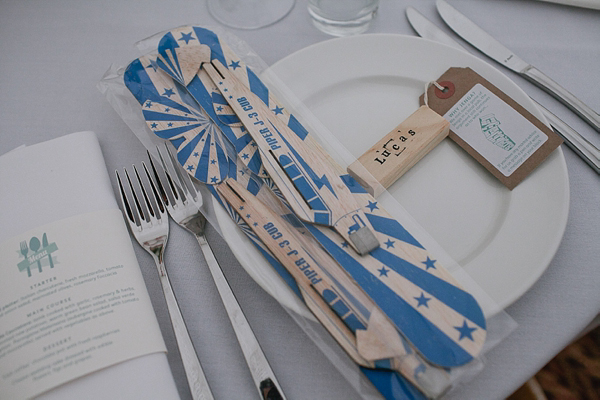 "I knew I
wanted simple flowers for the tables, there's nothing more irritating
than not being able to see someone's face because they've been overcome
by a centerpiece. I really loved the idea of decorating old jars and
placing flowers in them, not exactly original but very pretty and
affordable! Emma gave me tips on how to keep the jars simple. I went nuts on eBay buying endless amounts of raffia, hessian,
ribbon, buttons, etc. I spent hours with a few glasses of bubbly, my
mum, Adam's mum and my cousin decorating old mustard, chutney, oil, jam
jars. Lots of fun! 
Emma then filled them with beautiful
stocks, dahlias, roses, peonies, lisianthus and many more. When Adam and
I first walked into the tents on the day we were both so incredibly
happy with how it looked and the flowers truly made it."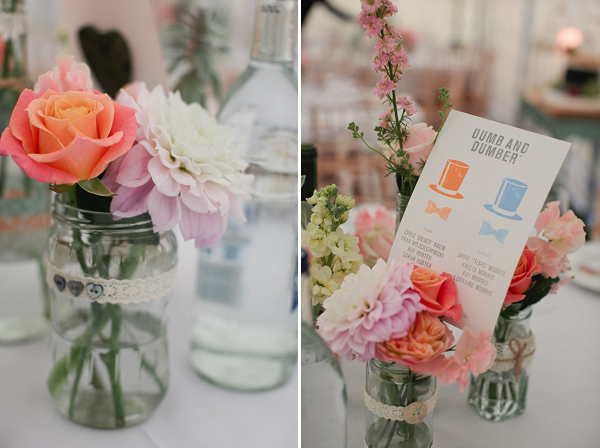 "It all went a bit Pete Tong with
the favours on the day. We decided that we didn't want to waste money on
favours so instead we were going to donate £1 on behalf of each guest
to Moorfields Eye Hospital, for personal reasons. Except we forgot to
mention it anywhere during the day. Favour fail. However, as I've never
been a big fan of favours wasn't overly concerned about it. After
all, you are already providing food and drink for your guests…"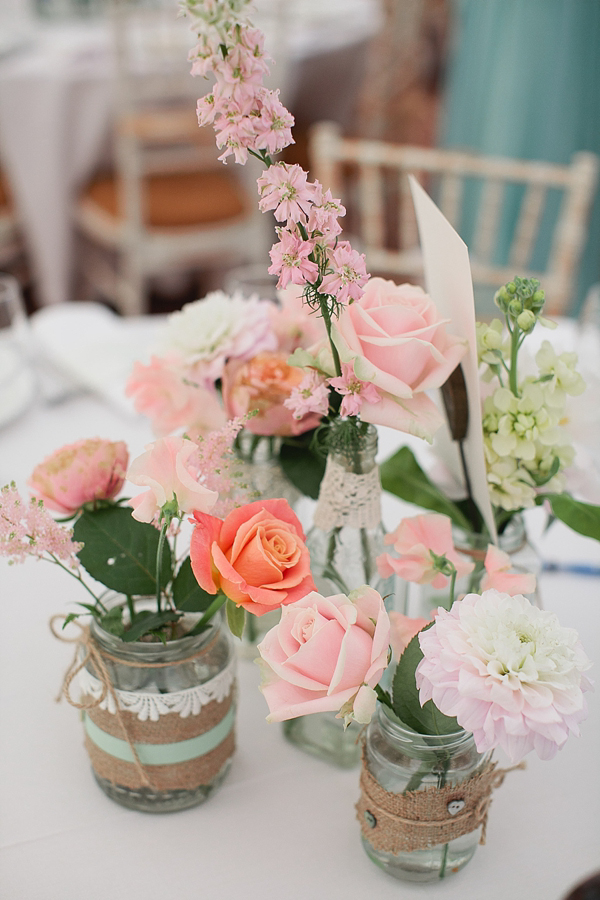 "Adam is a keen photographer so we did a lot of
research on finding the right photographer for us and thank god we came
across Tarah Coonan.  We decided to meet with Tarah during the planning stage to ensure that
we liked her, and there's really nothing to not like. She's incredibly
personable and goes above and beyond the role of a typical wedding
photographer. She gave me lots of helpful tips and recommendations
whilst planning and it was never about 'sell, sell, sell', it was
completely relaxed…just how we wanted it.
On the actual day, Tarah
began snapping away without any of us realising. No intruding giant
flashes, no embarrassing 'now get into this awkward position' or cheesy
shot moments, just simple and relaxing. I particularly loved those rare
moments in the day when Tarah would drag Adam and myself away from the
crowd for some photos. It was absolute bliss and we felt completely
relaxed around her.
From that first meeting to when Tarah sent our
beautiful package in the post after our honeymoon, the attention to
detail was superb. It's crazy the amount of weddings Tarah photographs
throughout the year but it's her experience which shows as she has
covered so many different styles and venues that she doesn't follow a
template of photos, every wedding is unique and Tarah captured this so
well. Plus she loves weddings and this certainly shows!"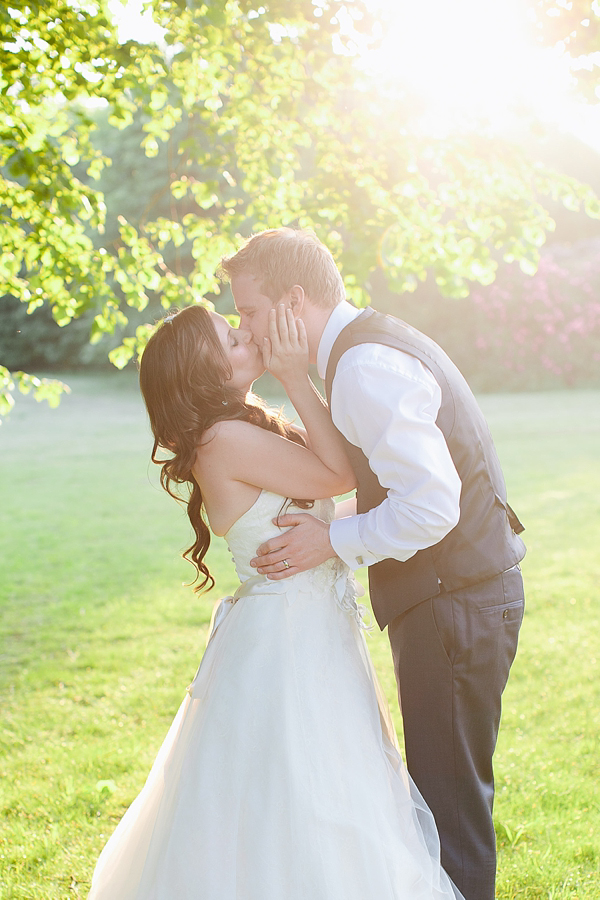 "I booked Louise Clark through Beauty Call,
who has make-up artists/hair stylists based in around the whole of the
UK. Louise travelled through heavy snow to get to my trial appointment,
that's when I knew I could totally trust her with my look for the big
day. I kept changing my mind about how I wanted my hair to look and
Louise was very patient with me. On the morning of the wedding she was
exceptionally calm and arrived super early to begin work on my hair, the
bridesmaids hair, my mum's hair and my make-up! Phew!

Despite the big
task she did our hair and make-up perfectly and with lots of time to
spare. I had a particular look in my mind that I had found on Pinterest
and she helped to adapt that look for me and I loved it. The bridesmaids
looked so beautiful, plus my mum got to relax for the morning whilst
getting her hair styled."
"Given that I'd saved money on my dress I initially decided that I
wanted to splash out on the shoes. However, I soon remembered that my
feet and high heels go together well for approximately 4hrs until they
fall out. I did a lot of research for some affordable designer shoes; my
original dream of Louboutins was long gone. It was through eBay and
some online US shoe stores that I discovered a newfound appreciation for
all things Badgley Mischka (a Sex and the City favourite).
I've never
ordered shoes overseas before so it was a bit risky, but I read as many
reviews as possible in order to ensure they would fit. Of all the eBay
orders (and there were a lot of them!) this was by far my most exciting
purchase. The day those shoes turned up on my doorstep and I discovered
they fit me was life changing, a whole world of shopping possibilities
opened up to me. Oh dear."
"Adam was originally keen to wear the same suit as the
rest of the men, however I managed to convince him to buy his own suit
so that he stood out from the others (plus he really, REALLY needed a
new suit). After hunting around, he found a gorgeous blue suit with
matching waistcoat from Topman which he looked incredibly handsome in.
It had gorgeous silk edging around the jacket and waistcoat. We both
decided that we didn't want any morning suits, top hats or anything too
traditional. A simple but classy suit was the way to go.
 He
finished the look with some brown Ted Baker shoes. He hired a tie in
matching colour to the bridesmaid's dresses from Moss Bros, which the
other men also had. 
The best men (Adam couldn't
decide between his two close friends so decided it was best to have
both), ushers and dad's wore hired suits from Moss Bros, which were
simple grey suits, matching waistcoats and the matching tie (no
cravats…not fans)."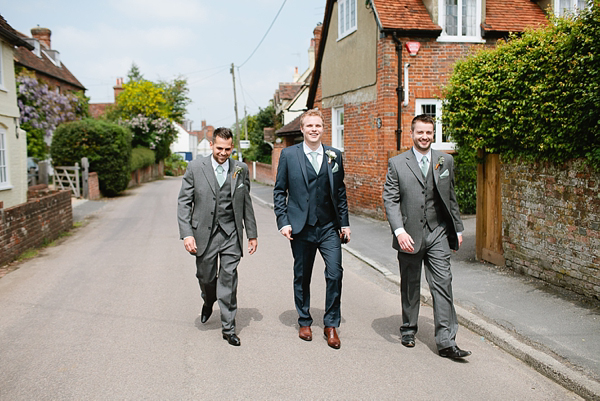 "My best friend and bridesmaid's Dad is a big car
enthusiast and very kindly agreed to drive us for the day in his old
blue Morris car, lovably named Tilley. It was such a treat for me to
have my best friend's Dad drive my Dad and me to the church. It was a
beautiful and relaxing drive through the countryside with people waving
to us. We sat in a comfortable silence; we were both nervous
but both enjoyed the peacefulness of the drive before all the
commotion.
And then a further treat for me to have another drive with my
new husband to the reception venue. Two very iconic drives, both very
different but equally special."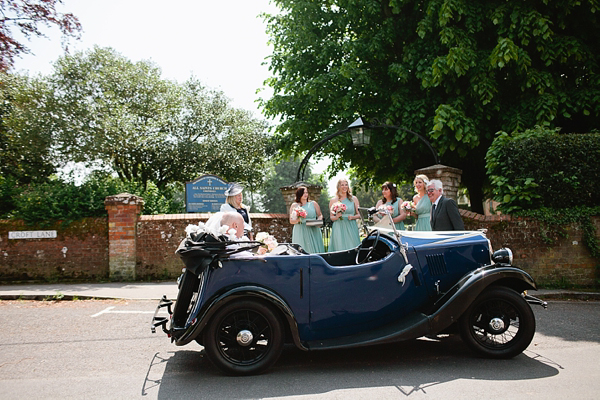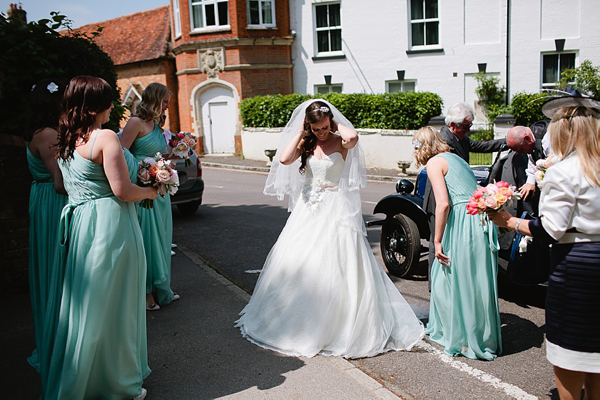 "For
the church we decided to keep the flowers extra simple as the building
itself is so grand that it doesn't need dressing up. Adam's mum very
kindly offered to take charge of these flowers working with the local
flower arranging committee. I knew I wanted hydrangeas, as these were my
grandmother's favourite. I never had the pleasure of meeting my
grandmother but before the wedding my aunt gave me a box of letters
written between my grandmother and grandfather.
The letters span over many
years and journeyed back and forth from London, (where my grandmother was
based), and Canada (my grandfather). Having not known my grandmother I
began to get to know her a little better through the letters and my Dad
had mentioned in passing that Hydrangeas were her favourites. Adam's mum
then set about sourcing some hydrangeas and other flowers for the back
of the church and also filled watering cans and a big metal tub (which
she purchased from eBay) with them. These looked beautiful as you
entered the church.
Some of them are still alive in her garden!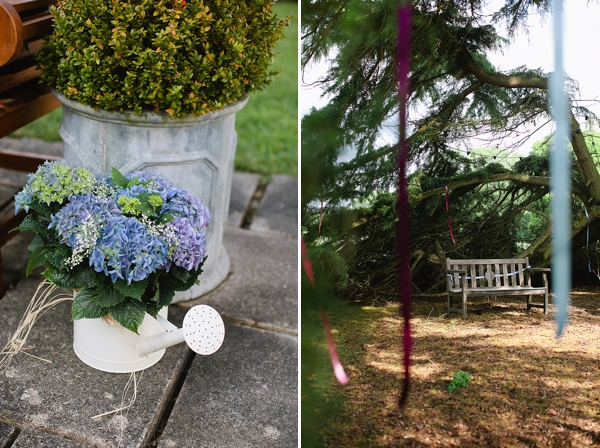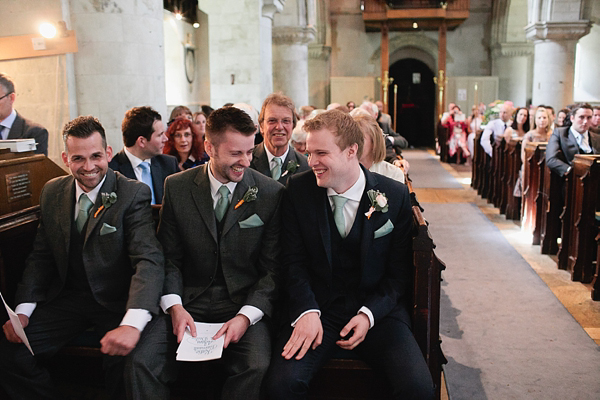 "My Dad walked me down the aisle and it was one of the most proud
moments of my life. As soon as the doors opened I saw all the faces of
the people I love under one roof and emotion and nerves got the better
of me. I pretty much cried and smiled all the way down the aisle. What
was funny was that my Dad didn't even notice that I was crying and later
on during a hymn, I didn't even notice my Dad was crying!
"I
entered the church to the Trumpet Voluntary (Prince of Denmark March)
by Jeremiah Clarke. For hymns, we had 'Morning Has Broken', 'Lord of all
Hopefulness' and 'Make Me A Channel of your Peace'."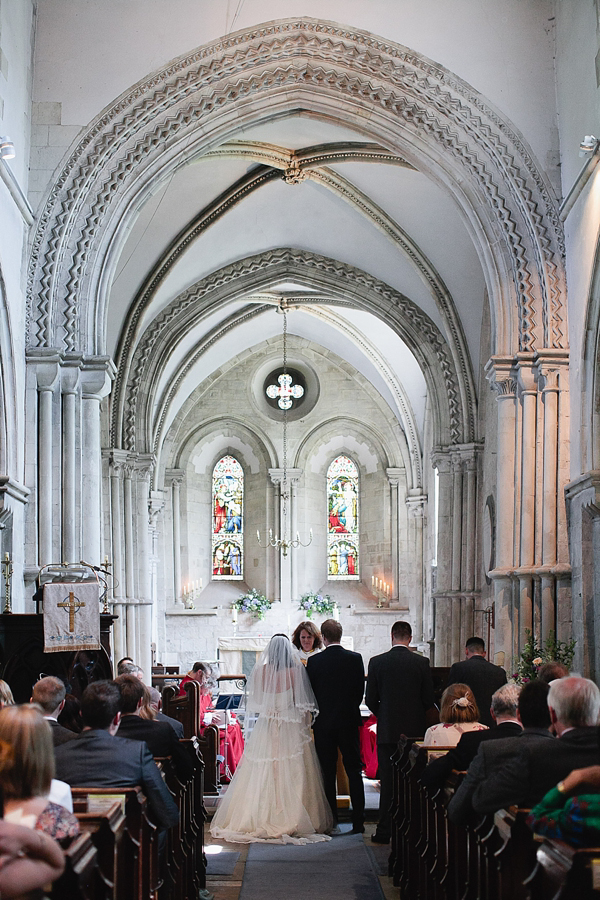 "We had three readings, one read by Adam's sister and two short
readings by my sister. Adam's sister read 'It's Only Time' by
Stephen Merritt, which we loved. My sister read two shorter readings but
both of which are simple and sweet; 'That Still and Settled Place' by
Edward Monkton and 'Eskimo Love Song'.
Adam's mum had been
collecting poems and readings over years and suggested a few to us, we
picked these three as they stood out as our favourites and their words
resonated with us"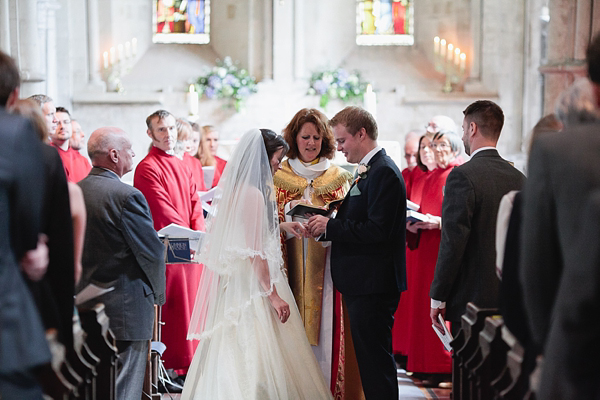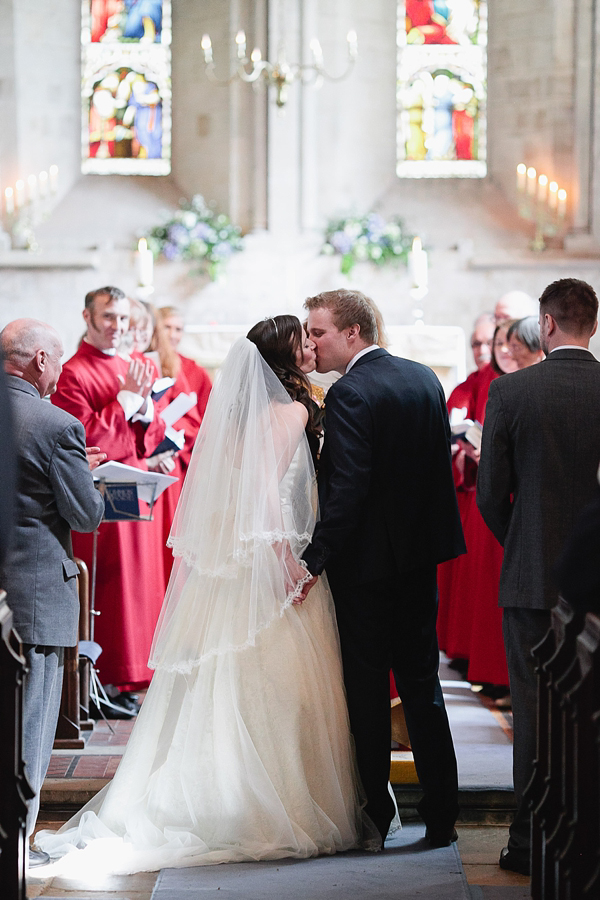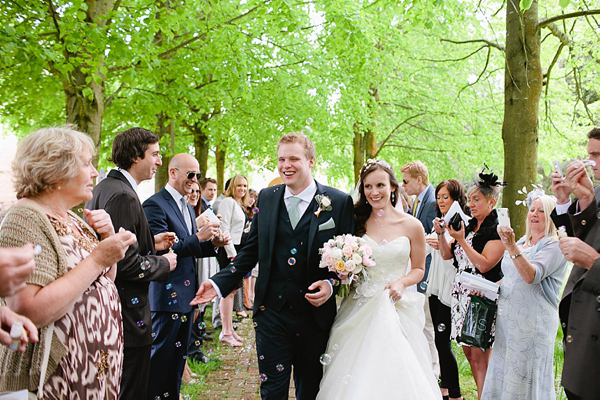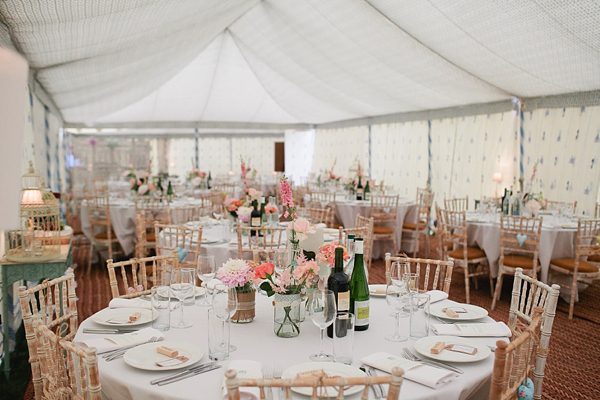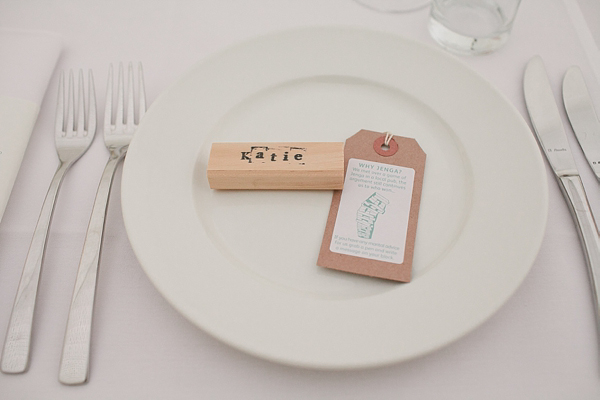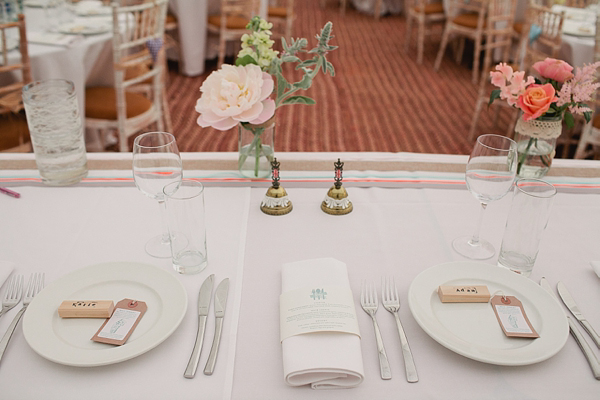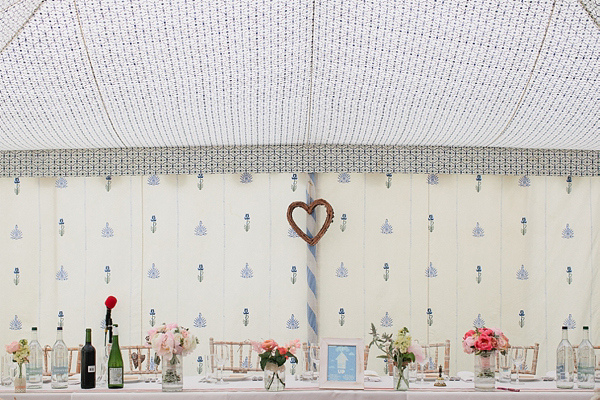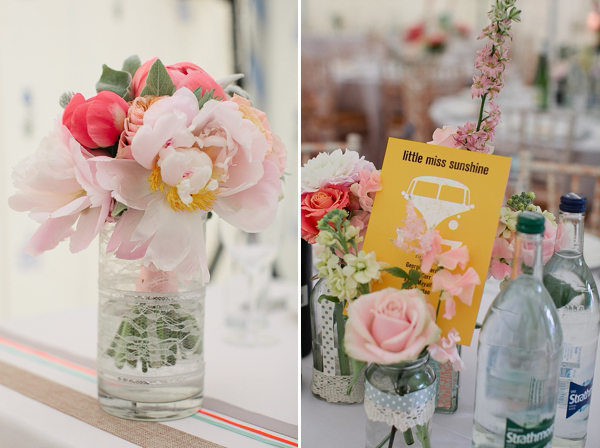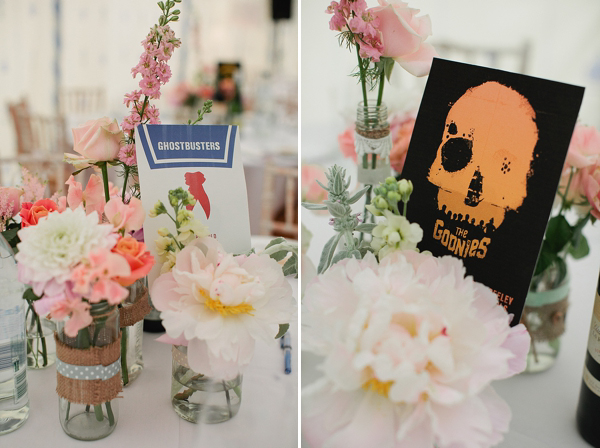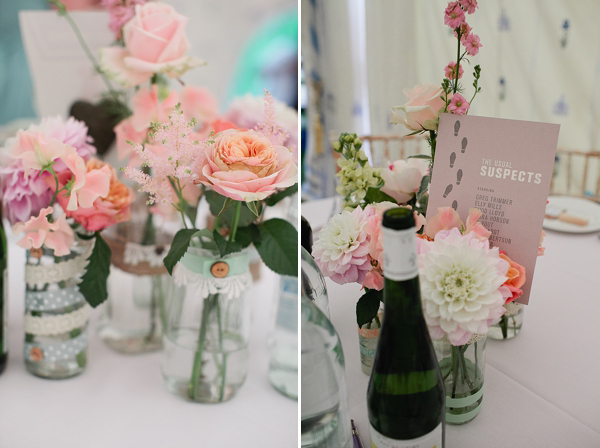 "Having worked Adam like a
designer slave I probably pushed him to the limit here but he also made a
sign for the evening buffet and guest book table. To accompany our
guest book, we purchased a Fuji Polaroid camera and some photo props.
This went down a treat and made for a great little treat for us to read
after the wedding. Our beautiful guestbook was made by Iris Grimm on Etsy."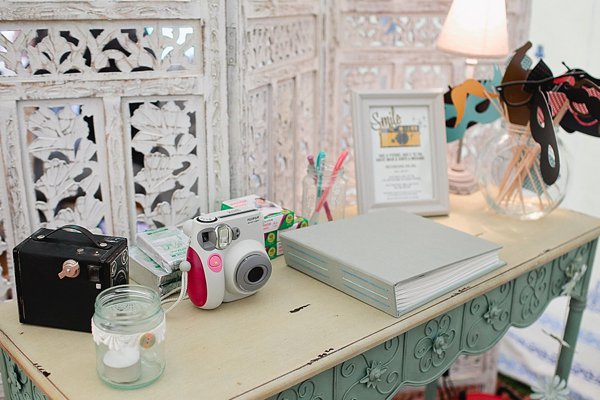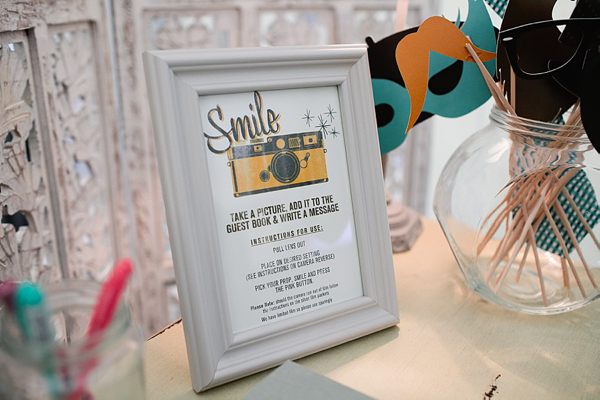 "Seth's Kitchen, (based in Bristol), was our choice of caterers for the day.
Bill and Stuart are the head chefs and were great to work with from the
very beginning. Having formerly lived in Bristol during my university
years, I was excited to make a trip over there for a tasting session
with Adam and my parents. The tasting session was held at Bill
and his wife Frances' beautiful house with the menu they had suggested
and it did not disappoint. From then on all the advice they gave us and
the local companies they sourced were outstanding. For canapés we had
chorizo in sherry, salt cod fritters, king prawns, wild mushroom
tartlets and asparagus. For the sit-down meal it was important that the
food be kept simple, as catering for 100-odd people in a tent is no easy
feat, especially when working from a kitchen in a tent.
Bill and Stuart
designed the menu with this completely in mind. The food was laid out
Italian-family style, platters of food in the middle of each table with
everyone helping themselves. It's less formal this way, encouraging
people to get stuck in and mingle. The food really was exquisite and so
perfect for a warm summer's day. For starters we had Italian sharing
platters, followed by lamb (which everyone raved about), new potatoes,
green bean salad and for dessert, Irish Coffee Pots. In the evening we
had a hog roast, served with baguettes, salad, chutney and our wedding
cake (aka the cheese!)."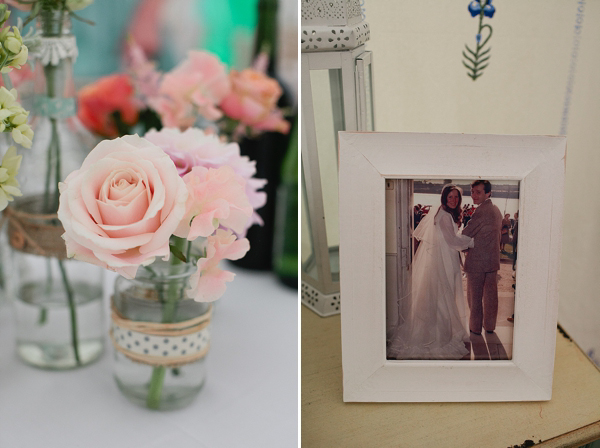 "Adam is not a big dessert fan and I've never been a fan of
expensive, uneaten cakes. So we decided to opt for a cheese cake
instead and approached our caterers who found a company called Arch
House Deli in Clifton, Bristol. For £180 it was one of the best
decisions we ever made. It was huge and went towards the evening buffet
as well. It went down a storm and we had lots to share out after the
wedding too.
We were eating cheese for a week after the wedding…not
the best diet admittedly. To decorate the cake the caterers added fruit
and edible flowers. As a topper I purchased mini personalised bunting
from from 'Proverbial Dasies' on Etsy and Lego people from eBay."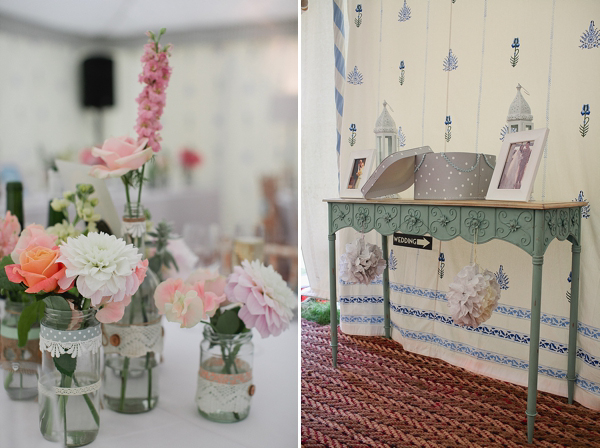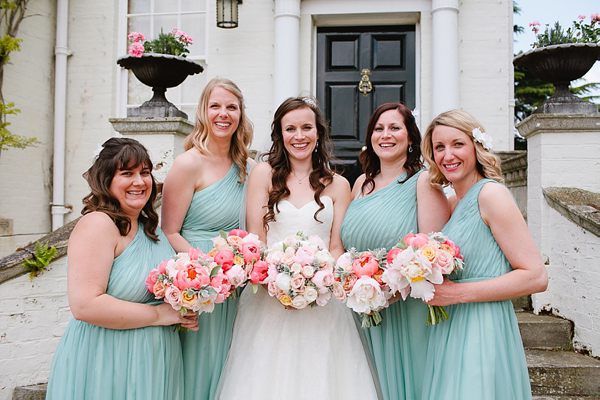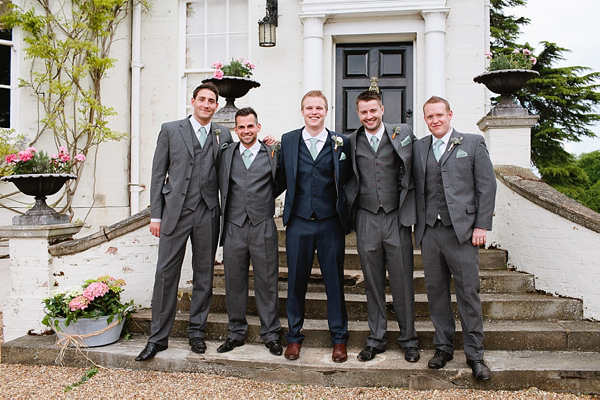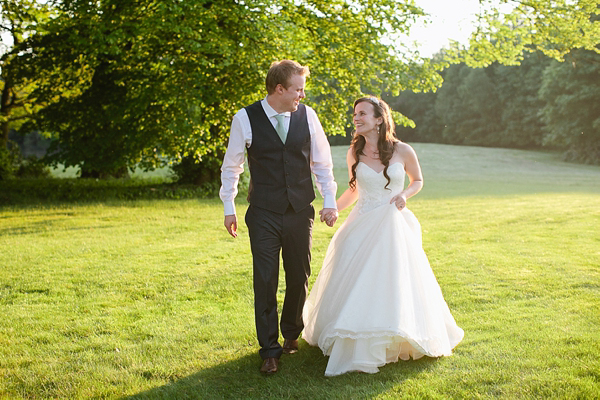 "I have a few favourite parts of the day; seeing my bouquet for
the first time, sitting under a blossom tree with my Dad in the car
before going into the church, walking down the aisle with my Dad, seeing
Adam for the first time on the day and forgetting all my wedding
worries, seeing the tents for the first time filled with Emma's flowers and more importantly those rare moments with Adam, having our photos
taken with Tarah and walking barefoot on the grass in a big dress – like
a dream!"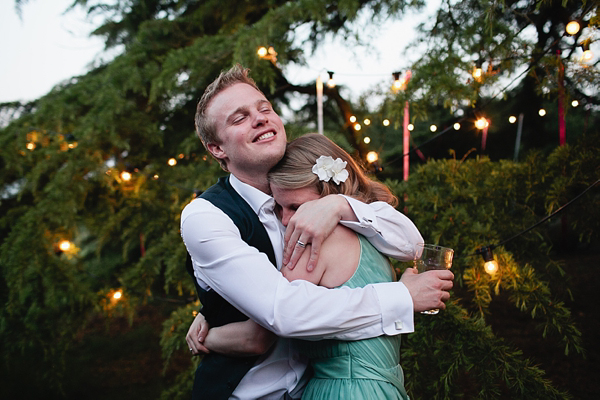 Words of Wedded Wisdom… 
"Don't be afraid to allow
your inner geek to come out and over-plan. It's your day, you only get
to do it once and you're spending a small fortune so it's better to
over-plan than under. Don't be scared to ask your suppliers questions,
that's what they're for after all! Any supplier who makes you feel
guilty for doing so should not be used. Remember – you're the customer! 
The
day after the wedding can be a bit of a comedown, so if you can, reign in
help from family and friends to help clear away the decorations and
other bits and make it fun too. Get some bubbly involved and head off
for a group lunch after your hard work.
Remember to delegate
to your friends and family where you can, they want to help and it will
ease some stress from you both on the day. Give jobs to people on the
day to those you trust will get it done, you don't want to be worrying
about small details.  Most importantly, enjoy those rare
moments spent with your new husband. Hire a photographer who you feel
relaxed with and enjoy your photos away from the guests. 
"We didn't hire a wedding planner, which is probably my only small regret, as we used a ton of different suppliers and so organising the wedding
was incredibly time consuming and complicated.  The owners of Winchfield House 
very happily helped us in the build-up to the day but made it clear
that they are usually quite hands-off with events.
This meant having to
do a lot ourselves and entailed a lot of stress the day before and it
also meant that on the day I was worrying about the small things like
lighting the candles in the evening and keeping the music flowing. However, thanks to our
family and friends and our wonderful suppliers, the day couldn't have
gone any better, but for peace of mind I think employing a wedding planner is a good idea, especially if your venue doesn't include this service.
Thankfully, because of the support of our family and friends, all of our hard work paid off and the day went smoothly
– without a wedding planner! I honestly wouldn't have changed a thing.  I
often visited Love My Dress which was recommended to me by Tarah Coonan. I particularly like the stories and advice from other brides
finding it incredibly useful.
One
more thing! If you have an idea, go with it! Everyone around you will
have an opinion and frankly it's up to you. I'm very stubborn and so
fought hard for my ideas no matter how complicated and time-consuming
some of them were."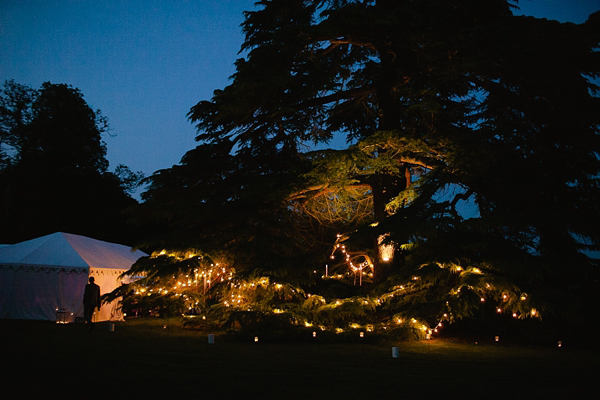 What a truly lovely, lovely day – I adore how passionately and enthusiastically Katie has shared memories of her wedding day and all the planning that went behind it – thank you Katie, I've loved reading and sharing your story.
You can see more work from photographer Tarah Coonan here – including Tarah's own very beautiful wedding day.  Also be sure to check out  Tarahs website for further examples of her beautiful wedding photography. And if you love the colour of this wedding day, take a look at these other pages on Love MY Dress; seafoam green, eau de nil, coral and grey.
What do you love most about this pretty day?
Annabel
Photographer – Tarah Coonan
Venue – All Saints Church in Crondall + Winchfield House, Hampshire
Wedding Dress – Kate Sherford via Tilly Mint, Hampshire
Veil/Headpiece – Sassi Holford
Brides' shoes – Badgley Mischka
Bride's accessories – Liberty in Love + Glitzy Secrets + Accessorize
Groom's Attire – Topman + Ted Baker shoes
Bridesmaids – For Her and For Him
with alternations by Zuzana
Flowers – Emma Lappin
Cheesecake – Arch
House Deli in Clifton, Bristol + cake topper via Proverbial Dasies, Etsy
Entertainment – Full House
Rings – David Marshall
Catering – Seth's Kitchen
Stationery – Blush Publishing (the groom is a graphic designer here)
Hair & makeup – Louise Clark via Beauty Call
Tables, chairs,
generator, catering tent + dance floor – Outside Catering Hire 
Wooden Bar hire – The Great Mobile Bar
Cutlery, crockery, linen and glass hire –
Four Candles in Berkshire