Good morning everyone, welcome to the very last blogging Friday of 2013 on Love My Dress.  Alastair and Flavia's beautiful Autumn wedding took place on Monday 28th October this year at Northbrook Park in Farnham, Surrey.  I love the details featured in this wedding – that splash of burnt orange throughout, the cactus favours, those delightful Hobbs lace-up boots and the beautiful portrait shots. And how about that beautiful autumn light captured by photographer MIchelle Lindsell, you'd never have guessed that a huge storm surged on this day that left the couple without power for much of the event – everything looks pretty perfect from where I'm sat.
"The style of our day was inspired by the country. Alastair's family are from Devon and we visit regularly. We loved the idea of a home-made DIY wedding with lots of natural and rustic touches, lots of colour and fun. We wanted to be involved in the planning, and to make it all as personal as possible."
Photography Copyright (c) 2013, MIchelle Lindsell
"Alastair and I met over the radio waves at work, and fell for each other's voices and banter before anything else. One snowy day, when there were no emergencies to dispatch Alastair on, we spoke on the work phone. We swapped names for the first time and arranged a date (in the most professional manner possible!).  Luckily the blind date came up good and we spent an utterly romantic evening in Covent Garden.
Alastair proposed in London, at the peak of the Emirates Cable Car. It was a chilly October evening, and the sunset over the Thames was beautiful. We then headed for a celebratory meal in Canary Wharf.  We were engaged for almost exactly one year (minus one day!) before our wedding day."
"We both work for the London Ambulance Service, covering the City and East area of London. I work in the control room as an Emergency Medical Dispatcher, and Alastair is a Paramedic.
Northbrook Park in Farnham is the only one we visited! We loved that we could hold the whole day within one venue, and the fact that the whole wedding party could stay overnight in the cottages too! We adored that it was such an old building, but full of light and had elegant touches. The ceremony room was formal and stunning, and The Orangery was perfect for a more relaxed and rustic reception."
"Our flowers were by WOOKIE Floral Design, who I first came across when searching online for unique and natural flower designs. I didn't think we would be able to afford such stunning arrangements with the budget we had, but emailed Amy to try my luck anyway.
She was so helpful and wise! Amy suggested many wonderful and kooky ideas which would fit into both our budget, and style, even using seasonal fruit as well as flowers! We agreed on a colourful array of seasonal and wild flowers (and apples!), rustic arrangements in wooden boxes, and twine tied buttonholes – it all bought the day together perfectly."
"My wedding dress is Benjamin Roberts 2228, purchased in a lovely little shop near Elephant and Castle called London Bride Ltd.  This dress was the second one I tried on. I was initially excited to try a champagne coloured beaded dress, something a little different. I did, and wasn't 100% sure. Ami, from London Bride, enthusiastically recommended I try the vintage lace Benjamin Roberts dress. Wow! I felt so classic and beautiful, and had 'The Dress' moment I was so desperately hoping for!"
"I wore a hair accessory called 'Carolina', by designer Jannie Baltzer.  It was purchased in Luellas Boudoir in Wimbledon.  I would really recommend a trip to this luxury fairytale boutique when looking for something unique and pretty."
"Our favours were mini cacti (non-prickley ones for the kiddies!) which were purchased from Ikea. They were each wrapped in burlap and natural twine, bought in bulk from our local garden centre."
"Our stationery was collected from a variety of different sources, mostly made by ourselves, with chalkboards and old nik naks. Order of ceremony and menus were from Etsy, purchased as a template and edited and printed at home. The custom dessert table signs were also from Etsy, by Christina and Michael Borden."
"Alastair's wedding present from me was an antique silver pocket watch that I purchased from an online store named Oxford Pocket Watches."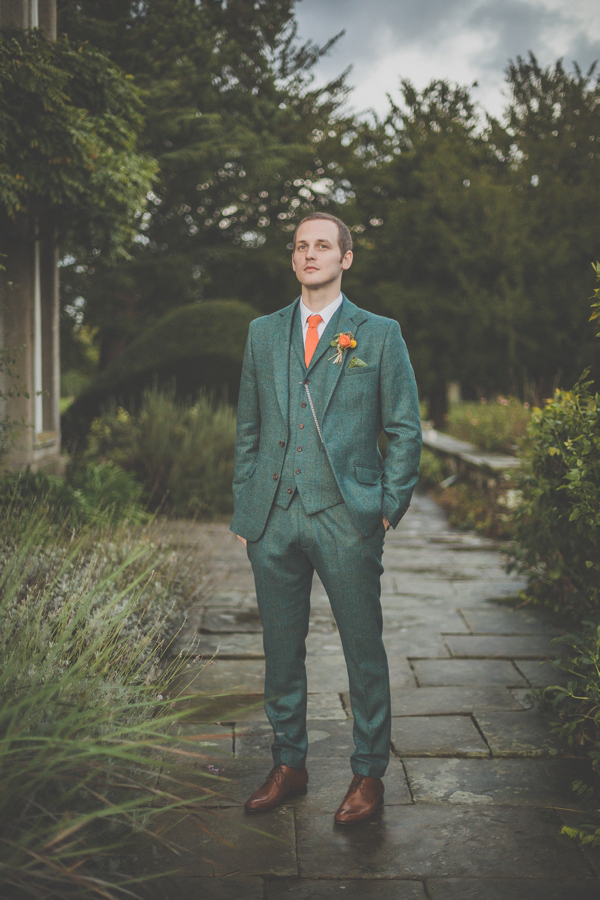 "Our amazing photographer was MIchelle Lindsell. To begin with, she is the sweetest most kind-hearted person. Her enthusiasm and passion for her work is really admirable, and her immense talent is just as large. Every photo captures the moment as it was, portraying every natural emotion and feeling. She was snapping away non-invasively all day long. Aesthetically they are so beautiful to look at, finished in such a wonderful soft style. We couldn't be happier with our choice of photographer and finished product, and would highly recommend Michelle to others needing a photographer.
Michelle even helped me apply my lashes and eyeliner on the morning of the wedding!"
"I was lucky enough to have a very talented hairdresser within the bridal party – lovely bridesmaid Bella Said. She did a fantastic job in getting my unruly hair to sit just right. I decided to try to do my make up myself, as I was afraid of looking too different, and just wanted to be a more polished and enhanced version of my normal self. After a Bridal make up lesson, at the famous MAC store in Covent Garden, lots of practice runs, and a hell of a lot of MAC products, I somehow managed to pull it off!"
My Step-Dad, Gary, walked me down the aisle, and it was such an emotional time for us both. My father, Steve, very sadly passed away in February of this year, after a long and heart breaking battle with lung cancer. Gary has been my Step-Dad since I was 5, and he was very proud and honoured to be able to support me so much on my big day.  I walked down the aisle to 'Pure Imagination' from Charlie and the Chocolate Factory (the lyrics are so lovely and whimsical). This was played on acoustic guitar by one of Alastair's best men, Johnny."
"Seeig Alastair waiting for me at the end of the aisle was one of my favourite parts of the whole day. We gazed and sobbed at each other all the way down. I don't remember anything else about walking down the aisle, I didn't hear the music, or notice anyone else. He looked extremely handsome and I couldn't wait to be married."

"Our rings were a design by James Newman, who specialises in contemporary jewellery and we loved the matted finish to them. My engagement ring is James Newman also, and all were purchased in Polka Dot Jewellery shop in Exeter, Devon."
"During the ceremony we said traditional vows, and we decided to have one reading.  We wanted something quite light hearted and different, so we chose 'Oh, the places you'll go' by Dr Seuss, which was read by my beautiful Maid of Honour, Charli. It suited us to a tee, and provided us with some rather quirky words of wisdom for our journey into marriage; 'Congratulations! Today is your day. You're off to great places! You're off and away! You have brains in your head. You have feet in your shoes. You can steer yourself any direction you choose. Be sure when you step. Step with great care and great tact. And remember that life's a great balancing act. Oh! The places you'll go! Today is your day! Your mountain is waiting! So get on your way!'"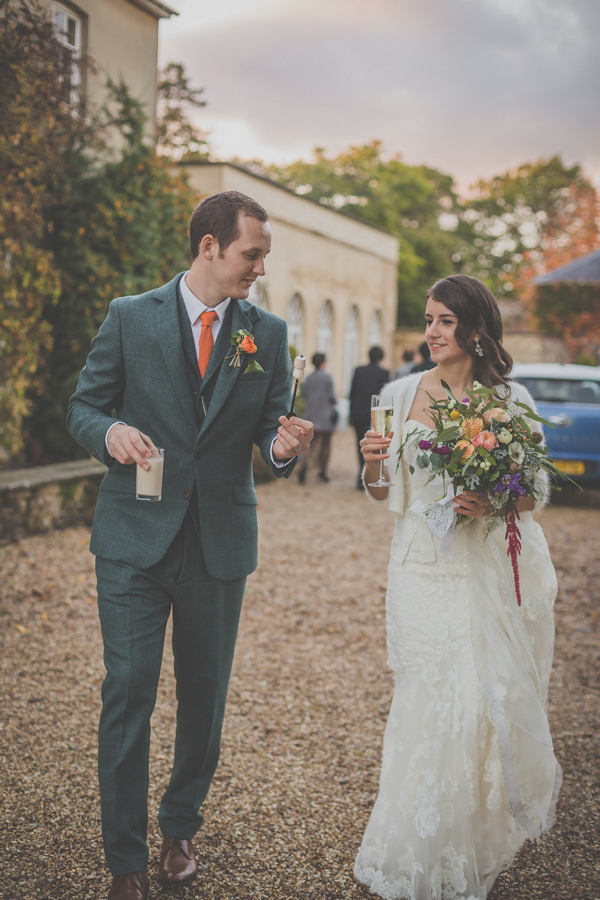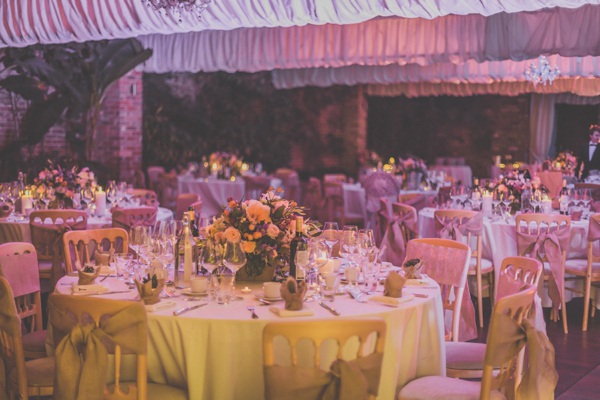 "Alastair's mum kindly agreed to make our wedding cake. Despite never attempting to make a tiered cake before, let alone one with different sponges and different fillings, she did a marvellous job! It stood tall all day (until dessert time!), looked amazing and tasted delicious!"
"Our first dance was to the lovely sounds of John Legend's 'Each Day Gets Better'. It had been one of our favourites for a long time and we knew instantly this would be perfect for us both.  In fact, as our wedding day was the day of the storm that left us with no power, heat or indeed sound,  I began to think our first dance was never going to happen, but was determined to make the most of our day. Alastair's brother played music through the iPad, setting the volume to as loud as possible (not very loud!).  All of our guests huddled around us very closely and silently while we danced away together, struggling to hear the music. It was a very intimate and romantic moment."
Words of Wedded Wisdom…
"My words of wisdom would be to not forget about all the little details. We booked our major suppliers quite early on, and embarked on a number of important DIY projects quite soon after getting engaged. We thought we were absolutely sailing through – then it hit us! We were left in a frantic rush buying gift bags, cake slices and crayons the day before the wedding!
Also, any brides getting married a year after their engagement – remember!  If you want a season related wedding, i.e., 'winter wonderland', – it is not going to be that season again until you actually get married. You will have to start thinking about buying your wintery bridesmaids dresses and accessories NOW! "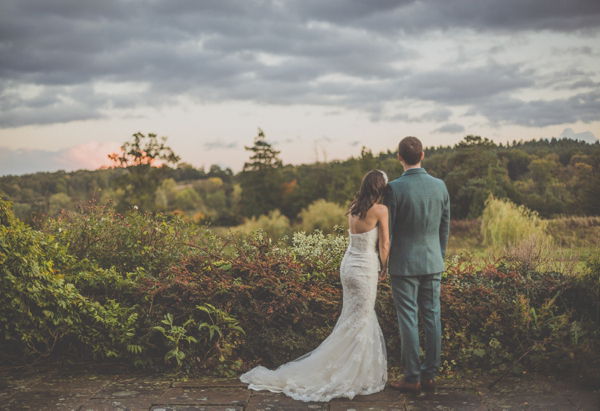 Such a beautiful day – with a huge thank you to photographer MIchelle Lindsell for sharing and big congratulations to Alastair and Flavia for their gorgeous autumn wedding – you'd never have guessed there was a huge storm that day guys, your day looks perfect in every single way and you both look so happy and in love.
We hope you've enjoyed this wedding this morning, do leave a little love in the comments box below if so, otherwise, have a lovely morning all, we'll see you again this afternoon with something to inspire you before the weekend.
With much love,
Annabel

Photographer – MIchelle Lindsell
Venue – Northbrook Park, Farnham
Wedding Dress – Benjamin Roberts 2228 via London Bride Ltd
Hair Accessory – 'Carolina' by Jannie Baltzer
Brides Shoes – pale pink lace up boots from Hobbs
Bride's accessories – Earrings by Swarovski + bracelet + charms by Pandora
Grooms Suit – Tweed Addict + Pocket Square from Reiss
Bridesmaids Dresses – Coast + earrings from John Lewis
Flowers – WOOKIE Floral Design
Cake – Family
Entertainment – iPod playlist, made by Kerry at Audio Sushi
Favours – Cactus wrapped in burlap
Rings – James Newman
Catering – Fusion Catering Solutions
Stationery – Etsy
Custom dessert table signs – Etsy
Follow Love My Dress® on Google+