In our final wedding feature of today, we're sharing Cherrie and Ernest's summer wedding that took place in August at the rather lovely country house wedding venue that is Fawsley Hall in Daventry.  The couple wanted a fuss free day with just a splash of colour – see those bridesmaids in their pretty pink Coast gowns. And check that choreographed dance performed by the groom at the end – LOVE it!
Cherrie initially had a struggle finding a wedding dress she really loved but soon stumbled upon an Enzoani design that left her rather smitten…
"After an unsuccessful wedding dress shop trawl, I attended a sale with my sister and being my usual self, picked the most expensive dress I could find there, which happened to be by Enzoani. When we picked it up we thought it may be too fussy, although it had all of the other elements I liked – a sweet heart neck line and fishtail detail etc.  The bottom of the dress was very intricate, more so than I thought I would go for. I loved it, but decided to leave it as I didn't think I should buy it off the rail just like that after not thinking it over."
Photography Copyright (c) 2013, Daffodil Waves
"I was drawn back to the boutique the next week however when the sale was extended and tried it on again.  It turned out to need no adjustment in length or size – it was the perfect  fit and after a lot of nods of approvals from the other shoppers and the sales ladies gathered around me, a few pictures text messages and phone calls to my mum, I decided to buy it right there and then.  As I had to take it straight away and I lived with my fiancé I had to store it at my friend's house for a few weeks, after which I took it to the seamstress to fix a few minor tears in the train.
I also decided to buy a boat necked bolero that buttoned up the back, I bought on Etsy.  I have always loved this style of bolero and was happy I found a way to incorporate it into my day look, I then had a veil made by Little Black Dress from Chantilly lace. For the evening element of the day I took off the bolero and veil and put the Enzoani belt on, just to give me a little different look and let me dance freely."
"Ernest and I met on a night out. He proposed on my birthday with a surprise meal. We had been engaged for two and a half years by the time we married.
I wasn't keen on having a colour scheme. I was going to go for mute colours ( pastel pink, lilac etc) for the bridesmaid dresses, but after a chat with my sister we decided to use the bridesmaids to give the bridal party a pop of colour, hence why they had raspberry coloured dresses which I found in Coast."
"Our venue, Fawsley Hall in Daventry is a beautiful country location and gave us the option to have not just a wedding day but a wedding weekend. The venue was self-contained and had eight bedrooms, as well as a bar, reception room and ceremony room so that our immediate families could stay over, allowing us to have breakfast together the morning after the wedding.
We chose our venue because of its location as it is between our two families, mine are from West Yorkshire and Ernest's from London. So we thought it would be great to meet in the middle and give everyone the opportunity to have a weekend away at the same time, so if they couldn't stay at the venue they could stay local. Plus both families have to travel rather than one, making it fair."
"A family friend made our cake, it was a traditional Caribbean rum cake As my husband loves cake we wanted both taste as well as style."
"Emma Remington our florist was a recommend supplier by Fawsley Hall.  After a consultation with Emma, I chose a combination of white roses, orchids and hydrangeas. I wanted a bouquet that was a little different so went for a tear drop shaped bouquet in white to compliment my dress. The orchids I chose for the bridal party were Hot lips phalaenopsis to match the colour of the bridesmaid dresses and were used for the button holes of the bridal party as well as my maid of honours bouquet.
For the bridesmaids I chose wrist corsages as I wanted them to have a gift as well as a flower to compliment their outfits, but not have to carry something around all day. For my husband I chose an ivory orchids with diamantes button hole."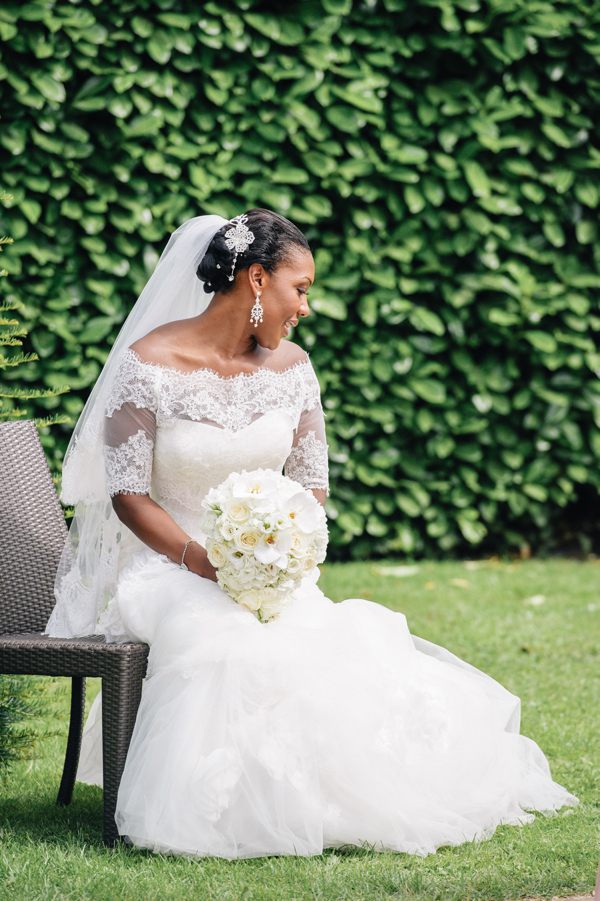 "Our photographer was Nicola of Daffodil Waves – an amazingly helpful photographer. From the first time we spoke Nicola was very supportive in helping us to distinguish between what we liked and disliked,  as well the more serious stuff such as agreeing a package that fit within all of the requirements for our day. Nicola  even went the extra mile and helped me on the day with dressing, when I needed help.
Nicola's colleague Adrian was also brilliant on the day. We wanted pictures of the boys as well as the ladies getting ready on the day, and so he came along and helped.  My guests really liked her and she was able to manage the unruly bunch very well. As for the pictures, everybody loves them and has said how they capture the day and the energy perfectly."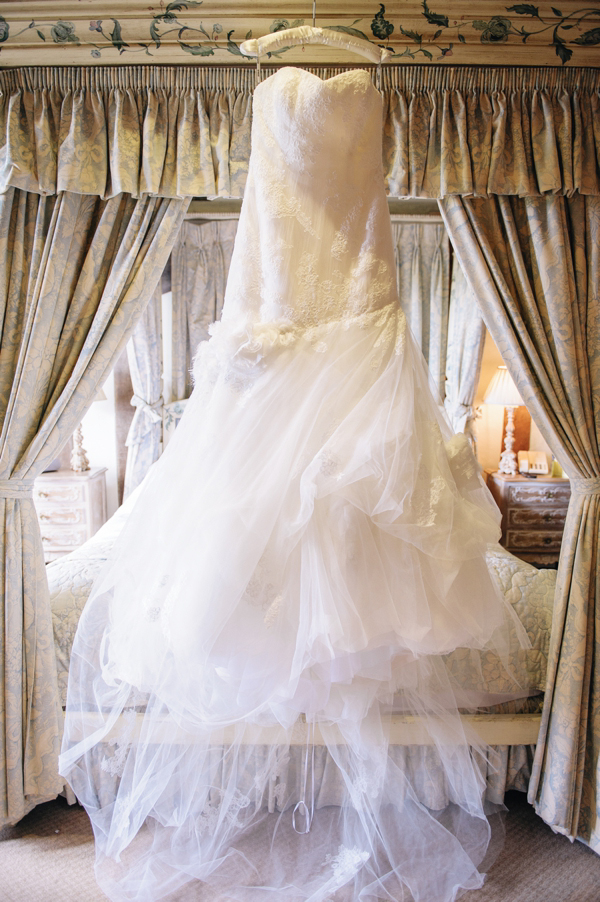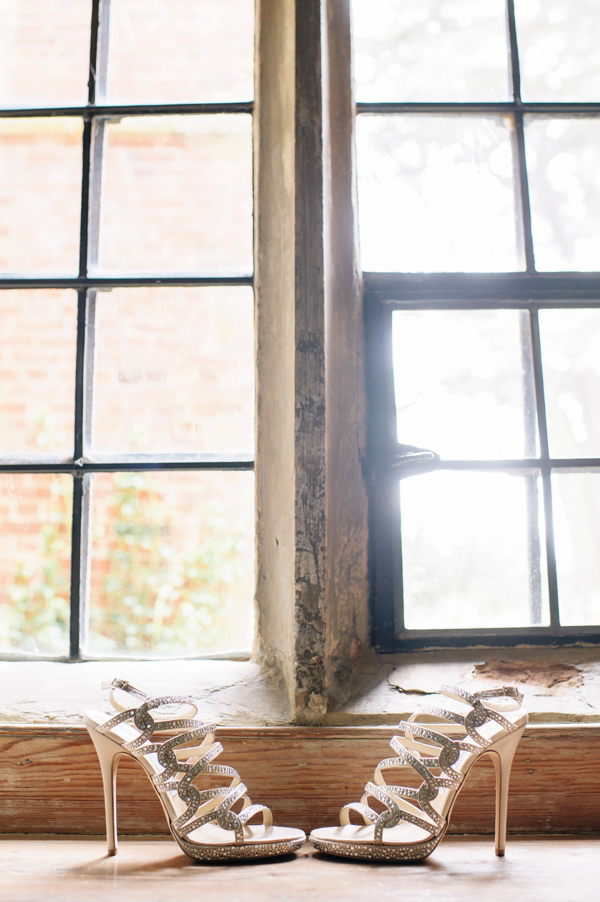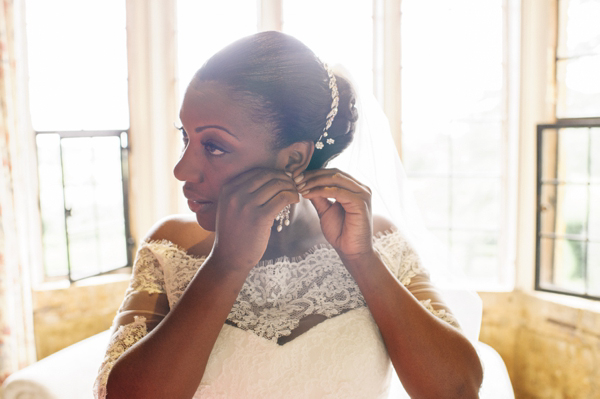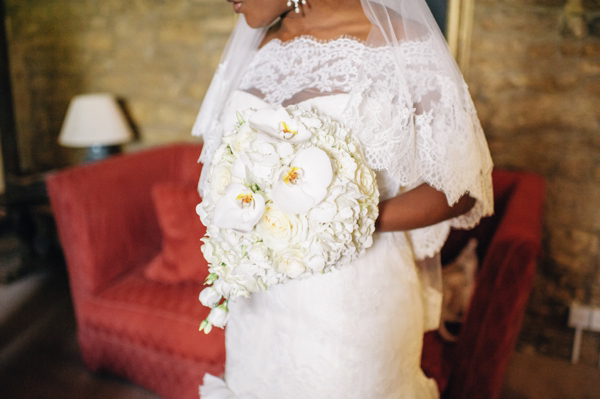 "My Dad walked me down the aisle. I also asked my mum and Grandma to walk down the aisle as part of the bridal party as I thought it would be nice as my Grandma had travelled over from the Caribbean for the first time in about 20 years, to visit the UK so we wanted her to really feel part of the day.  They walked down to Gerald Levert and Tamia cover of "close to you" the carpenters song, which is a song I have always loved. I walked down the aisle to a song chosen by my husband, Maxwell a woman's work instrumental as the words are not the most appropriate but the actual track is beautiful."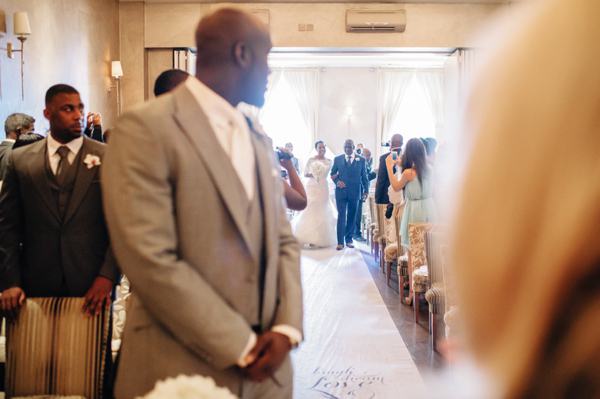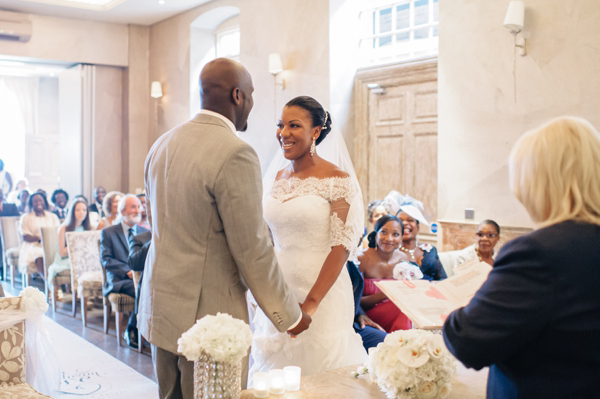 "After the legal ceremony, as we did not get married in a church, we had a beautiful blessing held by Reverand Susan, who was amazing and accommodating as this was the first time she had done a blessing onsite at Fawsley hall. During the ceremony my cousin also sang for us as a personal touch, Etta James At last, which brought a tear to a few eyes."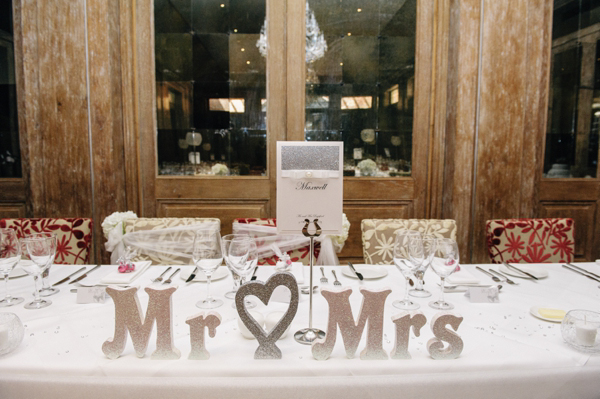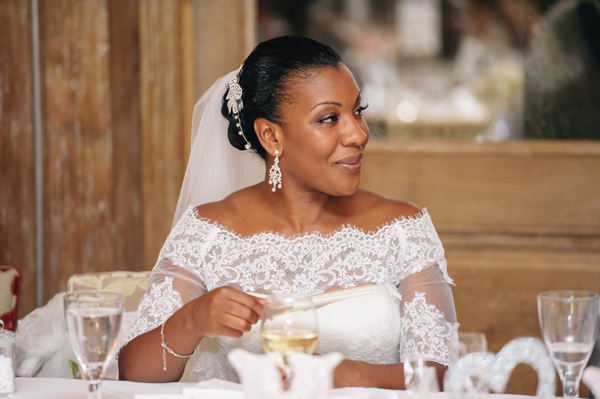 "For our first dance, we chose a song that is very special to us both – 'Heart Belongs To You' by Jodeci."
"A major highlight of the whole day was my husband and his groomsmen doing a choreographed dance for me! They practiced over the weeks leading up to the wedding and I have to say it was one of the best things I have ever seen at a wedding, not that I am biased!"
"There really is nothing different that I would have done. I planned for all of the things we wanted and although there were a few minor hiccups there was nothing major that caused me any concern on the day. The greatest thing was the amount of guest that told us how much they enjoyed the wedding and that it was one of the best ones they had been to, and to get texts the next day also saying how much they enjoyed the day was so nice. As much as it was an enjoyable day for us, I really wanted our guests to have a great experience as they had taken the time and effort to come and share our day with us."
Words of Wedded Wisdom…
"There is nothing that you have to do apart from the ceremony, make sure that you remember the day is about you and your husband. Yes your guests do make the day special, however it is really about your commitment to your relationship.
Enjoy every minute, try to take a moment in the morning to just ready yourself, to take it all in I really enjoyed the preparation time.
I chose to have just my make-up artist, hairdresser, mum and sister with me while I got ready as I wanted a little calm before the storm, and it really put me in a great place to enjoy the day. And as a couple try and take the time at some point in the day to absorb the day and the love."   
Ahhh, HUGE congrats Cherrie and Ernest, thank you so very much for letting us share your beautiful and uplifting photographs today, I feel the fun and love was in abundance on your wedding day – your photographs certainly suggest so.
Ladies, if you are keen to see more brides in Enzoani, click here. And as always, love and thanks to Nicola of Daffodil Waves Photography – you can see more from this photographer on Love My Dress here.
With so much love everyone,
Annabel
Photographer – Daffodil Waves
Venue – Fawsley Hall in Daventry
Wedding Dress – Enzoani
Veil – Little Black Dress
Brides Shoes – Jimmy Choo
Bolero – Etsy
Grooms Suit – Anthony Exclusive Formal Wear
Bridesmaids dresses – Coast
Florist – Emma Remington
Cake – Friend
Table Plan – Pretty Pockets
Hair –  Final Touch Huddersfield
Personalised aisle runner – www.confetti.co.uk/
Follow Love My Dress® on Google+