Good morning beauties! NOT LONG NOW! We put our 'out of offices' on tomorrow at 5pm, but don't worry, we still have some content lovingly prepared and scheduled for you that will see you right through until Christmas Eve. This morning though, we're focusing on Lauren and Paul, who tied the knot with a beautifully cosy pub wedding last December at The Stag on The River in Godalming, Surrey.  For this couple it was all about a subtle elegance that blended well with the rustic backdrop of their venue. For Lauren therefore, only a Jenny Packham would do.
"When researching for my dress Jenny Packham was the designer I visualised wearing, her 2011 collection inspired by 1930's Paris blew me away. Therefore my look and the bridesmaids was based around the 1930's and the Great Gatsby (which was being filmed at the time ).  The detail of Eden is nothing but spectacular. The bead work is exceptional, not only on the front but the beautiful back and the adorable capped sleeves. It was heaven to wear.  I purchased my dress from Ellie Sanderson.
My feather shrug was designed by British designer Helen Pollington and inspired by the beading on my Jenny Packham gown."
Photography Copyright (c) 2013, Hannah Mia
"Paul and I met when we were both on holiday in the Algarve, Portugal. It was the last bar of the night where we caught each other's eye and our holiday romance began. When Paul came to see me to say our goodbyes I knew we would see each other again. Paul lived in Newcastle at the time and I was living in Surrey so we did long distance for three years before he finally gave in and relocated to the Sunny South!"
"We bought our first house four months later and decided to get away for a week for both our birthdays. On the eve of my 25th Birthday we walked to a beautiful cocktail bar at the end of the beach where Paul popped the question watching the sunset and sipping Prosecco! We practically ran back to the apartment to tell our friends and families the news before celebrating over a greek supper, some dodgy dancing and plate smashing!
We started planning the wedding as soon as we got home and got married 18 months later."
"Paul is Scottish so wearing a kilt in the summer was not ideal, this is where the winter idea began. I wanted to avoid the traditional reds that you associate with winter as I have never suited red (unlike Paul!) so swayed loosely towards white, green and navy which so happened to coordinate very nicely with Paul's Henderson Clan Kilt.  The Stag is a traditional 16th century hunting pub with a unique style of its own so I tried to keep the decoration rustic and simple to compliment what was already a gorgeous backdrop, with old wine bottles for table numbers and scattered flower arrangements with pheasant feathers."
Lauren wore the fabulous Tilly shoes by designer Rachel Simpson who has been a firm favourite with Love My Dress readers since we started back in 2009!
"I set up a Pinterest board that my bridesmaids could also pin to and Nicola found the golden ticket.  I didn't know much about flowers before wedding planning all I knew was that I wanted Scottish thistles, pods, anemones and nothing pink, now I am obsessed with flowers!
When I met with Bex of Blush Floral Design, she had my pinterest board at the ready and understood my style instantly. The end result was better than I could ever have imagined. I was so in love with my bouquet and wished I could have taken it on honeymoon! My mum kept it alive as long as she could."
"Fortunately for me I recruited some exceptionally creative bridesmaids. Nicola, my sister, is design obsessed and Sarah, my best friend, is addicted to crafts, thankfully both them and my mum were extremely patient with my forever changing ideas (I don't think an event planner would have been so forgiving!).
My bridesmaids dresses were from my favourite shop – Whistles.  They also wore the 'Two of a Kind' hair slides by Glitzy Secrets and earrings by Accessorize and their own feathered shawls by Helen Pollington."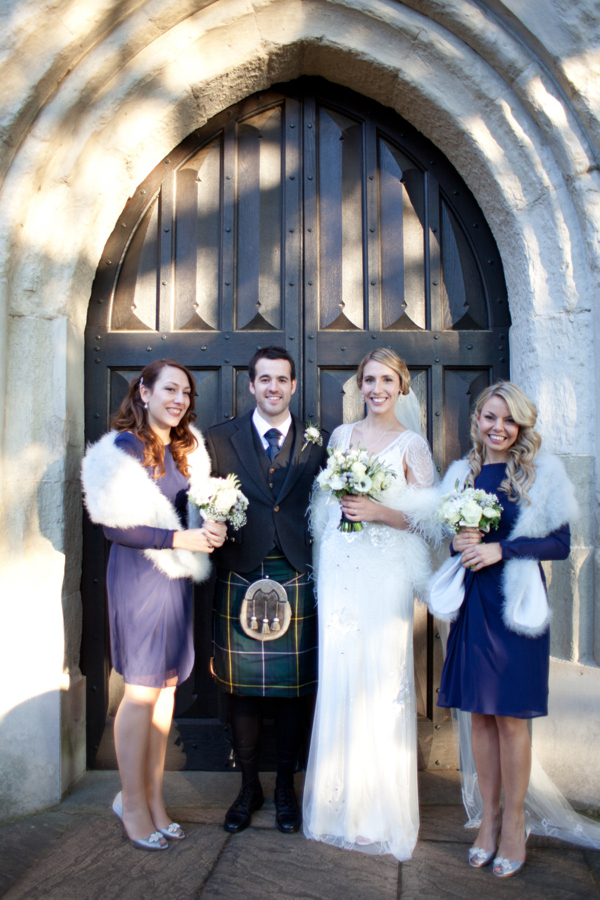 "Our invitations and Save the Dates were inspired by Charlie from The Natural Wedding Company with my sister adding some personal touches. All other stationery including menus and sweet jar labels were designed by my sister. Our table plan was written on a mirror at the Stag by their Manager Lenka."
"Choosing a reception venue was slightly tricky and took us months and months to find somewhere that fitted what we were after, somewhere cosy, romantic, intimate, rustic and laid back. As soon as we stepped in to The Stag on The River, with its open log fires, traditional 16th century oak beams, eclectic arrangement of chairs and immense food we knew it was the place."
"We had a wreath style fruit cake and a traditional single tiered fruit cake both by Marks & Spencer.     Cake Toppers were from Poppy in Pearls and hand painted by my sister the night before the wedding.  My dear friend, Amy Watson, slaved away the day before the wedding to create 72 beautiful 'snow frosted' cupcakes for us. The tiny flags on top were created by my sister."
"Our photographer was the incredible, Hannah Mia. She has pure enthusiasm for photography, weddings, romance and micro pigs?! Ha! I was drawn to her documentary and vintage style instantly. She captures those unique moments with ease, I hardly knew she was there!"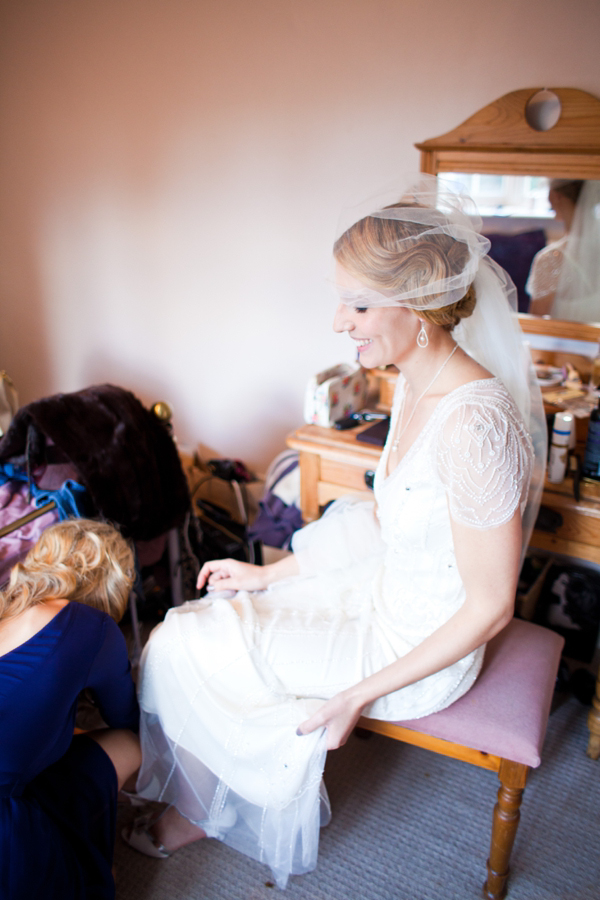 "Our ceremony took place at St Mary's Church in Surrey. We wanted to have the ceremony in our local village in Horsell and St Mary's is a beautiful church sat at the top of a hill, very idyllic!
Our readings included a personal (and emotional) poem written by my best friend Sarah. She wrote a copy in our wedding card that we will be framing in our home any day now."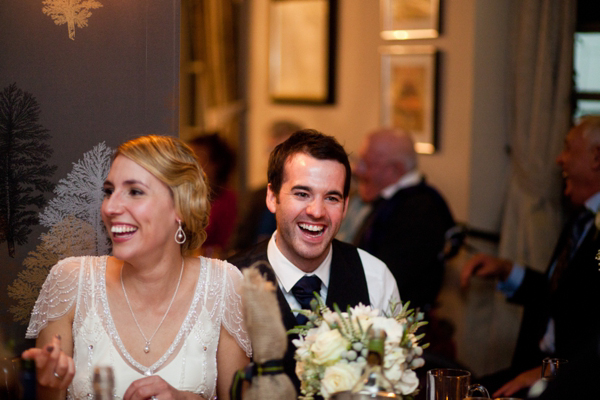 "Our first dance was to 'Better Together' by Jack Johnson. It was the first song we ever listened to together the first night we met in Portugal and remains our favourite tune."
Words of Wedded Wisdom…
"Spend some serious time on Pinterest and reading blogs for inspiration and remember what you both want for the day and let everything fall in to place around that. Lastly, take it all in, it will be over in a second!
What a delightful day and Lauren, you look so incredibly elegant in that wondeful Jenny Packham dress.  Huge congratulations to you and Paul and your recent 1st year anniversary, I do hope you celebrated in style.
Big thanks also to the wonderful photographer that is Hannah Mia for sharing these lovely winter wedding photographs.
Brides, are you planning your own winter wedding, and might you be a Jenny Packham bride? Join the ranks here if so!
With much love,
Annabel
Photographer – Hannah Mia
Venue + Catering – The Stag on The River, Surrey
Wedding Dress – Eden, by Jenny Packham purchased from Ellie Sanderson
Brides Veil + feather shawl – Helen Pollington
Brides Shoes – Tilly by Rachel Simpson   
Bride's accessories – necklace + earrings both Pandora
Grooms Suit – Jacket and Waistcoat by Moss Bros
Bridesmaids – Whistles dresses + hair slides by Glitzy Secrets + earrings by Accessorize + feathered shawls by Helen Pollington
Florist - Blush Floral Design
Cake – Marks & Spencer + cake toppers from Poppy in Pearls
Transport – Grace, at Clover Cars, Surrey
Rings – Tiffany & Co (engagement ring) + Wedding Rings by Number 10
Stationery – The Natural Wedding Company
Follow Love My Dress® on Google+