Morning everyone – did you catch our late afternoon post of yesterday? We're working with Berinmade with the chance for you to win 50 'save the date' cards in a design of your choice, plus we blogged details of how you can save 15% on all orders from the entire wedding stationery range with Berinmade.
This morning's chic winter wedding was inspired by the 'vintage glamour' of TV series like Mad Men and Boardwalk Empire.   Sarah and David who both work in alternative asset management fund raising, tied the knot on 3rd December, 2011 at The George in Rye, East Sussex.  These images which are a mix of digital and gorgeous film photography were shared by the lovely Jodie Chapman, more from whom you can see on Love My Dress here.
"I chose everything for my wedding with 'vintage glamour' in mind.  I love all things classic and timeless, but I love to dress up for something special.  I saw lots of vintage inspired weddings, but I wanted something that was a little more glamorous – I've always loved Marilyn Monroe for example, and we're both big fans of Mad Men and Boardwalk Empire and I think that provided a lot of inspiration too."
Photography Copyright © 2013, Jodie Chapman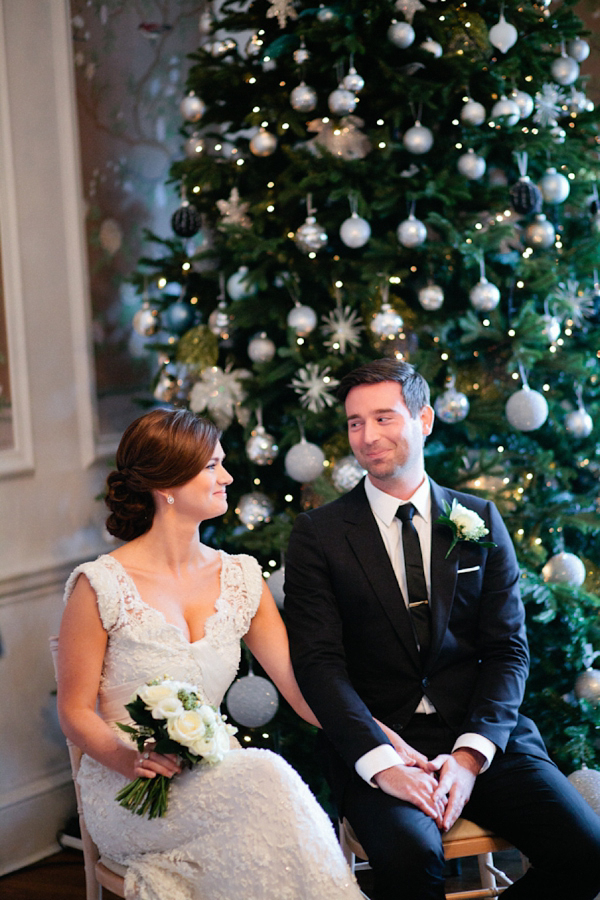 "David and I met in April 2006.  David worked at Allen and Overy at the time and I had just left the very same company.  I went back for a friend's leaving drinks expecting to see the usual suspects and spotted a 'new hottie'.  I made sure I introduced myself to the surprise guest and the rest was history.
We got married at The George in Rye Hotel in East Sussex.  The venue was extremely important to us.  We love to have a weekend away in the UK and we kept that in mind when searching for a venue.  I used the Wedding section of the Mr & Mrs Website as a guide. "
"Rye provided a lovely 'olde England' vibe for our wedding guests to easily explore outside of the wedding.  We privately hired the whole hotel for 24 hours on the Saturday, but most guests joined for us for the Friday as well.  We wanted a 'boutique wedding' where we could have all the people we loved in the same space for the whole time and spoil them as much as we could."
"Many venues were not suitable for a winter wedding (ie, they had dodgy interior design!) – I loved the thought of Rye in the winter and the log fires and wood panels in The George Hotel.
The Ballroom fitted our theme exactly – it was cosy, but dramatic with high ceilings, silk wallpaper and chandeliers.  I still can't think of a better back drop, and I love the olde world aspect of the streets with us in our most glam clothes!"
The couple hired Artcadia to produce their wedding day stationery, including this table plan…
"We spent a long time choosing the invitations as we knew that it would set the tone for the wedding, and in the end we worked with Artcadia. We wanted everyone to know that the wedding would be tasteful, but took our time with the wording of 'the particulars (additional information)' to ensure the tone was personal, light hearted and fun.
We included a hand drawn map of Rye and the RSVP's were little postcards (a link for the weekend away feel).  Friends and Family left messages on a poster that was sitting on an easel to leave messages for us (instead of a guest book).  It now hangs in our hallway."
Our friend drew a funny sketch of us for the front cover of our order of service.  Inside we wrote The Plan in a funny light hearted way, so guests knew what was going on when and to just concentrate on enjoying themselves.  It also contained one of our favourite quotes from the film Juno on the first page, which again helped with the tone of how we felt and how we wanted to celebrate, 'In my opinion the best thing you can do is find a person who loves you for exactly what you are. Good mood, bad mood, ugly, pretty, handsome, what-have-you. The right person is still going to think the sun shines out of your ass. That's the kind of person that's worth sticking with.' (Juno 2007)"
Sarah wore the Demeter gown by designer Elie Saab…
"I fell in love with the workmanship of the dress.  The moment I saw it I knew I would not wear anything as beautiful again in my life.  The detail and cut were timeless.  I love Elle Saab and have seen so many of his catwalk creations.  It was worth going over budget!  Also I have had a daughter since the wedding and I hope that she will wear it on her wedding day."
"As my dress was quite detailed, I wanted to keep my hair simple so chose not to wear a veil.
My earrings were called lavender from Swarovski.  I found them four days before the wedding and was really pleased with them.  At first I wanted pearls, but now I'm pleased that I had the silver contrast to my dress.  My engagement ring is princess cut and my wedding ring is a channel set/eternity type ring.  David had a band.  All from Hatton Gardens."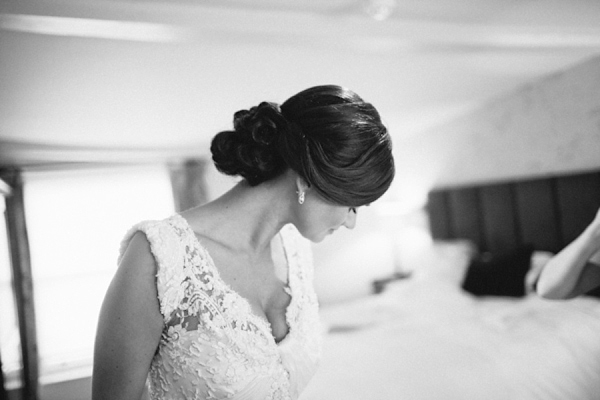 Sarah also wore a super glamorous pair of heels by Jimmy Choo.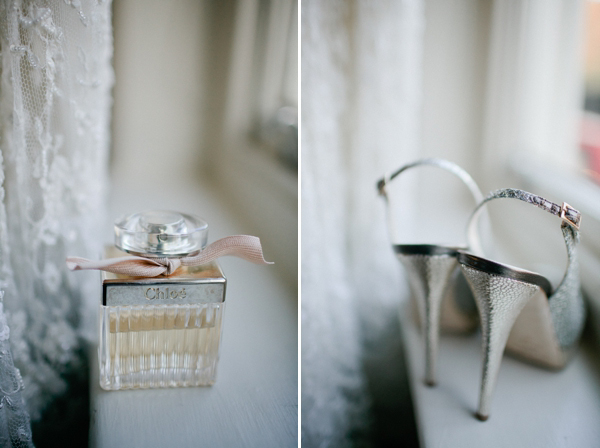 "My Make-up Artist was Kaz Fernado who did a great job with me and my bridesmaids. She is also the loveliest woman ever, and so lovely to have around on the day – good fun and a good support.
We had amazing sunshine and light too – though I think it was about 12 degrees.  I was outside for 45 mins for our photoshoot without a coat!  I had been worried all year as in 2010 Rye was totally cut off due to the snow, but it was a beautiful day."
"My Father walked me down the aisle to a special acoustic version of Florence and the Machine's 'You Got The Love'.  We both love Florence and the Machine and the words are perfect for us.  I still don't know how I managed to make it down the aisle, as I still well-up listening to it now!
In fact, music and Lyrics are really important to us both. Bob Dylan is a favourite and he became the theme of our wedding. David's sister, Caroline, read out Bob Dylan's 'Wedding Song' during our ceremony, and my friend Gabi sang Bob Dylan (Adele) 'To Make You Feel My Love'."  
"Our florist was The Flower House.  I didn't feel that I wanted the flowers to overpower the Ballroom at the George or my dress.  I wanted simple flowers in ivory and cream, however a variation of flowers to show different textures.
My bouquet was a hand tied 'domed' shape bouquet with ivory roses, ranunculus, lisianthus, geulda rose, foliage and snowberries.  The bridesmaids had hand-tied posies with white ranunculus and gypsophila. 
The tables for the reception had silver candelabras with white candles which we placed in the 'gypsophila' wreaths from the aisle."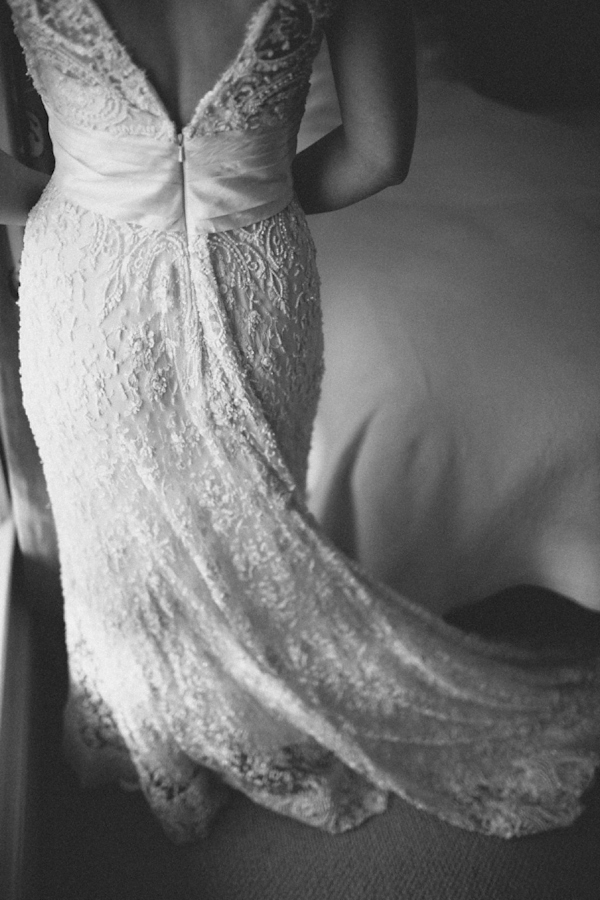 "David wore a Christian Dior suit.  His beloved Grandfather sadly passed away a week before the wedding so he also wore his Grandfather's tie pin.  It was special and really matched his outfit!"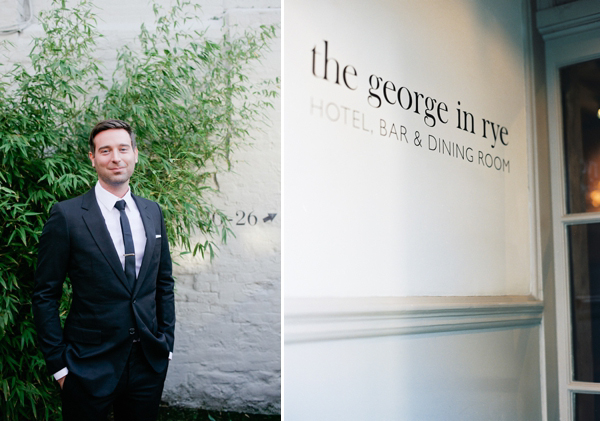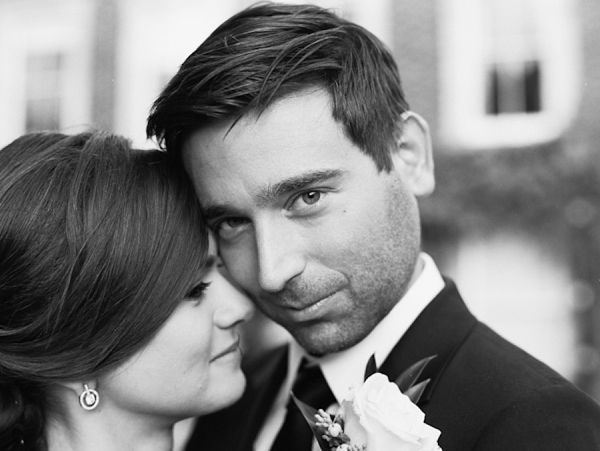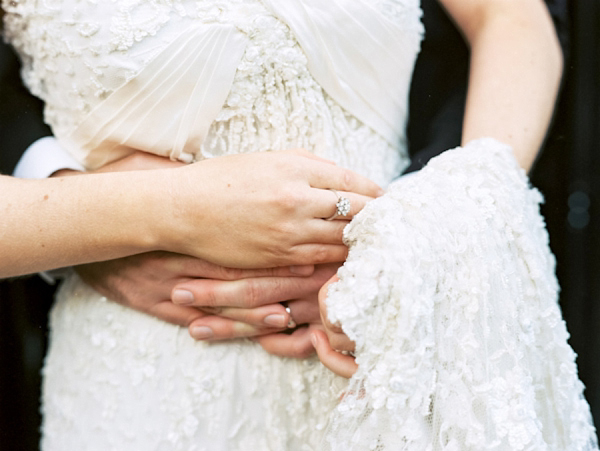 "As favours everyone had a place card at their table which read 'EAT, DRINK & BE MERRY'.  On the other side it told our guests that this could be used in exchange for a cocktail.  We provided our fave cocktails, Espresso Martini's and Manhattan's.  We wanted to provide something that our guests could use and enjoy!"
"The catering provided by The George in Rye was fantastic. We had a selection of canapés, including beetroot cured salmon and horseradish cream and our main course was roast leg of lamb, potato gratin, green beans and mint sauce.  For dessert we had chocolate and almond torte with grappa crème fraîche.
We had chips and bacon butties served as a late night snack (along with the cheese wheel and wedding cake).  Food and drink were really important to us and we knew a hotel/venue like the George would not disappoint!
We had a Marks and Spencer wedding cake and cheese wheel cake (that was very popular with our guests!)"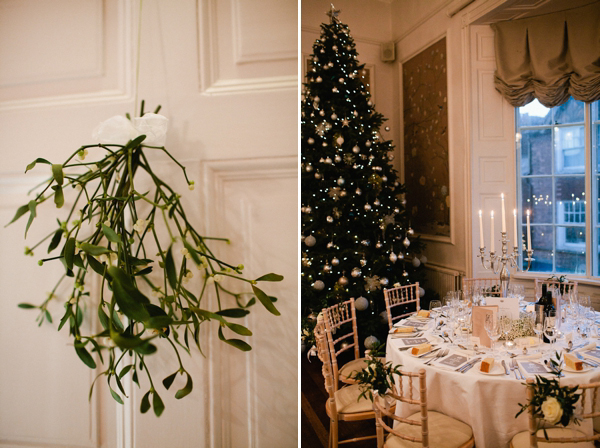 "Probably my favourite moment of the whole day was my Husband's speech.  He is a funny guy (to me at least!)."
"We hired an  amazing DJ from DiskoJuice – our party felt like we were in a club!  Diskojuice also incorporates a saxophonist and bongo player which really helps bring the party spirit and a live element to the wedding.  Guests thought they were in Ibiza, it was really good.  I could not recommend them more.
We also had a lounge singer during the canapé section who sang rat pack classics and really looked the part.  That helped the 'vintage glamour' theme."
Words of Wedded Wisdom…
"All the effort is worth it.  Two years later my weddings day still brings a smile to my face.   I can't wait to share the photos and stories with my daughter.
All in all it is your guests that make the day and our wedding guests certainly knew how to enjoy themselves.
I can honestly say I wouldn't change a thing.  The enjoyment of our guests was the basis of every decision.  And many commented on the atmosphere and how everyone mixed together so well.  I wanted an uncomplicated, luxurious wedding and I think we achieved that.
Finally, Love My Dress was my favourite UK wedding blog to visit when planning."
If you love the vibe and style of this wedding, you can see more chic winter weddings here, and more brides wearling Elie Saab here.
Huge thanks to photographer Jodie Chapman for sharing her work today – please take a moment to view Jodie's website. Jodie has long been one of my favourite photographers as her style is so incredibly elegant – take a look a these other weddings Jodie photographed to see what I mean!
With much love,
Annabel
Photographer – Jodie Chapman
Venue – The George in Rye, East Sussex
Brides Dress – Demeter by Elie Saab
Brides Shoes – Jimmy Choo
Grooms suit – Christian Dior
Bridesmaids – French Grey, Grecian style dresses from French Connection
Florist – The Flower House
Cake – Marks and Spencer
Entertainment – DiskoJuice
Stationery Designer – Artcadia
Make-up Artist – Kaz Fernado
Follow Love My Dress® on Google+