Good morning beautiful ones – I'm so genuinely happy this morning to be sharing the wedding of Lizz and Terry with you all.  The couple won their wedding photography with Fiona Kelly via this competition on Love My Dress® and so it's especially rewarding for me to finally get to see the photographs, knowing that this blog played a role in making them happen.
Both Lizz and Terry work at libraries in Norwich, all be it different ones, so their wedding day took a somewhat literary inspired and vintage theme.  The day itself took place on 17th October, 2013 at Narborough Hall Gardens in Norfolk.  There are so many things I adore about this wedding, but I think Lizz's headpiece by Bohemian Lovestory has to be my very favourite – fabulous Frida Kahlo style!
"We wanted to get married in the Autumn as we love it, so it played a large role in the style of the day, from the silk leaves down the aisle to the felt acorn napkin rings I made. I also wanted a bit of a classic and elegant 50's element to the day which came out in our clothes and music."
Photography Copyright (c) 2013, Fiona Kelly

"Our home is full of knick knacks, art and bits and pieces we have collected through the years from family and charity shops so we really wanted the wedding day to be like a bigger and fancier version of us, and reflect our home and our personalities. We even filled an empty bookcase in the ceremony room with our favourite books, computer games, toys and photos from home.
We used a lot of books in our day as well, both being very bookish people all our lives, from our wedding cake shaped, like a pile of books with a Hobbit quote on the top to the piles of Ladybird books on the tables, along with the plastic dinosaurs, china animals and tiny felt houses that my mum kindly made. We just wanted it all be quite jumbly but also beautiful."
"I did loads of online research into all the places you could get married in Norfolk and Narborough was the only place that seemed right for us; unusual, beautiful but not too grand, homely and comfortable. We didn't want anywhere that was too 'conferency'. It seemed like a bit of a well kept Norfolk secret; we didn't know anyone else who had been married there so it really was 'our' place. When we went to look round we knew it was the one straight away.
We met a couple of years ago through mutual friends, after I spotted him working in the library and did a bit of stalking! We got engaged in autumn 2012; Terry secretly whisked me away to a fancy b&b in Pulham Market and went down on one knee for me. I was so overwhelmed I didn't sleep at all that night but just paced the room, while Terry slept peacefully as all his nerves had gone! We were engaged for just over a year before the wedding."
"I bought a pair of sparkly Red or Dead shoes from Ebay for £20 which I managed to get down the aisle in, I am terrible in heels! I spent the rest of the day in white pumps, again from Ebay for a few pounds.  I was so grateful that I could move around easily and dance, especially as the dress was pretty weighty and long."
'I wore the 'Palma' design by Ronald Joyce, bought from the Wedding Warehouse, Ascot.  To be honest, I found it very very difficult to find a perfect dress. I'm rather busty but then quite slender on the rest of my body. I really struggled to find ANYTHING that suited my shape. I originally was going to go for a 50's tea length dress but realised it made me look short and dumpy (I'm 5' 4"). Then I decided on a mermaid style beaded dress, but it made me look way too 'sexy'! I was getting really depressed about the fact that my body shape clearly did not fit in with designers idea of wedding dress styles.
I finally decided on Palma as it was nicely 50's in shape, quite plain, and seemed to balance out my top half. I was absolutely determined to have a strapless dress for once and managed it with a corset which was actually really comfortable! I had to order the dress in a size 22 to fit my top half, and then we had to have it massively taken in as I had lost some weight but also it was way too big everywhere else! I loved the dress – it even had pockets, though it was a lot heavier than I though it would be to wear all day and quite a lot of fabric to heft around.  The main thing was that I felt like me in my dress."    
"I wanted my bridesmaids dresses to reflect their personalities and individual styles, as they are all really different. It would have been tricky to choose off the peg dresses as they are all very different heights, so we asked local dressmaker Poppy Valentine to make us some 50's dresses to fit each bridesmaid. I also asked each of them to chose their own fabric, so that they could use the dresses afterwards; I didn't want them to not be used again. I wanted them to have fluffy chiffon petticoats and ordered some from ebay.com to come from the States.
They were perfect after I had cut one layer out…too pouffy! The girls all said how pretty they felt, but also like themselves, which was really important to me. They all chose their hair styles, shoes and jewellery themselves too."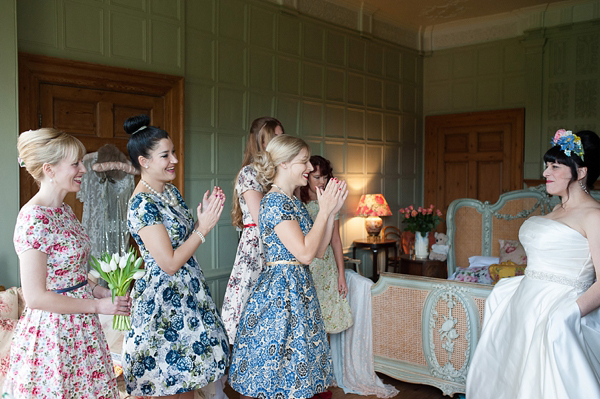 "My excellent friend and florist Ali Calver did my flowers and managed to perfectly match my silk flower headpiece. I wanted quite bright colours but not garish and she did an amazing job. We decided to go with white tulips for the bridesmaids as their dresses were so patterned. It made it all a lot easier to have a florist who was already a mate as she could understand exactly what I wanted."
"I really wanted something different for my hair; something like Alphonse Mucha used in his paintings, and something 50's style. I found Bohemian Lovestory, a small company literally round the corner from where we live in Norwich, and met Hannah who creates these wonderful pieces. I went round to her house and picked out which flowers I wanted, among them snowdrops which remind my mum of me, and forget me nots which are my special flower.  She formed them into my stunning one-off headpiece which I was totally delighted by. It came in a beautiful box and she had also made me a couple of shoeclips to match for free!
After having made my piece Hannah asked if she could use it in a photoshoot…and one of the photos ended up being used on the front cover of a new style magazine here in Norwich! So it was quite odd as all of Norwich had seen it but I had to keep hiding the magazine from Terry! I kept everything else simple."
"Terry's outfit was from Top Man. He bought himself a gold Casio watch for the day, and I gave him an engraved gold pocket watch on the morning of the wedding through his best man Steve, which really finished off his outfit perfectly.
The best men sorted out their outfits themselves, and did brilliantly. The brown bow ties and Next suits were perfect for the look of the day and they all looked so smart. They all said they really enjoyed  dressing up and looking the same, although we had said they could wear whatever they wanted as long as it was smart and they wore bow ties (we had asked all male family members to wear bow ties too)."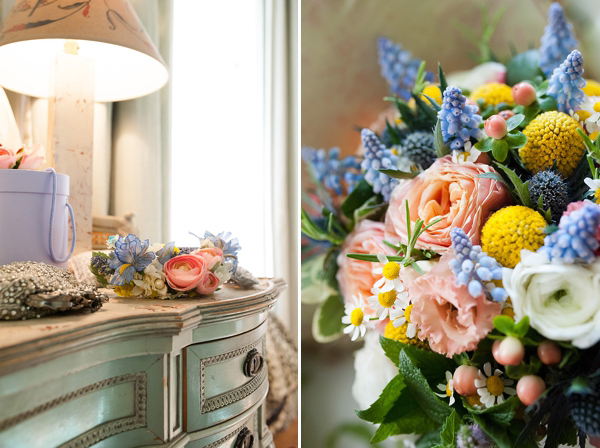 "Our friend Nick made our cake for us. He's an excellent cook and loves to ,but was a little daunted when we asked him if he'd consider making our cake, especially when we told him we'd like it to be a pile of books! However he totally came up trumps with a stunning cake of three different flavours, with special transferred text on there that he ordered online.
It tasted amazing and was exactly how we had pictured it. He chose a couple of our favourite books as the titles for the cakes."
" For dancing after the wedding I was determined to hire DJ 78, who plays vintage music on a pair of gramophones, as well as the more traditional dj decks. I'd seen him play several times before in Norwich and knew he was the absolute best in his field, especially as he plays at various festivals like Bestival and is currently working on John Peel's record collection!
I was so excited to have him play, and he did us proud, wearing his 50's suit and fez, he really looked the part and he even let me dj for a while! He stated playing songs from the 30's and went all the way up to the 90's. It was absolutely perfect; so many people danced who I had never seen dance before! It was a really relaxed atmosphere."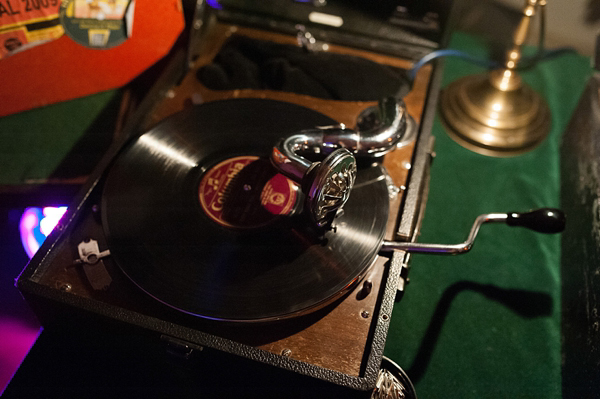 "We were so chuffed to win Fiona Kelly as our photographer via a competition on Love My Dress. She was an absolute star from beginning to end. We had a skype consultation a couple of times and she even set us a sweet little box of treats to say how happy she was to work with us. On the day she was so friendly and warm, she really felt like one of our guests. No one noticed her taking the photos, and apart from the 30 minutes when Terry and I had our private photos taken in the grounds, she was very unnoticeable.
We didn't want any posed photos as we wanted to spend the time with our guests and she managed to get so many amazing photos and capture really special moments, conveying both the fun and the importance of the day, She also wasn't too stylised or kitschy as a lot of the photographers seem to be these days, she just wanted to show the venue, our guests and us in the best way. Plus she really listened and paid attention to what we wanted."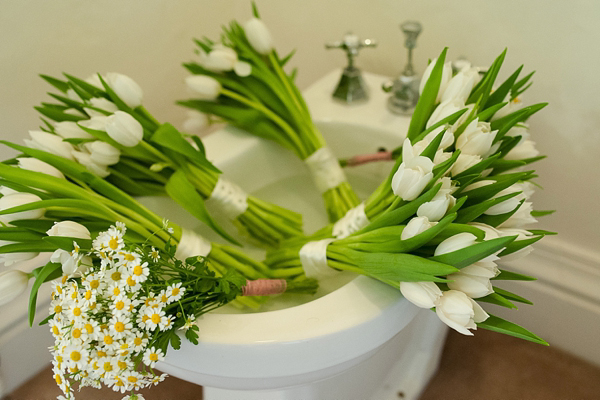 "One of my good friends, Mandy, kindly did the bridesmaids, mine and my mum's hair for us. She used to own her own hair salons and was so brilliant; we had several hair trials before the day always filled with gossip and laughter. I loved that all the bridesmaids had such different looks, to suit them."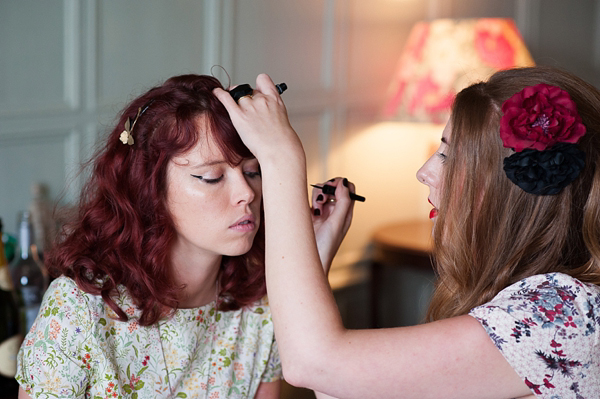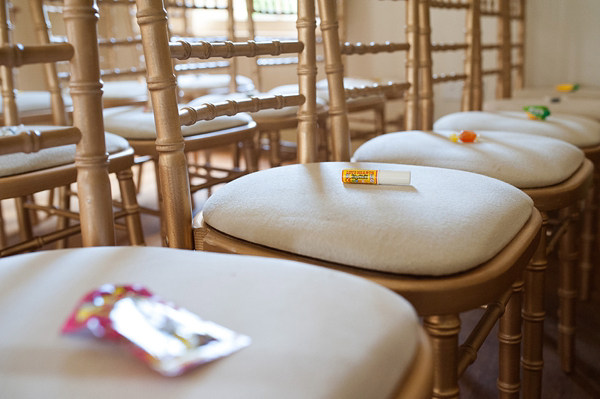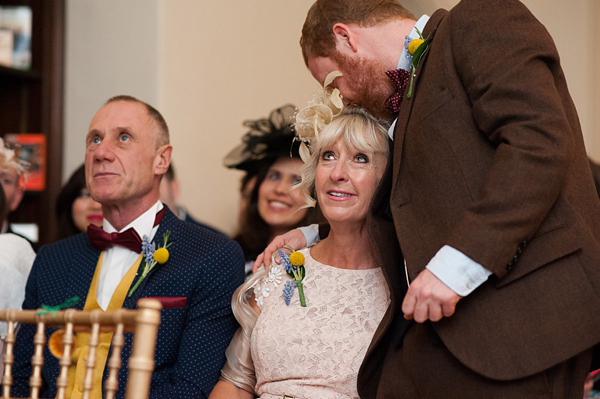 "I wanted something a bit different music wise for our wedding, especially as we are both really into music and I'm an occasional dj. I decided to hire a local Norfolk handbell group, The Windmill Ringers, and they played in the foyer before and after the wedding ceremony. It was a really magical sound and more interesting than the traditional acoustic guitar as it was a real talking point for people as they arrived."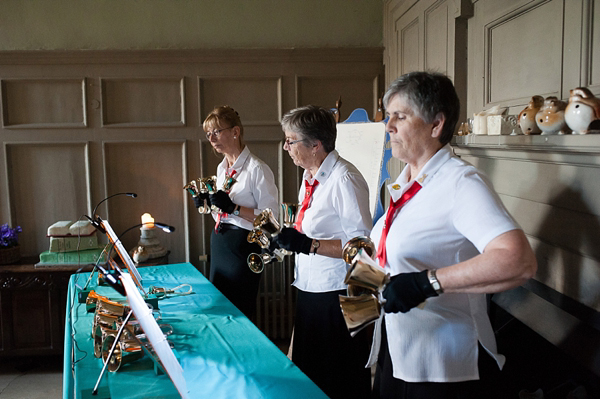 "Before the ceremony, when our guests were sitting waiting for it begin, we held a slideshow of photos Terry and I had put together from our childhood and from our time together thus far. It was accompanied by La Vie en Rose by Louis Armstrong. My mum had kindly put the whole thing together for us."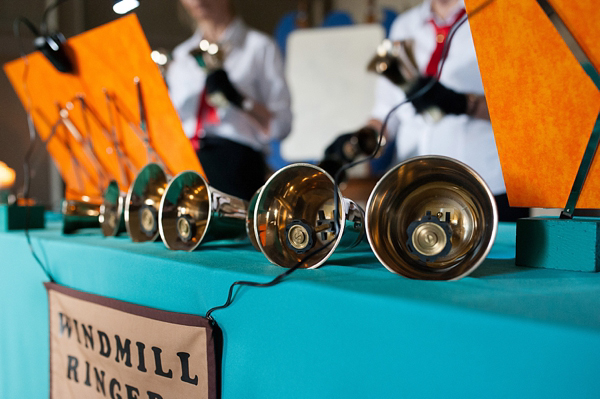 It was important to me to not only walk down part of the aisle on my own, but also to have both my parents give me away; after all, they both made me and helped me to grow into who I am today and I felt it was massively sexist to just have my dad do it. So they walked in after the bridesmaids and stood halfway down the aisle and waited for me, and I came up on my own and they took my arms and took me the rest of the way. It felt very right. 
As a massive music fan it was incredibly difficult to pick a song to walk up the aisle to. I changed my mind a million times but eventually settled on the Love Theme from the film Bladerunner. It's a film we both love and it's about people falling for each other under the most strangest of environments and situations, but deciding to be together anyway. I wanted something personal and unusual and having listened to the soundtrack a lot whilst mucking about at home, when this track came on I felt like my heart was going to burst, I knew it was a good choice. 
We wrote our own vows which were very personal to us. It wouldn't have felt right to read someone else's words and we wanted to be sure we promised the right things."
"One of my favourite parts of the day was seeing Terry when I got up to the top of the aisle; mainly because I hadn't seen him for 24 hours and had missed him!"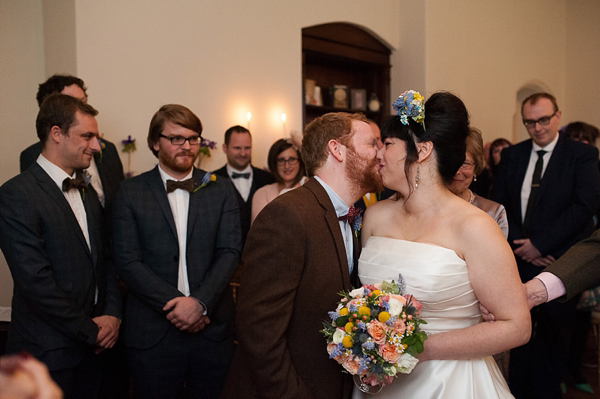 "We asked our mums to do readings for us, as well as a couple of our friends who shared a reading. Terry's mum read a poem by Tolkein about starting an adventure together and not wasting the day. My mum read an extract from Winnie-the-Pooh about being friends even though we are different, and our friends read the lyrics to He'll Make Me Happy, a song from the Muppet Movie. We found it so difficult to find appropriate readings and I spent so much time searching for just the right ones but we got there in the end and hearing these words during the ceremony made me realise how accurate they were to us.
We also asked my brother Felix to play and sing Here, There and Everywhere by The Beatles on the guitar as part of the service which was lovely as it has perfect words, and Terry's a big Beatles fan."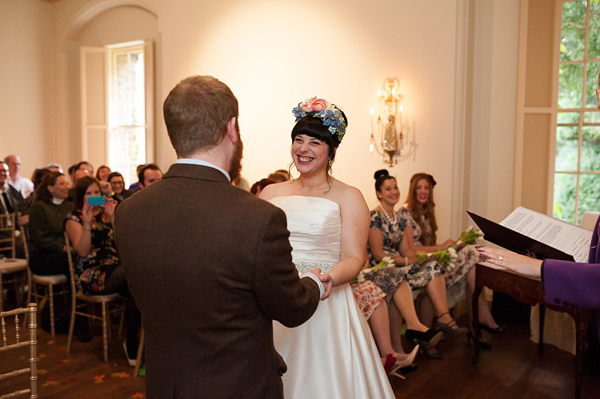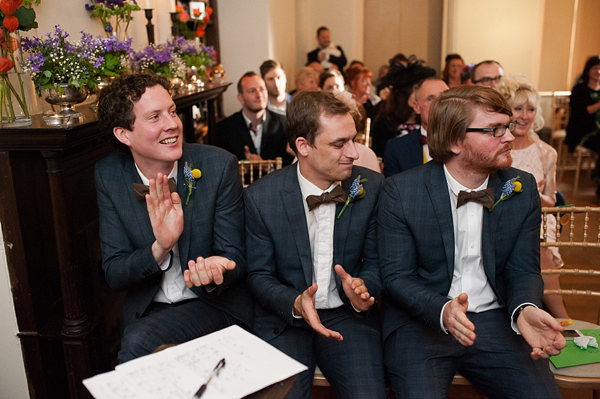 "I sewed a backdrop to create a sort of altar for our ceremony; I chose a lighthouse as it was an image that, for Terry and I, represented our love for each other – always being able to find our way home to be safe."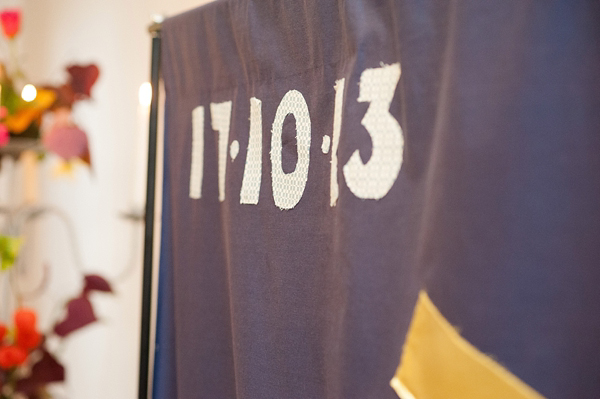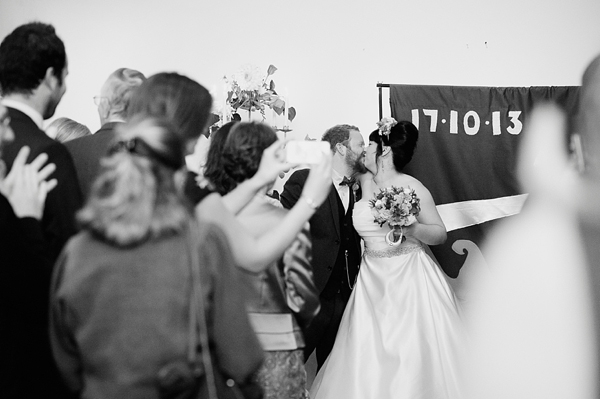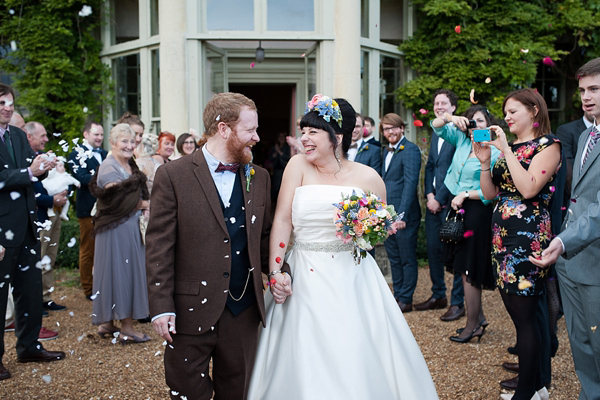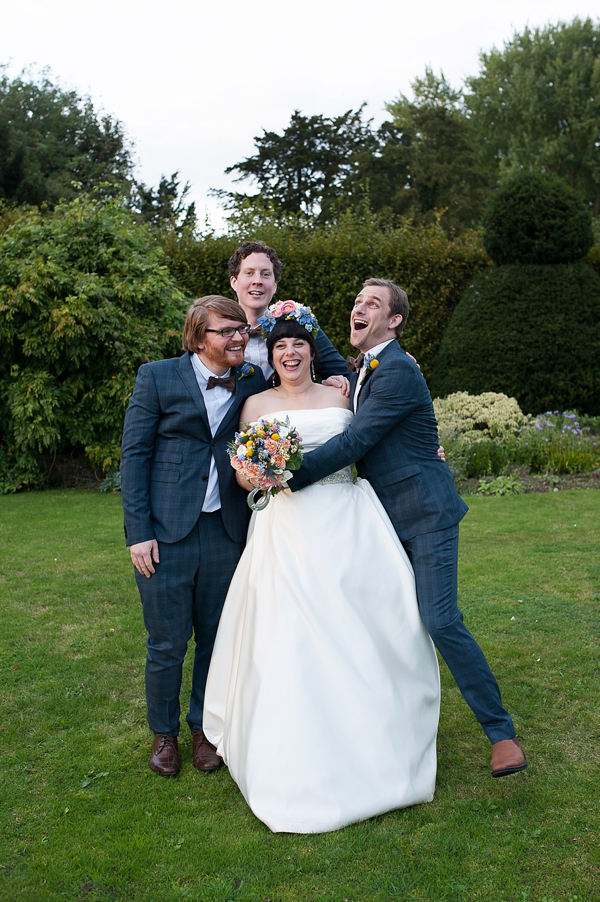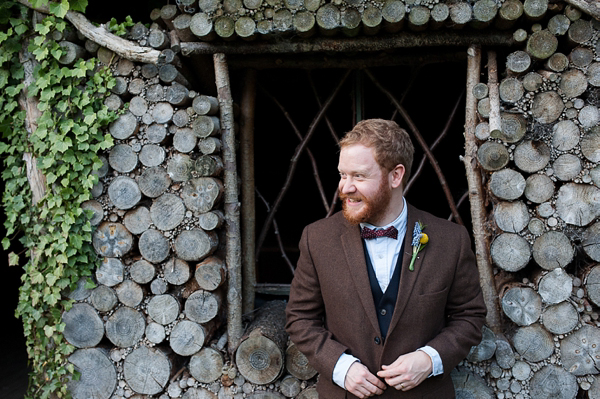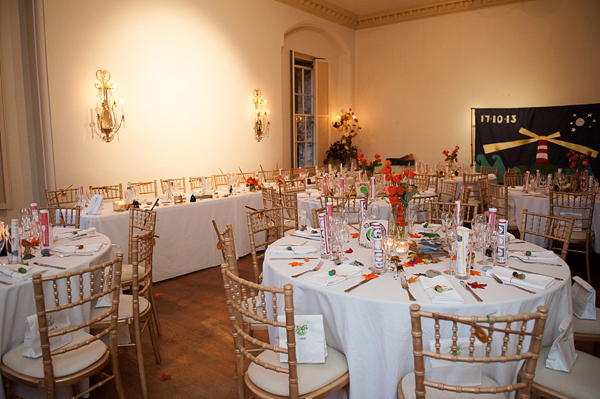 "We borrowed an old tape player from a friend so that our guests could record wedding greetings to us. We brought board games along so people could play together if they didn't want to dance.
I put sweets on the ceremony room chairs for people to enjoy and cinnamon sticks with dried fruit on the back of the chairs to create a lovely autumnal scent. I bought all the decorations from Ebay, there was a lot of job-lot bargains! Narborough did the house flowers for us and it was all candlelit. We got married at 4 so it was just turning dark, and all the fireplaces were lit. Narborough itself is such a pretty venue we didn't have to do too much, just added lots of bits that made it personal for us.
"For name markers Terry and I collected pebbles from a local beach and I painted people's names on them. I bought white sandwich bags and filled them with an assortment of things, mini sparklers, tiny pots of local jam, Top Trumps from the 80's and 90's, bubble blowers, forget me not seeds, bookmarks I had designed and party poppers. They were a great success!    
"We had I Don't Want To Set The World On Fire by The Inkspots for our first dance. It's a beautiful and sweet song but not too mushy, and we both had thought of it as 'our song' for a while so it wasn't hard to choose."
Words of Wedded Wisdom…
Make sure you make your wedding day to celebrate you and your partner, remember you don't have to toe any lines! People have said the best thing about our wedding was that it was so personal so it's definitely worth putting the effort into those little things that people will notice. We just ignored any traditions that we didn't like, like me coming up the aisle alone and then with both parents, and also I did the main after dinner speech as I felt more comfortable than Terry in doing it – although his speech was absolutely perfect! Remember it's your day, and so you are allowed to make it exactly how you want it.
It will be hard work, you will get grumpy, people will call you a bridezilla, you will worry whether it's taking over your life, but it is ALL worth it for that moment when you say 'I do' and you realise that you are the happiest you have ever been because you're marrying your best friend. Saying that, I would have been equally happy with none of the extra stuff; as it turned out, the only things that I actually needed there was our friends, family and Terry."
"Towards the end of the night we snuck away down to the edge of the lake and sat on a couple of chairs on the wooden jetty. The moon was out, we could hear all the fun everyone was having and it was special to have that moment together. This ended up being one of my favourite moments of the day.
I would also say, try to spend as much time with your friends and family as you can during the wedding, the thing that blew us away was having all our most important and favourite people together in one place at one time. Please make the very most of it."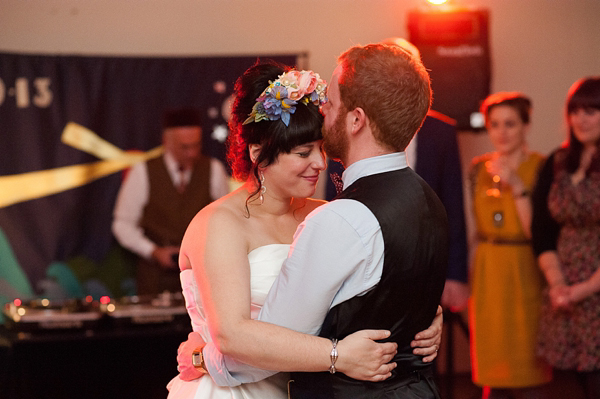 Such a lovely, lovely day, I am so thrilled I got to see and share these beautiful photographs with our readers – and I'm so completely delighted for you both Lizz and Terry that you won that competition!  A very big thank you also to photographer Fiona Kelly for once again sharing her work with Love My Dress®.
I'd love to know if you would be bold enough to wear a statement floral headpiece like Lizz has? And if you love that, you can see more Frida Kahlo style and floral headpieces here – I'm a little obsessed with them so check our Pinterest board for floral crowns out too!
Annabel
Photographer – Fiona Kelly
Venue + Catering – Narborough Hall Gardens in Norfolk
Wedding Dress – Ronald Joyce, bought from the Wedding Warehouse, Ascot
Veil/Headpiece – Bohemian Lovestory
Brides' shoes - Red or Dead shoes from Ebay
Bride's accessories – Earrings, Ebay + great grandmother necklace (circa 1800's)."
Grooms Suit – Top Man
Bridesmaids – Poppy Valentine
Flowergirl Dresses – Tesco
Flowers – Ali Calver
Cake – A friend
Entertainment – DJ 78
Additional Styling –
Rings – Hinds + Suzanne Seed
  
Love My Dress® on Google+