I do love a dress with a full lace sleeve, there is something so incredibly understated and elegant about it.  I also couldn't think of a dress that would have better suited Helen for her outdoor wedding, with subtle vintage influences and colour-pops of blue, than her Charlie Brear gown.  Helen who works in fundraising, and Ben, a Sales Director, chose to tie the knot on 9th August at the beautiful Cotswolds Barn wedding venue, Caswell House.
These beautiful photographs that seem to capture the most special moments, were sent in by Cambridge wedding photographer, Igor Demba (who also happens to shoot weddings anywhere and everywhere in the world).
"Ben is from Manchester, I am from Birmingham and we live in London, so we wanted a location that was somewhere in the middle. I also love the Cotswolds and spent a lot of time here with my family when I was young. The venue was the first we saw and we fell completely in love with it, it's a very special place.  Neither Ben nor I are from religious families, so we wanted a civil ceremony, as opposed to a church. I really wanted to get married outside, and we flirted with the idea of a Tuscan wedding, but we didn't want to forfeit any of our friends or family not being able to come."
Photography Copyright (c) 2013, Igor Demba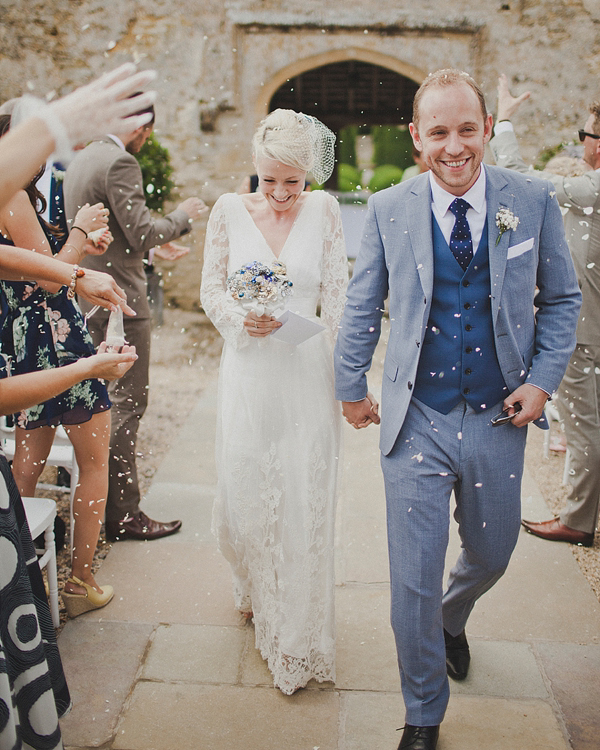 "I would say there was a very subtle hint of vintage inspired style to our wedding – but I think this is more indicative of our current era, with the popular lace/bunting and mix-match themes being so abundant within interior design."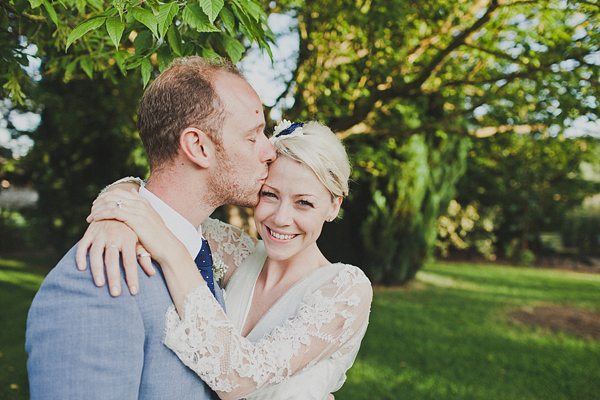 "Ben and I met as friends, whilst Greek Island hopping in Summer 2003. I then bumped into Ben on New Year's Eve in Manchester and as I had recently moved there, we went on a couple of dates. We both had plans to do some longer term travelling over the next few years, so we drifted off on our own separate paths for the next few years.  Then in January 2010, I wished him happy birthday on Facebook, and we discovered that we were both living in South East London and both single.   He then invited me around to his house for dinner to 'catch up' and we have been in love ever since.
In 2012, Ben took me to Temple Folly for my 30th birthday. It is the most beautiful, charming and romantic place I have ever been to. Once we arrived, he ran upstairs and placed candles all over the entire room, he called me upstairs and was down on one knee. I said yes and we both jumped onto the bed giggling.  We got engaged in May 2012 and married in August 2013."
"My dress was by Charlie Brear and it was the first dress I tried on, and what made me love it was the reaction from my sister and best mate. It really suited my shape and complexion, and it was so beautiful. The dress has a low back, which I loved and lace bell sleeves which were in a small way, part of my subconscious wedding dream."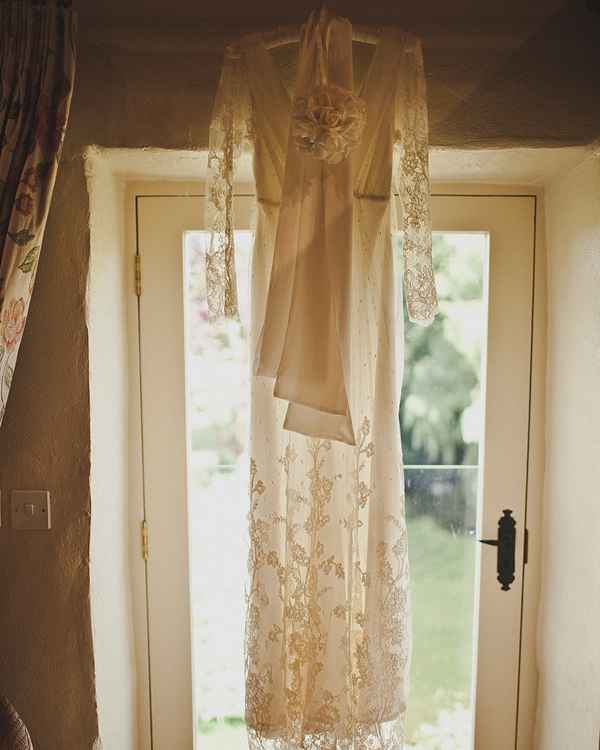 These shoes which look like they cost 10 times the price were from Next.
I love that Helen opted for a brooch bouquet over a traditional wedding bouquet – better still, she made it herself…
"My bouquet was my biggest accessory, I made it from blue, gold and silver brooches and it's one of my favourite things about the photos.  My sister lent me a beautiful blue brooch as my 'something borrowed'.  I wore no other jewellery except some diamond earrings, which were my own."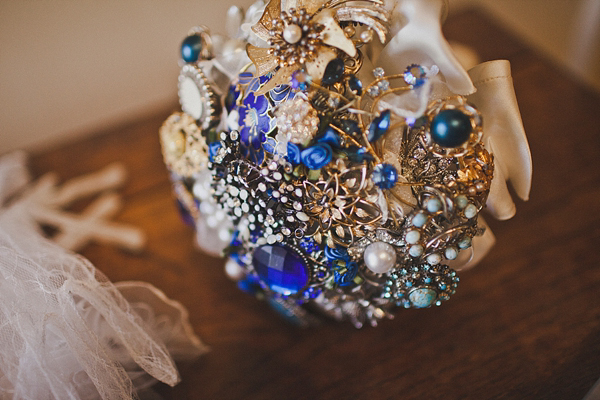 "I love blue, it is my absolute favourite colour and I love every shade, so I wanted there to be a palpable injection of blue."

Helen's maids wore dark blue dresses from Dorothy Perkins and their own shoes in nude, as well as pretty little lace gloves from Ebay.
"We put a lot of organisation and work and planning into making the day special. In the end the best part was seeing all our friends and family having so much fun and enjoying all our little touches."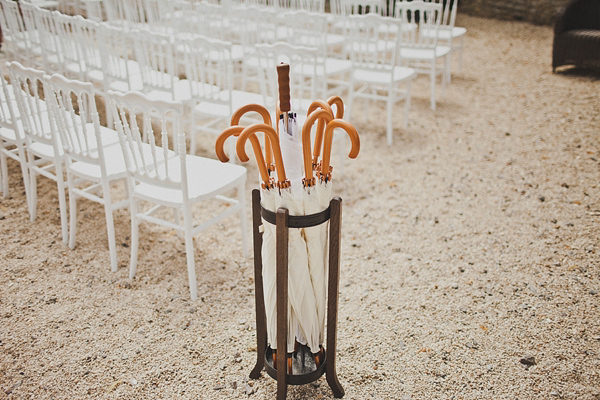 I also love the family DIY effort that was made…
"I bought loads of silk flowers from Country Baskets for decorating the barns and the tables.  My mother in law made all the bunting, and I collected jam jars and coffee jars and decorated them with lace and silk flowers and gypsophilia.
I had a relative to help me with the bridesmaids bouquets, which consisted of gypsophila and cream roses."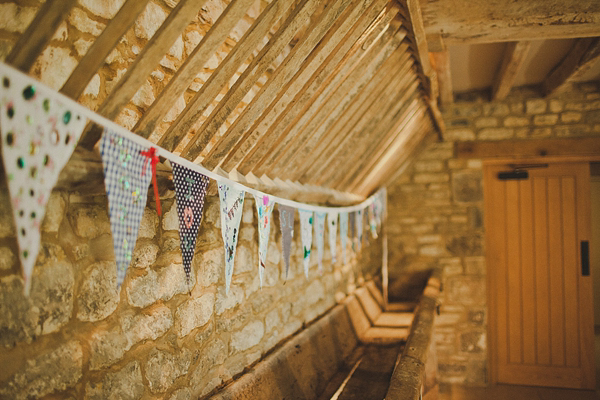 "Our photographer was Igor Demba.  I have been to around 20 weddings in the last few years, and never have I encountered another photographer that had as much personality and panache as Igor. I was recommended to him by another photographer, and I fell in love with his style and his photos. He came to our venue and really hunted down the ultimate picture perfect moments. Looking over the pictures, we can't figure out how he managed to capture such an array of angles without us noticing him running around, but he is just a truly talented professional
Our guests loved him, and we have so far recommended him to three other couples. People told me that the photos are the real investment point, and I can't emphasise that enough. Igor sent us about six sneaky preview pictures while we were on our honeymoon and honestly, they alone were worth what we spent on him. He was a crucial part of our big day."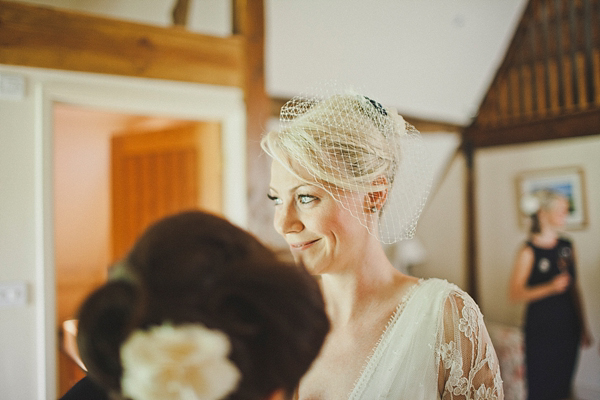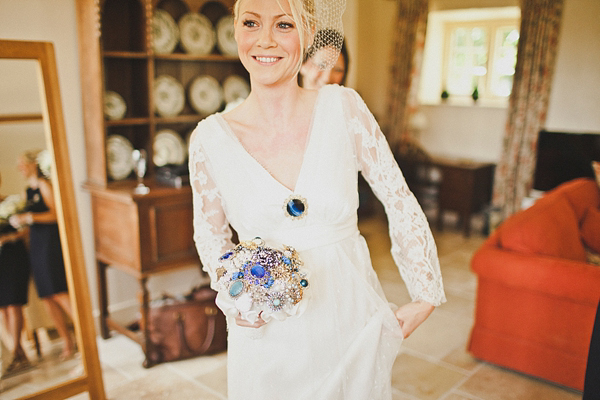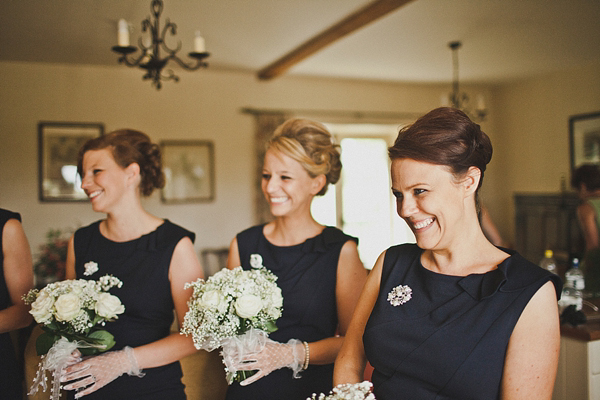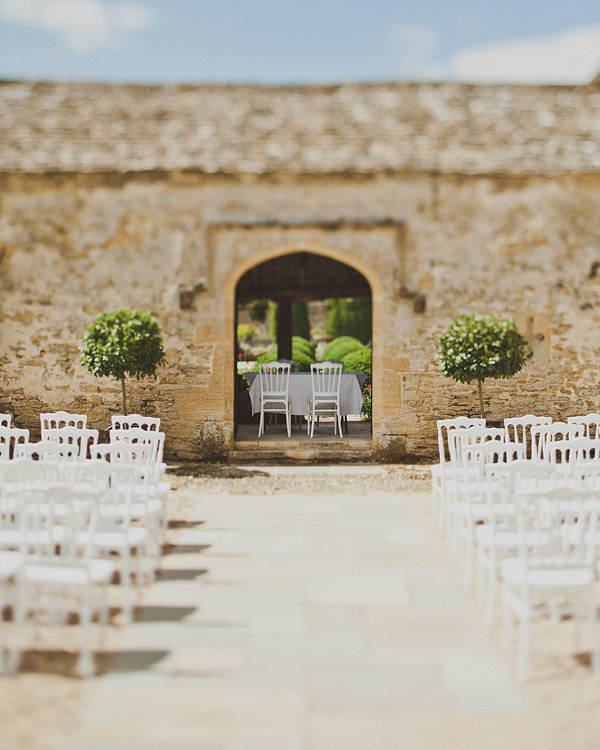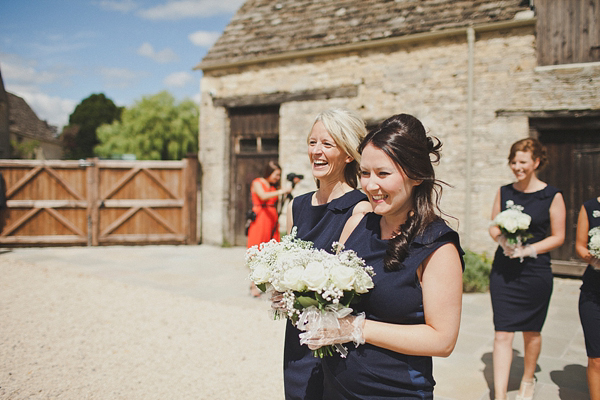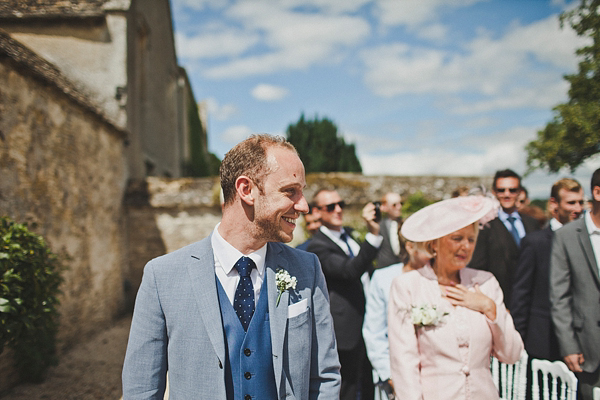 "We wrote our own vows. Bens was funny and mine was a poem.  As readings, we had 'A Lovely Love Story', by Edward Monkton;
'The fierce Dinosaur was trapped inside his cage of ice.
Although it was cold he was happy in there. It was, after all, his cage.
Then along came the Lovely Other Dinosaur.
The Lovely Other Dinosaur melted the Dinosaur's cage with kind words and loving thoughts.
I like this Dinosaur thought the Lovely Other Dinosaur.
Although he is fierce he is also tender and he is funny.
He is also quite clever though I will not tell him this for now.
I like this Lovely Other Dinosaur, thought the Dinosaur.
She is beautiful and she is different and she smells so nice.
She is also a free spirit which is a quality I much admire in a dinosaur.
But he can be so distant and so peculiar at times, thought the Lovely Other Dinosaur.
He is also overly fond of things.
Are all Dinosaurs so overly fond of things?
But her mind skips from here to there so quickly thought the Dinosaur.
She is also uncommonly keen on shopping.
Are all Lovely Other Dinosaurs so uncommonly keen on shopping?
I will forgive his peculiarity and his concern for things, thought the Lovely Other Dinosaur.
For they are part of what makes him a richly charactered individual.
I will forgive her skipping mind and her fondness for shopping, thought the Dinosaur.
For she fills our life with beautiful thoughts and wonderful surprises. Besides,
I am not unkeen on shopping either.
Now the Dinosaur and the Lovely Other Dinosaur are old.
Look at them.
Together they stand on the hill telling each other stories and feeling the warmth of the sun on their backs.
And that, my friends, is how it is with love.
Let us all be Dinosaurs and Lovely Other Dinosaurs together.
For the sun is warm.
And the world is a beautiful place.'
I like Edward Monkton poems. I found the reading quite hard, because I personally find many of them a bit cheesy and not reflective of us. I love this one, and thought it was quite 'us'."
"We got our wedding rings from Abelsons in Manchester, as recommended by one of our best men. They had everything and were able to help us choose the exact rings that we wanted and for really good value. Ben bought and chose my engagement ring from Hatton Gardens, and it is the most beautiful ring I've ever seen. It is a diamond encased by two sapphires, my favourite."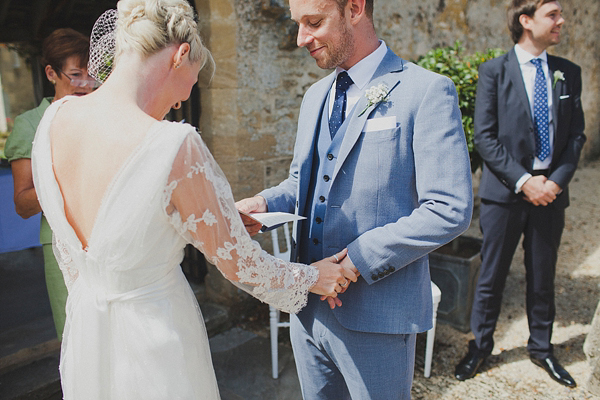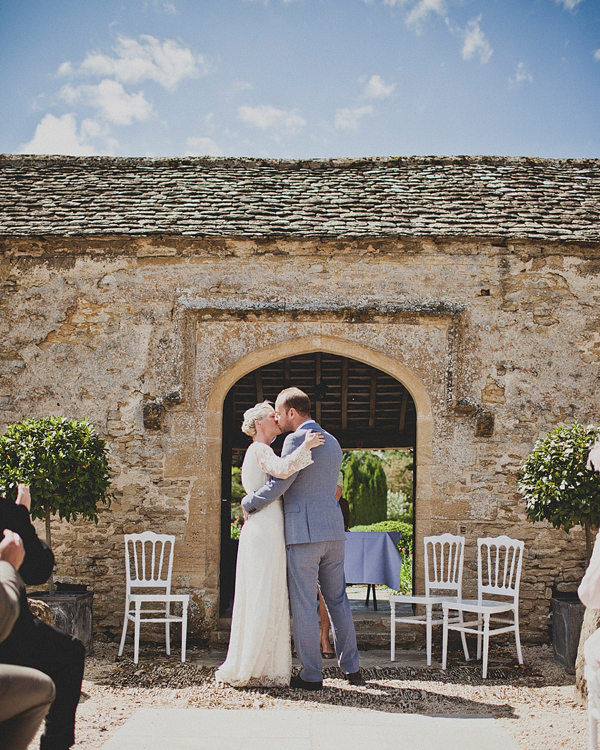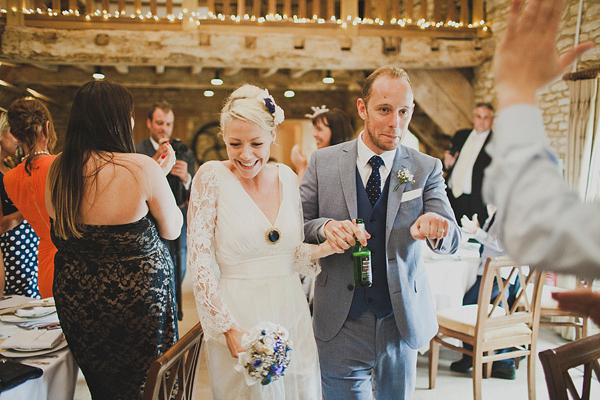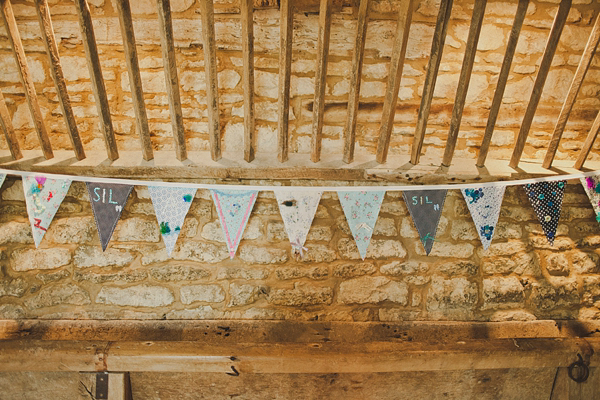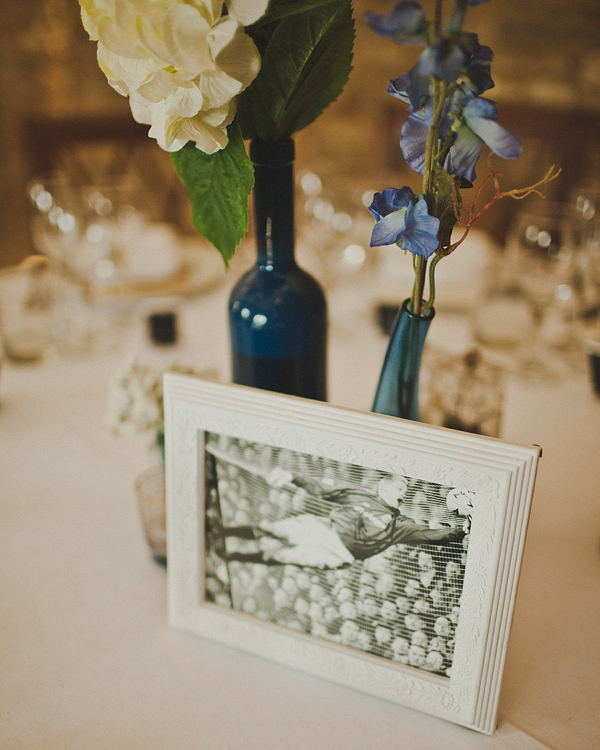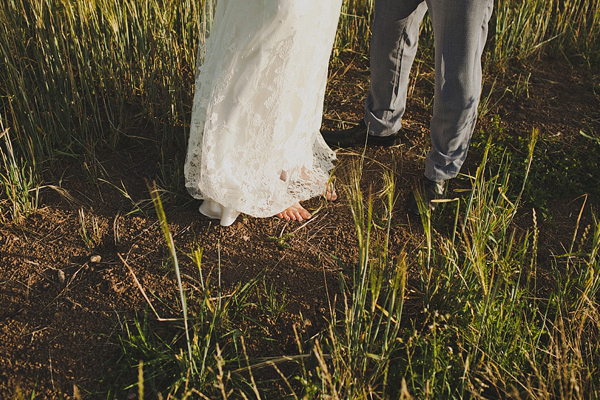 Words of Wedded Wisdom…
"Act on your instincts and love. If you see a venue or a dress or an accessory that you love and you can justify the spend, just get it and tick it off the list. Don't then continue searching and thinking something better might be out there.
Don't worry about talking about it too much or starting your preparations early, it's a short period of your life and it will potentially be the biggest day of your life, so just do it how you want to do it.
Don't worry about it being 'different' or original with the details. Its fine to copy other things you've seen, and make them your own. At the end of the day, all weddings are unique, even if they have similar elements, because the tone of the wedding is generally set by the couple, the friends and the family.
There are small things that maybe I would change, but all very unimportant in the grand scheme of things. Our day was perfect for us.  Overall, enjoy it. It's a one-time thing, it's expensive, and it's celebrating you and your partner being in love. It is amazing!"
Such a beautifully elegant day.  Huge thanks to the clearly very talented photographer Igor Demba and congratulations Helen and Ben!
Brides, if you love Helen's style, please take a moment to visit the Charlie Brear website.  You might also want to browse through our outdoor wedding, barn weddings, DIY weddings, blue and summer wedding pages.
Much love as always,
Annabel
Photographer – Igor Demba
Venue – Caswell House
Wedding Dress – Charlie Brear
Veil – Etsy
Bride's shoes – Next
Bride's accessories – brooch
Grooms Suit – Reiss
Bridesmaids Dresses – Dorothy Perkins dresses + own nude shoes + lace gloves via Ebay
Flowergirl Dresses – Etsy
Flowers – brooch bouquet made by the bride
No cake.  Dessert – ice cream tricycle + Macarons from Ocado
Entertainment – Big Disco 
Additional Styling –
Rings – Abelsons in Manchester
Catering Company – Calcot Kitchens
Stationery – The bride
Hair Stylist – Jon Tivendale
Love My Dress® on Google+