Hello afternoon blog readers, we have something a little different this afternoon. I wanted to feature this wedding to inspire those of you who are looking for a lower budget wedding dress, and to do something really beautiful and unusual with your ceremony florals.  This is also one for all you readers who are looking to create a literary inspired wedding too.
Vicky, who works in the NHS, married BBC producer Ian on 29th June this year at Landguard Manor on the Isle of Wight.  These photographs were sent in by Isle of Wight wedding photographer, Chris Cowley.
"We are both quite traditional so wanted a day to reflect that but without being overly serious. We also both love to read so we made that the starting point of our theme and it snowballed from there. Details like the bell jars were to reflect the feeling of a victorian library."  
Photography Copyright (c) 2013, Chris Cowley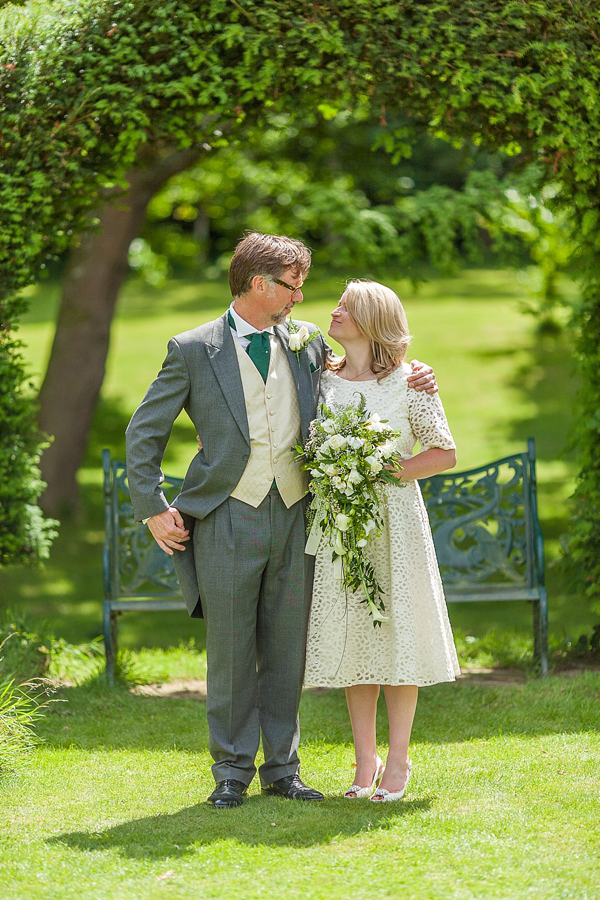 "I'm from the Isle of Wight and we were looking for a location that fitted with our theme. We were actually let down by our first venue who, out of the blue, told us they had double booked us months after they had taken a deposit and confirmed and only three months before the wedding date. However, all the vendors involved in the wedding really rallied round and suggested alternatives they thought we'd like – our florist, JoJo at Blushing Blooms in Ryde, spent an afternoon on the phone setting up appointments. 
In the end, everything happens for a reason because Landguard Manor turned out to be the best possible venue for us and was stunning on the day. They really went the extra mile for us to make sure everything was just as we wanted it, and we're very grateful to them."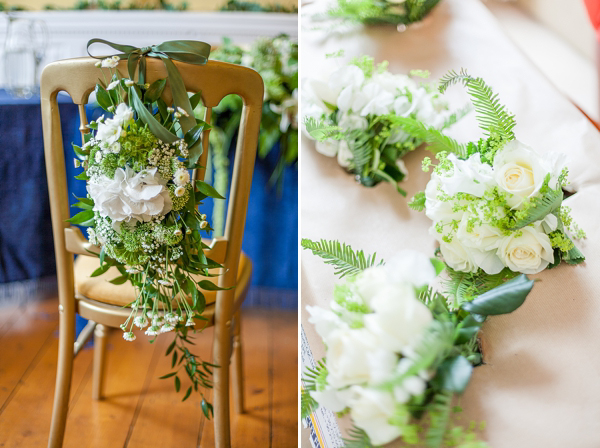 "A friend and I had booked appointments in all the boutiques in Richmond to try on very traditional dresses. We couldn't find a single style that suited me and the very small sample sizes in the shop were very demoralising! We'd just popped into Phase Eight to look at possible dresses for me to wear for a friend's wedding, when we saw a lady, trying on a selection of bridal dresses, and her friends enjoying a glass of wine.
It turns out she had ordered in a selection of dresses to try on and, as we were about the same size, she kindly agreed that I could try on anything afterwards. As it turned out I loved one of the dresses and, because I wanted it with short sleeves, bought it in two different sizes so one could be cut up and made into sleeves. The dresses turned out to be in the sale too so we took two home for under £200.
Needless to say, I bought a lottery ticket on the way home."    
"A seamstress friend of my mother's fitted the sleeves at the last minute (I was still deciding which size to wear) and we picked up the dress in M&S carpark the next day.
It's a style of dress that fits my build quite well. I was also worried to go too formal as, with 8 bridesmaids, there was a risk of going a bit over the top. I tried it on and immediately felt very comfortable in it. At the end of the day, my friend had the deciding say when she said it was the first time I'd looked happy all day.
My shoes were also from Phase Eight."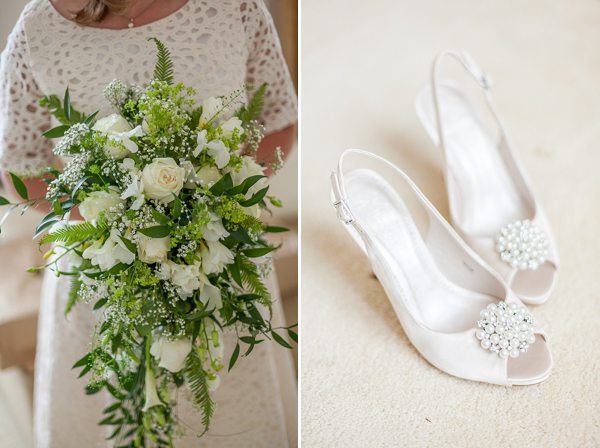 I really love how flowers and foliage have been used to style the backs of these chairs – lovely work from Blushing Blooms in Ryde…
"Ian and I met when we were both living in London, just before Christmas in 2011. We got engaged on holiday in Puglia in Italy eight months after we met in August 2012, and got married the following summer in June 2013."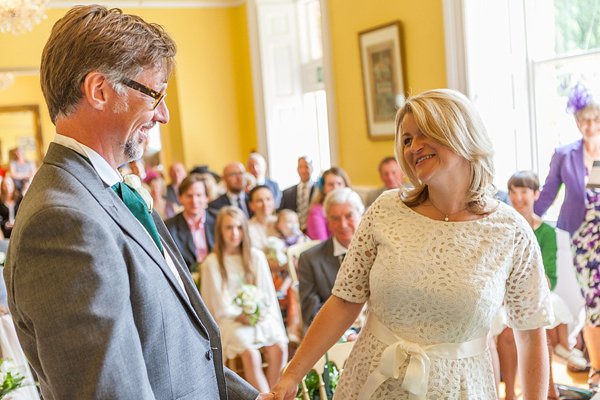 "We bought a cake of cheese which we served with port and a selection of breads and fruit. We bought that from the Cheeseshed online."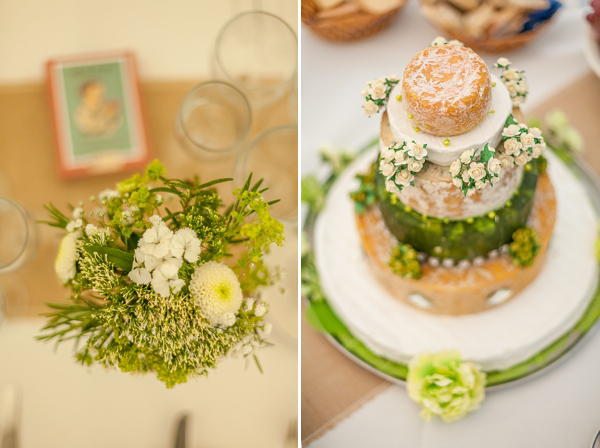 "We were introduced to our florist JoJo, at Blushing Blooms in Ryde, when we asked Chris who he would recommend. Chris sent some photos of a wedding event where she had provided the flowers and we were completed bowled over.
She was also the person who most matched my complete obsession with detail and authenticity. I described the theme to her as a kind of literary victoriana in green and white. Not only did she painstakingly research victorian flowers, she also sourced acres of moss, bought genuine victorian flower stands and put up with taking receipt of so many bell jars and silverware that we had to overflow our storage into the store the next day."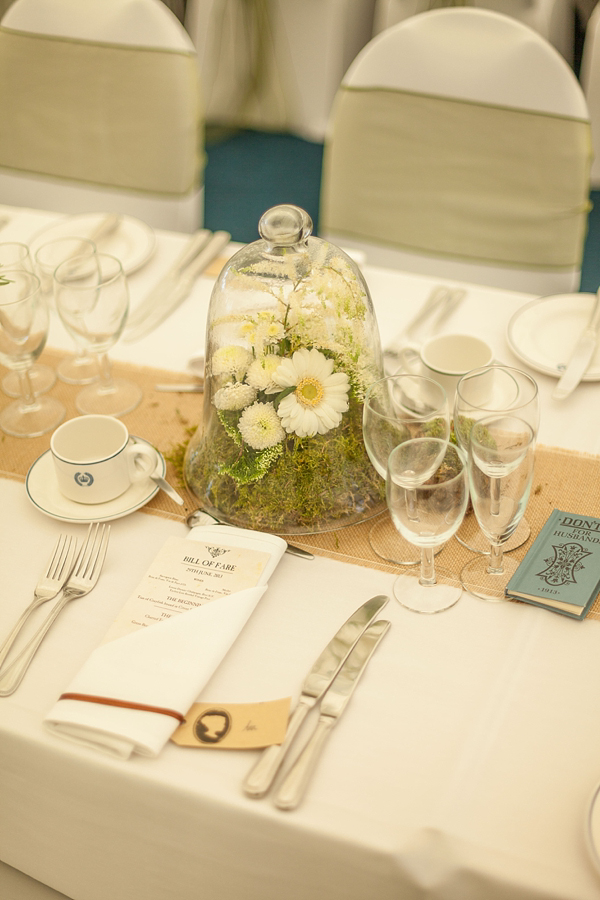 "We collected a lot of books with titles relating to love and marriage, mostly comical, to scatter round the table with the flower decorations. We also bought a lot of vintage games, blow football, happy families, etc to keep the children, and adults, entertained. We named our tables after characters in Jerome K Jerome's Three Men in a Boat. We were particularly lucky as the 29th of June was basically the start of the summer heatwave so were able to roll up the back of the marquee and all the guests could look out over the blue water behind."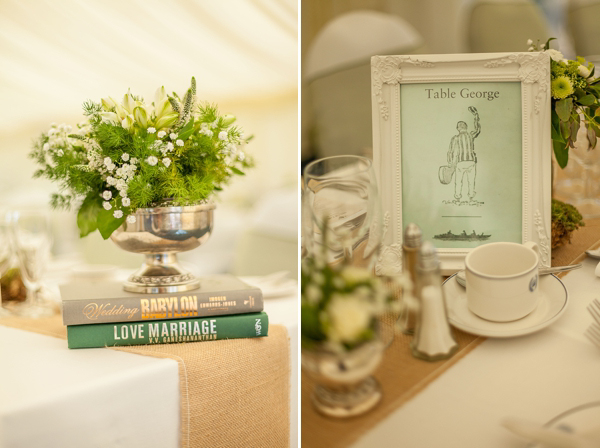 "Chris Cowley was our photographer – he was the first thing in our wedding that we really organised, and the easiest. We knew we wanted a wedding on the Isle of Wight and looking through Island photographers, Chris's work really stood out. All of his pictures in his portfolio really captured the happiness of each couple and their friends and family.
Chris was also prepared to have our first meeting in a pub which we took to be a really good sign. He was actually also responsible for connecting us with our extraordinary florist JoJo, and also with the company that supplied us with the chair decorations."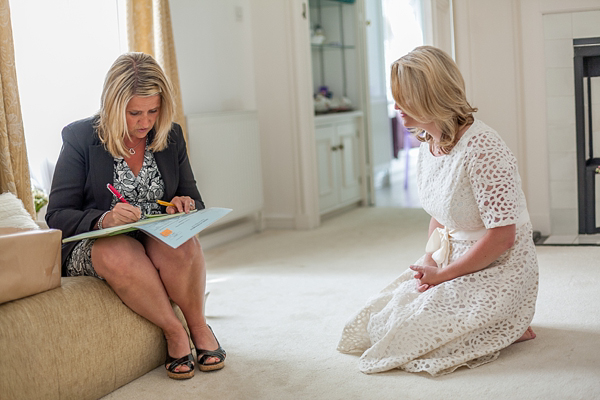 "My sister was my bridesmaid. She wore a Ted Baker dress with the belt replaced to match the groomsmens cravat colour.  The little flowergirls wore dresses from Next,  Monsoon and ASOS."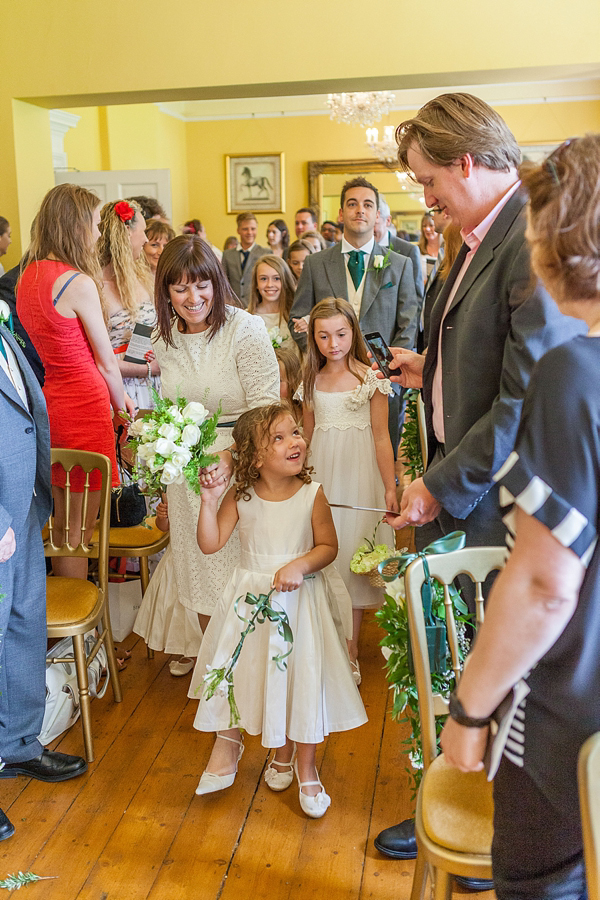 "My step-father, and paralympic Gold Medalist, Andrew Cassell walked me down the aisle."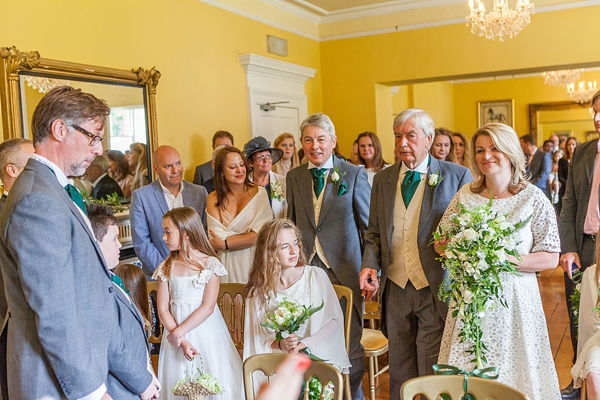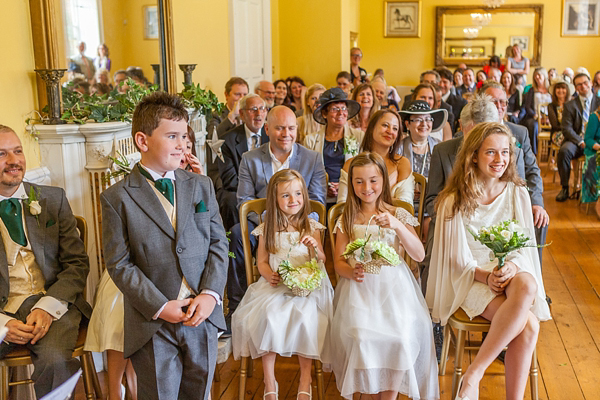 "Our readerings included 'I carry your heart with me' by E.E. Cummings, The Good-Morrow by John Donne, O Tell Me The Truth About Love by WH Auden and an excerpt from The Prophet by Kahil Gibran.  They were four very different readings but all perfect for the day.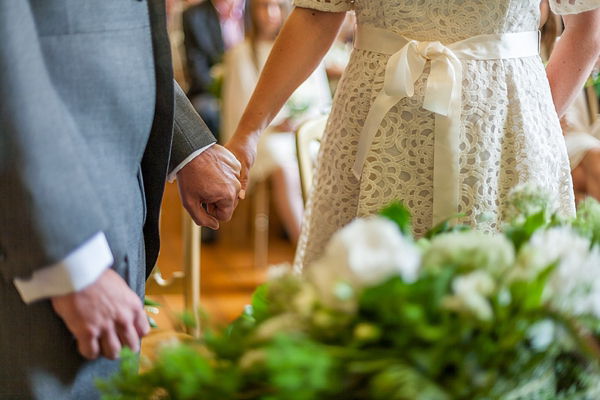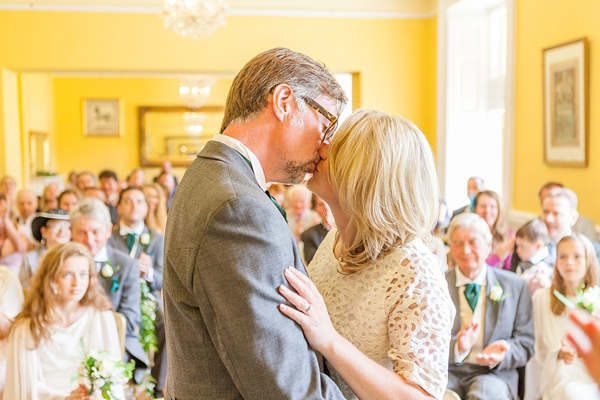 "We had drinks and canapés at Landguard Manor after the service  (the children had sandwiches and jelly). The main reception was at the Royal Corinthian Yacht Club in Cowes and they served an amazing meal."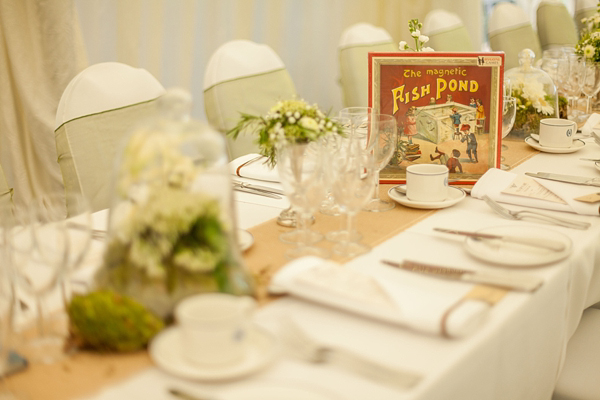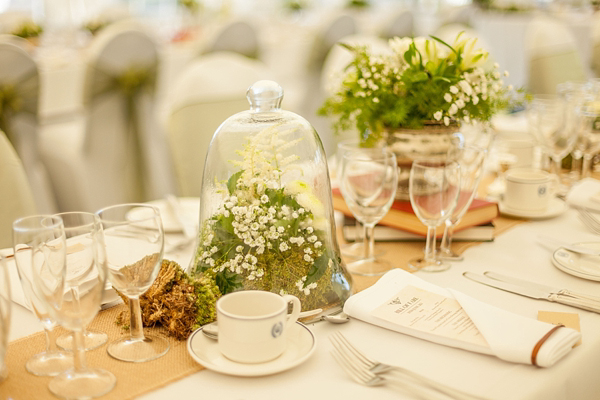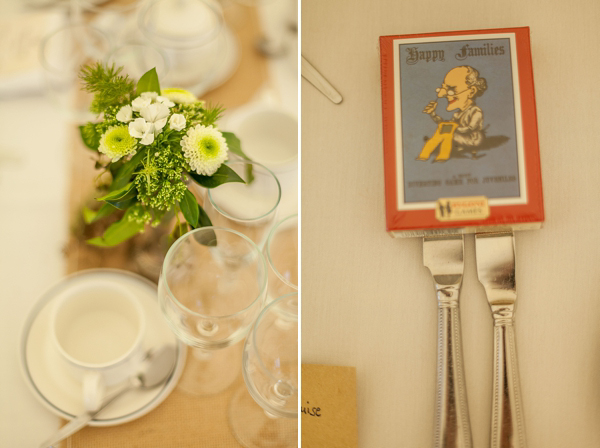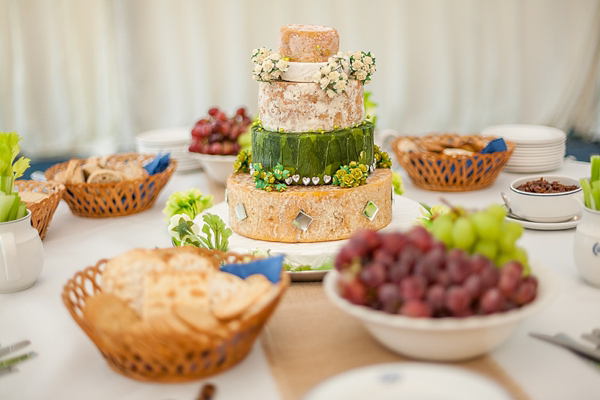 "Every part of the day was amazing. We packed a lot in (we'd also had a hog roast and karaoke the night before and were having a picnic in the park the next day).  We were both very relaxed and had contingency plans for everything but the sun shone throughout so we didn't need to deviate from Plan A for anything. 
Every now and again we would just take the time to look round, in the beautiful settings, and really enjoy seeing all the people we loved, gathered together in one place."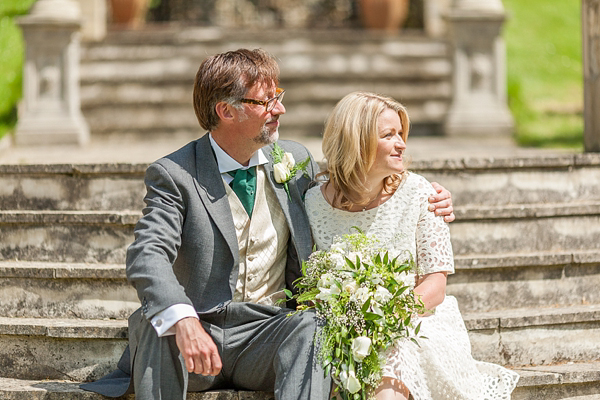 Words of Wedded Wisdom…
"The most important lesson for us was getting our vendors right. We followed recommendations from others and vendors that were really well known to us. We knew their work and their approach so when the time came, we could take a big step back and really trust that they knew what they were doing and that they knew what we wanted.
We were determined to have a very child friendly wedding as so many friends had young children. Every venue bent over backwards to help us and we had an onsite creche at the evening reception. This gave everyone a break (most especially the exhausted parents) and 20 children vanished almost immediately the moment it opened. We had planned that aspect quite thoroughly before as we needed to have the right ratio of registered childcare professionals to children (which was age dependent)."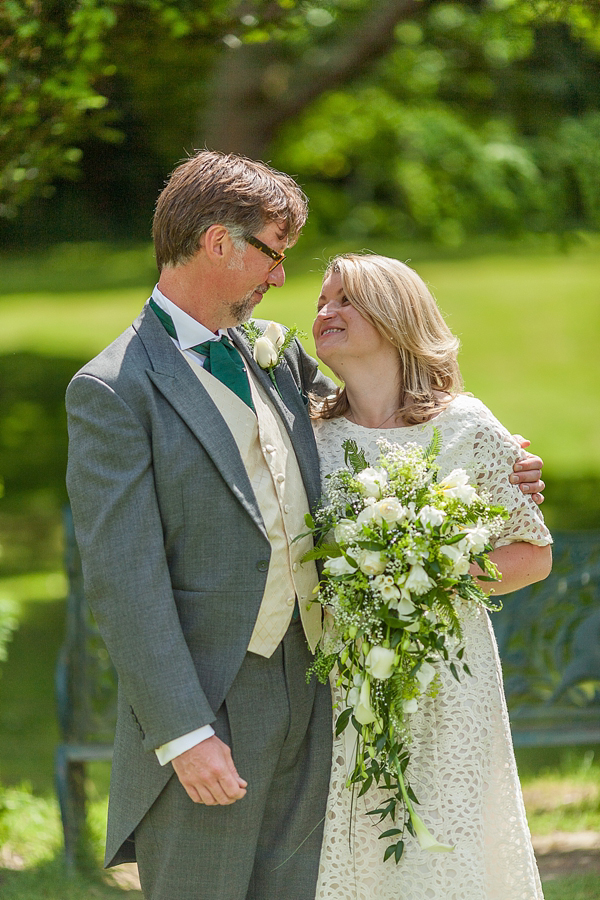 Thanks to Chris Cowley for sharing this wedding today and congratulations to you both Vicky and Ian.
Readers, did you know our very own Franky wore a Phase Eight wedding dress? See more brides wearing Phase Eight here, and see more literary inspired weddings here.
Have a lovely evening all,
Annabel
Photographer – Chris Cowley
Venue – Landguard Manor
Wedding Dress – Phase Eight
Brides' shoes – Phase Eight
Bride's accessories –
Grooms Suit – Moss Bros    
Bridesmaid – Ted Baker
Flowergirl Dresses – Next + Monsoon + ASOS
Flowers – Blushing Blooms in Ryde
Cake – Cheeseshed
Transport – Southern Vectis
Entertainment – IWSO string quartet + Bembridge Barnicles + The Accelerators –
Hair Stylist – K&H Hairdressing in Cowes
Follow Love My Dress® on Google+