Good morning everyone, we've a treat for all you DIY fans toda. Nikki, a speech and language therapist married solicitor Andy on 7th September, 2013 with a beautiful wedding that had lots of pretty DIY and handmade touches that we think you'll love.  I'm completely smitten with Nikki's divine Lucy Marshall headpiece too.
"We didn't really want to have a 'theme' to our wedding, more a style which was simple, relaxed, outdoors and all about bringing together close friends and family.  We loved the idea of a homemade wedding so that it felt unique to us. I suppose natural would best describe the style as we wanted a laid back and most of all fun party to celebrate! We also wanted to keep prices down as we realised the day was all about being with the people we love and we didn't need to spend too much money.
We wanted a big party to share with all of our closest friends and family and that is exactly what we had. The whole day was just so fantastic."
Photograpy Copyright (c) 2013, Rachel Hudson
"We met when we were both 18 and shared the same halls at Sheffield University.  We had been together for about 8 years when Andy surprised me with a proposal in Sri Lanka for new year. We were staying in the most beautiful tea plantation high in the tea hills.
After a long day biking around (and me getting so hungry Andy was too scared to propose!), Andy gave me an 'extra' Christmas present which turned out to be a locket I had been after for a while. Inside he had left a little note which said in Singalese 'marry me'. Ever the romantic when I asked what it said and he told me I blurted out 'no it doesnt!!'"
"Our wedding was based in my hometown of Ormskirk in Lancashire. We really wanted an outdoor, homemade wedding but needed a large space to achieve the dream! My mum was amazing at helping organise and she helped us to find a venue. My best friend Jenny suggested our old guide campsite, Scarisbrick Guide Campsite. As we live in London, my mum and dad went to scout (!) it out and sent us loads of photos. We fell in love with it at once and begged the guide leader to let us hire the place!
Our wedding was their first wedding and so perfect for our style as we didn't like the idea of a formal venue with so many restrictions. We loved the idea of a completely DIY wedding which we could make entirely our own, and also have a late night party with no last orders at the bar!"
 A pretty hand-sewn sign that Nikki made herself
"Looking through a wedding magazine and not finding anything I really loved I suddenly spotted the most beautiful dresses in the tiny horoscope section. After searching around online I discovered my amazing find was designer Jenny Packham, and sadly, more expensive than I could afford. Amazingly after resigning myself to finding another dress designer my best friend Jenny found a sample sale in a bridal shop called Brides Room of Birkdale, very close to my hometown.
I went with my mum and Jenny and after trying on the first dress in the first bridal shop I went to I found the most amazing Jenny Packham dress, and it had around 75% off, wow. The dress was a few sizes too big and so I had to wait a while and have a few fittings until I could see the final results. The ladies at the bridal shop were absolutely fantastic and did such an amazing job taking the dress in, which included taking off and sewing back on, by hand, hundreds of sequins!"
"Perusing so many wedding blogs I fell in love with a bridal headpiece by Jenny Packham. By coincidence the bridal shop where I bought my dress had the same headpiece to hire. However when I tried it on, it just wasn't me and I kept seeing it on a lot of blogs so it didn't feel unique anymore. However, the shop also had some beautiful and unusual headpieces, including this exquisite design called Stella by Lucy Marshall. 
When I tried my headpiece on I fell in love with it but was worried it might be too OTT! My mum and the ladies in the shop persuaded me to wear it and I'm so glad I did – I think I got more compliments about the headpiece than my actual dress! Plus the shop let me hire it for free!"
"I don't wear a lot of jewellery so I kept it to a minimum. I wore my beautiful engagement locket that Andy proposed to me with.  Wearing a watch meant I had a not too pretty tan mark and so as a surprise Andy ordered and had delivered the most amazing corsage on a beautiful pearl cuff to cover up the tan lines."
"Andy, my mum and I made the animal table plans from vintage drawings and painted photo frames I picked up from charity shops. We actually had a disaster the day before the wedding as the frames were hung up from the marquee walls."
"Once the rain started a few of them became very wet and we quickly had to make some new ones! Luckily on the day we moved them to a hessian covered table which actually looked better than on the wall!"
Andy and I made the table settings from luggage tags and Dymo tape which were tied around bright striped napkins from Ikea. We stamped the date of our wedding on the back of each tag."
"We were so lucky with our venue, as it isn't an official wedding venue (we were the first and currently only people to get married there!) which meant we had free rein, as long as no one drove on the grass and we cleared up!  We tried to source things as locally as possible and found an amazing marquee company, Birchwood Marquees just down the road who my dad worked one summer when he was a lad! Roger from Birchwood marquees came to look at the field after I pestered him via email, sending him numerous photos of marquees to 'check' they were the same as his! We went for a traditional canvas marquee with no lining so it looked simple and natural. Roger was brilliant and even managed to source the wooden folding chairs we wanted, which are very hard to find in the land of gold function wedding chairs of Liverpool!"
"I have been in love with festoon lights forever and thought Roger only had fairy lights. Chatting one day Roger mentioned they were replacing their old festoon lights with fab new fairies. My ears immediately pricked up and Roger agreed to dig out the old festoons especially for us! I think he thought we were quite mad requesting old wooden chairs and lights instead of modern, clean furniture and new lights! 
Our good friends Izzy and Dan got married a couple of years ago and made hundreds of metres of fabulous mix and match fabric bunting. We borrowed a box and hung bunting all over the marquee and tunnel. For other decorations the list is quite endless! My dad made the most AMAZING bar from old pallets. We named it Winston's Bar after our cat who obviously wasnt present on the day!
"For the bridesmaids dresses we decided on casual, pretty summer dresses that the girls could get some more wear out of! We found the beautiful pale pink lace dresses from Dorothy Perkins.
On the morning of the wedding we all stepped outside with our hairdresser Katy and snipped a few of my mums wild flowers for the bridesmaids hair! Caroline had the most amazing blue cornflowers in her hair and Jenny had white cow parsley type flowers.
The girls both chose their own accessories apart from their initial friendship bracelets I gave them on the morning of the wedding, from Daisy London."
"I love flowers but didn't want to spend a fortune. We loved the idea of having wild flowers for a natural look. A few months before my mum and Andy's mum took over parts of their gardens to plant lots of wild flowers. A few days before the wedding Andy's mum cut hundreds of flowers and transported them up north all the way from sussex.
We gathered more flowers from my mum and friends gardens. The day before the wedding Andy's mum spent the whole day arranging all the flowers into jam jars, milk bottles and button holes. She also made my amazing bouquet and matching bouquets for the bridesmaids. She did such a fantastic job the flowers looked beautiful and received so much love! Everyone couldn't believe they were all from our gardens."
"My mum made crochet bunting to decorate the bar and she collected hundreds of jam jars which we decorated at a house party one night. The ones made later in the night might have been discarded…!   During the jam jar party we also enlisted our family friends in sign making from bits of old fence. This might explain some of the random sign names that were painted later on in the night!"
"I really wasn't keen on a lot of wedding invitations I saw however we always knew we wanted to make our own stationery.  I kept my eyes peeled on Pinterest blogs and came up with a combination of ideas to make our own unique stationery. For the save the dates we used luggage tags which we backed in Liberty paper with a short message I typed up on our vintage typewrite. Andy worked his muscles stamping out lots of 'save the dates' on the other side and we then tied a balloon to the tag which we wrote our wedding date on.
I designed our invites on our laptop and scanned in a map I drew. We printed them all out at home in several stages! We used recycled brown card from Eco Craft, with white paper for the inside which I ripped around the edges. We then tied both parts together with brown garden string and sent them in lovely recycled hairy manilla brown envelopes."
"I really love homemade, rustic looking cakes. One of my close friends, Fliss, is an amazing baker who very kindly made our fabulous cake. I found lots of lovely cakes on Pinterest but fell in love with an aqua cake with gold leaf and rough icing. Fliss made the most amazing looking and scrumptious victoria sponge cake ever!  
We topped it with some mini bunting I sewed and embroidered 'hitched' onto. My dad made a stand out of a log which was originally ear marked for the fire at home but I managed to rescue it! My mum and dad's friends made the cake trolley for their 25th wedding anniversary and very kindly lent it to us for our day."
"We both absoluetely love photography and felt this was something we really wanted to get right. Having looked at lots of beautiful wedding photographs on blogs such as Love My Dress, we both fell in love with the relaxed style of Rachel Hudson's photographs. I sent her an email straight away, dreading the response as our wedding was so soon! Luckily Rachel had a cancellation and was free. As soon as we met Rachel we knew she was the one. She is the most friendly, kind and talented lady and we were absolutely blown away by her photographs!
We decided to go for an engagement shoot before the actual day, which I was orignially a bit apprehensive about as I've always thought they were a bit cheesy! Despite this Rachel made us both feel completely at ease and patiently guided us into some great shots. Having the practice shoot meant we were both really calm on the big day and loved having our wedding photos taken."
"Not being a heel wearer and going for the hippie wedding vibe I decided very early on I would be in flats. I'm not the biggest shoe fan so I didnt put much thought into shoes which was probably a bit of a mistake!
A few weeks before the wedding and a visit to the shops reminded me that in August they start putting out all their autumn-winter collections, oops! Luckily I managed to find some posh flip flops from Dune which were perfect and not too sequiny that they would catch and pull my dress. And I can reuse them!"
"I wanted to wear my hair down and have a relaxed style rather than a perfect up do as that wouldn't be very me. My old next door neighbour, Katy, did an amazing job of keeping my hair wavy and also styled my mums and the bridesmaids hair. The bridesmaids each had flowers in their hair, Jenny had a side fish tail plait and Caroline had a beautiful twisted side bun. 
Katy introduced me and my mum to Becky her make-up artist partner in crime. Becky was brilliant and gave us a natural yet done up version of ourselves and super natural effect lashes! Katy and Becky are just in the process of setting up their wedding business at Spa 92."
"My dad gave me away. Getting married in a marquee (plan B due to the weather!) we had to sneak in the back entrance. Everyone was packed in standing around the tunnel area where we made the 'altar'. As they were all looking forward craning their necks to see us no one noticed our sneaky entrance and we had to push our way through until everyone realised and the sea of people parted to let us through! It was such a funny moment sneaking and squeezing through the closed marquee door then pushing past our friends and family, holding onto my dads arm!"
"We didn't want the boys to be too formal but also still wanted them to look smart! Andy chose a grey, light tweedy style suit from Suit Supply. All the boys wore the same maroon wool ties from Charles Tyrwhitt and Andy wore red braces."
"For both of us, our favourite part of the day was the ceremony. It was so intimate and completely our own. I don't think there would be anything we would do differently, it was the perfect day."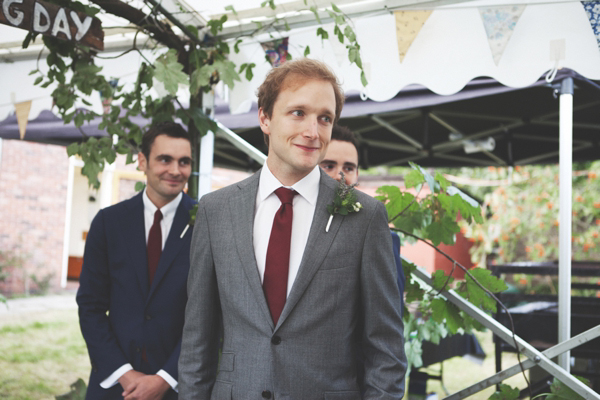 "Our wedding rings are from a shop called Berganza in London, where my engagement ring is also from. Both my engagement and wedding rings are antique, dating from around 1920-30. I chose my wedding ring after seeing a beautiful engraved ring online which we were unable to buy. We went in to Berganza just to have a look and they happened to have almost the exact one I had seen online, and it fitted perfectly! Andy decided to have a wedding band made in platinum from Berganza."
"Not being religious, yet still wanting a very personal wedding ceremony, we were SO lucky to have our amazing family friend, Angela, conduct the ceremony on the day (we actually did the legal part a couple of days before at our local registry office). Angela is a registrar in Warrington and has known me since I was a little girl. Her service was unbelievable. Being not too good at expressing our emotions in front of lots of people I think Angela nearly dispaired of us before the wedding when we went round to plan the ceremony! Luckily for us Angela wrote the most beautiful, moving, funny and completely 'Nikki and Andy' ceremony ever.
One minute everyone was on the verge of tears and the next crying their eyes out with laughter. At one point Andy and I had to turn around and face everyone as Angela had everyone saluting and saying a Scouts-esque promise to us! After the ceremony we received so many compliments about Angela and she received several requests for weddings and naming ceremonies!"
"We scoured the internet and our minds for something that was sentimental, not too soppy and fitted us. We looked at so many readings before – bingo, we found the perfect one. It was called 'Falling in love is like owning a dog'. Both being animal mad this reading was completely us. Our lovely friend Anna did a fantastic job of the reading even through a very loud rain shower!"
"We didnt provide favours as we just didnt have the time in the end, and I think they often might not get used. Instead we decided on a free bar. This was quite important to us as everyone gave so much towards our wedding and we wanted everyone to let their hair down and enjoy themselves!
We kept the bar menu very simple and had a large trip to Costco and a French booze cruise before hand! We also bought a couple of beer kegs from our local micro brewery (who had a guest beer at the House of Parliament!) which was great as our guests could pour their own pints!"
"We wanted to source all of the food locally and were set on having a BBQ.  However we  had a lot of difficulty sourcing one at the start. We eventually found a local butcher called Graham Eyes who runs  BBQ business, BBQ4U, and were absolutely fantastic. The food was amazing and they brought everything with them including a gazebo! To supplement the meat and to add a little extra for the veggies we hired a local catering company called Yummy Catering.
Jane was absolutely brilliant and made the most scrumptious veggie tagine and falafels plus fantastic salads. We also ordered artisan bread from a local company called Artisan Foodworks – Paul Hollywood is even a fan!  For dessert we asked our friends and family for cake contributions and set up a cake table with lots of gorgeous cake stands borrowed from my mum's friend (who has a collection in her attic of around 100!) We were so overwhelmed by the generosity of everyone, on the day we had to add an extra table for all the amazing cakes people brought!"
Words of Wedded Wisdom…
"I read loads of blogs about having a DIY wedding and how much help you need. Still I did not appreciate how much help you really do in fact need! We were so lucky to have so many friends and family members help us out. Our family and friends took days off work to help us set up the marquee, people made things and loaned us things. What was so brilliant was that our wedding lasted almost a week with all the set up and take downs so we got to spend a lot of time with all of our friends and family and everyone got to meet and bond before the wedding even began!
We really could not have done it all without this help and are so grateful to everybody. There was a real sense of achievement having everyone pitch in, so our advice would be don't be too scared to try and make your own day as it may not be 'magazine perfect' but you will all feel so proud of what you have achieved!'

"Oh and also have a plan B if you get married outside…up until the day before we were planning on getting wed in the woods around the lovely campfire area with log seats. That was until it rained for the whole of friday! At the last minute we decied to get married in the marquee tunnel under some hastily put up foliage from said woods… on the day it didn't actually rain until the ceremony when it POURED it down but it was amazing being in the marquee, getting married with all our favourite people in the world around us and listening to the rain hammering down on the canvas..magical."
"I read a lot of blogs before our wedding! I have to admit that I gave up on magazines as the blogs are just so fantastic and full of ideas. I also did a lot of Pinning! One thing I would say though is although the blogs and Pinterest are brilliant they can make you feel pressurised into making the most perfect wedding, and I think you have to realise a lot of the pictures might be from styled shoots or have wedding planners. I realised in the end you can't do everything and you have to choose your favourite ideas and drop some others.
My favourite blog was Love My Dress.  What I love the most is the real weddings as they provide the best inspiration and they are all so beautiful. I think the style of the weddings chosen are very us and gave us so many ideas, thank you!"
Oh how lovely! Huge congratulations Nikki and Andy, thank you so very much for sharing your fabulous handmade and DIY wedding with our readers who I know will love readinh this feature and be inspired by it -  and adore that headpiece!
Thank you also to photographer Rachel Hudson for allowing her work to be shared on Love My Dress today.
Readers, you can lose yourself in many more beautiful DIY weddings here, and if you're a Jenny Packham fan, you'll love seeing these other brides wearing Jenny Packham dresses.
With much love,
Annabel
Photographer – Rachel Hudson
Venue – Scarisbrick Guide Campsite using Birchwood Marquees
Brides Dress – Happiness by Jenny Packham via Brides Room of Birkdale
Headpiece – Stella by Lucy Marshall
Brides' shoes – Dune
Groom's Attire – Suit Supply + Charles Tyrwhitt
Bridesmaids – Dorothy Perkins
Flowers – The grooms mum
Cake – A friend
Transport – VW Camper hired via Chase The Sun
Entertainment – DJ Paul Gosling
Rings – Berganza
Catering – BBQ4U + Yummy Catering + Artisan Foodworks
Stationery – The bride and groom using Eco Craft paper
Hair & Makeup – Spa 92
VW Camper Hire – Chase The Sun
Follow Love My Dress® on Google+