I didn't want to let this last blogging weekend of the year pass without something to inspire you, and it seemed fitting to share this beautiful shoot set at The Savoy Hotel in London with you for it's seasonal appeal, and also, because it was sent in by one of the true gentlemen of this wedding industry I love, bridal wear designer Yemi Osunkoya of Kosibah.
Photography Copyright (c) 2013, Jide Alakija of Alakija Studios, with Jeffrey Kwame Osei-Tutu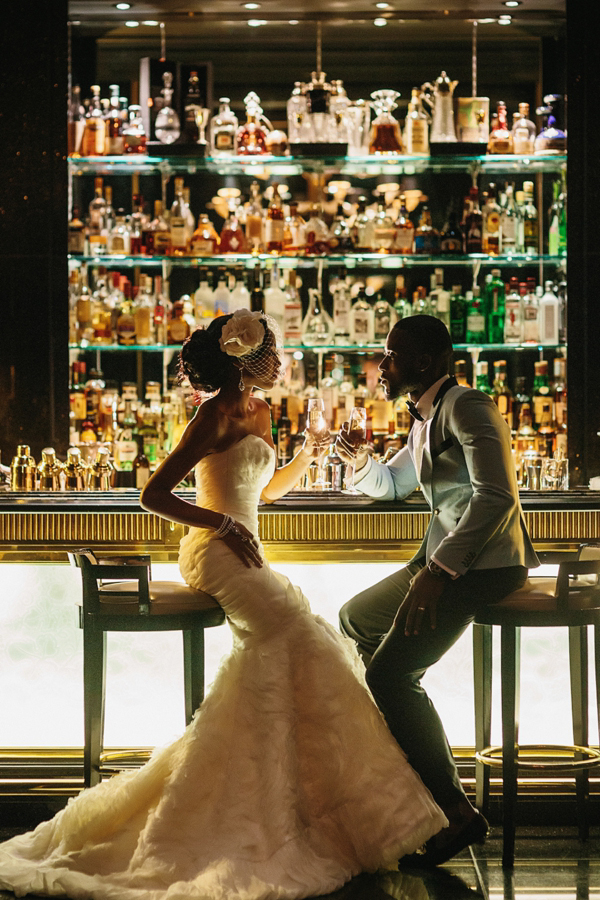 I'm genuinely honoured that this team of incredibly talented creatives have asked Love My Dress to share their inspirational work today. Yemi collaborated with a number of acclaimed suppliers to create these images that have a real glamorous and chic winter wedding appeal – perfect for escorting you off in to a little luxury escapism this Saturday morning.
The combination of fashion by the award winning Kosibah and incredibly elegant styling by the likes of the ridiculously talented Elizabeth of Elizabeth's Cake Emporium (seriously one of the most talented cake designers I have ever come across in my life and a really lovely, friendly lady too), is just what I need this cold December morning.
Yemi tells us how these photographs came about:  'A meeting over tea at The Ritz between Seyi Olusanya of Once Upon a Destination, Elizabeth Solaru of Elizabeth's Cake Emporium and the Editor in Chief  and Publisher of Genevieve; Africa's leading lifestyle magazine) Mrs Betty Irabor, led to the idea of creating a styled shoot with some of the best international wedding suppliers, in honour of the 10th anniversary of the publication.'
'The Savoy, one of the capital's most iconic hotels, which takes its name from The Savoy Palace that once sat on the same land, opened its doors in 1889 and was chosen for it's history, glamour and opulence. Composer and theatrical impresario Richard D'Oyly Carte built the luxury hotel as a way to accommodate tourists who travelled from all over to see the operas at The Savoy Theatre.  D'Oyly Carte recruited famed Swiss hotelier César Ritz as the general manager, who in turn brought in French chef Auguste Escoffier to head up the kitchen.'

"The Savoy has been a leader in the hotel industry from the beginning achieving many firsts, including being the first hotel in London to have electric elevators (or "ascending rooms" as they were known then), the first to be lit by electricity and to offer most of its rooms with private en suite bathrooms.  And with this luxury and top-notch service also came the rich and famous clientele.
From Claude Monet and Winston Churchill to Frank Sinatra and Katharine Hepburn, The Savoy was a home away from home for many stars.  Reopened on 10.10.10 after one of London's most ambitious restorations, the hotel graciously granted the team access to its ballrooms, iconic bars and lush bedroom suites, providing the perfect backdrop to the many couple and bridesmaids shots, cakes and delicious looking sweet table.'
'The breathtaking shoot, wonderfully captured by Jide Alakija of Alakija Studios, featured handmade couture wedding and evening dresses created by Yemi Oshunkoya of Kosibah. The dresses showcased Yemi's use of signature corsetry and sumptuous fabrics such as silks, satins, and beaded Alencon lace. The Alexandra dress, a porcelain antique white fishtail gown had hand stitched lace appliqué over French seams and an asymmetrical neckline.
Delphine, an elegant Grecian gown in ivory slipper satin had a plunging neckline and beautifully crafted fabric roses on the sleeves and bodice. The very romantic Tatania ball gown, with its soft and floaty layers of tulle over silk tafetta, had a form fitting lace bodice that glistened with hand cut Swarovski crystals. The very dramatic Odette dress, the most gorgeous ruched fishtail gown made from organza, with a zibeline base and swirls of embroidered organza roses accentuating the skirt.'
'The beautiful sweet table of delightful treats was provided by world renowned Elizabeth's Cake Emporium. It featured an elegant baroque gold and cream wedding cake, a tall pyramid cake festooned with sugar roses, pink sugar rose and edible jewellery topped cupcakes, meringues, baroque style and heart shaped cookies, delicious bonbons, sweets, and cake pops. A little bit of whimsy was provided by the addition of a bonsai tree of hanging sweet treats. The authentic French macaroons were kindly supplied by Ganache Macaron.'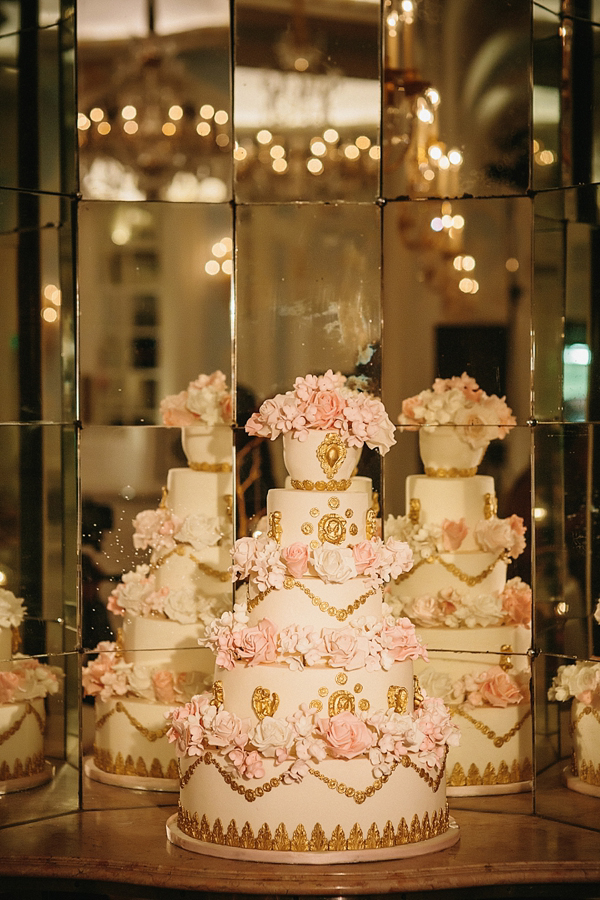 'The Lancaster Ballroom, with its beautiful architecture, baroque decor, mirrored walls and glorious paintings was the perfect setting for the sophisticated tablescapes styled around the pink signature colour of Genevieve magazine.
The lush flower arrangements by Andy and Heather of Essential Couture were packed tightly with blush, pink and lavender roses, celosia, autumn hydrangeas and assorted greenery and teamed with rich gold 'bonsai' tree accents and hanging candle globes. To complement the flowers, Seyi added specially commissioned art deco style pink and gold stationery and beautiful gift boxes from Bola Akinseye of Lovicci, rich texturised linen from Over the Top Rentals as well as gorgeous crockery and stemware to create an effect was an ethereal compliment to any celebration. They also provided the bridesmaids hand corsages and two beautiful bouquets of deep pink orchids and tightly packed roses.'

'The luxurious and versatile bridesmaids dresses were supplied by Twobirds Bridesmaid. Beautifully styled by Senamin, her distinctive use of accessories and her ability to match the right dress to each model is unsurpassed. The handcrafted suits for the groom were from exciting designer Kay of Indivisualise. He has a contemporary approach to bespoke menswear design and tailoring and uses the most luxurious fabrics to create beautifully fitted suits.'
'The models were flawlessly made up by the highly acclaimed Kemi Kings and the meticulous hair styling was by celebrity hair stylist Dionne Smith. Both ladies worked seamlessly using soft, natural palettes with a hint of lip colour to make the models glimmer and shine. It was a joy to watch these true professionals transform each model into a stunning beauty.'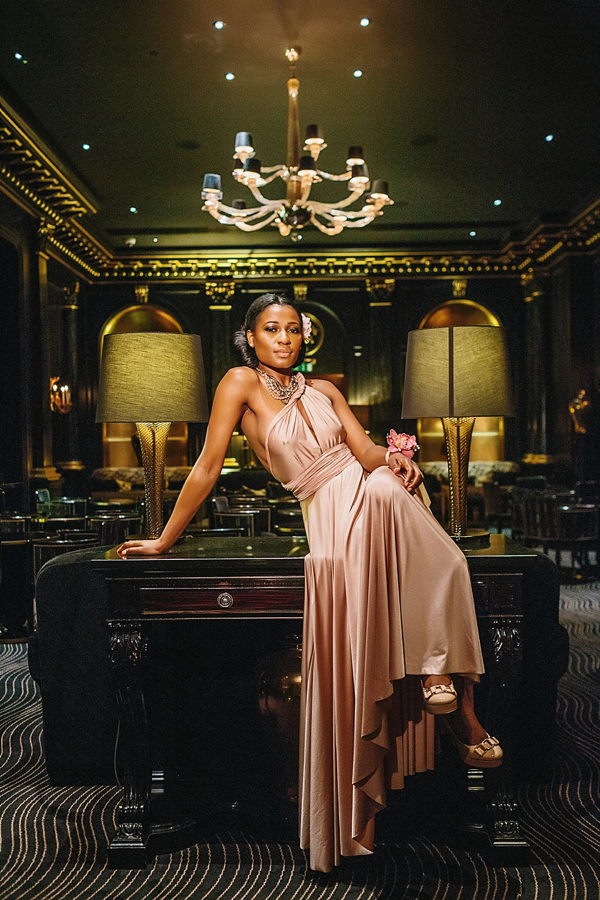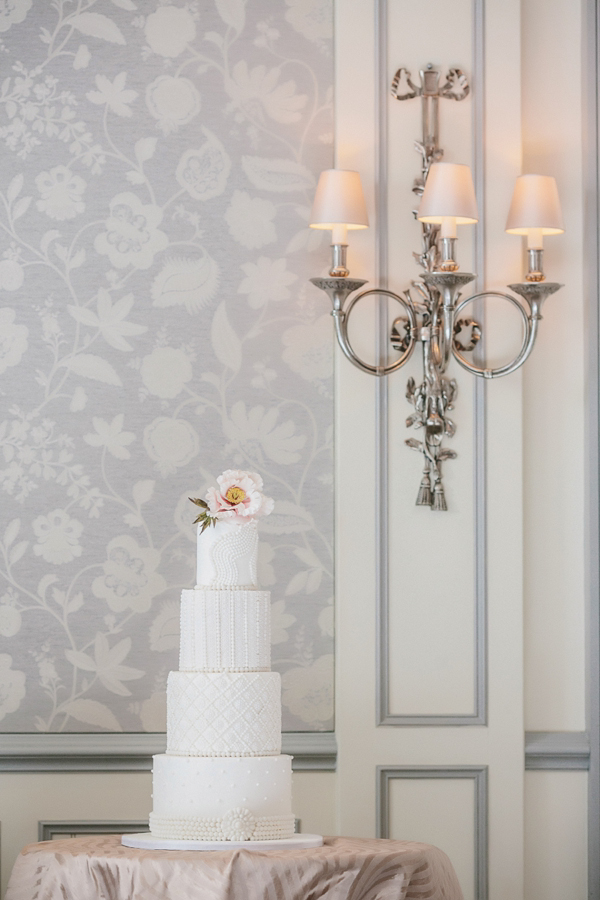 A huge thanks to every one of the suppliers credited below, but a very special thank you to the ever-charming Yemi Osunkoya of Kosibah for so kindly sharing these images with us all today – we hope that these styling ideas have inspired you.
With much love,
Annabel
Credits
Space Design & Creative Styling: Seyi Olusanya: Once Upon a Destination
Wedding dresses and evening dresses: Yemi Osunkoya, Kosibah
Cake, Cupcakes, Cakepops and Sweet tables: Elizabeth's Cake Emporium
Photography: Jide Alakija of Alakija Studios, with Jeffrey Kwame Osei-Tutu
Flowers and props – Essential Couture
Bridesmaids Dresses – Twobirds Bridesmaid
Make up Artist – Kemi Kings Imevbore-Uwaga
Hair styling – Dionne Smith
Fashion Stylist, Senamin, [email protected]
Jewelled head dresses, tiaras: Fabledreams
Bridal millinery and headpieces – Ms Esther
Jewellery: Bookola Accessories, [email protected]
Videography: Johanna Lawrence & Apos Goris, Urban Cinematography
Venue – The Savoy, London
Stationery and Gift Boxes: Bola Akinseye – Lovicci
Tabe Linen – Over the Top Rentals
Macarons – Ganache Macaron
Menswear – Keye Oduneye INDIVISUAL FASHION
Chairs and Chaise lounge – Ice Chair Hire
Models: Gayle Thompson-Igwebike, Lisette Mibo, Cherelle Quartey-Cofie, Teju Ibrahim, Lauren Sweeney Fenton, Rachel Williams, Rosemary Chileshe
Male Models: Adrian & Lincoln