Good morning all – let us help you through this dank and dreary Thursday with something altogether prettier and very much lovelier than the weather outside today.  Matthew and Hayley's wedding is here to put a smile on your face this morning – the couple tied the knot on 21st September at the King Arthur Hotel in Reynoldston, Gower.  I love their sweet, floral chintz styled celebration – there's something so homely and warm about these lovely wedding photographers sent in by O&C Photography.
"I have always been drawn to vintage and antiques, even from a young age, I also love pretty floral prints/patterns and lace. It all started with the Vintage Floral invitations from Ivy Ellen, the colours and styling developed from there.
Our wedding photographers were Charis and Owen of O&C Photography. Charis and Owen make the perfect team, they captured the whole day in such an amazing style! Their eye for detail is fantastic, they really were a pleasure to have around and I absolutely LOVE our photographs!"
Photography Copyright (c) 2014, O&C Photography
"Matthew and I went to the same comprehensive, we spent the whole summer together when we were aged 13 & 14 but apparently Matthew tells me I dumped him on the first day back at school! We didn't see each other for years after that and then bumped into each other on a night out in Swansea. Our relationship started from there and after two years together we bought our first house.
After another two years I had the chance to travel to Las Vegas for five days with my job and I asked Matthew to come along. He bought the ring for me as a gift for Valentines day when I saw it in a shop window, he then proposed before we went out to dinner that night!"
"We got married at St Catherine's church in our village, and had our reception in the King Arthur Hotel in the heart of the Gower Peninsular.  The venue is set in beautiful gardens with a century old cottage, a courtyard and a lilly pond. The reception room is a barn style setting, a blank canvas of cream walls, wooden beams and arched windows, perfect for the vintage tea party look that we wanted.
On our wedding day there was a beautiful mist that settled around the hills which made our photographs really atmospheric. It made the whole day more romantic, and it set the scene perfectly."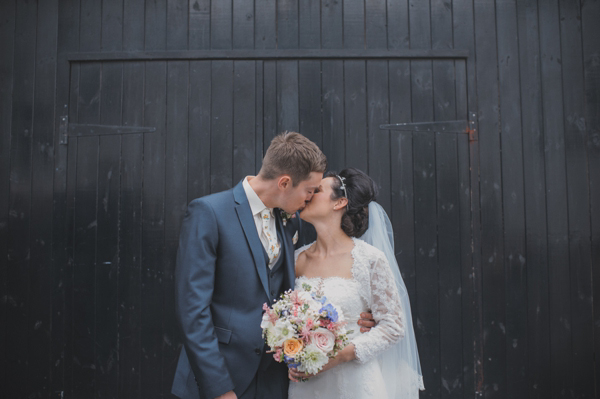 "My headband was from Flo & Percy Black Label, a one off piece made from 1950's jewellery and freshwater pearls."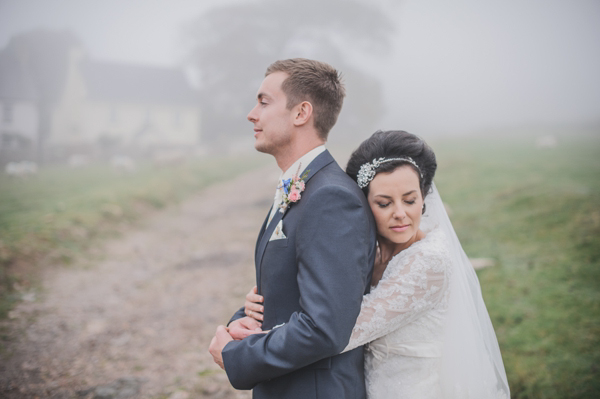 "I wanted my flowers to look rustic and 'just picked from the garden'.  I explained all my ideas to Eve Weatherly of Eve Francesca Design our florist, who did an amazing job. She brought all of the colours from our invitations together and they looked absolutely gorgeous. She also finished the bridesmaid's bouquets with a bow from the vintage floral fabric we used on their dresses, and mine was wrapped in lace."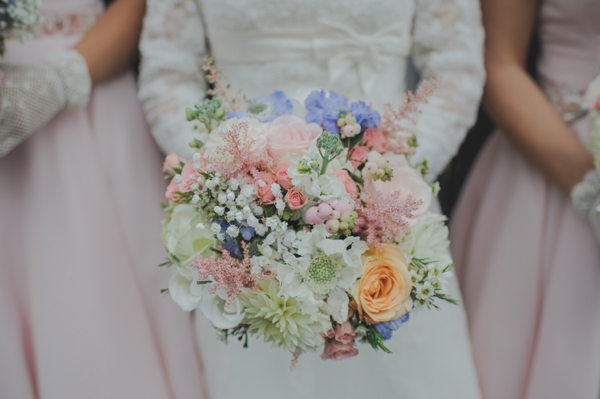 "My dress was the Gomera design by Pronovias Barcelona, purchased via Alison Jayne, Swansea.  I had tried on a few dresses beforehand but didn't really have a particular shape in mind, but I knew I wanted lace. When I tried my dress on for the first time I started to cry, then my mum and sister were in tears in the shop too! I knew it was the one! I loved the lace scattered with glass beads, the delicate silk band finished with a bow and the matching bolero jacket.
My shoes were from Rachel Simpson a style named Mimosa. They were mint coloured leather T-bar peep toes with a silver trim."
I fell a little bit in love with these beautiful 1950's inspired bridesmaids dresses….
"My bridesmaids were my Sister and best friend and I designed their dresses myself.  I worked alongside a dressmaker choosing the fabrics and trims. I found a beautiful vintage floral fabric for the waist bands, pearl brooches for the necklines."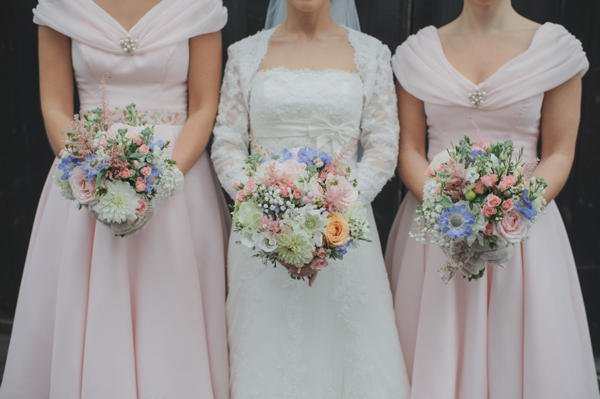 "I finished the bridesmaids look off with ivory crochet gloves from Dents. They also wore fresh flowers in their hair on bands that the florist made, and shoes by Nine West."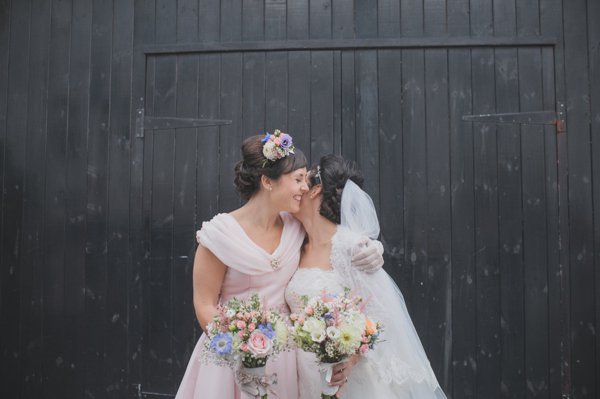 When it came to styling their wedding, for Matthew and Hayley, it was all about pretty floral chintz and lots of fun DIY.
"I handmade most of the decorations and styled the reception room myself, I made the bunting, table plan, place settings, signs and photo booth. I dotted the tables with vintage lace dollies and used stacked suitcases for cards and gifts. The paper pom pom decorations were from the Pompom Studio and we hired the china from Fancy Vintage China."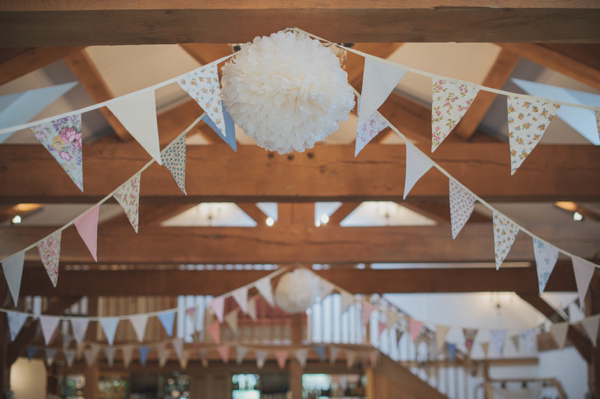 "We hung mini pom poms and ribbons on the tree in the courtyard, and I turned my grandmother's floral handkerchiefs into cute bunting for the tables.  The place names were made from vintage linens and applique flowers with each name printed and tied to a china teacup. The table centres were made from fresh flowers with a wicker heart stand in the middle. Our table names were Vegas hotels (where we got engaged)."
"When meeting Michelle at ScrumDiddly Cakes, I took my wedding invitations along and explained my ideas. I wanted a cake that would bring everything together, and it did so perfectly. It was a 3 tier round cake with delicately made flowers clustered around each tier. I was blown away when I saw it on the day, the flowers looked so real, each one made by hand and carefully placed."
"Unfortunately Matthew and I both lost our grandmothers, who we were really close to, just after our engagement, and we both decided we wanted to have them with us somehow on our day.  We printed photographs of our grandparents and parents on their wedding days and displayed them at our reception. I also had a locket with my grandparent's photos in pinned to my bouquet, and my gran's Singer sewing machine took pride of place on the reception display table."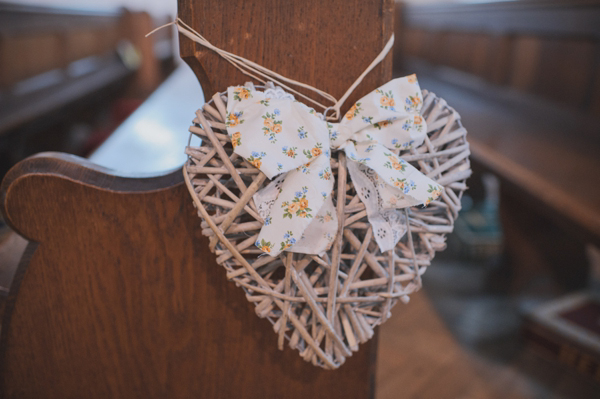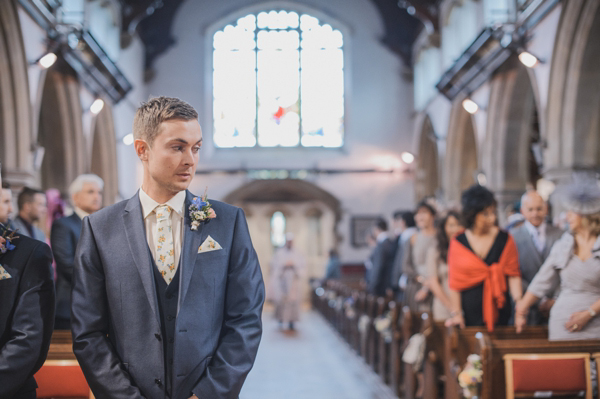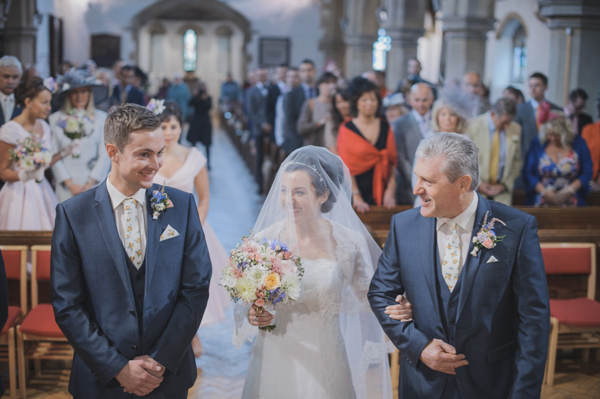 "During our ceremony, The male Voice Choir sang 'She's always a woman' by Billy Joel.  Later in the ceremony, my sister, Marie, read the following by Elizabeth Barrett Browning;
'How do I love thee? Let me count the ways.
I love thee to the depth and breadth and height
My soul can reach, when feeling out of sight
For the ends of Being and ideal Grace.
I love thee to the level of everyday's
Most quiet need, by sun and candlelight.
I love thee freely, as men might strive for Right;
I love thee purely, as they turn from Praise.
I love thee with the passion put to use
In my old griefs, and with my childhood's faith.
I love thee with a love I seemed to lose
With my lost saints,–I love thee with the breath,
Smiles, tears, of all my life!–and, if God choose,
I shall but love thee better after death.'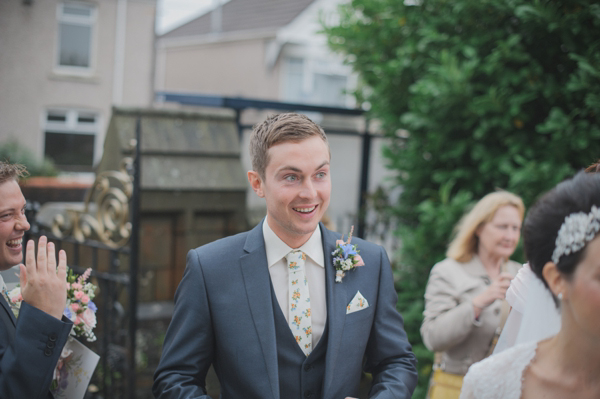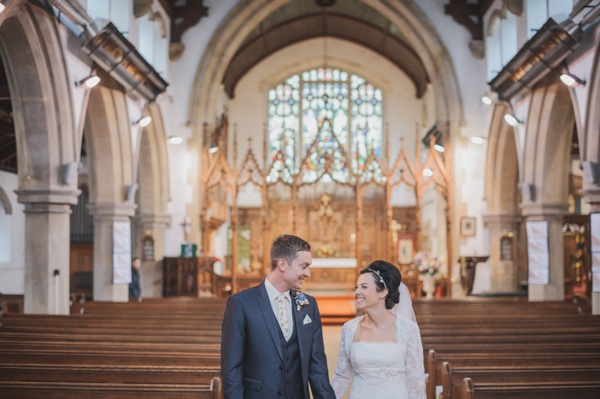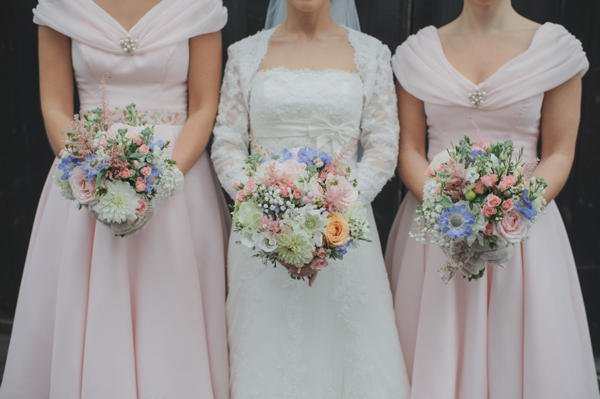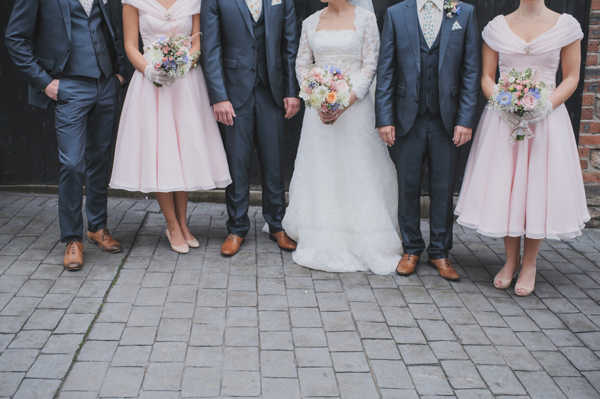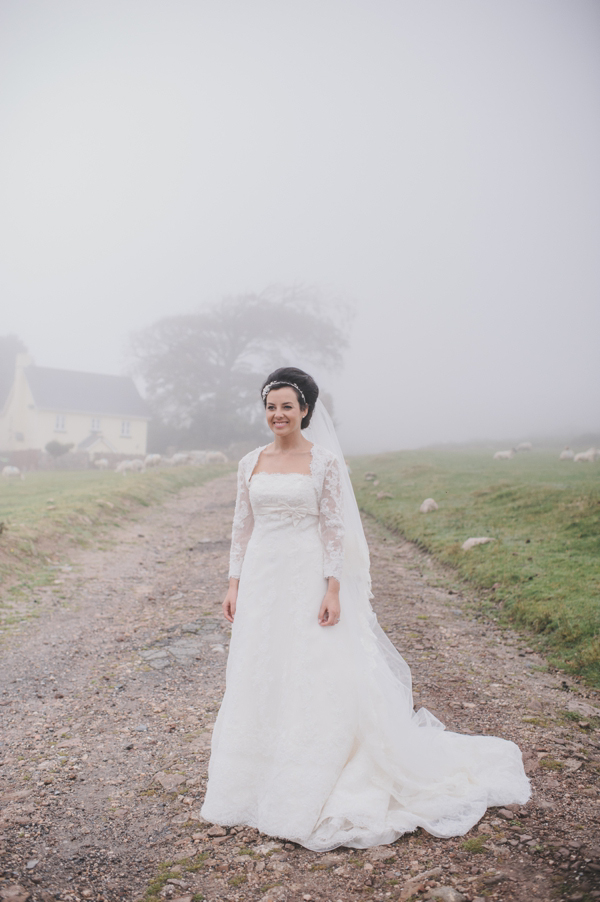 "Being a sock and knitwear designer, I knew I had to give favours my friends and family wouldn't forget, the men had Corgi socks and I made the ladies handmade love hearts from vintage fabrics and lace."
"For our first dance, we chose 'You got the Love' by Florence & the Machine, it's our favourite song and the words mean a lot to us."
"I think my favourite part of the day would have to be the speeches; one of the best men did his whole speech as a rhyming poem which was brilliant! He had everyone in fits of laughter! It was so lovely to sit on the top table and look out over all our family & friends, sharing the day with us and watching them enjoy with us.
I wouldn't have done anything differently, I wouldn't have even changed the weather!! The mist looked so beautiful; it added something special that couldn't have been planned."
Words of Wedded Wisdom…
"It's easy to get caught up in all of the planning, reading endless magazines, choosing the perfect dress/cake getting stressed about which table centre to choose etc.  Don't forget about the reason your organising your wedding in the first place.  It's not about how much you spend; it's the small personal details that will be recognised the most. Oh and definitely make sure you choose the right photographer as the photographs will be all you will have left to look back on once your day is over.
What a sweet wedding and very pretty wedding indeed – congratulations to you Matthew and Hayley – we wish you the most blissfully loved up first year of marriage possible 🙂
Thanks also to O&C Photography for sharing their wonderful wedding imagery on Love My Dress.
Love Annabel
Photographer – O&C Photography
Venue + Catering - King Arthur Hotel in Reynoldston, Gower
Brides Dress – The Gomera gown by Pronovias Barcelona, purchased via Alison Jayne, Swansea
Headpiece Flo & Percy Black Label
Brides' shoes - Mimosa by Rachel Simpson
Grooms Suit – Next, Slaters + Kurt Geiger + tie & pocket square made by bride
Bridesmaids – dresses designed by the bride, white gloves from Dents + Nine West shoes.
Flowers – Eve Francesca Design
Cake – ScrumDiddly Cakes
Rings – Pravins in Cardiff
Catering Company – King Arthur
Stationery – Ivy Ellen
Make-up Artist – Jinty Day
Hair Stylist – Alison & Katie from Lush
Pom Poms – Pompom Studio
Follow Love My Dress® on Google+