Good morning loves, I'm so happy to be back in to the swing of things this Monday morning.  I adore having a digital detox and savouring family time over Christmas, but today couldn't come quick enough for me.  I've become a lover of routine this past few months as I've set about making subtle changes to my lifestyle to improve my health and productivity, and whilst the prospect of forgetting it all for a luxurious lie in back in December was dangerously tempting, I've been lamenting my early morning rises these past few days and actually missing my alarm call. I love peacefully slipping out of bed first thing, being careful no to disturb the final phases of slumber for my husband and girls.  I relish that first hot and delicious cup of Yorkshire Tea, in a favourite china cup and settling down in my new slippers, pyjamas and over worn, but much loved, knobbly cardigan to tend to Love My Dress before the chaos of the day commences. Over the past six months the early morning has become my new favourite part of the day, and especially so when this happens.
This morning is an extra lovely one because this particular wedding features a bride I know and met last year when I attended The Glasgow Wedding Collective to promote my book.  Dress designer Rowan married Investment Manager Colin on 12th October last year, at Summerhall in Edinburgh.  As you will see from this delightful little super8-mm film below, their day pulled together a mix of eclectic personal tastes, breathtaking florals and incredibly lovely DIY details, as well as boasting a pale green wedding dress hand-crafted by the bride herself.
Film Production Copyright (c) 2014, Sugar8

"Colin and I met online just over six years ago and got engaged just over a year ago in September 2012.  Colin proposed to me on my birthday last year, he had arranged a day in Edinburgh taking us back to some of our first dates – first of all going to Edinburgh zoo, then taking me for dinner to the first restaurant we went to together. He then whisked me up to Princes St Gardens where the end of Festival Firework Concert was about to start, and during a lull in the fireworks asked me if I would marry him. It was a pretty special birthday celebration."
Photography Copyright (c) 2014, Caro Weiss
"We didn't have much of a theme for the wedding at all, we knew we wanted to have a fun, relaxed day and involve some things that were very us. So we somehow managed to get Eurovision, Star Wars, Cliff Richard, lots of colour, glitter and a little bit of vintage all jumbled together. It was a strange mix but suited us perfectly!"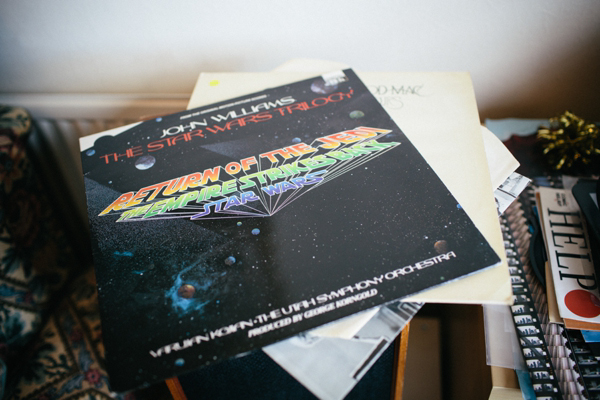 "We didn't have an event planner for organising the wedding – I am really lucky to know a lot of talented and creative people from art college and working in the wedding industry and was really happy and excited to ask them to be our suppliers for the wedding, which made the task of organising everything fall into place really quickly and easily."
"Our whole day took place in a venue called Summerhall in Edinburgh. It used to be the vet school for Edinburgh uni and is now an arts venue that we have been to for quite a few events. We both loved it as it wasn't a traditional wedding venue and had plenty of character, and was a bit unusual. The room we had our reception in is called the dissection room which was where they used to do all dissection demonstrations.  When I told my Mum its name she was slightly worried as she thought there would still be dead animals lying around !"
"I am a fashion and bridal wear designer and have my own labels, Rowanjoy and Rowanjoy Bridal. I made and designed my dress myself. I always knew I didn't want a white wedding dress as I love colour so it made sense and I thought I might be a bad advert for myself if I didn't make it! I originally wanted to make a patterned dress but when I couldn't find any fabrics I liked enough to use I decided to make it green, which has always been one of my favourite colours."
"I pretty much knew what the design would be from the start as I love 40's dress shapes and I knew the georgette fabric I had found would be perfect for it. I have a love for lace (I don't think there is one of my bridal designs that doesn't have some sort of lace on it) so I knew for definite that I wanted some lace on my dress and my lace supplier kindly offered to dye the lace to match my dress fabric, it came out a little darker than expected but I loved the contrast against the paler green of the fabric."
"It was quite a strange experience being on the other side and actually making my own wedding dress but I was really happy with it when I finished and completely felt like myself in it.  I wrote a little blog about making my own dress, it goes into a little more details about it."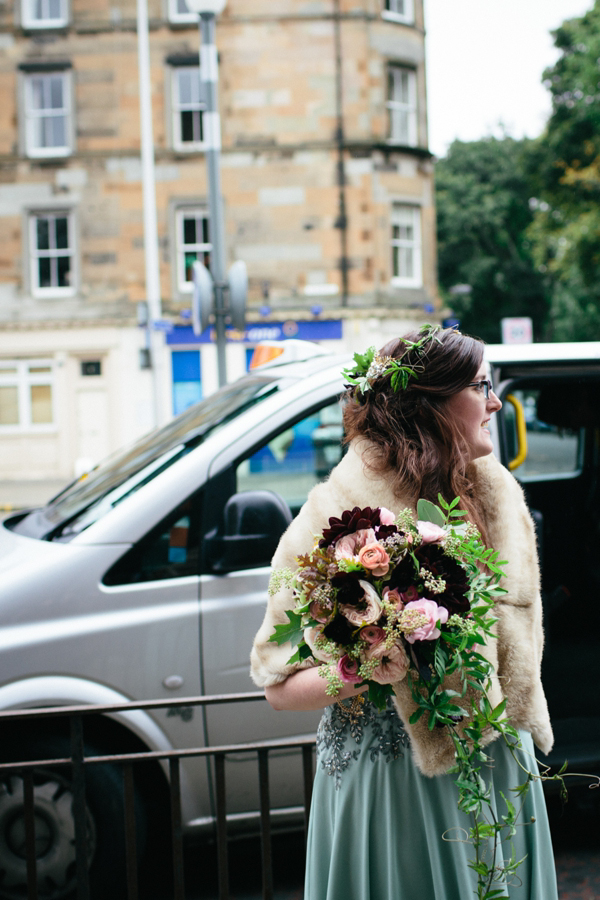 "I had a combination of accessories for my hair. I love floral crowns and also love the headpieces that Janet, from Rene Walrus makes so I decided to combine the two. Janet made me two beautiful combs, which were based on her Kingfisher Halo design and incorporated beads with the colour from my dress. I then asked Di, from Myrtle and Bracken, to make me a floral headpiece that would work with the combs and she came up with a beautiful cluster of flowers that could be placed with the combs either side. I don't think I could have loved what they both made for me more."
"Di from Myrtle and Bracken also made the bouquets and buttonholes.  I met Di through The Glasgow Wedding Collective and have been in awe of the beautiful work she creates ever since. So she was an easy choice when it came to doing mine and the bridesmaids flowers. I completely trusted what she would do, so apart from giving her a bit of a vague colour scheme and showing her what the dresses were like, I really left it up to her to create what she wanted."
"I don't think I could have loved the flowers any more when I got them the morning of the wedding, the colours were perfect and went so well with my dress colour, and the bouquet itself was just beautiful."
"My shoes were from Kurt Geiger, they were high, gold and sparkly – all you need in a pair of shoes! They were probably higher than I would have liked but the pretty outweighed the practical and I lasted a little longer than I expected before I changed into my flats – still glittery of course."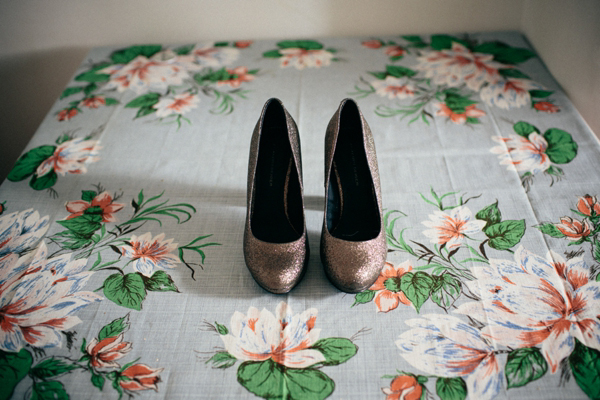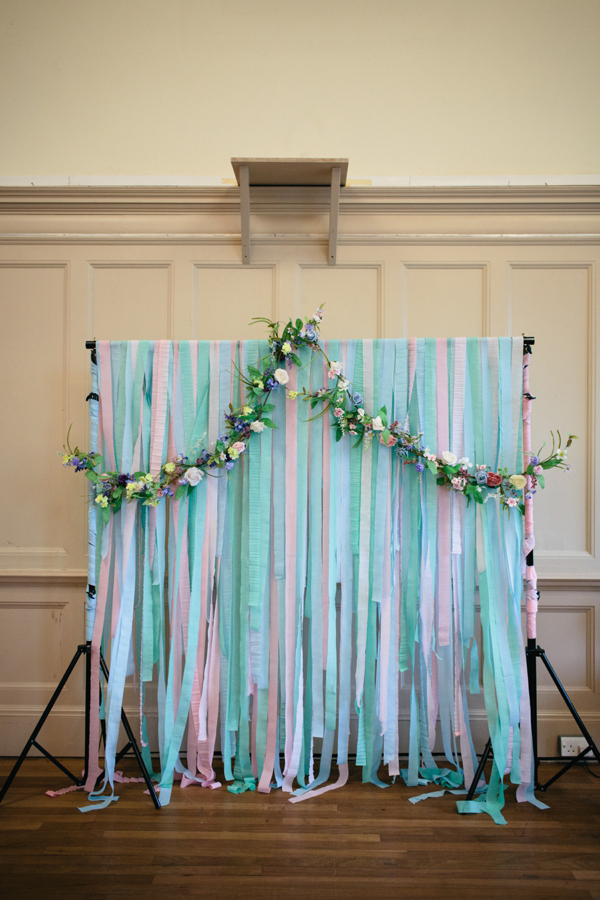 "I decided against making the bridesmaid dresses as I knew making my dress and also making my mums outfit would probably be enough pressure for one day. I didn't want my bridesmaids to be in matching dresses as I wanted them each to have a dress that suited them so I just let them know a vague colour palette and we all had a good trawl of the high street and internet. I decided that their dresses needed to be fairly neutral in colour because of the colour my dress was going to be so we looked for dresses in nudes, greys and pale pinks."
"I also thought it would be nice to have some pattern in their dresses that would tie in with the colours of the wedding. Two of the dresses came from Monsoon and one from ASOS and the first time I actually saw them all together was on the morning of the wedding, but I think they all worked really well together."
"I bought each of the girls a different necklace that would complement their dresses. I got them all from my favourite Jewellery shop in Edinburgh Hannah Zakari."
"The venue itself didn't need a huge amount of decoration added to it as it is quite a striking room on its own, but we did add a few touches. We hung festoon lights around the balcony and some crepe pompoms and glittery lanterns from the spiral staircase. There are display cases around the edge of the room so we made a display of the story of our relationship with photos, gig tickets and other paraphernalia on show."
"I also went mad with the glitter and made some glitter letters spelling out Rowan and Colin and put them on the window sill. They ended up providing lots of entertainment later in the evening with various anagrams being spelt out and plenty of photos being taken with them. We also made a crepe streamer backdrop for the ceremony as the room we had it in was a little plain and I felt we needed something behind us during the ceremony."
"Our place names ended doubling up as our favours. We had collected a large selection of cassette tapes, including Colin's collection of games from his commodore 64, and matched them up to people's music tastes. Some people were over the moon with the tapes they got although I don't think many people will actually have anything to listen to them on."
"The flowers for the tables we decided to do ourselves on the day before the wedding. We ended up getting the flowers at Marks and Spencer after I had done various trips to check what they had in stock in the weeks leading up to the wedding. We really just chose the flowers that were the right sort of colours to go with the rest of the table decorations, we arranged them in vases that I had borrowed from a friend who had collected them for her wedding, and a few extras that we got in Ikea."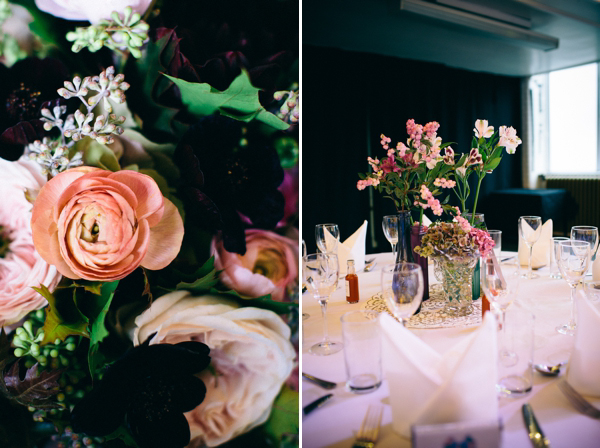 "Our cakes came from Mimi's bakehouse in Edinburgh, which was recommended by a friend. We didn't want a traditional wedding cake and loved the fact that we could choose different flavours of cake, and ended up getting a chocolate malteser cake, banana and caramel and lemon and poppyseed. The cakes went down so well that there was not a single crumb left at the end and neither Colin or I managed to get a slice!"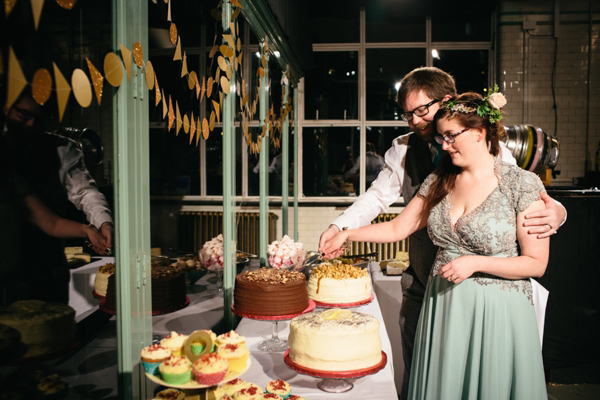 "Our photographer for the day was Caro Weiss. I know Caroline through The Glasgow Wedding Collective and had worked on photoshoots with her and also seen the work she had done for friends weddings. We both wanted someone who would take relaxed, natural shots of the day and Caroline's work fitted the style we both liked perfectly. She was great on the day, I hardly noticed when she was there taking photos and she captured the day perfectly."
"We had Eileen from Sugar8 as our videographer for the day. Eileen is an old friend from art college when we studied fashion together and I have loved the work she has done since she started up Sugar 8 so I was really excited to book her to film our day. She and Caroline were both like ninja's, I barely noticed them at all apart from the odd whirr of the super 8 camera."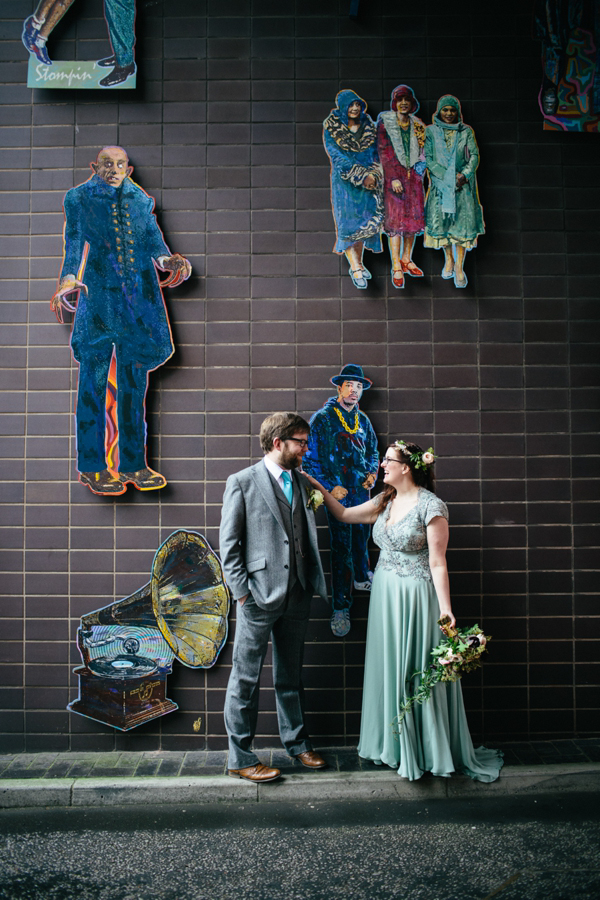 "Our hair was done by Roy Rogers of Milk Hairdressing. Roy is my usual hairdresser and also a friend who has worked on all the photoshoots I have done for my label so I knew he would do an amazing job.  He was the first to arrive on the wedding morning and kept me chilled out until everyone else was there, and did such a fabulous job on everyone's hair."
"Our make up was done by Fiona Henderson.  I have worked with Fiona on lots of photoshoots and she is pretty much the only person I trusted to do my make up. I had been planning on doing my make up myself, but about 3 weeks before the wedding and with ever increasing black circles under my eyes I decided a professional was definitely required. Thankfully Fiona was free, and she was great.  I don't really wear that much make up usually and she did such a good job creating a look that was natural and made me feel like myself."
"Colin got his suit from Walker Slater in Edinburgh, it was a dark grey herringbone 3 piece suit. He actually kept it a secret, although I had my suspicions that it would be quite like the one he went for and I knew it wouldn't be anything too crazy as he has a very good sense of style.
Colin had his three brothers as his best men and wanted them all to be in 3 piece suits to tie in with his. He couldn't find anywhere to hire ones he liked so ended up buying vintage suits from ebay and then getting them tailored.
"My Dad walked me down the aisle to the theme tune to Star Wars which was played on an old record player.  Colin is a massive Star Wars fan and I thought it would be a nice surprise for him.  Because it was a surprise it meant I had to get the record to the venue without him seeing what it was going to be.  This meant disguising it in a comedy record sleeve and giving it to Caroline, our photographer, to take to the venue to give to the person in charge of the record player.  Nothing like a little bit of subterfuge on your wedding day."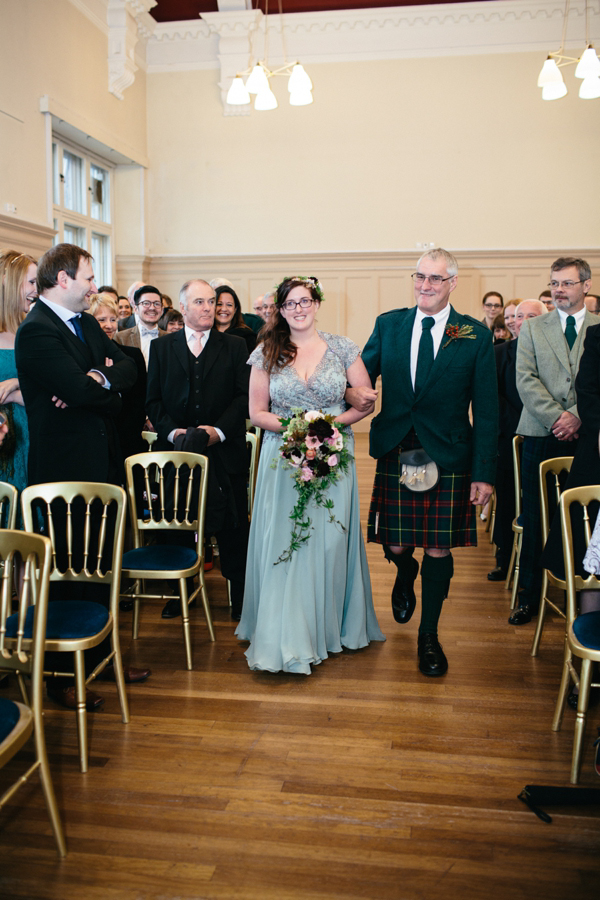 "We had a humanist ceremony so had a lot of input into what was said during the ceremony. We both wanted the ceremony to reflect us so although we needed to suit the occasion we also wanted to have some humour involved and I think we succeeded in getting everyone laughing as well as shedding the odd tear! Our celebrant gave us some vows to look at to inspire us and we ended up making up our own by taking lines from various other vows that we had found."
"Both of our mums did readings at the wedding. I gave my mum a couple of poems to choose from and her choice was 'Journey' by Christine De Luca, and Colin's mum read the poem 'Love' by T E Blackstone."
"My ring was made by Alison MacLeod who is a Glasgow based Jeweller. I have known Alison since we were at art college together and have several pieces of her jewellery so she was the natural choice to make my wedding ring. I chose her contour band in white gold, which goes with my engagement ring perfectly."
"I think we both really loved the ceremony, we had put a lot of thought into what we wanted to say, and it was so lovely seeing everyone laughing (and crying) at it. We both also really enjoyed straight after the ceremony, getting to stop and speak to every guest there, which hadn't been planned but ended up working perfectly."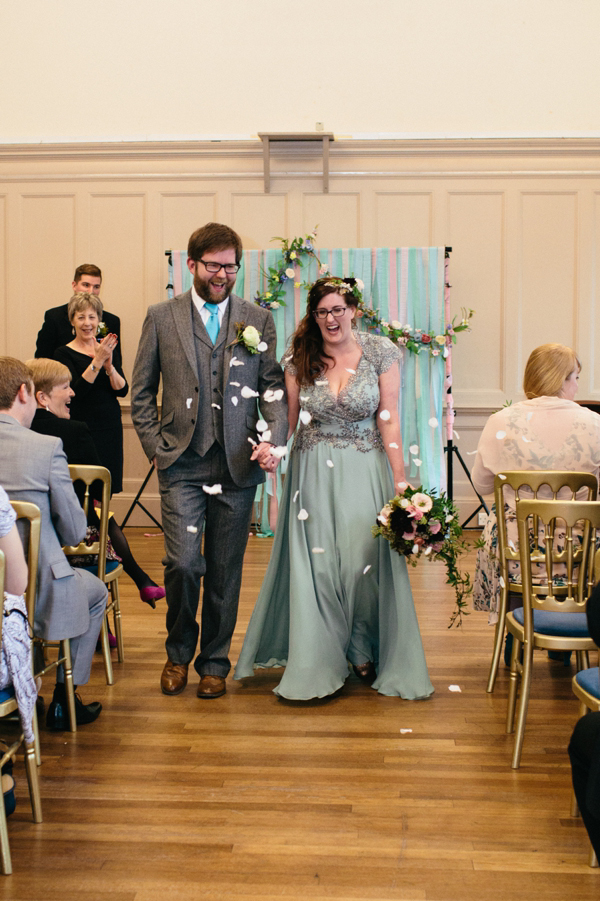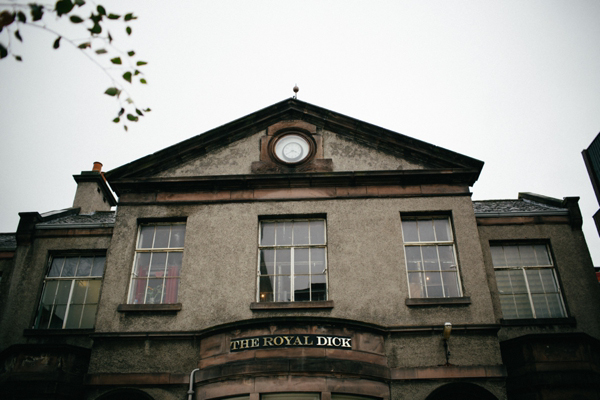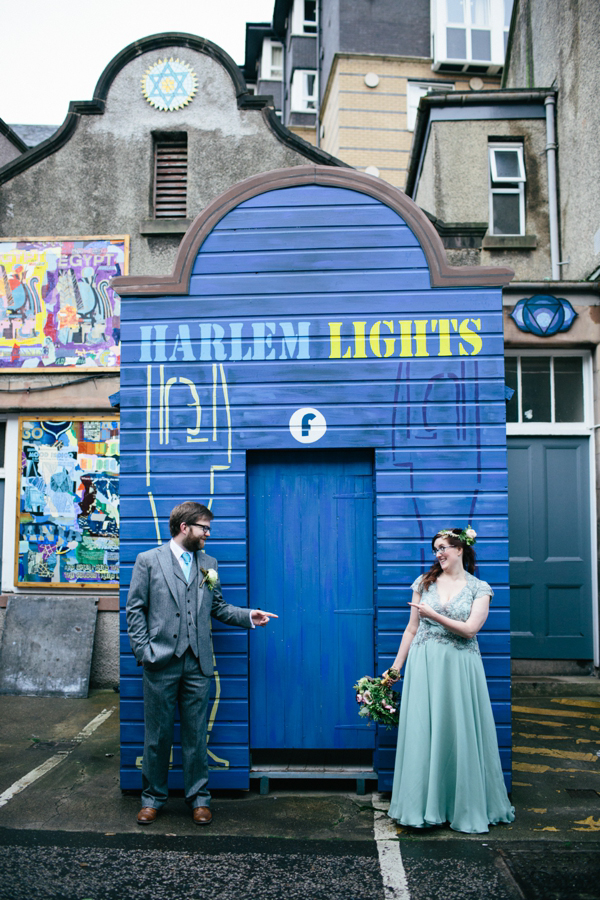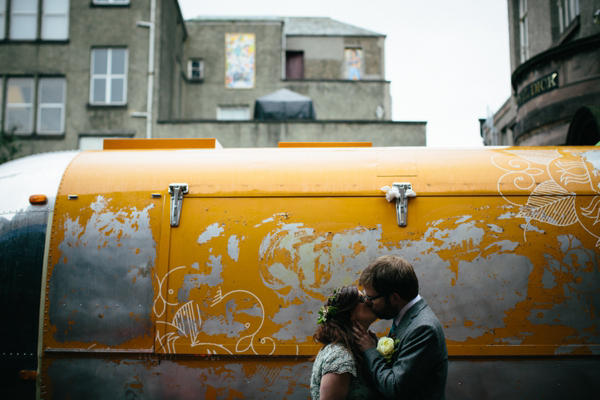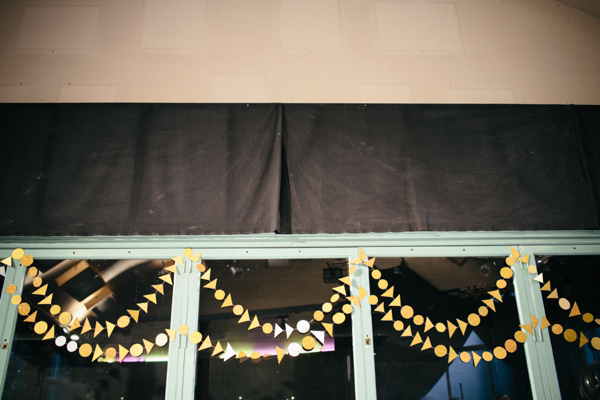 "Summerhall did all the catering for us and we decided to have a buffet to keep the informal feel of the day. I decided to take charge of desert myself and for some reason thought that making 300 flavoured meringues in the week before the wedding was a sensible plan; it pretty much wasn't! Luckily I had a friend who stepped in to help me get them all done and they went down pretty well with all the guests."
"Colin Is a massive fan of hot sauce so he decided to create his own secret blend and have little bottles of it on each of the tables, a lot of them got taken away at the end of the evening so doubled up as a condiment to go with the meal, and a favour."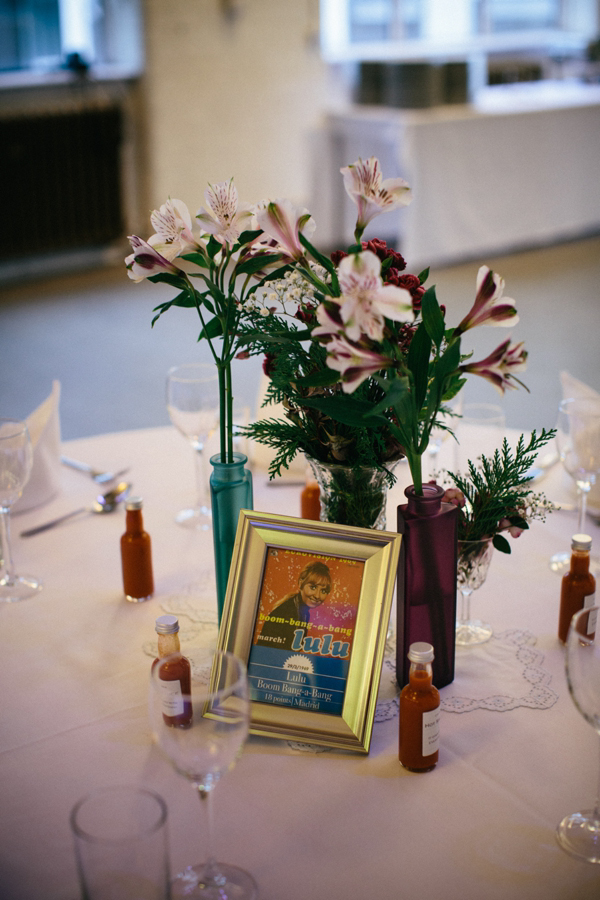 "For the evening we decided to create our own playlist to make sure there was maximum dancing going on. We are both big music fans and have quite an eclectic taste so the music ranged from Wired for Sound by Cliff Richard to the Fresh Prince theme tune and Colin's favourite part, his half an hour of 80's movie music."
"Our first dance was Arthur's Theme by Christopher Cross. Colin had put it on one of the mix cd's he made me when we first started going out and we both love it because it's a little cheesy but still a really lovely tune. I also love it because it has a saxophone solo, my guilty pleasure."
Words of Wedded Wisdom…
"The main advice I would give is to actually enjoy it and not get too stressed out about planning and organising everything. Make the most of friends and family and the skills and talents they have. If something doesn't get made or decorated then the only person that knows is you, In the end all you really need is someone to marry you, food, drink and friends and family. Everything else is just extra and no matter what you will have a wonderful day."
"I was also a regular visitor to Love My Dress before we got engaged, partly for work research but mainly because I loved seeing other people's weddings. So it was great when we got engaged that I could look at it pretty much every day and get ideas for our wedding."
"The whole day itself was wonderful, I laughed and smiled my way through it and there may have been the odd thing that didn't go quite to plan but I wouldn't change it at all."
Thank you so much dear Rowan and Colin for so generously sharing your beautiful day with our readers, who I know will  love your style just as much as I do.  And thank you so much to our friend and photographer Caro Weiss for once again furnishing Love My Dress with an inspirational collection of wedding photographs.
Are any of you reading this right now planning on wearing your own non-white/coloured wedding dress?  If so may we invite you to visit this Pinterest board, for inspiration.
Have a good, productive, positive morning everyone!
Love Annabel
Photographer – Caro Weiss
Venue + Catering – Summerhall in Edinburgh
Wedding Dress – Rowanjoy Bridal
Headpiece – Rene Walrus + floral crown by Myrtle and Bracken
Brides' shoes – Kurt Geiger
Bride's accessories – Grandma's charm bracelet
Groom's Attire – Walker Slater
Bridesmaids - Monsoon and ASOS + jewellery by Hannah Zakari
Flowers – Myrtle and Bracken
Cake – Mimi's bakehouse
Additional Florals (table decor) - Marks and Spencer
Rings – Alison MacLeod
Hair Stylist – Milk Hairdressing
Makeup Artist – Fiona Henderson
Film Production - Sugar8
Follow Love My Dress on Google+