Good afternoon beautiful ones! Let us get right on sharing Lottie and James' wedding this afternoon with you – a lovely little laid back and fuss-free celebration that took place on 22 August last year at The Sculpture Gallery at Woburn Abbey.
"My dress was by Anoushka G and I purchased it from the Lola Bridal boutique in Northampton. I actually tried on LOADS of dresses – I couldn't get enough of them! but I finally decided on my dress because of the beautiful beading. I also loved how the skirt flowed when I walked in it – it was ethereal!"
Photography Copyright © 2013, Jordanna Marston
"James and I went to school together but didn't really get to know each other until sixth form when we entually got together! We have been together ever since – just over 10 years now!
I'm a bit of a keen gym goer and so James arranged with my gym instructor to come into the gym and propose in class – in front of everyone! I have never been more shocked! It was an amazing surprise however. We were engaged for about a year and a half before we got married."
"The Sculpture Gallery was the first venue we looked at and we were absolutely blown away by how beautiful it is – the sculptures, gardens and whole feel of the place. It was love at first sight! Although we looked at a couple of other places I knew I had already made up my mind.
I had an idea of the colour palette I wanted – lots of mauves, whites, creams and greys. Pinterest turned out to be a huge help as I was planning stages – I drew so many ideas from it."
This beautiful bracelet design was picked up by Lottie on EBay for the bargain price of £3 (just goes to show it pays to shop around!). It would be good to know if readers know of any designers who produce similar designs – post a link in the comments box below if you can help!
"My veil was also my something old. It was my sister's veil when she got married. Luckily the colour was spot on for my dress!"
"We did a lot of the décor ourselves. I collected mason jars for months to use as tea light holders. I decorated them using lace and sequins. We made flags with words like 'yay' and 'whoop' written on and left them on each chair so that after the ceremony everyone could wave them. We bought and planted the flowers for the table plan and then used plant markers to write each guest's name on and displayed it on a plant theatre (this was one of my favourite things I think. People loved it).
We used the same flowers in larger pots on the top table. The table centres for the other tables were silver mirror trees from Wedding Day Hire, Bedfordshire. They were stunning with gorgeous mirrored leaves and tea light holders hanging from branches."
"My bridesmaids dresses were from Nordstrom – an American website. My sister was living in America so I had them shipped to her house and she bought them home with her in the December before the wedding."
"Our name cards were gorgeous pieces of slate from the Hampshire Slate Company with the names of the guests written on in chalk pen. These then acted as favours for our guests to take away with them. We also supplied flip flops (dancing shoes) in the evening so that the ladies could kick off their heels and enjoy the music in comfort!"
"I am absolutely obsessed with hydrangeas! I adore them. I found a photo online of the sort of bouquet I wanted for myself and my bridesmaids and took it to the lovely ladies at The Stables in Northampton.  
I honestly couldn't have dreamt of having more beautiful flowers. I was so emotional when I saw them, they were so beautiful. Initially I wanted lavender for my bridesmaids but they were out of season. The Stables florists managed to find the next best thing and added in bits of thyme as well. Gorgeous."
"Our photographer was Jordanna Marston.  I spent ages trying to find a photographer that would be able to take the sort of photos I dreamt of. Jordanna is so talented. We were blown away with the pictures she took."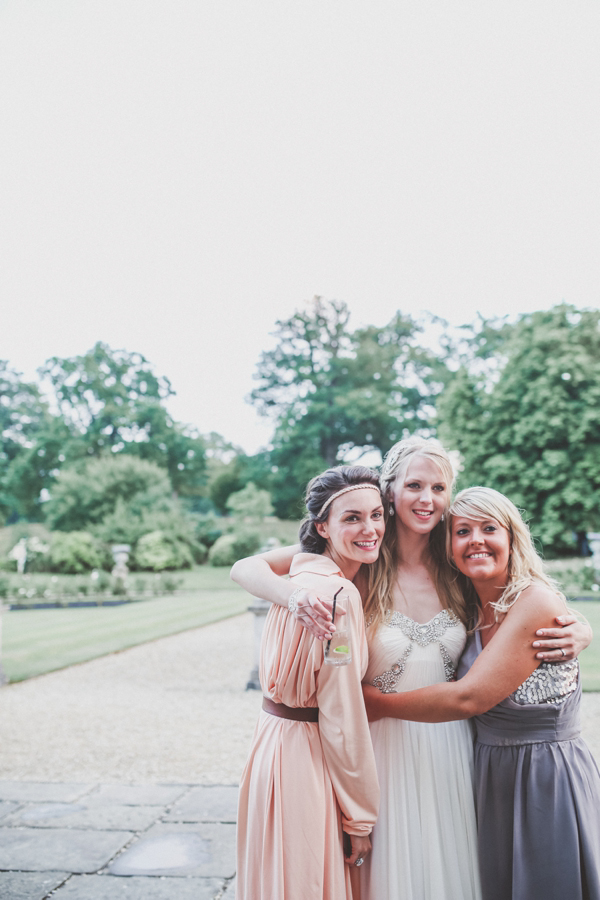 "My lovely Dad walked me down the aisle to the sound of Ben Howard's 'Only Love'.  I really didn't want our vows to be too formal, so I did a little research and found these words online; 'I take you to be my best friend, my faithful partner, and my one true love. I promise to encourage you and inspire you and to love you truly through good times and bad. I will forever be there to laugh with you, to lift you up when you are down, and to love you unconditionally through all of our adventures in life together'."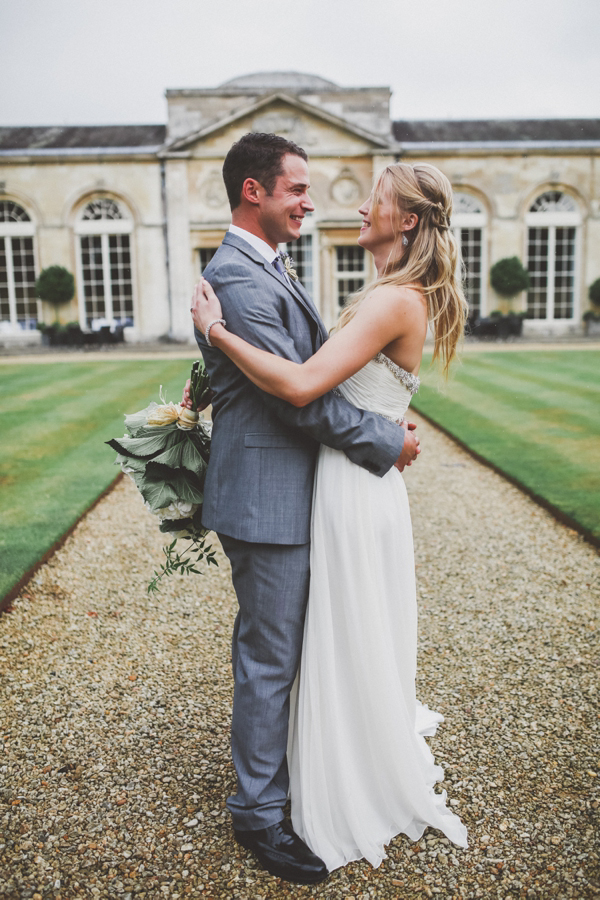 Words of Wedded Wisdom…
"If you can, then delegate! For a long time, I was planning and organising things myself through choice – I had fixed ideas about what I wanted and was reluctant to give things to other people to do. But, about two months before the wedding, I realised how much I had left to do and that's when Mum got a text message with a grovelling plea for help!"
Thank goodness for Mums eh? 🙂
Readers, if you love this style of wedding photography and would like to talk to Jordanna Marston about your own wedding photography, you can drop Jordanna a line using these contact details.  She is super, super lovely and would love to hear from you too.
Love Annabel
Photographer – Jordanna Marston
Venue – The Sculpture Gallery at Woburn Abbey
Brides Dress – Anoushka G from Lola Bridal, Northampton
Veil/Headpiece – Borrowed
Brides Shoes -  Kurt Geiger
Brides Hair Accessories -  Lola Bridal
Grooms Suit – Next
Bridesmaids – Nordstrom
Florist - The Stables Florist, Duston, Northampton
Cake – A friend
Entertainment – DJ Hammond (Buckinghamshire)
Rings – Ernest Jones
Hair Stylist – Sara, New Direction
Follow Love My Dress® on Google+