Oh ladies and gentleman, do I have a wonderful wedding to share with you this afternoon!  This is such a beautiful day I've practically been doing a happy dance in the run up to sharing it with you this afternoon! It seems extra special to me too, as bride Sara emailed me not so long ago to share how much of an inspiration Love My Dress had been to her in planning her wedding (as you'll see later in this feature).  But let's not waste time and get on with getting inspired!
GP Will, and Sara, who has a background in magazine journalism and is currently working as a medical writer and editor, tied the knot on 19th October last year at Hodsock Priory in Nottinghamshire.  The couple, who told me they never do anything by halves, decided they wanted their wedding to be a magical and beautiful celebration, bursting with personal touches and creative energy.
"We were prepared to work very hard to make it the wedding we wanted. Before we settled on a Narnia theme, we spent a long time brainstorming themes from the crazy to the downright ridiculous.  When we were discussed possible themes, Narnia stood out from the rest – I grew up enthralled by the magic of CS Lewis' Narnia Chronicles, it was the perfect vehicle to channel the magic I wanted to sparkle throughout my wedding day."
Film Production Copyright (c) 2014, Matthew Modget Films
"Also, I grew up listening to my Grandma Caroline's war tales; she was a teacher in the 1940's and was evacuated to the country during the blitz, much the same as the children in the Narnia story. When I was a child I used to go rooting through her wardrobe for fur coats to try on, there is a certain sort of magic about that. To honour my grandma we decided to style the wedding in a 1940s fashion and theme it around Narnia."
Photography Copyright (c), 2014, Toast of Leeds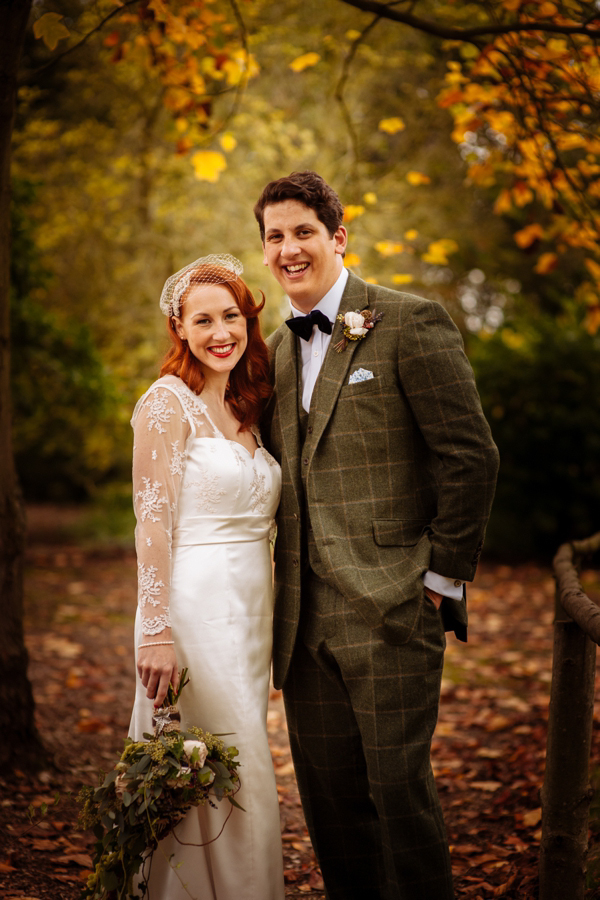 "Will and I wanted a grand party in a secluded country mansion. Even though neither of us grew up near Hodsock Priory in Nottinghamshire, when we visited we fell in love with its quirky décor and opulent furnishings – the moss green velvet Chesterfields and the brown studded velvet dining chairs were stunning. At Hodsock we could have the sort of wedding we wanted.
We turned Hodsock Priory's Pavilion into a Narnia wonderland and themed the rest of the house in a 1940s style. Hodsock Priory has a real vintage quality so we decided to enhance this by adding 1940s memorabilia. The day before the wedding we filled every nook and cranny with our families antiques and vintage trinkets that they kindly let us borrow, from old leather suitcases and cut glass ornaments, to my Grandma's 1940s books and silver trays that we filled with Turkish delight. My niece Thea and I made SARA & WILL letters out of 1940s newspapers – papier mache is still so much fun."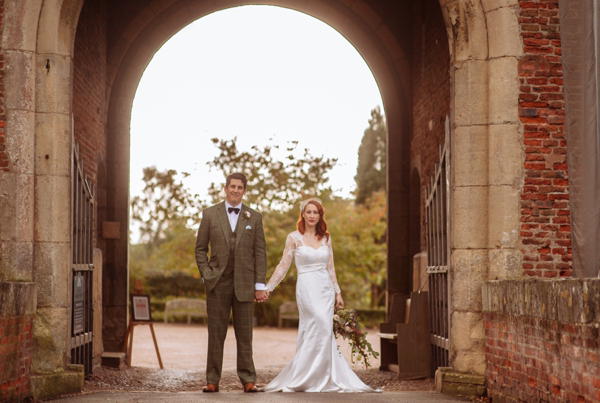 "Being around since the Domesday book, Hodsock has an intriguing history, my favourite story is of one previous resident, who gambled Hodsock away in a bet over whether butter would stick to the ceiling – he lost. I was excited to find that during the 1940s the land army took residence there, so it fitted the theme too."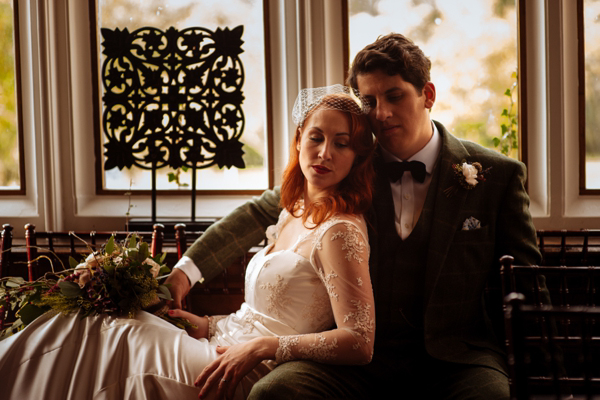 "Our mutual friend Becky set Will and I up six years ago. Her playground banter 'she fancies you', 'he fancies you' and a whole load of jagar bomb courage worked a trick. Will asked me to marry him on our five-year anniversary in Venice with the most beautiful ring – a rare sapphire surrounded by diamonds. He proposed at a beautiful baroque church in the North of the island called Madonna dell'Orto, which means Madonna of the garden. The ring was absolutely stunning; I was so overwhelmed that I actually forgot to say yes! The following 20 minutes were spent polishing off a bottle of champagne while ringing up a small fortune calling our closest friends and family."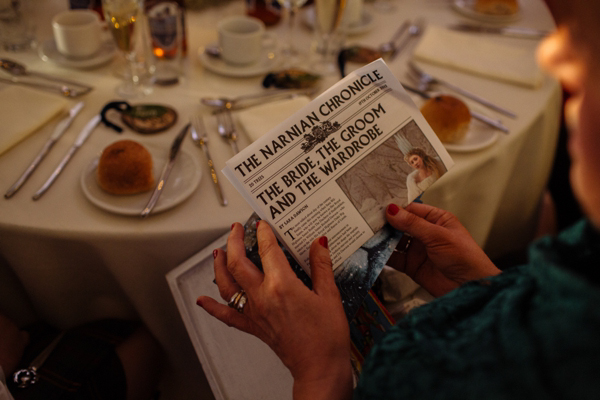 "My wedding dress was a real labour of love; I knew I wanted something special that flattered my curves and oozed 1940s red carpet glamour. After trying on 84 dresses from different designers across the country, I decided to have a dress made to suit my hourglass shape – I just needed someone to make it. I found the Sophie Louise Bridal Boutique on a chance visit to Boston Spa with the mums and bridesmaids, while on route to Harrogate to bond over champagne and afternoon tea at Bettys Tea Rooms. We were impressed with the creative director Vivienne's knowledge of fashion and her obvious passion, she grasped my love of vintage immediately."
"I worked closely with Vivienne to create an individual 1940s–Rita Hayworth inspired couture gown. The main fabric of the dress was pure silk and heavy crepe backed satin and the lining was finished in pure silk satin – it felt amazing to wear. I chose to have lace arms and a lace backless bodice. The classical lace I chose was ivory with delicate champagne cording, which gave a subtle outline to the traditional design. Will jokingly referred to Sophie Louise as my second home as I was there every two weeks, and every other day leading up to the wedding. 
The end result was absolutely stunning I couldn't have been happier. On the day I had so many compliments about how stunning the dress was – I felt like a movie star! A few people were concerned that the lace arms might be too restrictive, fortunately they weren't at all, as I proved winning the dance off against my new husband!"
"I wanted my bridesmaids to feel beautiful and be comfortable on the day while reflecting a vintage 1940s look. In the 1940s Christian Dior began experimenting with the female silhouette creating dresses that twinned a synched waist with a bursting skirt, this eventually became the iconic 50's dress – I wanted my dresses to draw on this look. The London boutique Vivian of Holloway was a real find – Vivian and her team allocate dresses based on waist and bust measurements, so having bridesmaids hundreds of miles apart was no longer an issue.
I'd originally wanted green dresses however, after trying on a few dresses we decided against it, so I opted for navy blue. Only then did my polite posse of maids reveal that they had in fact hated green and much preferred the navy. We chose the halter neck navy sateen dress in a cotton fabric.
Getting married in the Autumn I was mindful of the cold and searched high and low for brown fur wraps to tie around my bridesmaids' shoulders. I finally found the winning items on Ebay; they fitted perfectly with the Narnia theme and looked fabulous on my maids. I surprised the bridesmaids with the wraps on the morning of the wedding."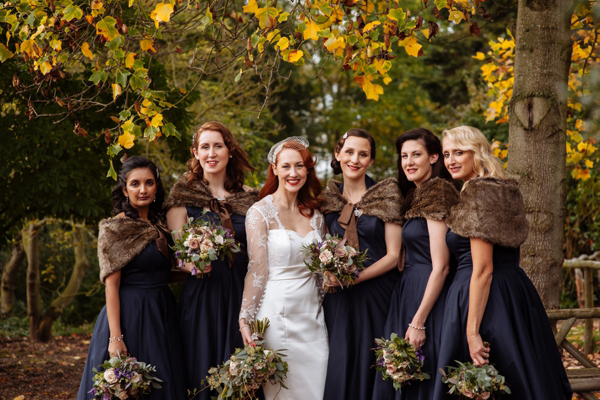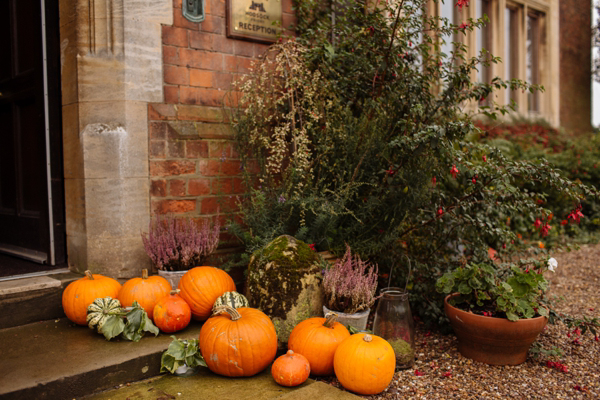 "We couldn't have asked for a more amazing florist, Lynne from Stem's Design is one of a kind. She grasped what we wanted immediately and boy did she run with it. I will never forget our evenings sat around her long wooden table supping Rioja designing how we would turn Hodsock's Pavilion into a magical Narnia woodland wonderland.
For the Pavilion dining hall we wanted to bring the outside in and create an occasion overflowing with wintry textures and rustic details, while capturing the magic of Narnia. For the tables we chose large silver candelabras that Lynne wrapped in birch, moss, ivy, tillandsia moss and trailing amaranthus; they popped with colourful woodland flowers mirroring my bouquet. Each one was sprinkled with cold snow and decorated at the bottom with pinecones. Birch and ivy was also used to create beautiful chair ends in our ceremony room. "
At each corner of the room we placed fake fir trees covered in snow and twinkling fairy lights that we hired from a local Narnia production. At one corner we placed an antique wardrobe, hanging inside were my Grandma's fur coats and fox furs. This was placed next to an antique writing bureau that doubled as a cake stand. We also hired a lamppost that Lynne covered in moss and ivy. 
I asked my friends and family to collect jam jars from pretty much the moment I got engaged, these were put to good use in the weeks leading up to the wedding when my team of wedding crafters wrapped 100 jars in ivy cut from Will's parent's garden and filled them with T-lights. These were scattered on the tables and around the venue – they were surprisingly effective and cheap to make.  Lynne of Stem's Design created statement entrance-ways using pine cones, pumpkins, a sprinkling of cold snow and our ivy jam jars."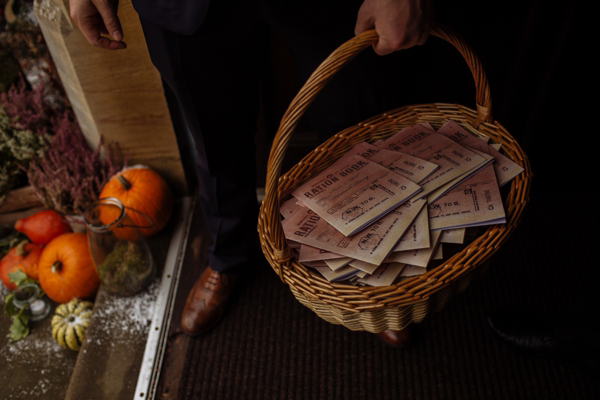 They had a nest as a ring cushion. A NEST!
"Our wedding rings were handmade by Philip Stoner Jewellers in the Victoria Quarter, Leeds, which is where Will had my engagement ring made. They designed a matching platinum diamond wedding ring for me and a plain platinum band for Will."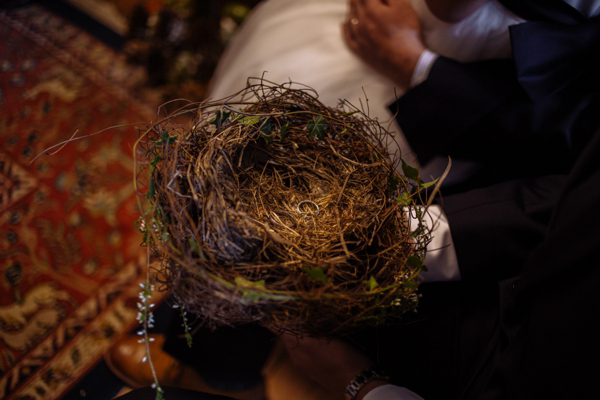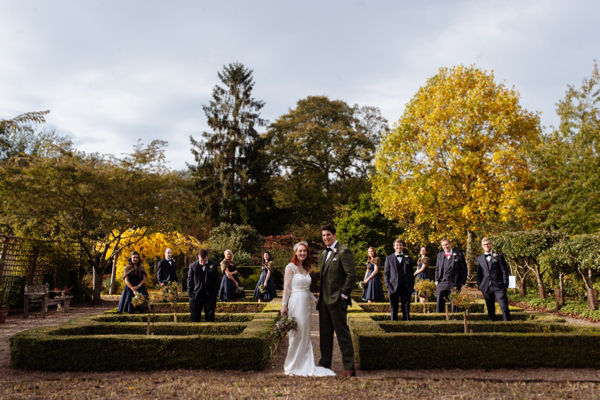 "Since I first came across Degas' famous ballerina paintings in a New York gallery, I've admired them for their elegance and beauty. I definitely took inspiration from these paintings to dress my flower girls. I found the most adorable ballerina length dresses with bell-shaped tulle skirts on an online boutique called Demigella in Tunbridge Wells.  I decorated the outfits with adorable ivory fur wraps from Debenhams, silver shoes from Next and gorgeous navy bows made by Will's mum with the material left over from the bridesmaid dresses.
Lynne, our florist, added the finishing touch with ivy, berry and hydrangea garlands."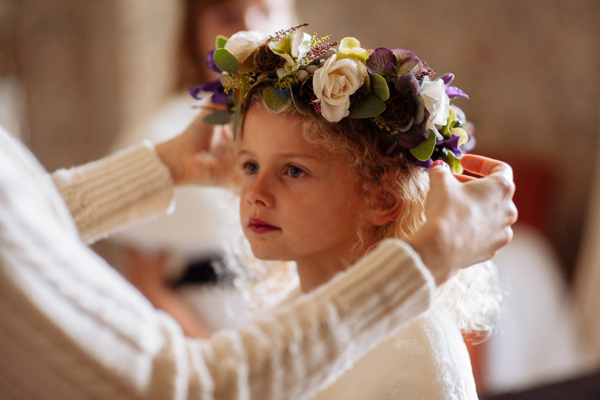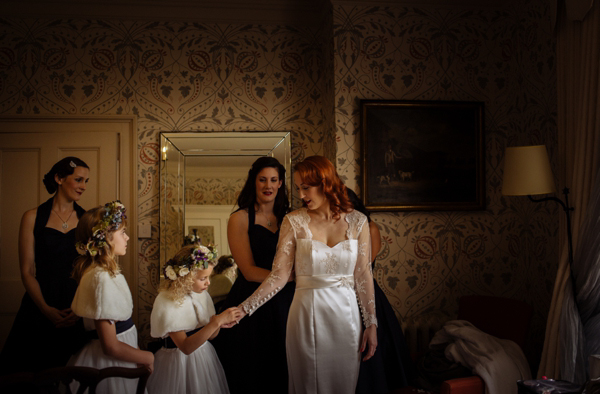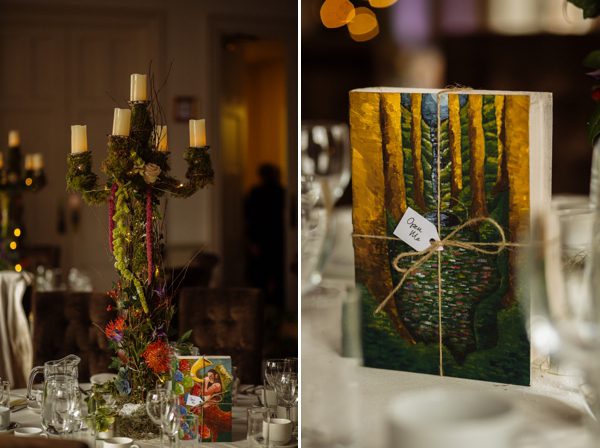 "We designed as much stationery as we could personally with the help of our friend Hannah Sowden, a graphic designer. For our save the dates, we made a government notice evacuating our guests to Hodsock Priory. Our order of service doubled as a 1940s ration book.  Will's dad illustrates in his spare time so he created a beautiful invite – a wardrobe that opened up to reveal Will and I in Narnia. We used Narnia imagery to create a menu, RSVP cards and a table plan."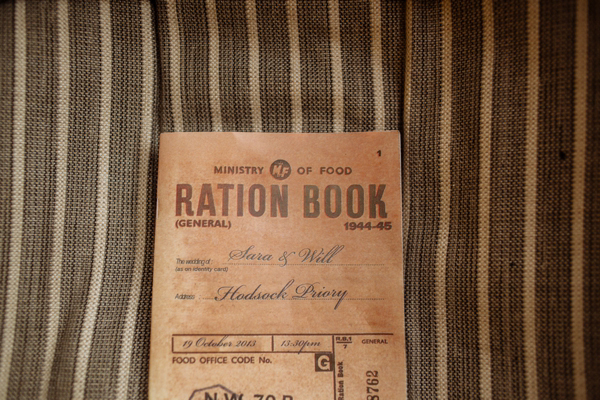 "The table plan was a map of Narnia and each table correlated with a place. We purchased cardboard books from Hobbicraft and Will hand painted each one to reflect their destination, from the lamppost to the dancing lawn. We filled each decorated box with fun things like Narnia-inspired drinking games, party poppers and toy areoplanes. I created a newspaper called The Narnian Chronicle featuring comedy hen and stag do reports and a crossword."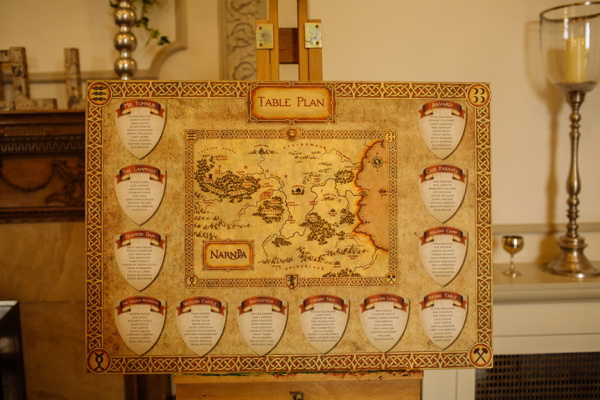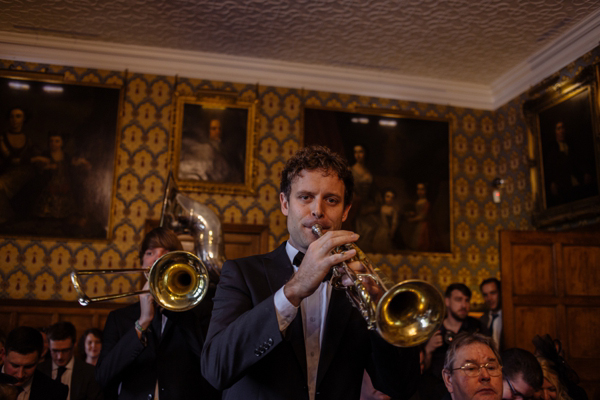 "Booking a photographer was the second thing we did. I work with images day in and day out, so choosing the right photographer was a must. We wanted a photographer who would capture the story of the day.  After meeting Toast of Leeds, who is the quirky firecracker Shelly Mantovani, and browsing her portfolio, we knew we'd met our lady – her images were really distinctive and beautiful.
A photographer shares all your special moments, so it is crucial you feel comfortable around them; we had such a laugh with Shelly that I knew she'd put me at ease on the day.  Our wedding photos were exactly what we wanted – they were crazy, beautiful, arty and hilarious in equal measure. We were so happy with Shelly's work. She captured the moments that had flashed by, like my dad kissing my cheek in the bridal suite when I said I was nervous, my mum sharing a joke with my flower girl while we made our declaration, and my new father-in-law revealing our cake cutter, a war-time bayonet, while wearing a headband from Karate Kid."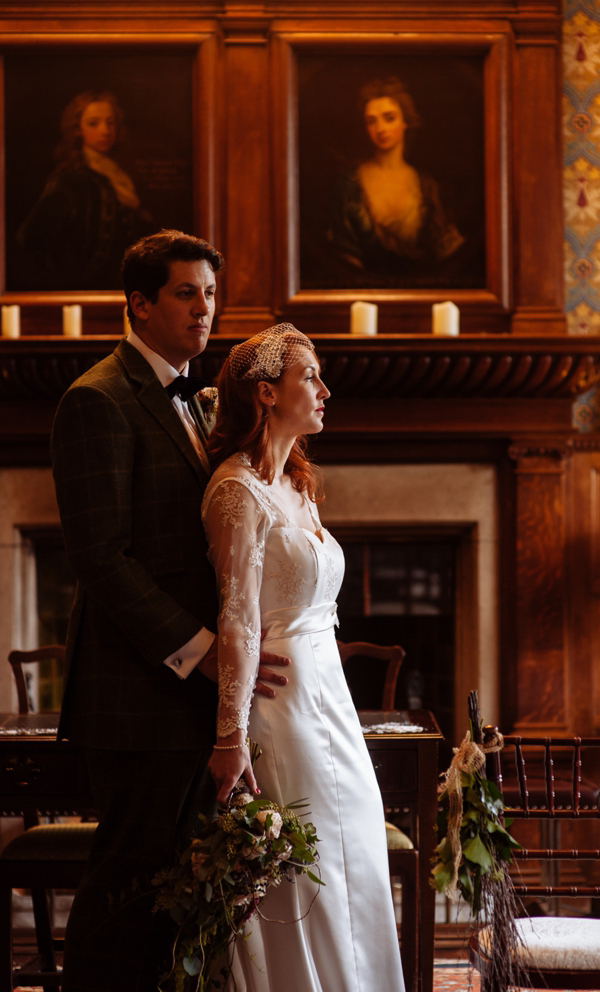 "After watching a couple of beautiful wedding videos on Love My Dress, I knew I wanted a wedding video. We hired Matthew Modget Films to document our day. Matthew specialises in vintage wedding videography using a Super 8mm camera. We chose 'Candy' by Paolo Nutini as the soundtrack to our video. We love the video and both welled up when we watched it. We also asked Matthew to make a special video for my little brother Stuart who has Downs Syndrome and was an usher at our wedding. He has a certain appreciation for blondes as the video demonstrates."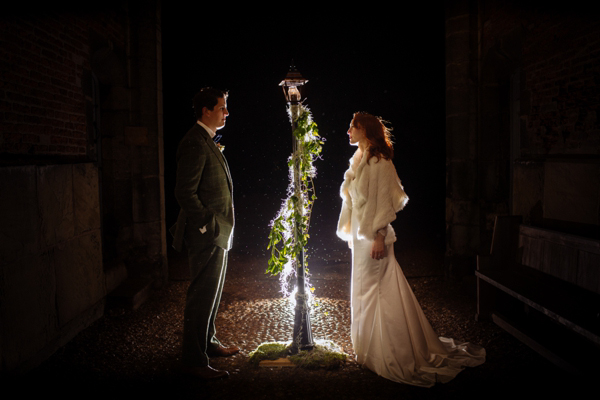 "I found make-up Artist Kristina Gasperas on Love My Dress, and fell in love with her flawless makeup application and her modern take on vintage make up. I was ecstatic when she said she could do it. My look was Narnia meets old Hollywood Glamour. I adore the forties style, all red lips, red nails and sultry eyes.
She used a gel rather than a liquid to give a softer more romantic feel and Salon System individual feathery lashes for a delicate, yet glamorous look. My eyes were contoured in the socket with light to medium browns shades from MAC, and my cheeks were softly defined using MAC's Harmony.
Kristina created a vintage look for the bridesmaids based on their personalities, skin tones and overall look.
She recommended Kasia Fortuna to style my hair; Kasia specializes in vintage styles so she was perfect for the wedding. I asked for an old school Hollywood wave to complement the style of the wedding and my 1940s wedding dress."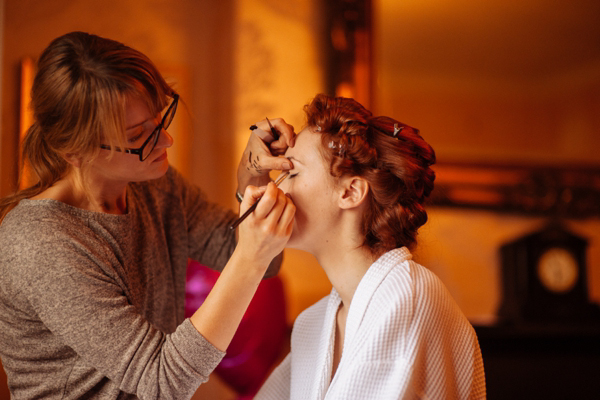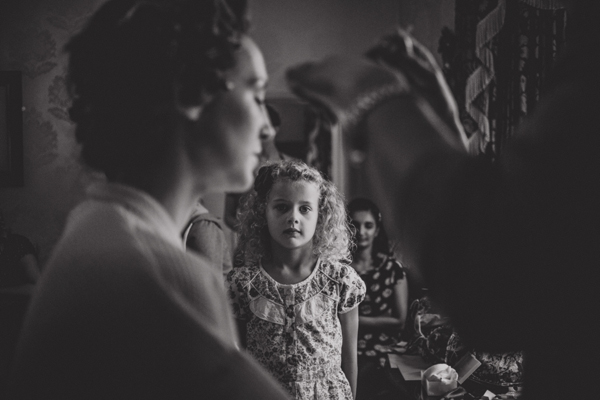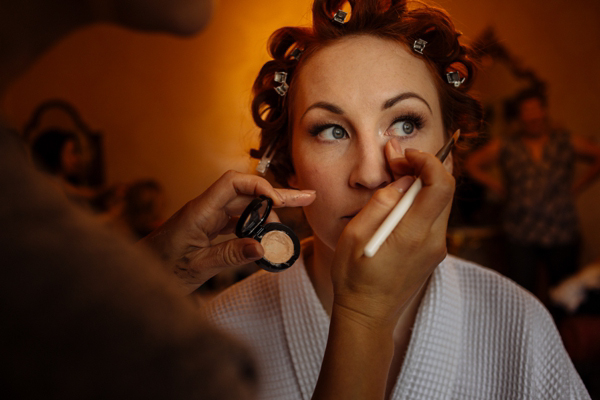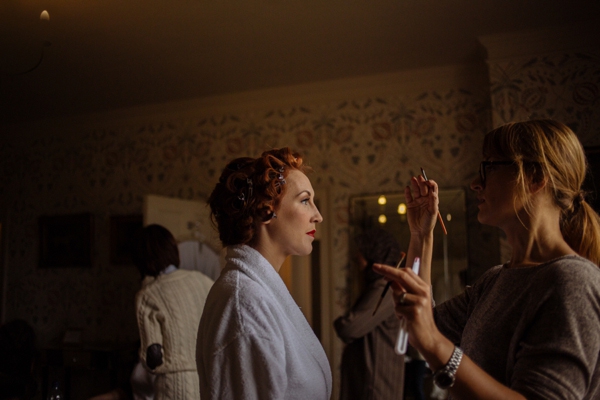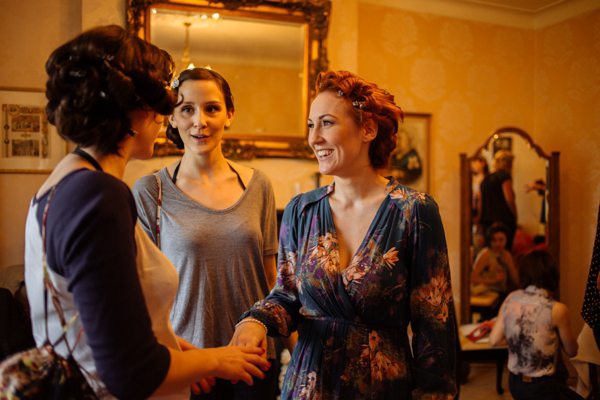 "I found the most delightful handmade silver Narnia pendants on Etsy by Expressions Jewellery. I selected the Narnia scenes I wanted encapsulated in the necklaces, and they created the pendants for me. I chose the iconic wardrobe, Mr Tumnus and Lucy and Cair Paravel. These were given to the bridesmaids and the flower girls on the day as gifts."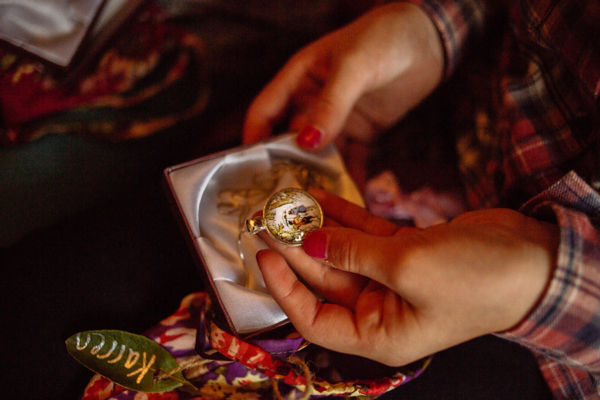 "My shoes were Mimi by Rachel Simpson. I made the shoes more individual by adding beautiful shoe clips handmade by Lou Lou Puchalka from Lou Lou Puchalka Accessory and Millinery Boutique in Leeds. The clips were arranged in an art deco fan shape drawing on the colours of my dress and Will's suit."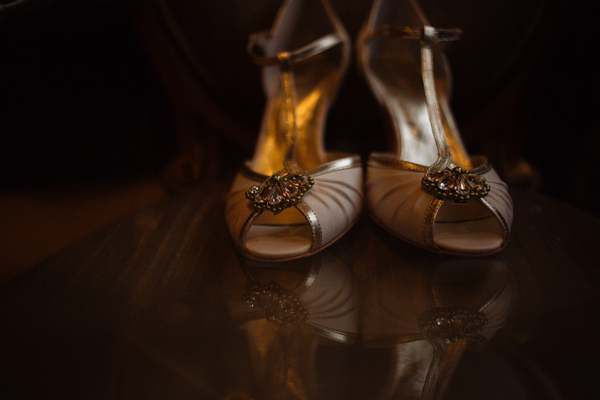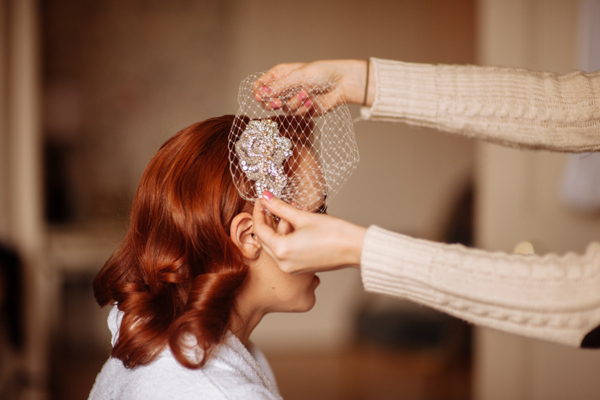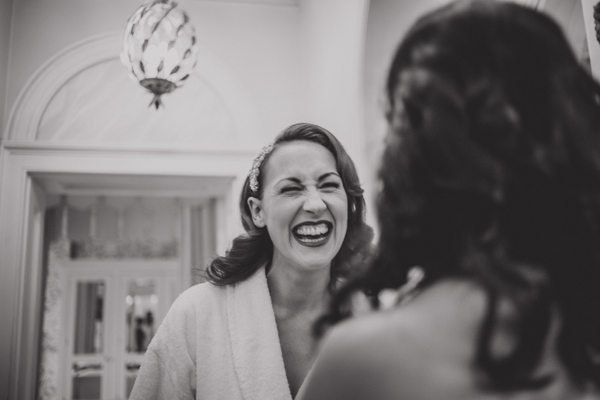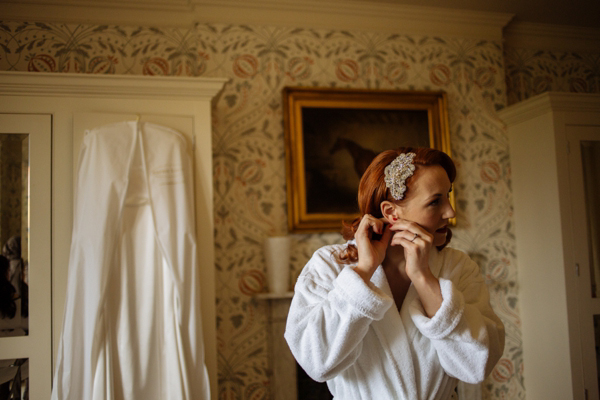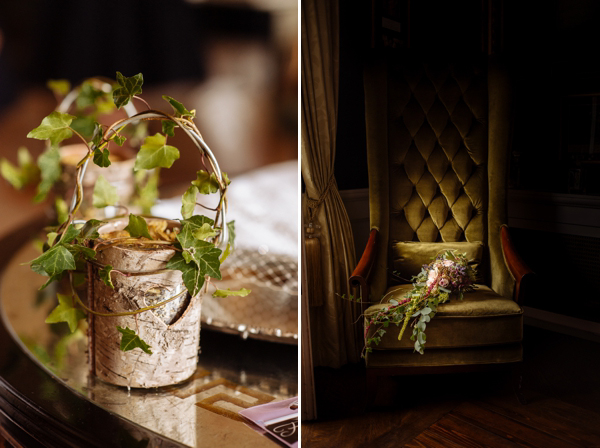 "I wanted my bouquet to burst with wild beautiful flowers, we chose amnesia and sandstorm roses with viburnum berries, bruni, populous and eucalyptus, intertwined with sweeping lavender, contorted willow and trailing ivy and amaranthus. My bridesmaids had smaller versions of my bouquet, and the mini maids had silver pots wrapped in ivy filled with lavender that they scattered down the aisle. When Lynne presented our boxes of flowers on the morning of the wedding I cried – they were so beautiful."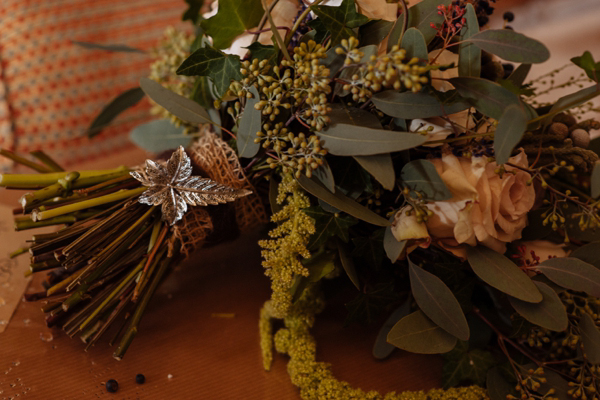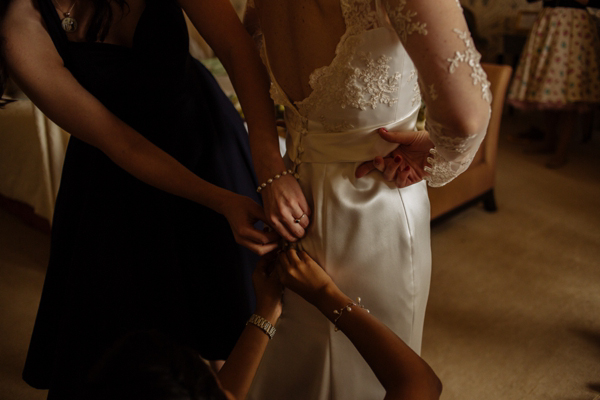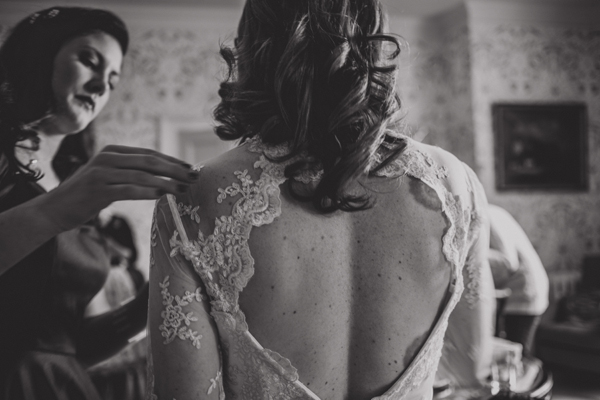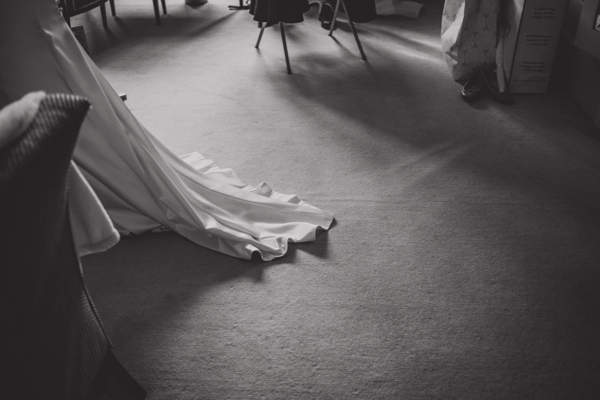 "My wedding gift to Will was an engraved full hunter silver pocket watch; it transformed him into a dapper country gent. He brought me a gorgeous Narnia-inspired fur coat."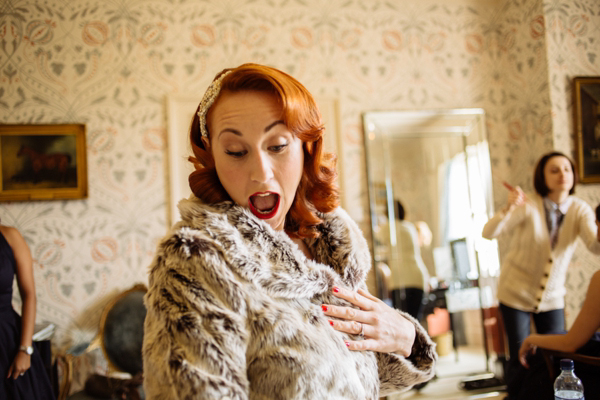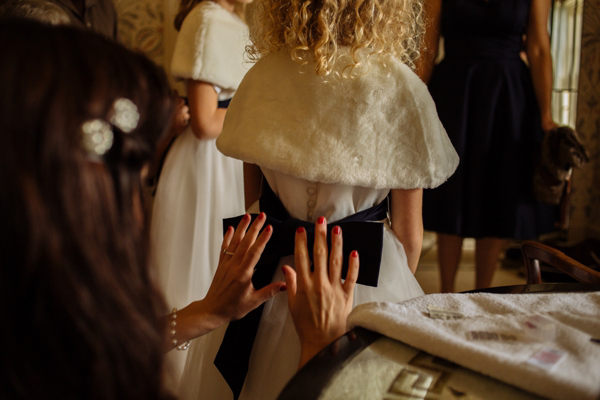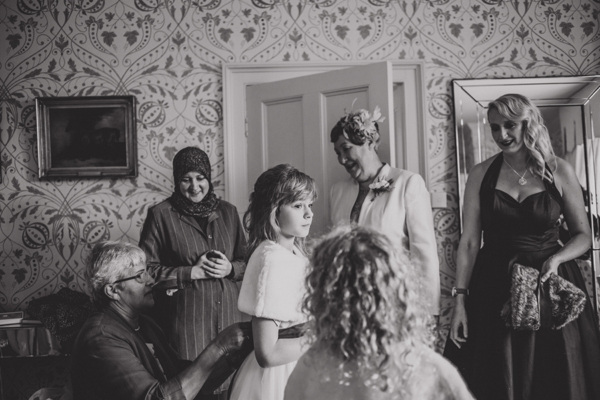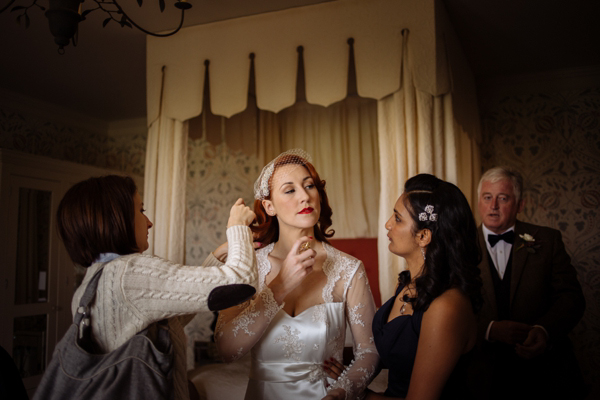 "My headwear by Lou Lou Puchalka was decorative so I kept my jewellery simple by wearing a freshwater pearls. My something blue was my sapphire engagement ring and for my something old I positioned one of my Grandma's antique silver broaches on my bouquet and each of my sisters; this was very important to me because my Grandma, who so inspired the day, could not be there due to illness.
My something borrowed were my pearl earrings and my something new was of course my wedding dress."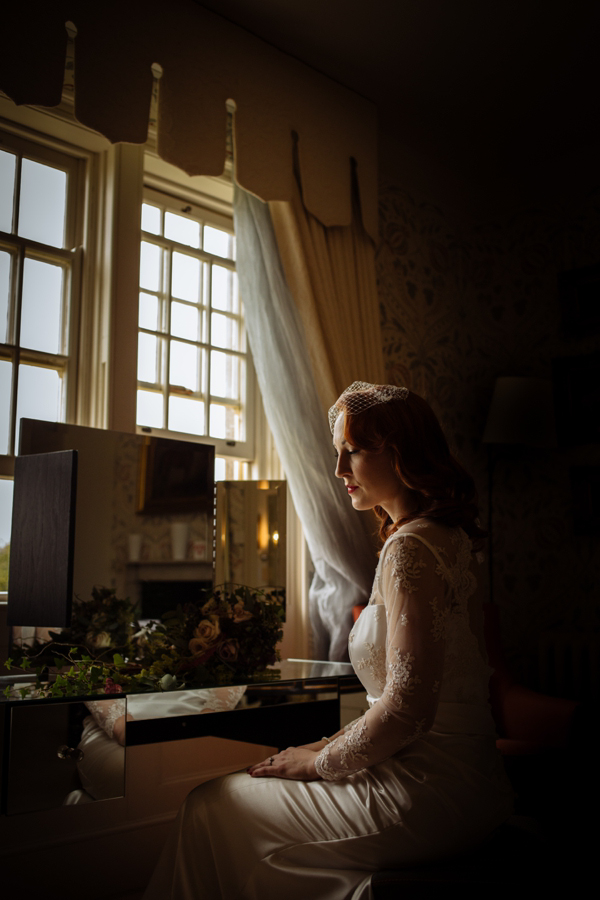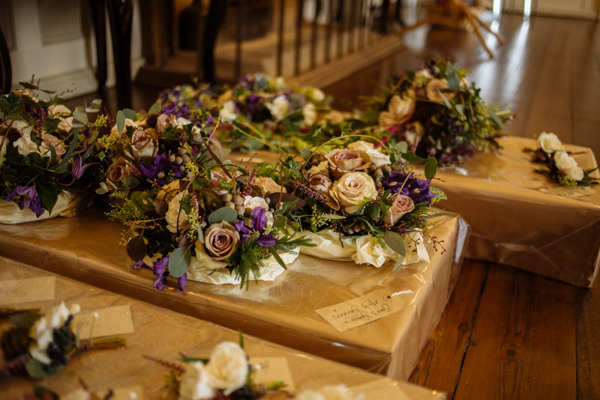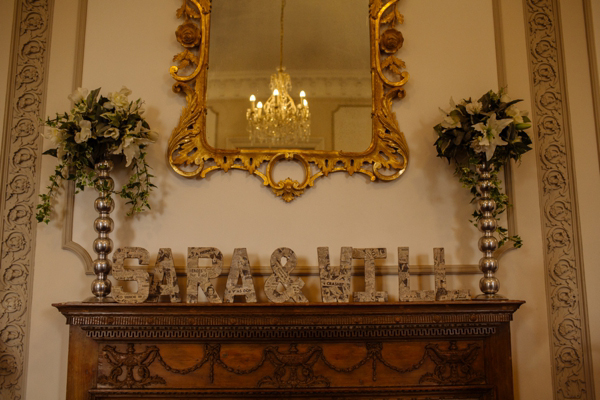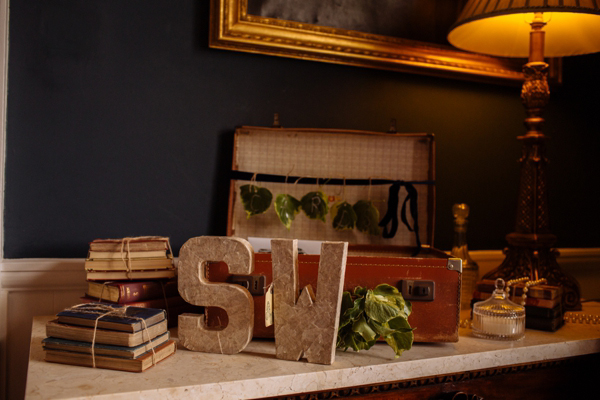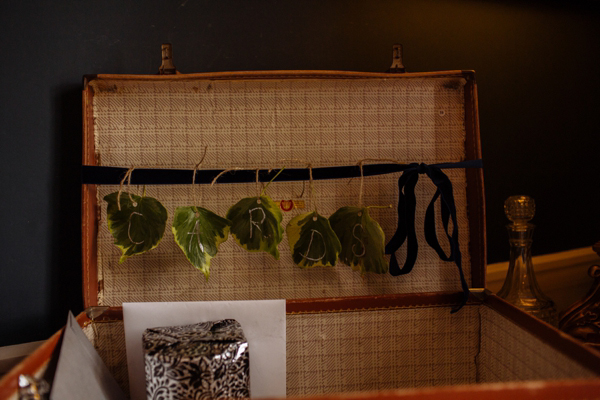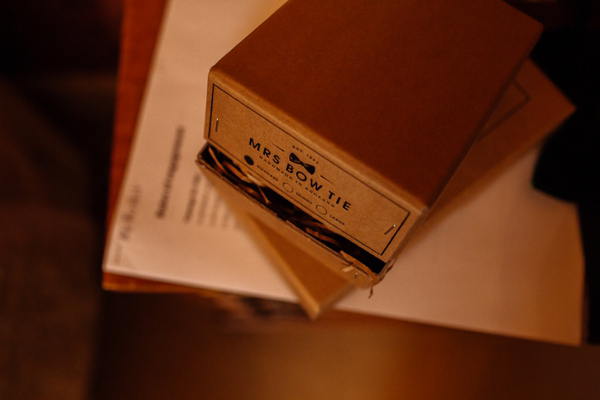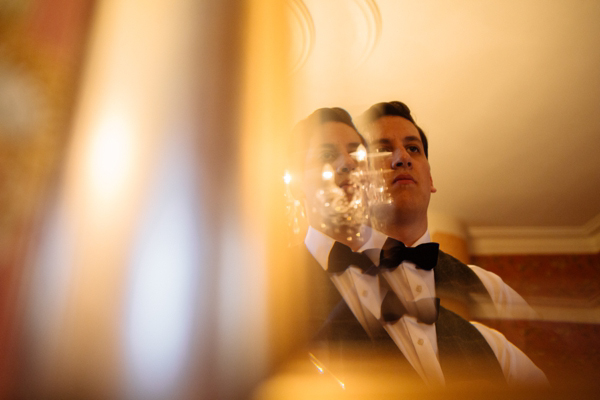 "Will grew up in the Lincolnshire countryside on an old farm, so being a country boy, tweed was the fabric of choice. He chose to have a three-piece tailor-made suit from King and Allen in sherry tweed. Being a massive fan of Dr Who's Matt Smith, bow ties were a must have – Will wore a velvet navy bow tie and all his ushers wore velvet moss green bow ties, apart from the best man who wore a crushed velvet pink masterpiece."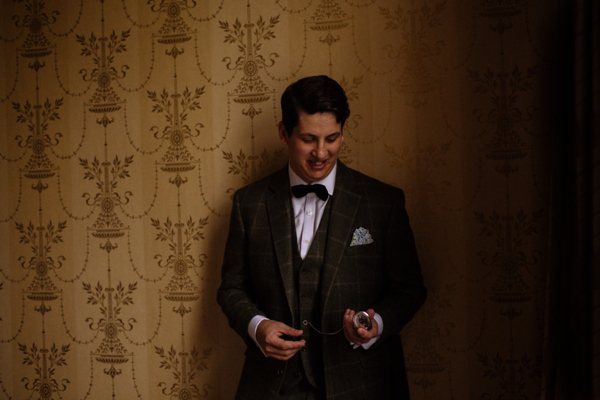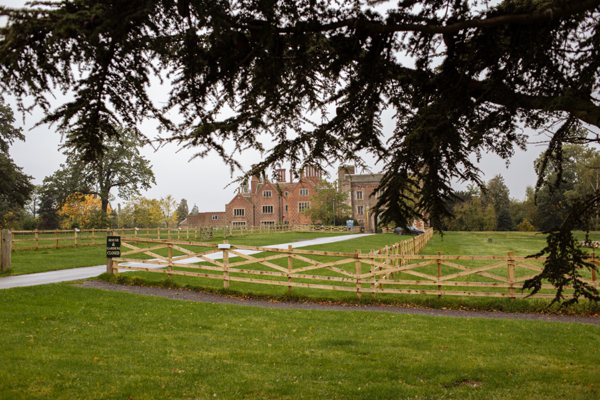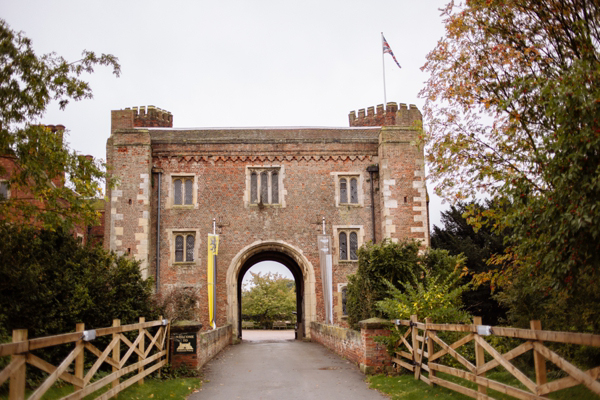 "Although the Narnia/1940s theme ran through the day, we wanted it to also reflect 'us'. My maid of honour and sister, Emma, spent her summer holiday bidding for antique frames on Ebay that she filled with old family photos.  We created a Dawson corner and a Williams corner outside for the drinks reception, each selection was introduced by a signature crest made by Will's dad."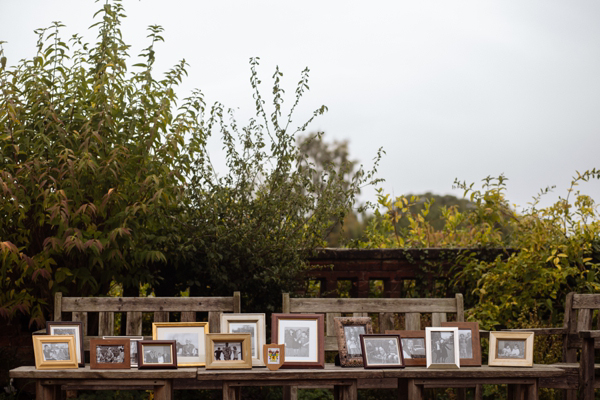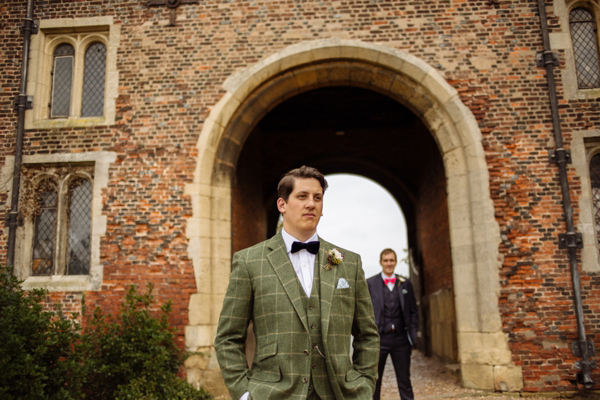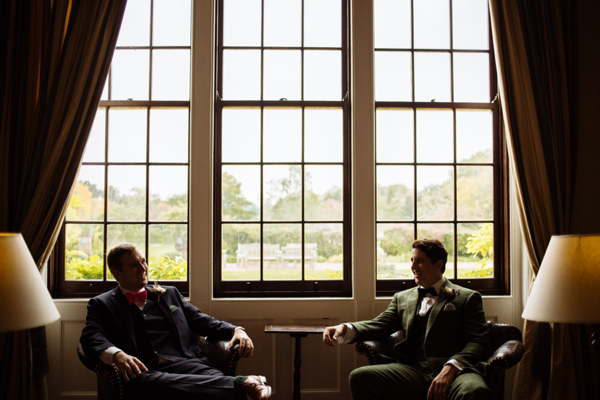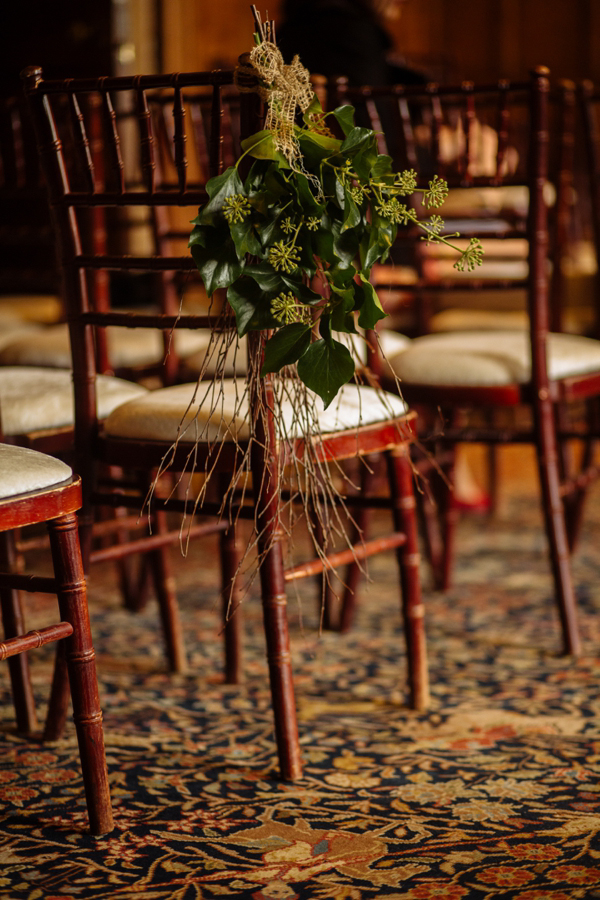 "My dad ,Jeff Williams, walked me down the aisle to an acoustic version of 'Hysteric' by Yeah Yeah Yeahs.  It's a really beautiful song about love being reborn; Karen O's haunting lyrics 'You suddenly complete me' are beautiful. My dad and I were lucky enough to sneak a few moments alone in the bridal suite before we took to the stairs to my awaiting bridesmaids. I remember him telling me a funny story, which helped balance my nerves."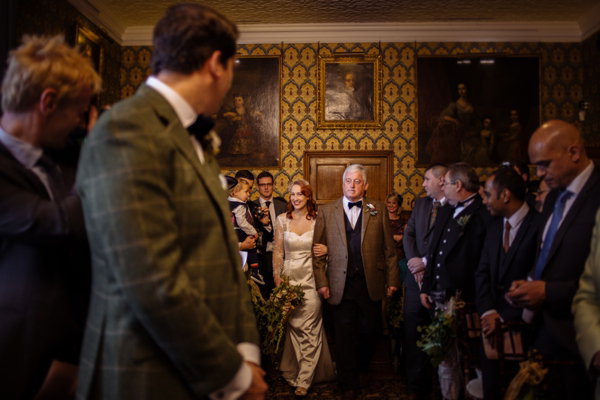 "We both wrote our own vows – the honest words and comedy timing certainly filled the ceremony room with laughter. Our ceremony featured four readings; Will's dad read a beautiful poem he wrote drawing on the work of CS Lewis called 'The Door Opens'. He read 'Bless me… what do they teach them at these schools?'  Our other readings were 'The luckiest' by Ben Folds and 'The promise' by Eileen Rafter, read by my close girlfriends Laura McCarthy and Rebecca Kinnard.
My mum, Margaret, ended the readings with an extract from CS Lewis' The last battle – there wasn't a dry eye in the tilled gallery;  '
And as He spoke, He no longer looked to them like a lion; but the things that began to happen after that were so great and beautiful that I cannot write them.
And for us this, the end of all the stories, and we can most truly say that they all lived happily ever after. But for them it was only the beginning of the real story.
All their life in this world and all their adventures in Narnia had only been the cover and the title page: now at last they were beginning Chapter One of the Great Story which no one on earth has read: which goes on for ever: in which every chapter is better than the one before.'"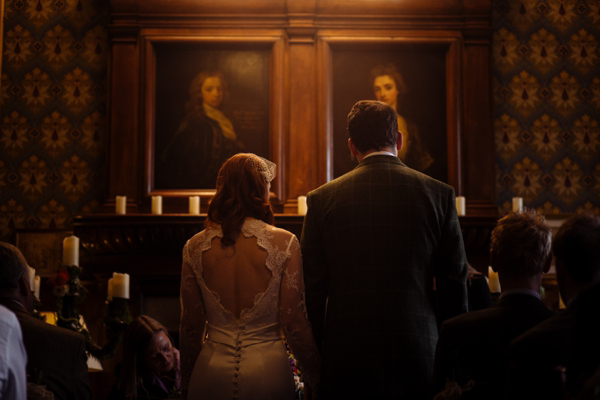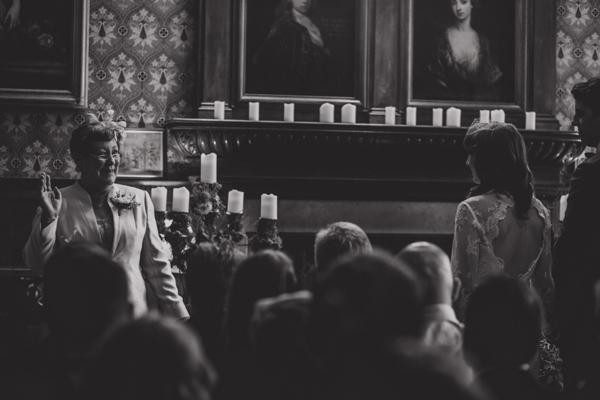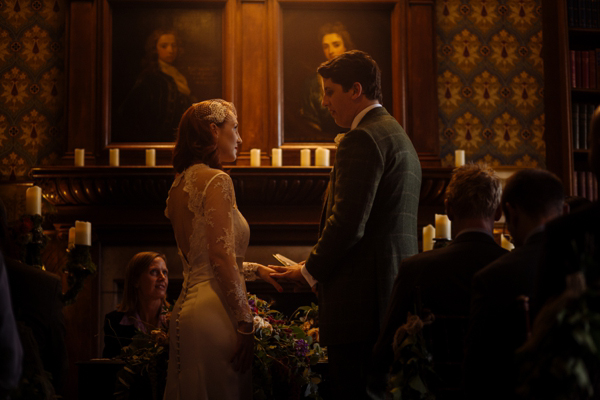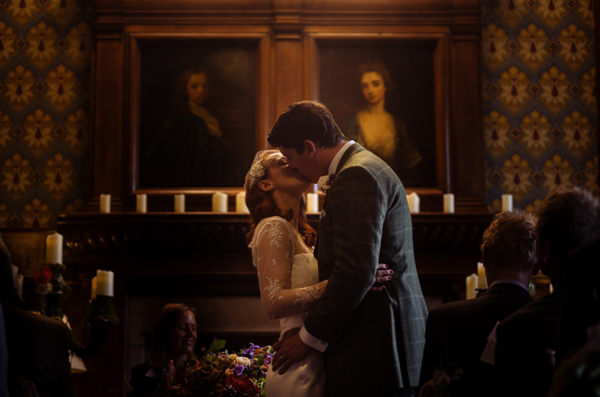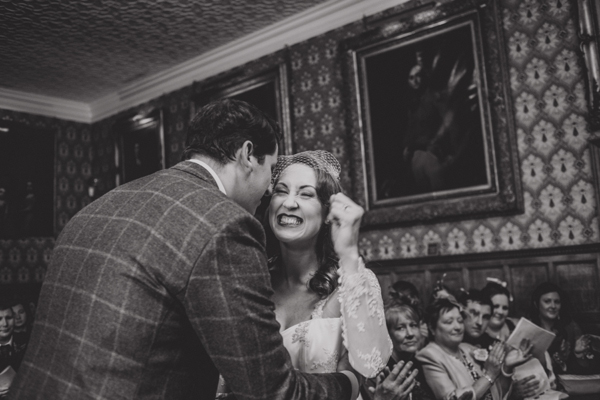 "As we signed the register our band, the New York Brass Band, made a surprise performance of 'Can't take my eyes off you' by Andy Williams – we were all very emotional at this point, so it really lifted the ceremony. We provided the lyrics in our order of service, guests quickly began chiming with the band and sang along – it was brilliant and guests said they left the ceremony buzzing"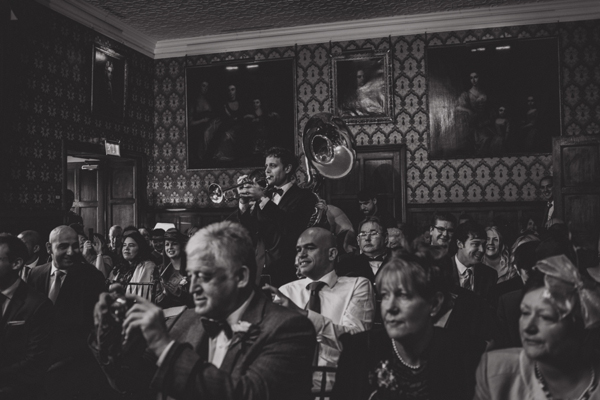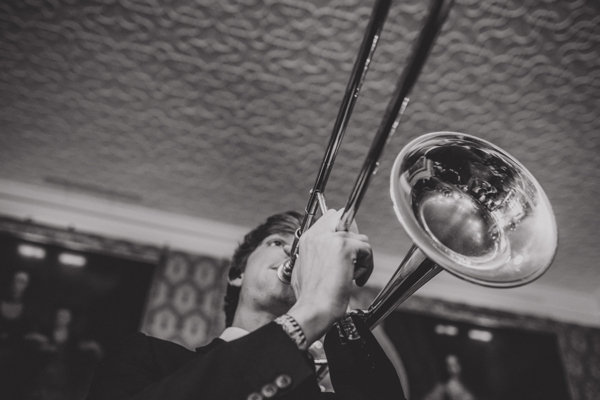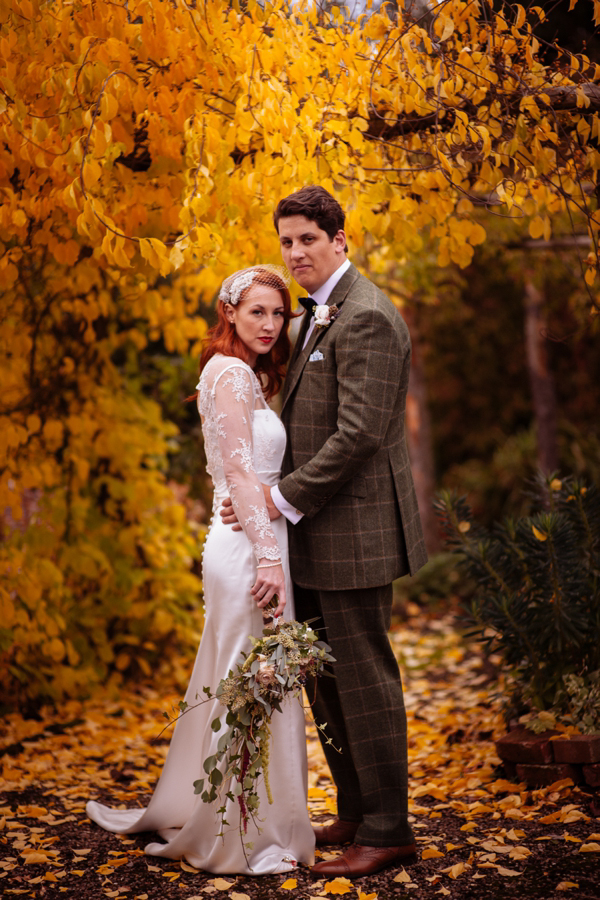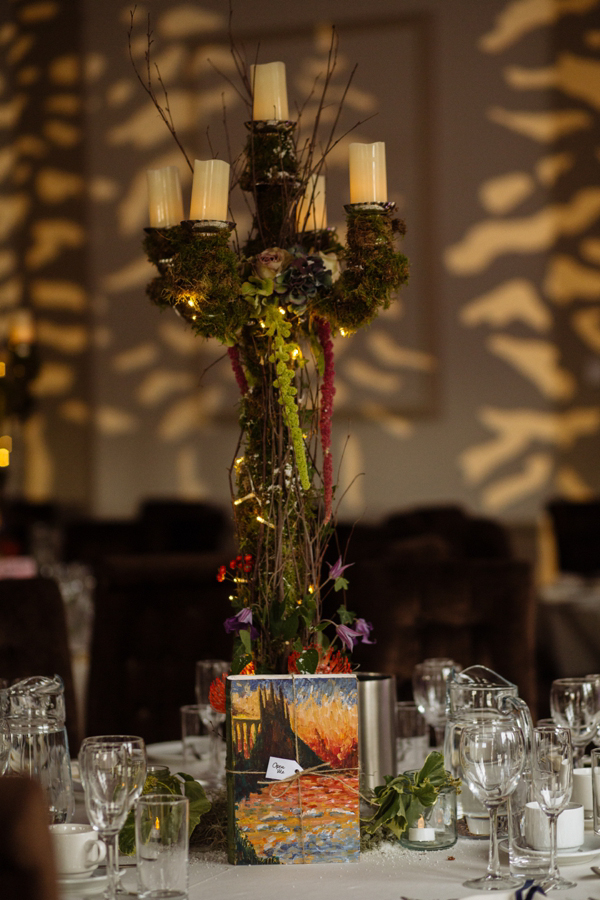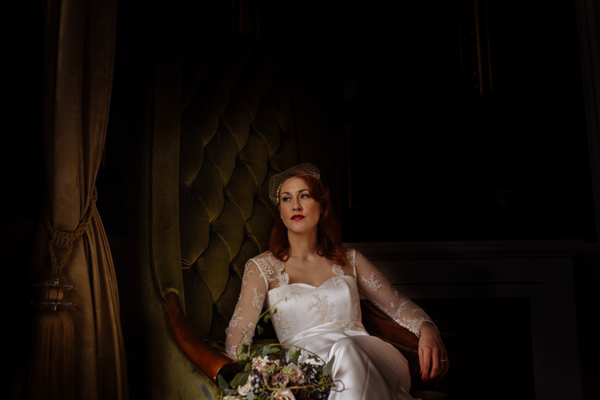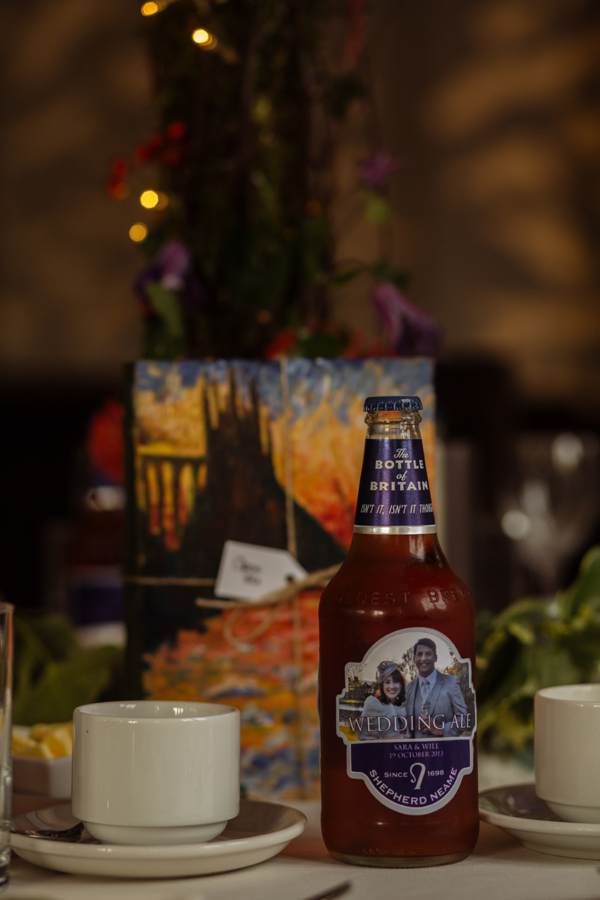 "We're lucky enough to be good friends with a supreme cake maker, Jane Blackwood, who decorates cakes in her spare time. In spite of being eight months pregnant, Jane made the most amazing four-tiered Narnia-inspired wedding cake. She covered each layer in sugar paste and then used royal icing to create a rustic snowy effect. The layers were made of fruit cake, black forest chocolate cake and carrot cake. We placed the cake on a tree stump that I sourced, wrapped each tier in blue velvet and decorated it with ivy, moss and berries. Will's dad used clay to make Sara and Will characters sitting on a lion."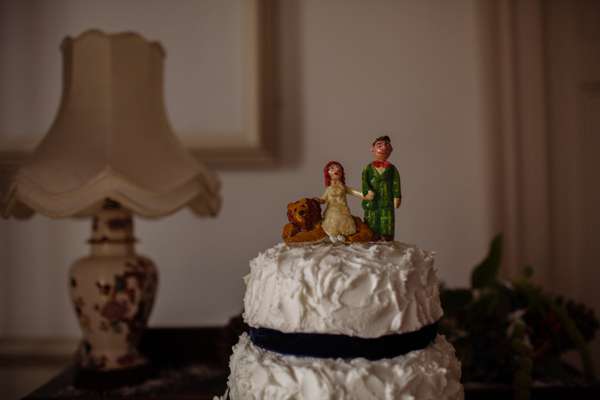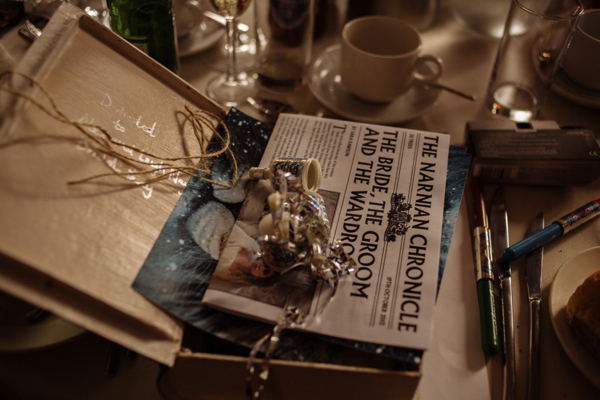 "We're real foodies so selecting the right food was important to us. Local catering company Glorious Catering were ideal – they use seasonal locally-sourced food, and had the capacity to offer guests a choice of three starters, mains and desserts.   Autumn is synonymous with comfort food, so we wanted guests to be greeted with rich intensely-flavoured meals when they came in from the cold.
We considered serving Narnia-themed mains, but decided that dishes like roast river trout, sticky marmalade rolls or sardines on toast may have wetted Mr Beaver's appetite, but not our guests. We did, however, decide to serve Narnia-themed canapés, we served Fois gras lollipops, chilli and hot chocolate shots, smoked quail with quails egg and aioli, home-cured venison and picked strawberries, and wild mushrooms and ragout cups."
For the wedding breakfast, Will and Sara chose to have the following served
Starter
* Platter of locally-smoked salmon, beetroot-cured salmon, hot smoked salmon, poached salmon mousse and king prawns with potato and chive salad and rye bread
* Ham hock and foie gras terrine with homemade piccalilli and toasted brioche
* Wensleydale and red onion marmalade tart with land cress salad
Main course
* A trio of Dingley Dell pork, slow-roasted belly pork with spiced pork fillet, cabbage faggots, cider fondant, reverse apple crumble and glazed baby carrot
* Risotto cake stuffed with Girolle mushrooms and buffalo mozzarella with garlic roasted aubergine ratatouille and green beans wrapped in leeks
* 24-hour slow-cooked blade of beef with filet mignon, mustard mash and cabbage and bacon bound in cream with a rich red wine sauce
Dessert
* Sticky toffee pudding with our Madagascan vanilla ice cream and toffee sauce
* Regional cheeses with homemade chutney, biscuits, celery and fruit
* A strawberry sorbet with a strawberry sandwich layered with nougatine rose water cream and macerated strawberry shortbread.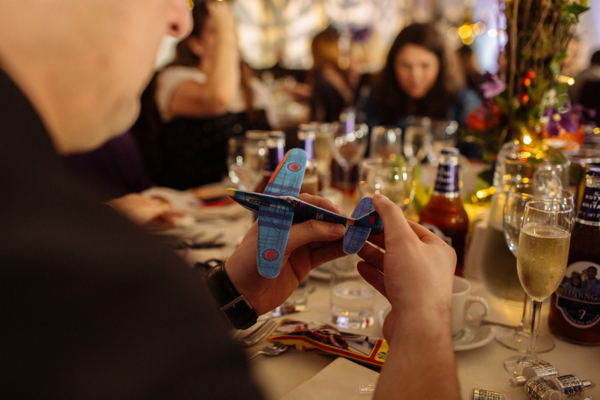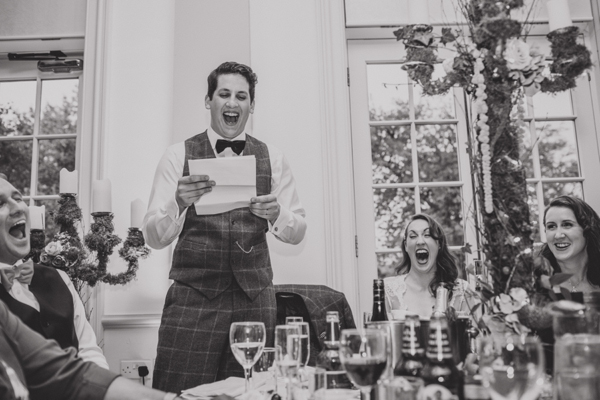 "For the favours, I sourced wooden discs from a woodturner called Pete based in Wiltshire who drilled a hole in each one. He also provided the stump for the cake. We created a linoprint of a lamppost and the initials S W and Will's mum painstakingly printed and varnished 120 discs. We used bay leaves to write on the place names with silver pen and tied them to each disc using navy blue velvet ribbon. Guests said they liked having a keepsake and even hung them on their Christmas trees.
"As the Pavilion dining hall was quite plain we hired Matt from Wedding Venue Lighting to help us create the right atmosphere. To create a magical effect we hung fairy lights from the top of all the windows and projected fir trees along the back wall. We also used up-lighters with a hint of purple – this looked fantastic against the fir tree projects and sparkly lights."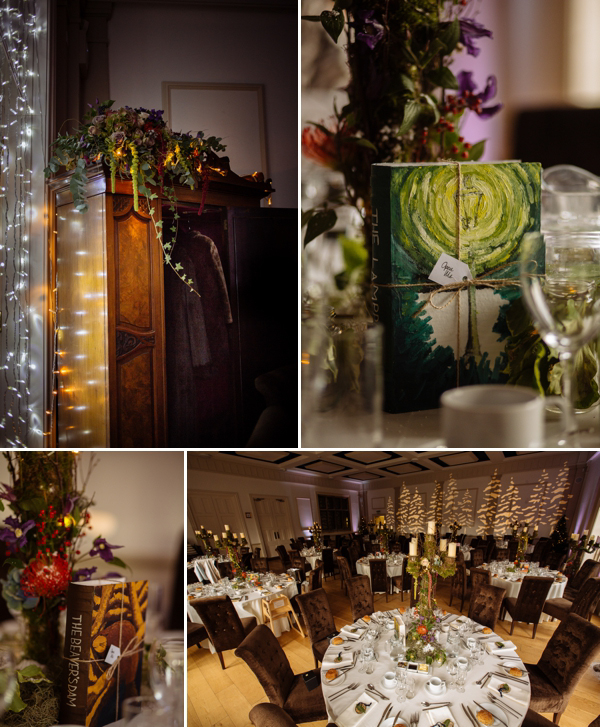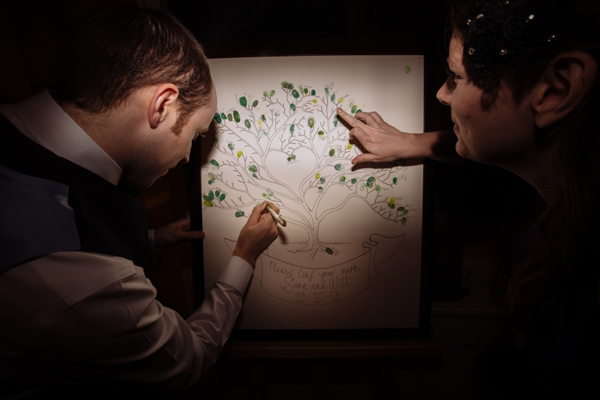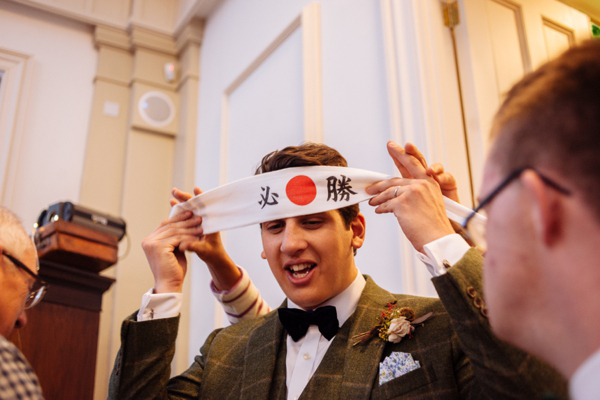 "We wanted to end our wedding on a high and avoid it petering out, so when we saw the New York Brass Band, a New Orleans inspired brass band from York – we booked them immediately. Their mix of rumbling tuba, relentless drums and wailing horns to songs like Cee-Lo Green, Aha and Daft Pink packed a powerful punch and got everyone dancing – they were an absolute wedding highlight.  NYBB surprised guests by joining us for our first dance to the Blues Brothers – Everybody needs Somebody – complete with sunglasses and matching tartan shorts. They were fantastic, we had a bride and groom dance off, a conga and at the end they led us outside and we danced in the gardens under the stars."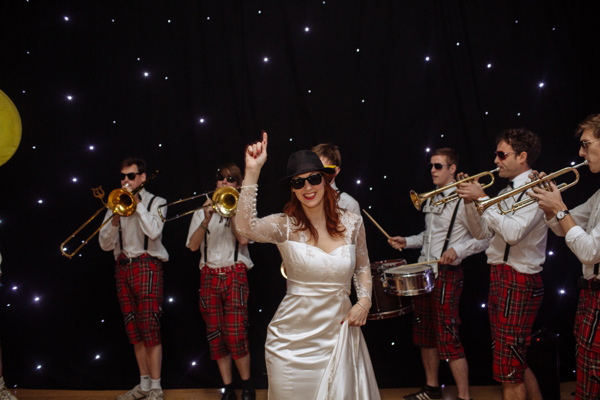 "We choreographed a dance to 'Everybody needs Somebody' by the Blues Brothers – complete with hats and glasses. It was so much fun learning it and performing in front of a crowd. I was more nervous before that than I was reading my vows – the sunglasses helped!"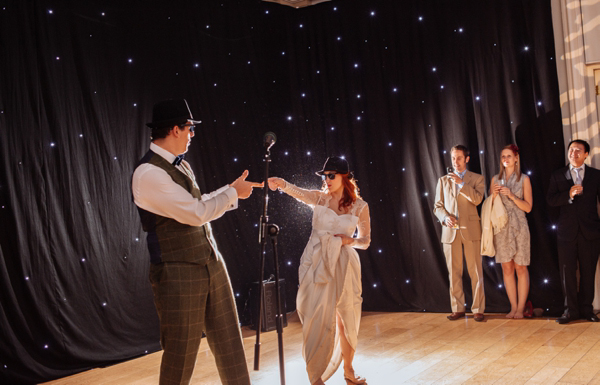 Words of Wedded Wisdom…
"On reflection, I would have taken the week off before the wedding. No matter the number of weeks you spend planning or how many to do lists you craft – the week before any wedding is frantic, having more than two days off would have given us some breathing space.  Some of the best advice I received was to savour every moment as it goes by in a flash and make sure you escape for a few moments with your new husband.
"My photographer Shelly, advised me not to be afraid of letting my dress hit the floor. My advice to brides is to do the same and have fun in your dress, you're unlikely to ever wear it again and yes it will get dirty, but boy is it worth it – I felt like Rita Heyworth in Gilda!  I would advise other brides to run through the ceremony with the registrar before your wedding day. My dad was not actually advised that he had to stand and physically give me away. Although this lead to our first laugh of the ceremony, when the registrar asked who was giving my hand in marriage and my dad stood up loudly announcing 'I do' like a scene from Three men and a Little Lady, to which I replied: "That's my line" to a chorus of laughter – it did take my dad by surprise."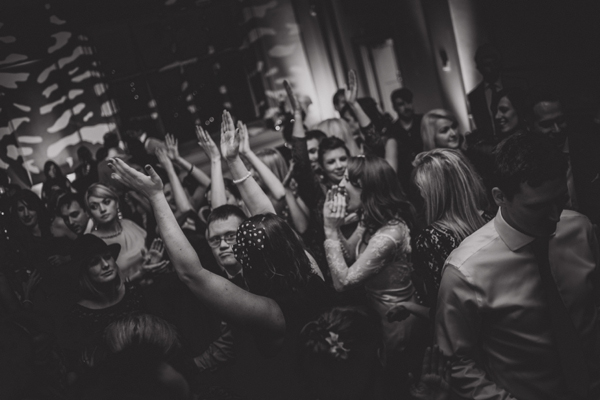 "Our wedding was made extra special by our parents who jointly provided the alcohol. Will's parents travelled to France to source our favourite fizzy by the box load. My dad, who works for Shepherd Neame, Britain's oldest brewer, bottled a special wedding ale complete with a Spitfire cap and a unique Sara and Will label; he surprised us with crate loads of bottles on the day! We were incredibly touched by the generosity of our families."
"A great addition to our wedding was the Narnia photo booth. We borrowed Mr and Mrs Beaver costumes, Mr Tumnus costumes, fur coats, swords and shields from my friend's Narnia production and added them to some vintage suitcases filled with hilarious props – the results were absolutely fantastic and all kinds of ridiculous. We cried with laughter when we went through them. The best part was watching the guests mingle in the costumes, my brother, Stuart, looked like Al Capone in a fur coat and Blues Brother's hat."
"My favourite part of the day was glancing past my families smiling faces and staring through the twinkling oblong windows watching the sunset over the lake sparkling with the most beautiful autumn colours, then turning to see my gorgeous husband staring at the same thing – it was magical.
But my favourite part of the whole wedding journey was the craft conveyor belt of family and friends who dedicated their weekends to helping us, from tieing ivy to jam jars, stamping favours and painting boxes, to stuffing confetti bags, framing pictures and stapling invites – the craft conveyor belt was such fun. My family and friends were amazing!"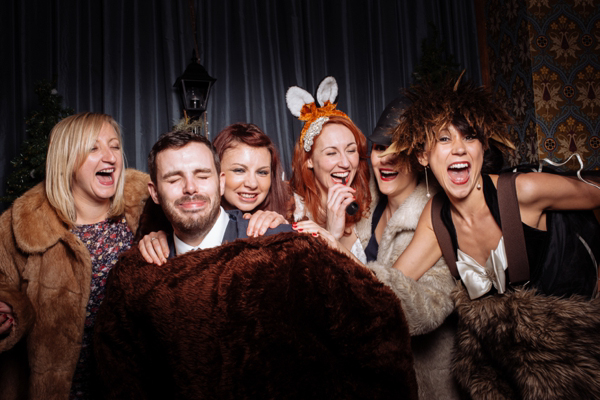 "I followed Love My Dress for more than a year before I got married and I'm pretty sure I read every real wedding post, using them as a base to book my own suppliers and search out my own story. I even wrote to Annabel before our wedding, here is an extract from my email; 'The stories on Love My Dress are beautifully written and presented they celebrate the elegant and the subtle aspects of every wedding. Brides and grooms put their heart and soul into their special day and you treat their memories delicately and tell every beautiful story as if it's the first story you've ever told.
It was a dream finding a blog on my wavelength.'"
What an incredibly beautiful, I mean, just beautiful wedding! Wonderfully photographed by Shelly of Toast of Leeds and gorgeously styled and curated by the bride and groom with love and joy in abundance! *weeps happy tears!*
Huge congratulations to you Will and Sara on your incredibly beautiful, inspirational and joyful wedding day, I have truly loved the experience of feeling like I was there with you on the day, preparing this post, and Sara, I'm most grateful indeed for the wonderful words of kindness you have shared about Love My Dress.
I'd love to see some love for Sara and Will's Narnia inspired wedding.
Love Annabel

Photographer – Toast of Leeds
Film Production – Matthew Modget Films
Venue – Hodsock Priory in Nottinghamshire
Brides dress – Sophie Louise Bridal Boutique
Brides' shoes – Mimi by Rachel Simpson
Brides Hair Accessories – Lou Lou Puchalka
Groom's Attire – King and Allen + Mrs Bow Tie
Bridesmaids – Vivian of Holloway
Flowergirls – Demigella + Debenhams + Next
Page boy – Next and white shirts. The older page boy Jordan wore a mini bow tie from Mrs Bow Tie
Flowers – Stem's Design
Cake – A friend
Entertainment – New York Brass Band
Additional Styling – Wedding Venue Lighting
Rings – Philip Stoner Jewellers
Catering – Glorious Catering
Hair Stylist – Kasia Fortuna
Makeup Artist – Kristina Gasperas
Follow Love My Dress® on Google+