Morning all, so you've made it through the first working day of the week and should be nicely getting into the swing of things by now.  Let us help you along the way by sharing this beautiful peach and pastel colour wedding of Nick and Tracy that took place last August at the beautiful rural location that is Cold Harbour Barn in Oxfordshire.
Hiring in Lulu Marquees and adding a lot of DIY decor helped to create a really gorgeous rustic backdrop for Nick and Tracy's day, that was photographed by Eliza Claire.
"Nick and I met through mutual friends. We knew of each other but never had a conversation until one night we got chatting and we instantly hit it off. When you know, you know!"
Photography Copyright (c) 2014, Eliza Claire
"We had been together seven years when we got married, after a year and a half long engagement. The proposal happened on Christmas day – my daughter, who was two at the time, handed me a parcel, and it said 'marry us'. It was a total surprise."
"I loved every second of our day – it was such a joy to have all of our friends and family around us. I just couldn't stop smiling all day,  just soaking up the atmosphere."
"When we set out to find a venue we had very specific things in mind.  It needed to have a rustic aesthetic and be in the countryside with great outdoor space – a venue we could make our own.  We visited a few places but always left disheartened. Then one day Nick's dad, John, handed me a 'guides for brides' booklet.  Casually leafing through it one day, there in small print was Cold Harbour Barn."
"We instantly fell in love the moment we clapped eyes on it; a rural location with dramatic views across the oxfordshire Valley – a completely blank canvas offering an opportunity to do it yourself – it meant we could put our stamp on and the barn allowed us to do this.  The owners, Richard and Steph, were the nicest people, nothing was too much trouble, and they allowed us to have the barn 3 days before the wedding."
"Our ceremony took place at All Saints Church in Lockinge, a beautiful quaint church with gorgeous surroundings. Not being our local parish church, we were required to form a link. Not being religious it was slightly daunting, but we thoroughly enjoyed the experience. Everyone was so welcoming – forming a good relationship with reverend Elizabeth Birch made us feel so at ease on the day."
"I opted for peach and pastels when it came to our colour theme. Our Florist, Rachel, from Green & Gorgeous totally got me though my incessant Pinterest flower pinning. I met up with Rachel several times and each time I went away feeling confident and happy. I trusted her 100%.  I opted for the buckets and bouquets which meant I could arrange all the flowers myself in jars for the church and barn.  When my bouquet flower crown and bridesmaids wrist corsages  arrived, I was ecstatic. They were just perfect, exactly what I wanted."
"I wanted the bridesmaids to choose their own peach dresses. We all found it so difficult finding the colour and style to suit everybody but three bridesmaids fell in love with the same dress from Reiss.  My sister Lorraine, maid of honour, only just had a baby two months before the wedding date so she really wanted to get back in shape. She did so well and looked amazing in an ivory dress we found two weeks before the wedding."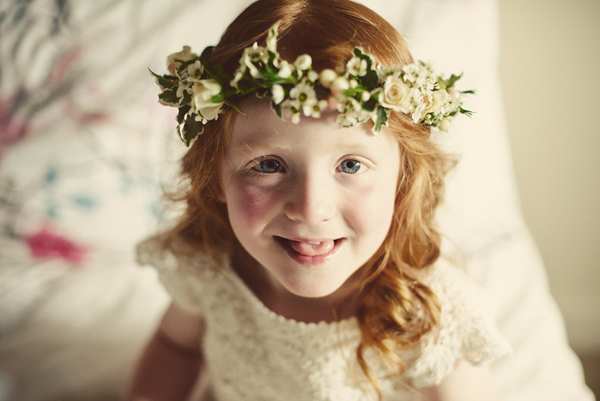 "Everyone came together in the last few  days leading up to the wedding to help decorate the barn. It was a huge task and stressful at times, but so worth it.  I did almost all of the DIY myself. I made meters of bunting and sourced old doilies from various locations such as vintage and charity shops. The card banner I made from hessian and sewed material onto it. I found an old wooden gate at a salvage yard. When I bought it home my dad thought I was going mad, but with  a bit of elbow grease and a wire brush it came up trumps. I used it for my wedding programme."
"The quest for a dress was not an easy one as I had a very clear idea of what I wanted. After a lengthy search in Londo, I found the one in Morgan Davies in Islington. The team were so friendly and had a good understanding of what I was after."
"With ushers and bridesmaids we decided to go un-matching. The men wore tweed jackets and their choice of trousers was left to them. I got the boys polka dot bow ties from Etsy in powder blue, whilst Nick and our son Tom wore peach. The only hiccup was that no one knew how to tie them!"
"I collected around 200 jam jars and  decorated them individually with hessian and ribbon and filled them generously with flowers, going all along the long tressel tables. I used hessian as table runners. It certainly had the wow factor.  We had Pimms and cloudy lemonade for the welcome drinks."
"I purchased glass drink-dispensers so guests could help themselves. I decorated hexagon glass jars for the drinks. I bought the jars from the Jam Jar shop. We were so lucky with the weather. We used  railway sleepers set on top of vintage beer barrows and placed it outside the barn."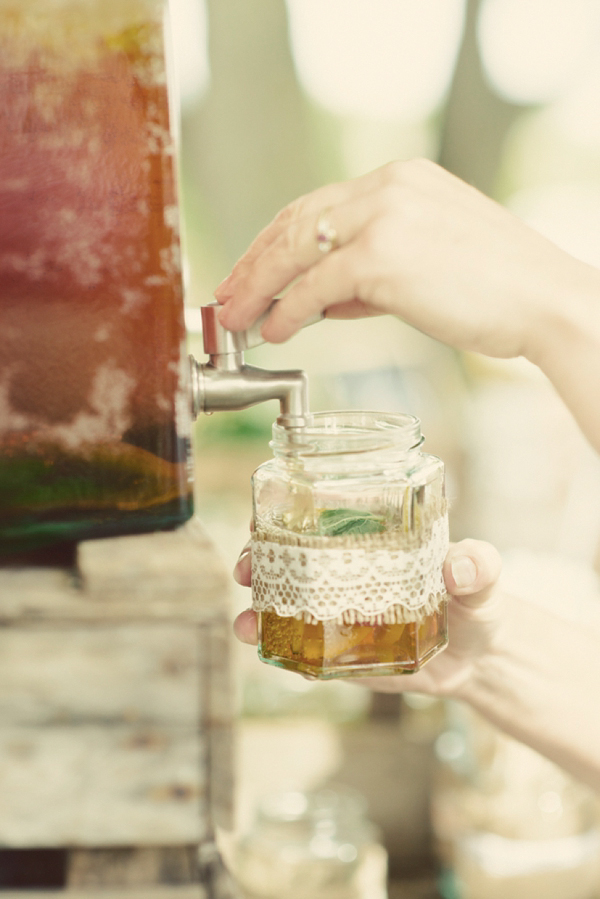 Not feeling particularly comfortable in front of the camera, the couple chose photographer Eliza Claire to document their day.
"After searching online I came across a wedding photographer Eliza Claire. The style of her work was just what we were after. Neither of us are very comfortable in front of  camera so finding Eliza,  who is so lovely  and down to earth, immediately put us at ease. We had a pre-wedding shoot which I highly recommend as it really prepared us for the day. Eliza captured our day so beautifully I can honestly say there has not been a single day gone by I haven't sneaked a peak, it's like reliving the whole day again."
"My shoes were L.K. Bennett from Selfridges in London. They were exactly what I was looking for. I was so lucky as they were the last pair on the shelf and half price!"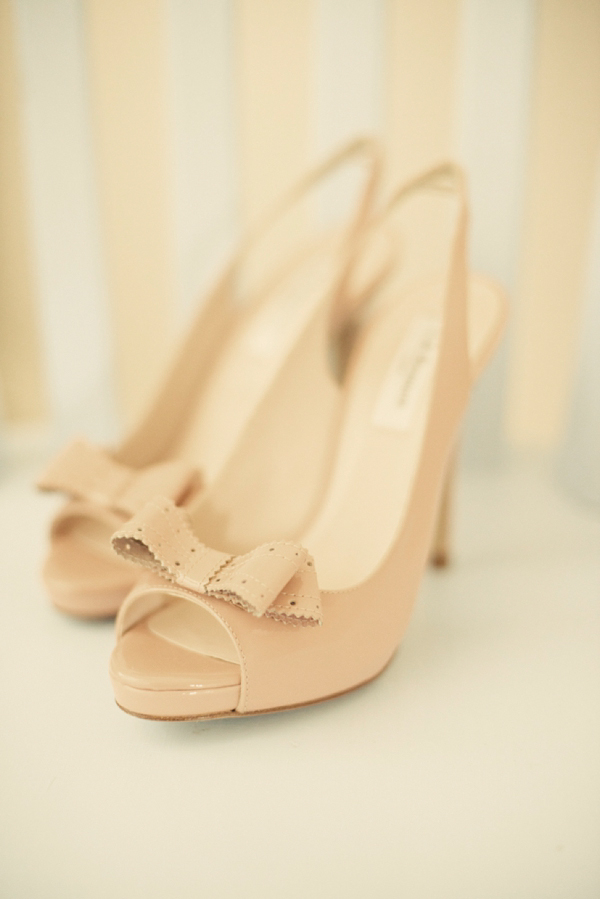 "I don't wear a lot of make up but I wanted to look my best for the big day. Carolanne Armstrong was just brilliant. She knew exactly what I wanted. The make up was fresh and lasted the whole day. She made be feel like me but better.  Cassandra Rizzuito was responsible for my hair and that of my bridesmaids and I cannot thank her enough. Right from our first trial we hit it off and felt I made a friend."
"Carolanne took care of lots of extras and even helped me in my dress, when I looked in the mirror I was bursting with excitement. Everything i had planned was finally falling into place and everything felt perfect!
Nick  wore a bespoke suit from a shop in Oxford."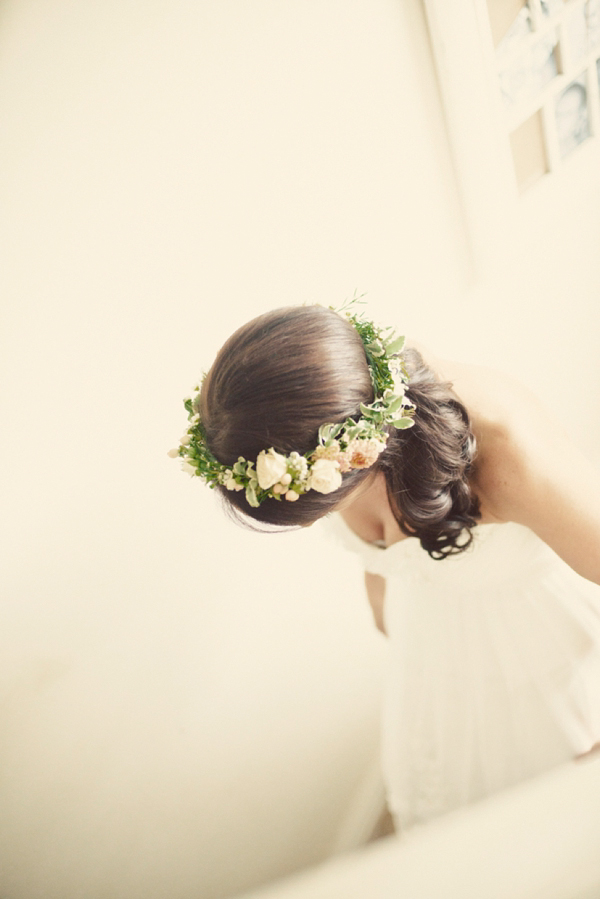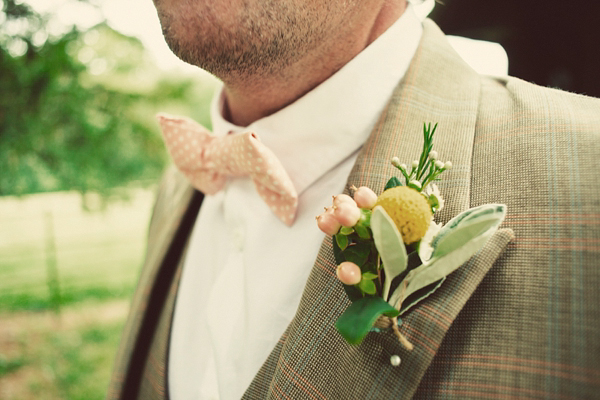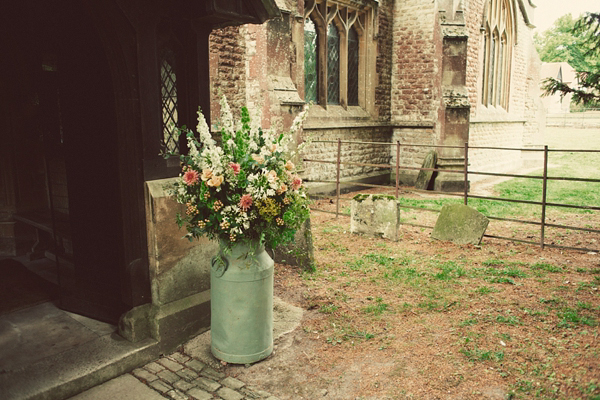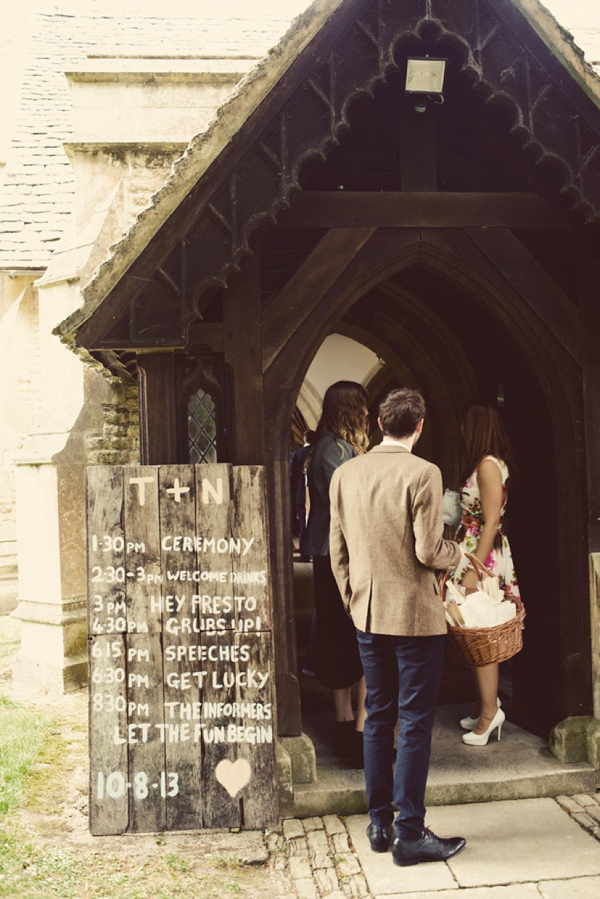 "We had three hymns – Lord of the Dance, Sing Hosanna and One more step along the world we go. We just wanted the music to be fun and upbeat.  We also had three readings, Saga Love, I'll be therefor you by Louise Cuddon and a bible reading."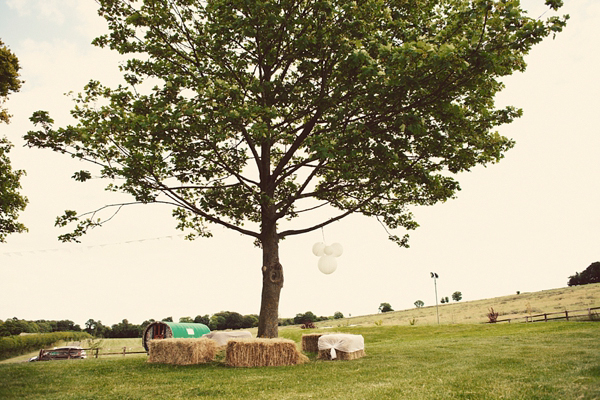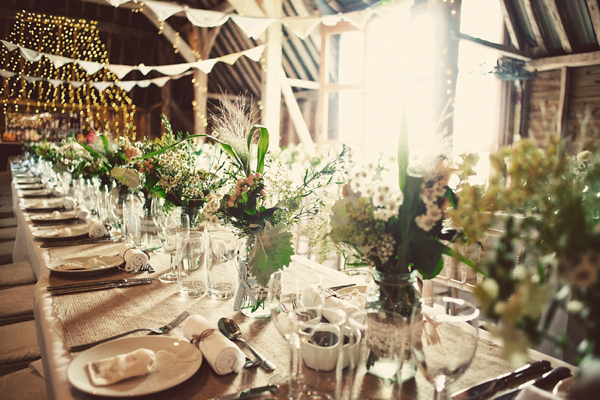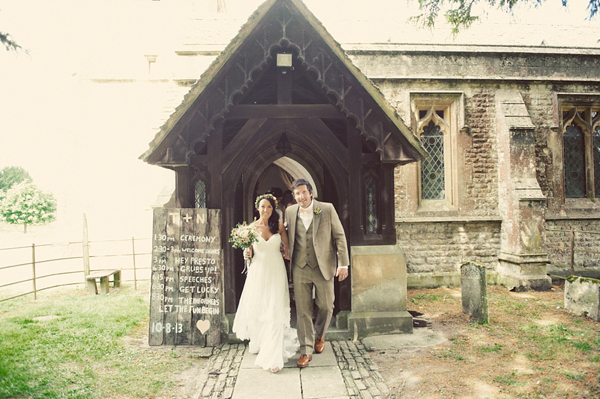 "Disaster struck when our wedding caterer pulled out eight weeks before the wedding, but we luckily found Absolute Catering which was a blessing in disguise.  Warren Cartmell was totally on our wave length and his food was out of this world. We still get comments to this day.  We had a mixture of canapés, an assortment of breads and dipping sauces to start, slow roasted Loin of Oxfordshire Pork with a creamy cider and tarragon sauce infused with wild mushrooms served with bundles of fine carrots and green beans tied with smokey pancetta and towers of crushed jersey royals with spring onions."
"As we both have a sweet tooth we opted for a trio of desserts: Warm chocolate brownie with Baileys cream, Tart au citron and Raspberry creme brûlée."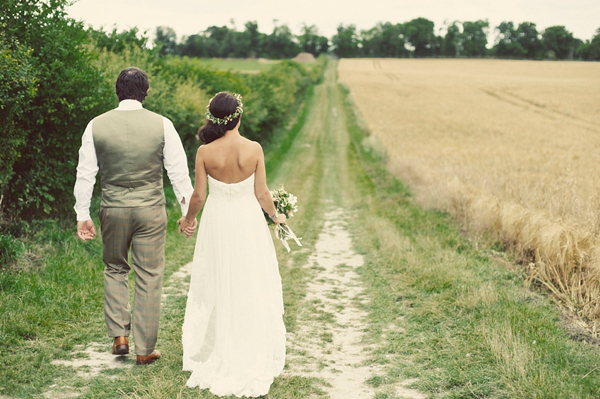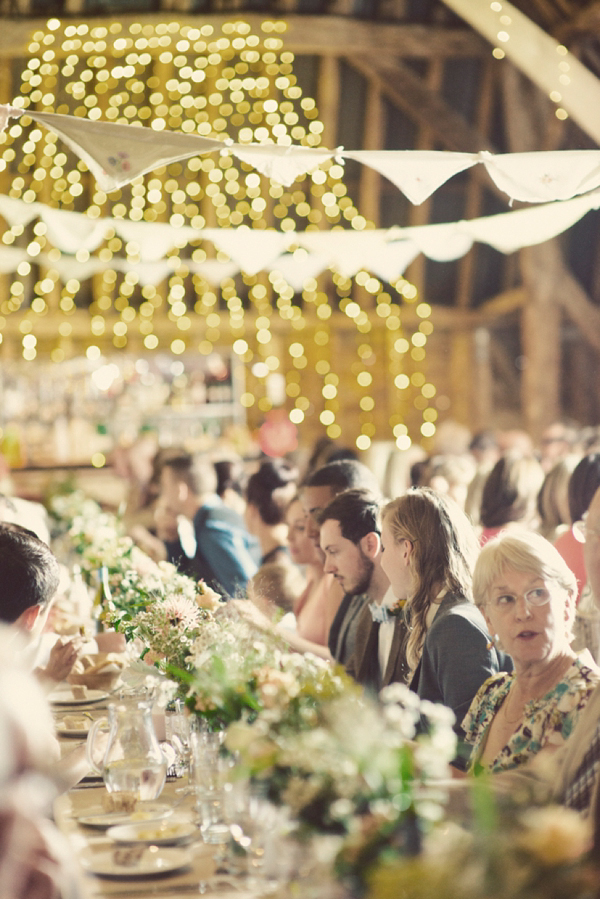 "We knew right from the start we wanted a band as Nick and I love live music. Nick has to take credit for finding J.E.E.P., a band from Banbury.  They were sensational. The dance floor was packed all night. We were lucky enough to have chris, our DJ, for the whole day playing background music during the meal. He was also able to keep the momentum going after the band had finished playing."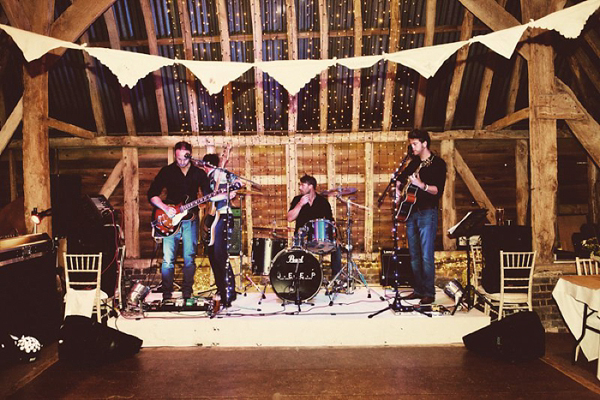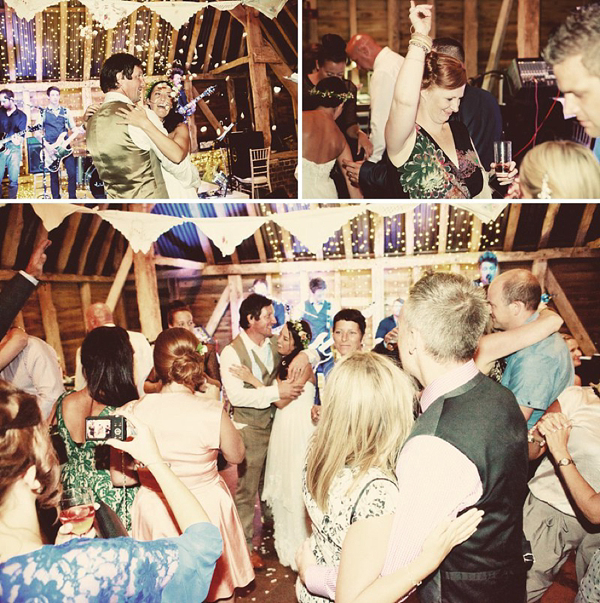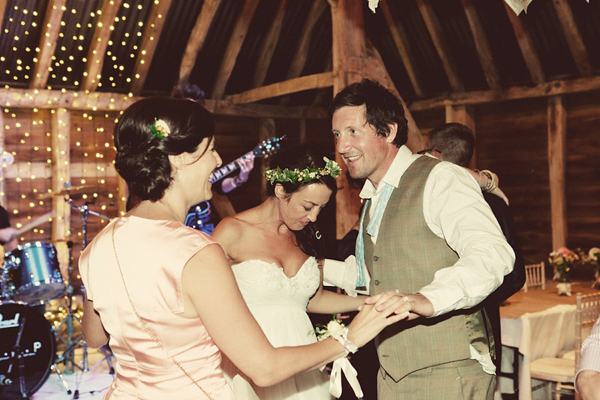 Words of Wedded Wisdom…
"Everything they say is true! The day goes by in a blink of an eye, so ensure you soak in every moment.  Also, be true to yourself, don't doubt yourself or your ideas. Be sure to choose things that you truly enjoy and that reflect you.  Your guests will love anything you pick because you will be giving them a glimpse inside your world.  Most importantly have fun, and I mean so much fun as this is your celebration."
"And, just as importantly, ensure you pick a great photographer to capture your day.  At first I didn't believe that a wedding could be the best day of your life, I thought that it was so hyped up and I didn't want to be unrealistic in my expectations.  I can honestly say now that our wedding was hands down one of the best days of our lives!"
Our thanks to Eliza Claire for sharing these photographs today.  If you love Eliza's style of photography, you can see more on her website and blog or via these real wedding features on Love My Dress.
Love Annabel
Photographer – Eliza Claire
Marquee Hire – Lulu Marquees
Venue – All Saints Church in Lockinge + Cold Harbour Barn
Wedding Dress – Morgan Davies in Islington
Floral Crown & Flowers – Green & Gorgeous
Brides' shoes – L.K. Bennett
Bridesmaids – Reiss
Transport – Retro and Classic car hire.
Entertainment - J.E.E.P (band) + magician  Darren Campbell
Catering – Absolute Catering
Hair Stylist – Cassandra Rizzuito
Makeup Artist – Carolanne Armstrong
Follow Love My Dress on Google+