Good afternoon lovely readers, I've been excited about sharing these beautifully inspirational photographs with you. They were sent in by photographer Debs Ivelja who collaborated last year with a number of Cornish suppliers and designers to create a suite of images depicting a beautiful Cornwall elopement.  I especially love that Debs worked with dress designer Minna, who  I've been a big fan of since launched her delightful bohemian collection of gowns that she designs using eco-friendly production techniques.
I also really love the florals by Cornish Cutting Garden in this shoot – note how moss has been used in the stem of the bouquet, what a beautiful idea.
Photography Copyright (c) 2014, Debs Ivelja Photography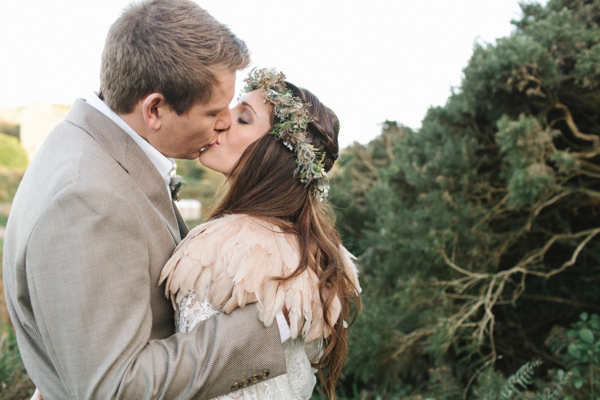 'The idea for the Cornwall elopement shoot came together following chats over coffee between Maya and Tom from BoHo Cornwall and myself. We absolutely loved working together at a recent elopement at BoHo Cornwall and we just seemed to 'get' one another right from the start.'
'The land around BoHo Cornwall is so wild and inspiring and I have been dreaming of a Wuthering Heights inspired shoot for a very long time. We started chatting and the next thing we knew we had a date, and a couple, and everything was coming together!'
'This shoot was also not your typical 'styled shoot' – the idea was to keep it simple, yet beautiful. Elopements are carefree, they are not over planned or over styled. They are all about the love between two people who have chosen to make their commitment to one another in an intimate and personal way.'
'In order to capture that genuine emotion and love, we chose a gorgeous couple who themselves had got married at BoHo Cornwall only a couple weeks beforehand.'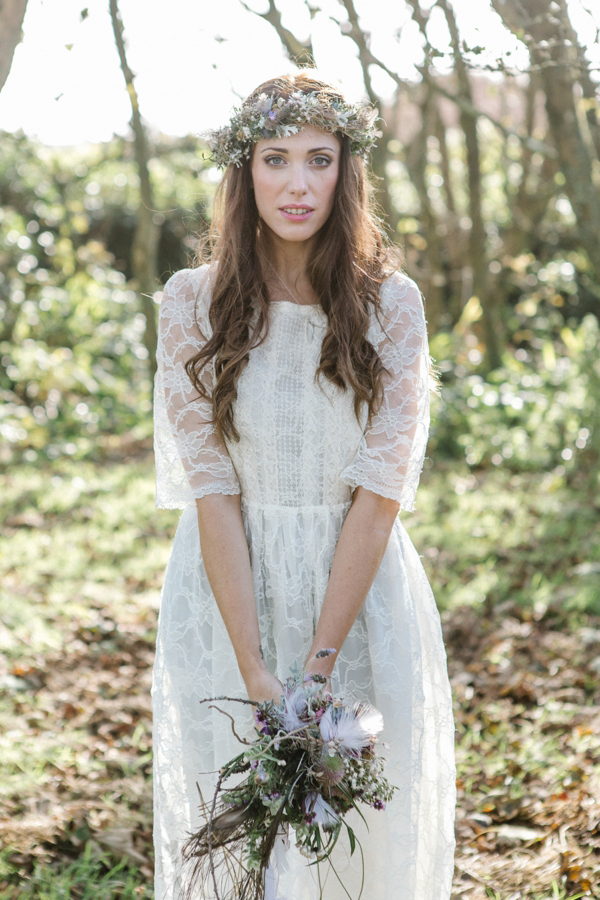 'All the suppliers who were a part of the shoot were from Cornwall and have a presence in the South West. All inspiration was taken from the land; from the hedgerow foraged greenery and florals by talented Cornish Cutting Garden, to the beautiful jewellery designed by Cornish artists.' 
'Every part of the shoot takes inspiration from beautiful Cornwall; wild abandonment with a touch of Wuthering Heights.  The amazing sunshine we had on the day of the shoot meant less misty moors and more sun flare and warmth.'

 
'We know that couples who are maybe struggling with the idea of a big wedding love to run away to this part of the world and get married, and we wanted to show how beautiful and easy that can be using only local suppliers to create an elopement that is simple, yet beautiful. We wanted to bring together a vision of romance and remoteness, how running away to get married at BoHo Cornwall is a bit like running away to the edge of the earth, to a place where the Cornish moors meet the wild Atlantic ocean.'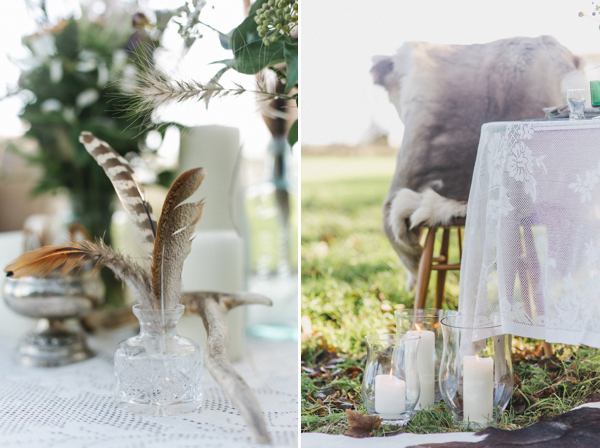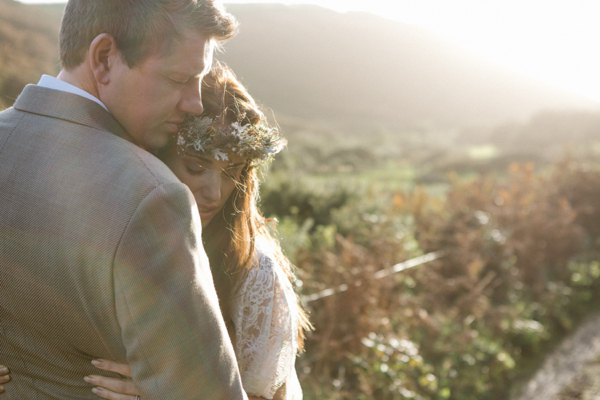 Readers, if you adore the bohoemian bride style, you might want to check out some of the suppliers on the list below.  Thanks to Debs Ivelja Photography for sharing these gorgeous images today.
Love Annabel
Photography: Debs Ivelja Photography
Venue: BoHo Cornwall
Bridal Dresses: Minna
Bride hair: Bridie of Kelly Anza Hair Design
Make Up: Tamsyn Siddiqui Make Up Artist
Florals: Cornish Cutting Garden
Jewellery: Cape Cornwall Studio
Rings: Justin Duance
Lantern and Candleabra Hire: Inspire Hire
Sheep Skins and Pelts: World Inspired Tents
Feathers supplied by Julie Carter of Elfwytch Art
Follow Love My Dress on Google+