A stylist colleague once told me that achieving 'balance' in your overall look (it's all about head-to-toe balance ladies) has a great deal to do with the highlighting the face and enhancing the eyes.  I'd never really thought about it before then, but I guess they were right; most of us are drawn naturally to the eyes before any other facial feature.  I also know how much more confident and glamorous I feel if I've applied a smoky eye and some beautiful long lashes when I need to dress up and feel my best for a special occasion.  The problem is I simply can't get on with fake lashes – I find the whole glue/lash strip thing super faffy and despite excellent tutorials like like this one, I struggle to apply them.
And yet I lust after thick, long, luscious lashes – the kind of which you just can't achieve no matter how much 1000 calorie mascara you apply.
Then last year, something wonderful happened.  I discovered Boudoir Lashes and just like that, everything changed. I became a full on, self confessed fake lash junkie.
My name is Annabel, and I'm a lash-aholic.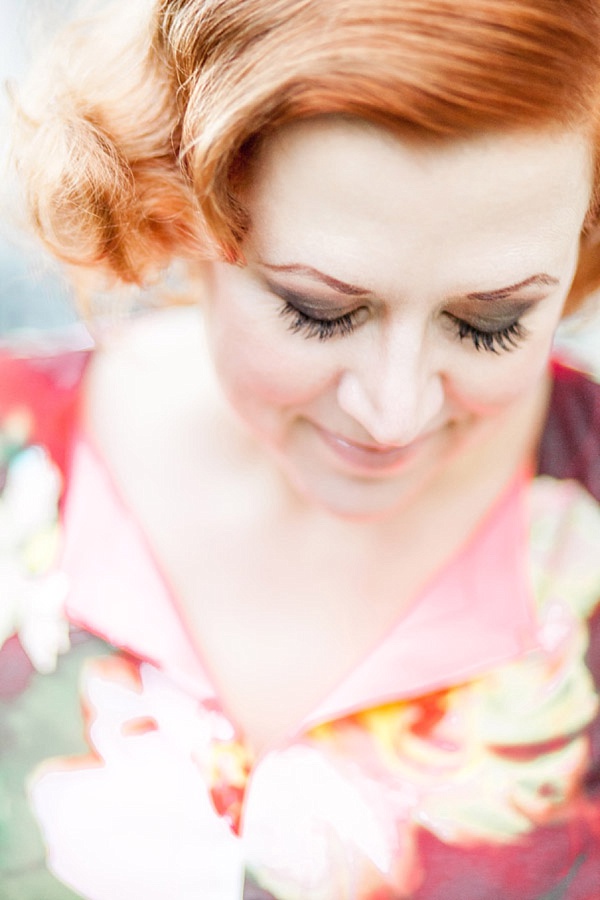 Photography by Naomi Kenton, Hair + Make-up by Issidora, Lashes by Boudoir Lashes
I'm wearing this dress by Ted Baker
Boudoir Lashes was founded by beauty therapist extraordinaire Asma Docrat, who specialises in the art of eyelash extensions.  Asma is one of those people who adores what she does, and luckily for the likes of you and I, she has a natural obsession for wanting to make people look and feel especially fabulous.  Cutting a petite and elfin figure, Asma is completely lovely, down to earth and eager to chat and get to know you (usually over a herbal tea and some cool music emanating from her Sonos speakers). She is also a charming host who will offer you a warm and genuine welcome to her delightful Shoreditch boutique.
Having started out her business in 2010 from her Mother's living room, Asma now spends her days delicately and skilfully transforming lack lustre sets of lashes in to lines of long, sexy, fluttery gorgeousness.  Once people discover how good she is at what she does, they're hooked.
The photos you see here were taken the day after I last visited Boudoir lashes last month.  My eyes looked and felt amazing and I hadn't applied one teeny, tiny, microcosm of mascara.  Imagine how satisfying it would be to wake up to beautiful, long lashes every morning without any need to reach for the mascara before you had to step out to do the school run?
The secret sauce with semi permanent's is that  each individual fake eyelash is meticulously applied, one at a time, to your own natural lashes. This of course takes a little time – two and a half hours for a full set to be precise, but, and here's the best part – they last up to 6-8 weeks, are 100% waterproof and are completely comfortable to wear.
'Eyelash extensions should look and feel like your natural lashes – that is, to the untrained eye, you should not be able to tell that your lashes aren't your own natural lashes.  Our elite, innovative lash extensions can increase and transform limp, lack-lustre, short, thin eyelashes by 200%.'
'You can happily leave your eyelash curlers on the side, unlike other lashes on the market, they are pre-curled, to give the eye, a more open and youthful appearance. The technique isolates one lash at a time, working individually on every row of lashes, to ensure a natural and beautiful extension to your existing lashes.'

'The results speak for themselves, the Boudoir Lashes eyelash extensions offer an instant transformation from ordinary to extraordinary, eliminating the need for mascara, taking years off the appearance of tired eyes and ensuring you look pretty from the moment you wake up.  Our lashes are also the softest and most comfortable to wear, and provide excellent staying power.'
'You should not feel any pain or discomfort in or around your eyes after the procedure. Lashes should be clean and well separated with no clumping or lumps of adhesive visible – as this is not normal!  We have carried out numerous remedial work on clients who have had dangerous and poorly applied eyelash extensions elsewhere.'
'Eyelash extensions are individual strands of synthetic lashes that are curved to replicate your natural lashes. This differs from cluster lashes where 3 or 4 strands of lashes fan out from a "bulb" at the bottom. Cluster lashes are often heavy and difficult to blend in with your natural lashes, giving a very unnatural look. The prices charged for cluster lashes in salons are often much cheaper than individual eyelash extensions, however the quality and finish and longevity are often substandard.  Boudoir Lashes eyelash extensions will last for the full life cycle of a natural lash, providing the aftercare is followed.'
'The average eyelash cycle is 60 days, which is the amount of time it takes for a natural lash to grow in, and fall out. Eyelash extensions can be worn on a permanent basis, we recommend touch-up appointments every two to four weeks, to fill in the areas where the natural lashes have fallen out and new lashes are growing in.'
The application itself is like a heavenly nap and takes place in a small but relaxing room in a converted basement within the Boudoir Lashes boutique.  You'll walk down a spiral staircase and enter a world of pretty lights with music playing to help relax you.  Not that you'll need much assistance there.  The procedure itself is completely non-invasive, entirely comfortable and the most relaxing beauty treatment I have ever experienced by far.  You're aware that Asma is working her magic but you can't even feel so much as gentle tugs on your lashes – in fact, you can barely feel a thing.
'The best way my clients describe it to be is two hours of pure bliss; 95% of my clients actually fall asleep whilst I'm applying their lashes – the process takes place with you laying down for two hours with your eyes closed whilst I work around your lashes.'
'As every one of my clients is different, so is their eye-lash application, and so I provide a bespoke service tailored to each client. I take into consideration all the factors that make you who you are and this will assist in determining the length, style and shape of lash that is applied.  Annabel for instance adores beautiful, very long lashes.  But I'll take your life style in to account too (it helps to know if you're a swimming instructor of wear glasses every day for instance as these things can have an impact on lash application).'
'There are various types of extensions, strips clusters and one by one. My services is strictly lash on lash application, this is why it takes the time it takes. Not every lash can cope with extension, especially if it is a virgin lash (new lash) it needs to be at least 5mm long. The prevents damage and weighing the natural lash down.  A well trained professional will recognise this and apply the appropriate length of lash in the right place, ensuring the full set can last as long as possible once complete.'
'If you choose to upkeep your lashes and maintain the look of your eyelash extensions, regular touch ups are recommended to keep them looking full and luscious. This varies from person to person, depending on how well you look after your extensions, your natural lash cycle, and the initial set chosen. Typically, clients get touch-ups every two to four weeks. Alternatively some clients prefer a fresh new set of extensions, you can allow for them to all fall out and have a new set applied each time.'
Photographer Naomi Kenton was able to grab some close-up shots as I was having my lashes applied.
Asma trained as a lash specialist with three separate lash houses, including Lash Perfect, Novalash and Xtreme Lashes – all leaders in their field.
'The specialists that I trained with all teach pretty much the same technique.  However the secret of high quality lash application is all in the adhesive. I've tried almost 25 different adhesives since starting out, and I have my top three. Of course, I couldn't tell you what they are – that's my trade secret! I also spent six months perfecting my technique – my friends loved it as I would practice on them.'
'There is no discernible difference between the different lash brands (Jinny Lash, Lash Perfect, Extreme Lashes, Novolash) as the most important aspect of the lash extension procedure is the skill of your technician and not the brand of products used.'
In the image above, my left lashes have been enhanced and Asma has yet to begin work on my right set – you can clearly see how much shorter and less full they are.
'I frame each lash applied around my client's natural lash arrangement and mimic this by making their lashes an enhancement of the natural lash shape. I believe that enhancing what you already can instantly make you feel a hundred times better!'

If you are concerned that the application of semi-permanent lashes might somehow damage your natural lashes, you need not worry.  Let Asma reassure you; 'Properly applied eyelash extensions by an experienced qualified lash stylist will not damage your natural lashes. We use only the correct amount of glue and place them near the eyelash root. It is important that lashes are glued 1 – 2 millimetres away from the root. This ensures a healthy eyelash will continue to grow and the skin on the eyelid is kept clean.'
'I appreciate that there have been numerous reports in the press that eyelash extensions damage your natural lashes. These reports relate to inexperienced and/or unqualified practitioners, of which there are many about! Ideally find a practitioner through recommendation, or ask to see their qualifications and portfolio (ensure they are genuine photos and not stock photos).'
'The longevity of your extensions depends on a number of factors, such as wear and tear, lifestyle, your own natural lashes, skin type, etc. As your extensions get older, it will get sparse over time as you shed them and the shed rate is very much dependent on the above factors. Another contributing factor is the glue used during the application process. The stronger the glue, the stronger the bond, and the longer your extensions will last.'
'The downside to strong glues is the increase in client adverse reactions. Strong glues have strong vapours which can cause severe tearing, itching, stinging, swelling of the eyes, and allergic reactions. As such, we do not use these glues and do not recommend anyone seeking out eyelash extensions to have extensions applied with these glues.'
Asma isn't just a semi-permanent lash expert – she provides numerous other services via her Boudoir Lashes boutique, including brow, wax, nail and massage services.  She has also teamed up with her Sister, Dr Ayesha Docrat, to 'bring Harley Street to Shoreditch' by providing a full range of cosmetic and aesthetic beauty services at affordable prices under the 'Boudoir Beauty Parlour' umbrella.  These services include fine line and wrinkle reduction, acne scar removal, cellulite reduction, skin tightening, body contouring and firming, and facial skin rejuvenation.
'I now offer all types of beauty services, including medical aesthetics. We want to provide brides the best and most effective treatments so that they can look their best on their big day. Lashes, Nails, Cellulite reduction and 'Drop a Dress Size in 21 Days'.'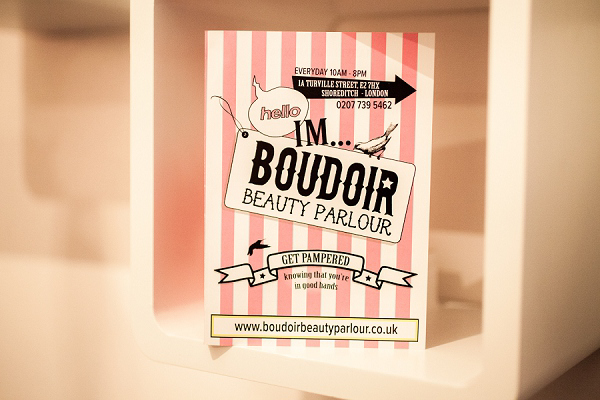 Looking after your newly acquired set of lashes is easy – Asma provides a full set of aftercare tips (see item 33) on her website to ensure your eyelash extensions continue looking gorgeous and sumptuous for as long as possible.
Boudoir Lashes prices start at £45 for the 'Flutter Effect' (corner lashes only) rising to £175 for the luxury, two and a half hour full set.  I appreciate that £175 may seem a little expensive, but I really believe this is worth it's weight in gold.  Think of the £175 as an investment, or a lovely, luxury gift for a bride.  If you still need convincing, take a look through my five favourite reasons for considering semi permanent lash extensions by Boudoir Lashes;
(1) No need to apply mascara, literally, for weeks.
(2) You wake up looking like Sophia Lauren. Amazing eyes first thing in the morning is an instant pick-me up and confidence booster.
(3) Dry shampoo hair days are so much nicer, because it doesn't matter what your hair looks like when your eyes look so fabulous.
(4) I've never received more compliments about how good I look then when I've worn my semi-permanent lashes.
(5) The application of the lashes is the most relaxing thing ever.
I absolutely love treating myself to semi-permanent lash extensions and it is always such a pleasure to catch up with Asma and of course, fall asleep while she's doing her thing 🙂
For those of our readers who are located outside of London – it really is well worth a visit to Boudoir Lashes, particularly for a pre-wedding day or honeymoon treat.    The Boudoir Lashes boutique is also available to hire out for hen parties.
Asma is very generously offering all Love My Dress readers a £30 saving on her top two and a half hour semi permanent eye lash application service, meaning you pay only £145 (usual fee £175). She is also offering 20% off all other services but for a limited time period only.  Simply mention Love My Dress when you book your service (contact details below).
If you would like further information about Boudoir Lashes and the application of semi-permanent lash extensions, this FAQ page is very helpful indeed.  The Boudoir Lashes boutique is located at 1A Turville Street, E2 7HX (see the map below), just a stones throw away from the trendy centre of Shoreditch, East London, within the nearest tube stations are Shoreditch and Liverpool Street.  You can contact Asma via email on [email protected] or telephone 07957 567181 / 0207 739 5462.  Boudoir Lashes can also be found on Facebook and Twitter.
Asma does however offer mobile services – get in touch to enquire how far she can travel and to check availability.
It's kind of scary putting your face all over your own blog – my heartfelt thanks to photographer Naomi Kenton, inimitable stylist Issidora and of course Asma at Boudoir Lashes for giving me the confidence.
Enjoy getting lashed 😉
Annabel
Follow Love My Dress® on Google+