Good morning, I'm so delighted to welcome you back to the first day in another week full of classy and elegant bridal inspiration – today we have two weddings to share with you, and in between, we've a £500 giveaway from the luxury shoe designer Freya Rose – watch out for that lunch time feature!
This morning's wedding took place on 26th October last year, when Sarah, a Doctor married Jonathan, a Location Planner at Ellingham Hall in Northumberland.   These beautiful photographs shot on film by Taylor and Porter speak for themselves, but so love how they capture Sarah's joy. And I'm a little smitten with Sarah's David Fielden dress too.
"Our wedding was perfect – I loved the speeches,  I loved watching everyone dancing and having fun at the ceremony, thinking that they were all there for us, and that all the planning had paid off."
Photography Copyright (c) 2014, Taylor and Porter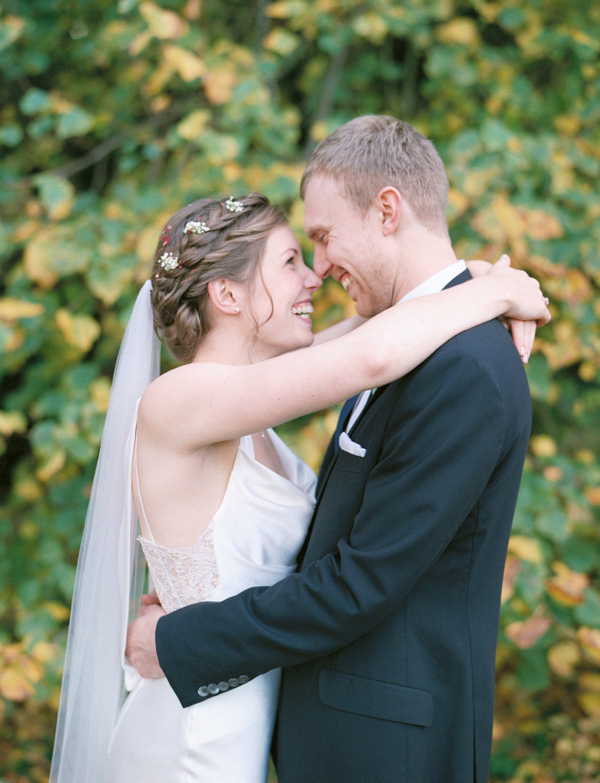 "Jonathan and I met at school.  We were 'childhood sweethearts' and went out for four years then had a brief interlude at university and got back together when I finished my degree.  We've been back together for six years now.  We got engaged on new years day 2013, and tied the knot in October.
We are both from Newcastle and wanted to get married in Northumberland as we love it there.  We loved Ellingham Hall as soon as we saw it.  It's a beautiful house with gorgeous grounds and you get the whole house to yourself from Friday until Sunday so it's like having a huge weekend house party.  They also have loads of cottages so almost all our guests stayed on sight for the whole weekend.  The staff and brilliant especially Nicole the wedding coordinator she's truly fantastic!"
"All our stationery was created by one of my bridesmaids and Illustrator, Suzie Winsor, who did an amazing job!  She did us some wonderful blackboard signs too.  Suzie's design influenced a lo of the rest of the decor and choice of flowers – which were provided by Katherines Florist.  Our florists were amazing – I didn't have any idea what I wanted really and Helen the wedding advisor went through everything with us and helped us pick what would work. We used the bouquets for table displays and had loose stems too, it worked really well.  I absolutely loved the flowers especially my bouquet."
"My dress was David Fielden and I got it from Angelica Bridal in Camden Passage Islington. They were brilliant.  I thought I wanted a lace or detailed dress but when I tried this one I instantly loved it. I loved the simplicity but it still had the lace detail.  It was love at first sight!"
Sarah's bridesmaids dresses were from Ghost – a brand that has been popping up more and more for bridesmaids dresses on Love My Dress of late – it's easy to see why, they are so incredibly elegant and feminine.
"Our photographers were Taylor and Porter aka Louise and Teo.  We went to school with Lou and I've always loved her photographs.  I knew that they would do a brilliant job but they were absolutely fantastic.
We love every single photograph that they took.  They made everything so relaxed and easy and did us a brilliant engagement shoot too! We couldn't recommend them highly enough."
"My make-up was done by one of my bridesmaids Kirsty.  My Hair stylist was Lisa Cameron – a local hairdresser in the North East.  She was absolutely fantastic!"
"My dad walked me down the aisle – I was also accompanied by an instrumental guitar version of Coldplay's 'See You Soon'.  I loved the final few minutes with my dad just before we went into the ceremony – it was all last minute nerves and excitement."
"Our registrars provide a lot of inspiration for different vows and options so we largely picked from their options.  I rewrote mine slightly to personalise it a little.
When it came to our readings, we had 'It's You I Like' by Fred Rogers, 'A Conversation Between Piglet & Pooh Bear' by A.A. Milne and 'He Never Leaves The Seat Up' by Pam Ayres.  We loved the sentiment of the Fred Rogers reading and felt that it fitted well with us as a couple.  Winnie the Pooh was my favourite book when I was younger and so as soon as I saw this reading I really wanted to include it.  We both really liked the Pam Ayres reading and wanted something light hearted.  We changed a few of the words to make it more relevant to us and it worked really well."
"When it came to styling and decorating our venue, I bought, begged and borrowed various pieces of glass wear, signs and other bits and bobs from friends and relatives to use as decoration.  It was quite eclectic, lots of impulse buys from EBay and Etsy!"

"We made our own favours.  My mum and my sister in law Helena made us 120 pots of marmalade and lemon curd! We bought a 'spread the love stamp' and made labels using my dads old dymo label maker."
"To help save money, we asked a few of our close friends and family to bake us a cake.  They really did us proud, I was really overwhelmed by how much effort everyone went to.  The cake we cut was made by my mum from her grandmas recipe. I got the topper from Etsy."
"Our first dance was to Hall and Oates' 'You Make My Dreams Come True'.  It's a song we both love and we didn't want a slow dance!  The band we danced to were called Neil Ryan and the Rebel Sounds for the whole day.  We'd seen them at our friends wedding and loved them! Neil played an instrumental set for the ceremony and then they did a jazz session for our drinks reception.  The whole band then played in the evening.  They're brilliant, can't recommend them enough!
After the band we had a DJ from AMDJ service who the venue recommended.  They were fantastic and knew the venue really well.  The put on a brilliant show!"
Words of Wedded Wisdom…
"Our Photographer Louise said to me the night before my wedding; just enjoy it tomorrow don't worry about anything, every person there is there for you two and wants your day to be fantastic.   Just let it happen and everything will be perfect, just focus on enjoying every second.  Best advice I could have been given.
I'd also say, don't underestimate the benefit of having a spread sheet!  And finally, I do wish we had filmed the speeches – I'd love to watch them back."
You can see more beautiful film photography from Taylor and Porter here on Love My Dress, and of course, many more brides wearing David Fielden here.
Have a good morning and don't forget to check back in at 12:00 for our exclusive giveaway with Freya Rose.
Love Annabel
Photographer – Taylor and Porter
Venue + Catering – Ellingham Hall, Northumberland
Wedding Dress – David Fielden via Angelica Bridal
Veil/Headpiece – £10 EBay bargain
Brides Shoes – Rainbow club
Grooms Suit – Paul Smith suit + shirty by Reiss and shoes by Grenson
Bridesmaids – Ghost + Reiss
Flowers – Katherines Florist
Cake – Friends & family
Entertainment – Neil Ryan (band) + AMDJ (DJ)
Stationery – Suzie Winsor
Hair Stylist – Lisa Cameron
Follow Love My Dress® on Google+