I do so love to see a groom and his groomsmen in black tie – there's something so dashing about the whole look.  And it was a perfect look  for Jessica and Edd's wedding, when the couple tied the knot at Manchester Art Gallery on 10th August last year.  This wedding oozes that city-chic appeal
"We didn't have any kind of style or theme, but the biggest influence was probably the Gallery setting and the fact that we had a slightly later wedding, so it was more of an evening do than a daytime event."
Photography Copyright (c) 2014, Anna Hardy
"Edd and I met ten years ago in Manchester.  Although we don't live in the city at the moment, lots of friends and family are there, so we visit a lot.  Many of our suppliers were local to Manchester, but others are based in Bristol or Dorset, where we also spend time visiting family.
We hired Manchester Art Gallery for our wedding – it's full of wonderful artworks, beautiful rooms and fantastic, helpful staff.  Yasmin did an absolutely fantastic job helping us plan and organise our day. She was a lovely calming influence, nothing was too much trouble and we knew she'd make sure everything ran smoothly so that we could just relax and get married.  All the staff at the Gallery were brilliant; we really were very impressed and happy with how it all went."
"My dress was the 'Harmony' design by Enzoani.  At first I planned to get my dress from Fab Frocks – a fabulous boutique owned and run by my stepmother, Tracie. Tracie provided the bridesmaids dresses and my Mum's outfit and she has countless wonderful evening gowns that I had my eye on. I wasn't fussed about a traditional wedding dress – I just wanted something fab!
We had great fun choosing the bridesmaids dresses (more details below!) and the girls chose full length evening dresses in three gorgeous styles and colours.  With it being an evening celebration, we also decided to ask our guests to wear fabulous frocks (for the ladies) and dickie bows and snazzy waistcoats (for the chaps) and to be as flamboyant as they liked."

By the way ladies, Jessica's dress is currently for sale via the Sell My Wedding Dress website.
"They came up trumps and everyone looked brilliant.  Tracie suggested that, with everyone else in colourful evening wear, I might want to consider something a bit more bridal than I'd originally planned so that I would stand out from our wonderfully colourful crowd.  So Mum, my sister and I hit the bridal boutiques."
I enjoyed dress shopping far more that I'd expected – we had brilliant service from Kate at Clifton Brides in Bristol, from the team at The Mews in Bristol and from Chameleon in Bournemouth, where I eventually bought my dress. Trying on a mixture of styles quickly established that I wanted something fitted, a bit slinky and with a back detail. 
My dress ticked all the boxes and had the bonus of a hidden slit so that I could look relatively elegant for the ceremony and then get my leg out for a bit of comedy dancing later – perfect!"
"I got my bridesmaids dresses from Fab Frocks.  With three adult bridesmaids, all with different shapes, colouring and styles, my only criterion for bridesmaids dresses was that all three girls looked and felt fabulous. I'm incredibly lucky that Tracie, my stepmother, is a frock expert and owns and runs the wonderful Fab Frocks.  One of the girls found a stunning cobalt blue evening gown which she loved and looked amazing in, so I insisted she have that and we planned the rest of the dresses (including mine!) from there.
Fab Frocks offers a range of bridesmaids dresses that allow different styles to be made in up to 65 colours to suit all themes and in three different lengths, so the other girls chose their favourite style and colour combination and we had them made and delivered – perfect!"
"Tracie helped us find dresses that complimented each other and worked with the style of the wedding and was, as ever, an absolute star.  Another speciality at Fab Frocks is Mother of the Bride/Groom outfits and my mum had a great time choosing her outfit and looked absolutely amazing. 
Tracie even arranged for her to have a headpiece made which complimented both her outfit and the bridesmaids dresses – it looked fabulous!"
"Frog Flowers were recommended by the Gallery and David did a fabulous job.  We had a fairly loose brief – something vaguely Provencal that would smell great and included sunflowers.  My bouquet smelt so amazing I just wanted to drink it, and the Atrium where we had dinner was transformed by David's work.
Having fragrant herbs and flowers was a good decision – the scent of rosemary and lavender takes us straight back to the day, and we're using some of the dried rosemary in cooking – happy times!"
"Our photographer was Anna Hardy. We cannot recommend Anna highly enough – she is absolutely brilliant.  Her photographs are just stunning and many of them were a wonderful surprise as a lot of the time we didn't even know she was there! We wanted a photographer who would capture our friends and family as they really are, not in posed shots, but smiling, laughing, conspiring and generally enjoying themselves. 
Anna has a great talent for capturing those moments and when we were looking for a photographer it was her photographs of guests that really made us think she would be perfect for us."
"We met Anna a few times before the wedding and she had plenty of fab ideas which we were very glad we'd listened to!  We would happily have had no group shots at all, and while Anna doesn't focus on group shots either, she did suggest we spend a little time making sure all the main family members and close friends were snapped together. On the day we spent about ten minutes doing this before everyone headed for the drinks reception and it was time well spent – there are some brilliant photographs of our little groups and, thanks to Anna's ability to snap away at just the right moment, they aren't at all posed and awkward.
Anna also suggested we take a little stroll around the city, just the two of us, and this was a lovely, quiet part of the day which also gave us a great opportunity to get some photographs in other parts of the city we love.  It was an absolute pleasure to share our day with Anna – she's a superstar!"
"My make-up artist, Nicola Jewsbury, is a genius. I thought about doing my own hair and make-up, but I'm not very good at it and decided I'd be more relaxed in the hands of a pro.  Nicola did an absolutely brilliant job and, just as importantly, was lovely to have around on the morning of the wedding.  The girls and I couldn't believe how well our hair and make-up stayed in place, we danced the night away with not a shiny forehead in sight – amazing!"
"My headpiece was by Hermione Harbutt.  Hermione is based in Clifton, Bristol, and my Mum spotted her beautiful boutique when she was out for a stroll. It was a very lucky find! Hermione is wonderfully talented and made me a gorgeous headpiece based on a design she had made already, but altered to be unique and exactly what I wanted.  All my accessories were based on her Peacock Glamour earrings, which I spotted and chose first of all.
I didn't have a veil, so my headpiece and accessories really stood out, and I couldn't have chosen a more helpful, friendly and talented designer than Hermione."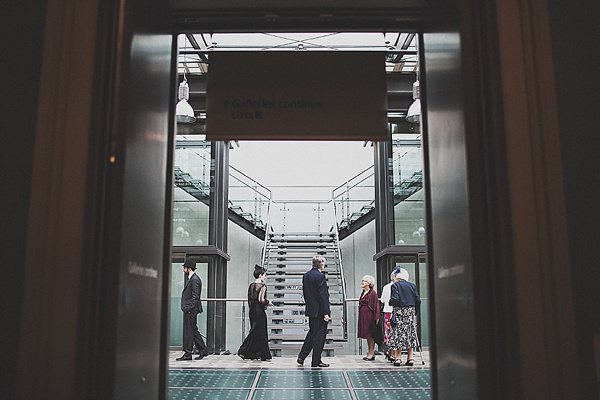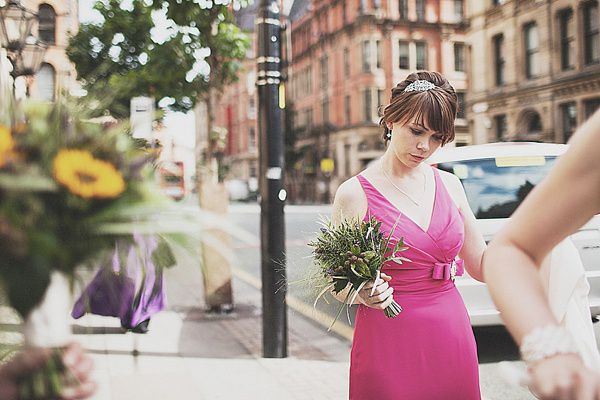 "We didn't provide wedding favours as such, but David put a sprig of lavender on each place setting, which was a lovely touch.  We had cake boxes for guests to take home as much cake as they could carry!"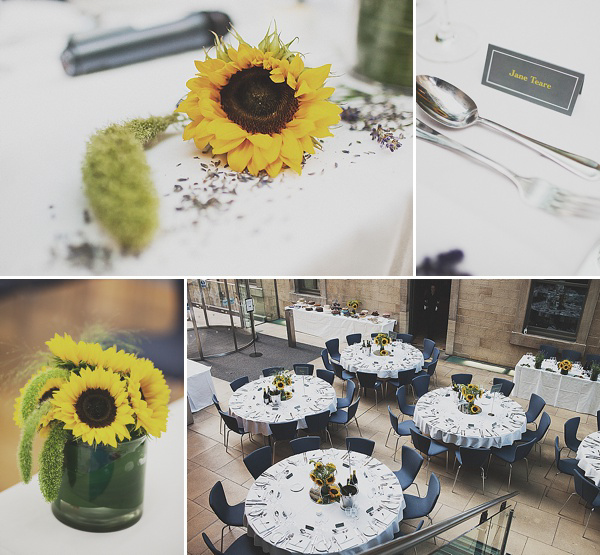 "Twenty or so cakes made by our wonderful friends and family.  Quite a spread! It was a bit of an organisational feat, fantastically managed by one of my marvellous bridesmaids who co-ordinated the whole thing.  We had great fun on our honeymoon sampling all of the cakes and the mass cake cutting was a moment of glorious chaos."
Words of Wedded Wisdom…
"Research your suppliers carefully, take time to get to know them and answer any questions they ask you so that they understand what you're after.  Then relax and trust them to do a great job! We weren't particularly prescriptive about anything and the result was plenty of wonderful surprises and a day full of fabulous memories."
Such a beautiful smile Jessica! You are radiating happiness! Thank you so much for sharing your day – our dear thanks too to your photographer Anna Hardy for sharing her wedding photography on Love My Dress.
Ladies, if you love Jessica's dress, you might want to take a look at our other Enzoani brides.
Love Annabel
Photographer – Anna Hardy
Venue + Catering – Manchester Art Gallery
Brides Dress – Harmony by Enzoani, from Chameleon in Bournemouth
Brides Hair Accessories – Hermione Harbutt
Brides Shoes – Peter Kaiser from Fenice in Clifton, Bristol
Accessories – Hermione Harbutt Peacock Glamour earrings + cuff
Groom's Attire – online bargain
Bridesmaids – Fab Frocks
Florist – Frog Flowers
Cake – Friends & family
Entertainment – The Jack Rabbits hired via Function Central
Rings – Jana Reinhardt
Stationery – Family member
Make-up Artist – Nicola Jewsbury
Follow Love My Dress® on Google+