Good morning beautiful people of the interwebs. If you're UK based, I am assuming you also slept very little for the high winds last night?  I really hope that everyone reading this is safe and well – our weather system is crazy of late!  But it is Monday morning and we have the pressing matter of wedding inspiration to be getting on with.
Claire, a children's nightware designer married Jonno, an accounts manager on 22 June last year at Newton House Barn in Derbyshire.  I love this wedding for all it's floral pretty and summer-time hues, for the lovely decor and charming chintzy bridesmaids dresses, but most of all because these photographs so perfectly capture the essence of this rustic, romantic celebration.  
Photographer Copyright (c) 2014, Laura McCluskey
Claire and Jonno's photographer was the inimitable Laura McCluskey, who I was super pleased to find out they discovered on Love My Dress. 
"I found our amazing photographer, Laura McCluskey through Love my Dress®! I loved reading and scrolling through all of the beautiful photos of the real brides and taking inspiration to create my perfect wedding!  Laura was the first thing that we booked; we fell in love with her work from the outset. The way she portrays people in her photographs was the perfect look we were after for our wedding."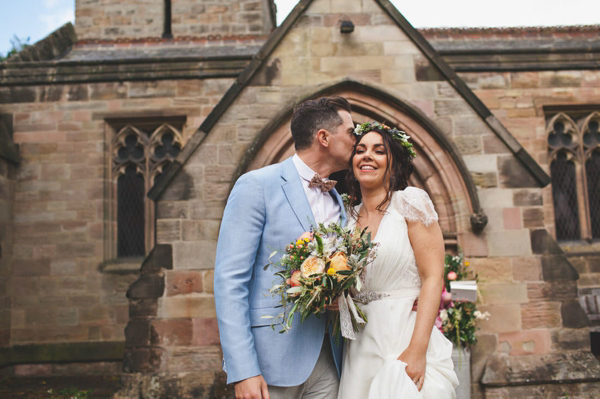 "Jonno and I have known each other since we were 16 – I got one of my close friends at the time to give Jonno my number when he was working in River Island. Since then, we started seeing each other on and off before we both went our separate ways to University.
After a few social texts and drinks we then started seeing each other in 2007, and the rest, as they say, is history."
"For our engagement, Jonno sneakily booked a trip to New York; it has always been a place that I wanted to visit, especially at Christmas time (we went on 8th December 2011).  While we were there, we went ice skating in central park one evening (which we were both useless at!).
As we were walking out of the Central Park Jonno stopped when we were crossing over a bridge and asked me to marry him! It was super romantic and completely unexpected."
"There was no particular theme that we gathered inspiration from – we simply wanted the day to be a relaxed, rustic and laid back affair and our venue, Newton House, fitted the bill perfectly – it also provided the perfect blank canvas for us to style and decorate and make how we wanted it.  This was positivley encouraged by the owners of the venue, which was also in walking distance from our beautiful church."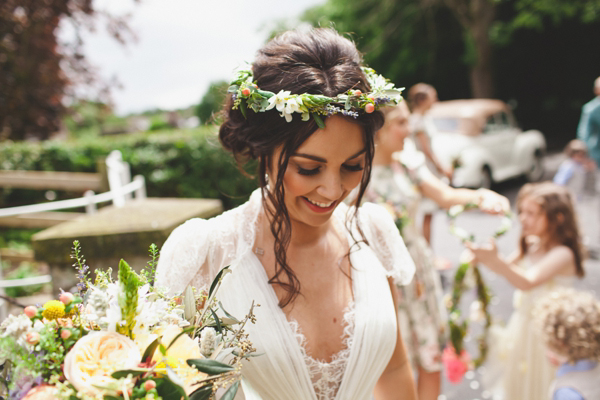 "Our fantastic florist Kerry Brown who owns the Blossom Tree in Melbourne, Derbyshire, provided us with coral peonies, hypercium, Juliet Roses, craspedia, olice, blue scabiosa, chincherinchee and lavender."
The bride and her brother designed all the pretty coral peony inspired stationery.
"Most of our decorations were from BHLDN I fell in love with the website, I spent hour and hours on there! We had matching floral crinkle paper fans, bunting and petal garlands."
"We contacted the local farmer and asked if we could borrow some hay bales to scatter around the DJ booth for a rustic feel and we also placed them at the entrance to the barn along with vintage watering cans filled with flowers. We also covered a number of the hay bales, which were outside, with old vintage floral curtain fabric."
"My dress was the Dentelle design by Jenny Packham, which I purchased from Silk Brides.  I didn't want anything too big so 'Dentelle' was perfect, I always pictured myself in something vintage and romantic looking, the dress was made out of silk chiffon which made it light and floaty. The delicate lace back and capped sleeves with tiny crystal embellishments were my favourite part of the dress."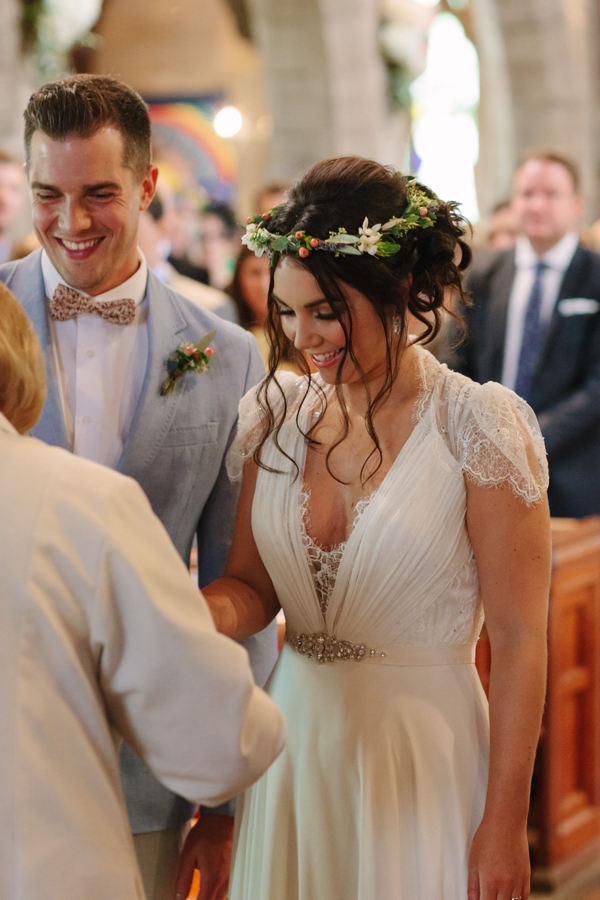 "My bridesmaids wore floral vintage tea party style dresses from a website called Think Boutique, which they paired with coral sandals from Topshop.
My flowergirl wore a little Tutu style dress in lemon by Lili Miller, which I found via NotOnTheHighStreet.com."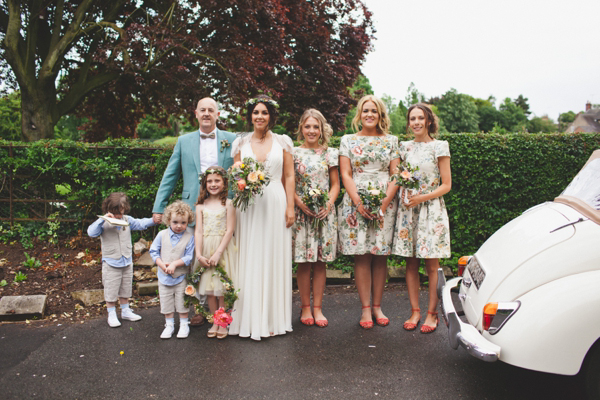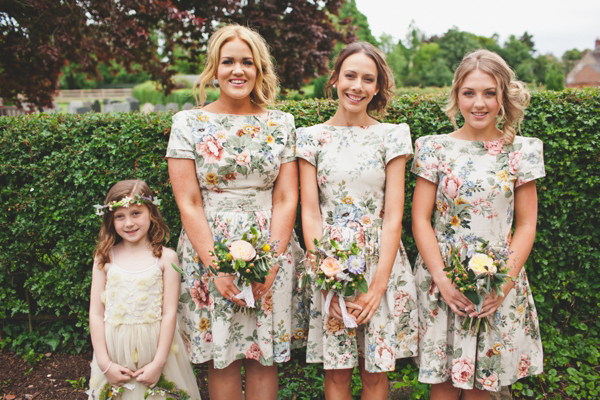 As the bridesmaid dresses were in a vintage floral print with multi colours we didn't have a particular colour theme, I love the colour coral so we worked around the big coral peonies in my wedding bouquet, the blue and yellow flowers sitting with the peonies really complemented Jonno's blue Paul smith jacket.
"Our florist Kerry of Blossom Tree made moss circles for the centre of the table, on top of which we placed oak tree trunk slices which displayed  vintage watering cans and old vases etc, that we had been collecting from antique shops and car boot's throughout the 18 months leading up to our wedding. These were filled with the same flowers that we used in my bouquet. Kerry also let us borrow her huge Sherry barrel and she filled it with gorgeous flowers which sat next to the bar. We also bought lovely tea light holders from BHLDN which looked beautiful in the evening with the twinkly candles."
"The Red Olive did a fantastic job of catering for us – they really did make our day.  We had 3 choices of pies; beef and chorizo with a red wine jus, chicken and ham hock with tarragon, and finally goats cheese with root vegetables.  Yummy!
Sam from The Red Cake Company in Redditch made our gorgeous cake.  It was a 3 tiered ivory iced cake, with a vintage lace trim running around the bottom of each tier. The bottom tier was a luscious and light Lemon zest cake with limoncello, lemon butter cream and lemon curd, the middle tier was rich dark chocolate cake with velvety chocolate ganache and the top tier raspberry cake with raspberry butter cream and raspberry preserve. The cake sat on a chunky tree trunk slice."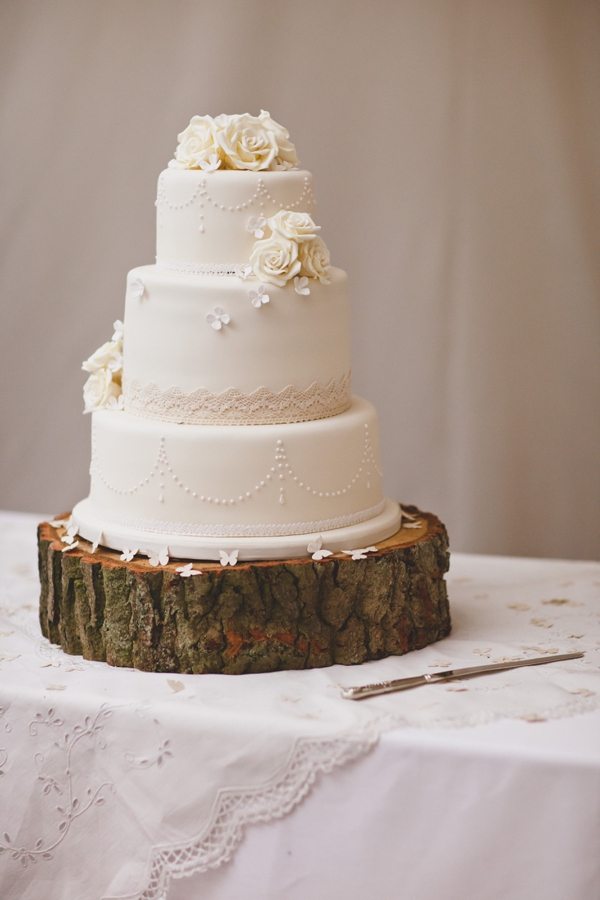 "We hired two Self Drive Classic Cars, a 'Frogeye' Sprite which my Dad and I drove down in and Jonno and I drove back to the venue in. In addition to this, the bridesmaid's had a Convertible Morris Minor."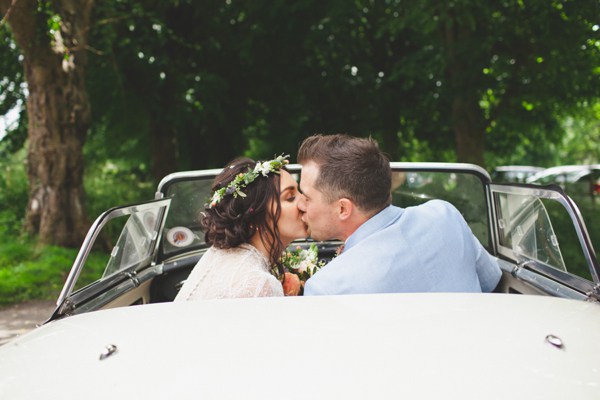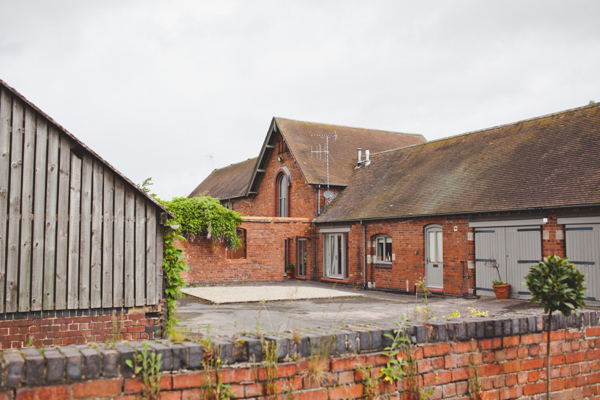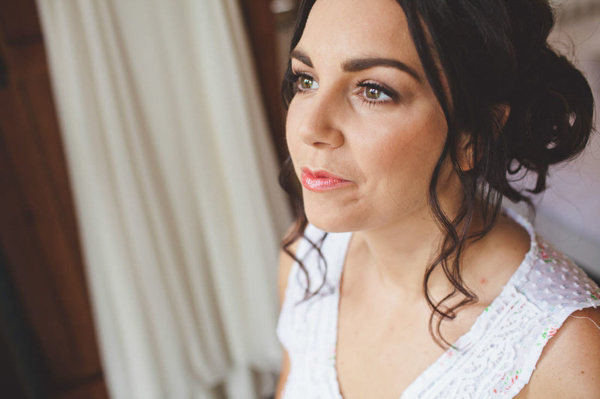 "I wore the Noble Lineage bracelet from BHLDN, and my earrings were little crystal droplets by Hermione Harbutt."
"My Dad Colin gave me away, and I walked down the aisle to the sound of the song 'Sleeping At Last' by the band Turning Page."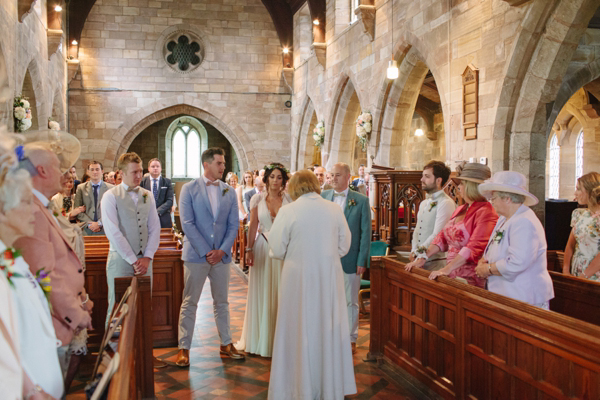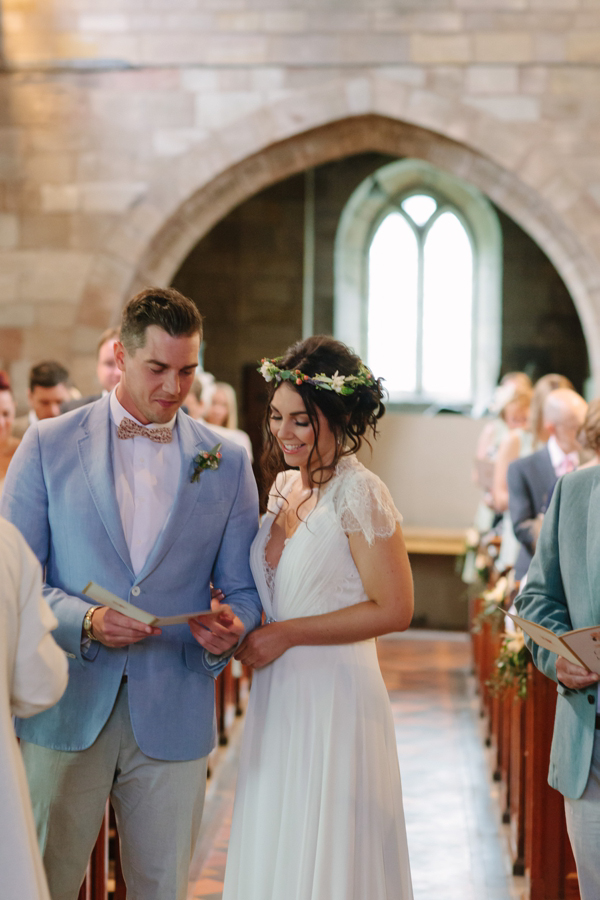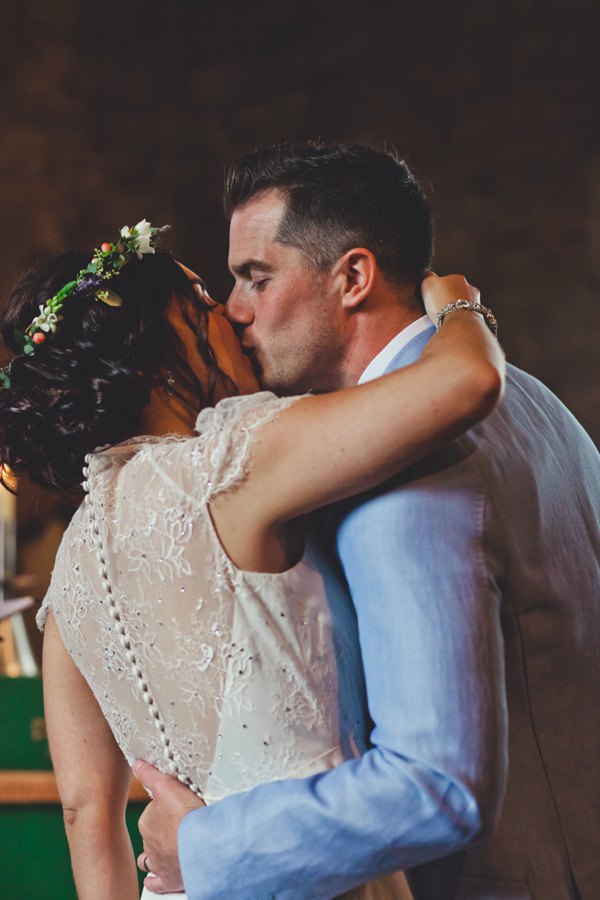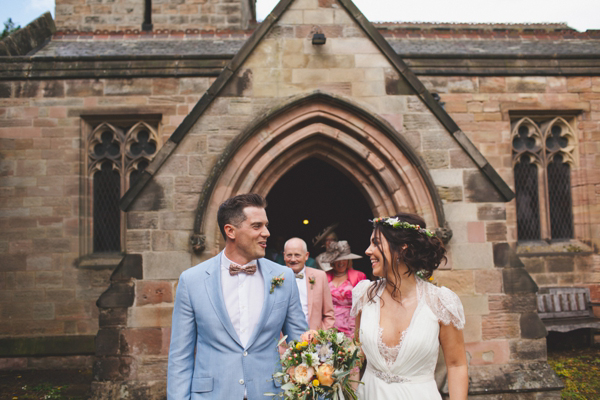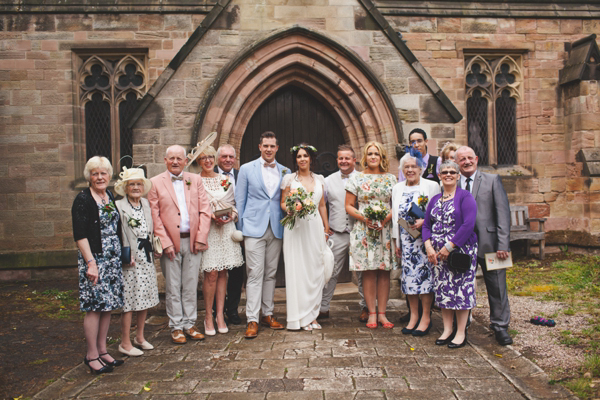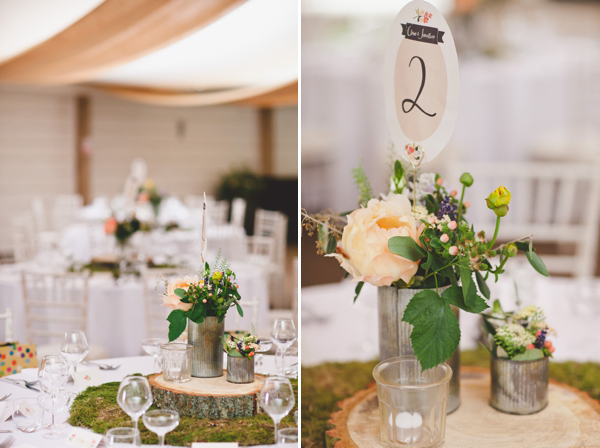 "One of my favourite parts of the day was being introduced as Mr and Mrs Smith at the wedding venue.  Jonno says his was seeing me walking down the aisle for the first time in my wedding dress.  I also loved walking down the aisle with my Dad – although we were both in tears at the time, it will be something that I will never forget. 
Overall, just having all of our family and friends under one roof, having a great day, was so wonderful.  It's a very rare occasion getting to spend time with your nearest and dearest all together this way."
Words of Wedded Wisdom…
"Never lose sight of the end goal, it's easy to let the organisation of a wedding consume you and you tend to forget what it's all for.   Try not to please everybody, at the end of the day it's your special day!"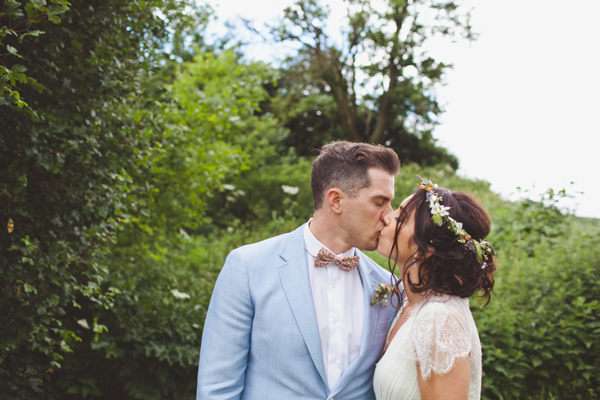 I don't think there could have been a more gorgeous wedding to open up this week with, and I hope you have loved looking through these images as much as I have.
A huge thank you to photographer Laura McCluskey – more from whom you can see on Love My Dress here.
You can see more brides wearing the Dentelle by Jenny Packham dress here – or all of our Jenny Packham brides here.
What do you love the most about this wedding?
Have a lovely day,
Love Annabel
 

Photographer – Laura McCluskey
Venue – Newton House Barn in Derbyshire
Wedding Dress – Dentelle by Jenny Packham, from Silk Brides
Flowers + Floral crown/headpiece – Blossom Tree
Brides' shoes – Mimi by Rachel Simpson
Bride's accessories – Noble Lineage bracelet via BHLDN + crystal droplet earrings by Hermione Harbutt
Groom – Pale Blue Paul Smith Jacket + Reiss trousers + Dune brogues + Mrs Bow Tie
Bridesmaids - Think Boutique dresses + coral sandals from Topshop
Flowergirls – tutu dress by Lily Meyer via NotOnTheHighStreet.com
Page Boy – Monsoon + White Converse
Cake – The Red Cake Company
Transport – Self Drive Classic Cars
Entertainment – Tom Kitchen (DJ/friend)
Styling + Decor – mostly BHLDN
Rings – S.P. Green
Catering – The Red Olive
Stationery – designed by the bride & her brother
Hair Stylist – Shaun Wilkins
Make-up Artist – Katy Short
Follow Love My Dress® on Google+