This is one of those pretty weddings that will appeal to anyone with a love of pastel pink shades and romantic wedding day style.  Ali who teaches art, married Kris who works in IT, on 29 October last year at Newton Hall in Northumberland.
"We really wanted a beautiful wedding – and Newton Hall was perfect for what we wanted. We didn't want harsh, bright colours and wanted everything to tie together without matching (hate hate hate matching!). I love anything vintage (and Kris is quickly coming round to the idea too – our house is full of old things with stories behind them) so we wanted to use interesting objects for our table settings rather than the usual flowers or bowls. I love nude and pink so started with that and tied everything in around it.
Despite the wedding not being religious we still wanted there to be sentiment and emotion in the ceremony and the day as a whole. I think we achieved it. I wouldn't say we had a specific theme – just a vision of what we wanted to achieve."
Photography Copyright (c) 2014, SDS Photography
"Kris and I met working in the same school in Northumberland. We got engaged after 7 months and married a year later. Kris proposed on my birthday on 9th October on the millennium bridge in Newcastle after a fabulous meal at the Baltic Art Gallery. Amazing food and an amazing night.  We booked the wedding a few weeks later so had about a year to plan!"
"We really aren't keen on traditional 'hotel' weddings with function rooms – they feel characterless and Newton Hall really is the opposite with loads of character and individuality and everywhere you look there is something beautiful to look at. It was perfect for us and the style of wedding we fancied."
"My dress was this design by Justin Alexander. I bought it from the most amazing little bridal boutique in Blagdon in Northumberland called Bridal Wish. Wendy was amazing and made me feel like a princess. She couldn't do enough for us!
I knew I wanted lace and loved this dress as soon as I saw it. But didn't realise it was 'the one' til I put it on. The lace is stunning and fitted in so well with all the doilies and vintage theme we were going for! The dress was beautiful but also comfortable – I didn't want to feel hemmed in by a dress that wouldn't allow me to enjoy my day , eat and drink fizz!
I was unsure whether I fancied a veil and didn't decide about this til two weeks before the wedding. Due to the lace on the dress I decided to go for the plainest veil I could find – again from Bridal Wish"
"We initially decided against fresh flowers as I made my own vintage brooch bouquet. I used old family brooches and brooches that my friends gave me so this made it really special. I also used vintage items from markets and second hand shops. Later on (after lots of hours of twisting wire) I ended up grabbing some pieces from shops like Primark etc to bulk it out, I also used some nude artificial roses to go underneath the wires. I love it so so so much! It was so pretty and just added something more personal to my dress and the day.
After realising that making this took so long I gave in to having fresh bouquets for the bridesmaids. They were different shades of nudes and pinks and the little ones carried posies of jip. They were amazing and I am actually glad we ended up having fresh flowrers. They florist was Flower Cabin in Seaton Delavel."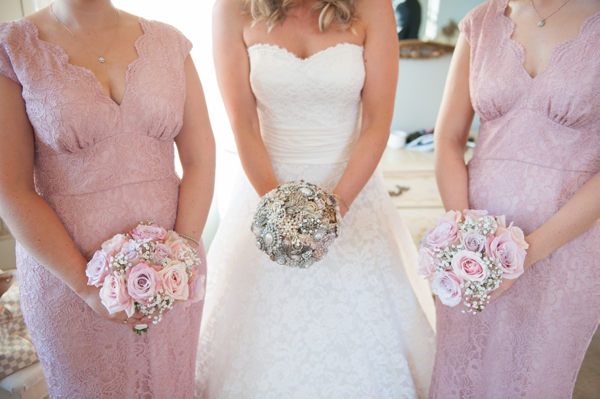 "I dislike traditional, shiny bridesmaid dresses as I think they are boring and often very unflattering. We looked once or twice in bridal shops but none of us ever really liked any of them! Due to my love of lace I was drawn to these Ariella dresses from House of Fraser straight away.
I was really lucky that the girls loved them too (I would never have asked them to wear something they didn't like) and that the dresses really suited their shape. It was also great that they were so flattering on two really different girls. They looked gorgeous.
Due to their huge difference in height, the girls wore different shoes."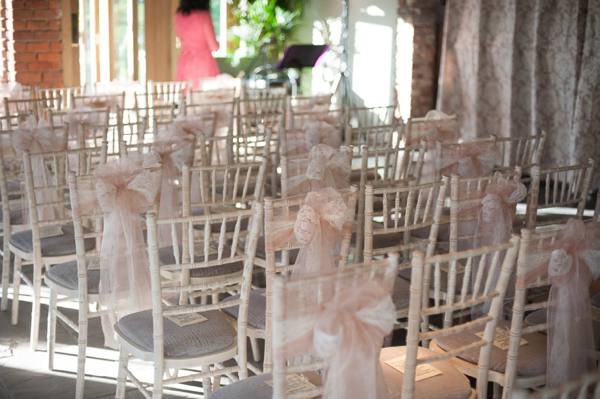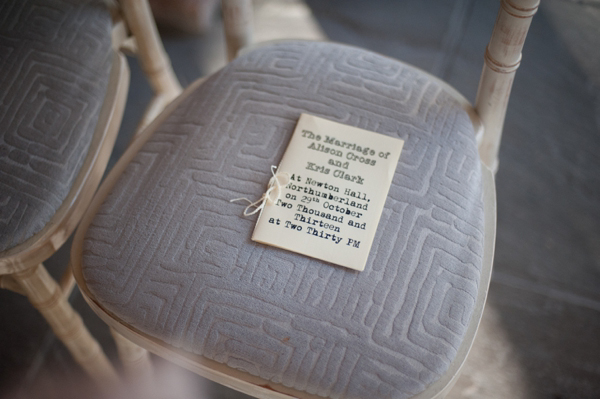 "The venue didn't really need anything in terms of styling. We were just lucky that our choice of table centre pieces fitted in perfectly; we used vintage bottles, doilies, china cups and saucers, old books and dried flowers. I love them so much. We sourced some of the items from friends and family but my mum and I spent months trailing through seconds shops and vintage markets.
My mum, myself and family friend, Sheila, made everything else – we are both art teachers.  The invites were on brown card and had little doilies on, the menus were a similar theme but had pink and nude flowers printed on to bring the tables together.  And the table plan was in loads of miss matched vintage fooling frames."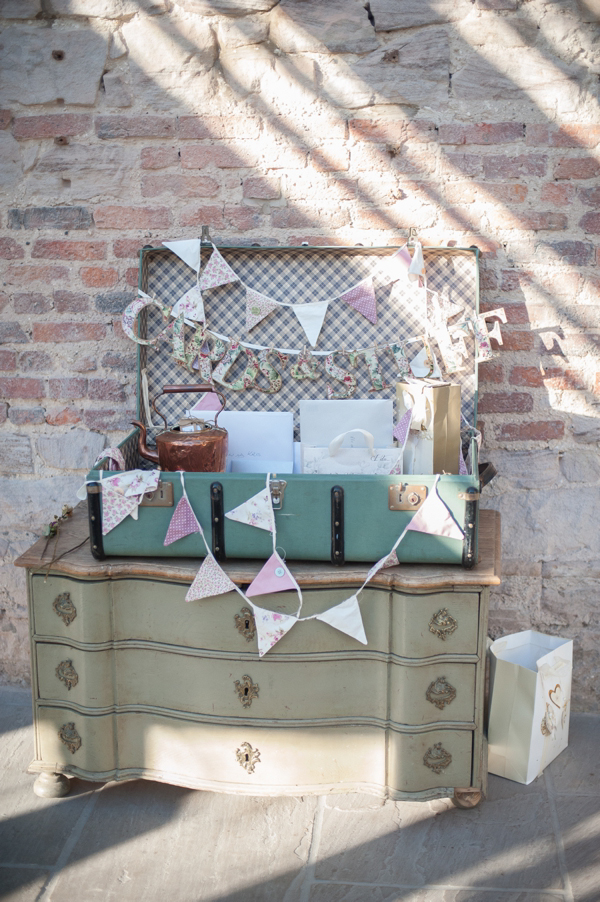 "We had SDS Photography take our wedding photographs.  Sarah-Jane and Simon were amazing. They are great friends of ours and we just knew they would do the most amazing job. Sarah-Jane kept me so calm the night before and in the morning, and I trusted her and Simon to do whatever they thought right.  It's a big thing for an art teacher to hand over total creativity to someone else. The pics are amazing!"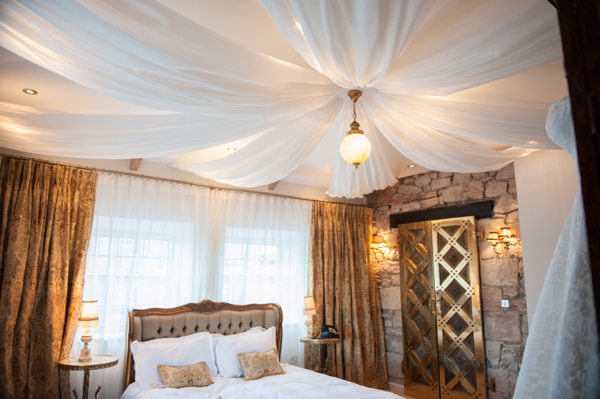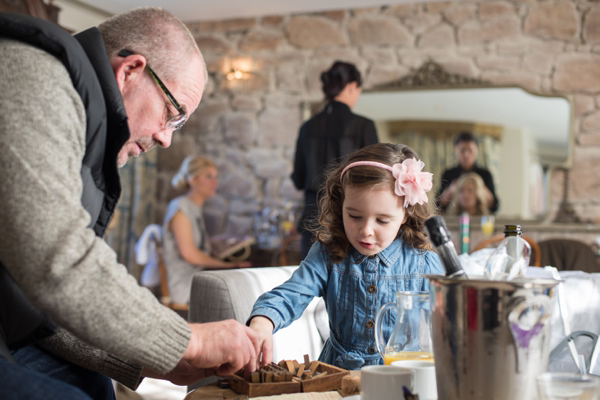 Ruby (7) and Mariana (2) wore dresses from Monsoon. Again, they got different styles – they chose their own – within reason of course and wore little cream cardies over the top! They were so cute and later on when I saw pics of them walking down the aisle hand in hand I was bursting with pride at how well they did.
Page boy/young male assistants outfits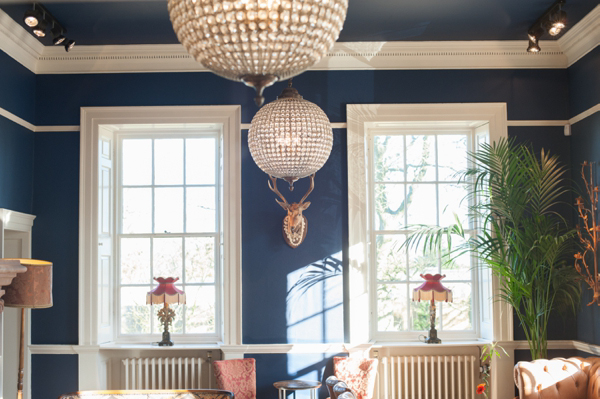 "I'm not really a 'hair done' kind of person. So I went for a curly style that was quite natural. I just wore the veil, but had a gorgeous vintage hair band for the evening. But I got so carried away with the day – having the most amazing time – that I didn't even end up taking my veil off and putting the head band in! I didn't miss it in the end!"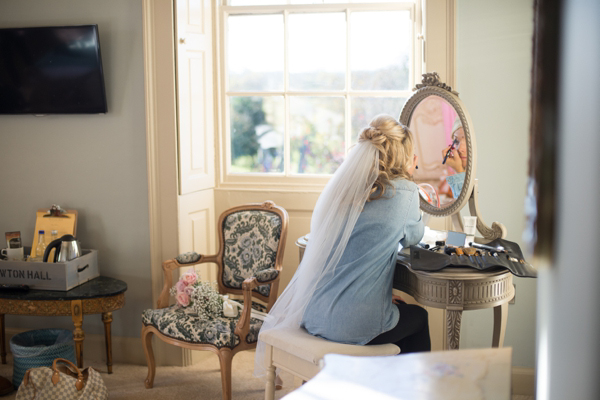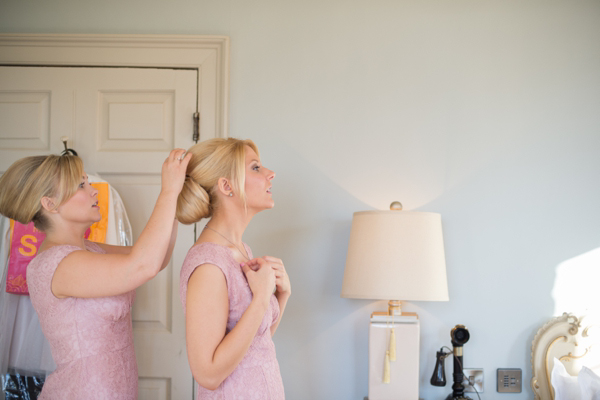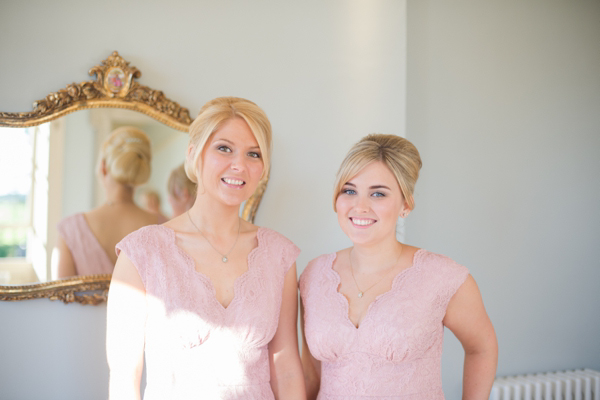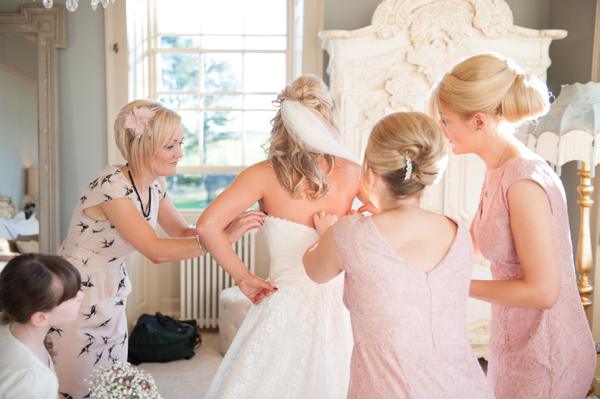 "Initially Kris fancied having tails. But they really didn't fit with my vision or with the venue. So I eventually persuaded him to wear this lovely suit. He, for once, is so pleased he gave in to me as the guys all looked amazing and the suits were so much more flattering than tails.
The guys all wore pocket watches – something that Kris' dad loves. And again, fitted in really well with the vintage idea! They looked amaze! They worse skinny grey ties as well."
Gentleman who also fancy wearing tails – please read this.
"My dad walked me down the aisle – he's the best dad in the world and I wouldn't have had it any other way. I cried my eyes out all the way down the aisle, I was so overcome with emotion. And he stayed dead calm.
We decided to go with very traditional vows. It was a big thing for me not getting married in a church so we didn't want it to be too different and change everything!  My mum, Kris' dad and Sheila did readings. We chose 'Marriage' from The Prophet', 'Union' by Robert Fulgham and 'The Art of Marriage' by Wilferd A. Peterson.
Like I said before it was a big thing for me not getting married in a church so I wanted to make the ceremony as meaningful and as special as possible. I didn't want it to be over in two minutes. The readings were perfect and I think they got across what Kris and I think of marriage."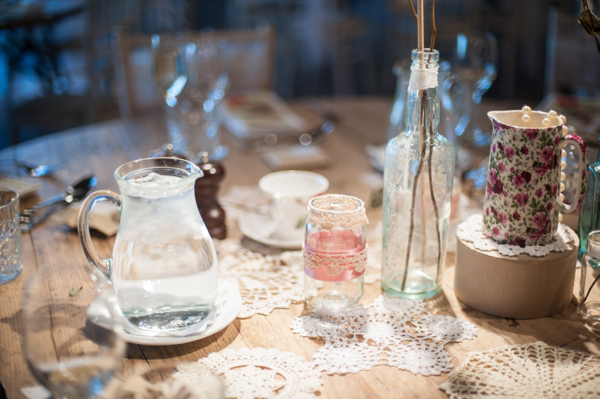 "Newton hall of course provided our catering.  We went for an informal hot buffet during the day – we really wanted our guests to be able to choose what they ate. Any wedding we have been to before someone on the table always dislikes the choice of food. So we wanted to overcome this. We had Steak and Ale pie, Thai Curry, Pasta and loads of sides such as lamb kebabs and Greek platters. At night time we had hot beef or pork sarnies with hand cut chips!"

"The whole day was amazing, and I wouldn't change a single thing, but for me the most special thing was becoming Kris' wife and him being my husband! We were so so chuffed that all our close friends and family were there to see it and be part of it! The day looked and felt even better than it did in my dreams. Kris and I both agree that it was the most perfect day. But the most important and special thing is that we are now husband and wife."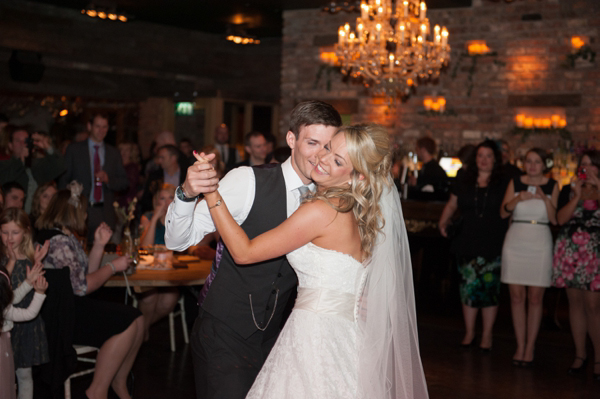 Words of Wedded Wisdom…
"I was, unexpectedly, conscious of making sure everyone else was having a good time and from what I've heard this is really usual for brides.  Just realise that everyone will be having a fab time and you don't need to worry about anyone else on your big day!"
Thank you som much Ali and Kris for sharing your day, and of course your photographers SDS Photography too.
Newton Hall is a favourite with brides in the North East of England – if you would like to see more weddings that we've featured as this lovely venue, including this stunning wedding (the bride was the interior designer and stylist responsible for helping to launch Newton Hall as a beautiful wedding venue), go here!
Much love all, have a lovely afternoon and we'll see you back again tomorrow morning.
Love Annabel
Photographer – SDS Photography
Venue – Newton Hall in Northumberland
Wedding Dress – Justin Alexander via Bridal Wish (Blagdon, Northumberland)
Veil/Headpiece – Bridal Wish
Brides' shoes – Kurt Geiger
Bridesmaids – Ariella via House of Frase
Flowergirls – Monsoon
Flowers – brooch bouquet made by the bride + Flower Cabin
Cake – Confetti in Bedlington (no website)
Entertainment – Val Boyers acoustic guitarist + Snaparizzi photobooths
Hair Stylist – Sitting Pretty (no website)
Rings – Newcastle Jewellery Co.
Stationery – The bride
Follow Love My Dress® on Google+