Morning all! Feeling grateful that it's Friday? I sure am! I've been dropping hints at new content you can expect to see on Love My Dress over the coming months.  This feature is just one of them,  and I take pleasure this morning in introducing our brilliant new style contributor Sarah-Leigh Bunting of What Peggy Did Next. You can expect to see quite a bit of Sarah-Leigh on Love My Dress from here on, as a contributing writer. Sarah-Leigh cut her teeth in the fashion industry as an editor reporting on shows and trends all over the world and is now the International Contributing Editor for Olivia Palermo and Content Marketing Manager for a large homeware retailer. Sarah-Leigh also co-runs events and communication agency What Peggy Did Next who are the team behind Bridal Boot Sales.  We ought to mention too that she's a huge Love My Dress fan and had her own wedding grace these pages last year.  This is one lady with a keen eye for fashion and how it inspires the wedding world and with a focus on the bride, bridesmaid and mother of the bride, she's pretty much got everything covered.  Enjoy!
~ ~ ~
It's that time in the season that us fashion folk fondly call 'fashion month'; things kick off with the couture shows in Paris and are followed by ready-to-wear shows in New York, London, Milan and Paris respectively. Haute Couture Week is one of those rare traditions left in the industry when designers throw caution and commerciality to the wind, showcasing their most avant-garde creations to the eagerly awaiting media and celebrity fans. The week nicely coincides with awards season too – an interactive Oscars shopping trip if you will? What Haute Couture Week also does is set the tone for the coming season. Despite being a relatively quick-to-market showcase, designers will often diffuse their ideas in to more wearable pieces and of the course the ever-watching high street retailers sit poised, ready to take notes on the latest looks. Full of drama and the most exquisite fabrics, finishes and embroideries, the week is also a proven indicator for bridal trends to come. For spring/summer 2014 we've rounded up a few of those top trends for not just brides, but bridesmaids and the mother of the bride too. Let's get started shall we? Bride Capelet Sleeves Capelet sleeves were rife on the catwalks, as seen at Zuhair Murad, Valentino and Alexis Mabille. Mid and long-length sleeves incorporating this dramatic silhouette will add a touch of glamour and high-fashion to autumn and winter weddings.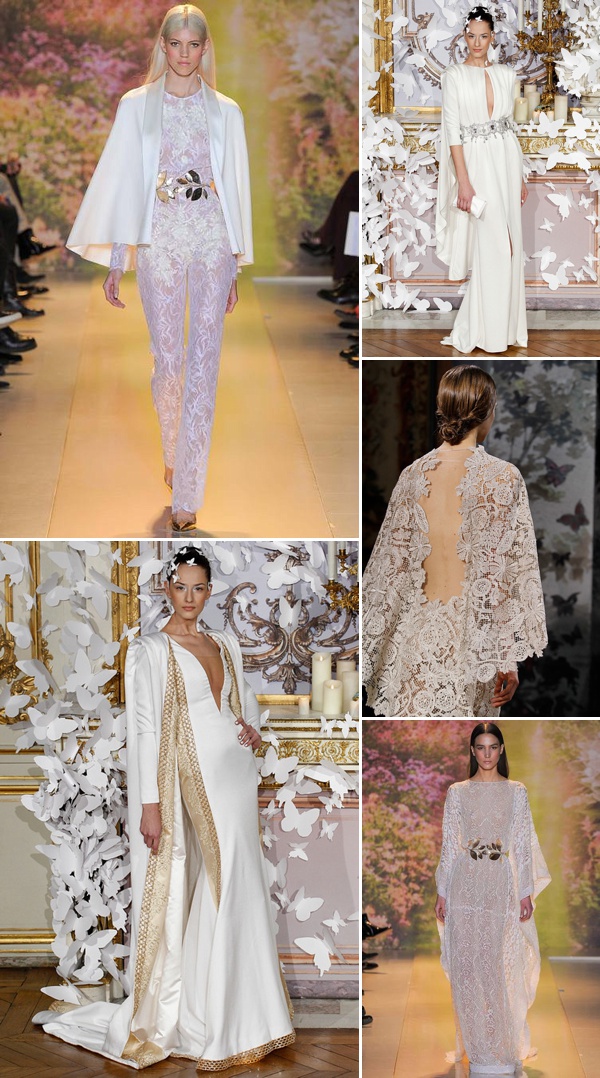 Clockwise from top left; Zuhair Murad, Alexis Mabille, Valentino, Zuhair Murad and Alexis Mabille Sheer Lace Bridal gurus Zuhair Murad and Elie Saab both presented figure-skimming lace with delicate sheer panels. Full length dresses were seen cinched at the waist with long or capped sleeves. Valentino also used sheer lace, but seen in a more floaty style, perfect for the bohemian bride.
All Elie Saab bar top left (Zuhair Murad) and bottom right (Valentino) City Chic Options Not every bride wants a 'big white wedding' and if city chic is more your thing, take tips from the likes of Zuhair Murad, and Elie Saab. Pencil skirted dresses are a key trend for 2014, whilst all-over lace is the perfect fabric choice. A thin belt will keep the look sophisticated whilst elegant matching layers could be added for the evening. A little Carrie Bradshaw twist was also evident at Murad, with a beautiful skirt suit, again, in all-over lace.
Elie Saab top left, other 2 Zuhair Murad Grecian The long lengths of Grecian-style chiffon and softy draped silhouettes are always going to be a popular wedding dress theme, however this season it's all about updating your look with metallic accessories. From golden belts depicting flora and fauna as seen at Zuhair Murad to Valentino-esque embellishments, Grecian has never looked so good.
Clockwise from top left, Alexis Mabille, Atelier Versace, Elie Saab, Valentino and Zuhair Murad Bridesmaids New Season Colours Our major bridesmaids take away from Haute Couture Week is the reoccurring use of three new colours. For spring and summer weddings the easy hues of pale primrose yellow (seen with added sparkle at Elie Saab) and tones of peach and coral are hot off the press.
Clockwise from top left Zuhair Murad, Elie Saab, Elie Saab, Zuhair Murad and Vionnet For brides looking for something a little more glam than girly for their right-hand-women, or for winter weddings, grey tones from dove to gunmetal were also prevalent and seen incorporated in to lacy, embroidered and sleek satin styles.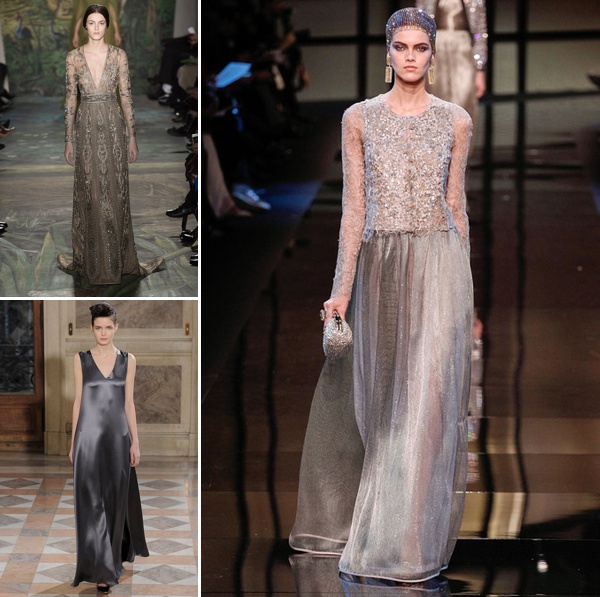 Clockwise from top left Valentino, Armani Prive and Bouchra Jarrar Delicate Embroideries The traditional satin column gowns may no longer hamper your bridesmaid choices – for spring/summer 2014 beautiful embroidery is a huge trend, as seen at Giambattista Valli and Valentino. From florals to ditsy prints, we spotted patterns cascading across bodices and full-skirts.
Giambattista Valli and Valentino Mother of the Bride Peplum Its only right that your Mum should look super-chic on your big day and to help her stay on trend, the feminine peplum shape is the way to go. We've spotted the look built in to figure-hugging knee-length dresses at Stephane Rolland and Zuhair Murad, plus sublime separates at the likes of Armani Prive. When the peplum shape is combined in to a sleek jacket, a full length skirts also makes a fab, contemporary accompaniment.
Clockwise from top left Armani Prive, Elie Saab, Giambattista, Stephane Rolland, Zuhair Murad Cobalt Blue Allow your Mum to stand out from the crowd in this season's key colour, cobalt blue. The electric shade is here to stay but has been seen softened on the catwalks by lace and or by using in isolated panels or separates. We love the idea of a cobalt lace dress with full skirt, as seen at Elie Saab, or choose the hue for tailored pieces, using neutral colours for a top or blouse underneath.
Clockwise from top left Giambattista, Elie Saab and Jean Paul Gaultier Sarah-Leigh
  As well as being our new regular fashion contributor, Sarah-Leigh Bunting is the International Contributing Editor for Olivia Palermo.  She also co-runs events and communication agency What Peggy Did Next and is the lady behind Bridal Boot Sales.  You can enjoy Sarah-Leigh's own wedding here. Follow Love My Dress® on Google+ All Image sourced via Vogue and Elle