Afternoon guys and gals, I've such a pretty, charming garden party style wedding to share with you this afternoon with a ton of information and enthusiasm shared by lovely bride Natalie.  Natalie tied the knot with her beau, Ross, on 23rd August last year at Bartholomew Barn in Kirdford, West Sussex.
"If there was anything in life that Ross and I could not live without (besides each other of course!) it's tea and cake!  We're both very strong believers that everything in this life can be put right with a good cuppa tea, and we often spend the majority of our little trips away sampling afternoon tea houses.  It was Ross who suggested an afternoon tea theme, and once this took hold we began collecting little vintage pieces to style the afternoon including vintage crockery to serve the tea in."
Photography by Eclection Photography
"Ross and I met eight years ago in 2005 over an office partition at work. I was the young girl in admin and he was the new graduate fresh out of uni with big hair! We were friends from the start, but due to us both being in other relationships at different times, and Ross going travelling for nine months, we didn't actually get together until the end of 2007.  We moved in together two years later and very quickly settled into our wonderful life, making plans for our future.
We both knew we wanted to get married, but when Ross actually popped the question I could not have been more shocked and surprised!  The problem was that for a couple of years Ross had jokingly asked me to marry him a few times. Whenever he happened to have any circular shaped food in his hand (Polo, Hula Hoop, Haribo ring) he would ask the question in jokey way."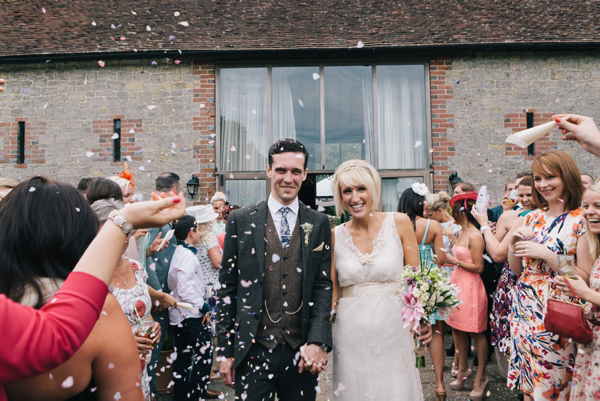 "On the day it actually happened we were on a cottage break in the beautiful Yorkshire Dales and had been on a 30 mile cycle to the Tan Hill Inn (the tallest pub in England). The weather had turned quite grey and drizzly, so after a hot shower I just wanted to curl up on the sofa with a blanket and cup of tea. The previous evening we'd had dinner outside in the little garden of the cottage and it had been beautiful watching the sun go down.
So Ross had decided that evening that tomorrow was the day!  So when he asked me to join him outside for a drink, I wasn't having any of it!  I'd just got warm and didn't understand why he wanted to sit outside in the grey drizzle!  He managed to persuade me but I wasn't overly enthusiastic."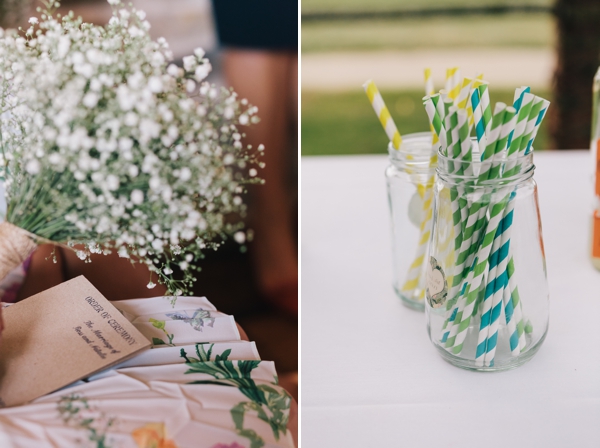 "He started talking about how we'd recently been on quite a few adventures together, (we'd run the London Marathon, cycled London to Brighton and completed our first couple of triathlons that year), and asked if I'd like to go on another adventure with him. I was thinking he'd probably spotted some Yorkshire fell race he wanted us to enter, but that's when he got down on one knee and popped the question!
Because of the busy day we'd had and my lack of enthusiasm to be sitting outside in the cold, it was completely unexpected, and after asking him 'are you joking' and 'is this the real thing' I eventually put the ring on and said yes!  That was June 2012.  We were engaged for 14 months and got married at the end of August 2013."
"We knew very early on in the planning process that we wanted to get out of London and head towards the South Downs. The area really means a lot to both of us, probably more to Ross. He used to cycle the South Downs Way when he was a kid with his dad and best men, and since we've been together we've spent a lot of time on cottage breaks, camping and running around the South Downs area. It's such a beautiful part of the world!
We also knew we wanted something very laid back and relaxed, completely different from formal stuffy weddings, so straight away started looking at barns, gardens, National Trust places with lots of open space etc. We'd seen about 6 venues and Bartholomew was one of our last. As soon as we turned the car into that amazing long driveway with views of the South Downs all around and saw the barn, we kind of knew we'd found it.  It was the perfect level of "rustic" for us (some of the barns we visited literally had farm animals and smell of manure right outside!). The owner, Frances, was so lovely serving us homemade elderflower lemonade, and was amazing the whole way through the planning process.
"Bartholomew is licensed for civil ceremonies which was another reason we chose it. We loved the idea of everyone being together in this beautifully intimate space for the whole day, so they could really relax. As soon as we got home that same day we phoned and booked our wedding date for the following August!  As we were having afternoon tea with plenty of cupcakes and scones, we decided very early on that we didn't want a cake.  Again, they are so expensive and usually get left half eaten.  We were going to make a giant Mars Bar Rice Krispie cake, but I'm glad we didn't as there was just so much cake left at the end anyway!
We hired all of the vintage crockery from Helen Ruff at Doily Days. Helen was so lovely and helpful throughout the process.  The crockery she supplied was so beautiful.  She was open and willing to negotiate on costs to make sure we could get what we needed within our budget, and came to the barn the day before to set up all the cake stands and take away the dirty crockery after tea."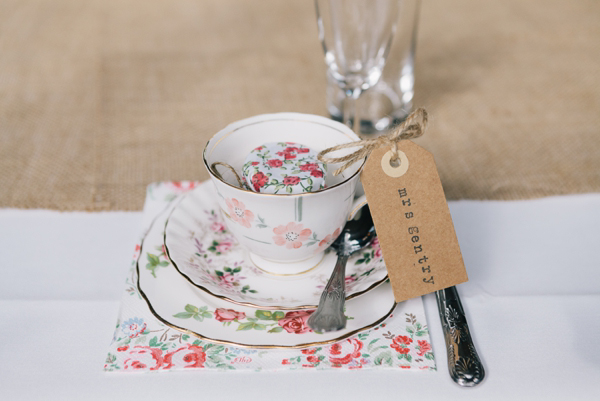 "Very early on in the process, we decided on a fairly low budget. We want to buy a house next year and we knew that we'd both regret spending tens of thousands on a wedding and then not be able to afford our dream home.  So straight away I set myself a strict budget of £500 for my dress.  The problem was I love lace which can be quite pricey so I knew I'd probably have to go second-hand. I trawled eBay and Oxfam's wedding dress site a couple of times but hadn't found anything. So after Googling 'vintage wedding dresses' and quickly skipping over the posh shops that come up first with replica vintage dresses (ie, not original and veeeery expensive) I came across Kathryn Handcombe's website, and was even more pleased to find out that she lived not too far away in Richmond, West London.
After a quick phone call to tell her what I had in mind, my sister and I went to her house and she'd already pulled out a number of lace dresses she had.  Kathryn runs her wedding dress business from the most beautiful conservatory at the back of her house.  I knew I wouldn't be keen trying on lots of dresses in a shop with lots of people watching and champagne flowing like most girls. Kathryn's house was so relaxed and quiet.  All her dresses and accessories were so beautiful and unique.  After trying on about five I very quickly settled on two favourites.  On my second visit a couple of weeks later (this time with mum) I chose one and mum bought it for me there and then!  That was November, only 5 months after getting engaged and 9 months before the wedding."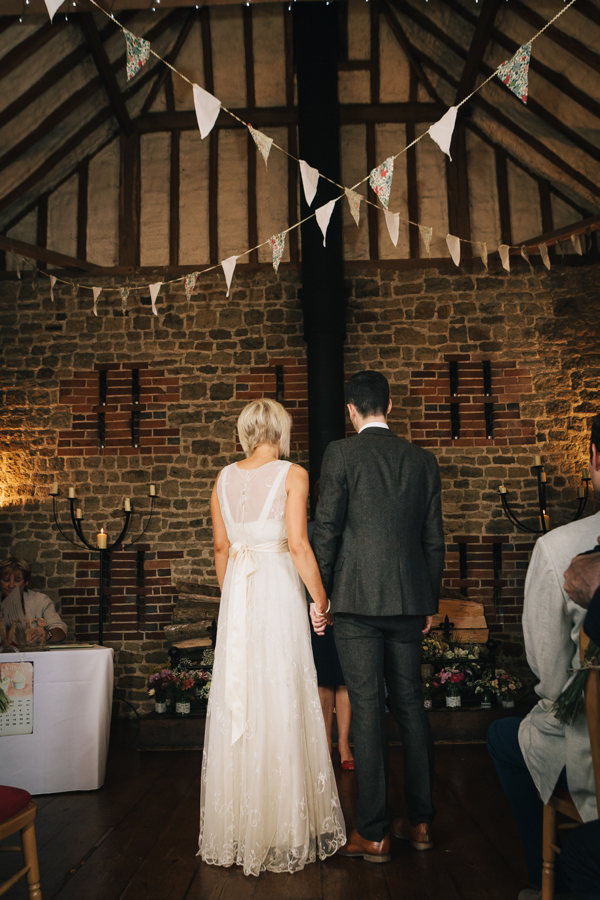 "About 3 weeks before the wedding I had a mini panic. Had I committed to the dress too early? Should I have looked at more? Should I have gone for a 50's style short dress so I could dance more easily?  I took the dress to Kathryn for pressing and she could tell I was doubting it.  She was so wonderful, and just took hold of both of my shoulders, looked at me and said 'have faith in this beautiful dress, this is your dress, you look absolutely beautiful in it, and you're going to knock Ross out of his socks when he sees you in it!'.
Those words were all I needed to hear, and brought me back to the most important part of this – I was marrying Ross, my best friend, my partner, my whole world, and he loves me unconditionally regardless of what I'm wearing!"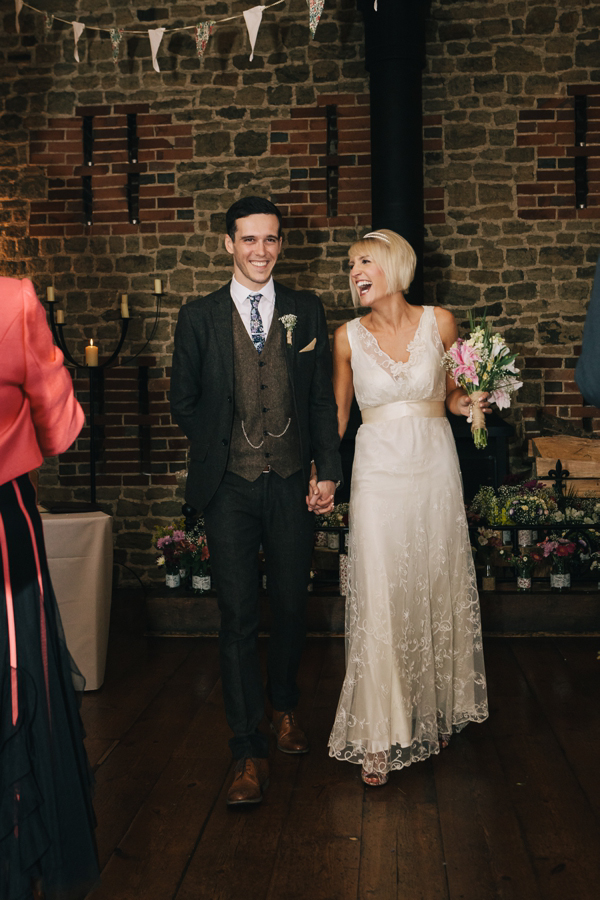 "As I'd already decided on an original vintage dress, we decided to source some other vintage pieces from family, charity shops and market-finds to bring it all together.  So the theme ended up being a sort of vintage/rustic garden party.  We just wanted the day to be entirely about everything we love, fun and relaxed with great tea, lots of cake, people sitting around chatting or playing games, and a bloody great party in the evening!" 
"I'm not very good in heels!  I wanted shoes that were comfy that I could wear all day, affordable and not too "bridey" as I wanted to be able to wear them again.  I got a bit hooked on the Vivienne Westwood 'Aglomania Lady Dragon' shoes (the sling back peep-toes with the heart) and a couple of styles from Irregular Choice, but after trying a few on I knew that they were just too high for me and might overpower my delicate dress. 
Browsing online one Sunday I came across the most beautiful floral peep toes on the Debenhams website by 'Lotus' and they were only £40. I knew they were the ones and Ross loved them so much too that he offered to buy them for me!  They were so comfy on the day, and I managed to keep them on all day, even through all the sweaty dancing!"
"We designed and made all the stationary ourselves as we're both quite crafty and creative.  We got some ideas off other wedding blogs, but knew in our heads that we wanted it to have a semi-rustic, semi-vintage look. We used hairy manila card, downloaded some unique fonts and designed a floral backing.  We also used Ross' mums old typewriter and vintage comic collectors stamps from the Post Office.
We used a save the date postcard with a vintage backing and a photo of the garden in Yorkshire where Ross proposed, then used the same backing and a quirky photo that Heather designed of us spelling out RSVP with cardboard letters as the RSVP postcard.  The invite included a hand-stitched details booklet and maps (which I painstakingly drew myself). The bundle was tied together with jute string and a brown luggage tag with the recipient's name on it.  The placecards were also luggage tags tied with jute to the teacup handles. " 
"We got all the paper from Eco Craft, we purchased the fonts from Dafont and we used the Printed printing service.
The table plan was Ross' big project!  We got a large map of the South Downs National Map and collected old postcards of places we love on the downs, together with luggage tags to list the names and used string and pins to indicate where each place was on the map."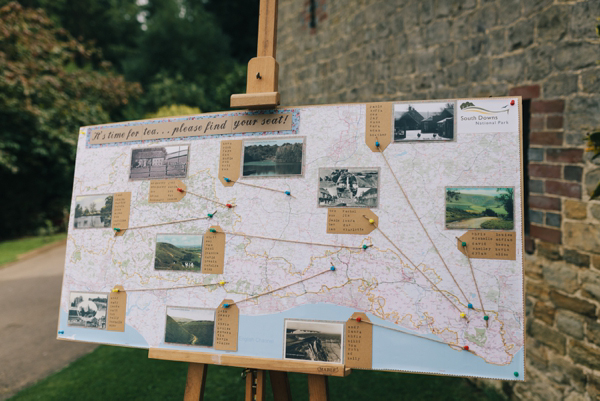 "Having told the girls they could wear what they wanted they were keen to be told a colour or style, which I was reluctant to do at first because I was conscious that we weren't buying them for them so didn't want to dictate. In the end, I said anything 'floral' would be perfect, but they were still struggling to find three different floral dresses that were nice on their own but also completed each other and didn't clash. On a shopping trip to Bluewater, they found a lovely floral knee length dress in Ted Baker which they all loved, so ended up all wearing the same, and thankfully we were able to get them 50% off in the sale in the right sizes with a lot of panic shopping between stores!
The girls chose their own shoes. As we were trying to keep to a low budget, I said to them from the start that we weren't going to be able to buy them their dresses or shoes and that they were free to wear whatever they wanted. In the end they all chose to wear nude heels that were slightly different but all very similar."
"The flowers are probably the one area that we got the most criticism and doubt from during the planning process, from family and friends.  We decided not to use a florist but instead to do all of the flowers ourselves.  I love flowers, and I feel that all flowers have the ability to instantly decorate and brighten up a room, regardless of their colour, style, cost etc.  Florist fees are so expensive and I nearly fell off my chair when a friend told me their wedding flowers cost £800!!  It was just something that I didn't feel was a priority money-wise.
"We tested out how we would do it early on, buying a couple of bunches from the supermarket and practised making bouquets and table flowers etc.  The day before the wedding we went to a couple of supermarkets and spent no more than £100 on a variety of flowers (the gypsophila was the only flower we ordered in advance as we knew we wanted it for the buttonholes and bridesmaids bouquets, but luckily Morrison's do a flower ordering service so you can guarantee they will have them in).  The day before we set up the venue, and family and friends helped by trimming back all the stems and arranging them in all the jam jars, tins, random vases and bottles we'd collected. 
It was a lengthy process but with help it can be done.  I made mine and the girls bouquets and the guys buttonholes the night before the wedding.  I'm so glad we did this.  The flowers looked perfect, colourful and random with a natural garden feel.  With all the beautiful greenery and flowers already in bloom at the venue, anything more would have been too much."
"Ross knew very early on that he didn't want to hire a formal wedding suit.  To tie in with the laid-back vintage idea, he said from the start that he wanted to wear brown tweed, with braces, a waistcoat and a floral tie.  He actually bought his suit and tie from Topman very early in the process as well, and there were only the braces and the best men's tie's to get closer to the wedding."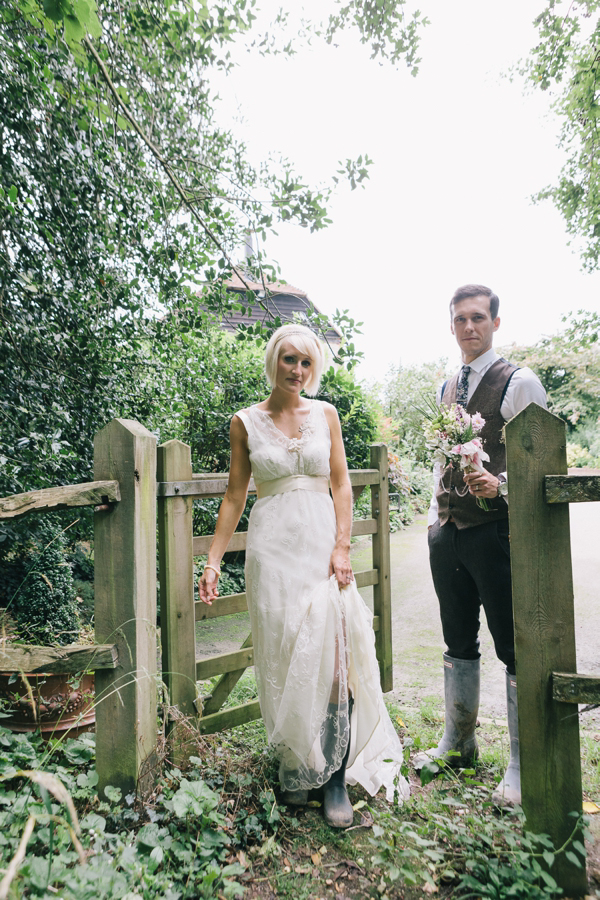 "The genius that is Heather Shuker of Eclection Photography photographed our wedding. I'd done a lot of research into photographers when we first got engaged.  We knew we wanted something laid-back, unobtrusive and didn't want to be standing around all day posing for photos, jaws aching when we could be having fun with our friends.  We'd been to too many weddings where the bridal party disappear for two hours leaving guests starving, while they have staged formal photos, or photographers shouting out lists of names and pushing people this way and that. It was my idea of hell!  We just wanted someone to capture the real emotions of the day, and apart from a couple of group photos, we were happy for them to just mingle around and capture lots of natural moments and details.
We also wanted someone with a unique, quirky and fun style where the photos would stand out as being different.  I'd seen Heather's work fairly early on in my research together with a couple of others, but the prices were too high, so I carried on looking.  Luckily before we committed to an alternative photographer Heather contacted me and we discussed money and were able to come to an agreement.  I was so happy as I'd admired her work so much but just didn't think we could afford her."
"Heather got us straight away, and shared our love of tea, cake and running! We had a Nearly Married shoot with her on a lovely sunny day in February and were so pleased with the pics.  I'd definitely recommend doing this, especially if you're not used to having your photo taken as it helps you relax, look natural and gives you an idea of the style of photos you like or don't like.
Heather has a great eye and is so creative.  So many people commented on how lovely she was, and how hard working.  She stayed until quite late in the evening capturing embarrassing dancefloor shots and set up an evening photobooth (some of these photos are our favourites!).  We've got so many beautiful photos, it's really difficult choosing just a select few for our book!"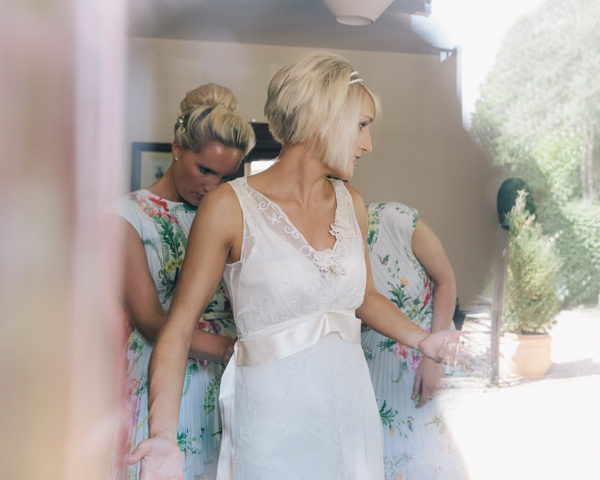 "As I have short hair there isn't much complicated styling needed, so I decided to do it myself, with a bit of help from my bridesmaids.  One of my close friends younger sister, Lucianne Beauty, did all of our make-up and also did the bridesmaids hair.  I could not recommend her enough.  She is so talented and literally could make anyone look beautiful.  I wasn't going to have my make-up done professionally, but I am so glad I decided to use Lucianne."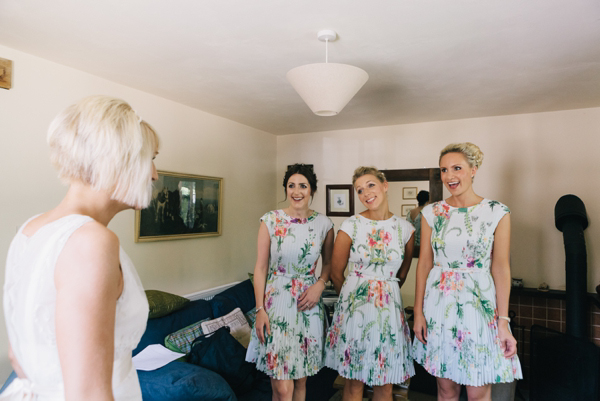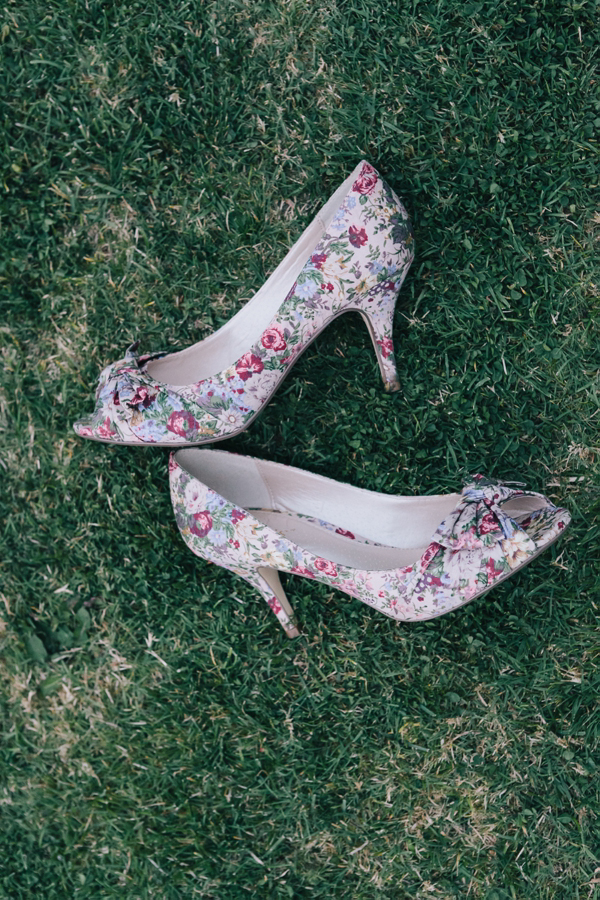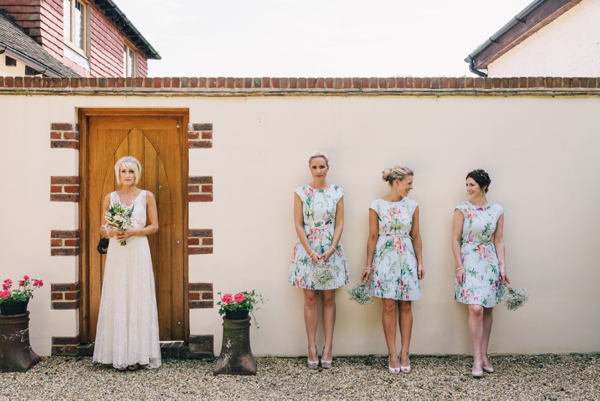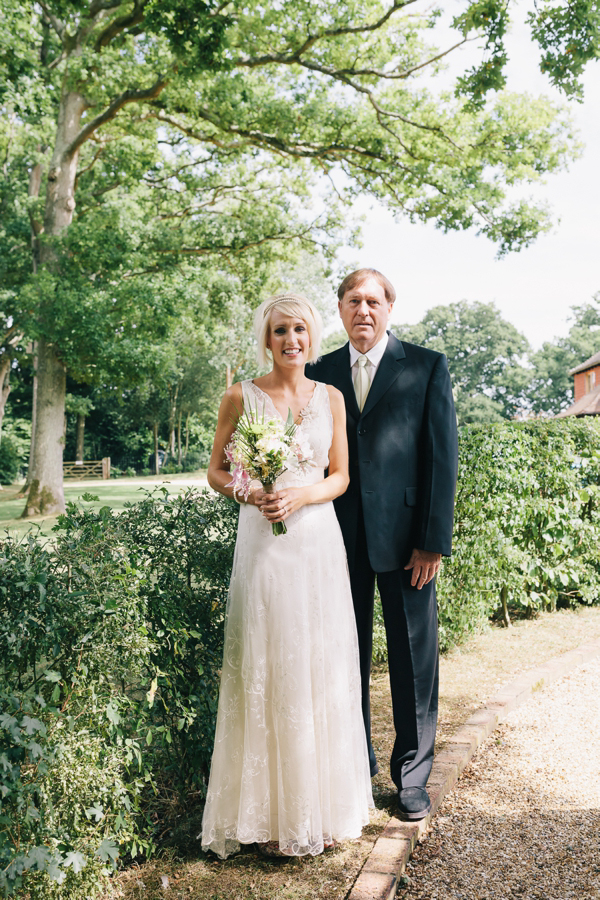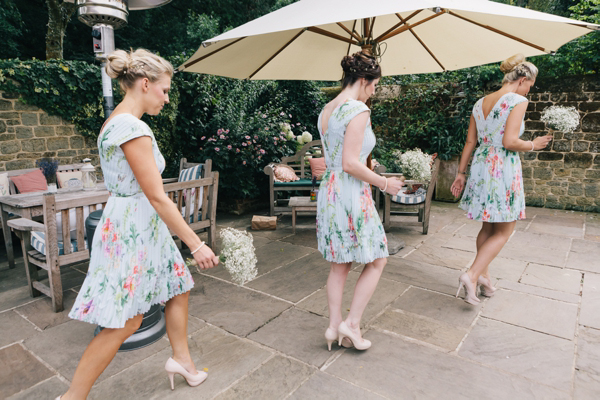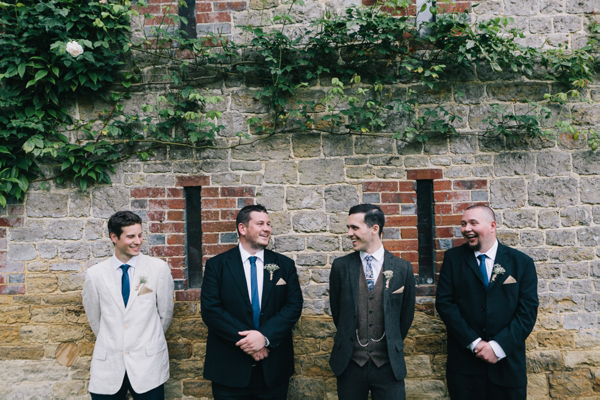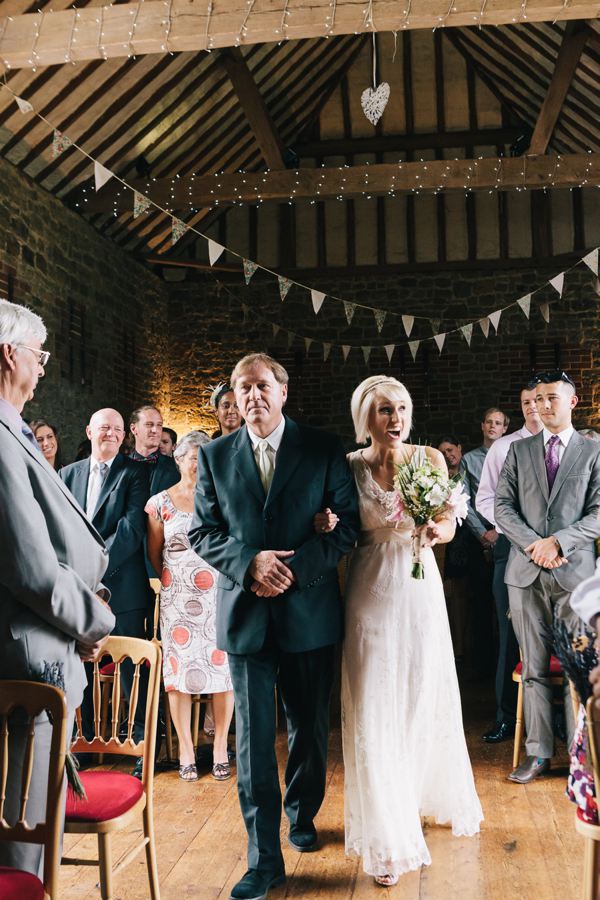 "My dad walked me down the aisle to the sound of A Thousand Years by Christina Perri. Embarrassingly, Ross and I love the Twilight series of books, and heard this song at the end of the last film when the credits were going up, and we both looked at each other in the cinema knowing that we wanted to use it in the wedding somehow.  The opening words in the song are so perfect to describe the feeling when you're first walking down the aisle.
I wanted my mum to be involved in some way too, so we asked her to do a beautiful reading – Union by Robert Fulghum."
"Ross bought my engagement ring from a local jeweller, and they had a good deal on platinum wedding bands to match my platinum engagement ring.  We both wanted rings that were very simple and classic that would never go out of style."
"We decided on a vintage VW campervan to take me, my dad and the girls to the barn. We ordered this through Helen Ruff of Doily Days, who also provided all the beautiful vintage crockery that the tea was served on."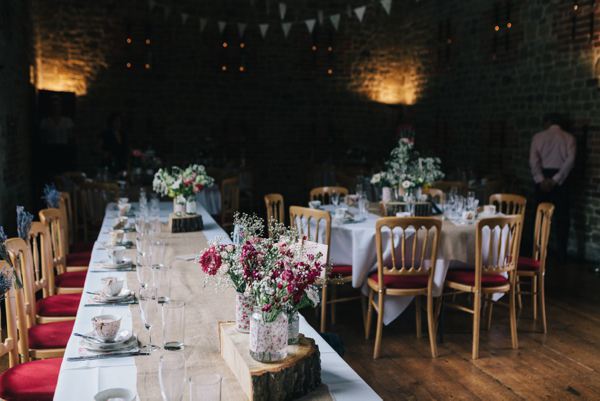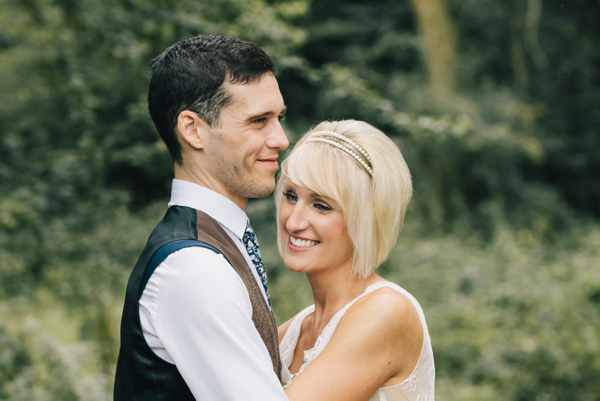 "Once we'd decided on afternoon tea we started looking for caterers.  Luckily the venue had a list of recommended caterers and Nicky of Good Taste Catering and her husband came very highly recommended, and their prices were also the most competitive.  Together we designed the two-course afternoon tea menu, with savoury bits first – sandwiches, mini pasties, pork pies, scotch eggs etc, followed by sweet bits – scones with jam and clotted cream, a variety of cupcakes, flapjack, champagne jellies and strawberries dipped in chocolate.
Nicky was so accommodating with all my changes and was so good at always advising me on the cost of everything, so there were no surprises.
On the day the Good Taste Catering team were fabulous, so organised and efficient, they kept the day running perfectly, and the food was outstanding.  In the evening we had a hog roast, which went down a storm with a cheese board."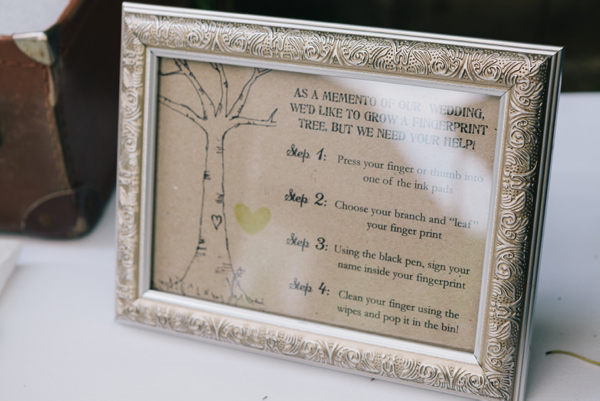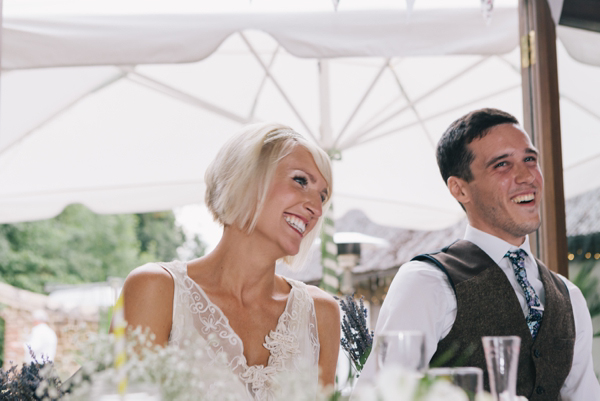 "We collected about 200 jam jars, tins, random vases and bottles to hold the flowers and wrapped bits of floral fabric and lace around them.  My stepmum also let us borrow her original vintage milk bottles.  We borrowed two old brown leather suitcases from Ross' mum to hold our photobooth props, and just used lots of random bits and bobs from our flat to style the venue (wicker hearts, vintage jugs, LOVE letters). 
As the centrepieces for the tables we got a local tree surgeon to cut large tree slices to give a bit of height to the flowers."
"We compiled a number of playlists on our iPad for background music and ceremony music, controlled by one of the best men.  We knew right from the start that 'Supertalk' would be our live band for the evening.  We'd used them before for a charity ball we hosted when we were fundraising for the marathon, and they were so awesome.  The bass guitarist is one of my friends fiancées, so we know them well and knew they would do a fab job.  They did not disappoint!  Everyone kept saying after the wedding how awesome they were, and they even learnt a few songs especially for us (Foo Fighters 'Learn to fly' was so awesome!).  I couldn't recommend them highly enough!
During the day we also had a number of garden games set up on the grass lawn outside the barn.  We had croquet and a keepy-uppies area for the boys, which actually turned into a full blown football match at one point.  We had large hay bales covered in picnic blankets scattered around the front lawn which was perfect seating for people to watch the games."  
"It's really difficult to pinpoint one moment as my favourite of the day, because it was all so perfect!  Once the speeches and tea were all finished and the barn was being cleared for the evening, the sun was just going down and everyone was outside chilling and playing games. I really started to relax at that point and once the band got going, I completely let my hair down and just had the most fun dancing all night.  The music was so good and everyone was having so much fun, I think maybe that was my favourite part."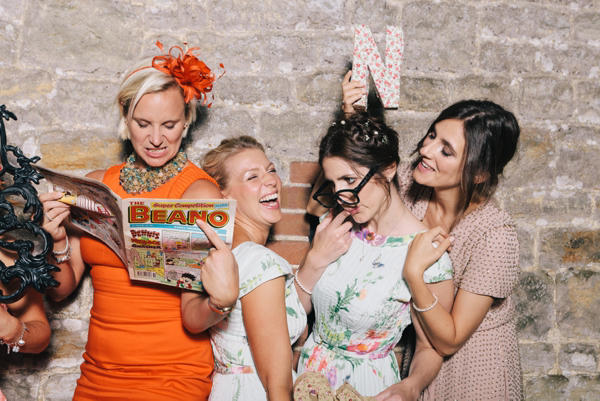 Words of Wedded Wisdom…
"The planning process can be difficult and can result in disagreements, but always try to come back to the most important reason why you're doing this – because you love each other and want to spend the rest of your lives together.  A colour theme, a piece of music, a menu choice are really all so insignificant.
I'd say to agree on a few key things that are important to you both at the beginning and always remember that and try to stick with it.  Whether it be food, music, the venue…whatever means the most, spend the money in those areas and don't bankrupt yourselves because someone else tells you that you must have a wedding cake or you must have chair covers!"
What a gorgeous day – the perfect afternoon tea celebration, I'd have loved to have been there sharing a cuppa with you Natalie and Ross. You can see more afternoon tea style weddings right here – and you can see more wonderful wedding photography from Eclection Photography right here, including this out of this world 20's inspired affair.
By the way, I'm all for Yorkshire tea, you?
Love Annabel
Photographer – Eclection Photography
Venue – Bartholomew Barn in Kirdford, West Sussex
Wedding Dress – Kathryn Handcombe
Brides Shoes – Debenhams
Bride's accessories – Flutterby Weddings
Groom – Topman suit + Next shoes + Ted Baker cufflinks + British Braces
Bridesmaids – Ted Baker
Transport – VW Camper via Doily Days
Rings – Ernest Jones
Catering Company – Good Taste Catering
Stationery – The bride and groom
Makeup Artist –  Lucianne Beauty
Vintage postcards + Luggage Tags – EBay
Map – South Downs
Vintage Crockery Hire – Doily Days