Sarah, who works in fashion, married web developer Taylan on 22nd June last year at the Henry Moore Foundation in Hertfordshire.  This couple's wedding day was modelled on elegance with a splash of country chintz style fun; think Jenny Packham glamour meets ice-cream, home made bunting and a vintage camper van.
"We really wanted our wedding to be fun and relaxed, for everyone to just have an amazing time and share the day with us. We like vintage style, but really for us it was just about picking pretty things that we both liked and throwing it all together."
Photography Copyright (c) 2014, Story Wedding Photography
"A mutual friend introduced us at College, Taylan who was then 19 was studying science and I (then 16) was studying Art. We hung out at lunch, which would always make me late for my sculpture lessons! Taylan left soon after to go to University. Then two years later, I happened to bump into Taylan in his local pub. We exchanged numbers and that was that. I knew then that I would never not be with Taylan. We dated for ten years before Taylan proposed.
We always knew that we were going to get married, but it was still a complete shock when Taylan actually proposed. He took me away for a Spa break for our ten year anniversary. I had to meet Taylan at St Pauls, I was running late as I quickly popped to a sample sale beforehand. We went to the Spa, had a lovely dinner and I thought well that was lovely, but he won't be asking me this weekend."

"In the morning I woke up and Taylan asked me to put the light on, next to me was a Tiffany Box.  He asked me to marry him and then had arranged lunch at the OXO tower. Little did I know that Taylan had taken the day off work on the Friday to see my mum and dad to ask my Dad for his permission, apparently they were all in tears! As soon as lunch was over we went and bought some wedding magazines, something that I had wanted to do for years! Despite being together so long before he proposed it was still a shock and such a magical moment (even thought I was in my PJ's).
Planning the wedding was amazing, we had 2 years of being engaged. After a year we bought our house and really enjoyed the planning and preparing. We met some lovely people throughout the planning and it was so much more then just one day. It may have taken 12 years but was well worth the wait."
"We've both always loved Henry Moore's work. Burberry took inspiration from his work for their Spring Summer 2012 collection, so the artist was at the forefront of my mind (I work in fashion). After Taylan proposed I did a little research and found out they did weddings at the Perry Green location. I called Taylan straight away to see if he fancied going and made an appointment to see the venue.
As soon as we arrived we knew we had found our venue and their was no need viewing other locations."

"We hired Nigella from Custard Campers.  Kerry drove my Father and myself from Manor of the Groves to the Henry Moore Foundation, she is so lovely and really made the journey special."
"Our florist, Gill, of Gilly Bean Flowers is so lovely. I found her website and we arranged to meet at a local wedding fair, I had a look through her portfolio and her style was exactly what we wanted. They were even better then I thought they would be, so pretty, absolutely perfect!
My bouquet was a beautiful loose, unstructured country style hand tied bouquet of seasonal flowers in shades of soft faded pinks and creams such as 'Bridal' spray roses, peonies, hydrangea, sweet peas, stocks and veronica with touches of soft grey sage and wrapped with natural hessian and tied with twine.  For the buttonholes, we had a 'bridal' piano rose with sprigs of rosemary and veronica tied with twine and a pearl-headed pin."
"I wore the Blaire gown by Jenny Packham.  Dress shopping was brilliant, I went with my Mum and then my friends and then with my bridesmaids and we met some real characters. As I work in Fashion the dress was extremely important to me.  In total I tried on over 70 dresses, time was running out and I still hadn't placed an order.
Up to then I liked the Jenny Packham 'Ivy' so went back to the boutique, with my niece and Mum, to have a final look.  While at the boutique they said that they had the Blaire sample (at the time they only had one sample doing the rounds across the country, so it wasn't there the first time I went). When I tried it on the material felt absolutely gorgeous against my skin, and I loved the crystal details. Beforehand I would never have dreamt that I would have chosen a dress with such an exposed back in a ball gown style with tulle! But when it was on I absolutely loved it."
"My friends and family collected jam jars for months before the wedding! I then wrapped them in lace. Gill filled them with a selection of seasonal flowers in shades of soft faded pinks and creams such as peonies, 'Bridal' piano spray roses, sweet peas, stocks, delphiniums, scabious, snapdragons, veronica, dahlias, astrantia, hydrangea and green bell with scattered rose petals."
"Damian of Halseys Deli is one of the nicest people we have ever met; I found the deli on Twitter and went to meet him. We had 2 tastings down at his Deli, deciding our dishes over a bottle (or 3) of wine. He is amazing; food obsessed and only uses fresh local ingredients with lots of flavour. It was so lovely having him there on the day and he personally made sure I continuously had a glass of champagne in my hand! His team was brilliant and all our guests said how delicious the food was.
After visiting a few wedding fairs we found Emma of We Want Cake – she is such a sweetie! After one taste we knew that she would make us a delicious wedding cake.  I looked online for design inspiration and really liked the cakes with flowers and ruffles. We went to visit Emma and explained the design we would like and she sketched it right then and there. It was then a matter of choosing the flavours. We tried seven and they were all delicious! Taylan loved the summer berry's the most so we had that as the bottom layer, with champagne butter cream, carrot for the second layer and  coffee for the top."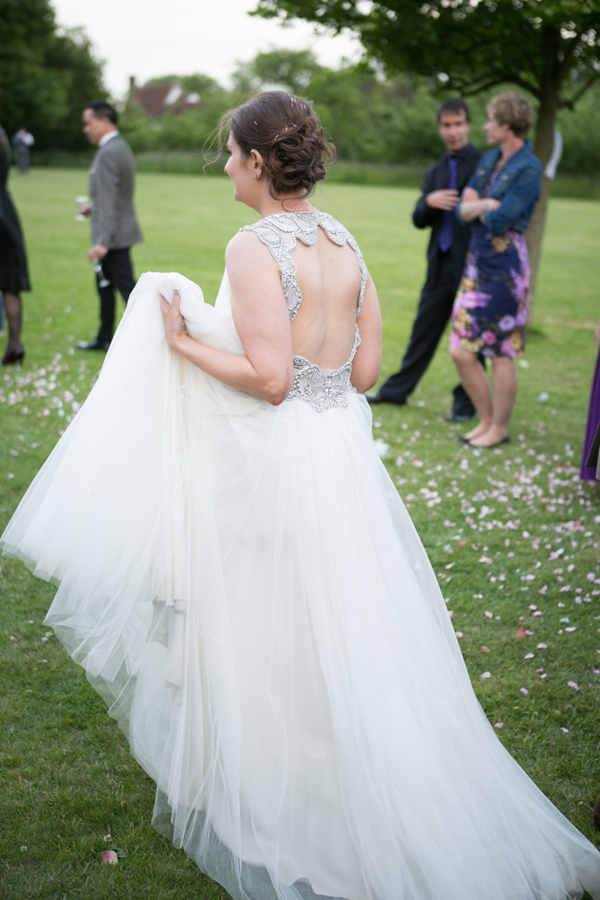 "Having studied photography I knew the style I wanted and was extremely picky! It was so important that we were going to be happy with our photos and at first I really didn't think we would find anyone. We went to loads of wedding fairs and looked through lots of portfolios, the work was all quite uninspiring. I got in touch we one of my friends who I studied Photography with and she put me in touch with Lorna of Story Wedding Photography. That was the best thing I could have ever done.
We both absolutely love Lorna. She is amazing. We met for coffee and the minute I saw her and looked through her portfolio I could see she was super talented and that she would produce some amazing photos for our wedding. We had an engagement shoot a few months before the wedding at the V&A and we had an amazing day. I even broke my wedding diet to enjoy scones and clotted cream together.  She has such a beautiful soul and it was so lovely having her there on the day. We are so happy with our photos as they really capture the emotions of the day. She just seemed to get us as a couple, which then translated into our photos."
"I purchased the bridesmaids dresses from a sample sale at Monsoon. Originally I was going to have my niece, Emily, and my 3 friends from London College of Fashion, Rhianna, Kerry and Karen as bridesmaids.  Rhianna became pregnant and was due a week after the wedding, she said that she would be there for us, but it was touch and go as to whether she would even be there! I noticed she had made it when we were signing the register, which was an amazing moment. She had little Aila a few days later while we were on Honeymoon!"
"My friend recommend Ellie of Ellie and Ann to do my hair – and I am so pleased she did. Ellie works with Ann and they are both brilliant, super nice and really talented. I loved the getting ready part of the day, my bridesmaids and my mum also got their hair done and they all looked stunning."
"My father, Bob, walked me down the aisle – it was an amazing moment, one that I will always treasure.  Our friend, John, played the Wedding March on Keyboards.  Walking down the aisle seeing Taylan, trying my hardest not to cry. Taylan saying 'wow' you look stunning when I got to him. Actually marring Taylan! Taylan said seeing me walking towards him and he says kissing the bride! Our favourite part was becoming Husband and Wife."
"We kept the ceremony classic and simple.  We searched for quite a while for our readings, I would read them out to Taylan and if we both liked it, it was a winner. In the end we went with On your wedding day, Ordinary morning and I love you because. It was the people that we choose to read them that was really special to us."
"As we started walking back up the aisle Taylan's band, The Rhythm And Blues Brothers, starting playing 'All you need is love'. It was brilliant, something that Antony (bass player and usher) had arranged for us – it was a total surprise. I had mentioned that I loved it in 'Love Actually', but never thought the Band would do it for us!"
"Originally the bunting making was going to be done by the bridesmaids and myself - the first session ending up with us drinking champagne, chatting, and making a few triangles! So that was abandoned and I did all the bunting. We hung white wicker hearts with lace, vintage books and birdcages. I also put confetti in jam jars and gave out bubbles."
"We hired The Rhythm And Blues Brothers – this is actually the Band Taylan is in! Taylan got up and did a few songs which was great. For the first half the guys did some of my favourite tracks of the 90's, including a brilliant cover of Britney Spears Toxic! The 2nd half was Blues Brother and everyone was on their feet.
After the first dance the Band played Billie Jean and Gemma Dorrington sang. (She cannot sing). This was due to a bet made nearly 8 years ago. While drunk, Gemma said that if we ever got married she would sing it at our wedding! So a bet is a bet. It was brilliant, we have been best friends since we were 4 and despite her being made to sing to over 100 people on the spot we are still best friends."
Words of Wedded Wisdom…
"The two days before the wedding was completely manic, after the TiPi's were constructed we only had one day to get all the alcohol, soft drinks, vintage china (130 covers, including plates, bowls, side plates, tea cups, saucers, glass dishes), Kings cutlery, glassware (wine, water, champagne glasses), and decorations delivered to the venue and then set up. It was a lot of heavy lifting! The ushers and bridesmaids worked so hard. In hindsight I should have bought a packed lunch! Taylan also had to do countless journeys back and forth in the van, when really in the days before we should have been taking it easy and being pampered!"
Just another lovely wedding to inspire you lovely readers.  If you love what you see, you may like to visit the supplier websites listed below.
I do love the Jenny Packham Blaire gown – is anyone else planning on wearing this particular gown on their wedding day?
Love Annabel
Photographer – Story Wedding Photography
Tipi Hire – TiPis4Hire
Venue – Henry Moore Foundation in Hertfordshire
Brides Dress – Blaire by Jenny Packham
Brides Shoes – Jimmy Choo
Accessories – Diamond earrings – Borrowed from Sarah's Mum
Grooms – Alexander McQueen suit+waistcoat + Gucci Shoes + Tom Ford Tie + Lanvin cufflinks
Bridesmaids – Dresses, shoes + shrugs from Monsoon
Florist – Gilly Bean Flowers
Cake – We Want Cake
Cars/Transport – Custard Campers
Entertainment – The Rhythm And Blues Brothers
Rings – Tiffany and Co
Catering Company – Halseys Deli
Stationery – designed by the bride
Hair + Make-up – Ellie and Ann
Minibus Hire – PR Travel
Luxury toilet hire – Luxury Toilet Hire
Tables, chairs, Fridges, tablecloths – Jaspers
Photobooth Hire – The Photo Emporium
Vintage china, glassware, crockery – Hummingbird Hire (Twitter)
Magician – Gary Schiffman
Ice Cream Van Hire – Elsie's Ices
Follow Love My Dress® on Google+