Good morning! What a beautiful, beautiful weekend, it felt like summer had arrived already – did you do anything nice?  We took a slow train ride in to town to spend some time by the sea and I spent precious time with my girls yesterday.  It's that time again to kick start the week ahead with a beautiful real wedding, so let's get to it.
Tanya, a creative art worker tied the knot with Nick, an IT Manager on 7th September last year with a ceremony at St. Peters Church, followed by a  reception at The Riding School in Firle Place, Firle Village, East Sussex (nicknamed the most beautiful village in England!).  I just love that Tanya took her grandmother's vintage wedding veil and wore it around her shoulders on her wedding day – the effect is stunning and just so incredibly elegant.  And I adore that this wedding takes elegant reference from two of my favourite style eras, the 1920s and 1930s.
"My main inspiration stemmed from my 1920's engagement ring, combined with Firle's strong ties to the era (Firle was home to 'The Bloomsbury Set') and a love of all things art deco -  it just naturally flowed from there.  As it turns out I was fashionably on brand too with the release of the film The Great Gatsby, which helped with my research!"
Photography Copyright (c) 2014, Sara Reeve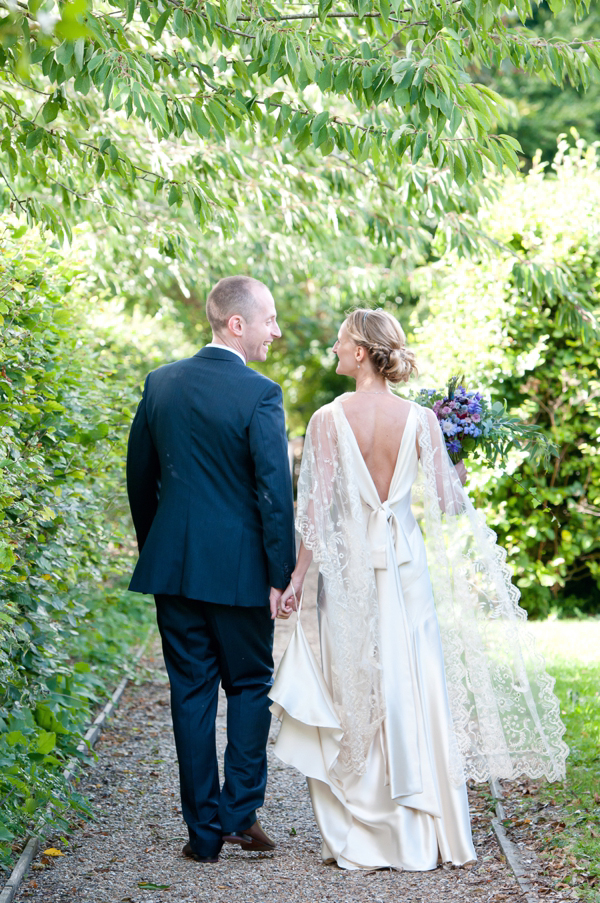 "Nick and I are the result of a successful blind date, set up by mutual friends. We met for the first time four years ago under the statue of Eros (who is of course the Greek god of love) in Piccadilly Circus, and after a great evening of Nick listening to me nervously rabbit on – it appeared Eros had done his work!
For the proposal, knowing my love for art and nature, Nick took me to the home of Monet's Garden in Giverny, France with the intention of romantically proposing on the Japanese bridge. Unfortunately he hadn't anticipated the stream of tourists and had to re-think rapidly! After some slight confusion as Nick took me on an alternative tour of the area (hunting for the perfect spot!), we arrived back in the lovely garden of our B&B where Nick pulled out my grandmothers antique engagement ring and popped the question. Cue tears, smiles, sudden understanding of the day's slightly strange events, and a happy champagne filled trip home on the Eurostar!"
"We fell in love with Firle Place as soon as we set eyes on it! Nestled in the South Downs, it's a stunning private residence steeped in history. Sir John Gage, a close friend of Henry VIII, built the manor house in the early 16th century, and we knew straight away the barn style riding school and beautiful grounds would be perfect for our day. We also loved that St.Peter's Church was right next door for our ceremony, complete with quirky Vicar, rev. Peter Owen-Jones who has presented a number of BBC documentaries!"
"Having designed several sets of wedding stationery  for friends, I was really excited to finally be working on my own! Inspired by the lovely organic shapes of peacock feathers, I designed an elegant motif and had a rubber stamp made by the English Stamp company so I could achieve a metallic hand stamped finish within budget. TFW printers printed the base invites, which I then hand stamped and finished in a pearlescent sapphire pocketfold from Pocketfold Invites, securing each one with a teal ribbon and peacock feather. I then carried this design through the rest of the stationery items."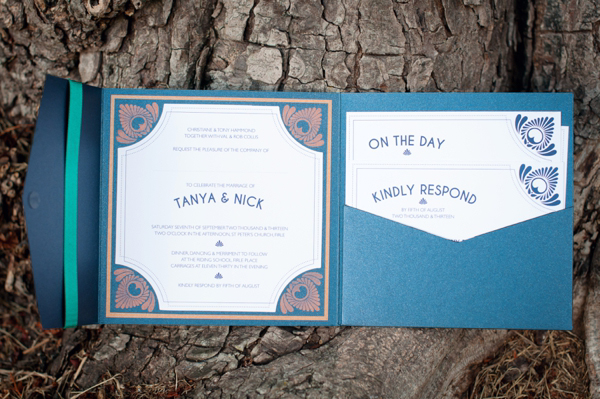 "We purchased chinese lanterns from The Hanging Lantern Company in blue, teal, gold and ivory to hang from the wooden beams in the reception venue. As the space was so big, Nick produced an impressive 3D mock up using google sketch up to help us visualise the room and plan out the colour pattern and positioning of the lanterns. We chose an extra large lantern above the black and white checked dance floor with a colour changing lightbulb inside, and we made an art deco inspired paper fan display in deep purple and gold to add a bit of drama!"
Tanya's dress was from the made to measure collection by vintage wedding dress specialists, Hope and Harlequin - created using an original 1930s dress pattern.
"My bias-cut dress was created using a gorgeous 1930s chevron pattern, from lustrous heavy champagne silk satin. It featured a stunning back view with an elegantly plunging v and a beautiful floppy bow at the waist.  I tried on a range of original vintage dresses prior to the made-to-measure collection which were all gorgeous, but as soon as I slipped on the 'Chevron' dress it was the wow moment every bride is waiting for."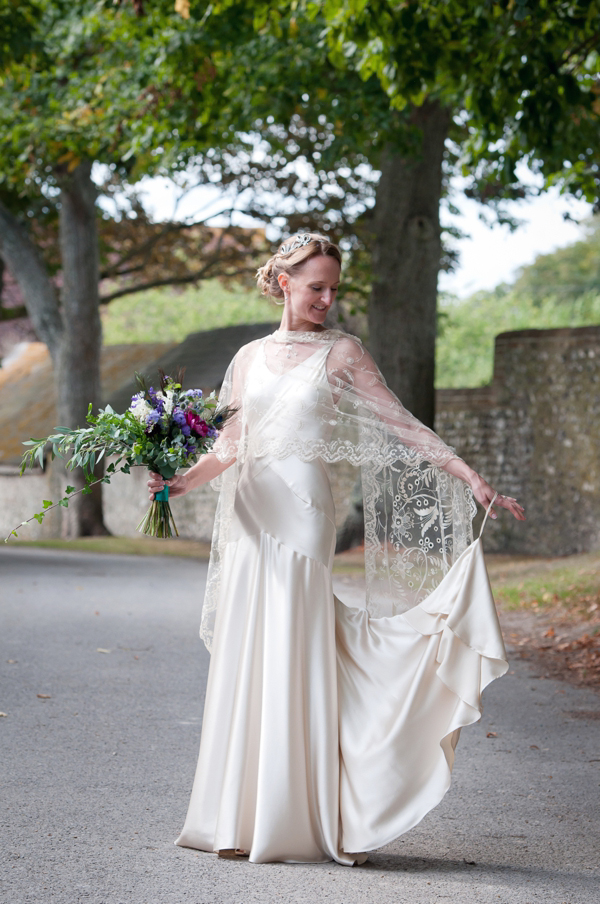 "I fell in love with the fabric, the elegant shape and oh the glamour! – the collective oohs and ahhs from my bridesmaids and the lovely Sarah and Louise from Hope and Harlequin sealed the deal! The service I received from Louise and Sarah (who recently produced Nicole Kidman's Oscar dress) was fabulous – they really made me feel special.
When we held up my great grandmother's delicate lace vintage veil (over 100 years old!) against the dress, I was thrilled that the style and colour was a perfect match. We decided to arrange it as a demure shrug for the Church service rather than a traditional veil, draping down my back to show off the scalloped edges and compliment the low V of the back.    
"We are fortunate to have a very green-fingered family, and subsequently all the stunning flower arrangements, including Dahlias and lace cap hydrangeas, in the church and reception were lovingly home grown by both our mums, and Nick's Aunties Mavis and Doreen. We also foraged for Ivy in the local woods the day before!
For the bridal party bouquets, we worked with Zelie from The Home Grown Flower Company, who did a superb job of translating my mood boards into romantic and colourful cascading bouquets with peacock feather highlights."
"We displayed all the beautiful homegrown flowers in clear bottles and jars we had collected, along with tea lights on the tables, and each table was dressed with a bunch of peacock feathers and a name inspired by the 1920's/30's era.  
We also set up a photobooth corner with homemade paper and chalkboard props, and we asked guests to write a message on a butterfly and pin them to a frame to create a 'Words of wisdom' piece of art."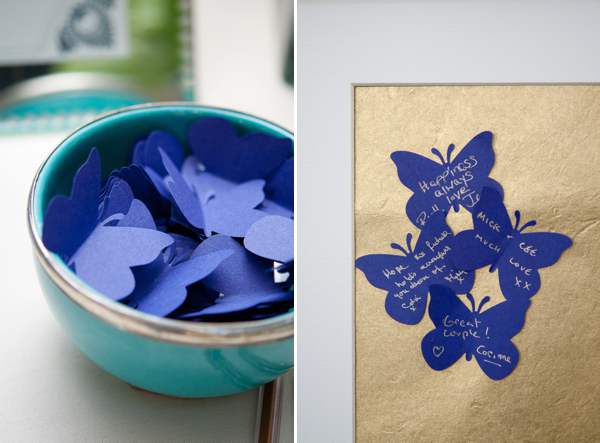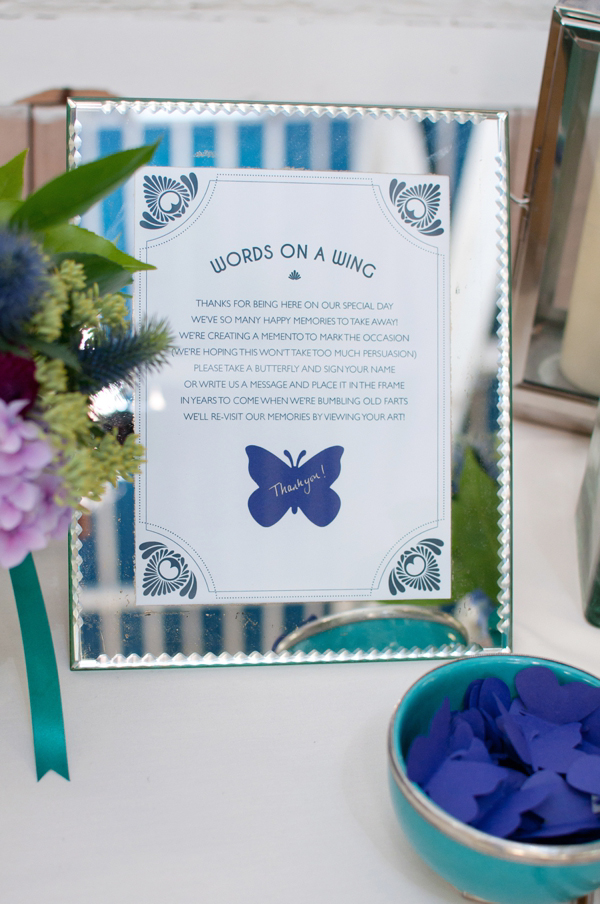 "I commissioned my super talented friend Ali Embers to make necklaces for my bridesmaids. Using traditional crochet lace-making techniques embellished with beads and stones, she came up with a beautiful design that complimented the dresses perfectly, and we were all absolutely thrilled with the final sparkling pieces.
As one of my bridesmaids was due to give birth six weeks before the wedding day, it was especially important we chose a flattering style. I popped into Coast with my maid of honour Kathryn, and when she tried on the gorgeous indigo blue Frankie Maxi dress she looked so stunning, I knew we were on to a winner! I had to hot foot it around town to grab all the sizes i needed but it was well worth the effort.  My bridesmaids chose their own shoes following my request for them to be in metallic bronze or gold shades, as it was important to me that they felt comfortable and were able to wear them again."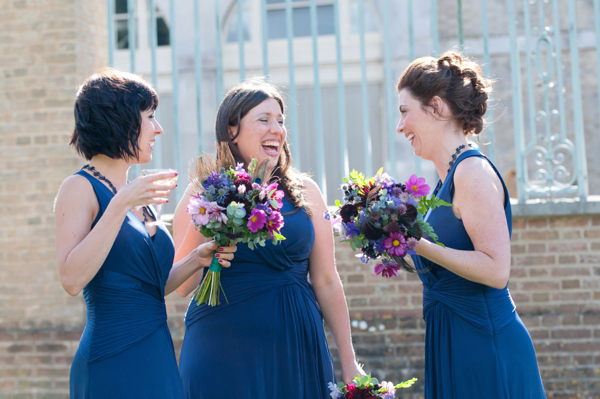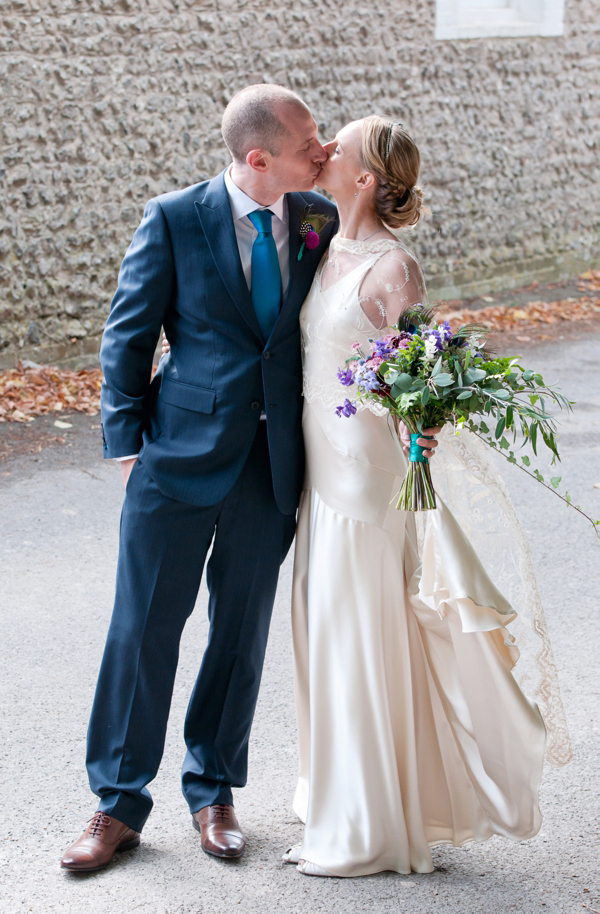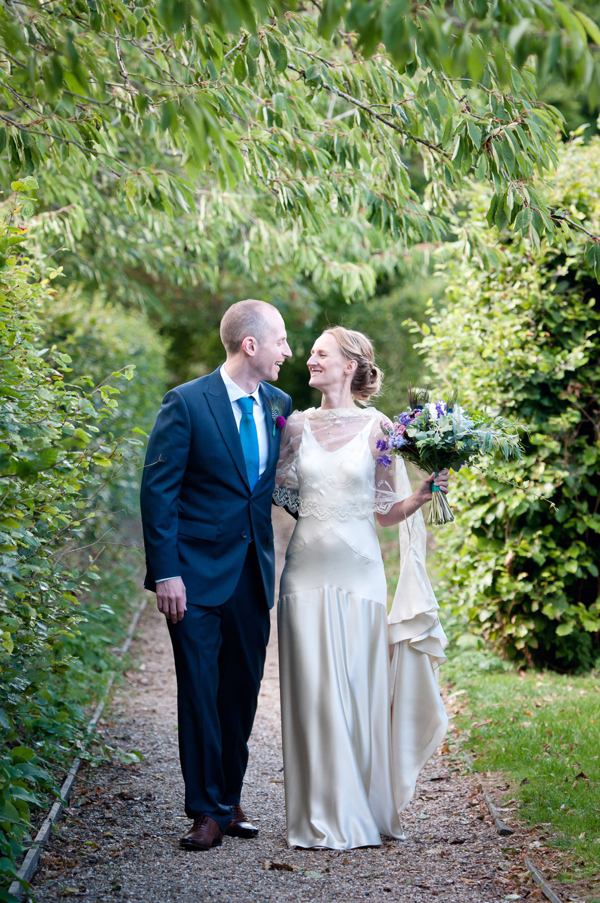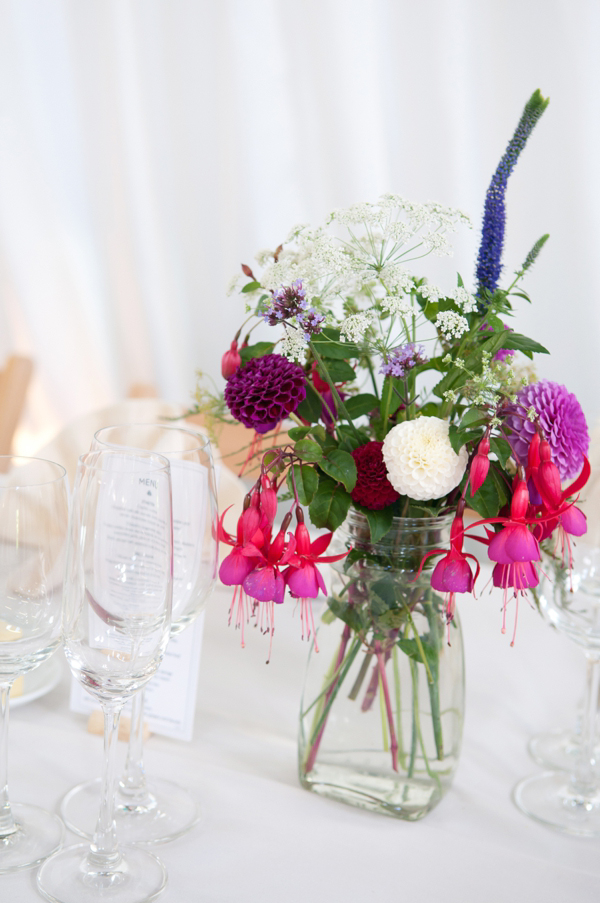 "When I first found our photographer Sara Reeve in the Love Sussex Wedding directory her fresh and quirky style really appealed to me, and i loved how she effortlessly told the story of the day through capturing all the important details. Her warm and bubbly personality also really shone through from her blog entries, and when i spoke to her i immediately warmed to her and was thrilled she was available to photograph our wedding.
Sara was truly fantastic from her exceptional organisational skills, her flexibility and patience on the day in capturing all of our requested shots, to her highly creativity approach which involved jumping around, mexican waves, and lots of kissing!  We were blown away by the superb photographs – Sara did a fantastic job of capturing all our happy highlights."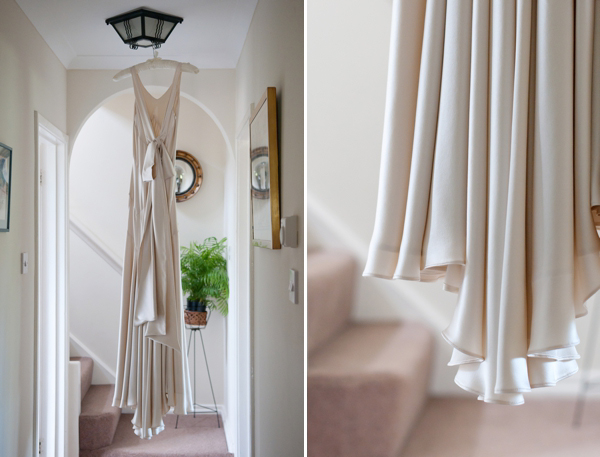 "I wore the Mimi shoes in Ivory Satin by Rachel Simpson.  I chose these elegant 1930's style satin t-bar shoes for their timeless sophistication, plus the low heel height meant i had a good chance of dancing in comfort!"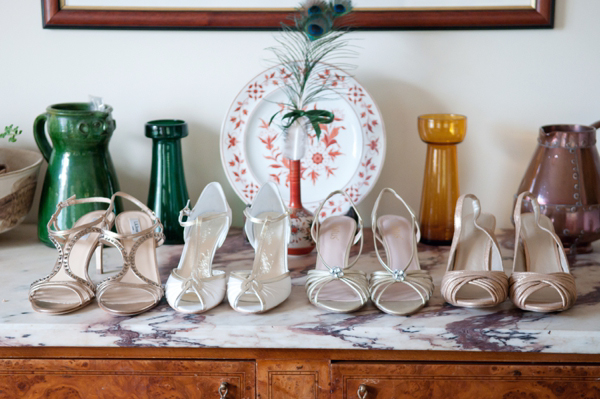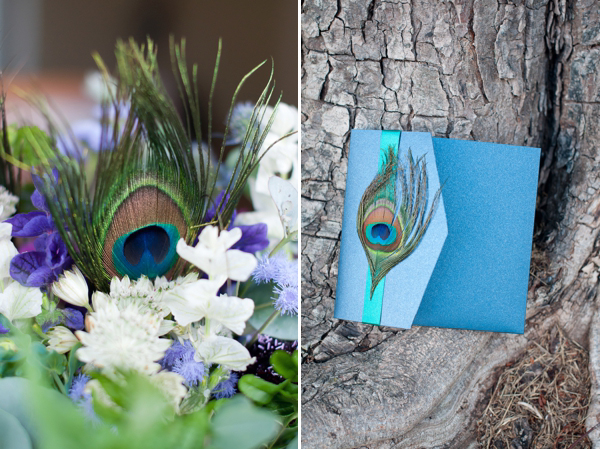 "I was so pleased I found Nicola Downey to do our hair and makeup. She did an amazing job getting all the bridal party ready on time!"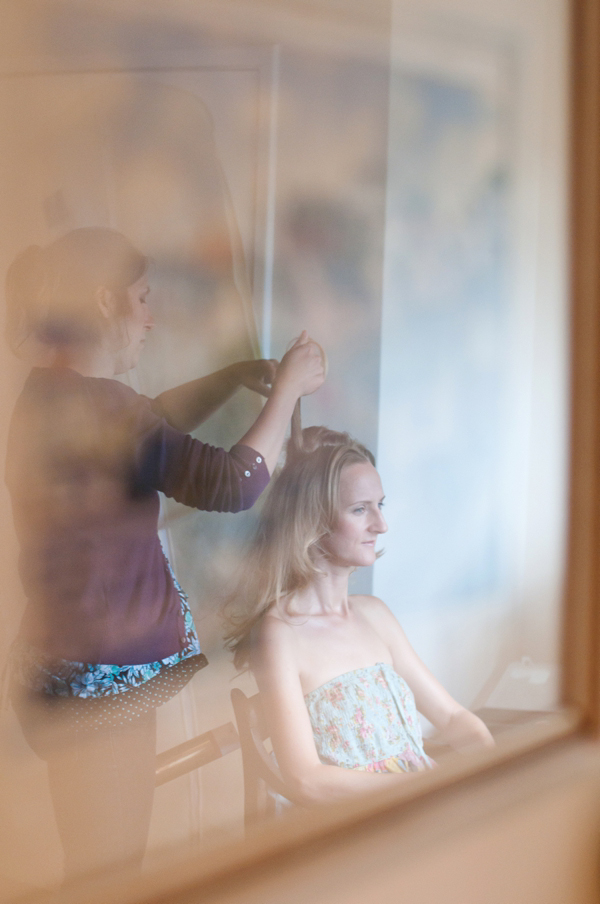 "We were recommended Dress2kill for a bespoke suit. We had a lovely morning choosing fabrics and the finer details of Nick's suit, and were really impressed with the quality and their service.
Nick's tie was from Thomas Pink and the groomsmen's ties were from Next, all carefully chosen to match the wedding accent colour teal.  I made the boutonniéres from ethically sourced peacock and guinea fowl feathers (no peacocks were harmed in the making of our wedding!), and we added in a miniature purple Dahlia into Nick's to add a pop of colour.  I also bought Nick a classy pair of silver slat cufflinks from Otis Jaxon as a keepsake."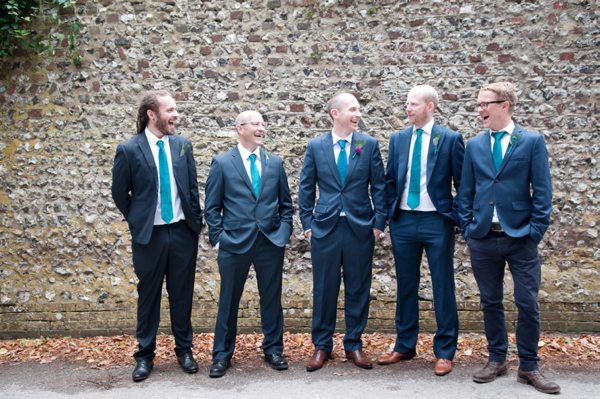 "I wore a one-off vintage head band from Fur Coat No Knickers.  The head band I chose is made from vintage brooches and I instinctively knew the sparkling bow shapes would compliment the bow at the back of my dress.
For my something blue, I wore a beautiful art deco necklace made from old cut diamonds and sapphires which my grandmother left to me. I commissioned Ring Jewellers based in Brighton (who also made our wedding rings) to make a pair of matching earrings following the same style. They did such a marvellous job, you would think they were originally a set!"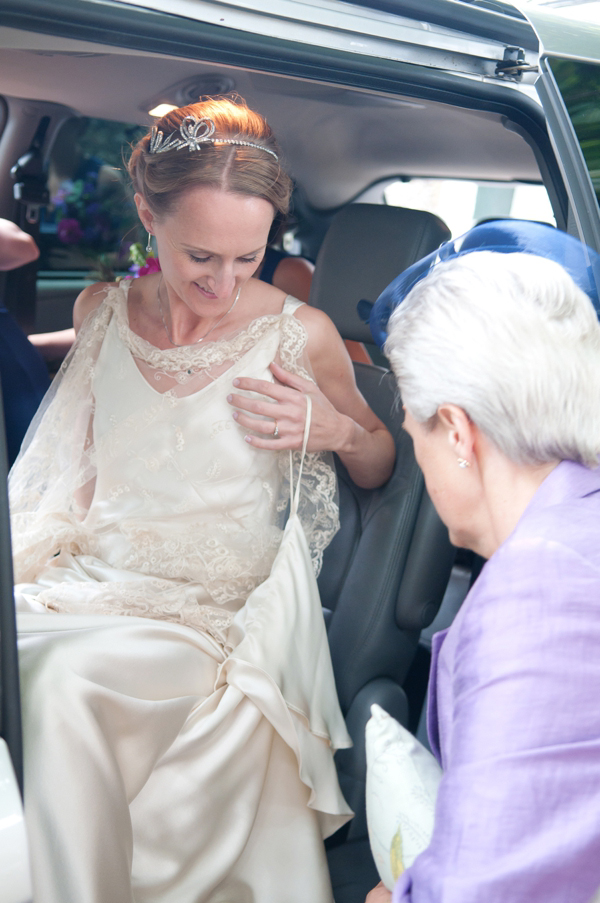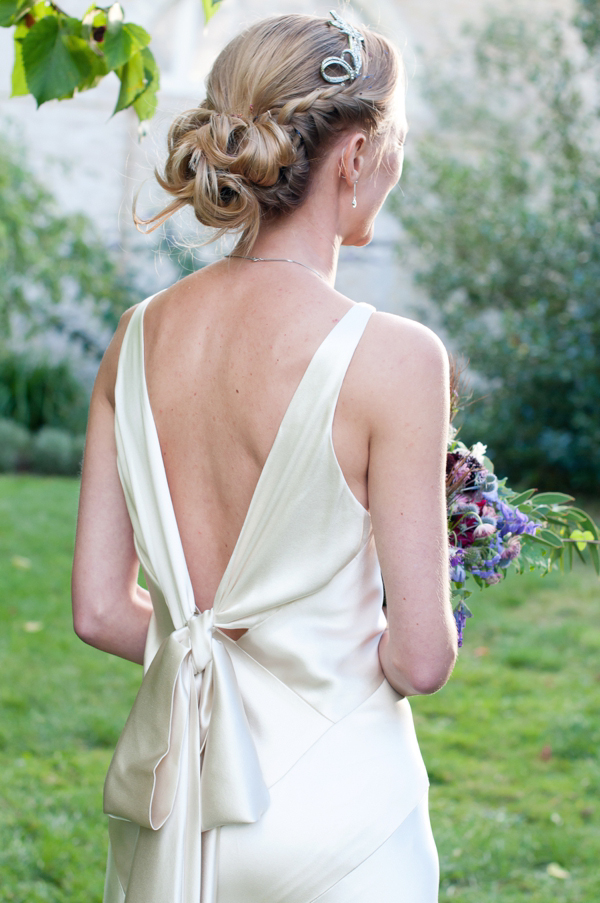 "My dad proudly gave me away – it was a really special moment walking down the aisle together and he also gave the most lovely, heart-felt speech.
We chose a lovely happy piece of organ music, Marc Antione Charpentier's Prelude to Te Deum, for the processional. For the recessional we found a really moving instrumental version of Coldplay's 'Life in technicolor' by Ryan Wiles and Eric Wuest, as the title reflected how we felt marrying each other!"
"We chose two readings for our service. The first was a beautiful scripture reading about love 'A letter adapted from St Paul to the Ephesians' which i think gives brilliant advice for married life. For the second we wanted something a little more light hearted, so Nick adapted and personalised a poem by Louise Cuddon 'I'll be there for you'.'
Adapted from From St Paul to the Ephesians Give yourself to one another completely;
'Be generous in your giving and make no conditions for these gifts. Love one another constantly and fully. Be humble in your acceptance of your partner's love. Be honest with each other. Be thankful for each other's love and strive to develop its richness day by day. Respect each other in every way. Be patient with each other's weaknesses and accept each other for what you are, not what you wish one another to be. Communicate constantly with one another. Be calm, patient, tolerant and reasonable in your communication. Be capable of good listening. Share with one another misfortune and fortune alike. Be compassionate and express your love for one another constantly. Know your limitation and be honest with yourself as you are with one another.  Fuse your souls into one another and be happy for the love you have been so fortunate to find in one another.'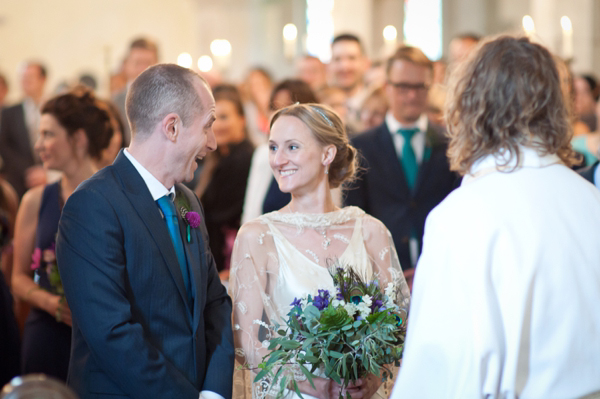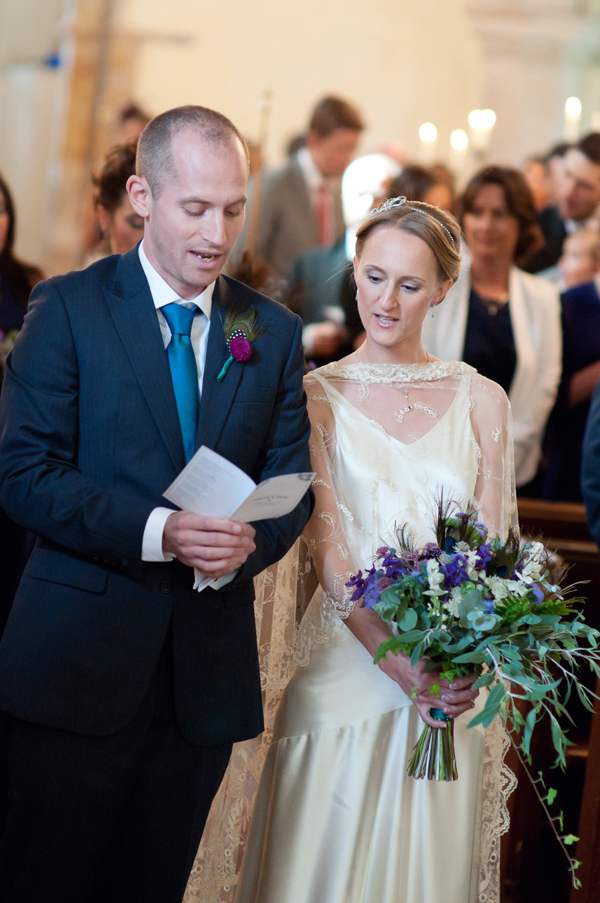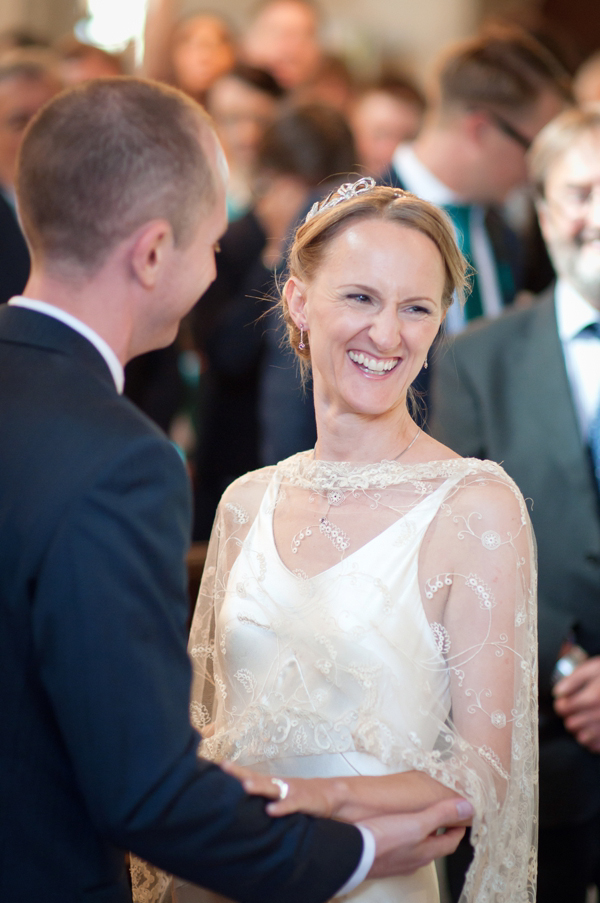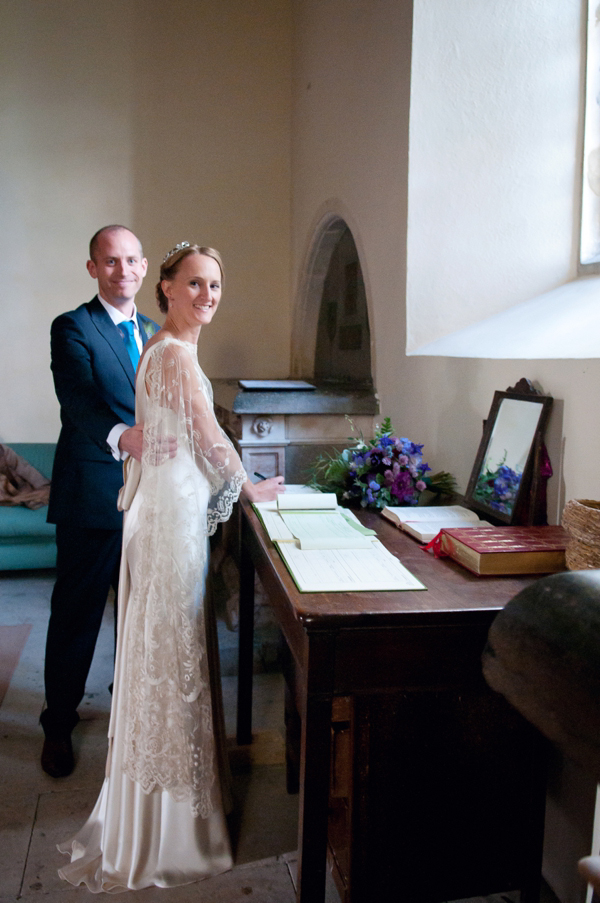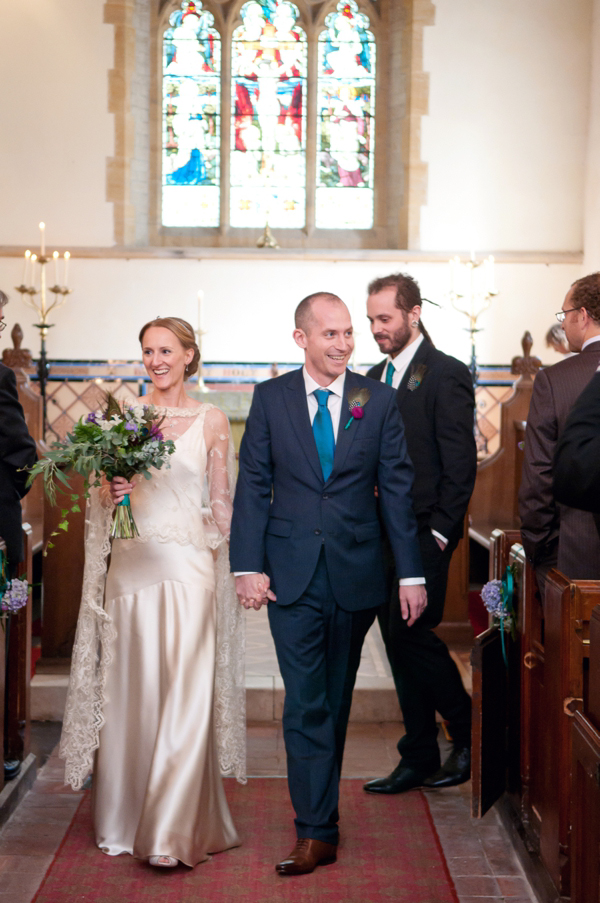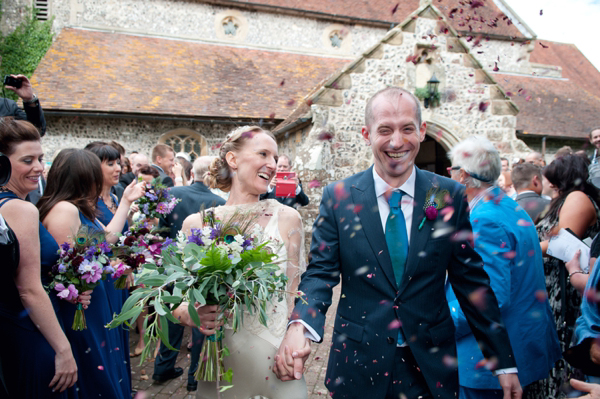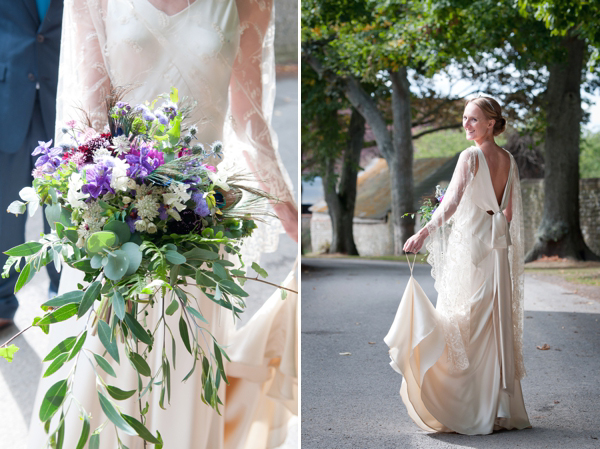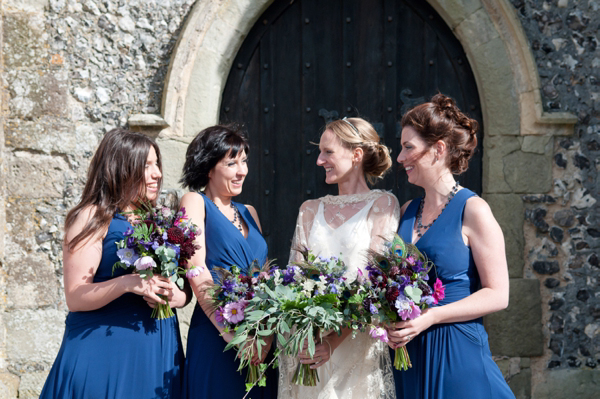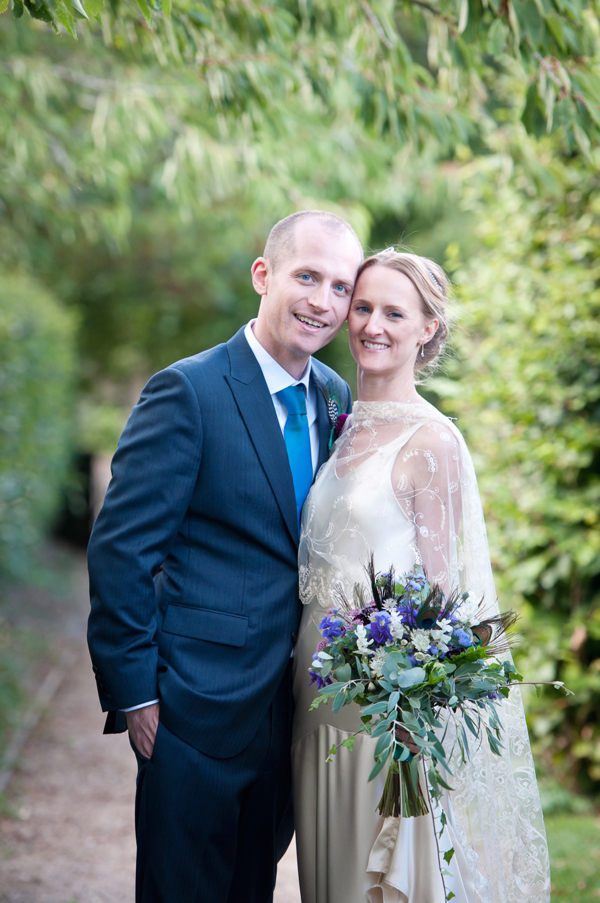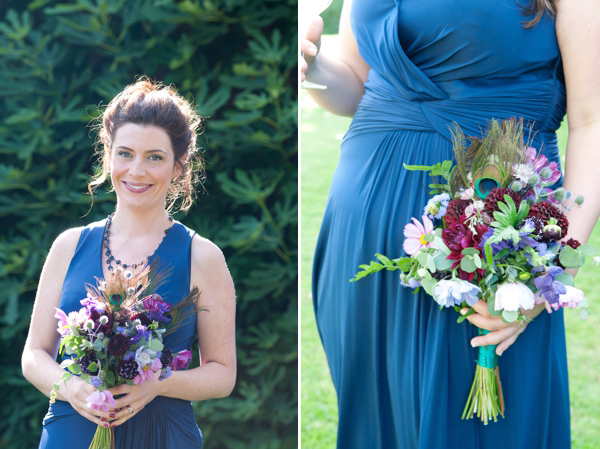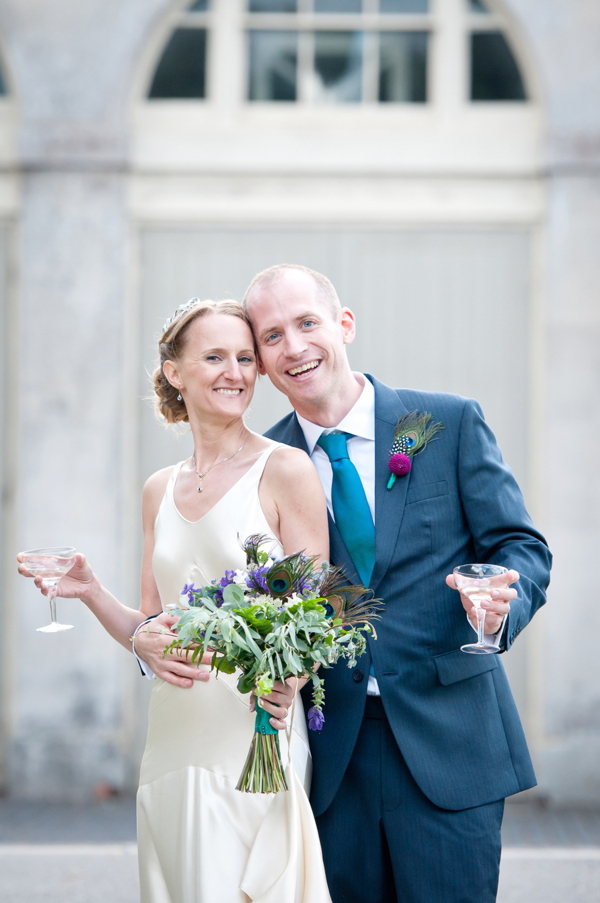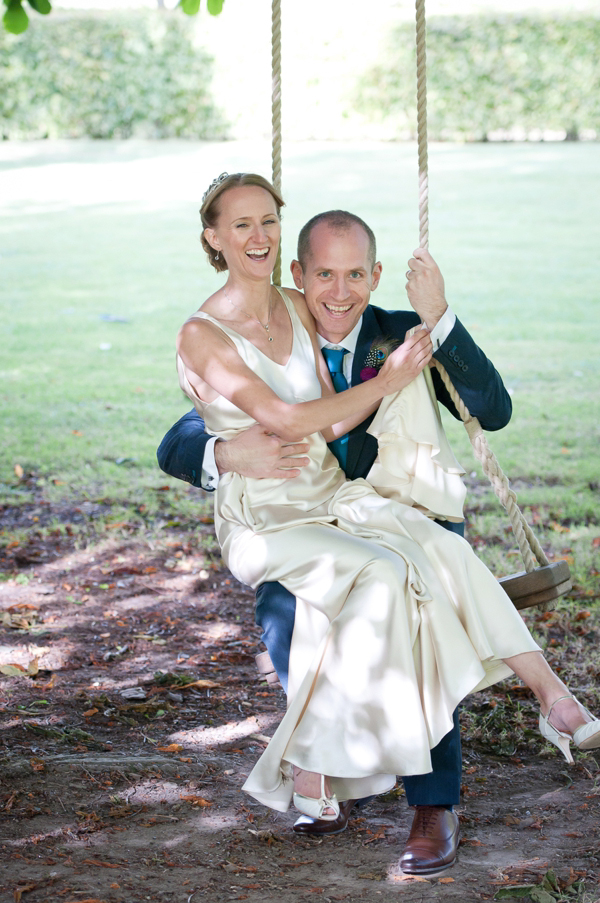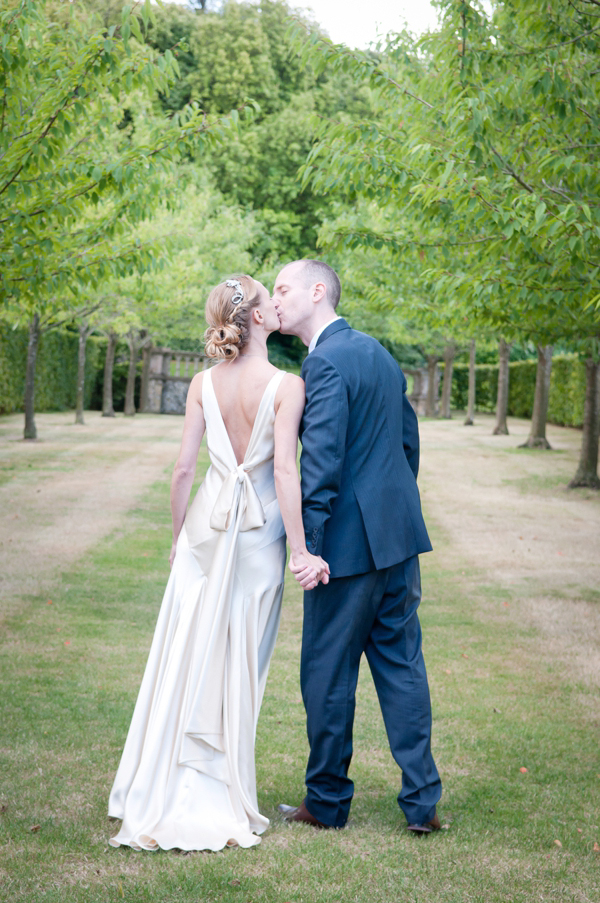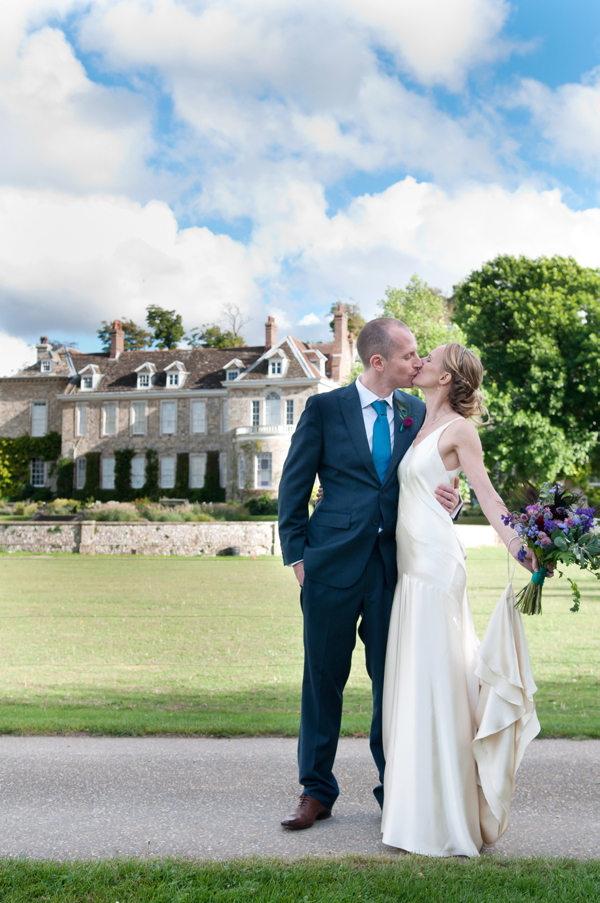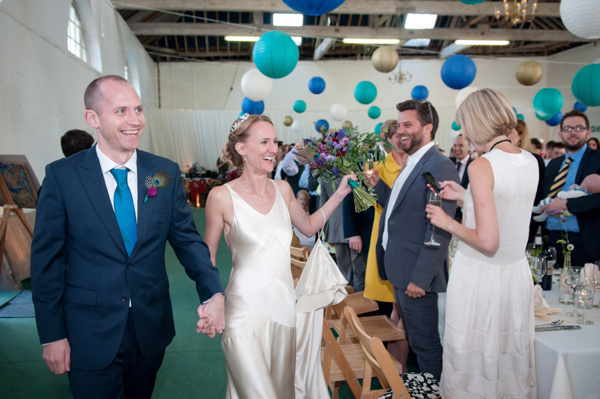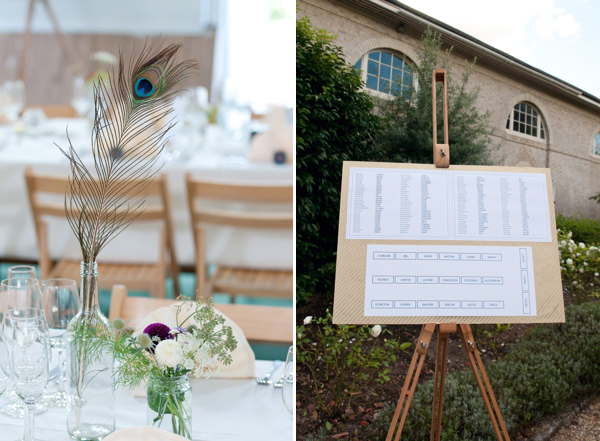 "Nick's super creative mum used to make cakes for a living, so the icing on the cake (excuse the pun!)was when she kindly agreed to make our wedding cake. After many delicious cake tasting sessions we chose a chocolate and orange sponge cake as it was also to be our dessert. Following the decadent theme, i mocked up my metallic vision in photoshop which she interpreted beautifully, enhancing it with exquisitely crafted sugar flowers to match the flower arrangements."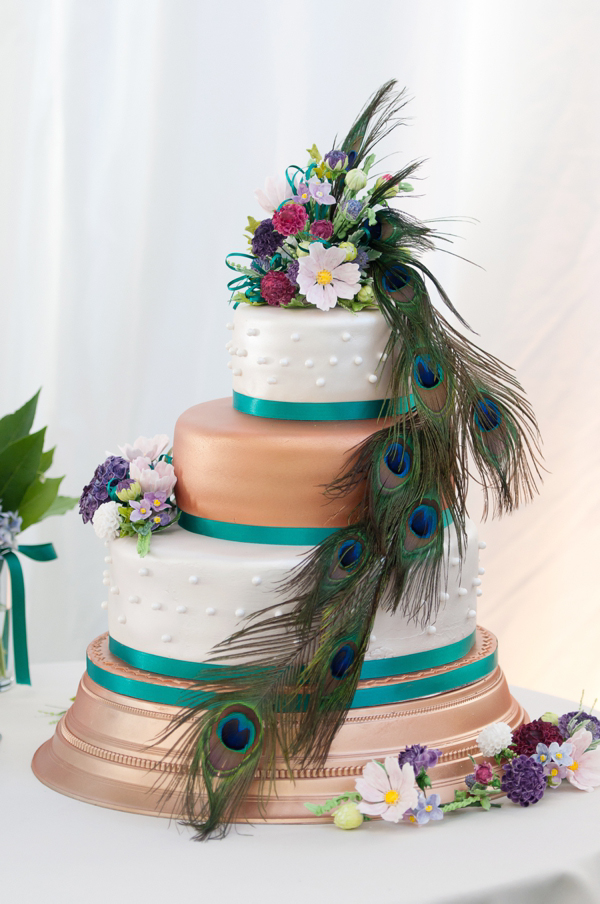 "We chose Amuse Private Caterers from the venue supplier list. Working closely with Sarah and her husband, we devised a canapé menu inspired by the 1920s/30s era, followed by their inspired Crayfish cocktail starter in a martini glass, and a selection of delicious BBQ main courses.
Sarah was such a calming presence throughout the run up and on the day, guiding us through all the choices and ensuring the day ran like clockwork."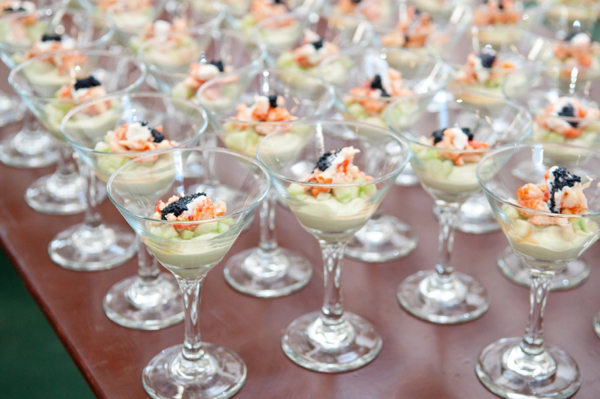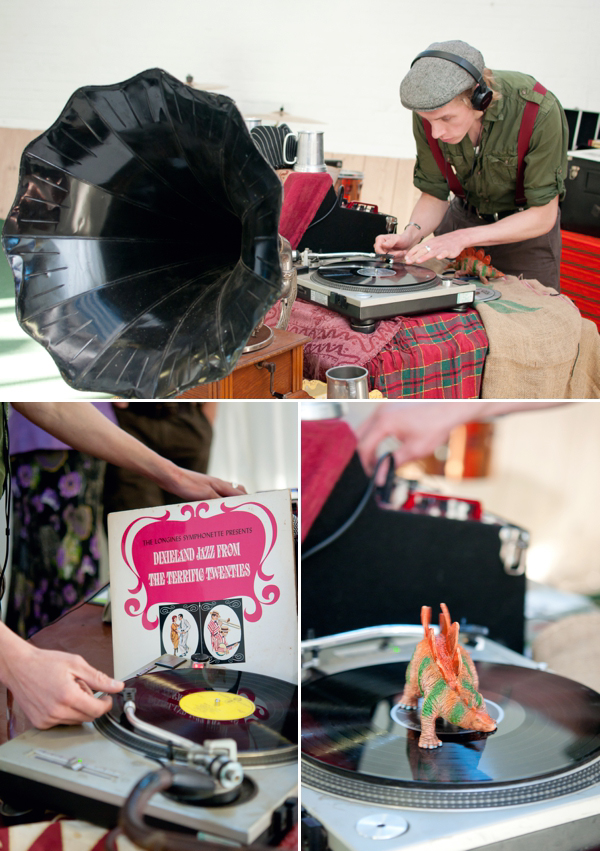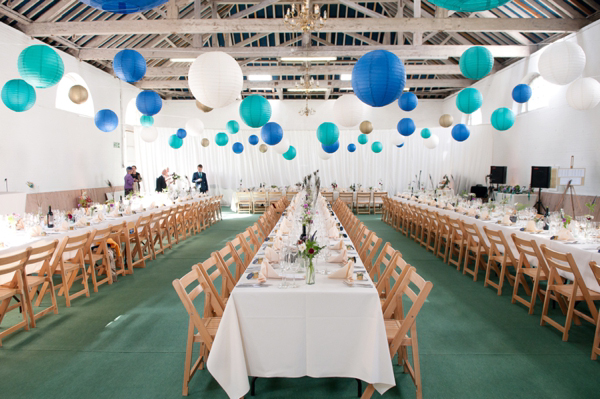 "I had my heart set on finding a DJ who could play gramophone records during the drinks reception, and was so pleased when we found the amazing and lovely chaps Tom and Martin who are Still Moving DJ's. They also played an amazing evening set from vintage and electro swing to 60's classics – the dance floor was heaving! Along with their incredible museum like set and live percussion drums, they even surprised us with a cake cutting song 'if i knew you were coming i'd have baked a cake too!'  I'm also lucky to have a very funny father-in-law who did a fantastic job as MC for the day!"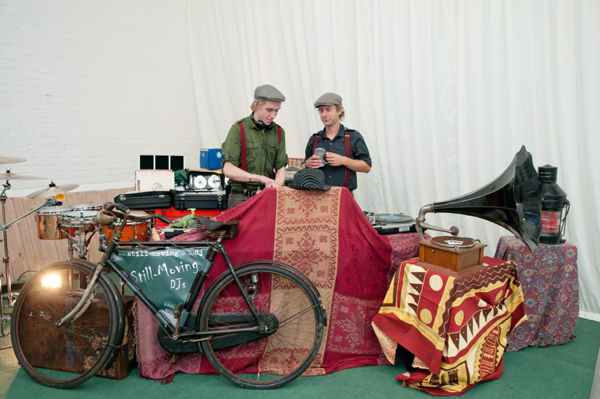 Words of Wedded Wisdom…
"It's so easy to get carried away with all the decorative details, so try and be realistic about what you can achieve and don't be afraid to ask for help from your beau, friends and family – it's a lovely opportunity to spend time together. Remember though that on the day it's the reason you are there that matters the most – love!  Also on your wedding day make sure you have a few moments alone with your partner to take a breather and let it all sink in – it really helps to commit it all to memory.
We didn't hire a professional wedding planner, but we did hire my mum! Mum worked with me tirelessly on the organisation and preparations, from researching suppliers to growing lots of beautiful flowers in her garden for the day, as well as looking after our extended family who flew over from Australia and Italy – thanks mum!
Finally, Love My Dress was my greatest source of inspiration, so many beautifully creative and original weddings that I could relate to!"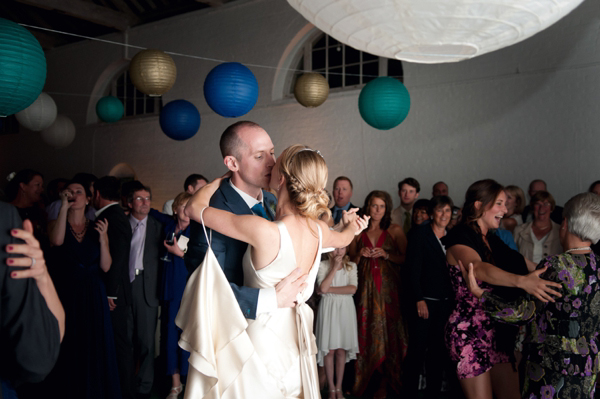 What a gorgeous gorgeous day – I so hope that Tanya has inspired other readers to wear their veil this way too, it just looks so beautiful.
Huge thanks to photographer Sara Reeve for sharing these images. Brides – are you planning a wedding similar in style to Tanya and Nick's?
Love Annabel

Photographer – Sara Reeve
Venue – The Riding School in Firle Place, East Sussex
Wedding Dress – Hope and Harlequin
Veil/Headpiece – Fur Coat No Knickers
Brides' shoes – Mimi, in Ivory Satin by Rachel Simpson
Bride's accessories – grandmothers wedding veil
Groom's Attire – bespoke suit via Dress2kill + tie via Thomas Pink
Bridesmaids – Ali Embers + Coast
Flowers – The Home Grown Flower Company
Cake – The groom's mum
Entertainment – Still Moving DJ's
Additional Styling – The Hanging Lantern Company
Rings – Ring Jewellers
Catering – Amuse Private Caterers
Stationery – The bride
Hair + Make-up – Nicola Downey
Follow Love My Dress® on Google+