Good afternoon lovely ones – I hope your day is going really well so far (gentle reminder about this morning's £200 giveaway if you've not seen it yet.  It brings me so much pleasure today to share the wedding of Amy and Burt with you all – the couple tied the knot in September last year and everything about their wedding makes me smile.
There's something so wonderful about these nuptials – perhaps as the the couple exchanged their vows under a canopy of trees and leaves with the woodland as their witness, perhaps as the day is interwoven with brilliant quirky little features, like making floral headpieces and shooting bows and arrows, or perhaps it's the wonderfully honest photography from the inimitable Emma Case – a darling friend of mine whose photography I love.  Either way, this fabulous celebration, that took place at Albion Days at The Old Rectory in Great Melton near Norwich, is a beauty of a wedding, and I hope you love browsing through these images and reading through Amy and Burt's story as much as I have.
"We have a love for all things vintage and retro, and together with wanting the day to be really laid back and fun, we went for a vintage bohemian mix in a very English setting. Jamie was really set on having a three piece tweed suit and pocket watch with a country gent feel with some colourful accents."
Photography Coypright (c) 2014, Emma Case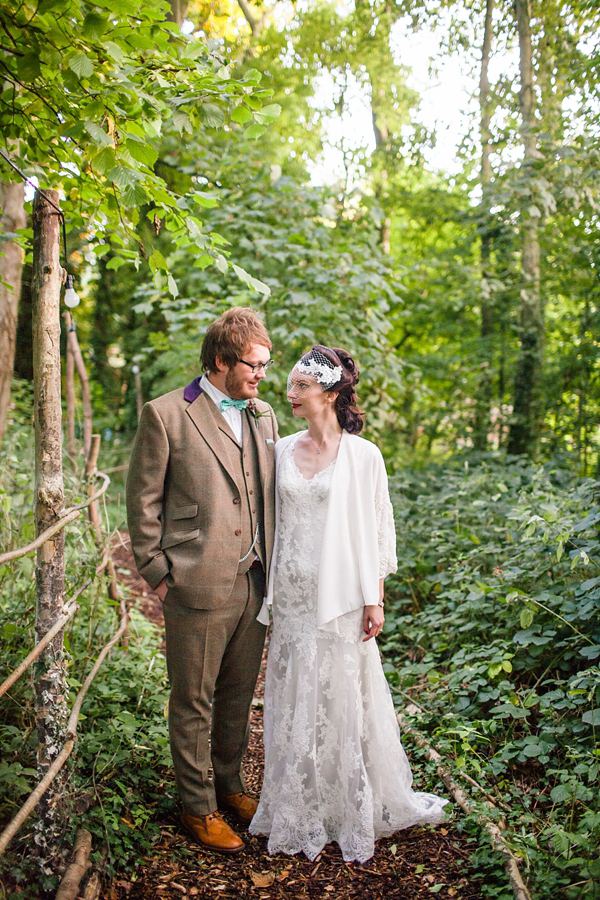 "Jamie and I met at school, though didn't really mix that much until we were almost done! We got together at a leaving party at a friends house and it all went from there! We stayed together while I was at Uni – he would come and visit most weekends – and then I moved back home (which would not have happened if we were not together!).  After 10 years of people asking when we would get engaged, Jamie finally proposed while we were on a road trip through Europe en route to Benicassim festival in Spain. He chose Arles in France by a moonlit river and nervously, (like I would have said no?!), asked me in front of a swarm of Chinese tourists who seemed to gather just at the wrong moment! He had been on quite the journey to get me the perfect vintage ring too, lying to me saying he was going with Luke (the best man) and Aysha (best mans fiancée) to look at a second hand car after only being back from a 5 day long stag a couple of days before.
It took us two years of saving, planning and 'doing' lead up to the wedding day – which took place a whole 12 years after we got together!"
"It also transpires that he forgot the ring and had to go back for it, saying he needed the toilet, after around 15 miles into the road trip – which actually annoyed me a bit. The best man, Luke Clarke, was then tasked with looking after the ring for 4 days during the road trip. We then had the most amazing time with our closest friends, and an amazing unforgettable celebration party at the Benni festival."
"Jamie knew I would love to get married in the woods and we had been trying to find somewhere for a while, looking at places we could hire around Sandringham woods to no avail, when he found this place.  I thought it might be a bit too bohemian, but as soon as we went there we knew it was the place for us, it had such a nice atmosphere.  He is very proud that he found it!
When you book at Albion Days, Tess is on hand to do as much or as little as you ask – she organised the food, band, flowers archery and floral crown making."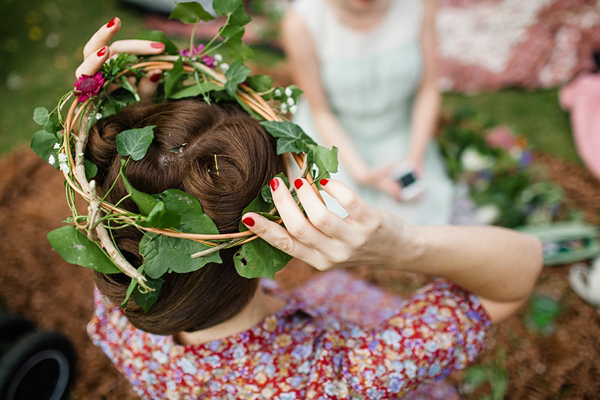 "The crown making was arranged as we didn't want any of those awkward 'hanging around' moments. We arranged for archery and floral crown making to happen on the front lawn after lunch – this was great as people could pick and choose if they did one, the other, or both! It all made for some lovely shots – and the headdresses looked beautiful in photos throughout the day."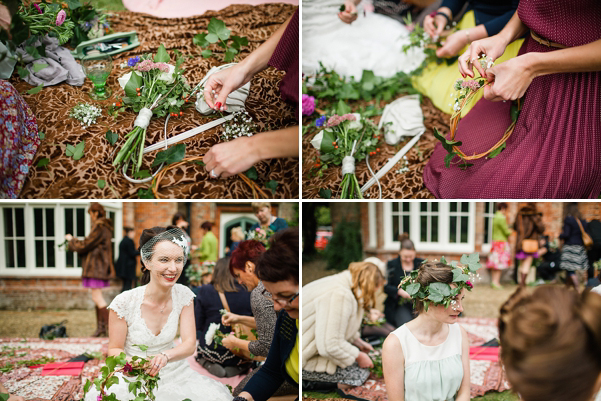 "In terms of styling and decor – we felt that the venue should speak for itself a little – it was already so beautiful and atmospheric amongst the trees that we didn't want to over do it. We had a few paper pompoms and finishing touches, like the chevron straws, labels we made and metres and metres of vintage fabric bunting lining the driveway, but on the whole we went with the outdoors and all it had to throw at us! There were mismatched glasses and china, teapot flower dressings, and different seats and strawbales for seating – along with a mix of blankets for snuggling! As the light changed and the lanterns and fire braziers were alight the place took on a whole new feel, so we really didn't have to do much!"
"I created all of the stationery myself – this included the save the dates, invites, RSVPs, order of service and cake/drink labels etc. It took a long time to get something I was happy with, but there came a point that they just had to be sent!  I also built a website so we didn't bombard people with paper, and opted for typography based thank you cards – the words took a while to pull together, but we liked that they also acted as a 'summary/reminder' of the key elements of the day."
"My dress was from 'The Tailors Cat' in Cambridge and was a beautiful dress named Lola, from the Rose Couture collection.  I knew I wanted something lacy and quite fitted – I had a very bohemian dress for our legal wedding, so I got to show off both styles that I love, but there was something special about the dress for our day… I loved the lace detailing around the cap sleeves and the back reveal and it had a really elegant kick out from just below the hips – it totally made me feel lovely, and for someone who's not a very girly girl, that was quite something!
My veil was from Etsy seller January Storrs. The lace was perfect to go with the dress – which was lucky as it came all the way from LA!"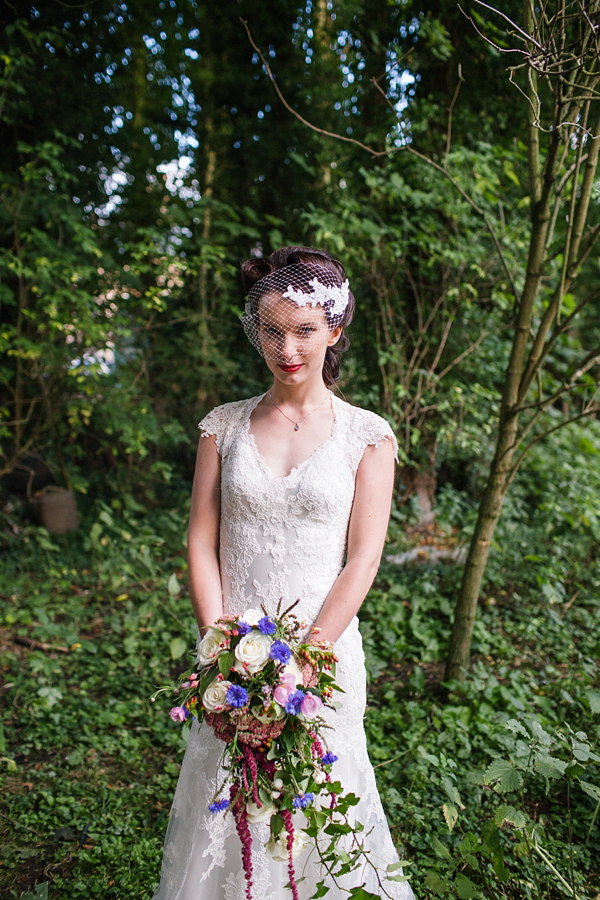 "My shoes were gorgeous spiced plum beauties from Rachel Simpson's new brand Agnes and Norman – they had the perfect feel for the vintage look I wanted, were sooo comfy and something a bit different from the norm. 1920s inspired t-bar vintage shoe, with patent wing-tip toe, heel & t-bar- perfectly complimented with softest suede. The shoes were finished with an art-deco inspired fan detail.   What more could a girl want?!"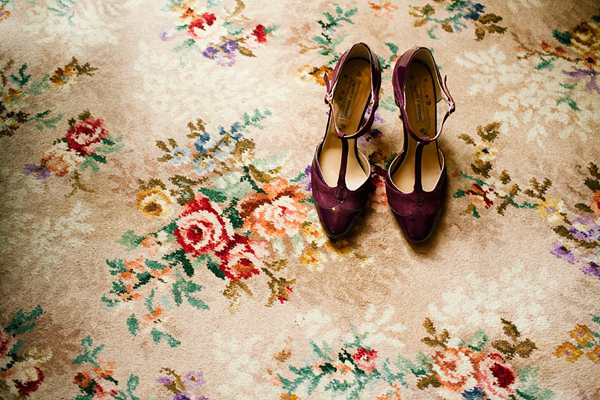 "My hair was styled by our hairdresser, Jude Stag, from The Cutting Rooms in Wisbech. She did an amazing job and whipped through the 6 of us like it was the easiest thing ever! Everyone commented on the vintage style, with little tweaks to suit each person.
Ellie Gibson did my make up – again with a vintage twist. Both the ladies were great at trials and on the day."
"We didn't have favours as such… everyone had a small test-tube of bubbles with 'blow me' labels we made, but our main alternative to favours was the free bar !! We also got gifts for the bridesmaids and groomsmen. I got Luke a hip flask by Harris Tweed and a stylish watch for my brother and sister".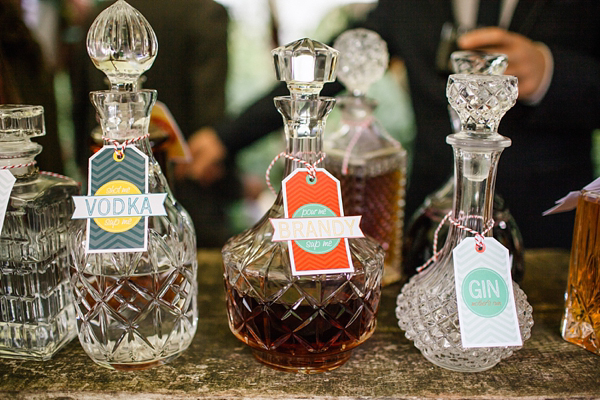 "Our bridesmaids chose their own dresses inline with colours I suggested and were in mis-matched vintage dresses, some from a session at Brick Lane and Spittalfields, and others from the vintage inspired range at Topshop, with one last find (which I chose) coming from Etsy.
The girls were quite simple to sort out – their hair was so gorgeous anyway that none of them requried any extravagant styling, though my sister had a vintage hair clip to bling her up a bit!
I wasn't a dictatorial bride, I got them a skinny belt and their shoes to tie them all together (along with amazing hair) and apart from that, they could wear anything else they liked!"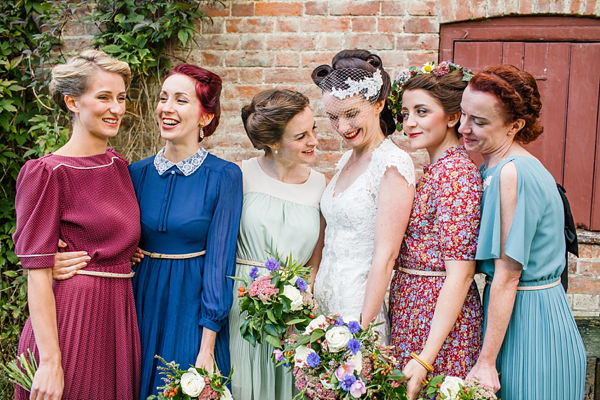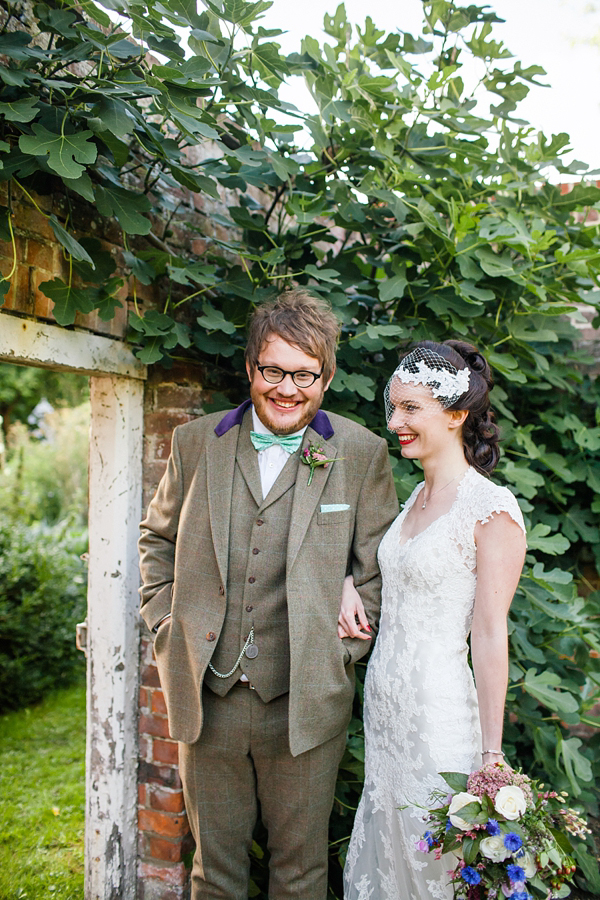 "We didn't want to stress about every detail and ,in a laid back  approach, we opted for a surprise of flowers picked from the surrounding area on the day. I did specify that I didn't want gerbras and would have liked hydrangeas, but the flowers we had tied in perfectly with our colours and fitted with the bohemian/vintage feel of the day."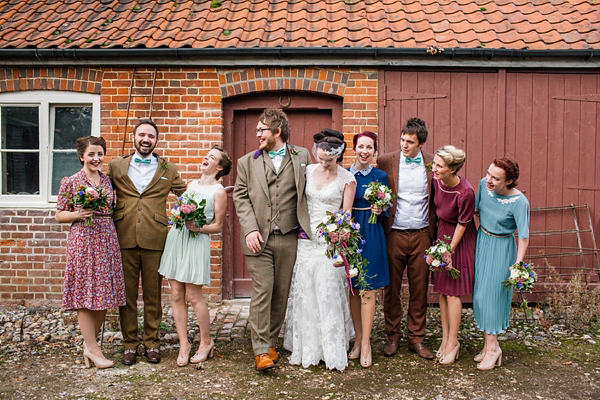 "Our catering was arranged by Tess at Albion Days, and we had a farmer's buffet with game pie etc at lunch, afternoon tea and cake, followed by a hog roast, Jamie wanted a whole pig, in the evening. There was no bar as such and no corkage charge – we stocked a bar and asked people to bring a bottle of anything specific they wanted. We also collected lots of vintage decanters and filled these with spirits with handmade labels. This made for a great party – even if most people were a 'little' tipsy."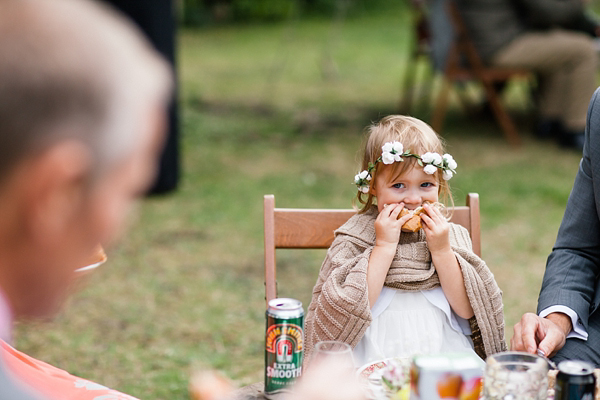 Burt shares his wedding day sartorial style with us below…
"I had a very firm idea of the suit I wanted – a really cool 'country gent' tweed feel with colour pops, bow tie and pocket square.  I very much wanted a three piece suit too, and Steve from Robert Goddard in Spalding, suggested by my Nan, was awesome at providing a superior cut and well fitting suit, despite my weird body with one shoulder lower than the other!  The suit incorporated numerous little details, such as the horn buttons, purple velvet collar, lapels on the waistcoat, pocket watch pocket and button hole/loop.  The shirt was Ted Baker from John Lewis with a white flower detail, in different fabric, and purple thread on the buttons.
I knew I wanted a pocket watch and mentioned this to my nan (not the suit nan my other one!) and she found a silver pocket watch that was once my great granddads. It was in need of some TLC and repair so I had it serviced, cleaned and repaired – then I had a vintage silver watch with a strong family connection – perfect.  I was also keen to carry the country gent theme through with my shoes and wanted something UK made. Robert Goddard found me a tan brogue boot made by Loakes and they really set the suit off."

"Although all of the groomsmen were similar, but not the same in terms of suits, I wanted something to tie us all together so I approached Sandeep Pawar of Mama Wolf to make us bow ties and pocket squares.  Although I never met Sandeep she was lovely and awesome at taking and fulfilling the brief. I wanted something that would pop and pick out the colours in our suits. She suggested numerous fabrics and we settled on the teal which really contrasted and tied us together. Sandeep was also very accommodating as I had left it until the last minute (four weeks) to try and sort this out.  Also, we all had hip flasks – you know to settle the nerves and also to have hair of the dog!
Luke, the best man, also had a tailored suit, in the sister tweed to my suit – this was his wedding gift along with the traditional hip flask. Again we didn't prescribe the style or cut of the suit and let Luke have free reign over what he wanted.  My brother Aaron (who was best man on the legal wedding and a sort of usher at the main wedding) had a harris tweed suit from Topman.  This again fitted with the overall style, but he has a body shape more suited the high street so wasn't in need of bespoke tailoring.
"We know it's cliché, but it was all so so good that no one part stood out more than any other – everyone got on so well and had so much fun from the crowns and archery, to the crazy dancing and the marshmallow toasting.  It was just great having all of our favourite people together… I guess the moment it stopped raining an hour before the ceremony and the sun peeped out was a pretty good moment though!"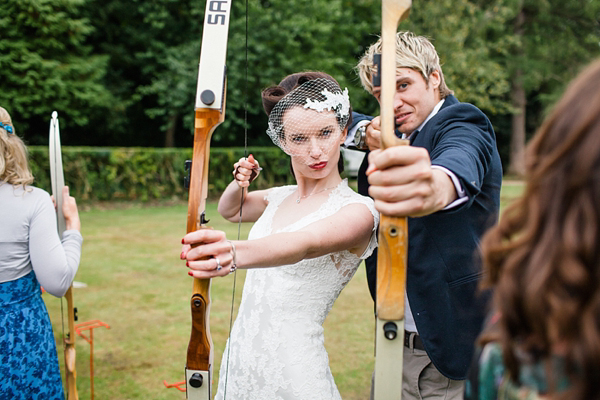 "Our photographer was the oh-so amazing Emma Case (and her husband Pete!). We honestly cannot express the difference they made to our day, it was like welcoming family members we'd known all our lives – they slotted right in and were so genuinely lovely and enthusiastic from the first email to the last minute of the day – and beyond!
I had a very set picture in my mind of how I'd like the photography to be – it's really all you have at the end (aside from the ring and title!), and so it was really important to us, and they couldn't have delivered more perfect results.
Everyone felt at ease with them and thought they were so much fun! They worked  hard all day – and hopefully enjoyed themselves too.  Amazing."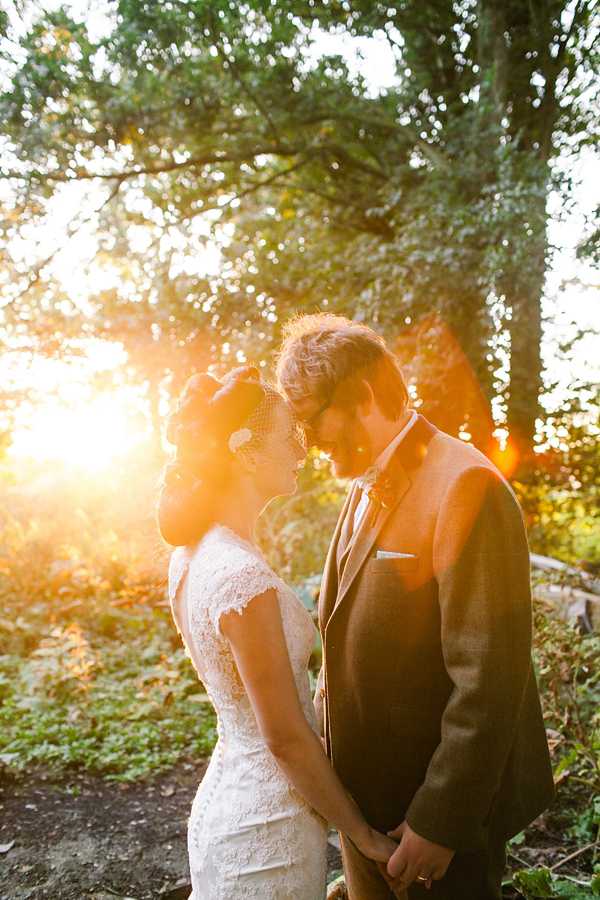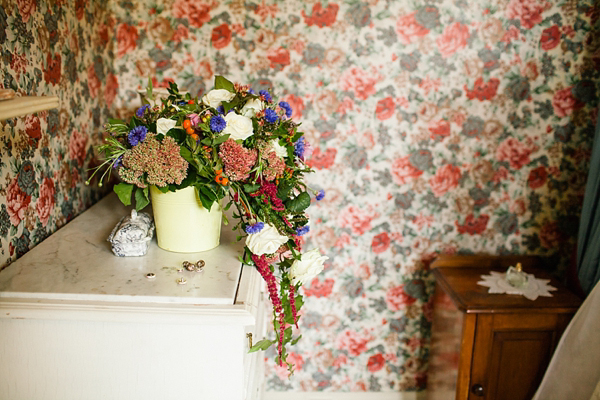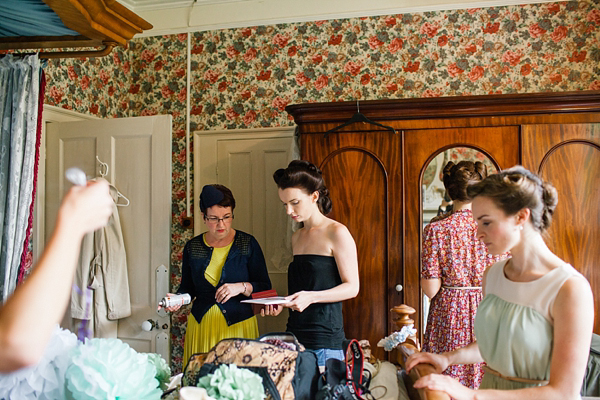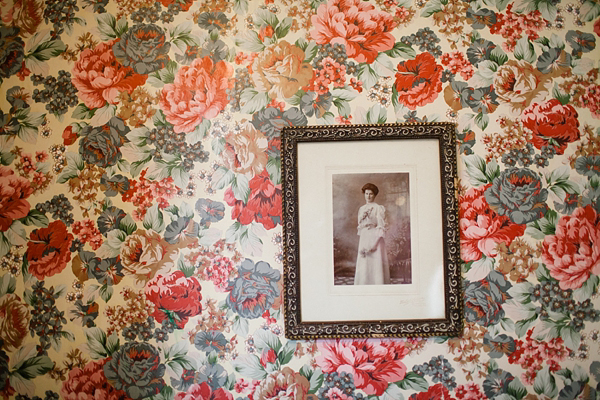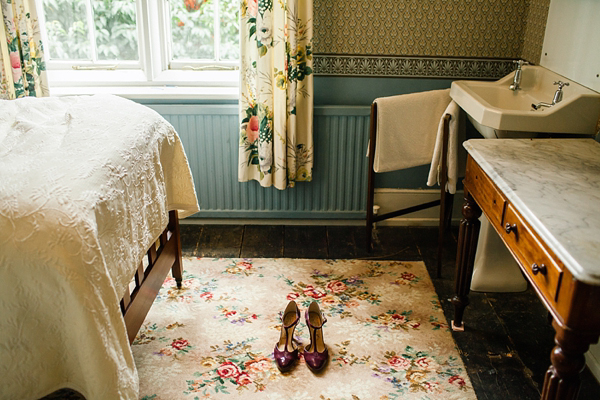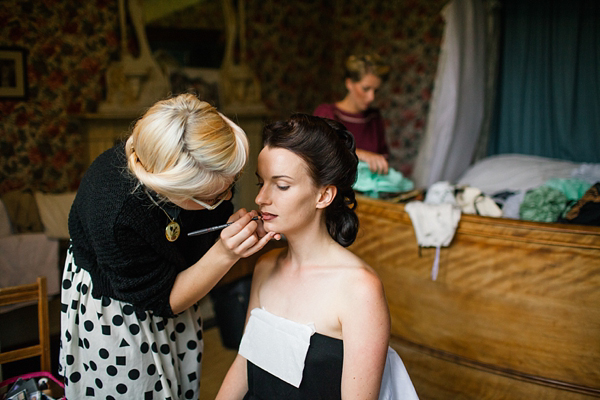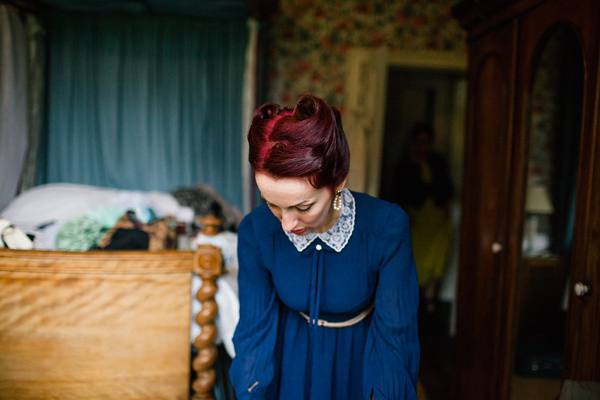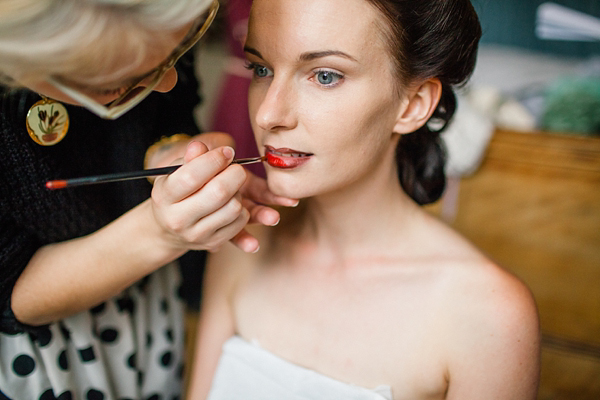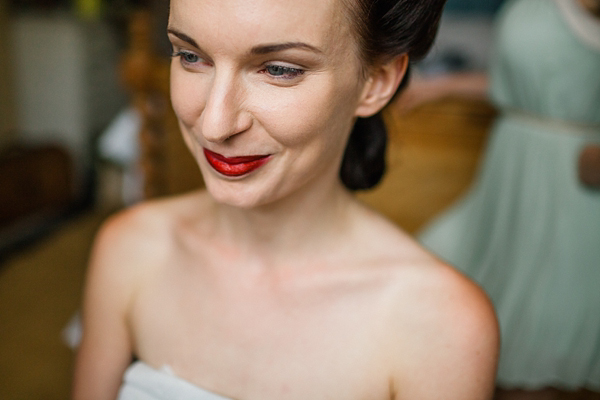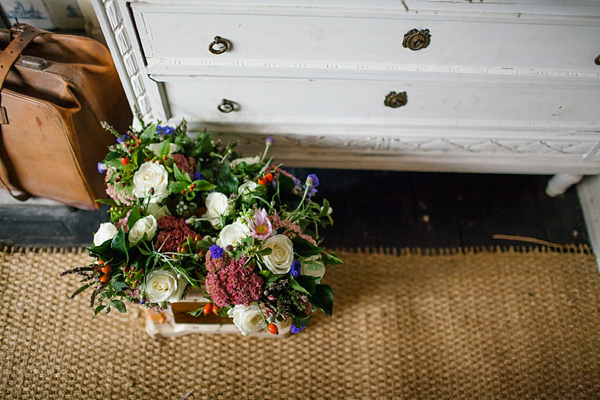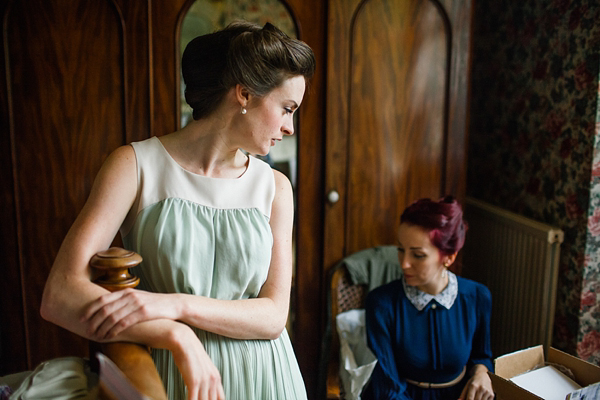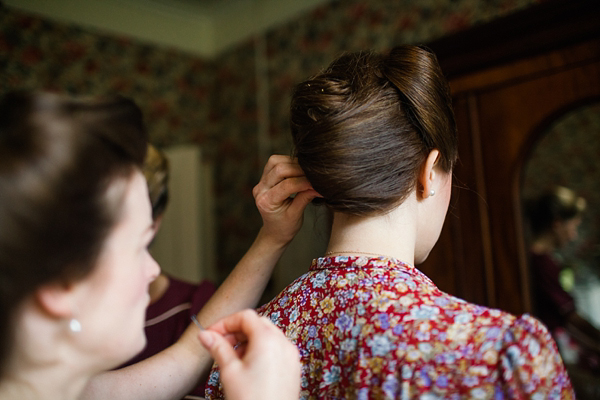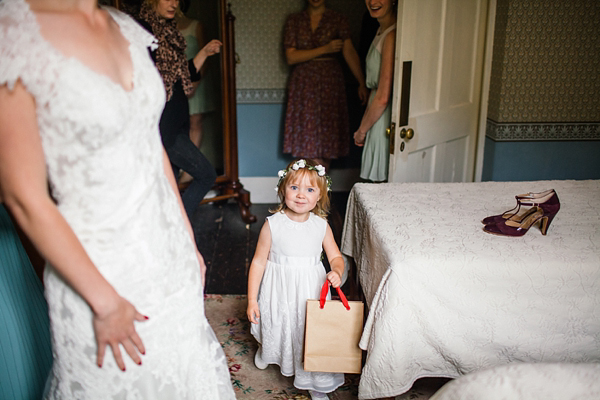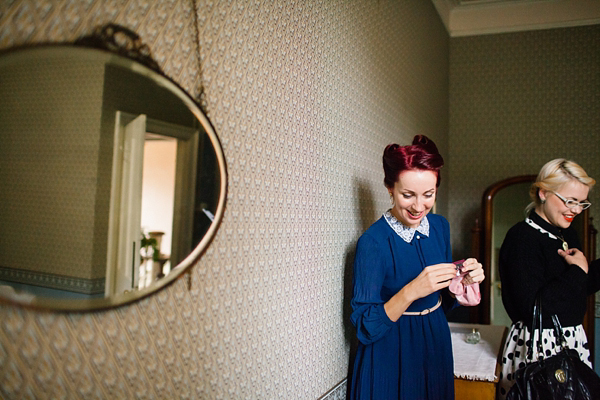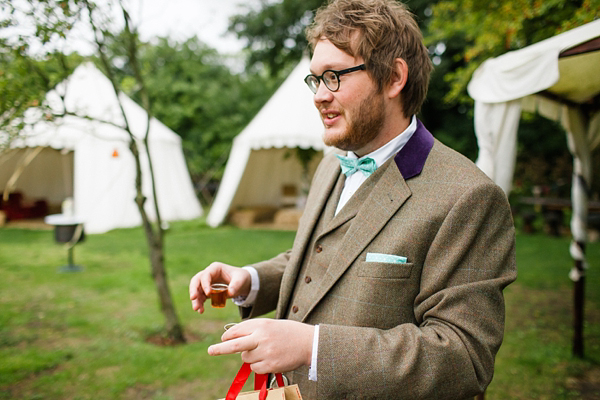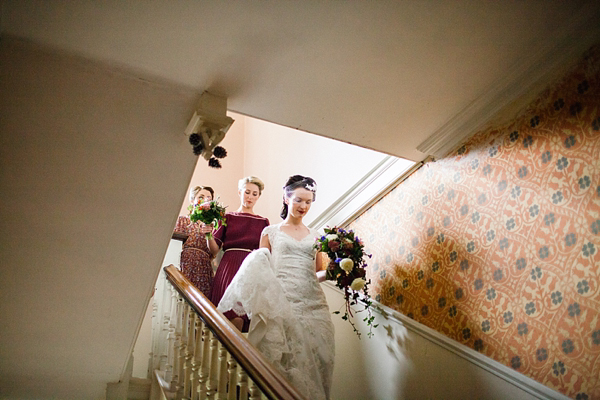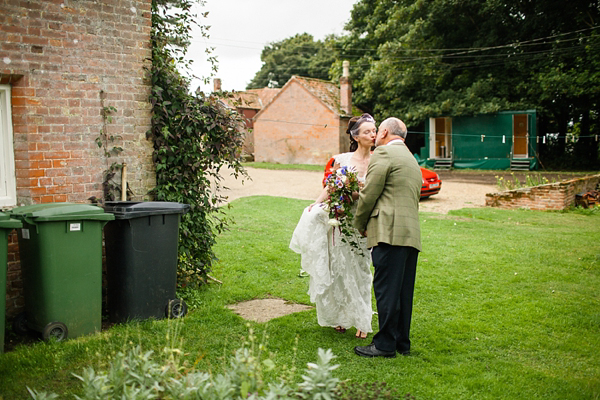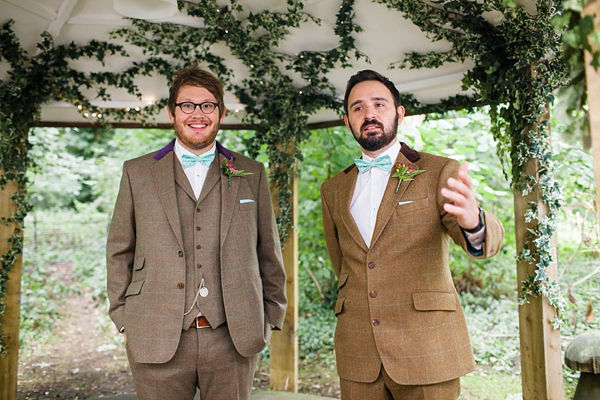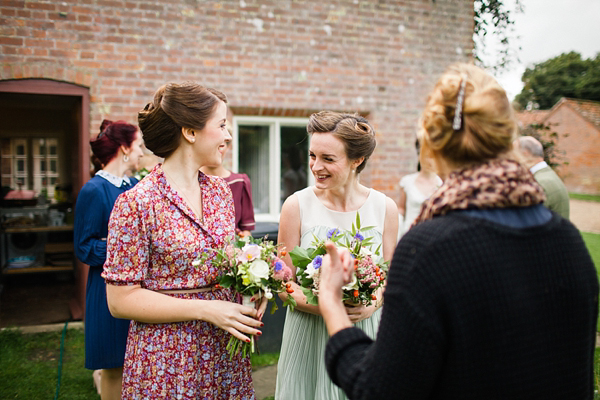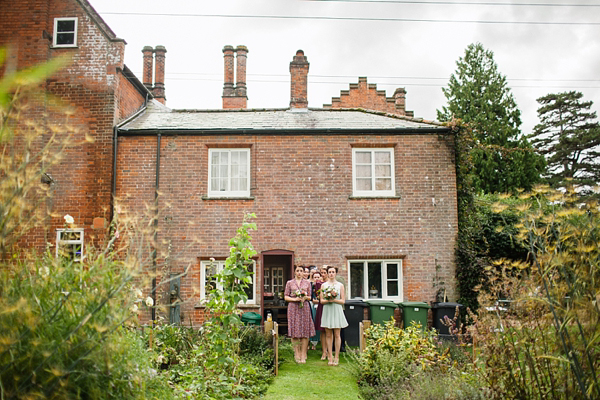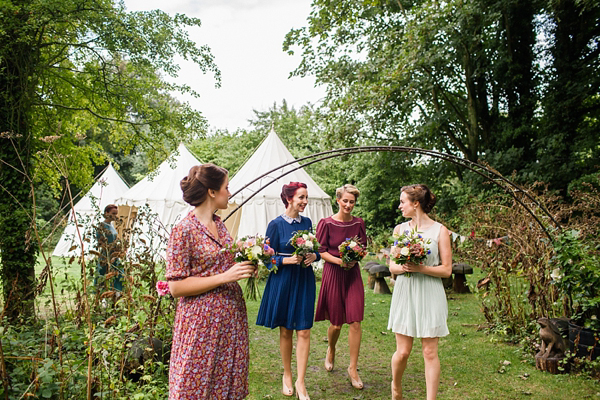 "My lovely dad walked me down the aisle. We're very close and both he and mum made our day possible. It was lovely to see his face when I came out to meet him – Emma captured it perfectly! He put together the perfect outfit and really did me proud.  My entrance soundtrack was Cat Power's Sea of Love. I love this song – it's so simple but so poignant. We had a harpist when the guests arrived and could have been played down by him, but I knew this was the song I wanted."
"We did tailor our vows – nothing too personal – we were worried we wouldn't get through them!! But a step away from the traditional  was definitely in order and our celebrant had written such a lovely personal ceremony that we  felt we could say individual vows, with a little touch of humour. A lot of people commented on how lovely they were.
Both mums did a reading at the ceremony – my mum Carol read: 'Marriage Joins Two People In The Circle Of Its Love' (Edmund O'Neill), and Jamie's mum read The Apache Blessing. We asked that they chose the readings, so that they had an extra bit of meaning."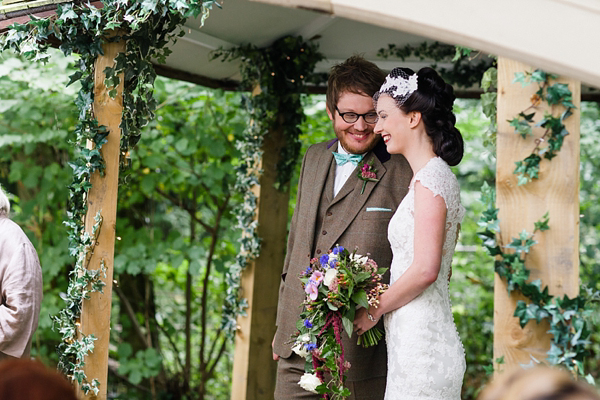 "For our wedding rings, didn't want something off the shelf we wanted something with meaning and so I found The London Jewellery School and we made our own.  Our tutor was the lovely Rosie Sanders. who also make her own jewellery. She was so nice during the consultation and we headed to London for the weekend and spent Saturday with Rosie, who was just brilliant at helping us.
It's safe to say Amy had a much harder time making my ring, with the thick metal and fat fingers I have – Amy's was much daintier and easier to mould. We had such a great time playing with metal, blow torches, dipping annealed metal in water (makes such a cool noise), filing, mandrill (childish giggle), hammering to create patterns and polishing the rings. Have a look at this link for the size difference of the rings.  They are our practice rings – we made the ring templates for our actual rings from Stirling silver on the day from which moulds were made and our rings cast (Jamie had a rose gold ring and Amy had a platinum ring to match her vintage engagement ring), both of which are 20s metals which is quite nice!
We had both rings engraved on the inside with 'Made by Jamie' /'Made by Amy' and the date of our wedding 14.09.13."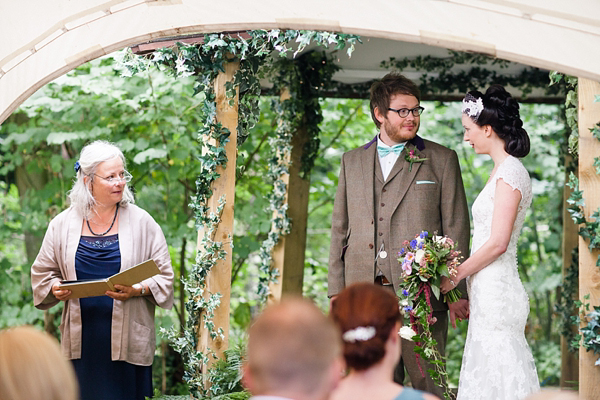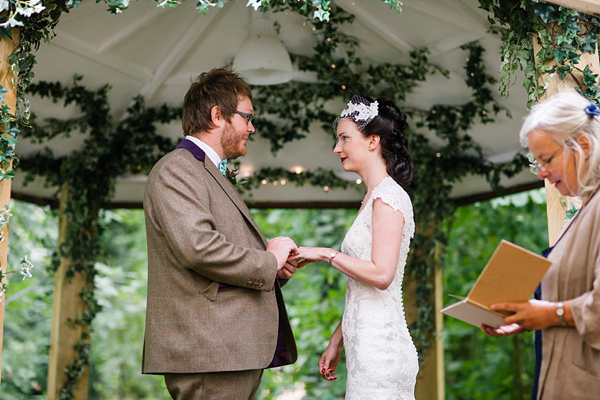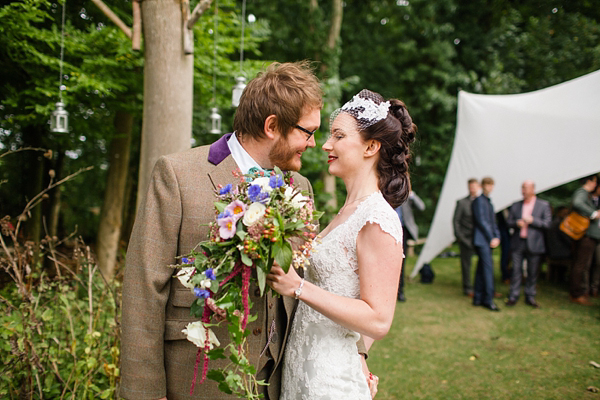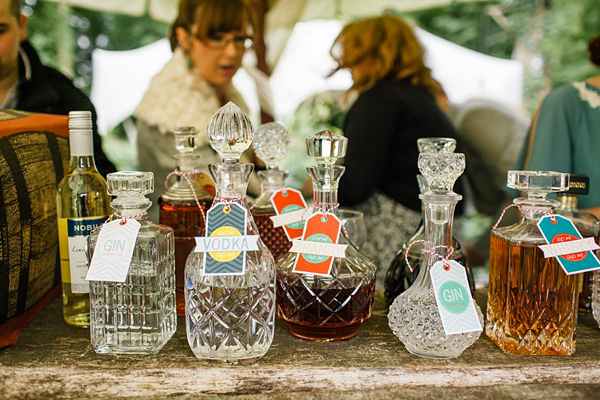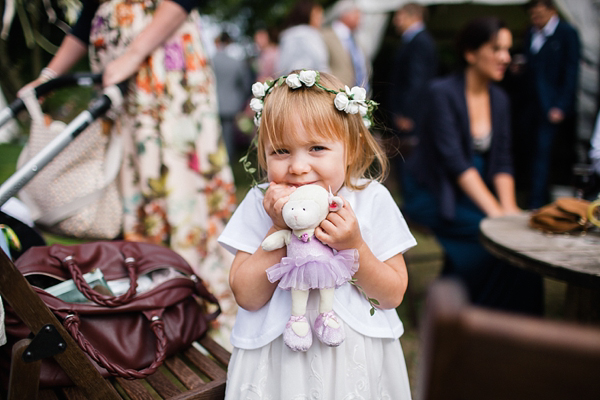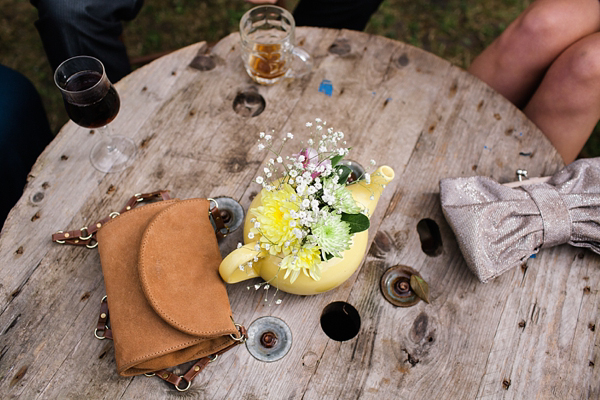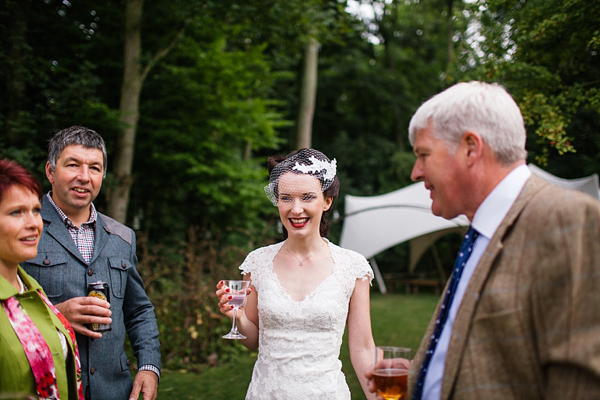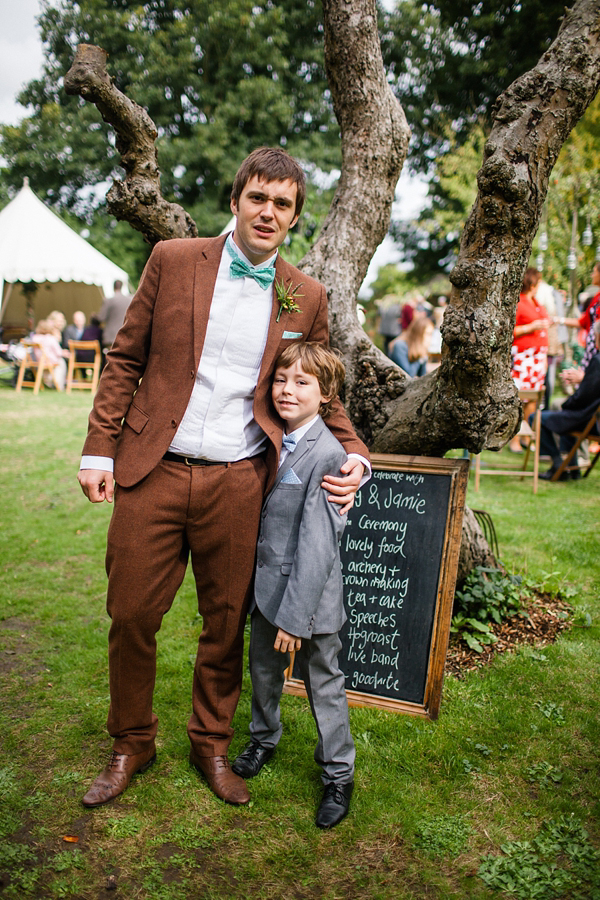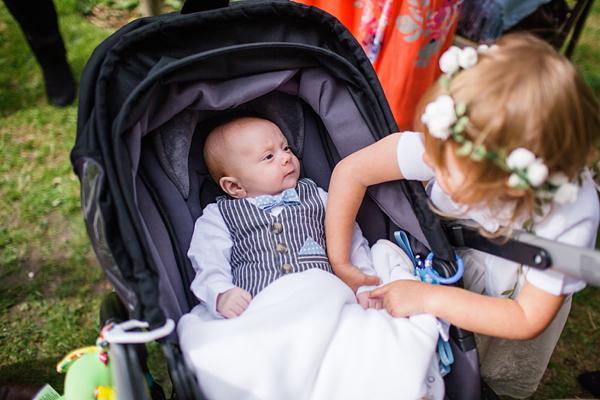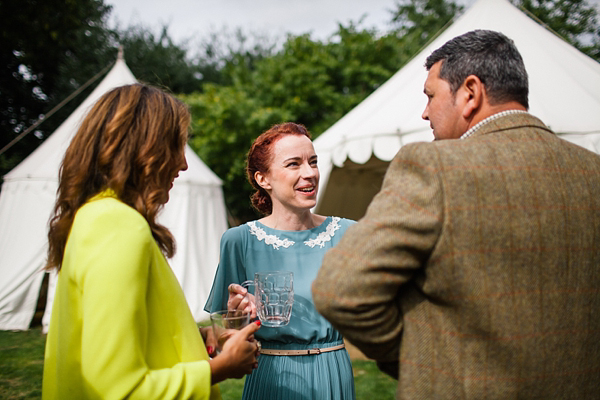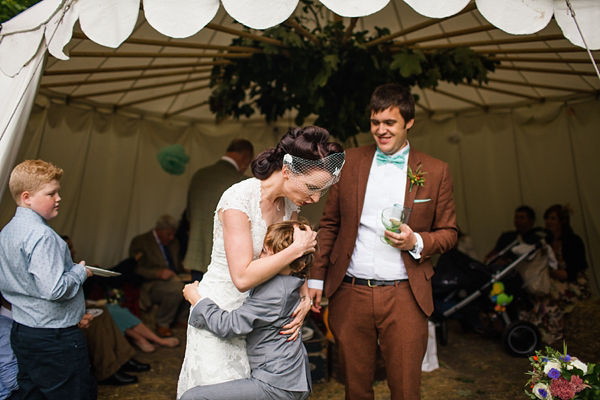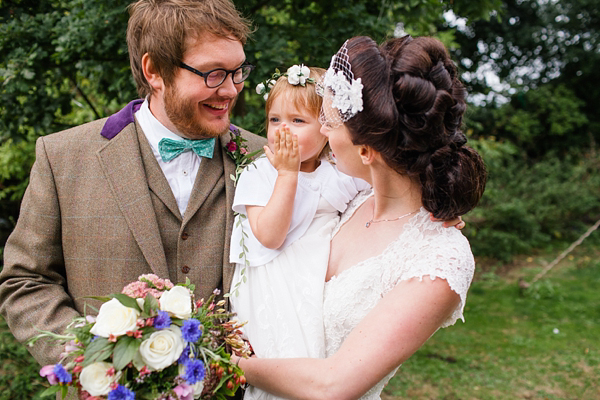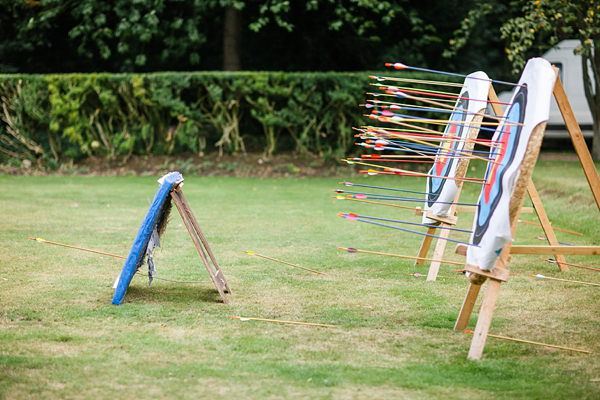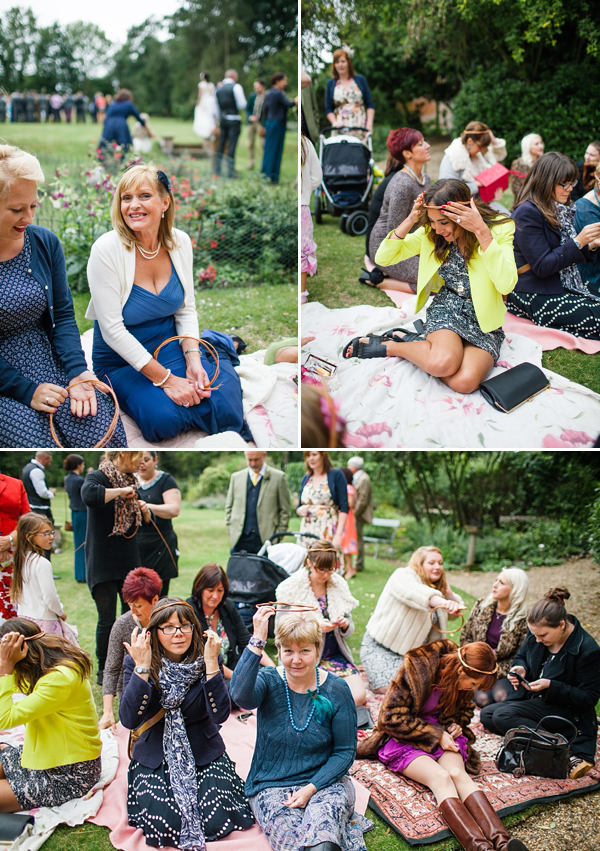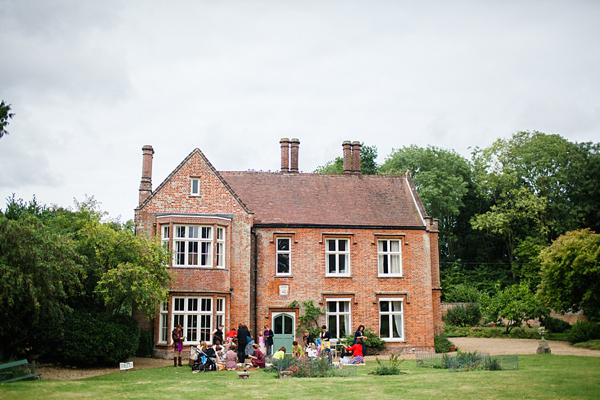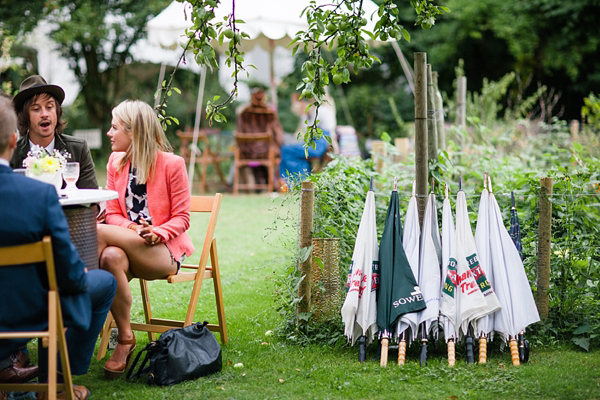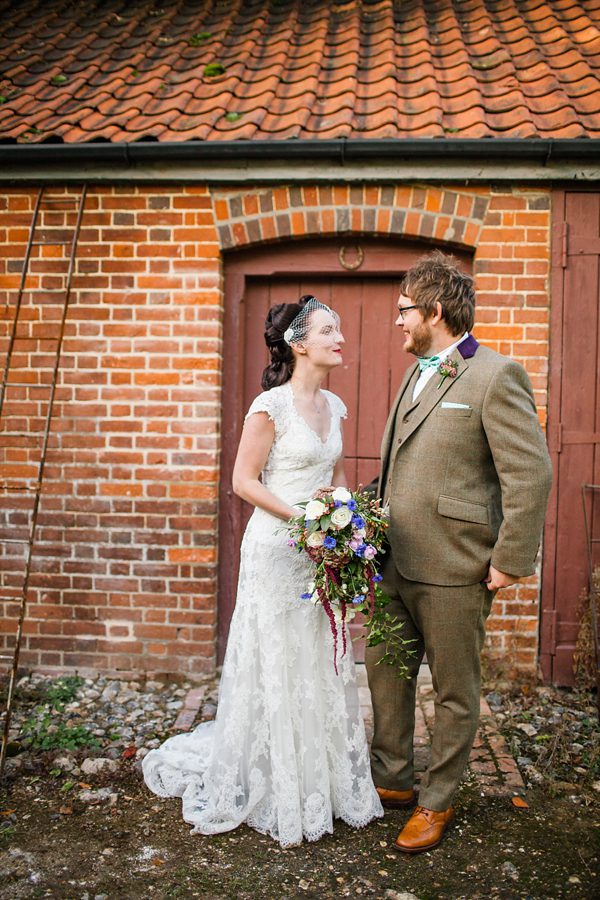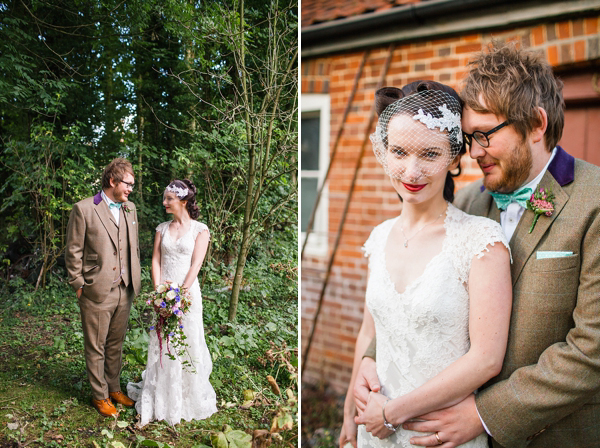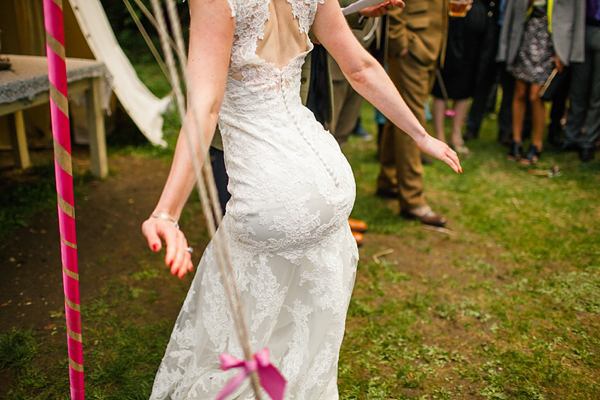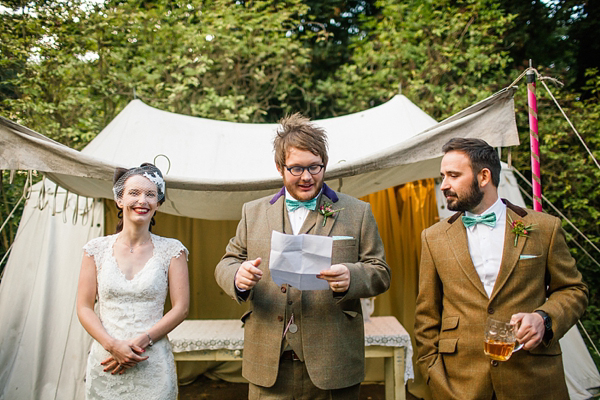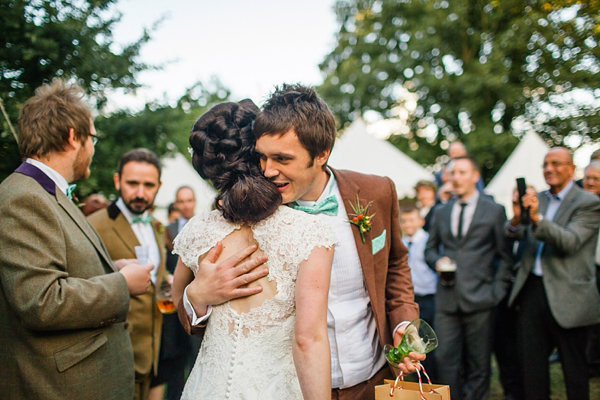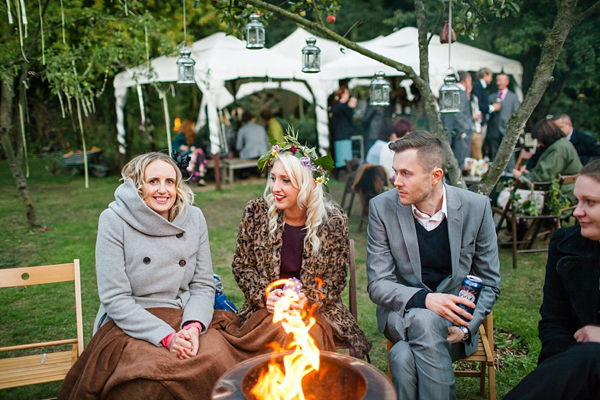 "Cake was a big deal, but we didn't go for tradition (surprise) and had a table full of choices – Guinness, Brownie, Carrot, Cupcakes, Hummingbird, Cherry Bakewell – the list goes on (and on!) – it was all kindly made by my mum and a few of our friends. In addition, one of Jamie's clients insisted they make us a two tiered wedding cake – lemon and chocolate, so we did the 'cake cutting' thing with that cake, but ended up not getting a look in when they were all cut up! There was also plenty of tea to go with the cake!"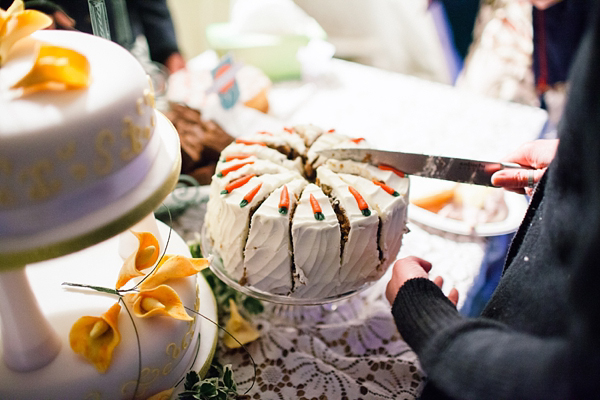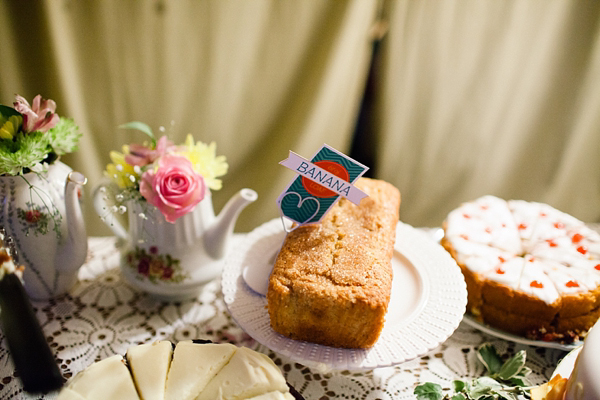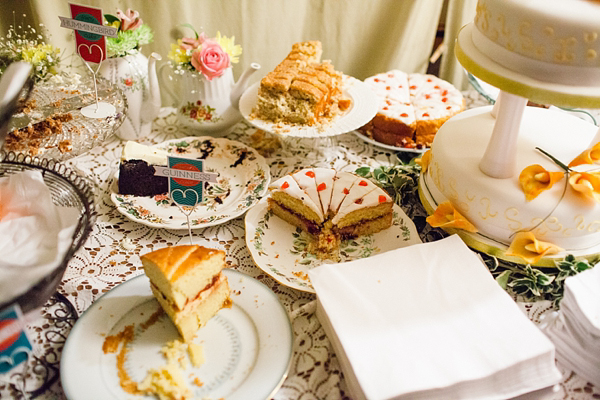 "In the evening we opted for a folk band, complete with the obligatory fiddle at Jamie's request! We actually hadn't heard them before the day, but they blew everyone away! They put a folky twist on a lot of current songs as well as some classics, and threw in a few we could swing each other around to! They were great and played the night away – it got very hot on the dancefloor, everyone gave it their all!
We didn't have a first dance – there was music early on and several little dance groups popped up all over the place, then everyone came together on the dance floor so it just kind of happened! We aren't ones for being centre of attention ( despite Jamie's suggestion we learn the tango!) so opted to miss that tradition."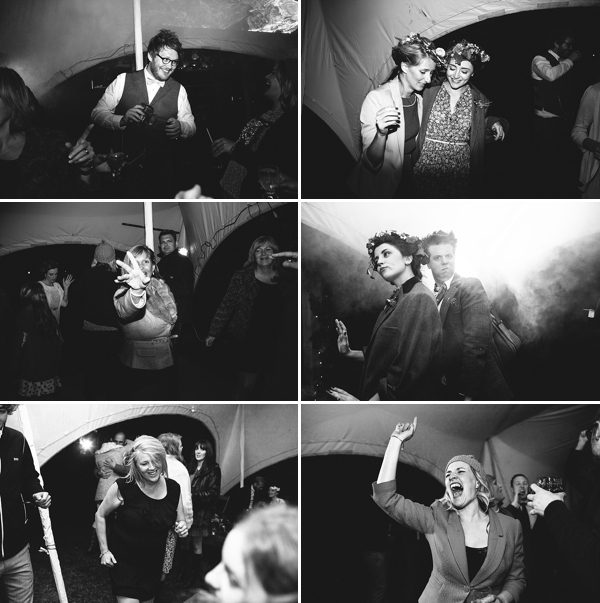 Words of Wedded Wisdom…
"Don't let things stress you out. Everything will happen one way or another, and only you will know the things that don't quite fall into place – and even you won't care on the day!! It's about you and the most important people in your life having a fun and memorable day celebrating you as two! We found the whole experience really nice and chilled and having some surprises on the day (flowers, band etc) made it more exciting for us too!
Think you've covered it really – but I guess another small thing was that we didn't have a seating plan – we avoided awkward pairings and actually everyone mingled better than we could have planned for, gathering around the fire braziers to toast marsh mallows with people they'd never met!"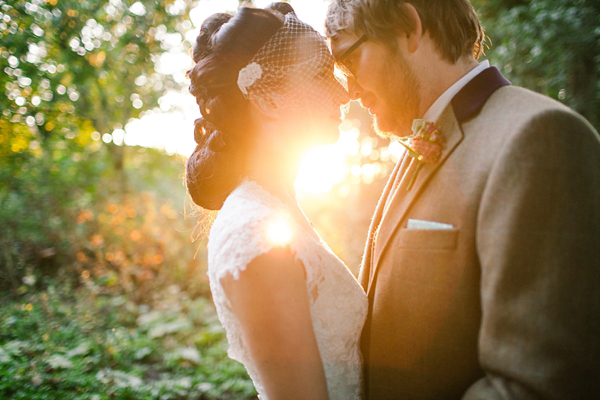 Yet another utterly fabulous wedding from the charming Emma Case – huge congratulations to you Amy and Burt, and thank you so, so much for entrusting us to share your fabulous wedding day.
You can see more wedding photography by Emma Case here on Love My Dress, you might also want to explore our bohemian, woodland, quirky and outdoor weddings categories too.
Have a lovely afternoon all,
Love Annabel
Photographer – Emma Case
Venue – Albion Days at The Old Rectory in Great Melton nr Norwich
Wedding Dress – The Tailors Cat in Cambridge
Veil/Headpiece – Etsy seller January Storrs
Brides' shoes – Agnes and Norman
Groom's Attire – Robert Goddard + Ted Baker + John Lewis
Bridesmaids – Various + Etsy
Flowergirl Dresses – BHS
Flowers – Picked wild on the morning of the wedding
Cake – Family
Entertainment – Folk Band
Rings – The London Jewellery School
Catering – Albion Days
Stationery – The bride
Hair Stylist – Jude Stag from The Cutting Rooms in Wisbech
Makeup Artist – Ellie Gibson
Follow Love My Dress® on Google+