Good afternoon lovely ones, how are you? We have a pretty, pastel colour wedding to share with you this afternoon.  I'm a little in love with bride Alex's smile and charmed by all the lovely detail this couple incorporated into their lovely day.  Alex, a freestyle writer, stylist and blogger married her beau James, a retail manager, on Friday 21st June last year at the Tithe Barn at Meols Hall in Southport.
"I am a lover of vintage and retro fashion – particularly the 1940s and 1950s. It is an era I have always found very inspiring when it comes to style – not fashion. James on the other hand loves vintage films. He has a huge collection of 'classic films' including most Hitchcock titles.  Basically, when I suggested he dressed like Carey Grant, he was all for it.  When we put together the décor we liked, the retro bridesmaids dresses that I had fallen in love with, the very English venue, the afternoon tea, and the soft ice cream colours we chose.  It all came together under what we ended up describing as a very 'British 50's Afternoon Tea Wedding'."
Photography Copyright (c) 2014, Natural Touch Photography
"James and I met in September 2003 – I was the first person James met when he walked into student halls at the University of Central Lancashire in Preston. At first we were roommates, but part-way through our second year I considered James one of my best friends, little did I know he had other plans.
He took me out for a very awkward lunch where he confessed his feelings for me. He now regales in telling the tale of how I spent the rest of my lunch with my head in my hands."
"I told him it was never going to happen – then a month later we were an item; he likes that bit of the story too. After we graduated we both moved back home, James to Hemel Hempstead, and me to Southport.
After a year of long distance romance we moved in together in a damp and crowded little flat in Milton Keynes, when I started a new job in Northampton."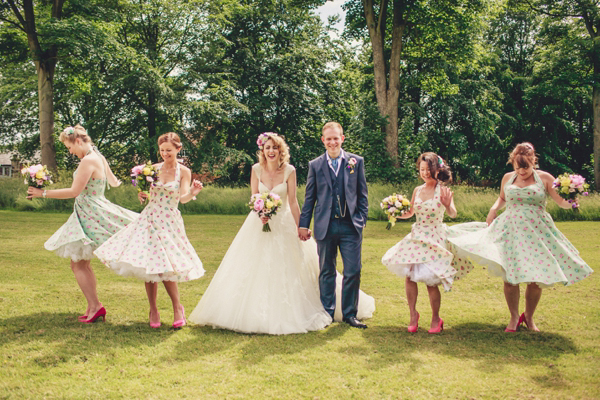 "After several moves climbing up the property ladder, two cats, and several job changes each, James proposed. He popped the question while we were away in Bath for the weekend, on the day we'd been together for seven years – 24 February 2012.
He did the deed with a Haribo fruit ring, wanting to let me in on the engagement ring choosing task. After several unsuccessful shopping trips we eventually settled on an antique trilogy of diamonds ring – which, through a serendipitous mix up when the yellow gold shank was being swapped for a white gold one – left me with a platinum ring. We were engaged for 16 months before tying the knot."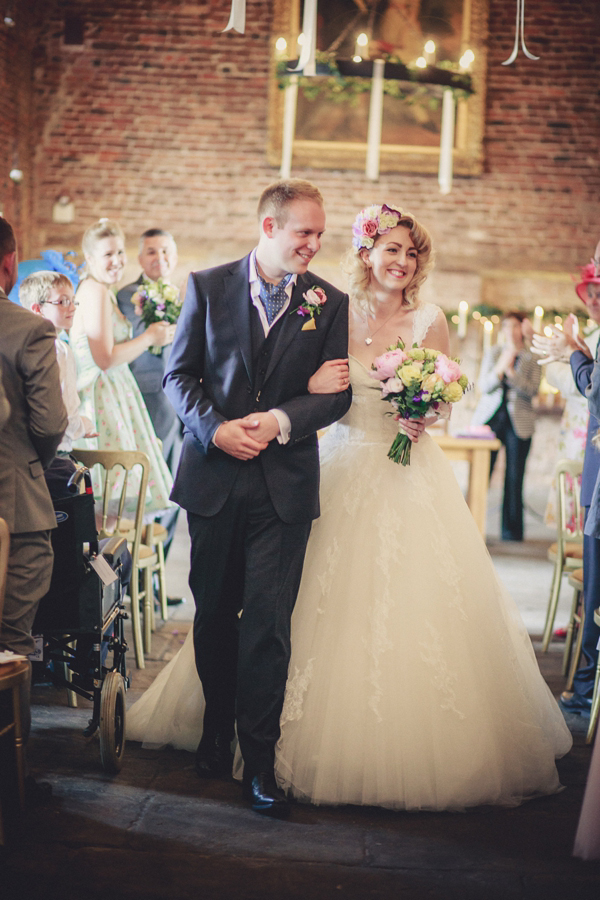 "We decided to get married in the north west as all my side of the family are clustered there and we still have a lot of friends in the area, having gone to uni nearby. We searched a wide range of venues across the north west, and then we visited the Tithe Barn at Meols Hall in my home town of Southport. Even though it was at the top of our budget we fell in love with the place."
We didn't want to get married in a church as neither of us is religious, but we wanted our venue to have enough sense of occasion for the wedding itself, while also being suitable for the reception and evening do.  As well as being beautiful, and in stunning grounds, the venue was extremely well run by Sue and Pam. From the moment we met them, we knew they would ensure the smooth running of our day.
The venue was decorated by Meols Hall in-house Florist, Mary.  I am not sure she was completely convinced of our idea of flowers in teapots, on cake stands – but she pulled it out of the bag on the day.  The whole family spent months rummaging in car boots and charity shops to gather all the teapots for the centrepieces – and we gave away a teapot to each granny, auntie and family friend the following day."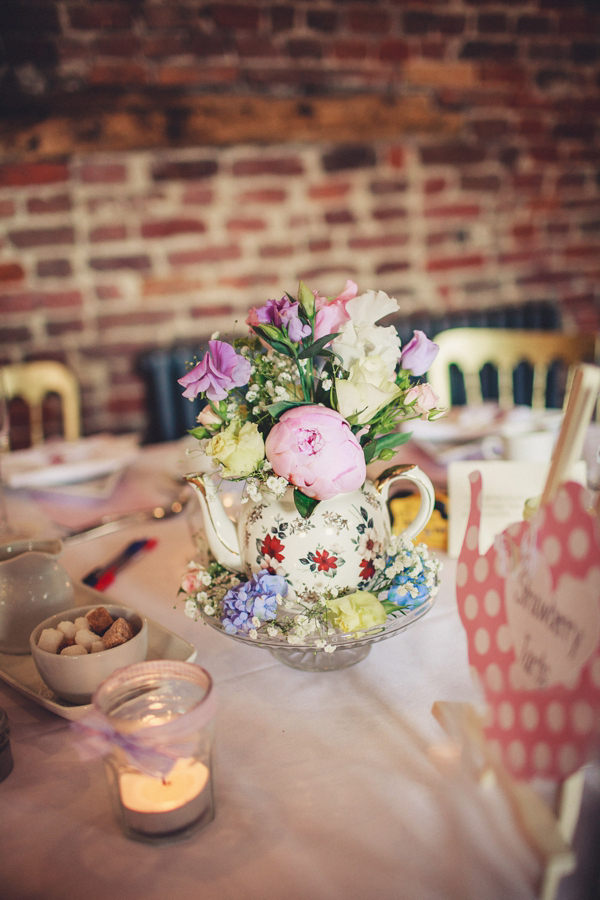 "I designed all the stationary using my own ideas and inspiration I found online. My Dad and Mum's dining room turned into a print workshop 170 miles away, as they assembled the orders of service, table plan, invites and table names.
My dad collected and scrubbed countless jam jars which were then decorated with ribbon and used as vases or tea-light holders all over the venue.  Our table names were tongue-in-cheek afternoon tea treat names and my Mum crafted the teapot shaped coloured card."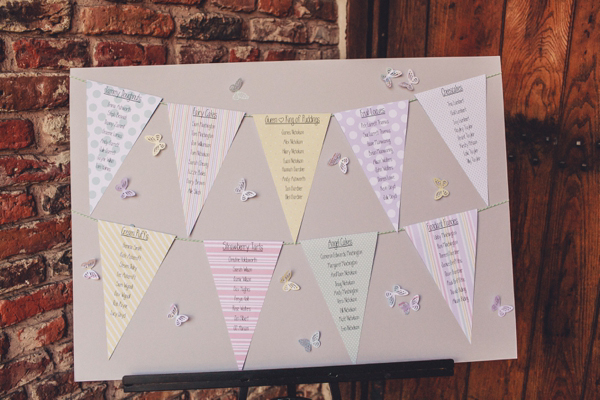 "Our bouquets, corsages and button holes, were by the marvellous Sweeneys Florist in Churchtown. Stacey and Hayley were so helpful and they brought my ideas to life – peonies, sweet peas, old roses and a mixture of sugary garden flowers, with a freshly-picked feel."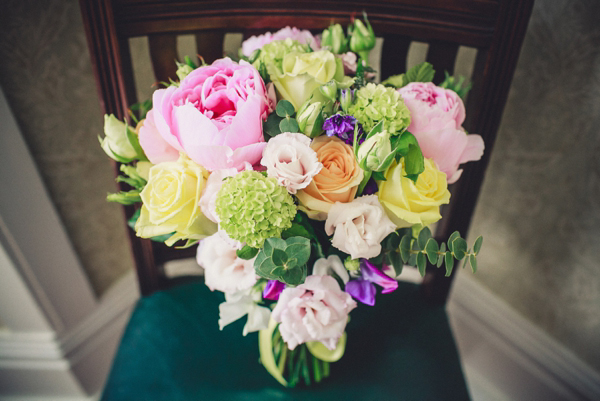 "When it came to my dress, I only had three things I knew I didn't want, no satin, no strapless and absolutely no bling. The reality was that I found my perfect dress in one afternoon, when my mum, dad and sister Hannah were visiting and we took a stroll around Leighton Buzzard. After an overwhelming traditional trying-on session in one shop, where nothing took my fancy, I popped in to see Sabrina at Xquisite Bridal, who happened to have a sale on.  I found a dress, tried it on, came out with a big goofy smile on my face, everyone cried and I knew we'd found it.
My dress was a design by San Patrick, with ten delicate layers covered in lace, a sweetheart neckline and pretty shoulders – the overall effect had a lovely vintage feel. As it was a sample it had to go through some serious alterations, but thanks to the magic worked by amazing seamstress, Gaynor Volpi – it was perfect."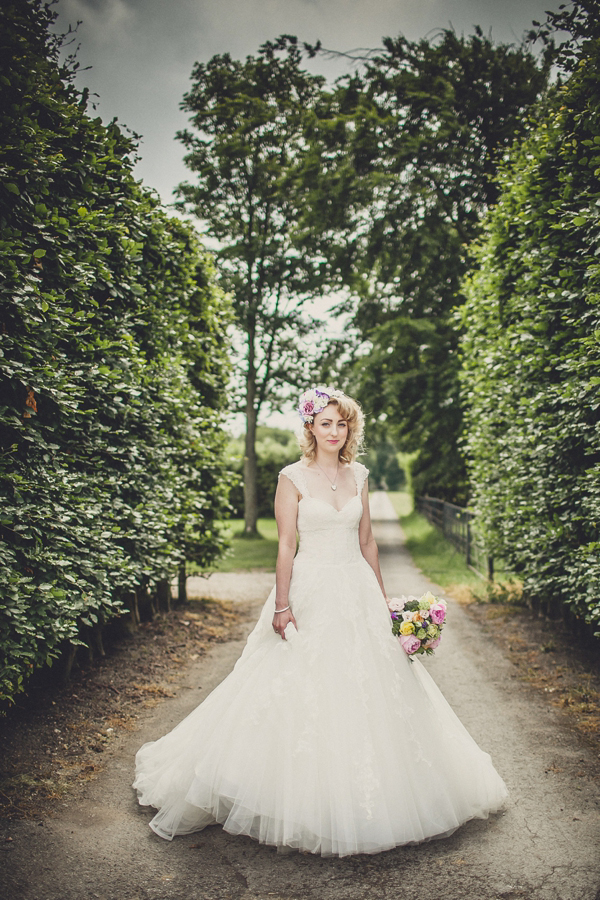 "I bought a floral headpiece online, but when it arrived it wasn't quite right, the colours didn't fit and it looked too artificial, so I decided to craft my own. I scoured garden centres and craft shops to find the best-looking of the right sort of flowers, in the right colours, and made two headdresses. A big one, and an even bigger one. I wore the biggest."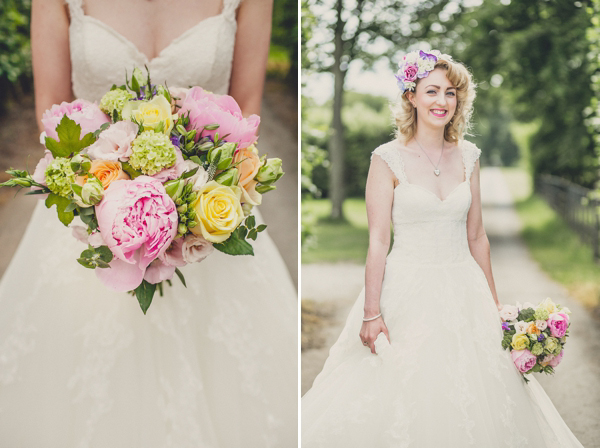 "I am not a fan of traditional bridesmaids dresses, and because my four beautiful bridesmaids were such a variety of shapes and sizes, I thought a halter-neck 50s shape would suit everyone. In the end I chose these Hell Bunny dresses by Bobbi Lee in two pale colours, with white petticoats to give them the perfect 50s shape.  I sort of forgot to ask the girls for their input on dresses and ordered these online, then presented them with my choice. Luckily they all liked them and after some alterations from my clever Mum, they all looked fabulous.
We bought each of the girls a set of pearl earrings as a gift for them to wear on the day, while they all wore their own necklaces as a personal twist."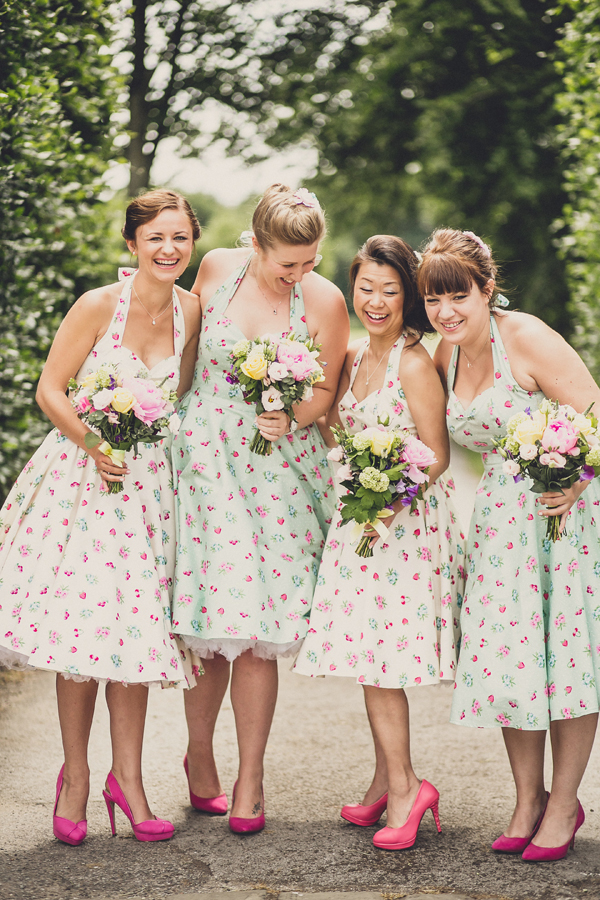 "We bought a range of pastel coloured printed material on eBay and my Mum took to her sewing machine (again!) to make reams of over-sized bunting to decorate both inside and outside the venue.Before the day we collected photos from each of our married guests from their wedding days, and displayed them all on a washing line.
It was lovely to see photos from our grandparents' weddings through to the best man's just six weeks before ours. It also provided a great talking point.We put together our own sweet table, decorated with a vintage lace tablecloth of my Nan's, and covered in cut-glass bowls of all shapes and sizes filled with retro sweets."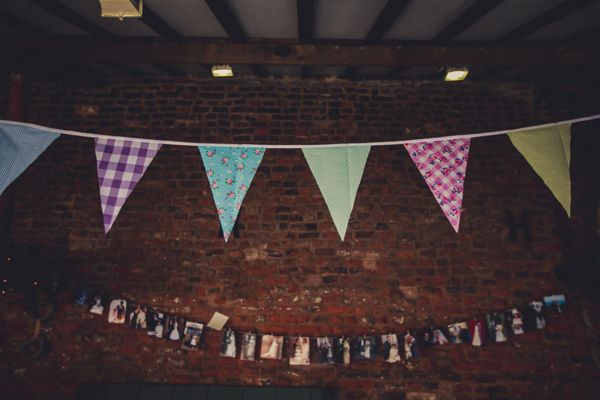 "My dad, James and the best man Andy all gave fantastic speeches, so that was a definite highlight. But walking down the aisle with my Dad in front of all my favourite people in the world, and meeting James at the end, is an amazing feeling I will never forget. I also loved having everyone singing The Beatles, Eight Days a Week during our service, it was so much fun to see people bopping along.
James says that when he thinks of his favourite moments, it was when he first saw me walking down the aisle '…there was a lot of build-up, it was surreal to think we were finally getting married. I am not a very emotional person, but when I saw her for the first time in her dress I'm not ashamed to say I welled up. The whole day was better than we could have ever hoped for.'"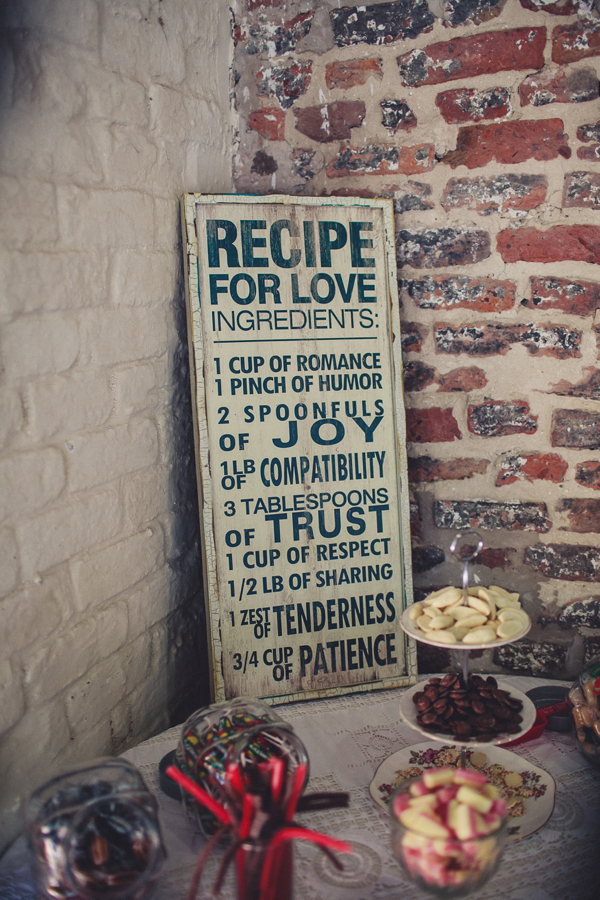 "Our photographer, Steve Rooney of Natural Touch Photography was awesome and booking him was one of the best decisions we made. Having worked with photographers through my work, I had a very clear idea of the sort of images I wanted. Steve was the perfect mixture of friendly and professional on the day, and managed to blend into the background to take beautiful and natural journalistic shots of everyone, yet also knew how to set up an inspiring 'staged' shot without resorting to megaphone tactics.
I think the biggest compliment we can pay him about his services on the day was it was like having a good (albeit extremely talented with a camera), friend with us. The resulting images are perfection – he exceeded our unrealistically high standards. I didn't cry during the wedding, but welled up looking at the moments he captured."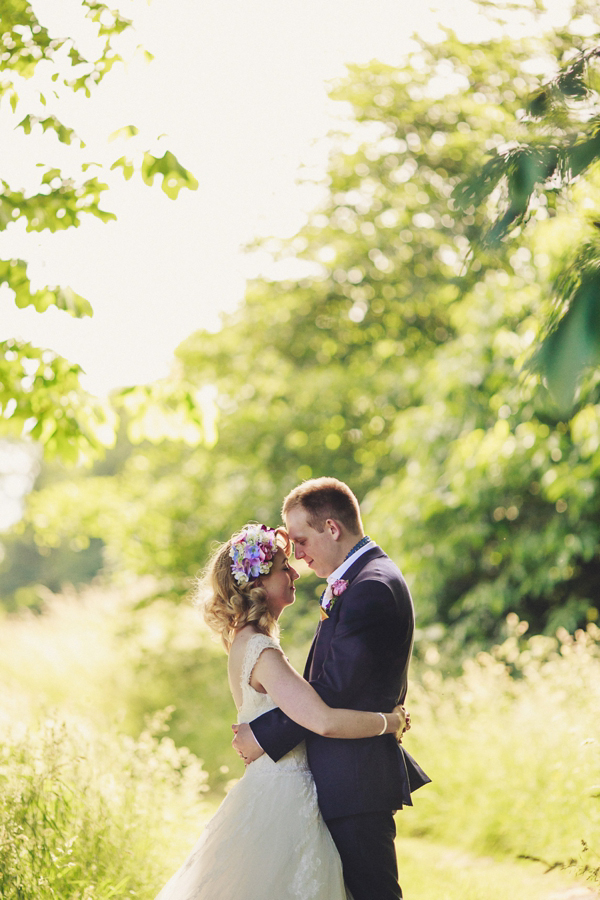 "I am a bit of a control freak (can you tell?), so after just one practice session a couple of months before – I not only did my hair and make-up, but my four bridesmaids hair too. Mine was pin curled the night before, while I opted for different up do's to suit each of my bridesmaids personalities. I did my own make up too, as very neutral and natural isn't really me – black winged eyeliner and bright pink lips all the way!"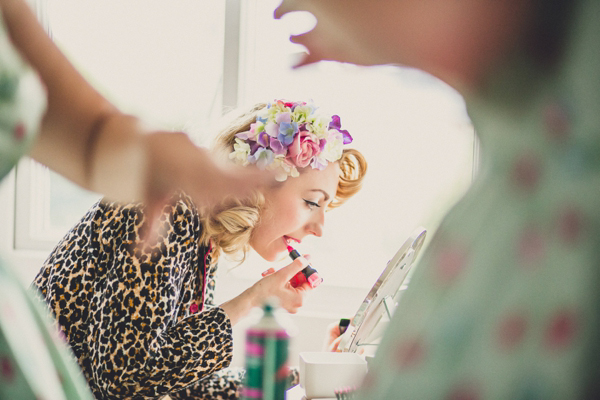 "My 'day' shoes were a pair of cherry-topped Vivienne Westwood 'Melissa' shoes, which I found, brand new, for a steal on eBay.  While my evening shoes were a pair of floral Lee Cooper trainers, so I could boogie on the dance floor pain-free."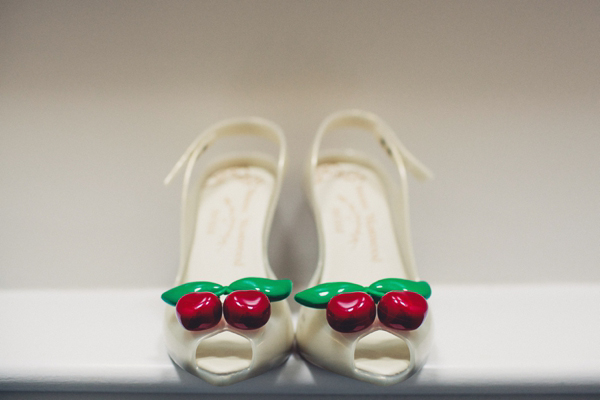 "I let my bridesmaids choose their own shoes, my only specification was that they were pink heeled court shoes, to pick up on the pink in their dresses. Three of the girls managed to get shoes from Next, but the most petite of my bridesmaids, Sarah, had to shop online at a specialist smaller-shoe retailer."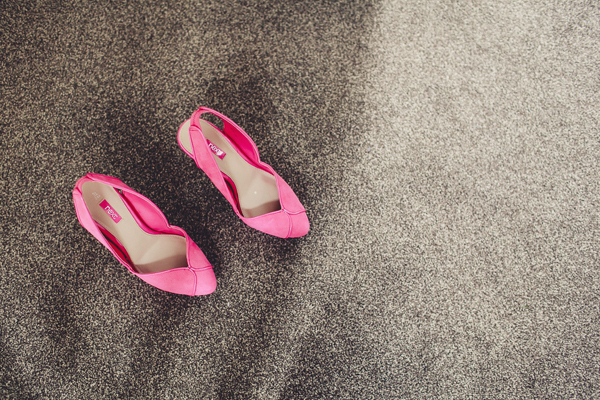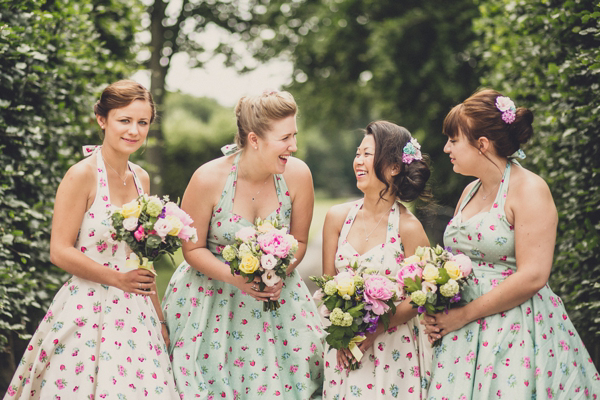 "We wanted the boys to look smart, but not too formal. James worked really hard before the wedding and in less than six months managed to lose 2.5 stone – so he looked very svelte in his gorgeous blue three piece Sartorial Marks & Spencer suit.  We searched everywhere for the perfect 'day' cravat for James – no 'wrinkly wedding cravat ties' here. We eventually found a blue one with yellow polkas online at Swagger and Swoon. We matched James' pocket square to the polka dots on his cravat.
My wedding present to James was an engraved silver pocket watch – when he opened his card on the morning of the wedding I'd even included instructions on how to wear it – something I knew he'd think about as soon as he saw it!"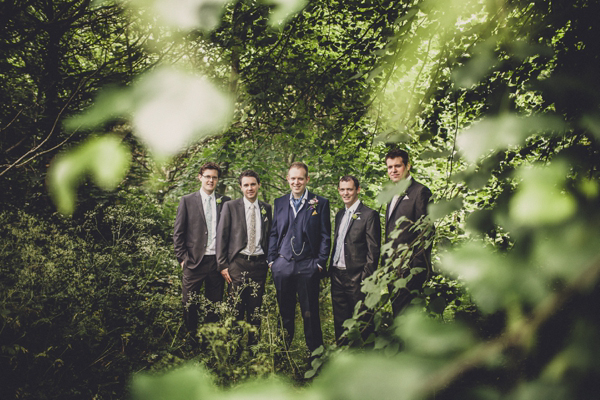 "Like the bridesmaids, the boys were in two variations. They wore two different similar slim cut grey Marks & Spencer suits. They also wore floral ties and matching pocket square – again in two colours, from Moss Bros. Their polka dot cufflinks were our present to them, from House of Fraser."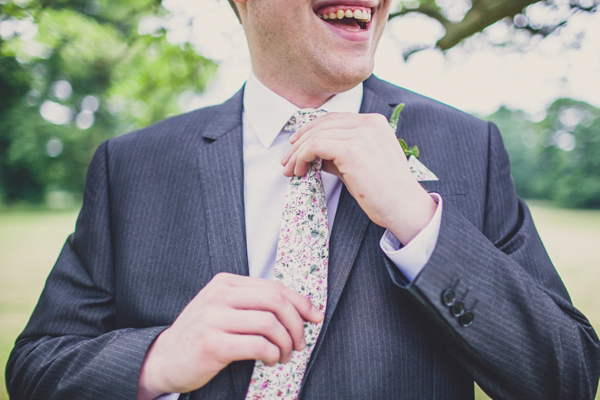 "I wore a silver heart locket necklace – this is my Nan's (Dad's mum) and one day will be left to me. But for the big day, it was my 'something borrowed'.  I also wore a gold diamond ring. This was my Gran's (Mum's mum) engagement ring, which she gave me a few years ago, so this was my 'something old'.
My garter had a blue ribbon and there were blue flowers in my head-dress."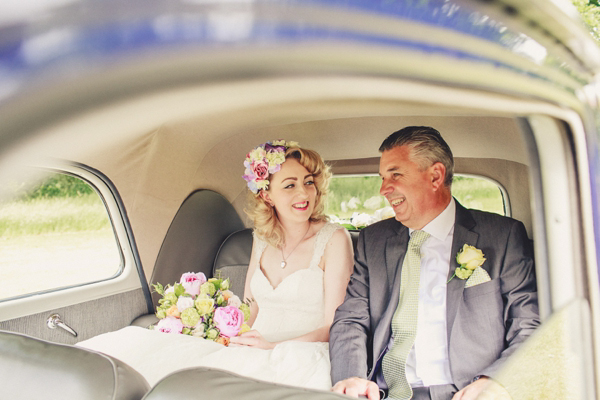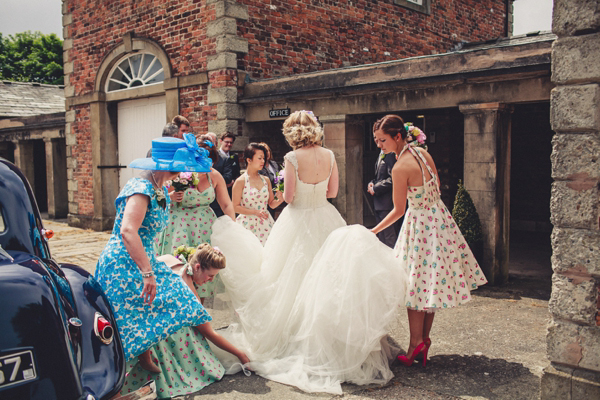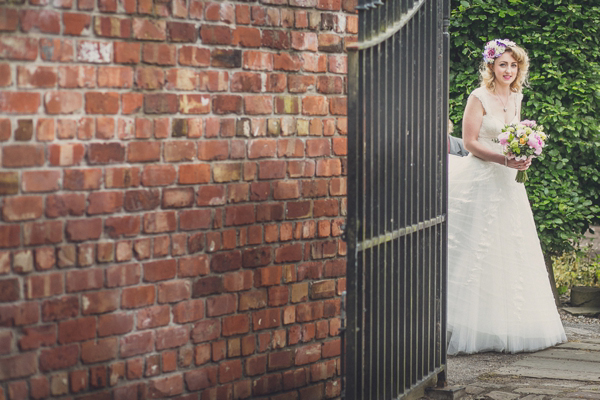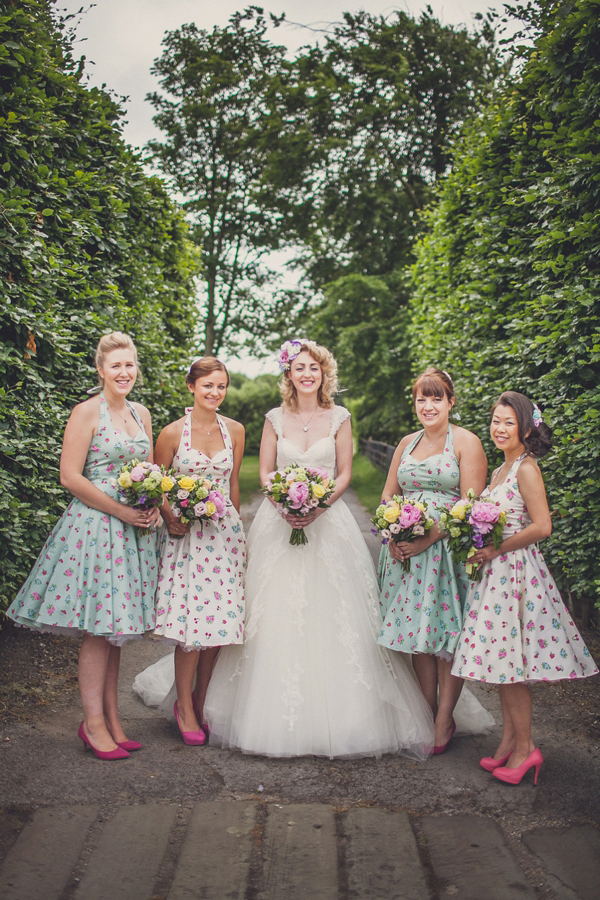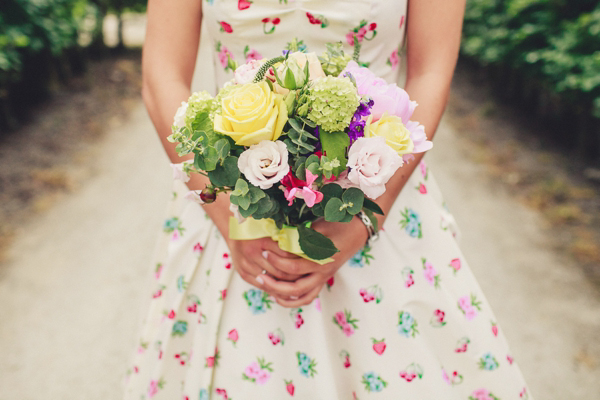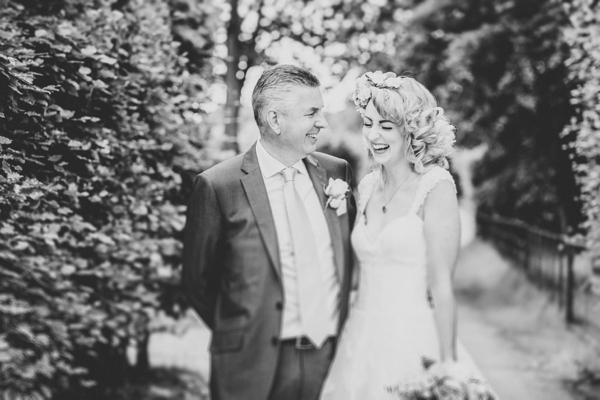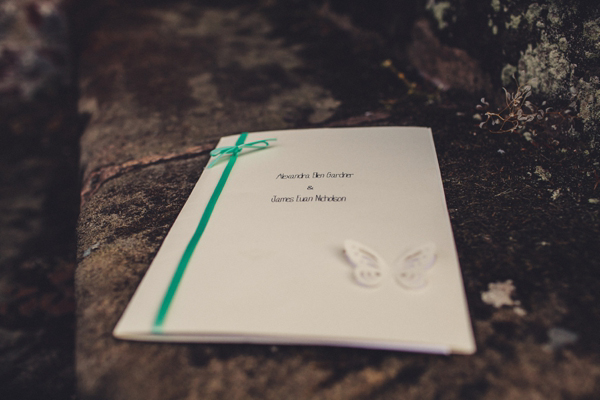 "My Pa walked me down the aisle – he cried in the rehearsal, and during the real deal. Bless 'im.  I kept my 'aisle' song a secret as I wanted it to be a surprise for James. As he is a huge Coldplay fan I had an amazing string quartet version of Yellow playing. It turns out he didn't even notice – and it wasn't until the day after – when I played it for him again that he realised what it was, and couldn't hold back the tears."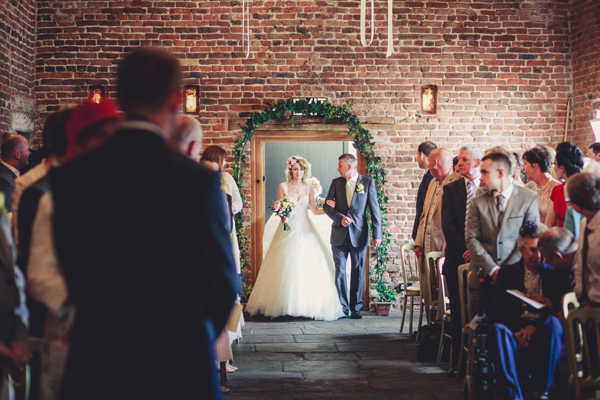 "We wrote our own vows as so;
'Today in front of our family and friends,
I vow to love and stand by you,
Through the good times, and bad,
While we are young, and when we are old,
To support, respect and be faithful to you,
To confide and trust in you,
To cherish and care for you,
For the rest of our lives.'"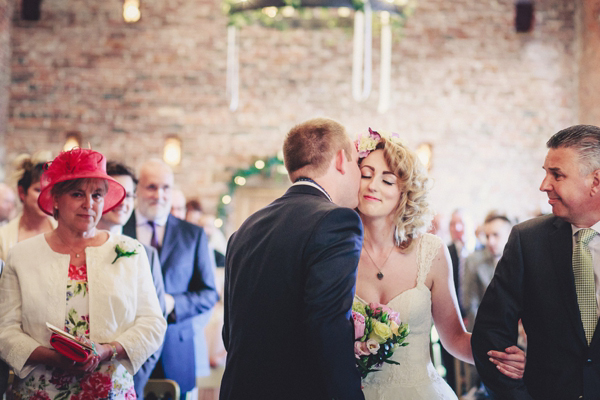 "Our readings included an extract from Captain Corelli's Mandolin, 'Love Is A Temporary Madness', by Louis de Bernieres which was read by  my Mum and 'A Lovely Love Story' by Edward Monkton read by James' mum."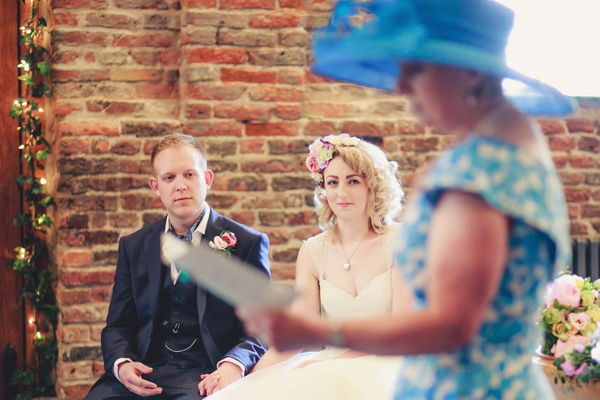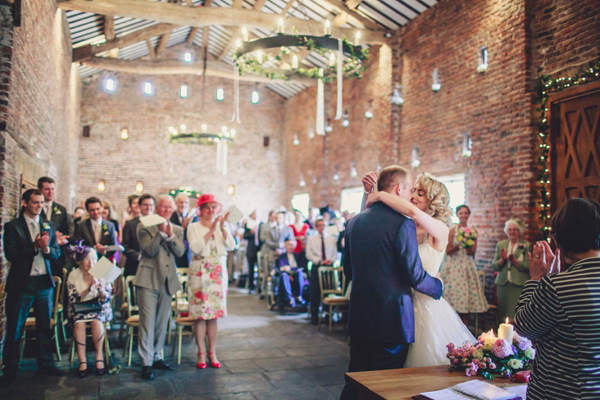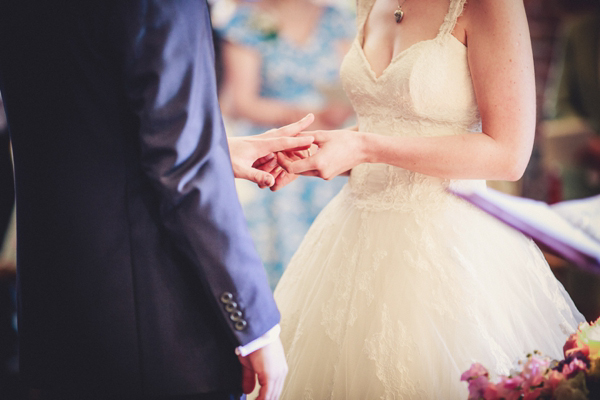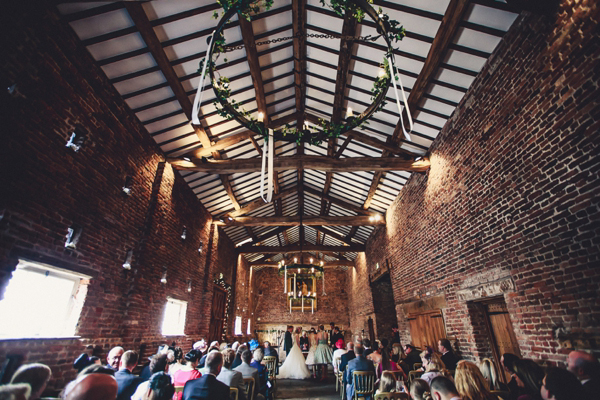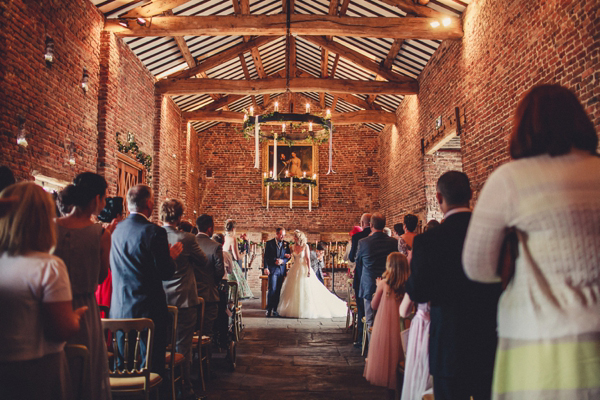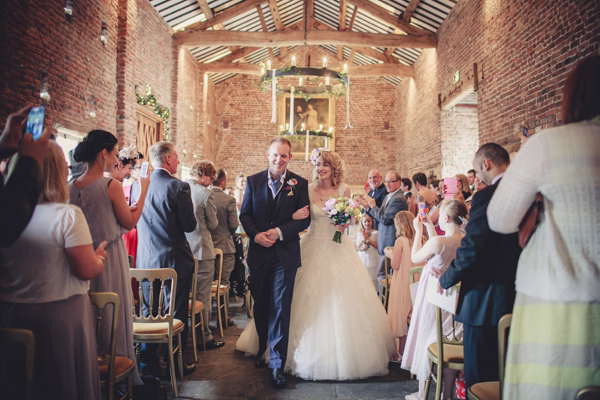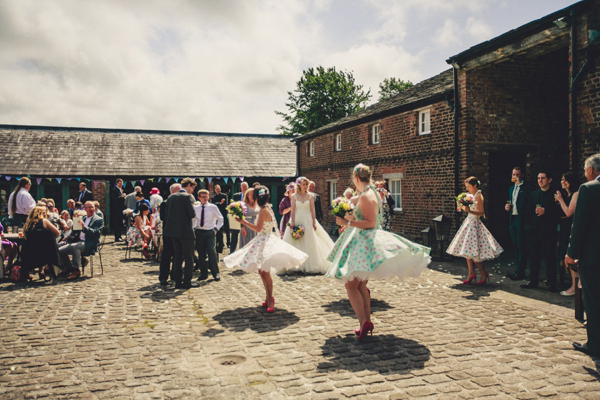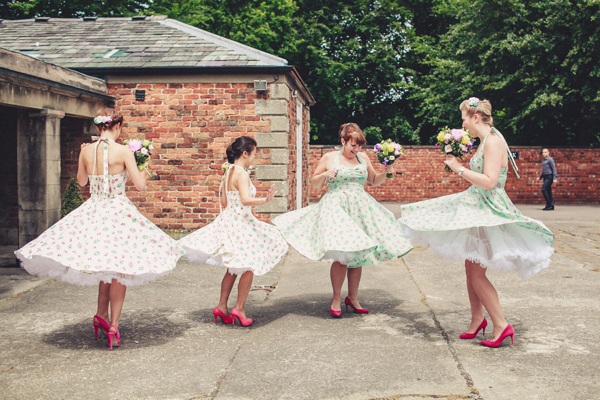 "It was due to rain on the day, but we even got sunshine we hadn't expected, so our specially-bought festive wellies and umbrellas were never needed!  We were also very lucky to have both my parents and James' parents help with the cost of the wedding, without them we probably wouldn't have been able to afford to get married until we were old and grey."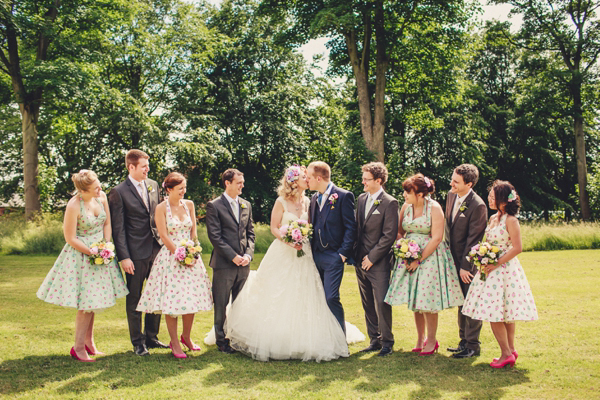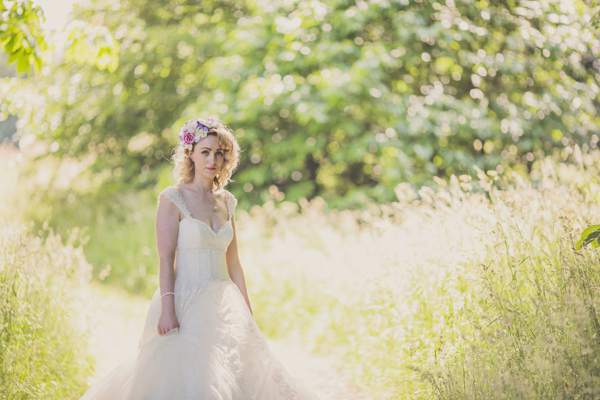 "My dad loaned us his Citroen Traction Avant. I'm pretty sure my dad took nearly as long preparing the car for its big day, as my mum did the cake. It was driven to the venue by a family friend, Paul, who was the best man at my Mum and Dad's wedding over 30 years ago."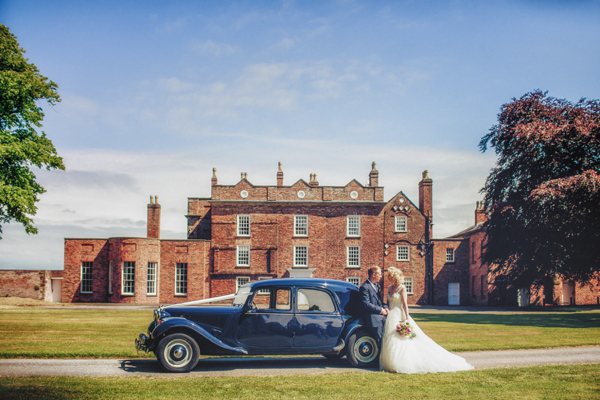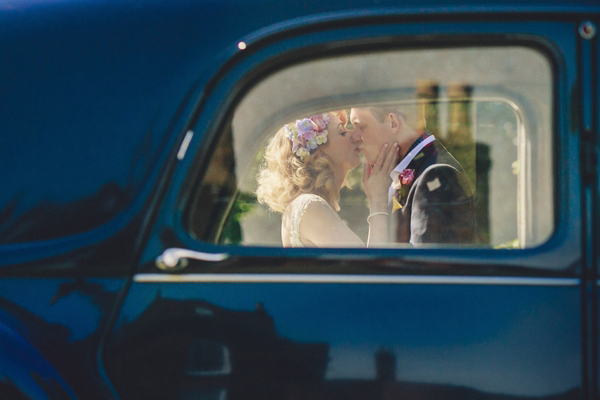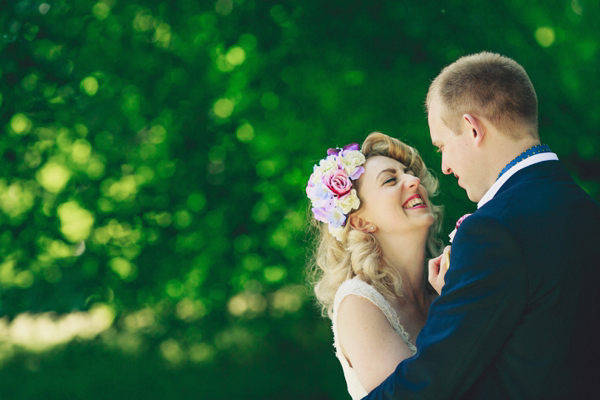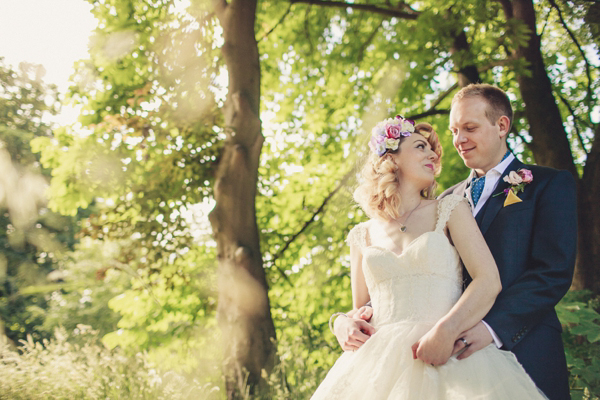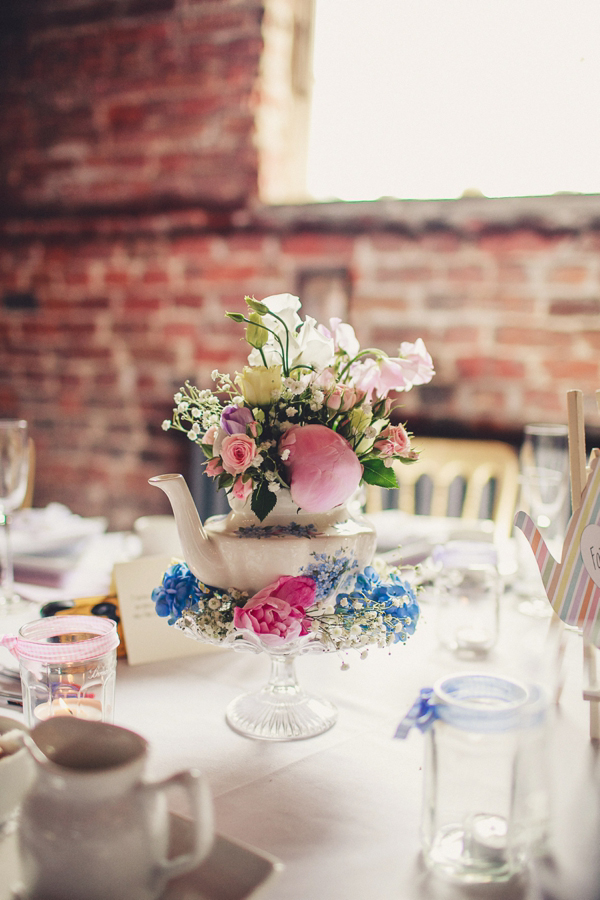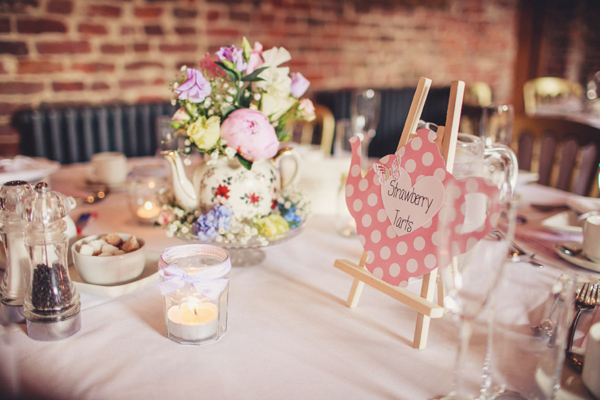 "Our favours were miniature heart shaped soaps, sweet pea, rhubarb and custard, and sea-breeze scented, from the Gilly Forrester's fabulous The Little Soap Kitchen. I tied small old fashioned tags to these and hand-wrote our guests names on them to act as place settings. We also provided each guest with bespoke 'advice to the new Mr and Mrs' sheets – and told everyone to be as silly or as serious as they liked – the results were hilarious!"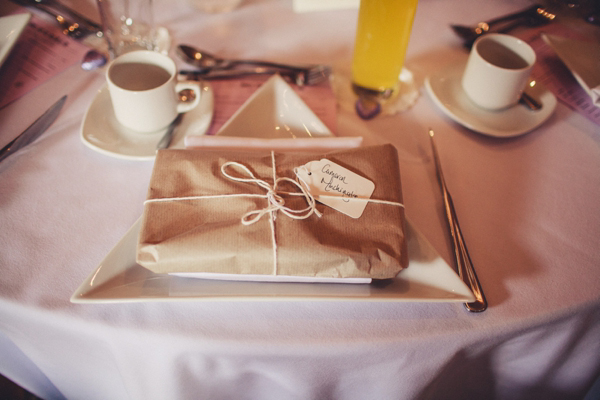 "Our venue use Carrington's Catering and they delivered a fabulous afternoon tea. Served on tiered cake stands we enjoyed pastries, sandwiches and drop scones – which were quickly replenished until everyone had their fill, then came the cakes, sweet scones, and tarts.
We had a fantastic hog roast, sausages and pasta in the evening, provided by Graham Eyes Butchers – more than one guest told us their biggest regret of the day was not going back for seconds or thirds – although there was plenty to go around!"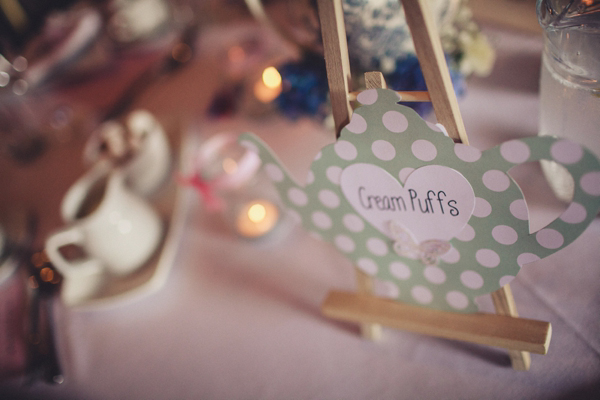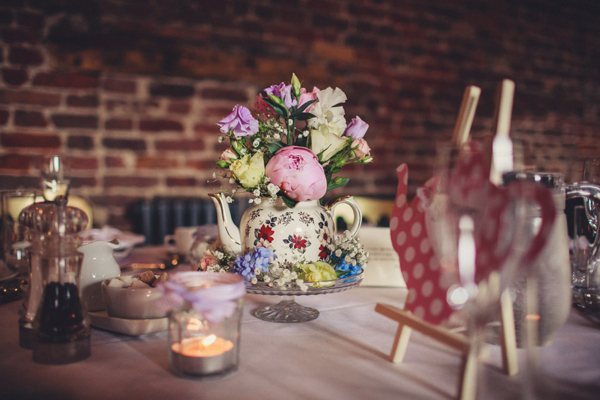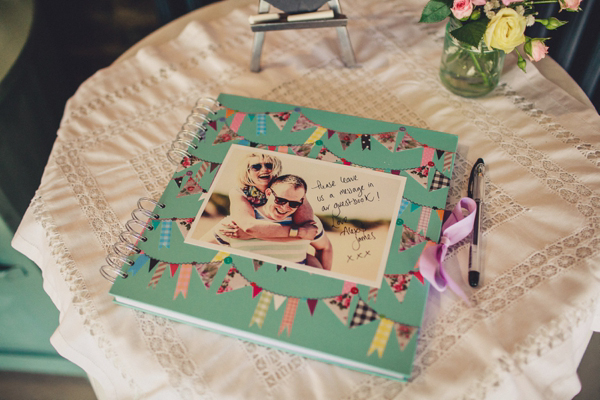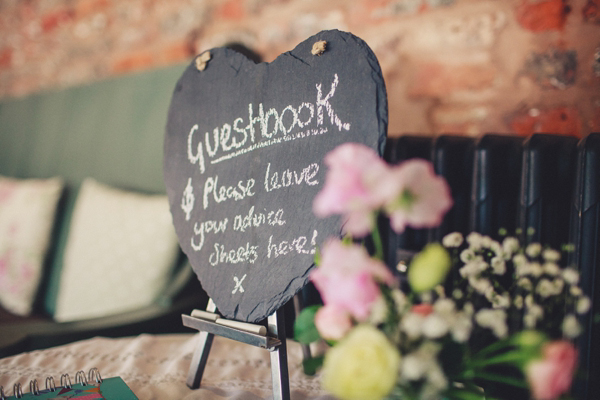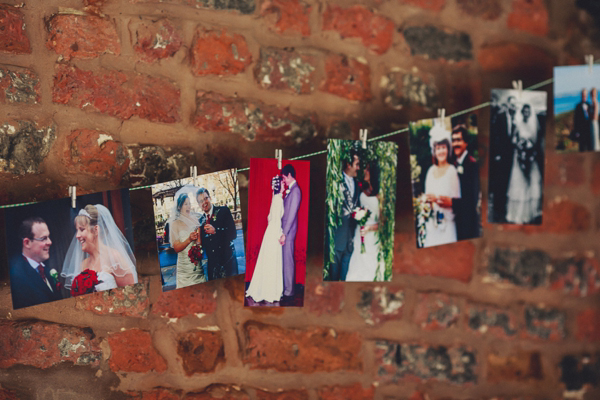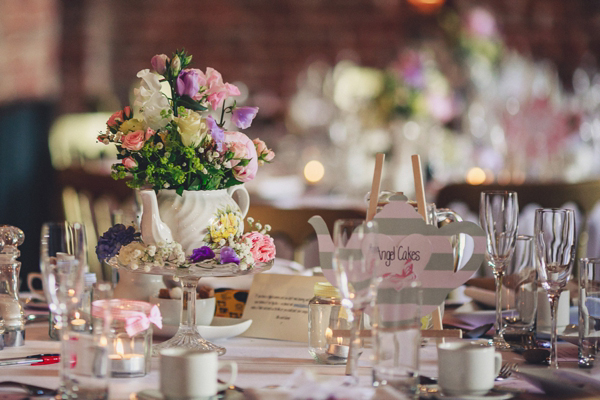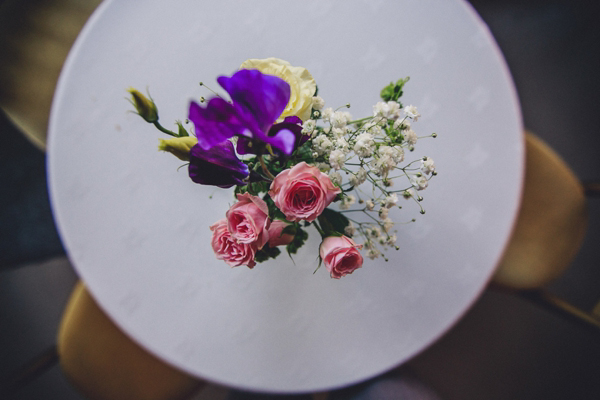 "We didn't want our first dance to be anything that we had heard at lots of other people's weddings. We considered so many songs but in the end we chose something a bit silly, and sweet – one of 'our' original songs from when we first started dating, McFly – It's All About You. Then I danced with my Dad to Eric Clapton's Wonderful Tonight."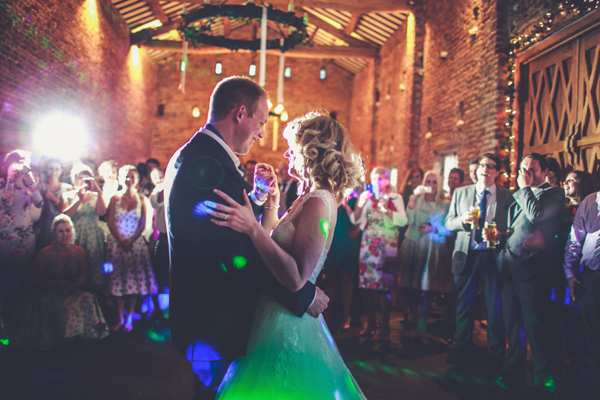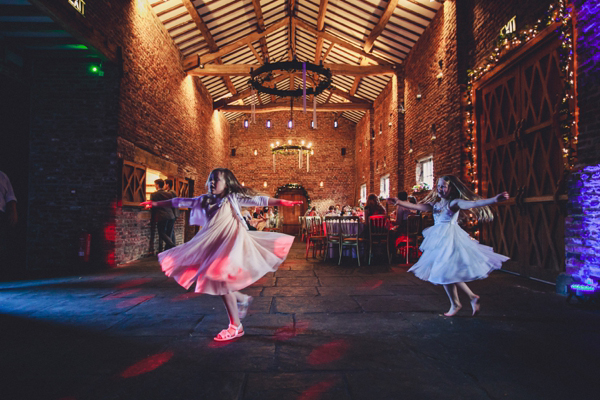 Words of Wedded Wisdom…
"Make your wedding personal – don't wear something because you think you should, or do something because everyone else does. It is your day, so do what you want. Our wedding reflected us, colourful, silly and informal.  Find a fun seamstress – Gaynor made my fittings really enjoyable, made me forget about the stress of planning a wedding and concentrate on getting excited. She also gave me lots of valuable hints and tips about how to survive the day in my monster of a dress!
Don't skimp on the photography. While planning some people think it is an unimportant and expensive detail, but when the day is over and done – beyond memories, they will be all you have left to remember your day.  Don't be scared to haggle and DIY. We did as much as we could ourselves, not only to save money, but also to make our day more personal.  I also did my fair amount of haggling and shopping around to get good deals on every part of the wedding – don't be scared to ask for a discount, do it politely and lots of vendors will help if they can."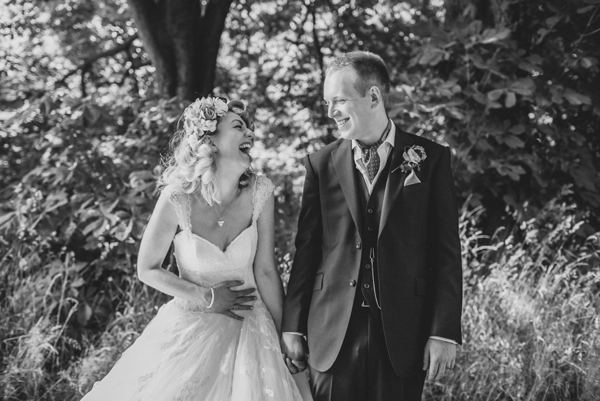 What a loveLy, lovely day – that smile! Alex, you just look so happy 🙂 Huge thanks to you both Alex and James and big thanks also to your photographer Steve Rooney of Natural Touch Photography.
Ladies, you can see much more related content here; pastel colour weddings, country garden style, Summer weddings, afternoon tea and  DIY weddings.
Have a lovely afternoon all,
Love Annabel

Photographer – Natural Touch Photography
Venue – Tithe Barn at Meols Hall, Southport
Wedding Dress –San Patrick via Xquisite Bridal
Veil/Headpiece – crafted by the bride
Brides Shoes – Vivienne Westwood 'Melissa' shoes
Groom's Attire – Marks & Spencer + cravat via Swagger and Swoon
Bridesmaids – Hell Bunny dresses by Bobbi Lee
Bridesmaids Accessories – pastel coloured flowers from H&M
Flowers – Sweeneys Florist
Cake – Homemade
Transport – Citroen Traction Avant (the bride's fathers)
Entertainment – LJ Roadshow (DJ, Southport)
Stationery – homemade
Follow Love My Dress® on Google+