Hey there lovely one, grab a seat, pull up a pew, warm your hands around a cup of tea (Yorkshire for me please) and prepare to enjoy the next five minutes getting lost in a world of pastel pretty summer wedding inspiration.
Sarah, a Paediatric Doctor married Pete, a Policeman on 11 August 2012 at Duddingston Kirk, followed by a ceremony at Kirknewton Stables, both in Edinburgh. Their day was inspired by one of Sarah's favourite books, The Great Gatsby, vintage pieces and lace – and since they were becoming 'Mr and Mrs Sparrow' – birds also featured throughout.
This is such a glamorous country wedding – I adore how happy everyone looks and I love how effortlessly glamorous Sarah looks – it's so lovely to see a bride wear her long hair in a loose wave.
Photography Copyright (c) 2014, Craig & Eva Sanders
"Pete and I met at University, now nearly 10 years ago, not very romantically in the Union Bar! I'd describe us as a bit of a Country and Western Love song. We've had our ups and downs but we have grown up together and truly are best friends, and so happy in each other's company.  We were engaged a year and a half before the big day.
Pete proposed on a walk in the Pentland Hills (just behind our house) quite unexpectedly one sunny afternoon. Apparently he had planned it all for the week before but then I got flu. I wondered why he kept asking me if I felt 'better yet?' (I thought he was being unsympathetic!)."
"Duddington Kirk is one of the oldest churches in Scotland. It is absolutely beautiful and sits in a little village on the edge of Arthur's Seat in Edinburgh. The minister, Rev John Jack, is just wonderful, very funny and kind.
Quite importantly for our friends there is also a magnificent pub across the road called the Sheep's Heid Inn, which has an old fashioned skittle alley and a sunny courtyard that kept our guests occupied before the ceremony."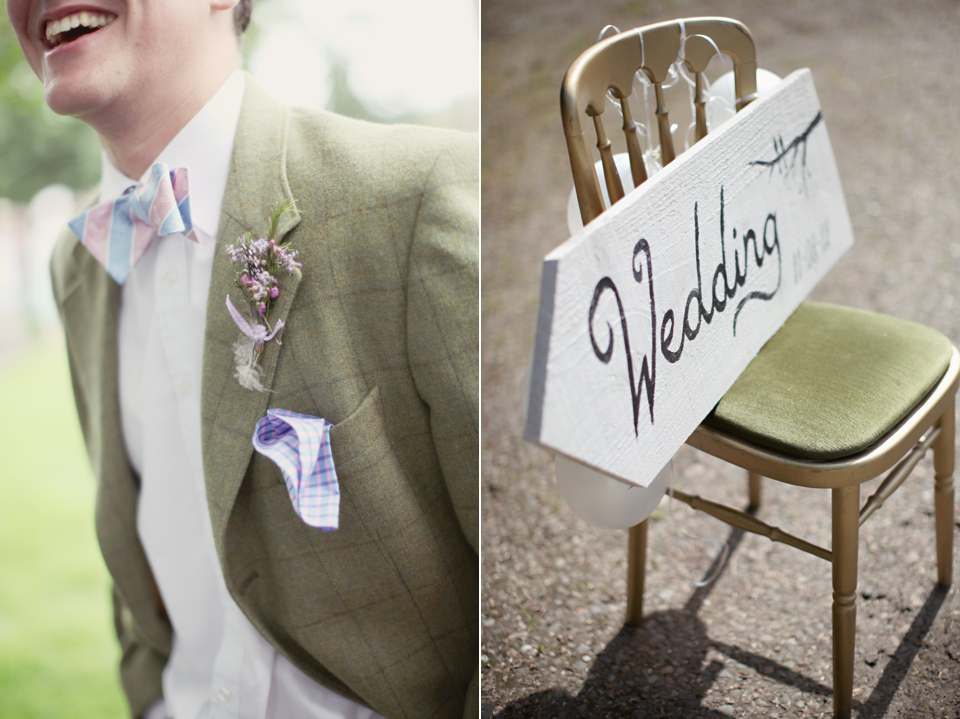 "Our venue Kirknewton Stables was the only place we looked at. It is a converted stable block within a pretty walled garden with plenty of outdoor space and chickens running around. We wanted a really relaxed, fun, garden party atmosphere for our guests. Also, It is hired out as a blank canvas (only tables and chairs included) so allowed us a lot of freedom to use our own catering company, florist, décor etc.
Thankfully we had the ONLY day of sunshine all Summer."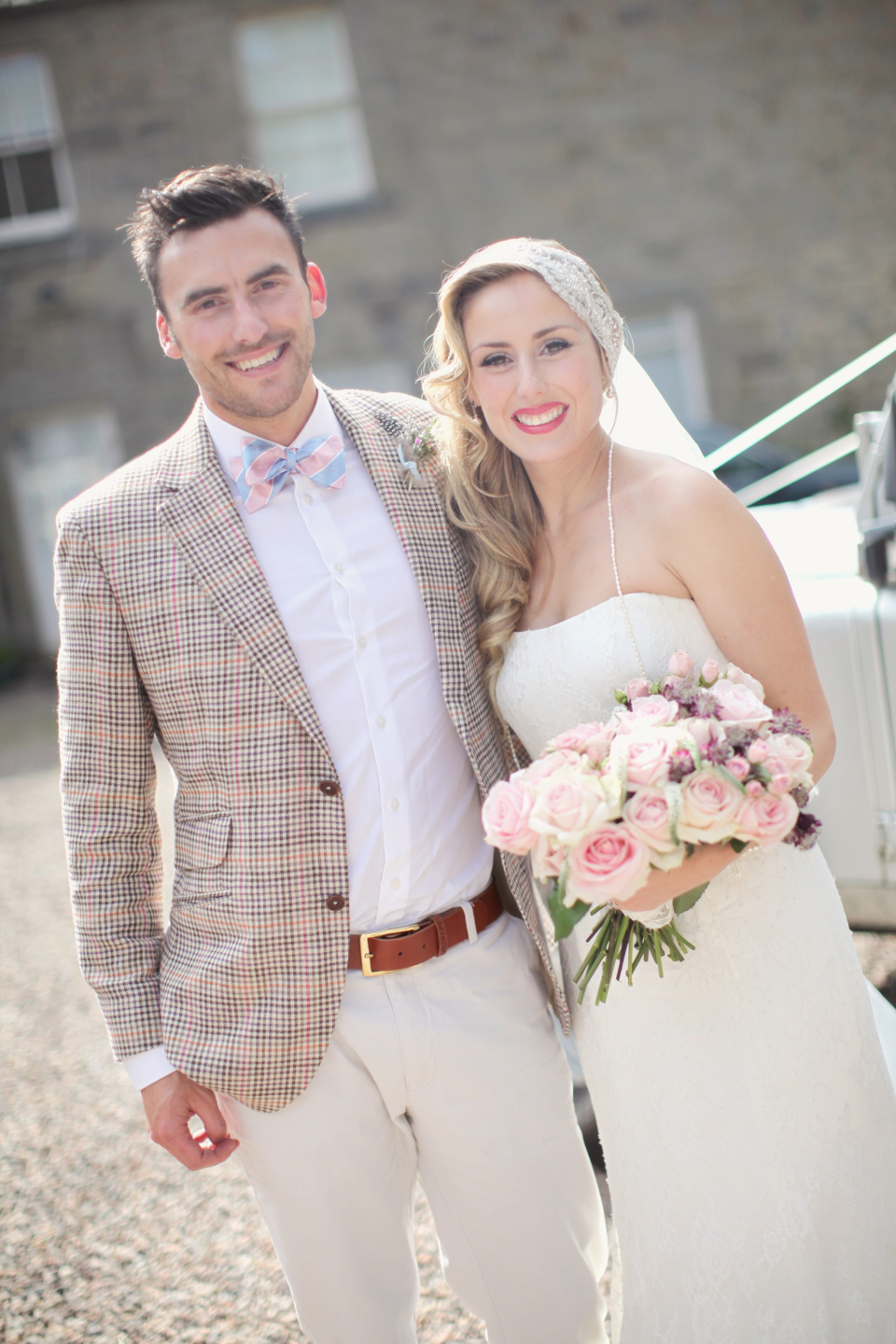 "My dress was from a sample sale being held at Sassi Holford.  I fell in love with my veil before the dress so I needed something which was simple and elegant to go with it. I loved the soft vintage lace and fishtail shape, it draped beautifully when I walked."
"However, I bought it and then worried it was too plain! Whilst in 'Armstrongs of Edinburgh' (a vintage clothes emporium) I found a dress with gorgeous corded lace, so I removed it and had it stitched on to the middle of my dress. It finished it off perfectly."
"Our flowers were styled by my mum.  We went to the Glasgow Flower Market at 4am a few days before the wedding. We chose neutral shades and in-season blooms. I wanted a relaxed, vintage garden party/meadow theme. My mum also handpicked, sorted and dried all the cherry blossoms which went into the petal confetti.
We also hired Be Eventful for on the day co-ordination (essential for a DIY day!).  A super sister team. They rallied amazingly well and worked flat out when we had problems with bar/waiting staff."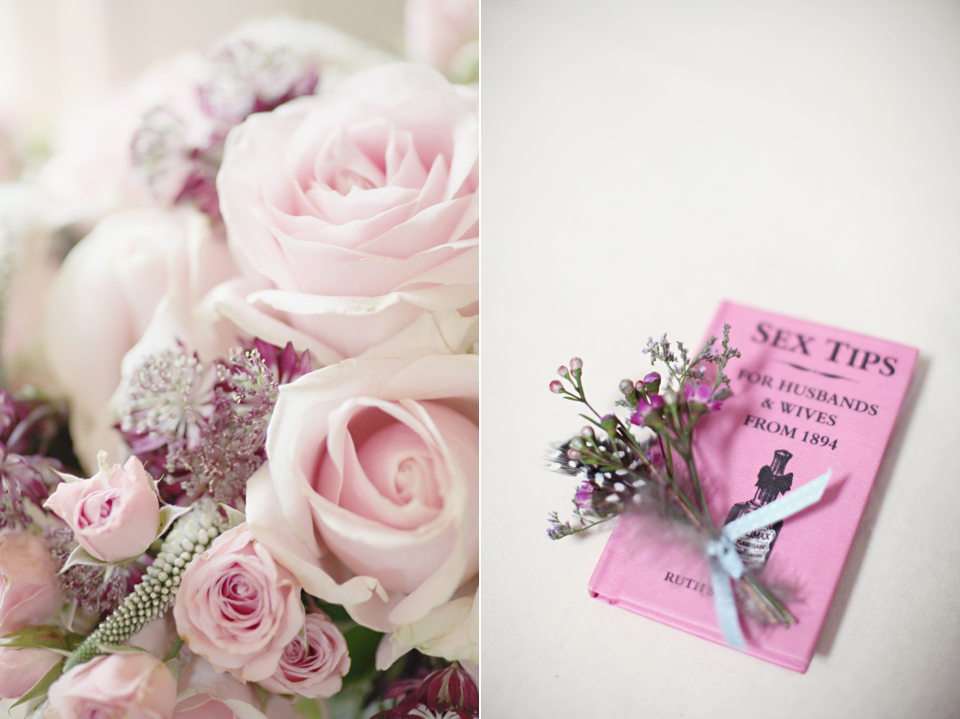 "My bridesmaids wore dresses from Oasis and H&M and their beaded shrugs were from EBay. I hate it when bridesmaids look like identical fembots (!), so I went for the mismatched look in neutral shades with a bit of sparkle and a hint of 20s with long pearl necklaces.
I had my sister, Victoria, Pete's sister, Beth, two of my friends from University, Vikki and Allana, and my niece, Katie, as a flowergirl – she wore a dress from Monsoon."
"Because the venue was so plain, I went to town on the décor! We had fairy lights, origami cranes and paper chains made from old music sheets and strings of hearts cut out from old maps and 60 meters of cream vintage lace bunting (made by my Aunt Jackie). Black and white photographs of scenes from the 1920s, an old picnic basket to collect the cards, vintage bird cages and jars with twigs and birds dotted around the place. Old hand blown/cut glass vases were sourced from charity shops.
Quotes from the Great Gatsby and Victorian bird prints on the table. Old playing cards for table numbers were held to the vases with glitter covered pegs. A mismatched trio of vintage cup/saucer/plate and vintage silver cutlery for each guest.
The couple used Meryn for their wedding invites but DIY'd almost every other paper aspect of their wedding day.
"Our invitations were based on our vintage tea cups and saucers, which were painstakingly sourced over the year before the wedding!  Our table place was a DIY project, as were the luggage tags, each of which were hand-stamped and tied with ribbon to vintage tea cups."
Pete wore a tweed suit from Hackett, a bow tie that was designed by his best man and a pair of sparrow cufflinks from Etsy.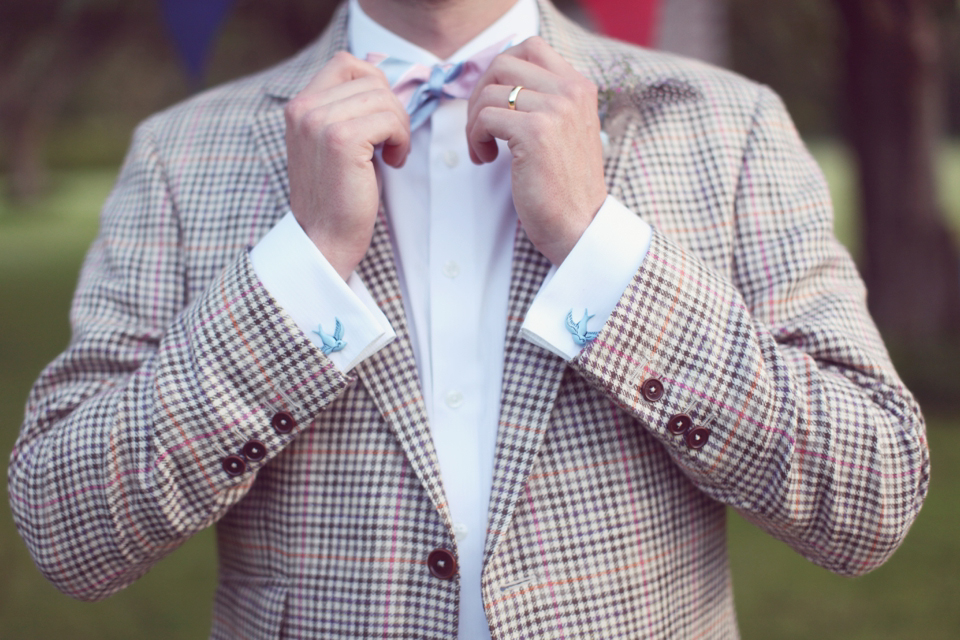 "Pete had two Best Men – Chris and Magnus. Chris made the funniest speech we have ever heard. Everyone is still talking about it. It was based on the idea that Pete wrote a diary called 'Fifty Shades of Tweed'.  The groomsmen each had personalised belts made by www.meryn.co.uk Luxury Leather Accessories Made in Great Britain (company owned by Pete's talented sister Beth).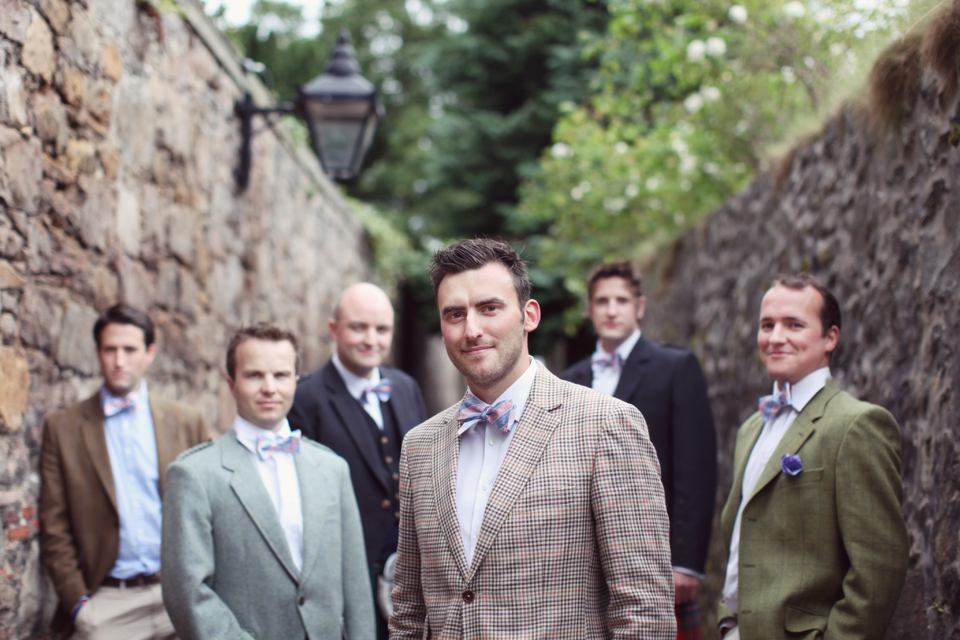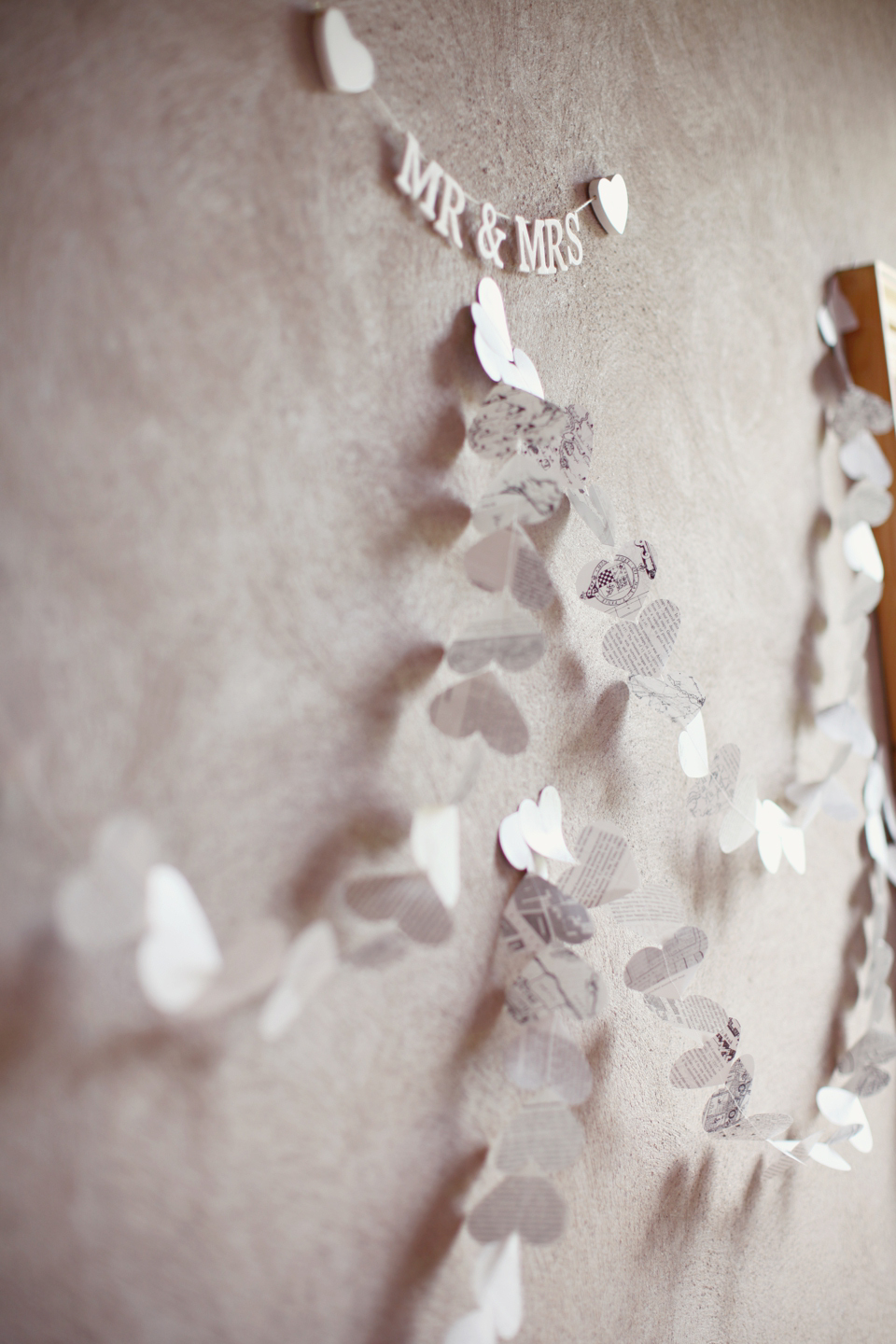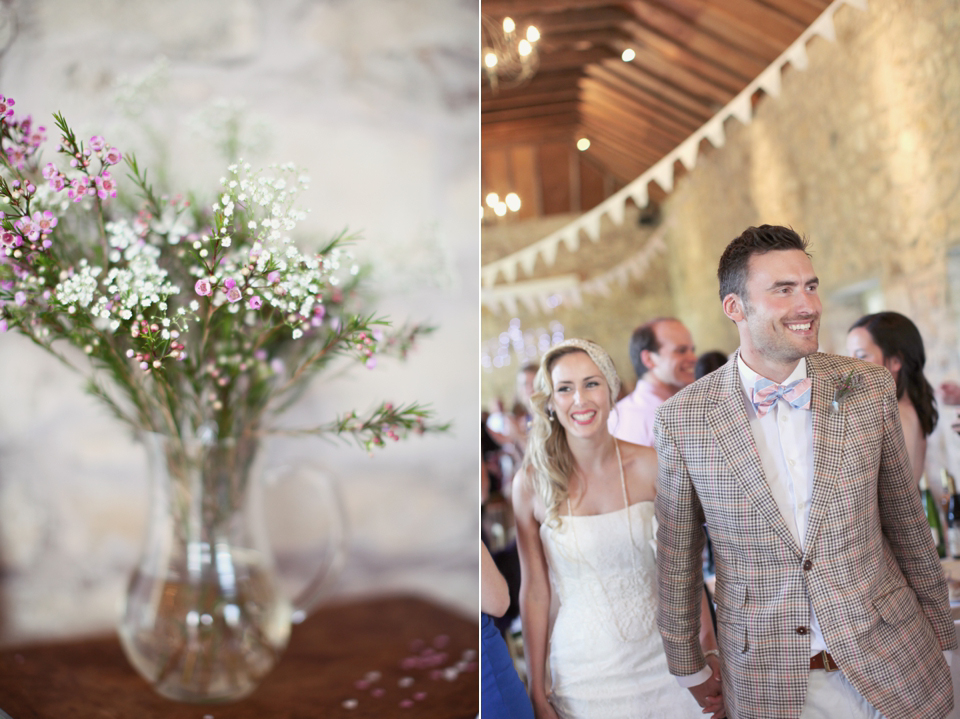 "Our catering was provided by Stag & Sparrow – our own company, built on the success of catering for other smaller events and our own love of good food.  This meant Pete and his Father, Phil, did all the food for the wedding! We had a canapé table complete with homemade breads and dips and a leg of Parma ham (to carve yourself), starters of homemade Rillettes and Pates, a Hog Roast (via Sizzling Pig), a seafood buffet, a huge spread of sides including delights such as peashoot and pecorino salad, cheese boards and then slow cooked beef shin chilli, nachos and guacamole for the evening.
We sourced all our own wine & champagne (Moineaux – which is French for Sparrow) during a trip to France and served Pete's Late Grandpa's Homemade Desert Wine (made from the fruit he grew in his garden)."
"Pete's mum made our cake – it was a magnificent ombre sponge cake with Italian meringue icing. I hand stitched the heart cake toppers.  We also had a desert table (made with lots of help from friends) filled with cookies, cupcakes, brownies, macaroons, cinnamon buns, strawberries and marshmallows to toast on the fire pits we set up in the evening."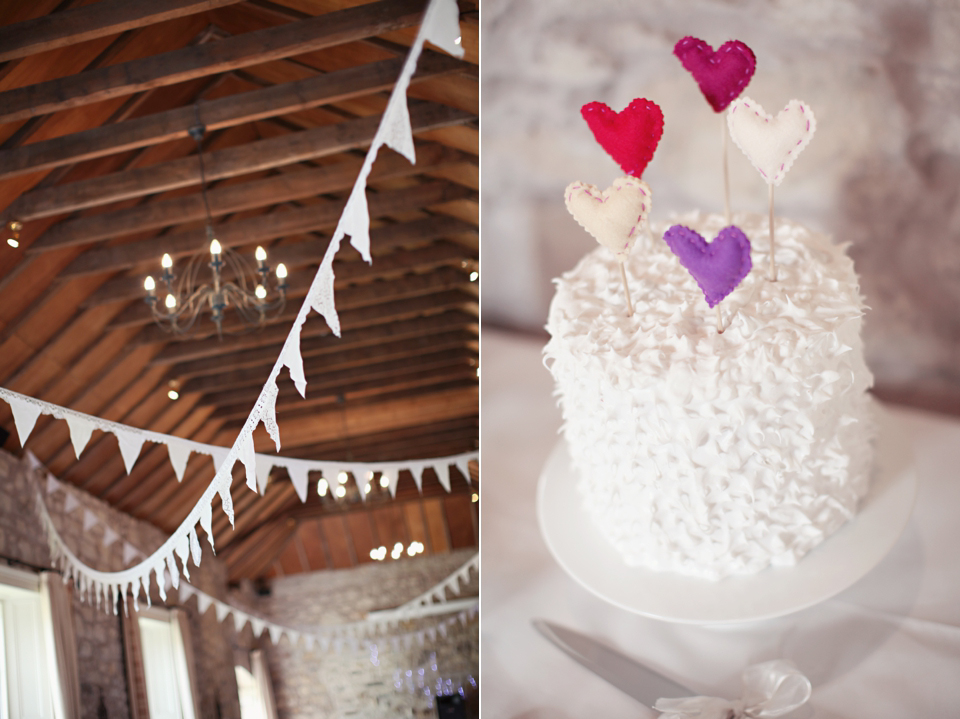 "Our photographers were Craig & Eva Sanders (THE most wonderful photographers you could hope for. We have nothing but praise for them. They were professional, friendly and so talented. We loved their enthusiasm; you can tell that they absolutely love what they do.
The photos they took are exquisite, so full of light and in my opinion their fine-art style photography is up there with Elizabeth Messina or Jose Villa.  My sister has booked them for her wedding in September and two of our friends, Ross and Sam, had them for their wedding last year on the basis of how amazing they are!"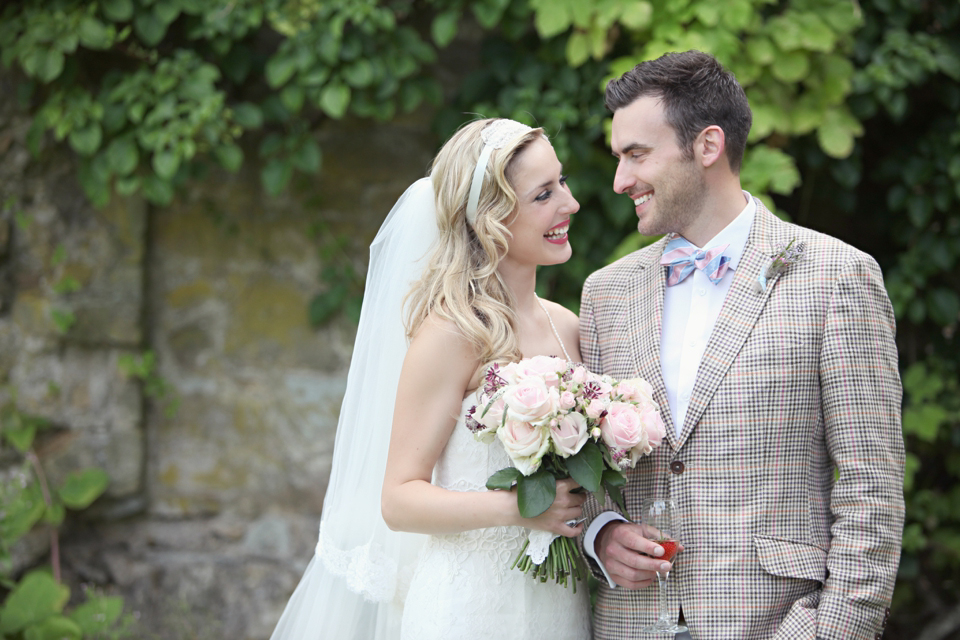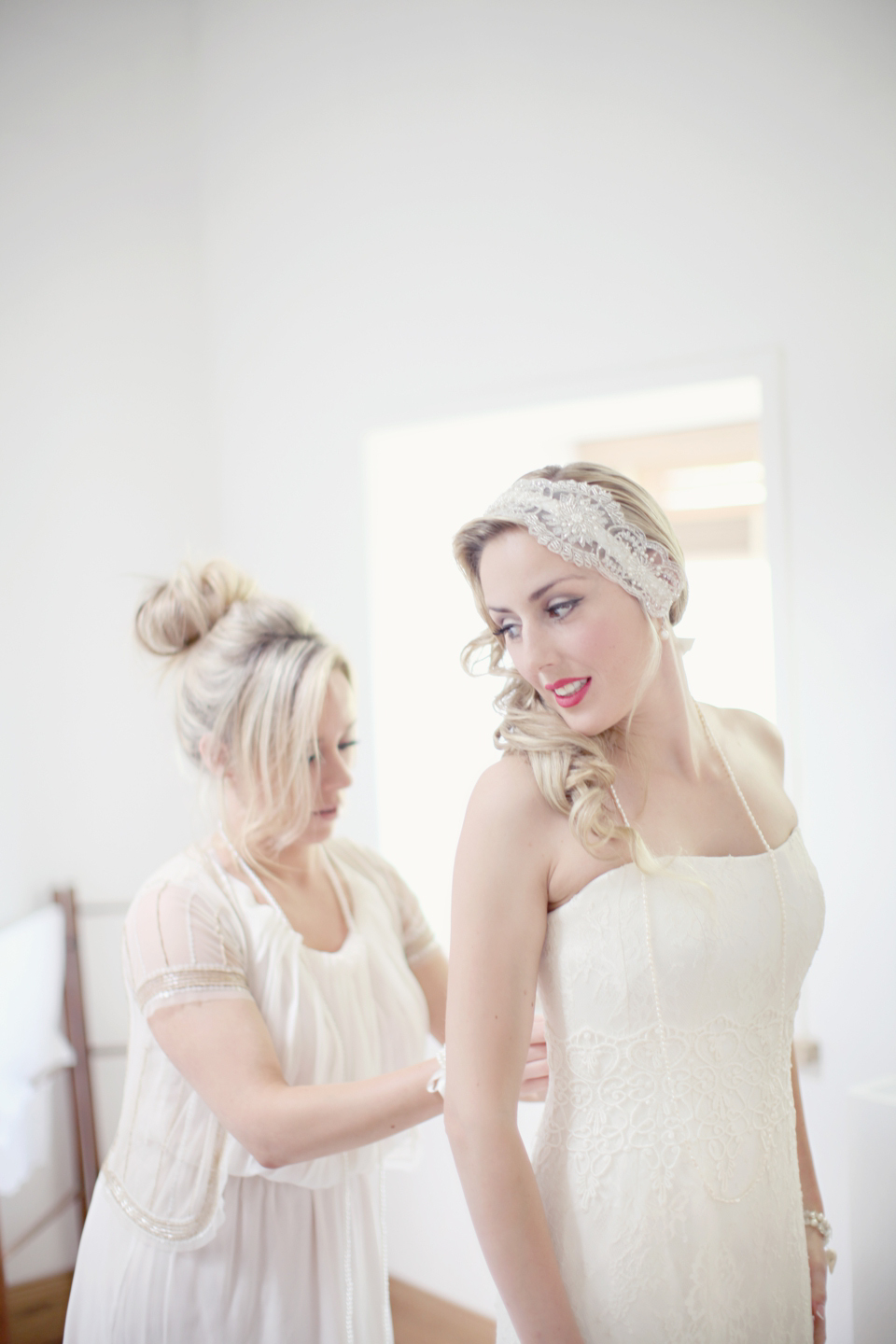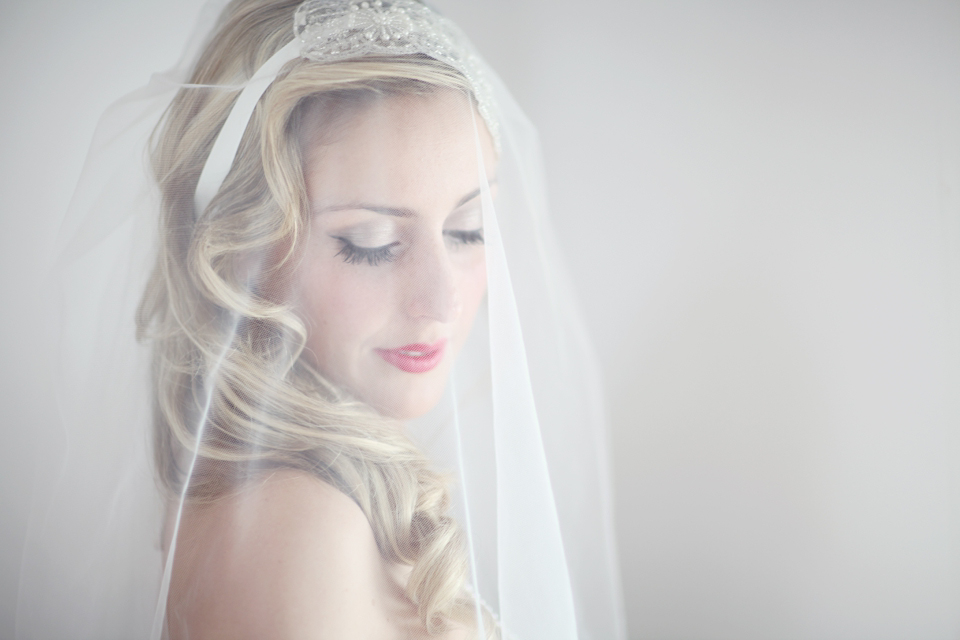 Sarah wore a pair of Vivienne Westwood Melissa shoes that she purchased from Selfridges; "they were lovely and comfy and quirky, and they had little skulls on them!"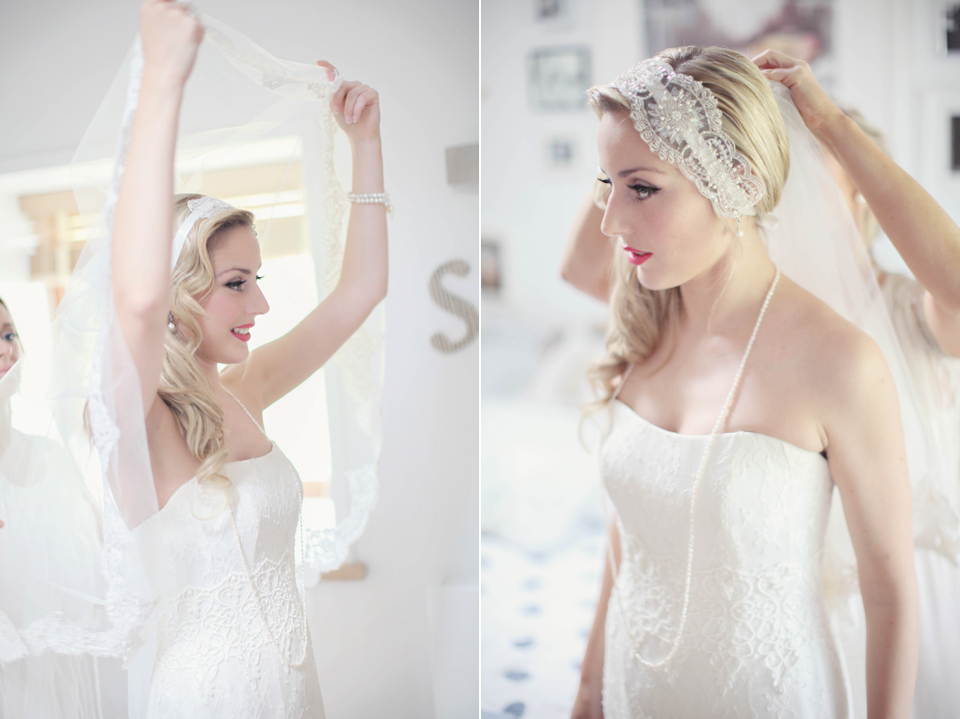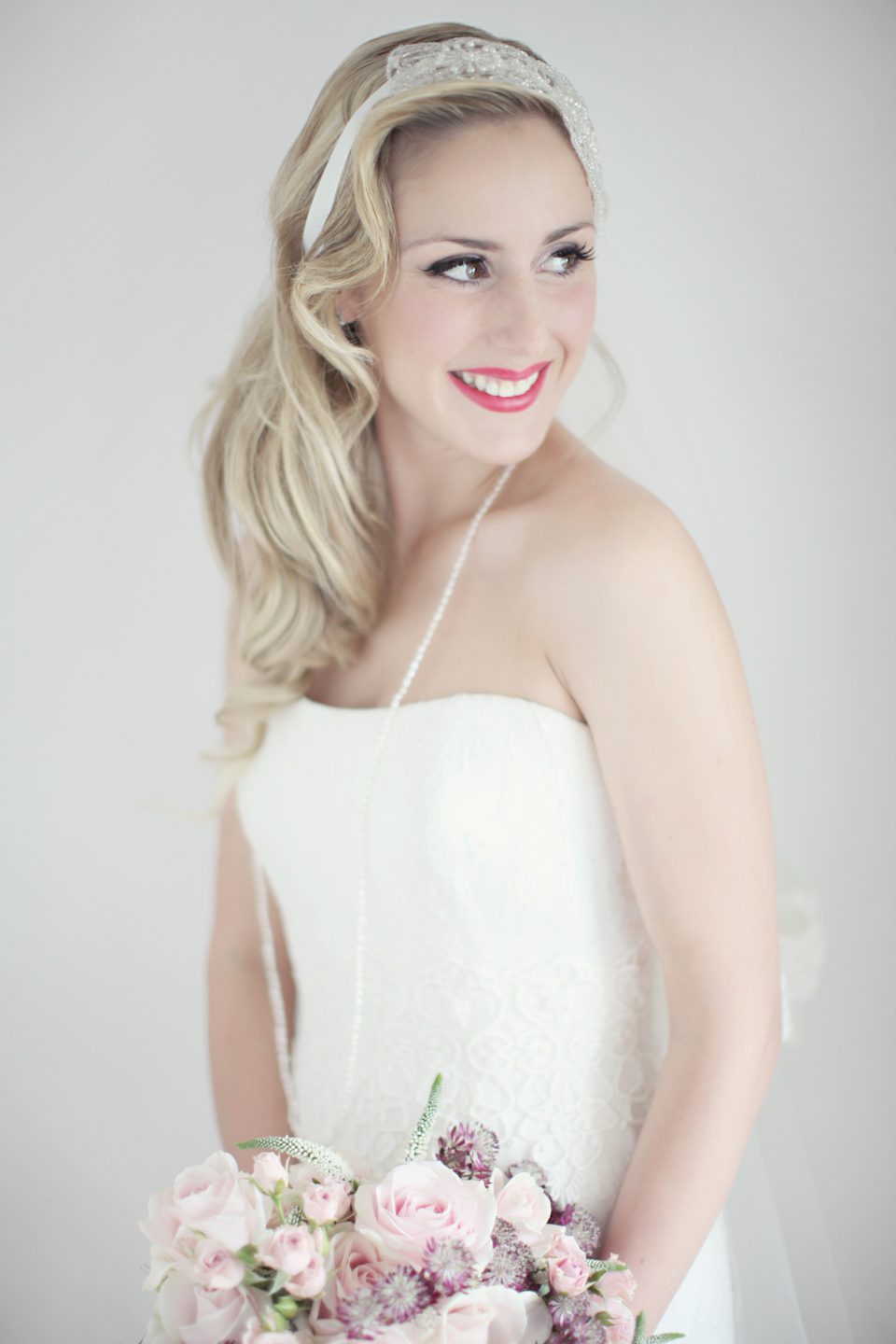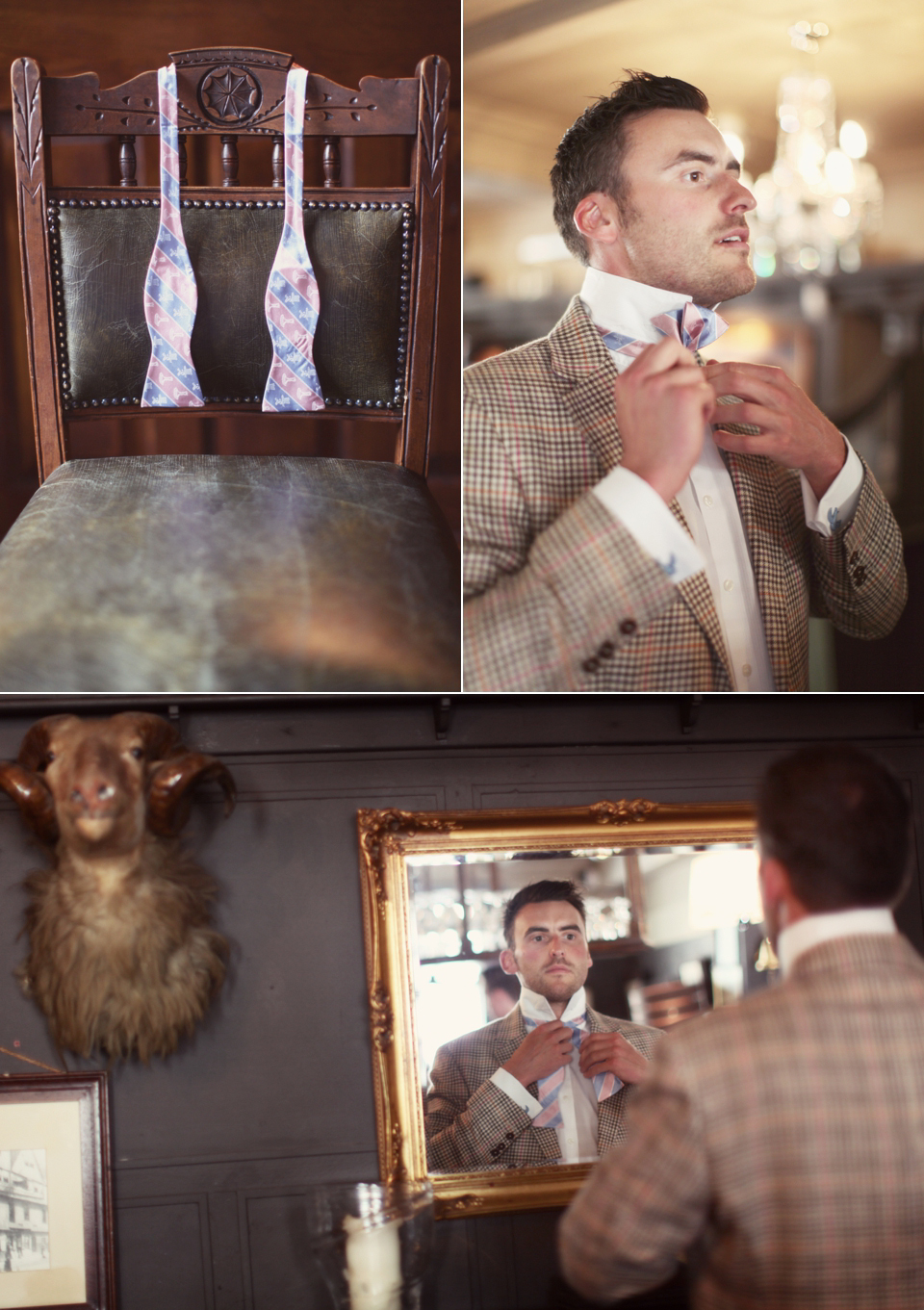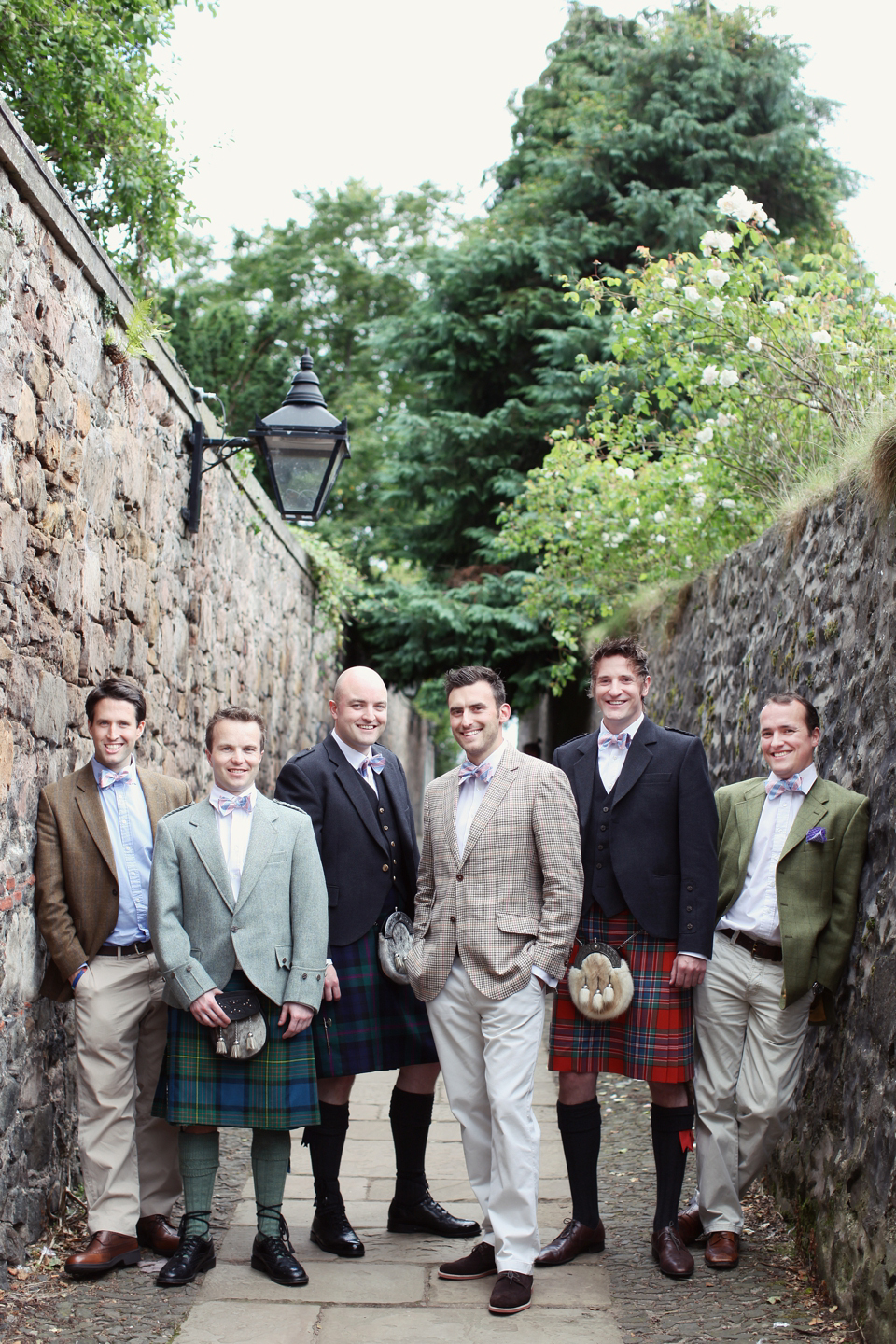 "My Stepdad, Peter, (my own Dad passed away more than 15 years ago) walked me down the aisle to the sound of Nella Fantasia sung by Claire Semple http://www.clairesemple.com.  Our readings included 'Blessing for a Marriage' by James Dillet Freeman 
'May you always need one another – not so much to fill your emptiness as to help you to know your fullness. A mountain needs a valley to be complete; the valley does not make the mountain less, but more; and the valley is more a valley because it has a mountain towering over it… May you have happiness, and may you find it making one another happy.' Wonderful words of wisdom.
We also had Colossians 3:12-17 'Therefore, as God's chosen people, holy and dearly loved, clothe yourselves with compassion, kindness, humility, gentleness and patience. Bear with each other and forgive one another if any of you has a grievance against someone. Forgive as the Lord forgave you. And over all these virtues put on love, which binds them all together in perfect unity. Again wise words and something different to Corinthians (I think I may scream if I hear that at one more wedding!)."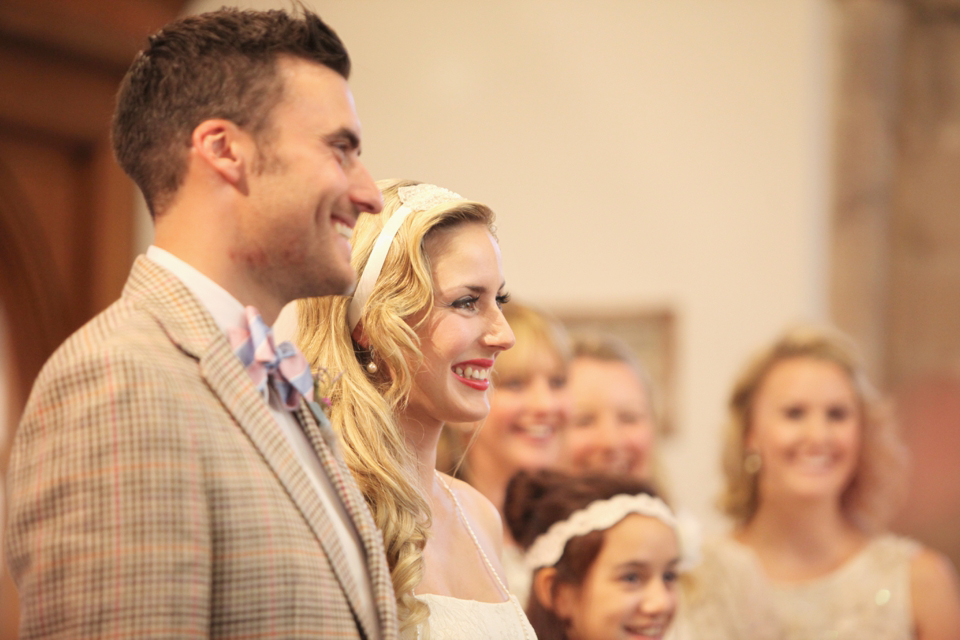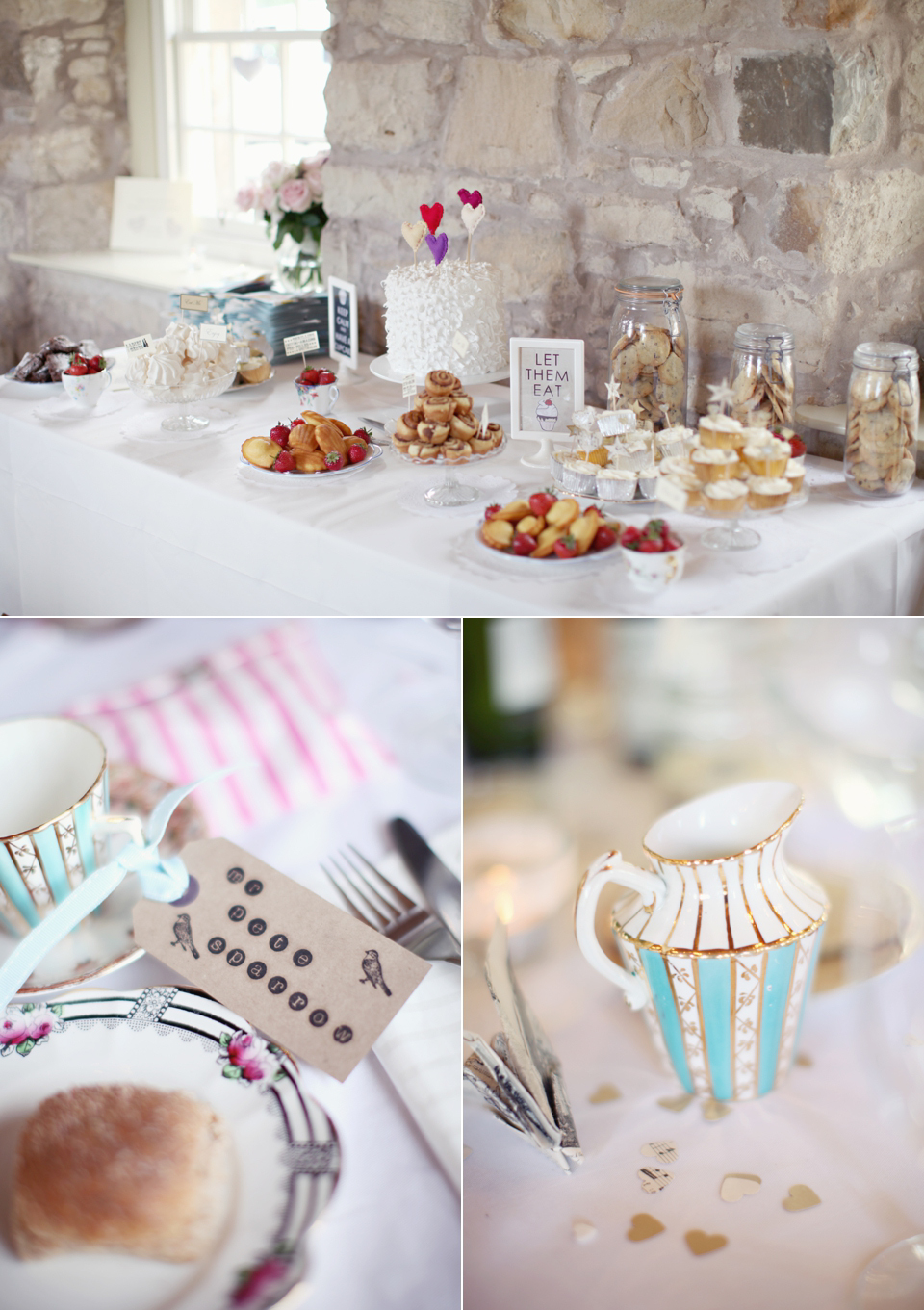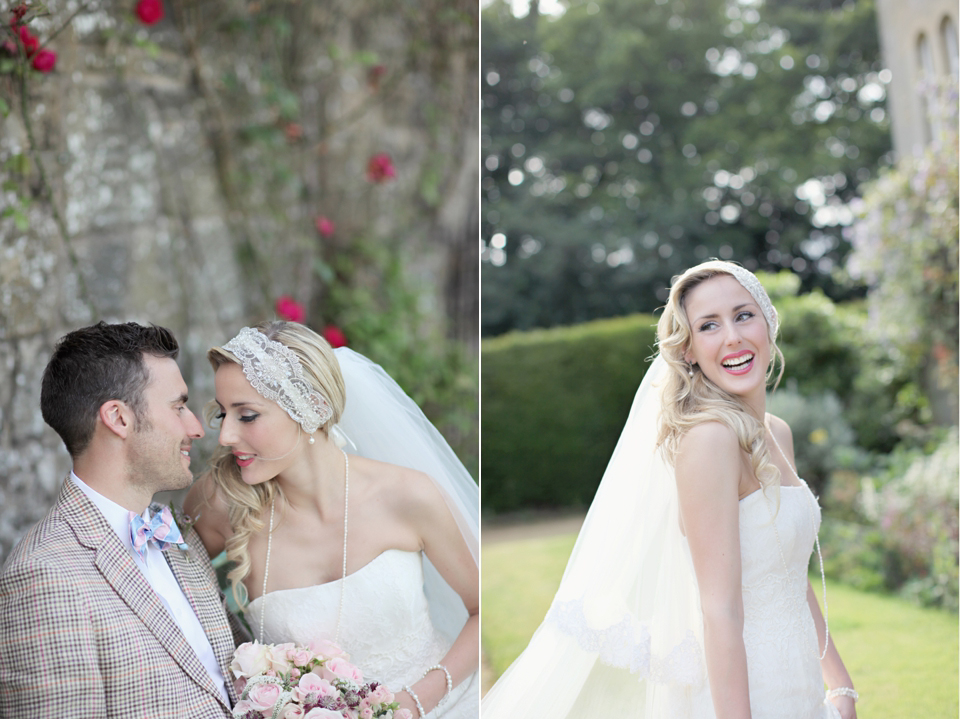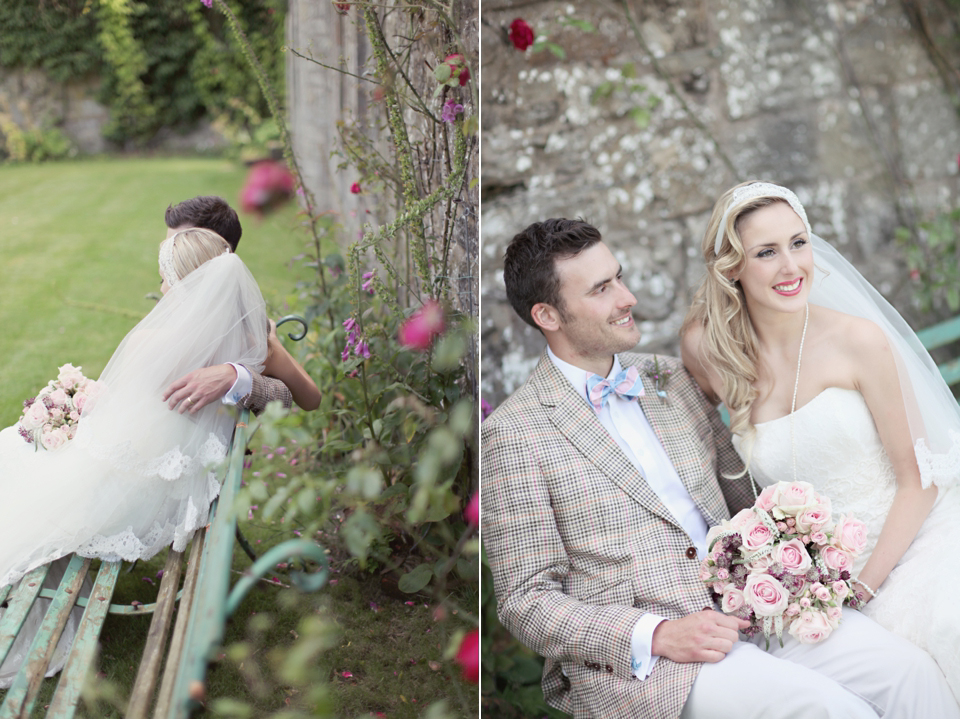 "We had sparklers and fire pits with benches around (which went down very well in the evening). As a budget alternative to a photo booth, I set up my own camera on a tripod, bought some fancy dress gear and some fabric for a backdrop – we had a cigar and snuff bar for guests who enjoy nicotine flavoured entertainment."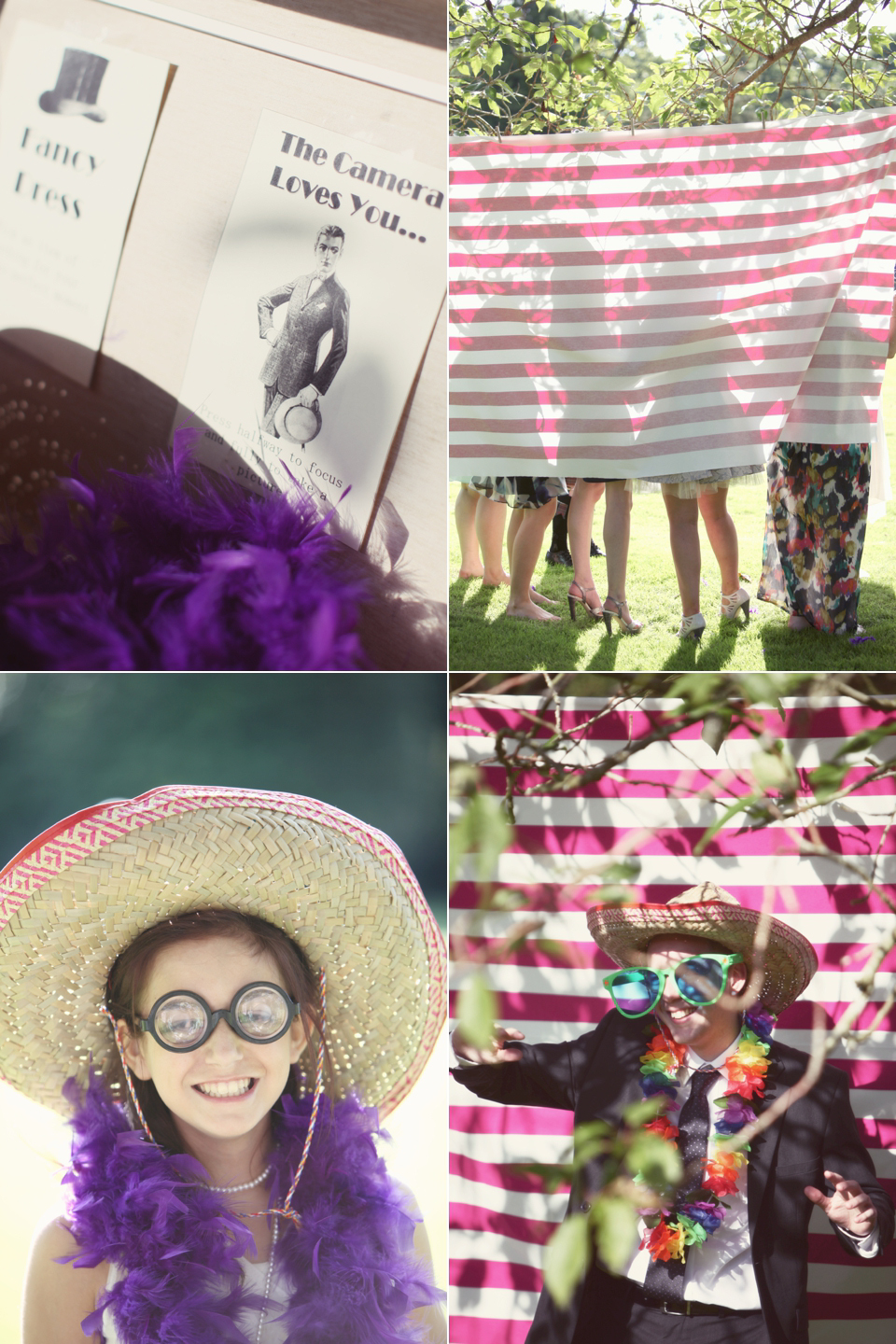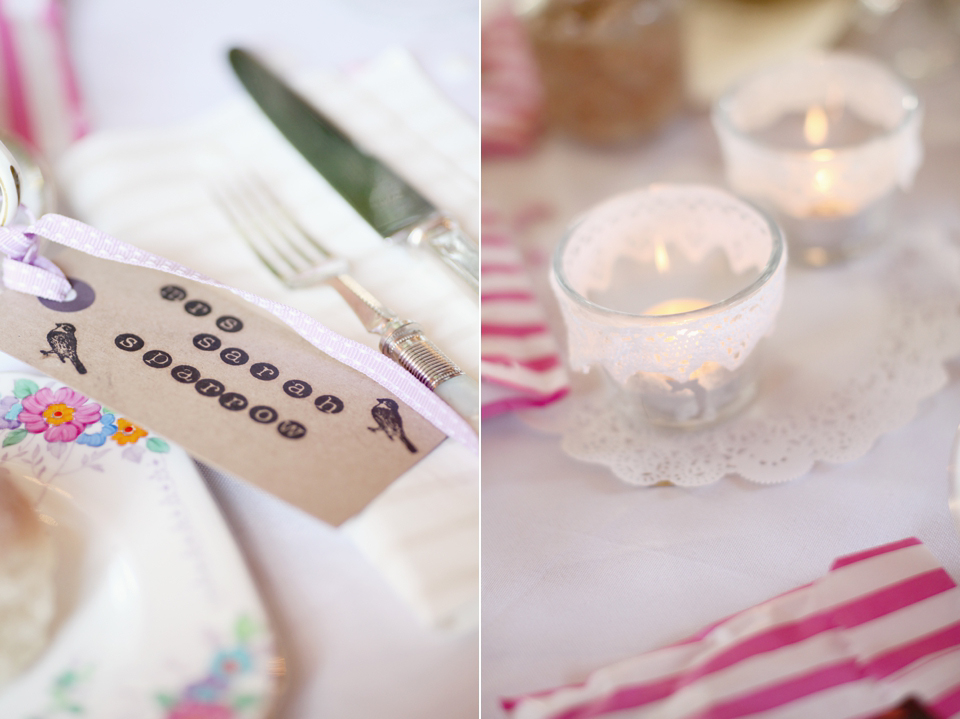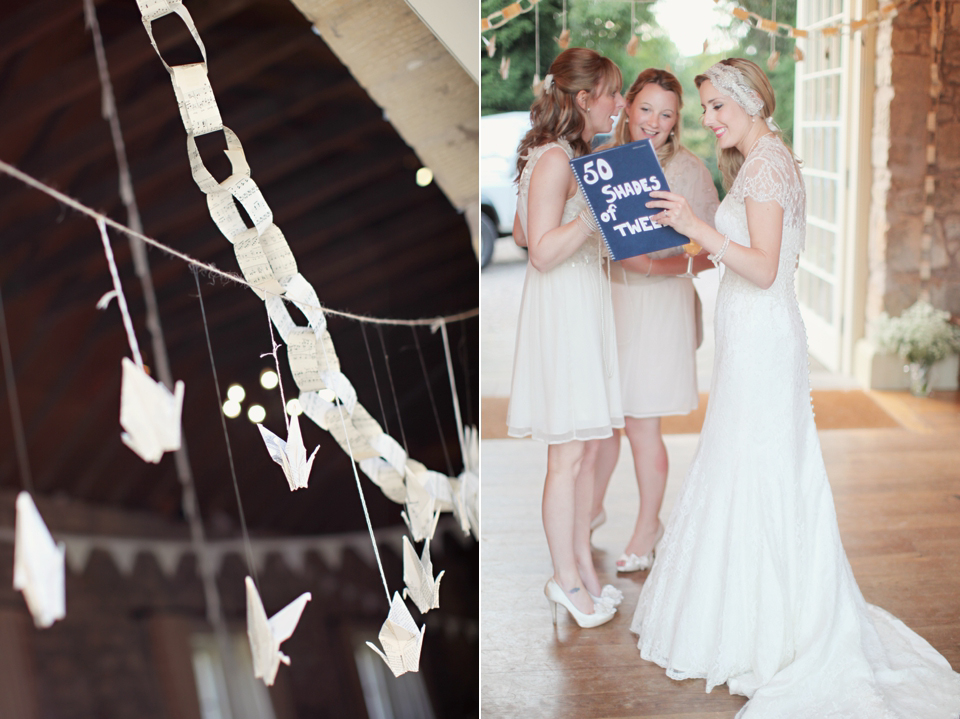 "When we think of our favourit parts of the day – I loved the anticipation in the morning, arriving at the church and walking up the aisle towards Pete, seeing all our friends and family smiling and hearing our wedding singer sing so beautifully. The service was made so fun by our Reverend too. It was perfect. Pete – I loved everything! The ceremony, the speeches, the food (especially the Hog Roast), the champagne, the fire pits and my Grandpa's wine were particular highlights."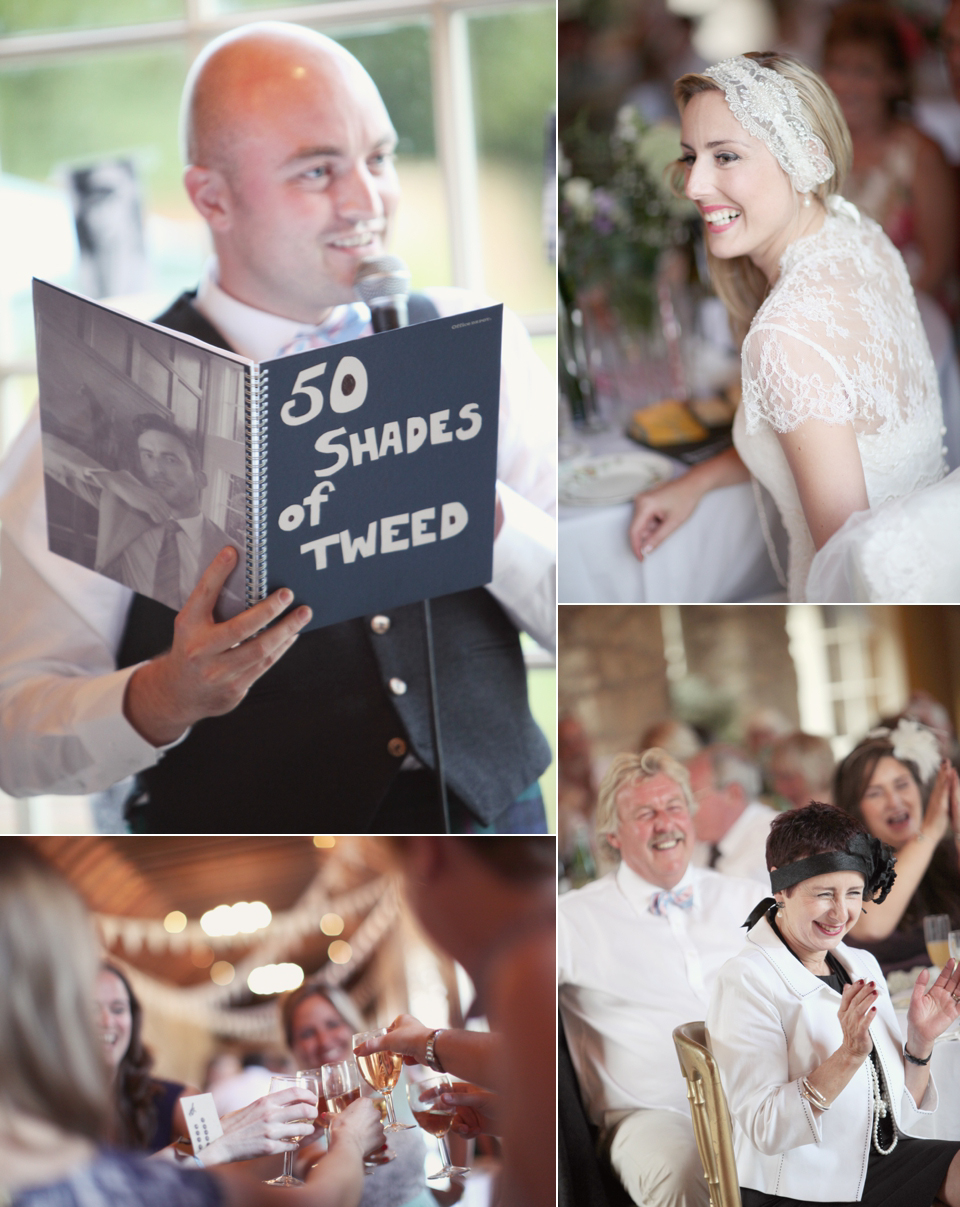 "Our first dance was to 'Mexico' by the Staves – our favourite band. It was romantic without being too soppy. Look them up on itunes. You will fall in love with their melodies!"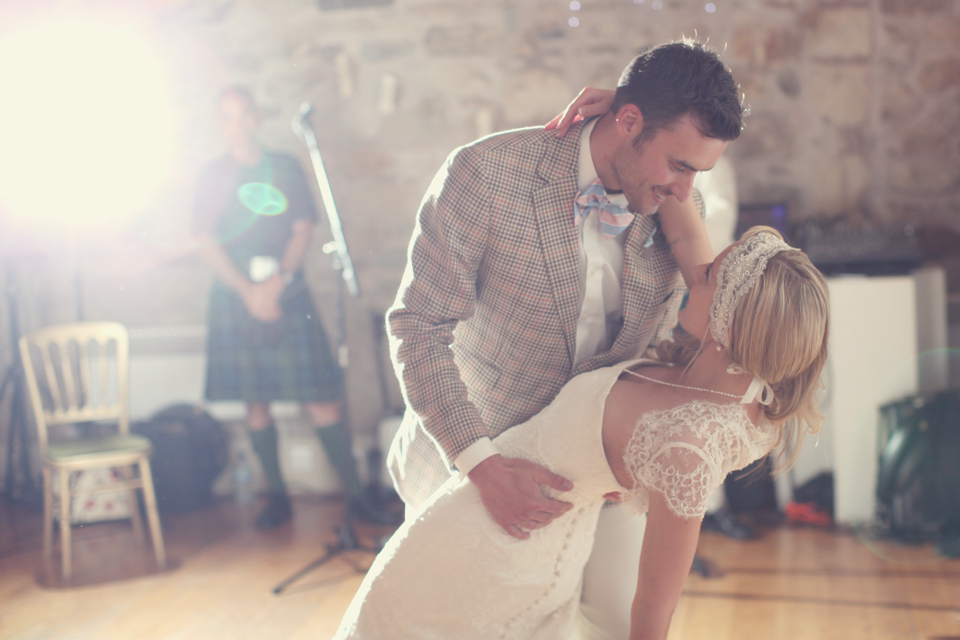 Words of Wedded Wisdom…
"Let go, have more champagne than you should and dance on the tables with your new husband and friends (this advice is probably best followed after the meal though). Fill your day with love and laughter. Remember your guests are (and make sure this is true) your most special friends and family. They won't judge you if the bridesmaid dresses don't perfectly match the flowers or the best man gets drunk and tries to kiss your granny. These unexpected moments usually make for the best memories.
I wish I had asked for more help. I underestimated how much work a DIY day would entail. There were so many details to arrange, I was still running around the night before and morning of my wedding! I was exhausted!"
"Pete says he wish we'd booked a different bar company. They were a disaster unfortunately. If something seems too good to be true it probably is. They promised us free glass hire and then didn't deliver on this (queue people drinking out of teacups – which made for great photos). They turned up with less staff than we paid for. Also initially they were happy with the selection of free drinks we were planning to offer to our guests on arrival (including Mint Julep cocktails, Pimms and G&Ts) but then phoned us the night before and threatened to pull out unless we restricted the wine on the tables and only offered Champagne as a welcome drink.
Send your thank you cards promptly (remember everyone gives a lot, even if it's just by being there). Take a moment the day after to individually write down your memories of your day. It's amazing what you'll forget in the years to come and having it there in writing is a wonderful reminder."
A fun and elegant celebration with possibly the most beautiful couple ever to grace a wedding blog!
Huge thanks to Sarah and Pete for sharing their beautiful day and thanks to some of my favourite fine art photographers out there, the very lovely Craig and Eva Sanders.  You can see more from Craig and Eva on Love My Dress here.
Hope you've enjoyed this wedding – we heartily recommend a good pinning session now – you can thank us for recommending this later 🙂
Love Annabel
Photographer – Craig & Eva Sanders
On the day co-ordination + styling – Be Eventful
Venue – Kirknewton Stables, Edinburgh
Brides Dress – Sassi Holford
Brides Veil – Caroline Castigliano
Brides Shoes – Vivienne Westwood Melissa from Selfridges
Brides Accessories – 1920s style headband from PanPan Bridal Edinburgh
Grooms Suit – Tweed jacket from Hackett + sparrow cufflinks from Etsy 
Bridesmaids – Oasis + H&M + shrugs from EBay
Flowergirl Dresses – Monsoon
Flowers – the bride's mum
Cake – the groom's mum
Rings – Clarkson's of Edinburgh
Catering – Stag & Sparrow
Wedding stationery (invites) – Meryn
Table Plan, place cards, order of service, guest tree – DIY By the bride
Hair Stylist – Miss Dixiebelle
Follow Love My Dress® on Google+