Good morning beautiful, it's so good to have you here.  I do so love to welcome you back after a restful weekend with a wedding just like this one. Illustrator Emma and her husband James, who is a legal secretary, tied the knot on 2nd November last year at The Crucible Theatre, followed by a reception at Leopold Hotel – both in the city of Sheffield.
I love these photographs by India Hobson – they so wonderfully document a very elegant, vintage meets modern-city style celebration.  Emma's original 1930s gown with that eye-catching cloudburst pattern is divine and I adore how she teamed it with a Japanese style Kimono – the city backdrop really adds to the cinematic feel of this celebration.  Enjoy my loves…
"I love Sophia Coppola's films, in particular Lost in Translation. Set in Tokyo, it's such a quietly romantic film and very much about the experience of a city – and how the changing light throughout the day can change the feel of a place.  The Adelphi Room has floor to ceiling windows on three sides, and looks out over the city. We held our ceremony at dusk so we could see the light changing and the city lighting up."
Photography Copyright (c) 2014, India Hobson
"James and I met in a pub in Sheffield. I was out with my friends and they knew some of James' friends, so we just got talking. He made me laugh and the time went so quickly. When I got home I looked up his band online – James has such a lovely voice – and the rest is history. The day before we got engaged we went hunting in the antiques quarter and found a diamond ring and a vintage watch. The next day we packed a picnic and sat on a blanket by the lake in Crookes Valley park.
We proposed to each other – we both said something heartfelt, exchanged the watch and ring and toasted our engagement. Then we got caught in the rain. For us, it was perfect. We make a lot  of our important decisions together, and this was one of the biggest of our lives. We got married fourteen months after our engagement."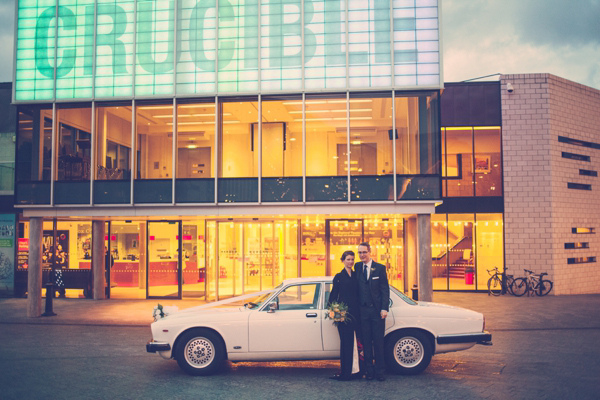 "We held our ceremony in the Adelphi Room at the Crucible Theatre in Sheffield, followed by dinner and dancing at the Leopold Hotel, just down the road. As we've shared some amazing times there, it was really important to us that we tie the knot in our home city.
The Crucible Theatre is architecturally stunning – very light and minimal inside – whereas the Leopold Hotel is quite dark and imposing. It used to be a nineteenth century boys grammar school and they still have the original mahogany school fireplace and clock. It felt cocoon like, softly lit with candles.
We chose the venues really carefully to give us the feel that we were looking for without the need for decoration. Both the rooms were so beautiful in their own ways, the flowers and candles were all they needed."
"The Leopold Hotel provided dinner, wine, champagne and an evening buffet. The level of service and the quality of the food and wine made the whole event feel luxurious.  Jo at the Leopold was brilliant, co-ordinating the entire reception and meeting with us to answer our ever growing list of questions. Grace at The Crucible was a god send – she took care of everything and thought of amazing little details like arranging the ceremony chairs in a circular design to make the ceremony feel less formal.
Despite having a sit down dinner we wanted the evening to feel relaxed, so James put together a playlist with artists like Nick Drake and Air to be played throughout the meal. We then had an age-independent playlist for the evening, with lots of Roxy Music, The Smiths and Bowie to get people dancing. We hired a PA from Sheffield PA Hire and a friend took charge of it for the night."
"I found my dress at Abigail's Vintage in Oakham – it was the first dress I tried on, an original 1930's ivory silk wedding gown with a long train and cloudburst pattern. Vintage silk is incredible to wear – the way it moves is so different to modern fabric."

"Jenn Edwards did my hair and make-up. From looking through the images on her site, I knew her soft, romantic style would go perfectly with the 1930's dress and we got on so well at the trial.  Jenn is so lovely and we tried a few different looks before settling on an unstructured plaited chignon and natural make-up. She worked some considerable  magic on the day and made me feel like a million dollar married lady."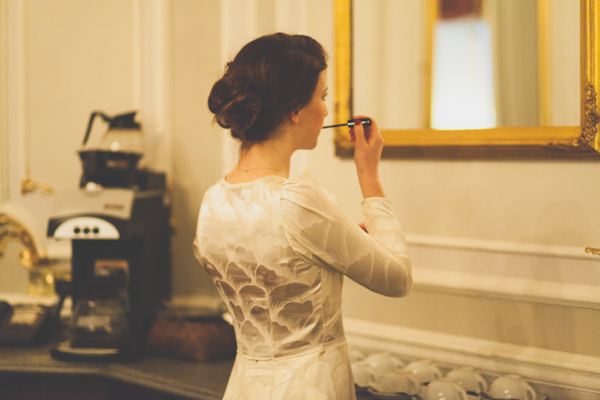 "I chose a black Tomesode kimono as an over-garment, which Abigail of Abigail's Vintage tailored into a long jacket. We added a hook at the back of my dress to pin it up so it didn't show beneath the kimono and also so I could have a dance! I still love my dress so much – I feel like James and I are part of its story now."
"The bridesmaids dresse were from Coast, All Saints and House of Fraser.  I asked the girls to choose a dress and shoes they felt good in, rather than choose something for them. We went shopping together, which was a lot of fun, and it was brilliant to see their personal style. They all looked drop dead awesome, and did a superb job of propping me up and making me laugh when my nerves were frayed on the morning of the wedding."
"My dad gave me away – which was very emotional for both of us.  I walked down the aisle to Bjork's "Frosti", a really delicate harpsichord piece. 
To begin with we were going to use the pre-written regular vows. We're both a bit shy and the thought of saying our innermost feeling out loud was scary at first. But you get so far with planning a wedding and realise that none of it is about being on show, it's really about sharing your day with friends and family and telling the most important person in your life how much you care about them. So we wrote our own vows and jotted them down in little notebooks for the day (just in case!) and in the end our ceremony was the most special moment we've shared together."
"James' sister read a letter from John Steinbeck to his son, about love, with a beautiful line; 'The object of love is the best and most beautiful. Try to live up to it.' 
My brother read 'Colours Passing Through Us', by Marge Piercy, with an amazing line; 'Cobalt as the midnight sky, when day has gone without a trace and we lie in each other's arms, eyes shut and fingers open, and all the colors of the world pass through our bodies like strings of fire.'
I can't read either of these pieces now without welling up, they were both so special. My brother also gave a very emotive speech at the reception, which I'll always remember."
"My favourite part of the day was the ceremony.  I've never felt so overwhelmingly happy and tearful at the same time. The last month leading up to the wedding was a whirlwind – you're not sure if you're going to get everything done, or look OK, or remember your vows. And then all of a sudden, you're in a room with everyone you care about, standing in front of the most amazing person you've ever been fortunate enough to meet, and everything slows down and you feel so lucky."
"Our florist was Tracey of Campbell's Flowers in Sheffield, who created stunning arrangements, wrist corsages, buttonholes and bouquet – my bridal bouquet was show stopping. Meeting with Tracey in her studio, surrounded by beautiful British blooms was such a treat.
Tracey brought my ideas to life and the flowers worked so well with the clean lines in the Crucible, and soft lighting at the Leopold. We decided on Peach Avalanche roses, succulents, green bell, eucalyptus, cream lisianthus, peach dahlia and grasses."
"I designed our wedding stationery, and had it printed at Century studios in Nottingham – the perks of being an illustrator and graphic designer.
Unfortunately I didn't have as much time as I would have liked as I had a really bad case of shingles three months before the wedding, which took eight weeks to recover from. So everything was a little bit rushed, but sometimes making decisions quickly and not having time to procrastinate can produce really good work."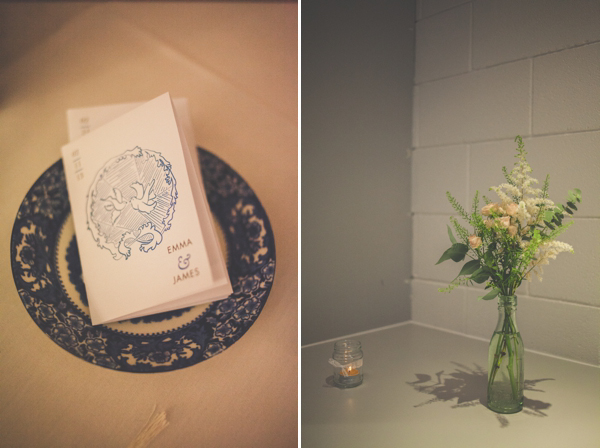 "The cake was made by Seven Hills Bakery in Sheffield and illustrated by my best friend, Adrianne Neil. Adrianne is an incredible illustrator and friend, and she basically made the most special and beautiful cake we could ever have hoped for. She also hand drew all the place cards, which was such a huge job and we'll be ever thankful to her. We didn't get a chance to eat any of the cake, but I'm told it was delicious – I would definitely recommend having someone put a couple of pieces aside for you!"
"We drew on a Japanese aesthetic, but tried to keep it subtle, so more of an accent than a theme – we included some sake bottles within the table arrangements and used willow pattern china as the inspiration for the place settings, invitations and cake."
"We managed to find an incredible photographer, India Hobson, who completely understood what we were trying to achieve.  She has a big thing for natural light and a  knack for seeing people and settings in unexpected ways. She was a rock on the day, when I was a bundle of nerves, and took the most incredible, quietly beautiful photographs of our day. We still can't stop looking at them.  India also introduced us to the videographer Lee Joseph Elliott, who completely exceeded all our expectations. Lee created a romantic, understated interpretation of our wedding day that is totally and utterly perfect.
The photographs and video are something we will cherish for the rest of our lives, and the amount of care and attention India and Lee put into it them blew us away."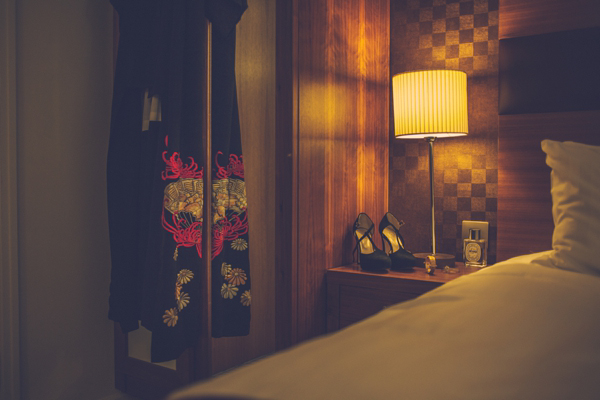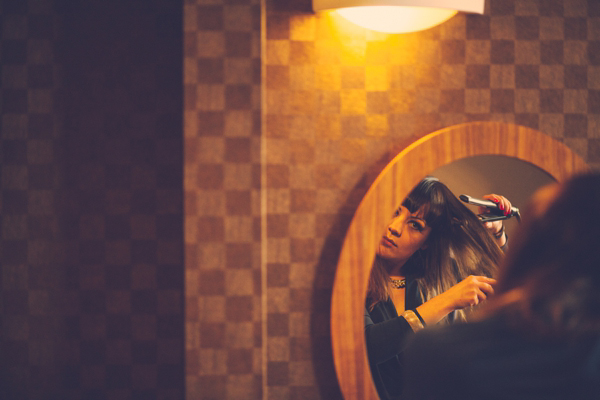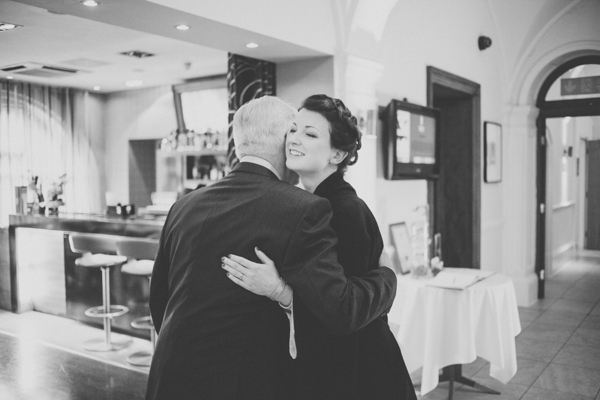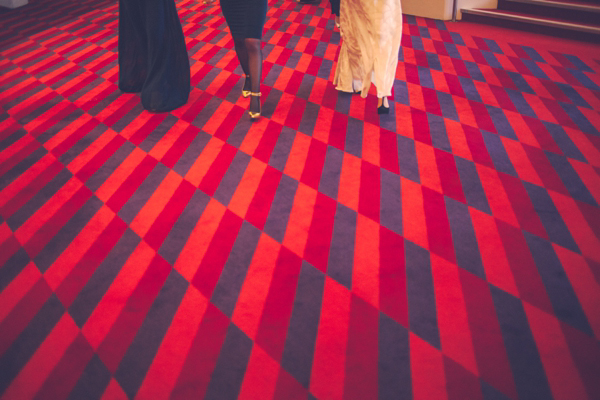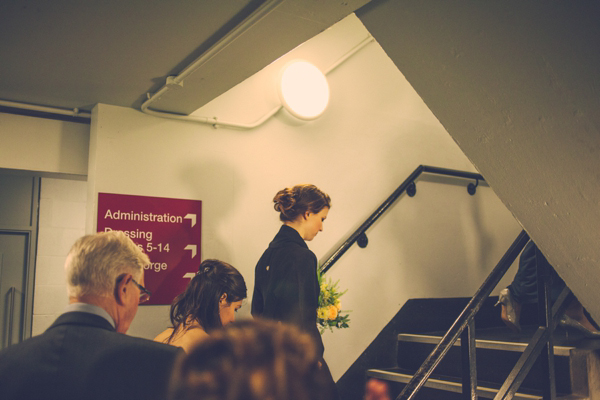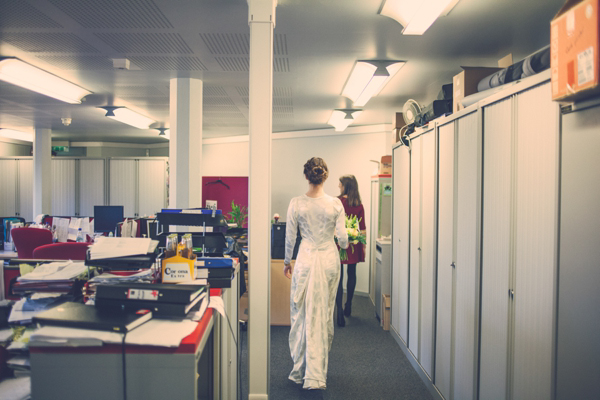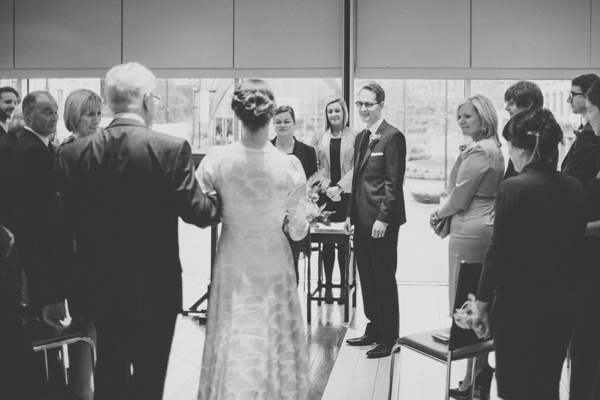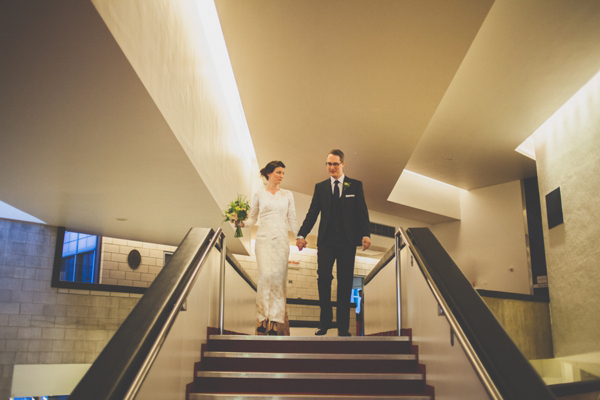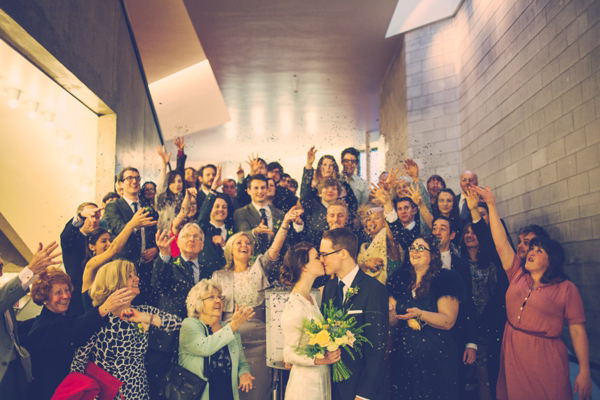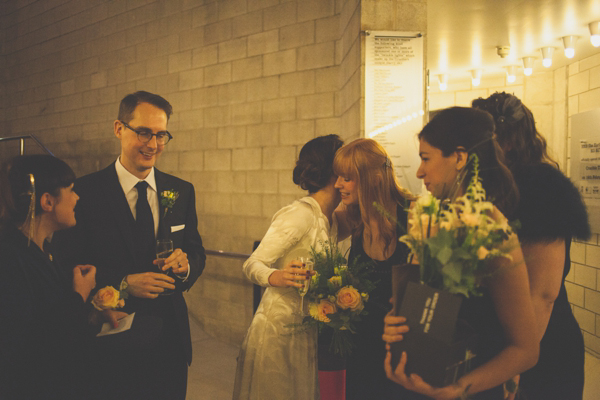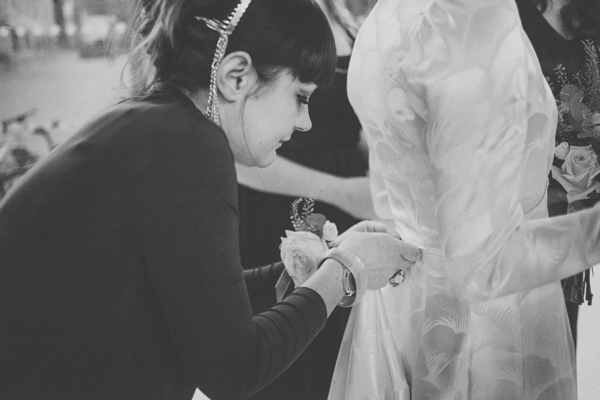 "We hired a white vintage Jaguar from Confetti Cars – the car was phenomenal and by far the most reasonably priced that we found. It was romantic driving back from the ceremony in such a timeless car and the chauffeur, Steve was, the epitome of calm. We also hired a bus to get the guests from the hotel and back – even though it was a five minute walk through town, it was raining on the day and we really didn't want our guests to get soaked in their wedding gear."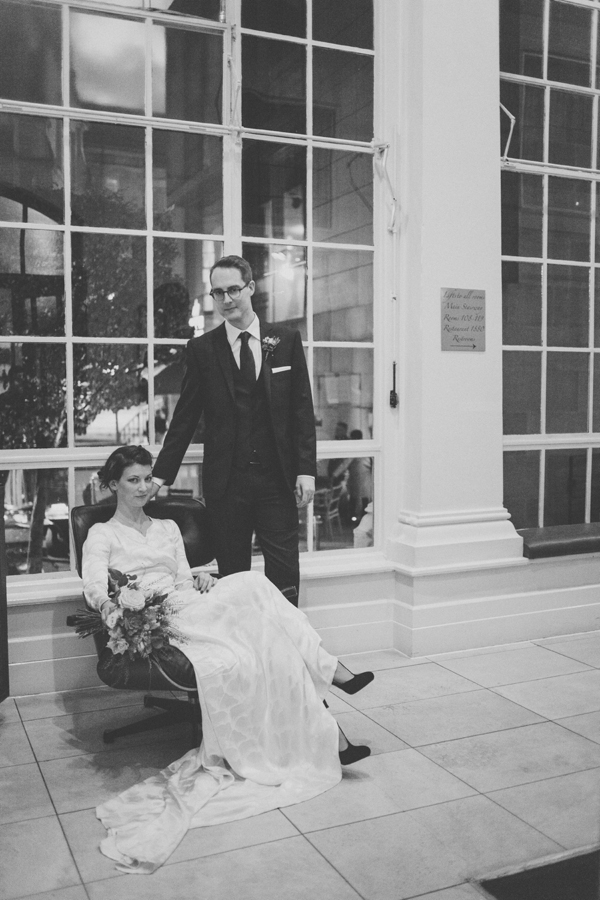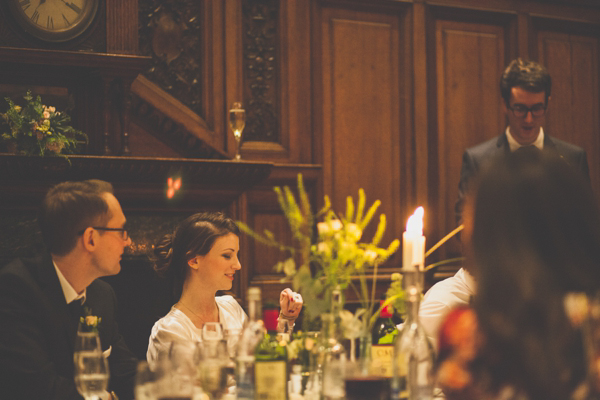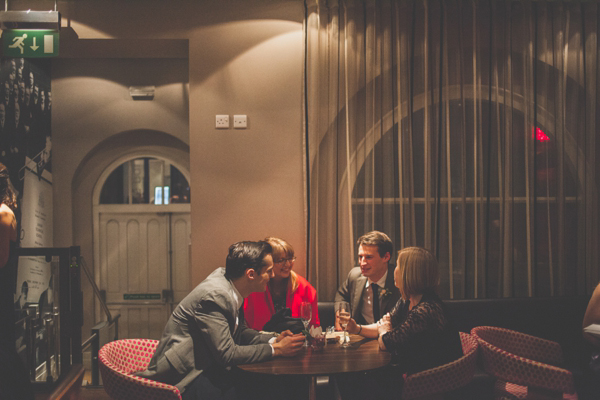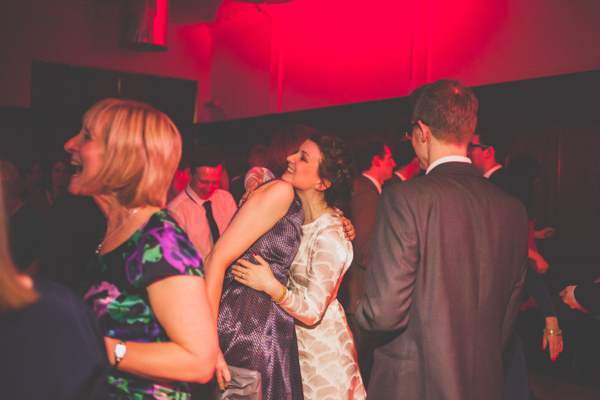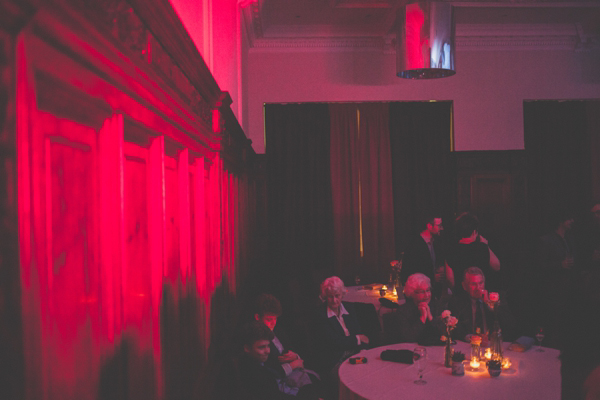 "We elected not to do our first dance on our own, due to the aforementioned shyness. So in the programme we asked everyone to get on the dance floor for "Let's Dance" by David Bowie. It was an excellent party starter!"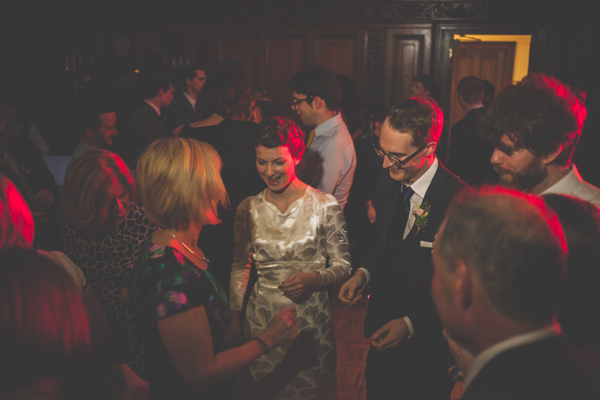 Words of Wedded Wisdom…
"Have faith in your family and love winning out. Before we got engaged, I hadn't seen my dad's family for over seven years. It had seemed insurmountable,  like we would never be able to reconcile. But the engagement changed everything – we had a tentative first dinner with my dad's family, and then it just snowballed from there. It was the best feeling to see my mum, step-mum, dad and grandma all on the dance-floor together having a really good time. And if you can prime your dad to dance to something silly like Snoop Dog's "Drop It Like It's Hot", that's highly recommended too.
We made salted caramel fudge two days before the wedding for favours – and packaged it in cello bags tied with ribbon and a hand written tag. It did save us a ton of money doing it ourselves, but I'm not sure if I would recommend it! We spent a lot of time standing over a bubbling pan of fudge, when we probably should have been relaxing and taking a bit of time out.
We didn't hire a planner as we had a tight budget and we felt we could handle it ourselves. We massively underestimated the amount of work involved though.

On reflection, I would have started things like the invitation and shopping for bridesmaids dresses much earlier. You can't predict what will happen in the run up to the wedding and if illness or accident strike, then you'll still have time to get everything done."
Such a beautiful, stylish, elegant day – Emma and James, huge congratulations to you both and thank you so much for sharing your gorgeous cinematic, Japanese inspired day.
Readers, if you love this style of photography, we recommend visiting India Hobson's website.
I'd love to know if any of you reading this right now are planning on incorporating any Japanese elements in to your wedding day.
Love Annabel
Photographer – India Hobson
Film Production – Lee Joseph Elliott
Venue – The Crucible Theatre + Leopold Hotel
Wedding Dress – Abigail's Vintage
Shoes – high heel black suede Mary Janes via Hobbs
Grooms Suit – Moss Bros + shoes via ASOS + vintage cufflinks via Ebay
Groomsmen's ties – Soprano Ties
Bridesmaids – Navy blue dresses from Coast, All Saints, House of Fraser + gold shoes
Flowers – Campbell's Flowers
Cake – Seven Hills Bakery
Transport – Confetti Cars
Entertainment -  Sheffield PA Hire
Rings – 1930's white gold band via Addy's Vintage in London + Elma Jewellery.
Catering – Leopold Hotel
Stationery – The bride
Hair + Make=up - Jenn Edwards
Follow Love My Dress® on Google+