Good morning all. Thank you so, so much for your patience during the continued cyber-attack on our host, Typepad, which we are fully aware has caused accessibility issues these past few days.  We're keeping our fingers very firmly crossed today and hoping we're through the worst of it now.  Time I think to shift focus onto our first feature of the day, a really uplifting and colourful wedding sent in by photographer Sarah Gawler, who was commissioned to document the relaxed and elegant Summer wedding of Psychologist Katy and her visual effects artist husband Mike.  The couple tied the knot on 28th April last year at The Manor Barn, near Petersfield.
"We wanted a relaxed and personal wedding with lots of personal touches. We cared for every person there and wanted them to enjoy the day as much as we did. We wanted them to understand us and why we want to be together.  Our theme evolved as we discovered that we loved vintage! We hadn't really been aware of this before. I guess you could sum it up as a homemade, vintage, country/boho wedding. Mike and I like to think of ourselves as artistic so having a lot of personal and homemade touches was important to us. We also love photography so that played a big part in the wedding.
We had coral as the colour, we chose this as it's my favourite colour. It's also a beautiful colour for a summer wedding and goes with the skin tones of all my bridesmaids."
Photography Copyright (c) 2014, Sarah Gawler
"Mike and I met at a house party when I was 18 and Mike was 19. As you can imagine everyone was playing drinking games, particularly drink checkers. I discovered that I was quite good at playing this game and proceeded to beat a few people. Mike, however, was struggling and so I told him where to place his pieces and helped him beat a friend.
I just thought he was a really lovely person. I would always hunt him out when we went out as a group and wanted to sit next to him as I knew that I'd have a laugh."
"One time we were out with our friends and chatted for hours in our own little world.  My friend told me that maybe there was something there. I remember looking over at him, deciding she was right and then walking over to give him a kiss! I think we were just attracted to the fact that talking to each other was so easy, we are so similar, like all the same things and like to be a little silly at times. He's definitely my best friend.
We were together for 8 years! He proposed in May 2011."
"Mike proposed when we went on holiday to Morocco. He had planned a wonderful desert proposal under the stars, but sadly it rained! He didn't do it that night, but the next day we went to this stunning boutique hotel. I knew something was up when we went inside! I had thought we were going back to our little hostel but this hotel was stunning! There were rose petals everywhere…. Then later when we had our own private dinner I was a little suspicious."
"I had a bit of a nightmare finding a dress. Being an hourglass body shape makes it really difficult to buy dresses, the ones in the shops didn't fit at all and looked awful! I have always been interested in sewing (although never any good) and finally came to the conclusion that I wanted my dress to be different, and fitted perfectly to my shape. I found Dana Bolton online and together we designed my dress. By that point I knew I wanted a soft flowing skirt and a lace bodice. Mike has also always said that he thinks my back is beautiful so I was desperate for it to be as backless as possible. Dana gave me embellishment suggestions each time I saw her and it slowly developed a vintage style which I love! When I put it on for my mum and she cried I knew it was the one (and breathed a sigh of relief!). She hadn't cried at any of the others!
It's silk, silk georgette, and Chantilly lace. My waist is my smallest part so I wanted to draw attention to it, I added the crossed over ribbon and the beaded feature was suggested by Dana. When I saw it all together I loved it!"
"I also made all of mine and my bridesmaids accessories. As my dress is backless I wanted to make a 'back necklace', and to make it a feature. I couldn't find anything I liked online so I thought I'd have a go myself. It was so easy and fun! The necklace is a multi-strand back necklace made from pearls and mother of pearl beads. I made some earrings and a bracelet to match. My blog is Sleek Silhouette.
My Make-up Artist - Amanda J  was amazing, it was like having another friend or sister with us. I can't recommend her enough. She did my make-up perfectly. I remember looking in the mirror towards the end of the night and thinking I still looked great!  I don't wear much make-up so I wanted a very natural look, bronzed and pink cheeked. Effortless chic.  Amanda also did my hair. I knew exactly how I wanted my hair. I wanted it to be very relaxed, I didn't want a structured 'up do', I felt a plait gave the right effect. As soon as she did my hair and makeup on the trial I cried as I wasn't expecting to look so pretty."
"As I'm very tall I knew I couldn't wear high heels so I opted for sandals, but I wanted them to be a bit glam! The flip flops from Moda in Pelle were perfect."
"Our florists were Some Flower – I really wanted coral peonies but the season was bad for them. I had coral roses and white peonies.  I love big, vibrant flowers."
"I made the bridesmaids outfits, and my aunt made the dress for my flowergirl!  I couldn't find the coral colour or style I wanted anywhere so thought I'd make them! I hadn't really sewn much before so this was a bit of a crazy idea, but my wonderful seamstress aunt helped me a lot and in general it was really good fun, but I was still sewing my sister's dress the day before the wedding! I've now fallen in love with sewing and have set up my own sewing blog at sleeksilhouette.com."
"When I think back on my fondest memories of the day, it's all about the ceremony. The registrar was so lovely and made us feel very comfortable, even making a joke when I was crying my eyes out (through happiness).  We had our fathers as our witnesses and our mothers did the readings.
It was important to us to have all four of them involved, and it was moving to have both mothers read a poem. The speeches were hilarious, especially the best man. Also spending time with my father before walking up the aisle - I'm very close to my dad."
"To help decorate our venue I had a vintage sewing machine which I had bought from a local charity shop. I work with adults with learning disabilities and the charity shop employs some of the people I work with in Hanwell, London. I loved being able to pay something back to them and have a bit of my work with me at the wedding.
The machine is an old treadle table machine that my dad beautifully restored. It looked stunning!  I then added my mannequin and provided squares of material and pens. People wrote on the material and then pinned it to the mannequin. It was our version of a wedding book and was really popular. I am planning to make this into a quilt, but I haven't got around to it yet!"
"Mike and I love photography and have a fondness for vintage cameras, so it made sense to have vintage cameras as our table centres. We added some vintage books that my parents owned to expand the vintage theme, and the florist (Someflower) added gorgeous coral and white flowers to give the country twist. It was a handmade wedding, and no member of the family was immune!
The table decorations were a mixture of vintage cameras, vintage books and flowers to give the vintage/country theme we were after. More of the jam jar flowers were along the sides of the barn and were the favours for the guests."
"We also had a large vintage camera as our photo booth.  We saw it in a shop in Camden (Camden Interiors) and had to have it. It didn't work when we bought it, but Mike managed to put a digital camera inside and hook it up to a laptop, so people could take photos of themselves. It was a massive hit!  The laptop was hidden in a pile of vintage travel cases. We also added a box of fancy dress bits and pieces so people could dress up for the photos.
Everyone got to keep the photos, but could hang up one version behind the camera."
"Our photographer was Sarah Gawler. We had been stuggling to find a photographer that had the soft style we liked. I had bought a wedding magazine before going on the plane on holiday with Mike and his parents. As I was flicking through the pages, waiting for the plane to take off, I saw a spread by Sarah that was exactly the style I wanted.
I looked up Sarah immediately and we sent an email seconds before the plane took off. I was desperate to have contact with her before we left! When we finally met her I knew I wanted her straight away as she is so lovely and friendly. She also has cats, and the best interior design taste! This made me sure she was the right one."

"It took us a little time to find the venue, The Manor Barn. We knew we wanted a barn, and to be able to have it all in one place. As soon as we saw it we knew it was right. The courtyard outside and the vast inside gave us enough room for everyone, and the features such as the beams and stone walls were stunning."
"We made and designed our stationery. Our logo played a large part in this, and it took us a while to come up with the design. We then used different fonts to create a vintage look. The paper is from an eco paper specialist.   We used brown card to fit in with the luggage labels we used as the RSVP's.
We designed a logo for the wedding which was two swallows with a heart inbetween. We added this to most of the touches including the menus, table plan, place cards, invitations. Our place names were travel labels."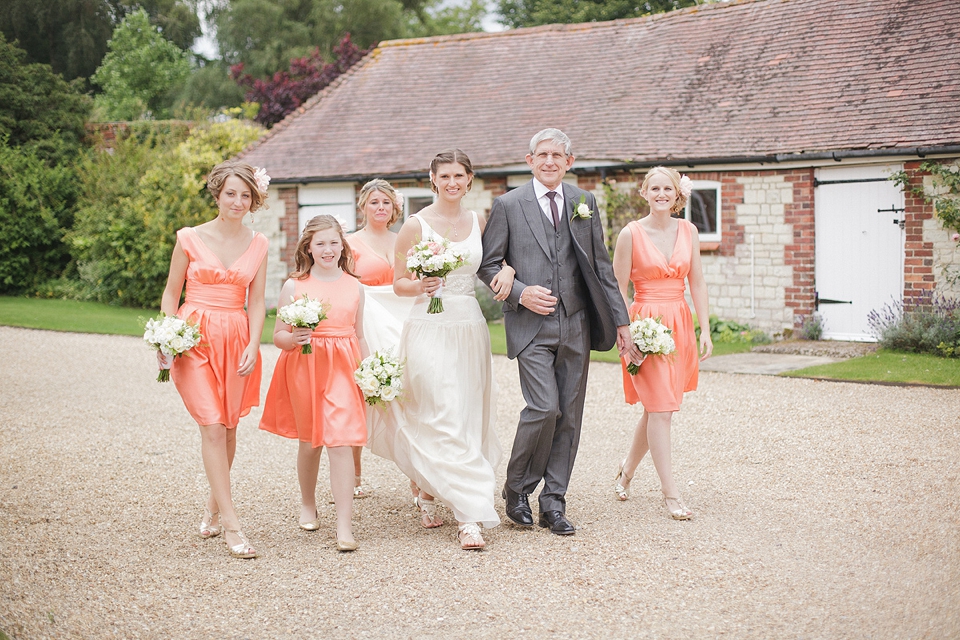 "We had a civil ceremony. We didn't personalise anything, particularly as I knew I would be struggling not to cry so didn't want to think about what to say. Also, expressing just how much I love Mike in words is tricky, I don't think I'd do it justice!"
"Mike wore a three piece suit from A Suit that Fits. Our wedding had a swing/vintage theme so he knew he wanted to wear something in keeping with that style."
"Mike designed my engagement ring himself and had it professionally crafted. This means so much as it has his personal touch and is representative of how much he cares. I also like that the idea that no-one else has the same ring!"
"I wore a flower in my hair that I made myself from left over material from my dress."
"My dad made the table plan! Which was perfect.  I made some hessian flower holders which we put the confetti in, the holders of which were made by Mike's mother. I also made some cushions which we printed the logo on and put on the benches in the courtyard. I also made some 'LOVE' cushions which were originally meant for a sofa we had but they became a hit at the photobooth."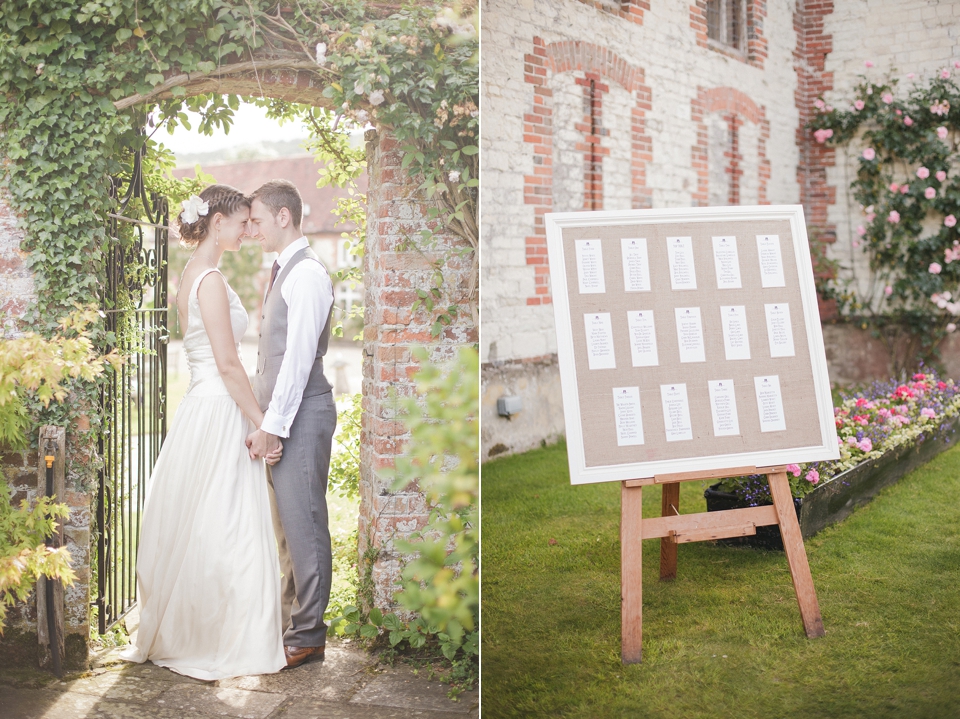 "My mum made the wedding cake, and my godmother and cousin decorated it with fruits. One layer was chocolate, one layer lemon drizzle and one a vanilla sponge. It was delicious! And helping mum with the tasting was fun."
"For the evening entertainment, we hired The Adam Chandler Swing Band - this was Mike's idea. The swing music fitted in perfectly with the theme. Later on they played some more modern songs, which got everyone on the dance floor.  Everyone was up and dancing, the band were amazing! They played way over their allotted time and played some great songs. There were even a few guests who got up and sang with them. Unfortunately the venue closed at 11pm and we had to finish just as the party was getting going, but it's always better to end with people wanting more!
For our first dance, we had 'Feeling Good', the Michael Buble version played by the band. This song was one of the first things we chose. We had both loved the Muse version when we were younger, and the words were fitting to starting our new life together. The Michael Buble version fitted in perfectly with our theme and I love the big band drama of it!"
Words of Wedded Wisdom…
"I think the whole day reflected us perfectly. Hopefully it had style and some fun. It was very personal as I loved everything we made and we chose everything together so it all meant something to us."
This is what I'd call 'relaxed elegance' pulled off to perfection.  Thank you so much to Katy and Mike for allowing their wedding to be shared to inspire our readers and a huge thank you to photographer Sarah Gawler.
Brides, are you going down the bespoke wedding dress route, have you found your dressmaker yet ? And if not, may I recommend the ridiculously talented Dana Bolton?
Love Annabel
Photographer – Sarah Gawler
Venue – The Manor Barn, near Petersfield
Brides Dress – Dana Bolton
Brides' shoes – Moda in Pelle 
Bride's accessories –
Groom – A Suit that Fits
Bridesmaids + Flowergirl dresses – made by the bride
Florist – Some Flower
Cake – The brides mum
Entertainment – The Adam Chandler Swing Band
Catering – BBQ Chef
Stationery – Made by the bride & groom
Hair Stylist + Hair Stylist – Amanda J
Follow Love My Dress® on Google+