Will, a Gymnastics Coach and Primary School Teacher, and Jenni, a TV Producer, chose to tie the knot at Silverholme House in the Lake District on 2nd November this year – the day that marked 10 years since their first date.  Their wedding has a really charming laid back and relaxed family vibe about it. I also really adore Jenni's backless silk and lace wedding gown.
"As I was planning our wedding, I fell in love with different types of blush materials so the invites and flowers started to take on a more vintage blush tone and the look and feel of our wedding developed from here. Afternoon tea, bunting, vintage tea cups/saucers, which my mum and her friend Jackie collected, all helped create a charming afternoon vintage tea party feel. We wanted an informal, vintage and relaxed feel to everything."

Photography Copyright (c) 2013, Christopher Ian
"Will and I met at university in Leeds in 2003.  The date of the 2nd November was important to us as it was exactly 10 years to the day since our first date and with luck, this date fell on a Saturday.
We got engaged on the Bank Holiday weekend in 2012. A surprise breakfast in the flat followed by a lovely weekend at Danesfiled House Hotel and Spa in Marlow. Will was desperate for it to be a surprise hence the Saturday morning breakfast."
"We were keen to have a casual and relaxed wedding day. We had been for afternoon tea at the Ritz with a friend who was home visiting and we fell in love with the idea of afternoon tea as it is very traditional and English, yet not too formal. The venue was a difficult one and we looked at numerous places in and around Lancashire as Jen's family is from here. Nothing was quite right though and jumping out at us. Then we stumbled upon Silverholme, almost by accident.
The Silverholme House had only just gone live and they hadn't actually had any weddings there. We went to see it the next day and immediately knew it was perfect.  Beautiful scenery, so peaceful, and the house, which had just been refurbished, was the perfect blend of modern whilst keeping its traditional features. It was simply stunning! At this point the barn we got married in hadn't been completed, but we knew it was the one. We had the option of the marquee where we had the blank canvas to create the style we wanted."
"My sister, Kathryn Hanson was the designer and maker of the wedding dress, the flower girl dresses and her own bridesmaid dress. Coincidentally she has previously featured on one of your blogs on a vintage train station shoot a few years ago!"
"This was one of my favourite parts of the whole planning process. We researched a number of wedding dresses and after explaining what I liked from different parts of different dresses, Kathryn sketched up the perfect dress in a matter of seconds. I wanted the traditional bridal dress but with a touch of vintage thrown in. The use of the Oyster lace was perfect for this."
"I loved the backless idea. I was sceptical of sleeves at first, although my sister was convinced and I trusted her. The whole thing, the lace, the way it fell was exactly what I wanted."
"My sister and I designed the flower girl dresses together and initially had a blush satin material for the band. This wasn't quite sitting right and after Kathryn Hanson had made the mock dress with some old liberty print she had, I feel in love with it. So the sash on the flower girls dresses was from Liberty London."
"Our friend, Camilla, spent months and months drying rose petals for the confetti. Camilla and her husband, Simon Flatres, also hand wove two baskets. The confetti was due to be thrown outside the barn after the ceremony but the weather prevented it. Instead we used it on the first dance which worked well.  The children were in their element throwing confetti up on the dance floor."
 "We discussed using a range of blush, pinks and white flowers. We wanted a vintage theme so a range of clear glass vases were collected for the tables.  A lot of time was spent drying out Hydrangeas for the chair ends in the ceremony."
"Our photographer was Christopher Ian.  Chris did such a fantastic job dealing with all the surprises that came up on the day, like a power cut and a hail storm! All our plans of places to take photos changed but he adapted and still made it work perfectly."
"The suit was a present for the groom from two of his best friends  – they wanted to get him something he could use again and again. A big thank you to Emma and Matt, and to Gabriel from October House Tailors for making Will a dapper chap!"
"My sister had been working in India for two weeks just before the wedding. She sourced out the headpiece and brought it back. Again, I was worried that it would be too much but without a veil, I loved it!"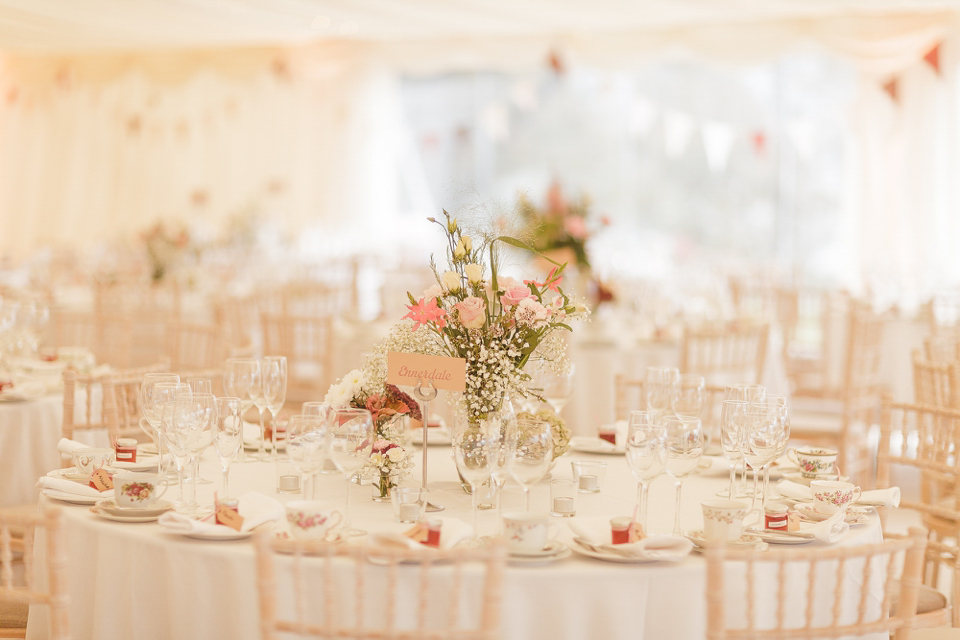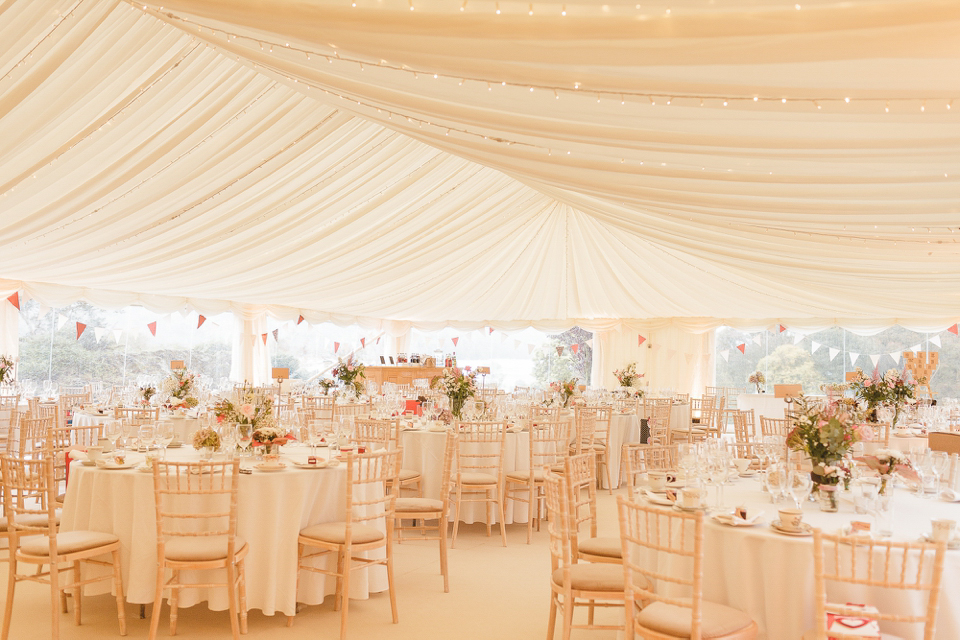 "My dad walked me down the aisle to the sound of 'She' by Charles Aznavour (played by the string trio).  We had two readings throughout the ceremony. The first by a very close friend of the bride, Lydia Hawes, which was Union, by Robert Fulghum. This was read before we were married. This was followed by The Ballad of Will & Jenni by Chris Gilfoy (a very close friend of the groom).  He wrote the reading himself which was a lovely touch to the ceremony.
'The Ballad of Will & Jenni'
I remember, as a kid, discussing Will's face
With my far-too-old mother, as she stared into space
It's his smile, she said, which I couldn't deny
It flies off his face and it shines from his eyes
So imagine my surprise that this smile could be rivalled
And, perhaps, even beaten
She's from Garstang, he said, which sounded made up
He said it's somewhere up north, so we wished him good luck
But then we met her, she'd travelled for miles
Bringing two grins together – their nuclear smiles
She's perfect, we thought, they're amazing together
Like Orville and Keith or like birds of a feather
Not being together is an inconceivable path
Without Will, Jenni's less and without Jenni, Will's half
Being here, today, is the perfect conclusion
To what seems to me an incredible fusion
You're both amazing, we all think you're both perfect
You sure as hell better be to make this drive worth it.'
"My mum had her heart set on fruit cake, but as I'm not a fruit cake fan we also had victoria sponge and chocolate cake to make up the cake table."
"We had a blank canvas with the marquee. The day before the wedding we had so many family and friends helping out, making the marquee look so beautiful. Vintage china, big glass serving holders for the cocktail hour, bunting (made by Jenni's mum), a heart shaped table plan holder from Hobbycraft, a basket decorated with dried hydrangeas for the cards. Our guest book was from John Lewis with a Kodak Instafilm camera for guests to take photos."
"Our first dance was to 'You Make My Dreams Come True' by Hall and Oates. We both loved the film 500 Days of Summer and have always loved this song. It wasn't a traditionally slow song but we wanted something a bit more lively and upbeat that meant something to us. The words were also very relevant for us."
"I can honestly say I LOVED the whole day. The build up in the month running up to the wedding was quite stressful, and pulling everything together whilst being down in London was tricky. The wedding weekend was perfect! The thing we loved about Silverholme was the fact that we had it for the weekend and we could bring all our families together. As I'm the youngest of 5 and Will is the youngest of 4 we have two very big families so the location and venue was perfect.  From the moment the weekend began all the stresses seemed to fade completely. Some of the highlights for me (bride) was the ceremony. I was so nervous but felt so lucky and overwhelmed with excitement and having all the people we love in one room is one of the best feelings.
My Dad's song, which he sang in the speeches, was another highlight. He played the guitar and it was a really special moment.  Then the dance floor was amazing. I remember spending a lot of the evening here and having so much fun! I didn't expect to dance so much at my own wedding.
Will's highlight was most definitely the hail/ thunderstorm during the best men's speech! It drowned out the PA system meaning they couldn't be heard over the hailstorm. It sounds like a nightmare but it was a very funny moment."
Words of Wedded Wisdom…
"The  unique little details that you put the effort into beforehand really do go a long way on the day.  Also, check with your caterers (if using a marquee and hiring outside caters) what the service is they offer). We had a last minute change of caters and it was the best decision we made. Charlotte Rhodes took care of everything on the day and at no point did we feel worried or stressed about any of the hiccups that came along (powercut, hail storm) and they coordinated the day perfectly. It was definitely not just a service that turns up and puts food on the tables. It is worth paying that little bit more for the peace of mind of knowing that if something were to go wrong you have people on hand to help sort it out for you.
I have loved Love My Dress ever since being introduced to it through my sister's dresses when they was featured on the Railway shoot. When I got engaged, it was my first port of call.  Whenever we were looking for dress inspiration, venue, stationery we found a lot of inspiration here.
The whole day was such a mixture of emotions and I loved every second of it. Would love to go back and do it all again."
What a lovely day – thank you so much Will and Jenni – congratulations to you both, and our thanks also to photographer Christopher Ian for sharing his work.
Love Annabel
Photographer – Christopher Ian
Venue – Silverholme House in the Lake District
Brides Dress + Headpiece – Kathryn Hanson (the bride's sister and bridesmaid)
Groom – October House Tailors + Russell & Bromley shoes  
Flowergirls – Kathryn Hanson
Florist – Sheila Hanson & Jackie Topping (no website
Entertainment – The Dotted Crotchets String Trio + Stu Rodgers DJ
Rings – Hatton Garden
Catering Company – Karen Rhodes Catering
Follow Love My Dress® on Google+