Morning all! I'm really fond of a good nautically themed wedding, especially when it's done right.   Visual Merchandiser Jo (who knows a thing or two about styling and decor because of her job), tied the knot with her beau, Steve, on 21st September last year, and nautical blue stripes and elements of the seaside were the order of the day. 
The wedding reception was held at High Hall in Wimborne, Dorset.
Photography Copyright (c) 2014, Joanna Brown Photography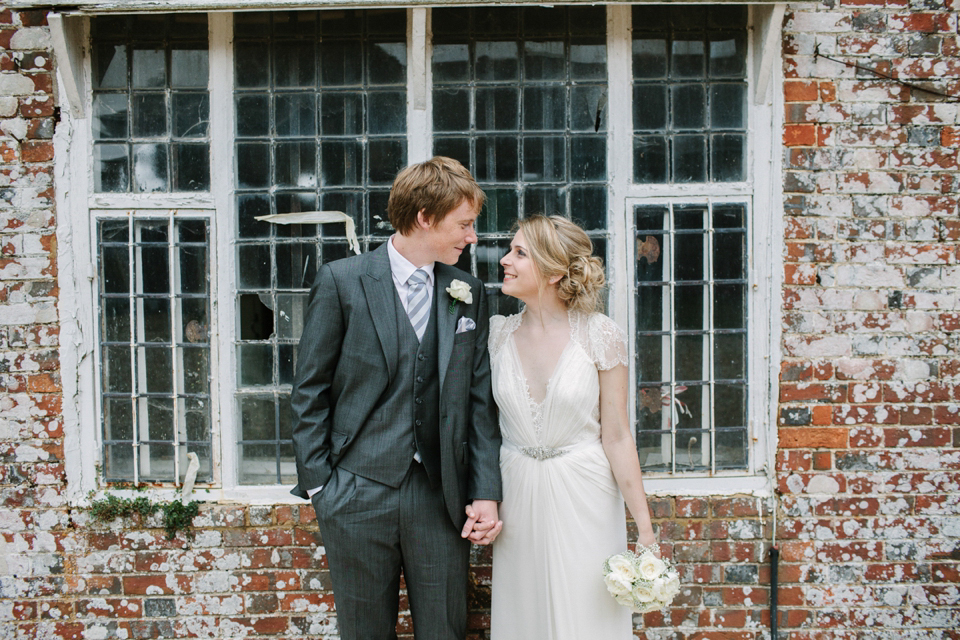 "Steve plays in a band of a mutual friend of ours and he first saw me when he was in the band at a friend's wedding. We then saw each other properly after an event at my church where he was also playing in the band.
After a lot of chatting and getting to know each other we eventually got together after a long walk along the beach! It was on our one year anniversary that Steve proposed in the same place. And we got married just under eight months later."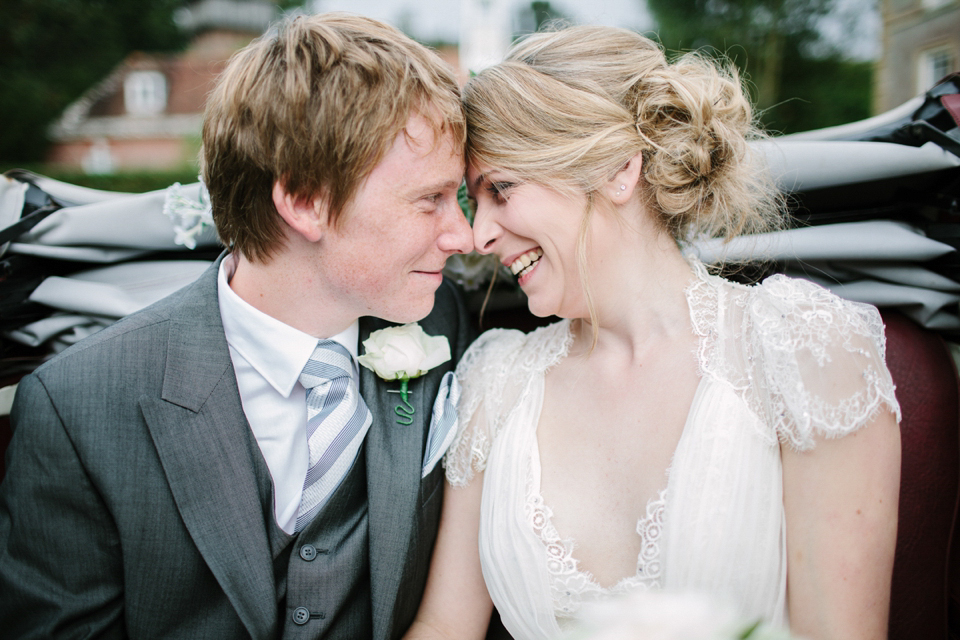 "We chose our reception venue, High Hall in Wimborne, Dorset because stating the obvious, it was just everything we wanted! Not only on a practical level, because it provided lots of places for people to explore & hang out during the day, but a place for the marquee and the barn for the music in the evening.  But the main draw was the aesthetics.
Everywhere you looked was just full of places for a photo opportunity: bare brick walls, barn doors, a  walled garden, outbuildings, endless lawns, a derelict tennis court and a sweeping driveway, to name but a few! It also meant that we could have the freedom to dress it as we wanted and put our stamp on it. It was perfect."
"I wore the Aspen gown by Jenny Packham, that I purchased from Miss Bush Bridalwear in Surrey.  It was nothing like I would have originally thought I would have, but a piece of advice a lot of friends gave me was try on all styles, including ones you might not normally go for.
I started trying on quite simple dresses, but the more detail the dresses had the more I found I liked them. This dress was so lightweight and comfortable, but I loved the romantic style with the lace details, buttoned back and cap sleeves. It was perfect."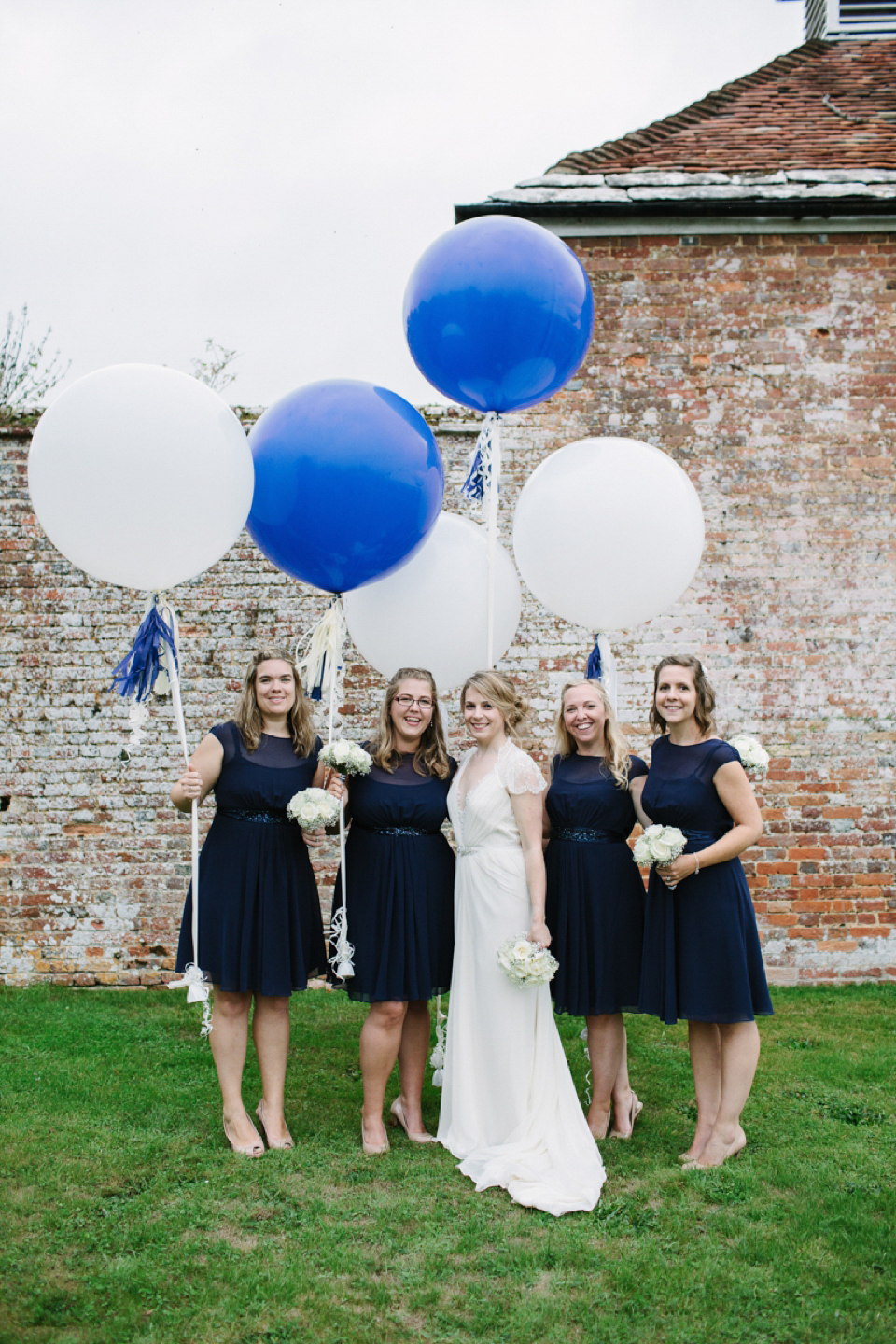 "For flowers, we used Maria at Simply Flower because she was recommended to me by quite a few of my friends, not only for her style but also for a good price. She's also the florist that's used in a chain of 4 & 5 star hotels in Dorset so she comes highly recommended!"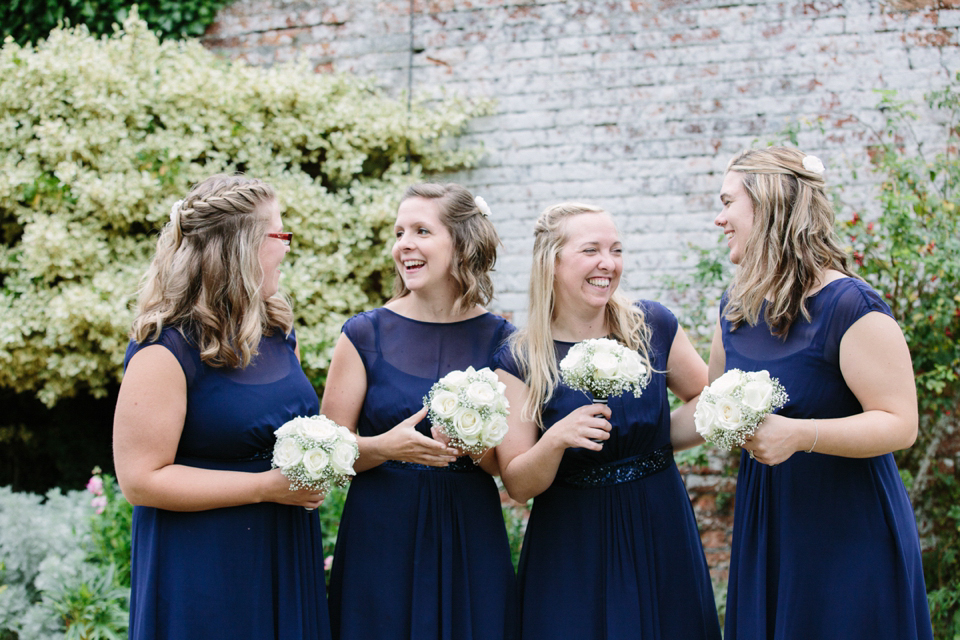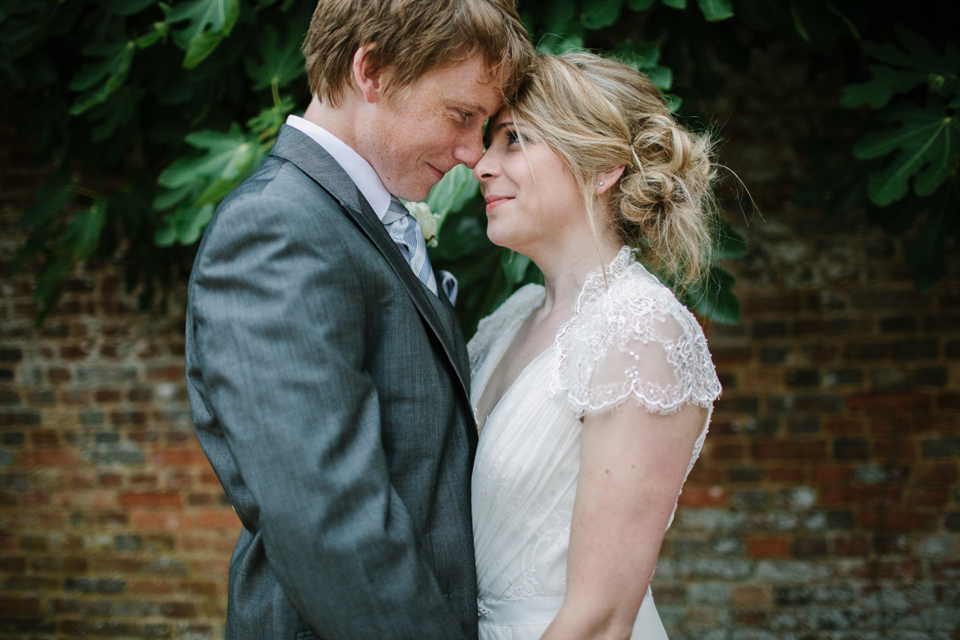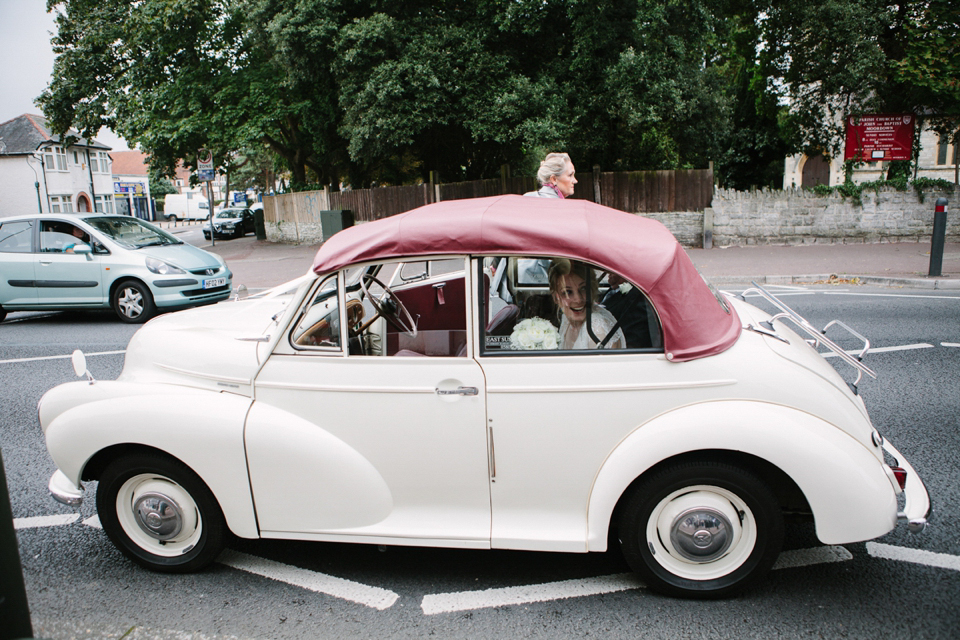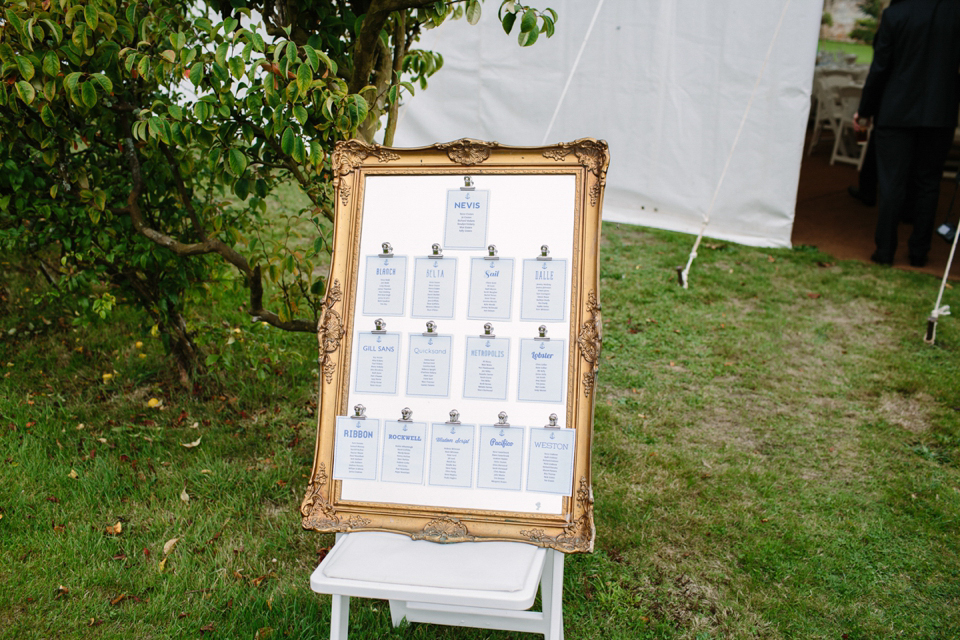 "I designed the décor and styling myself, including making the flags for the bakeoff centre pieces. I had help making the balloon tassels, photo string for the barn and pom poms from my mum, bridesmaids and friend. We bought tissue for the pom poms from The Carrier Bag Shop. 
The glassware and vases for the tables were from IKEA, the rope for the centre pieces were from an onlineshop on eBay and the fabric for the table cloths from Nortex Mill. We got our oversized balloons from Peeks party store in Christchuch."
"Our cake was made by a local lady called Lynette (she doesn't have a website) and it was 29cm in diameter, lemon sponge with white icing with ruffles around the edge. I saw a picture of a cake on Pinterest that I loved so sent it to her and she copied the design. We wanted it really simple and our favourite flavour so this worked really well. Jo made the cake topper by hand which was added after."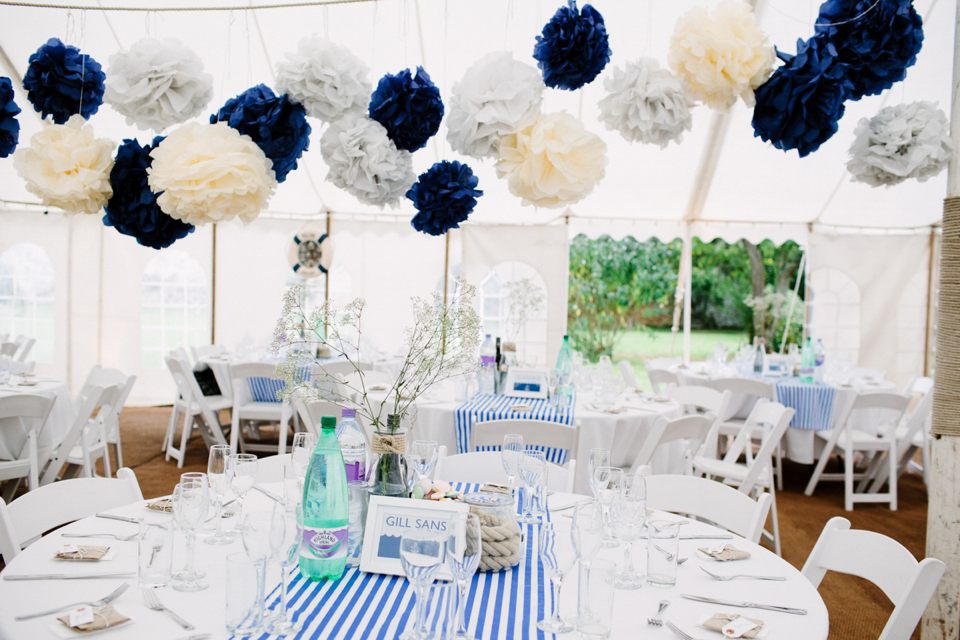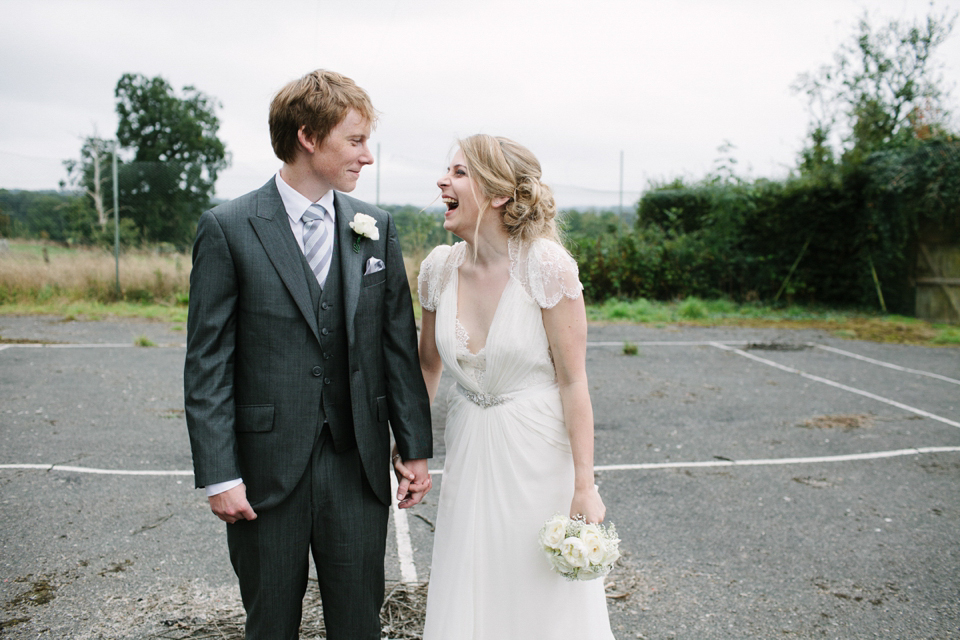 "We don't think we can pinpoint a particular favourite part of the day. The actual marriage would have to be up there as this was the legally binding bit where we actually became Husband and Wife, and that was really poignant.
I also loved seeing all the organisation, plans and logistics fall into place. The day came together exactly as I imagined, and that was amazing to see!"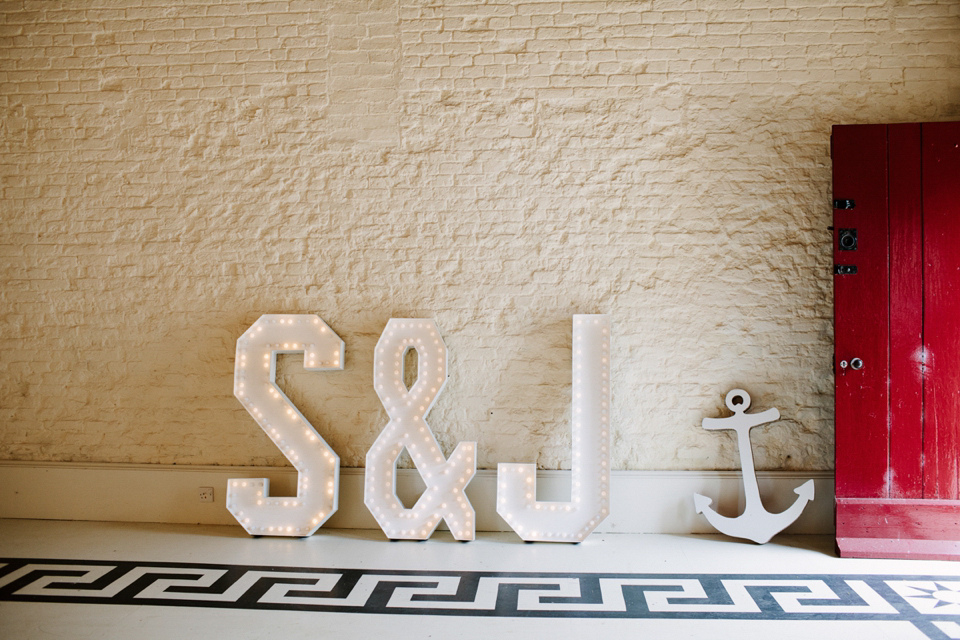 "Our photographer was Joanna Brown.  The moment I saw Joanna's photographs I knew that was what I imagined our wedding photographs to look like. She was so lovely and put us completely at ease from the moment we met her for tea and cake in her cottage, to the moment she went home on the night of the wedding. She made us feel completely relaxed and that was exactly what we needed, and it made the photos even more natural. We would definitely recommend Joanna!"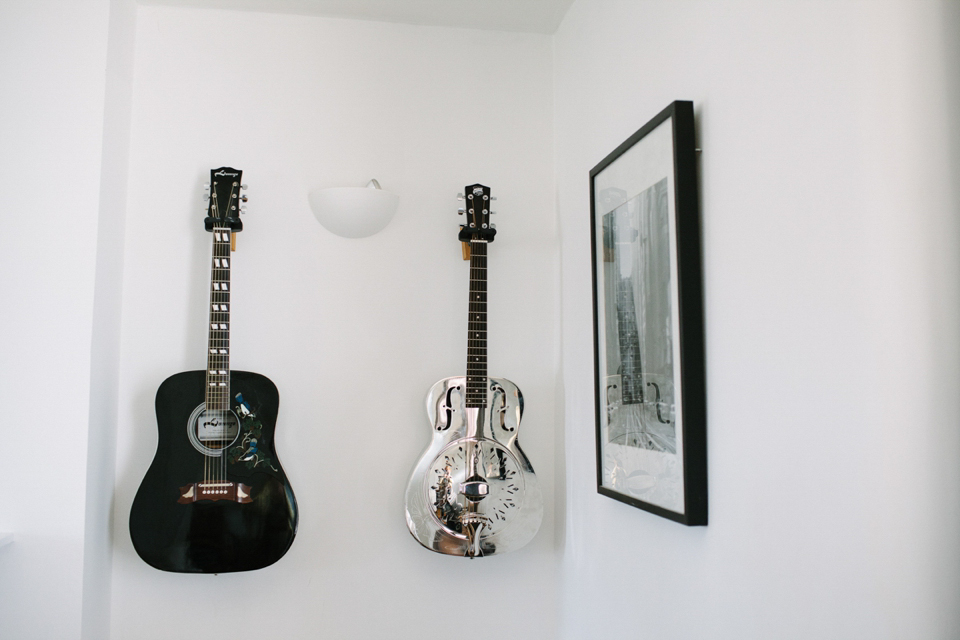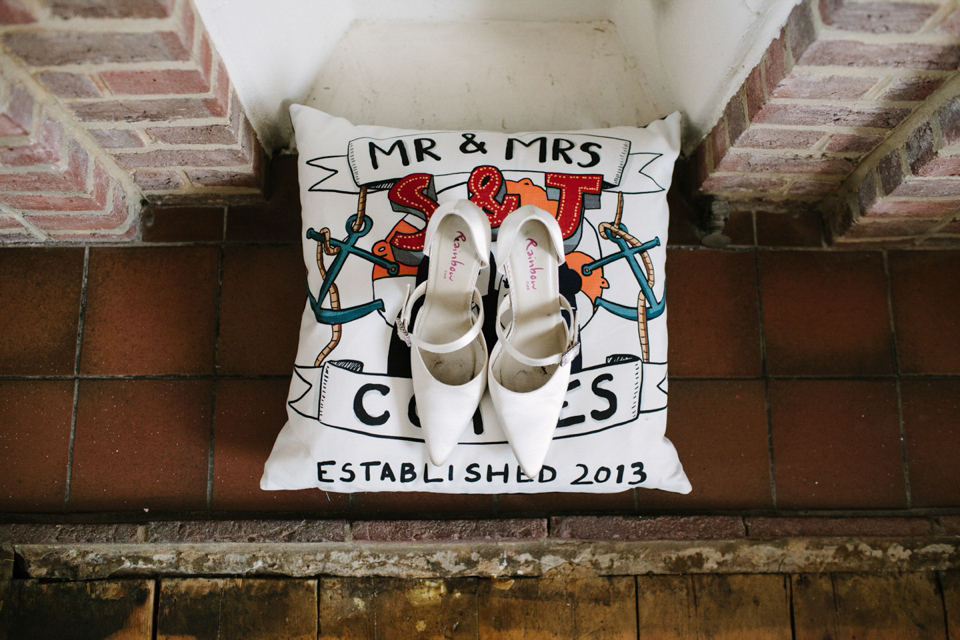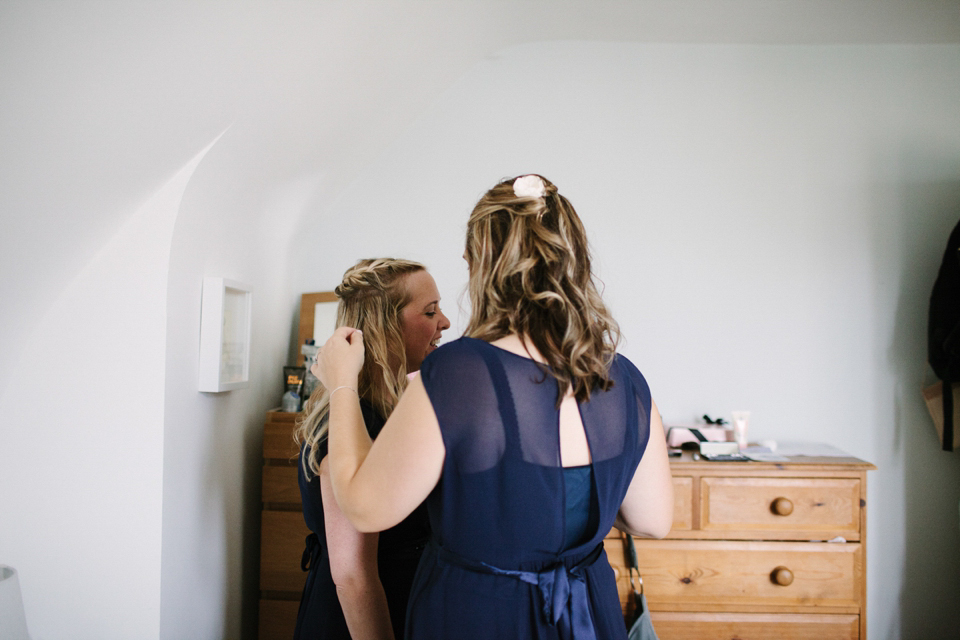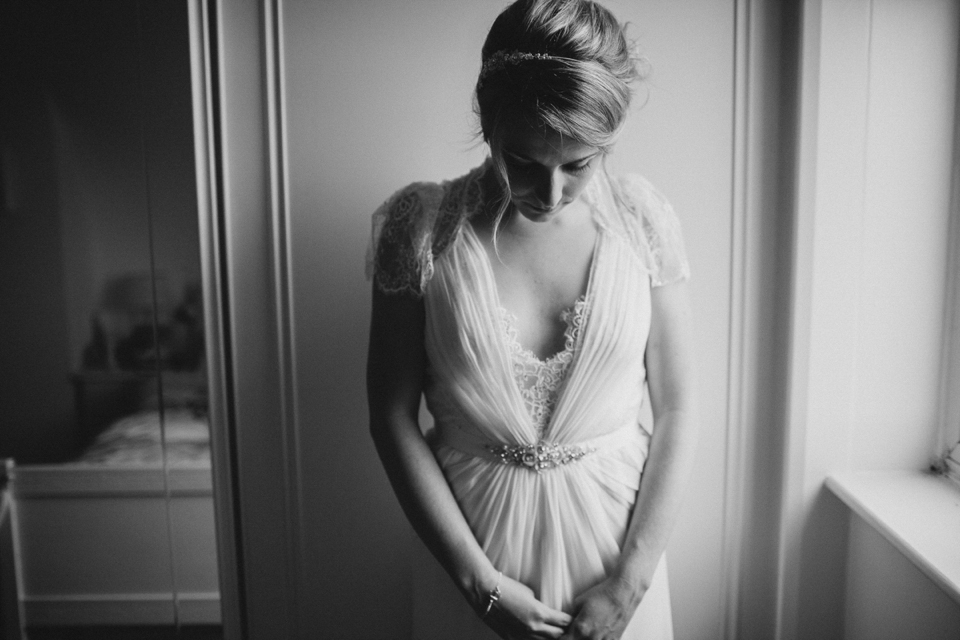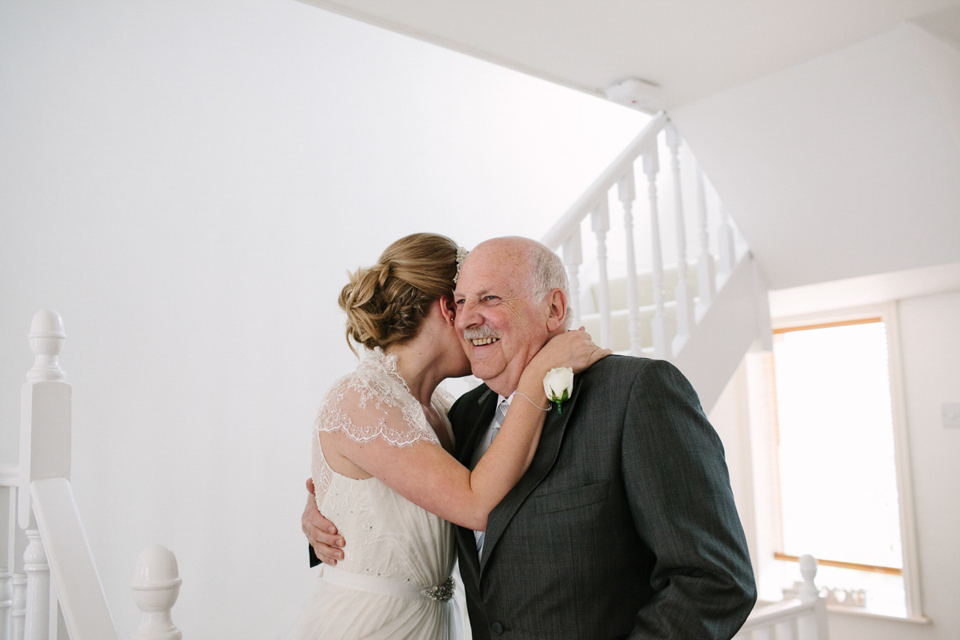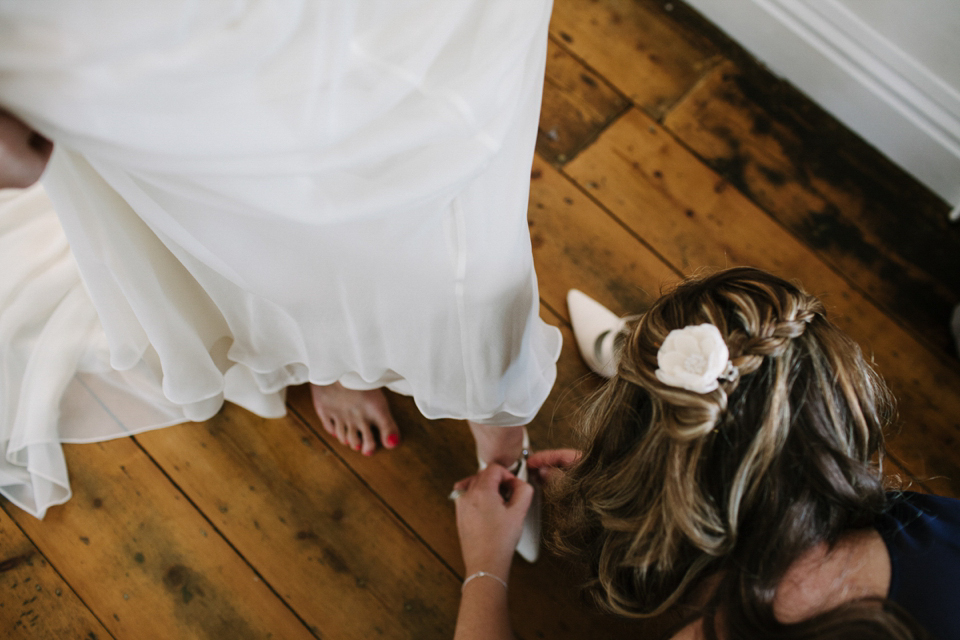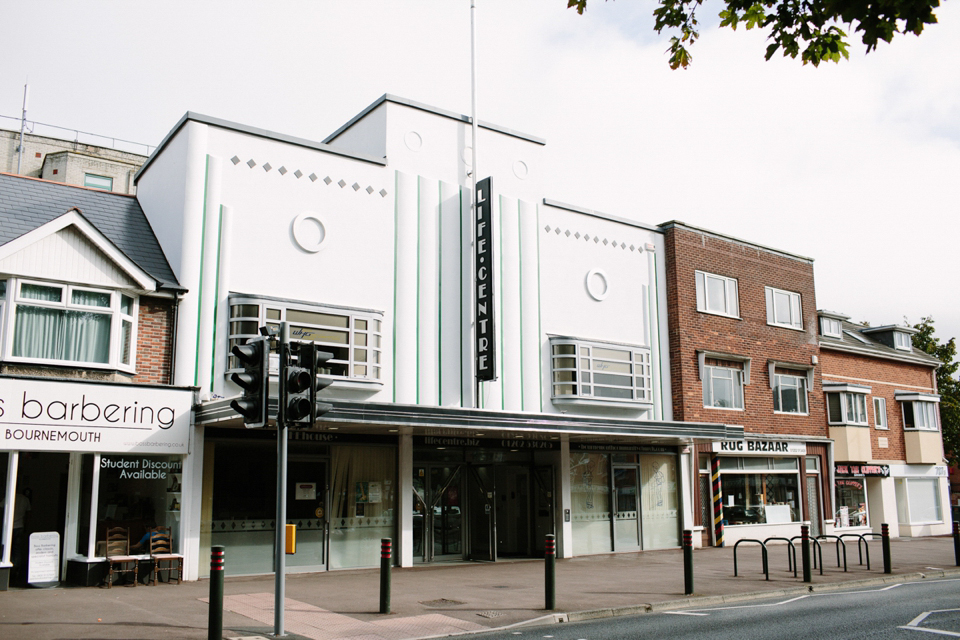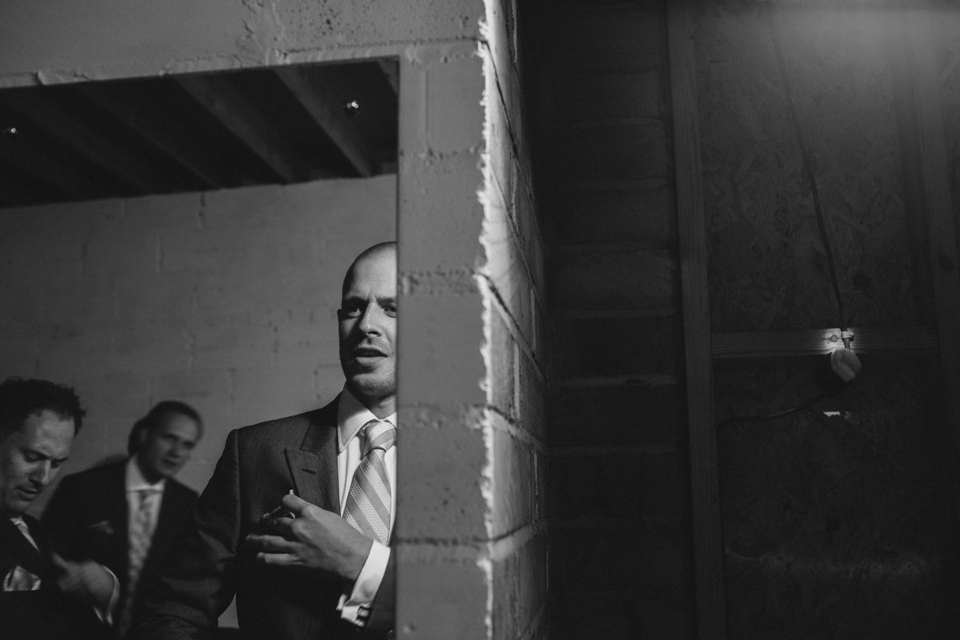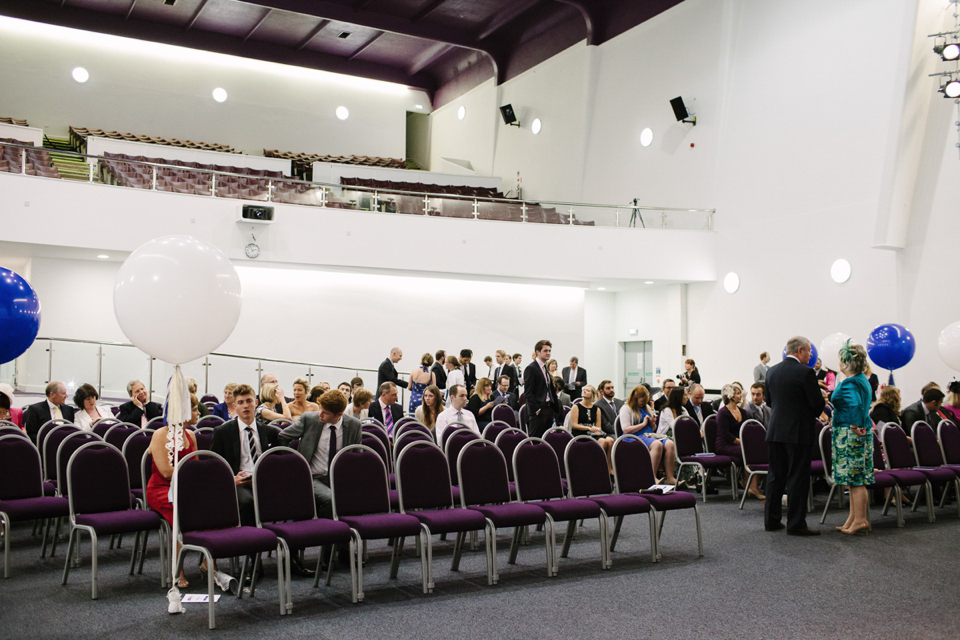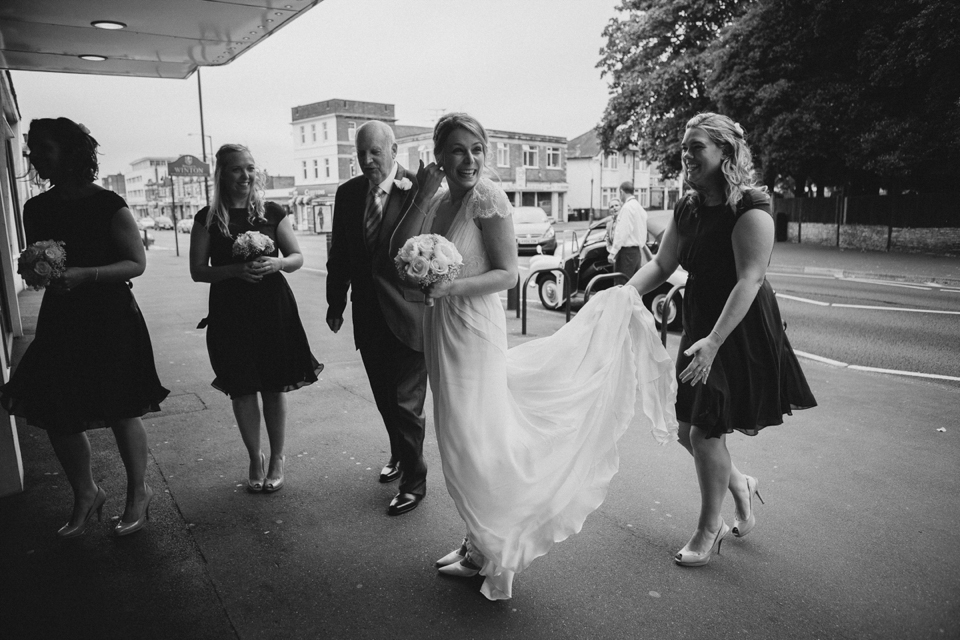 "My Dad walked me down the aisle to the sound of 'Holocene' by Bon Iver. 
During the ceremony, we used the standard church vows as we felt this said everything we wanted to say and what we believe marriage to be.  We also had a Bible reading from 1 John 4 v 7-12.  We chose this because we really wanted people to know another element of what we both believe love to be about."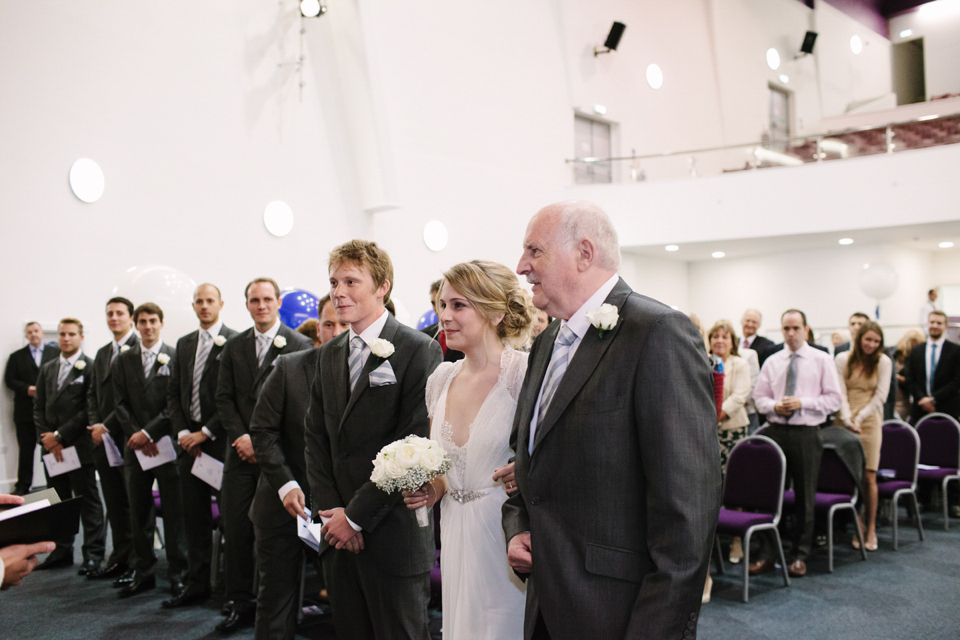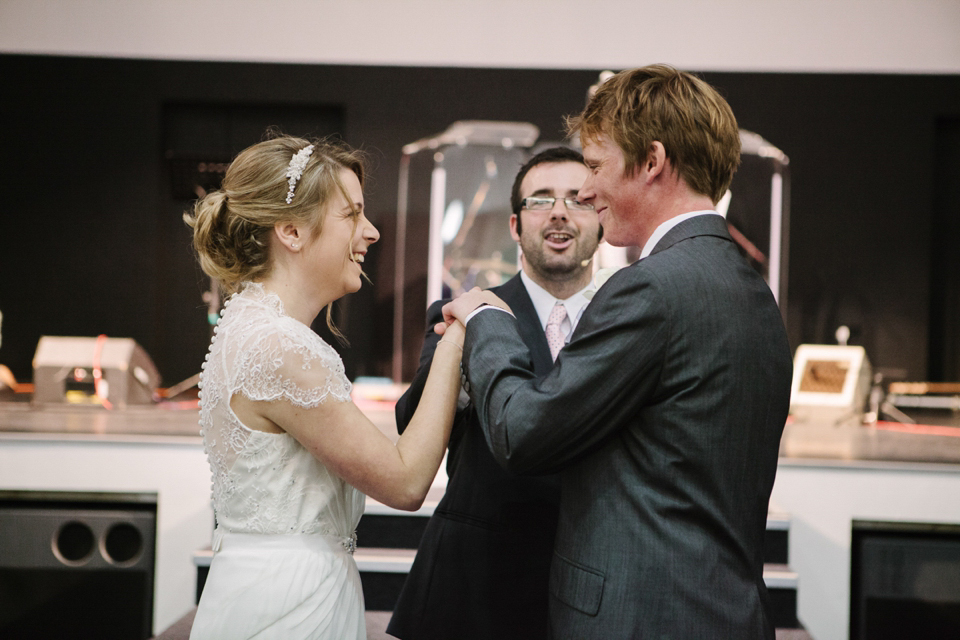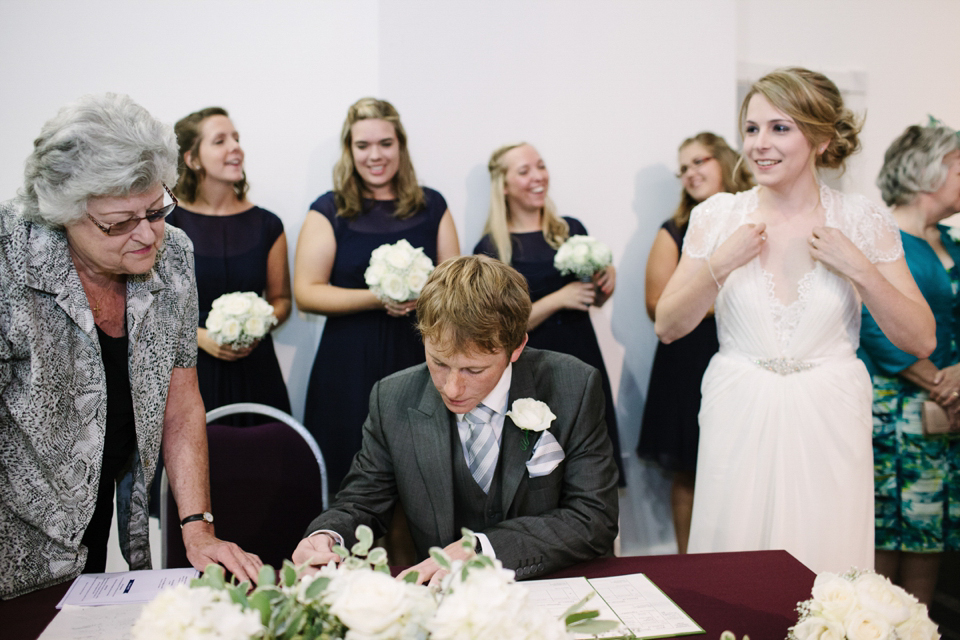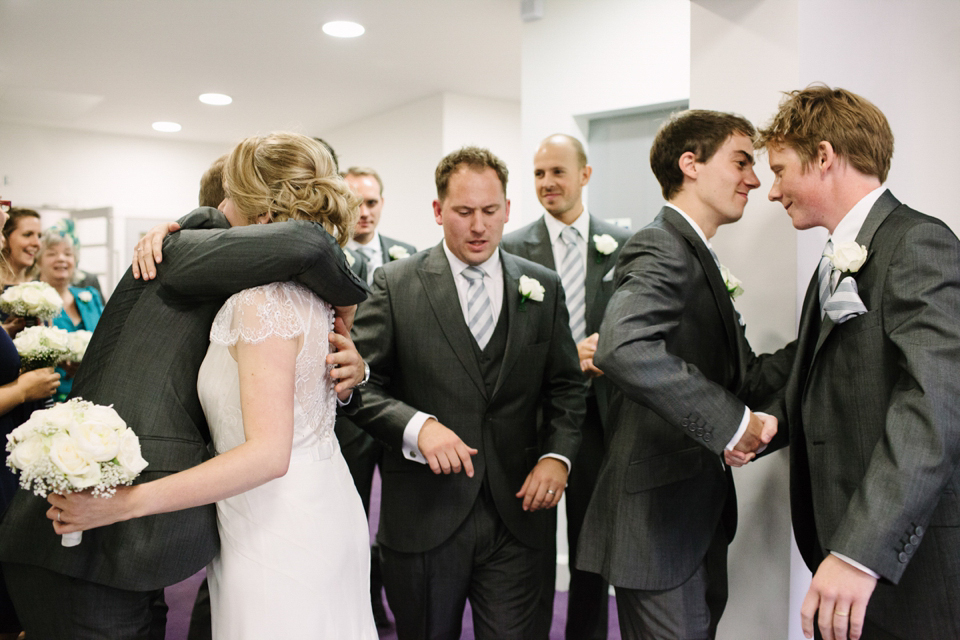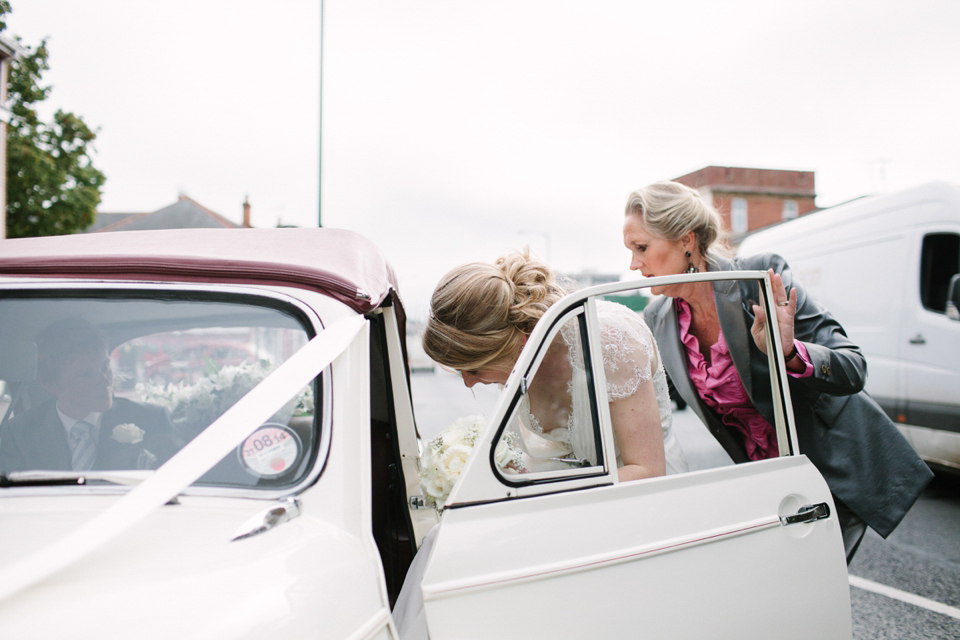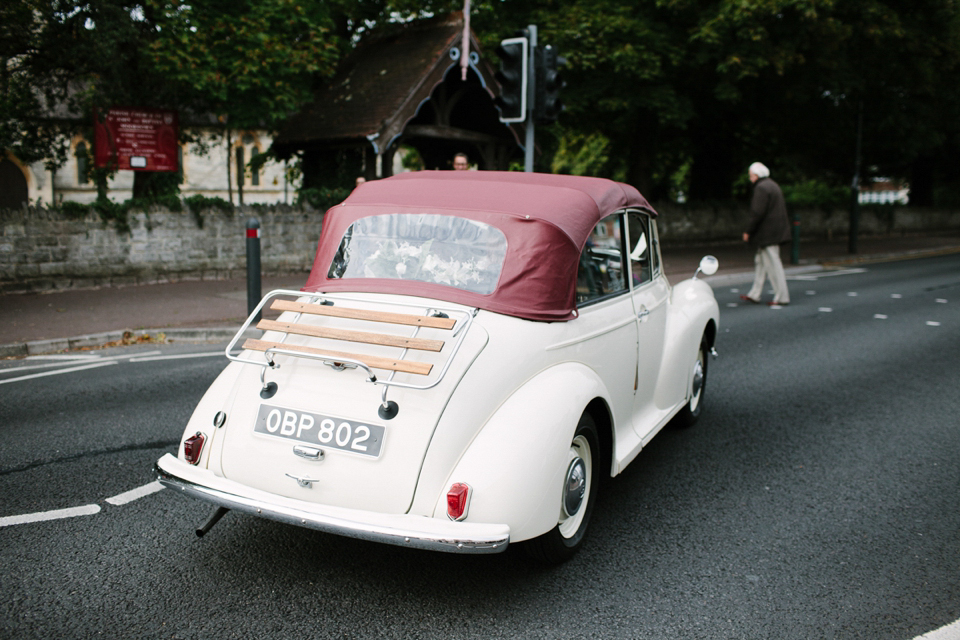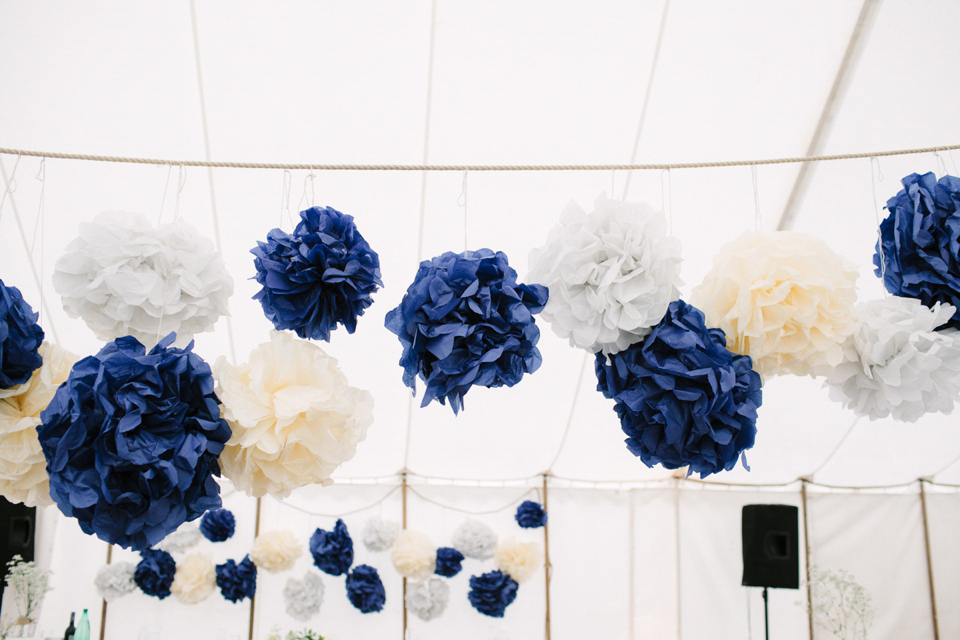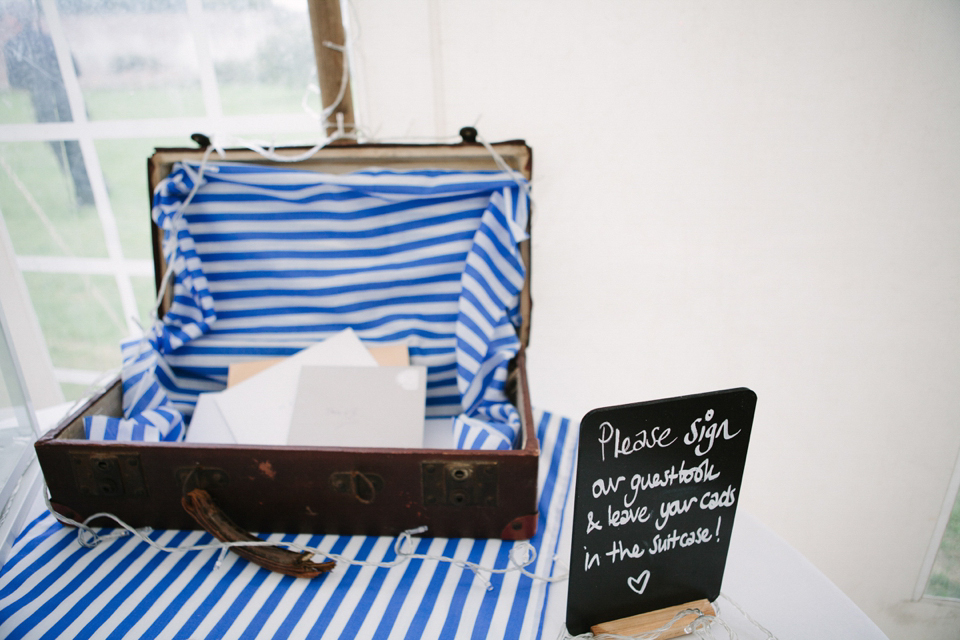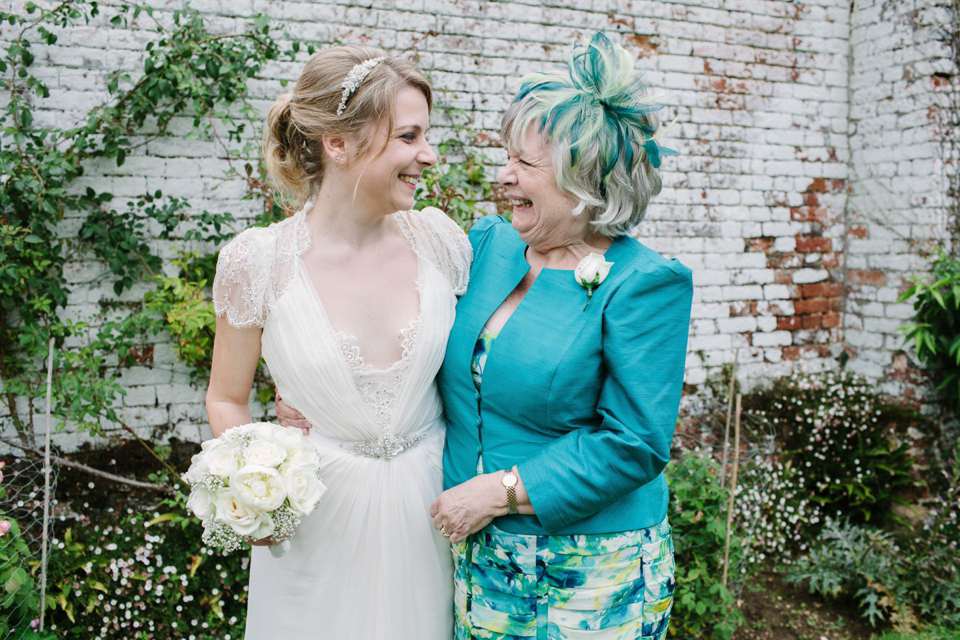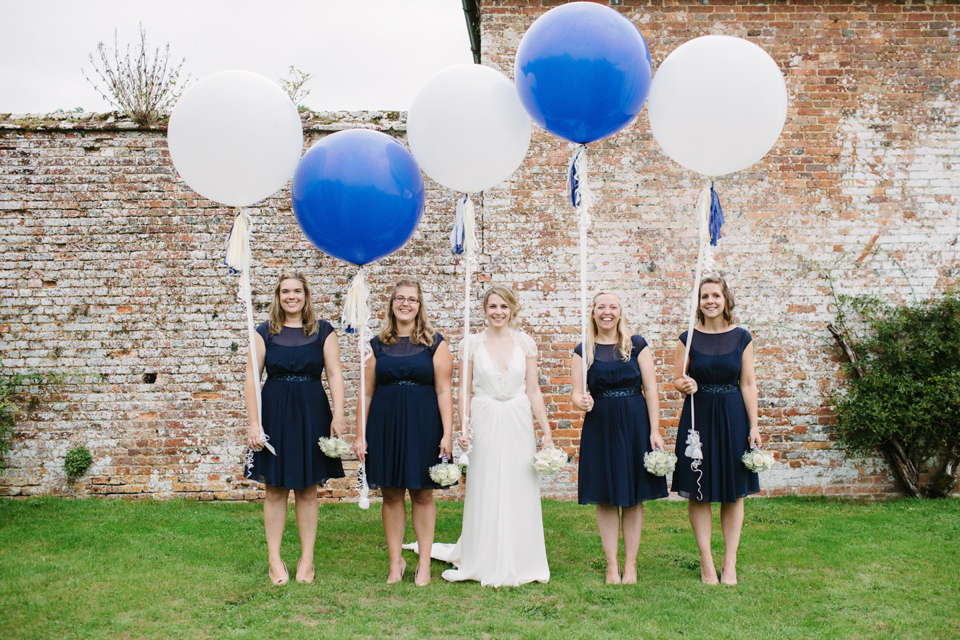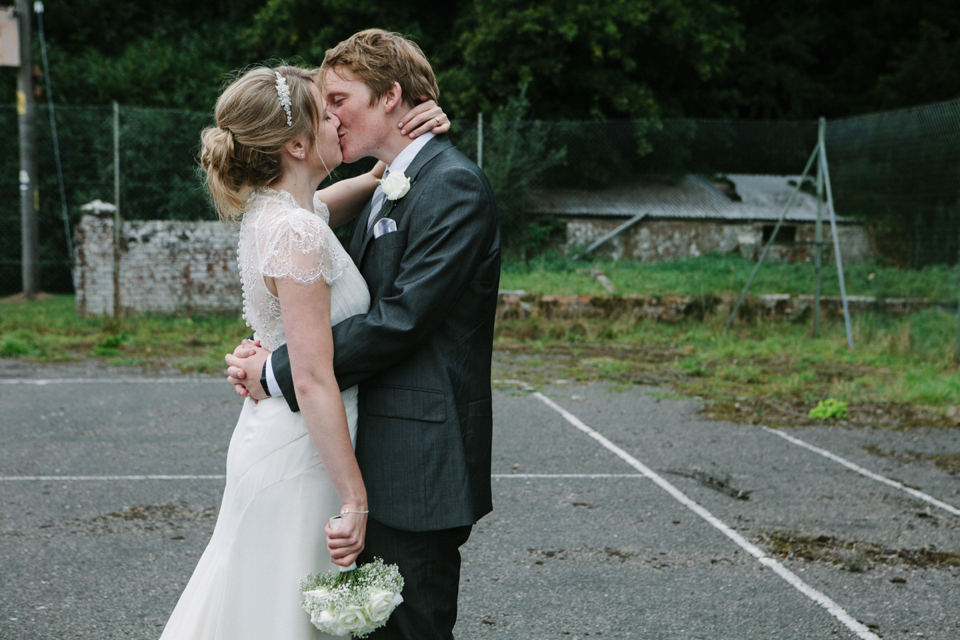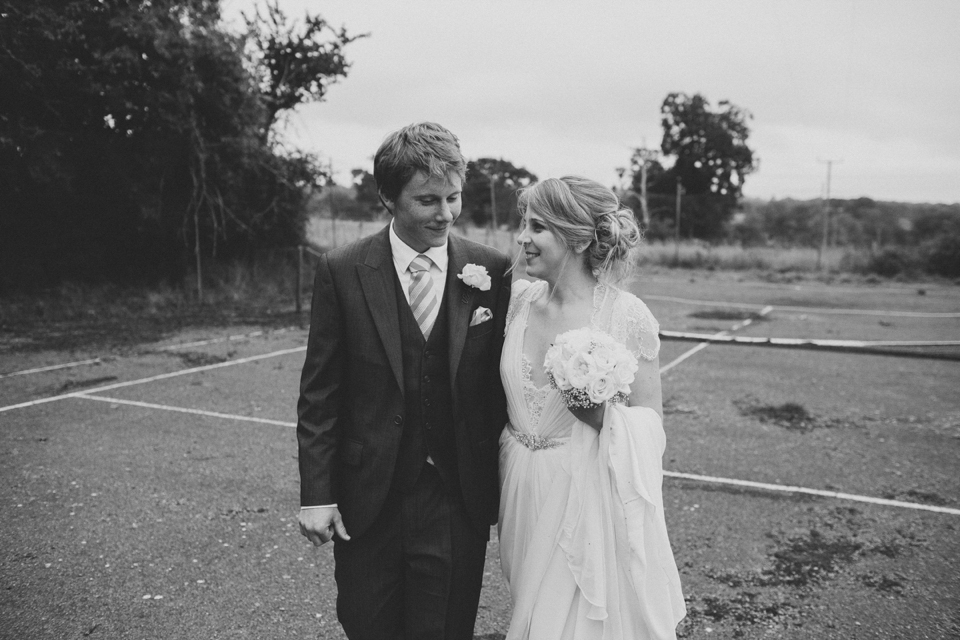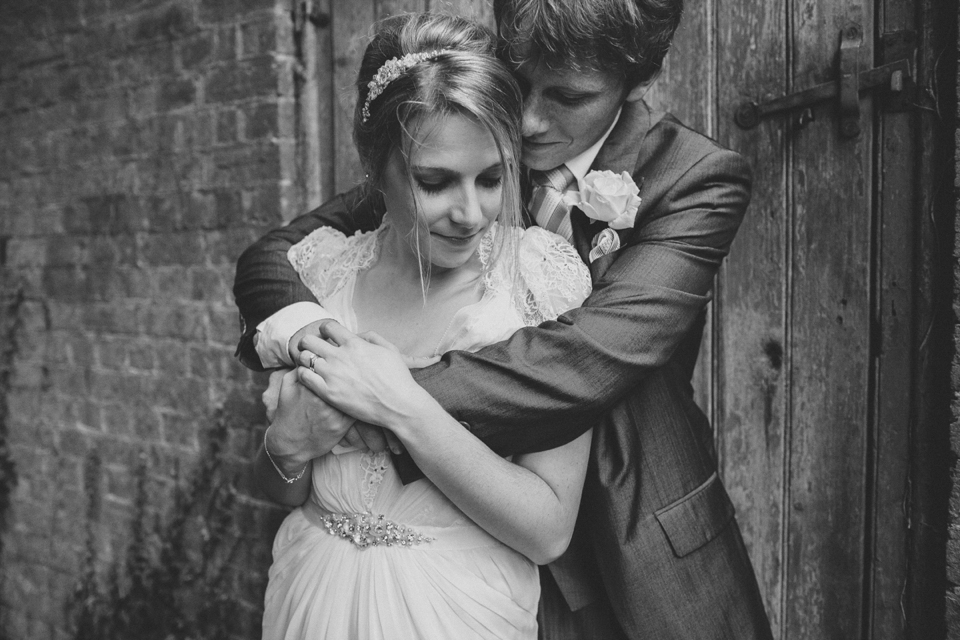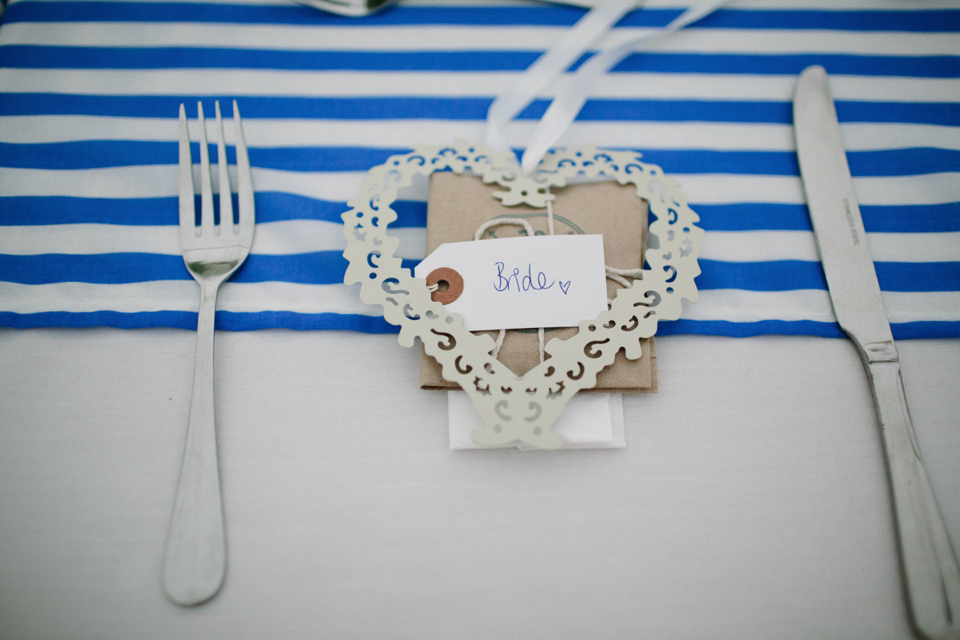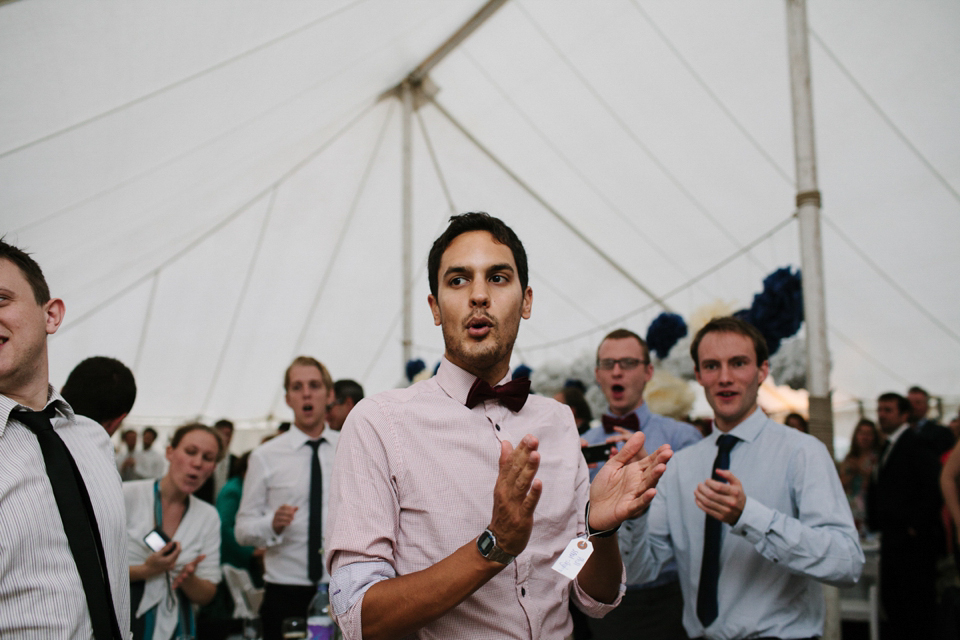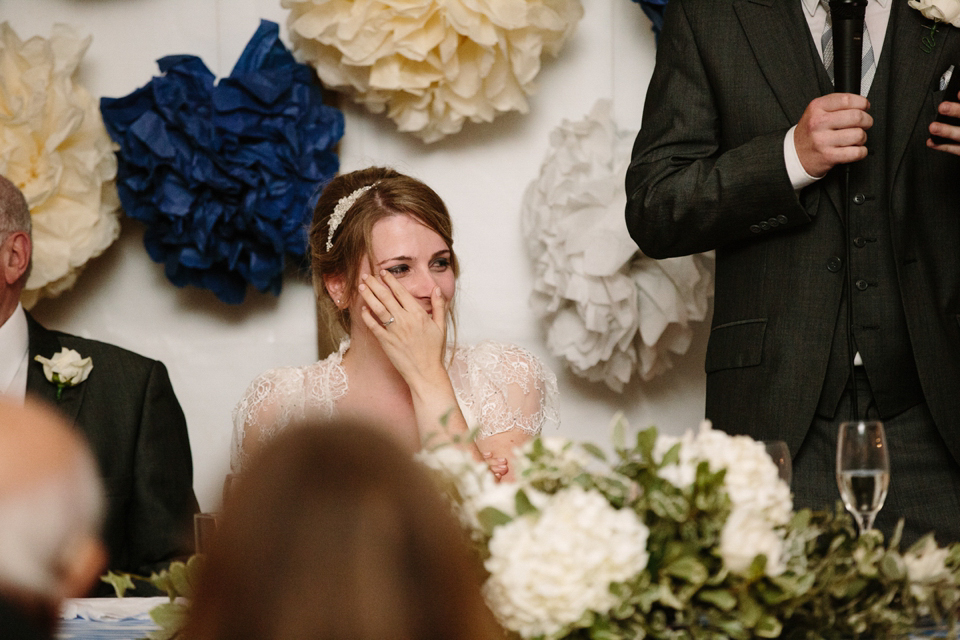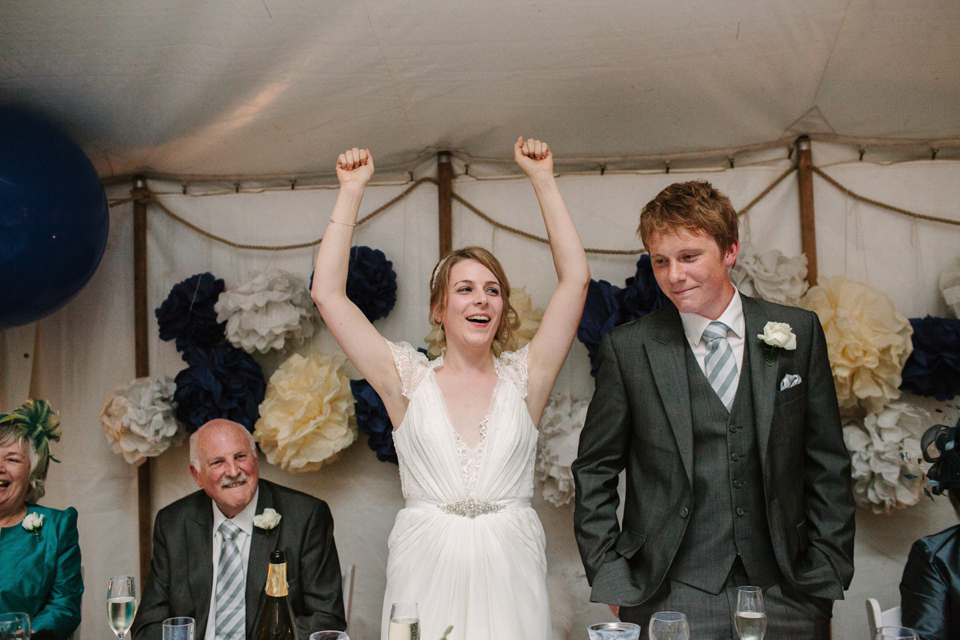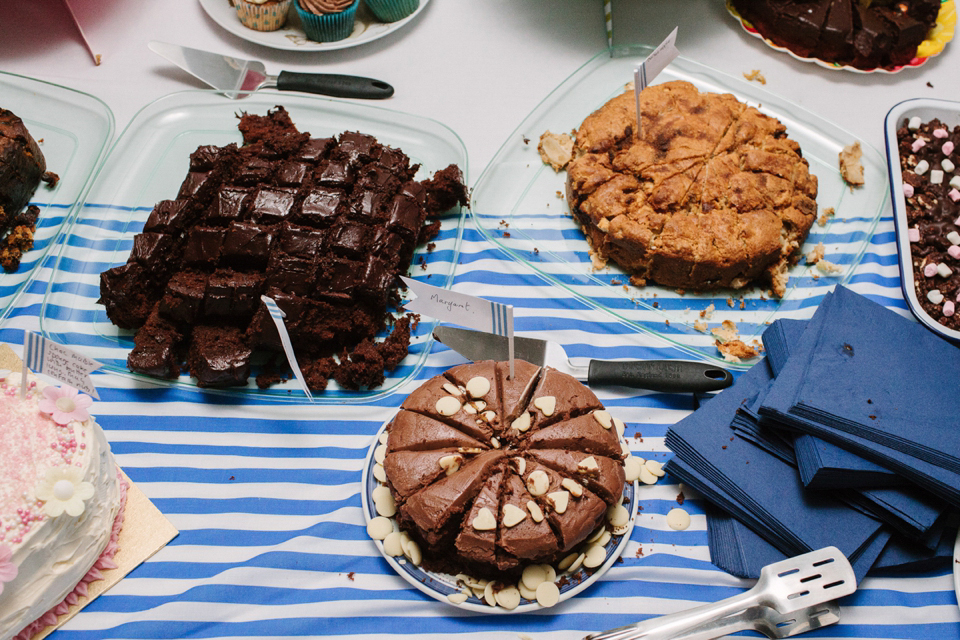 Words of Wedded Wisdom…
"Wedding Fayres are great if you really have NO idea what you want, and it's great when you're first engaged as it's quite a buzz. But if you have a clear theme in mind then I think you'd be surprised with the amount of ideas and information you can get from a good Pinterest session, and recommendation you'll get from friends and things you'll find online. I created a Pinterest board 'Nice things for my wedding' which helped me keep my ideas together: http://www.pinterest.com/justjothen/nice-things-for-a-wedding/
Remember that the day is about you and your other half. The day should reflect you, and while you want to make sure your guests have a great day, they are coming to your wedding for YOU. So make sure everything reflects you as a couple: your favourite food, music you love, décor, your outfit choices. You want to look back and think that was 'so us!'. Try not to get too stressed and make sure that you still make time in your week's planning to live your normal life too. It's good to still go out on dates with each other and see your friends as this will keep you grounded.
I would have done my 'crafty' bits a little earlier on as this was the part I was really looking forward to doing, what with the job I do, and I feel that I didn't leave quite enough time."
I would also recommend keeping a basic spread sheet of all the jobs you have to do, and when they're done. There were so many little jobs and I found it really helpful to see everything laid out in front of me and it was very satisfying to tick them all off!"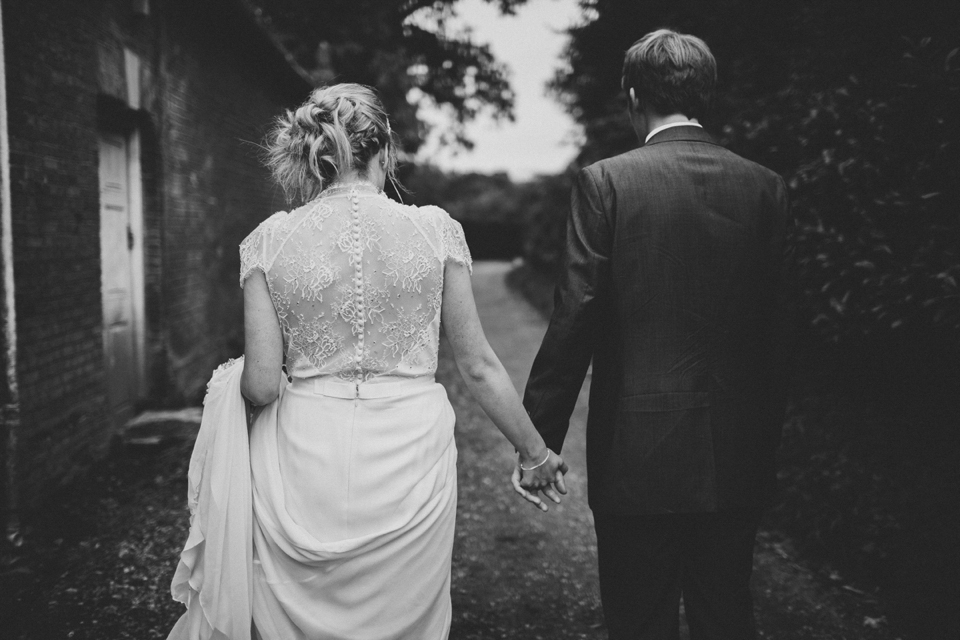 What a lovely day! Congratulations to you both Jo and Steve – many thanks for allowing us to share your wedding with our readers, and as always, huge thanks to photographer Joanna Brown
You can see more from Joanna Brown Photography on Love My Dress here.  You might also want to explore other nautically themed weddings here.
Love Annabel

Photographer – Joanna Brown Photography
Planner/Stylist – The bride
Venue – High Hall in Wimborne, Dorset
Brides Dress – Aspen by Jenny Packham via Miss Bush Bridalwear
Headpiece – Richard Designs (B043 small, in dark blonde floss)
Brides Shoes – Rainbow club
Accessories – Etsy bracelet
Grooms Suit – Youngs suit hire
Bridesmaids – Coast
Florist –  Simply Flower
Transport – The Premier Carriage Company
Rings – Hearts of London + Ernest Jones +  theslyfox on Etsy
Catering Company – Claret Catering
Hair – Jenny at Beau Hairdressers in Westbourne, Dorset
Makeup Artist – Make-up by Jo
Confetti – Shropshire Petals
Follow Love My Dress® on Google+