Good morning all! Considering this blog has the title that it does, it would be fair to assume I rather like dresses, and that I have rather a penchant, after heading towards 5 years of blogging, for seeking out dresses that I genuinely adore.  This particular wedding ticks the 'love my dress' category every time – it also happens to have been documented on camera by one of my favourite photographers out there - a lady I know well as I worked with her on my book, the super lovely Joanna Brown.
Dan and Alex tied the knot on 19th October last year at Birling Manor in Eastbourne, with tipis hired from Beautiful World Tents.
"Blogs like Love My Dress were our inspiration whilst planning our wedding, and I loved so much of what I saw that we kept changing our minds as to the size, style, location etc. I considered everything from a registry office and restaurant in London, to a warehouse rave, an un-modernised barn, and a luxury villa in Italy!"
Photography Copyright (c) 2014, Joanna Brown
"Dan and I met through work, and about two years after we started going out Dan proposed whilst we were on holiday on Japan. It was a complete surprise, but as soon as we were engaged I couldn't wait to get married. We got planning straight away and were married ten months later.
We now run a business together. We have a team of twenty people specialising in Business Development for Creative and PR agencies."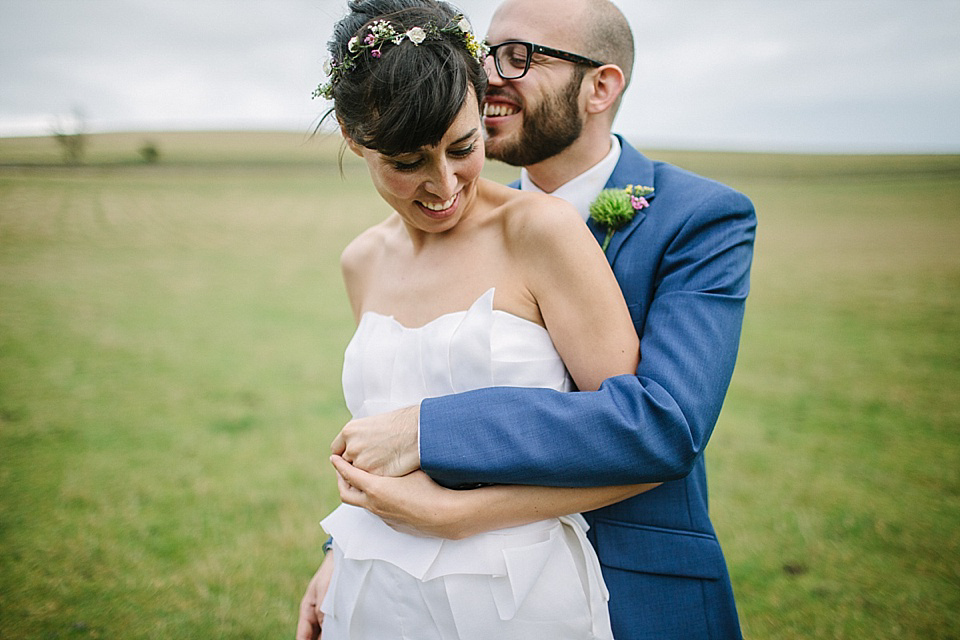 "My dress was by designer Alice Temperley – a purchase from Bicester Village outlet shop. It was only my second time looking at dresses. First was at a terrible hotel conference suite with hundreds of tatty dresses in large sizes. This second time was just meant to be an exploratory trip, but I found a dress that I thought was more beautiful and original than any I'd seen on wedding blogs, and so thought I should go for it as I probably wouldn't like any other so much."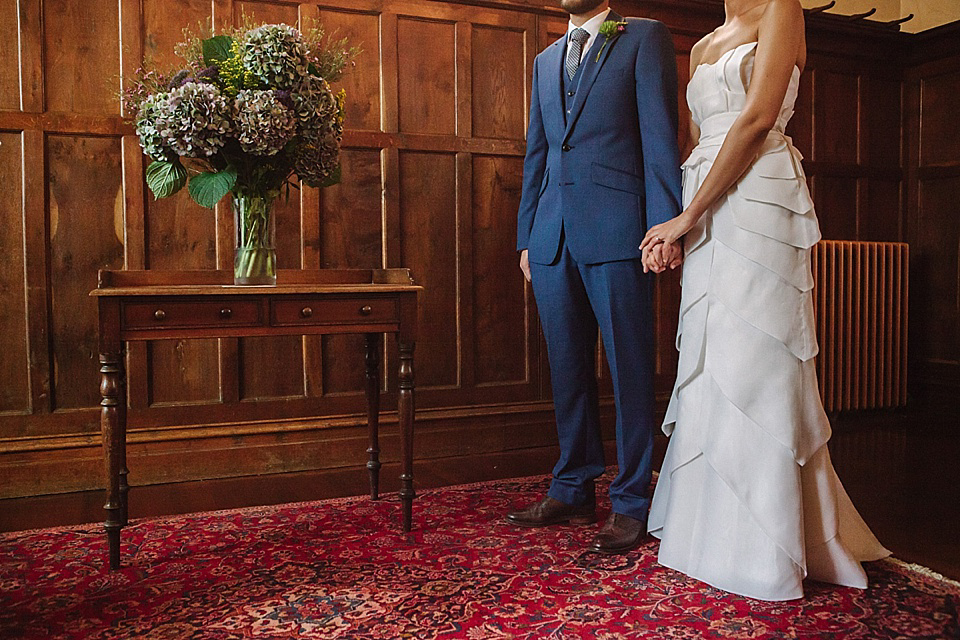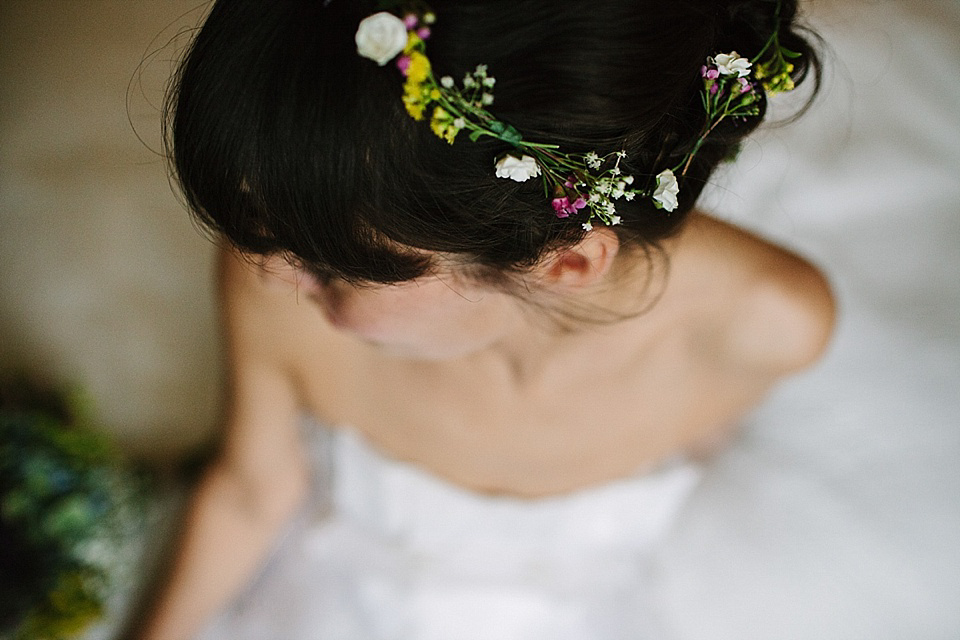 "My shoes were from a generic and inexpensive online bridal shoe shop called Girls of Elegance. I added a bow, made from the off cuts of my dress, to make a better colour match and make the style more to my taste."
"My bridesmaids had a sexy black cocktail dress from Coast, with cream pashminas from EBay to keep them warm.  One of my best friends got married six weeks before, so we shared the purchase of bridesmaids shoes. They were cream patent heels from M&S."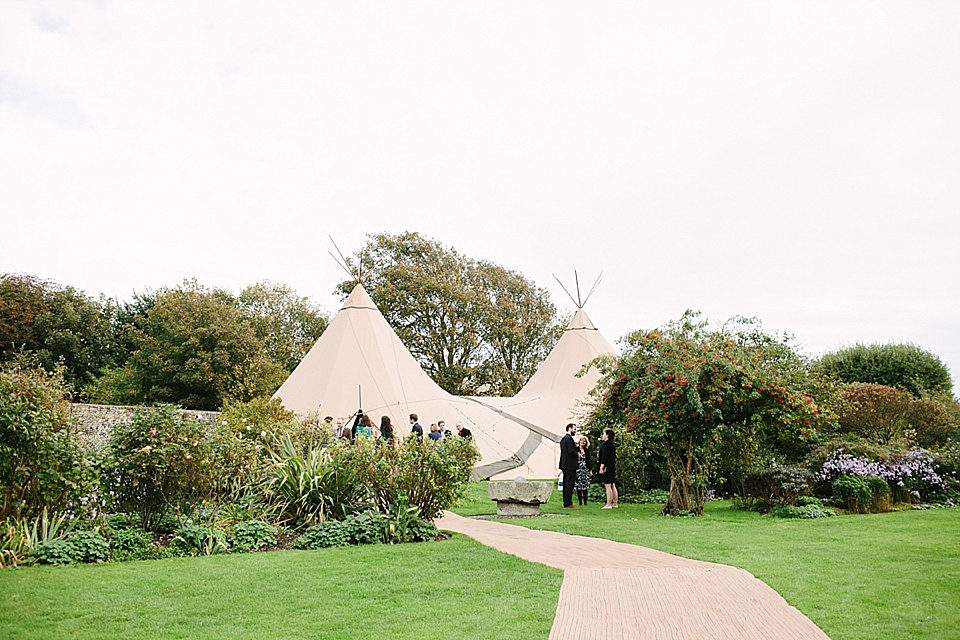 "We did the flowers ourselves. I went to Covent Garden flower market the day before the wedding and picked up some pre-ordered flowers, as well as choosing some last minute additions. We then spent the afternoon, with a few family member helpers, creating the bouquets and table displays."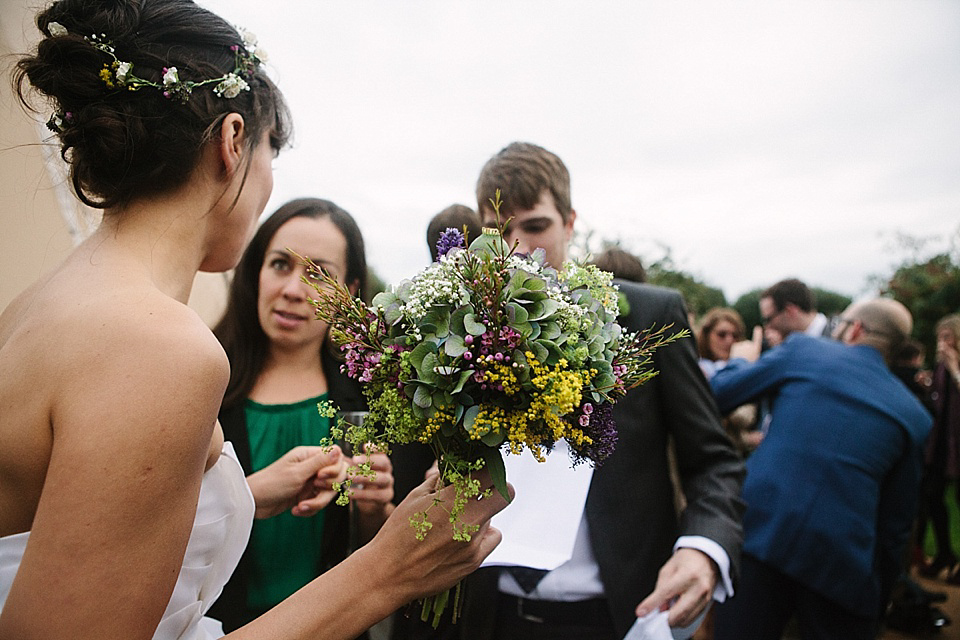 "When it came to decor, we bought all the mis-matched vases for the flowers from jumble sales over the summer. Apart from that we kept things quite simple with just tea light candles and fairy lights."
"Dan designed our invitations and table plan. We went for A3 folded invitations – for something original and big enough to fit all the info on! The style was autumnal fruits and flowers. We got the imagery from this amazing shop which is a secret resource for Graphic Designers."

"Our photographer was Joanna Brown – she is fantastic!  Our first meeting with Joanna was like finally having an hour with a professional wedding planner. Neither Dan nor I had been to many weddings so were a bit like the blind leading the blind in our planning.  Joanna gave us a check list of things to think about and factor in.
She was also such fun to be with that she was a major contributor for the day being as fun and enjoyable as it was."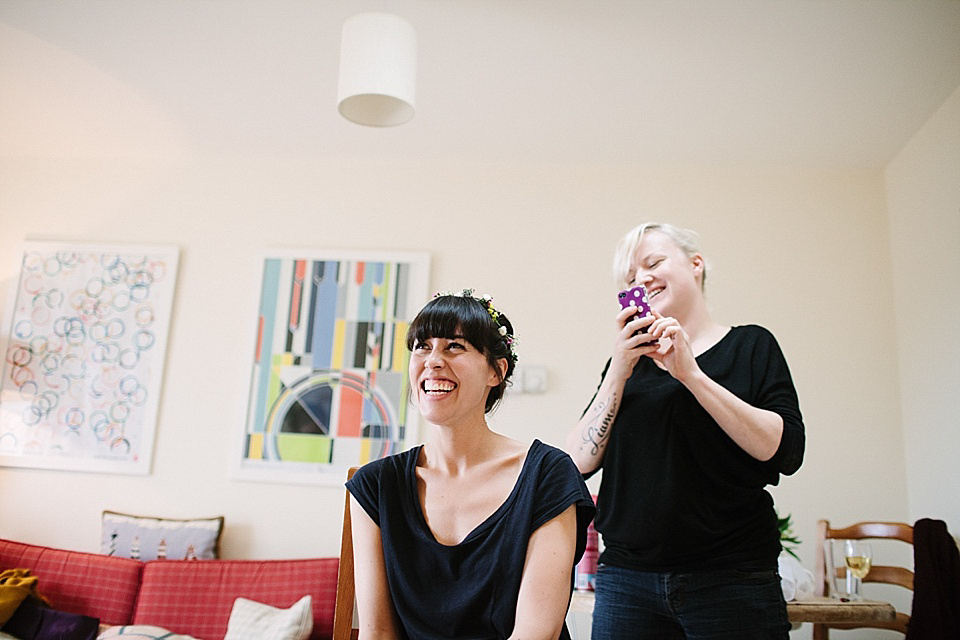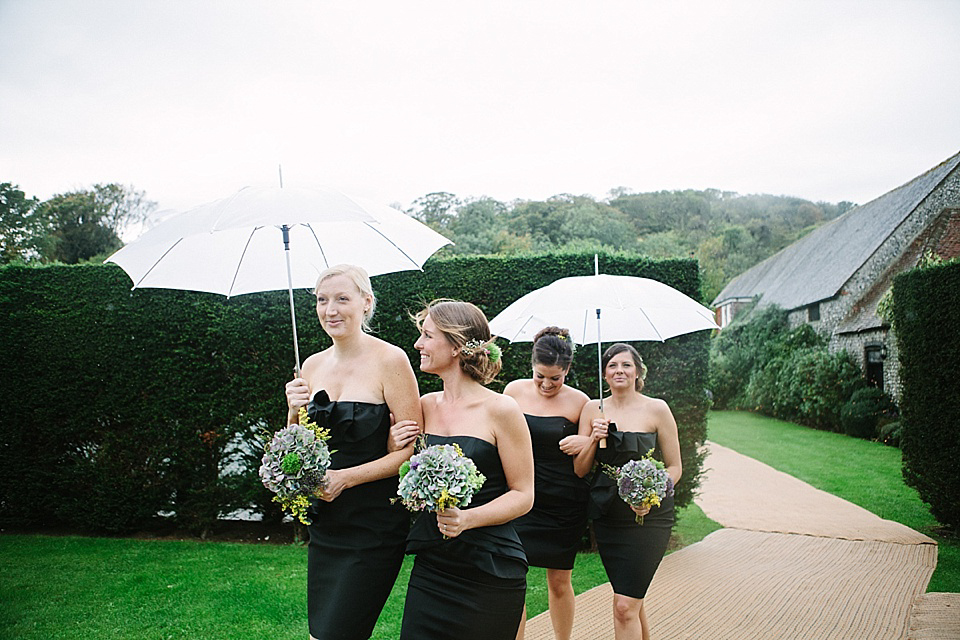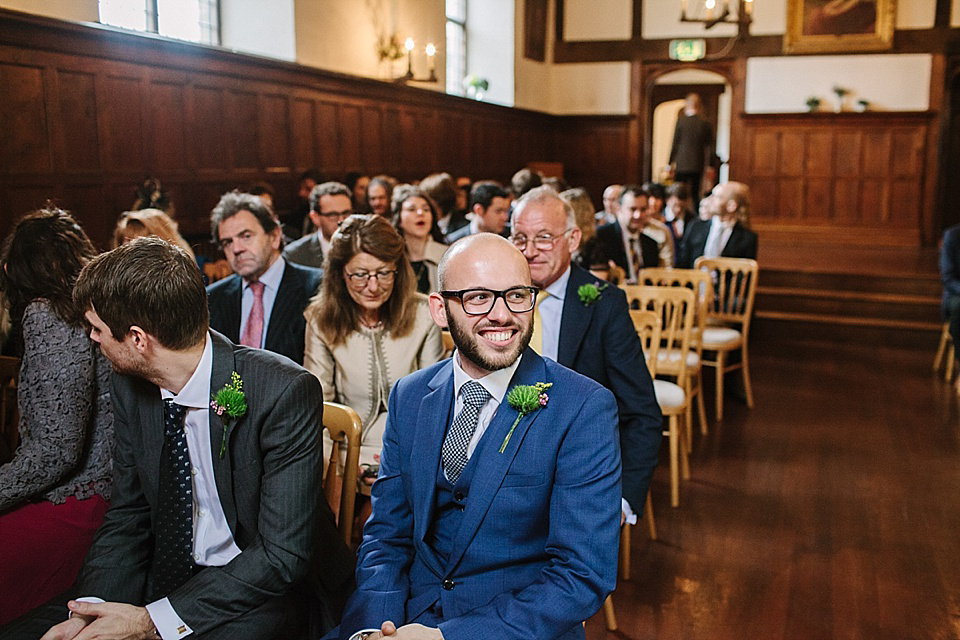 "My brother walked me down the aisle to the sound of Van Morrisson's 'Sweet Thing'.
We wrote our own vows – we discovered that as we were having a civil ceremony, we weren't allowed to have anything remotely similar to the traditional vows;
'Through good times and bad I will be your support
I will try to bring laughter to your life, and make you happy
I will be your partner and friend for life
I promise to help you to reach your goals and I will ensure my actions are never detrimental to our life together or our well-being
I promise to be faithful to only you as long as we both live
The ring I receive today will be a symbol to all others of my joy to be your husband.
I offer you this ring as an eternal symbol of my love and commitment to you.'"
"We chose not to have any readings – we didn't find anything that felt genuinely personal, and it felt too self-important to ask someone to write a love poem about us!"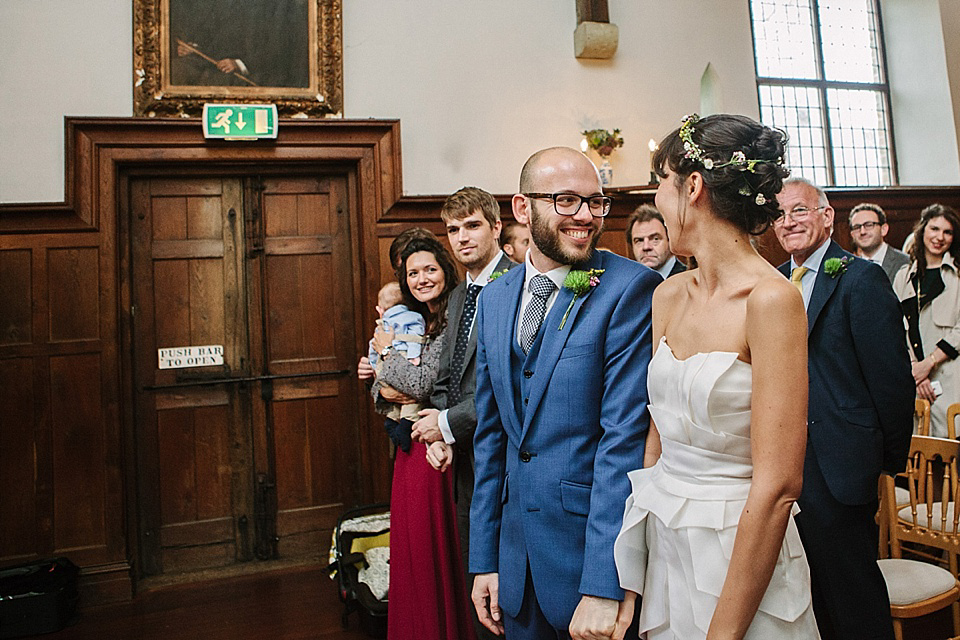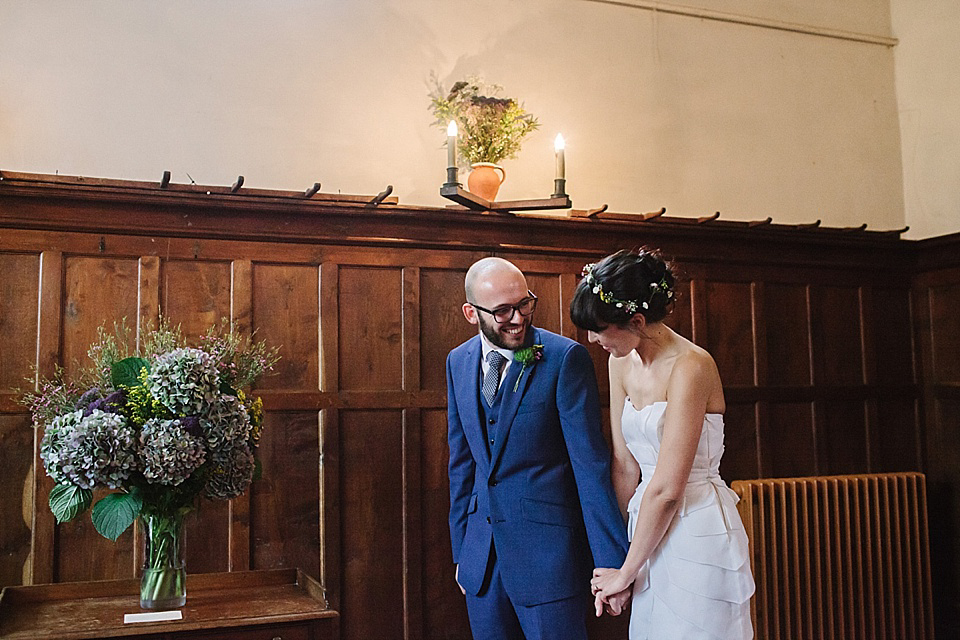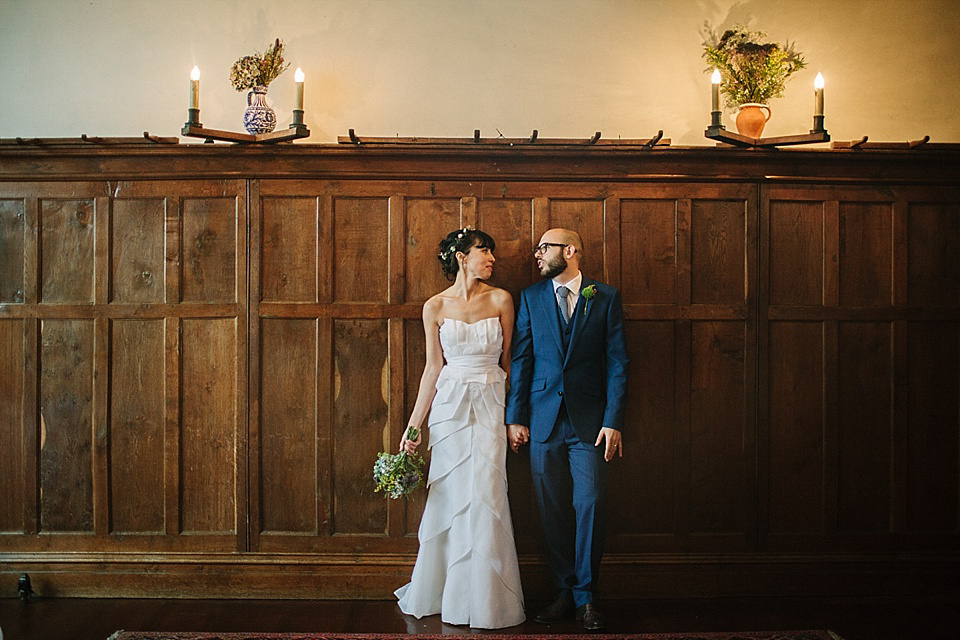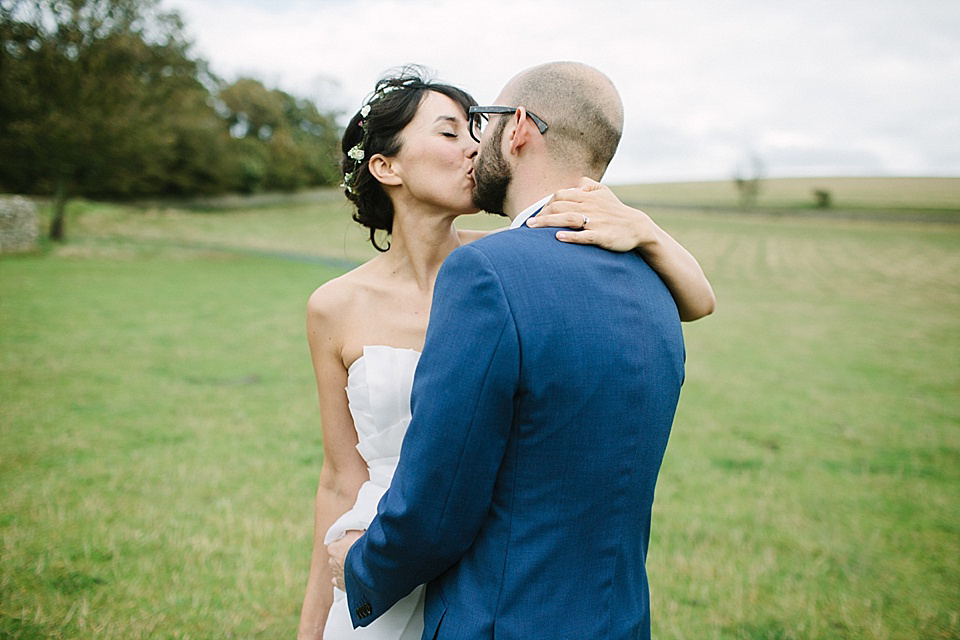 "Our catering was provided by Mike & Ollie. We can't recommend them highly enough. Mike had been running pop up restaurant nights in New Cross (near where we live) for a few years. We'd been a few times and always loved his food, and had a raucous, fun time – the same vibe we wanted for our wedding. 2013 was their first year doing wedding catering so there was some learning as they went along, but I think we were easy going enough to go along with it, and we knew it would be worth it. All their food is seasonal, interesting and often foraged. We only found out the menu on the day, and because of all of the excitement, I can't actually remember what it was! It was 4 or 5 courses of outstanding food.
Mike & Ollie managed our champagne reception and wine during the dinner, but after that it was a help-yourself bar with a wide selection of booze from Majestic. We even had Jager bombs to get the party going. Around about 10pm Mike & Ollie brought out flat breads for everyone filled with slow cooked lamb shoulder with whole coriander and fennel seeds finished over charcoal.
"We didn't particularly want a formal wedding cake or cake cutting, so just had a delicious dessert from our caterer. My mum also made chocolate truffles to go with the coffee, and amazing flourless chocolate cakes for later on."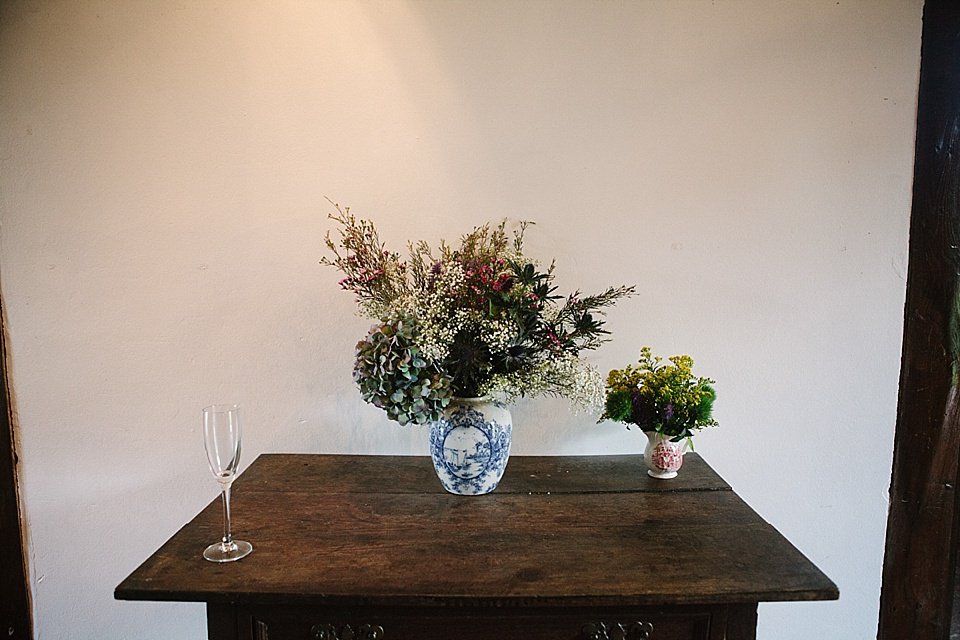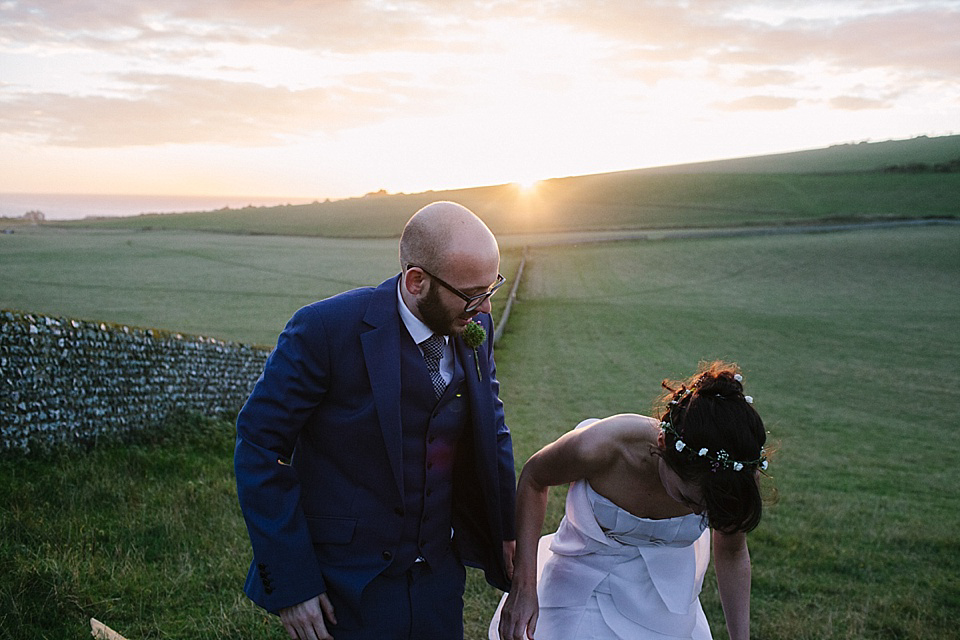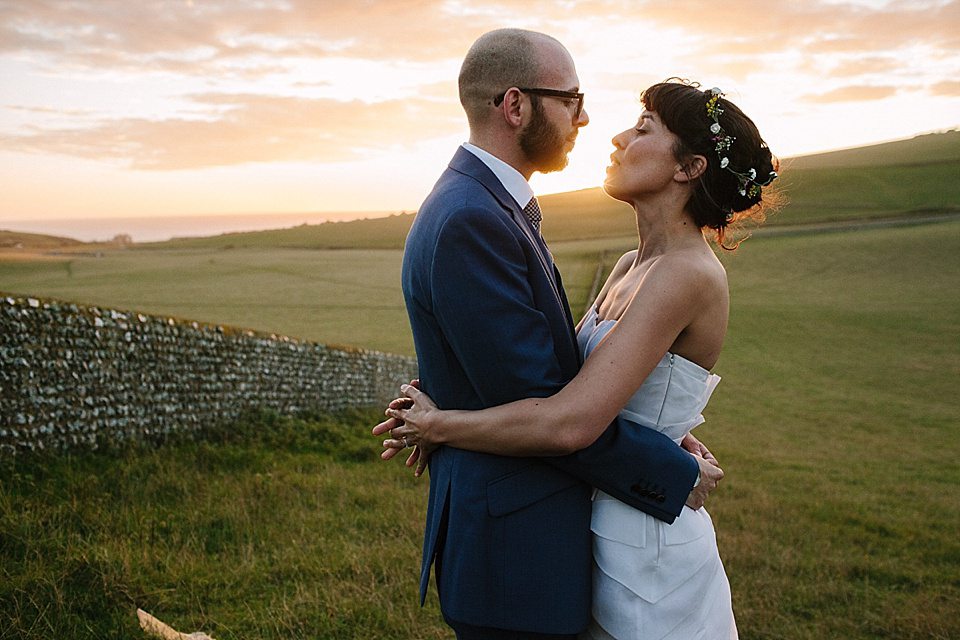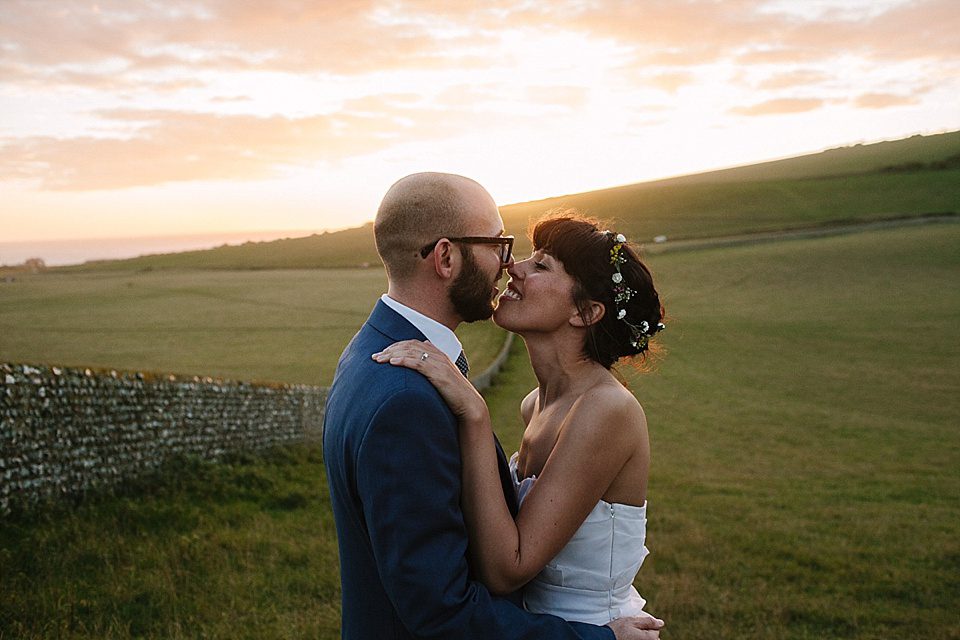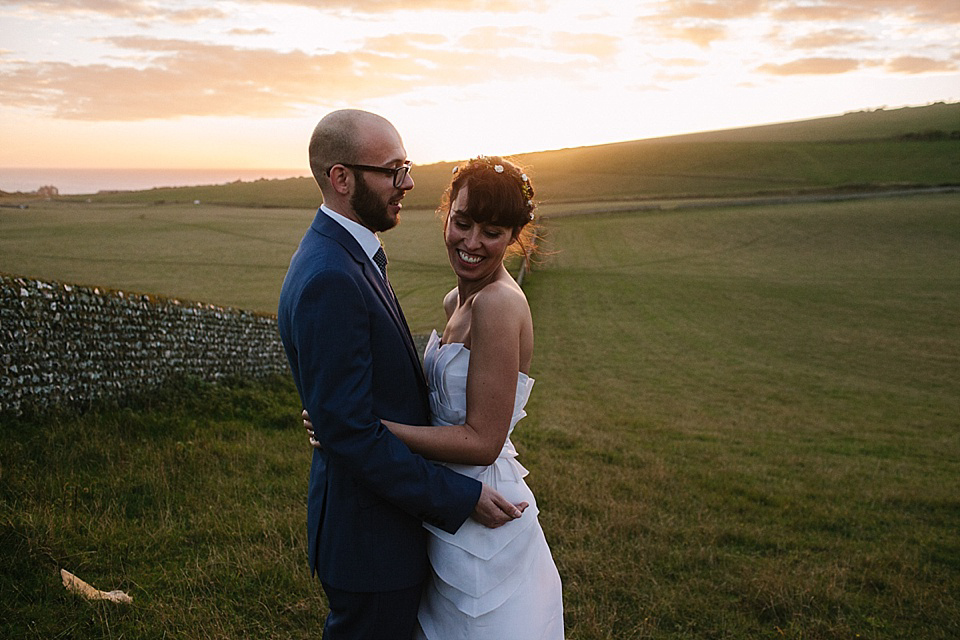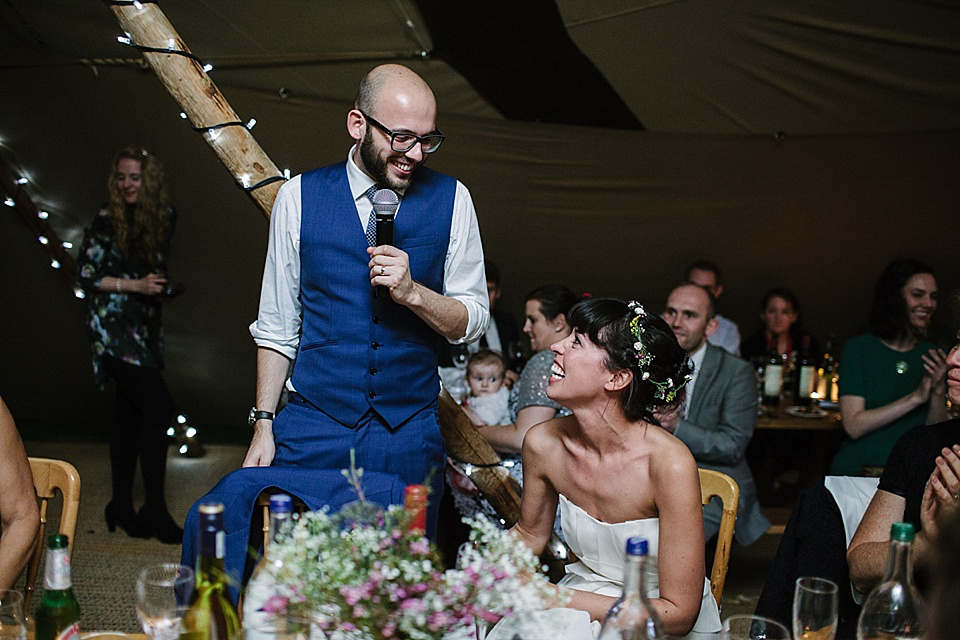 "After dinner there was musical bingo – devised by Dan and I, but then run by two super entertaining comperes – the ushers! We also hired DJ Tony from Disco Shed. He kept the dance floor heaving from after dinner, NON STOP until midnight. We were scared of having a cheesy wedding DJ, and whilst Dan used to be a DJ so could have picked us something cool, we also knew that music which is too cool wouldn't be that fun, and wouldn't be right for everyone.
Tony took the brief from Dan perfectly, and we've already had loads of engaged friends asking for Tony's number."

"Our first dance was to Camille Yarborough's 'Take Yo Praise'. Dan chose it and the lyrics were fun and pretty relevant; 'We've come a long long way together
 through the hard times and the good
, I have to celebrate you baby, 
I have to praise you like I should

, You're so rare
 you're so fine, 
I'm so glad you're mine, 
you're so rare
 you're so fine, 
I'm so glad you're mine'.
We were really happy with our choice of song, and that was another clear decision made quite early on. However when we came to try and learn to dance to it, we discovered it was pretty difficult to dance to! We had 2 or 3 dance lessons but on the day we improvised some moves and then got friends on to the dance floor within a minute."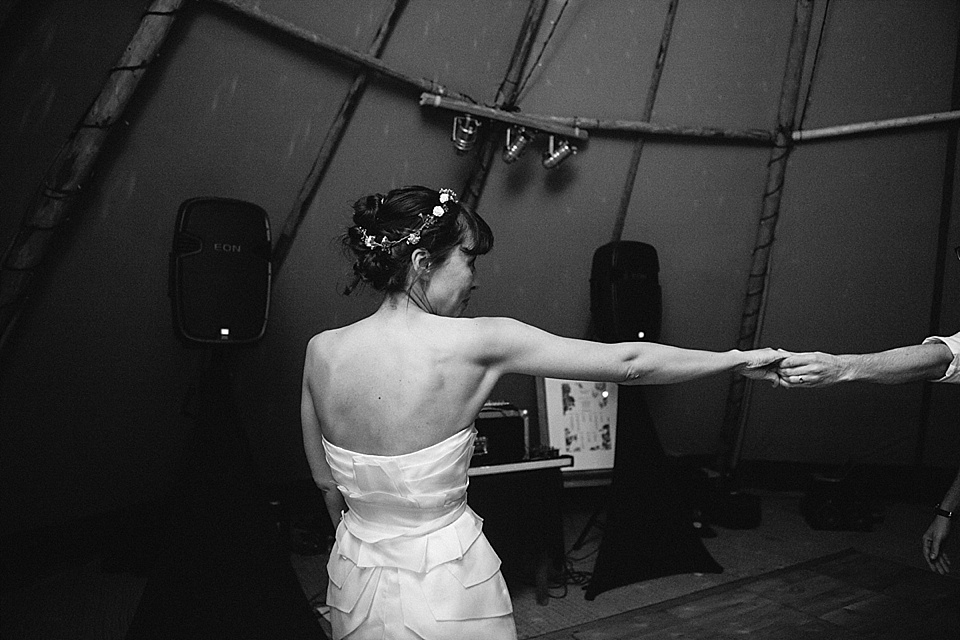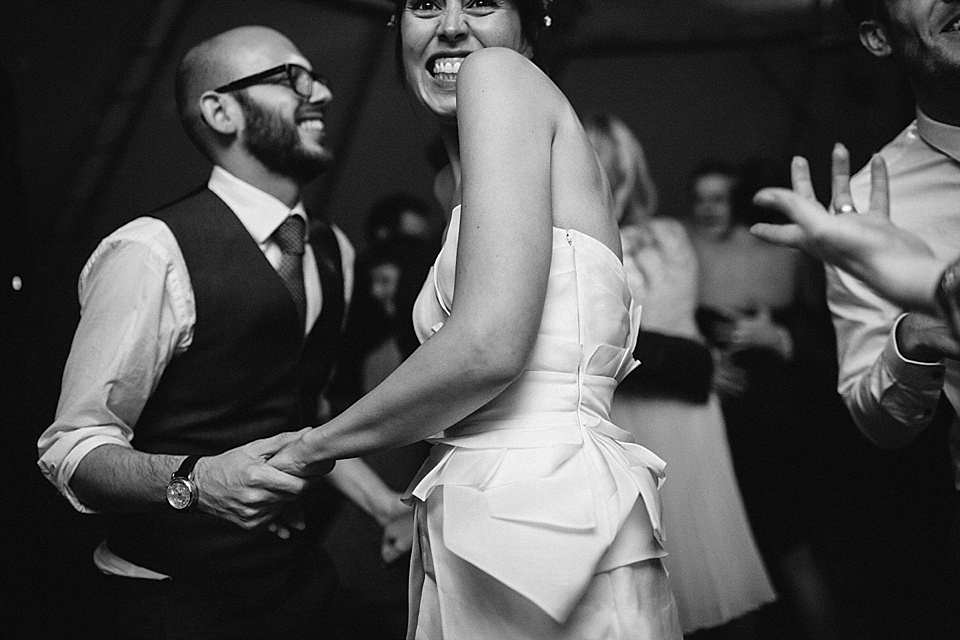 Words of Wedded Wisdom…
"A piece of advice I took from another bride was to make sure that you have a few non-wedding days per week in the months of prep. I was so excited and doing so much research early on that I could have talked to Dan about ideas every single day, but I know that that would have bored him to death, so I saved up my questions and discussed wedding planning just a few days a week. I didn't tell him I had allocated days for wedding chat – he would have thought I was even more crazy – but I know it was important for keeping our relationship healthy, and so that he didn't regret embarking on this whole wedding palaver!
Dan says he thought it was really handy that some of the suppliers knew and recommended each other (tipis, heaters, generator etc). It meant they were used to working with each other and therefore asked us less questions."
Such a gorgeous day – we are so privileged to be able to enjoy weddings like this, a peek into personal lives and private joy. Thank you so much Alex and Dan for so kindly sharing your wonderful, joyous wedding day with us all.  I do love my job!
You learn more about Temperley Bridal on Love My Dress here.  You might also want to explore more wedding photography from the talented Joanna Brown here, or browse through more Autumn, tipi and tent weddings.
Have a beautiful morning all,
Love Annabel
Photographer – Joanna Brown
Venue – Birling Manor in Eastbourne using Beautiful World Tents
Wedding Dress – Temperley Bridal via Bicester Village outlet shop
Brides' shoes - Girls of Elegance
Bride's accessories – fresh flowers and paper flowers from John Lewis
Grooms Suit – Reiss + shoes via Jones The Bootmaker + Paul Smith tie
Bridesmaids – Coast + cream pashminas + M&S cream patent shoes
Flowergirls – Boden
Flowers – by the bride & groom using blooms from Covent Garden flower market
Entertainment – DJ Tony from Disco Shed
Rings – Hatton Garden jewellers
Catering – Mike & Ollie
Stationery – the bride and groom
Hair Stylist – a friend
Follow Love My Dress® on Google+