It's an exciting time in bridal fashion land, and I'm in my element.  As flocks of bridal boutique owners descended upon Chelsea last weekend to attend the White Gallery (brides, that's one of the UK's main bridal wear trade fairs – that boutique owners visit to order new designs for their wedding dress boutiques), I was in attendance feeling a little woozy and under the weather, but eager to discover a world of exciting new designs.
I'm going to keep this written report fairly brief – as the pictures by our wonderful photography partner, Naomi Kenton do the talking.  It's difficult to visit every exhibitor at an event like this, so I tried to pick out those who I felt really stood out and who I knew my readers would be interested in learning more about. I've also blogged about the brands in purely alphabetical order because with so much information to wade through from the Jo, this kept things simple for me in collating my favourite pieces.
Trend wise, it was great to observe colour playing a more key role – my very favourite coloured item being a pale green tulle skirt that featured in a romantic gown by designer Katya Katya Shehurina, a brand I'm completely in love with for it's fairy-tale meets elegant modern style. Gold has also stepped to the fore as the metallic shade of choice by many designers, and I also saw a move away from lace and more designers using playful polka-dot inspired detail. There's a whole new wave of love for the bridal cover-up too – forget the traditional bolero, think sheer floor length capes, elegant chiffon shawls and fine lace jackets.
Warning – this is a long/image heavy post. But it's worth it. Promise.
Photography Copyright (c) 2014, Naomi Kenton for Love My Dress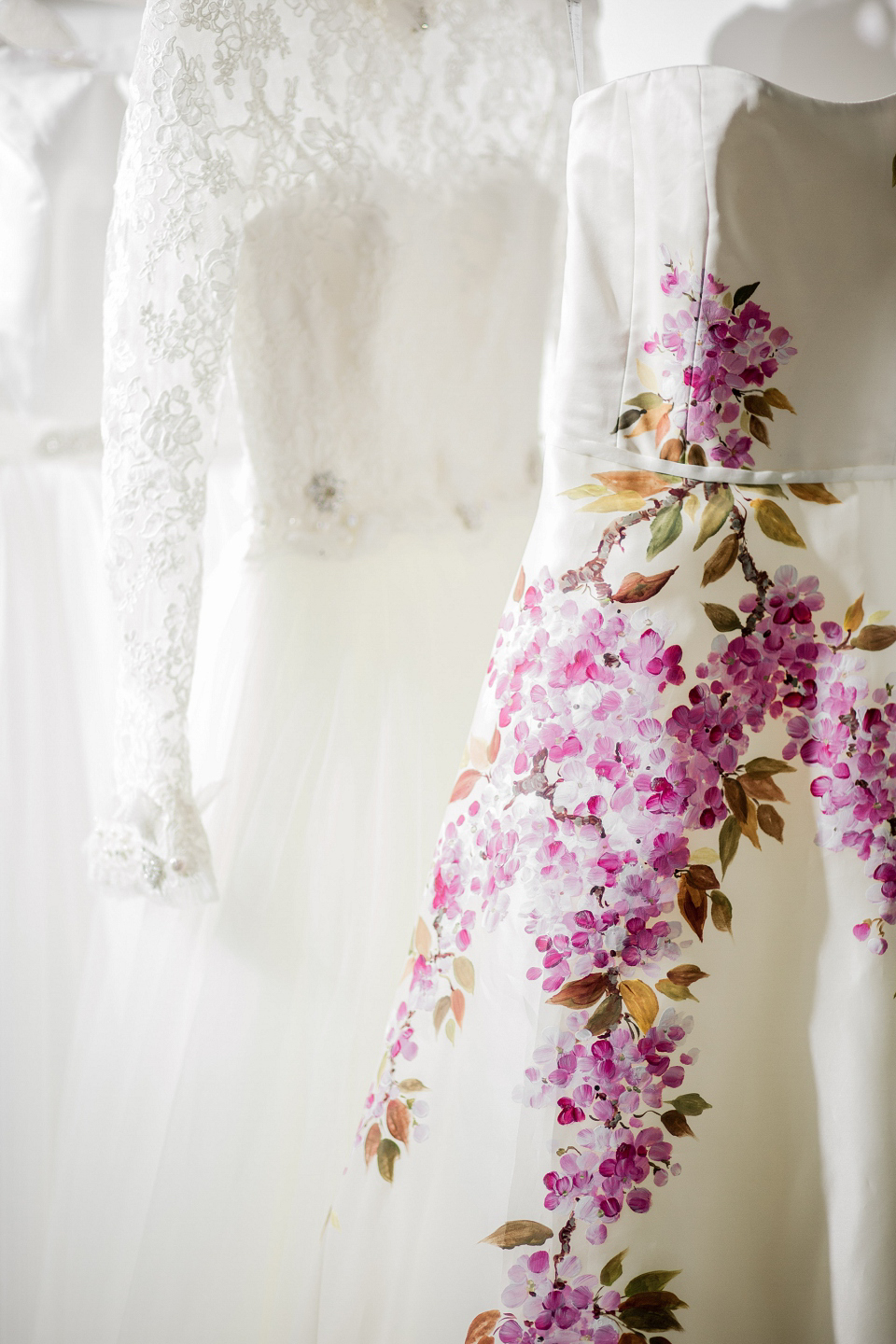 Hand-painted gown by Alan Hannah
Show stand-outs?  Luxury lounge-wear-come-evening wear and lingerie brand Shell Belle Couture really nailed it for me.  I've included some images further down in this feature (I've written about designers in alphabetical order remember) but beautiful as they are, they really do no justice to the exquisite craftsmanship behind these divine designs.  I want to own every single piece in the collection.
My readers adore Charlotte Balbier and I was rather smitten with one of Charlotte's new tiered lace designs.  Charlotte's latest collection was named after the venue she herself tied the knot at in December last year (ps, watch out for Charlotte's wedding on Love My Dress soon, you will weep with how utterly beautiful it all is).
Katya Katya Shehurina also stood out.  For such a young brand, they have really made their mark with a really strong signature style all of their own that screams femininity and self confidence.  I adored Alan Hannah's hand-painted wedding gowns, and new shoe designer Charlotte Mills is almost definitely 'one to watch'.  Whilst Charlotte has some pretty hot competition to keep up with in the field of wedding shoe design, I think she's going to fill that playful young bride part of the market very well indeed with her cute heart inspired heels that feature real sixpences in the sole.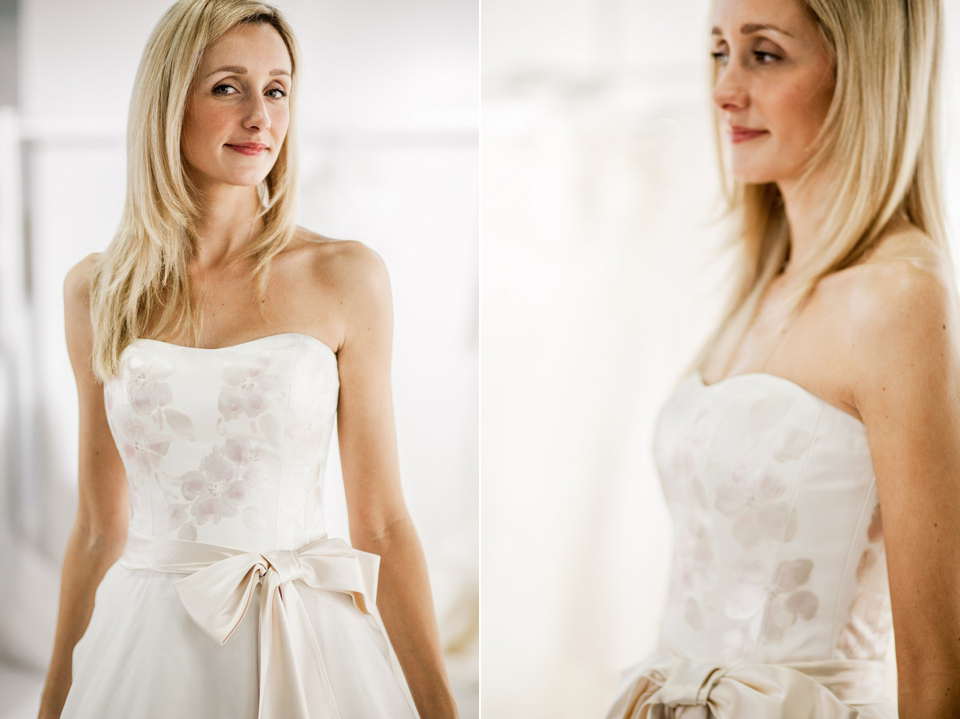 Hand-painted gown by Alan Hannah
The hand-painting aspect in the new Alan Hannah collection is sublime.   I loved wandering around this sizeable exhibition space and watching the models swoosh in and out with various designs on.  I'm genuinely a fan of this brand and it's commitment to produce all it's gowns right here in Blighty.  It has a strong feminine appeal with well cut and highly flattering silhouettes. 
Alan Hannah and his designer wife Marguerite are also behind MiaMia Bridal - which offers a more affordable slice of couture with gowns retailing for between £1,100 and £1,800.
Visit alanhannah.co.uk and miamiabridal.co.uk for further information.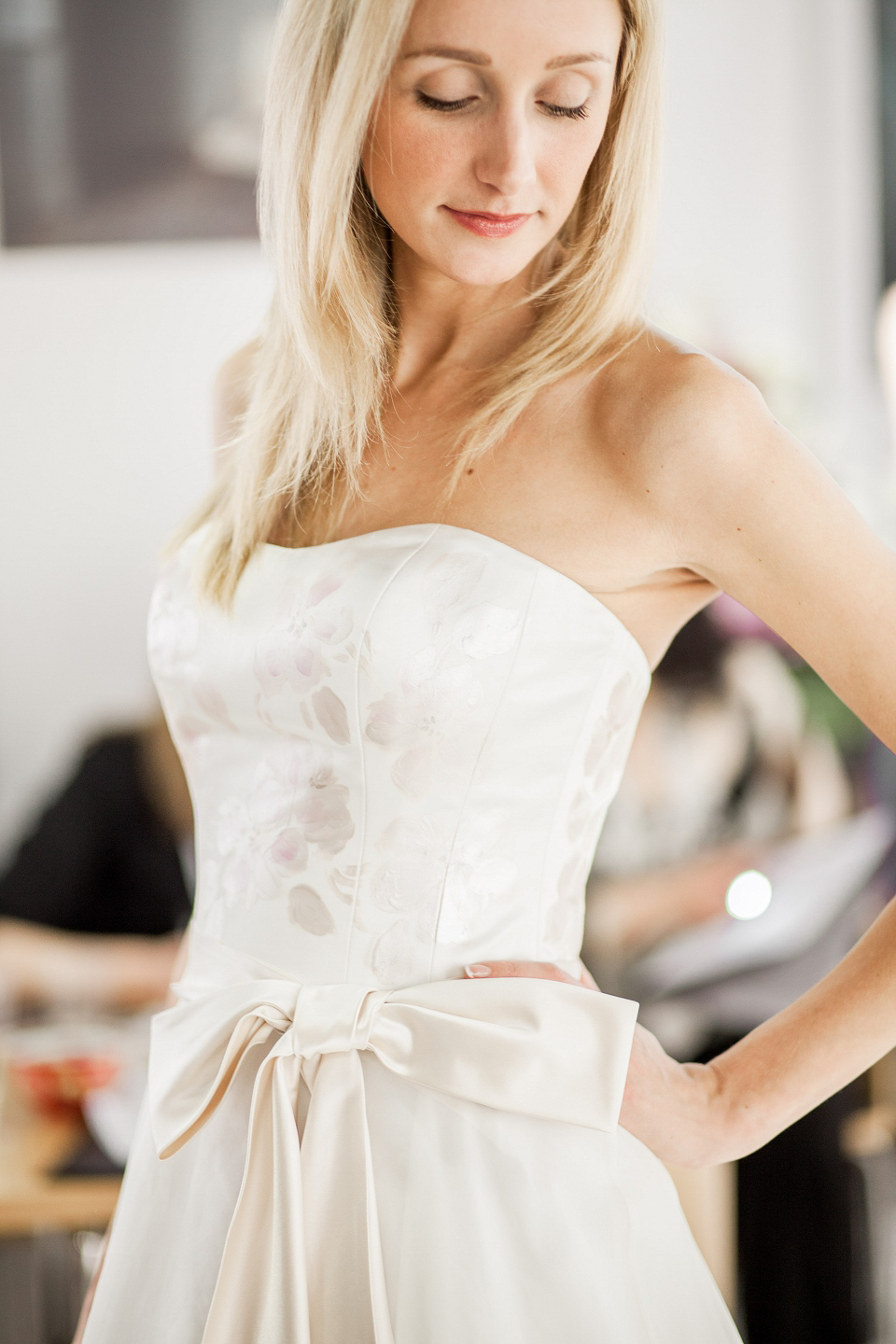 Designs above by Alan Hannah
 I've always loved the 50's grace and elegance inspired designs by Blue.  This is a small company, yet again committed to overseeing production entirely in the UK (I'm pointing this out as the provenance of their gowns seems to be a growing point of importance to many brides these days).  
Based in Cardiff and with stockists scattered throughout the UK, this brand delivers clean, bold shapes with a signature bateau neck style.  I absolutely adored these dresses.  They are exquisitely produced with really thoughtful finishing detail. An absolute must to look up for any Audrey Hepburn fan.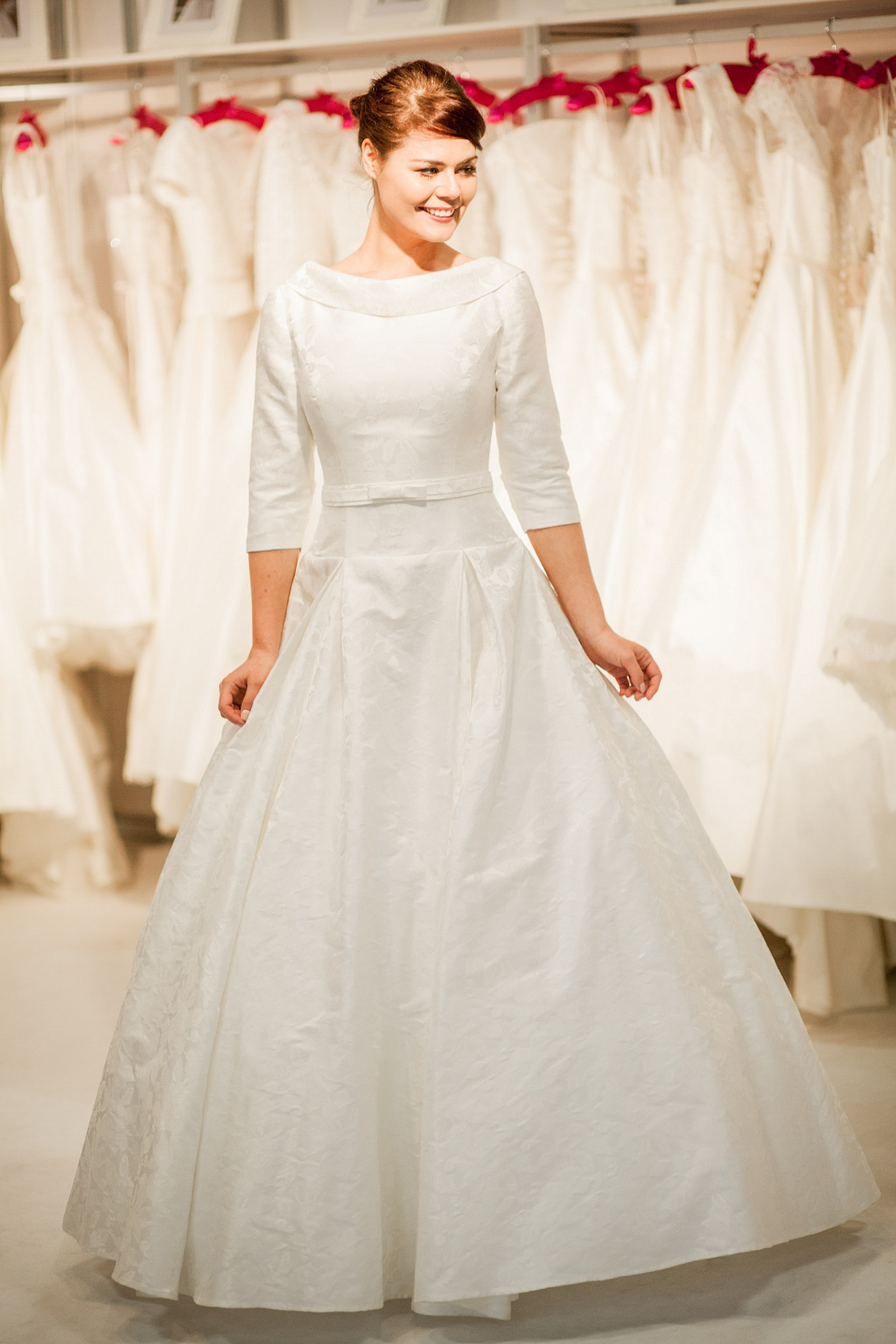 Blue Bridalwear was established over 20 years ago by designer Angela Pitcher Dowell, who was on hand at the White Gallery to talk through her designs, including 'Reggie' (above and below), a silk damask gown with roll-collar detail and pleated skirt. Pinch-me-gorgeous!
Visit bluebridalwear.co.uk for further information.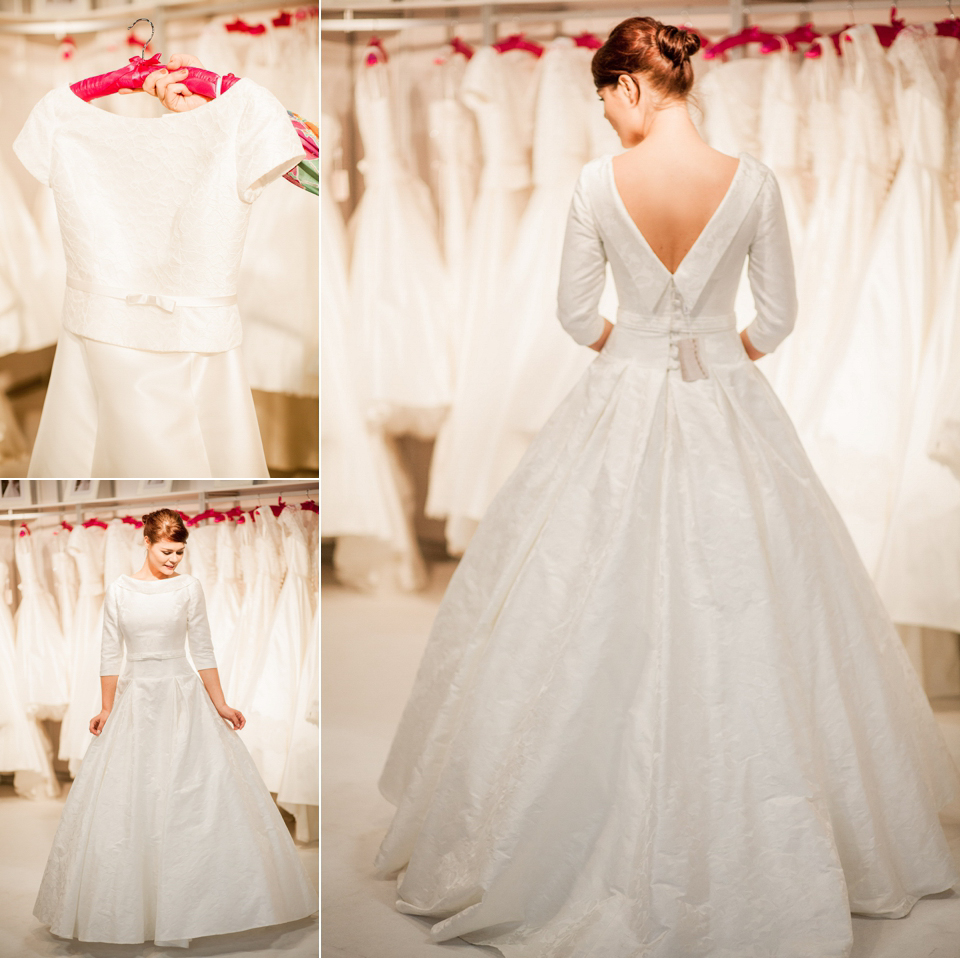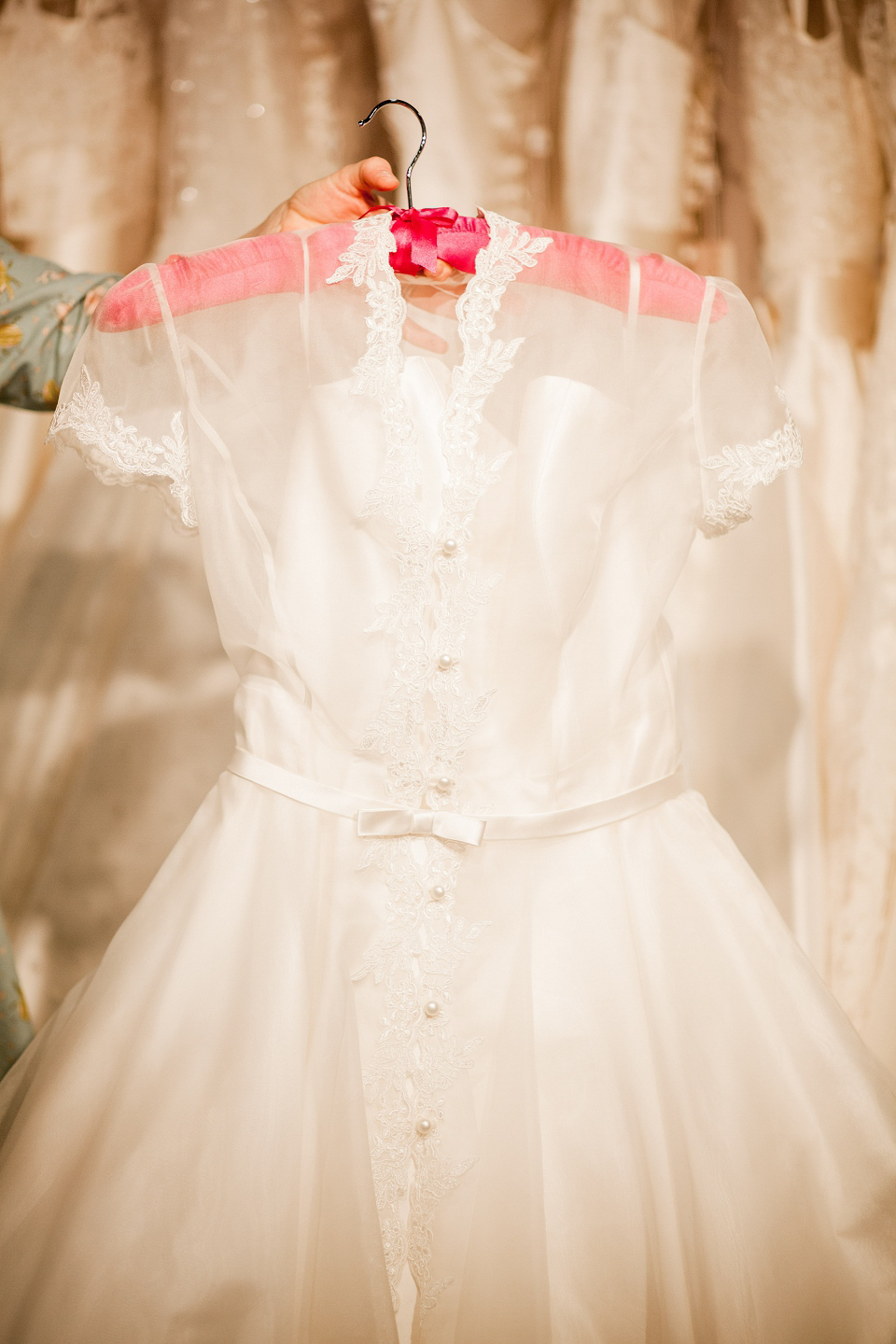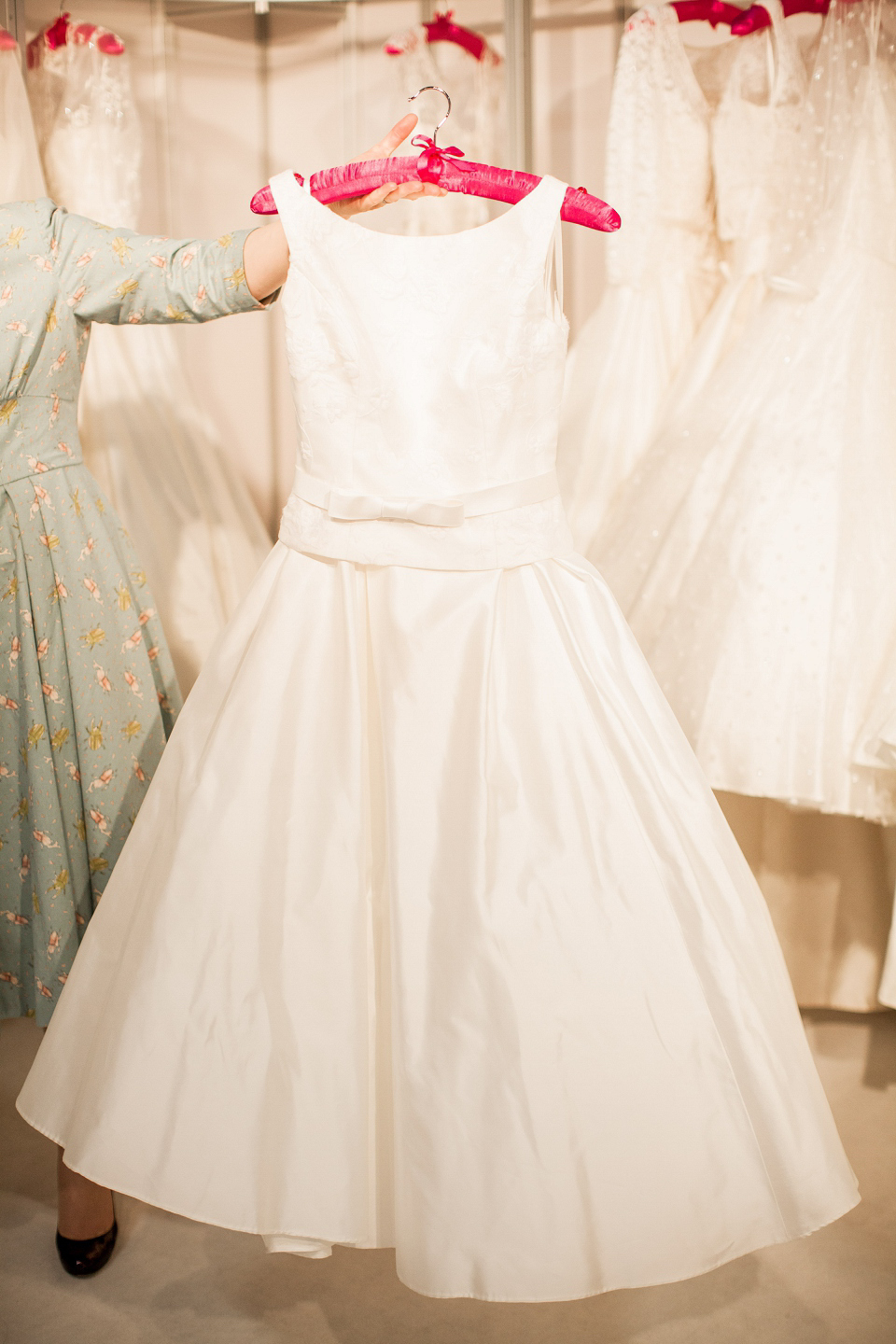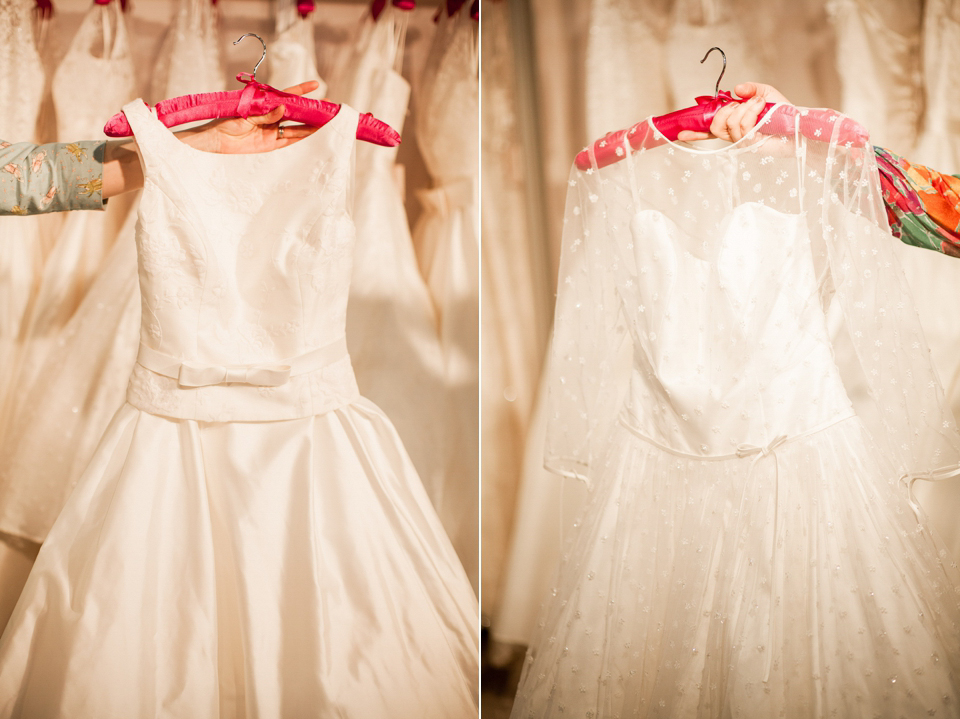 Gowns in the images above by Blue 
It was a real treat to see Charlotte Balbier first thing on the Sunday looking relaxed and I have to say rather knock-out!  Charlotte is a fantastic ambassador for her brand – I love the way she personally engages with her brides and fans through Instagram and I love her her designs perfectly blend playful charm with traditional elegance. 
The dress below was my absolute fave in Charlotte's new collection.  I just love everything about this design and hope to be able to feature this design maybe this or next year in a real wedding or two on Love My Dress!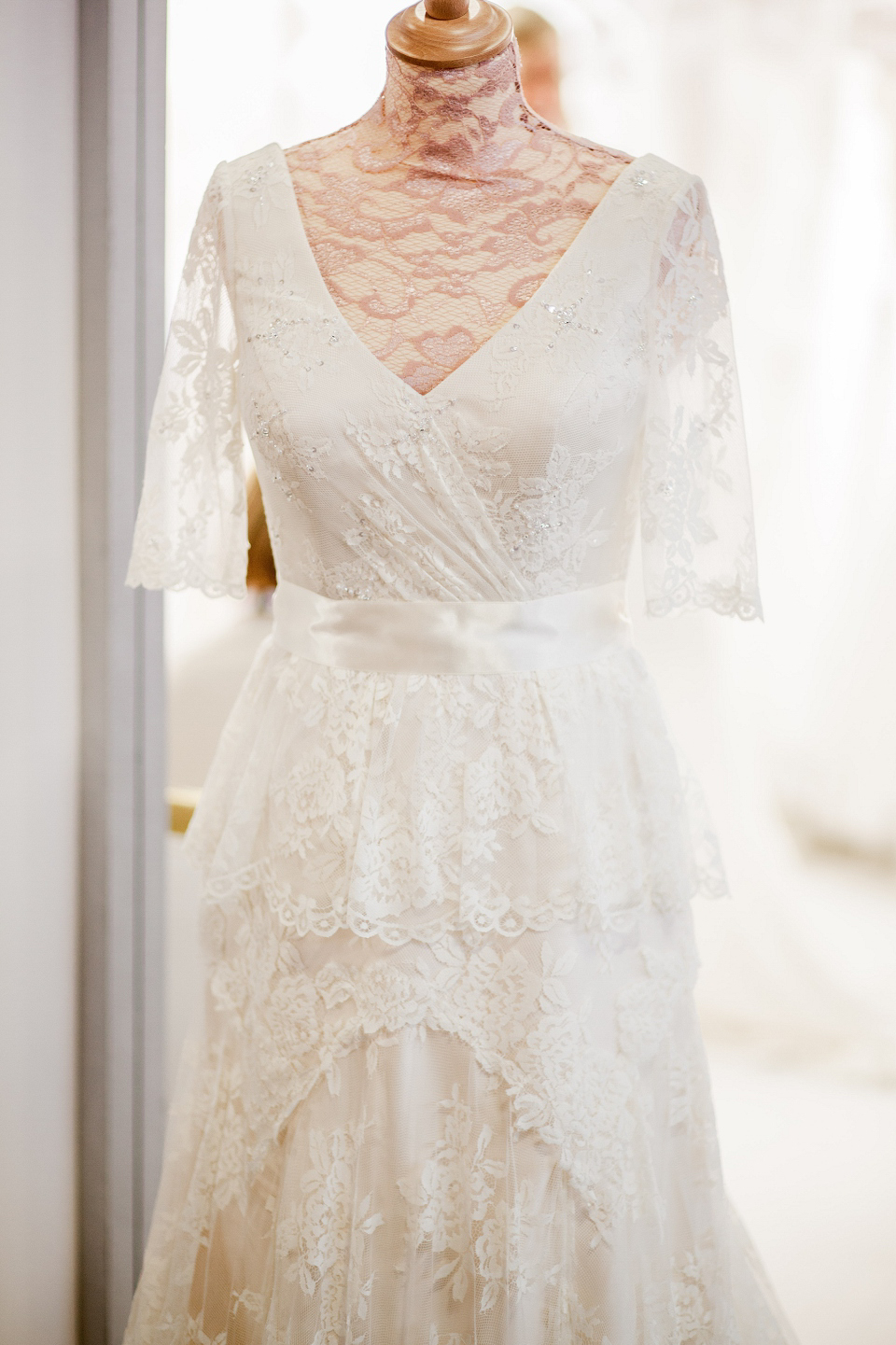 The Iscoyd Park collection by Charlotte Balbier is made up of over twenty new gorgeous gowns in an array of styles to suit the modern day bride.  Two of these designs were were by Charlotte herself on her wedding day last year.  
The fashion takes on a more paired down appeal with lots of lovely cuts and detail that will most certainly appeal to the new generation bride.  And there's lots of Charlotte's signature style charm in this collection too.
Congratulations Charlotte for a new collection that I know is going to be a hit with many Love My Dress brides to be out there.
Visit charlottebalbier.com and follow Charlotte on Instagram here.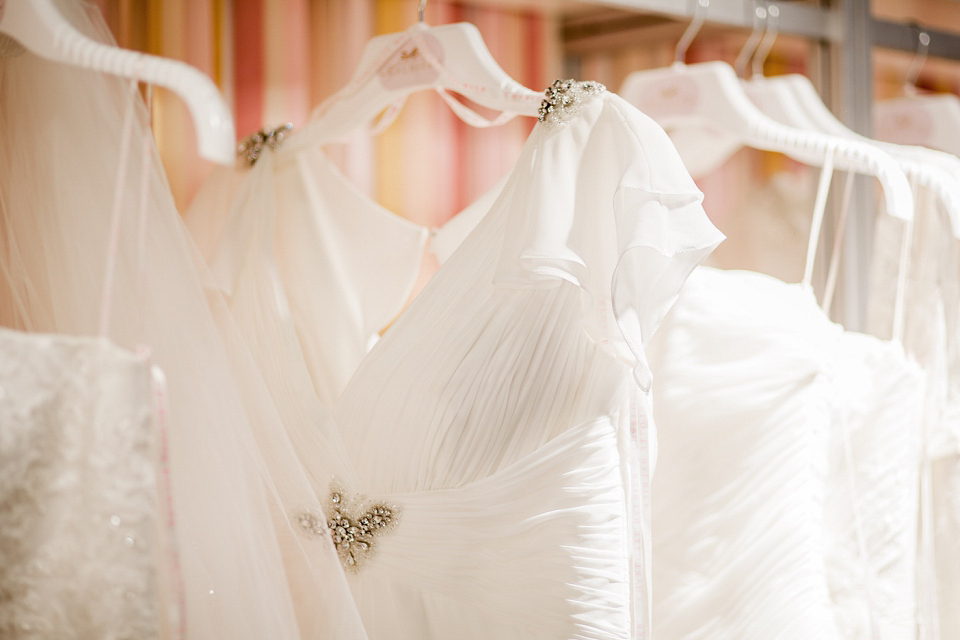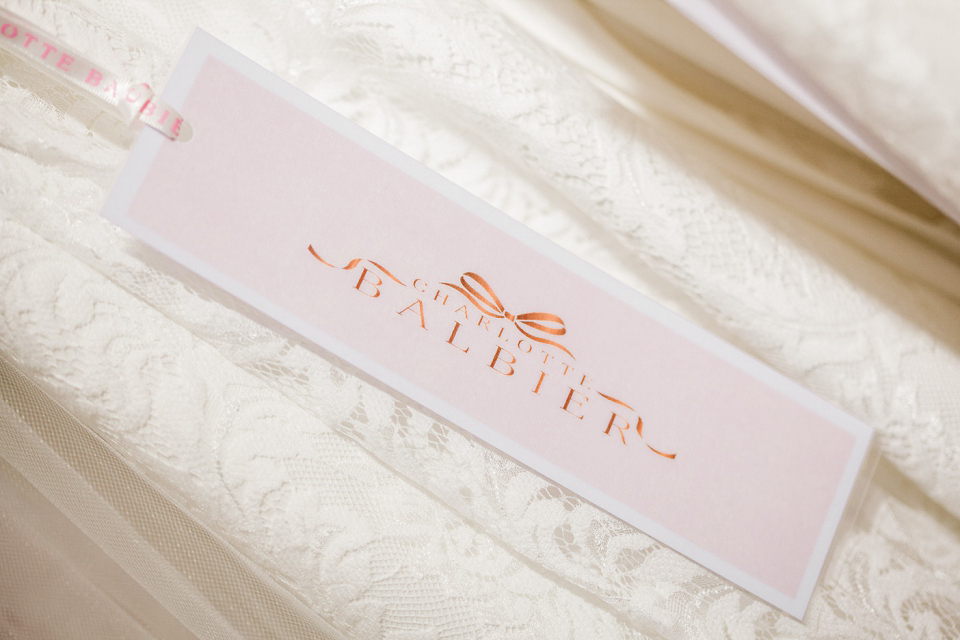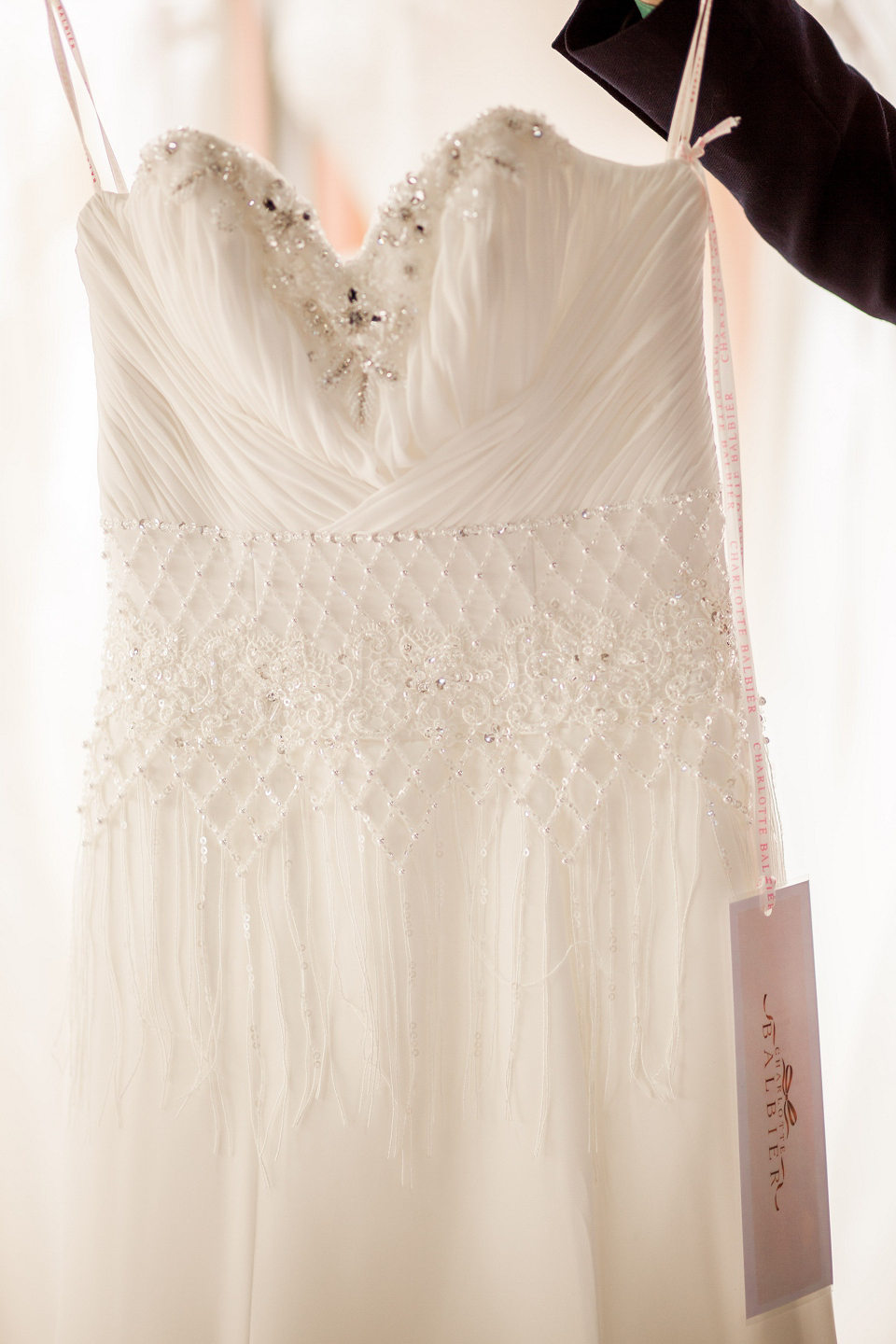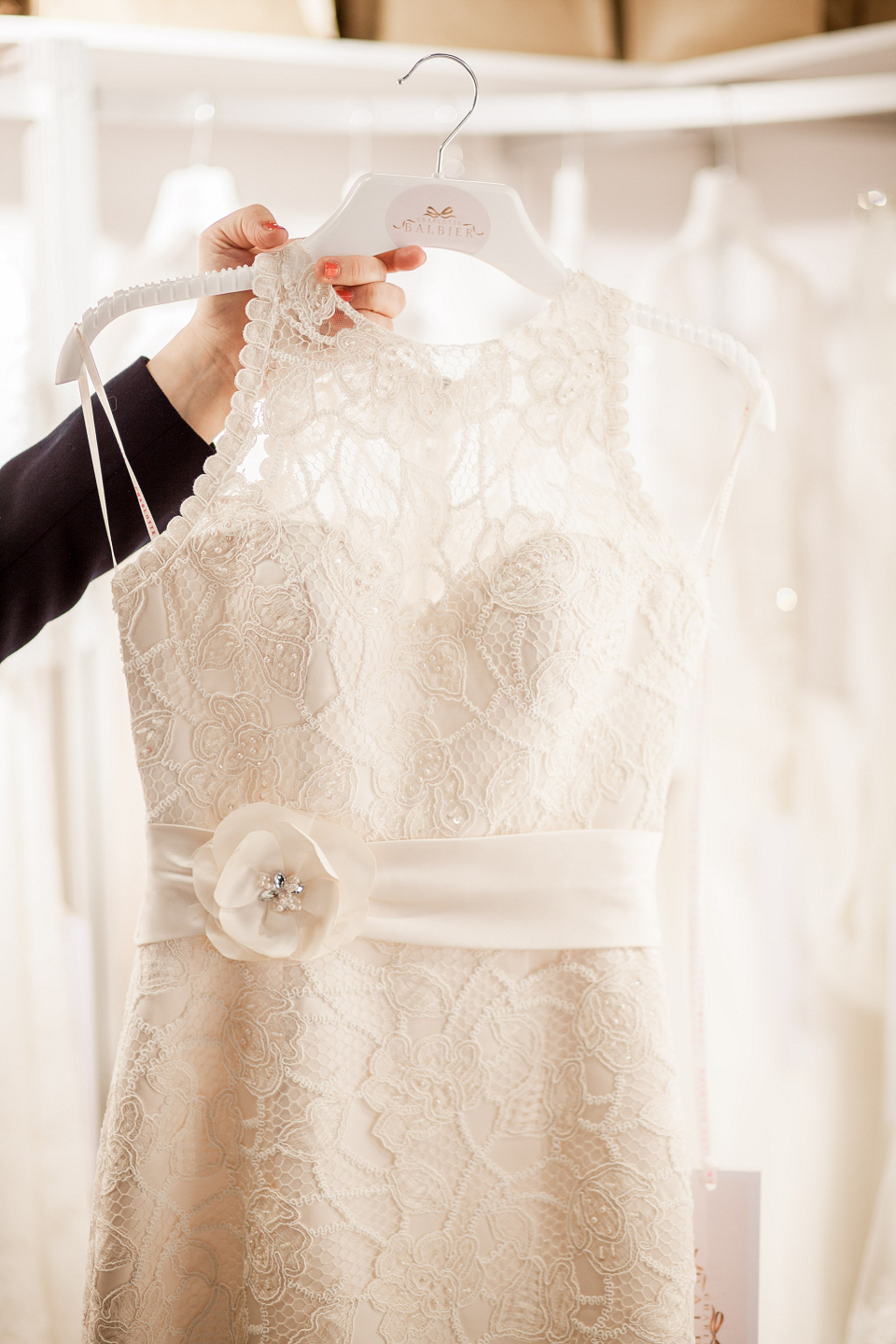 Designs above by Charlotte Balbier 
New kid on the block Charlotte Mills presented a wedding shoe collection incorporating a heart theme.  Some really cute detail here as you'll see below, but I especially loved how an actual lucky sixpence and cute quotations feature inside and on the under sole of each pair of shoes – a super cute touch to a young brand that is absolutely going to be a hit with the younger more playful bride.
Visit charlottemillsbridal.com for further details.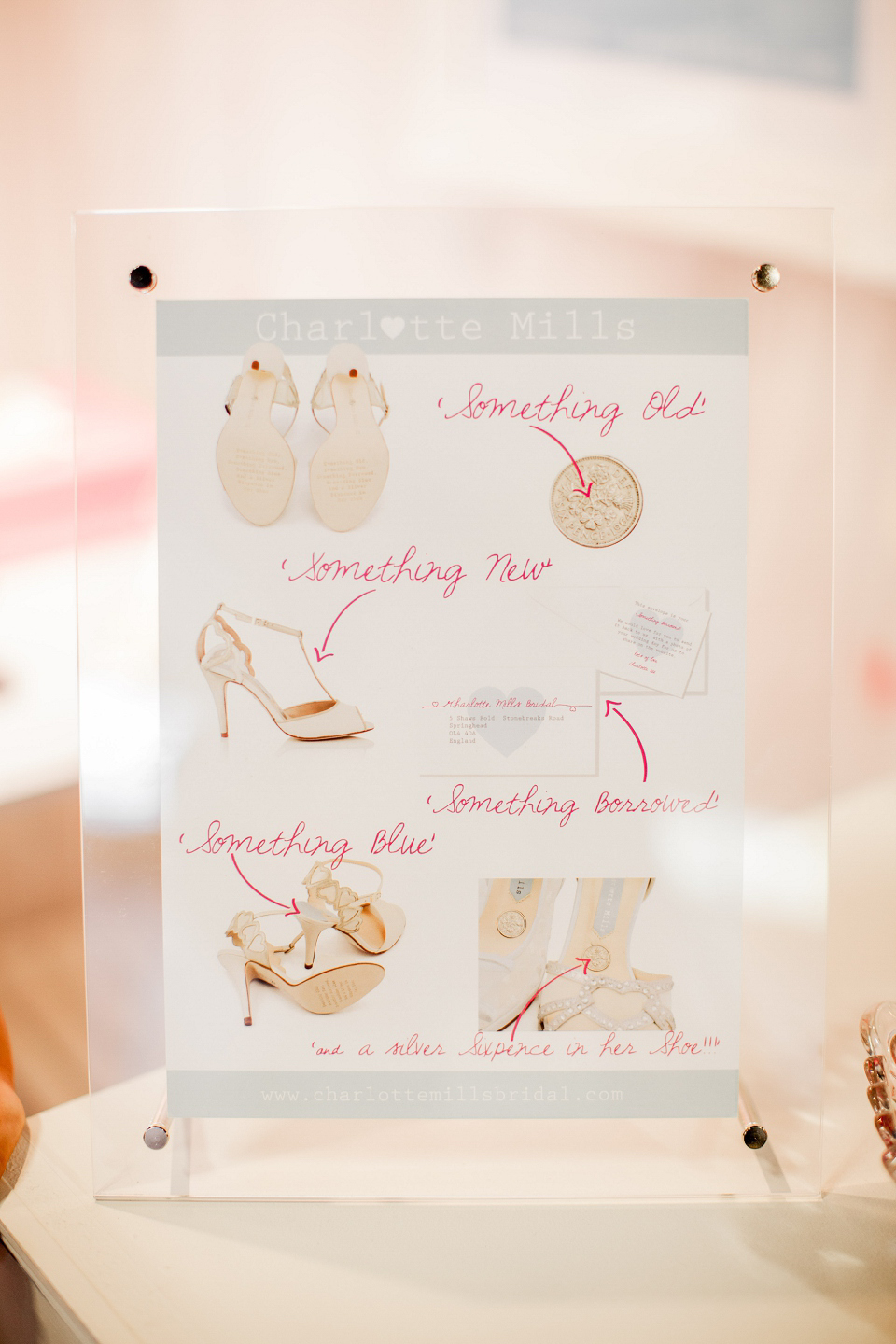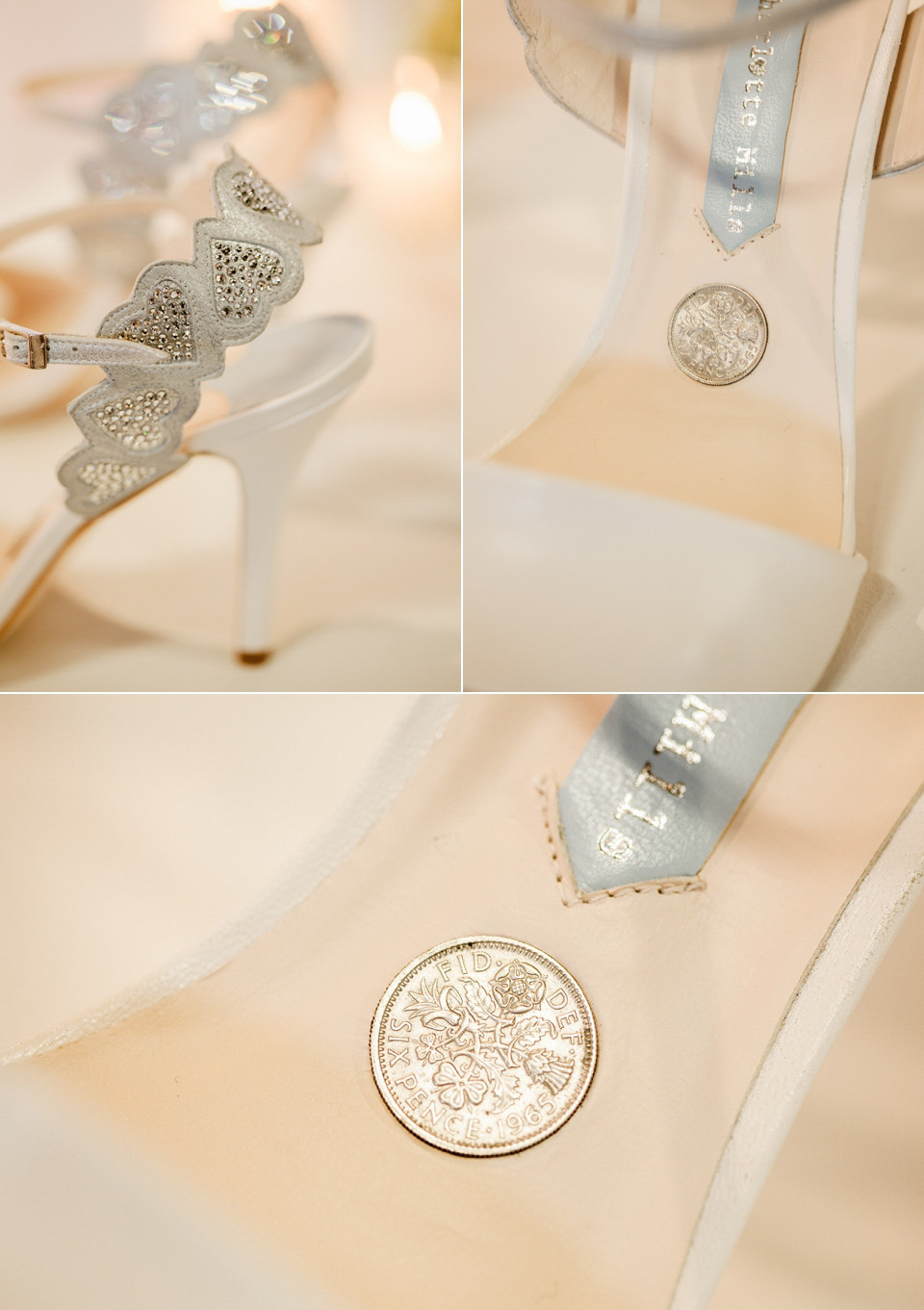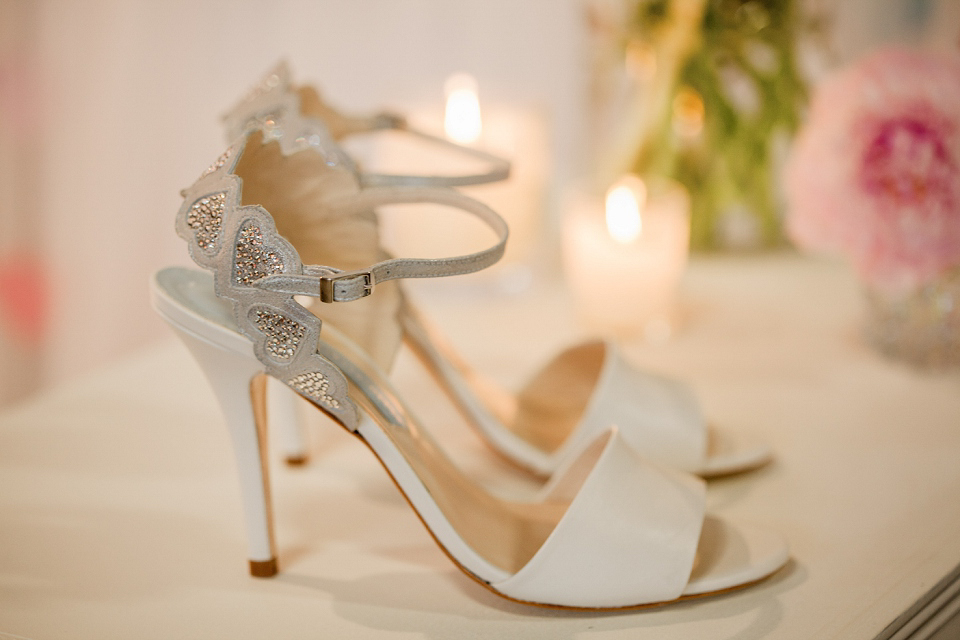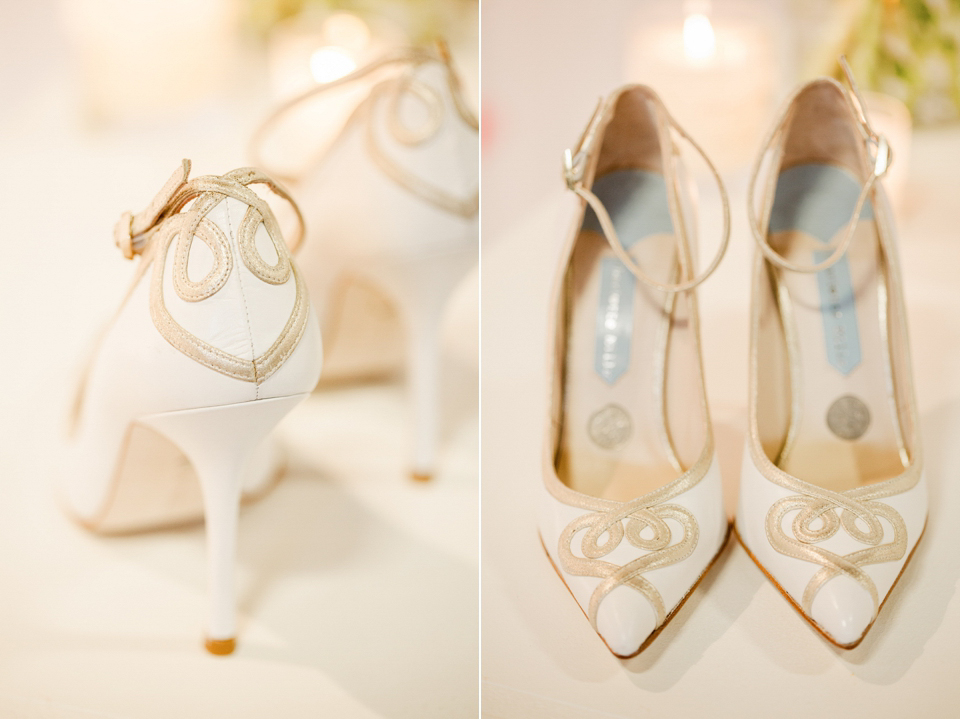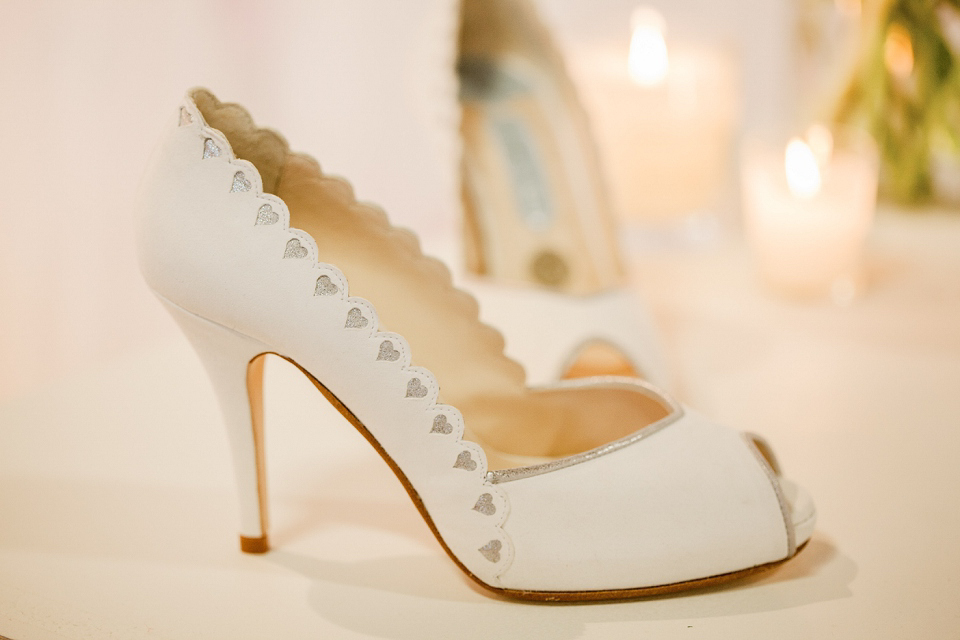 Shoe designs above by Charlotte Mills 
A surprise brand at the show for me was Grecian based Christos-Costarellos.  Describing his collection with the words 'novelty, elegance and luxury', this brand really captured my attention – I saw lots of strong Edwardian and 70's design features replicated for the modern-day bride and I loved it. Definitely a brand name I'll be keeping my eye on.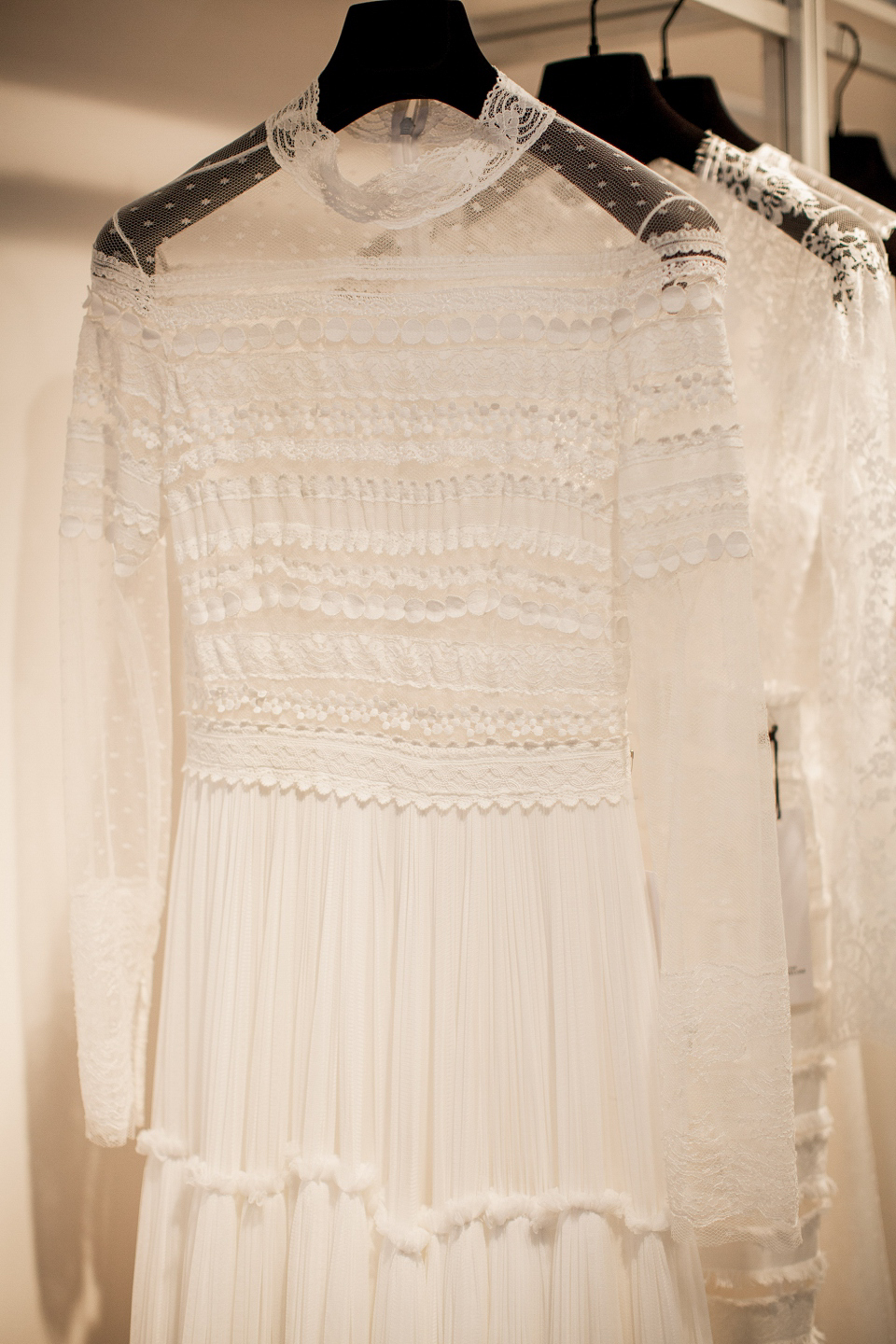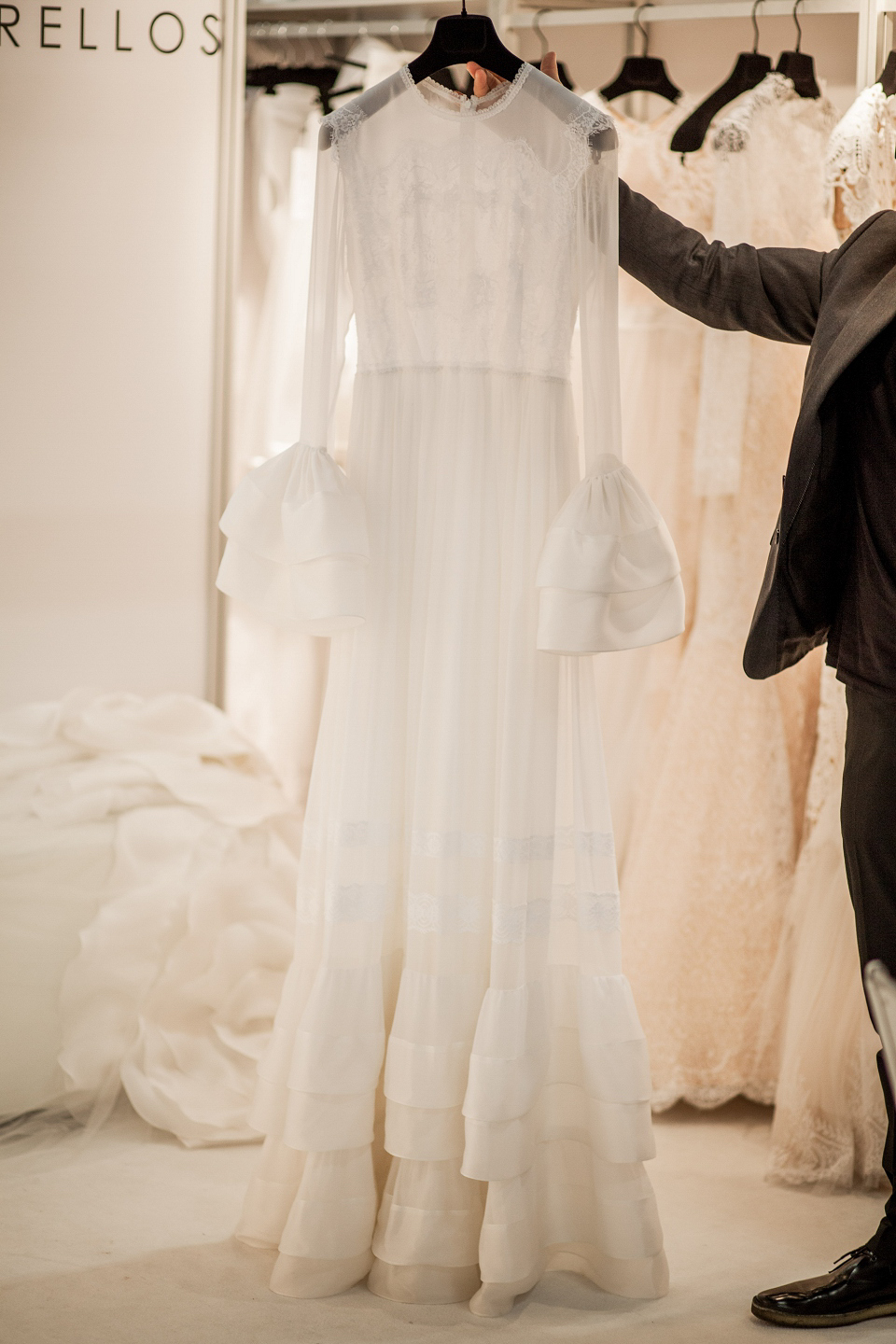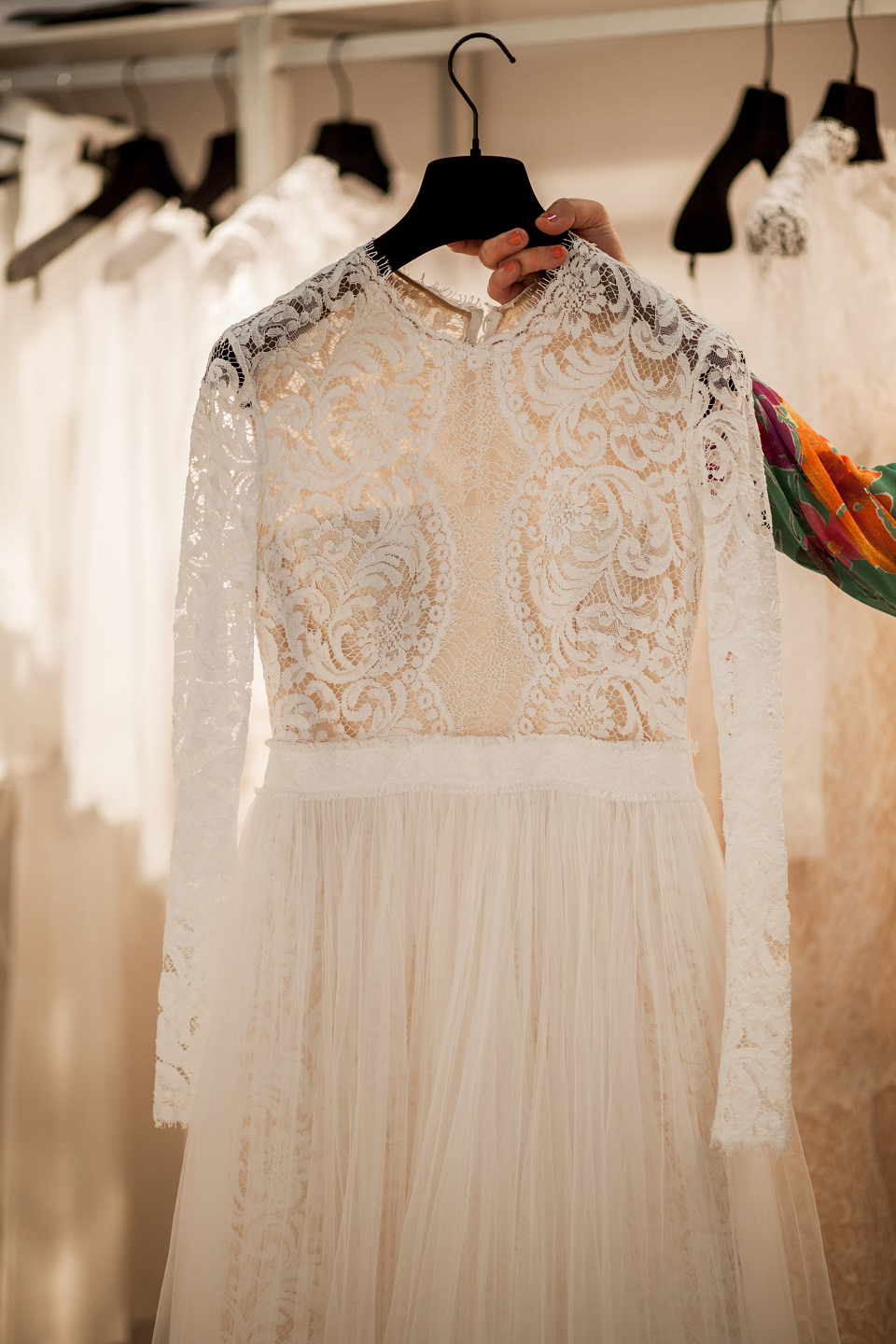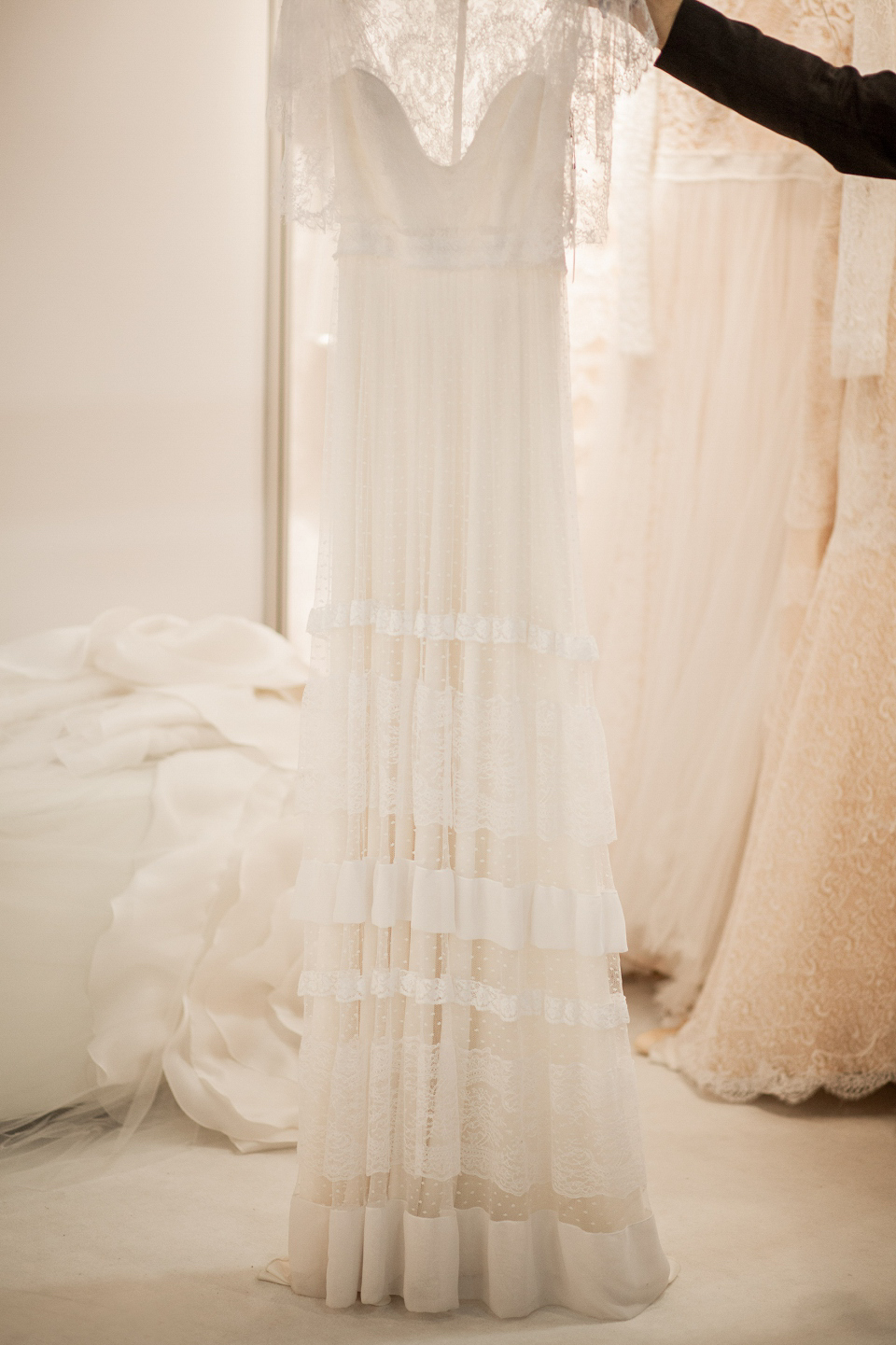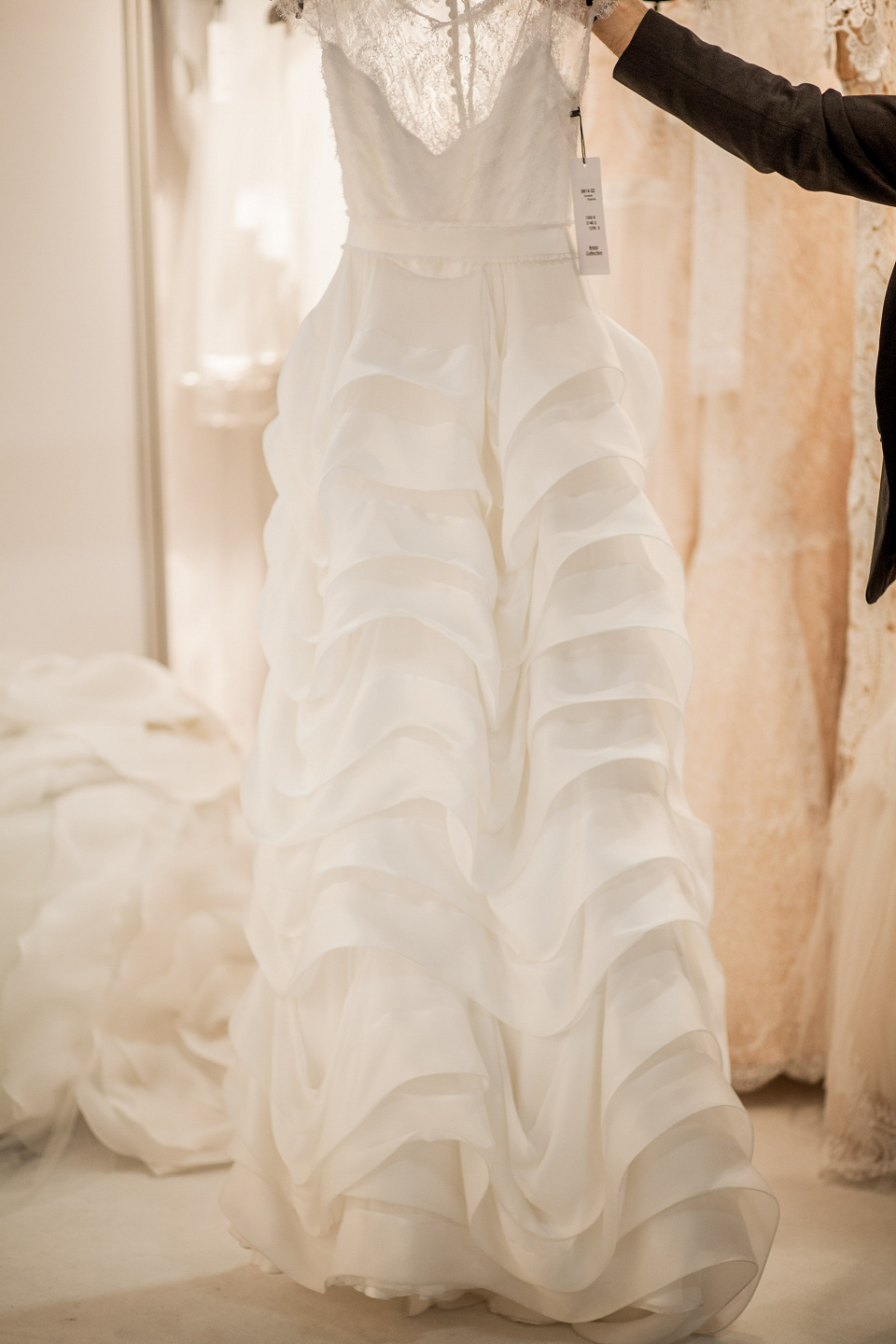 Designs above by Christos-Costarellos
It was great to meet designer Emma Tindley and see her beautiful feminine creations. I really loved this collection that has been created using the finest of Italian silks, French lace and beading.   Emma uses corsetry to create amazing silhouettes. I was mighty impressed with her craftsmanship, but more than that, her dresses are just so pretty.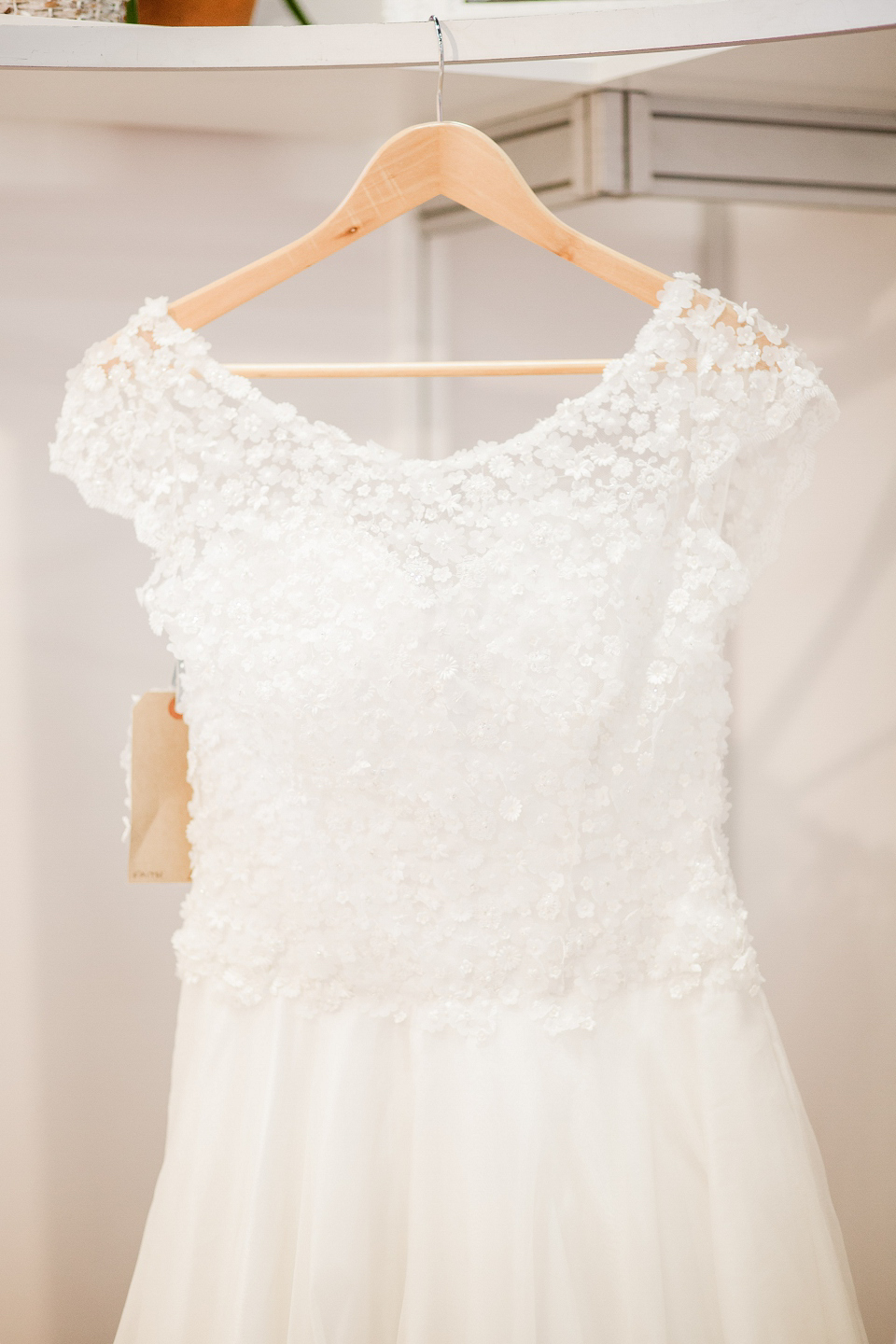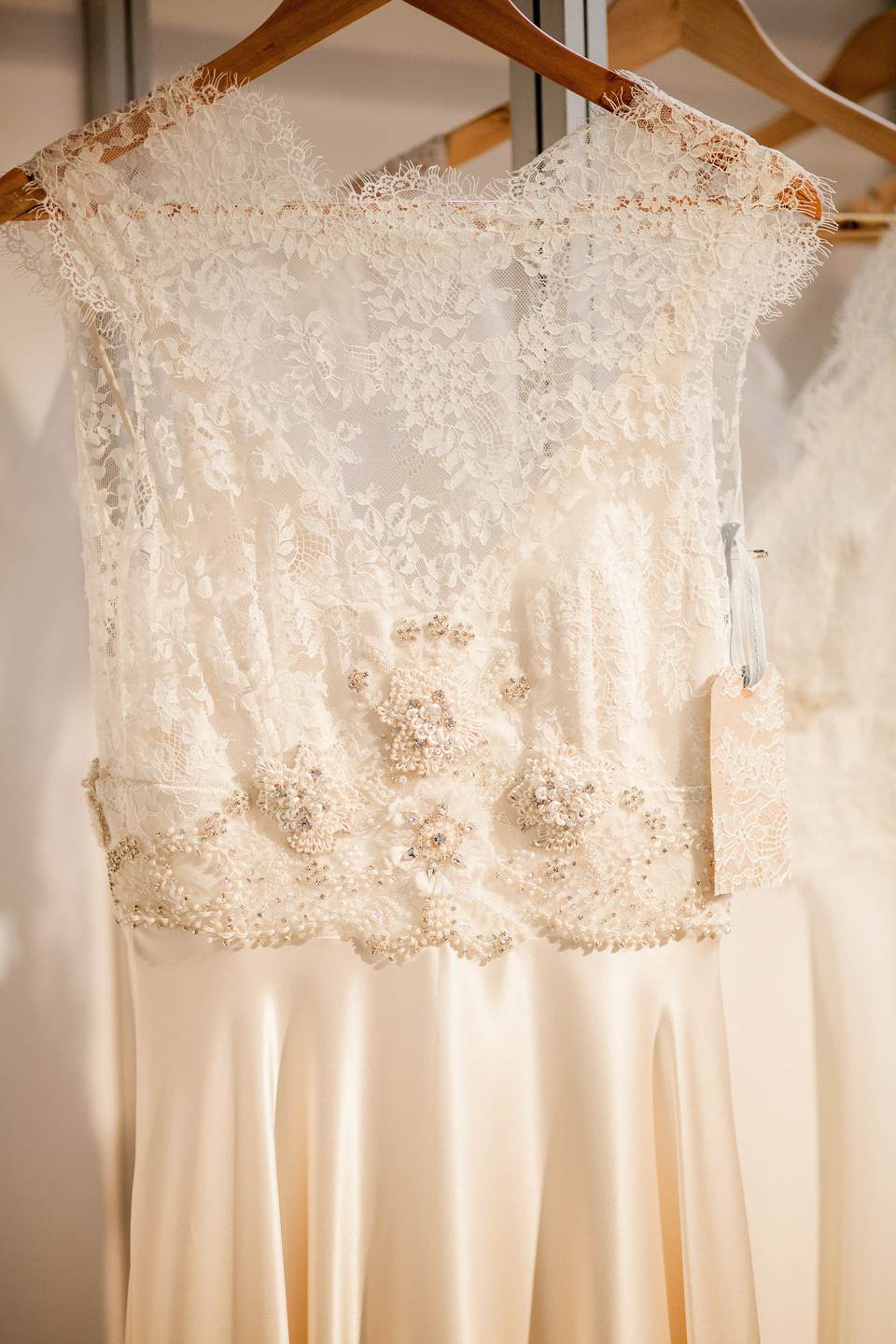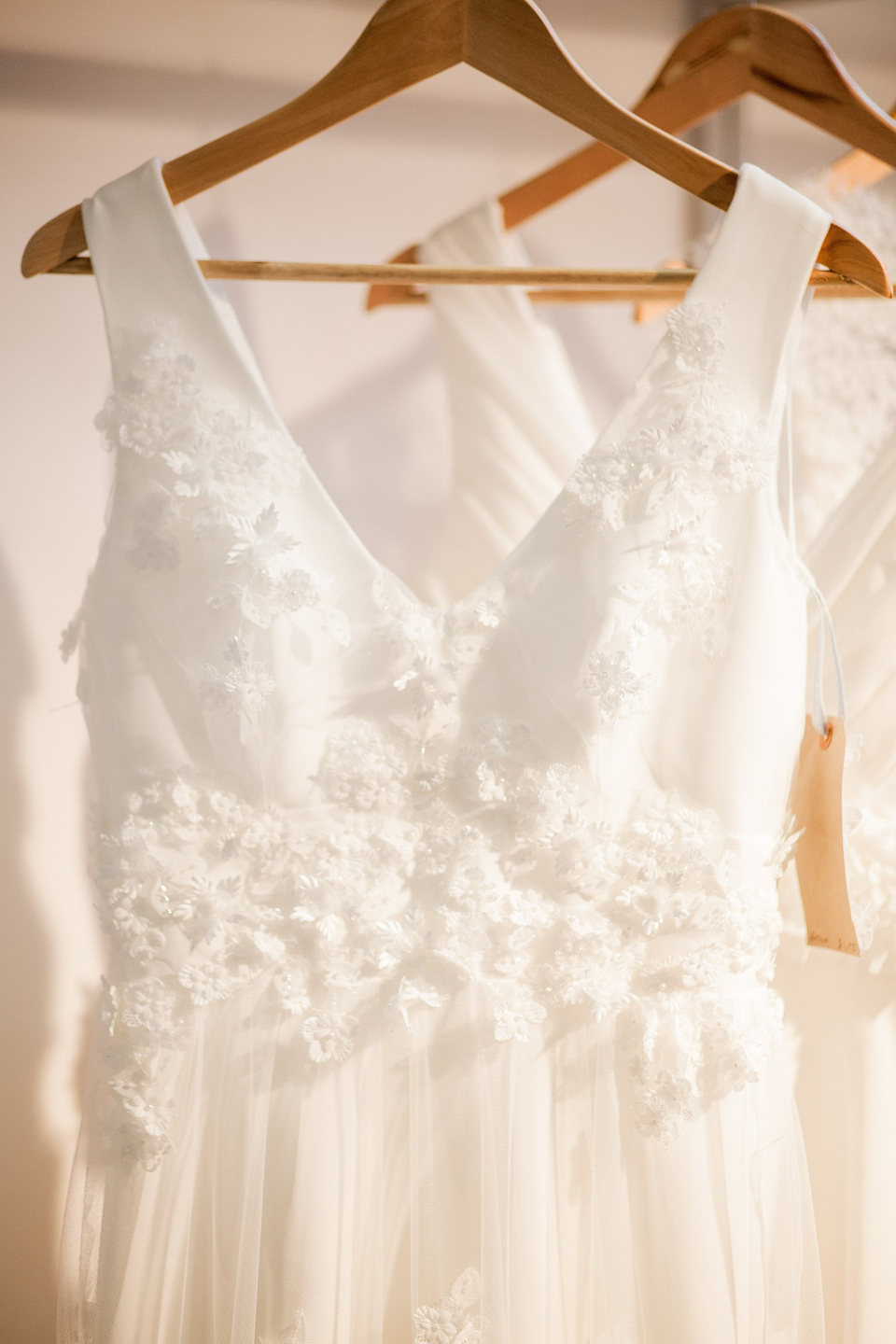 There was a 30's elegance inspired silk bias halter-neck design in an Oyster colour that was bridal glamour personified.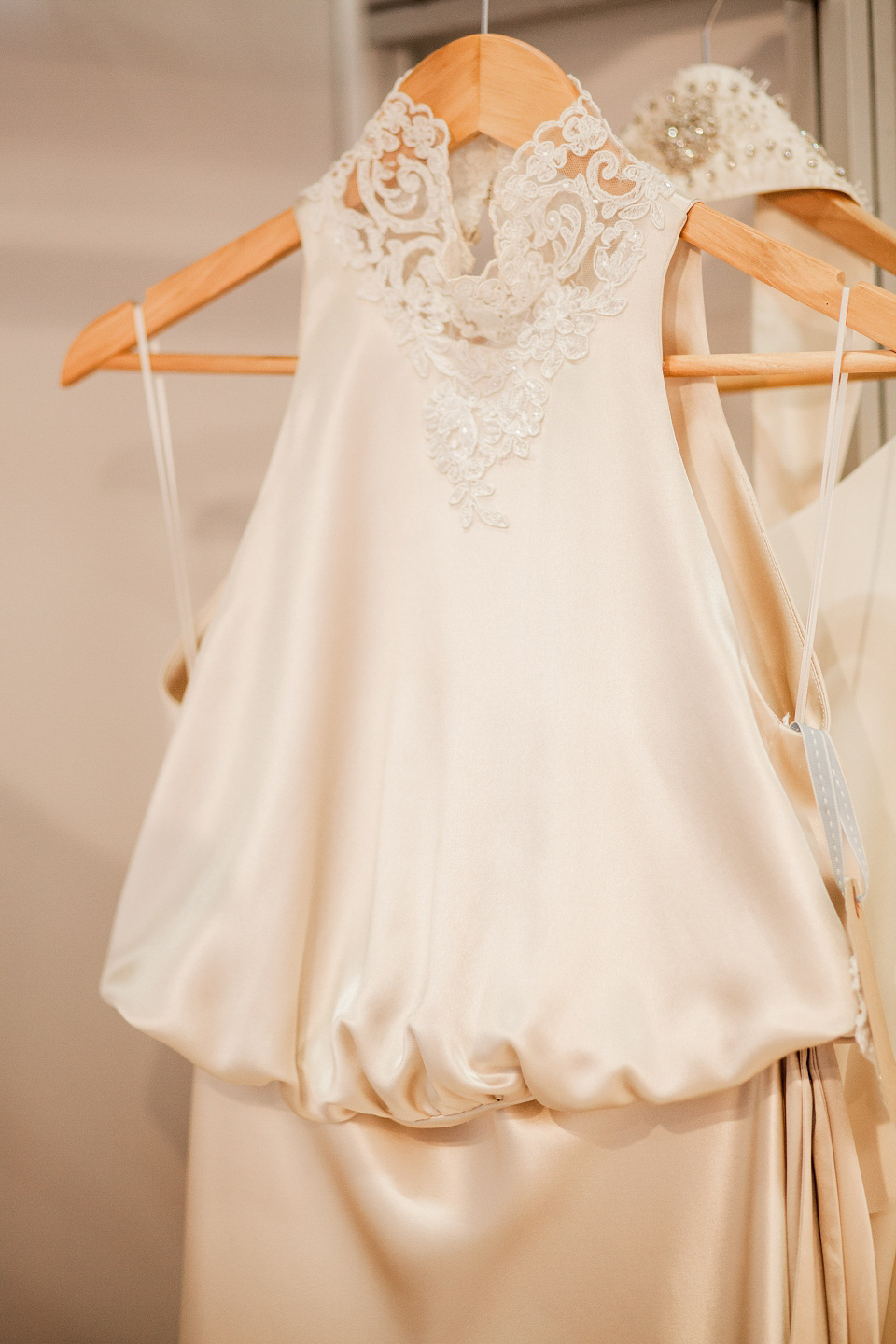 I have a penchant for shoes as anyone who knows me well knows. So this event was a bit of a treat as there were 4 brilliant shoe designers all lovingly catering to my heels obsession.  
Freya Rose is an award winning shoe designer.  Her shoes have a really glamorous signature – utterly beautiful embellished detail including sparkle and mother of pearl heels and very, very high heels (thought the choice to go lower is available too).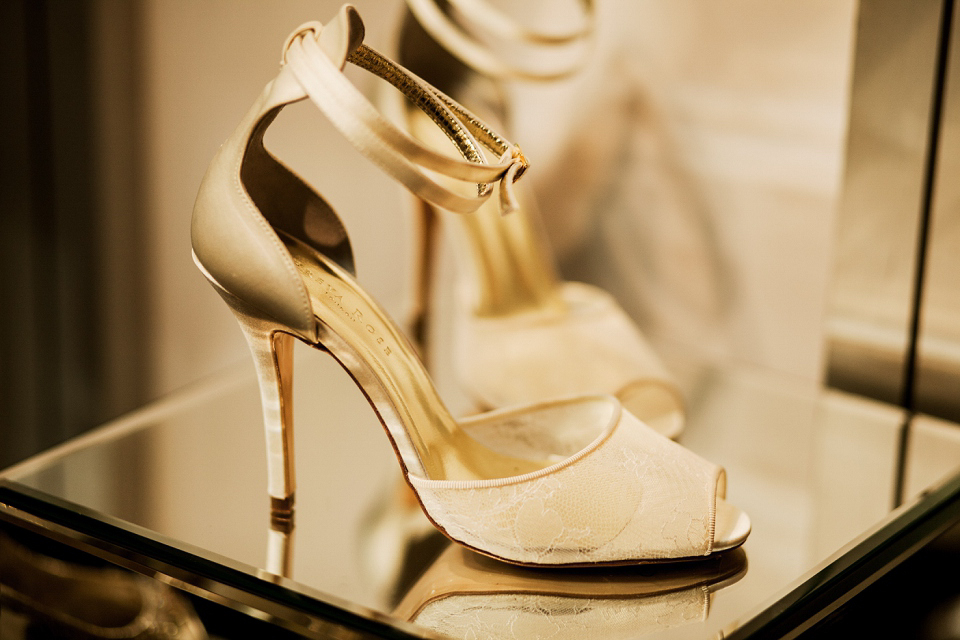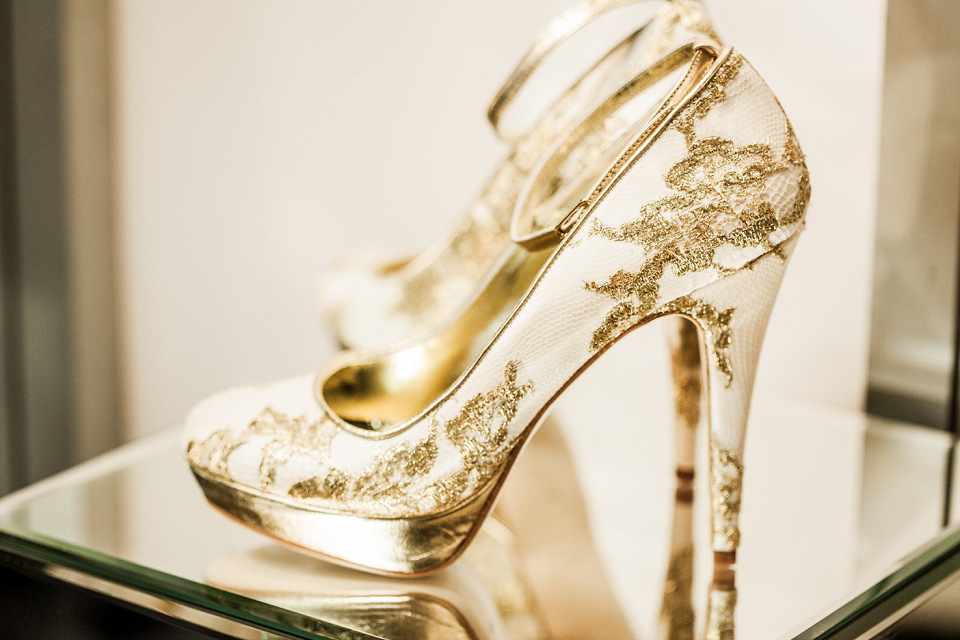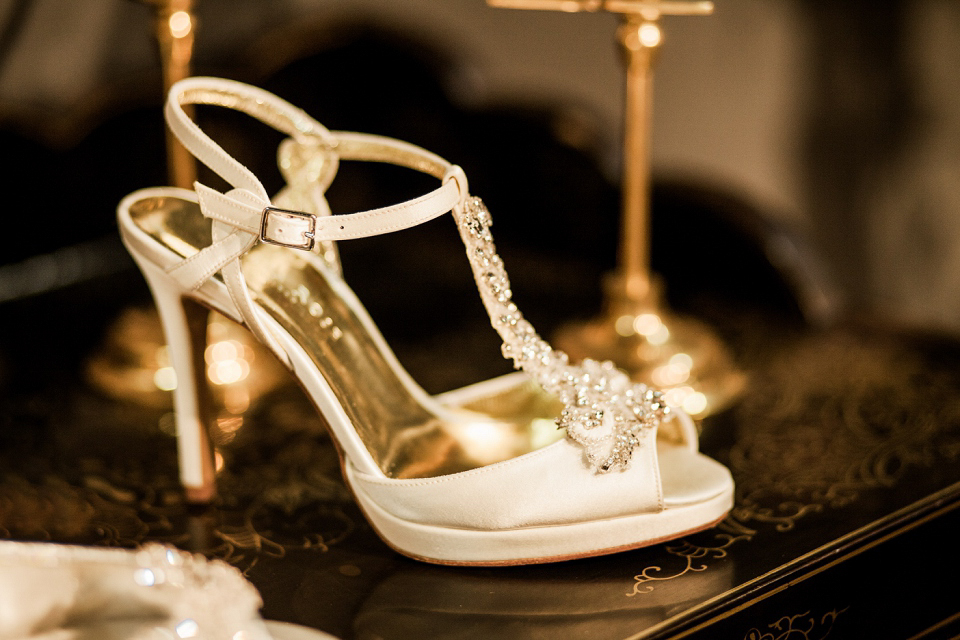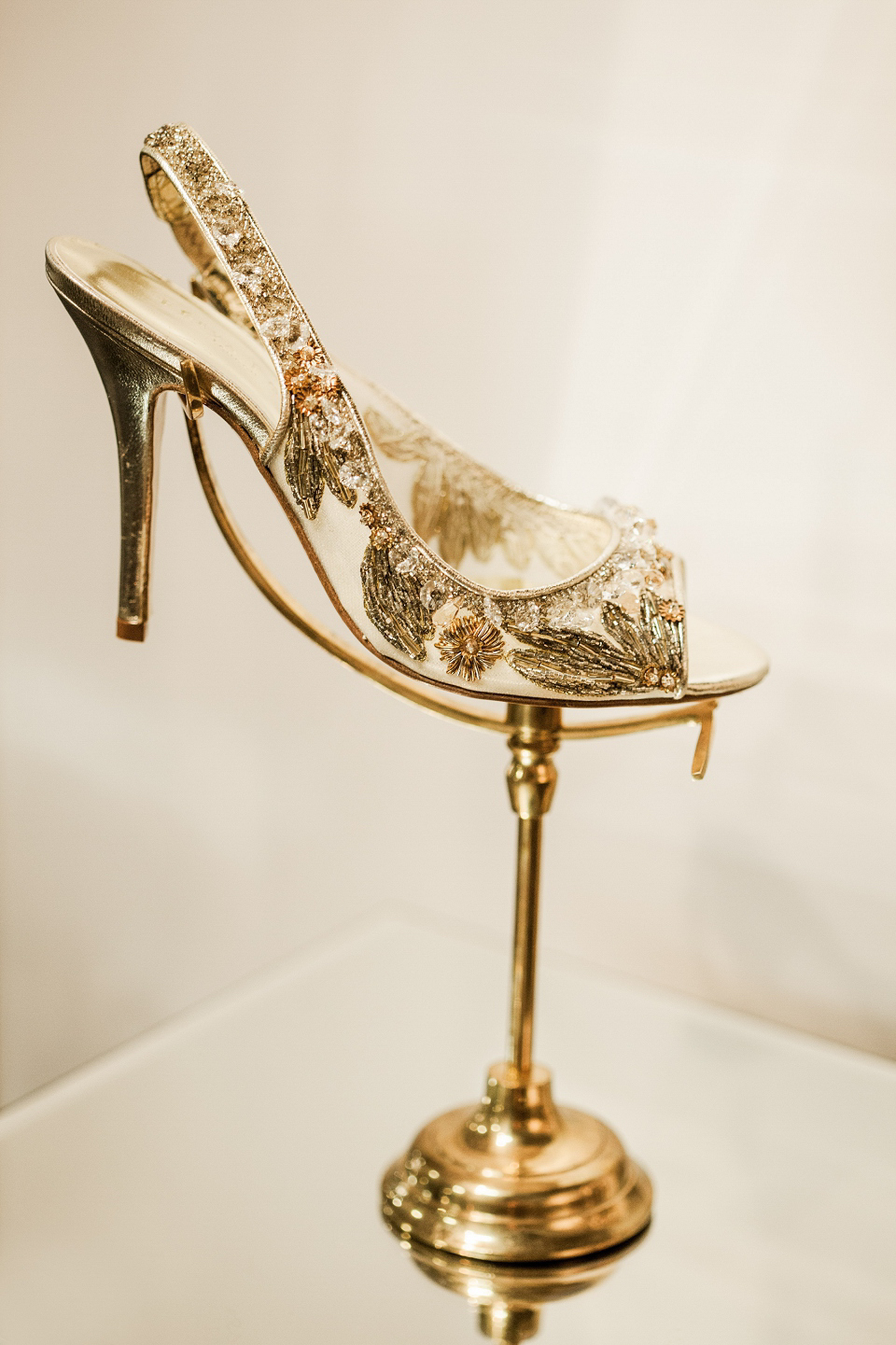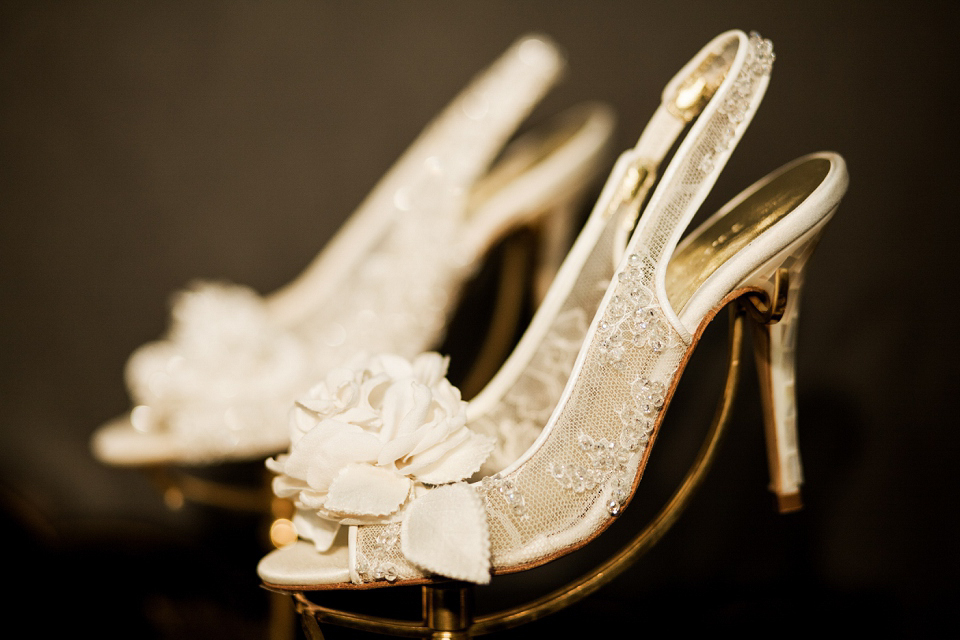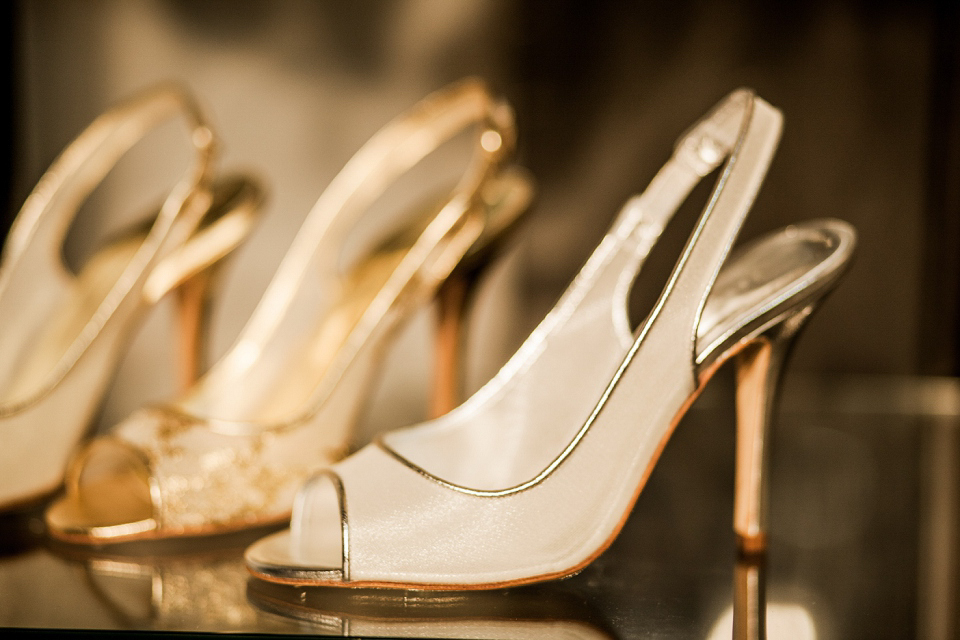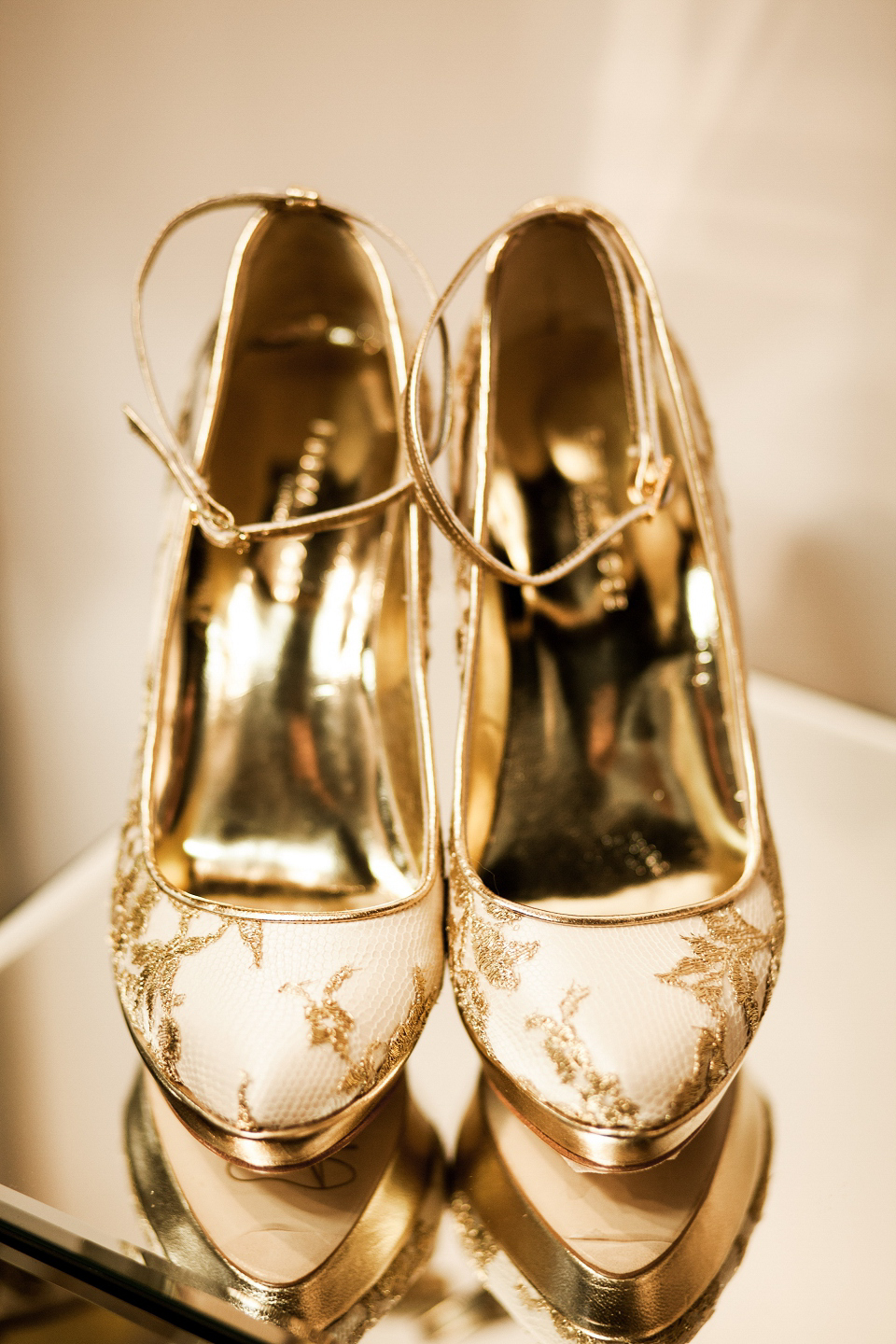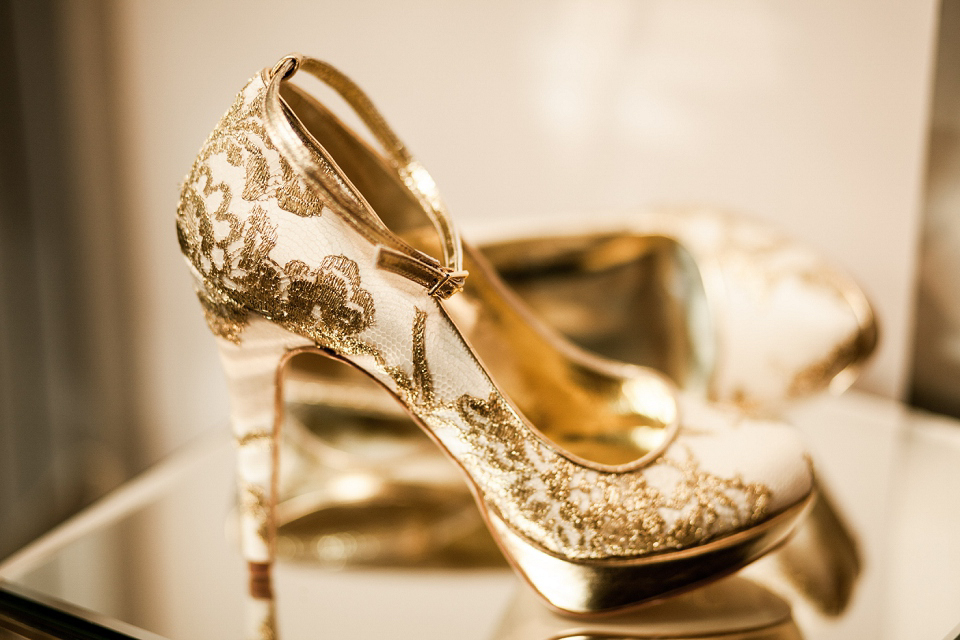 Shoe designs above by Freya Rose 
Designer Ruth Shaw of Harriet Wilde is a leader in her field of bridal shoe design.  I've honestly never ever had as many people stop to ask me about my shoes as I have when I wore these pair of Harriet Wilde
She consistently manages to innovate when it comes to designing fashionable wedding shoes and this collection raises the bar once again with lasercut heels and dainty ankle style heels that reminded me of pretty white ice-skating boots.
I love that Ruth isn't afraid to challenge wedding shoe design convention and manages to come up with something both glamorous, elegant and full of personality every season. Shifting her focus from her amazingly popular embellished heels, Ruth is now experimenting with various texture – I adored the polka dot lace.
I'm an absolutely huge fan of these shoes.  Visit harrietwilde.com for further information.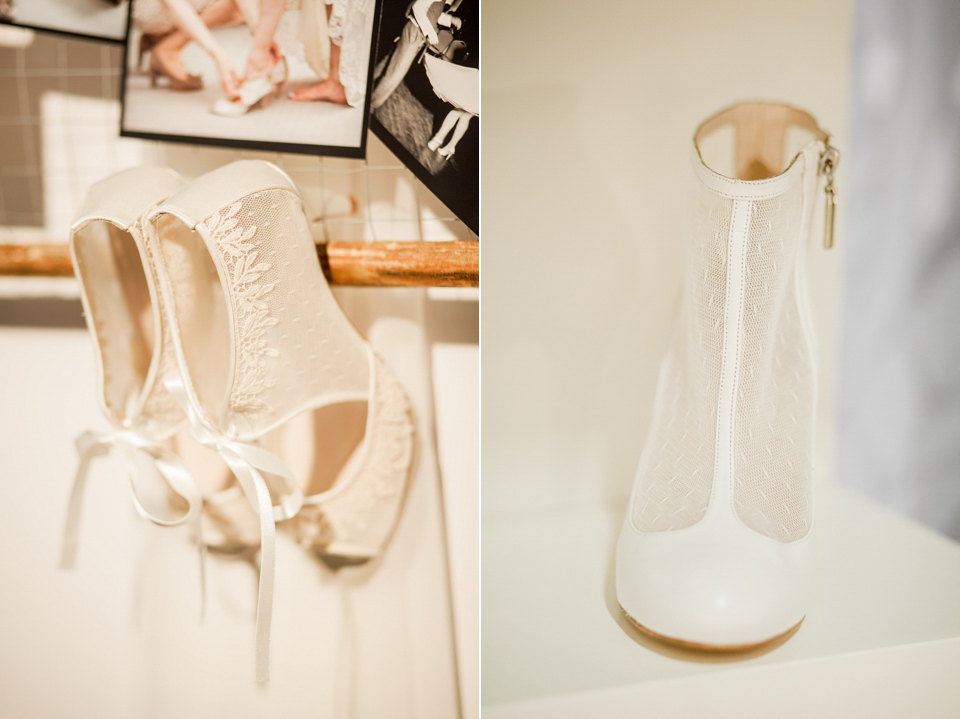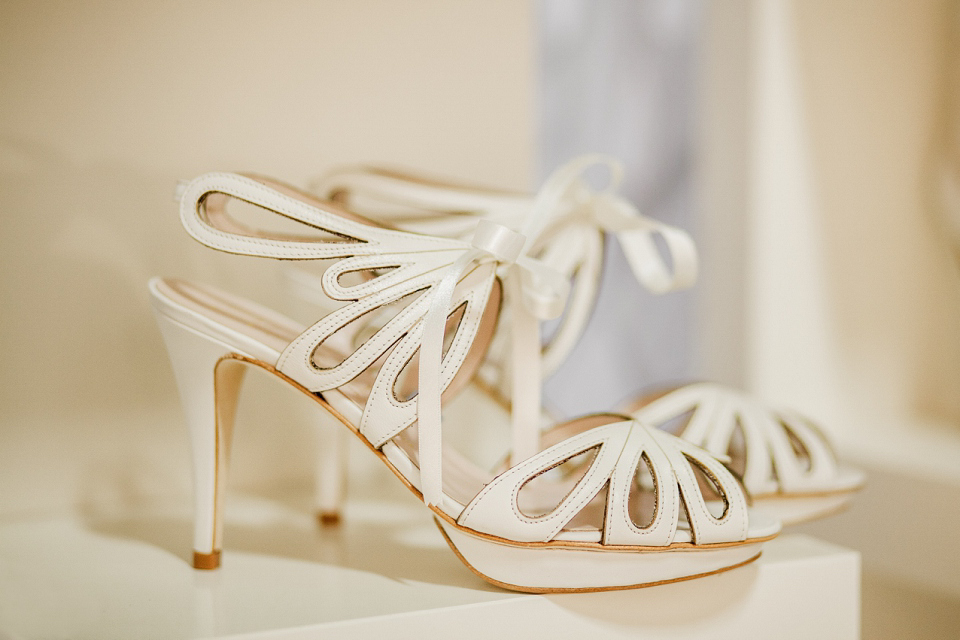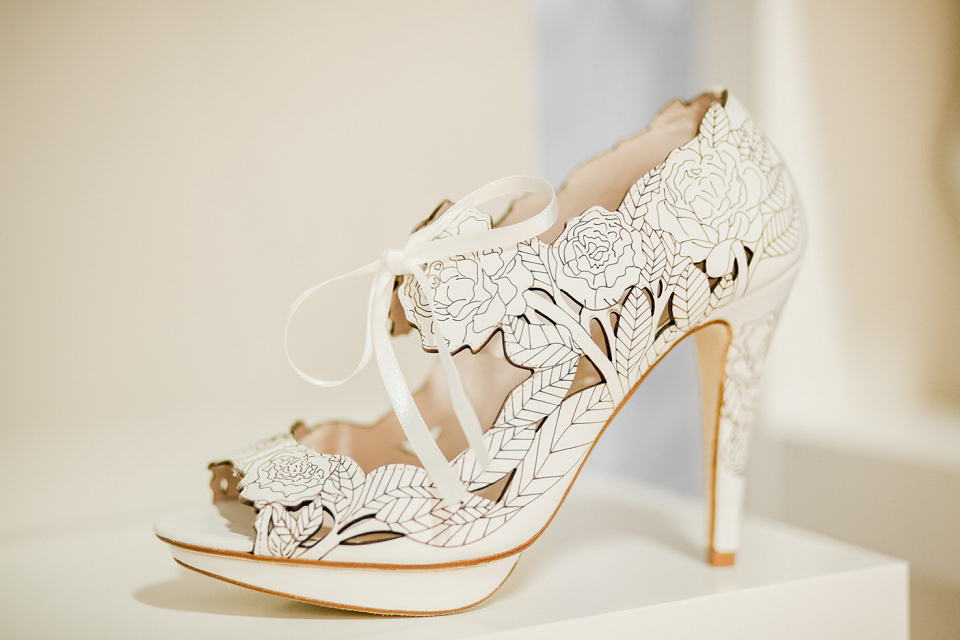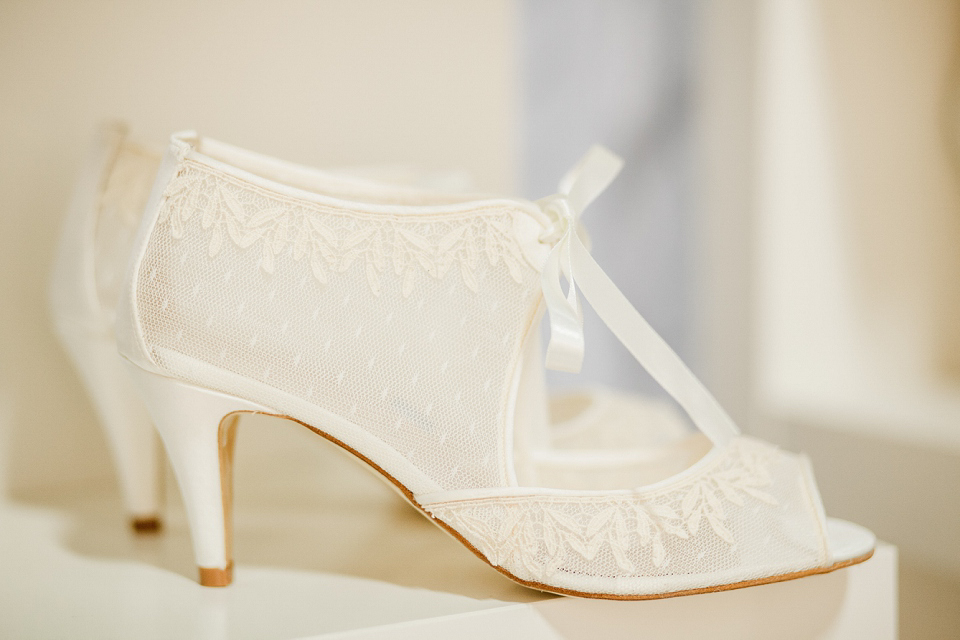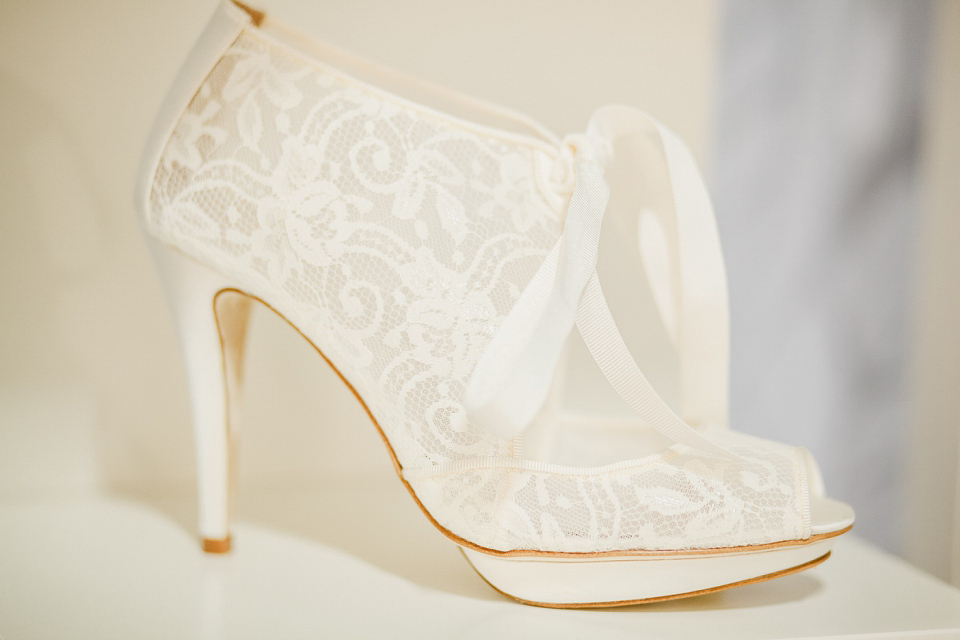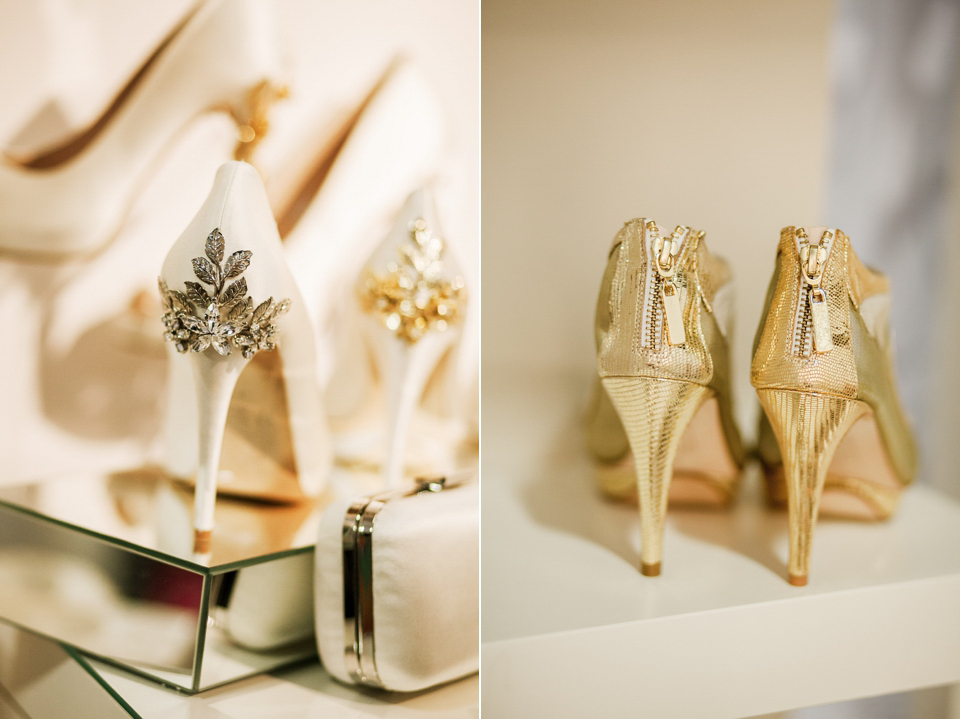 Shoe designs above by Harriet Wilde
The new Hidden World collection from bridal and mother of the bride headpiece designer HT Headwear was exquisitely crafted.   This antique-esque veil that has been spray painted gold looked beautiful with some of Helena's floral and gold designs.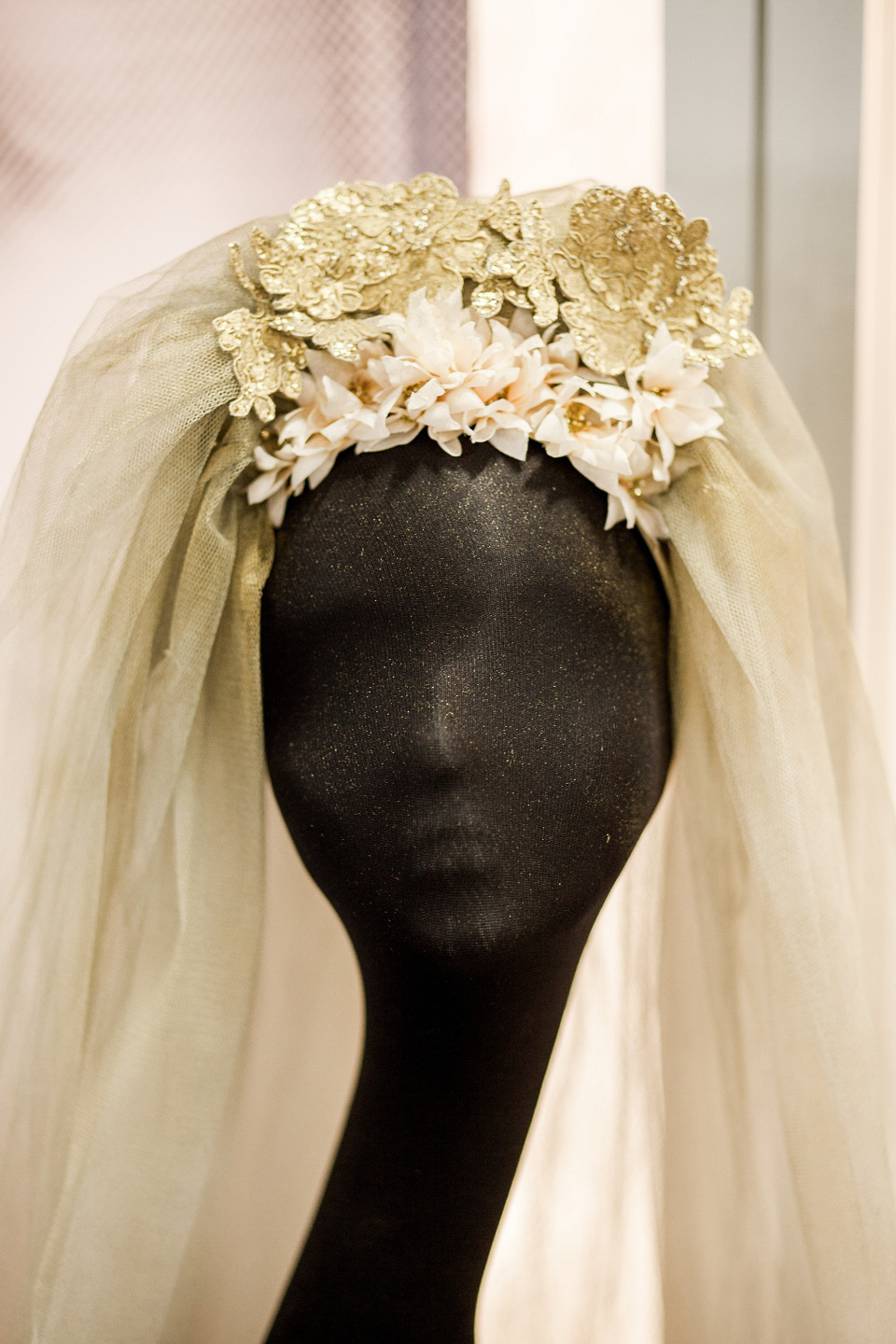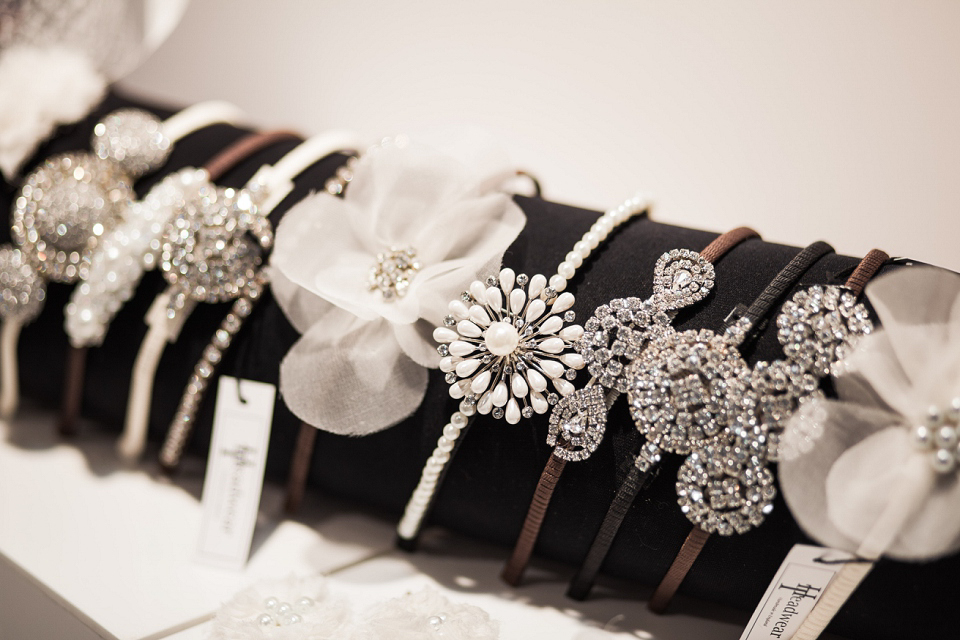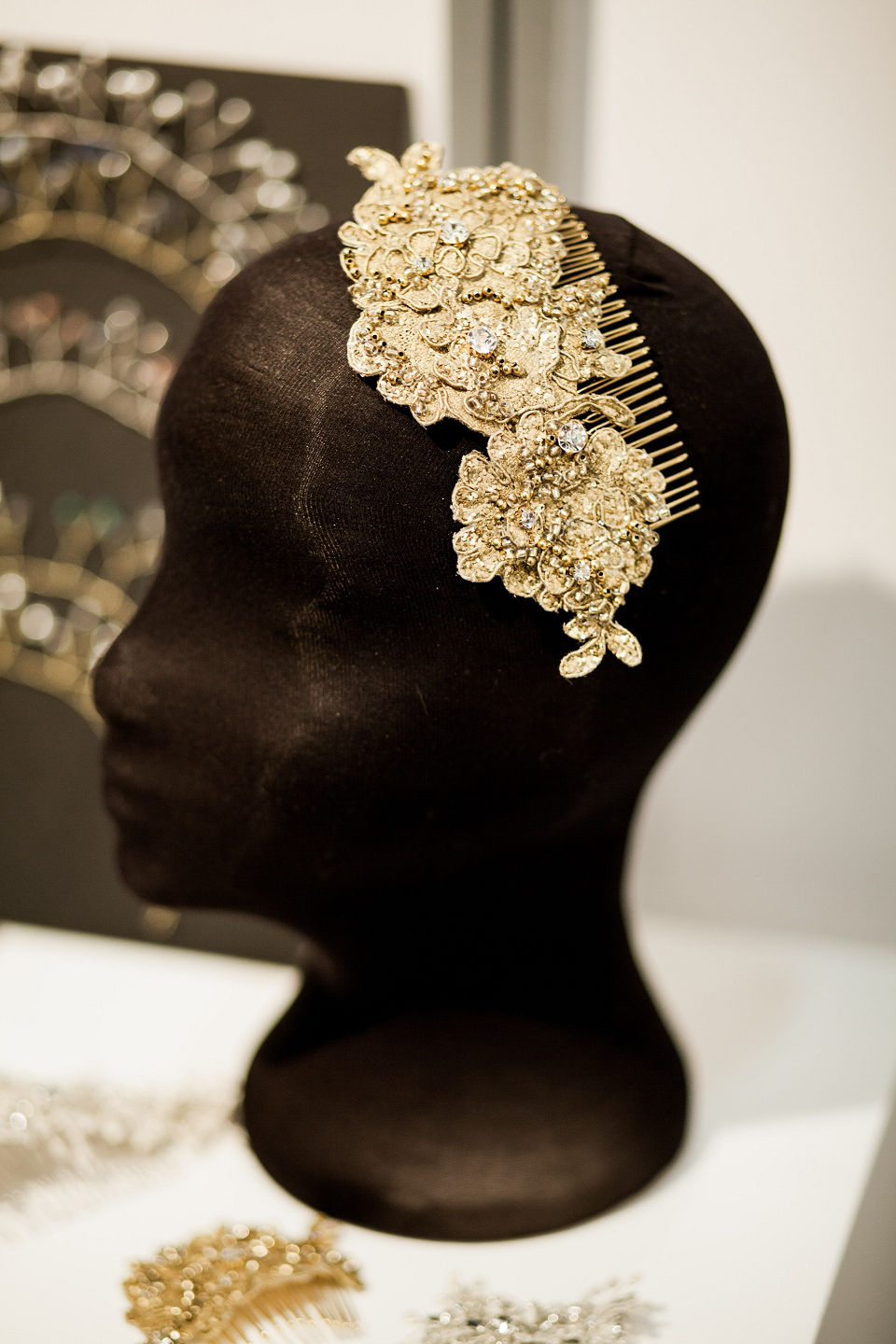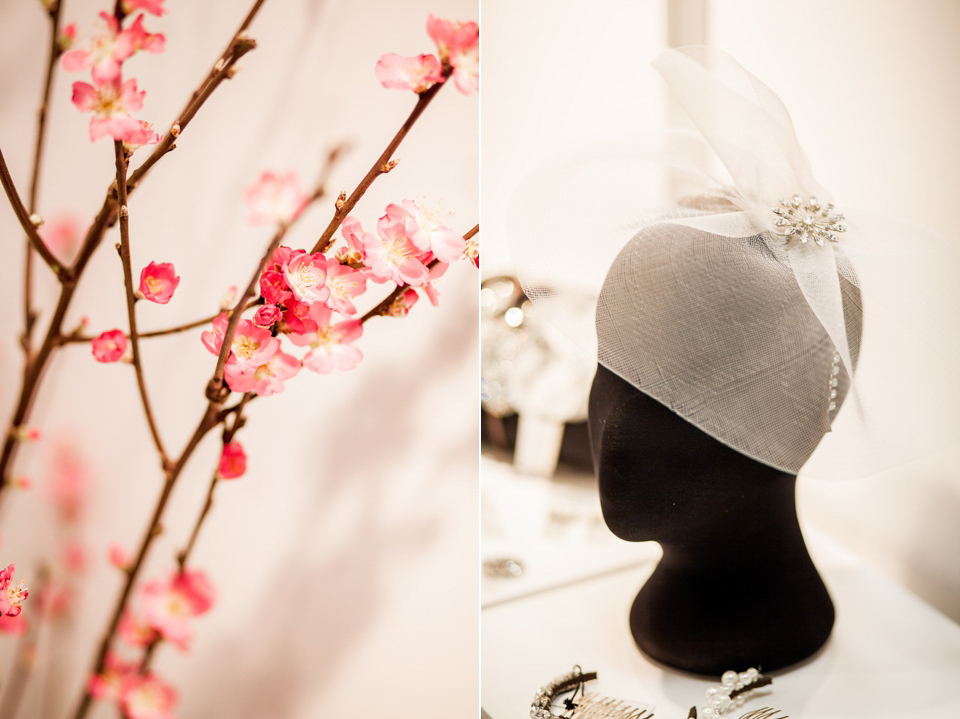 Headpiece designs above by HT Headwear
The little people were well catered for at this event with Notting Hill based brand  I Love Gorgeous on show.  This collection of vintage inspired flower girl dresses created using silk chiffon, silk, satin and tulle is full of charm.
I'll be treating my girls to some of these designs this year.  They are far too nice to keep just for weddings!  I particularly loved this little red riding hood inspired cape design below right.
Visit ilovegorgeous.co.uk for further information.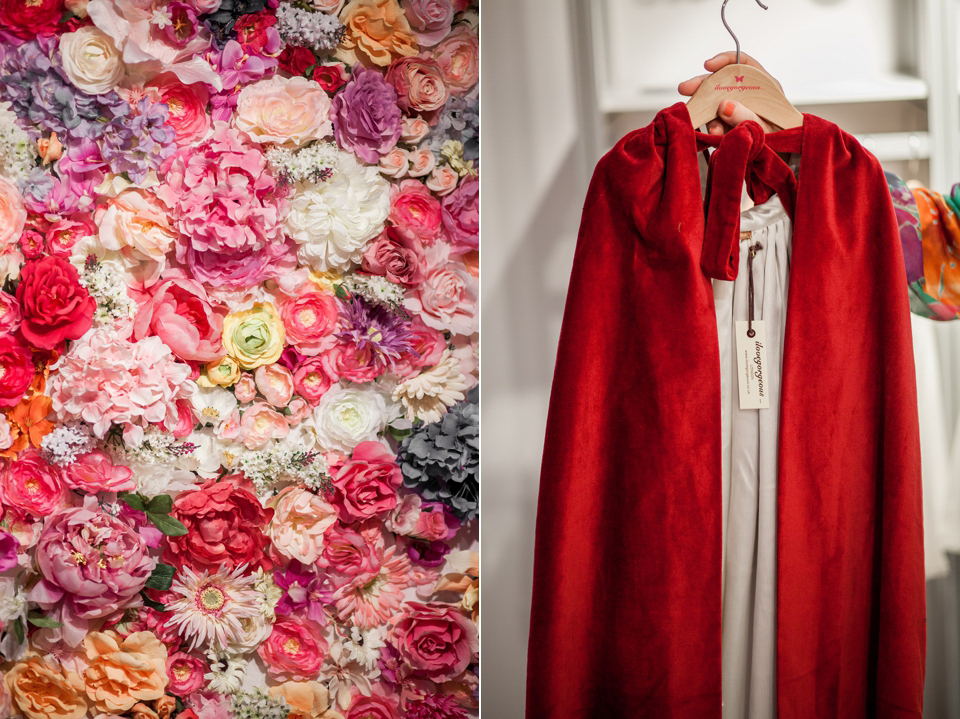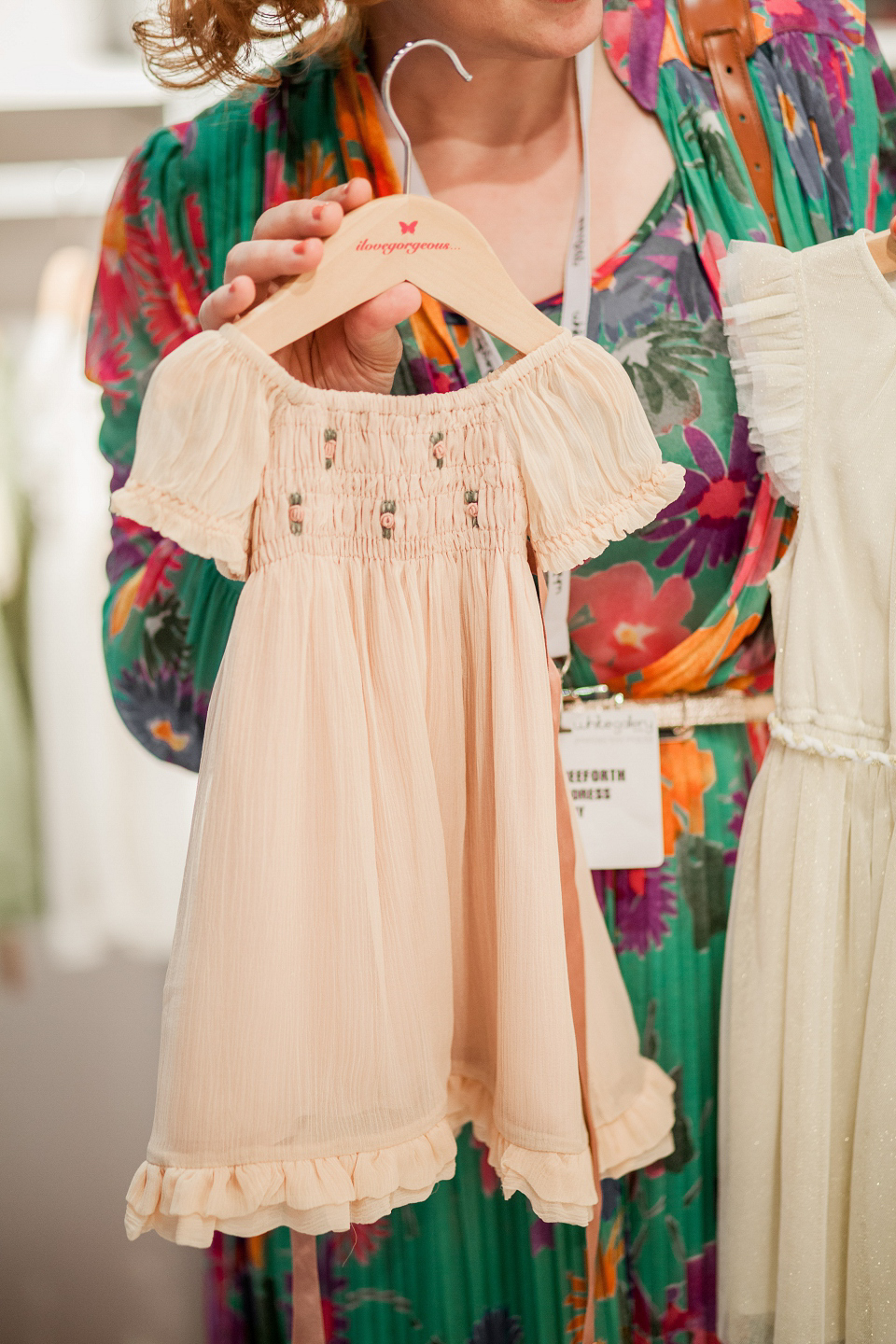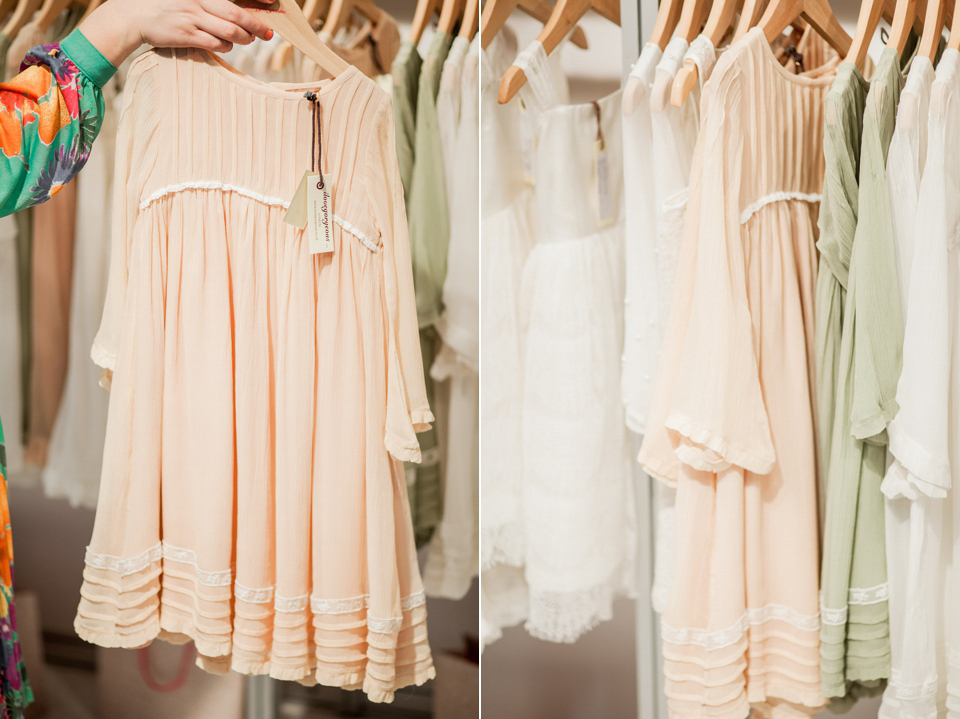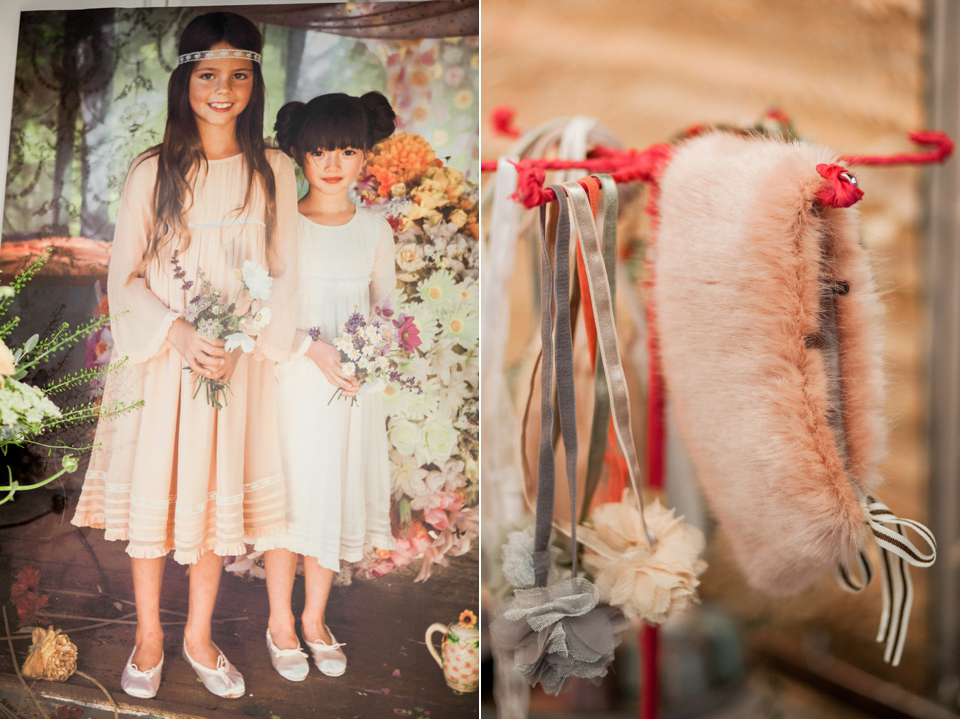 All children's designs above by I Love Gorgeous 
When I said I saw much less this time, this is what I was referring to.  Jesús Peiró (pronounced hay-zoos) really do stand out from the crowd.  Their silhouettes are bold, mixing straight lines with billowing. These are designs for the bride who loves fashion but wants to feel confident, elegant and feminine on her wedding day.
This is the antithesis of bridal bling – and offers a paired down approach to luxury bridal wear. What does that mean?  Clean lines, simplicity, it means looking all kinds of amazing without having to go full on sparkle and shine. And I LOVE that.  My adoration of this brand leapt to new heights having seen this beautiful new collection.  You can see brides wearing Jesús Peiró on Love My Dress here.
Visit jesúspeiró.com for more details.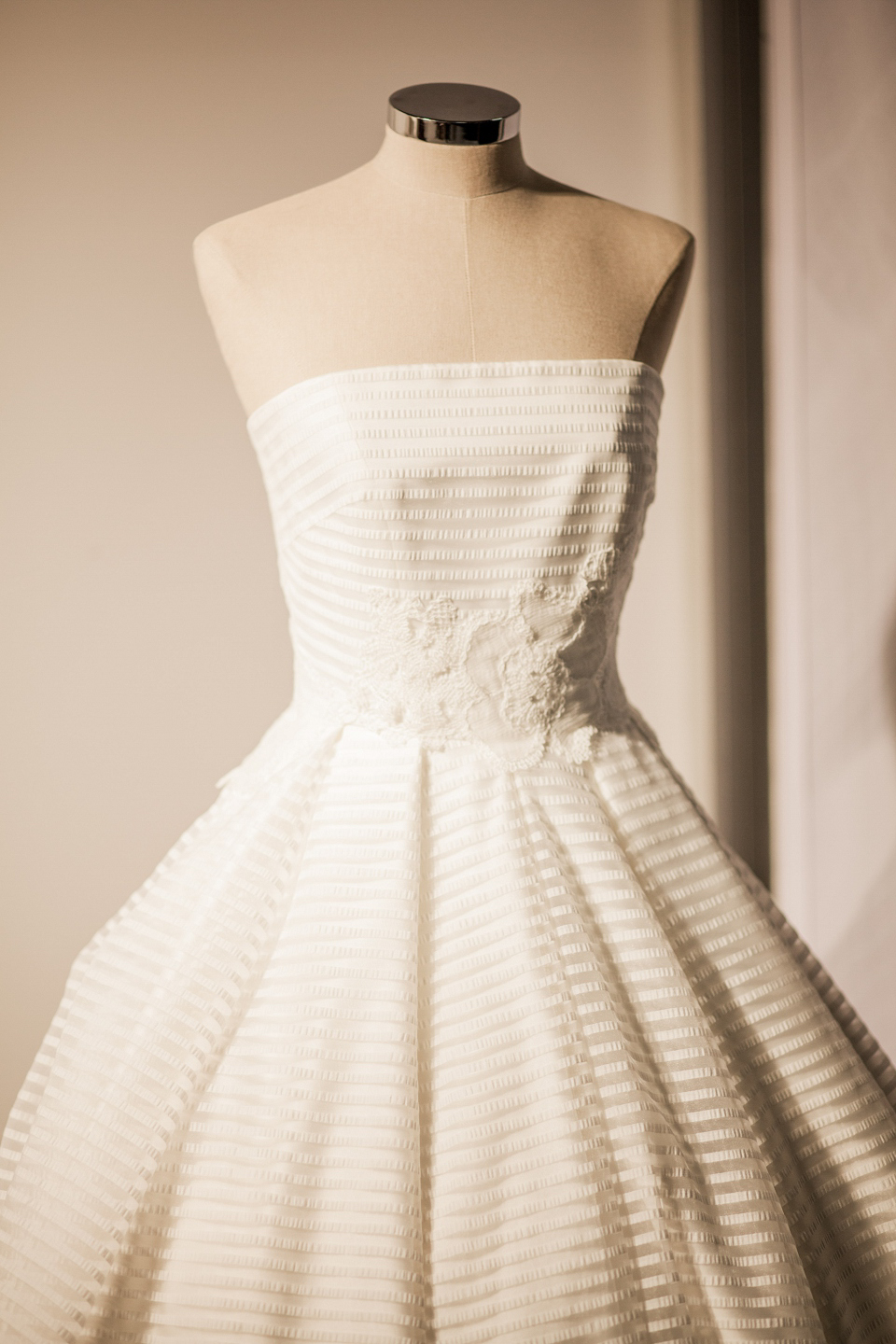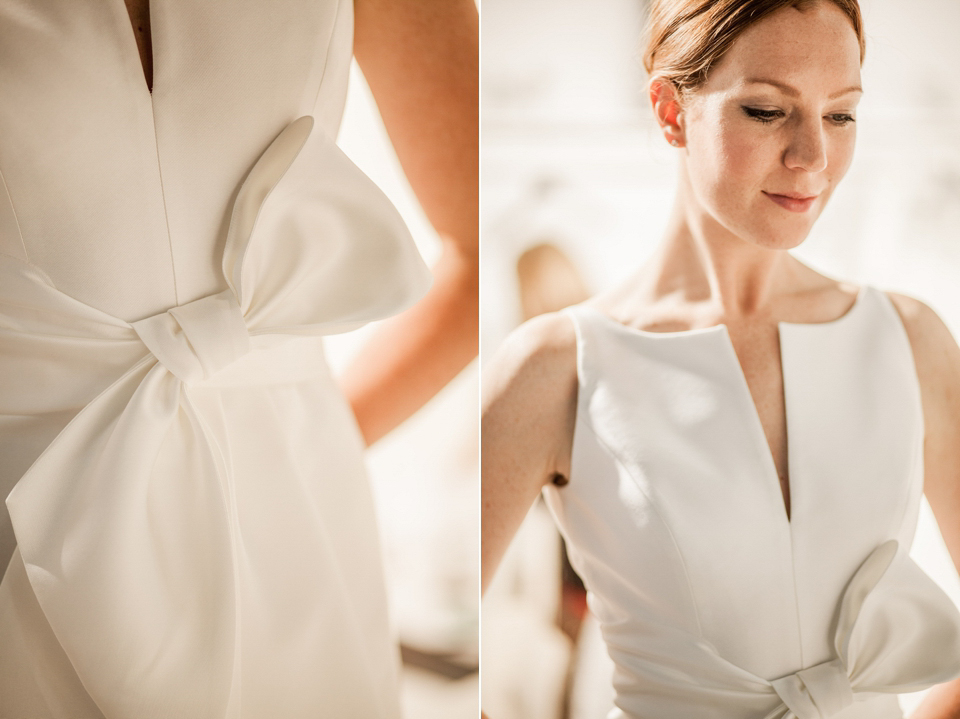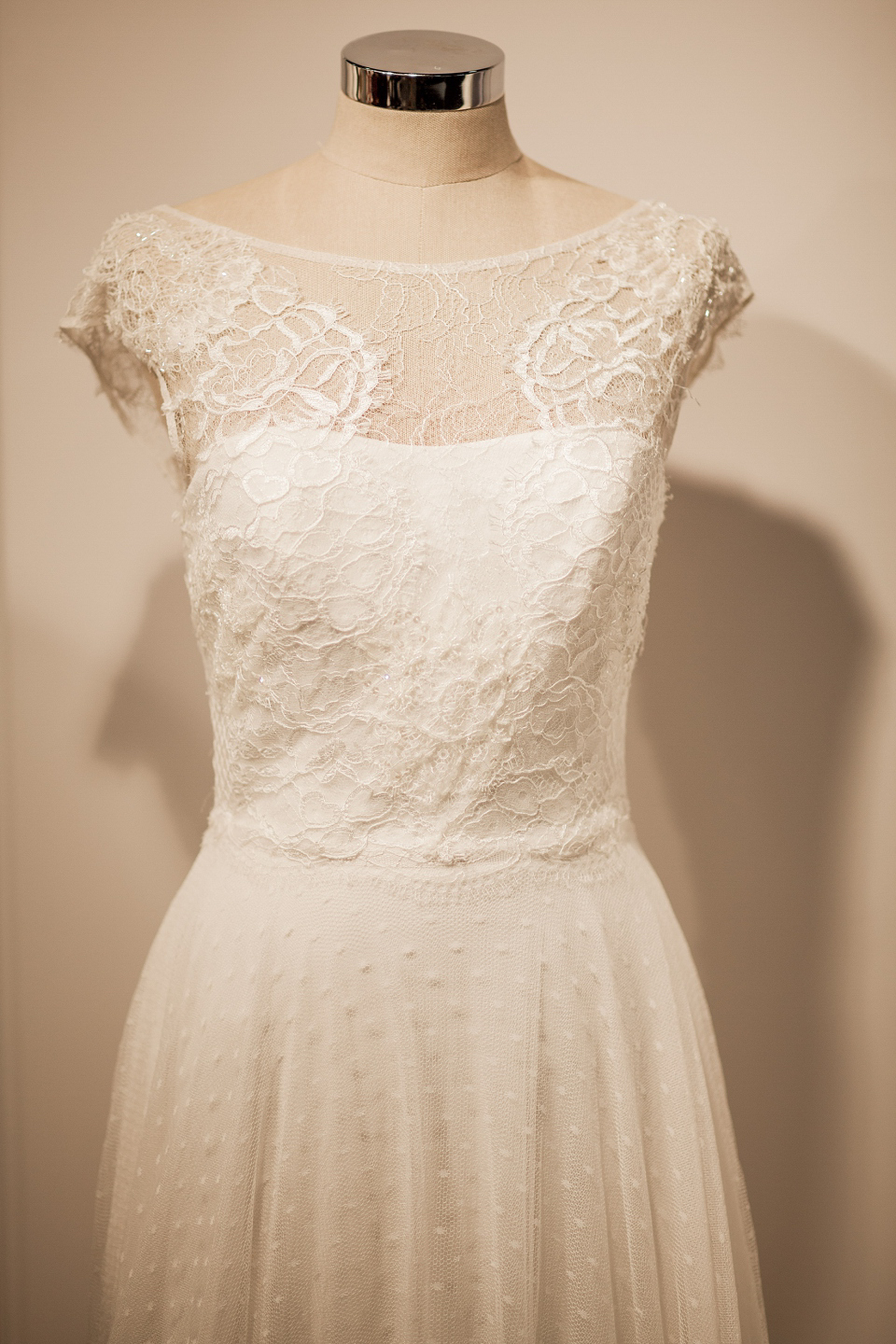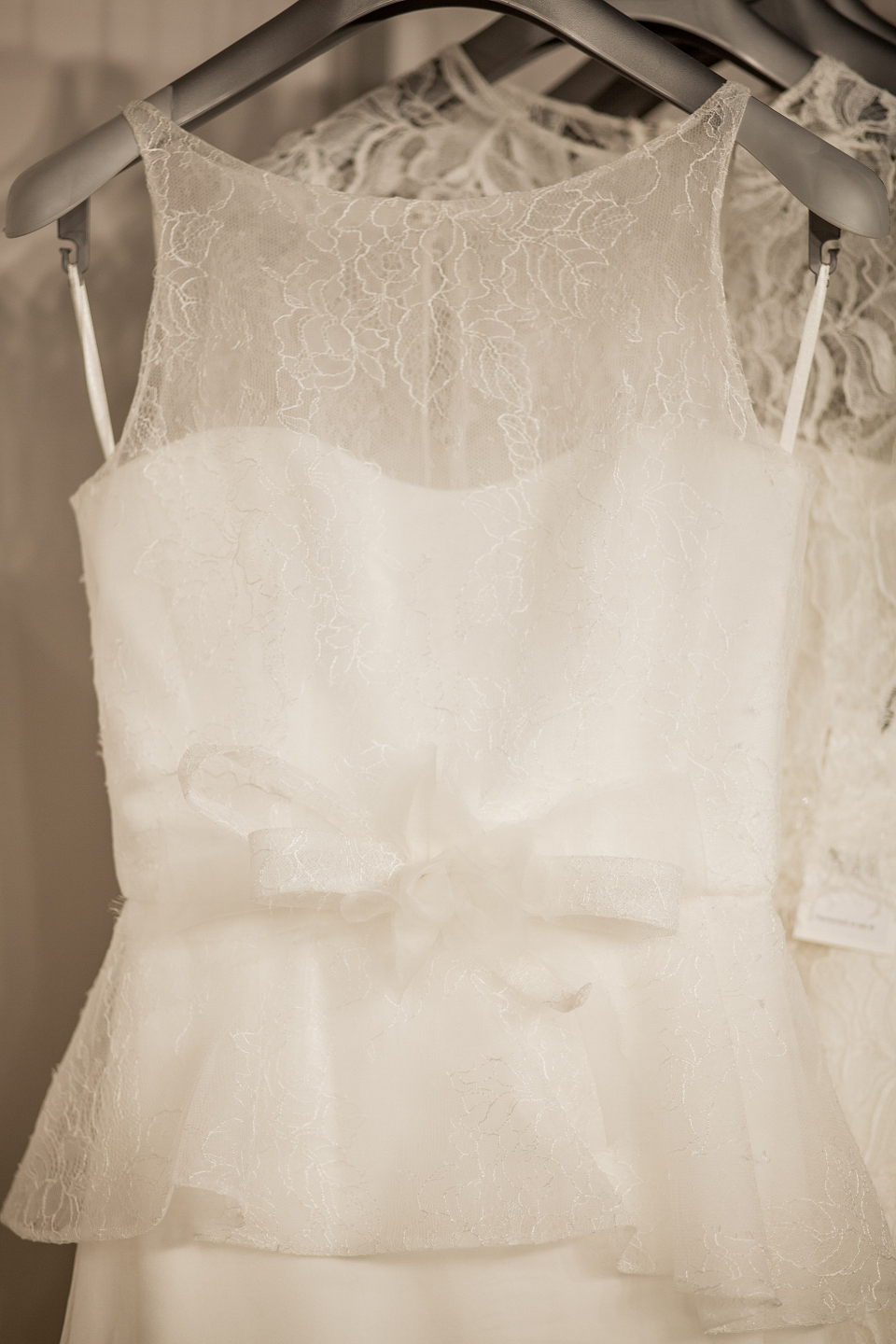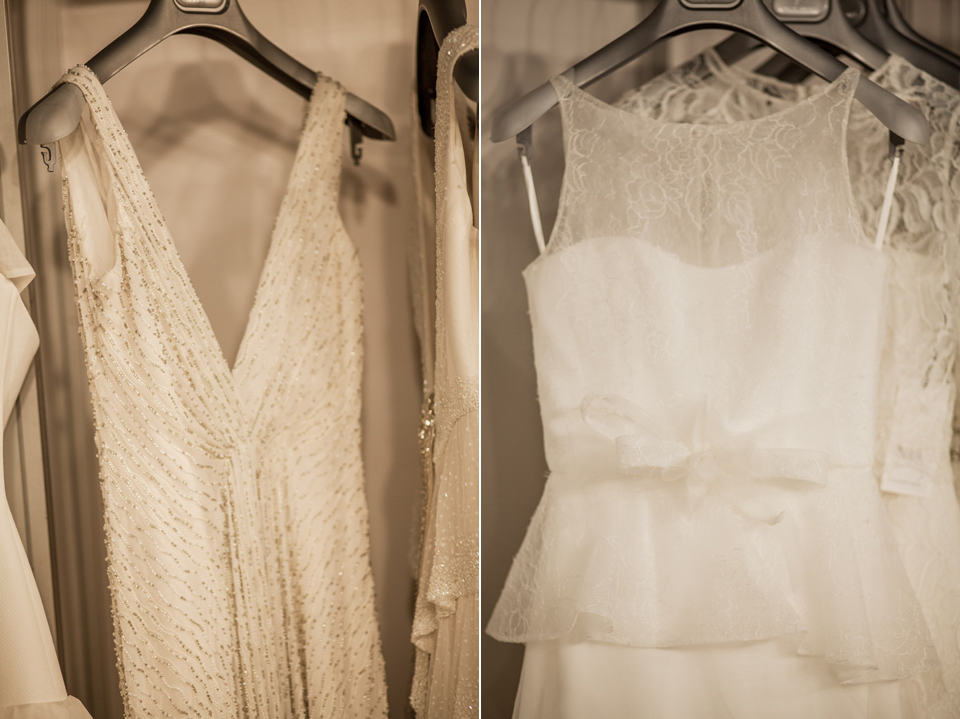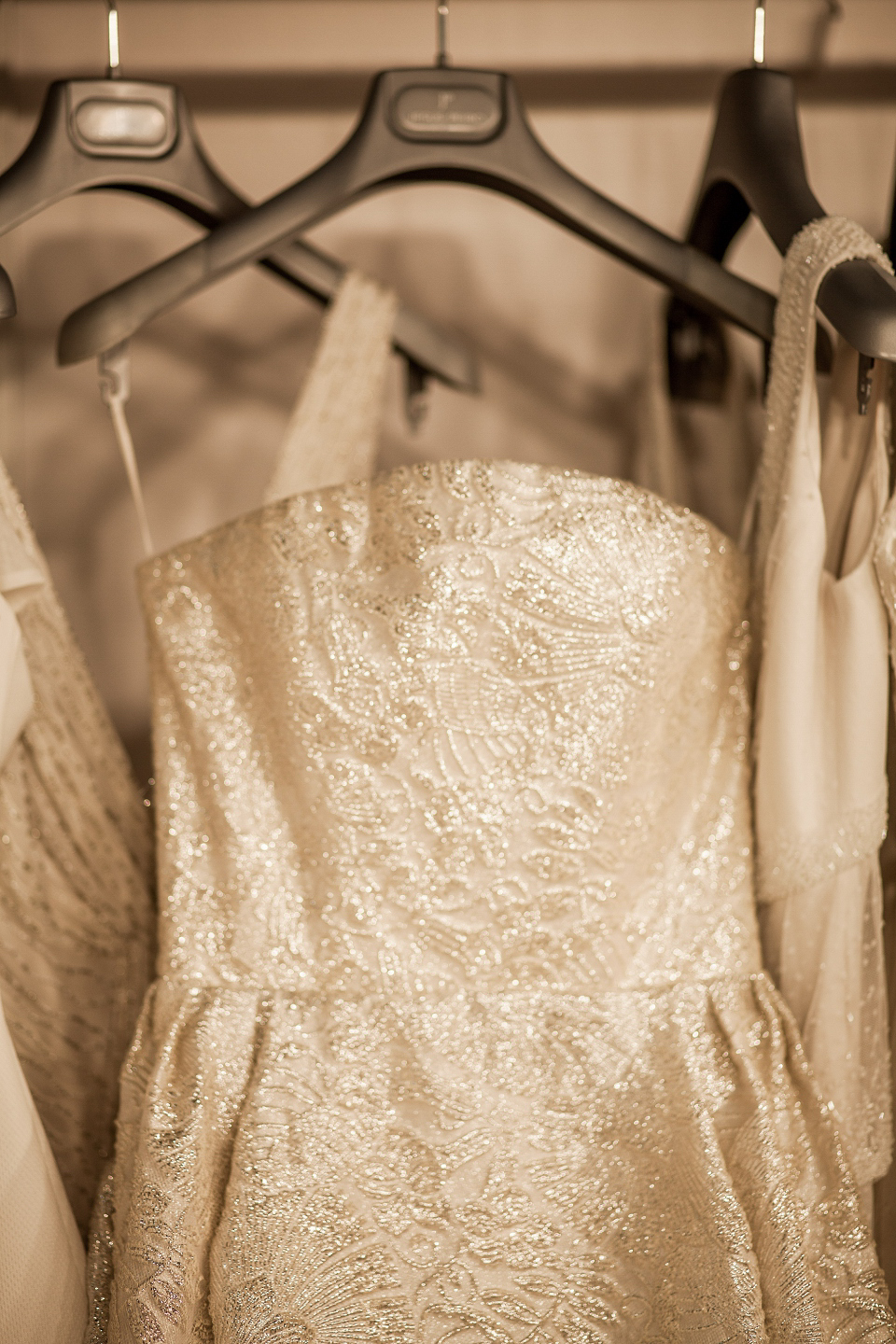 All designs above by Jesús Peiró 
Katya Katya Shehurina stole my heart with their very first bridal collection, and I've been smitten like a gal whose found her true love ever since.  Katya is such a talented designer with a really strong vision for fashionable.
Her gowns are so incredibly light and floaty (trust me, holding up gowns on hangers to have photographed left me with arms like Popeye after last Sunday – Katya's were a refershing change!).  Katya's focus is all about comfort and versatility and I just adore the fluid movement of her gowns.  
The divine pale green tulle skirt wedding dress I mentioned earlier. Absolutely in LOVE.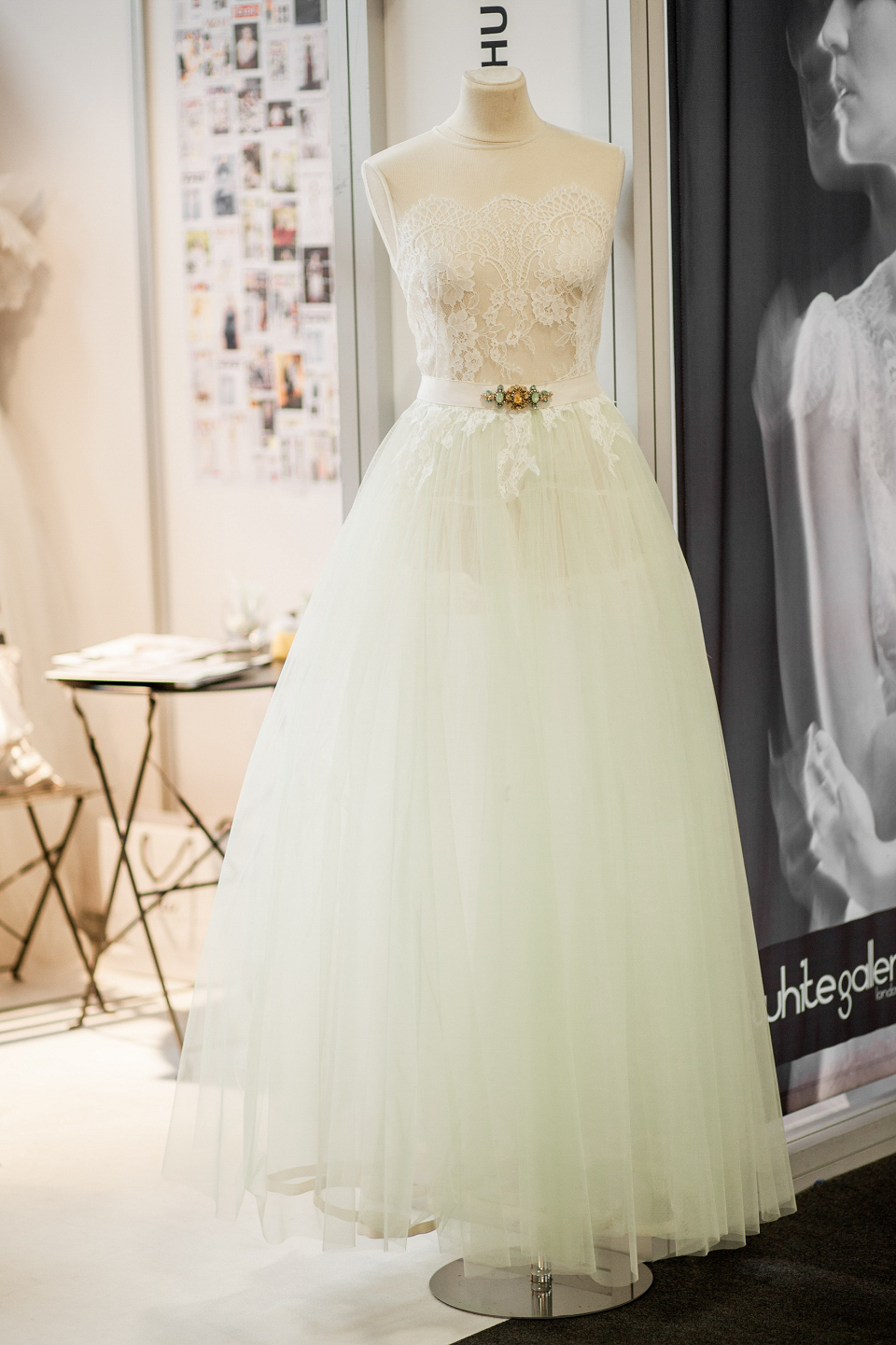 These are contemporary designs for the modern-day bride looking to make a fashion statement on her wedding day, and oh my, do these gowns oooze original style and beauty. 
Breathtaking.
Visit shehurina.com for more information.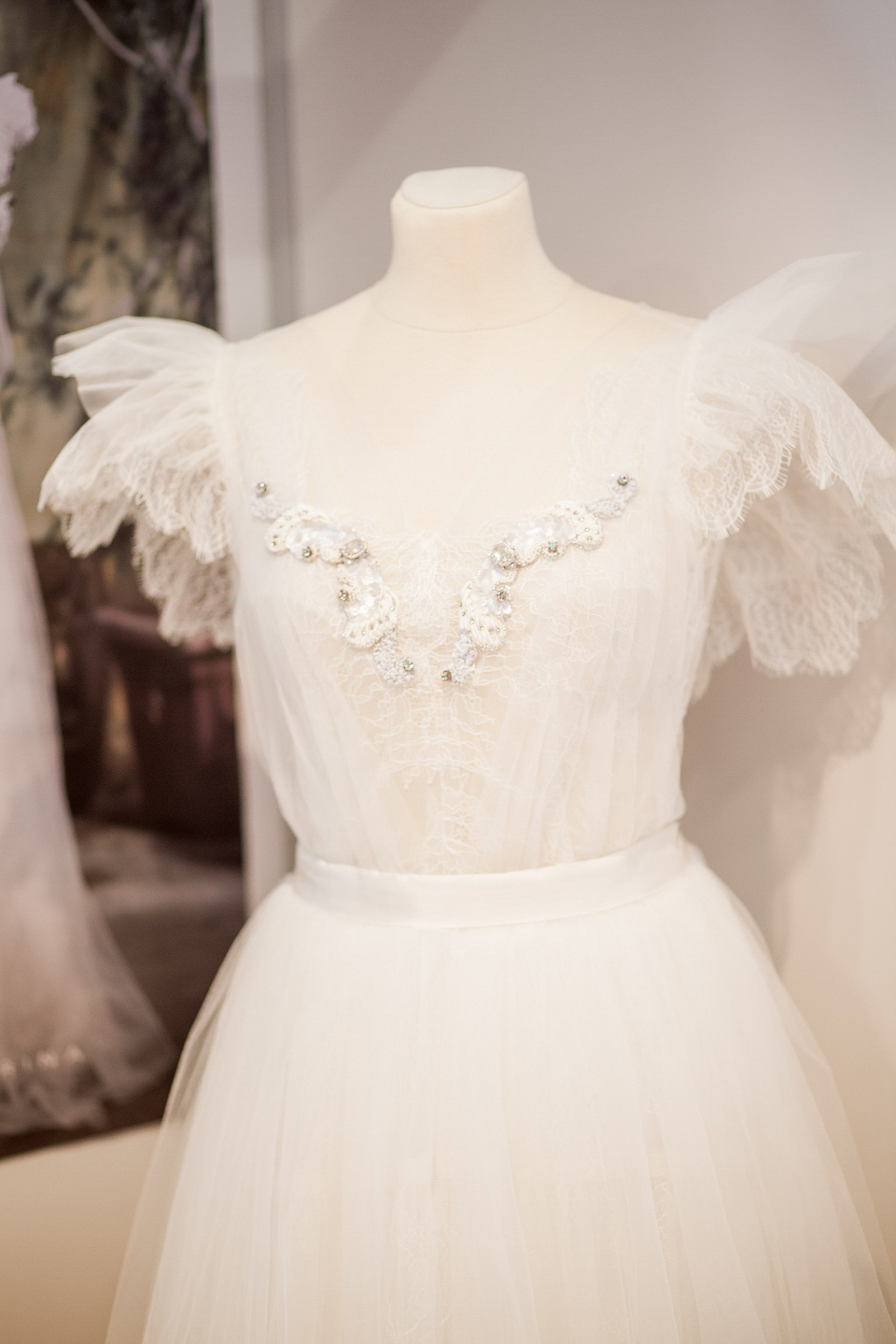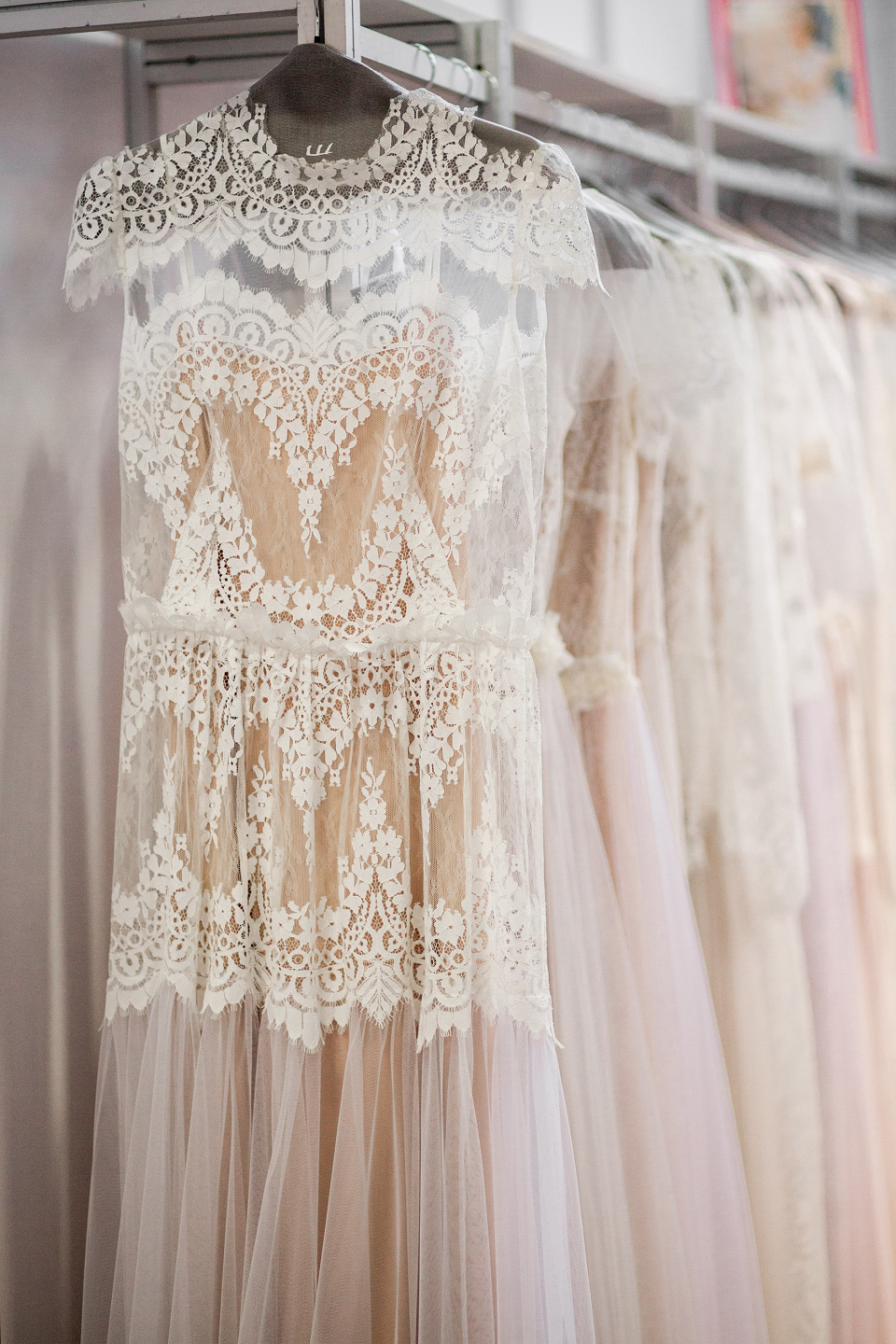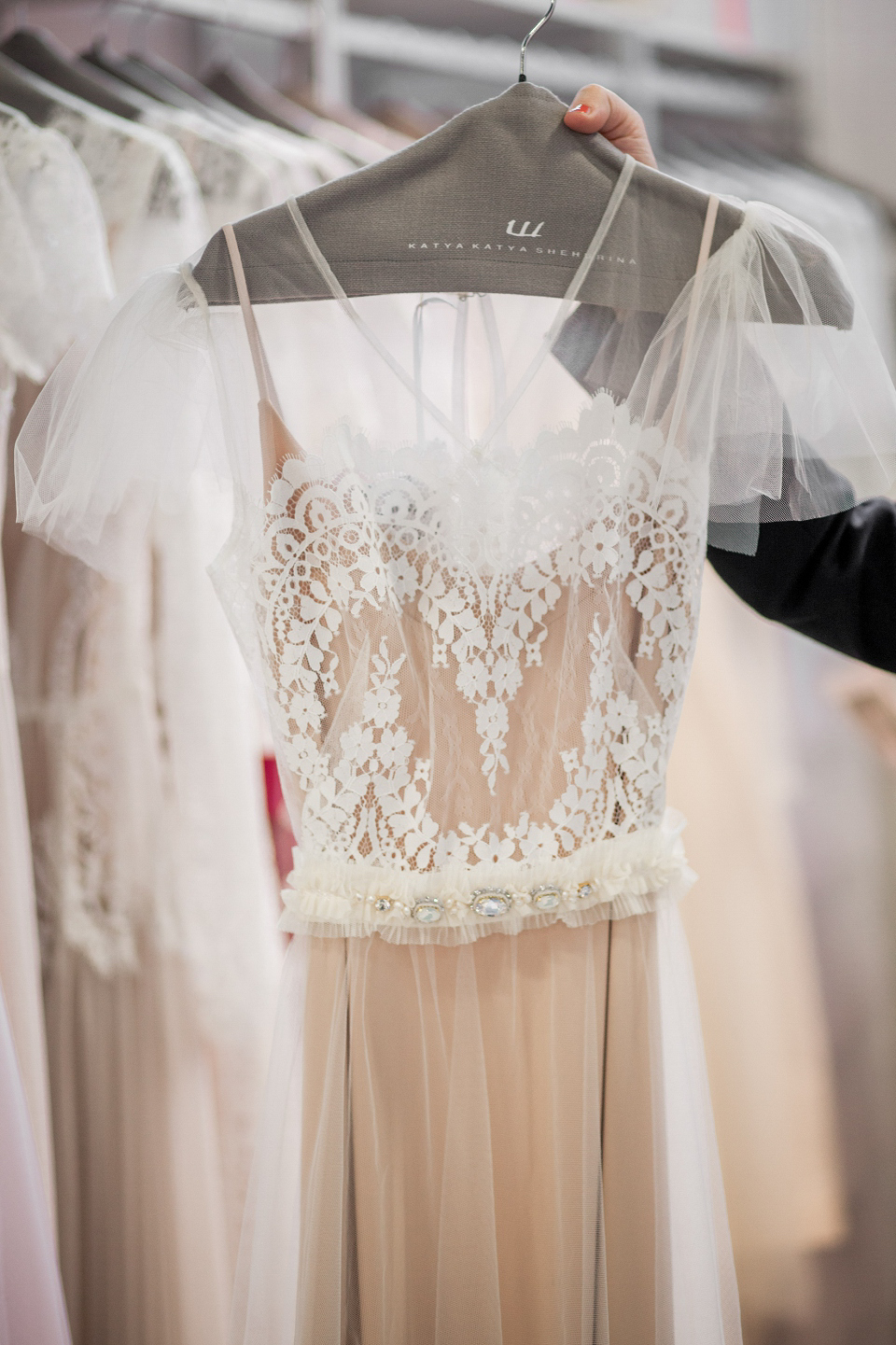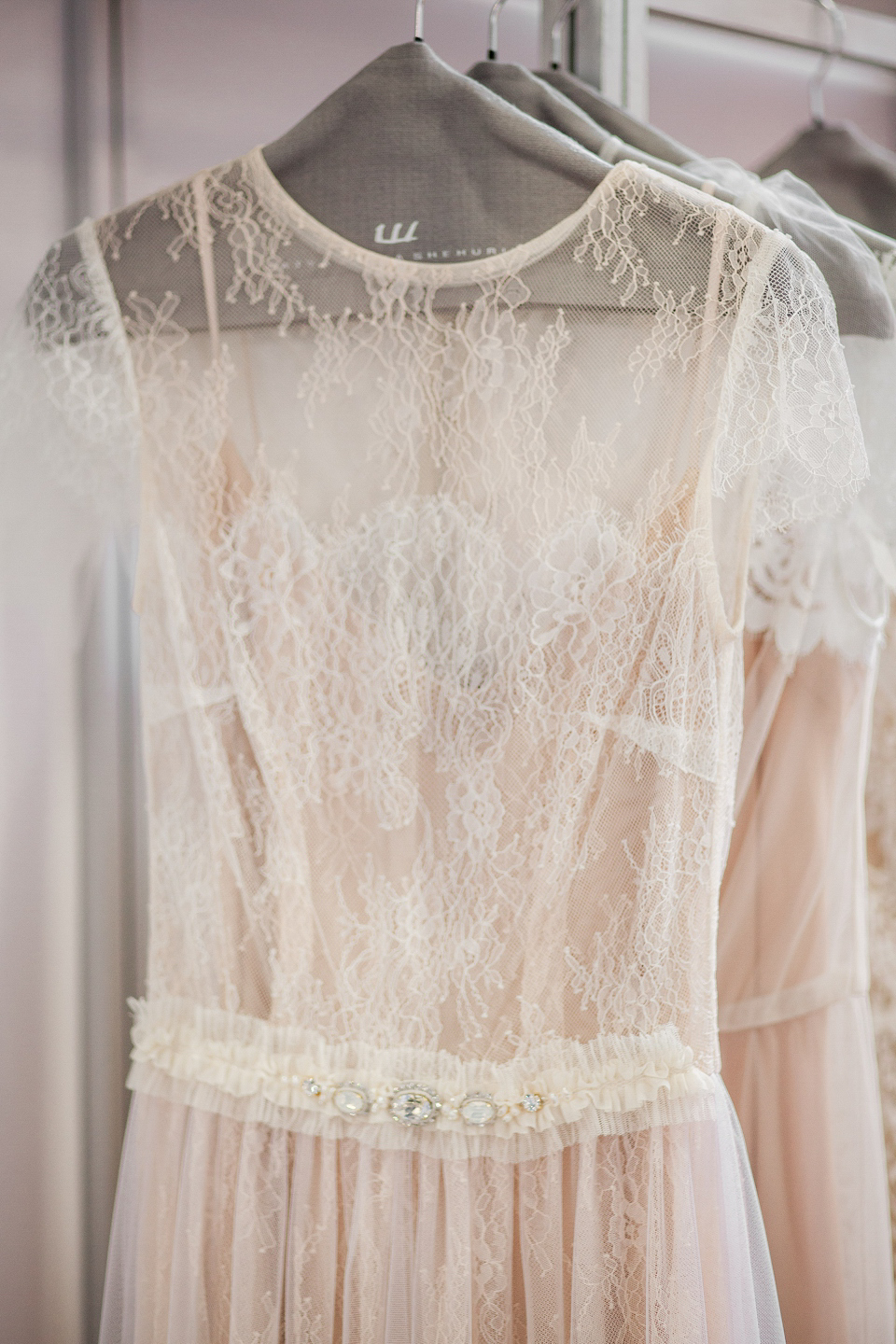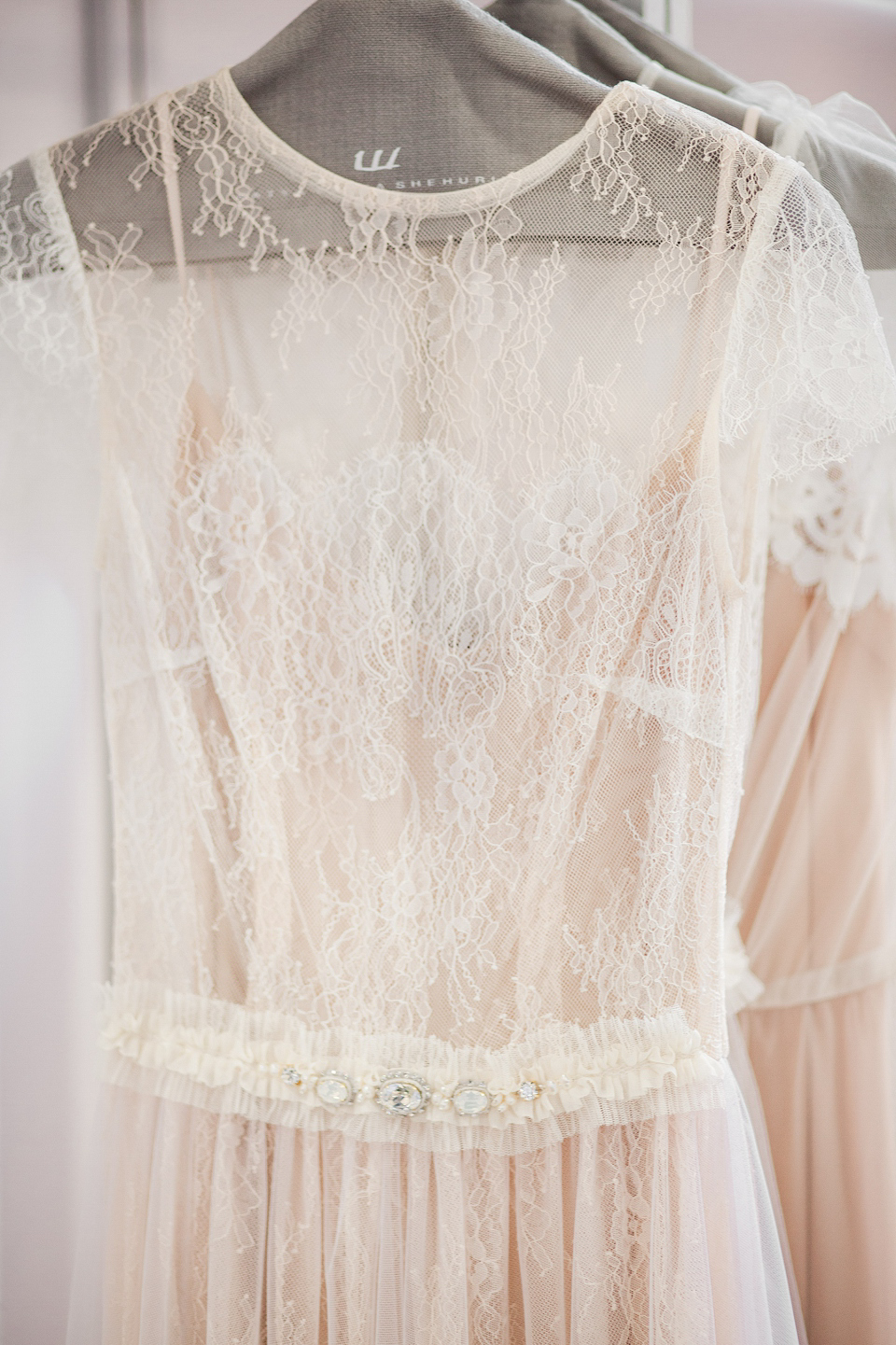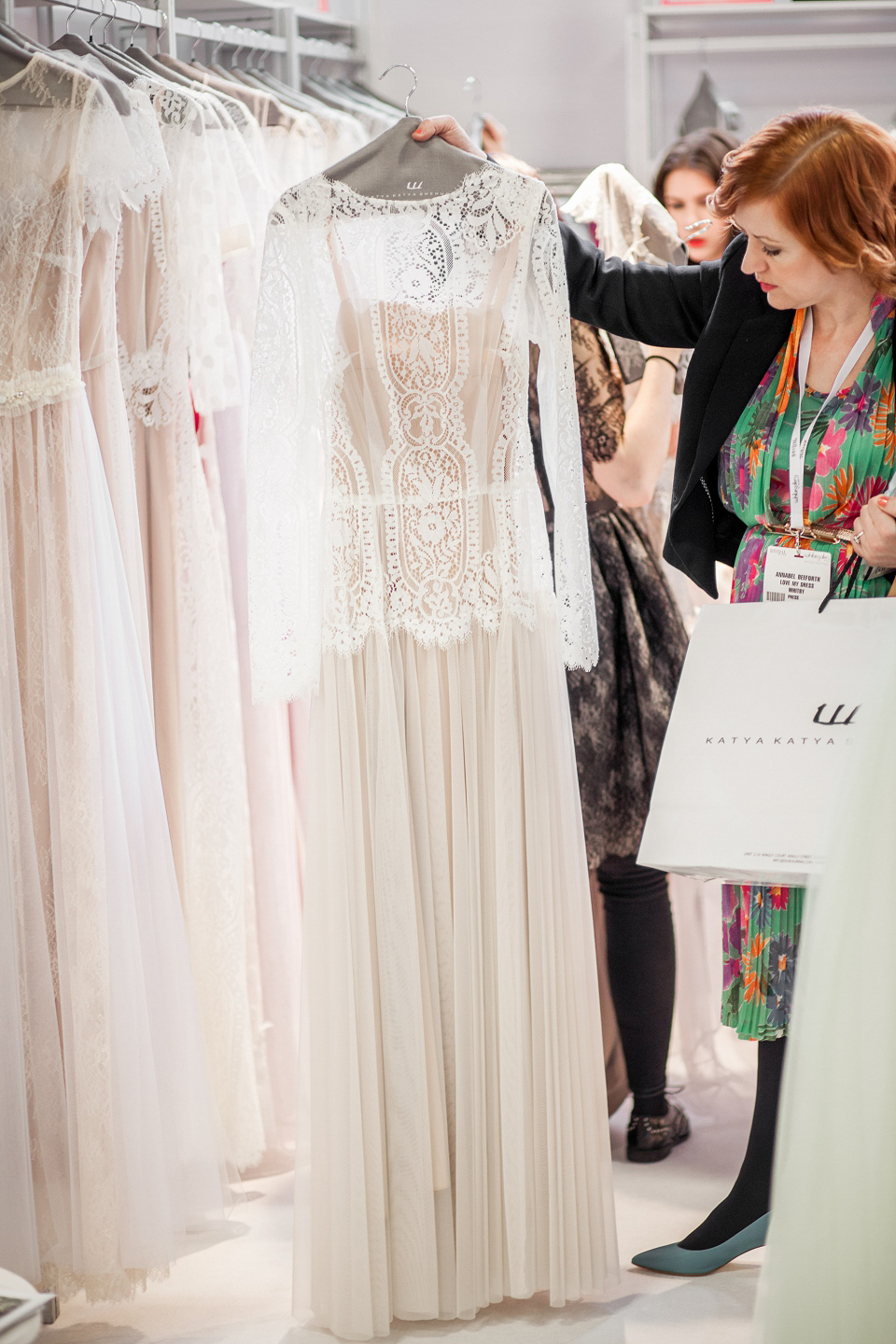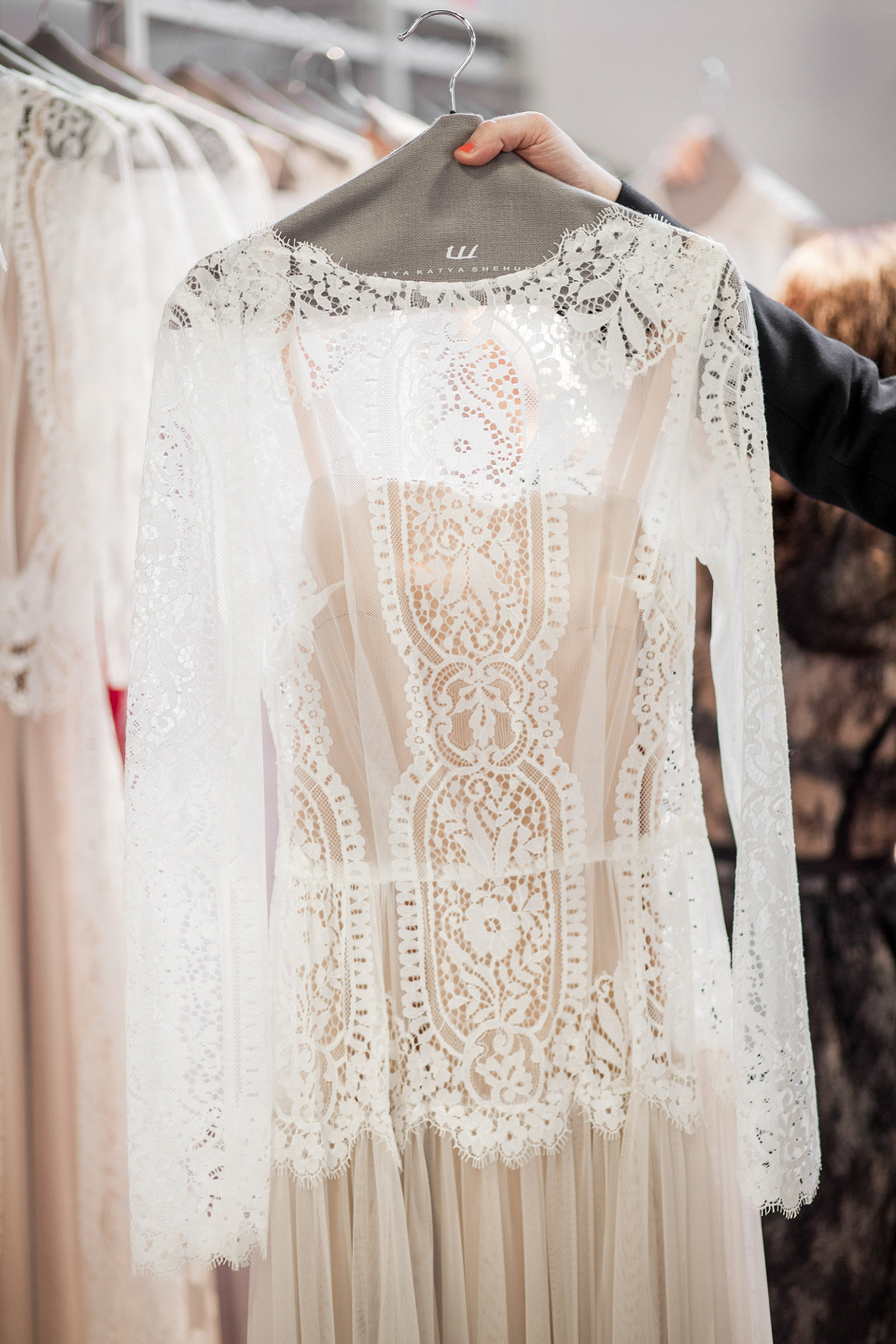 Didn't I say that polka dots were making a come-back?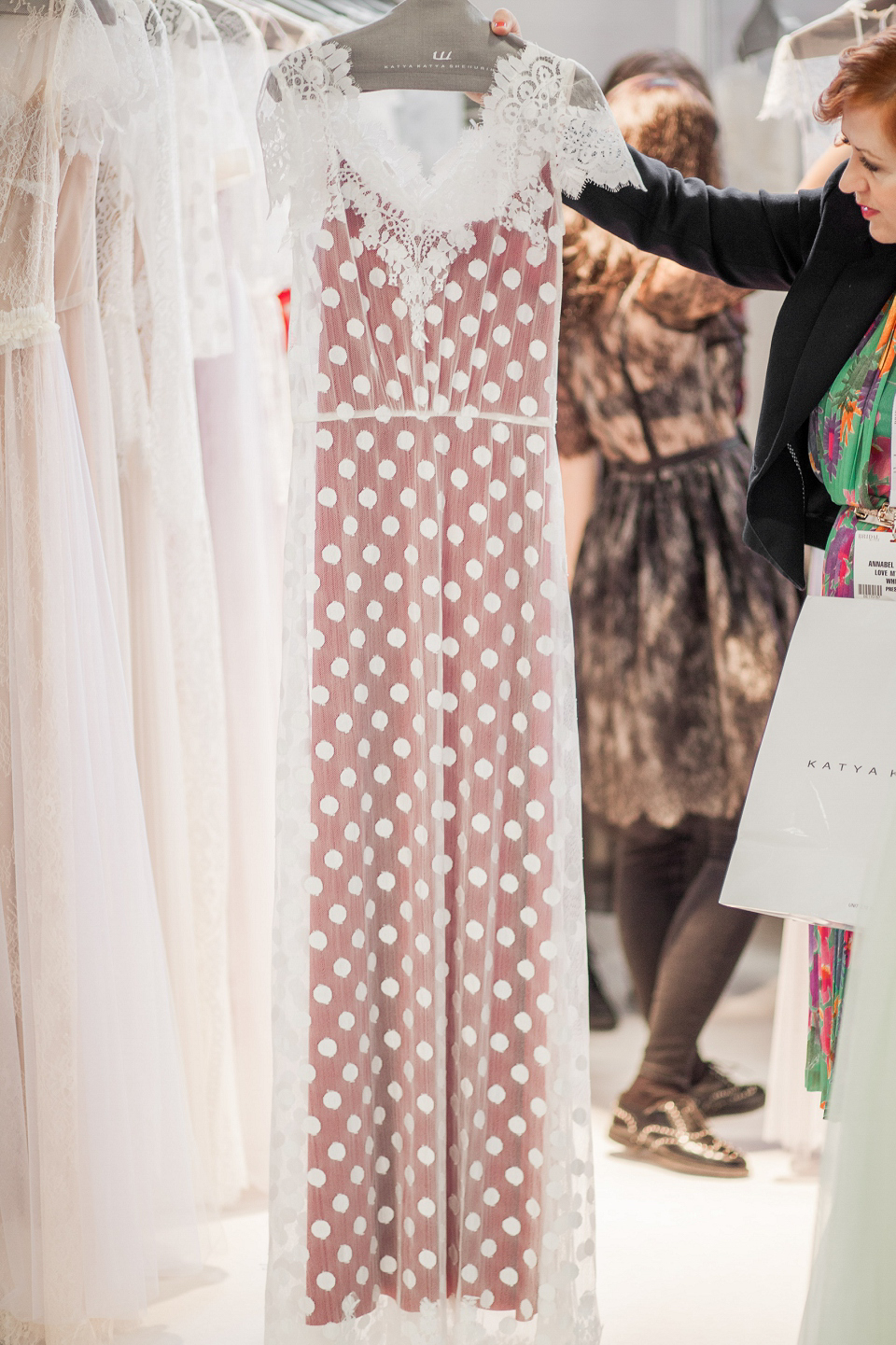 All designs above by Katya Katya Shehurina 
Fun and flirtatious was delivered with aplomb by the wonderful North East based designer brand Mooshki Bridal.
Can you believe that designer Olivia also models for the brand's entire advertising campaign, though with looks like this, can you blame her? IT was a delight to meet Olivia (below) on the Mooshki exhibition stand last Sunday.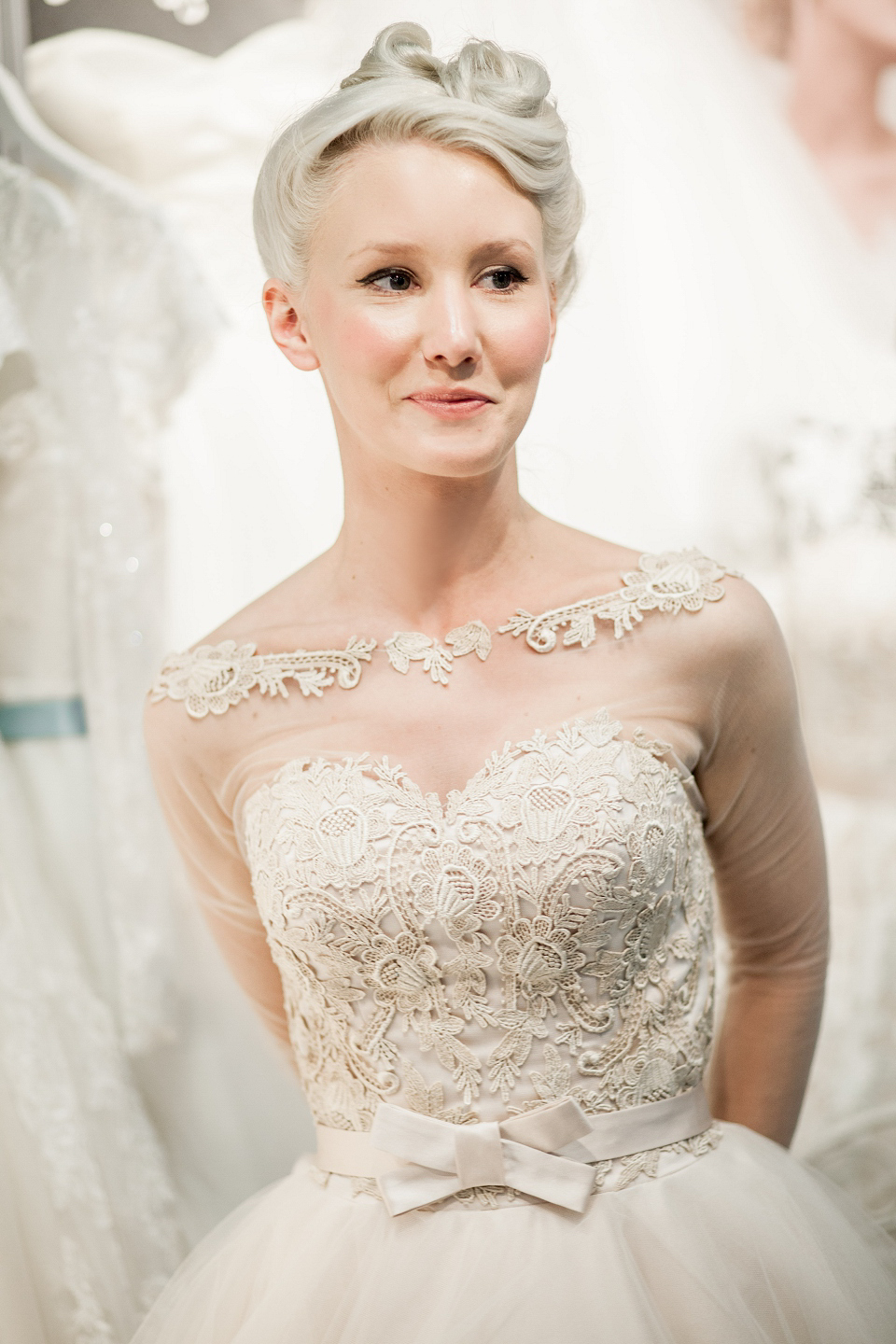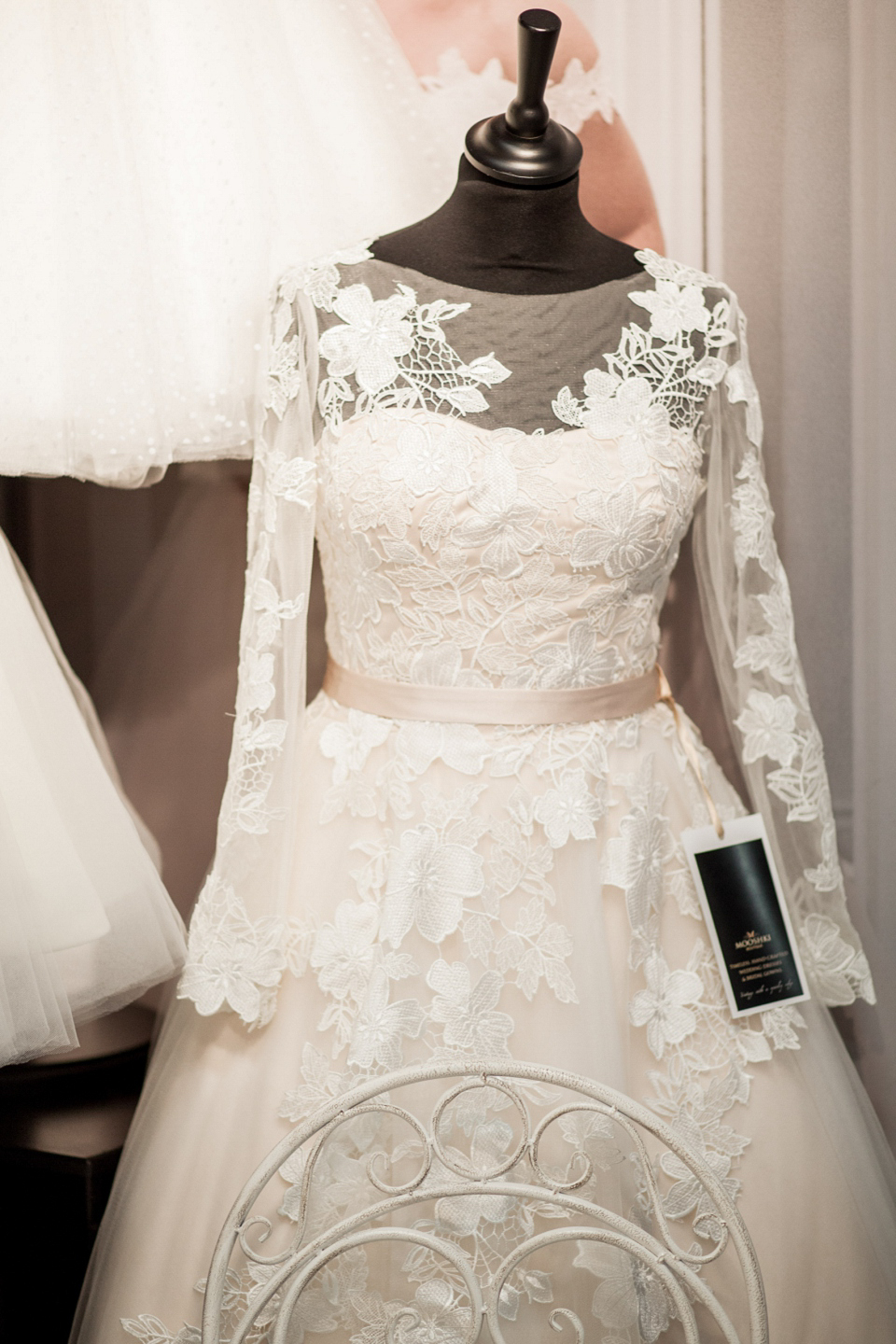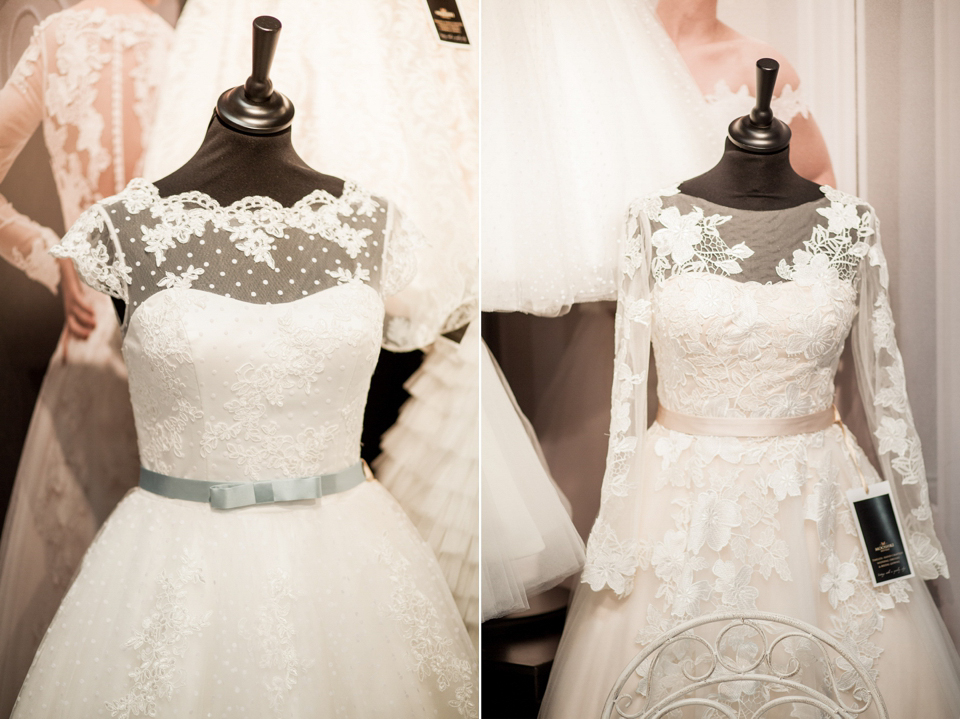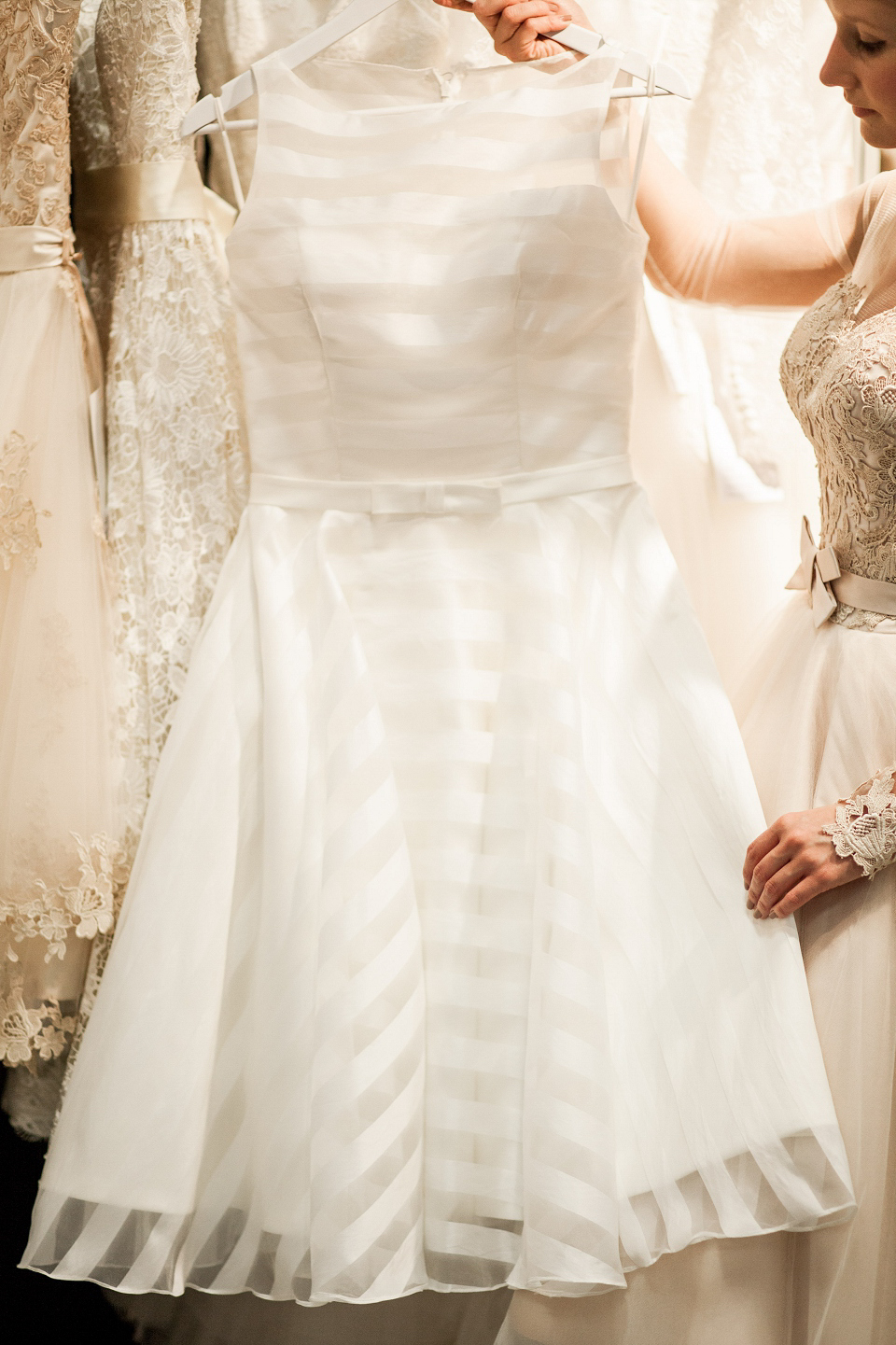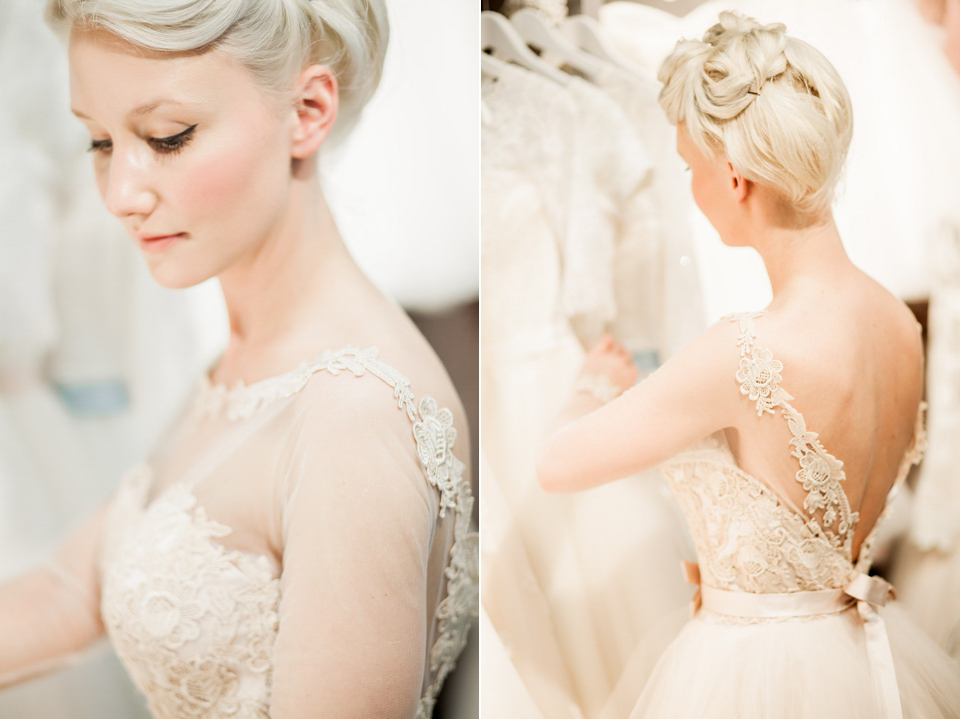 The Mooshki brand takes inspiration from the sytle of women in the late 50's and early 60's – this is the go-to-brand for mid-centurey fun inspired gowns.  And I loved their experimentation with a pencil skirts and big, statement detachable train features (see below)
Vintage with a quirky edge.
Visit houseofmooshki.com for further information.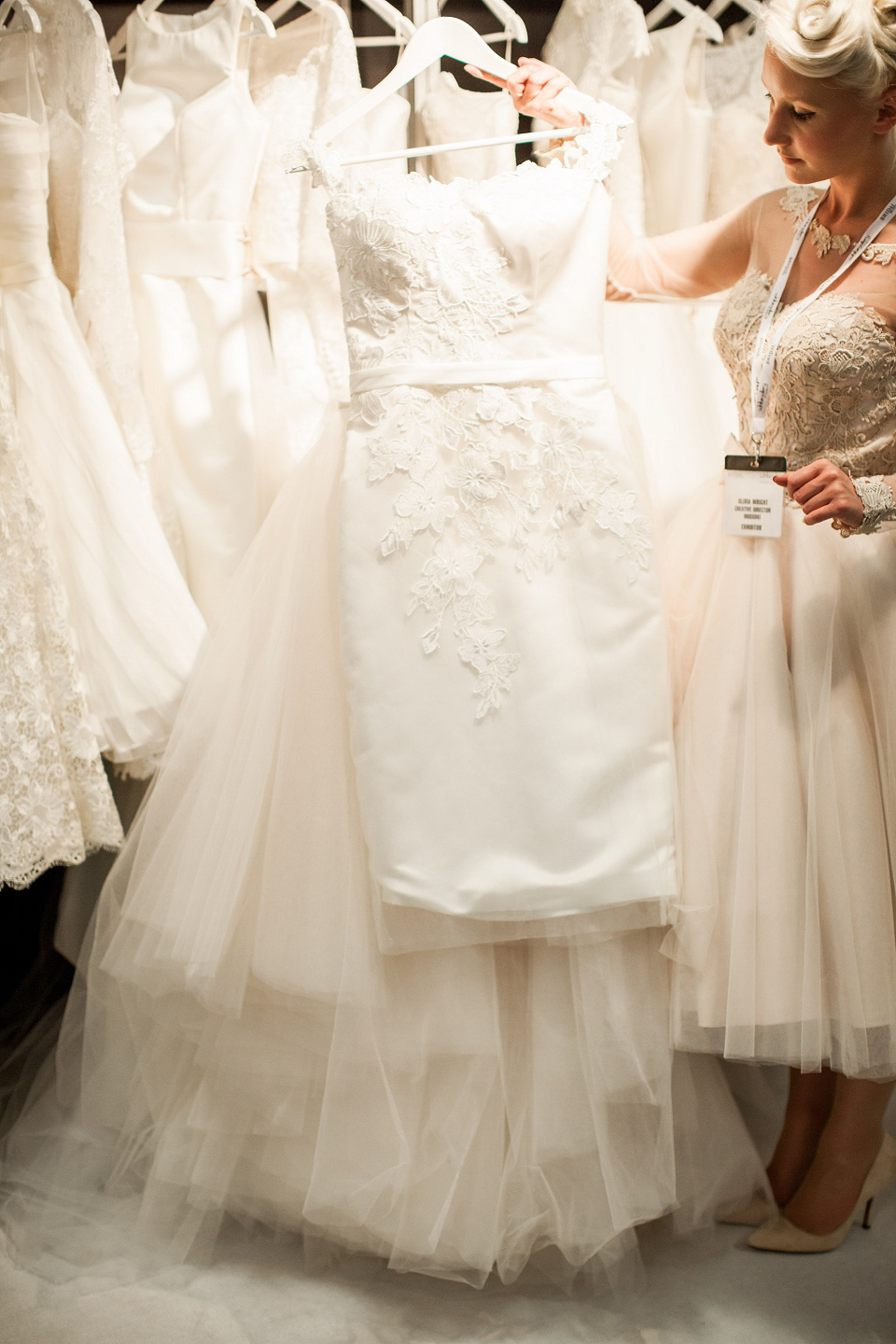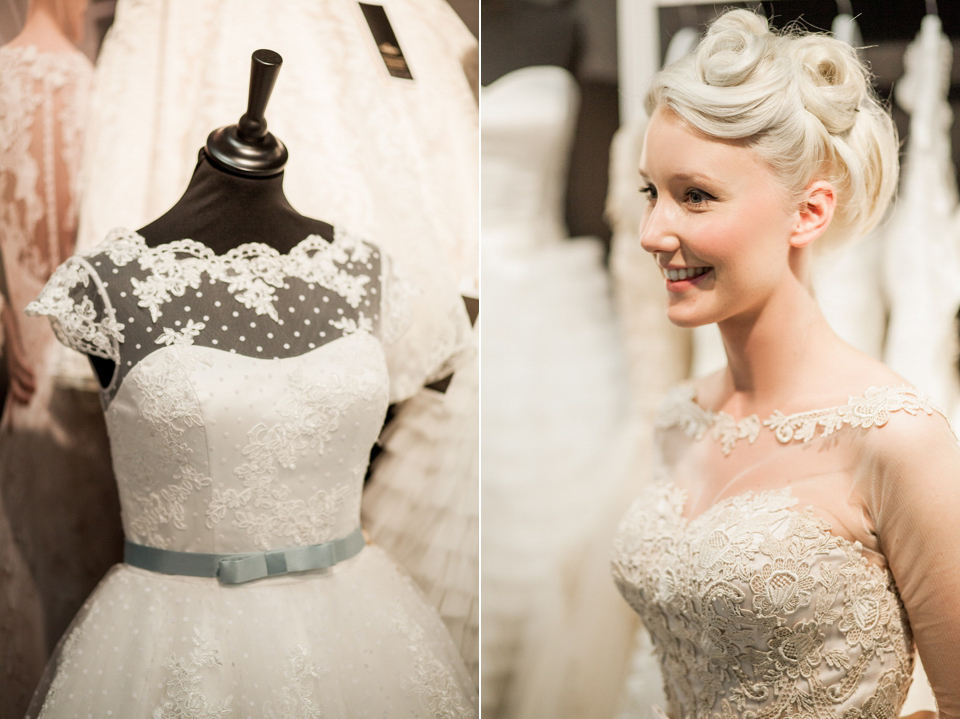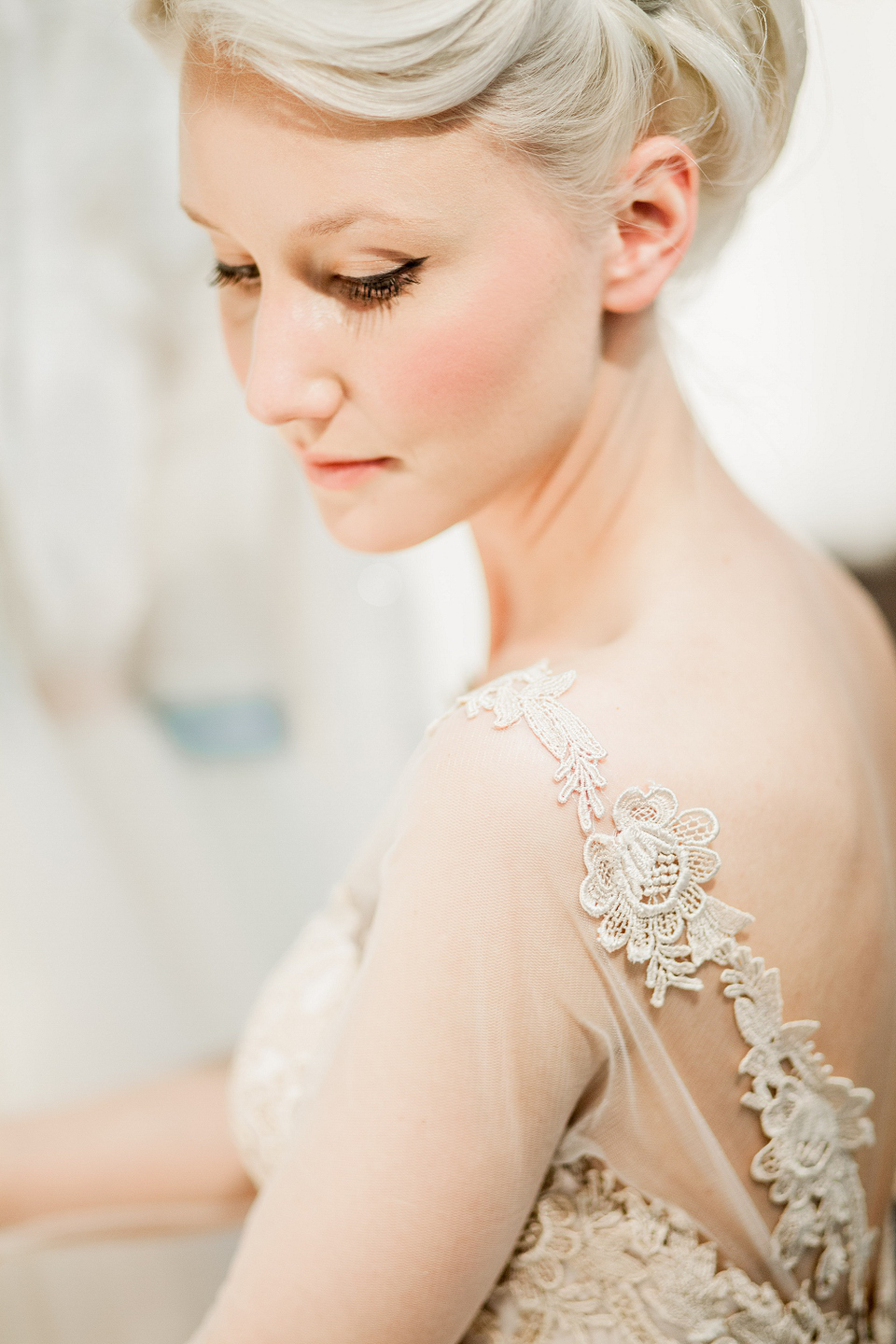 A fleeting visit to the Naomi Neoh stand was proof that this designers sumptuously elegant creations continue to be a huge hit with her legion of adoring fans.
If you pick up a Noami Neoh gown on a hanger, your heart will melt at the gentle movement in the beautiful skirt below. Naomi uses only the very finest of French lace and silks and takes inspiration from the glamour and elegance of vintage Hollywood.
Naomi's signature floral corsage belt detail adds a real feminine touch of elegance to these gowns.
Visit naomineoh.com for further detail.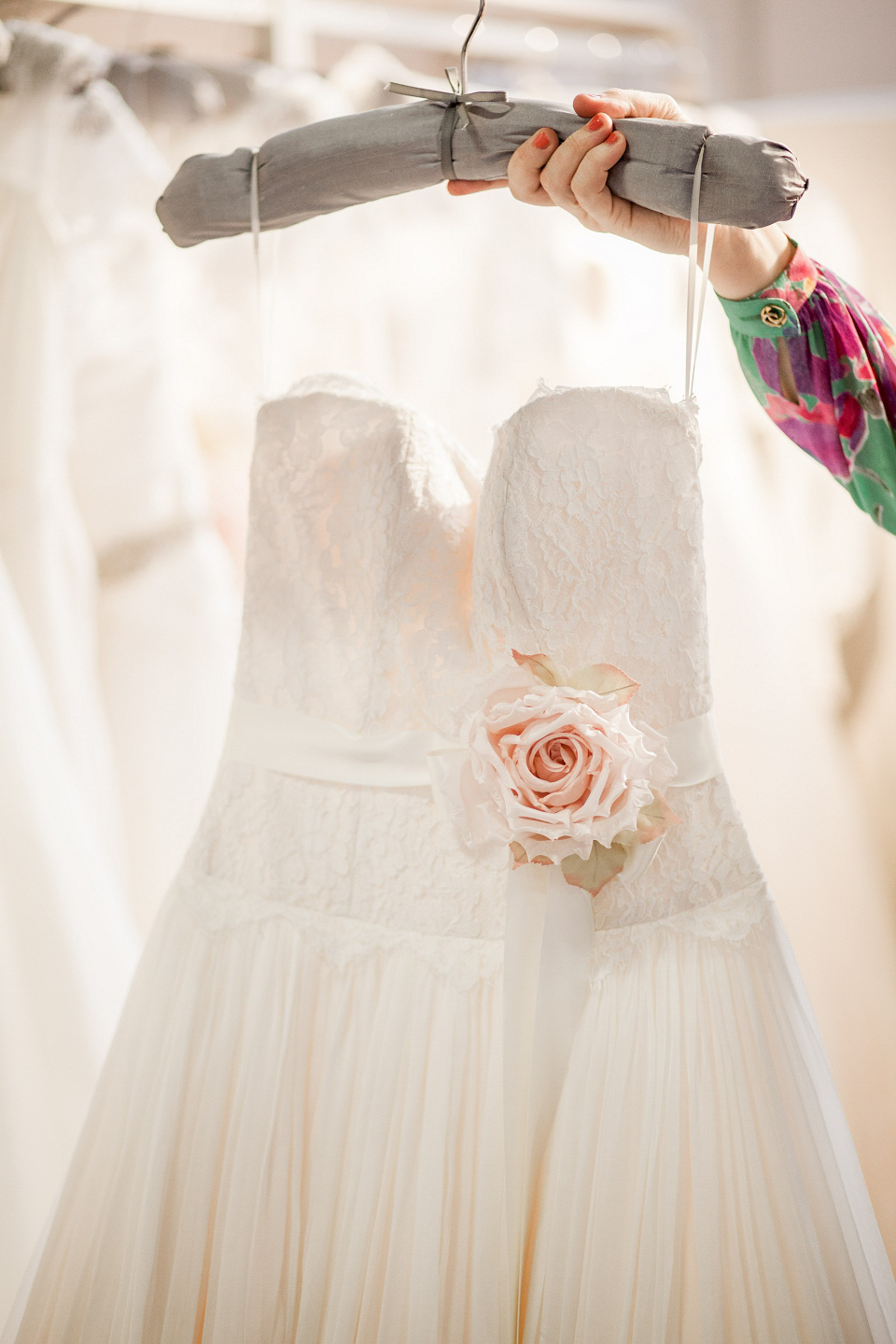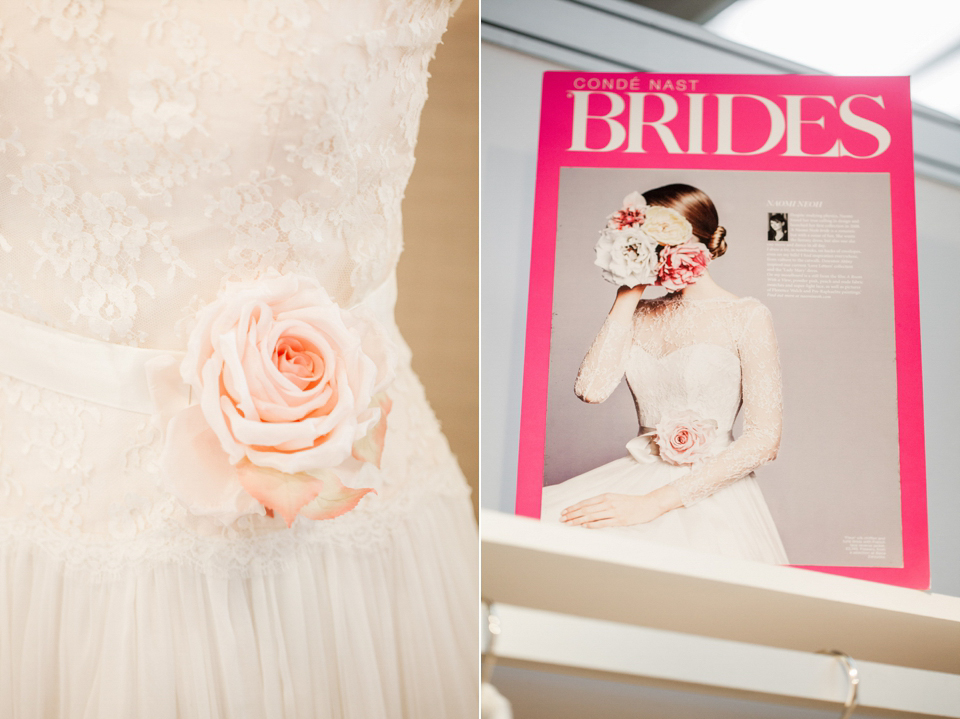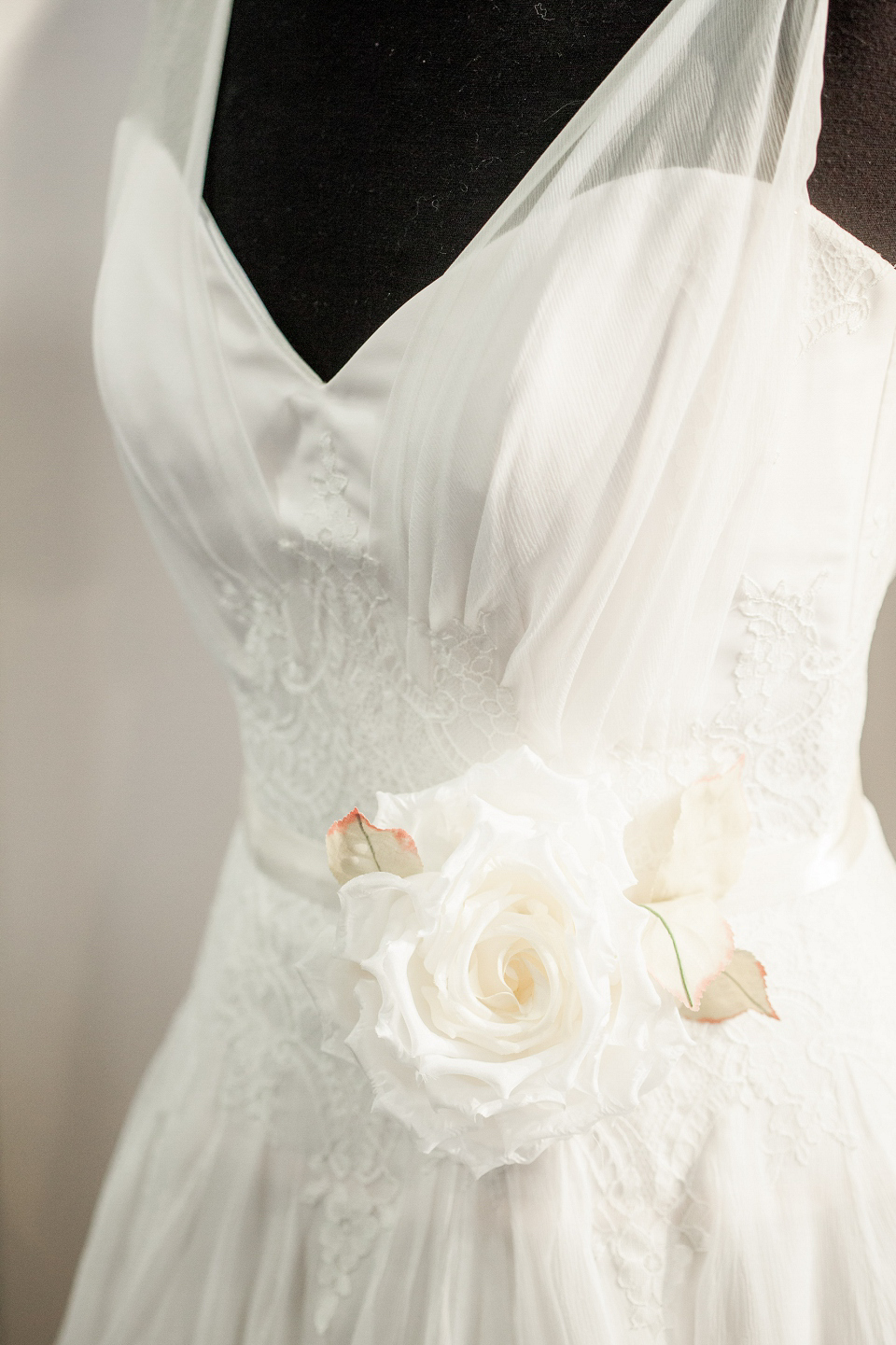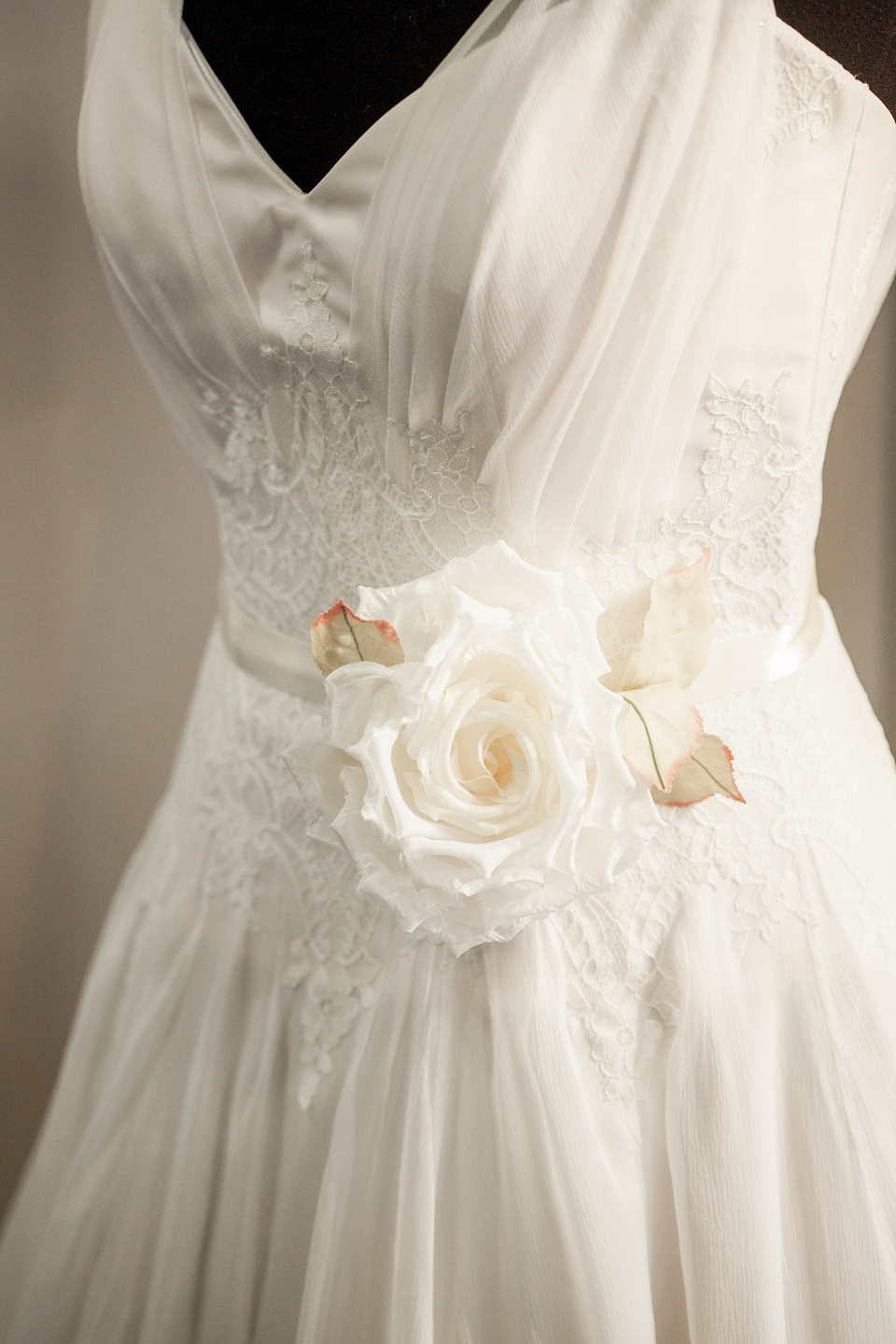 I adore designer Nicki Macfarlane - she who created the beautiful little flowergirl dresses for Kate and Williams Royal wedding. 
Nicki is such a lovely person – warm, welcoming, full of excitement to tell you about her beautiful designs, which speak for themselves.  They are the epitome of flowergirl charm and elegance, with the added bonus of being expertly crafted.
The sparkly sequin creations are sure to be popular with lucky little flower girls all over the land.  
Visit nickimacfarlane.com for further information.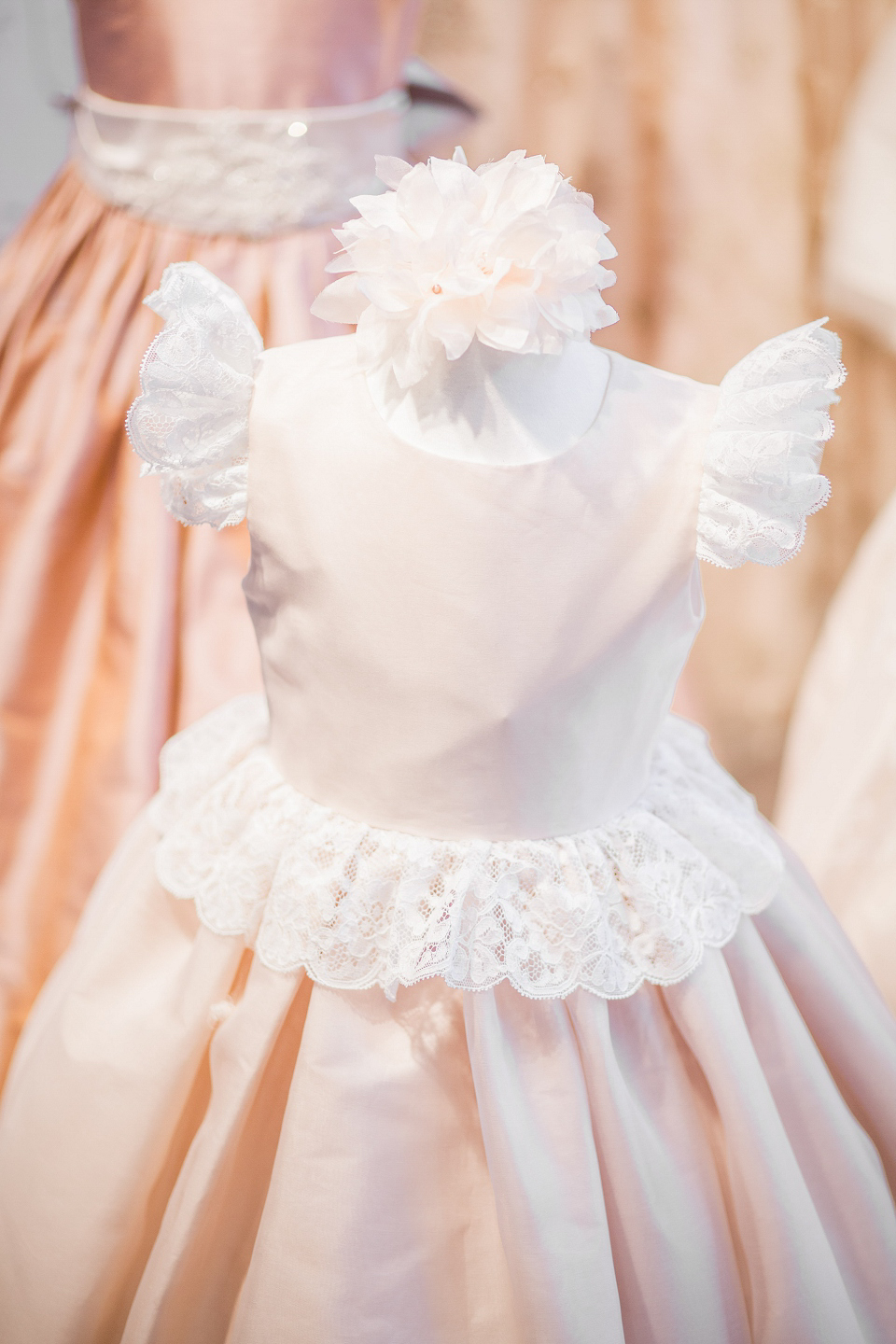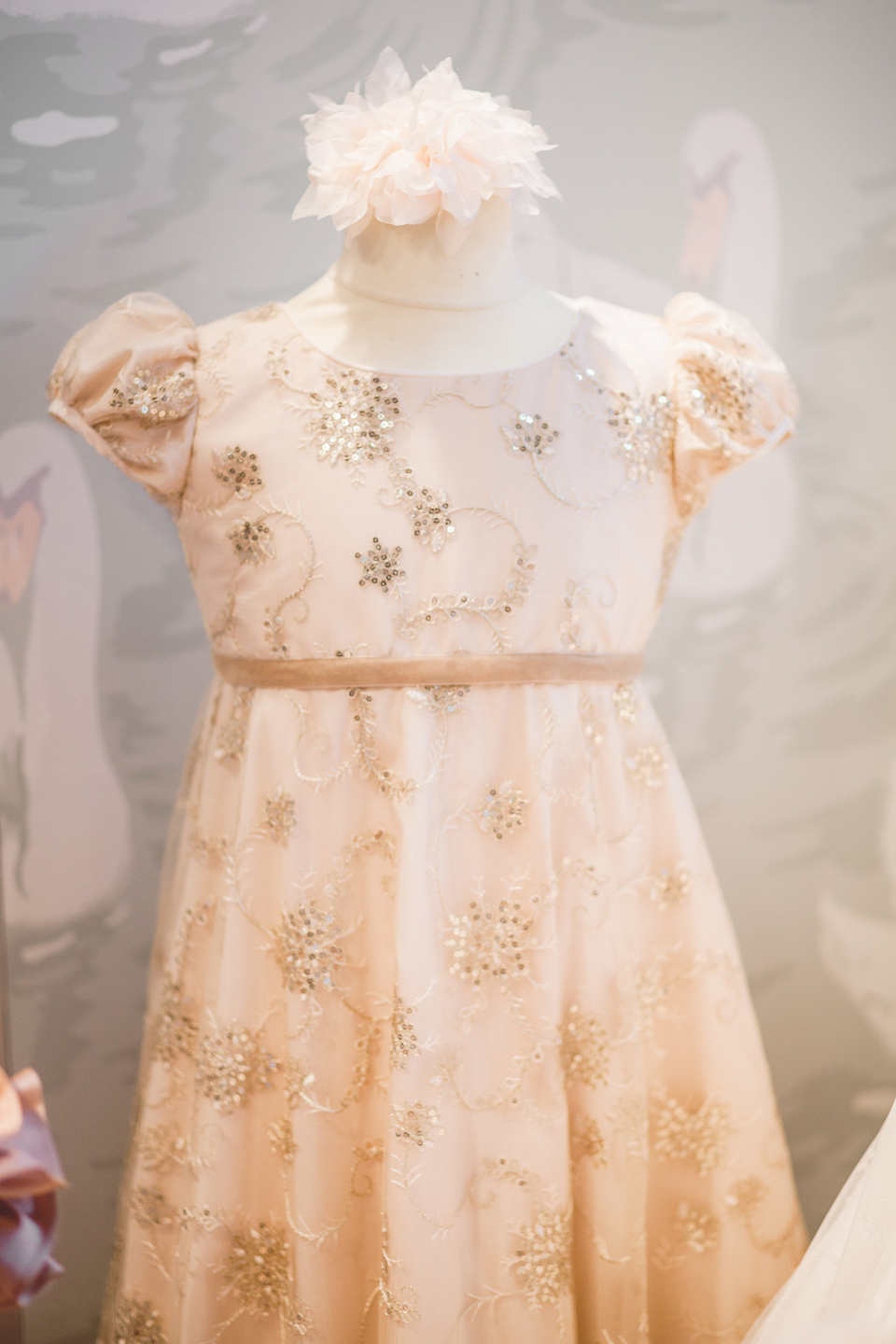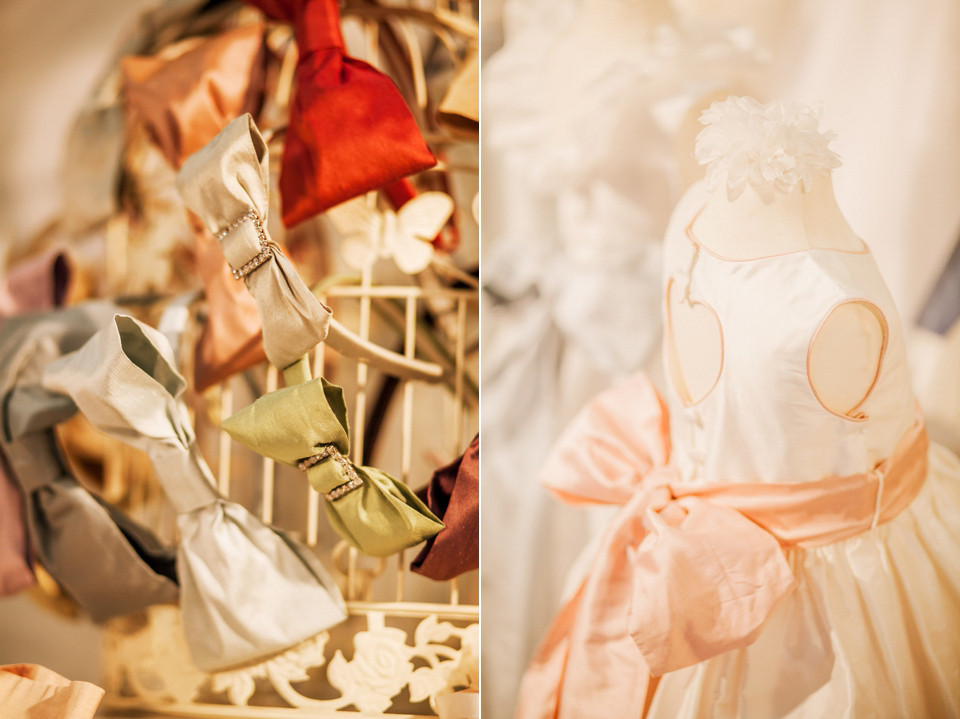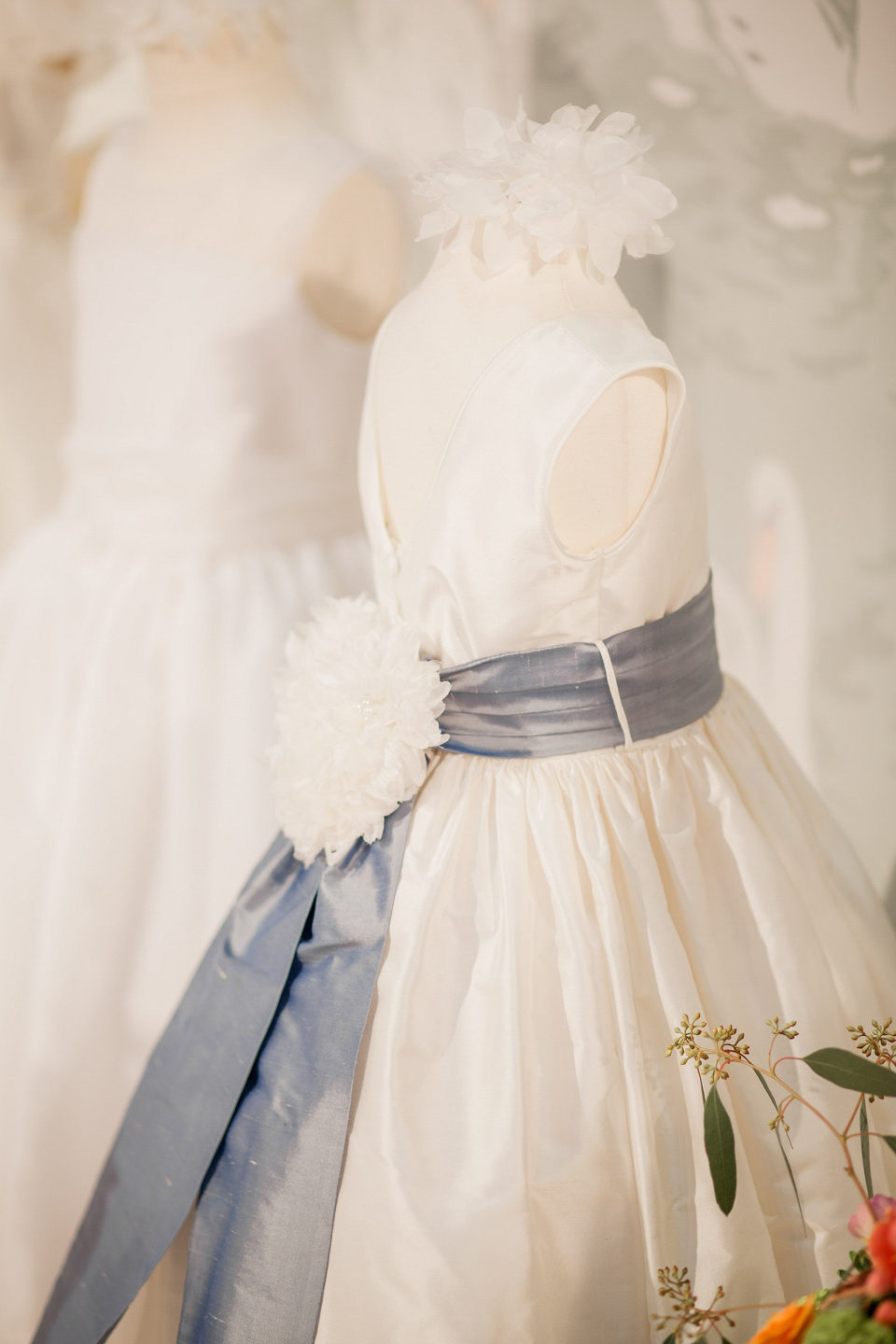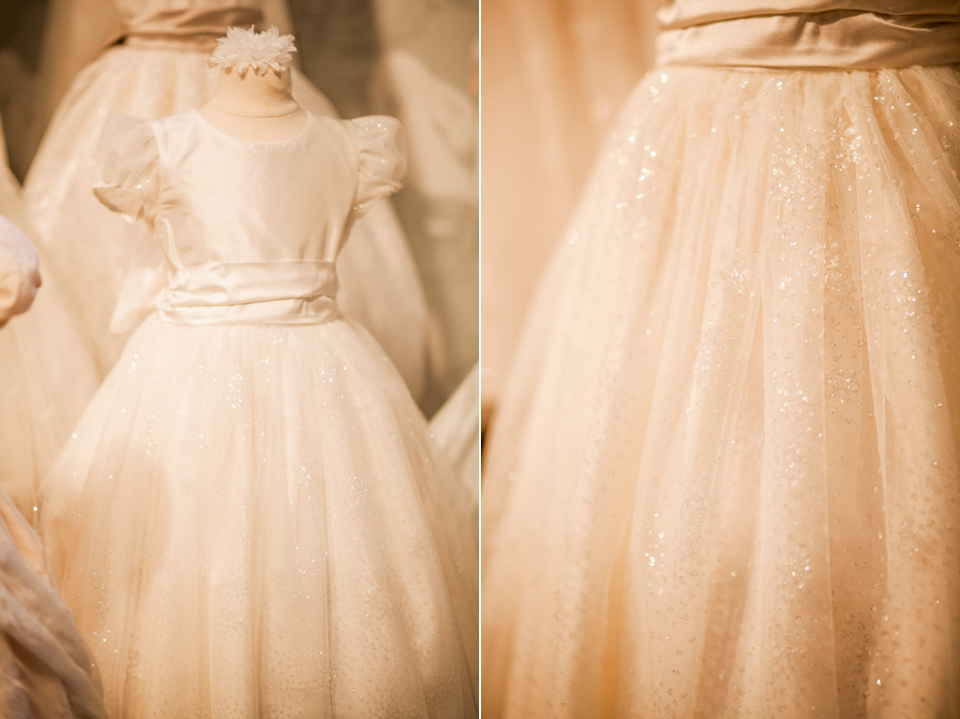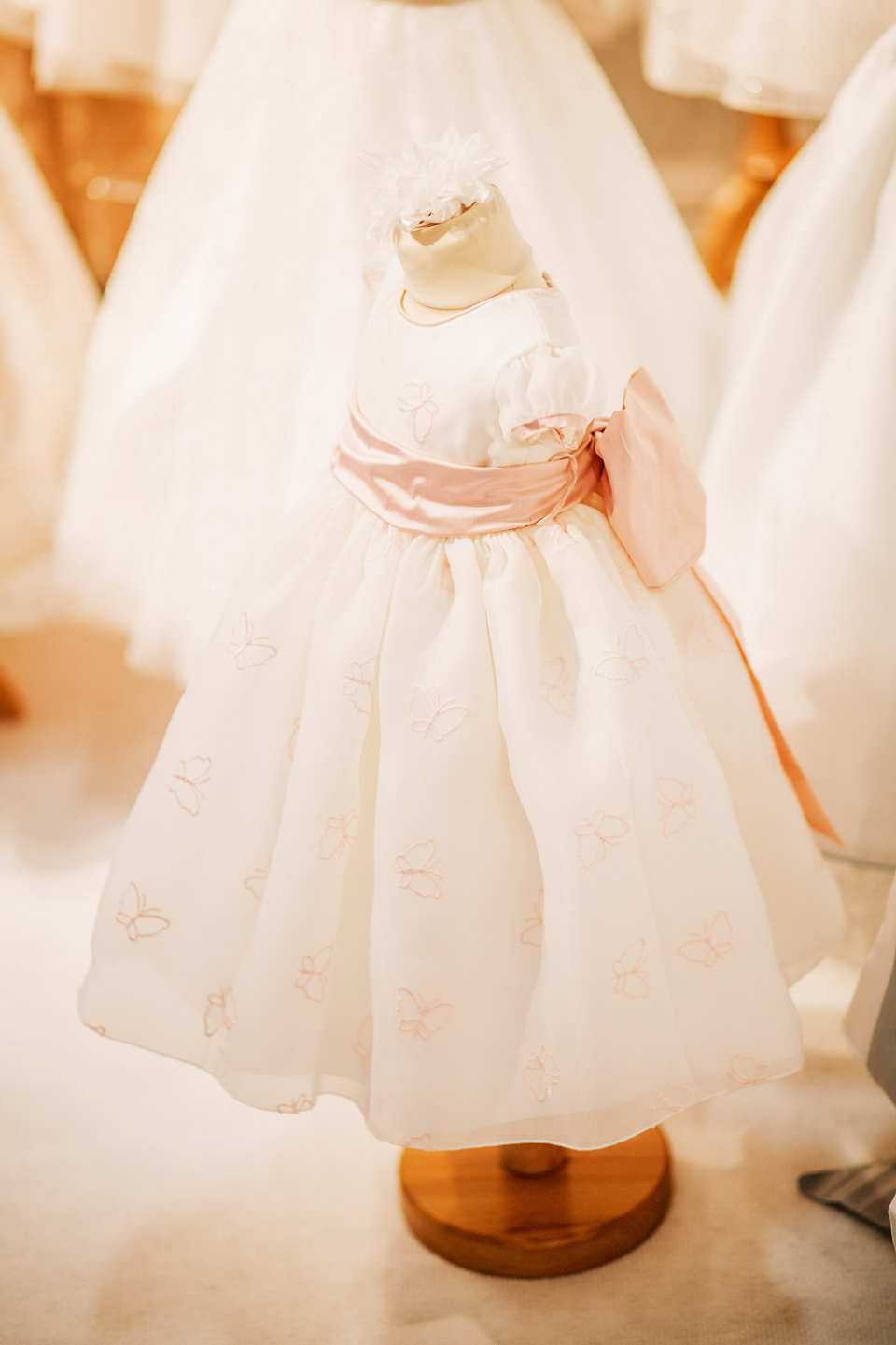 Parthenis is another brand I'll be keeping my eye on. Based in Greece, their 'easy living' style brand has a real studio 54, 70s boho effortless vibe appeal.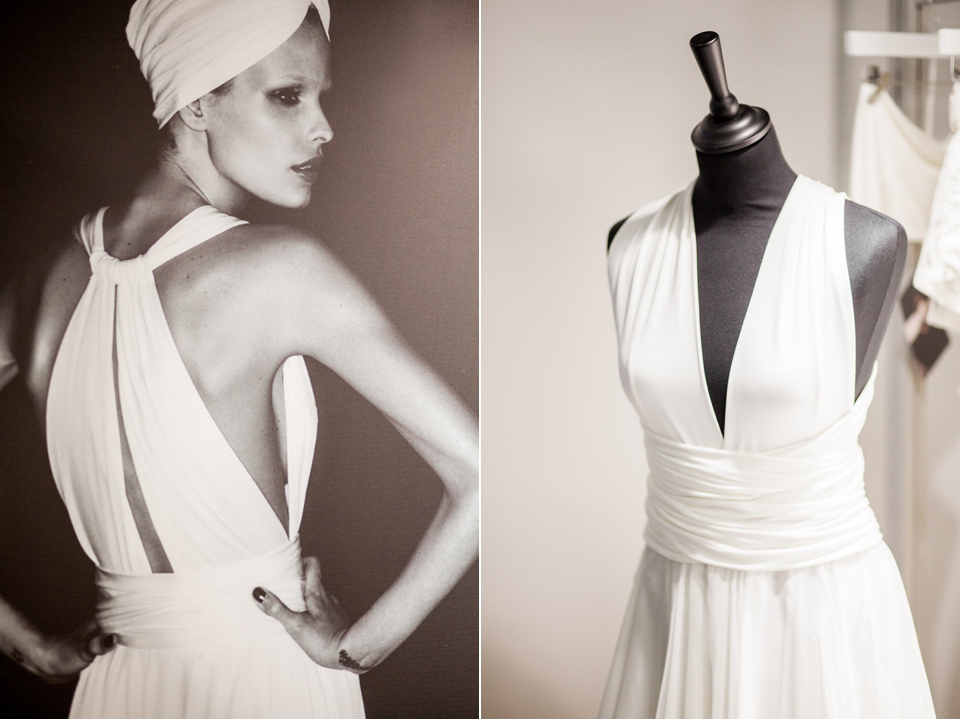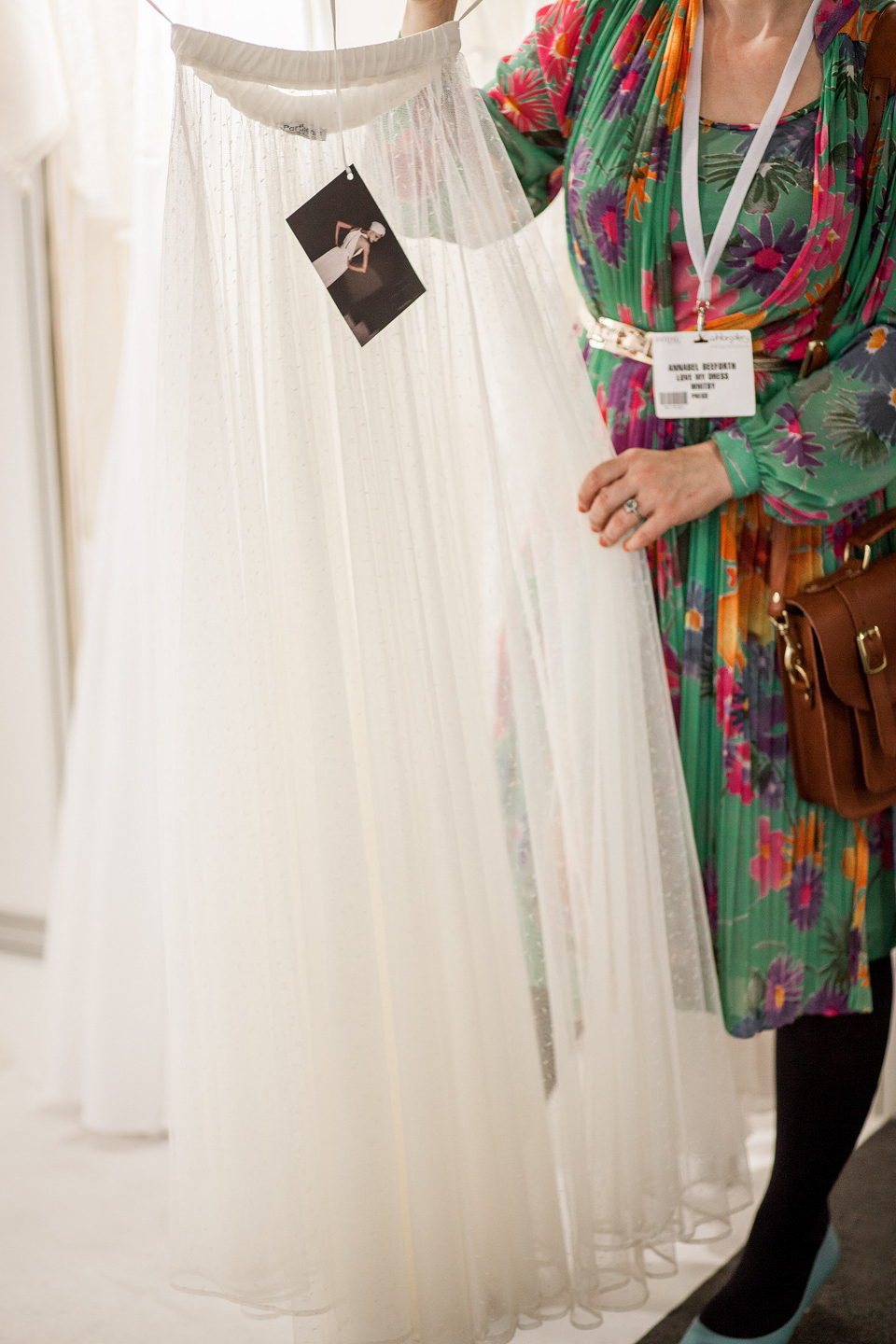 Images above by Parthenis
Qiana Bridal was one of those brands I saw experimenting with bridal cover ups in a really cool way.   Their collection was clearly inspired by the romance of the 1950's (halternecks, full circle skirts with cute little Peter Pan collar detail).  
Visit qianabridal.co.uk for further details.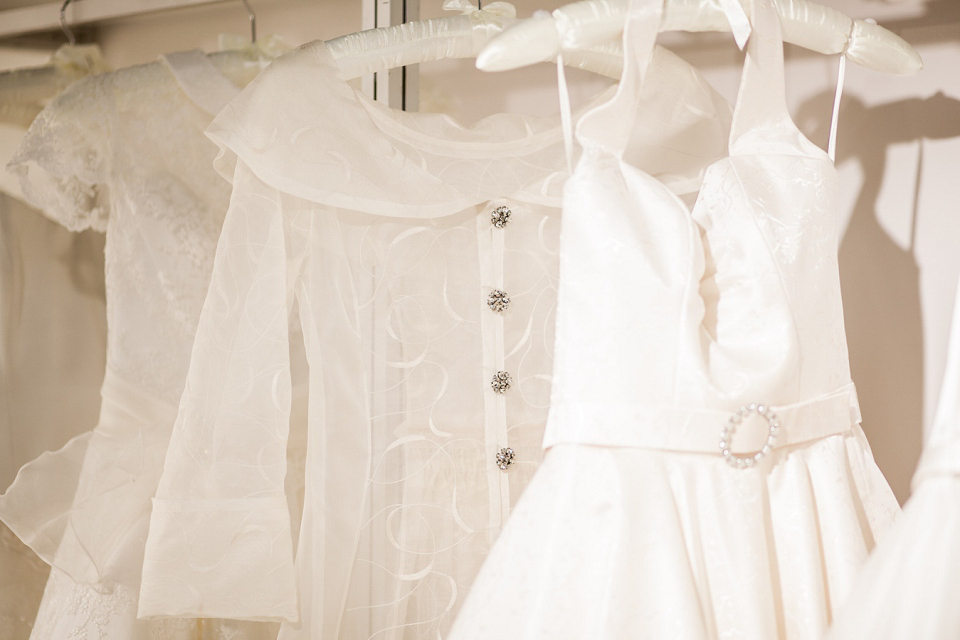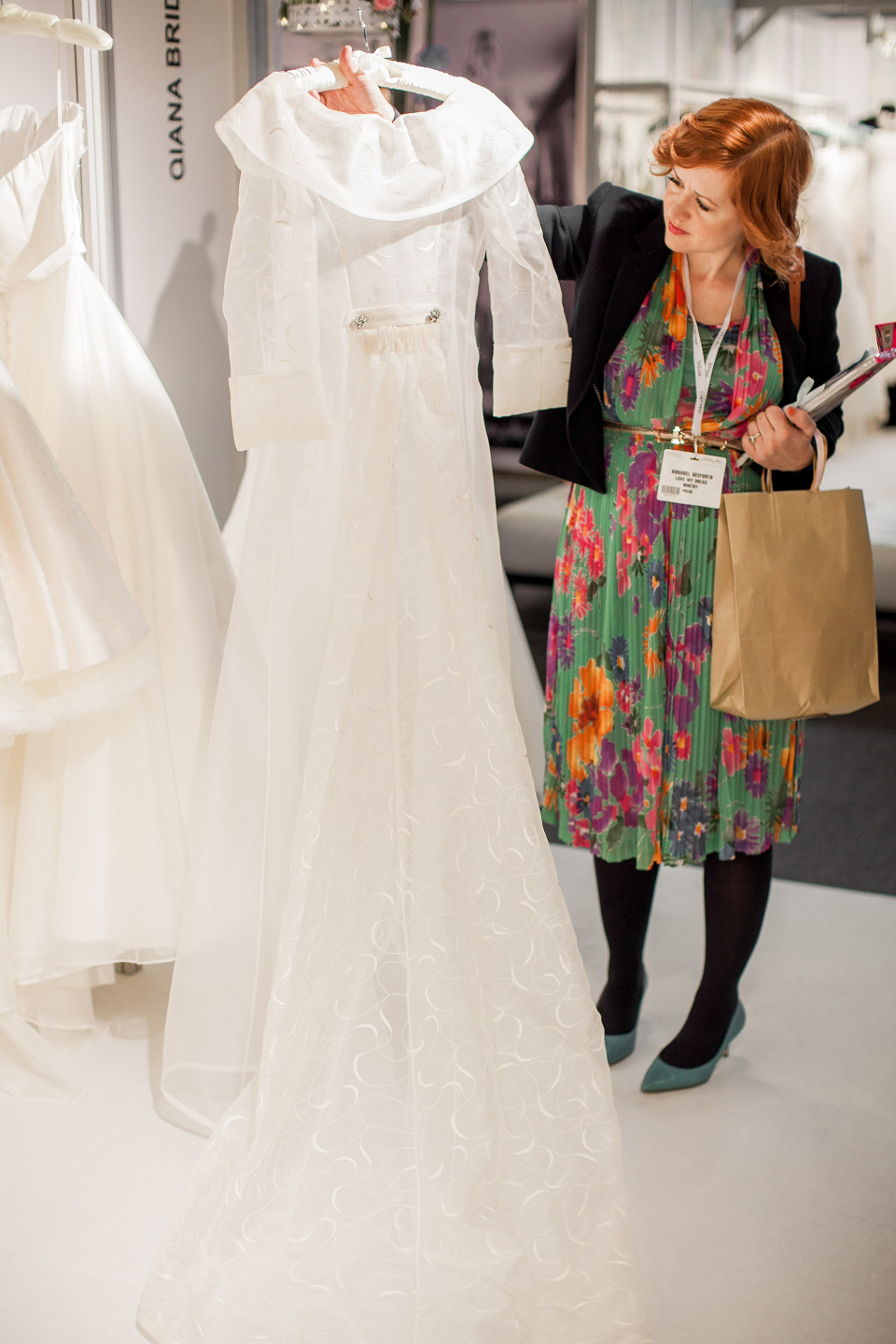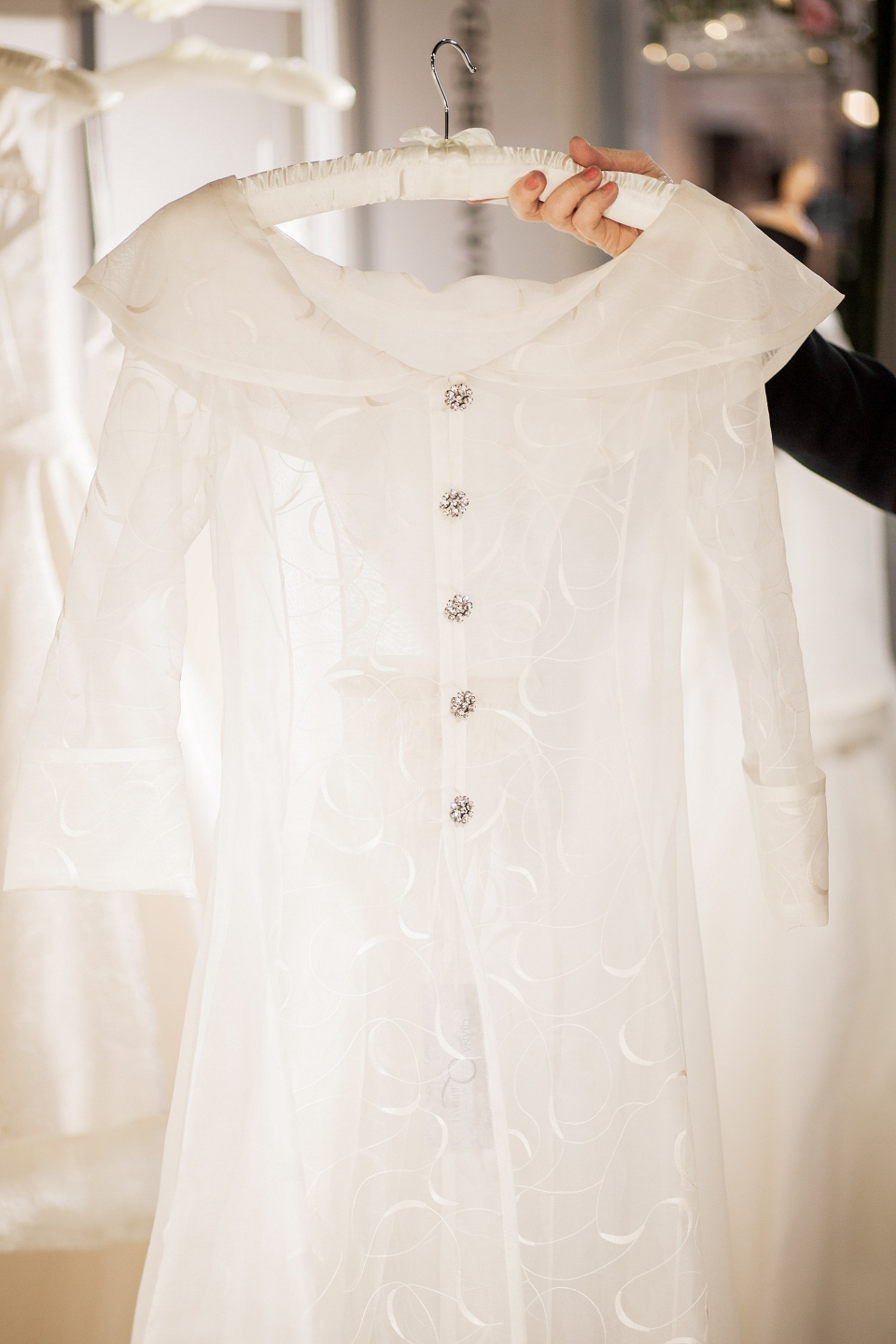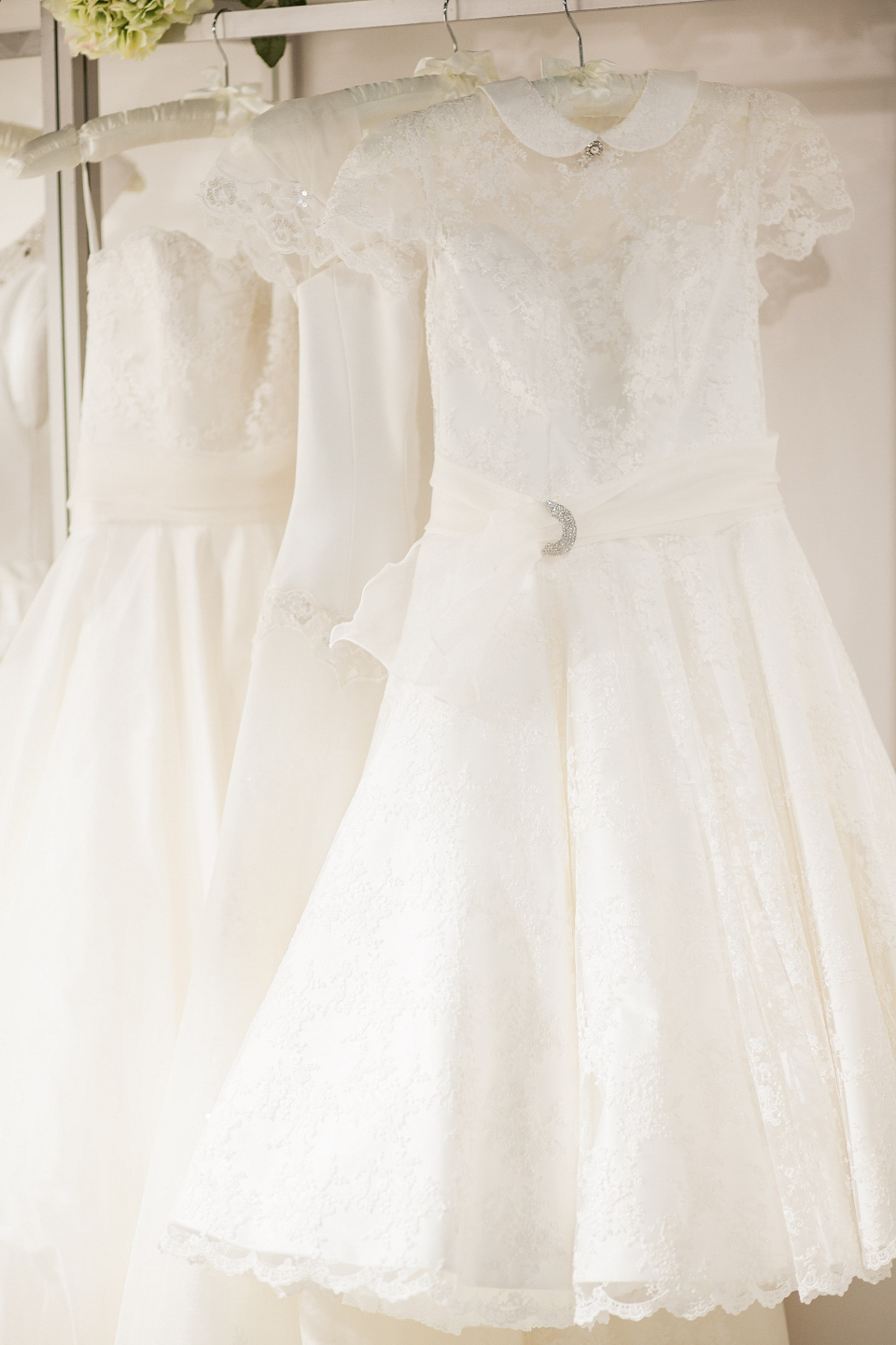 All designs above by Qiana Bridal
It's always a real delight to visit designer Rachel Simpson when she is exhibiting.  I've watched this brand grow over the past few years from a small but successful brand to one with global appeal (Rachel now has her designs stocked on BHLDN, with her pale green Mimosa t-bar design [see below] being a best-seller).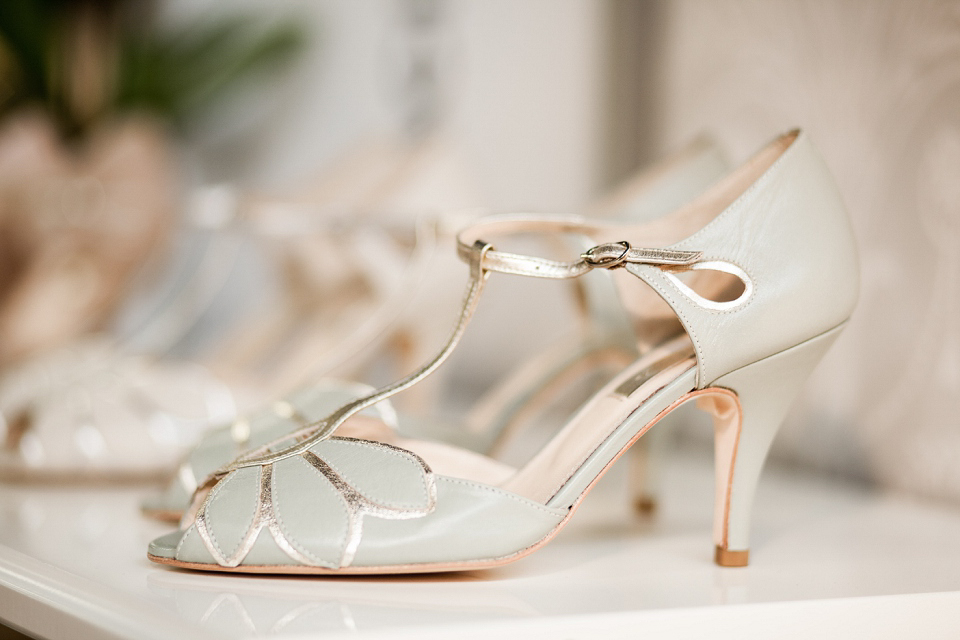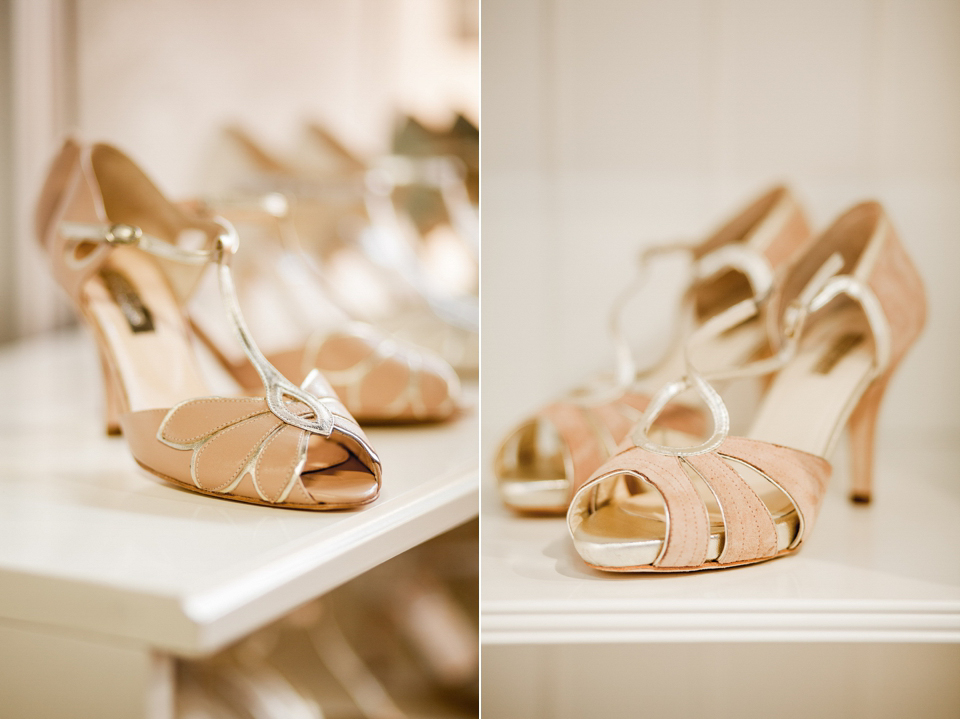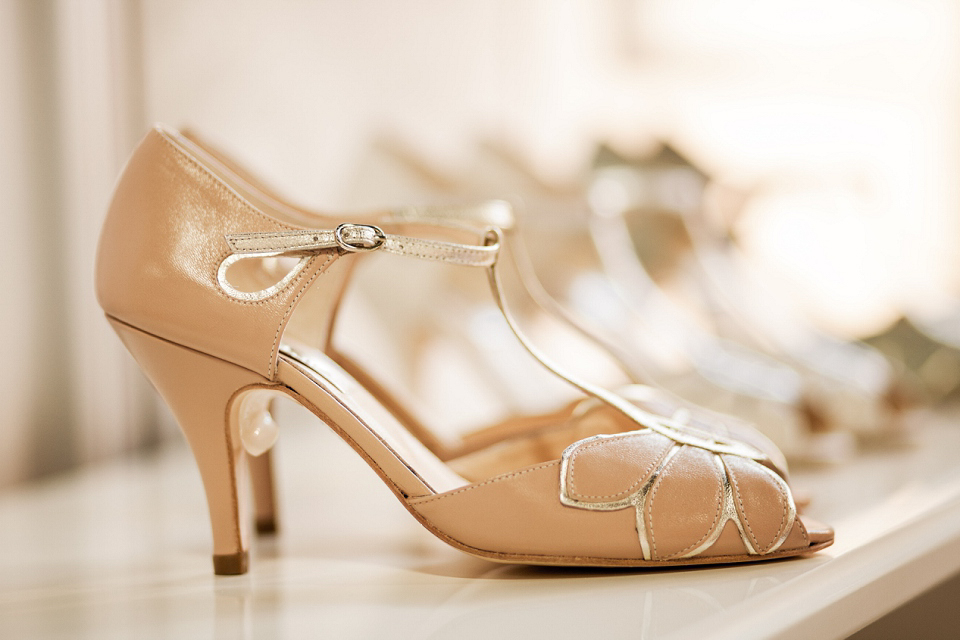 The exciting news for Rachel right now is her new collaboration with leading dance footwear and apparel company, Freed of London.  The result is a collection of utterly fabulous, vintage inspired and more importantly, beautifully comfortable wedding shoes with a truly ball-room dance appeal.
The collection will be launched fully next month and will feature seven designs with accents from the 1920s. Rachel says that joining up with Freed of London is a dream come true for her.  There's no denying the attention to detail in this collection – Freed's craftsmanship is second to none.  I particularly loved the Gabrielle (top 2 below) and Isadora (3rd one down) shoes below.
For further information, visit rachelsimpsonshoes.co.uk.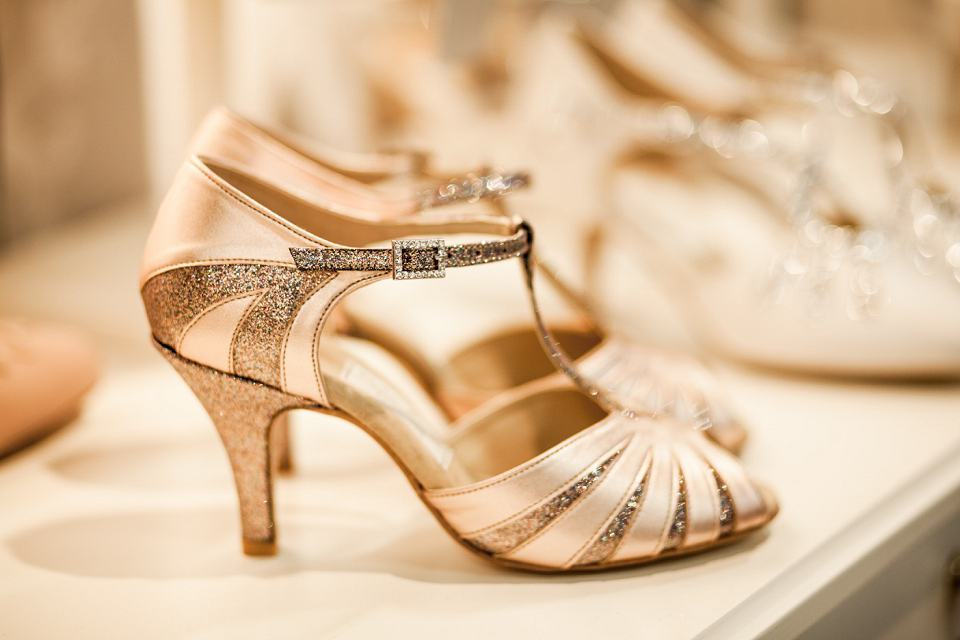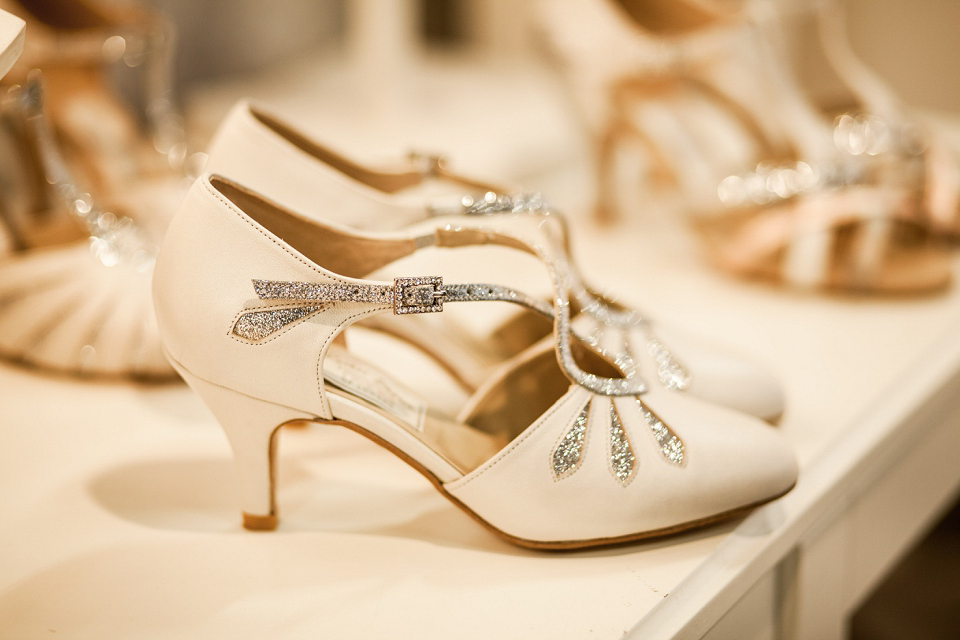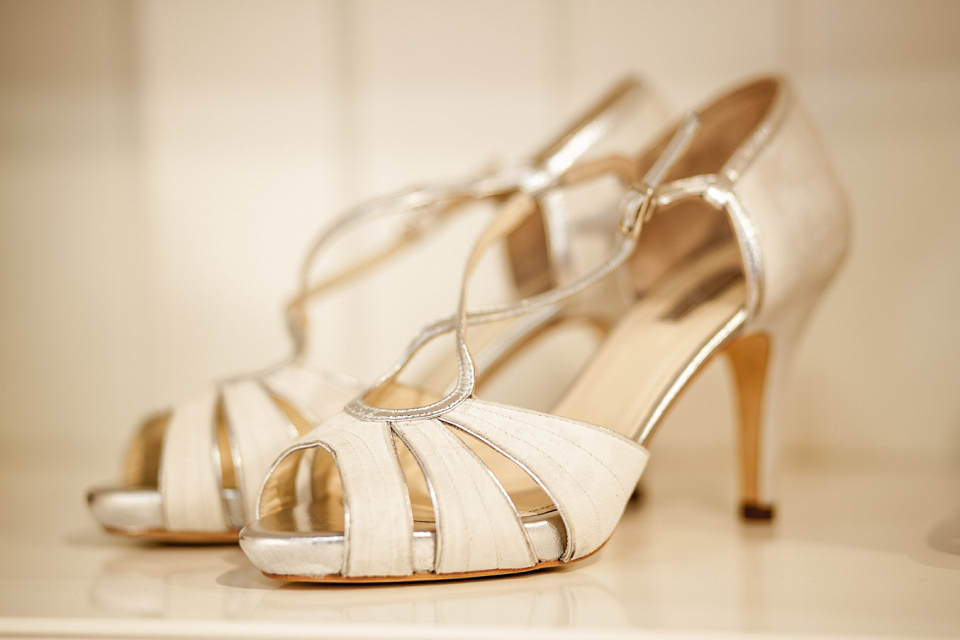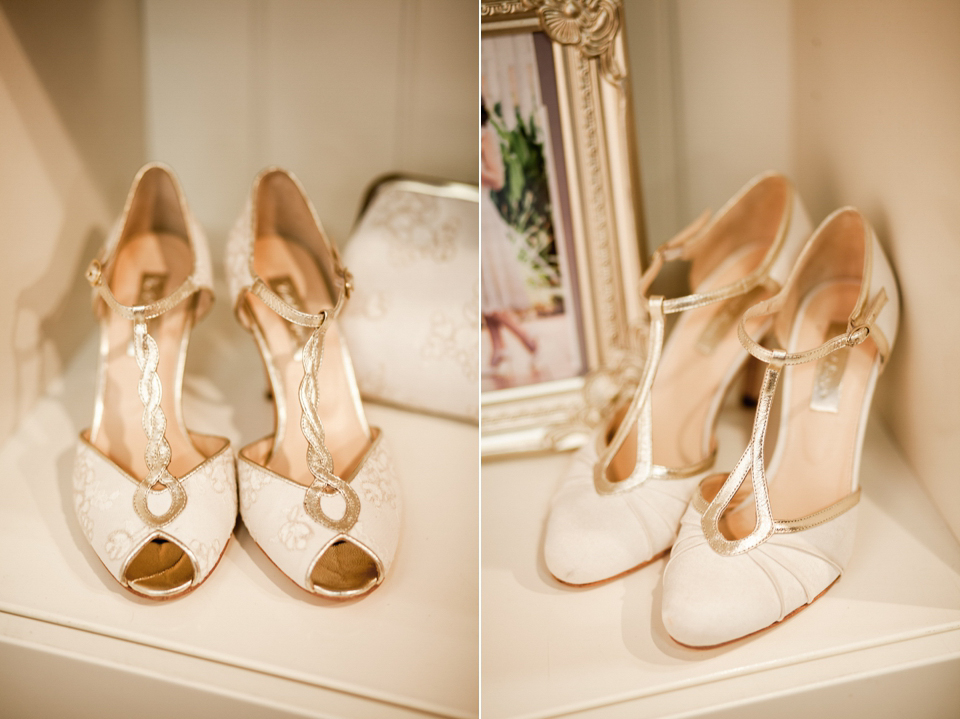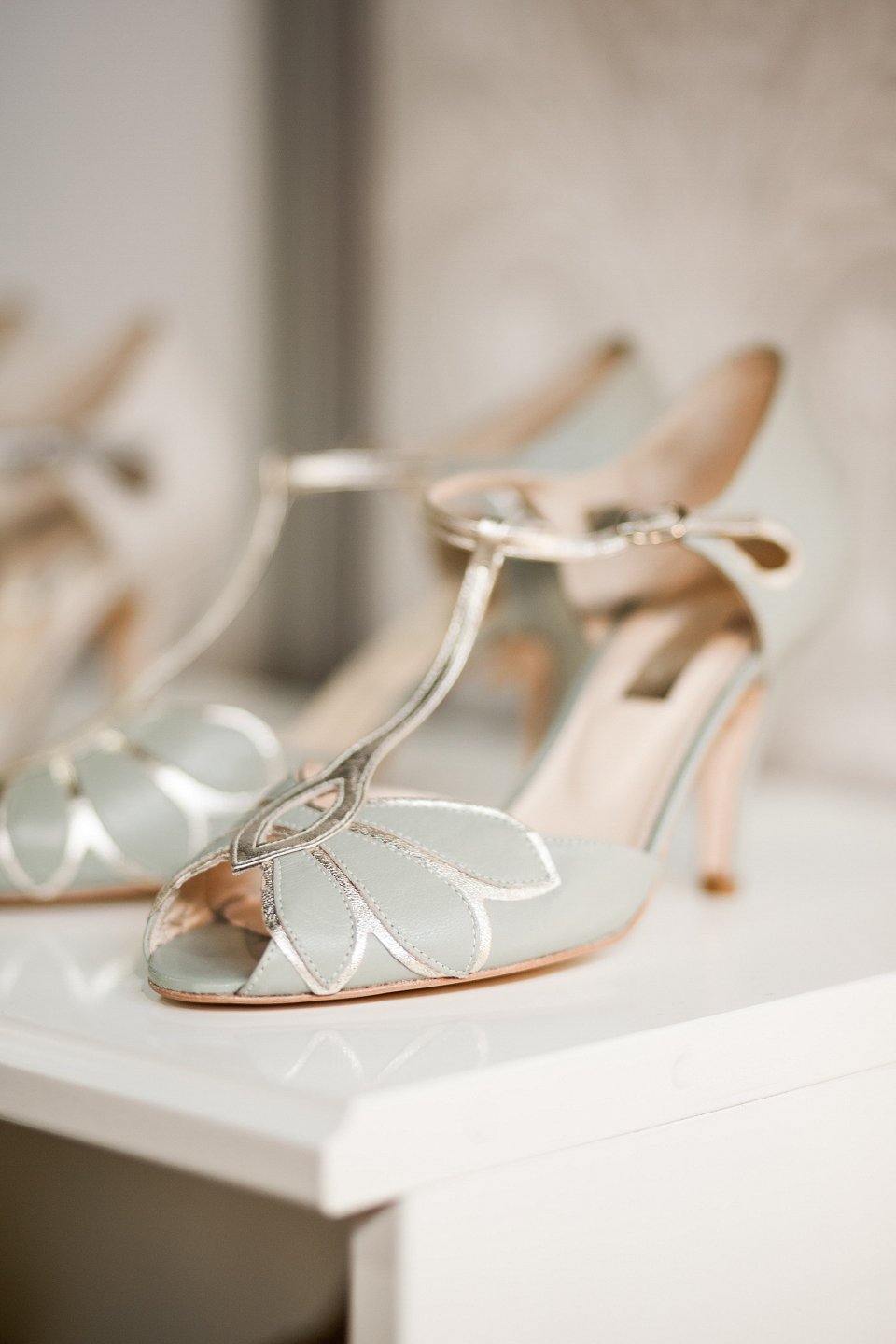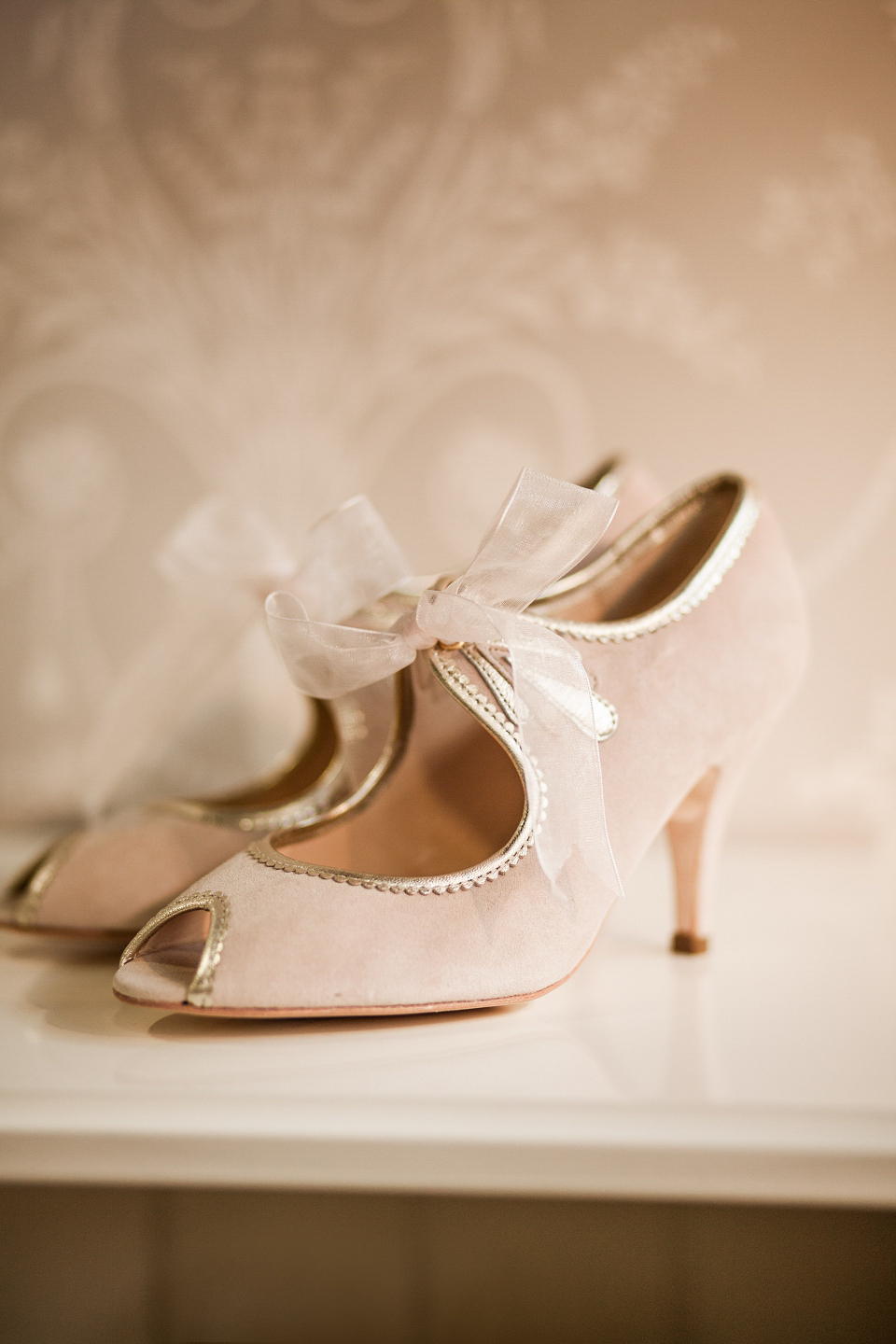 All shoe designs above by Rachel Simpson
Raimon Bundó burst in to my consciousness last October when I blogged this feature. This is a really interesting collection of gowns – not every one of them appealed but when they did, they did big time.
The Raimon Bundó brand is one of Spain's leading bridal houses with a growing number of UK stockists. Their brand appeal is modern, feminine and sensuous, mixing a variety of era inspired designs and presenting them in a way that will appeal to the modern bride.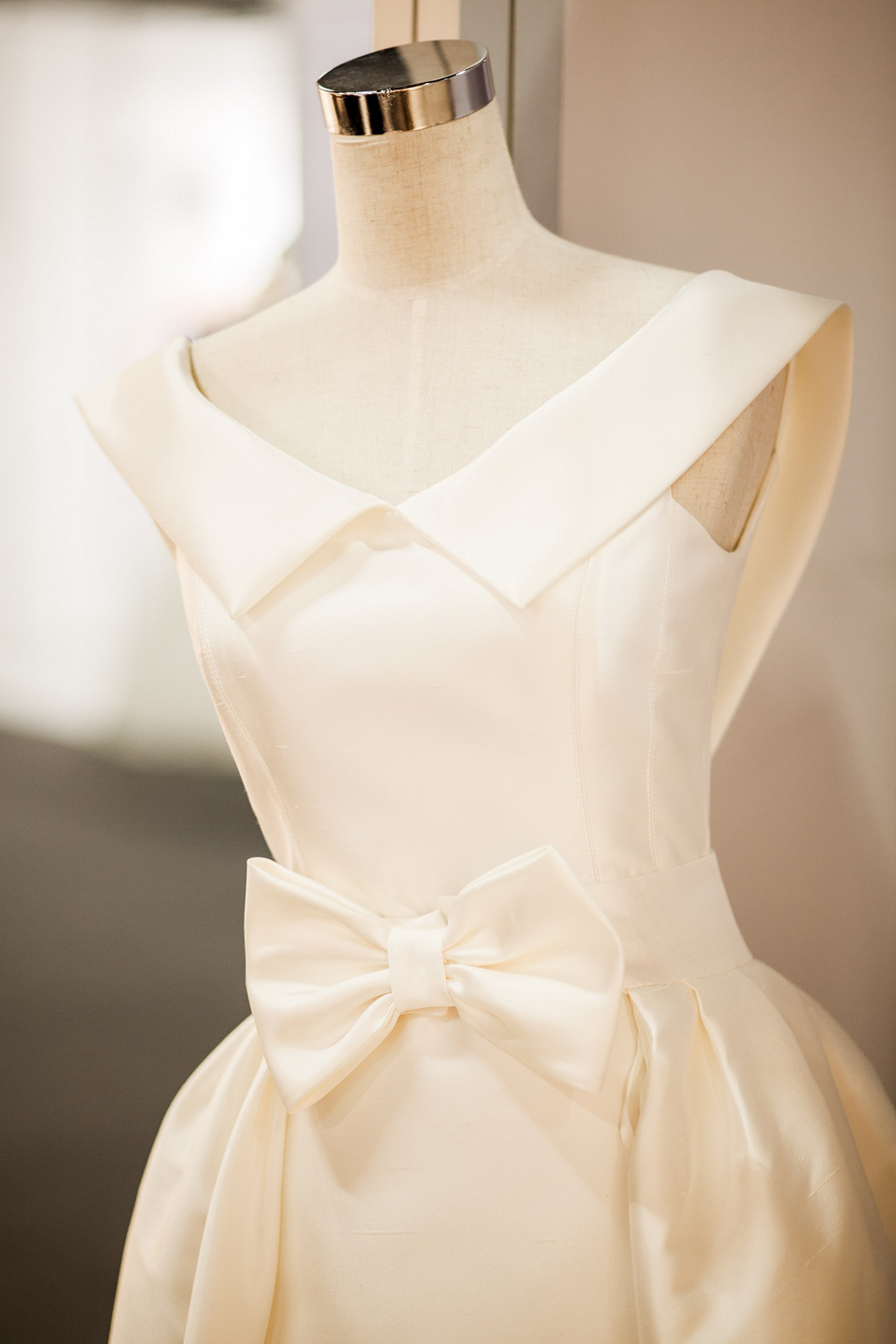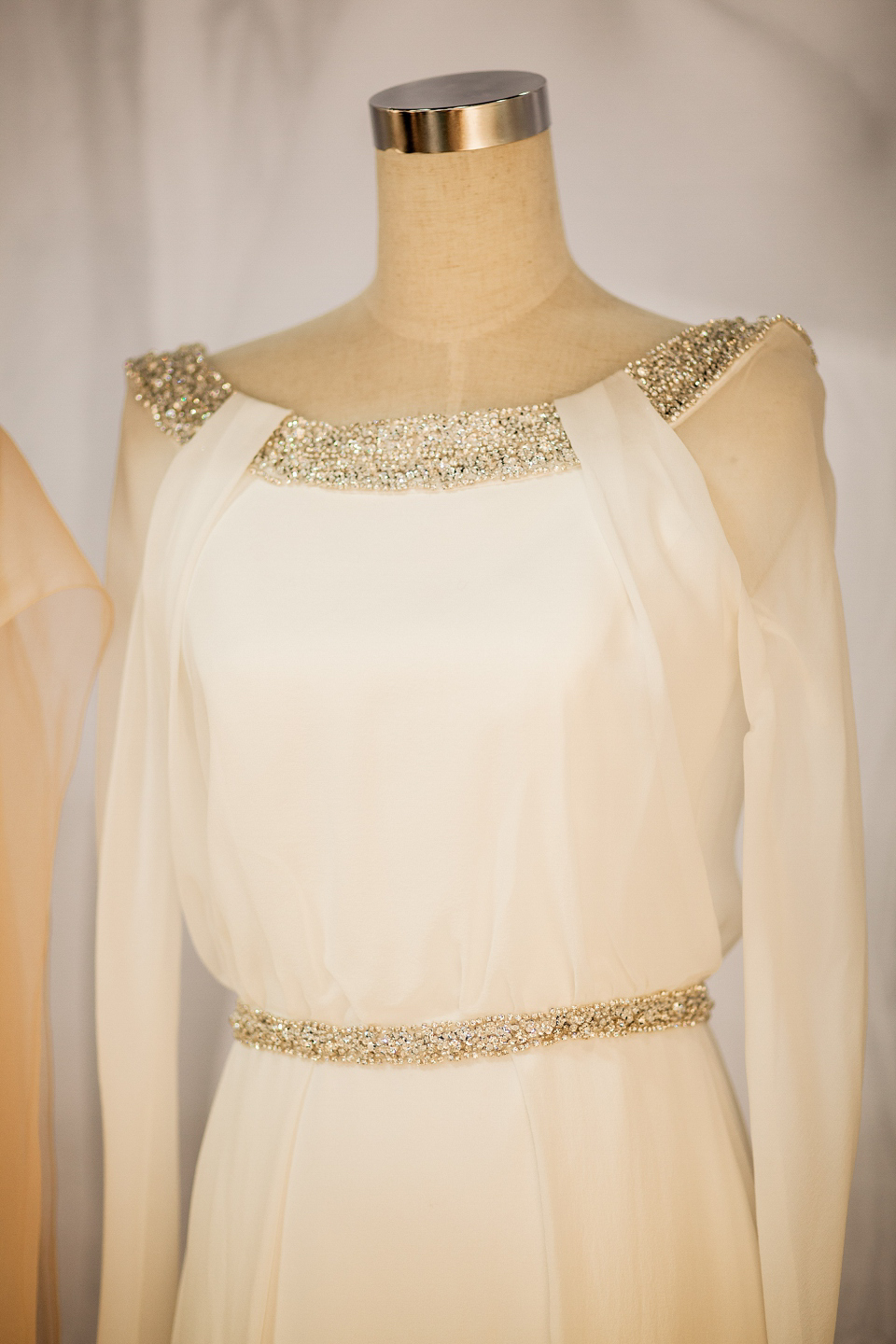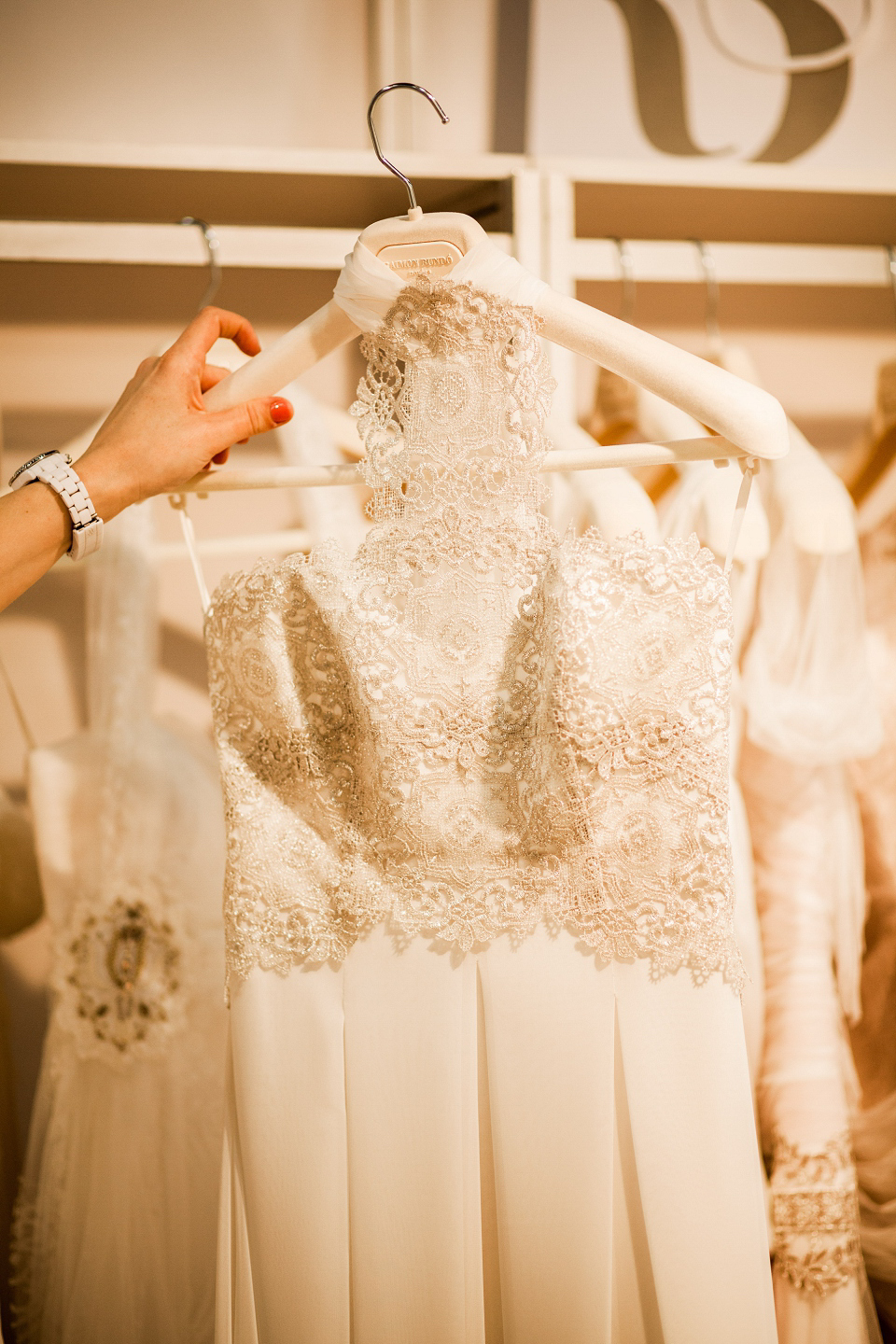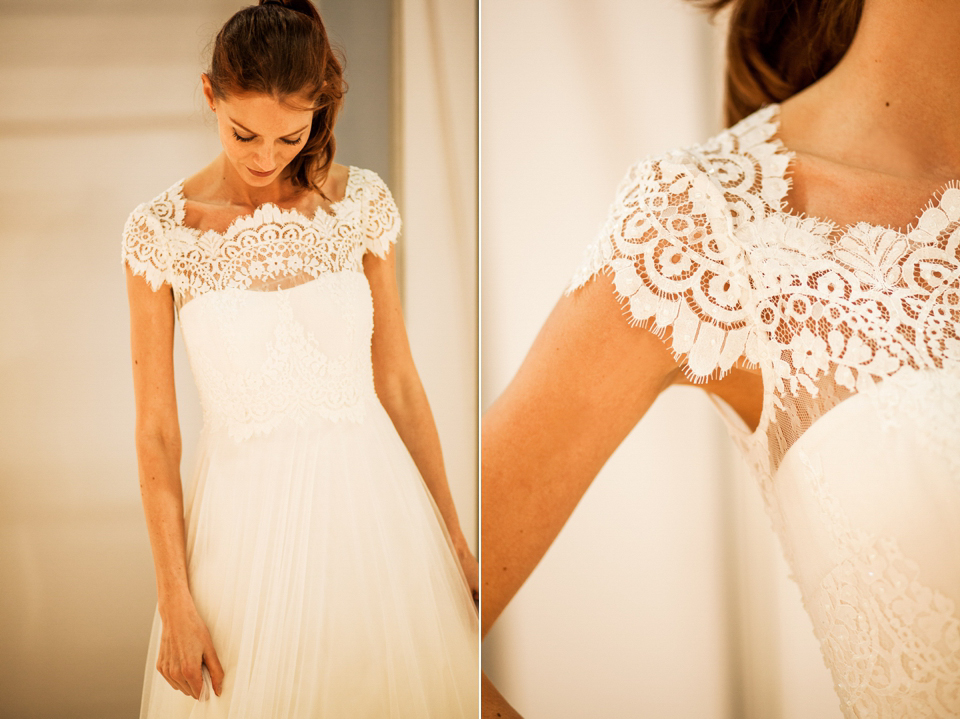 I really loved this beautifully feminine and elegant shawl design in the lightest of chiffon silks.
For further information, visit raimonbundo.com.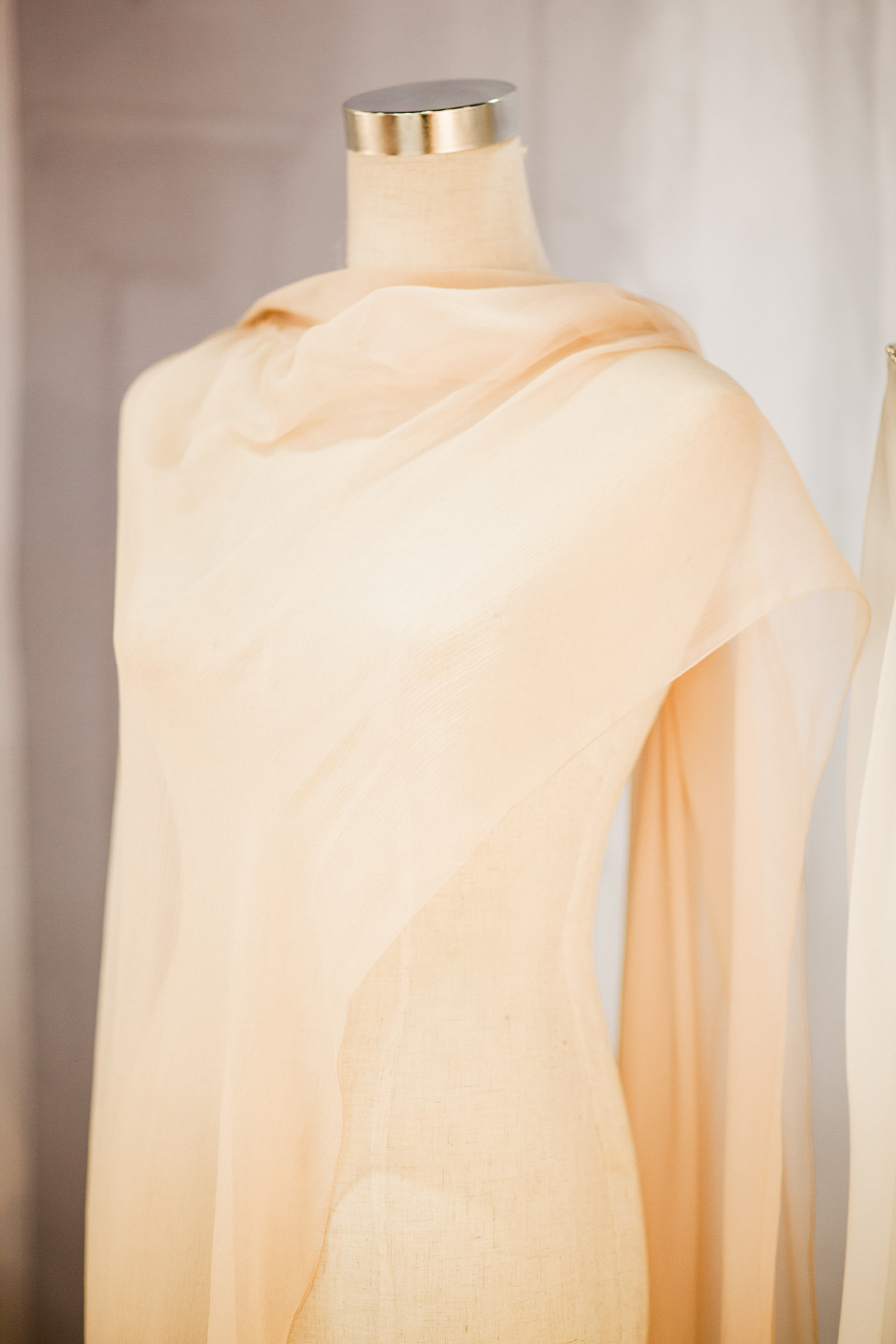 All images above by Raimon Bundó
The Sasso brand is a leader in ostrich feather glamour.   These accessories are made for those who adore bridal glamour – an absolute must if you're seeking to recreate an authentic 1930s floor-sweeping Hollywood glamour gown style on your wedding day.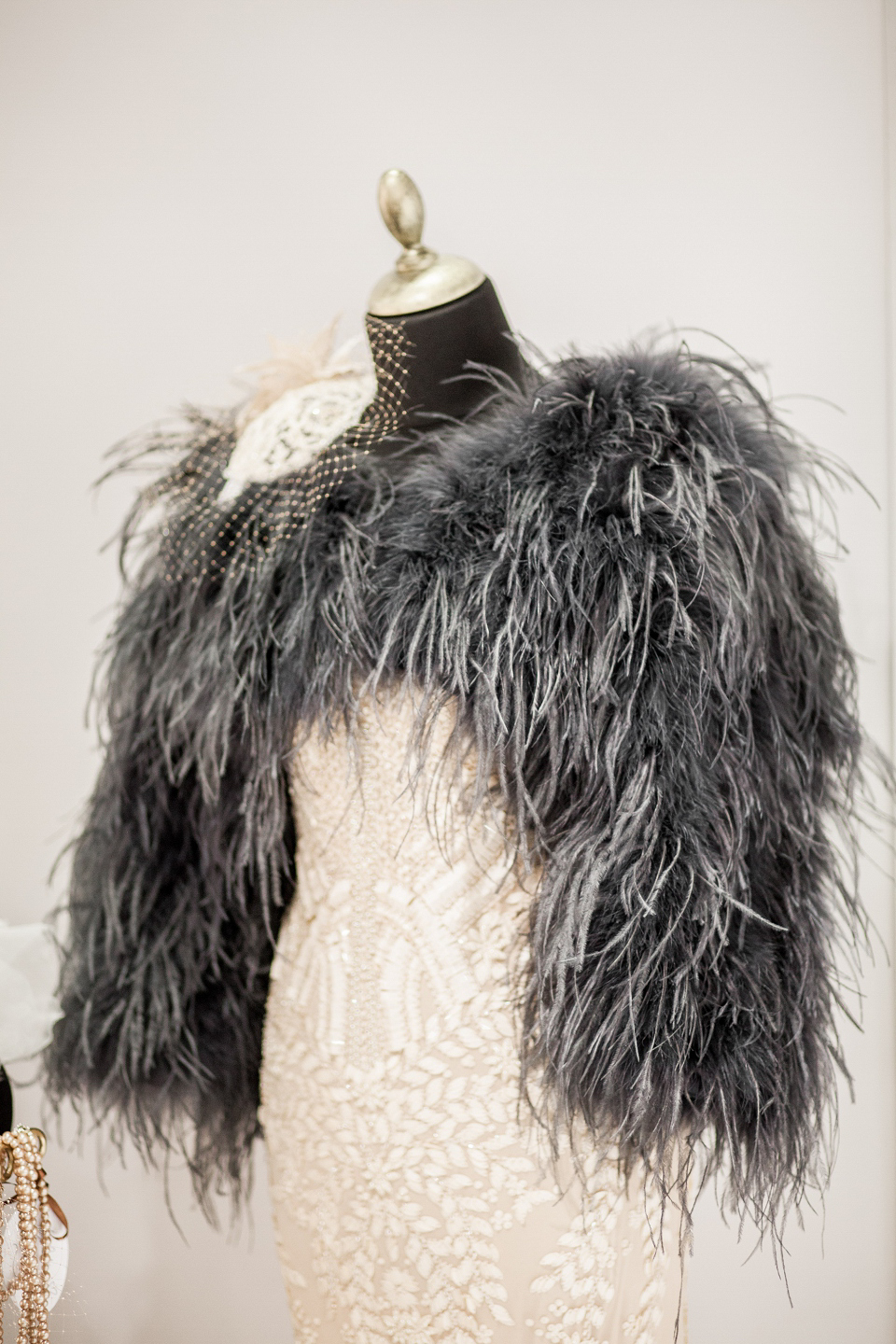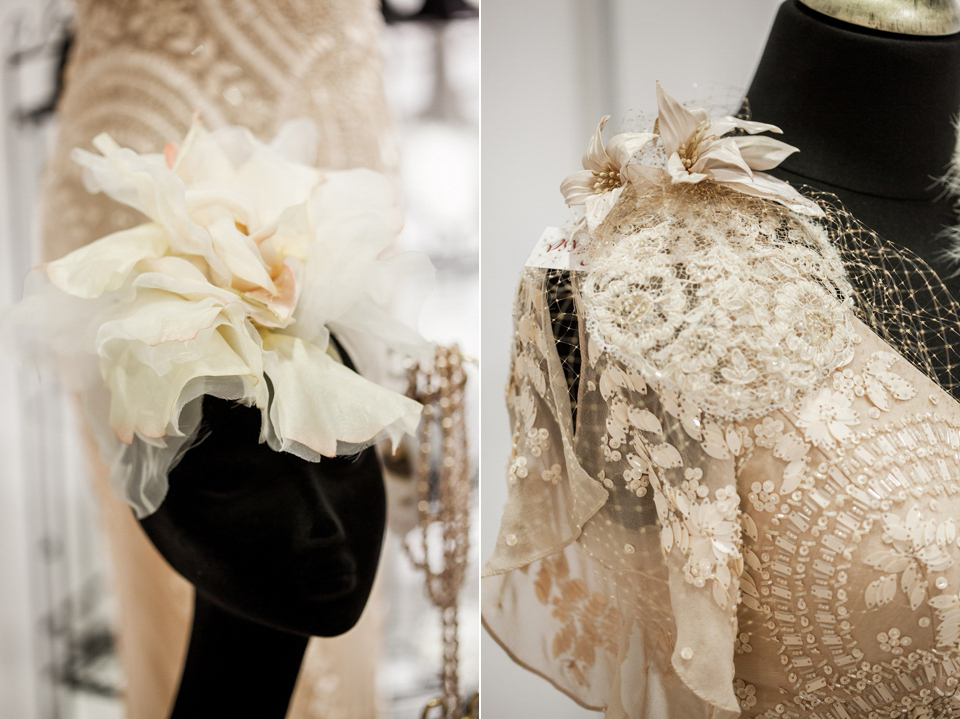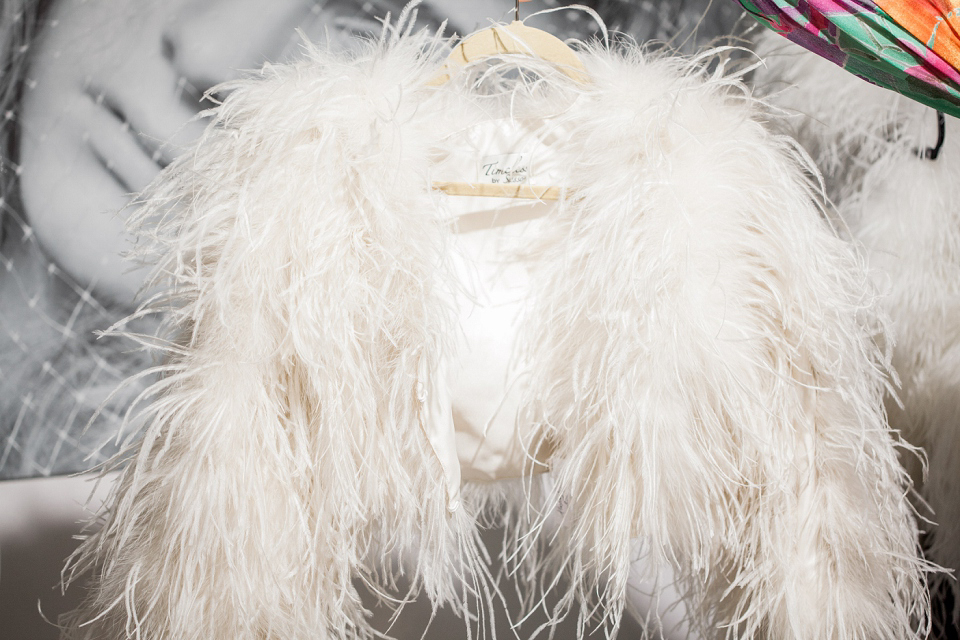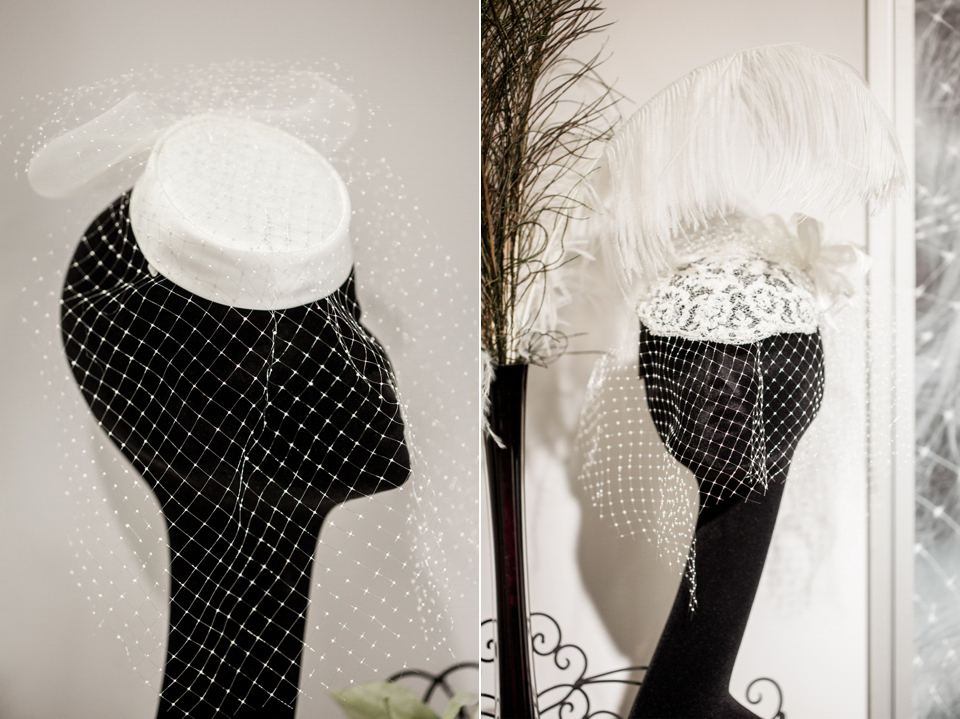 Accessory designs above by Sasso 
The big show stand-out for me was the wonderful Shell Belle Couture - designed with the beautifully undressed in mid.  I am supremely in love with this collection of swimwear, slip dresses and lingerie designed to take you effortlessly from beach to boudoir. It is luxury loungewear at it's very, very finest.
With products like the 'Pleasing Bra and matching Kimono', 'Soiree camisole', 'prohibition blouson' and 'supper club slip', these items have a wonderfully 1920s and 30's glamorous appeal.  These pieces are so beautiful in fact, that many of designer Michelle Blenkinsopp's clients are wearing them as evening wear (visualise jeans and heels and a very laid-back sexy style).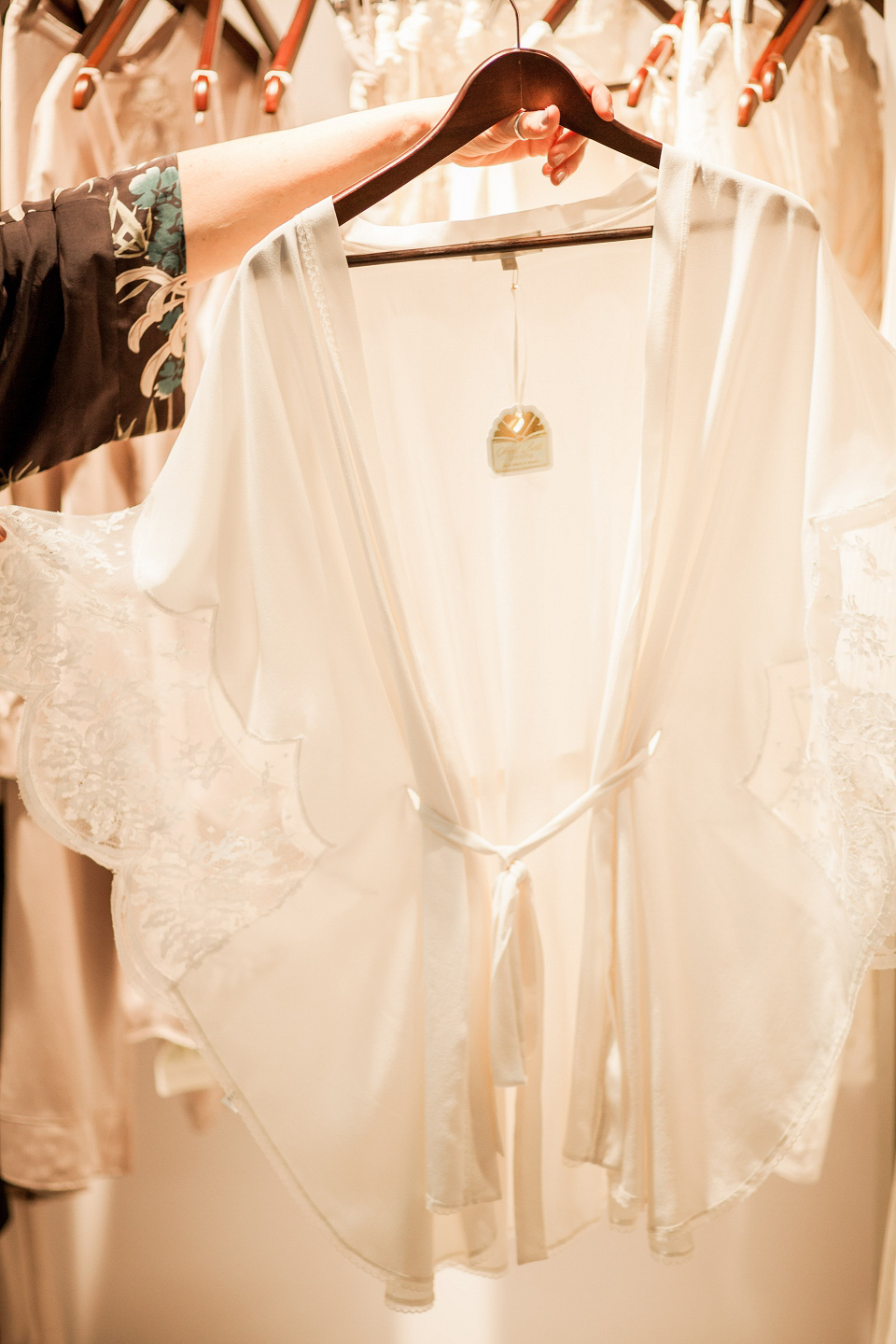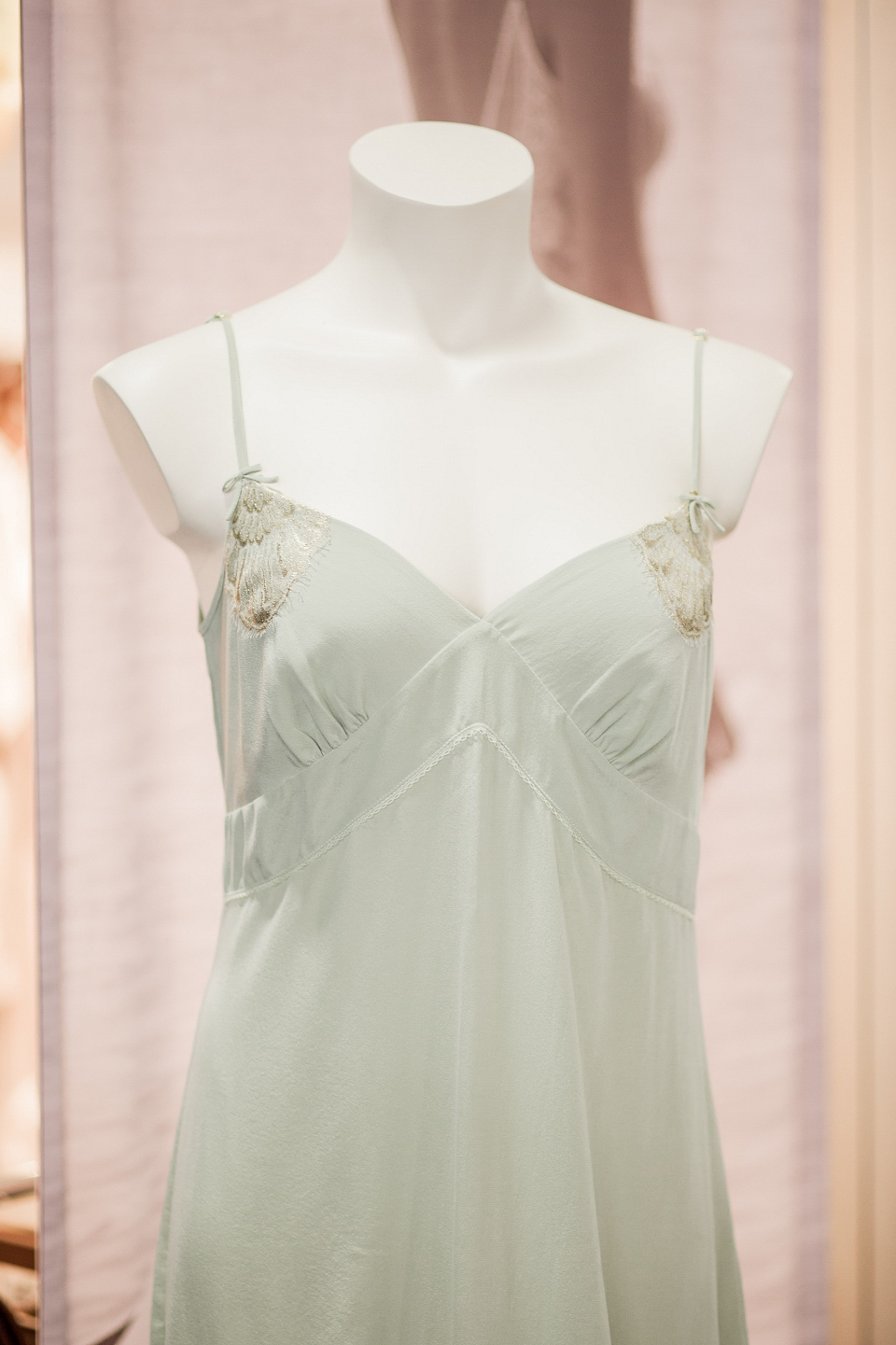 I really hope to see Shell Belle Couture stocked in some of the best bridal boutiques in the UK over the coming months. Your brides will love it ladies – I promise.
For further information visit shellbellecouture.com.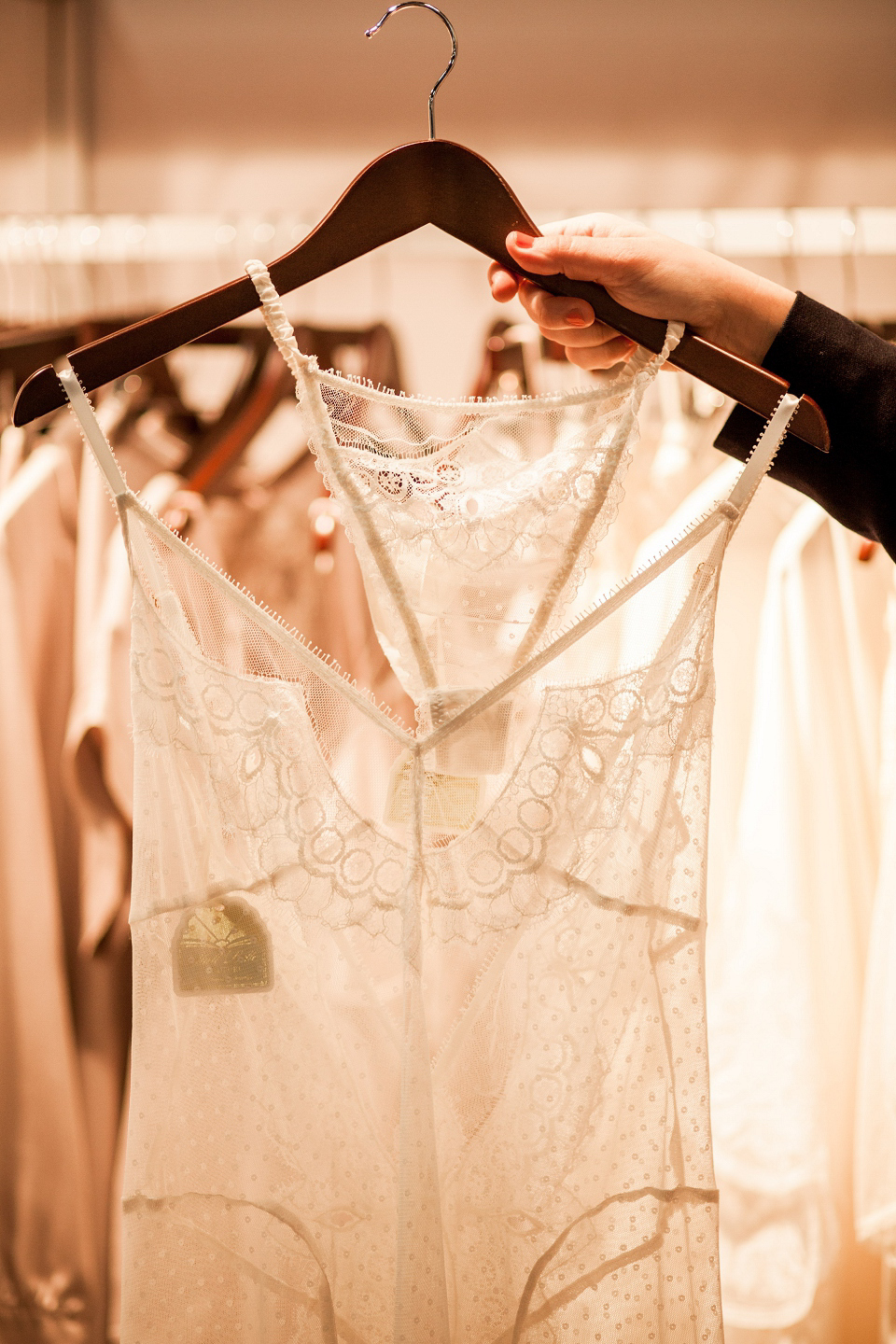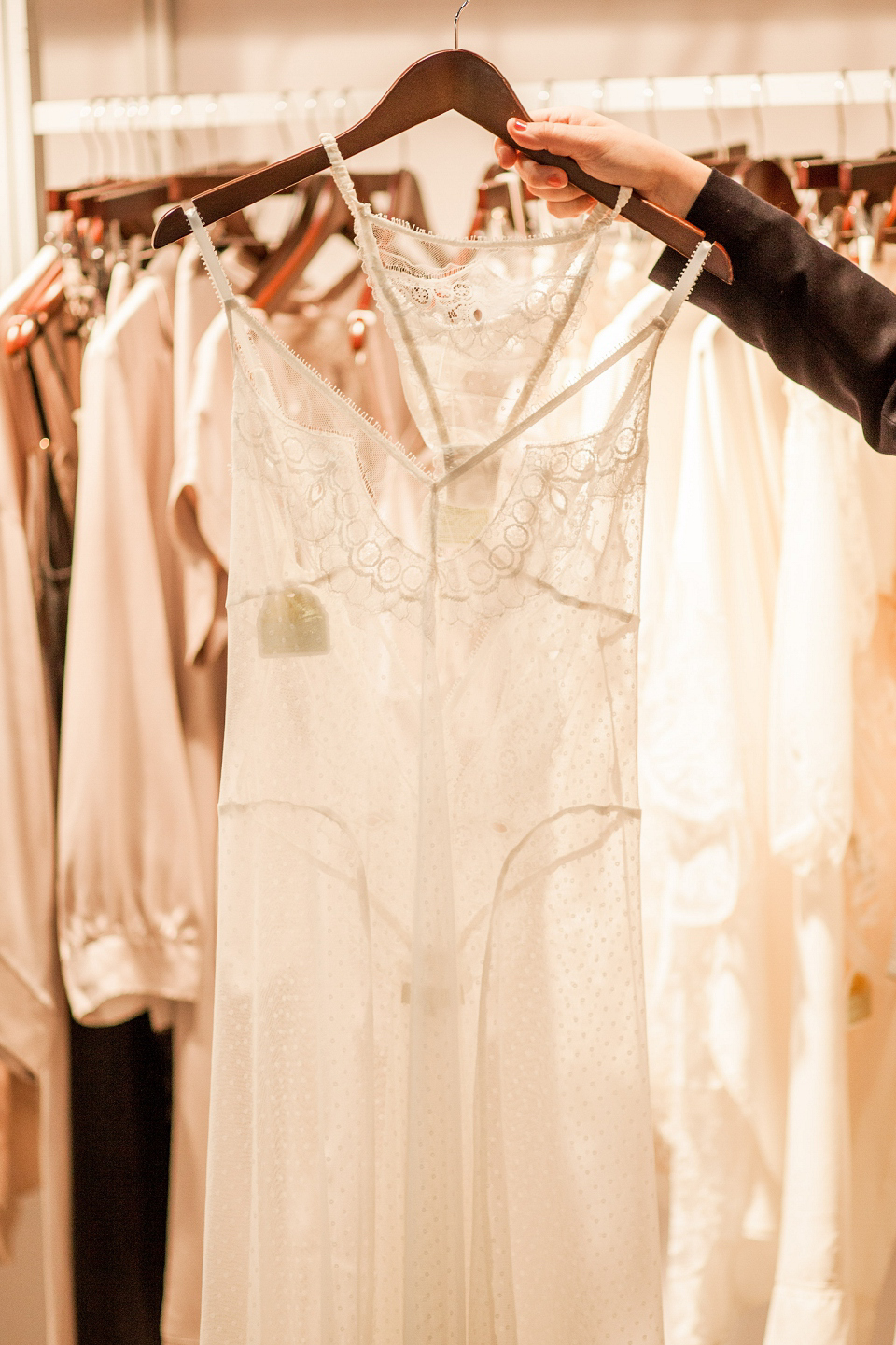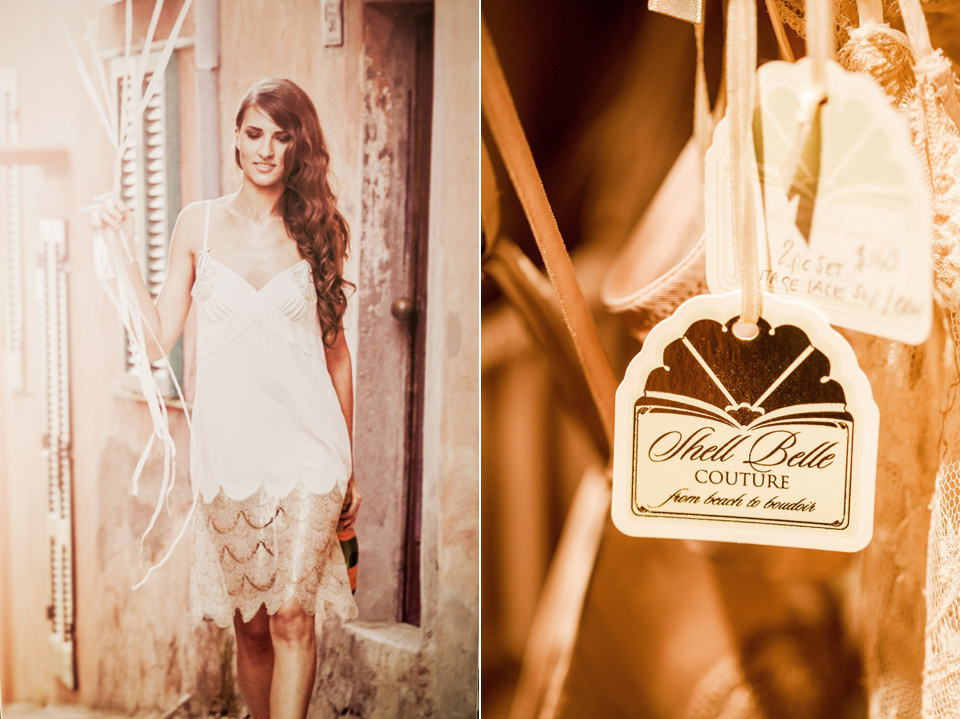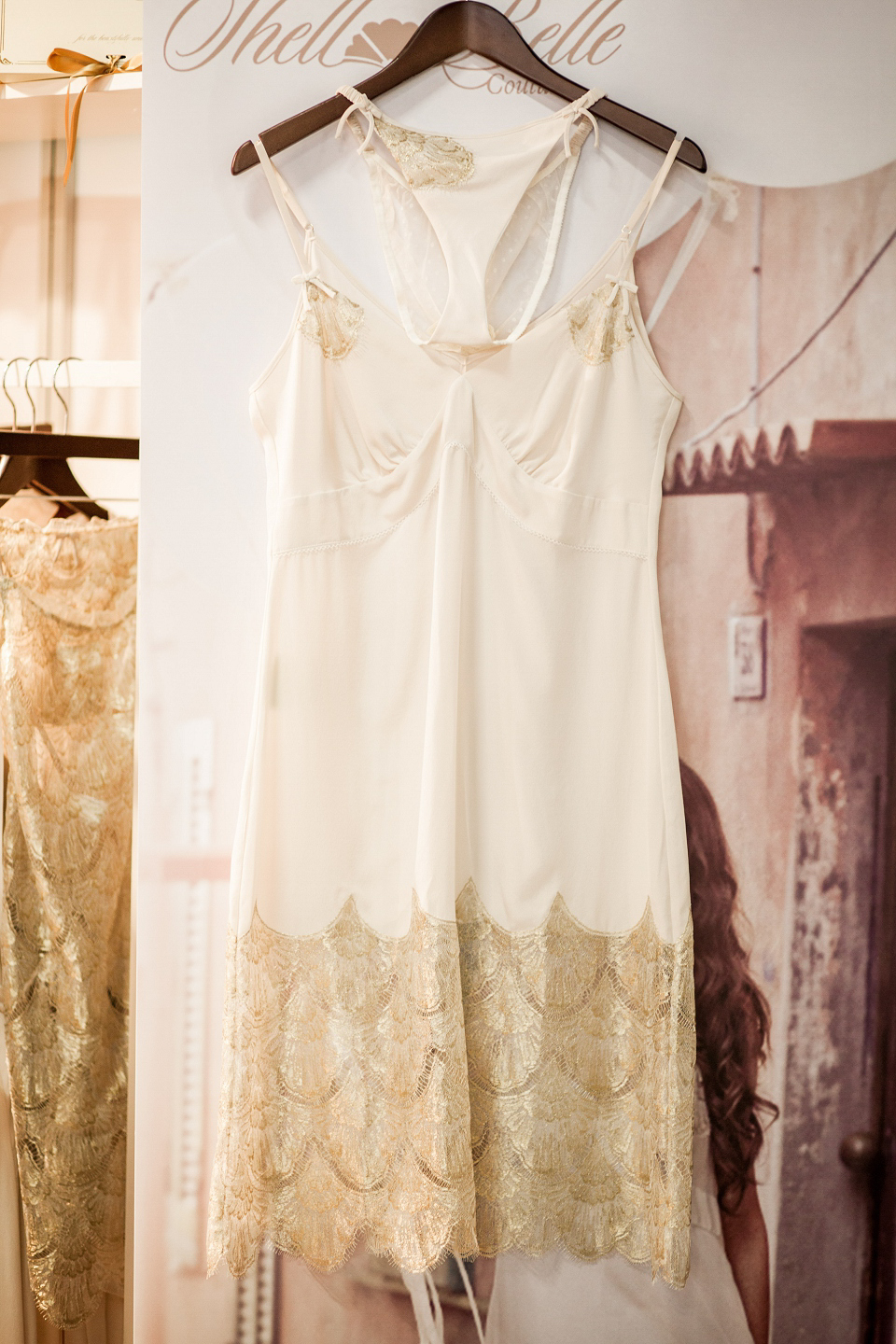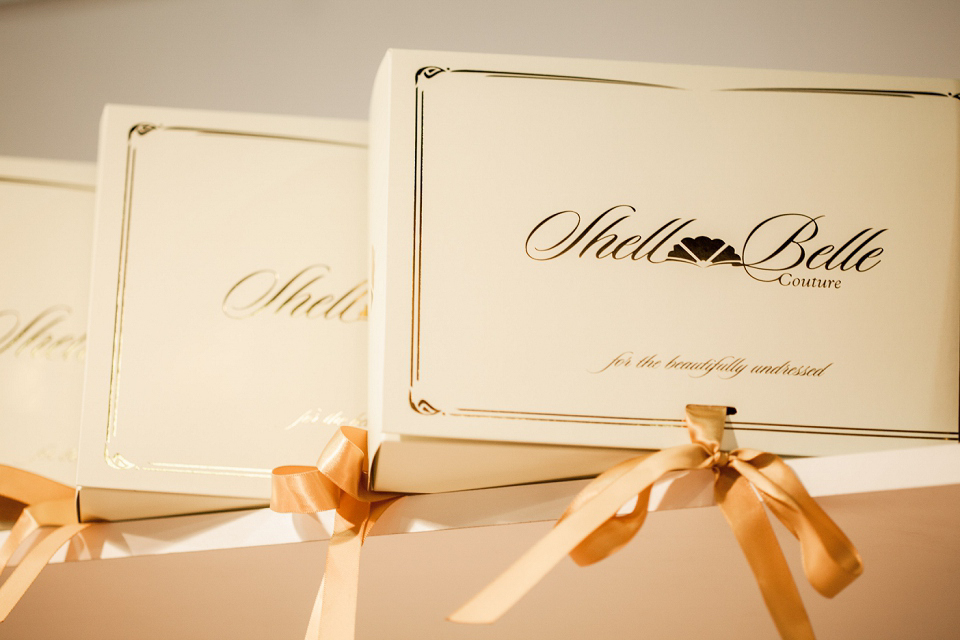 Luxury loungewear above by Shell Belle Couture
Yolan Cris is another brand I've been watching with a keen eye for sometime now. This brand brings a fresh, fashion focussed appeal to bridal wear with a very 70's romance, boho appeal.
I picked out some of my favourite designs below – it was good to see full length skirts on show too – I am definitely predicting a bridal skirt movement in the coming year or two!  (hijacking this post with details of a designer who wasn't exhibiting at the show but who does the skirt/top combo deliciously well, see Kate Halfpenny).  
Their lace cover-ups were also some of the prettiest I saw at the show.
Visit yolancris.com for further information on this Spanish brand.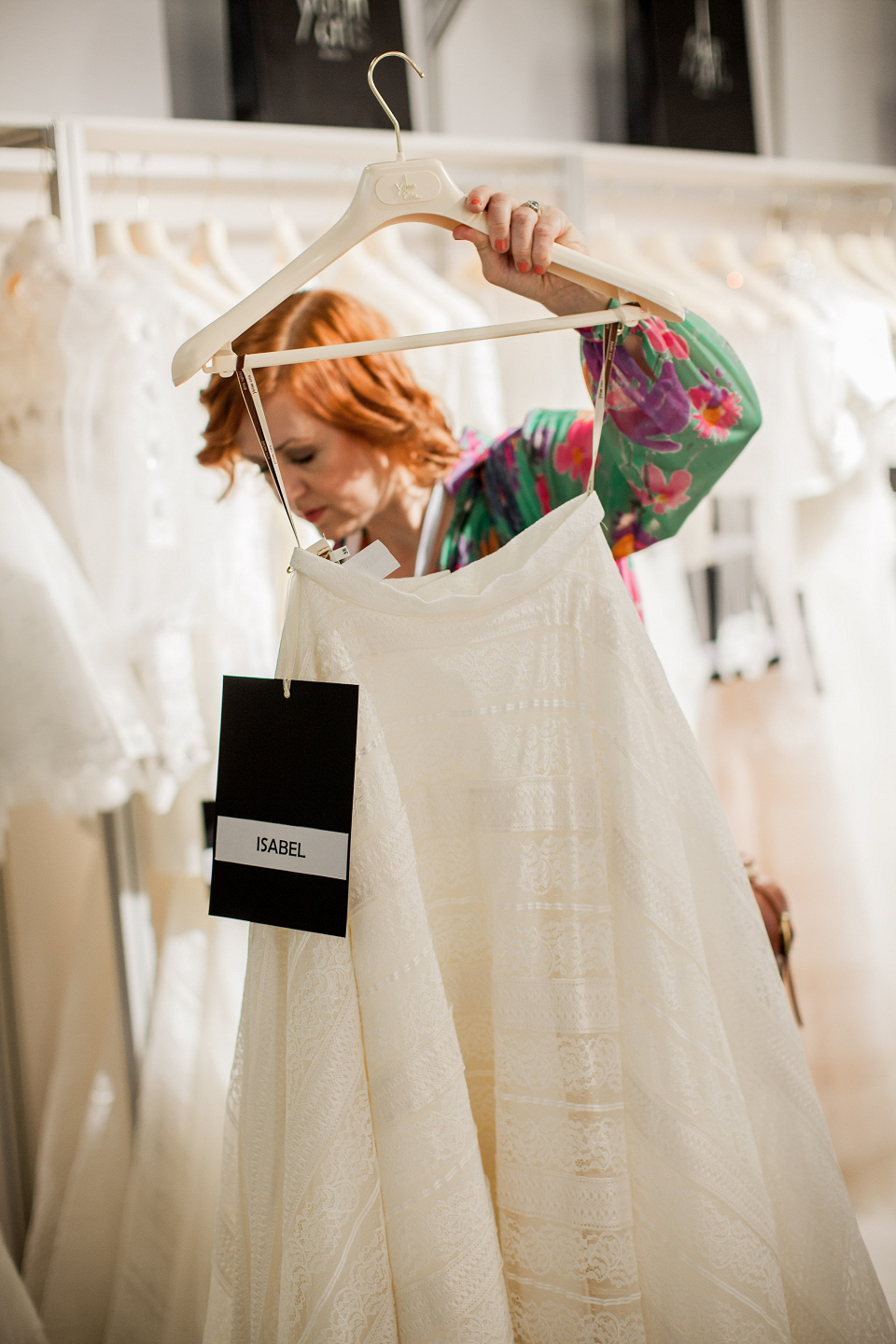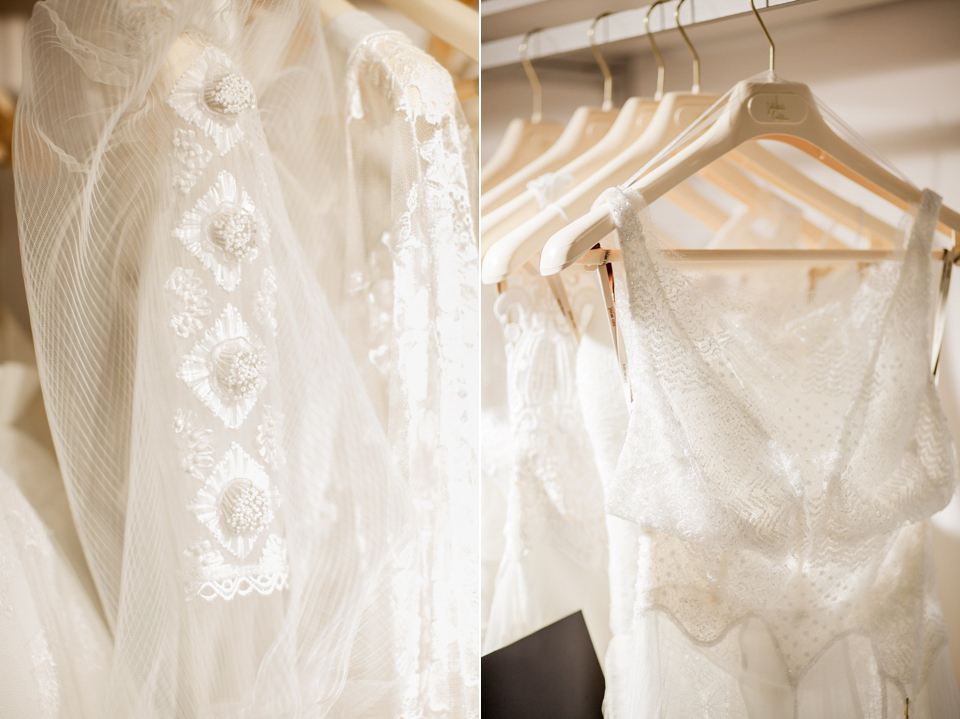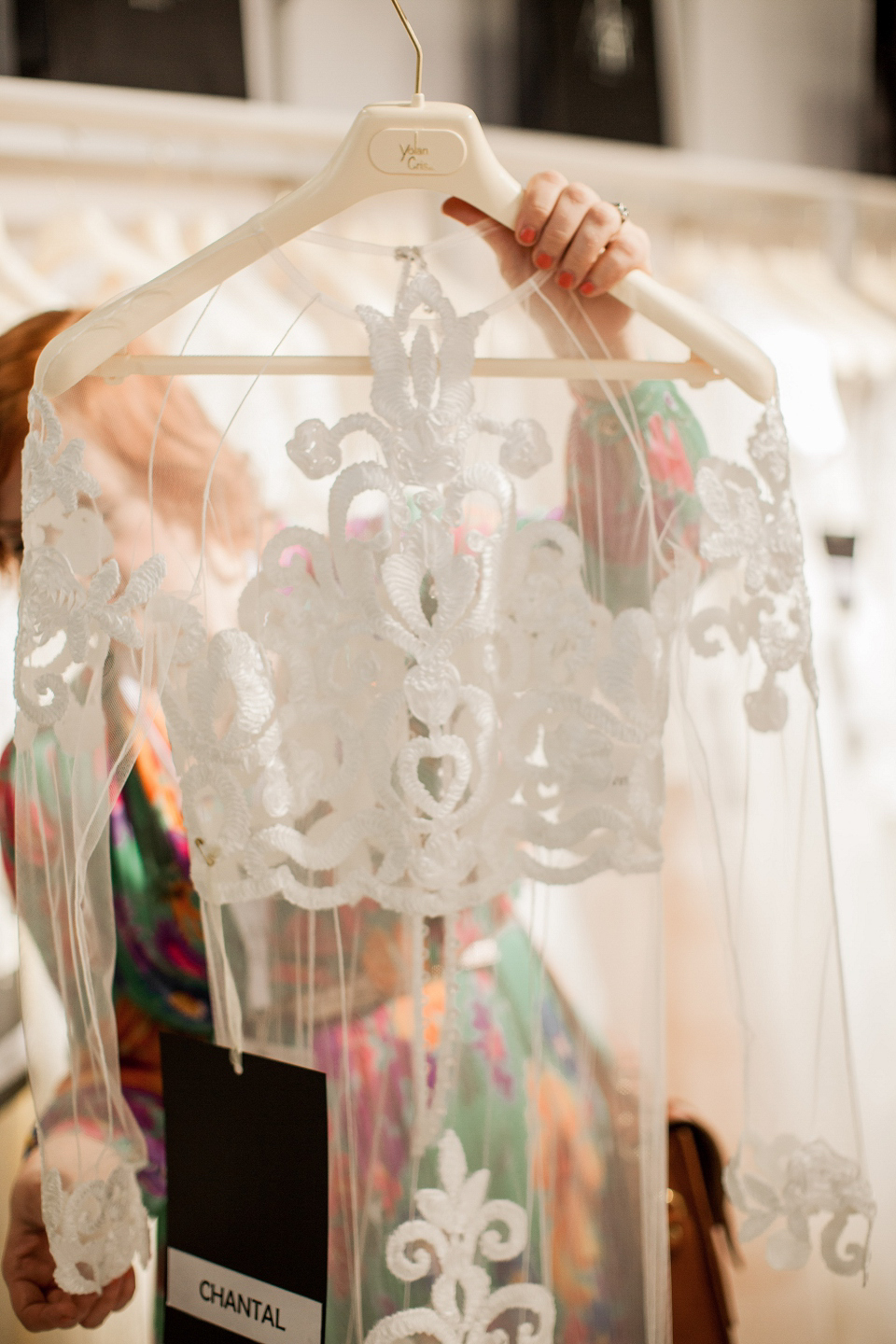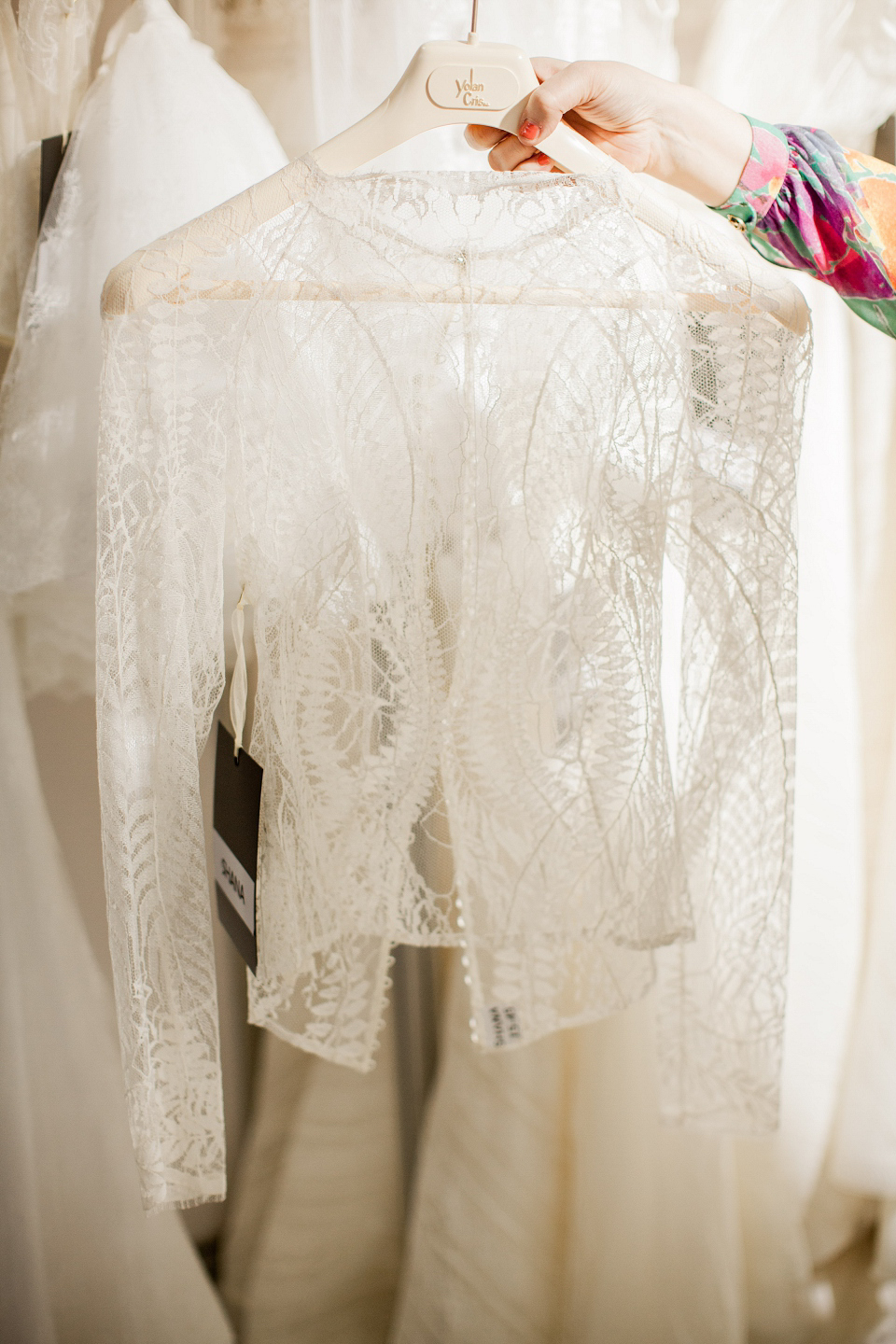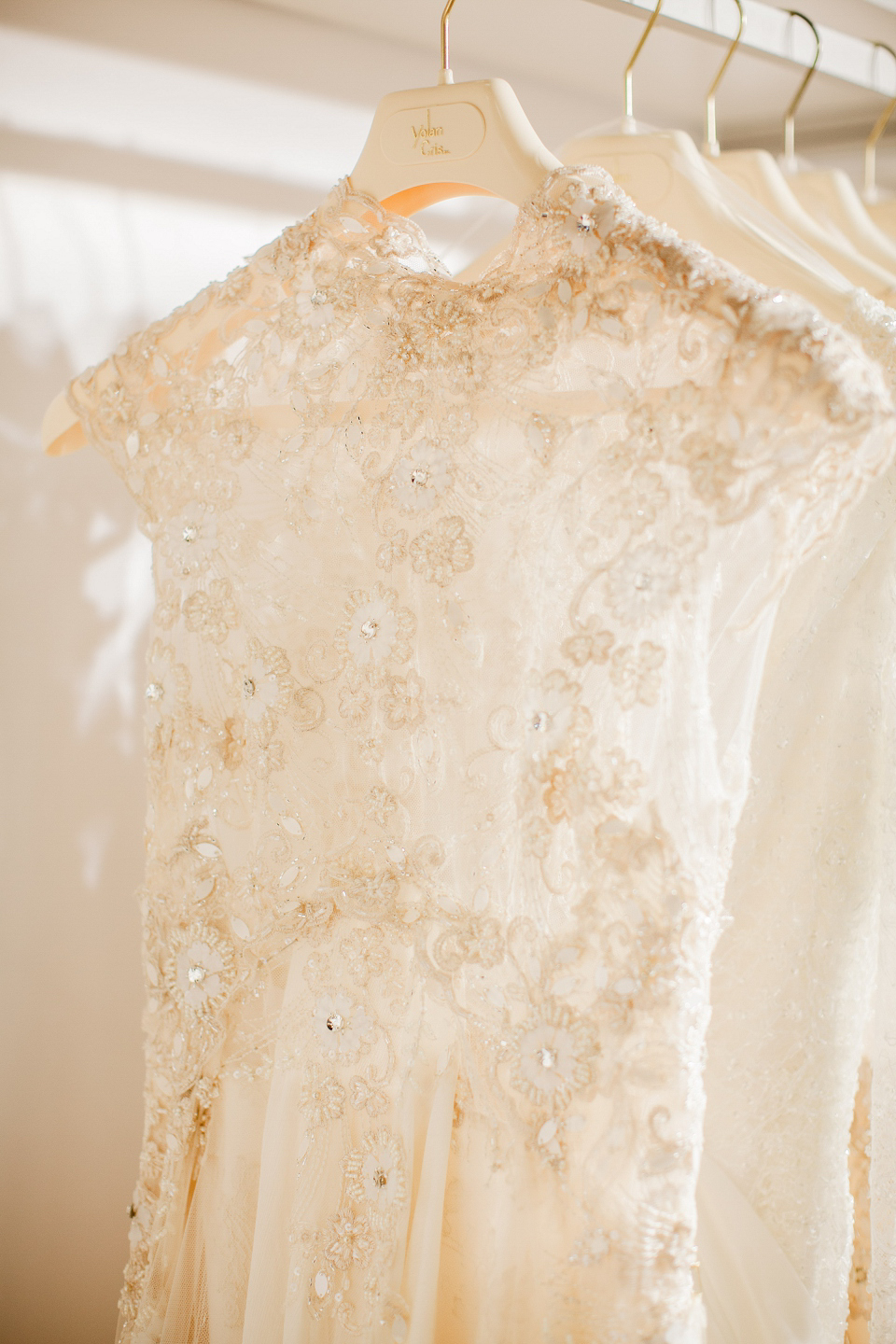 Designs above by YolanCris
Finally, luxury designer Zaeem Jamal was exhibiting.  I first spotted this designer at Brides The Show last October (though his PR team wouldn't let me photograph anything at the time). It was a pleasure to be able to meet the designer himself on this occasion and see the intricate embellishment and artisan craftsmanship close-up in Zaeem's Egyptian inspired couture bridal pieces.
Keeping an eye on this one for sure. 
Visit zaeemjamal.com or his boutique on Kings Road London for further details.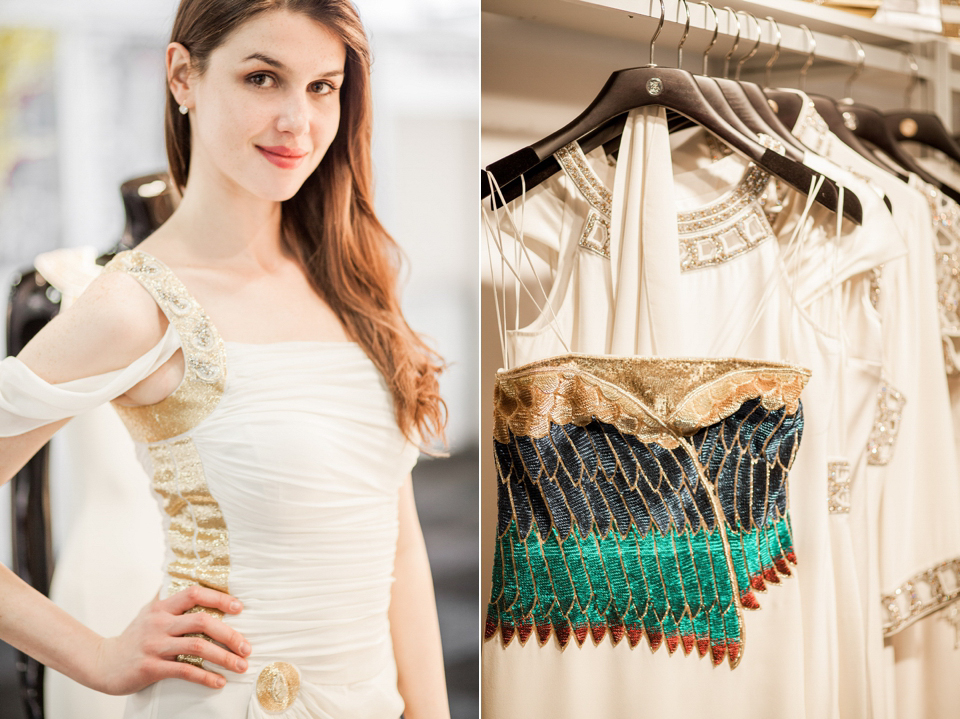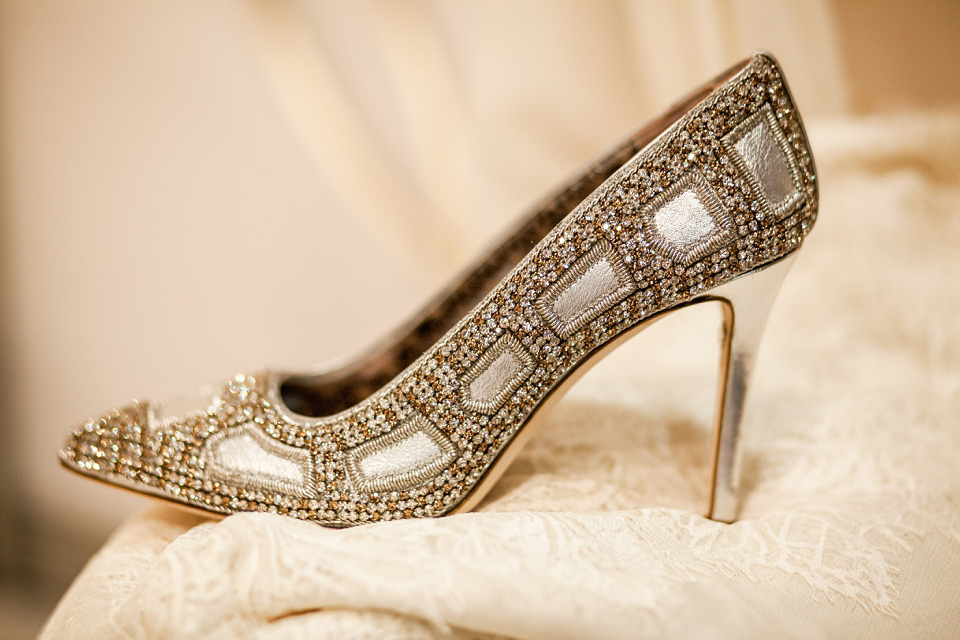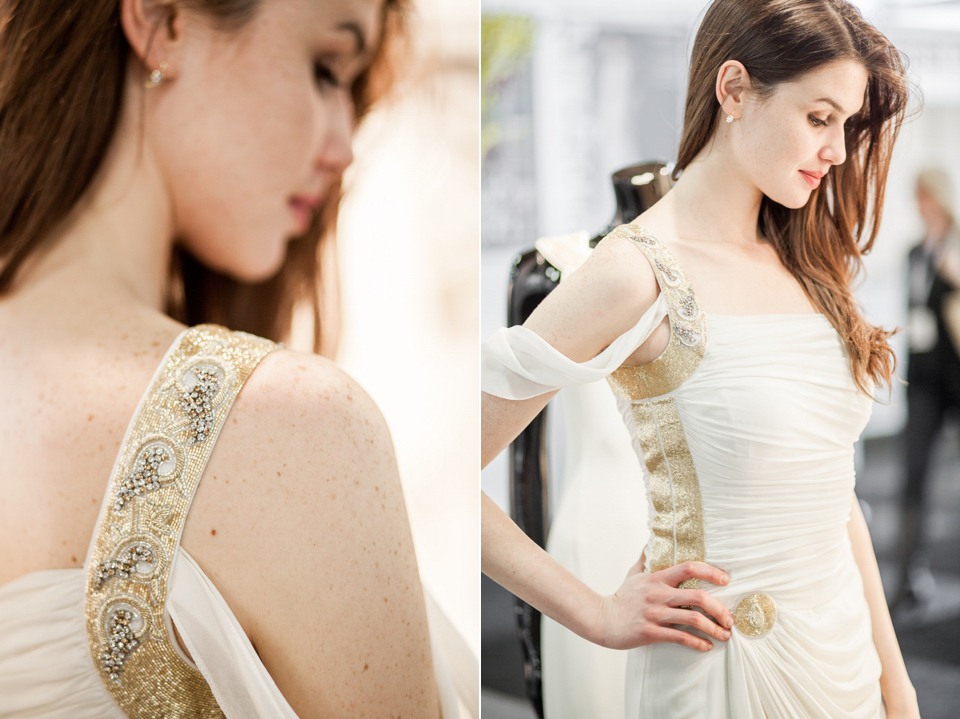 Designs above by Zaeem Jamal
And to the rest I couldn't get around to – my very sincere apologies, I really wasn't very well last Sunday, despite Instagram appearances! Next time though folks – though may I make a polite request that you email me in advance to ensure you're on my radar and so I can add you to my 'must see' list 🙂
I'd like to thank the brilliantly talented Naomi Kenton for once again supporting me in telling a visual story of my visit to White Gallery last weekend. Naomi is an incredibly talented wedding photographer who I recommend without hesitation. I hope you appreciate and are inspired by some of these images.
Brides, grooms, bridal boutique owners – do you see anything you love?
Love Annabel

Follow Love My Dress® on Google+