As you're reading this I'm in London, preparing for the opening of Blogtacular tonight – a first of its kind blogging conference that I'm not only attending, but also speaking at tomorrow afternoon, alongside some phenomenally successful bloggers that include Joy Cho of the US blog 'Oh Joy!', Allison Sadler of The People Shop and Courtney Adamo of Babycino Kids.  I'm super looking forward to sharing my experiences of professional blogging with everyone attending – keep an eye on Twitter and Instagram for regular updates!
In the meantime I have the loveliest of weddings to share – a romantic day full of vibrant colours, fun and friendship, where bride and nurse Kate married Graphic Designer Andy.  The couple's nuptials took place on 12th March this year with a ceremony at Southwark Registry Office, followed by a reception at Shoreditch House in London.  These gorgeous photographs were sent in by  Samuel Docker, for whom the newly wed couple have nothing but praise.
"I would say our friends and parents were our biggest inspiration. They have all watched and supported our complicated relationship continuously, so we wanted to involve them in what was supposed to be our 'small' wedding ceremony.  Our friends also happen to be an extremely talented bunch. Hair, make up, music, flowers were all provided by our best friends on the day."
Photography Copyright (c) 2014, Samuel Docker
"Andy and I met about 10 years ago when I was in the UK. We did long distance for many years.  This was actually our second engagement. We officially got engaged in December 2013 then did all our boring marriage visa stuff. Initially the wedding was supposed to just be myself and Andy with two witnesses with a proper wedding to follow.
However, as with most things that involve Andy and I – it escalated to the event you see in the pictures."
"We chose Southwark Registry Office for the formal part of the ceremony.  As things progressed one of Andy's friends secured us the Secret Garden Room, which is on the rooftop at Shoreditch house.  The room in the Registry office was called 'The Garden Room', so our theme became garden related."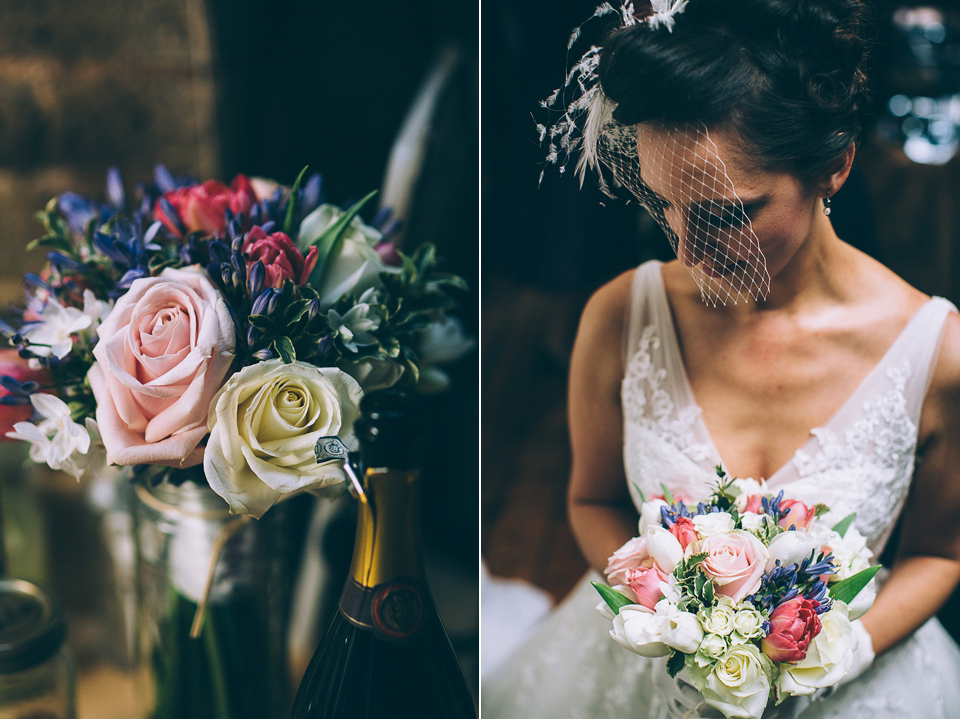 Kate wore an Ellis dress, Malis Henderson birdcage veil and 'kitten' gloves, all from Something Bleu Bridal in Saratoga, NY, USA,
"I just felt so free and fun in that dress. I love the 1950's vibe and wear many dresses in that style. I had tried on so many different types of dresses that I was starting to get confused. All wedding dresses are beautiful, but in the end it came down to how I wanted to feel on the day…. and that dress was my original vision down to a T.
I was able to change my shoes and pair it with some custom converse and it still worked. I just felt comfortable and entirely like myself in it."
"My bridesmaids picked their own dresses…I believe they came from Amazon and EBay for about £25! They used all their own existing accessories.  They did 1950's hair to match me. They smashed it basically!"
"We used a Routemaster bus for a tour of London since it was my parents and brother's first time in London. It was an amazing idea and we had so much fun on the bus!"
"Neither of us like traditional wedding cake, so we had a giant cupcake instead! The whole display looked amazing – our supplier was the brilliant Lola of Lola's Kitchen in London." 
'Our photographer was Samuel Docker, who produced the most beautiful, natural photographs ever.   I am not a fan of endless posed wedding photographs nor did I want to spend my wedding posing for a photographer.  He captured everything beautifully and additionally he immediately felt like a friend. 
No one could compliment him enough – both on his photographs and demeanor!"
"My hair was styled by 'Fairy Scones' (no website) who is a hairdresser now based in Berlin, but comes back to her loyal London customers every six weeks or so – lucky me!
The Bridesmaid hair was done by Freya Papworth, an actress who luckily is also a vintage hair enthusiast!"
"My father walked me down the aisle and we both did a pretty great job of not completely losing it!  This was a big day for us. I am his youngest child, and only daughter!
We both came across a reading independently of each other then decided it wasn't wedding-y enough. It came up in conversation that we both liked it so we decided to go for it since it clearly spoke to both of us. It was from Jack Kerouac's 'On The Road': 'the only people for me are the mad ones, the ones who are mad to live, mad to talk, mad to be saved, desirous of everything at the same time, the ones who never yawn or say a commonplace thing, but burn, burn, burn like fabulous yellow roman candles exploding like spiders across the stars."
"I wore a pair of regular high heels for about 5 minutes then changed into my white custom converse!"
Words of Wedded Wisdom…
"I knew in my heart that I didn't want a huge wedding but I very nearly had one.  Although it was hard at times to go against what I knew other people wanted, I stayed true to the day I wanted, and I enjoyed every second of my day.  I can't choose a favourite. It was the most relaxed, fun day imaginable. I'm so happy we did our wedding the way we did- quickly planned, yes, but it was exactly what I always wanted: a fun day full of love and laughter.
I also don't know how we might  have done it differently but it was hard planning a wedding in separate countries. I was often at work, hiding around corners texting Andy "yes or no" to things hurriedly. It was quite amusing in retrospect as he sort of became the traditional 'bride' role and I was just saying "yes or no".  It would have been a lot of fun to plan it in the same country but alas… not an option!"
Totally gorgoeus, I love every aspect of this wedding and hope it has put a smile on your face too.
Enjoy your Friday my loves,
Annabel
Photographer – Samuel Docker
Venue - Southwark Registry Office + Shoreditch House
Wedding Dress - Ellis dress via Something Bleu Bridal, Saratoga, NY, USA,
Veil – Malis Henderson
Shoes – Converse
Little white gloves - via Something Bleu Bridal, Saratoga, NY, USA,
Grooms Suit – Ted Baker + Charity shop sunglasses
Bridesmaids – Amazon + EBay
Florist – Helen Stevens (no website provided)
Cake – Lola's Kitchen
Transport – Routemaster Bus
Make-up Artist - Bianca Bonjour Make-up
Hair Stylist – Fairy Scones (no website) + Freya Papworth
Follow Love My Dress® on Google+