It should be clear to anyone who frequents this blog how smitten I am with the gowns created by designer Claire Pettibone.  I fell in love with Claire's designs the moment I discovered them back in 2010 and have been one of her biggest fan girls ever since.  When I interviewed Claire Pettibone in 2011, she told me how her childhood memories of daydreaming about fairies influenced her designs – there is certainly something about the whimsical, ethereal nature of Claire's gowns that plays to your inner childhood imagination. I just adore them.
So when a really beautiful, well conceived photoshoot comes my way that features Claire's gowns, I become a very happy wedding blogger indeed.  The White Room, Sheffield's leading bridal boutique, collaborated recently with Leeds wedding photographer, Jess Petrie to bring Claire Pettibone's 'Still Life' collection to life, and I have no doubt that the result of their creative project will inspire our readers.
Photography Copyright (c) 2014, Jess Petrie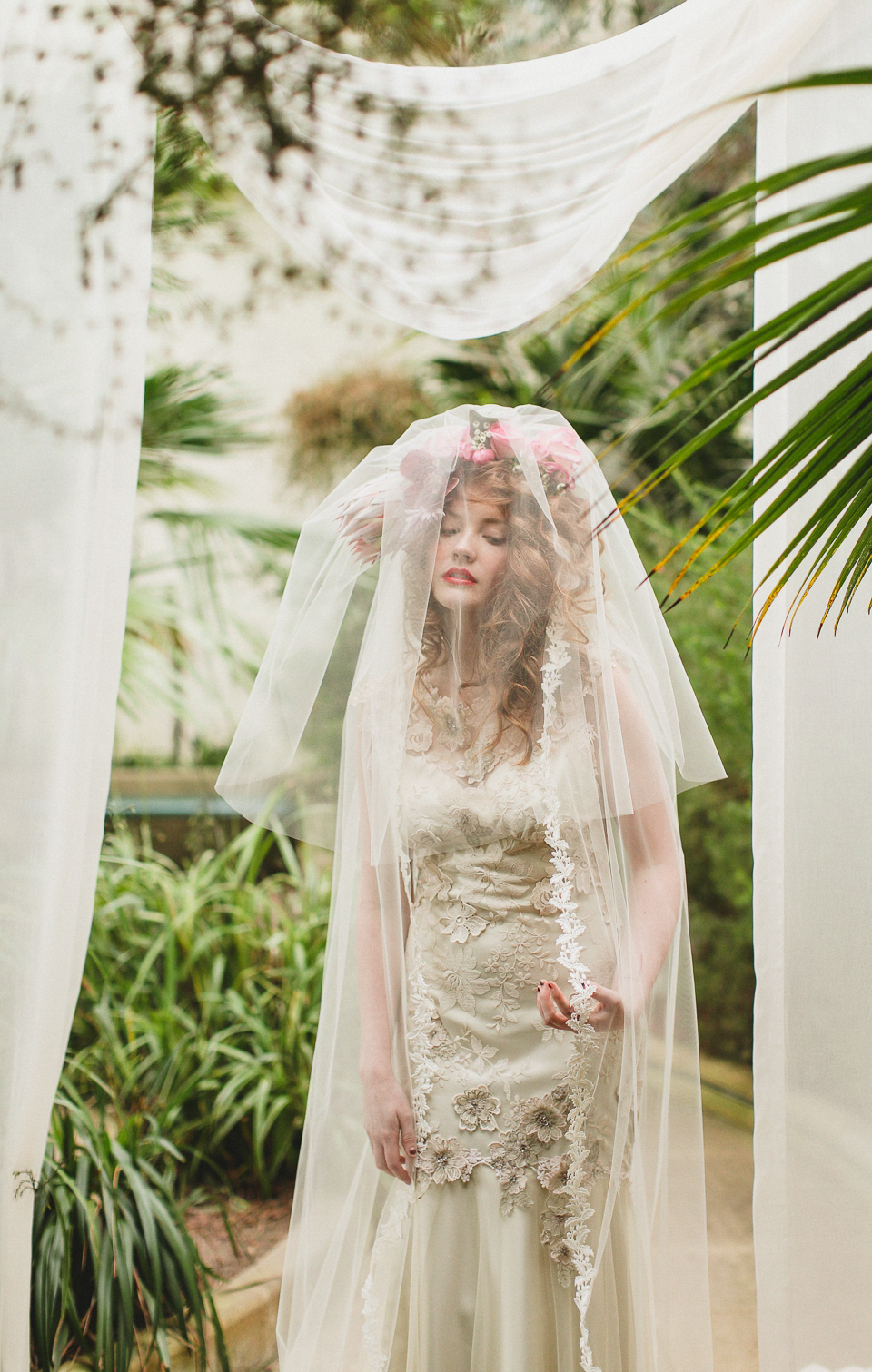 As a Claire Pettibone stockist, The White Room capture everything that is at the heart of Claire's designs, romantic, ethereal, modern and focused on the individuality and uniqueness of every bride and her wedding day.
"It all started with a Dutch masterpiece, 'Still Life of Flowers on a Marble Table', by Rachel Ruysch, 1716. In the second half of the 17th century, the art of the floral still-life reached the height of fashion. Dramatic arrangements of flora and fauna, insects and fruits, set against dramatic dark backgrounds exude a mysterious romanticism"  (Claire Pettibone)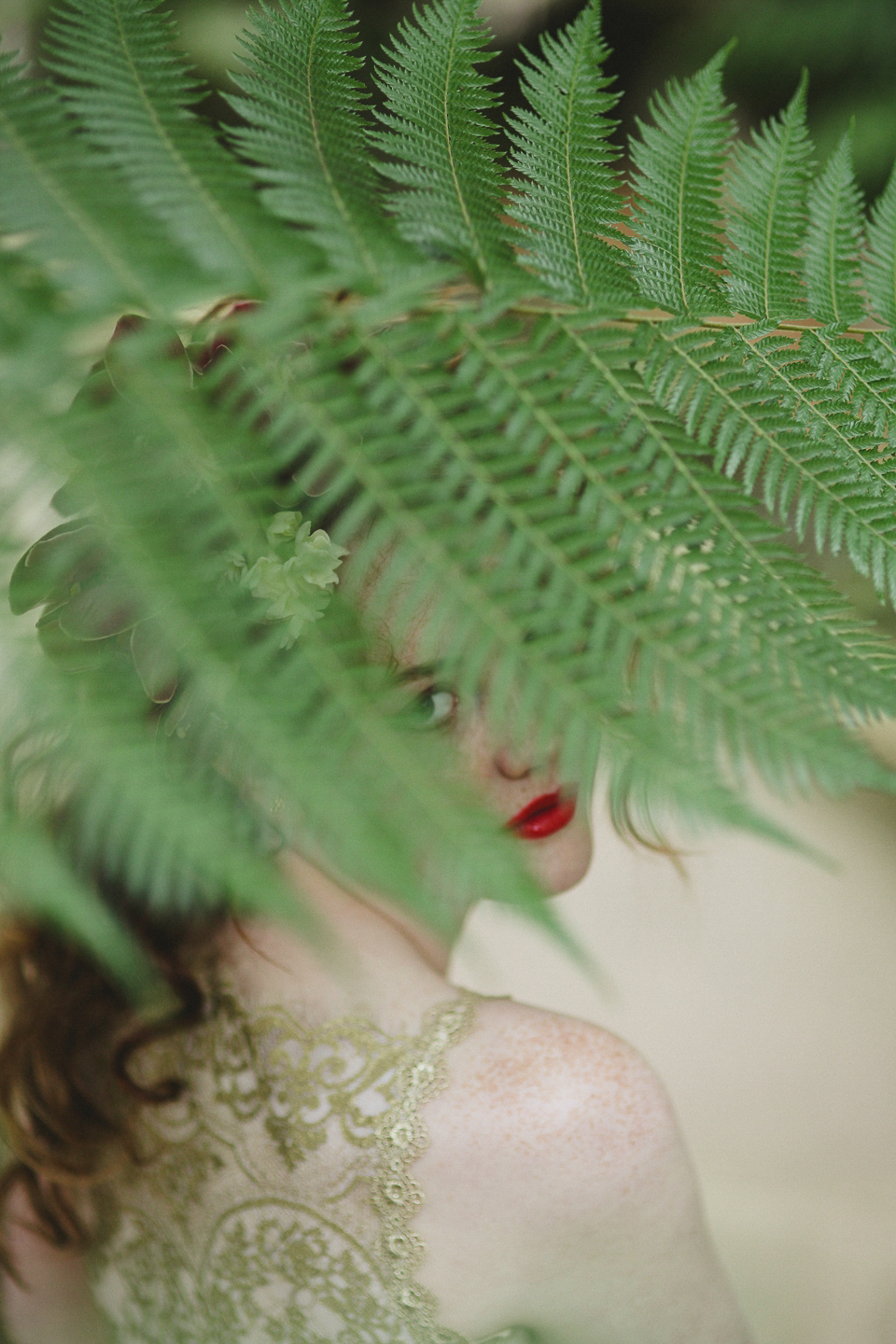 Founder and owner of The White Room, Chloe, says: "When the Still Life collection launched in the UK, we knew it would be a strong collection for us as it resonates so well with both The White Room space and the brides that become White Room brides. It is sensationally beautiful yet delicate, ornate yet has an air of strength about it which our brides love. They want to feel in control of their look yet want to be different."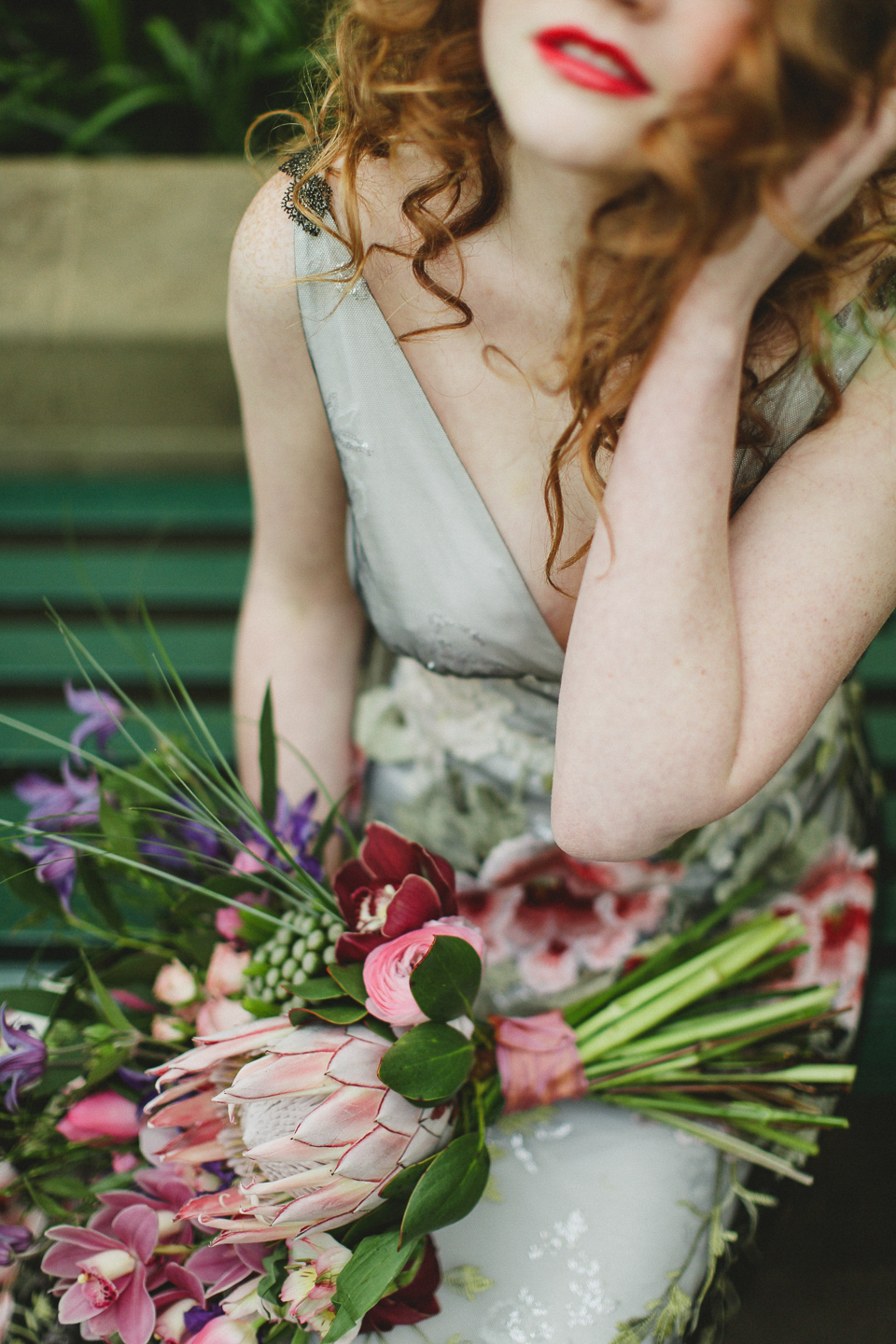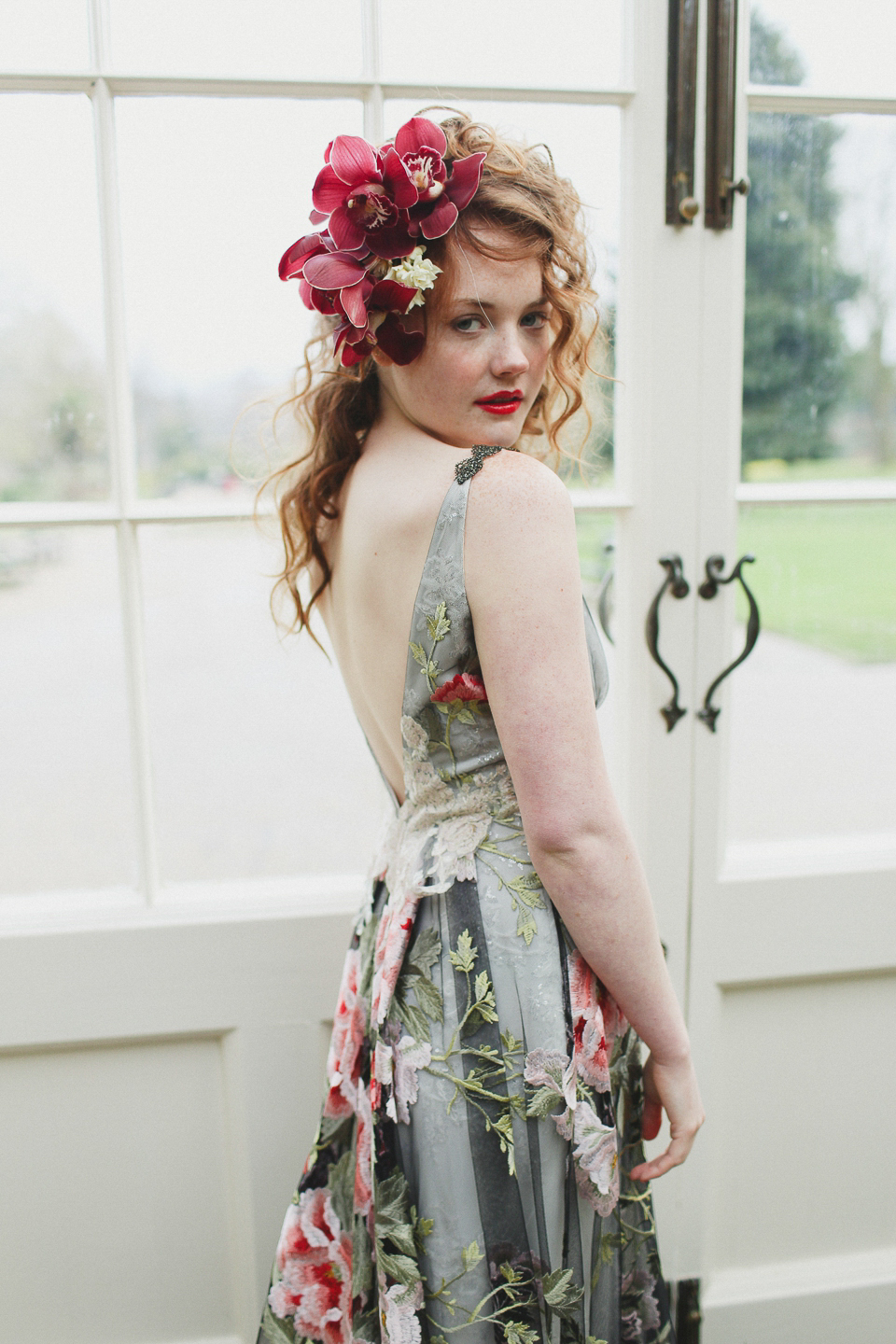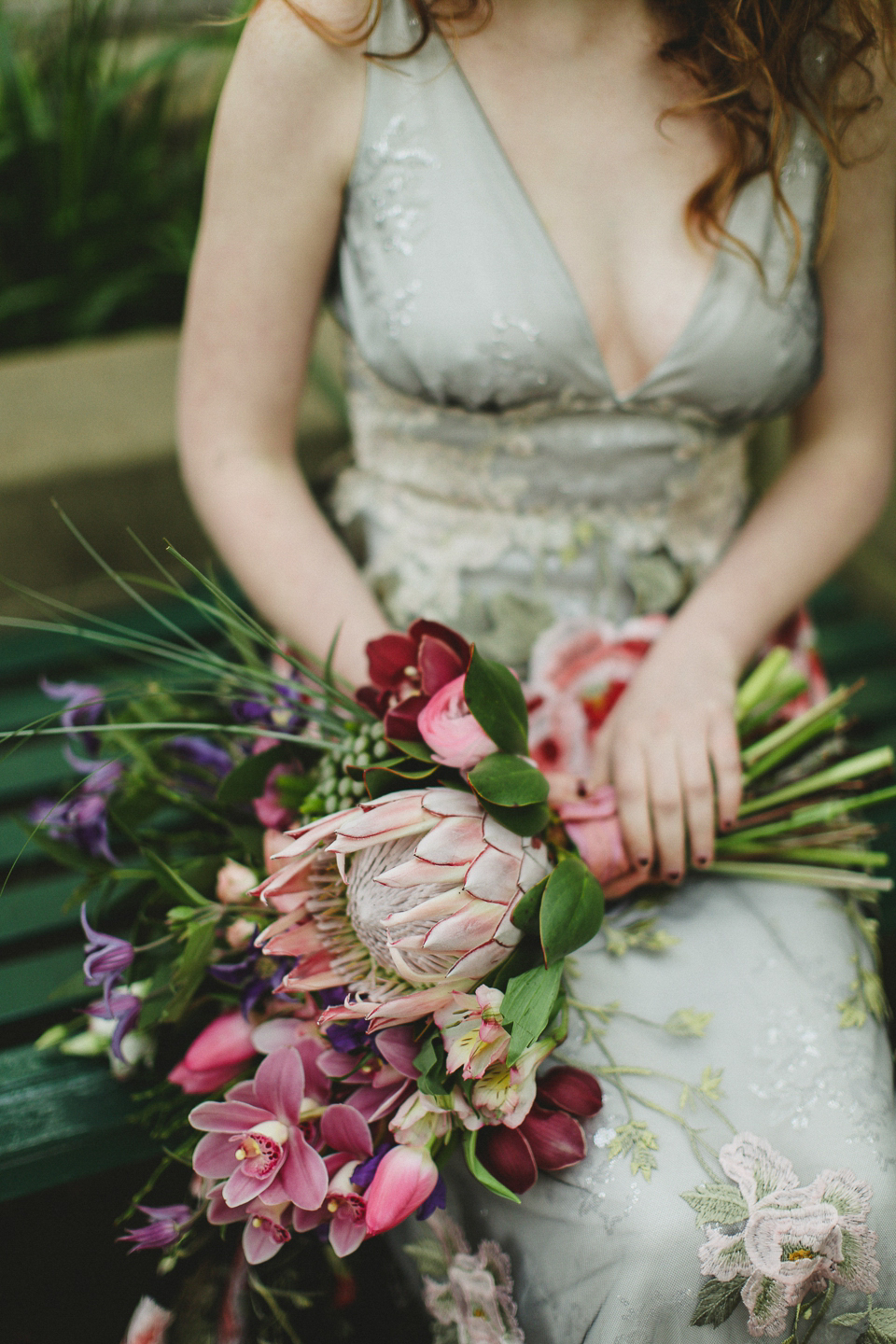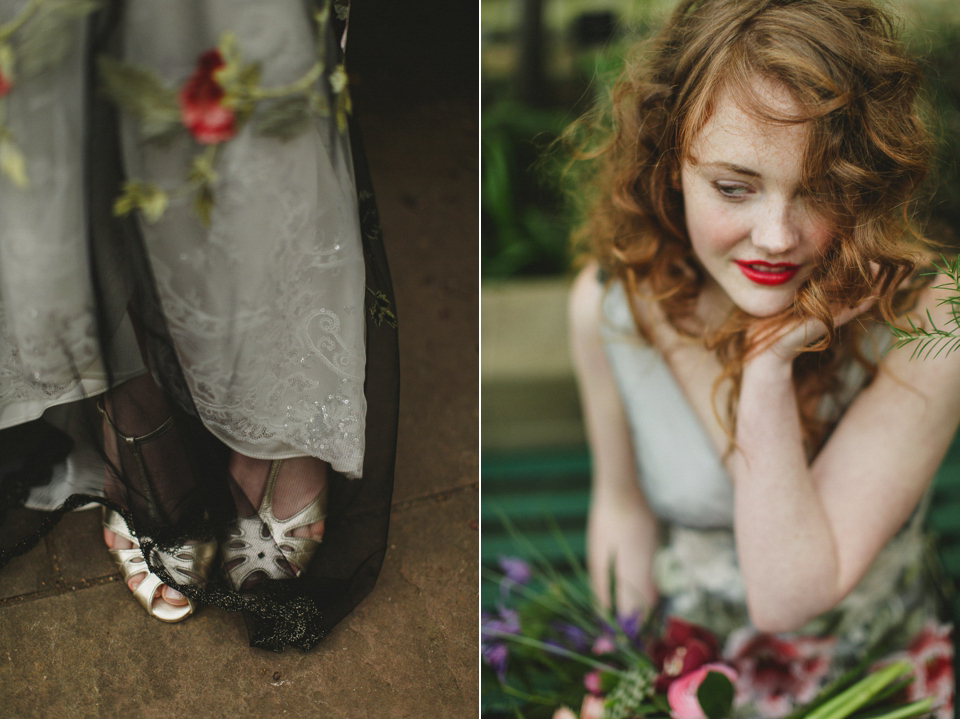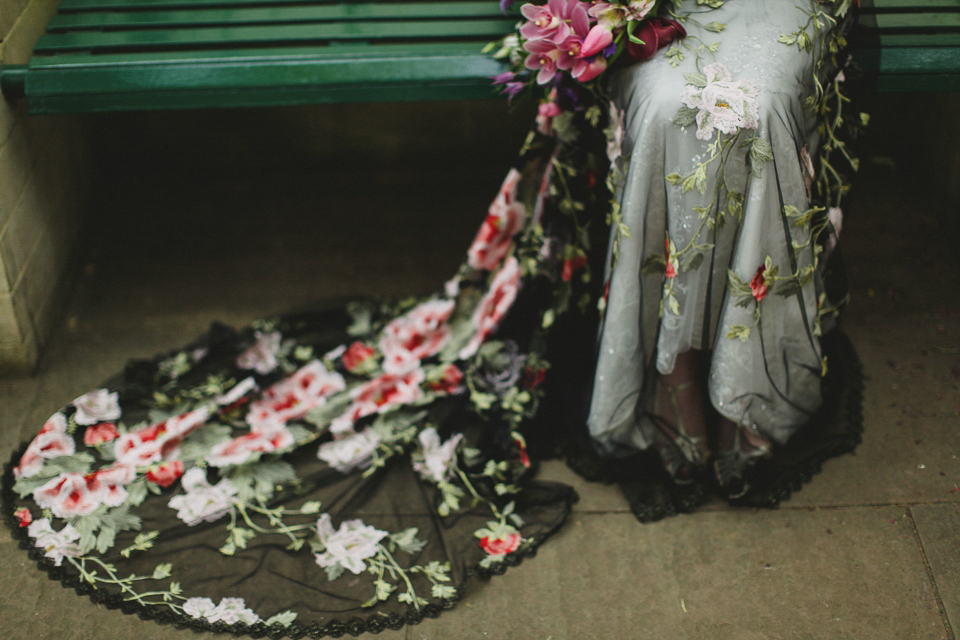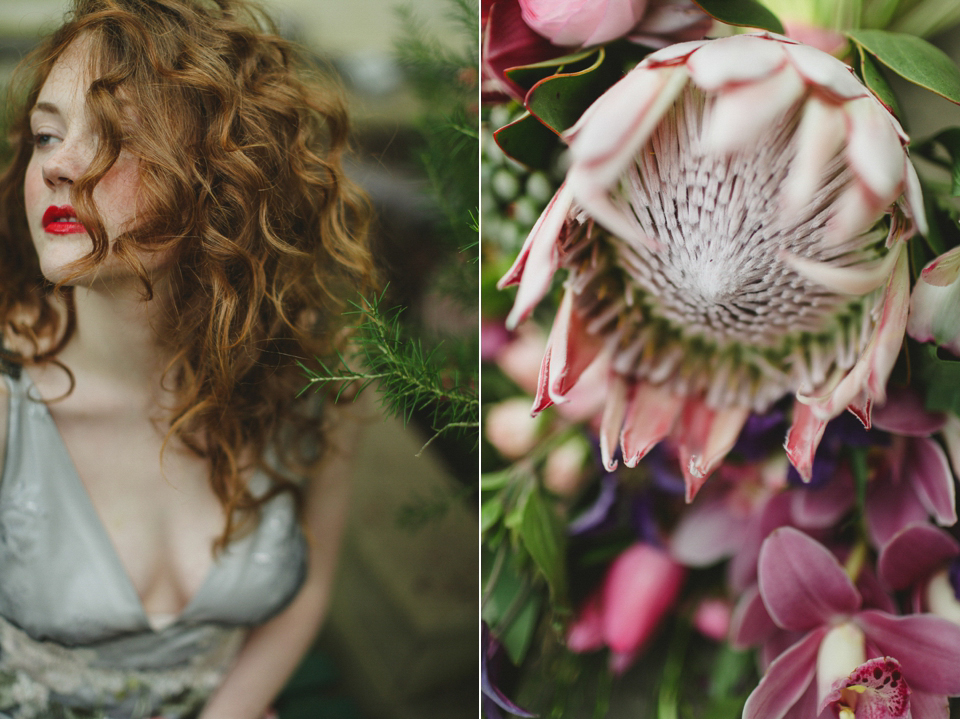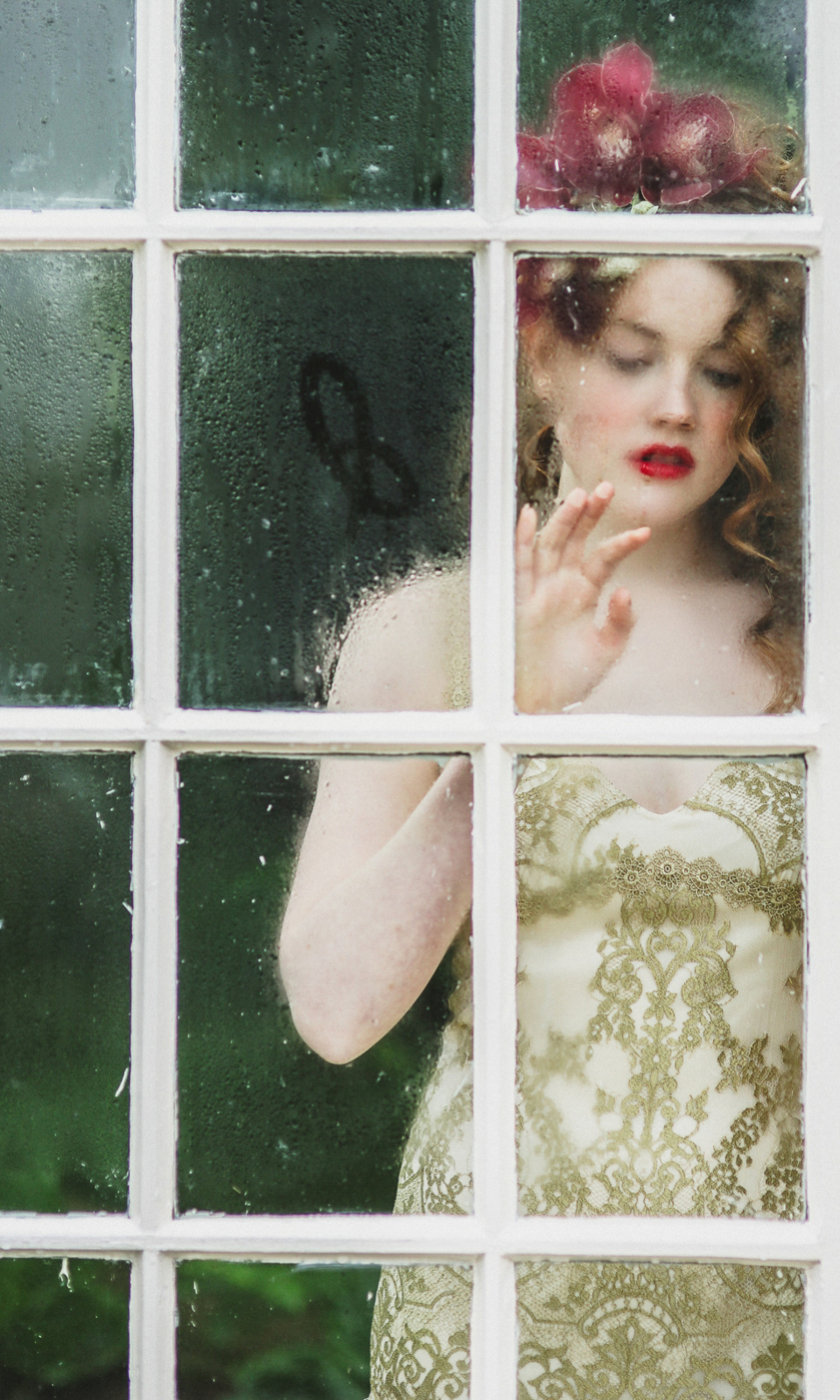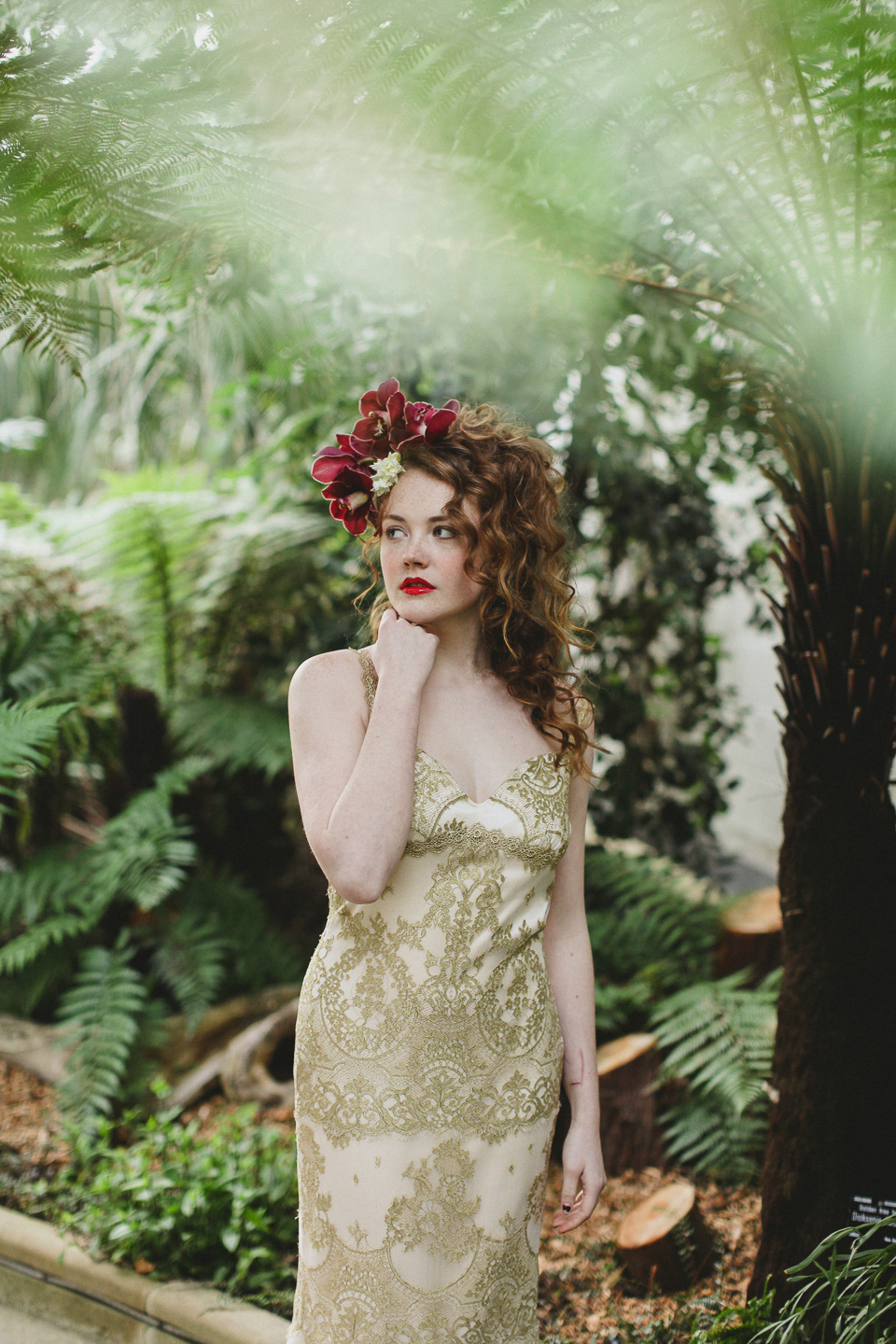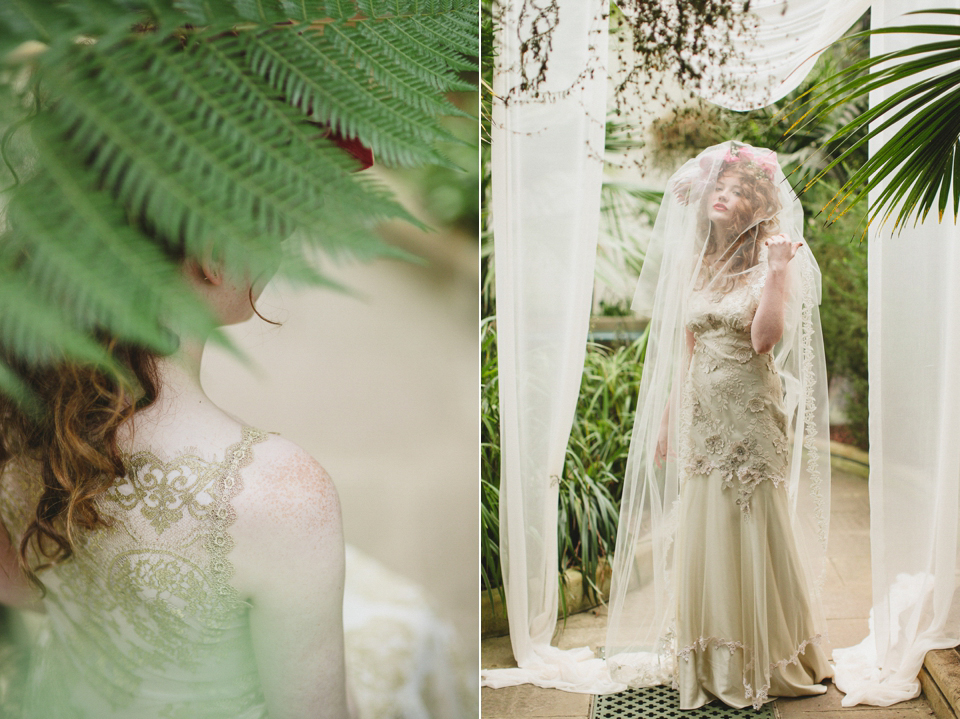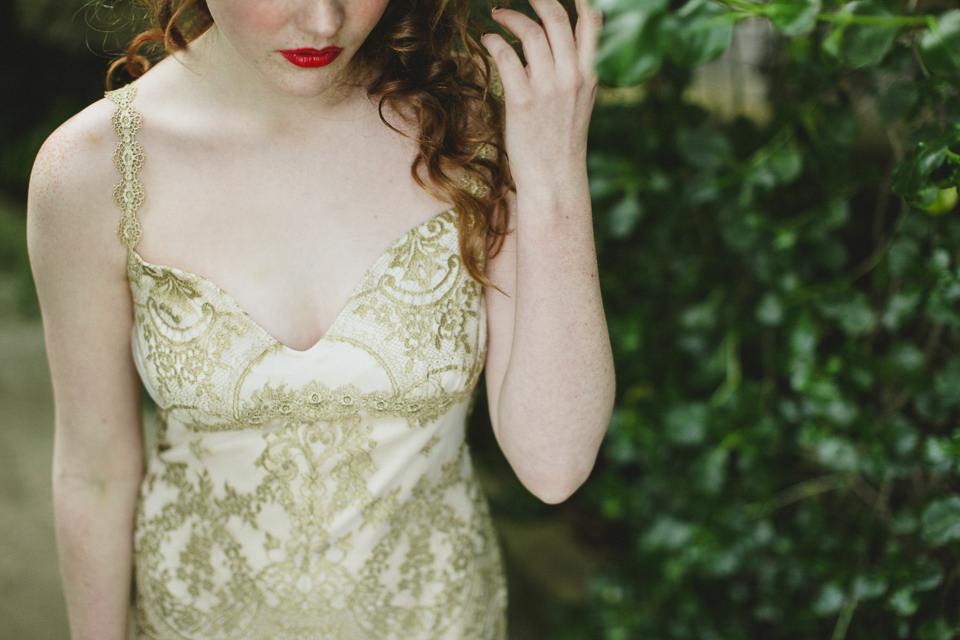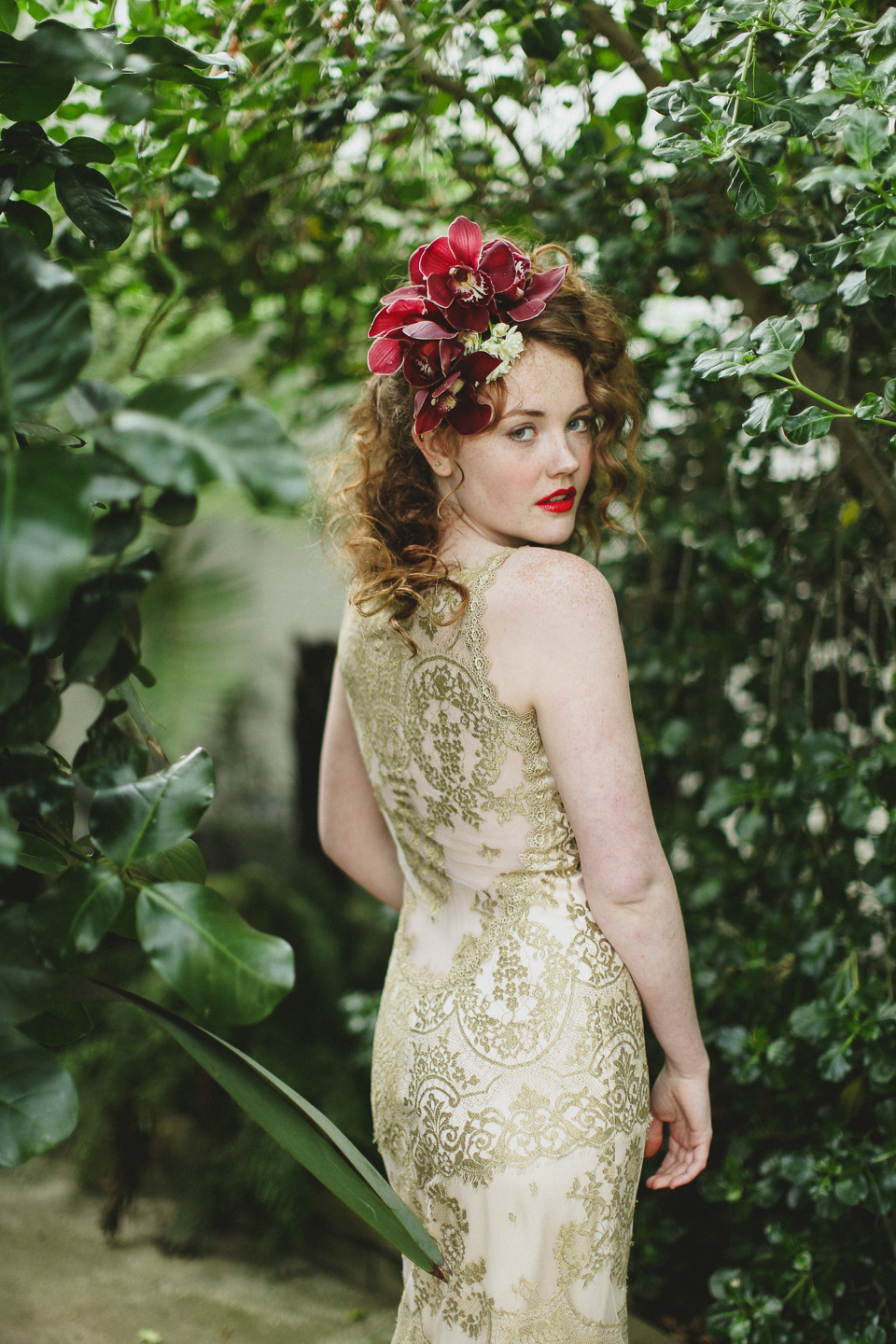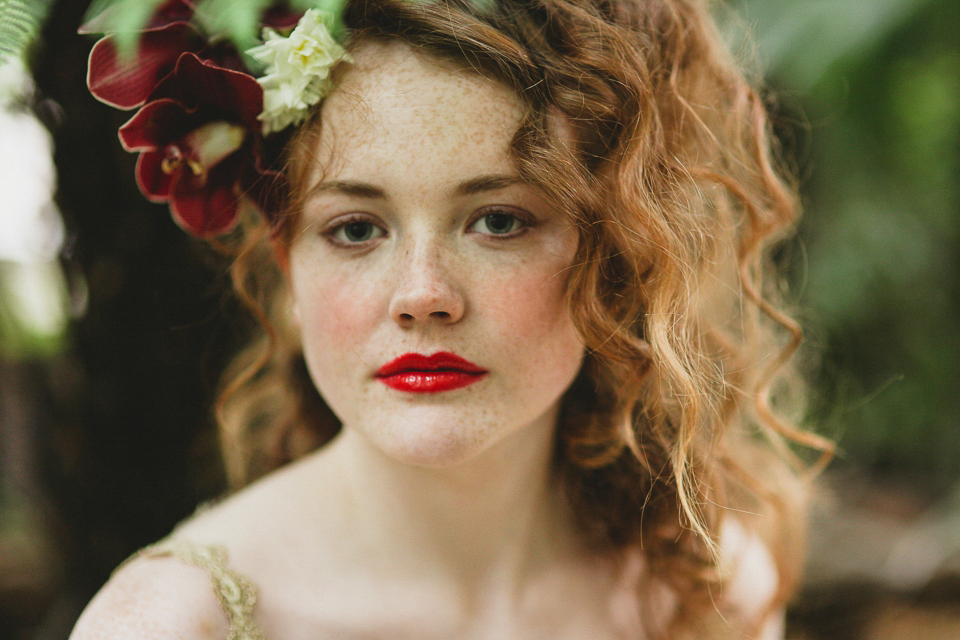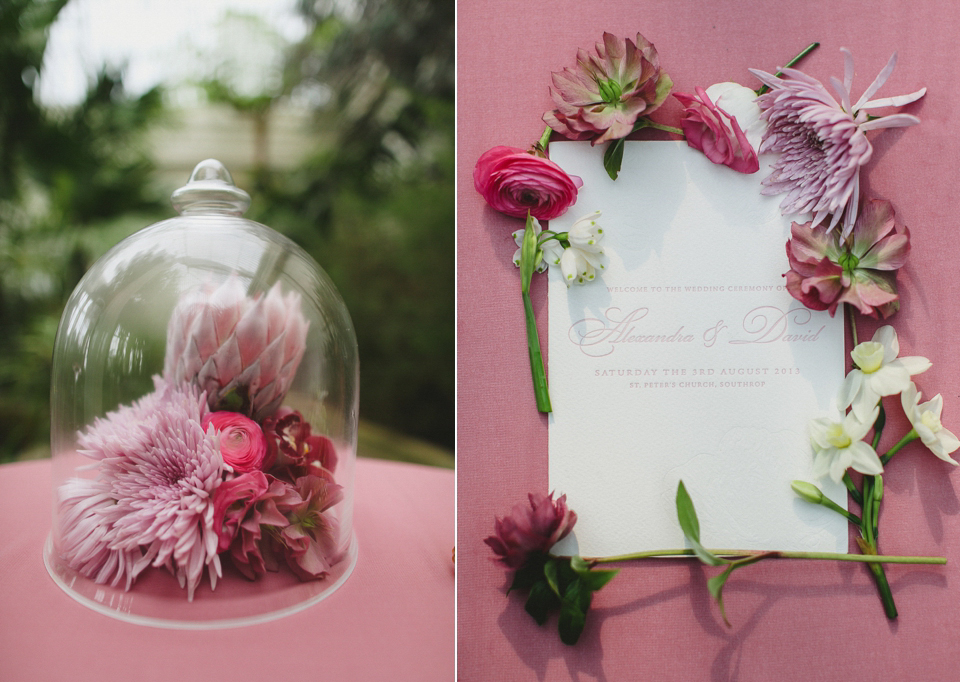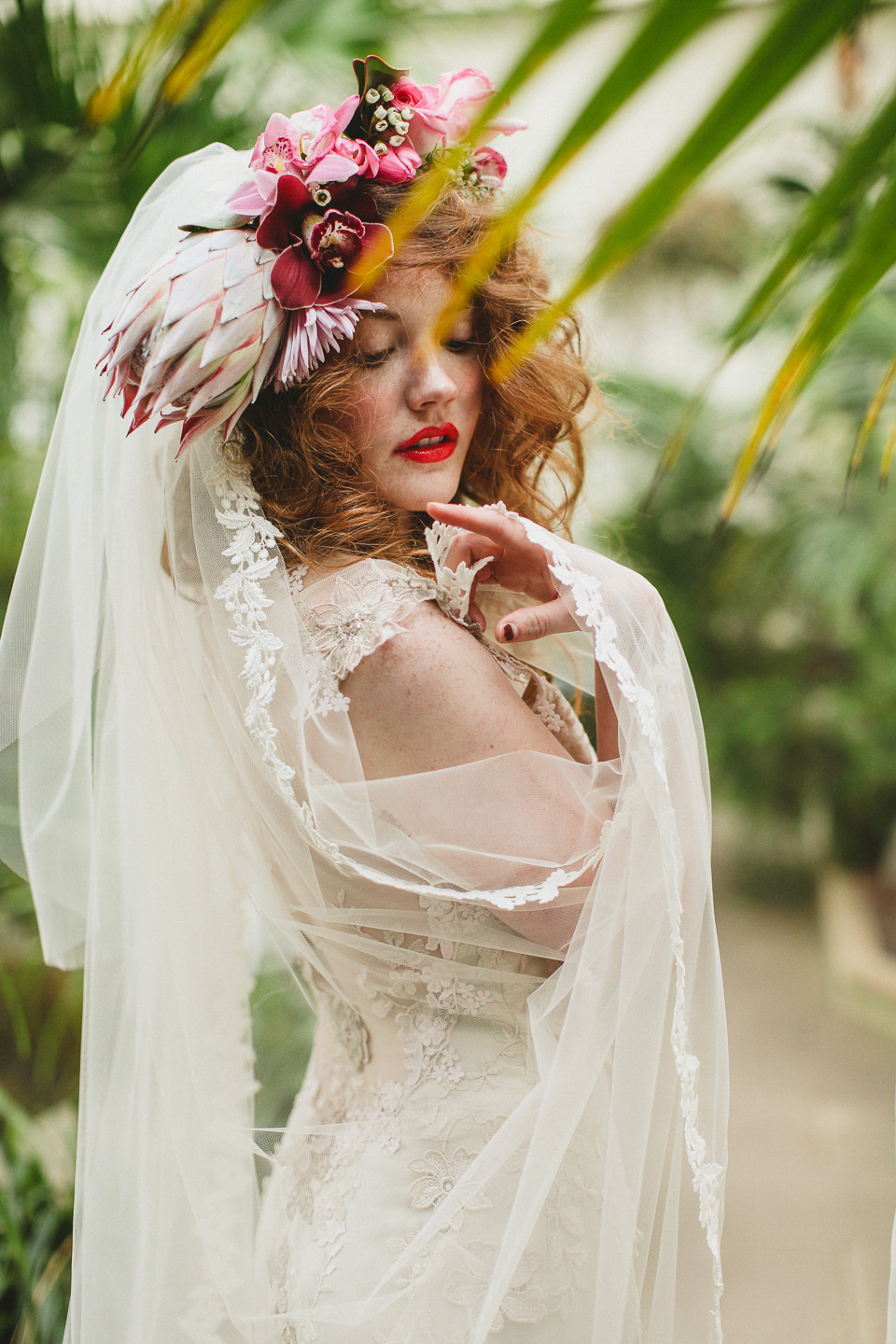 "We have worked with Jess Petrie, a Leeds based photographer before and we knew that her ethereal and fashion focused style would capture the Still Life collection brilliantly. She shoots the whole look and just gets what we wanted to achieve yet adds her own style, which we love".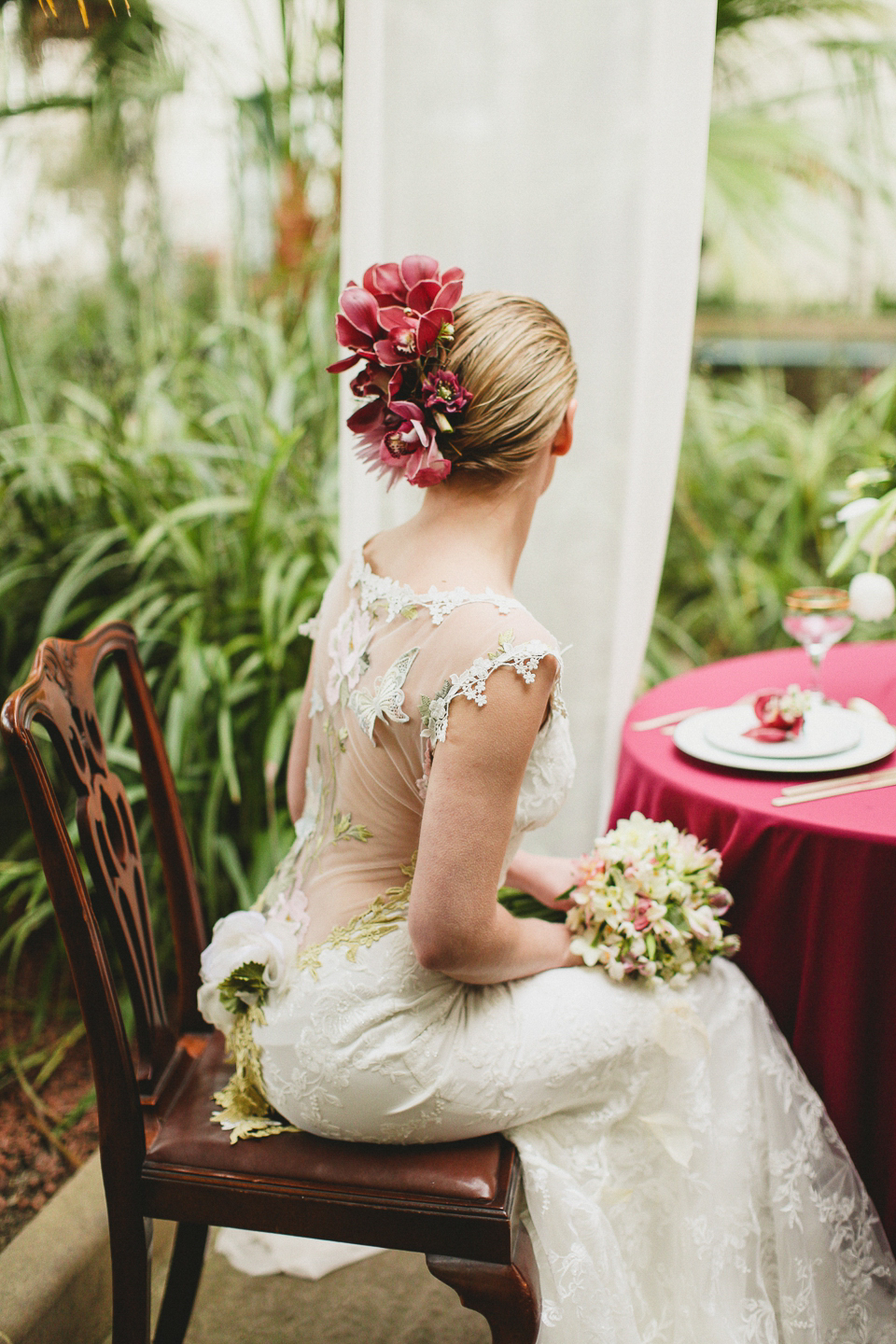 The wonderful Tracey from Campbells Flowers sourced our venue for this shoot – The Botanical Gardens in Sheffield – it worked so well with the concept of the Still Life art work."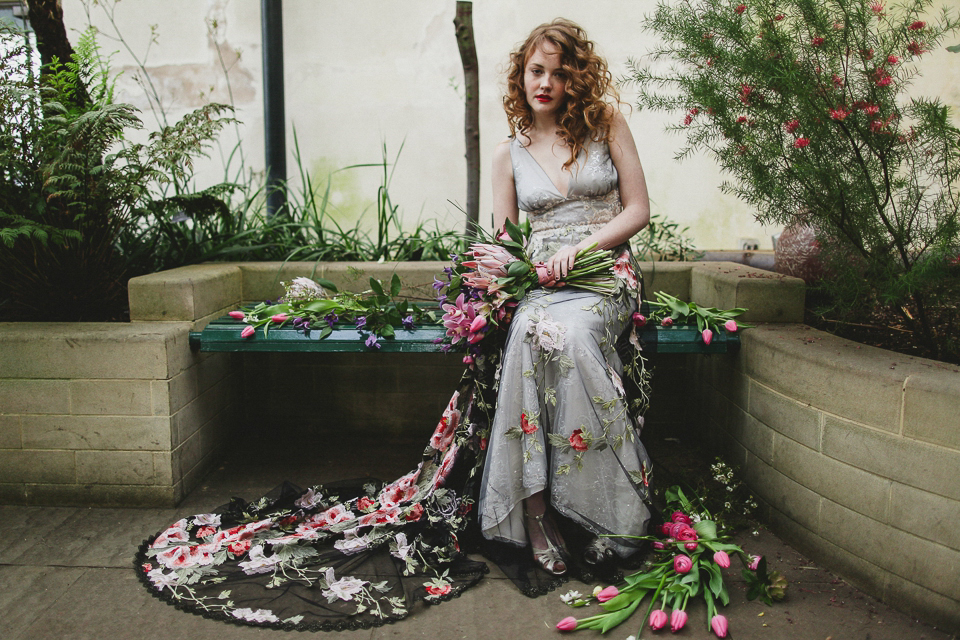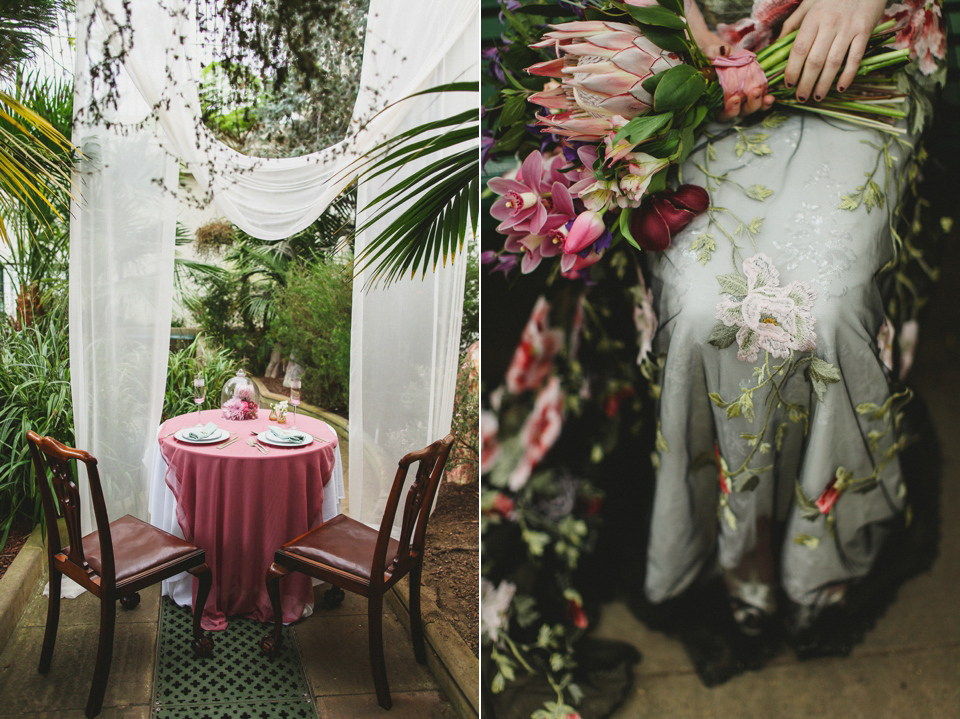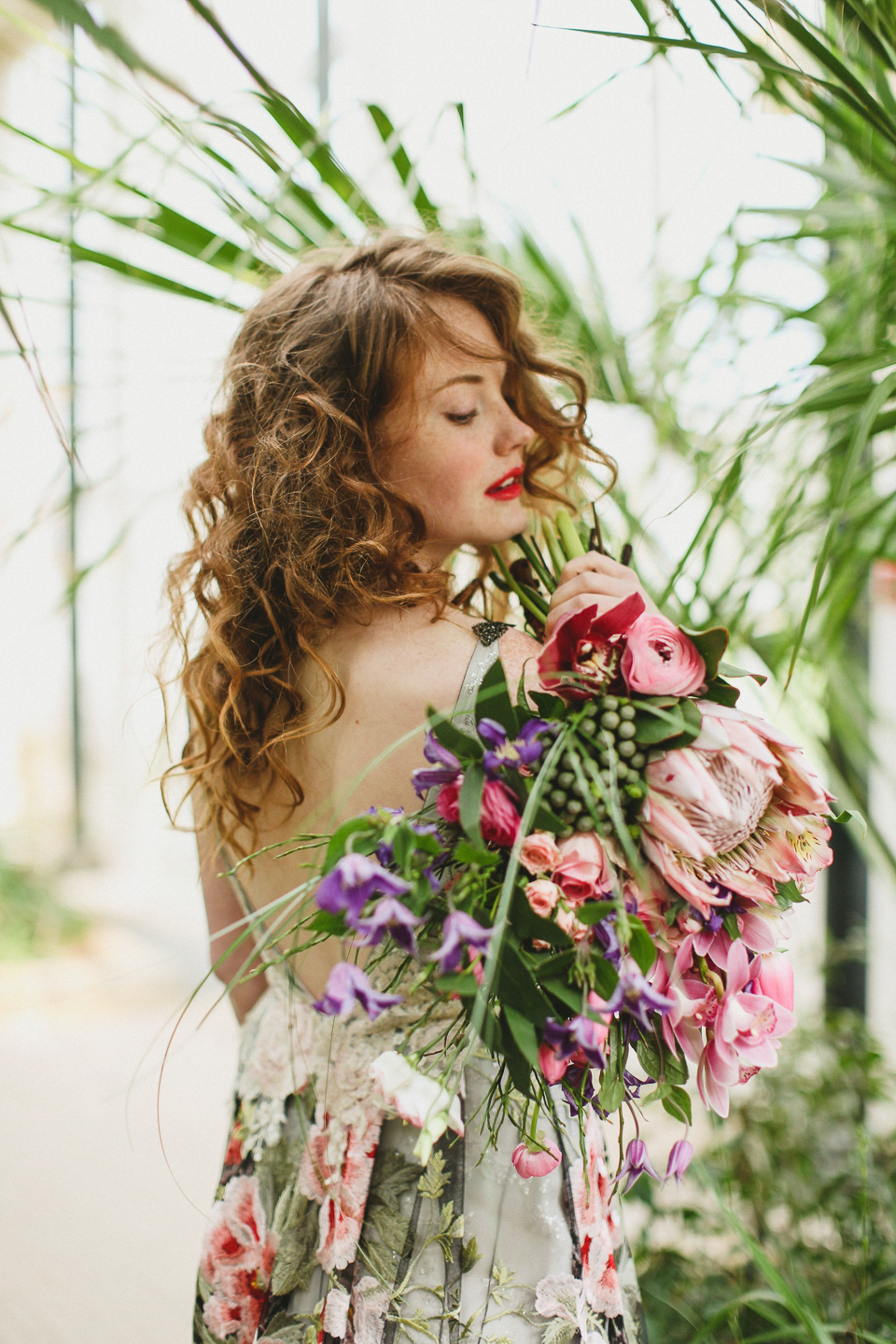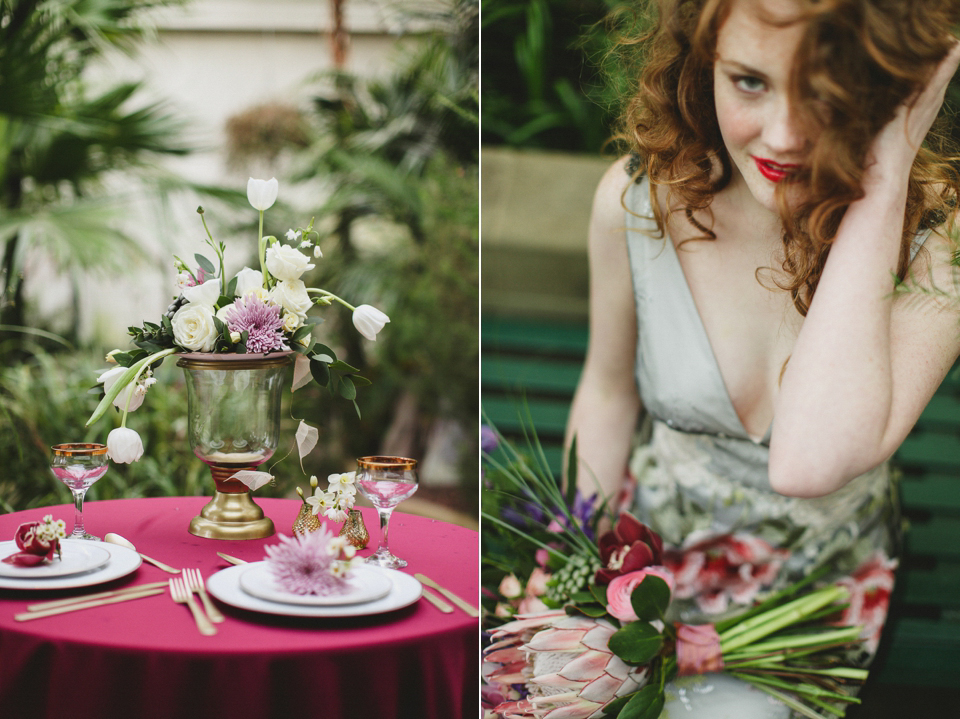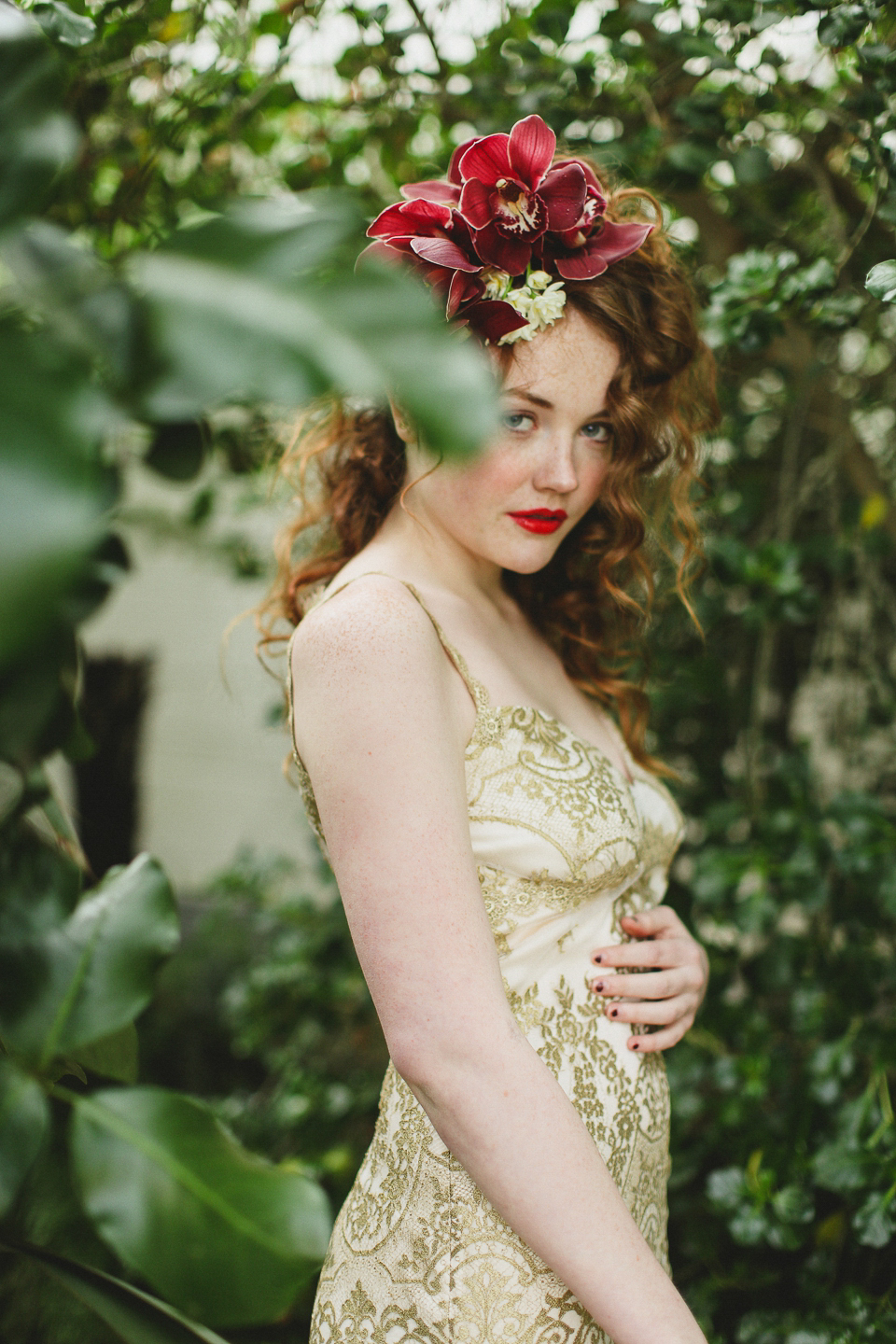 A still life is a work of art depicting mostly inanimate subject matter, typically commonplace objects which may be either natural (food, flowers, dead animals, plants, rocks, or shells) or man-made (drinking glasses, books, vases, jewellery, coins, pipes, and so on).  Chloe says "I really wanted to bring the still life painting to life. The bride dressed in delicate lace and gentle fabrics embodies purity and hope. The colours and elements surrounding her have meaning and symbolism of their own, and together they tell a beautiful story. The Botanical Gardens added the rustic and natural element. It blended seamlessly."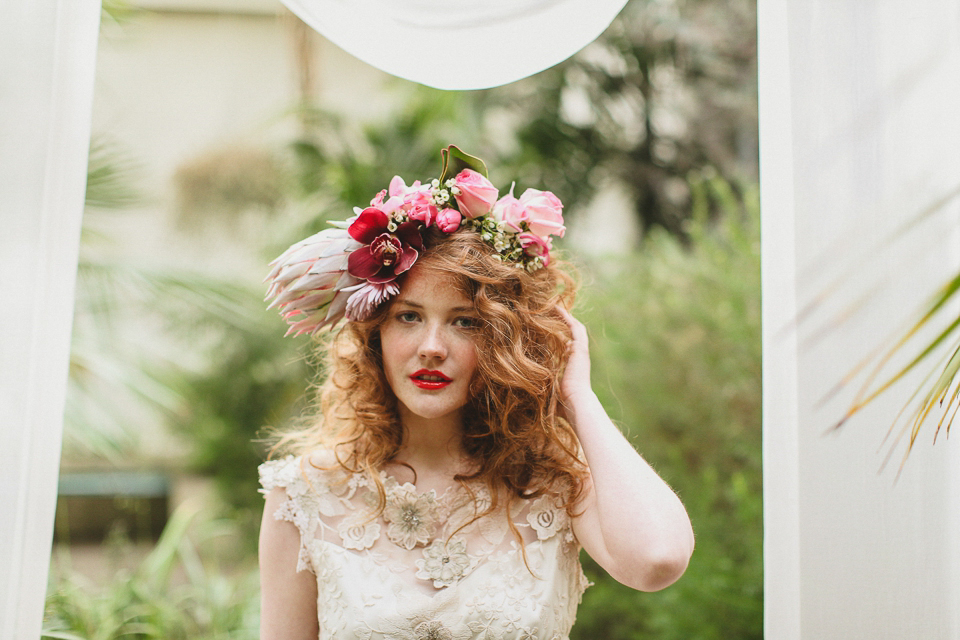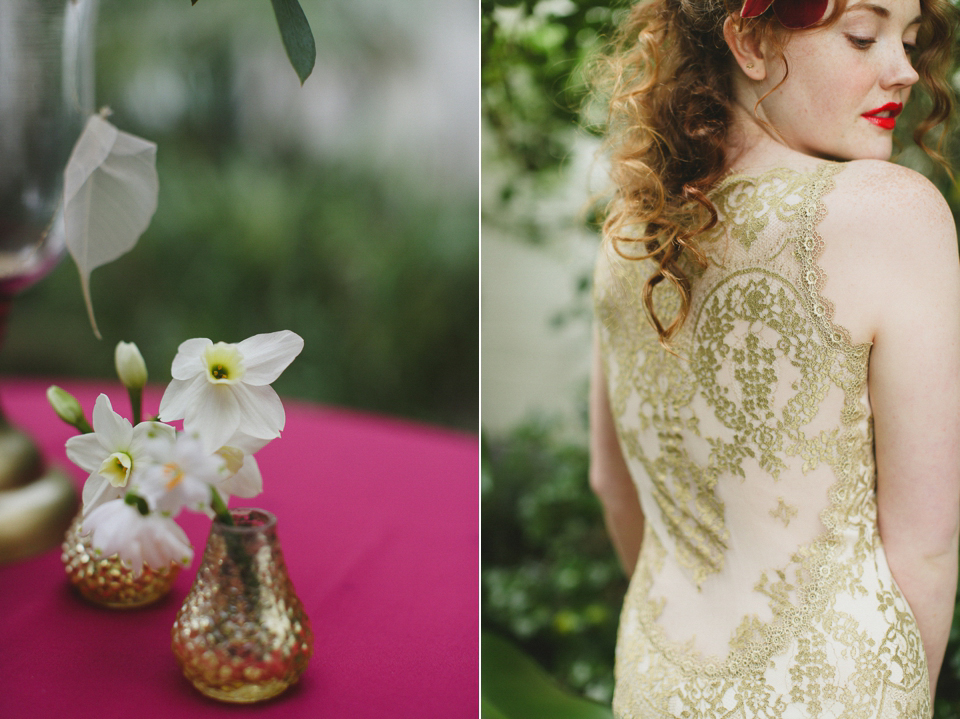 'Jenn Edwards was in charge of the hair and make-up and Charlotte from Eden and Eve did the table styling. We worked so fluidly together and the looks were just amazing. We wanted to really capture the beauty of the gowns but focus on the overall styling too, something The White Room is immensely passionate about.'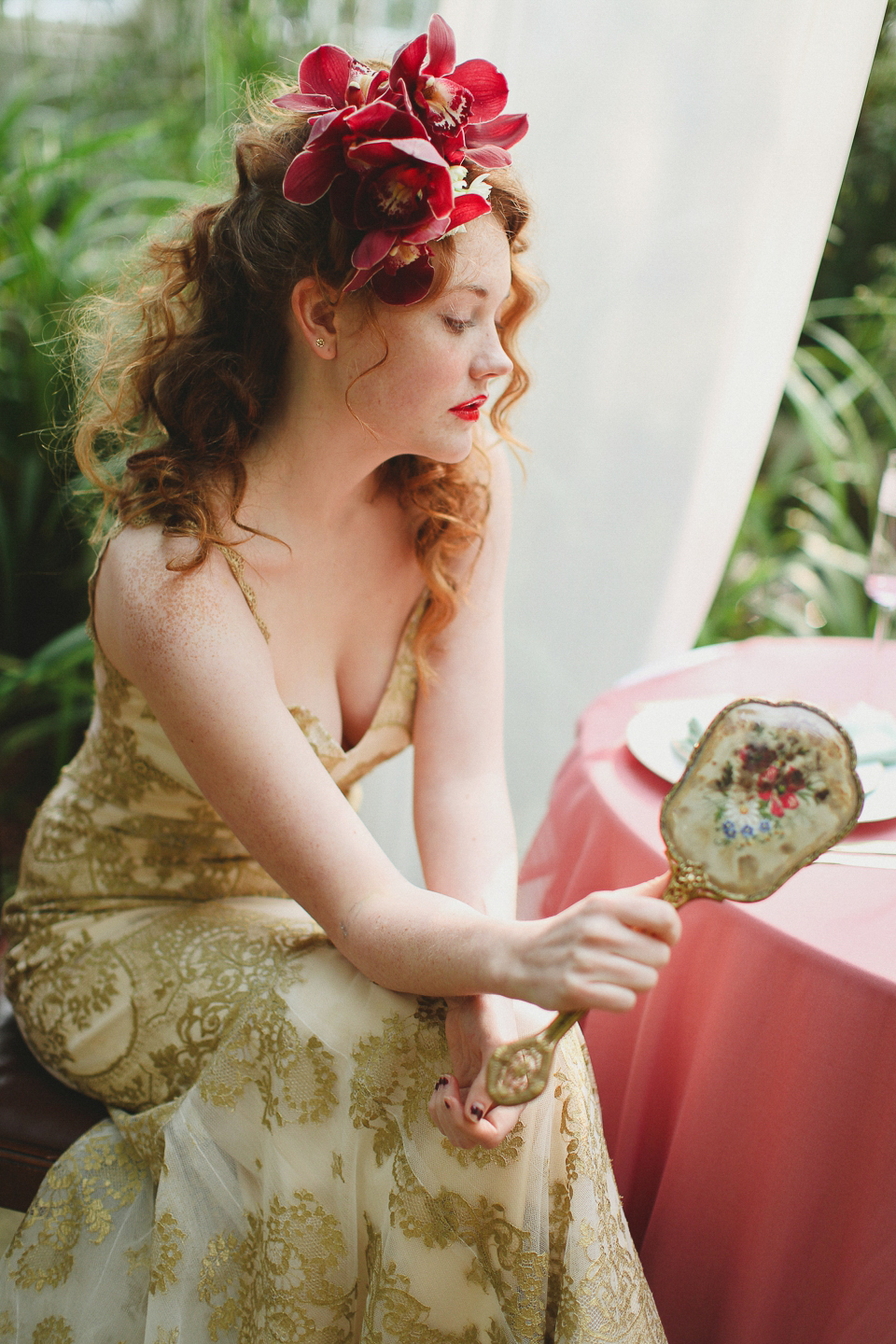 'We used from the Still Life Collection Papillion, Raven, Alchemy (gold) and Iris. We also used the wonderful Viola from the Windsor Rose China which we paired with the amazing floral headpieces by Campbells Flowers. We also used headpieces by Debbie Carlise and Enchanted Atelier as well as shoes by The White Room's designer of choice, Rachel Simpson.'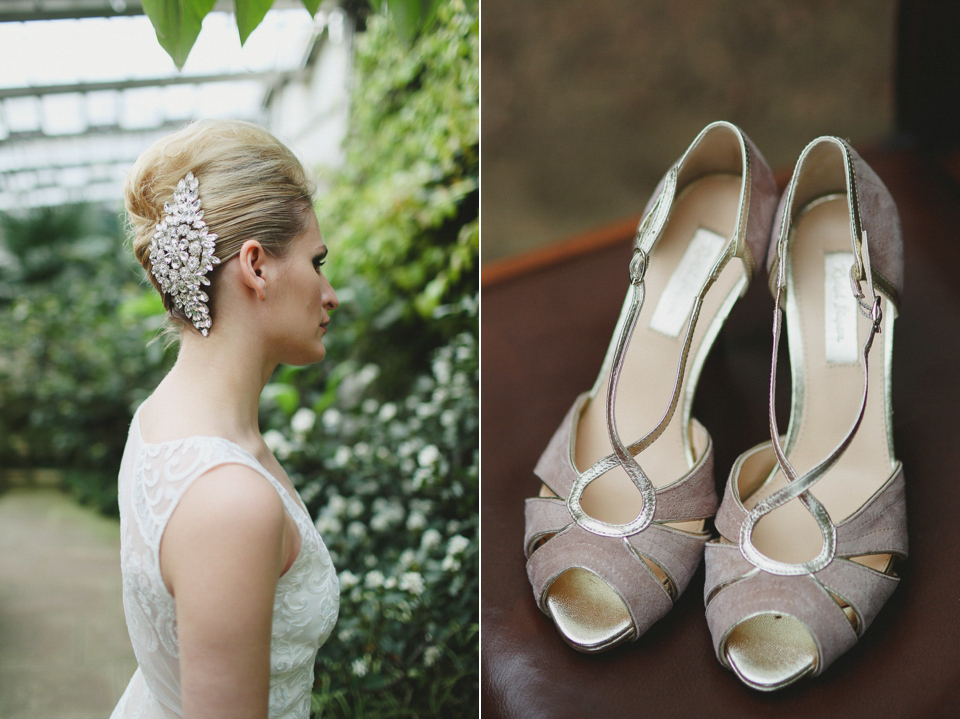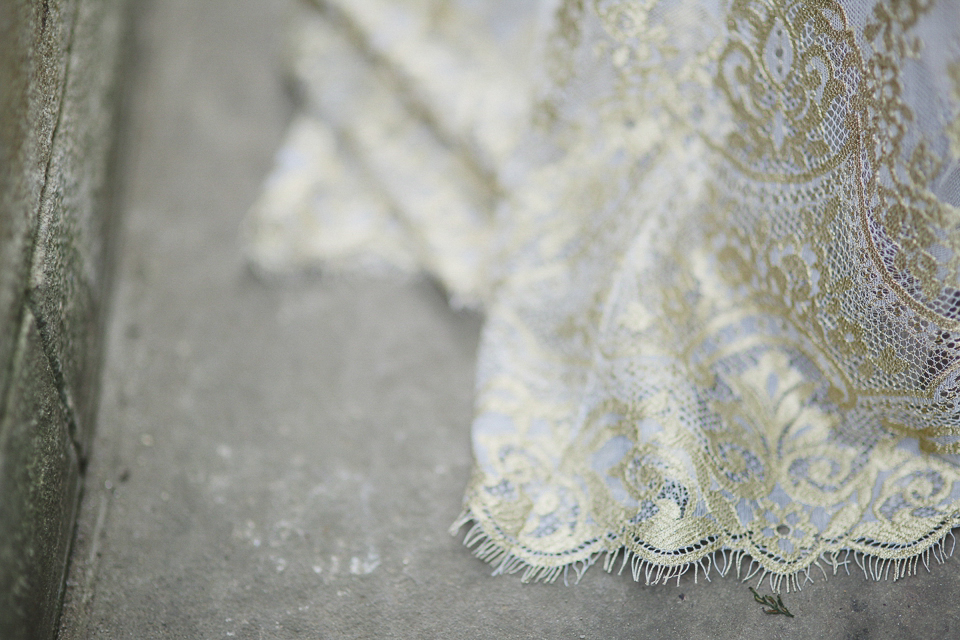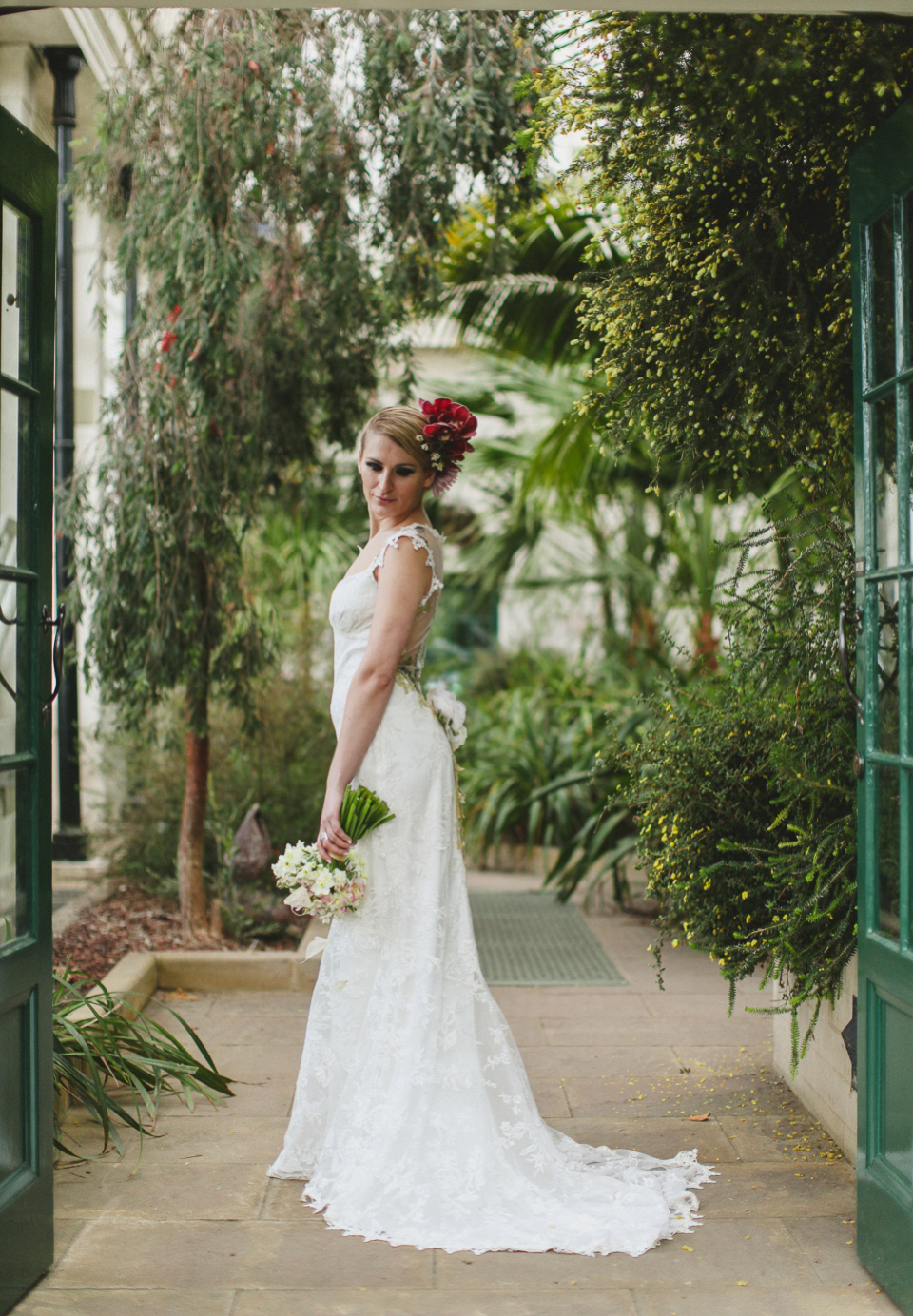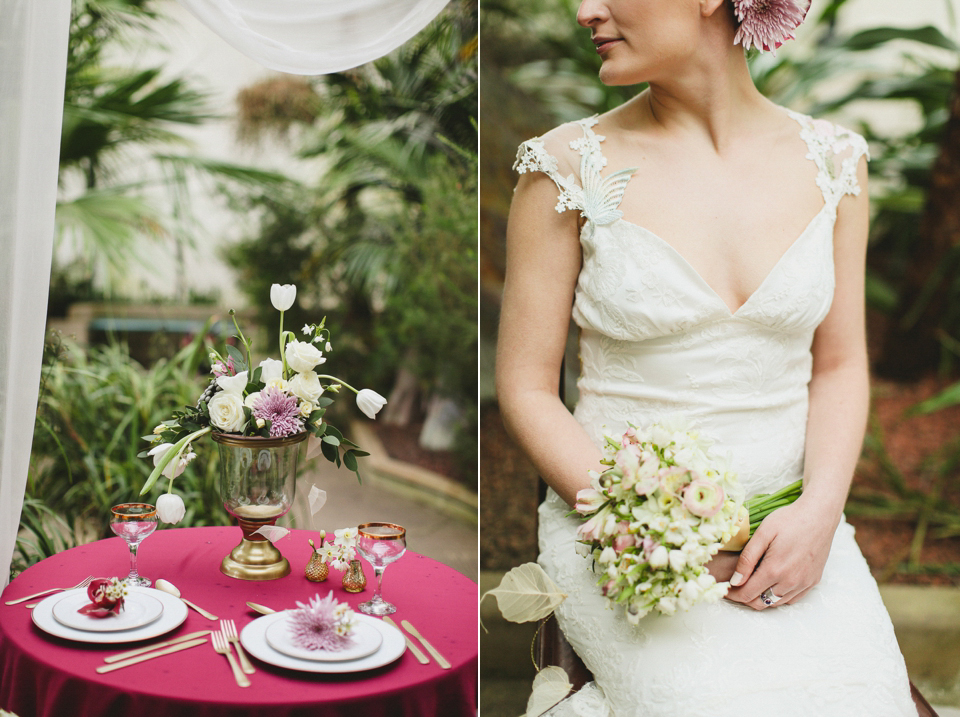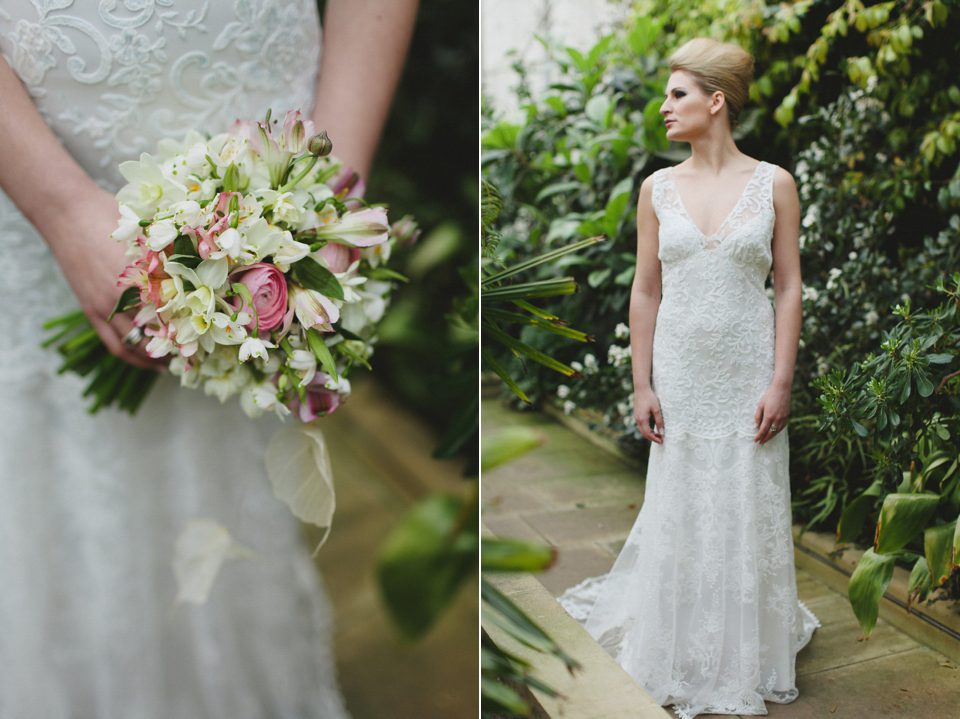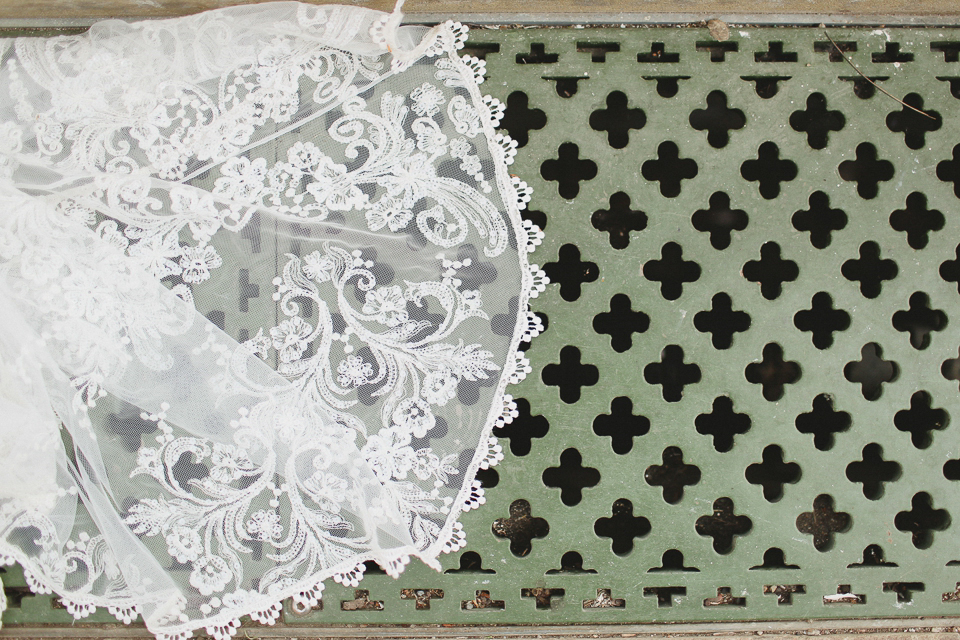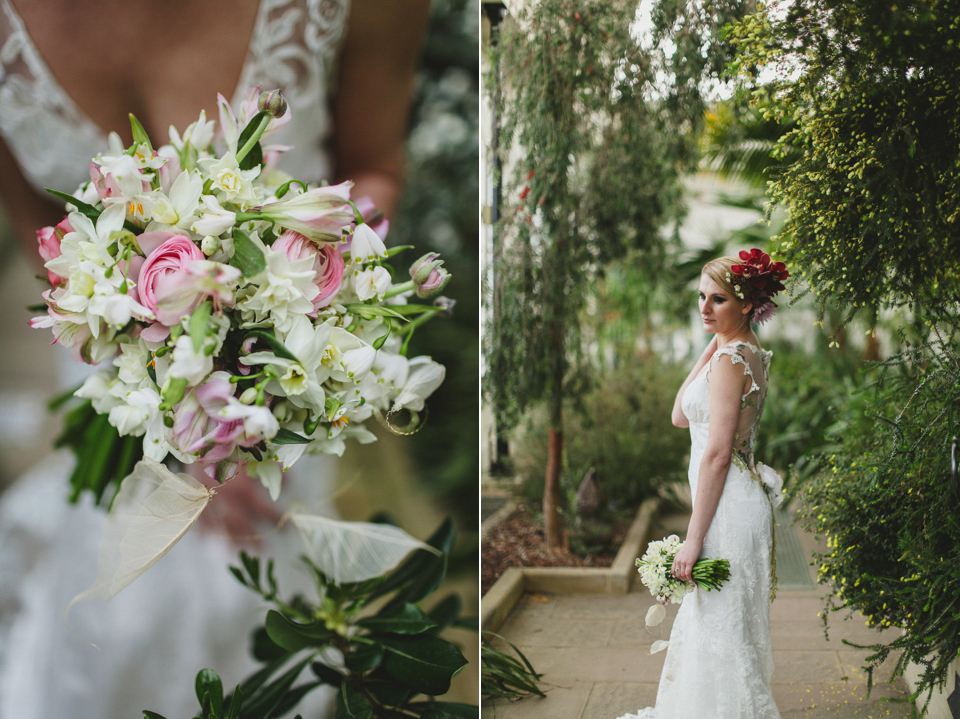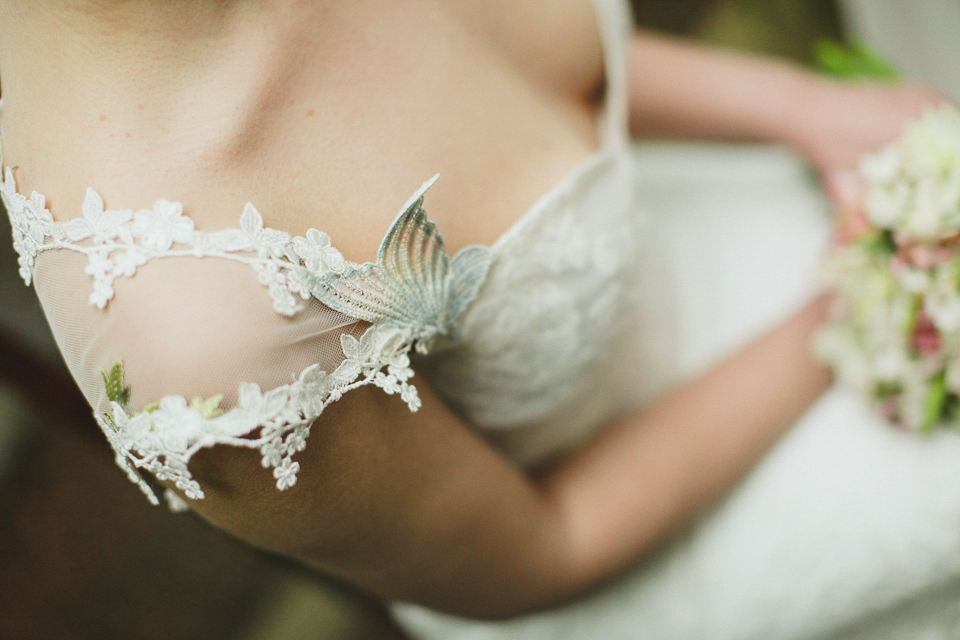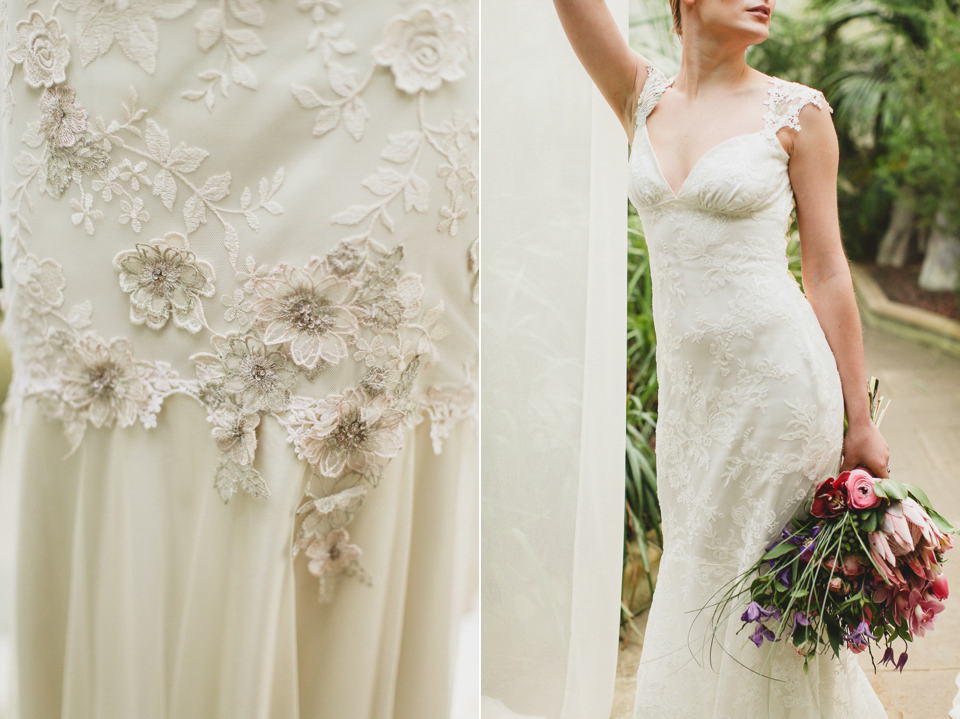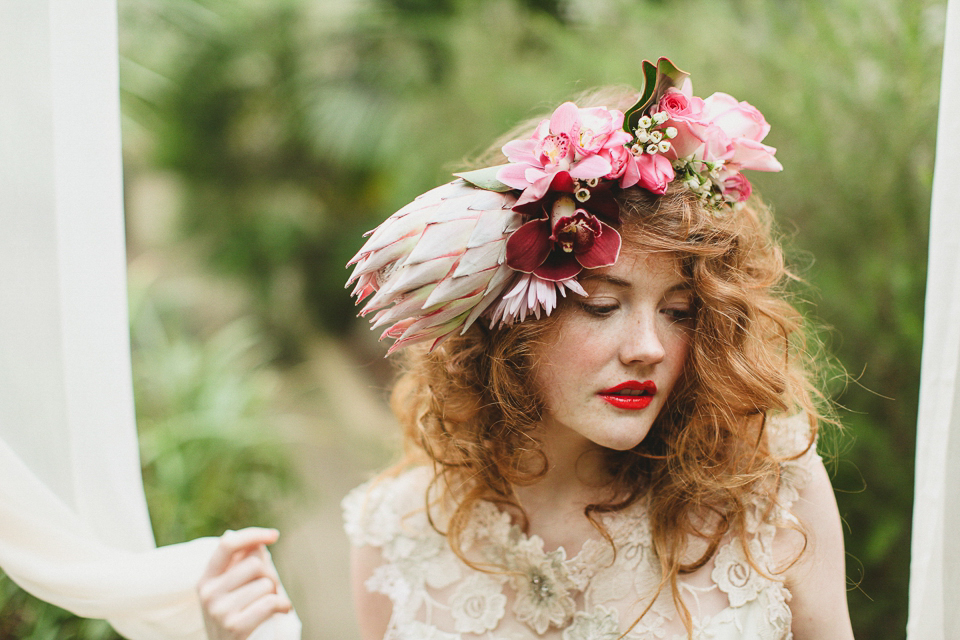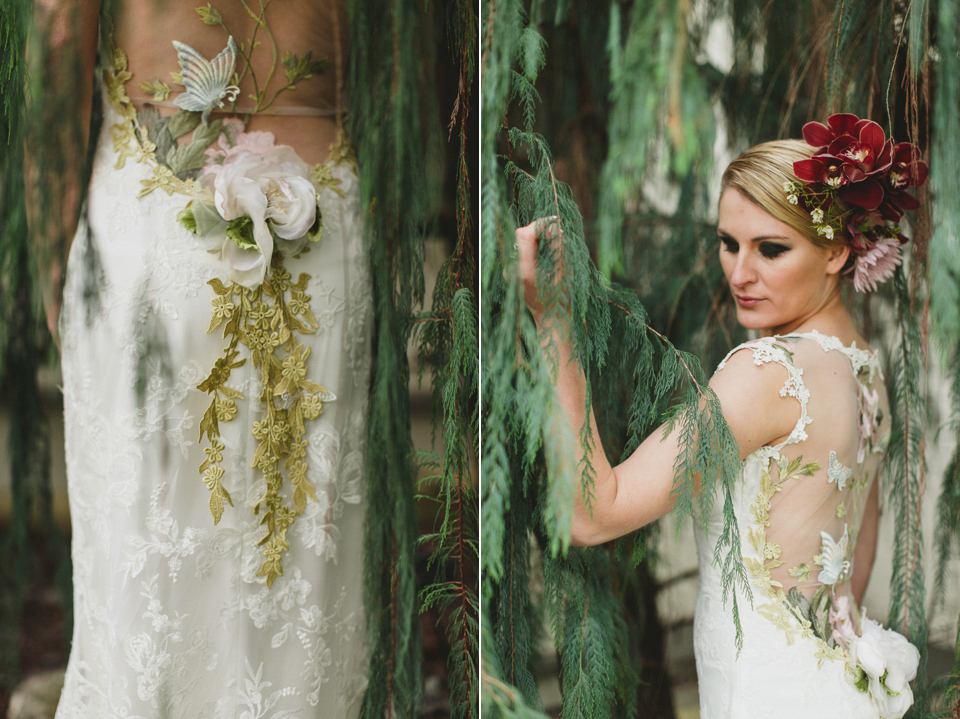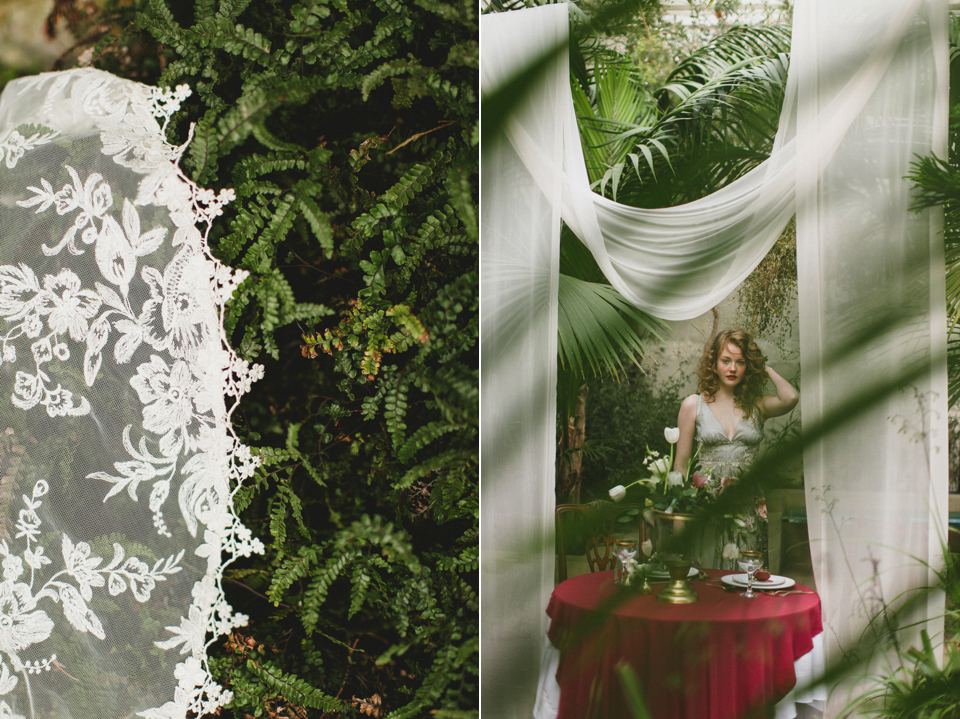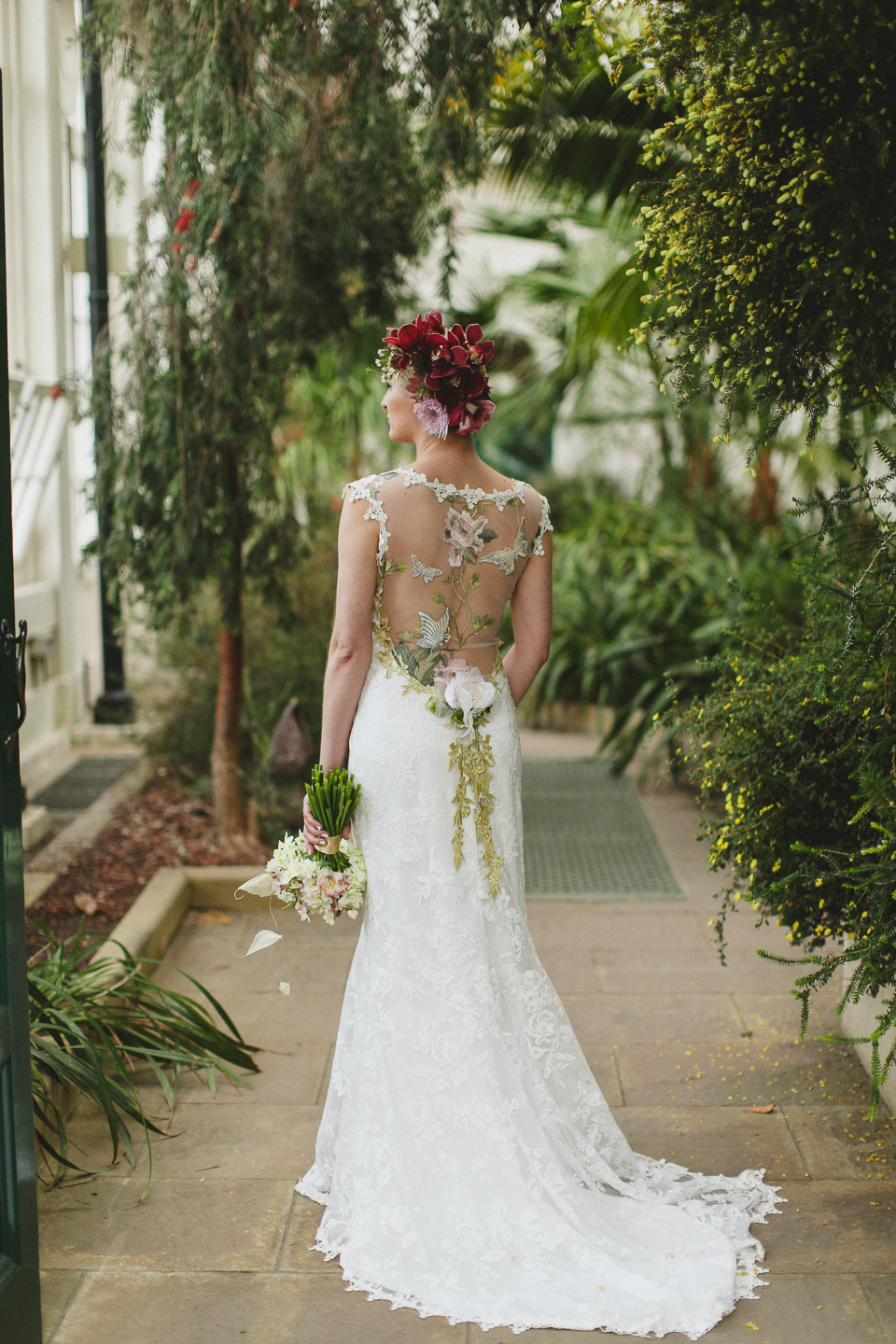 Floral design inspiration by Campbell's Flowers :
"During our creative get-together, Chloe explained that although Claire Pettibone is known for her intricately detailed, ethereal designs, this new collection also features a quintessentially feminine but slightly darker, more mysterious side too.  In terms of the overall look and feel I felt the floral designs should reflect a sense of  light and shade and different facets of  the designs – one incredibly pretty, in soft blushes and the other slightly more edgy, confident, using a slightly more strident and opulent colour palette with more of a couture feel.'
'To achieve a really natural, simple, feminine bouquet I used seasonal British grown blooms in pretty pastels of rich creams, shell pinks and champagnes. I decided against foliage, in order to let the flower really shine through, and used ranunculus, alstromeria, sweet scented narcissus and the most adorable giant snowdrops, finished with a delicate trail of skeleton leaves."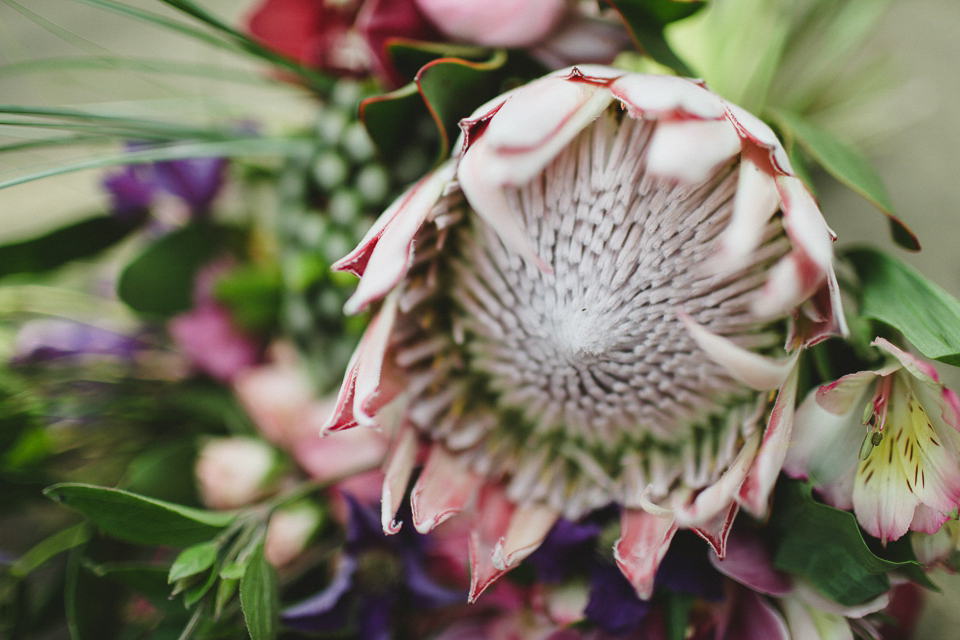 "To showcase the very latest trend, I then created an over-sized, uber-unstructured  bouquet full of textures,  lots of cascading foliage and really exotic blooms including cymbidium orchids and my tip for one of next year's must have blooms – King Protea.  Colours were rich burgundies married with mid pinks and lovely grey-greens which were followed through in the striking head piece I created. I absolutely loved being part of this fabulous shoot – especially as I was given a really free hand by everyone to really express myself!"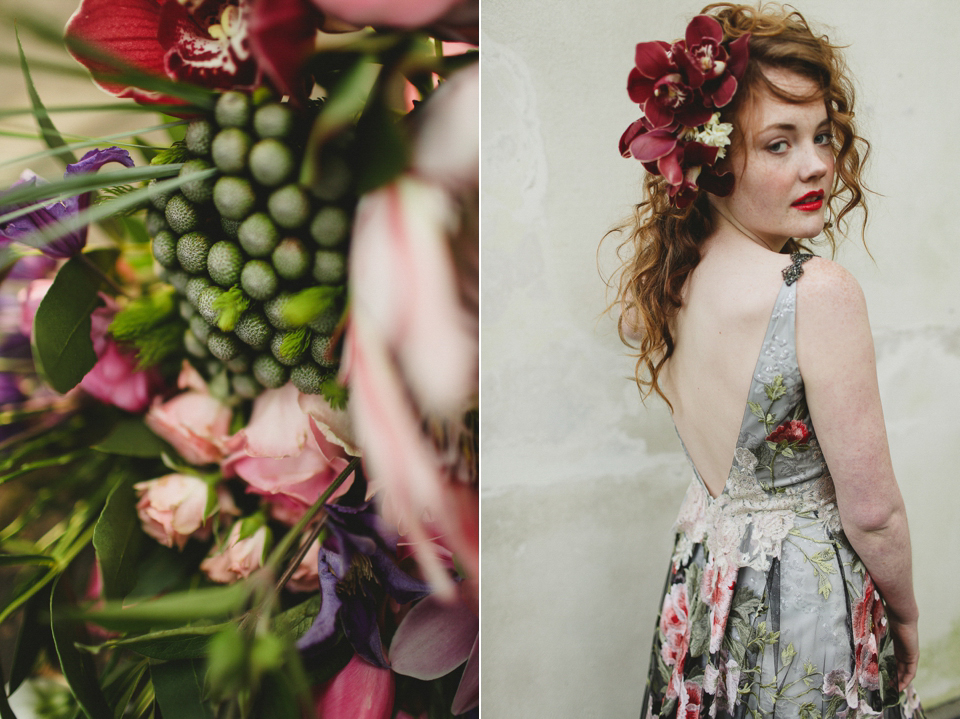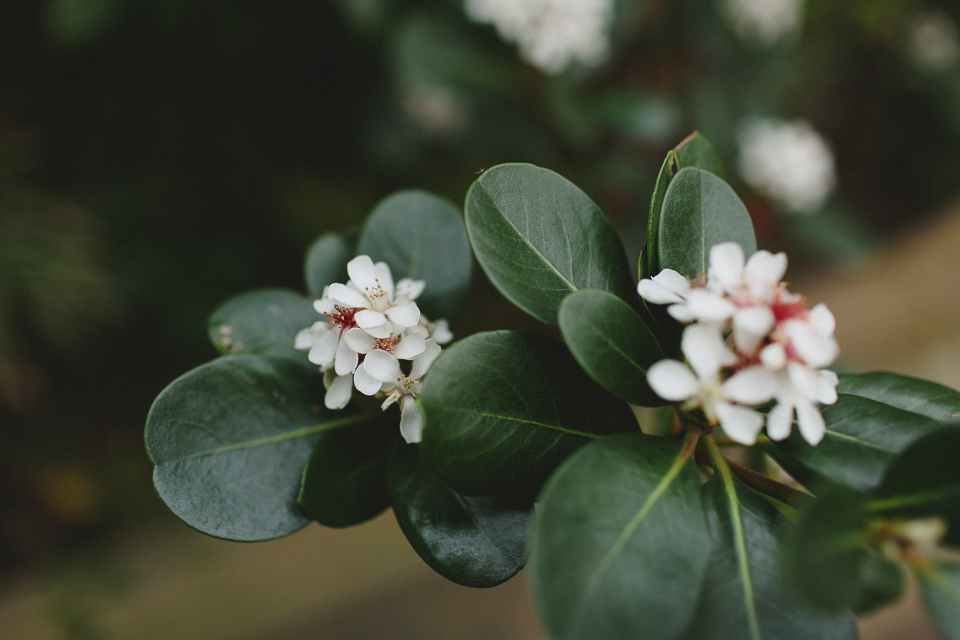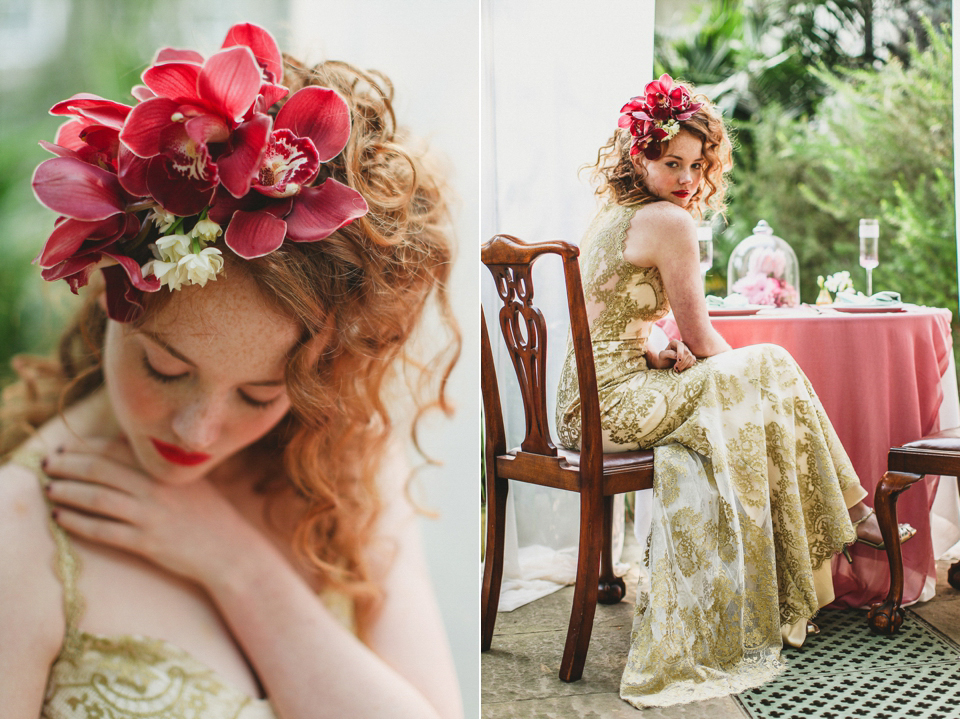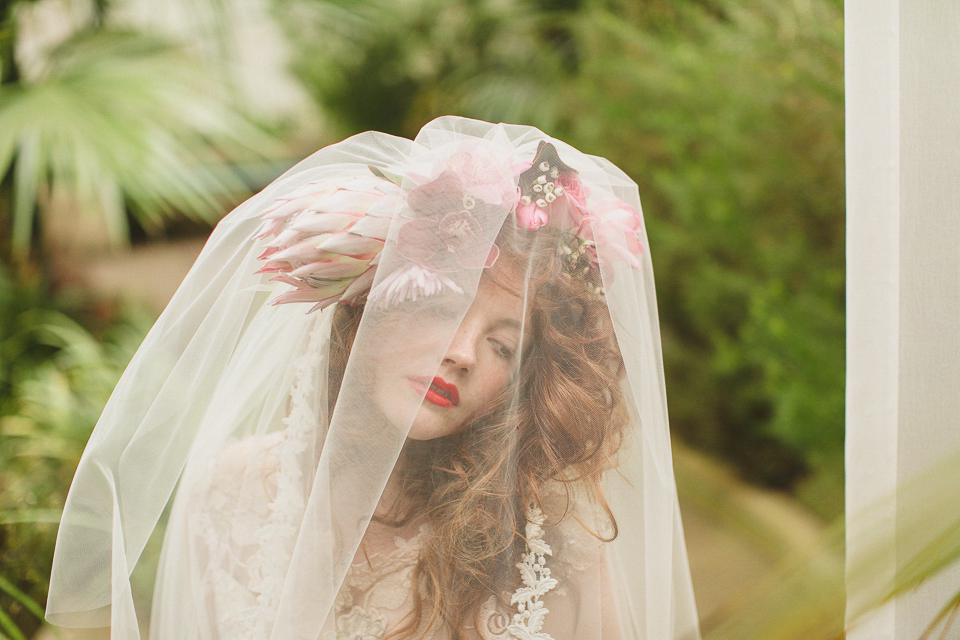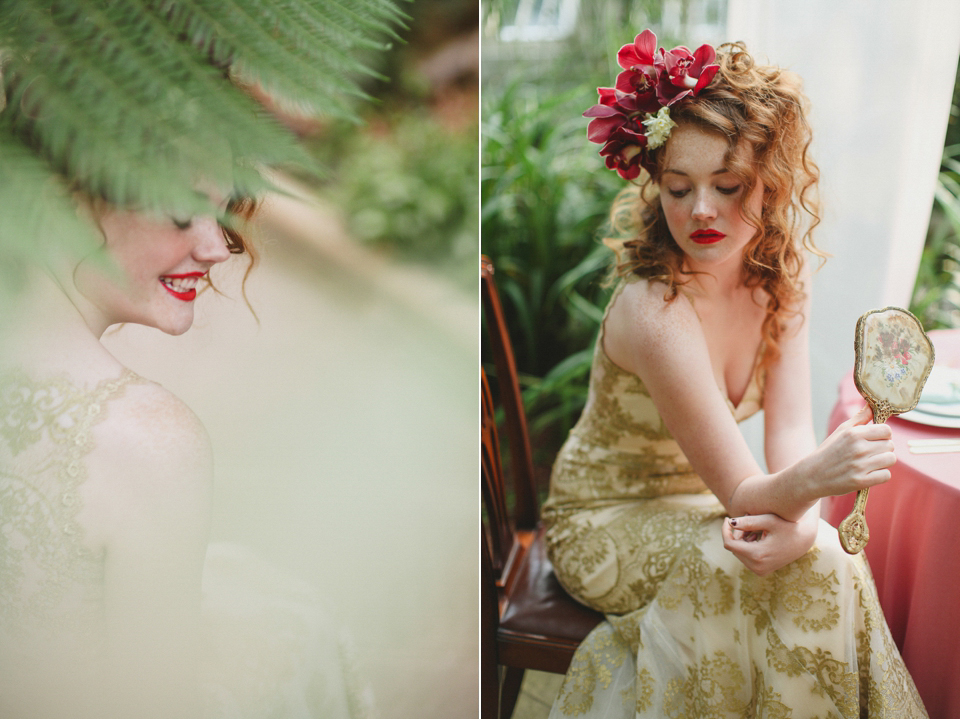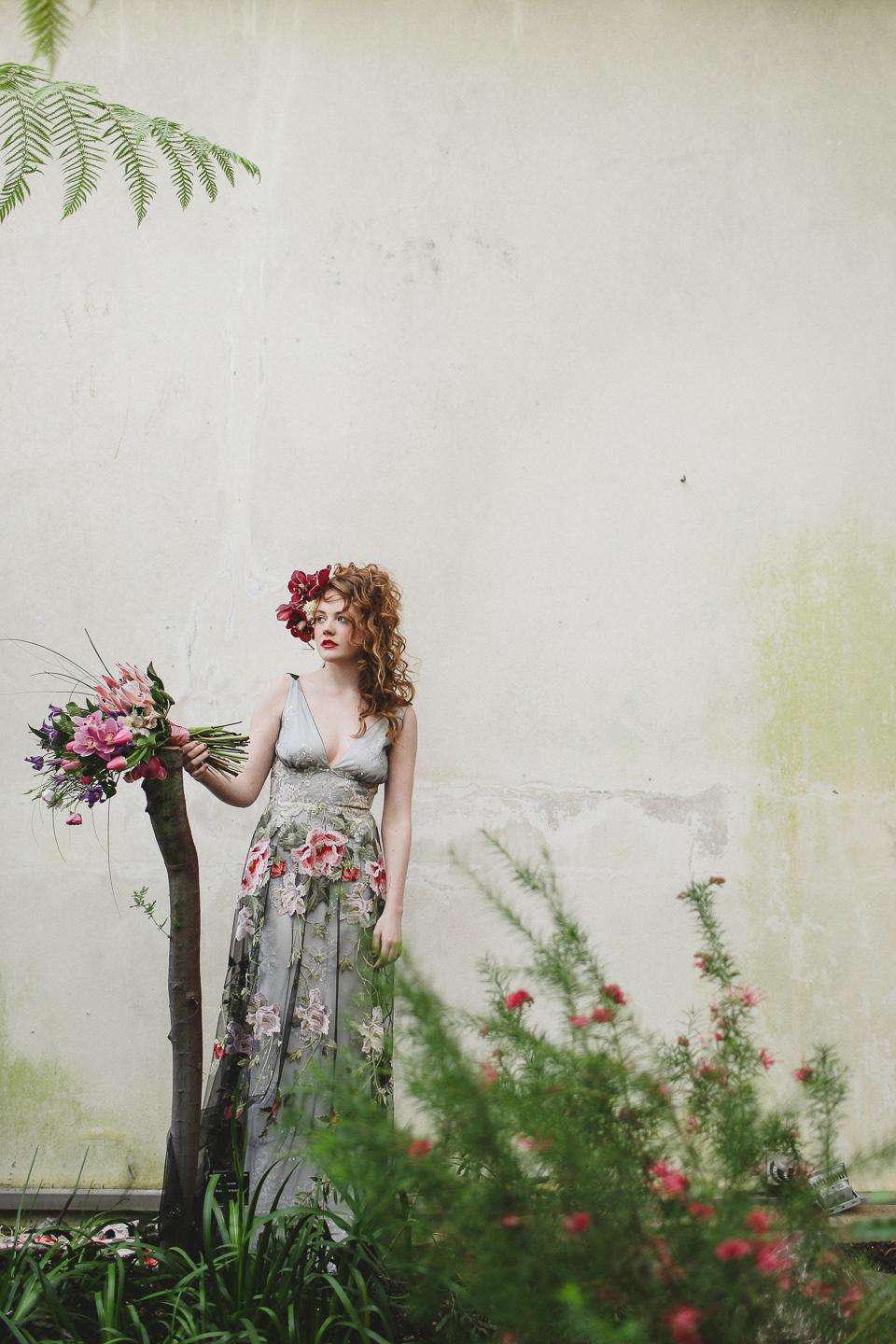 Just utterly divine – enjoy these beautiful images everyone, and do say hello if you're a Claire Pettibone bride, I'd love to hear from you.
A huge thank you to the talented creative team who produced these inspiring images, but in particular Chloe of The White Room Bridal for choosing to share these images with Love My Dress®.
Love Annabel
Stylist – Chloe Curry from The White Room
Photographer – Jess Petrie
Hair & Make-up – Jenn Edwards Bridal Hair and Make-up
Gowns – Claire Pettibone's Still Life collection at The White Room
Floral Design – Campbells Flowers
Table Setting – Eden & Eve
Stationery – Phylecia Sutherland