Us girls come in many different shapes and sizes and being that you want to look and feel your very best on your wedding day, the silhouette of your dress is something to carefully consider.
Sure, for many of you, you'll try on 'the one' and it'll be a done deal, but some blushing brides out there simply don't know where to start. Take a look at our guide below with simple tips on choosing certain styles to suit you and that might just take some of the sting out of beginning your search.
Petite
The petitely proportioned amongst us should steer clear of fuss and clutter. Rather than get lost in frill and flounce, focus on form-fitting shapes and longer lines to make you appear taller. A high waistline and straight skirt will elongate your legs and slim your figure.
Models on left wear Johanna Johnson, Top right model wears Otaduy (photographed by Nieves Álvarez), bottom right model wears Carolina Herrera
Column
For those that may be a little tall and willowy, feminine details look fab – soft gathers and frills will add volume to your shape, whilst pleats can add a more structured, contemporary look. Heels will also help with your posture and allow softly draped dresses to hang beautifully.
Clockwise from top left, Jenny Packham, Christos Costarellos, Inbal Dror, vintage image, Zuhair Murad
Apple
Those with similarly proportioned middles can accentuate their shape with tailoring, such as dresses with a little structure including cap sleeves or a cinched waist. Flat fronted styles that drape from the waistline can lengthen your silhouette, as will a v-neckline. Heeled and wedged sandals will show off shapely legs too – we love a peep toe with this look!
Modesl on right wear Jenny Packham, models top and middle left wear Monique Lhuillier
Pear
Flat fronted styles will again extend your silhouette if you have a small waist and wider hips. A thin belt or cinched detail can also help to balance proportions, as will cap sleeves or a style with subtle shoulder pads. Strapless styles also look beautiful with a fuller skirt.
Clockwise from top left, Elie Saab, Elizabeth Stuart, Image via Rachel Ash, Elie Saab, vintage image
Vase
Soft details like waterfall necklines, or, in-keeping with current trends, draped cut-away backs will balance your shape. Avoid too much detail around your widest parts, such as the hips or chest, rather, emphasize the shoulders and waist with pretty, feminine touches such as soft frills, a satin belt or embellishment.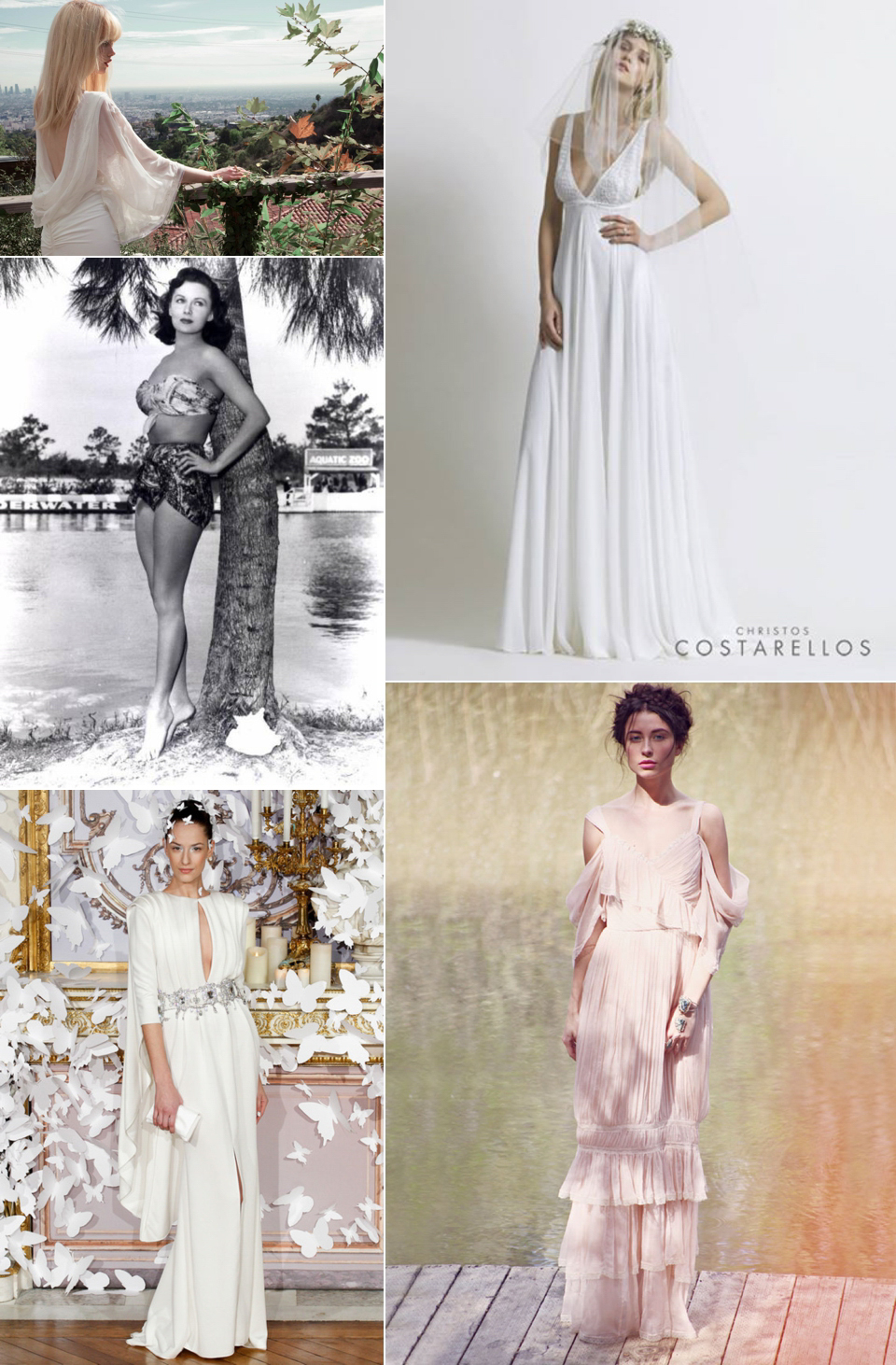 Clockwise from top left: Inbal Dror, Christos Costarellos, Free People, Alexis Mabille, vintage image
Athletic
Shorter lengths look great on athletic figures – an A-line skirt or shift with a matching jacket nods to vintage styles whilst keeping your look on-trend with the hottest bridal designs. Thin, camisole-style straps work wonderfully with sporty frames, as does an asymmetric neckline, adding detail and a feminine touch to the cut of the dress.
Athletic shapes can also carry frills and ruffles, which look beautiful as decorative volume on full skirts.
Clockwise from top left: Candice Lee, Marchesa, Marchesa The Lane, vintage image, Elizabeth Stuart
Hourglass
A typical hourglass shape can be accentuated with emphasis on the shoulders such as a lace or embroidered sleeve or embellished neckline. A-line full skirts should be cinched at the waist with a fitted top, whilst straight column skirts and a glamorous fishtail will enhance those feminine curves.
Clockwise from top left:  vintage image, House of Mooshki, Zuhair Murad, Marchesa, Christos Costarellos
Which body shape would you consider yourself and what kind of dress have you gone for or are you planning on going for?
Love Sarah-Leigh
As well as being our regular fashion contributor, Sarah-Leigh Bunting is the International Contributing Editor for Olivia Palermo.  She also co-runs events and communication agency What Peggy Did Next andis the lady behind Bridal Boot Sales.  You can enjoy Sarah-Leigh's own wedding here.
The Bridal Boot Sales are fab for picking up finishing touches for your big day and will soon be opening their doors in Hampshire and Wiltshire. Don't miss Sunday 18th May at Penton Park, North Hampshire from 11-2 and Sunday 8th June at The Manor Barn near Salisbury, Wilts, 11-2. Check out their website for more details at bridalbootsale.co.uk.
Follow Love My Dress® on Google+