I've long been a fan of Scottish wedding photographers Craig and Eva Sanders – their fine art style wedding photography has been filling these pages with prettiness for the past few years now. They seem to capture whatever wedding they have been commissioned to shoot with such elegance and grace, which is never more evident than it is in these images today.
Claire, who works for a university, married Geophysicist Mat on 29th September 2012 at The Lodge in Argyll.  The couple had the stunning natural landscape of Bute as their backdrop. The date was selected especially as it marked 10 years to the day since Mat first asked Claire out – apparently on the X12 bus from Leamington to Warwick campus! 🙂 "As physicists we both appreciate symmetry – plus it means Mat only has to remember one anniversary!"
Photography Copyright (c) 2012, Craig and Eva Sanders
"Although we've both had a secure base growing up – in Essex and Berkshire, neither of us had lived at home for over a decade. Scotland means something to both of us. During our two years in Aberdeen, whether with work or leisure, we were lucky enough to travel throughout Scotland. Some of our favourite places in the UK are scattered up and down the west coast." According to Mat, the couple first met after enrolling on the same teaching course at Warwick University."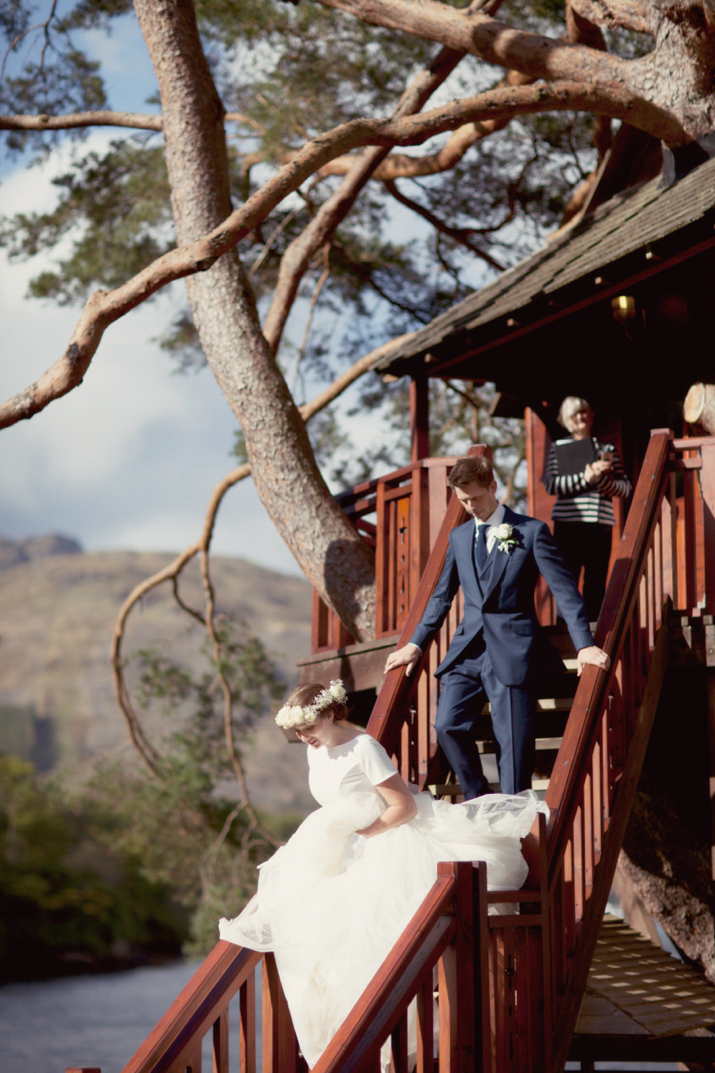 "I'd only signed up because of the free food but it turned out to be quite a life-changer! Claire and I were in the same discussion group. I first noticed her after she went on a rant about private schooling. When the lady in charge asked if anyone there had been to a private school, mine was the only hand in the air."
"My maids wore dresses from Oasis with blush pink pearl and rose bracelets that I ordered from Etsy. I made gift bags up for each of the bridesmaid's and gave these to them the night before. They included a coordinating nail varnish, clutch bag, face mask, and the bracelet.
Mat selected a vivid blue for his suit. This (helpfully) narrowed down our choice of colours for the bridesmaid dresses. I had something fairly neutral, like a black, navy, or 'blush' pink in mind. My three bridesmaid's are all completely different shapes and sizes – including one eight-months pregnant sister-in-law! – so the dresses were quite a challenge. I wouldn't have minded three different dresses, each reflecting their individual personalities, but in the end we found one. I had the dress adapted for the 'bump' using extra material, which I sourced from fabric suppliers on Goldhawk Road, London."
"Cherry (the florist at the Lodge) made my floral crown for me. I sent her pictures of similar styles and shapes I liked. I also posted up a piece of ribbon, which I measured to fit my head exactly. She used this to get the size right.
I also wore a pair of pale green stud earrings from Accessorize and in the evening I changed these to a pair of diamante bangles and matching larger, drop earrings, also from Accessorize.'
I love how Mat recalls the proposal… "I knew I wanted it to be where I'd first asked Claire out. Unfortunately for me, that was on the X12 bus, just outside of Kenilworth. Now most people know I'm not particularly sentimental but there can be rare exceptions.
It started off with a surprise weekend to Leicestershire, then back to Warwick campus on a sneaky day-trip. After some reminiscing we drove off towards Kenilworth. Don't mess it up! My plan went like this: pretend there is a problem with the engine, pull over in a safe-place, walk around the car and drop to one knee. Unfortunately I walked around the back of the car (Claire helpfully pointing out that the engine is at the front). Only when I opened her door did she twig. I probably should have planned what to say as it was hardly an Obama moment. Anyway, a quick return of the ring and shopping trip later and here we are."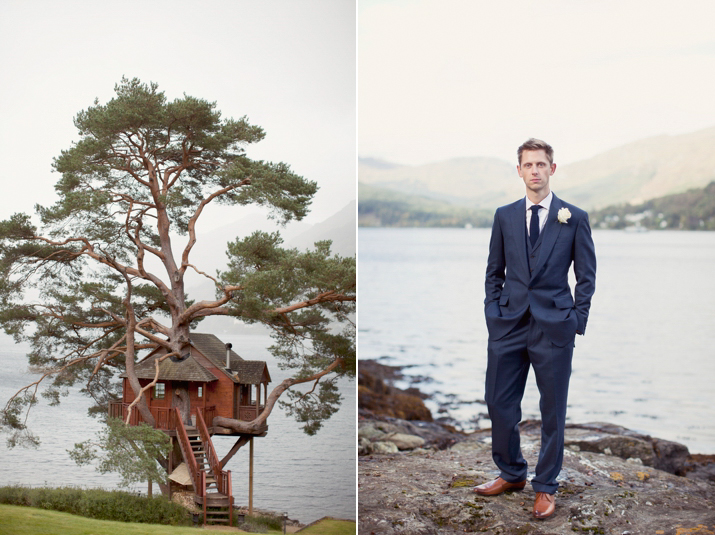 Claire's version is "My friend (and bridesmaid) Holly mentioned she was signing up for a teaching course (one evening per week and a 4-week block placement) while we were studying at Warwick University. Being a student looking to fund a summer holiday, I joined her! Before the first session started, the register was passed around. I scanned it and managed to work out Mat's name (good start). A few minutes later there was a heated debate at our table with embarrassed faces all round (not so good).
Holly knew Jon (Mat's friend and Best Man) through the Welsh Society so, over the weeks, Mat and I gradually got talking during the free buffet, which followed each session (Mat was only there for the food!)."
"My shoes were Vivienne Westwood's 'Lady Dragon' design in pearl with pink hearts. These were a chance purchase. I stumbled across them one day and thought they were perfect."
"I'm really pleased that I did my own make-up. I thought it was important to look and feel like 'me' on the day. A few weeks before, I went to SpaceNK for a wedding trial and bought my products. Steering clear of the usual 'nude' eye and 'red' 50-s style lip, I opted for a dark green eyeshadow, picking up the green in the floral crown."
"We had a spot of luck when, utterly disheartened, I saw a stall at the Olympia wedding show. Two sisters, Geri and Katrinawere there showcasing their 1950s-inspired wedding dresses which they make and sell on the Isle-of-Wight! They had high necklines, medium necklines, low necklines, long sleeves, short sleeves. I saw the quality of their dressmaking and, although I didn't find the exact dress I wanted, I knew they could make it for me. So a few weeks later my Mum and I sailed across to Ryde."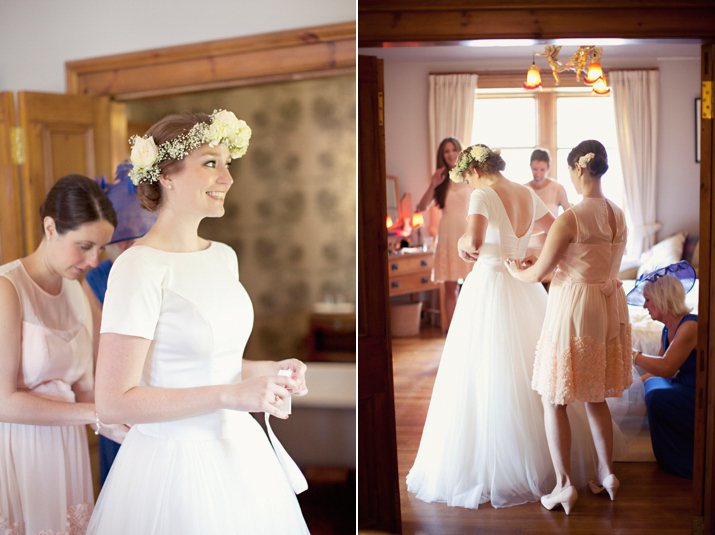 "I think I gave them a real headache with my specification, but they were absolutely fantastic. I wanted a crepe-like fabric with some stretch not the traditional duchess satin (I sourced my own fabric swatches from UK suppliers) nor lace (lace seemed to be everywhere!). I wanted the top to feel fresh, simple (I used to be a competitive Ballroom and Latin dancer so am now completely immune to rhinestones, pearls and trimmings), crisp, structured and modest with definition at the waist, and the skirt to feel 'fluffy' and light – all tying in with Mum's gloves.
The 'vision' was whimsical-lochside-fairy-meets-50's-feminity, and I love that fact that it was unique, but echoed my Mum's dress.
"The natural setting of our wedding guided other design elements too. For instance, my Mum suggested a band of real flowers in my hair, and my dress was partially (i.e. the skirt!) influenced by the setting. The main inspiration for my dress came from my Mum's own wedding dress. If it had have fit, I would have loved to wear it.
It was white, full-length, with short (not capped or half) sleeves and a high neckline. My Mum didn't wear a veil but she wore a small hat and matching gloves. The gloves were my 'something borrowed' and the colour which I then matched the dress fabric too."
"For such a long time I knew I wanted something that was timeless, not strapless. In the last year we've gradually seen more and more choice of necklines and sleeve styles become available but before, when I was hunting, it seemed like strapless was the (only) uniform of choice.
I trawled the internet, looked in so many bridal shops and couldn't find a dress with a high neckline and short sleeves, i.e. which wasn't a dress plus a bolero. In designing my dress I knew it would have to be simple because I wanted the accessories I had in mind – the floral crown and my Mum's gloves – to stand out."
"Our save the date cards weren't 'themed' but were definitely personal. I collect playing cards, mementos from throughout my life. The total number of guests was well under 52, so we sent each guest a card from a Saltire-themed pack with the date written on the reverse. That was their first two clues: 1). 29 September 2012. 2). Scotland. Once we had selected the loch side, the 'theme' followed on from there. I designed and made our hand drawn invitations; they featured the loch, with a bride and groom silhouette."
"Mat's three-piece suit was tailor-made by Cad and the Dandy. He went for a vivid blue (he usually wears a lot of blue and it felt less sombre than black) with an autumnal-inspired vibrant lining. His tan leather shoes were from Ted Baker. He wore a knitted tie in navy for a touch of texture, and his Dad's cufflinks." Florist – Cherry (in-house florist at The Loch) "My absolute favourite flowers are peonies but, unfortunately, these were out of season. I was torn between a full, old-fashioned style rose and a hydrangea. In the end I opted for roses for my bouquet, and those of the three bridesmaid's.
I matched some ribbon to the bridesmaid's dresses and posted this up to Cherry in advance. She used this to select the flowers for the bridesmaid's bouquets. I wanted a full, visible bow around my bouquet. In addition, I tied a less prominent blue ribbon around it as my 'something blue'."
"My Dad walked me down the aisle and gave his blessing (when asked) near the beginning of the service. As my Dad had this traditional role of walking me down the aisle, and would later deliver the speech at the reception, we thought it would be nice to have special roles for our Mums. Our Mum's co-signed the wedding schedule when we signed it in the treehouse, during the ceremony."
"As we were opting for a Humanist service, any venue was a possibility. We really wanted an outdoor wedding. The idea being that the focus of the service would be us and the words being spoken, not the building we were in. The landscape provided the backdrop we needed – it was the 'venue'. Also, before we started planning the day, when imaging where I would get married, I always envisaged somewhere close to water.
We both entered into the daunting hunt for a venue, with (semi) open minds. That is, we had just three constraints:  (1) It must be small. We'd only be doing this once so, when making our vows, those who should be there are the ones we couldn't imagine doing this without. (2) It must be somewhere where us, our family and our guests can be co-located… so we were all 'in it together'! (3) It must be somewhere remote. After moving back to London it always feels good to escape the hustle and bustle. The aim was for everyone to retreat and relax, armed with hiking boots and sporting a holiday glow. Oh, OK, so there was a fourth, although this was implicit: (4) It must be somewhere non-religious – which meant no church.
One post-Christmas whirlwind tour of the west coast, 1122 miles, 4 long days, 16 self-imposed 'venue questionnaires' (we do not joke!) and a lot of black pudding later, we were really chuffed with what we found."
"The order of service were my own design, and something I felt was important to get right as the service was our primary focus. We wanted the order of services to tell a story and represent the two families coming together, whilst featuring photos of our parents and their parents on their wedding days. We made them double-fronted so the 'Thorne story' was told from one side, and the 'Wingham story' from the other. I stamped our names, 'Thorne' and 'Wingham' on the front and back covers, and bound them like a book by stitching them on my sewing machine.  The idea was for the guests to start reading them from either end (depending on what side of the aisle they were sat on) but for all guests to reach the same point: the center pages representing 'the present', our service. I used the same card and font as with the invitations."
"It was important to us to make traditional vows – echoing those that our parents made. We were also keen for the service to not be brief, and over with in a few minutes. We wrote the whole service ourselves, including a script for our wonderful Humanist Celebrant, Belinda. With guidance from Belinda, we made every word count. As well as personal and emotional, we wanted it to be fun and celebratory."
"We included five readings (read by our three brothers and Belinda) and two songs for everyone to sing: 'Autumn Days' by Estelle White and 'What a wonderful world' by Louis Armstrong. The former was a song I used to sing in school assemblies. It felt right for a September wedding, and light-hearted and uplifting. We also included a 'secret bit' each in the service, which was Belinda's suggestion.
For this, we both described three things we love about each other and what it is that makes our relationship unique. We sent our passages to Belinda separately, in advance. She read these – touching testaments, full of surprises and comedy – out during the service."
"We picked our five readings carefully. We wanted something that reflected us, or words of 'wisdom' we could heed. It took a long time to decide on, and perfect the three.
An article, entitled 'Strange is our situation here upon Earth' was published in Living Philosophies in 1931, by Albert Einstein. Here is Claire and Mat's reflection…" read by my brother, David. We edited this one so it was read as 'our reflections', how we interpreted it, and what it means to us, rather than the literal prose itself. Both of us identify with the words in the article, in different ways, for different reasons."
"'Marriage Advice' by Jane Wells, read by Belinda, offering us guidance for our 'everyday'. We chose this piece because it reminds us to cherish the ones we love, in the difficult times as well as the good. 'Thoughts on love and life' by Bob Marley, read by Mat's brother, Chris. This magically captures all those everyday, seemingly trivial, thoughts and feelings you have because of, and share with, your partner. 'Union' by Robert Fulghum, read by Belinda just before we made our vows.
Finally, an extract from 'The Velveteen Rabbit' by Margery Williams was read by my brother, Dan. We chose this because it is an elegant, simple illustration of what it is to love. It also reflects the time and experiences we'd already shared together before our wedding day."
"Undoubtedly, our favourite part of the day was the service. It was utterly unique, and personal. It was fun, joyous and melancholy. It was laden with sentiment and meaning. It involved everyone we care about – my Dad, our Mum's, our three brothers (the readers), the Best Man, and the three bridesmaids (my friend, Mat's sister and my sister-in-law). It was hilarious and surprising in places. It was intimate (less than 35 guests in total) and emotional for all. It was everything we could have hoped for."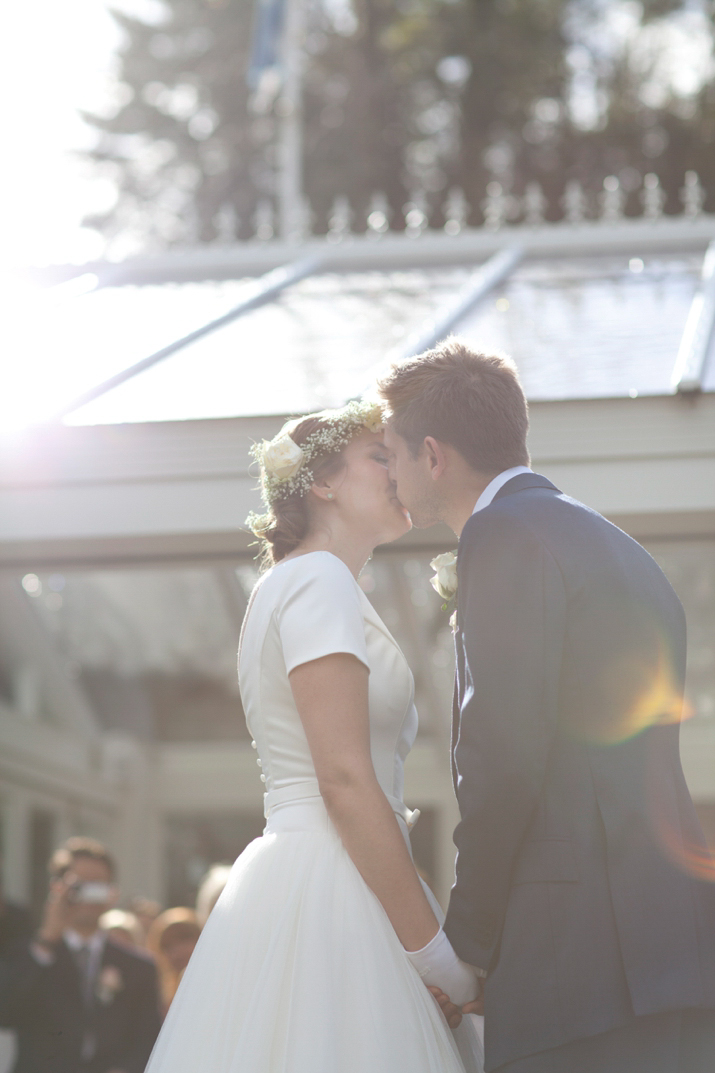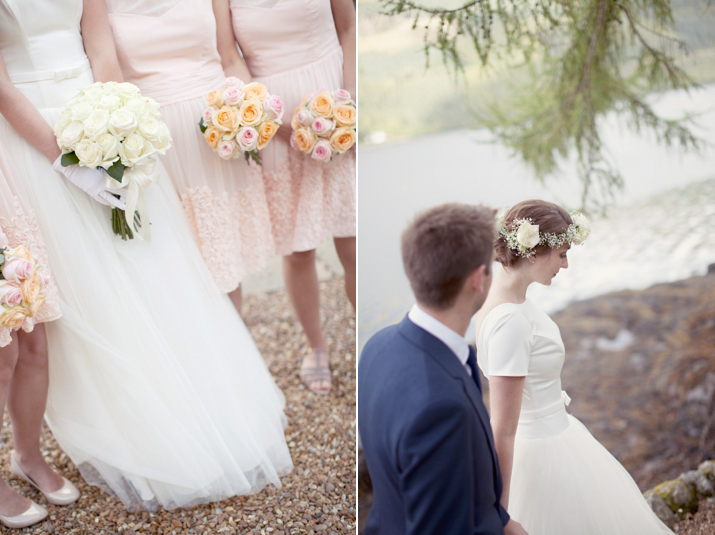 "Mat ordered his ring online for approximately half the cost:  He wanted a silver-coloured, robust band, not plated (so it wouldn't tarnish) so opted for a platinum band.  
I searched for quite a while to find a wedding ring that would complement my antique (c.1910s) engagement ring, in terms of colour, style and size. Mine is a half-eternity diamond and gold ring."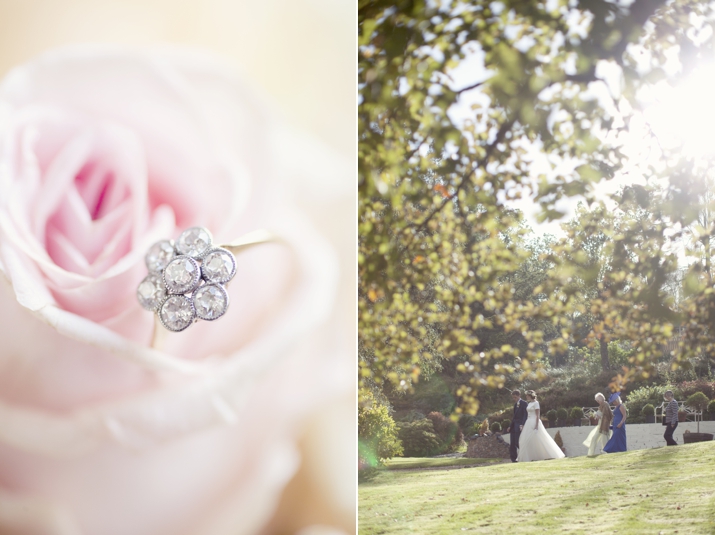 "I made some confetti sachets from greaseproof paper, decorated with stamped lettering reading 'sprinkle me'. Me, Mat and my parents just about finished off filling these with pale blue hydrangea petals and lavender ordered online from Petals and Roses the night before! The sachets were placed on the seats before the service for each of the guests."
"When we first visited the Lodge there were a couple of wedding albums out on display – one was Craig and Eva Sanders. The colours were muted, and the Autumnal colours of the Lodge were captured throughout. We just thought it was magical. Craig and Eva were fab. We met them once before to talk through the types of images we wanted, and the logistics of the day.
Having a 'two person team' was brilliant – it meant Craig could photograph Mat with his Best Man and Ushers in the morning, and during all the preparations. Meanwhile, Eva was with me, the bridesmaids, and the Mums. We definitely made the right choice."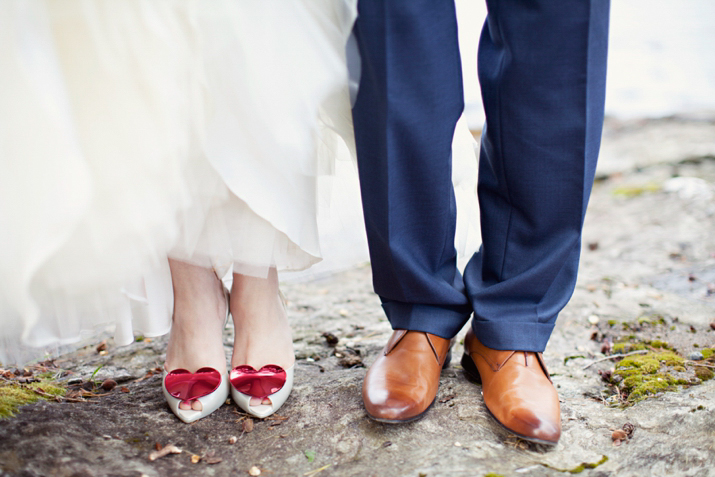 "In lieu of wedding favours, our gift to guests was a Cancer Research UK pin badge, for which we made a donation to Cancer Research UK. I made the 'do me a favour' personalised cardholders for each of the badges, using the same card and font as with the invitations.
We named each of our tables after the six quark flavours (a nod to our particle physics backgrounds): top, bottom, up, down, strange, and charm. The menus, place cards and table plans were printed by the Lodge."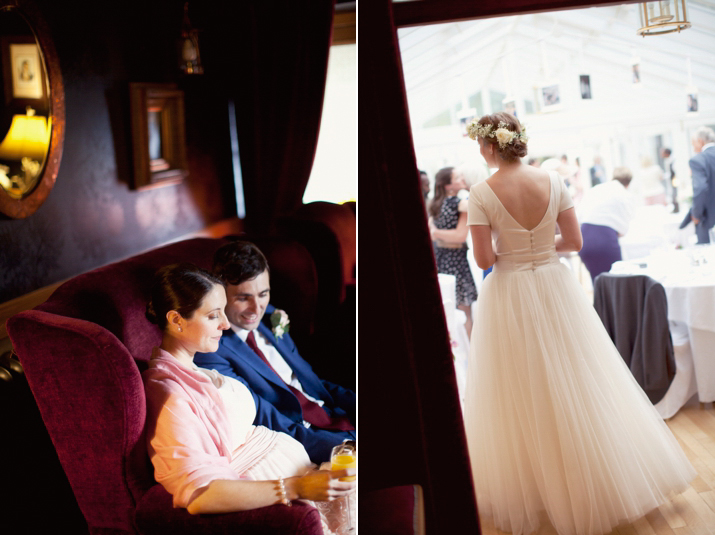 "We had a designated photo at the reception we where asked guests to take a polaroid photo and post this, along with a message, in our wedding album.
I printed A4-size photos to decorate the reception room, hanging them like bunting. Having photos – from our childhoods, of our family and friends, of us together, and of our parents and grandparents on their wedding days – all on display, made the room special, and personal. Mat's brother-in-law James was tasked with making a card box, in which guests could post their wedding cards for us during the reception. The finished product tied in with our theme, and was even lit by integrated fairy lights!"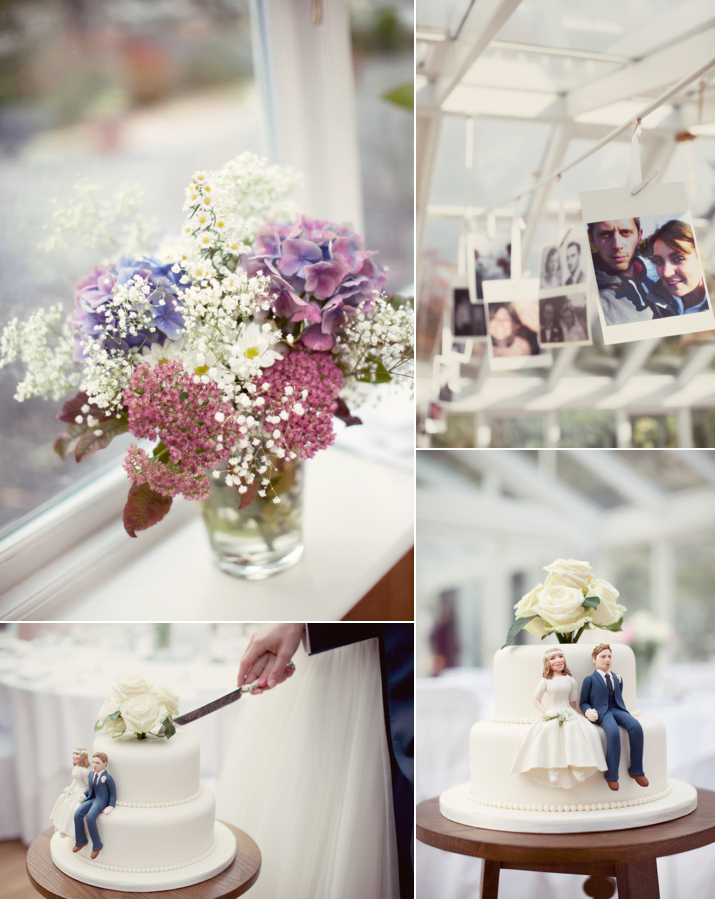 "My Mum (brilliantly!) offered to deal with the cake – the planning, ordering, transporting – as I just didn't have spare capacity to make any more decisions! I asked Mum for something simple, and we knew we wanted us both on there, as little characters. Mum organised the whole thing and a family friend made it for us. The layers were different flavours: chocolate and lemon."
Words of Wedded Wisdom…
"Focus on the service. Make it meaningful and personal. Everything else is decoration. Take your time when walking down the aisle. I was so busy smiling at friends and family, I only saw Mat when I reached the end! It went by in a flash.
Mat rues deciding to hold his stag do just one week before the wedding. In hindsight, with Jon in charge, Mat really needed to allow more time to recover!
The wedding breakfast took a bit longer than expected, which meant the band couldn't set up on time. Hence, we had to sacrifice the Ceilidh part of the set, which we'd planned.
We made our own, free wedding website – as a 'go to' place for guests looking for more information, and help in planning their trip… Kind of like an extended invitation.
Wear waterproof mascara and try not to overdose on too many wedding magazines and fairs beforehand – there are so many decisions to make, you'll end up confused. Know your own style and go with it."
Truly one of the most elegant weddings I've ever shared on Love My Dress®  I hope you love it as much as I .
A million thanks to the wonderfully talented Craig and Eva Sanders and of course Claire and Mat too for sharing their most precious of memories.
Love Annabel
Photographer – Craig and Eva Sanders
Venue – The Lodge, Argyll, Bute, Scotland
Wedding Dress – Forget-Me-Not Designs
Floral Crown – In-house florist
Brides Shoes – Vivienne Westwood
Groom – Cad and the Dandy + shoes by Ted Baker
Bridesmaids – Oasis + bracelets from Etsy
Florist – In-house
Confetti – Petals and Roses
Daytime Entertainment – Erskine String Quartet Evening Reception Band – Groove Culture
Rings – Wedding Rings Direct
Catering – The Lodge on Loch Goil
Hair Stylist – Sparkle Hair and Make-up
Follow Love My Dress® on Google+