A week or so ago, Annabel asked Love My Dress readers what perfume they'd be wearing in the lovely hot weather. The response was brilliant and prompted me to think about ways in which to make scent a big part of a wedding day. We've already seen the wonderful scented stationery collaboration from Cutture and Chapter 7 Scents. I think the idea of carrying a fragrant theme throughout the day is a such a thoughtful, personal touch.
Our sense of smell is something we take for granted but our olfactory memories are what often help us to remember in more vivid detail, we're just not so aware of it. Simply catching a whiff of a certain scent again is enough to bring all the emotion and excitement of a day flooding back. That's kind of magical don't you think?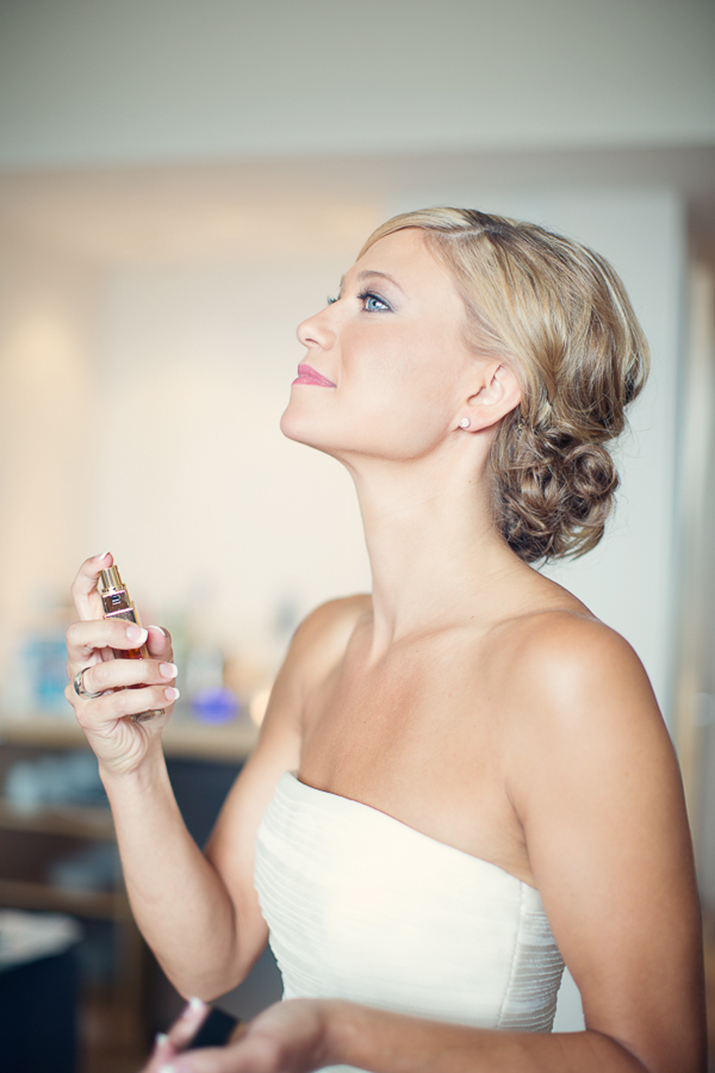 Image Source: Elizabeth Anne Designs
The most personal choice of all is which perfume to wear yourself. Nothing is more subjective than scent. It's fascinating to think that our synapses are all wired slightly differently, meaning that the way you perceive a smell will never be quite the same as anyone else's perception. Choosing a perfume as a final accessory on your big day might be simple; if you have a signature scent that you feel embodies all that you are then why would you wear anything else?
A wedding is an expression of everything that is beautiful about two people in love, if you both have perfumes that you adore, that you've bought for each other again and again over the years, then it's the obvious choice to be wearing those scents to exchange vows.
But what if you've never found a perfume that you really love? Or maybe you'd like to make new memories with a scent chosen especially for your wedding. Where on earth do you start? Browsing the perfume counters at a department store can be a bewildering experience. There are thousands of fragrances to choose from, the only reference points you have to go by are adverts on television or in glossy magazines, an attractive bottle or a recommendation from a sales assistant. There is only so much skin you can expose on which to spray; all the scents start to blend together until you can't tell which is which and eventually you leave, clutching a handful of little paper strips, feeling fuzzy headed and no closer to making a decision.
We've all been there. Even the most discerning perfumista will admit to feeling overwhelmed by the sheer amount of choice available, be it designer fragrance, celebrity endorsed or high end niche. There is also a whole other language used in the perfume industry that can be very disconcerting. Words like 'sillage' and 'dry-down' mean nothing to most of us. So with all this in mind, here are a few helpful tips when it comes to picking the perfect scent for your perfect wedding.
Firstly, it might be useful to know the main types of fragrance, in order to narrow down your choice:
Colognes (not just for men by the way) are normally citrusy, fresh and invigorating scents, ideal if you prefer to smell bright and clean. Classic citrus scents to search for would be Chanel Cristalle and Elizabeth Arden Green Tea.
Florals are pretty self explanatory and consist of a huge array of fragrant blooms; from classic rose to softly powdered iris, this is a massive area to explore. Some mainstream examples of timeless floral fragrance would include Chanel No19 and L'air du Temps by Nina Ricci. 

Jo Malone

also make an array of floral fragrances.
Orientals are usually heavy and exotic fragrances, often with a lot of warmth, sweetness and spice. Some classic oriental perfumes are Thierry Mugler Angel and YSL Opium, whilst

Tom Ford

are responsible for some seriously luxurious oriental perfumes that ooze sophistication.
Aqua or marine scents have a blue, watery quality and became extremely popular in the 90's. Popular scents in this style are L'Eau D'Issey from Issey Miyake and Escape by Calvin Klein.
Chypre or woody scents are earthy, mossy fragrances with a definite forest floor greenness to them. This is a complex group of fragrance with notable scents including Cuir de Russe from Chanel.
Of course there are sub genres within these groups. There is a plethora of fruity fragrances around at the moment (think Vera Wang) as well as a whole array of gourmand perfumes, featuring every edible note from caramel to coffee. Prada Candy is an excellent example.
A particularly useful tool is reference website Fragrantica. It's an incredible resource for exploring fragrance. If a particular group or note sounds attractive then it's possible to see a list of fragrances that fall into these different categories. You can then venture to the department store with an idea of which perfumes you'd like to seek out. I would also recommend Bois de Jasmin, a beautifully written blog with an impressive collection of fragrance reviews and articles about scent.
The choice is not limited to department stores only. There are some wonderful boutiques that stock a really diverse selection of fragrances, including the more niche brands. Bloom Perfumery is excellent, as is Les Senteurs, both in London. The staff are extremely knowledgable and know that only the perfume can sell itself to you, so spending a few hours exploring these boutiques with a little guidance is a brilliant pre-wedding treat.
Top Image source: Olfactoria's Travels
Perfume can really change it's character as it develops on the skin – ask the smaller boutiques if you can take away one or two samples so you can observe the changes yourself over time. You can also order them online. This allows you to try the fragrance multiple times and make sure you really love it before you make a decision.
There is no harm in taking your time when it comes to choosing perfume. It's a chemical reaction between the molecules in the bottle and your own skin that is unpredictable; a perfume needs the chance to really develop and come alive on your skin. What smells great on your maid of honour may not smell so great on you!
 Image Source: News Limited
A lovely boutique that sells it's own fragrances exclusively is Shay and Blue, at 80 York Street, London. The Shay and Blue brand has a gorgeous aesthetic and equally stylish content. The fragrances themselves span an impressive range. From cool and smooth like Almond Cucumber; hedonistic berry sweetness in Atropa Belladonna; delicate petals with a swirl of dulce de leche in Amber Rose and the aromatic sophistication of Suffolk Lavender – this perfume house has something that everyone will love.  It features highly on my own personal list of recommendations because I feel that it has all the looks and exclusivity of a niche brand, yet with it's affordable price tags it's also accessible.
The fragrances are beautifully made, vibrant and very wearable. They accessorise without overpowering, which for a bride or groom is extremely important. The company also make scented candles, excellent as thank you gifts and favours. You could scent all your bridesmaids in contrasting Shay and Blue scents as the travel size atomisers make a gorgeous little present to slip into a clutch bag.
If your wedding is themed then it would be a lovely idea to choose a perfume that complements your choice; a winter wedding may call for a warmer scent; a beach wedding, something cool and fresh. If vintage is your thing, have a look at what perfumes were around during that era.  There is an excellent chapter on vintage wedding perfume in Annabel's book, Style Me Vintage Weddings that has been written by scent specialist Lizzie Ostrom, aka, Odette Toilette, 'Purveyor of Olfactory Adventures.  Whilst many of the classic fragrances have been reformulated to meet with new regulations, the vibe of the perfume is usually preserved.  A seriously dedicated bride will usually be able to hunt down a vintage bottle of scent on Ebay.
I also love the idea of matching your scent to your flowers. If your bouquet is abundant with fragrant blooms like roses or freesias, seek out those notes in a perfume too. Sometimes perfumes can stain so to protect your precious gown spritz into your hair or carried a scented handkerchief.
Above all else, enjoy the search! Finding your perfect perfume is a love affair all of its own. There are some seriously complex fragrances out there and they need time to show you their true colours. Think about how you want your day to be remembered and find a scent that will fill you with joy whenever you wear it again.  It's my one regret that during the preparation for my own wedding, I was so excited by all the other elements that I forgot to even pack a perfume to wear!
With hindsight I know that being able to lift the cap from the bottle of scent that I wore on the day, spritz it onto my skin and be transported back through time would have rendered those happy moments even more keenly into my memory.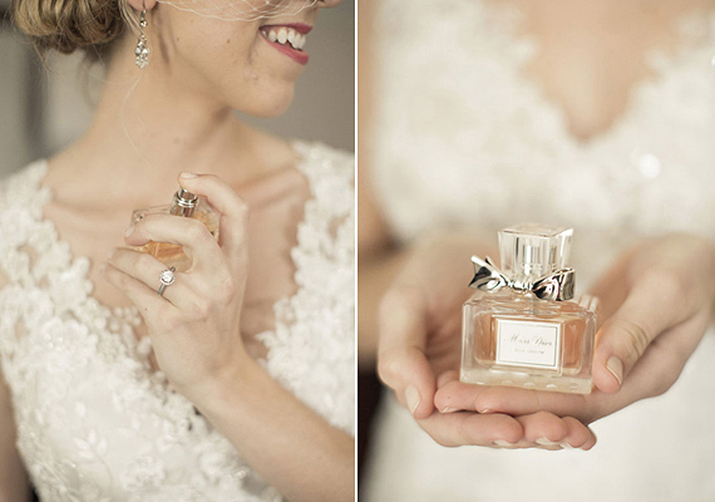 Image source:  100 Layer Cake
Don't underestimate the power of your olfactive sense, choose something that each time you wear it, will make you as extremely happy as you did on your special day.
I'd love to know what perfume you plan on wearing or have you yet to choose your wedding day scent?
Love Susie
Susie is a member of the Love My Dress® writing team.  She also writes her own blog, Scent Epiphany.  You can read more about Susie on our About Page.
Follow Love My Dress® on Google+