Hopefully you'll have caught our lunch time post telling you all about the sample sale happening over at Miss Bush Bridalwear every Sunday in July? It may be Surrey based but the right dress at the right price is most certainly worth travelling for, right?  And especially when there are some very impressive savings to be made on some of the most beautiful wedding dresses available in the UK today.
One of Miss Bush's past clients is the very lovely bride Sarah.  Sarah married her beau Huw on 23rd March this year at Gate Street Barn in Bramley, Surrey. I love this wedding for so many reasons – the bright, beautiful photography, the laid back and down=to-earth vibe, the fact Sarah wears pretty flowers in her hair and a cardigan and the all-round feel-good-factor of what was clearly a beautiful day. But planning a wedding wasn't something Sarah ever thought she would do…
"I spent my childhood flicking through the Argos catalogue decorating my imaginary baby's nursery and making mud pies in the garden, not dreaming about my wedding day. I didn't really know where to start so took to wedding blogs like Love My Dress, magazines and Pinterest to get some inspiration. I'd been leaning towards a mint and peach theme and had been gathering all my ideas together on Pinterest. Once I'd seen the bridesmaid dresses I knew mint, peach, charcoal with a hint of gold was the way to go. The bridesmaid dresses were the very first thing I bought. I also used the neutral backdrop of the barn to inspire me for decoration ideas. There was a lot of jute around the place!"
Photography by Images in Focus
"I really wanted to have flowers in my hair on the day. I had a whole Pinterest board dedicated to floral crowns. We experimented during the hair trial, but what evolved on the day was even better. It was as cheap as chips too. I had a backup hairband for the evening, but the flowers lasted all day.   An alternative option was purchased from Woomee on Etsy."
"I was totally unprepared for just how happy I would feel. It sounds ridiculous, but we were laughed and smiled all day. Enjoy that feeling, hopefully it's once in a lifetime!"
"The flowers were a complete obsession for me from the word go. Not so much the type of flower but the look of the bouquet and the colours. I had countless bad dreams about the flowers arriving dead or the wrong colour or not turning up at all! It had to be right."
"We went with Rosie Orr who is one of Gate Streets recommended florists and it turned out to be an excellent choice. I knew just by the type of home she had she was my sort of person."
"Huw and I met at a marketing agency in London in 2004. We worked together for a year before we actually got together. It was pretty clear to everyone around us that we got on brilliantly and there was a real spark. I knew I was in trouble the first day I met Huw. Thankfully by the time we got together our colleagues had got bored of the: are they/aren't they rumours and we were together about a year before anyone at work really found out.
As for the engagement, wellllllll – Huw and I had been together five years and we'd come to a fork in the road; we weren't really sure what was next. We didn't live together and I really wanted to start a family so we took a break for a couple of months. He went skiing and I went to Cuba. When Huw returned from Skiing he came over and simply said 'I want to marry you, have kids and live together in whatever order you want'. I let him stew for a couple of days, but said yes – ha! And then disappeared to Cuba for 2 weeks."
"I wanted to do the invites myself and enlisted the help of my talented friend Jess. Jess runs her own little word art business called Loved Letters from Lulu. I found a stamp I loved from Noolibird and bought some pocket folds for my biggest bit of DIY! Jess helped me create the wording and look for a typeface to compliment the stamp.
There were three inserts in the invite; Wedding Day Information, a poem about presents and RSVP. Jess also created my menu's, photobooth, sweet table and tips jar sign and the sweet word art prints for my Bridesmaids presents. I used the same font on my invites to create the table plan, which was just a collage frame from a local home store. My bridesmaid Casey had the patience of a saint and hand stamped all my luggage tags. We worked out she had stamped in excess of 400 letters!"
"My dress was the Maggie Sottero, 'Boston' design and I purchased it from Miss Bush Bridalwear in Surrey.  The dress really was the furthest thing from my mind to be honest. I'd never really planned on getting married so I was slightly panicked by the idea. I just kept telling myself I was just organising a party! I did a little research and found some designers I liked. Miss Bush stocked a particular dress I was after and it was conveniently 10 minutes down the road.
All I will say is a) boy was I lucky and spoilt to go to Miss Bush first and b) I was also lucky because I found my dress here. It was actually my best mate and bridesmaid Casey that picked it out for me. I'd turned by nose up at it, too much going on. As you do you try it on, it was about the fifth dress I'd tried. The whole time I'd been rabbiting on to Emma (the Managing Director of Miss Bush) about weddings – so when I looked up at myself in this dress, I was literally speechless.  It was the first time I'd stopped talking. The lace layers were so pretty, soft and I hadn't looked this tiny since before I'd had my baby. Then every subsequent wedding shop I went to I kept looking for that dress or one similar. I couldn't get it out of my head. SOLD!"
"I met my hairdresser Sharon Roberts on a mini trial day at Miss Bush. I had no doubt in my mind that I was going to get a hairdresser to do my hair and, after the trial, that person would be Sharon. Based on her portfolio and the fact that she could talk more than I did I was confident that Sharon would be able to create the look I wanted. I was still undecided about whether I wanted my hair up or down, but Sharon was really patient at the trial and we just took our time to see what happened. The brief was simply 'I don't want brides hair'. Sharon is the Queen of Curl. She does the most incredible hair twisty thing. When it came to the day the style evolved further and with the addition of the flowers to match the bouquet I couldn't have been more pleased.
Sharon did my bridesmaid hair too and they both looked really beautiful. On the day Sharon went above and beyond and went from hairdresser to dress doer upper, button hole pinner and fascinator fixer. She really lived up to her business name of Wonderful. It should actually be 'Wonderful Sharon Roberts Wedding Hair'."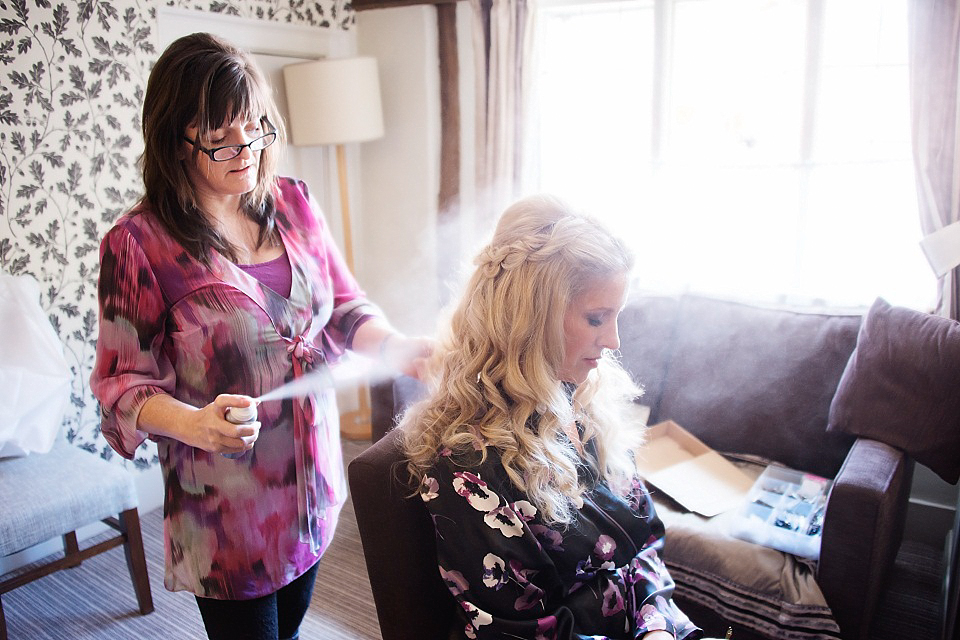 "I had intended to do my make-up myself, but with just two weeks to go and my best efforts not really living up to my expectations the search for a make-up artist was on. I looked through the recommendations on my hairdresser's site and came across Kristina Gasperas. I really liked the way she had before and after shots of her brides. The results were really exceptional.
I booked a trial and we just clicked, Kristina got exactly the sort of look I was after. What was nice and unexpected was she went away and reviewed the photos she'd taken at the trial so when she arrived on the day she made subtle changes. I was so happy with the results, but more importantly for me Huw was! I received many compliments on the day of how good my make up was. It was worth every penny. I'd like to thank Kristina for giving up her day off to get me out of a make-up.
"When I got back we bought a ring together from The Lanes in Brighton, got pregnant and bought a house just before Lewis arrived in December 2011. The hat-trick as Huw's Best Man called it. We got engaged by the Mill at Lower Slaughter in the Cotswolds in August 2011. I once had a dream that Huw had asked me to marry him outside a mill. About 18 months later while going through an old box at my Mum's I came across a paint by numbers picture I had painted when I was about 10, it was pretty brilliant I might add, Huw realised it was where we had got engaged (see 'the Painting' picture). Fate/inevitable/strange coincidence who knows, but we like it. We planned on marrying in our 10th year together so 2015, but whilst looking for venues in 2013 we just decided to go for it and get married the following year, 2 ½ years after we got engaged."
"Rosie Orr and I spent a lot of time discussing flower types and colours and I just kept reiterated the word 'loose, bits sticking out'. I also knew I wanted it to be soft and seasonal with nods to the surroundings of the barn e.g. Fern was used to complement the woodlands surrounding near Gate Street. I didn't want any of the flower displays and bouquets to look too structured. The moment my hair flowers arrived on the day I breathed a sigh of relief. I ran downstairs in my dressing gown to see the spectacular display of flowers in Rosie's van. I almost cried. The flowers received so many compliments and I let guests take the flower posies home with them as additional presents.
Rosie also took a couple of very last minute requests from me; Can you get Peonies (with the weather being mild I was holding my breath) Rosie surprised me with them on the day (I had an obsession with them looking like beetroot when I was younger) and can you incorporate these ears of corn (taken from the field next to the cottage we'd stayed at for my Dad's 60th) and pheasant fathers into the button holes! All requests delivered!"
"I didn't bother looking elsewhere to find Boston as the service I'd received at Miss Bush was first class. I walked out of there after my first visit and we (my mum and bridesmaids) were quite astounded by founder Emma's knowledge. She really knows how to dress people and most importantly she's not scared to say "it's not quite right". You really need that. I even went back with an arm load of possible coat/caplet/cardigan options and Teagan spent a couple of hours with me helping me pick the one that went best with the dress (it was a M&S number) When the dress was altered the fitting team sew a small blue bow into the dress for your something blue. How lovely."
"My shoes were from Next!  I had an absolute nightmare with shoes. All I knew is that they had to be gold! I went through three pairs before I settled on the shoes from Next. I knew I didn't want to spend a lot, I couldn't afford designer as I was choosing to put my money elsewhere. Three weeks before the wedding and two days before my first fitting I came across the shoes from Next. £25 what a bargain."
Huw's pocket square was actually a scrap of material from the Bridesmaid Dresses.
"Huw used to travel to Dubai for business quite a bit, which was fortunate as he had his beautiful suit and shirt made by the very skilful tailors in Dubai, Collars and Cuffs.
I had my heart set on peach ties but Huw, being a redhead, did not look good in any pinky tones. I settled on the mint green which was impossible to find. It took pretty much the whole year to find something decent and I ended buying the whole wedding party matching ties for the price of a single wedding tie from a highstreet retailer."
"My veil was by Richard Designs and also came via Miss Bush Bridalwear. I was a bit dubious about having a veil as I really wanted flowers in my hair. After some experimenting at Miss Bush it looked as though it would work. I ordered a plain Chapel length veil and it looked perfect."
"I absolutely adored the bridesmaid dresses. They were everything I was looking for. I have to thank Ted Baker as well for helping me hunt down the right sizes as they were all but sold out. I knew I wanted floral and they had all the colours in that I was after.
On the same day I saw the bridesmaid dresses I found Ellie's dress in Monsoon. It picked out the coral in the Ted Baker dresses and was perfect.  Our lovely little Lewis wore a linen shirt also from Monsoon, trousers and shoes from H&M. The bow tie was from DQ ties on Ebay to match the wedding party ties. I sewed it on with poppers so it didn't cause him too much discomfort." 
"Our florist Rosie Orr created a glorious flower display over the barn entrance and pew ends for me, I put together crepe streamers to hang in the trees outside. I ordered a huge role of jute from eBay and made jute squares that each of the table centre pieces went on. "
"From very early on in the venue hunting process I had longed for a barn venue. I was driving home one evening from yet another disappointing venue visit when I saw the sign for Gate Street Barn. I thought I'd take a gamble and go and have a look. Jane was just packing up to go home. It was dark and cold, sleet was coming down and the barn was all locked up. But Jane still showed me round and I just loved it. For Jane it was more like welcome to my home than a hard sell.
Nearly all the venues had a number restriction. We only had 45 guests and we were constantly coming up against a 50+ restriction!  Gate Street ticked all the boxes and Jane who owns the barn and Lisa the event manager were so so accommodating. Gate Street unofficially held that booking for nearly 2 months as Huw was undecided; it's a big commitment after all. But it was Jane & Lisa's help during that time that Huw realised we really had picked the best one.
I'll miss not being able to go there for a coffee! I took Huw to see it the following week and he loved it so much we booked a provisional date. We looked at well over 100 venues online from manor houses to marquees, visited about 30 venues but none gave us the same feeling as Gate Street Barn."
"My Dad walked me down the aisle. I'm really close to my Dad so it was a special moment. I was surprised that he wanted to have a father daughter dance, I had never bothered to ask him, whoops! I cried the whole way through Nat King Cole's Mona Lisa."
"I don't tend to wear much jewellery day to day, plus with the lace detail on the dress I knew I wanted to keep it simple – I got bracelets from Alexis K. Jewels on Etsy. I often wear a few bracelets though so starting shopping around for the right look to create almost a bracelet stack.  My something new was my Kate Spade bracelet (it was the single most expensive I bought myself!) from the Kate Spade store at Westfields, White City.  My Something old was my Grandmothers bracelet. It meant a lot to me to wear it as she couldn't be there on the day due to ill health."
"My engagement ring was from antique jewellers in The Lanes, Brighton. We knew when we purchased it I wouldn't be able to have an ordinary wedding band due to the Art Deco setting. We also struggled to find anything we liked for Huw on the high street. Never being one for jewellery it was quite strange seeing him trying on wedding bands. We approached Nichols, independent jewellers in Teddington, Surrey about the wedding bands. They had already carried out some work on my engagement ring so we were confident they could come up with some wedding rind designs."
"They created a mock wedding ring for me so I could wear it for a week and see how I liked the fit with my engagement ring. Once the shape was decided I had the awful task of deciding whether or not to add diamonds. I'm really pleased we went with diamonds. Huw's ring was a simple 9ct matte gold ring. It cost a quarter of the price a high street band would cost and allowed us to balance that part of the budget with me opting to have diamonds put in my band."
"Huw and I are not love song people so this also became a yearlong struggle. Huw is an 'interesting' dancer so we thought something slow would be the best option. We both like Billy Joel so we chose "She's got a way". I'm a lyrics gal and even if you replace the she with he the words are how we feel about each other.
I was really looking forward to seeing Huw for the first time. That was a really special moment. Huw and I both burst out crying after the ceremony. I think we were just so overwhelmed and there was a great sense of relief that Yes! We had done it."
"Huw and I asked our Mum's if either of them would like to read at the wedding. My Mum chose The One, it was the only point during the ceremony I cried. Huw and I are the best of friends and true to the word partner, so I think this was a really good choice."
'When the one whose hand you're holding
Is the one one who holds your heart
When the one whose eyes you gaze into
Gives your hopes and dreams their start,
When the one you think of first and last
Is the one who holds you tight,
And the things you plan together
Make the whole world seem just right,
When the one whom you believe in
puts their faith and trust in you,
You've found the one and only love
You'll share your whole life through.'
"I am a very very lucky girl. My Dad's girlfriend of 15 years Vanda Ralevska, Images in Focus is an extremely talented photographer. Vanda specialises in landscape photography, but also takes portraits and wedding pictures. It worked really well as Huw and I and the family were all comfortable having our photo taken as we knew her. Though I don't think we were the best subjects because Huw and I kept laughing…..and eating canapés during the photo taking! Vanda also put this lovely photo video together for us."
"As well as flowers I obsessed about décor. I spent hours and hours trawling the internet and creating Pinterest boards with my ideas. It was really interesting to see my ideas evolve. I also became confident enough to try a bit of DIY. I went for a rustic/vintage theme. Around the barn I had crochet bunting, wicker hearts, Mr & Mrs bunting, tassel garland (all from Etsy).
I went about collecting old books, little antique ornaments and bits and bobs from Hampton Antiques Emporium and Ebay."
'In the bar area I had a sweet table. That was probably my biggest bargain. I purchased lovely glass wear for as little as 20p from car boots and supplemented it with newer items from TK Maxx. The apothecary jars were in their bathroom section! I really loved how the sweets and tassel garland were colour coordinated with the mint, peach and gold theme! I picked up a zinc trough for the cards and made a mini card sign from the left over Jute I had. The tips jar was a spaghetti jar I already had in the house."
"I think my greatest DIY achievement was the Drinks menu that went behind the bar. It was just some A1 board, a blackboard pen and a few hours work. I was really proud of it."
"The very wonderful Kalm Kitchen won out as our caterers for the pure reason they had considered little ones within their menu options and because Jen immediately responded to my query. I also think the package options they offer are really well thought out. As we were married on a Sunday we opted for a traditional roast (beef) dinner. The Beef received as many compliments as my dress. The food and KK's staff were and still is one of the most talked about aspects of the day. The little snack boxes put together for Lewis and the other little ones were great for the distracted snackers."
"I was quite surprised, considering the trend, that a naked cake was so hard to come by. I turned to my caterers; Kalm Kitchen who I knew shared my love of nakedness, to see if they knew anyone. It just so happens one of their chefs had just launched their own cake business specialising in naked cakes. I got Jen at Spongeoworks round immediately for a tasting after choosing three options from her delicious selection.
Being lovers of chocolate we went for a chocolate sponge cake and I surprised Huw with his 2nd favourite option as the top tier, the Kentucky flavour which was – Bourbon chocolate mud cake with vanilla pecan frosting. It was to die for, my mouth is watering now thinking about it.  I made the cake toppers."
"Huw and I are big big music lovers and essentially wanted to relive our youth a bit so we hired DJ Chris Haslam from Chess Disco. Chris was really wonderful throughout the lead up and on the day. As part of the invite I had asked guests to request a song plus the long list from Huw and I Chris really had his work cut out for him. We also had a last minute panic about the ceremony music as our little music system wasn't up to the job. Chris managed all the ceremony music and helped out with mic's for speeches.
I have to say, one of our favourite parts of the day was the Photo Lounge in the evening. This was our thank you to our guests for making our day so special. The results were hilarious and we have a very precious momento from the day"
Words of Wedded Wisdom…
"Get to know your suppliers, but most importantly let them get to know you. They are helping make your day what you want it to be. My day wouldn't have been what it was without my suppliers being totally on the same page as me.
Pinterest is a match made in heaven for wedding planning. It was great to see my ideas evolve and also helped me really pin down the look I wanted without getting some sort of retro, woodland vintage explosion.
A couple of days before the wedding let it go. You have done everything you can, you've handed it over to the experts let them do their job. It will help you relax, I promise. Be confident in your DIY skills. I was really surprised by how much I ended up doing, and saving money in the process.
And finally, if you have your own children at the wedding, allocate one or two people to look after them. It really helps to know you definitely have one person dedicated to keeping an eye on them while you're doing the important bits."
This is just so very sweet and lovely, and I'm so happy that Sarah and Huw have allowed us to share their beautiful day – thank you both of you!
Do take a moment to check the links below – a set of finely selected wedding suppliers if I do say so myself.
Love Annabel xx
Photographer – Vanda Ralevska, Images in Focus
Venue – Gate Street Barn in Bramley, Surrey
Brides Dress – Maggie Sottero, Boston from Miss Bush Bridalwear
Veil/Headpiece – Richard Designs and also came via Miss Bush Bridalwear
Brides' shoes – Next
Bride's accessories –  Alexis K. Jewels on Etsy
Groom's suit –  Collars and Cuffs + Dune shoes + cufflinks via Highland Angel
Bridesmaids – Ted Baker (The Serlant Wallpaper Maxi Dress from the Spring 2013 collection)
Flower girl Dresses – Monsoon
Pageboy – Trousers and Shoes – H&M + bow tie via Ebay
Flowers – Rosie Orr
Cake – Spongeoworks
Entertainment – Chess Disco
Rings – Nichols
Catering – Kalm Kitchen
Stationery – Loved Letters from Lulu + the bride
Hair Stylist – Sharon Roberts
Makeup Artist – Kristina Gasperas
Photobooth Hire – Photo Lounge
Follow Love My Dress® on Google+