Hello Love My Dress readers, take a look at this little gem of a wedding! It features a beautifully created flower garden on the rooftop of a hotel, maids in 60's inspired blossom shades and a bride, a fashion designer herself, who couldn't look more perfectly chic if she tried. The happy couple also put on an incredible show for the reception, with vocal performances as part of a live band! With so many smiling faces all around, it's easy to see how joyous this day was for everyone invited.
Vien and Michael were married on 9th November 2013 at the Langham Hotel in Shenzhen, China. The couple created a beautiful little sanctuary in which to exchange vows.
"We just wanted a beautiful garden with a cheerful atmosphere."
Photography Copyright (c) 2014, Chris Spira
"I am a fashion designer and Michael works for an investment fund. We met at an alumni meeting and were engaged for a year before we got married."
Vien wore two bridal gowns on her wedding day.  As well as wearing  full length gown for her ceremony, she also wore a 50's vintage inspired gown by designer HeYan, which she purchased from a boutique called Catie Lo in Shanghai.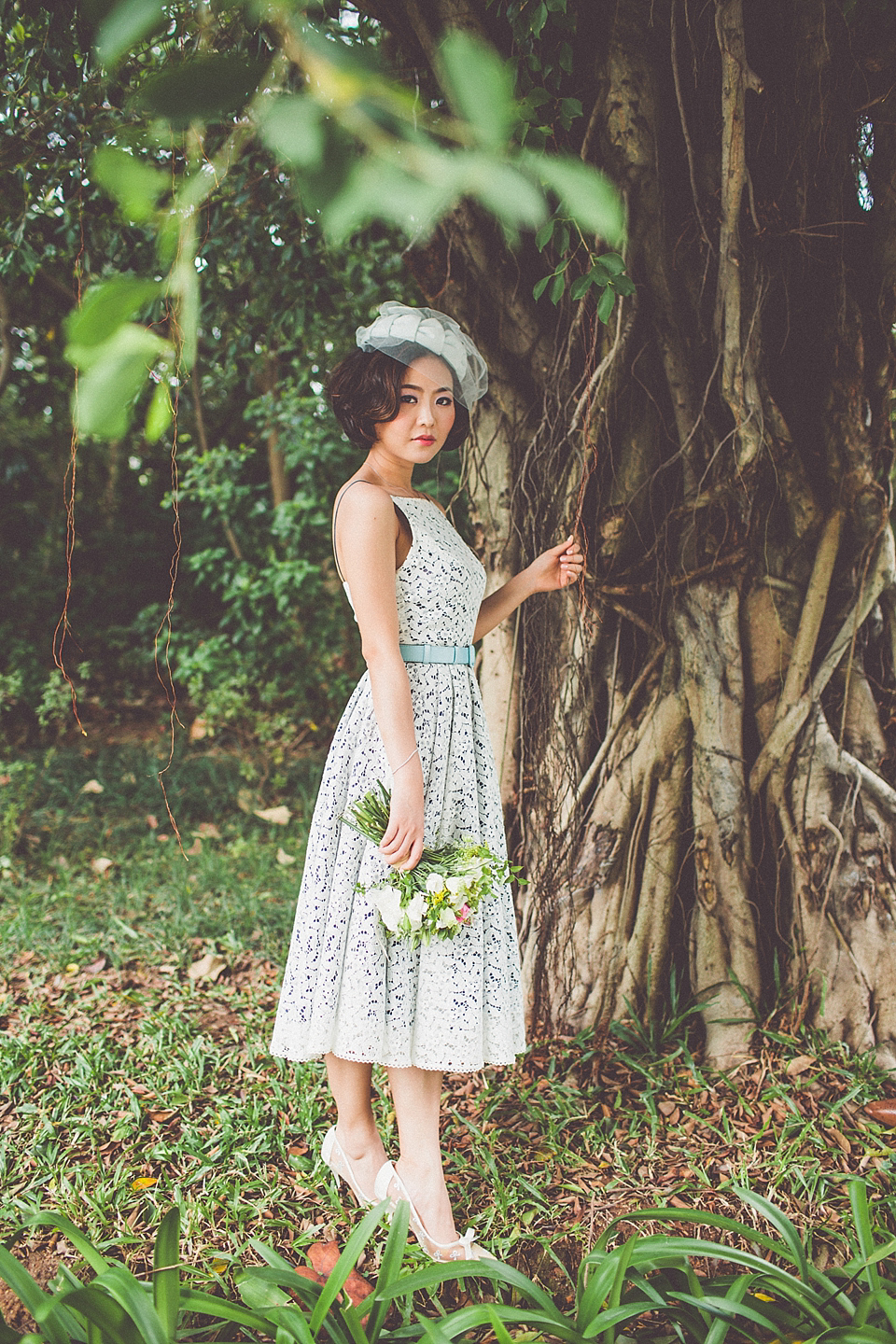 Vien's headpiece was vintage – a gift from a friend and purchased in Tokyo.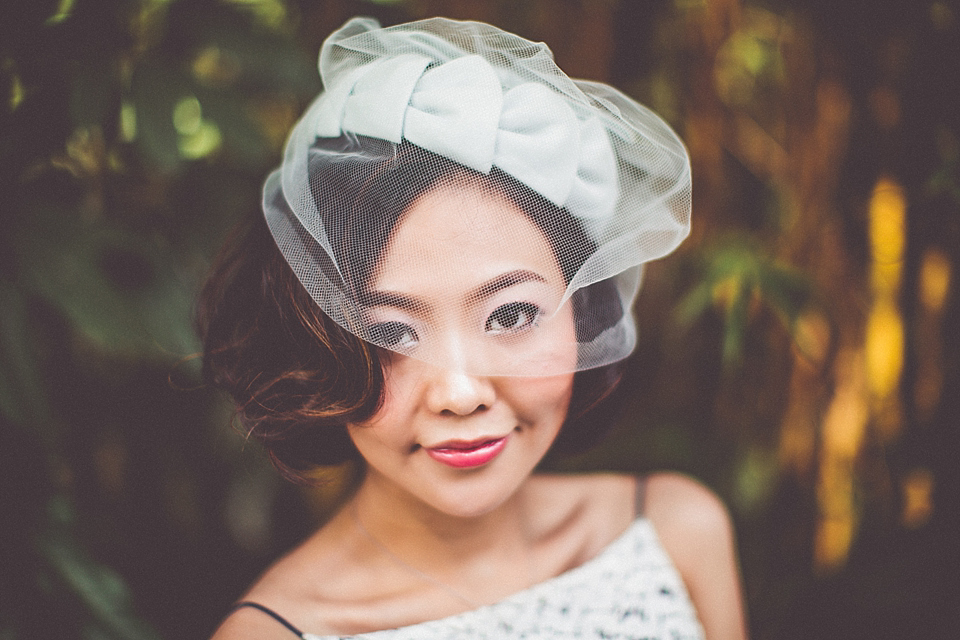 Vien's bridesmaids wore cute 60's inspired shift dresses in shades of sakura pink. White bows and bouffant hairstyles completed the look.  They were from loveblazer.taobao.com.
Michael's suit was tailor-made in pale blue, with a very dapper polkadot bow tie. He and his groomsmen sported buttonholes fashioned from little succulents and the groom wore a guitar pin, a sartorial nod towards his love of music.
Obviously a woman of impeccable taste, Vien chose her ceremony dress from a range by designer Monique Lhuillier.  She also wore a cathedral-length veil bordered with delicate lace and fine little horse shoe necklace from Tiffany.
"What I loved most about it was the silhouette. My gown presented a simple and feminine style, especially the flexible piece of white silk around my shoulder. It made me feel comfortable and elegant."
Talented florists transformed the angular, contemporary style roof garden of the hotel with white trellising, trailing boughs of greenery and pink and white bougainvillea sprouting from the borders of a shaded walkway.
With the help of wedding planner Eva, the couple carried those pink and white touches throughout the whole day. Maids in pink, groomsmen with bright bow ties and bougainvillea gracing the tables at the reception, the look was incredibly elegant alongside gold place settings and white draped tables.
I love how the photographs really captures the vibrant and happy mood of the day, which was very important to the bride and groom.
"We were very lucky to have Chris Spira as our wedding photographer on our big day. She is incredibly professional, quick in thought and movement and I love her style and personality." 
Vien had an enviable choice of designer shoes to suit her change of outfit later in the evening; Jimmy Choo, Kate Spade and Valentino no less!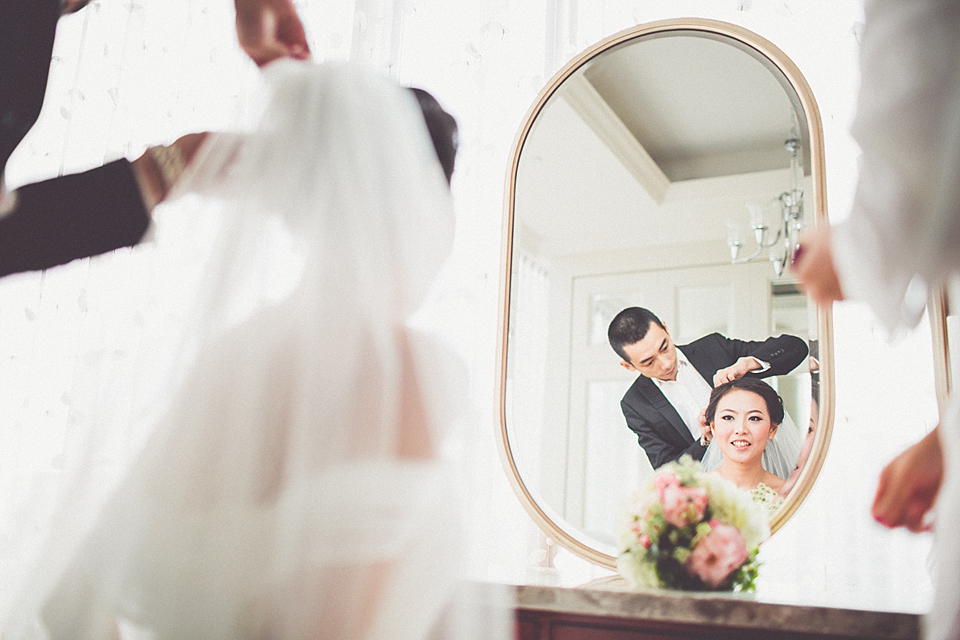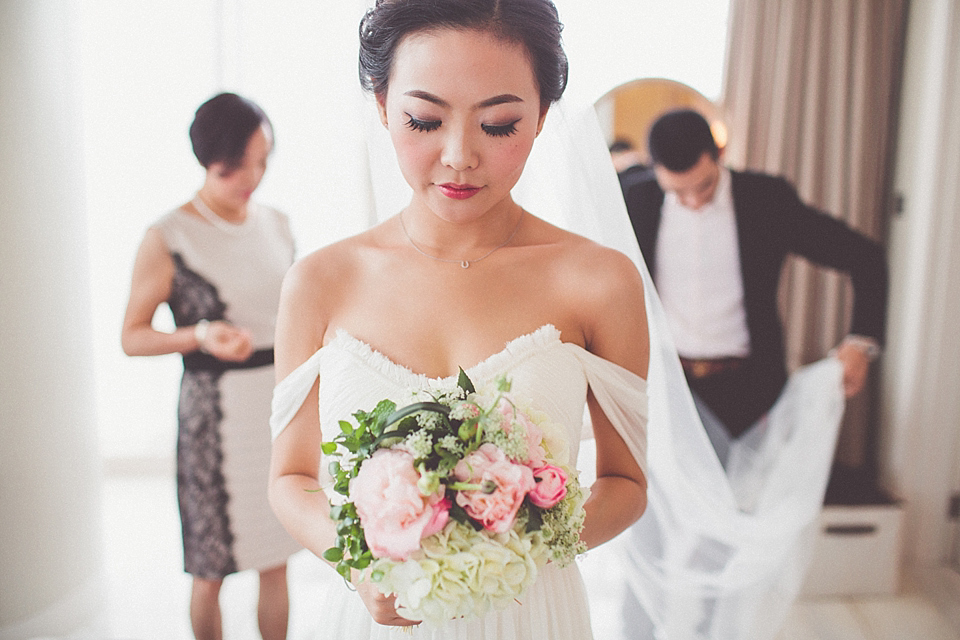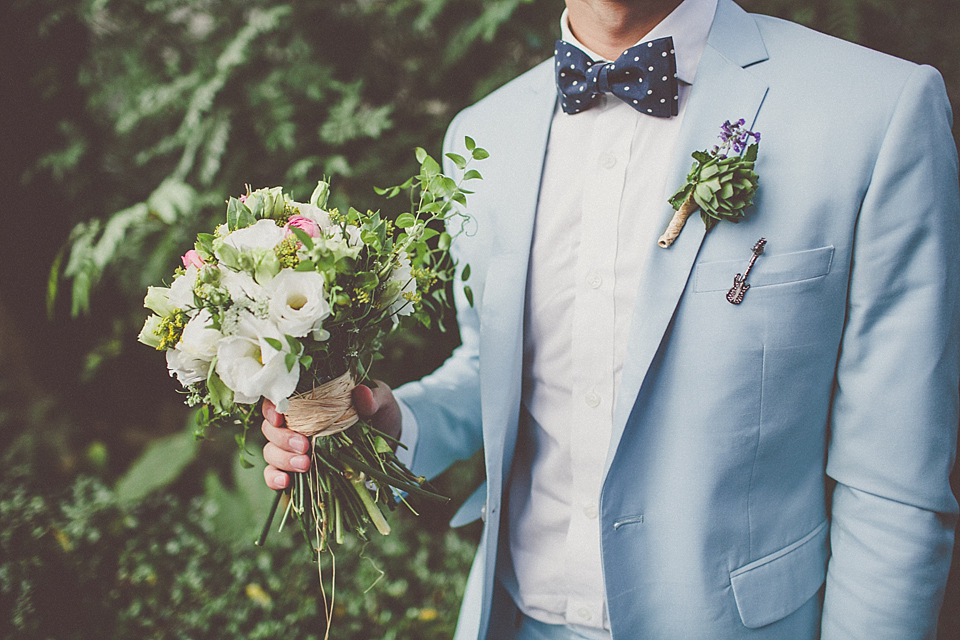 The bride walked down the aisle with her mother to 'Yellow' by Coldplay and during the ceremony the couple exchanged customised wedding bands. Although Michael had vows prepared, Vien was more relaxed. "I didn't prepare any words before the wedding, I just said anything that came to me on the spot."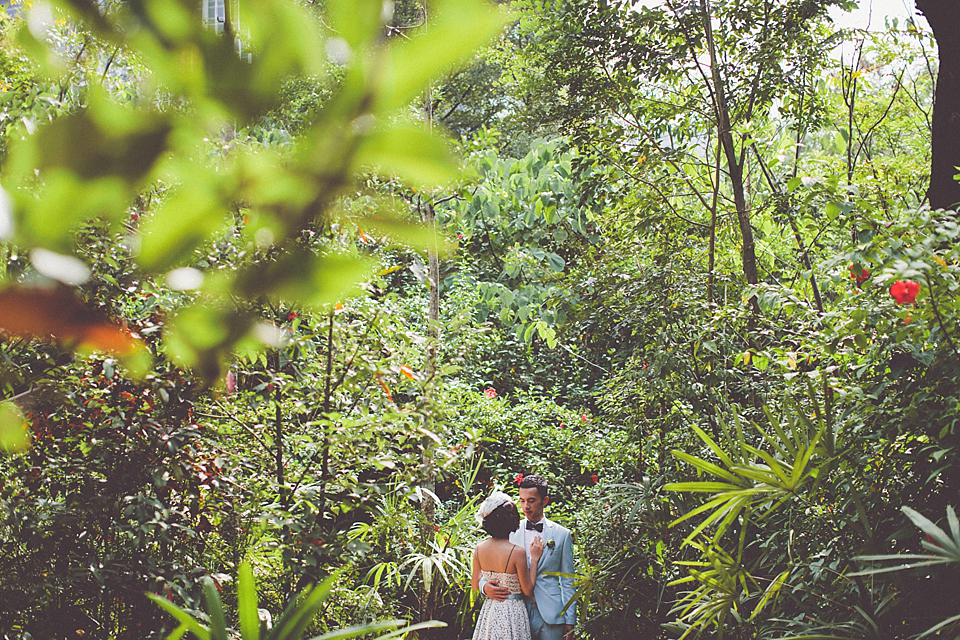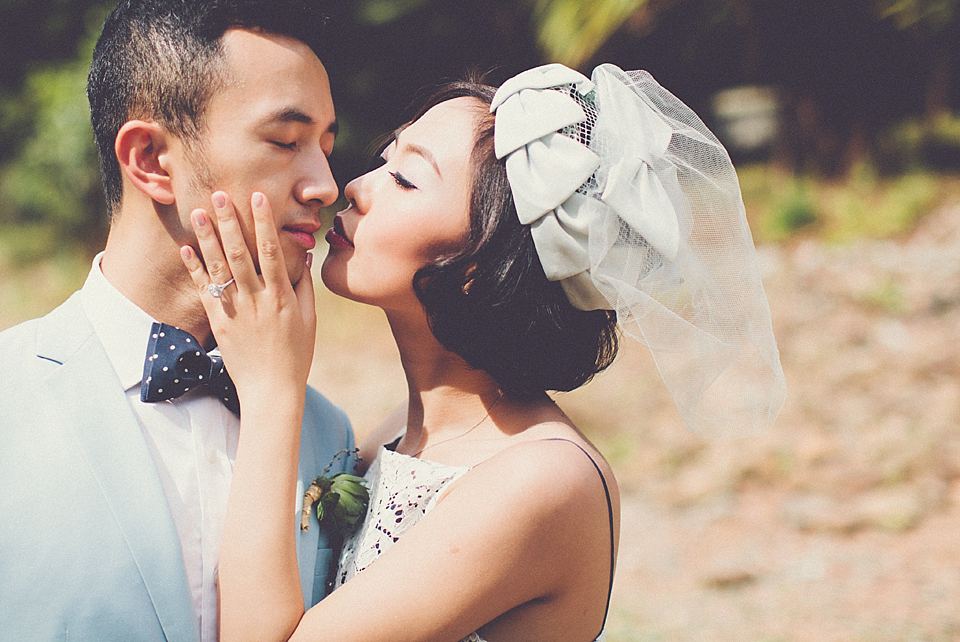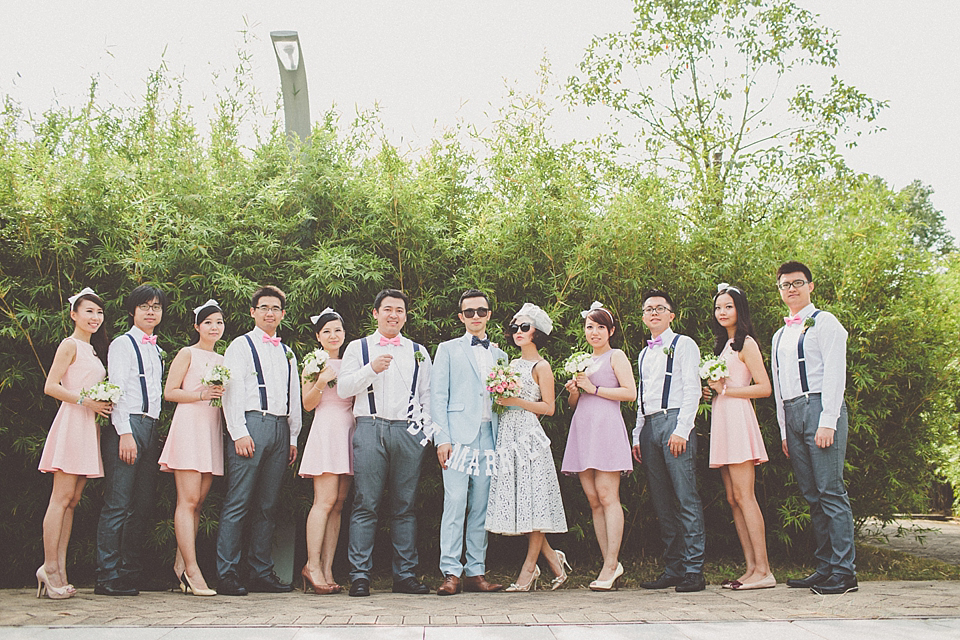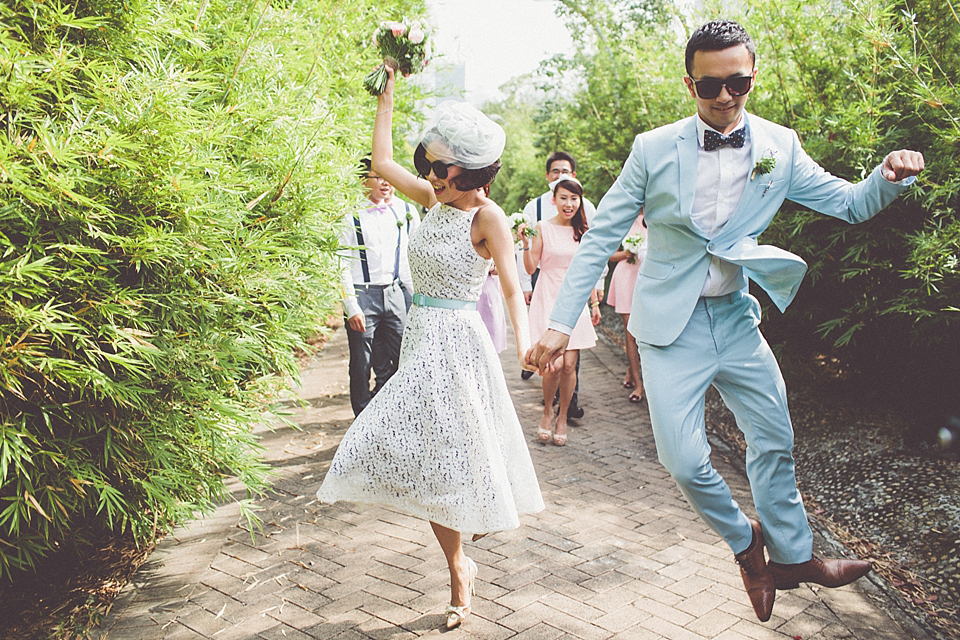 The evening was a real celebration of the couple's musical passions. A full live band complete with a custom made neon sign graced the stage and Vien had not one, but two outfit changes during her performance.
"My favourite part of the whole day was when I was singing on the stage, surrounded by the people who I love and who love me. It was really touching because Michael cried. I also really enjoyed the background music after the live show."
Words of Wedded Wisdom…
"I think for the brides in China nowadays, the biggest piece of advice I would give is not to be afraid of breaking the rules. Do it in your own way, you will have no regrets."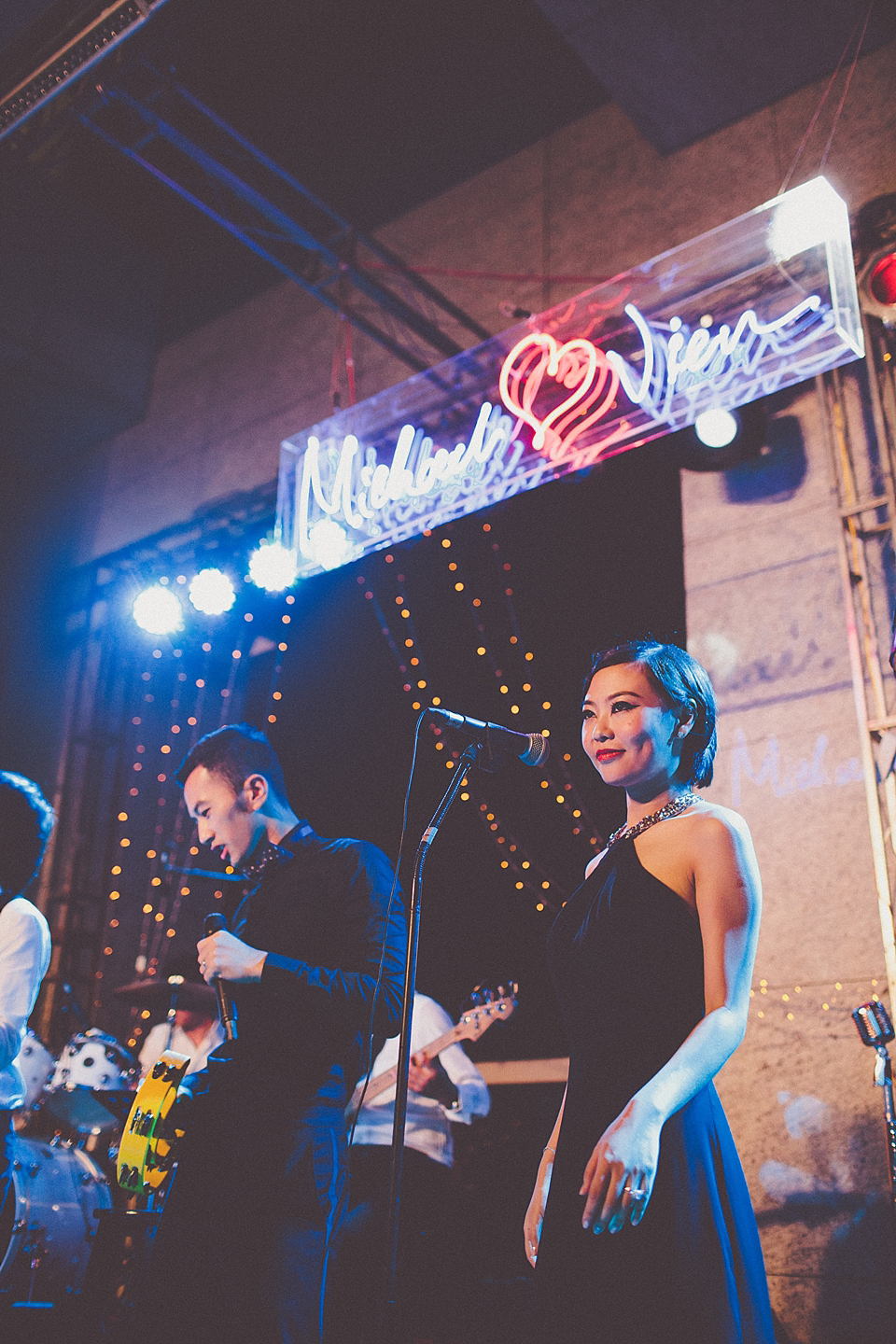 What a gorgeous happy couple! A wedding day should be all about celebrating everything that you love with those closest to you and it's clear that these two really know how to throw a party. Thank you to Vien and Michael for sharing this incredibly stylish occasion and to Chris Spira for capturing it so beautifully.
Will you be having live music at your wedding? We'd love to hear your thoughts if you're planning a show stopping performance.
Love Susie
Susie is a member of the Love My Dress® writing team.  She also writes her own blog, Scent Epiphany.  You can read more about Susie on our About Page.
Photographer – Chris Spira
Wedding Planner – Eva
Venue – Langham Hotel in Shenzhen, China
Wedding Dresses – Monique Lhuillier + HeYan via Catie Lo in Shanghai
Headpiece – Vintage
Shoes – Jimmy Choo, Kate Spade and Valentino
Groom – Tailor made suit
Bridesmaids – loveblazer.taobao.com
Stationery – taobao.com
Follow Love My Dress® on Google+